The Ale & Compass Lounge at Disney's Yacht Club
The Ale and Compass Lounge is a refined stop inside the lobby of Disney's Yacht Club. It's a place where you can enjoy a meal, take a break, or possibly enjoy a cocktail at some point in your evening.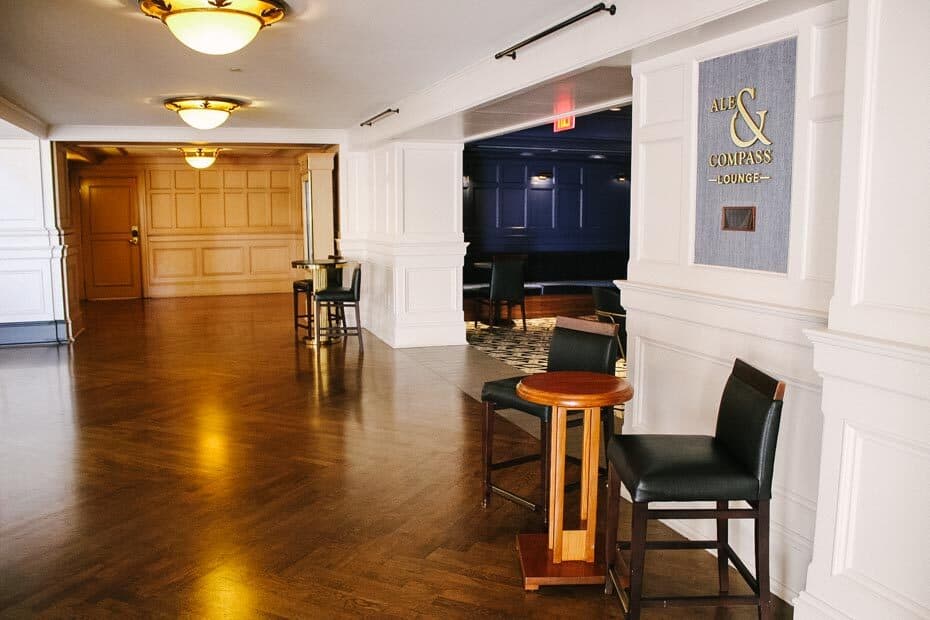 The lounge sits adjacent to the restaurant. Thankfully, if you don't have a reservation for the restaurant, you can still order many of the same menu items at the lounge in the evening.
Ale and Compass Lounge is open daily from 11:30 a.m. until around 1:00 a.m. During this time, they might close a little earlier than normal. Hours should be posted outside the lounge.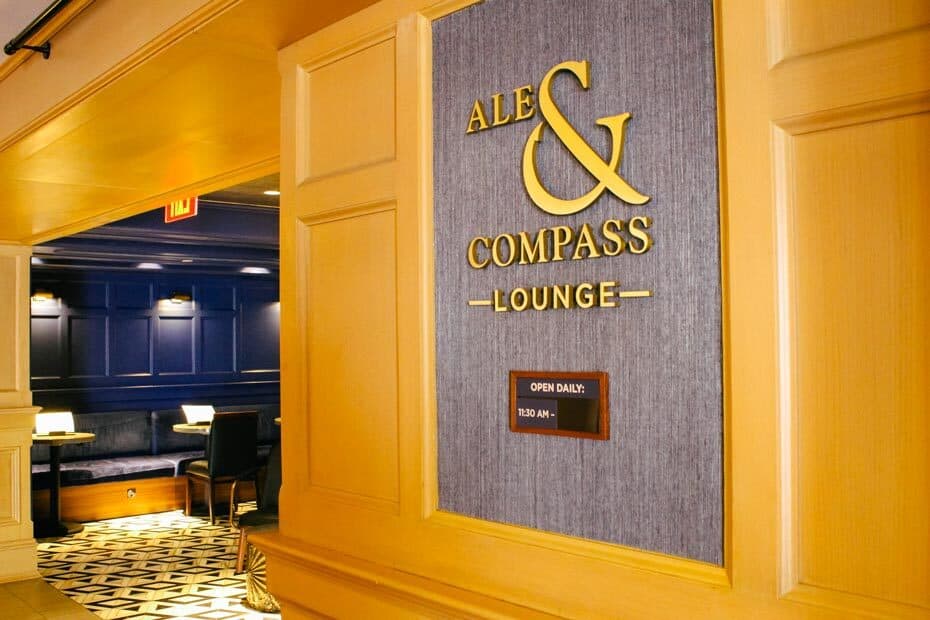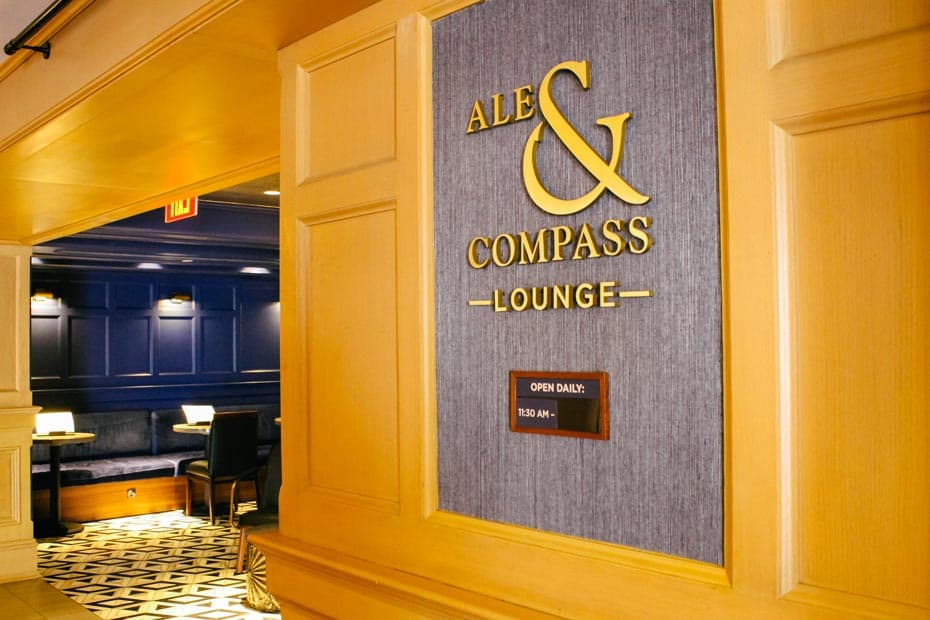 If you want to enjoy appetizers or a full meal here, those hours range from 4:00 p.m. until 10:00 p.m. While the lounge is only open during specific hours each day, the actual space is usually open for guests to use at their convenience.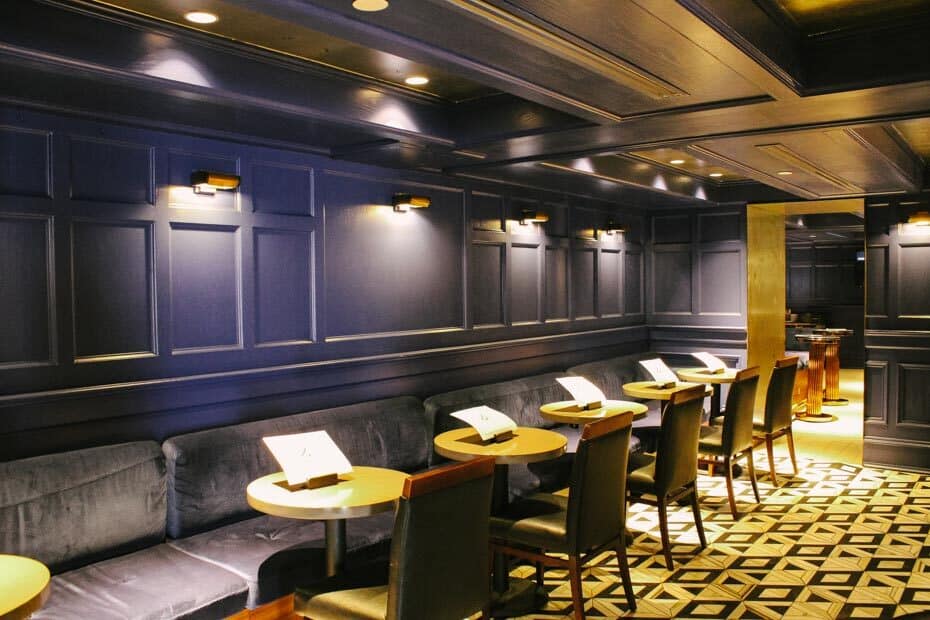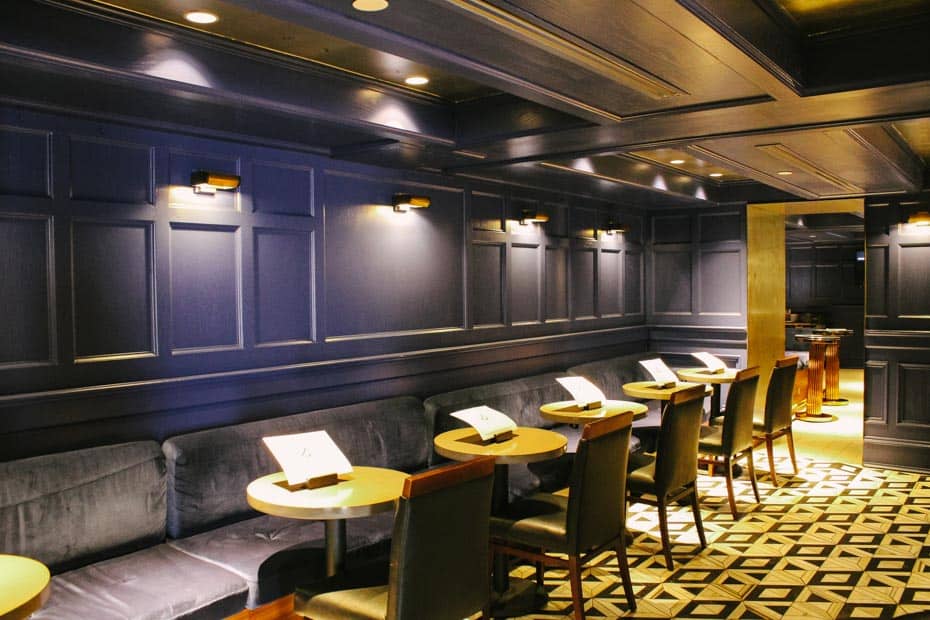 The lounge makes for a nice area to get a little work done if you are waiting on a flight.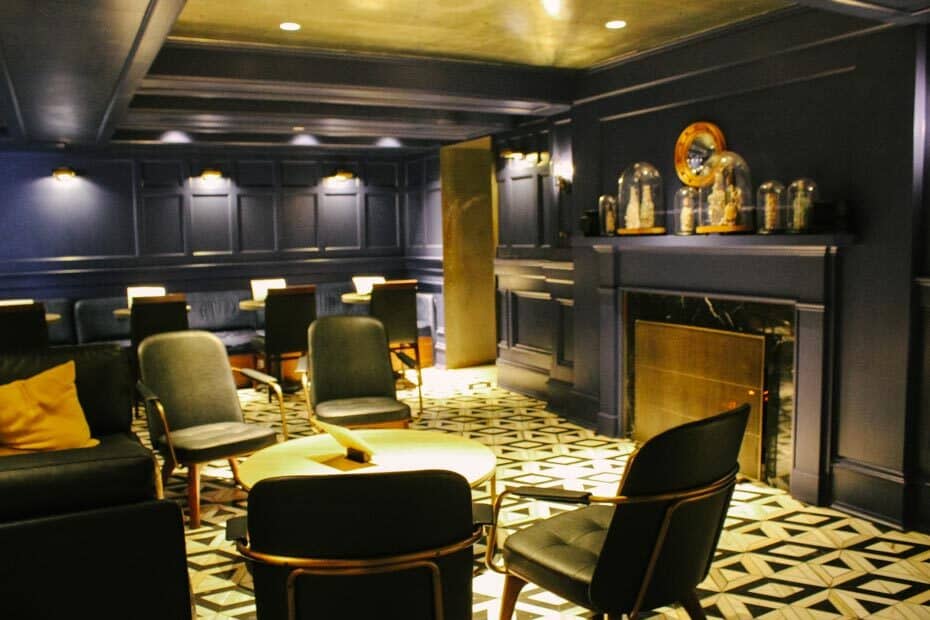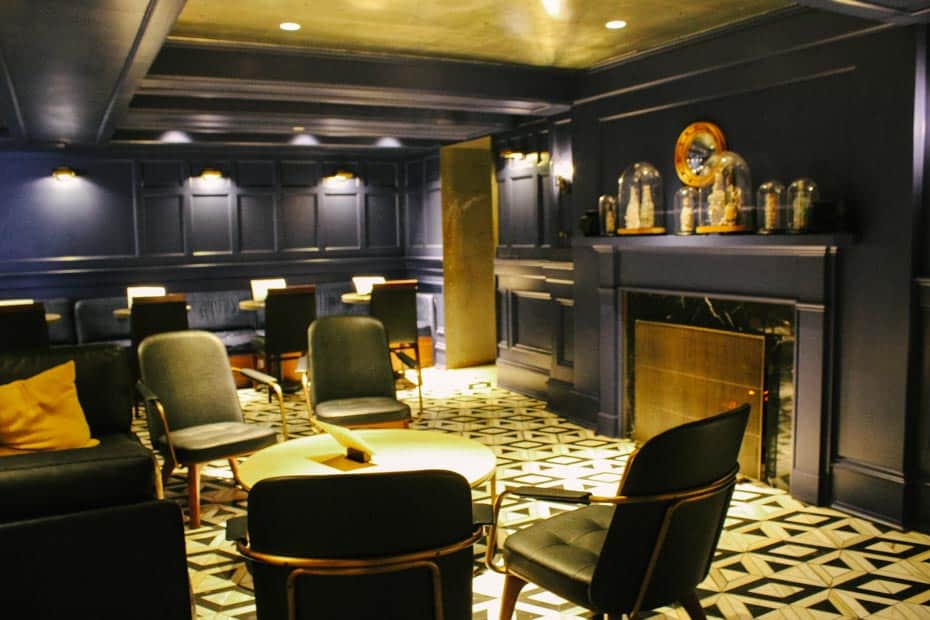 It reminds me of a private study you might find on some fabulous ocean liner.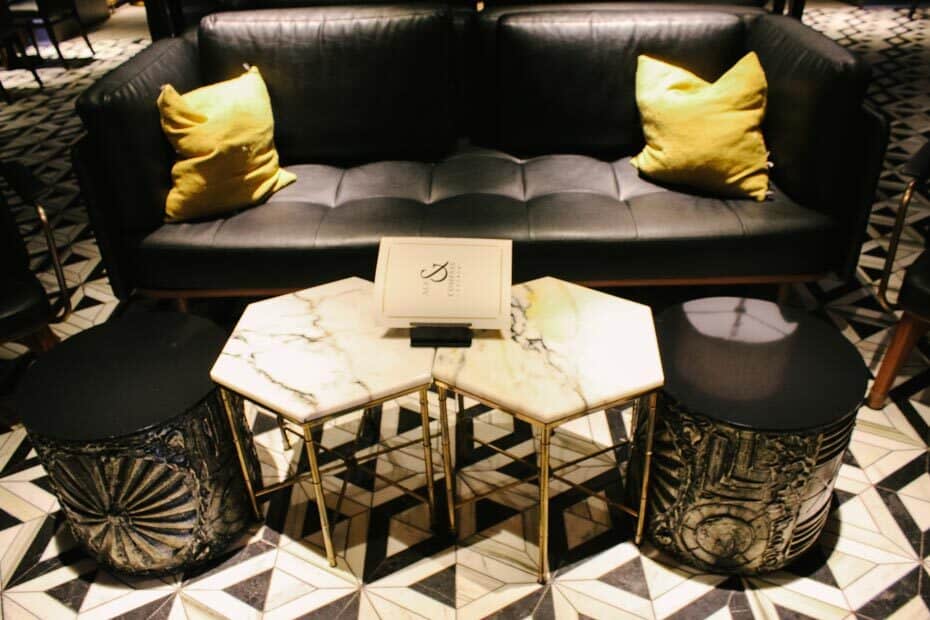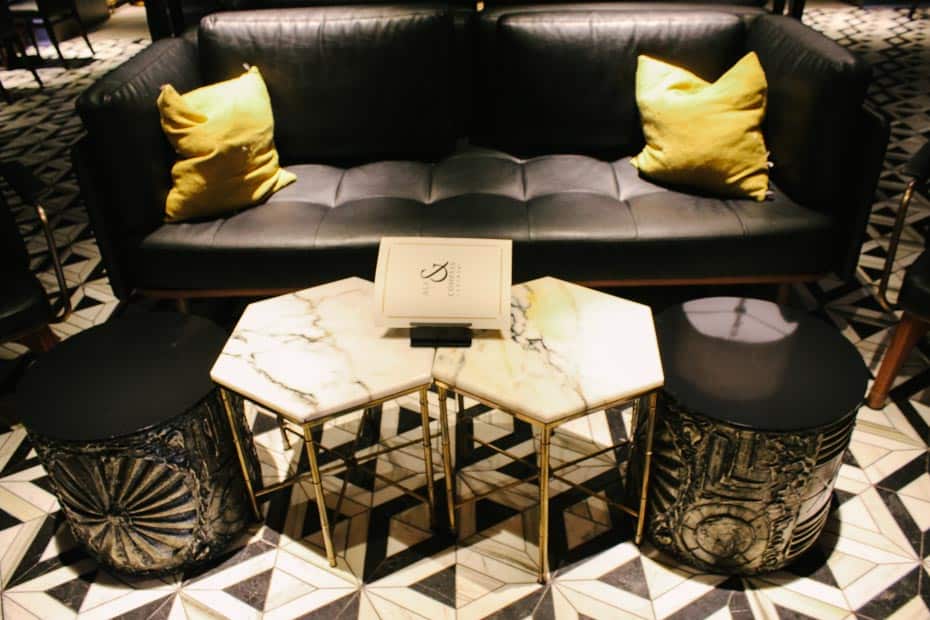 If you are having dinner with friends or family, this would be a wonderful spot for everyone to meet up.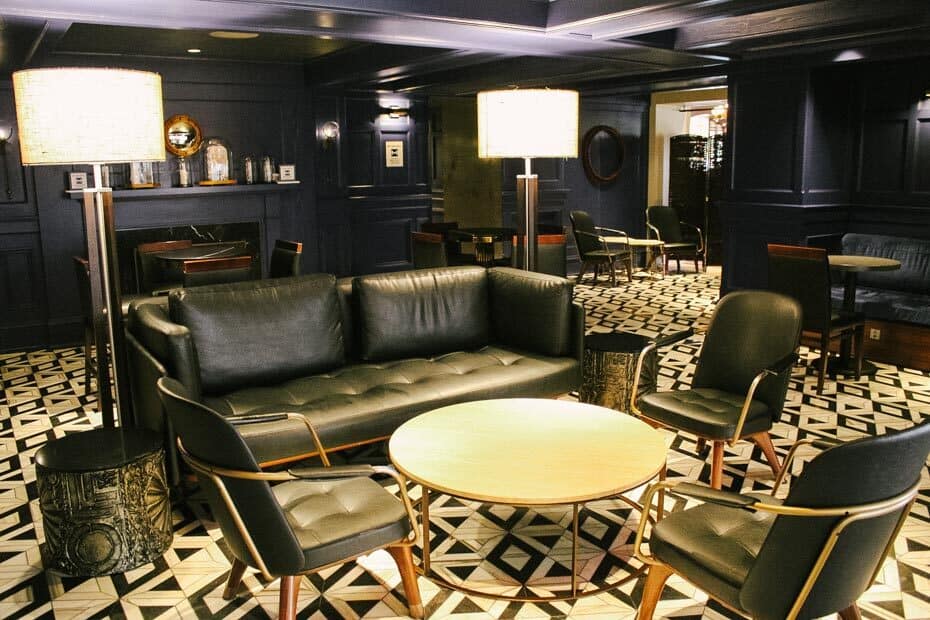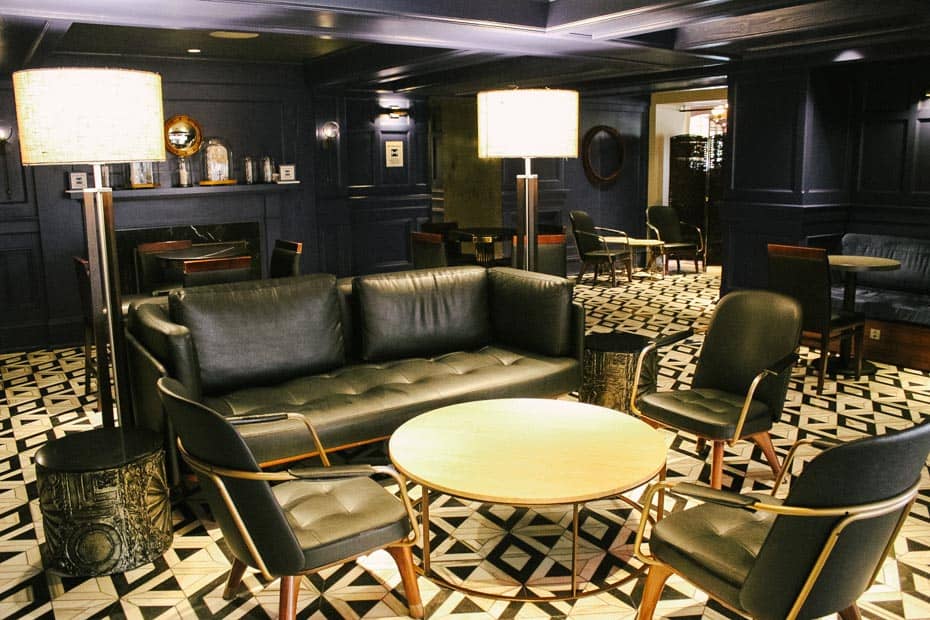 In the picture below, you can see how it opens up to the Yacht Club lobby.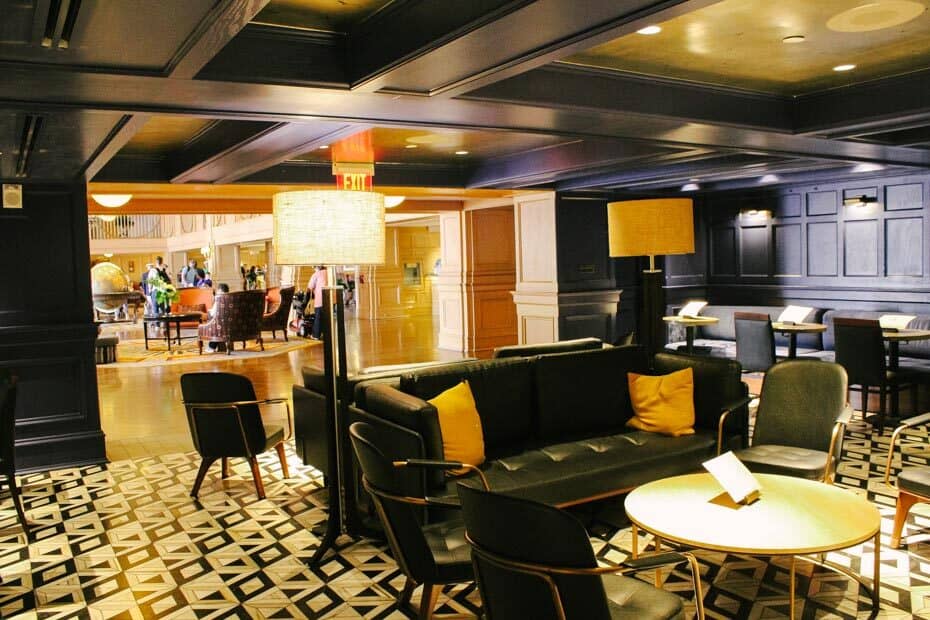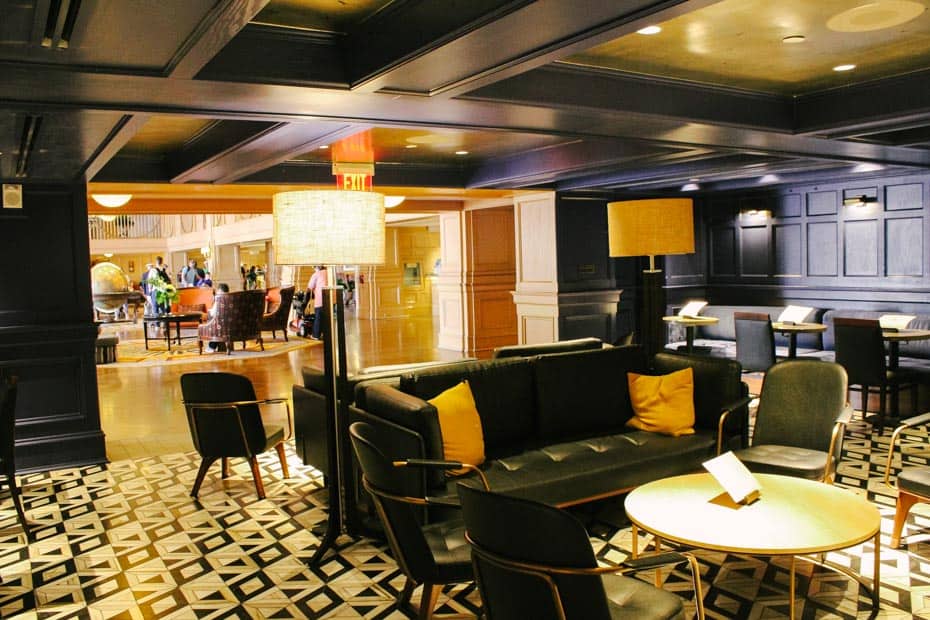 Ale and Compass Lounge Review
Below is a look at the Ale and Compass Lounge appetizer menu. I actually took this photo before last year's closure. Most of the items below are still available. The only thing I didn't see on my last visit were the crab cakes, baked goat cheese, and meatballs. Right now, QR codes are in place instead of the regular menu.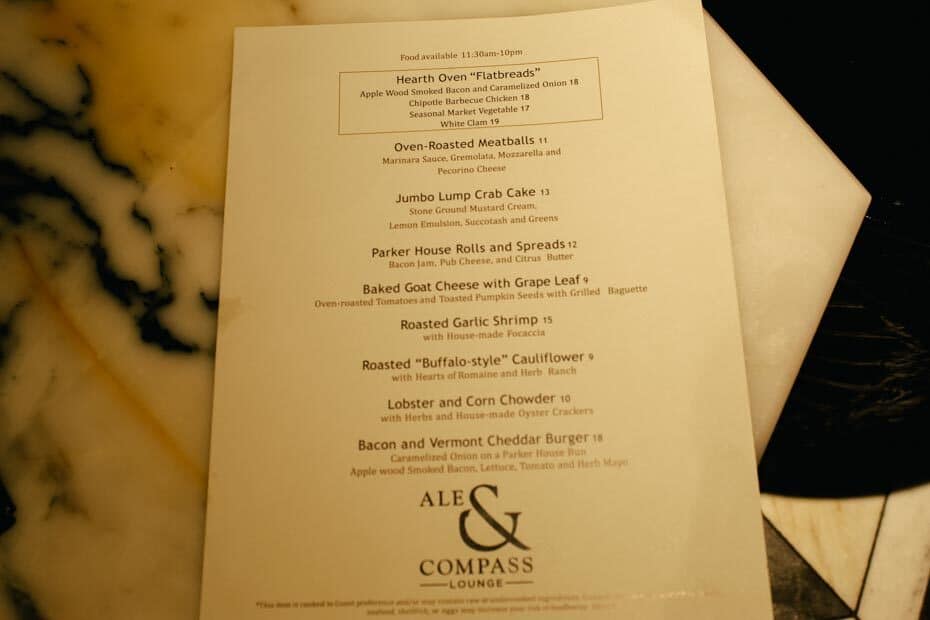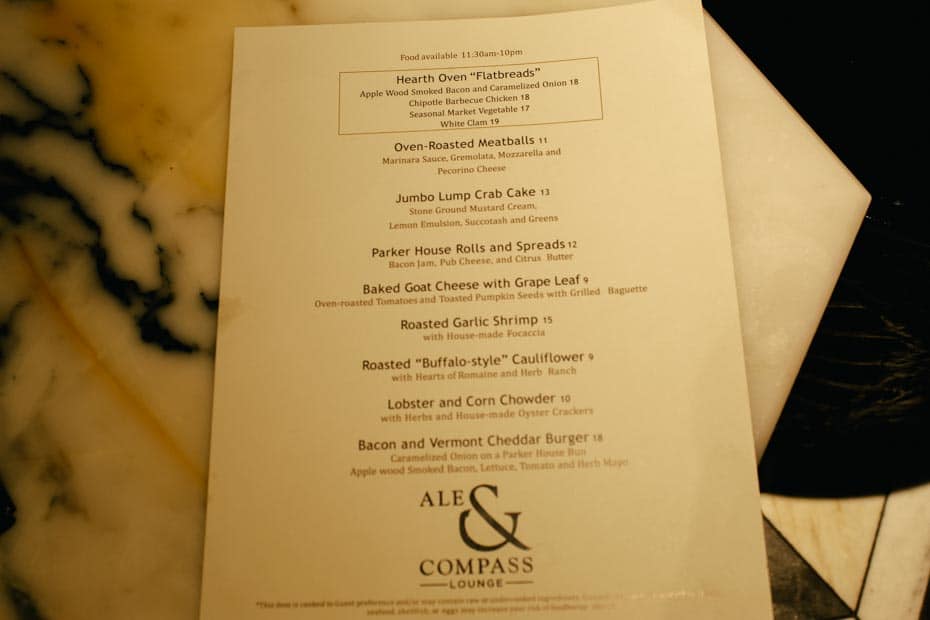 You can view the regular menu here on Disney's site if you would like. It includes the appetizers and Ale and Compass Lounge's original cocktails.
In December, I parked in the area one day to take Christmas photos before heading over to Hollywood Studios. On the way back, I decided it might be fun to do a to-go order and take it back to my room.
You may or not be aware, but Disney has added several to-go order restaurants to their My Disney Experience app. Ale and Compass is one of them. Before leaving the park, I opened up the app and placed my order. Then I took the walkway back from the park to the Yacht Club.
All of the items I ordered are also available at the Ale and Compass Lounge, so I thought this was be a good place to add them. When I picked up my food, the cast member told me that I could enjoy it in the lounge. Since I was worn out and still had a bit of a walk to get back to my car, I elected to wait and dine when I got back to my room.
However, I thought what a great idea this is for guests who couldn't get a reservation. This would also work for anyone who decided they wanted a nicer meal last minute or didn't want to have to deal with the fuss of getting ready to dine out for the evening.
Below is a look at my meal.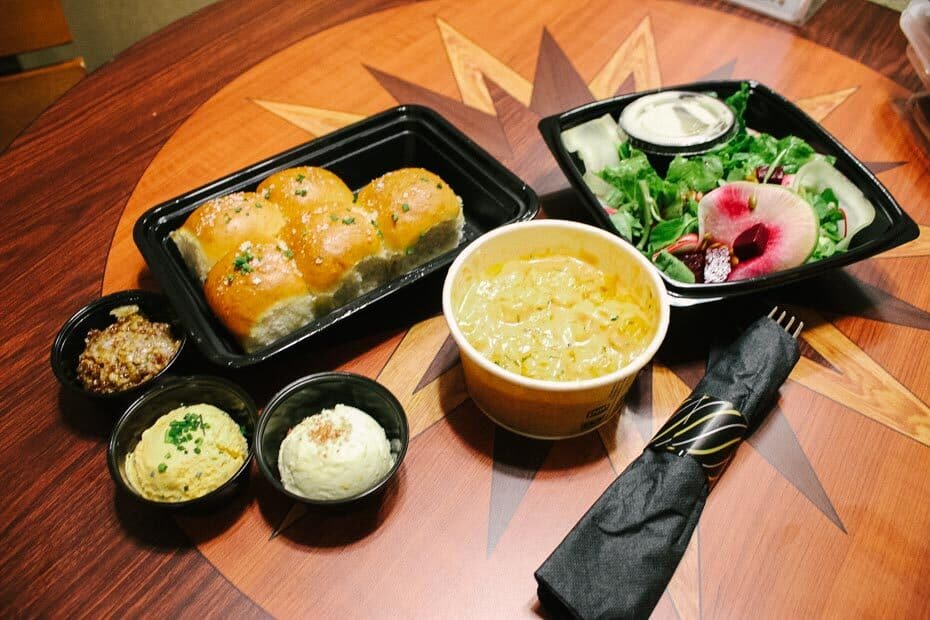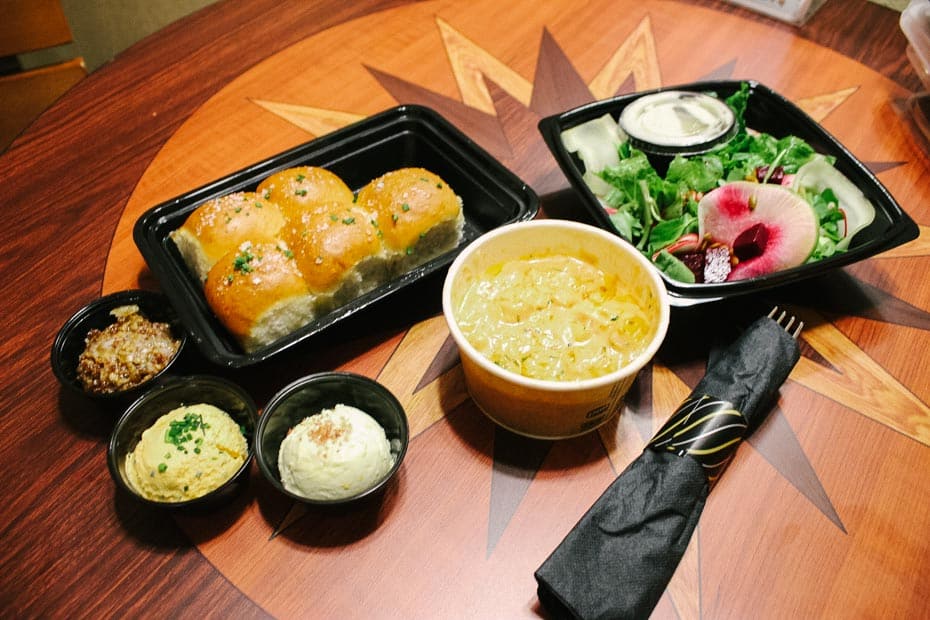 This is the Parker House rolls that come with the following spreads: bacon jam, pub cheese, and citrus butter. Then I had the lobster and corn chowder that came with house-made oyster crackers.
Both of these items are excellent. The chowder is a bit on the rich side but truly good. If you want a white broth chowder, check out the one at Martha's Vineyard.
Additionally, I got the plant-based Ale & Compass salad described as watercress, sorghum, pumpkin seeds, rainbow carrots, beets, and radish with lemon-balsamic vinaigrette. This was the first week I went vegetarian and one of my favorite meals at Disney from that trip.
On my last visit to Ale and Compass for breakfast (review), I noticed many guests were ordering breakfast to-go. After that, they were picking it up and taking it over to enjoy at the lounge. Of course, you could also take your meal out to the pool if you stay here as a guest. This whole new Disney to-go order beats room service any day, in my opinion.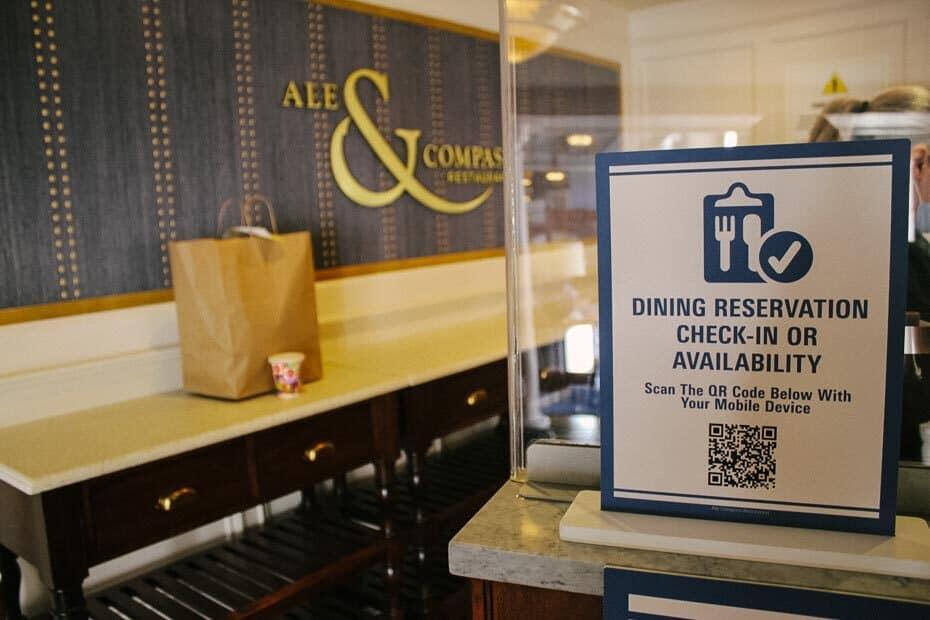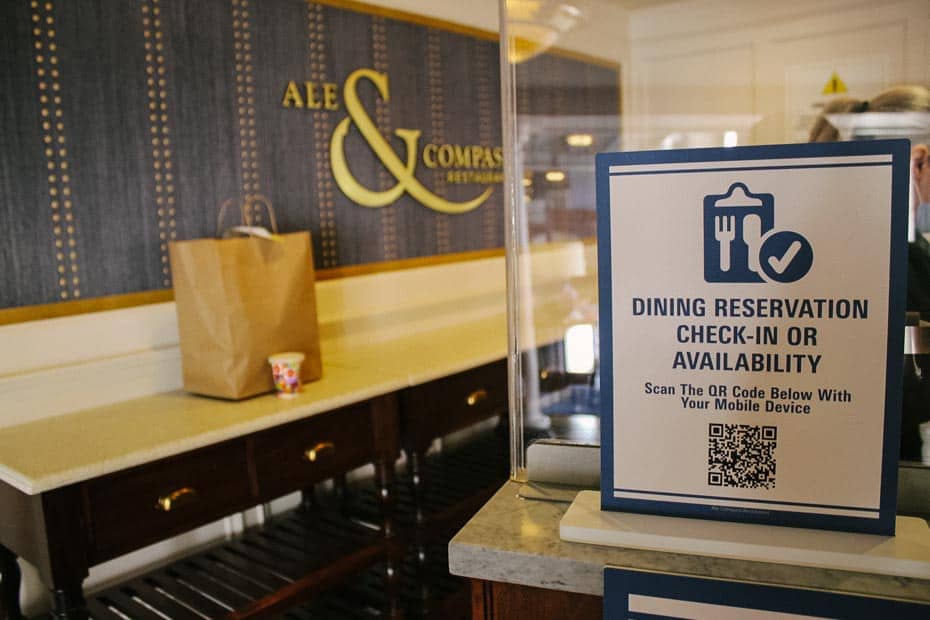 As for Ale and Compass Lounge, don't hesitate to stop in on your Disney vacation. The lounges at the various hotels offer some of the best food without all of the hassle of trying to get a reservation. And they are family-friendly.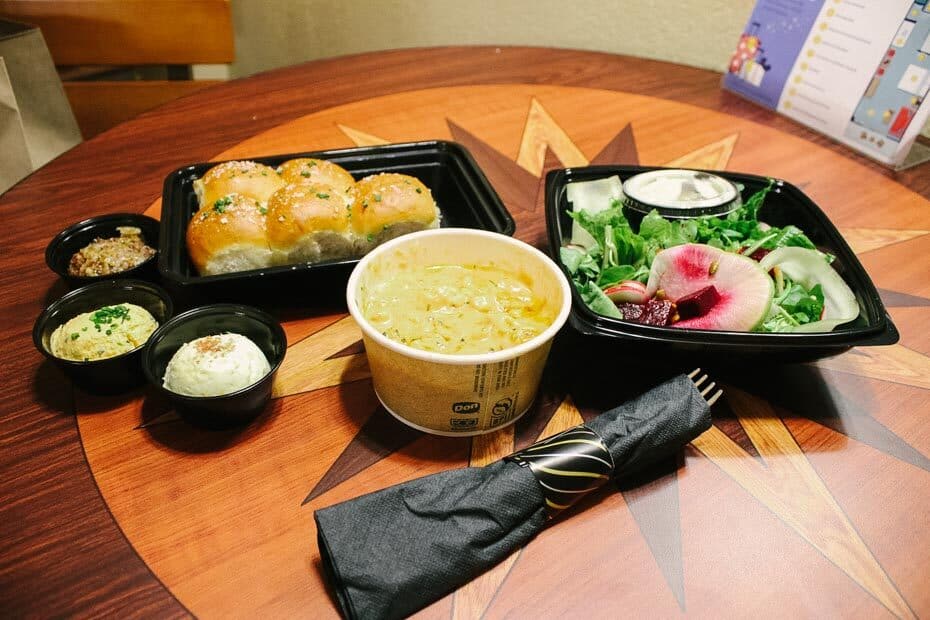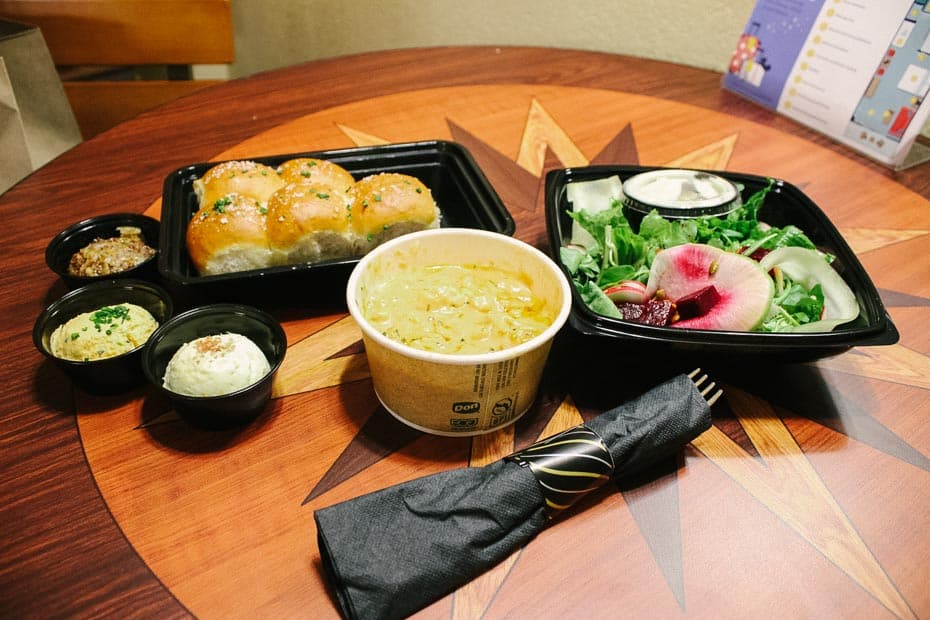 For more information about this resort, make sure to check out the collection of Disney's Yacht and Beach Club articles here. They include resort reviews, dining, pools, photos, and other tips about staying at the two sister resorts.
If you would like to learn more about dining, these other Disney restaurant reviews might be a good fit:
I hope you enjoyed our look at the lounge at Ale and Compass. Leave me a comment below and let me know your thoughts on dining here or at any of the lounges at Disney.
Ale & Compass Lounge