Fresh Mediterranean Market Breakfast Buffet Review at Disney's Dolphin
Unfortunately, Fresh Mediterranean Market at Disney's Dolphin has permanently closed. Another restaurant, Rosa Mexicano, has opened in its place. They serve breakfast, lunch, and dinner. To learn more about this location, we have a full review:
Some mornings you just want to throw on some clothes and grab breakfast at your hotel while on vacation. Thankfully, if you're staying at Disney's Swan and Dolphin, you have a few options.
This review of Fresh Mediterranean Market's breakfast buffet will go over one of those options in detail. We'll preview the items on the buffet, hours, and price.
As far as location goes, you'll find Fresh Mediterranean Market on the Dolphin side of the resort. It's on the ground level near the resort-side entrance.
Once you enter the building, you'll take an immediate left by The Fountain instead of heading up the escalator. Fresh Mediterranean Market will be a little further down toward the end of the hall.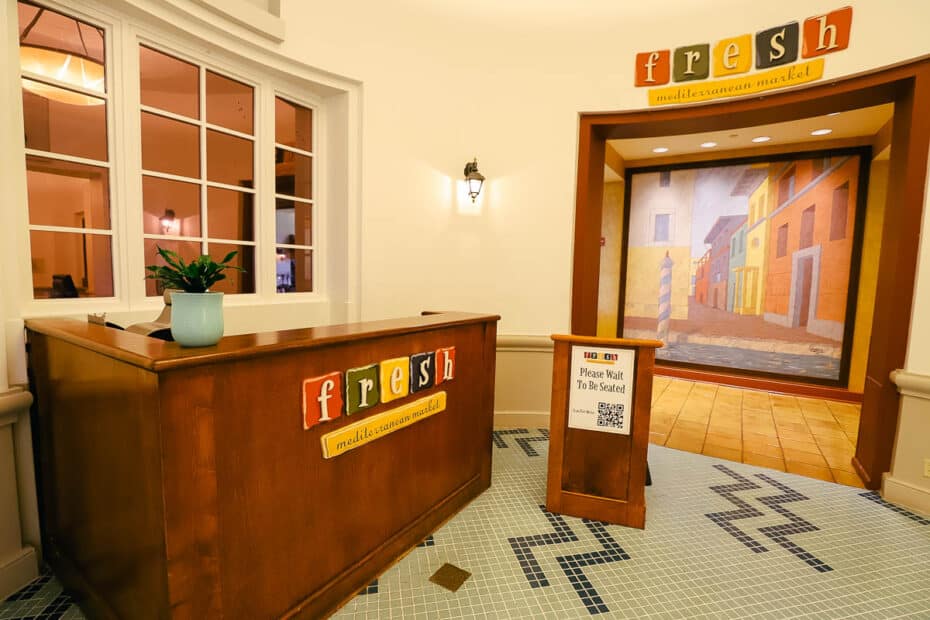 A menu outside the restaurant lists all of the items you'll find on the buffet. Or you can view the pdf version of the menu here on the hotel's website.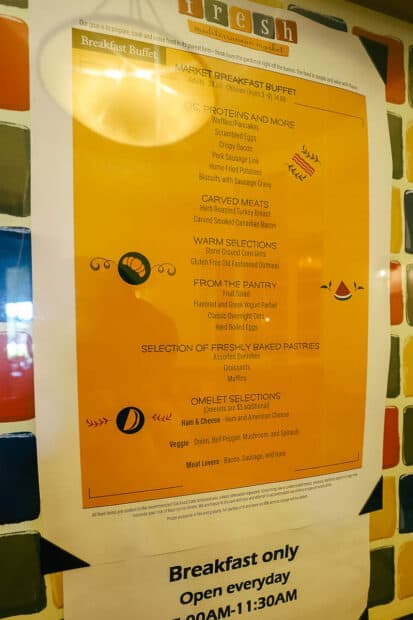 Fresh Mediterranean Market is open daily from 7:00 a.m. until 11:30 a.m. So if you're in the mood for a late breakfast or brunch, this location has you covered.
Pricing runs $24.00 per adult and $14.99 for children. Children are considered ages 3-9 years old.
An a la carte menu was not available on my visit. However, you can order various omelets for an extra $3.00.
When I was seated, my server came by and explained how things worked. He then asked if I wanted to order an omelet.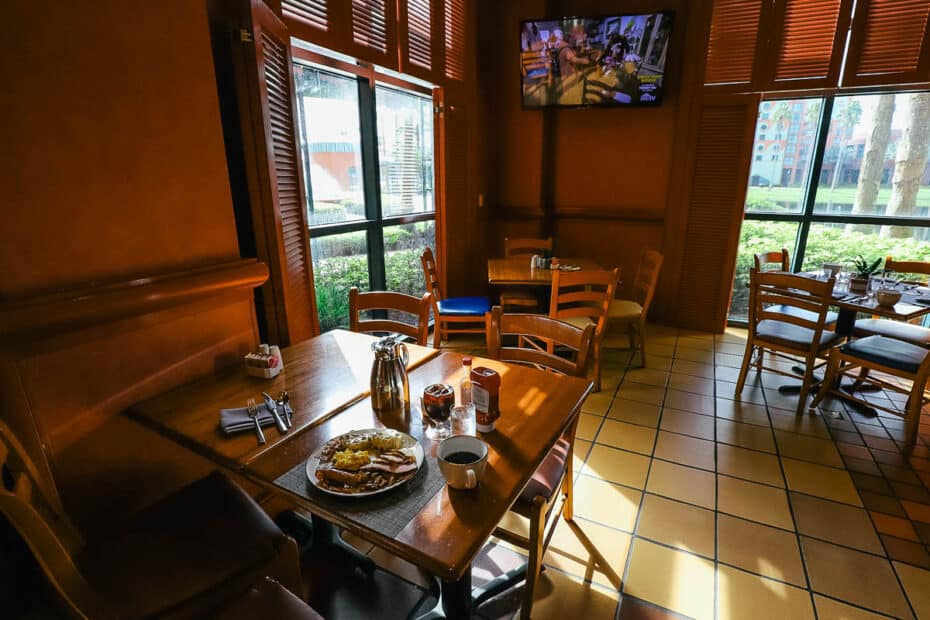 Since there was plenty of variety on the buffet, I declined. I was then directed to the buffet to get started while the server filled my drink order.
Before I got a plate, I walked through and photographed everything.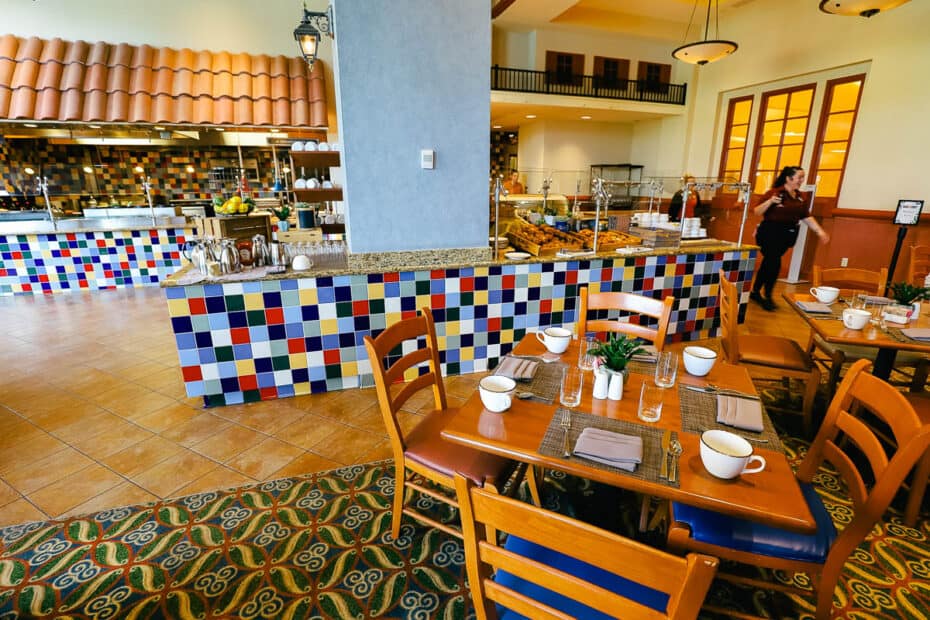 A separate display of pastries stands out in front of the primary buffet.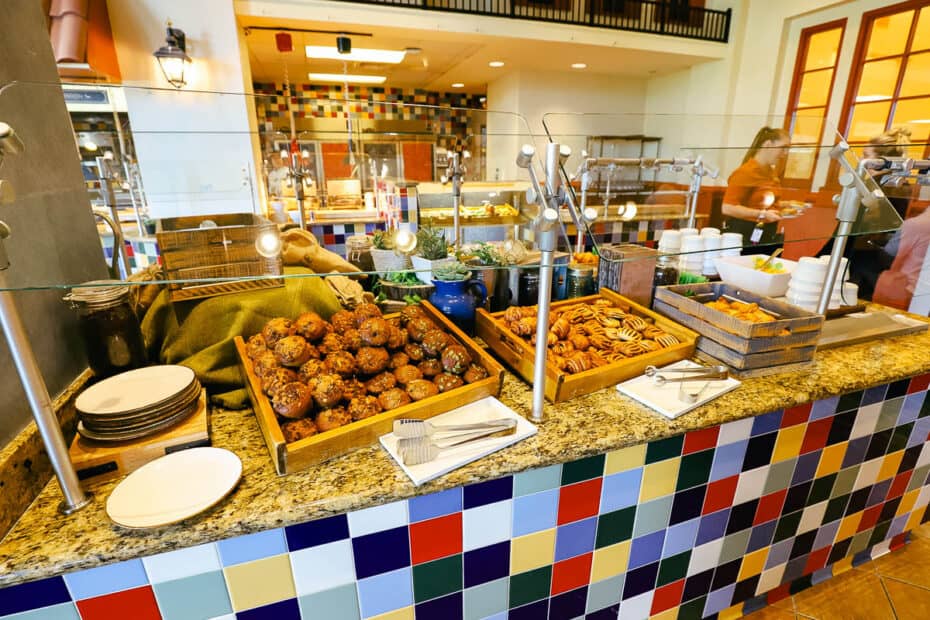 Here we have several kinds of muffins.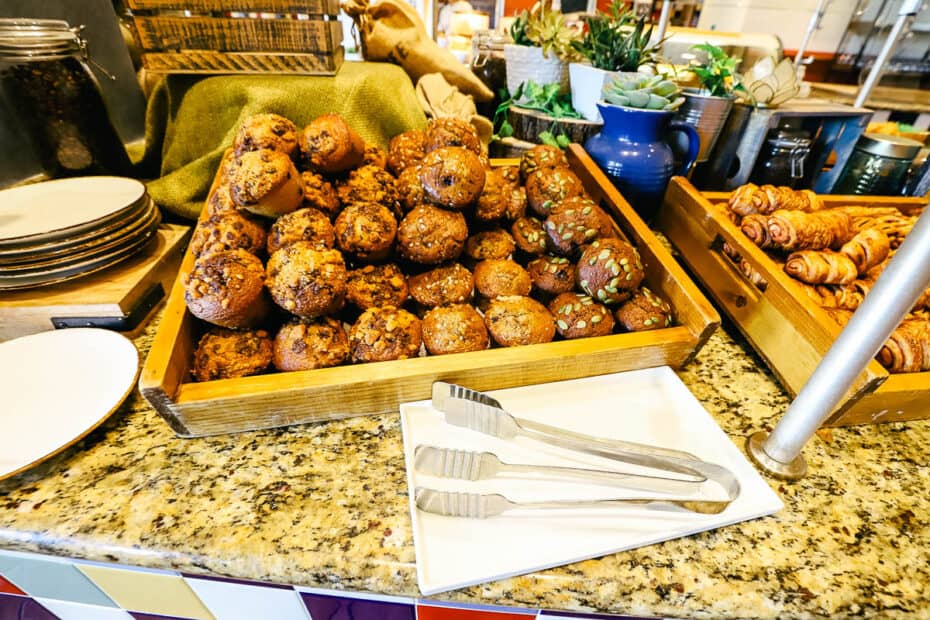 I was impressed by the variety and quality of pastries available. Since I stay at many hotels, I'm used to seeing the same thing repeatedly. Thankfully, that wasn't the case here.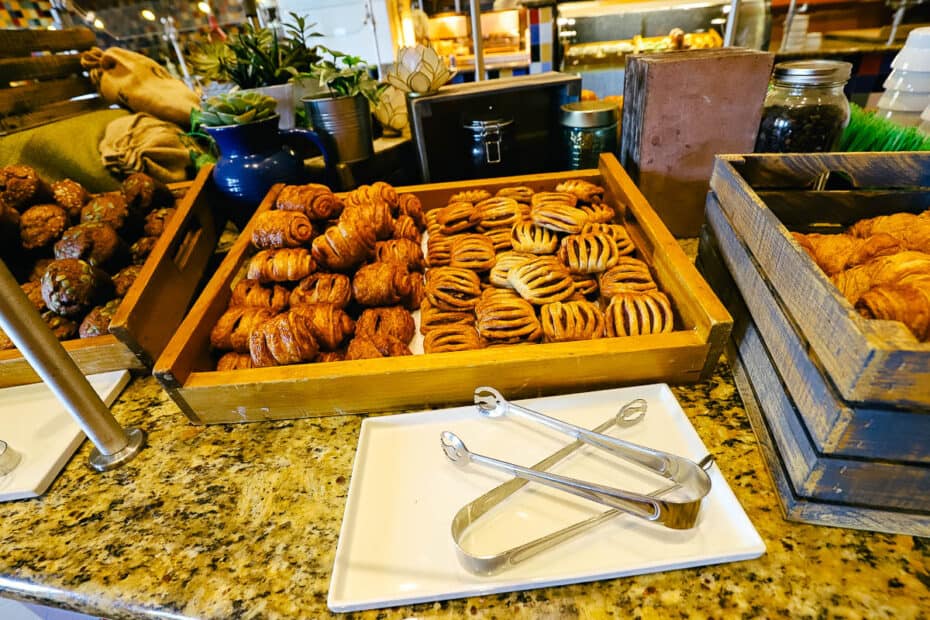 Toward the end of the pastry section, there was a bowl of fruit.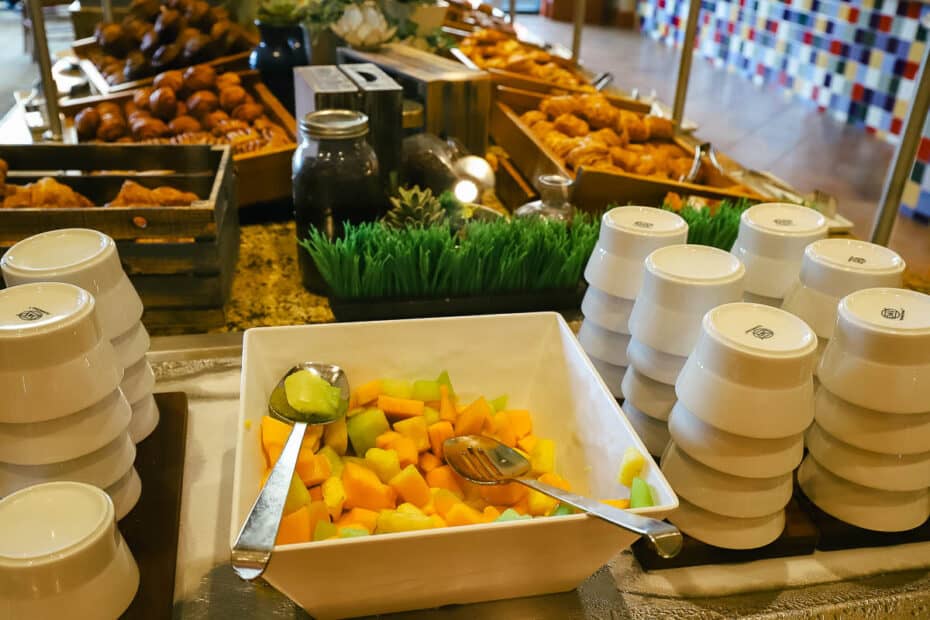 A refrigerated case had a few other fruit options, hard-boiled eggs, and vanilla or strawberry parfait choices.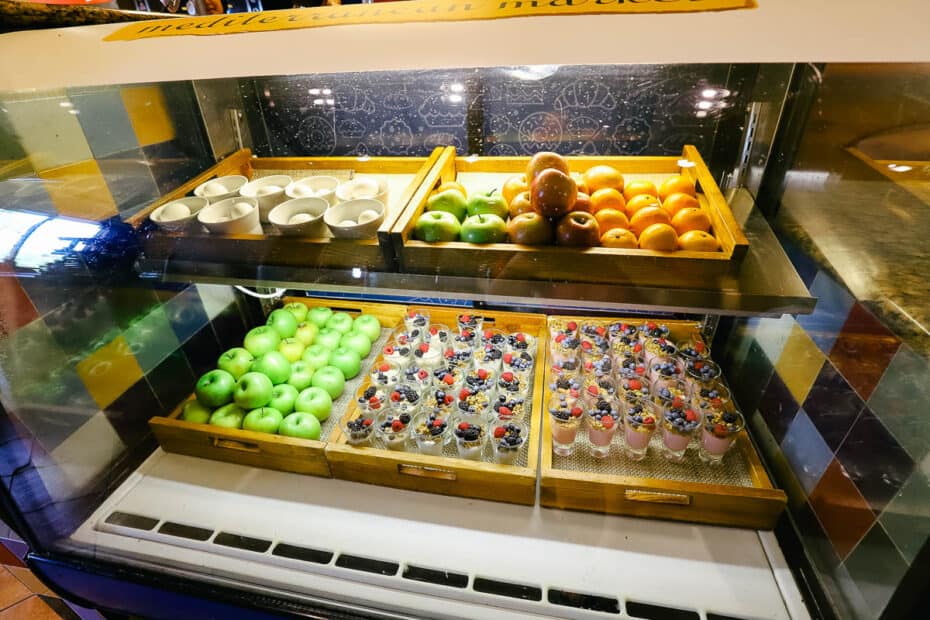 Back over on the island of pastries, we have chocolate croissants. Come to think of it, I should have gotten one.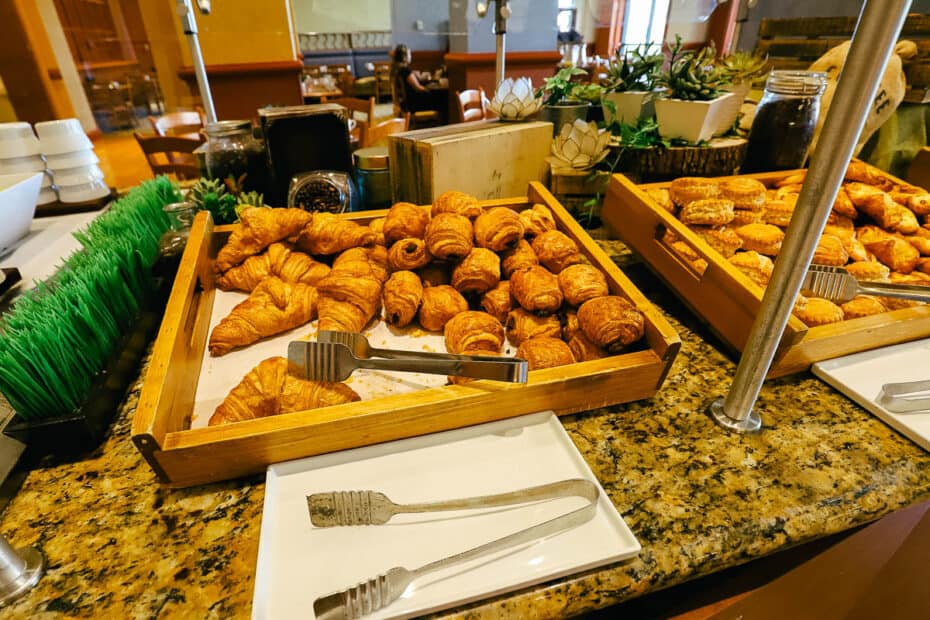 More delicious carbohydrates.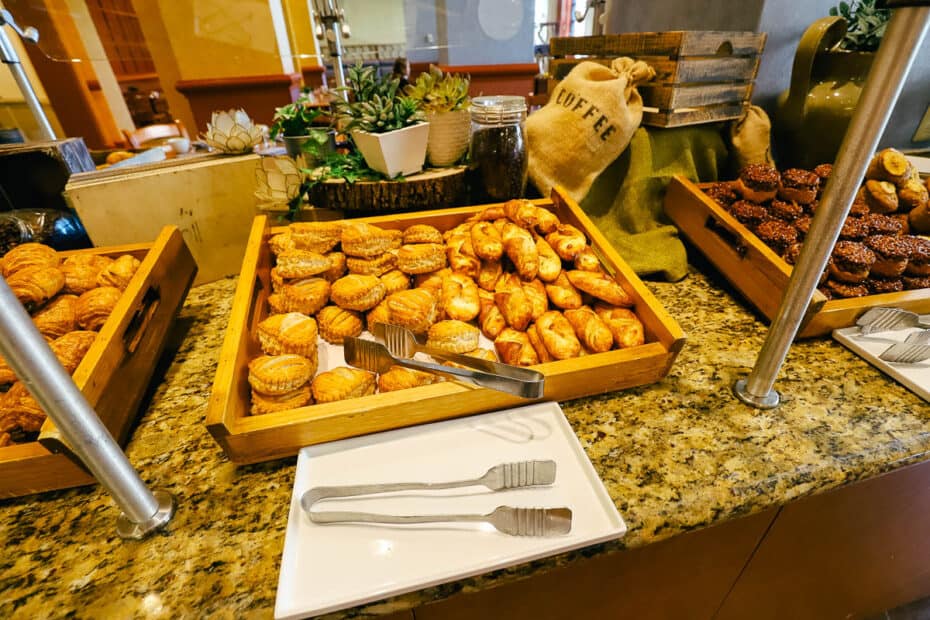 Here are two of my favorites: sticky buns and banana bread muffins.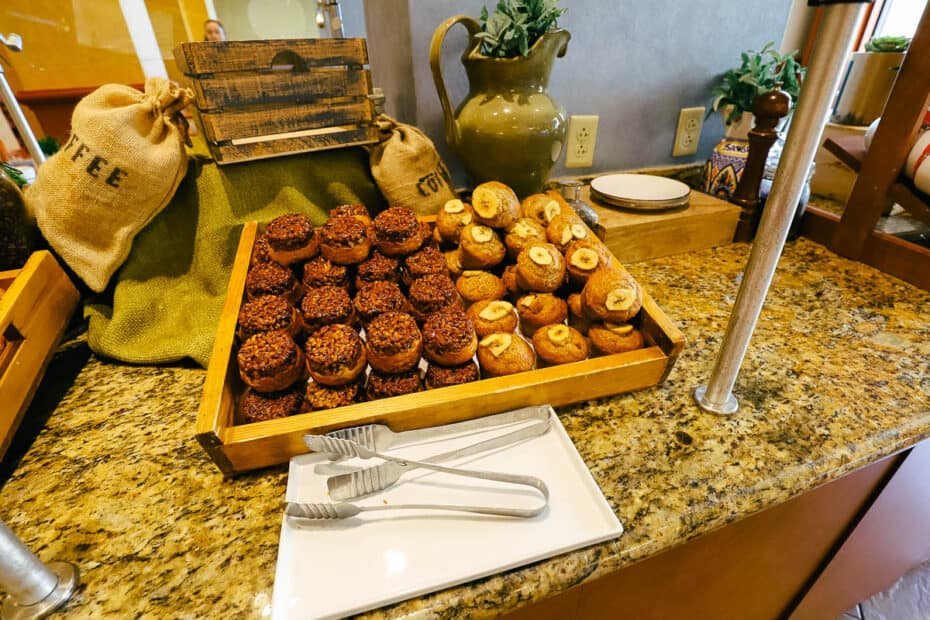 One can only assume these cereal packages are geared toward the pickier eater or children.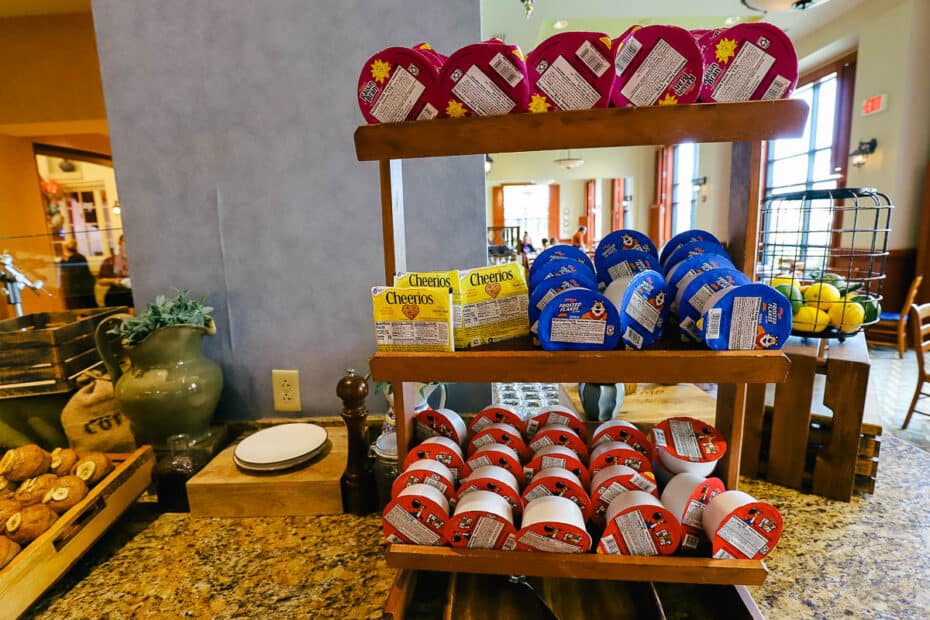 Next, we have the hot portion of the buffet. There was a choice of eggs, potatoes, bacon, and pork sausage.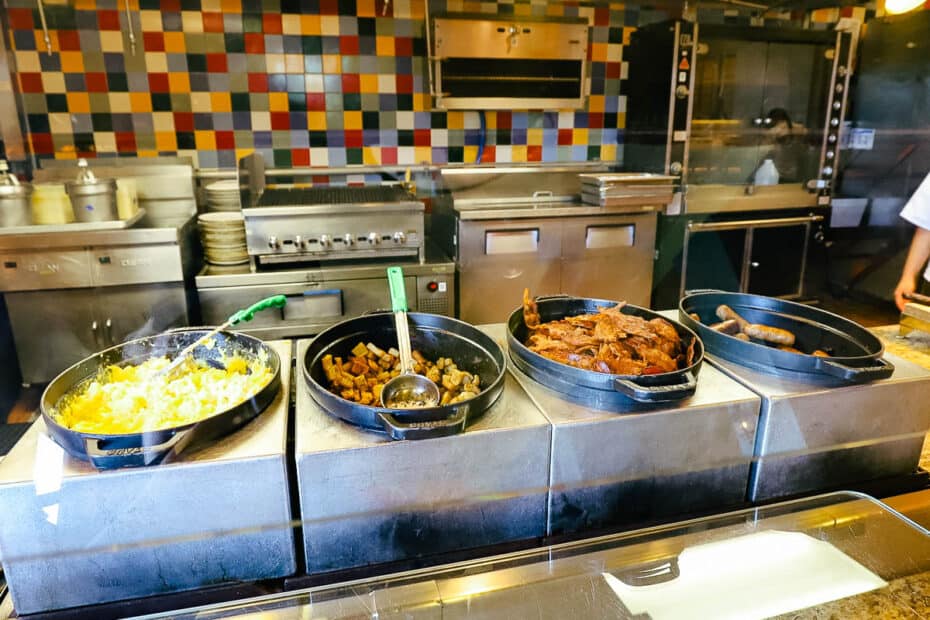 Biscuits and gravy were also available.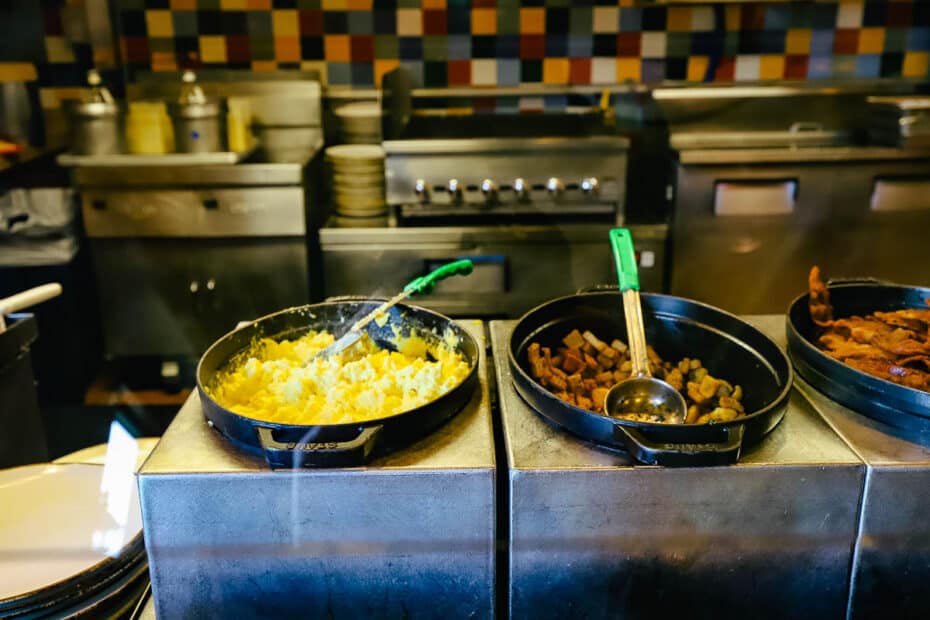 You might notice there's glass between me and the food. That's because the buffet is set up where you tell the person on the other side what you want, and they hand it to you.
Overall, this was my only issue with the buffet. Since I'm writing a review, I like to try as much as possible in small quantities. I kept telling the guy that I only wanted small portions, but I ended up with way more than I would have served myself.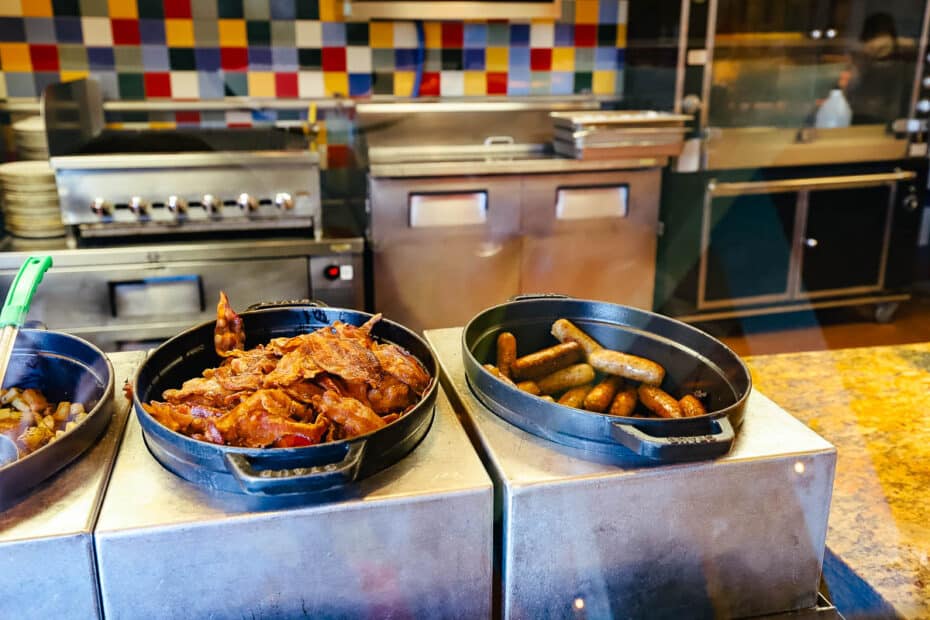 In this area below, you can order pancakes and waffles.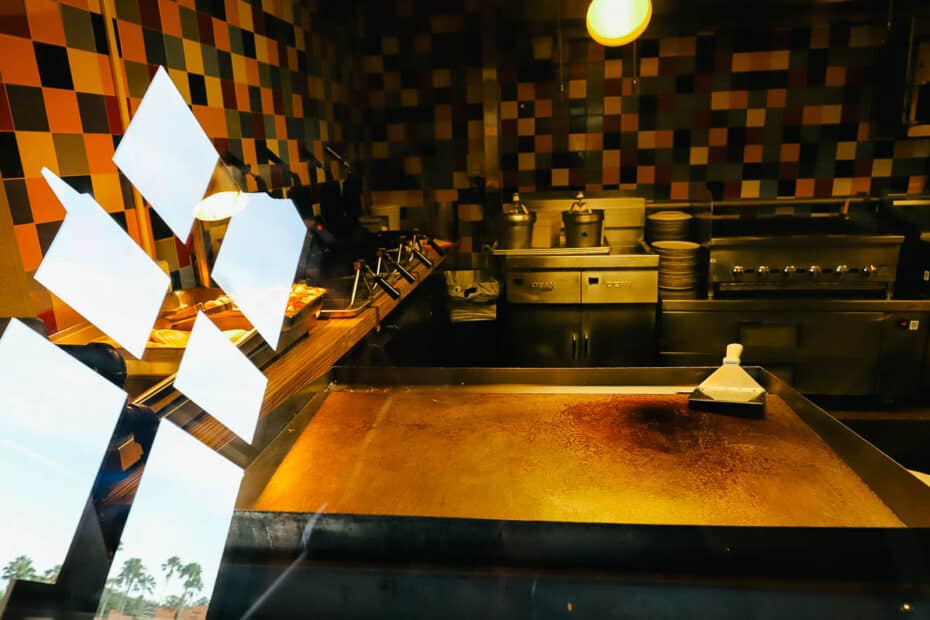 And they had a carving station with turkey and ham. This part reminded me of Boma, the best breakfast spot at Disney World.
Related: Boma, Flavors of Africa Breakfast Review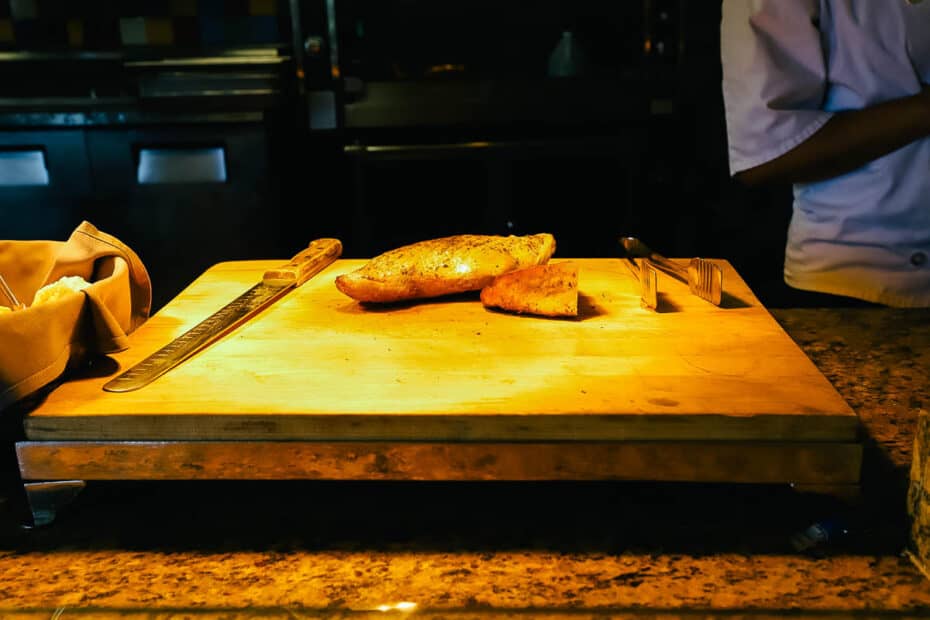 Lastly, there was a choice of oatmeal and grits with a few toppings.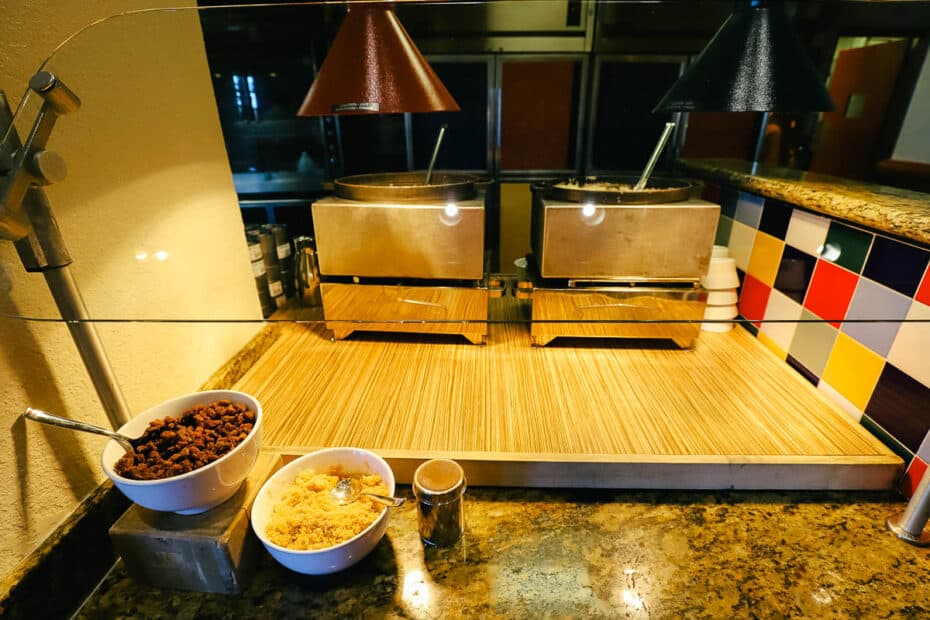 Here's how my plate turned out. Had I thought about it, I would have had the biscuit and gravy on a separate plate.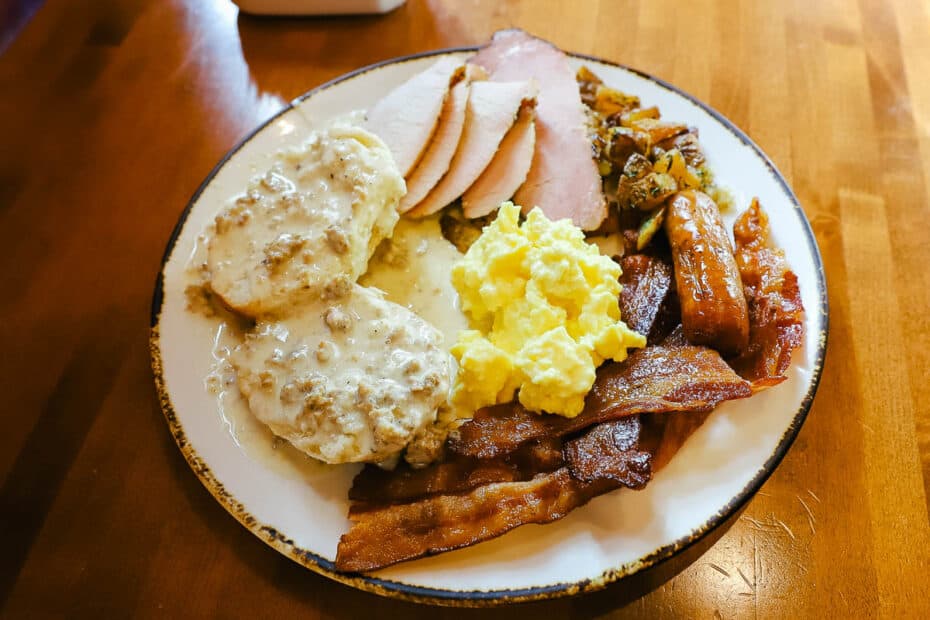 Ultimately, I enjoyed my breakfast and felt like the price point was reasonable considering other hotel breakfasts. Some seem like highway robbery.
After I left the Swan, I checked in to the Doubletree at Disney Springs. You may remember I mentioned how they charged $23.00 for their breakfast buffet, and it was the same complimentary breakfast I've seen at other hotels.
Related: DoubleTree at Disney Springs Review
And while I enjoyed my a la carte breakfast at the Hilton Orlando Buena Vista Palace, I felt the breakfast at Fresh Mediterranean Market was a better value.
Related: Hilton Orlando Buena Vista Palace Review
So if you're staying at Disney's Swan and Dolphin Resort and are looking for a lazy morning breakfast, Fresh Mediterranean Market is worth a stop. My service was excellent, the food tasty, and there was plenty of variety.
Here are a few more articles related to the hotel:
What are your thoughts on this review of the Fresh Mediterranean Market? Would you stop in for breakfast?