Doubletree Suites by Hilton Orlando Review (Disney Springs)
This article reviews the Doubletree Suites at Disney Springs. We'll preview a standard suite and discuss other amenities available at the resort.
Sometimes the need arises to reserve a hotel with separate living spaces for your Walt Disney World vacation. While plenty of options are available, many of them are often expensive.
Additionally, many larger accommodations in more reasonable price ranges aren't as close to the theme parks as we would like. That's where a hotel like the Doubletree Suites by Hilton at Disney Springs comes into play. It's the only all-suite hotel in the area.
Over the years, I've heard many positive reviews of the Doubletree Hotel at Disney Springs. So I thought it was time to stay here and compare it to a few other resorts in a similar price range and location.
This Doubletree Suites at Disney Springs review will examine our experience at the hotel. We'll also preview a standard suite to see what in-room amenities you can expect.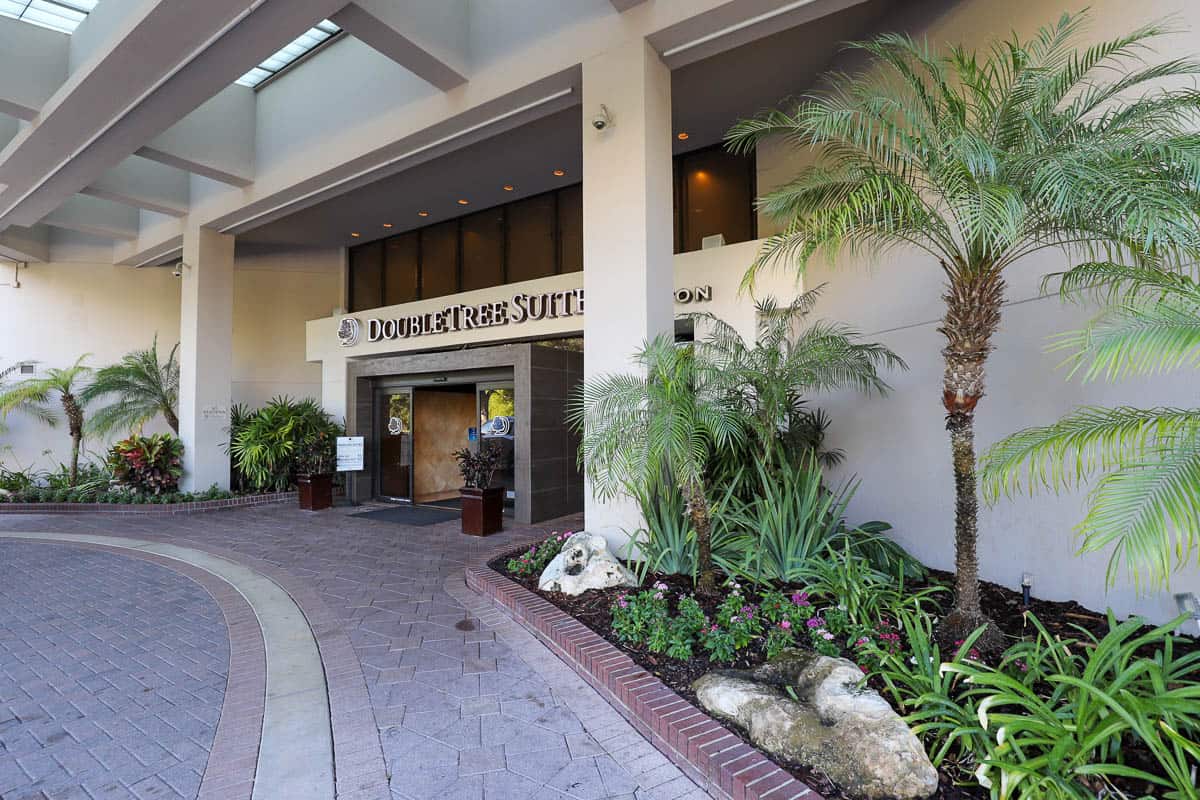 Doubletree Disney Springs Review
Unfortunately, my arrival at the Doubletree didn't go as smoothly as I had hoped. After leaving Disney's Swan and Dolphin Hotel, I checked in to the Doubletree on a Saturday at 2:30 p.m.
I left my luggage with bell services at the Swan Resort earlier that morning and spent the day at their pool. However, the weather was uncooperating, and I assumed my room at the Doubletree would be ready by the time I arrived.
A few days before, the Swan had texted my room assignment at 10:30 a.m., which exceeded my expectations. I'd had an excellent stay and enjoyed my room at the resort.
Related: Photo Tour of Standard Guest Room at Disney's Swan Resort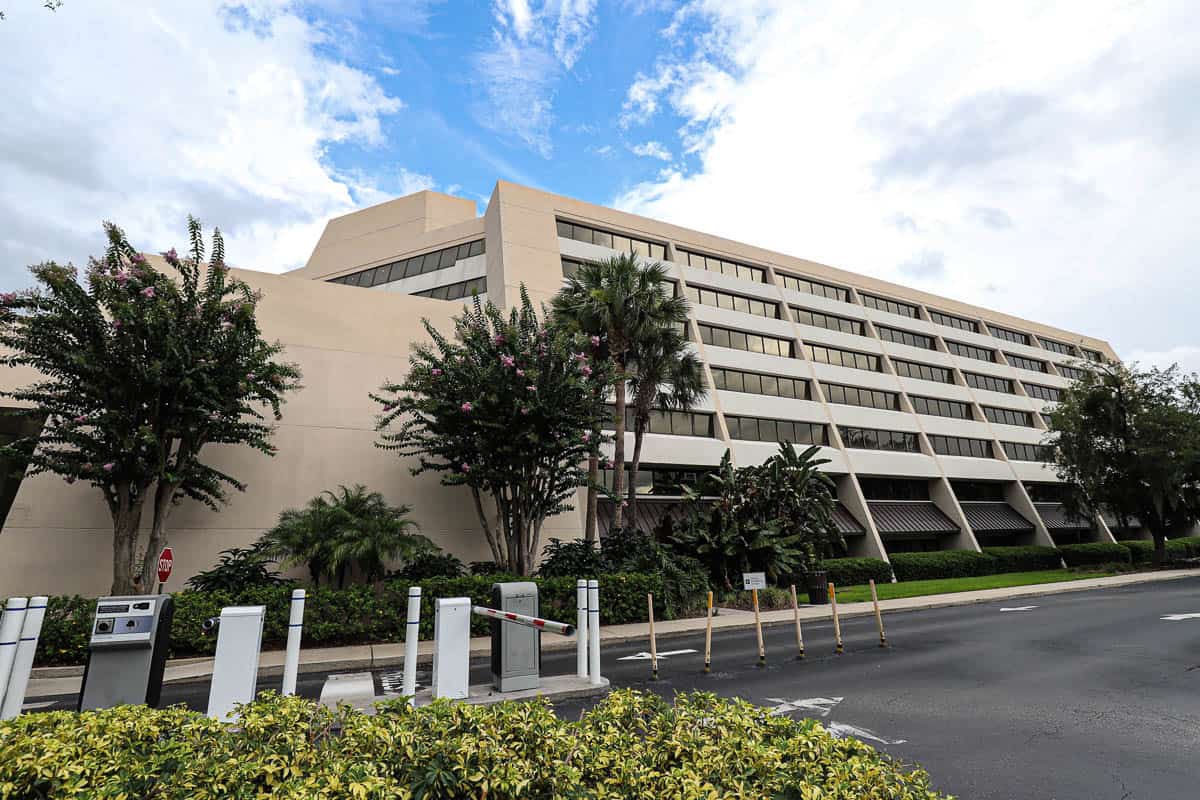 Upon arriving at the Doubletree, I was notified that my room wasn't ready. When I questioned how long I should expect to wait, I was told rather abruptly that rooms weren't guaranteed until 4:00 p.m. and that they would text me the room number when it became available.
Maybe I'm old-fashioned, but when I'm paying to stay somewhere, I don't care for anyone to treat me like I'm trying to take advantage of their system. It isn't uncommon for rooms to be ready early at hotels, and guests arrive at different times.
In addition, I had a headache and asked where I could purchase something for it. I was then told I would have to leave and go elsewhere because the hotel's convenience shop didn't open until 5:00 p.m.
For whatever reason, I decided to press my luck and ask if they had a first aid kit with individual Tylenol samples or something similar. At this point, it was nearly 3:00 p.m., and the last thing I wanted was to have to leave to find something. You know, since my room was guaranteed at 4:00 p.m.
Unfortunately, no help was available. So I returned to my car and headed out to find the nearest drugstore. At 4:00 p.m., I still hadn't received my room assignment via text, so I returned to the hotel.
I waited in line at the front desk again. But thankfully, this time, my room was ready. Needless to say, things started a little rocky.
That said, the bell services guy who brought my luggage was an angel. In a nutshell, he provided me with need-to-know information for my stay. For instance, he mentioned that the hotel offered a shuttle service to the parks, told me about the pool, and even recommended stellar dining options nearby Disney Springs.
Related: Best Restaurants at Disney Springs
When I asked him how long he had worked for the company, he mentioned that he worked through a temporary service but had been there for a while. All I can say is that the Hilton is lucky to have someone at the hotel who cares about the needs of their guests.
He turned an unpleasant check-in process around and made me feel like a wanted guest. Isn't that how most of us want to feel on vacation?
Anyway, I was pleased with the size of the suite I had reserved. This room cost $182.25 for the night, and I paid $22.00 extra for parking. Thankfully, this hotel doesn't charge a resort fee.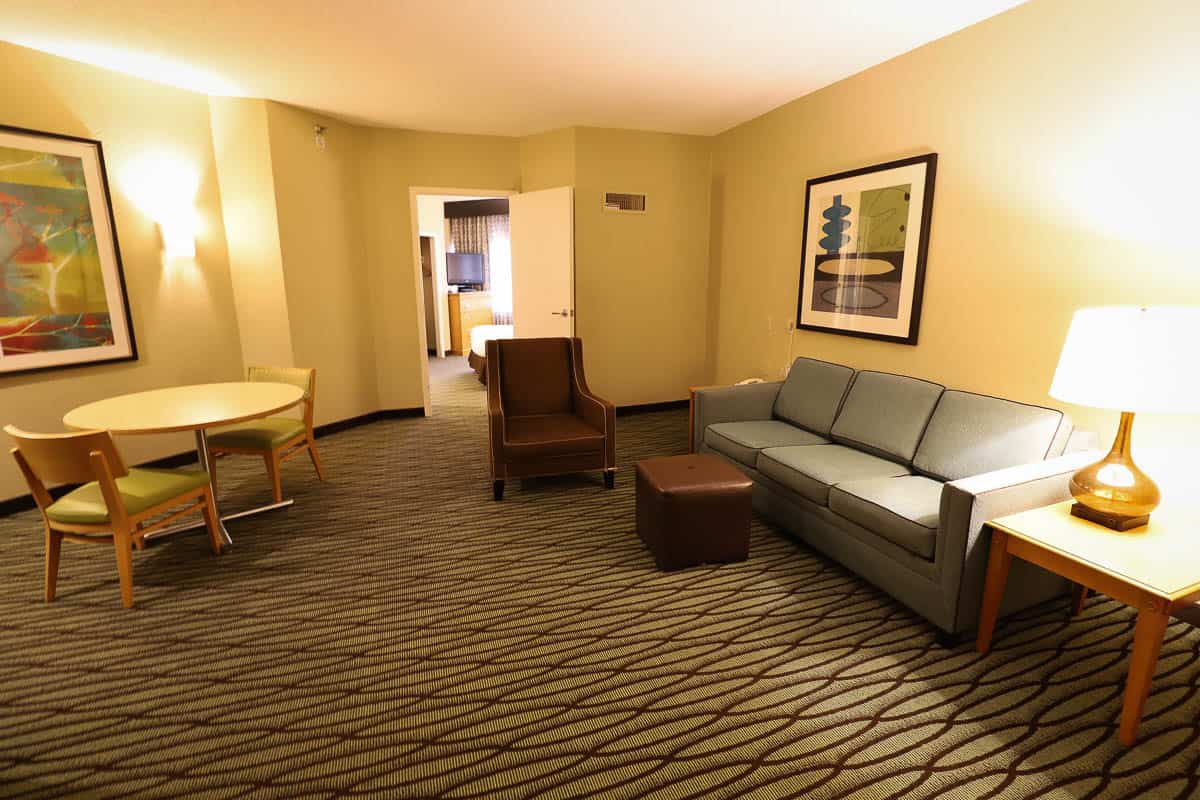 Regarding pricing, the higher price of the room was likely due to the time of year. For reference, I stayed here over a weekend in mid-July.
In August, the rates are much more reasonable than what I paid. Of course, you'll want to consider the extra parking cost if you have a vehicle.
Below is a photo of the living room area for the one-bedroom suite with a king-size bed and sleeper sofa bed. This room comes in at 540 square feet and sleeps up to four guests.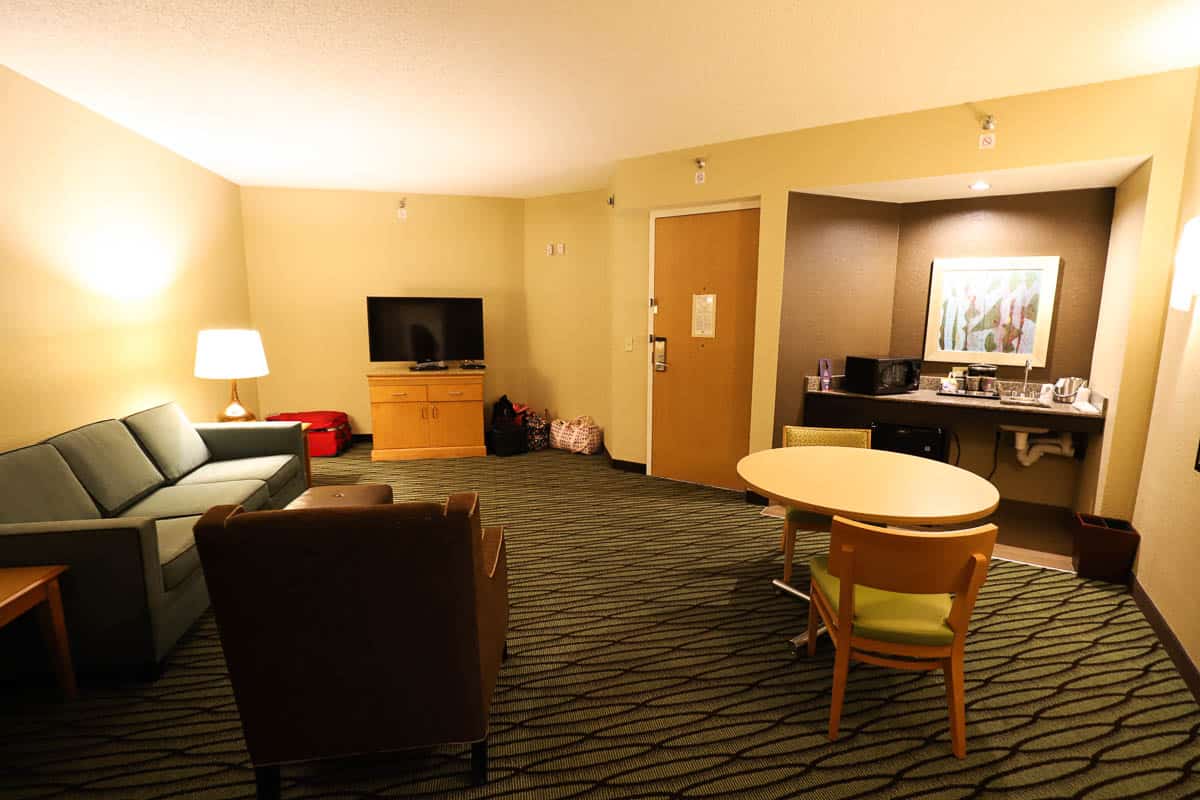 I appreciated having a separate table and chairs in the living area. Since I ran a few errands while waiting to check in, I brought dinner back to the hotel. Having a proper place to enjoy a meal and get a little work done was nice. Speaking of work, free wifi was available.
In the corner, a small kitchenette area provided a sink, microwave, and an individual cup coffee maker.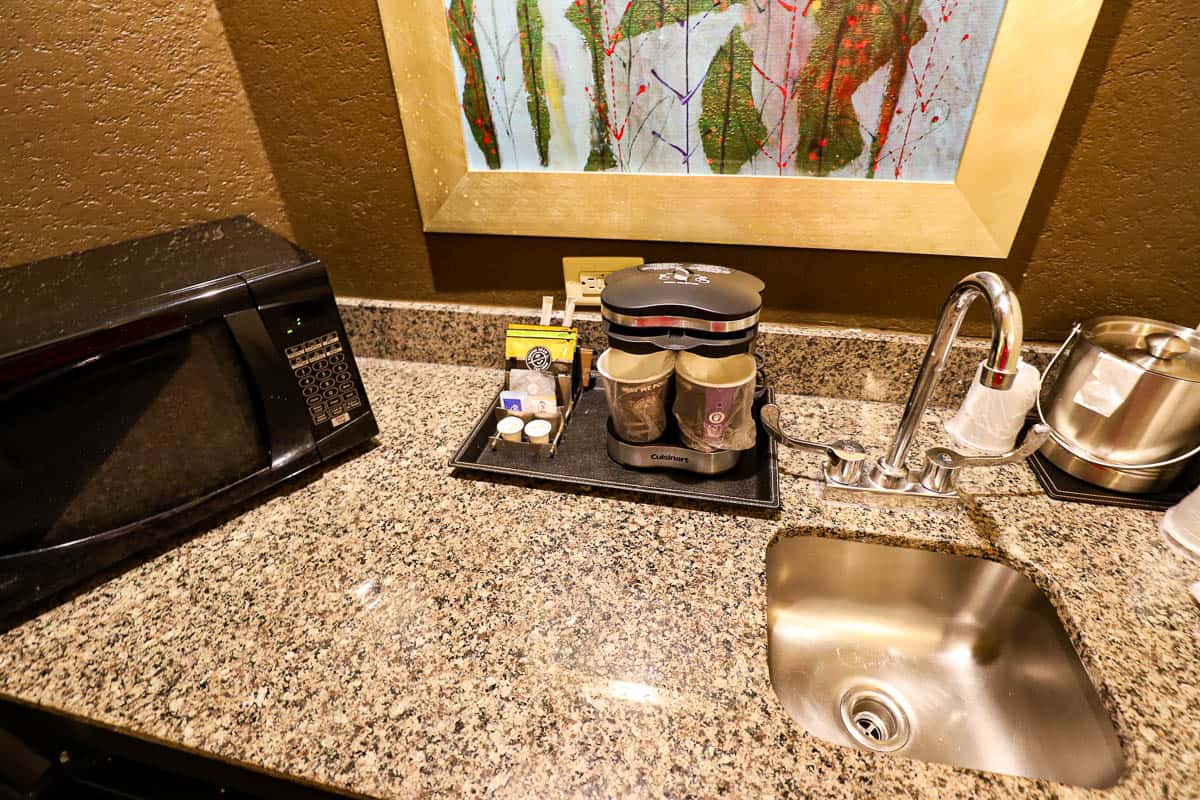 As of this trip, I've decided I'm over this style of coffee maker. Unfortunately, the coffee isn't good, and I miss being able to make a pot of coffee while I'm getting ready. These allow the coffee to get cold quickly, and you can't warm it up by adding more.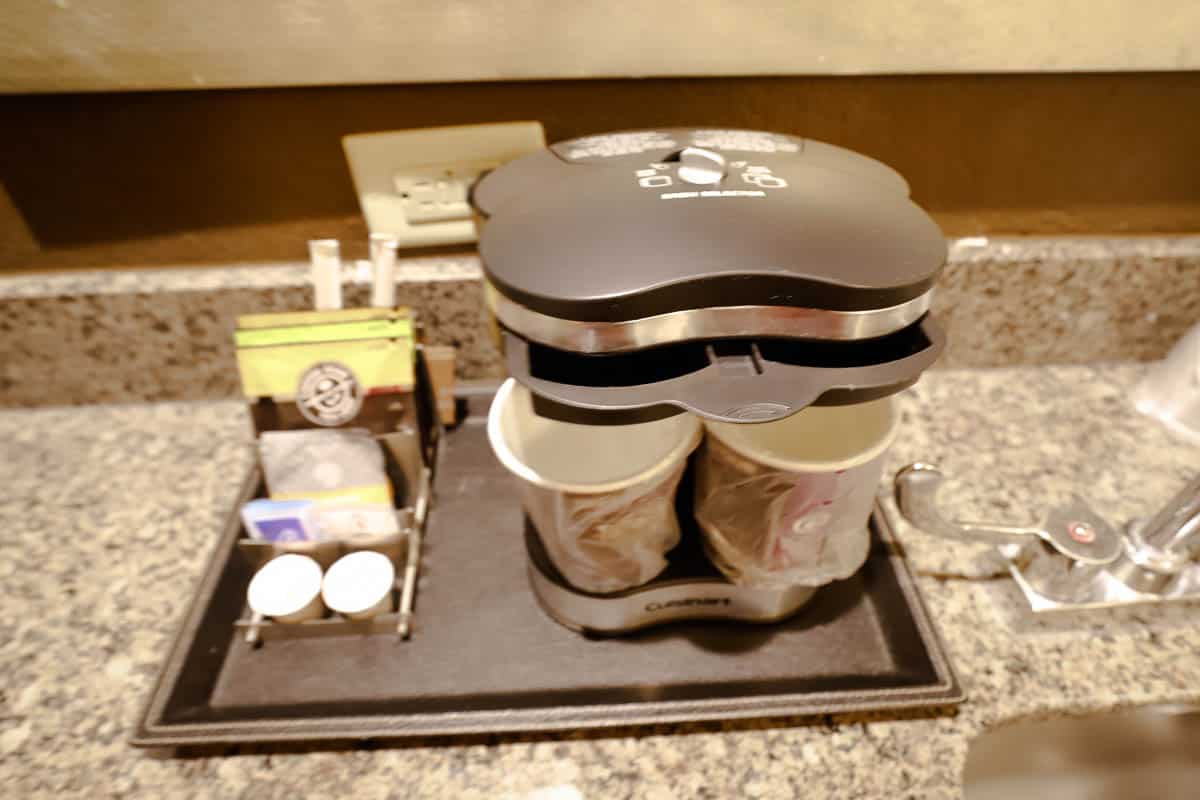 A moderately sized mini-refrigerator sits under the counter. If you were to bring back leftovers from any of the nearby restaurants at Disney Springs, you could store them here and heat them later.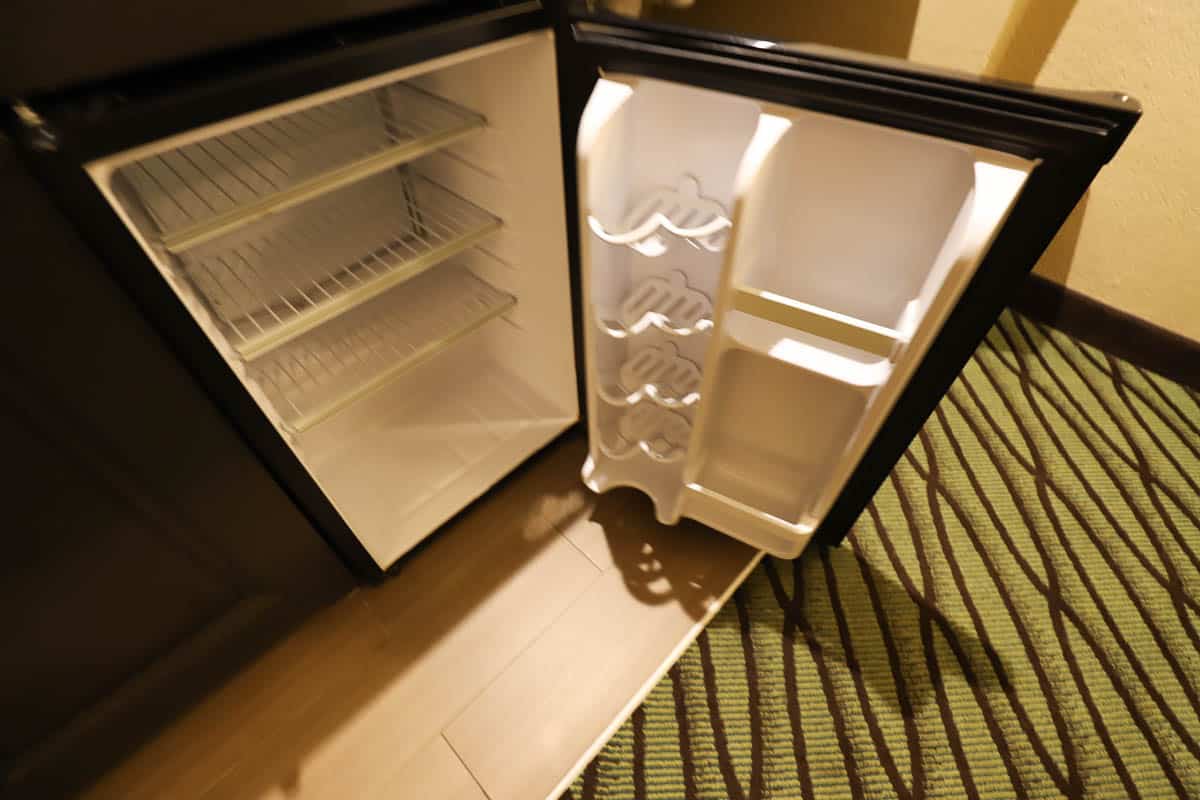 In addition to having a large living area, it was nice to have a separate bedroom. You could close the doors between the two rooms for added privacy.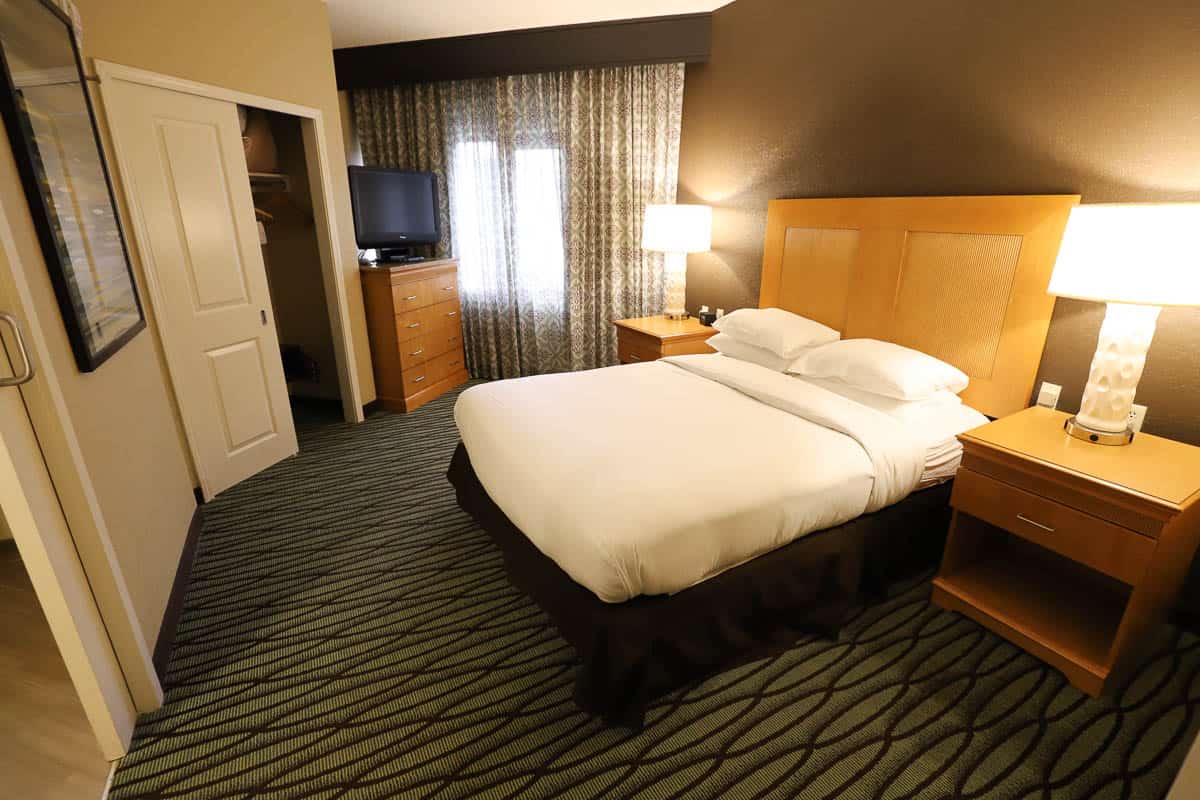 The bedroom had a pretty dated television that didn't work well. Since I spent most of my time in the living space, it wasn't an issue. Inside the closet were extra bedding for the sleeper sofa and an in-room safe.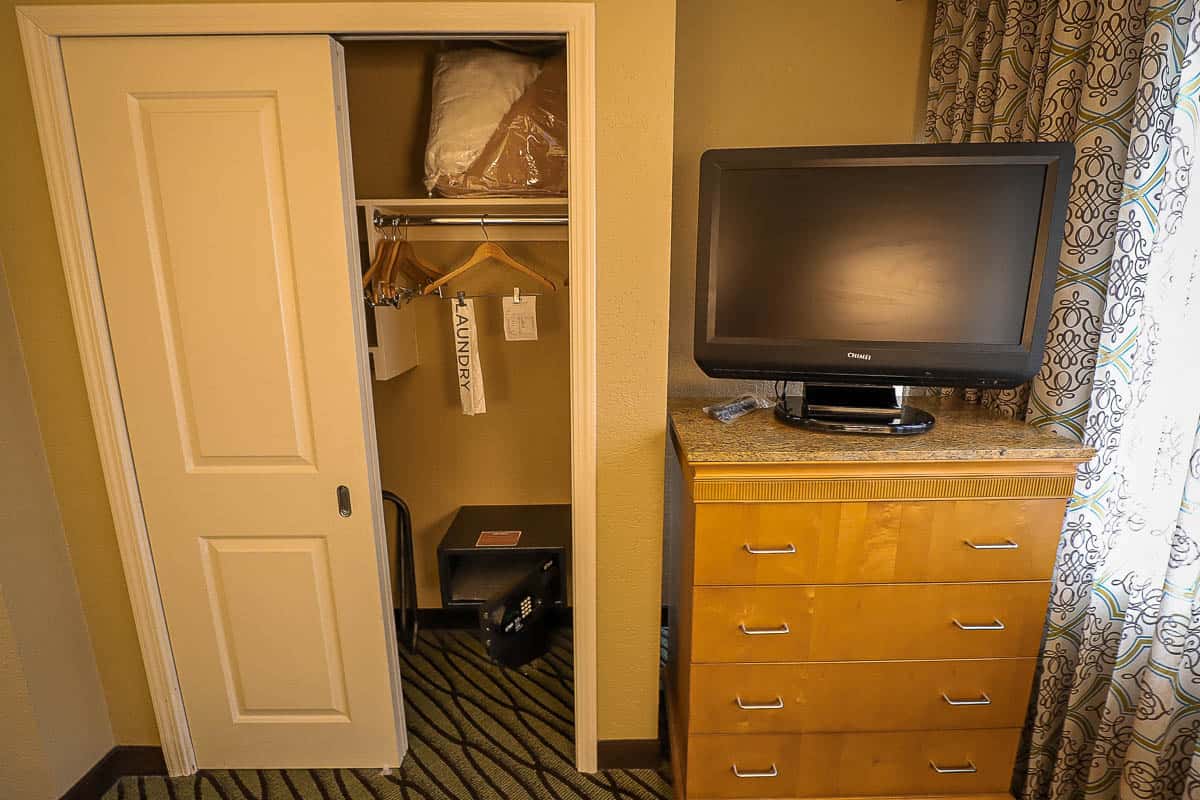 The guest bath was one ample space.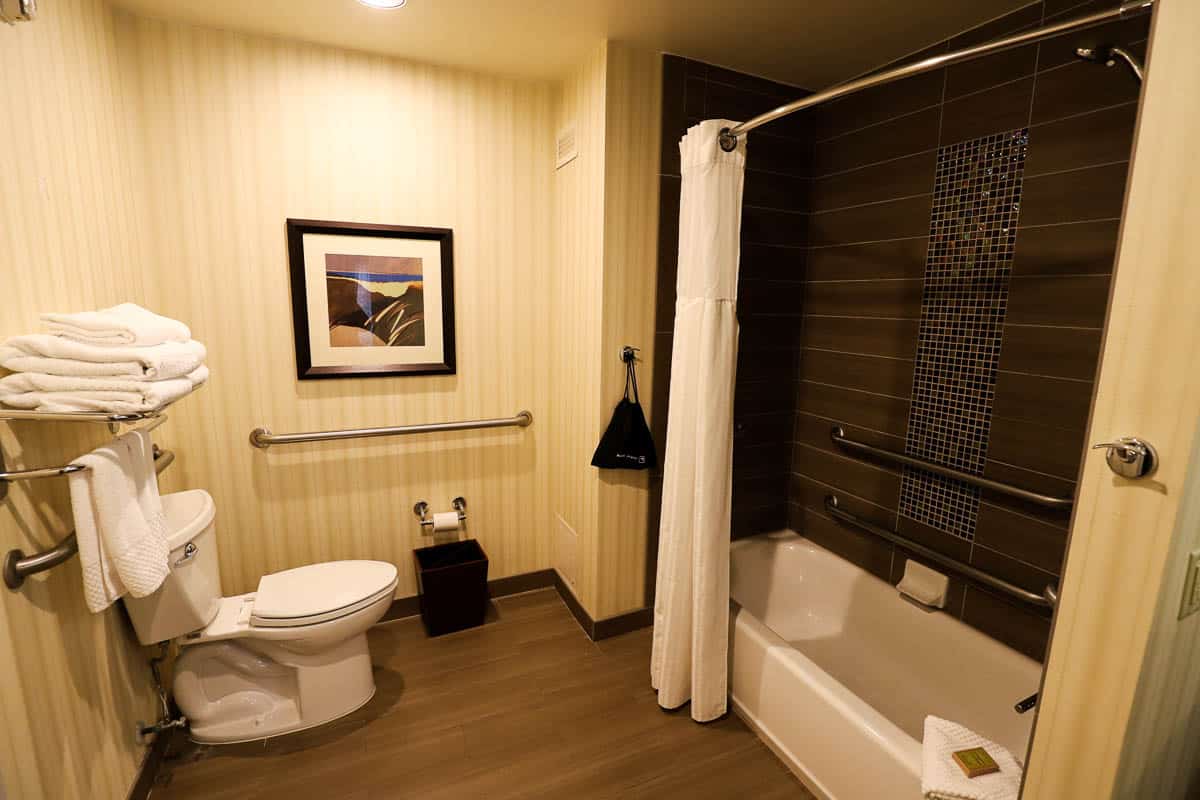 Here is the bathtub with a combined shower.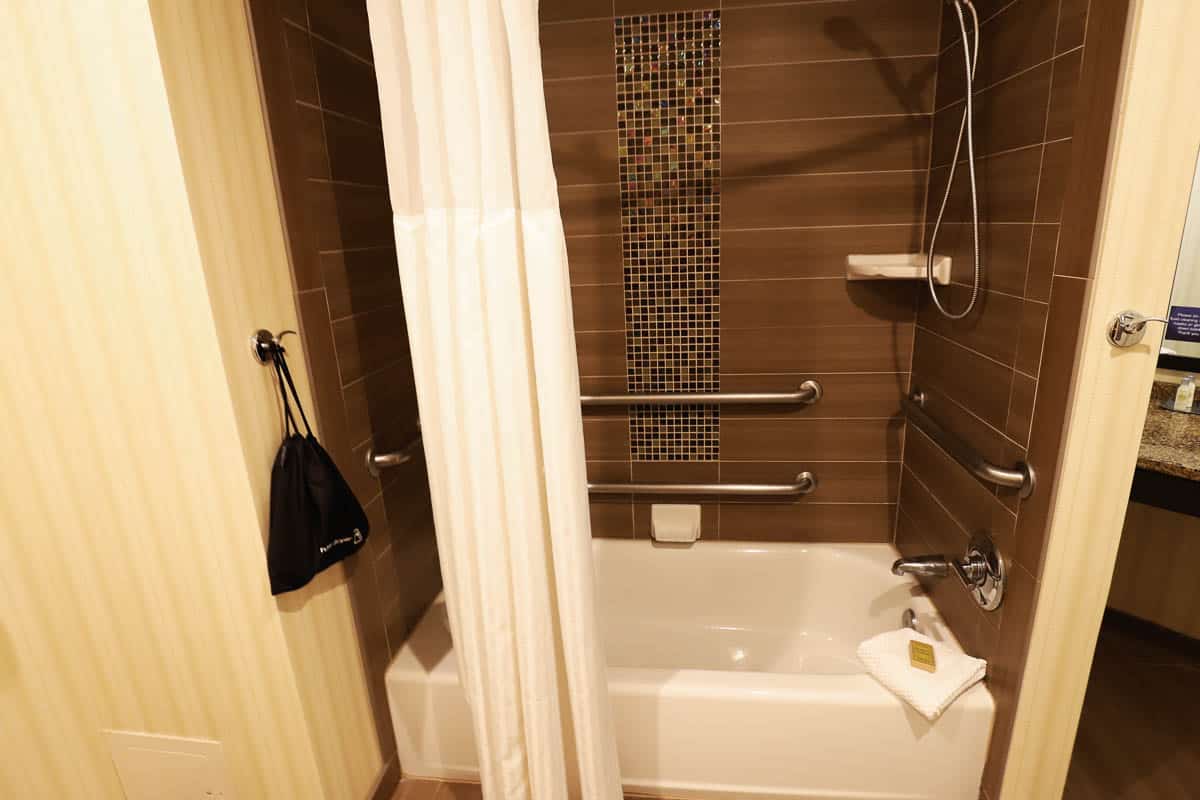 Plenty of counter space was available. However, the bath only had one sink.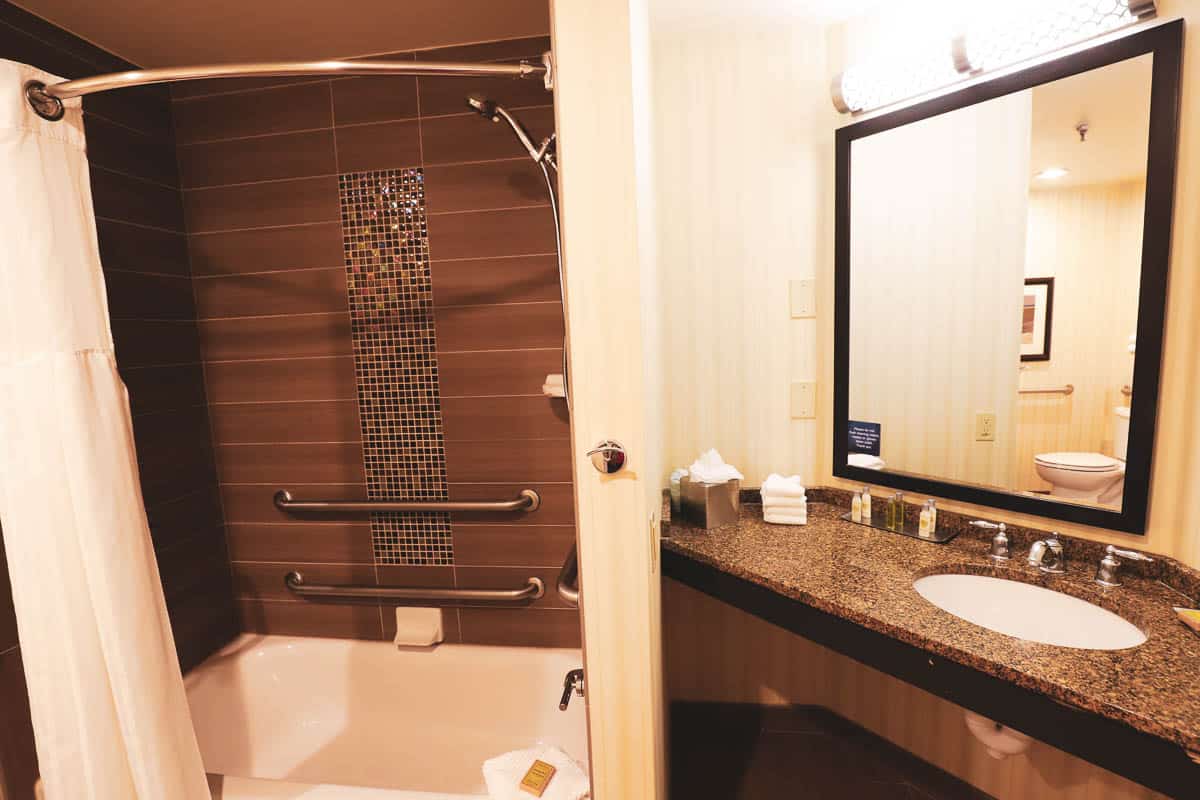 Overall, the room was spacious, and the price was more reasonable for the room size than some of the neighboring hotels. You might remember we reviewed a suite at the Hilton Orlando Buena Vista Palace a few months ago.
While that hotel was nicer and directly across the street from Disney Springs, the rooms weren't as large, and the price was higher. However, that hotel offers more of a resort experience, while the Doubletree is strictly a hotel.
Here is a video tour of the Doubletree suite if you want to see the entire perspective.
Before we wrap things up, we'll look at a few other amenities at the Disney Springs Doubletree. Below is a photo of the lobby.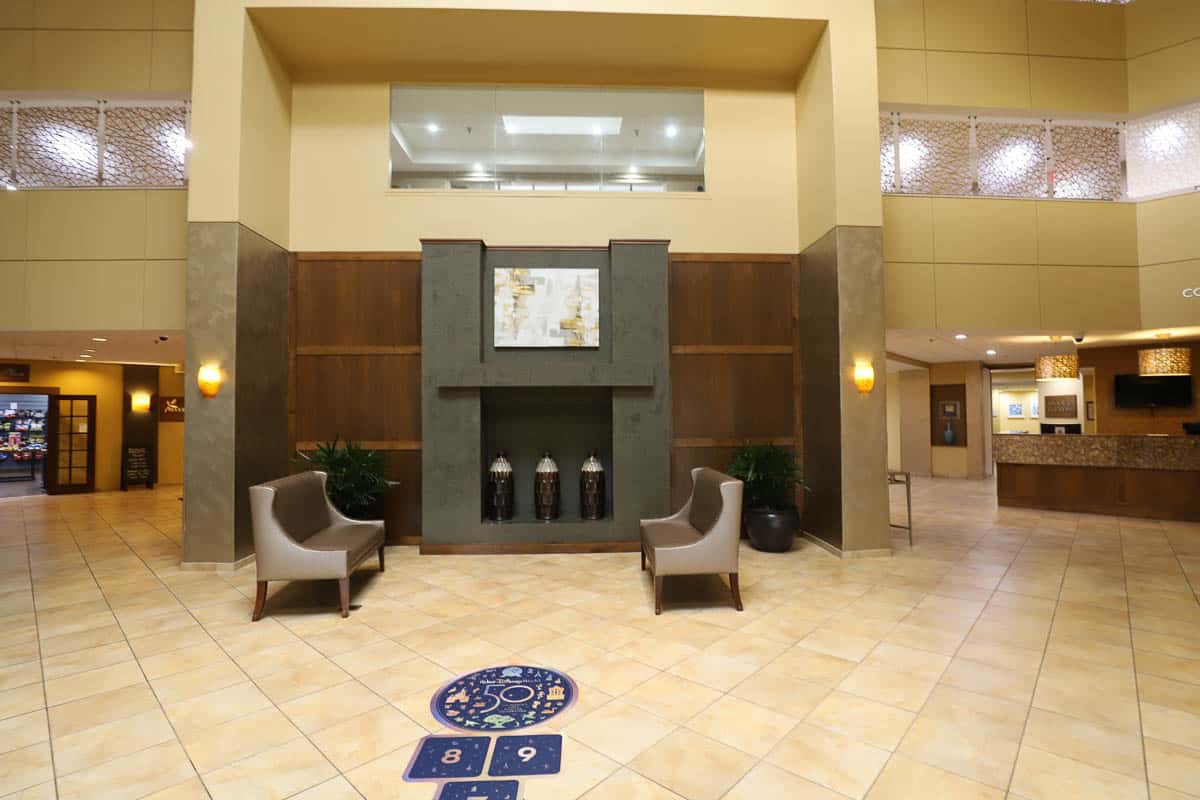 Seating was limited to these two small spaces.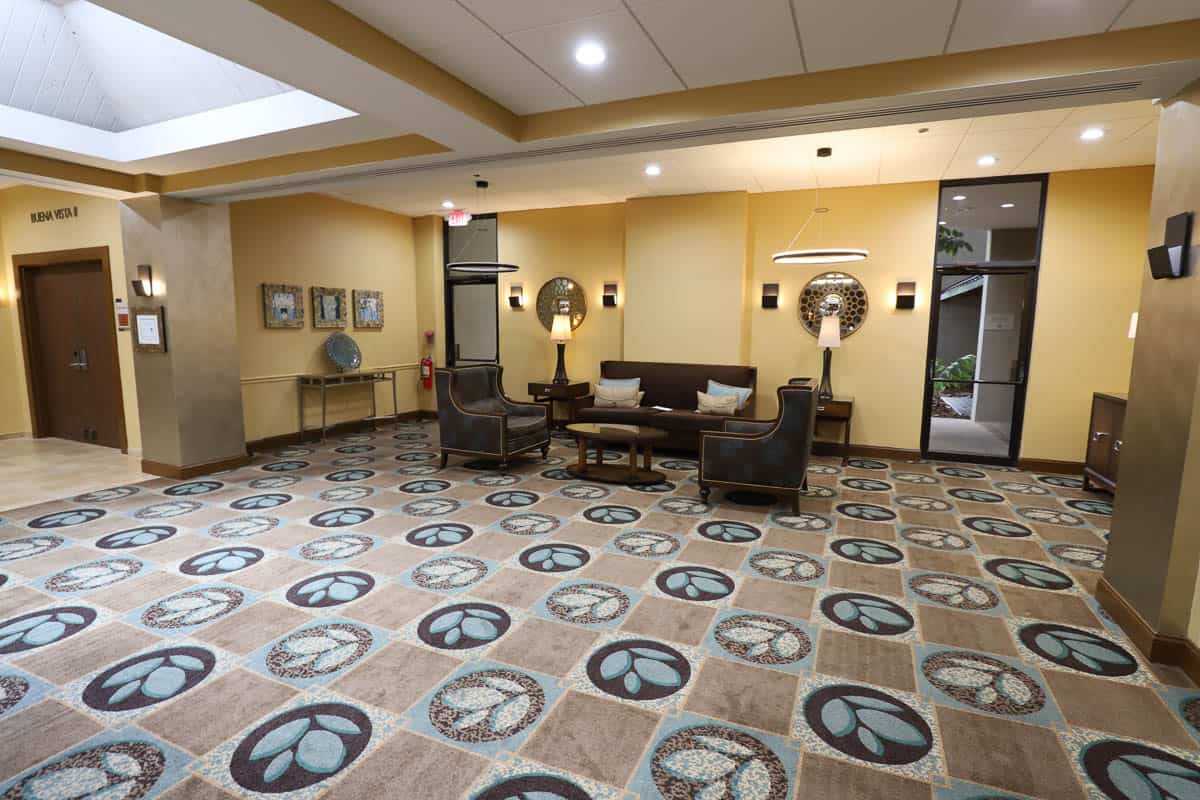 Guests could rent a DVD with their room key if desired. I thought that was a fun touch and noticed several guests picking out movies.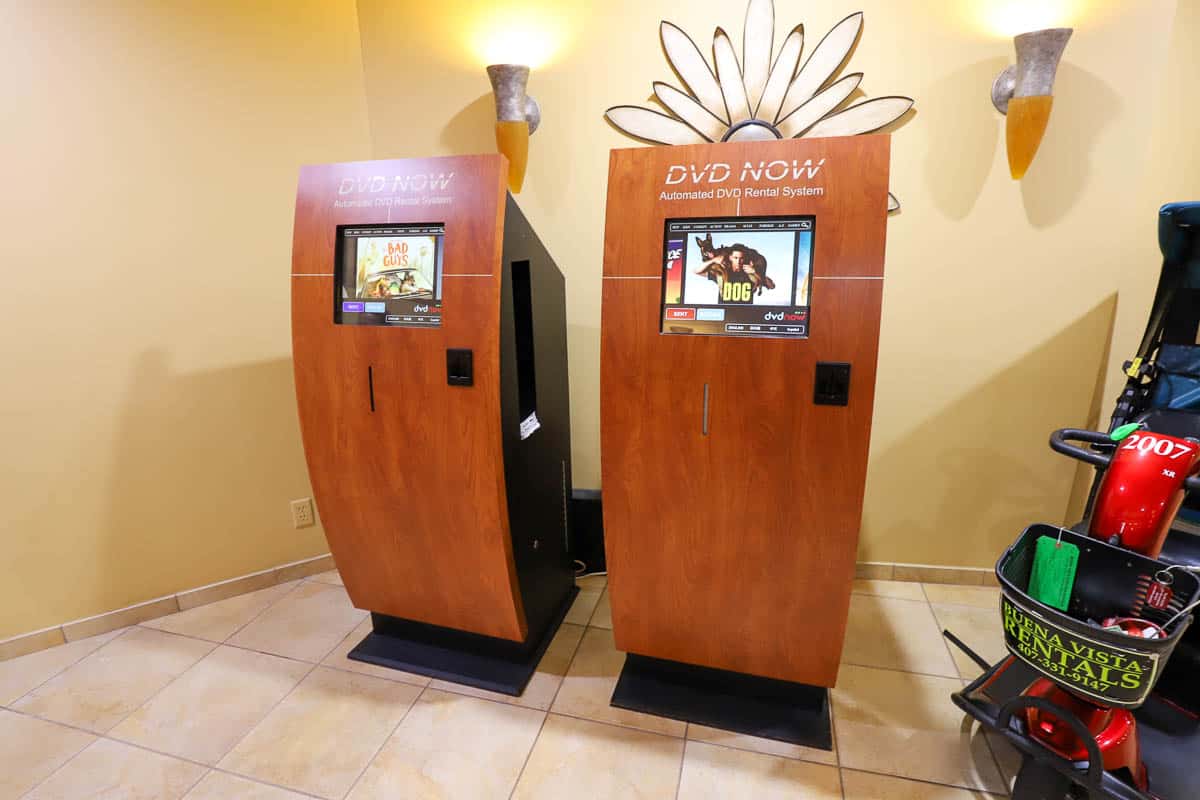 There were a few workstations that provided computers and printers.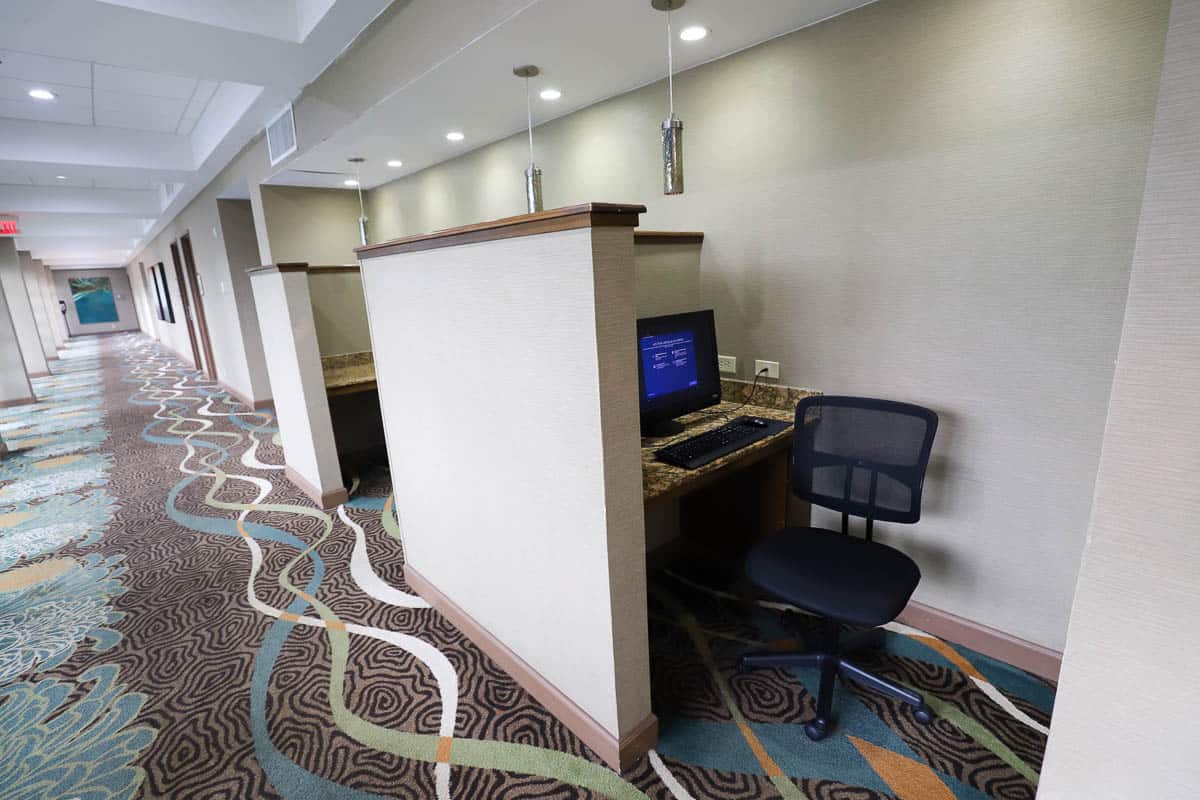 Below is the area that leads out to the resort's bus stop.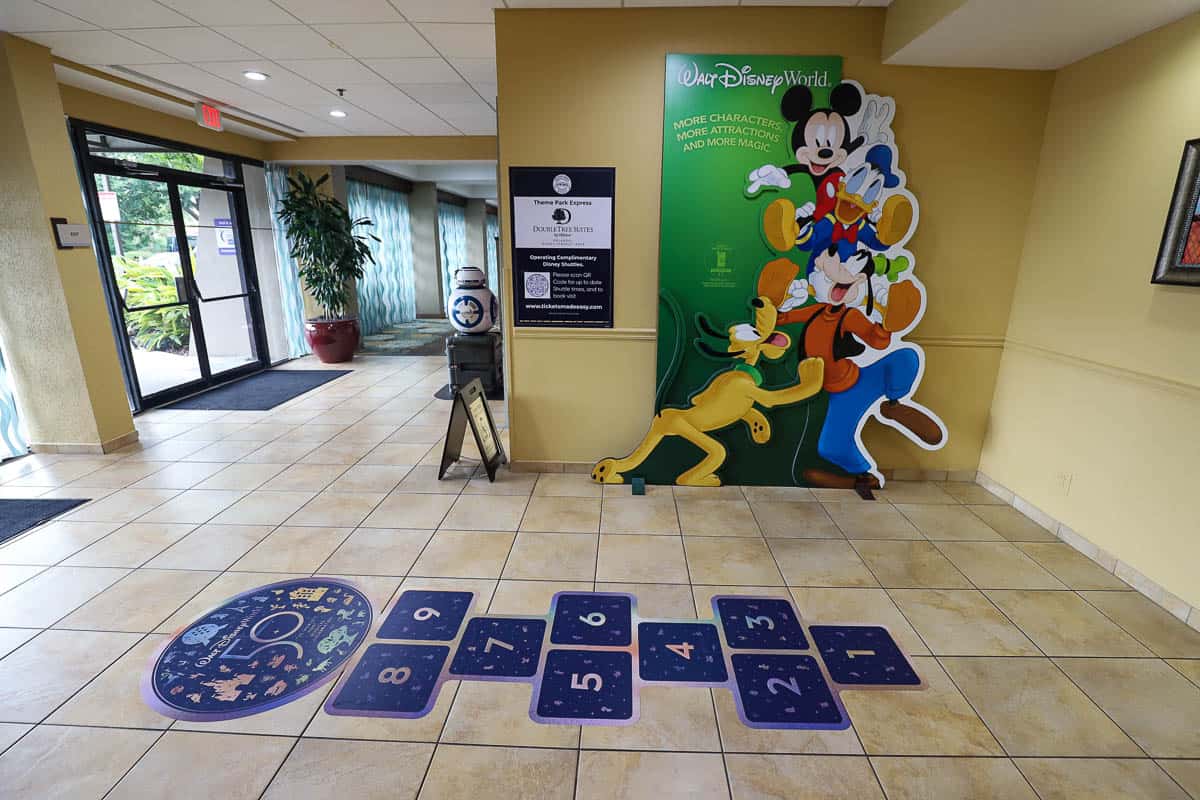 Several hotels in the area offer complimentary shuttle service to the theme parks. This service is once per hour during the park's hours of operation.
If you've read my previous hotel reviews, you know I'm not a fan of these shuttle services because they are restricted to specific times. Don't get me wrong. It's nice that the hotels offer the service. But as someone who visits the parks often, I prefer to drive my personal car.
When I took photos for this review, I saw this sign in the image below and scanned the QR code to see how it worked. No one mentioned the shuttle service at check-in, so I assumed you would walk to the bus stop and wait.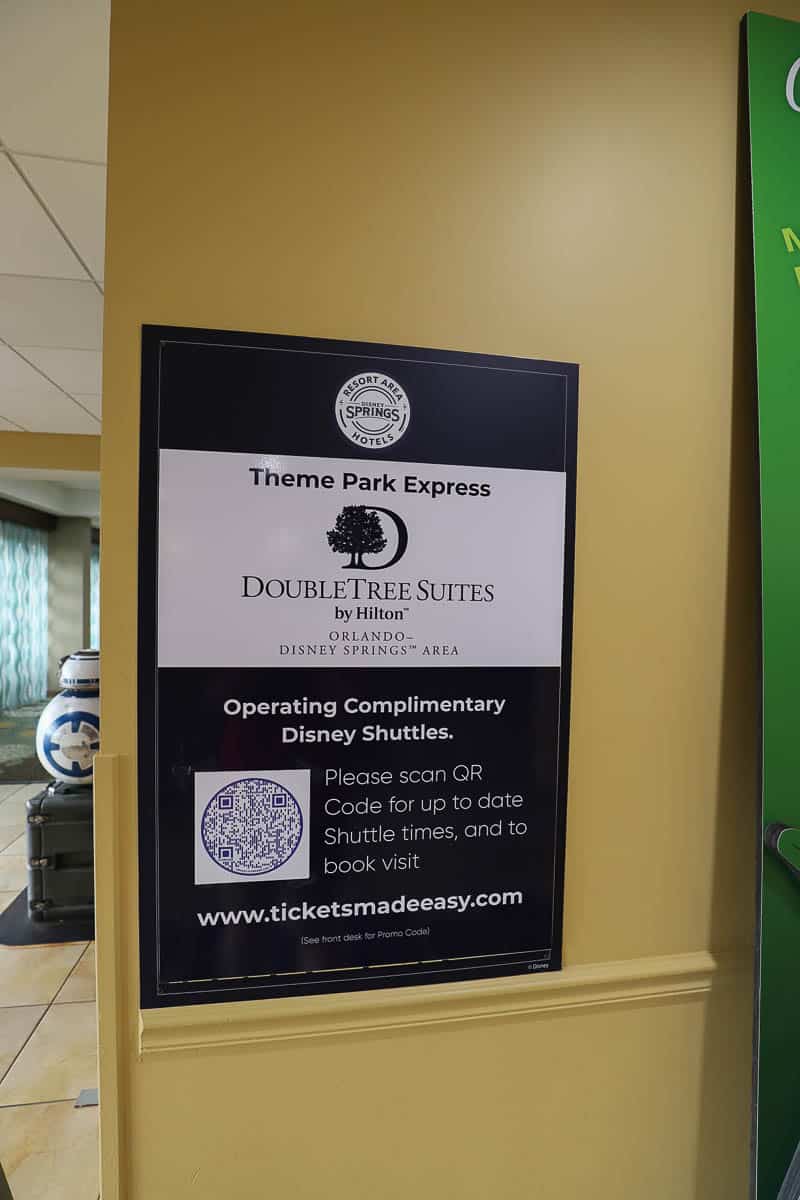 When I scanned the code, it gave me a list of times and prices for the shuttle service. However, after looking at it for a few moments, I was more confused because the prices sounded pretty high.
So I went to the front desk and inquired how it worked. I was given this sheet of paper that provided a complimentary coupon code for the shuttle.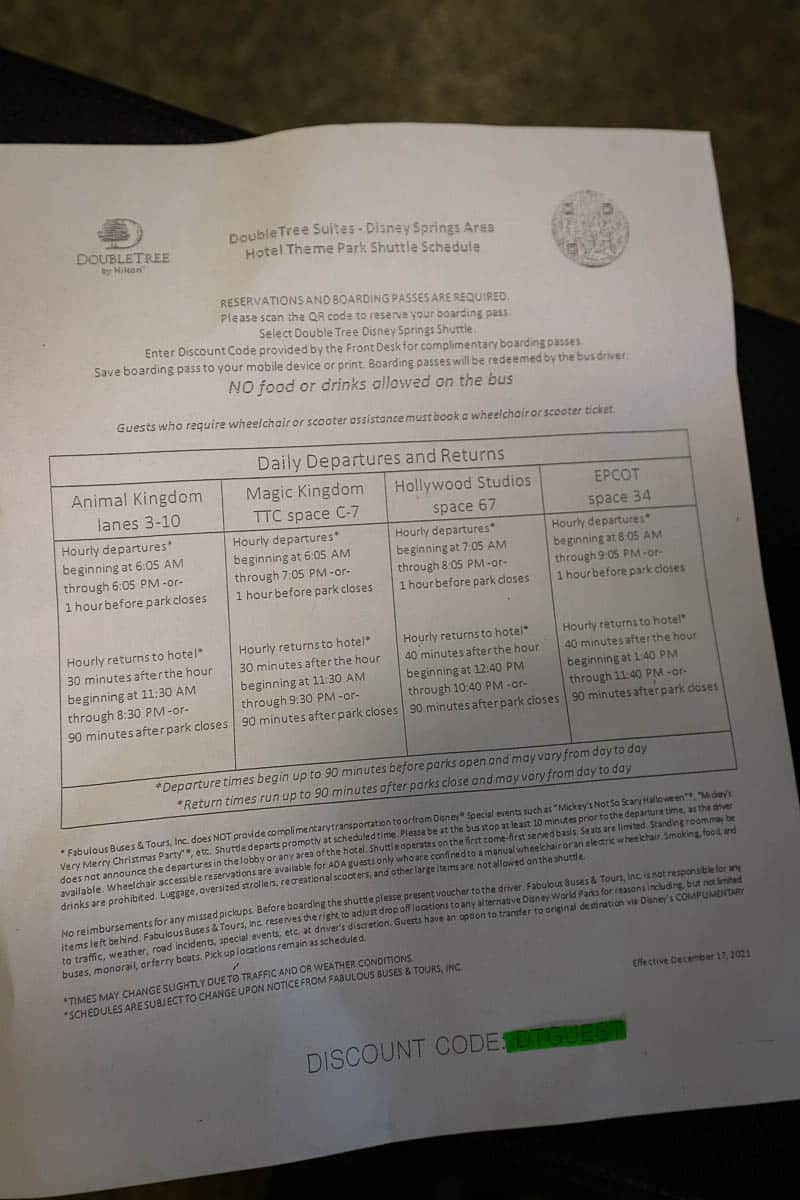 I would have had to pay for the service if I hadn't gotten this code. So if you take advantage of this offering, pick one of these sheets up at the front desk.
After finding out about the transportation offerings, I decided to check out the pool at the resort.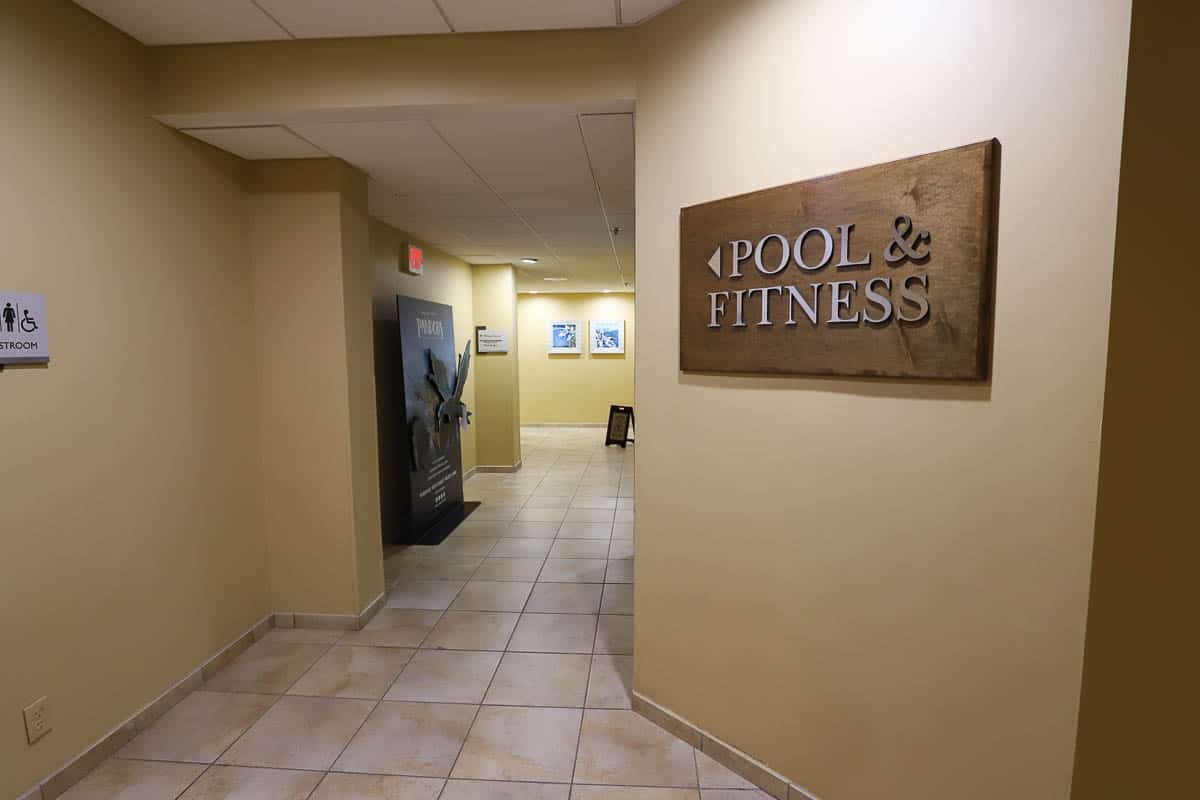 I was surprised to find such an ample outdoor space behind the hotel.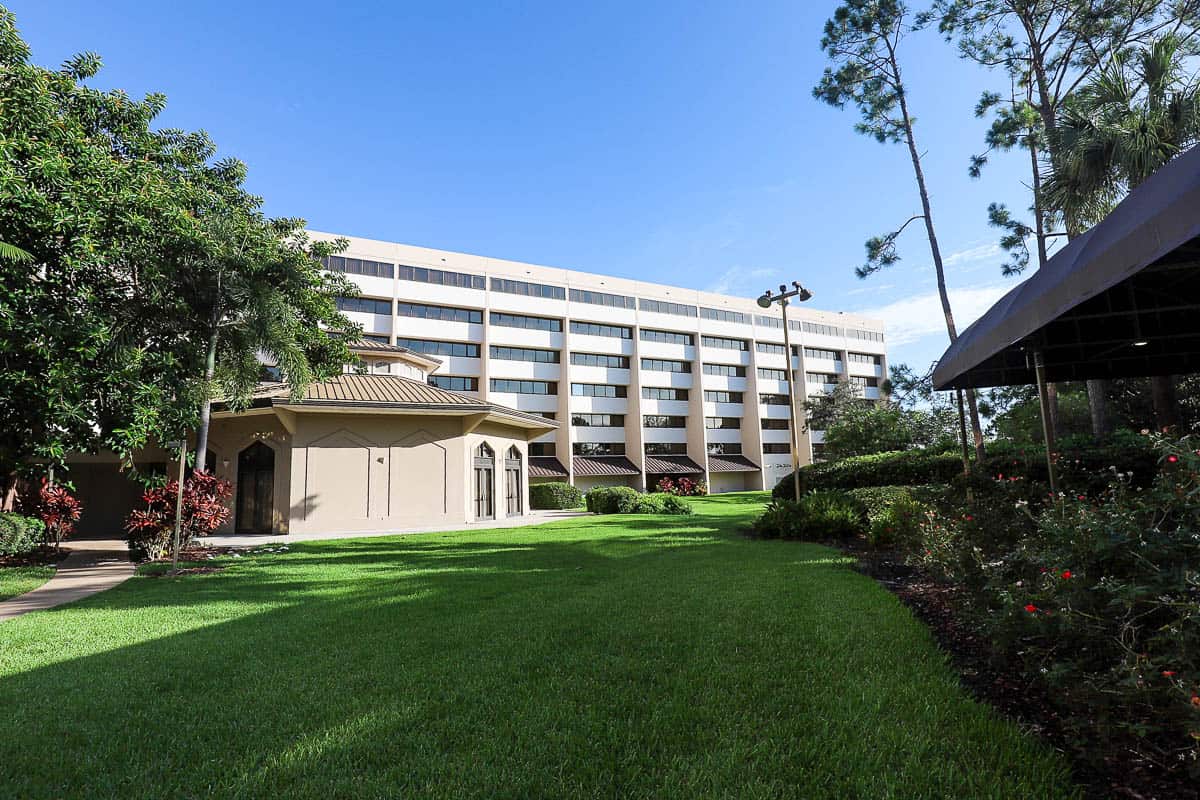 The pool is open daily from 6:00 a.m. until 11:00 p.m. No lifeguards are on duty. You have to use your room key to access the space. The pool's maximum depth is 6′ (feet) per the sign.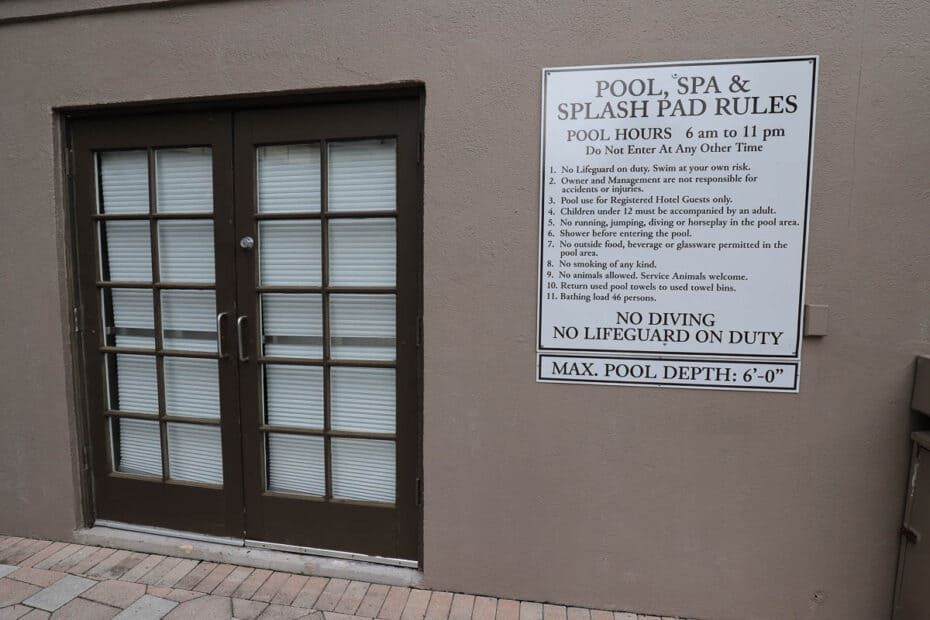 A nice-size gym near the pool offers everything one would need to get in a decent workout.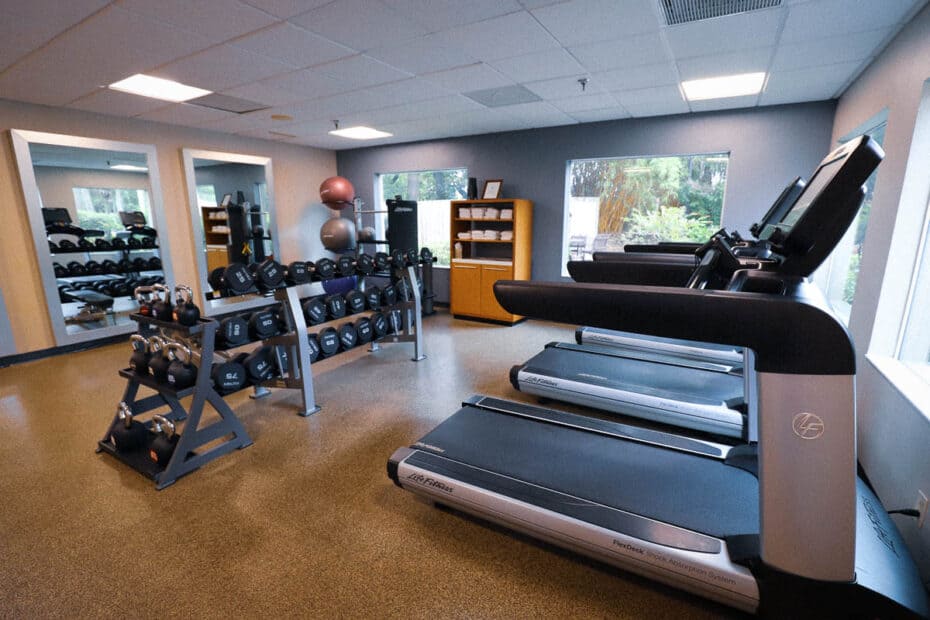 Here is an alternate view of the fitness center.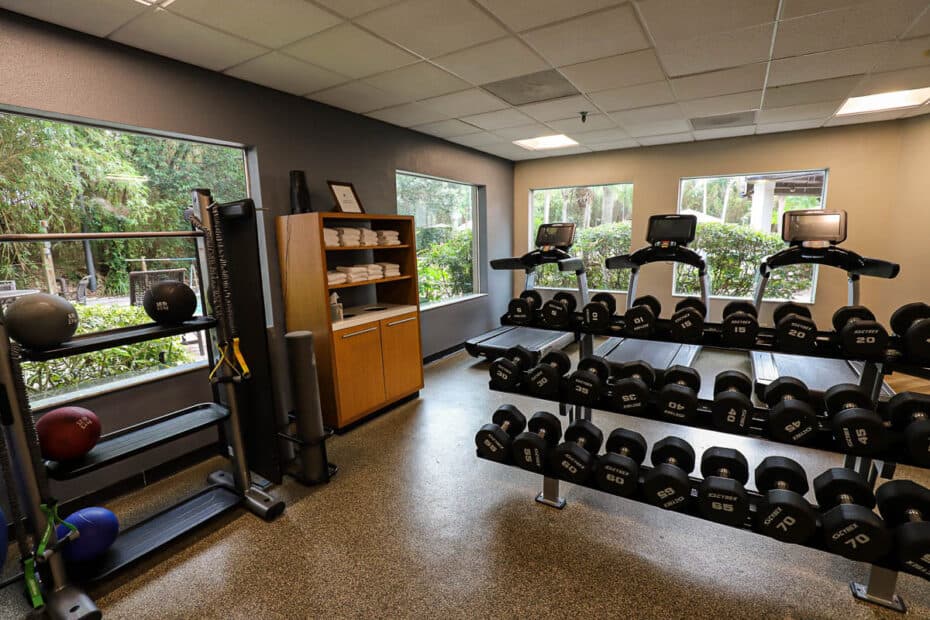 A whirlpool spa sits toward the back of the pool in a private, shaded area. A hot tub is an excellent place to relax after a long day in the parks.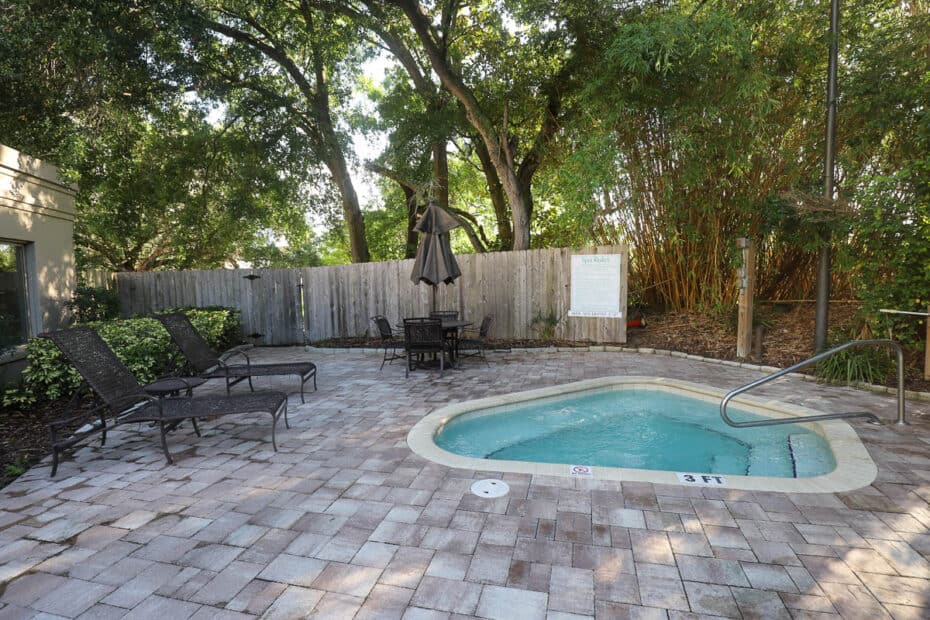 The resort had a pleasant pool area.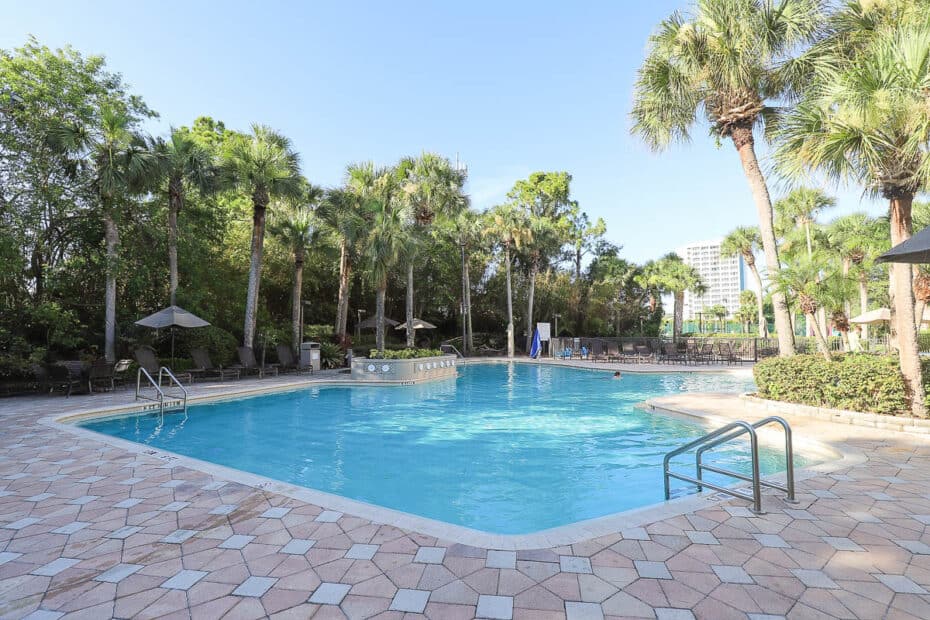 And a pool bar is available during the busier times of the day.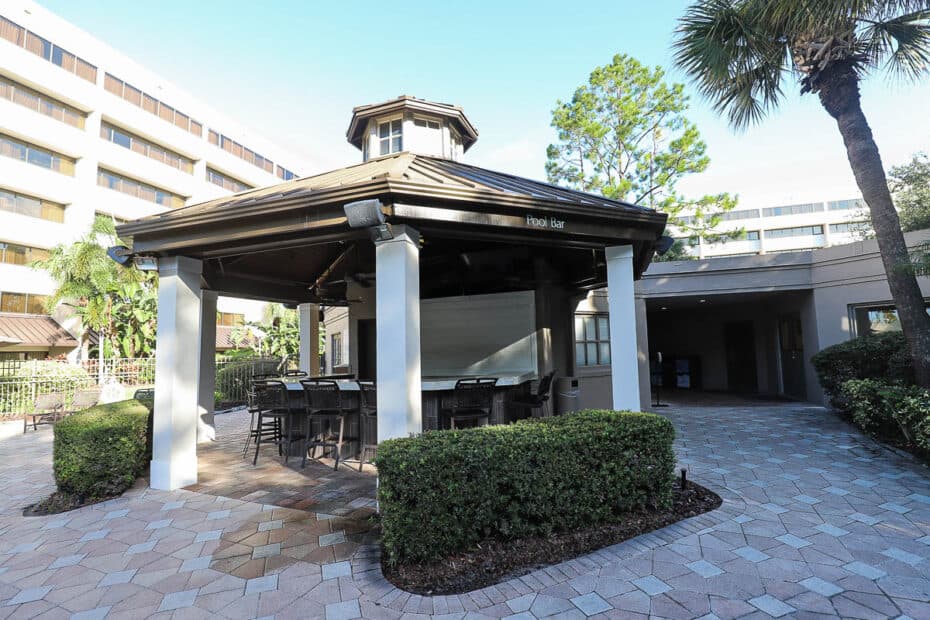 What surprised me most at the hotel was the tremendous outdoor space. A small playground was available.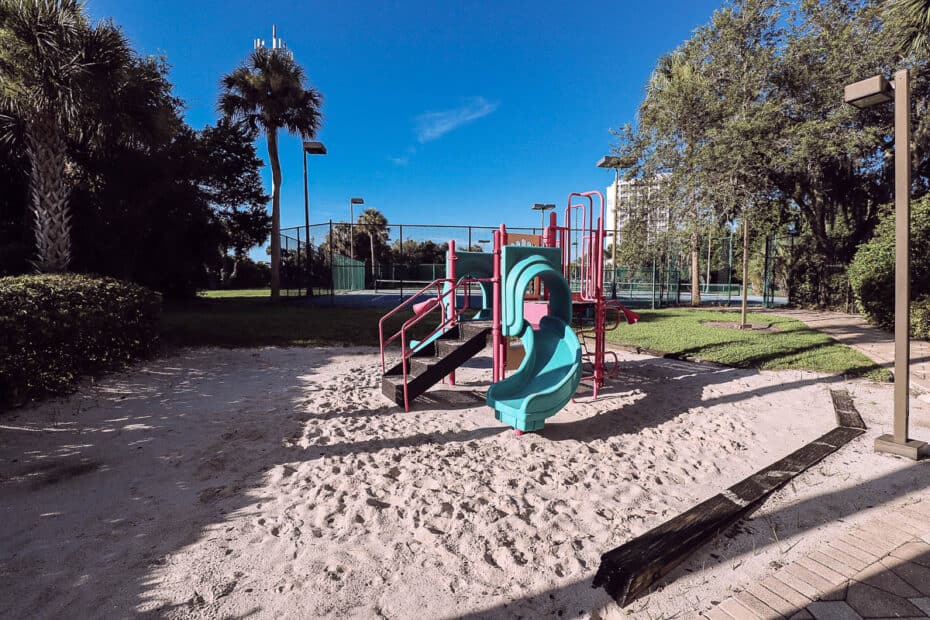 It was surprising to see two sizeable outdoor tennis courts. Given my real estate background, I couldn't help but wonder what kind of new and modern hotel would be built here.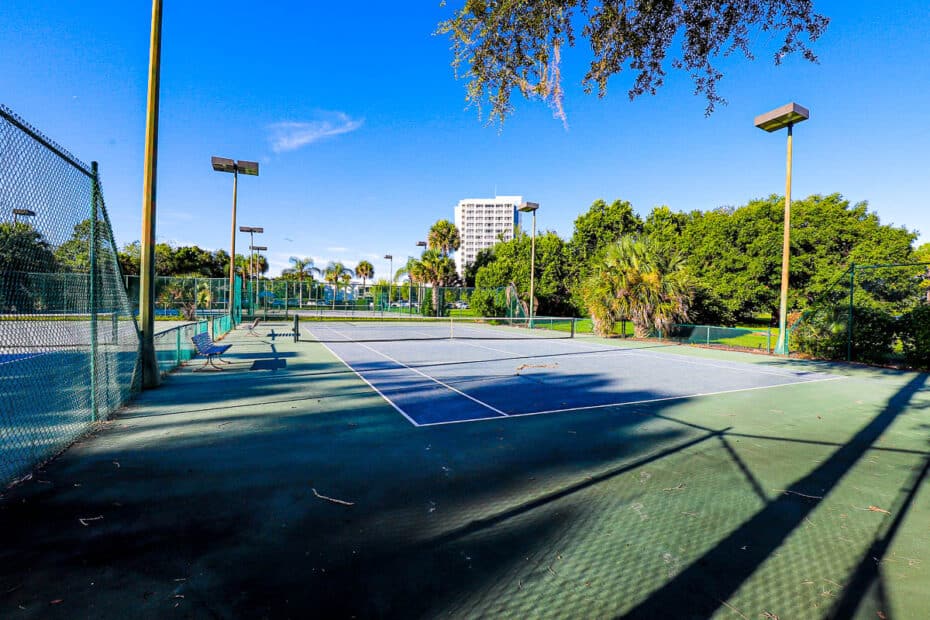 As I made my way back up to the front of the hotel, I went to check the walkway to Disney Springs. Most of the walkway is shaded, and thankfully, there's a large pedestrian bridge when you get to Disney Springs, so you don't have to deal with traffic.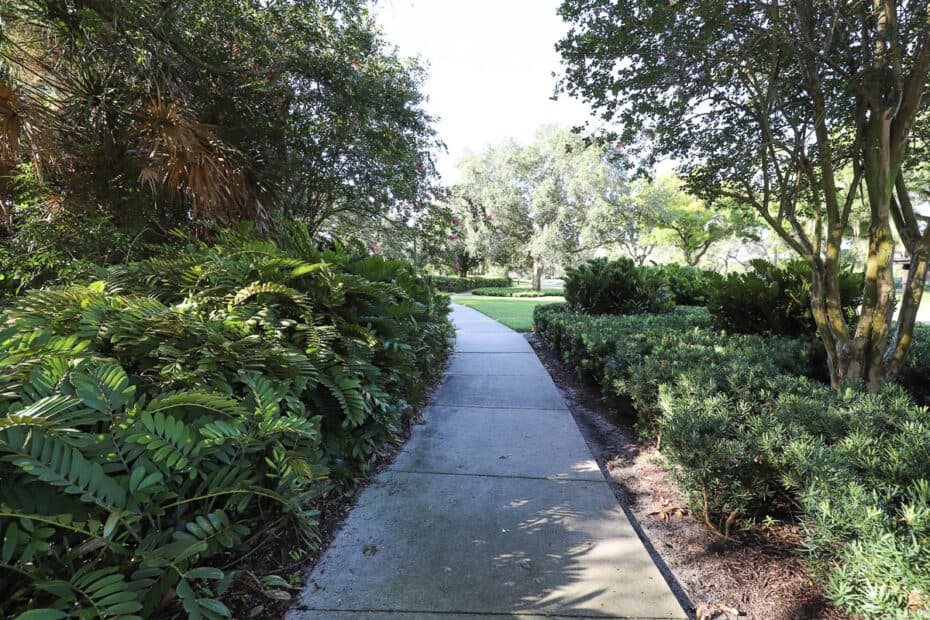 However, it's 0.7 miles from the Doubletree to the Marketplace entrance at Disney Springs, which is approximately a 16-minute walk.
Ultimately, I didn't feel like it was worth the walk when I considered the amount of walking I would do at Disney Springs and then having to walk back to the hotel. So remember those things if you plan to walk over to the venue.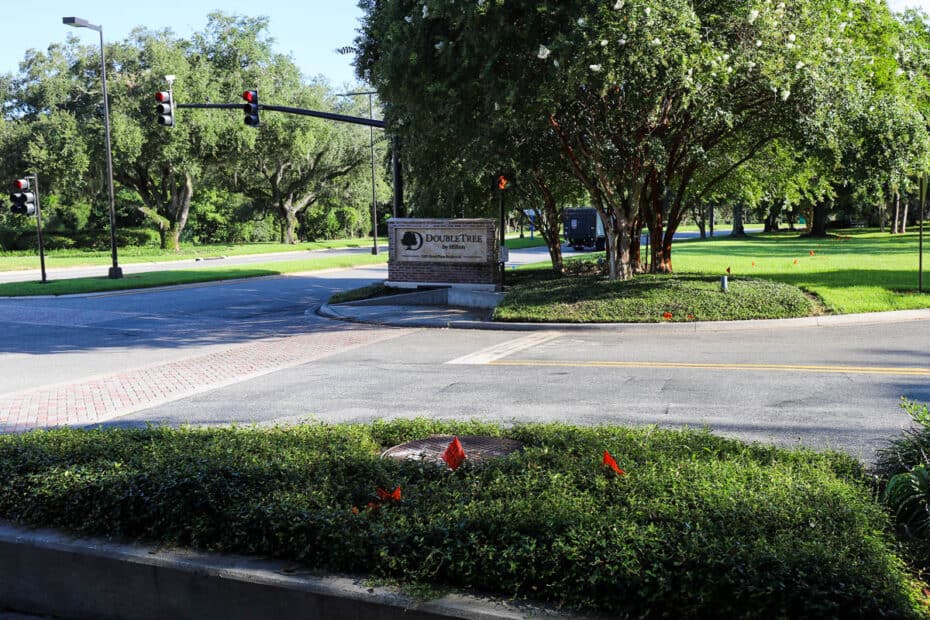 Lastly, I wanted to mention that a breakfast buffet was available for a whopping $23.00 per adult. Since I enjoy eating a pleasant hotel breakfast while on vacation, I always like to check out what a hotel offers.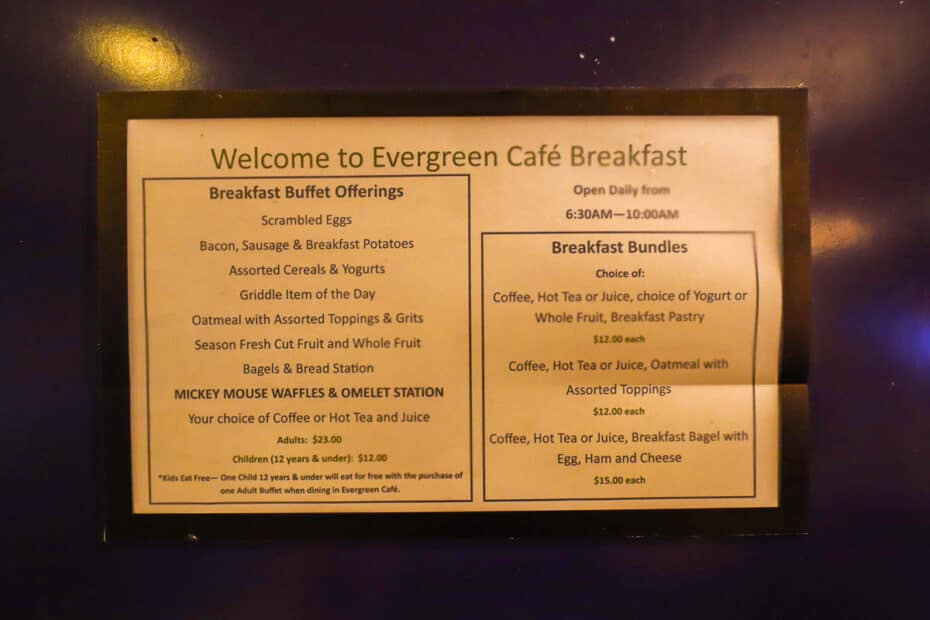 Unfortunately, this is the same breakfast that most Marriott hotels offer for free. See the following reviews to compare:
As I write this review, I've spent the last ten days at the Residence Inn by Marriott, where I've enjoyed a complimentary breakfast every morning.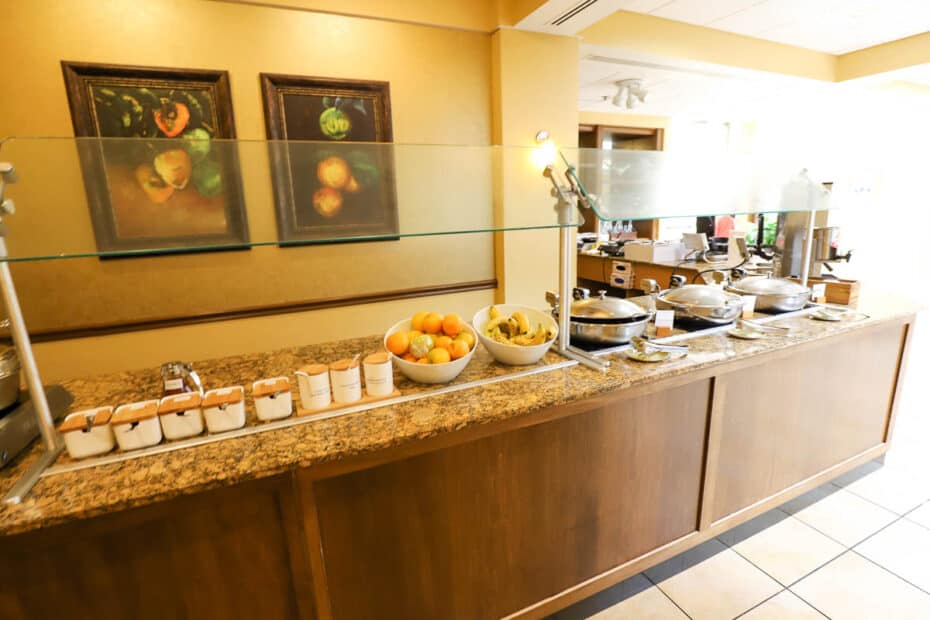 These make-your-own Mickey waffles are part of many complimentary hotel breakfasts. However, at the Hilton Doubletree, they are part of the $23.00 breakfast buffet charge.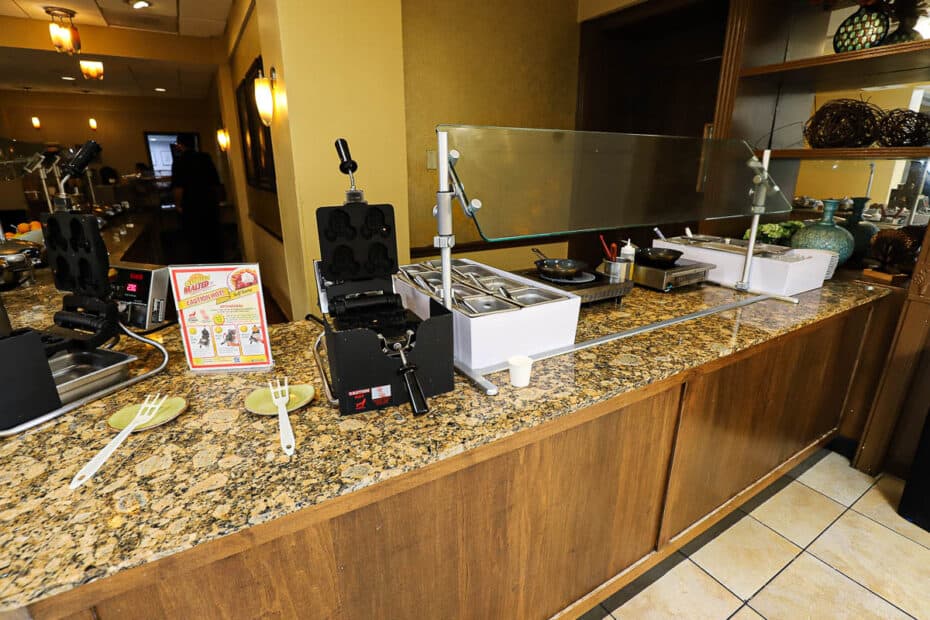 On other mornings I grab a bagel or muffin. Again, these cost you much more at the Doubletree Hotel.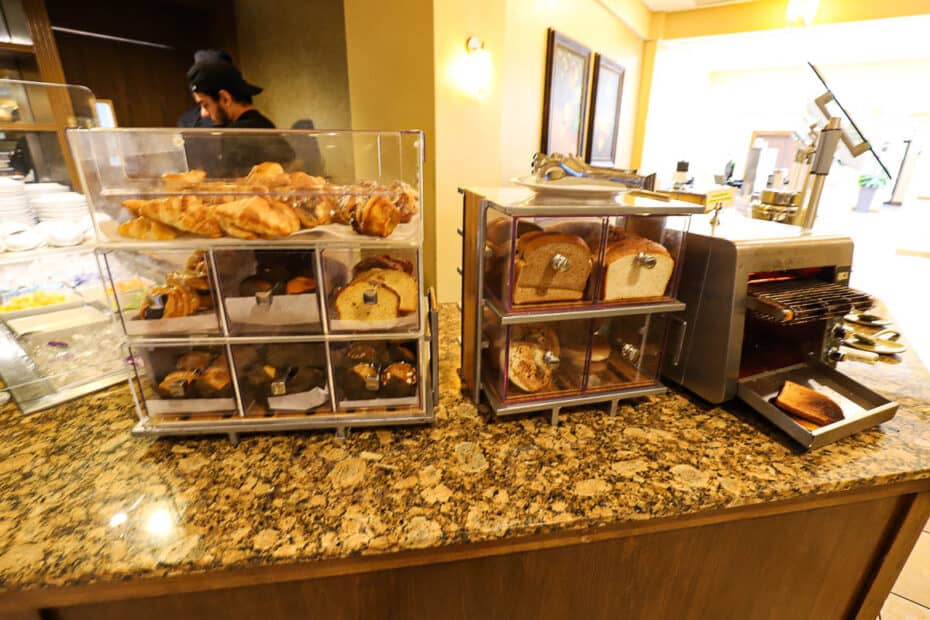 Most days, I grab a yogurt or fruit to take back to the room for a snack.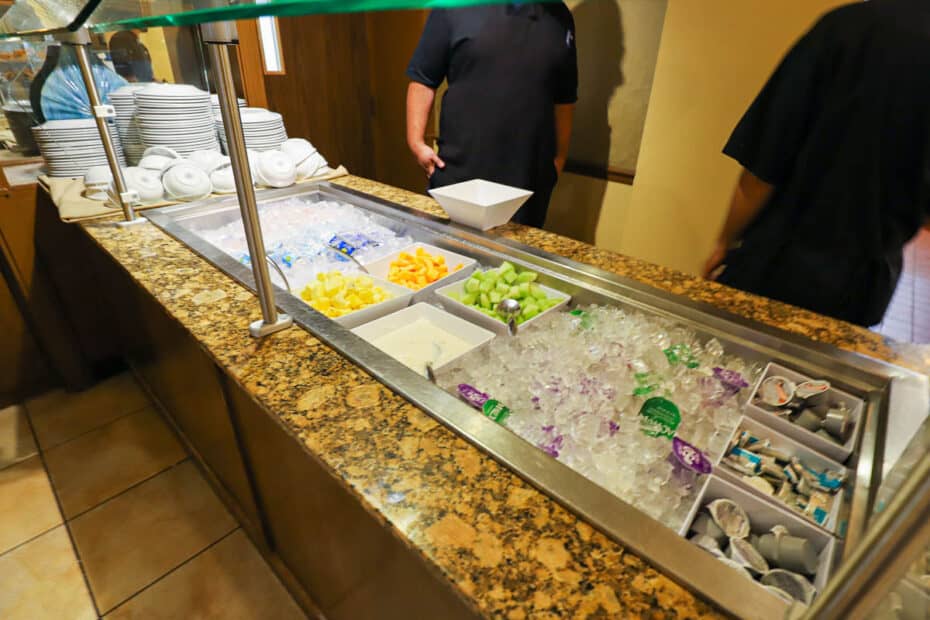 I think you get the picture. (We also have the same scrambled eggs, bacon, and sausage here daily.)
Usually, I don't like to get into this sort of thing. But since there are no options for breakfast nearby, Doubletree can get away with charging a high price for the same breakfast you would get complimentary at other hotels.
And since I stay at so many hotels, I can't help but notice these drastic differences over similar items. I hope our reviews help you determine what hotel is worthy of your hard-earned vacation funds.
Ultimately, the Doubletree by Hilton Orlando is worth considering if you need a little space to spread out and would like to be near Disney Springs. However, far better options are available near Disney World when it comes to overall amenities.
As for the money spent, I would have been happier elsewhere. The lack of customer service at the hotel (other than bell services) also contributed to my feelings about this hotel.
Since this review was written, the Drury Plaza Hotel at Disney Springs opened across the street. That hotel offers a variety of suites, reasonable prices, complimentary meals (plural), and more!
For other off-property hotels, you might consider these articles:
Did you find this review of the Doubletree at Disney Springs helpful? What are your thoughts on this hotel?