Review: Tiffins Restaurant at Disney
Tiffins Restaurant is the signature dining location at Disney's Animal Kingdom park. The restaurant is well known for its impressively splendid entree selections. Not only that, but dining at Tiffins provides the opportunity to take in a little art and history during your meal.
In fact, I personally consider Tiffins restaurant to be one of the best dining experiences in all of Disney. There's a reason it's listed in my top five Disney signature dining reviews. A very good reason, indeed.
For this review, we'll take a look at a meal at Tiffins. I'll also add in a look at a few meals past. While you might not find all of these items on the current menu, they can attest to the kind of food you can expect to find here.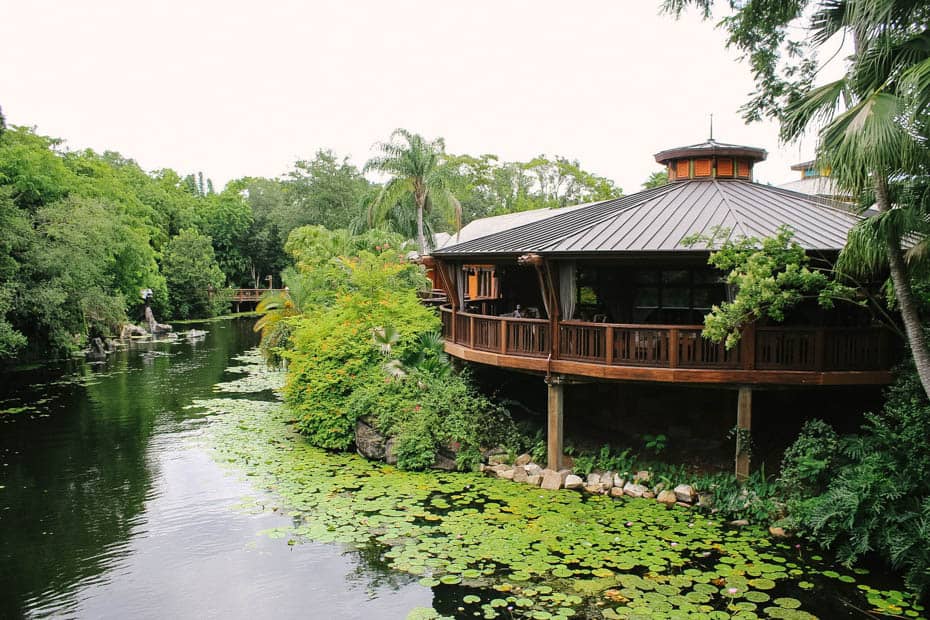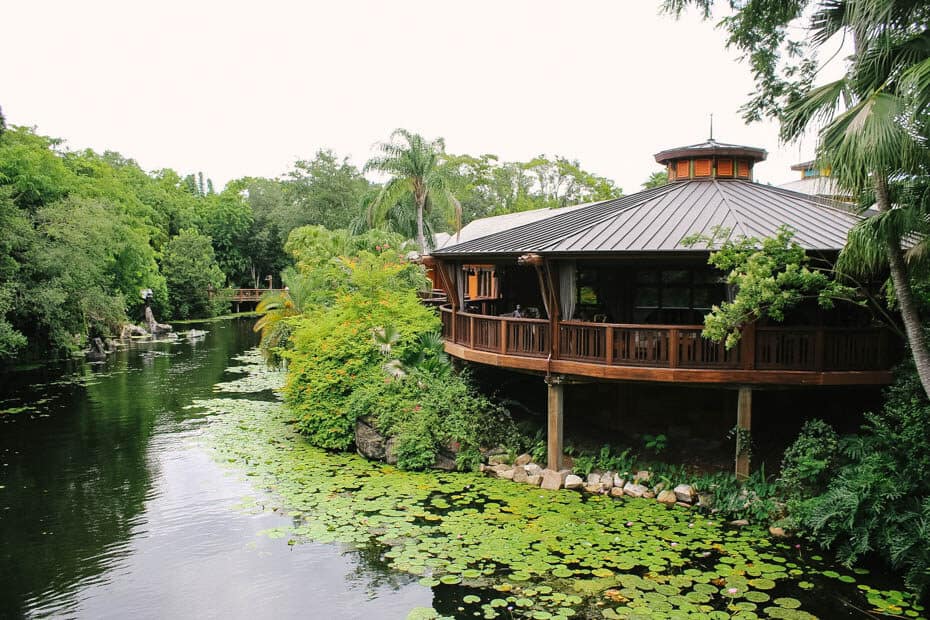 Tiffins Restaurant Review
Tiffins used to be considered a bit off the beaten path. But since Pandora, World of Avatar opened, that path has become well worn. The restaurant is located on the right side of the pathway before crossing over the bridge to Pandora.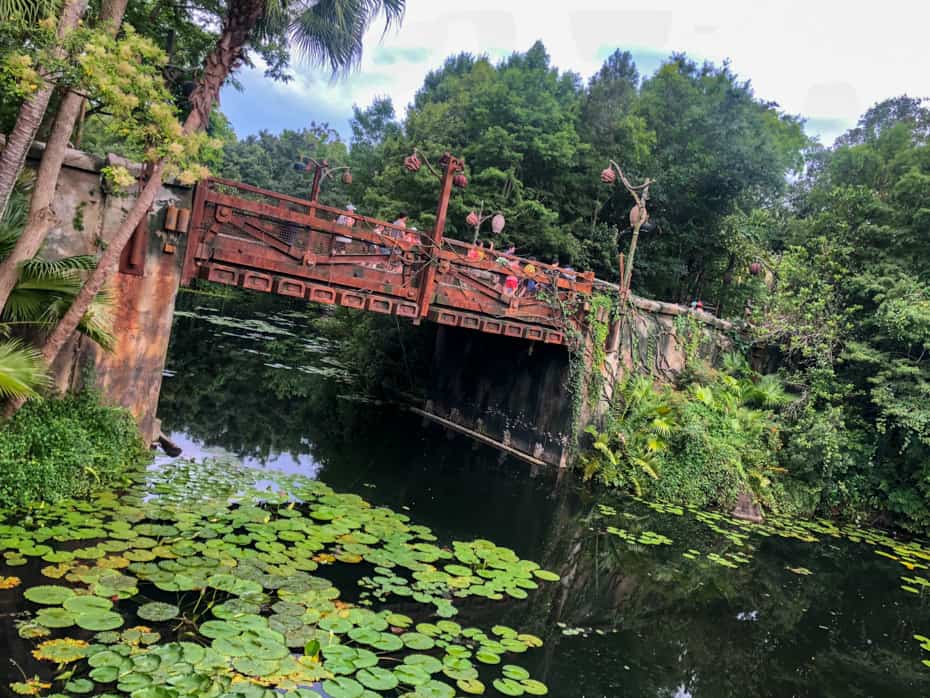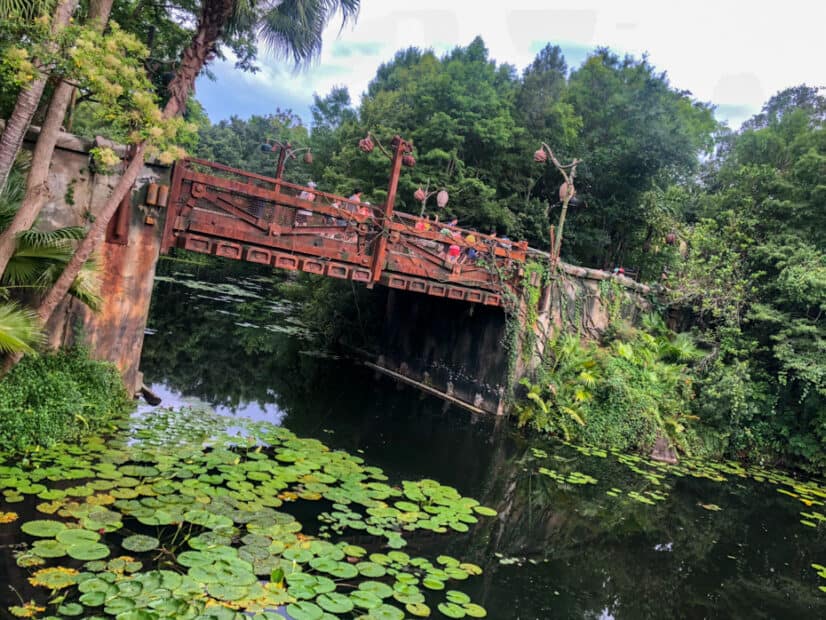 When you dine at Tiffins, you will be seated in one of three dining rooms. Each dining room is designed in African and Asian theming with exotic animals and artwork featured throughout.
I recommend taking the time to absorb your surroundings. Especially if it isn't too crowded during your visit. The cast members are knowledgeable about each dining room as well.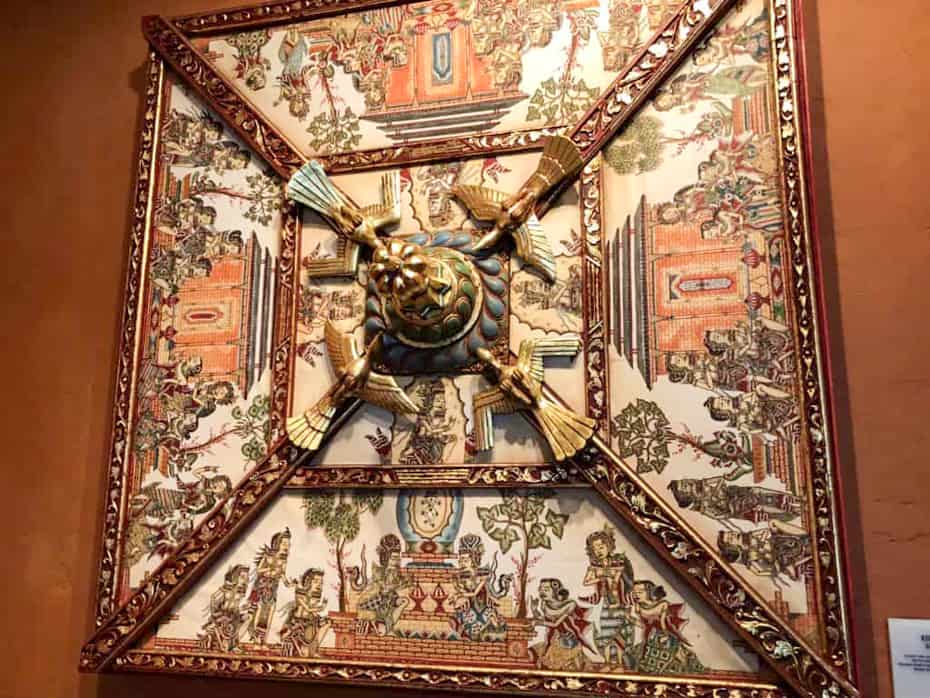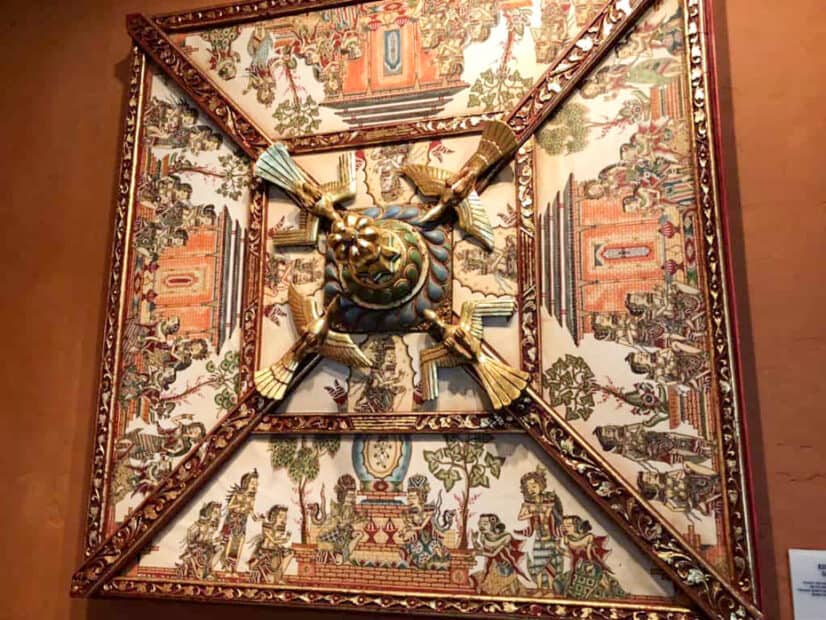 There are a lot of unique art pieces to take in during your visit. Tiffins restaurant is extremely well-themed, like the park it dwells within. A lot of the artwork serves a dual purpose in not only being entertaining but educational as well.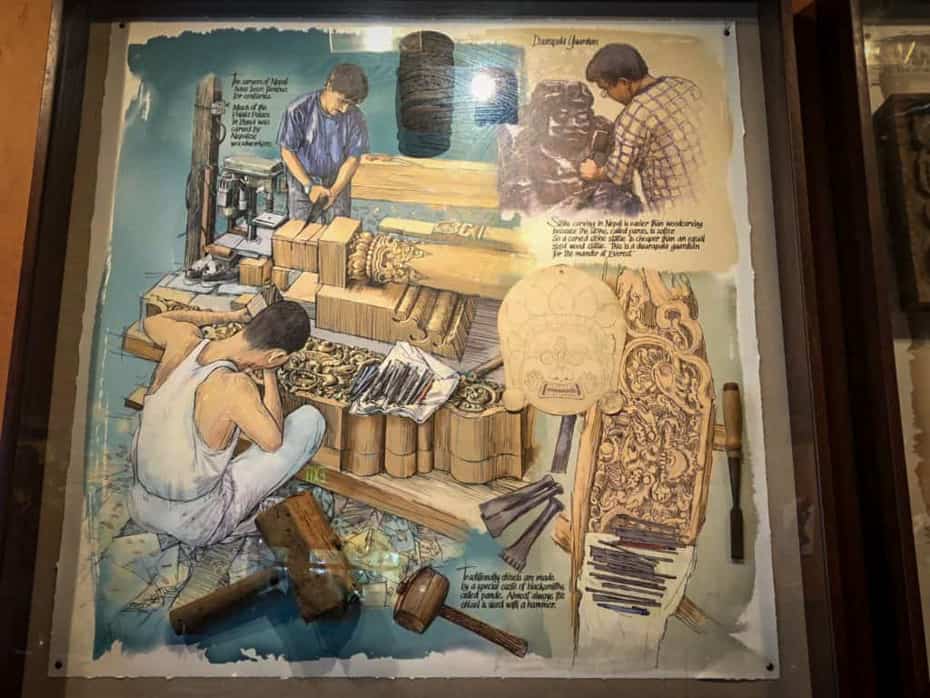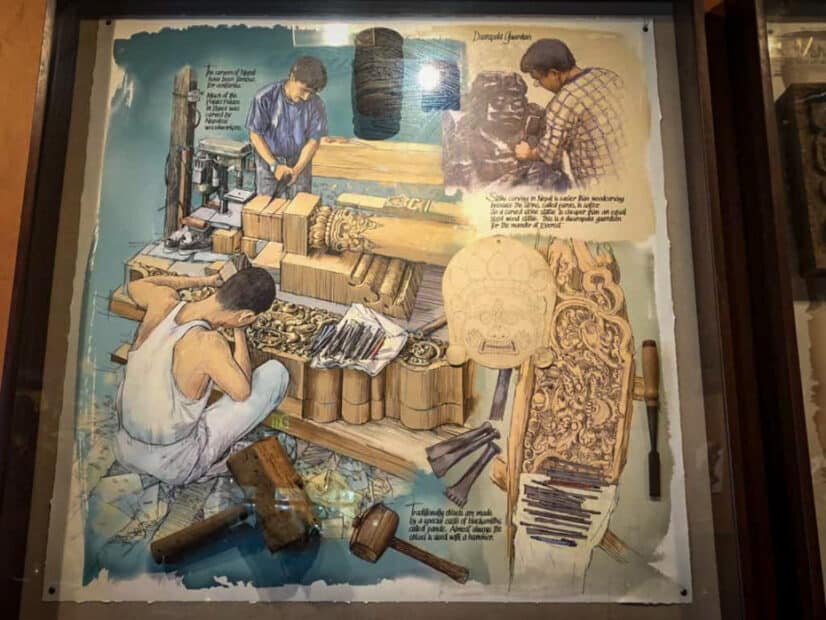 The dining rooms have banquette and booth-style seating around the outer rim with tables in the middle.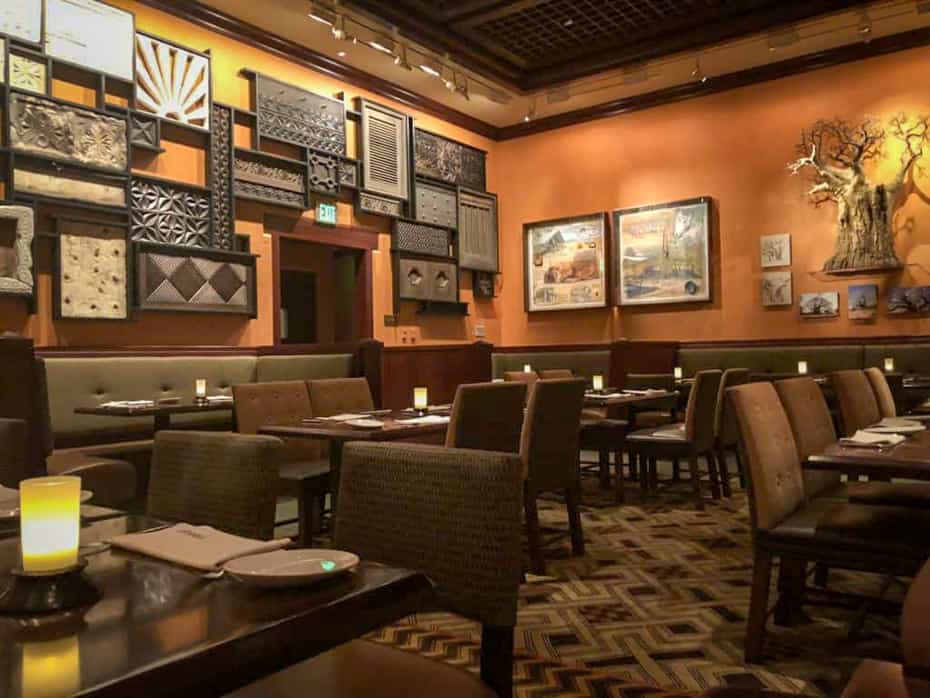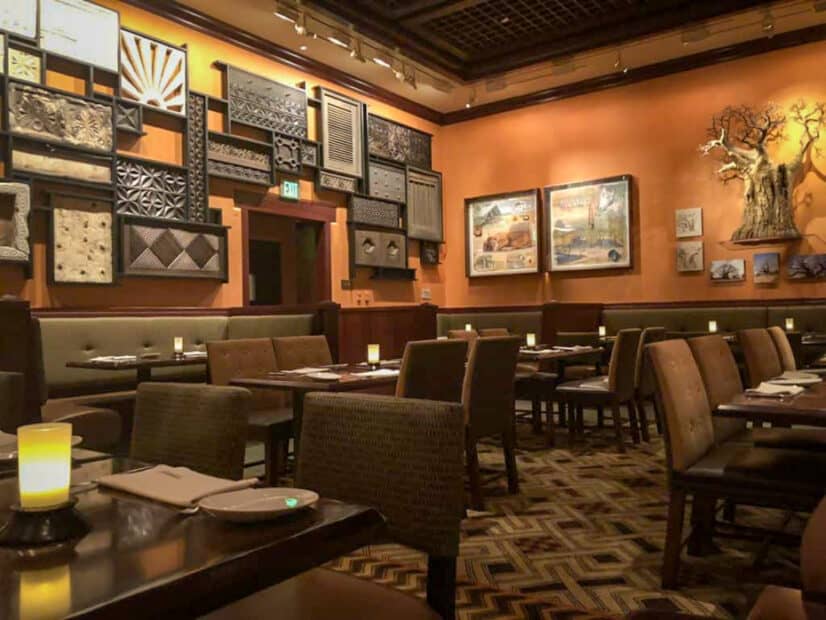 If you have had the opportunity to eat at Tiffins before or plan to go in the future, I would recommend requesting a different dining room each time. I've had dinner or lunch here about five times since the restaurant opened. Each experience has been unique, and the food superb in quality.
Typically, since Tiffins opened, there has been some kind of special lunch tasting menu. For several years, there was a delightful Taste of Tiffin's offering on the menu from time to time. It's been a while since I've seen that offering, but there was a similar item called the Chef's Lunch and Course Menu on this last visit.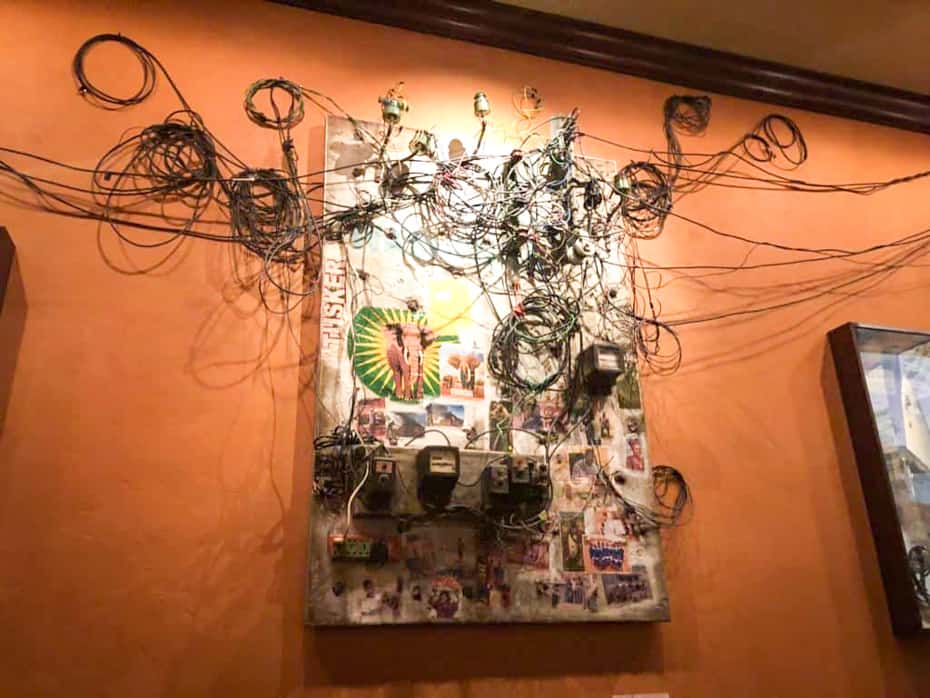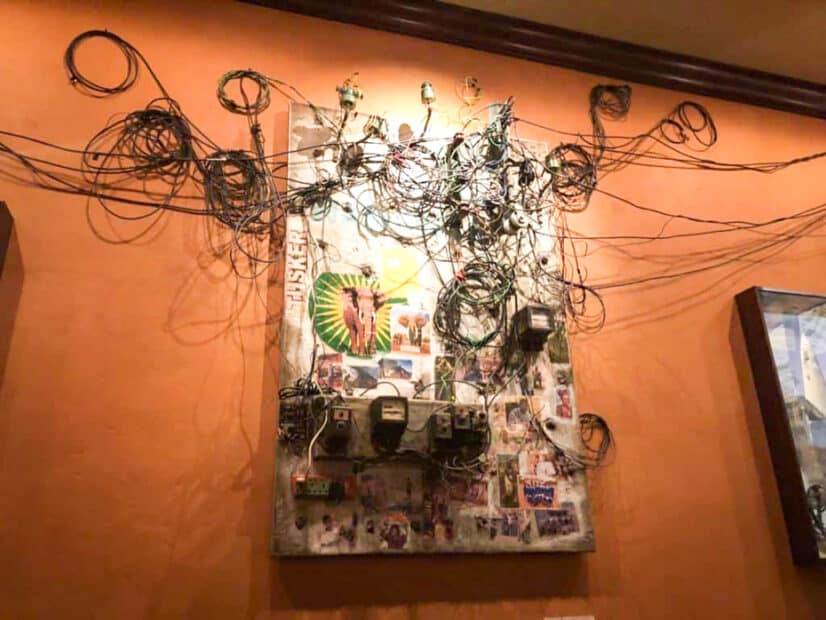 We were given a regular lunch menu on the day of our visit. Per the menu, a Chef's lunch special was available between 11:30 a.m. and 3:30 p.m. With the lunch special, you received either an appetizer and entree or an entree with dessert.
There were two appetizers to choose from on the list, followed by three main course selections and one dessert. The dessert is actually a "dessert duo," so you get a small version of two desserts if you went that route.
I went with the Hightower Rocks for starters, which I think is the best drink available from neighboring Nomad Lounge (review).
Nomad Lounge is connected to Tiffins and is a great space for a more casual affair. They have an indoor and outdoor seating area and share a few of the same menu items as Tiffins. It's also a great place to enjoy a cocktail if you are waiting for your dinner reservation.
Listed on the "Specialty Cocktails" portion of the menu, this drink features: Casa Dragones Blanco Tequila, Watermelon, Sweet-N-Sour, Lime Juice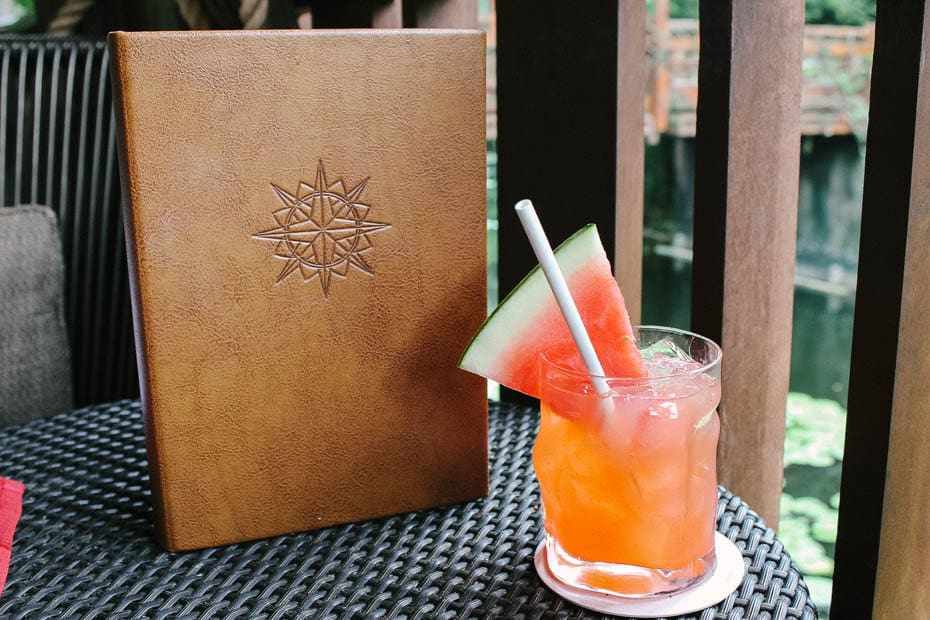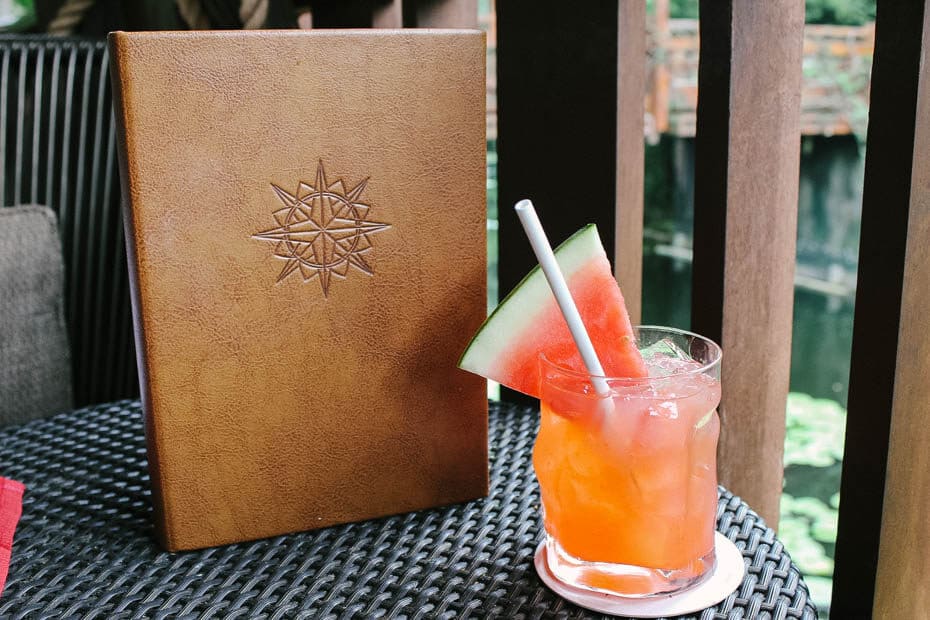 You can order it spicy as well. But the one time I had it that way, they used Tabasco Sauce. Personally, I don't care for that method of spicing a drink.
As for the regular Hightower Rocks, it is light and refreshing. Anyone who loves watermelon will probably enjoy this as much as I do.
Reviewing the menu on this particular day, I knew I wanted to try the mushroom soup for an appetizer. They also had "Pan-Seared Alaskan Halibut" listed on the menu that looked interesting.
Our other diner looked at the Surf and Turf entree but couldn't eat the surf part due to food allergies. So we ended up ordering the Chef's Lunch Course and got the entree portion for him. That way, he could order the turf minus the surf. That left me with the ability to order the halibut and combine it with the dessert portion of the lunch special.
This ended up being a great idea since I wanted an entree that wasn't listed on the chef's special, and he didn't want dessert. The dessert is also shareable for two if you are looking for a small bite at the end of your meal.
Here is his entree, the Carne Asada-Grilled Beef described as coming with roasted purple potatoes, seasonal vegetables, and pico de gallo.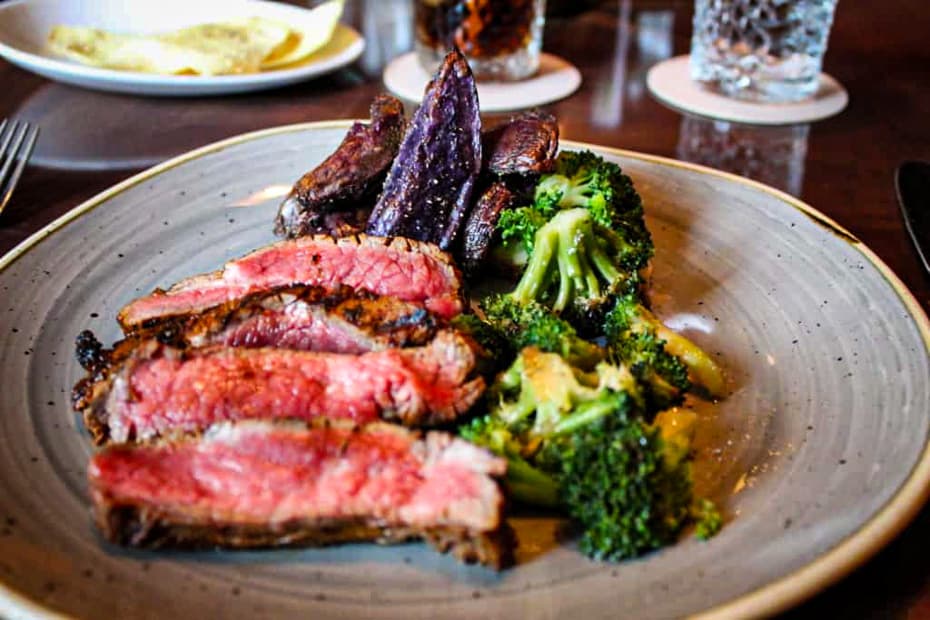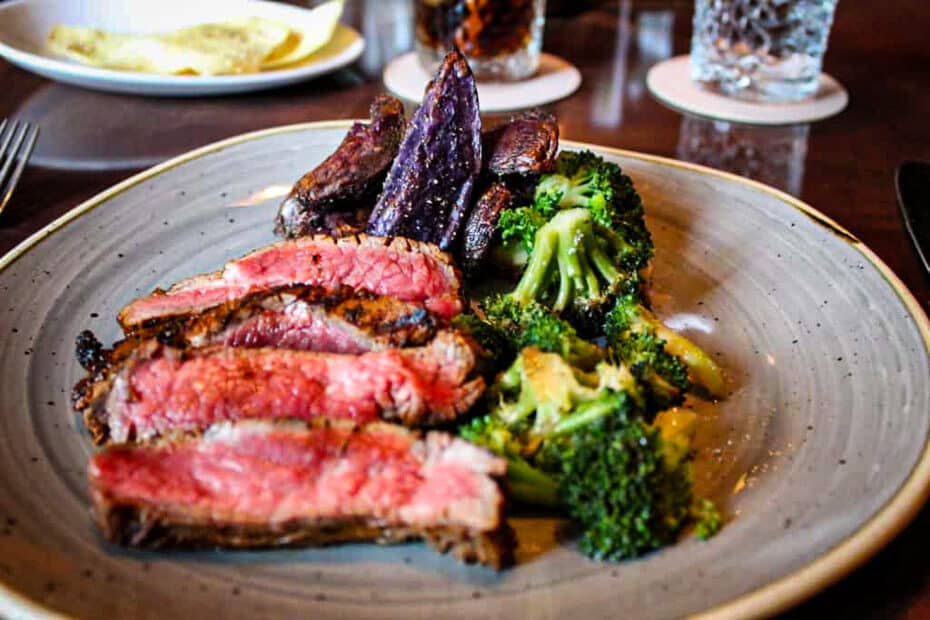 However, this entree was prepared especially for him to accommodate food allergies. Therefore, if you were to order this item, it might not come out exactly the same. The beef was cooked medium-rare as was ordered. It was also seasoned in a way that complemented the flavor of the steak.
I went with the Pan Seared Halibut described as herb-roasted tomato, haricot verts, fingerling potatoes, Kalamata marmalade.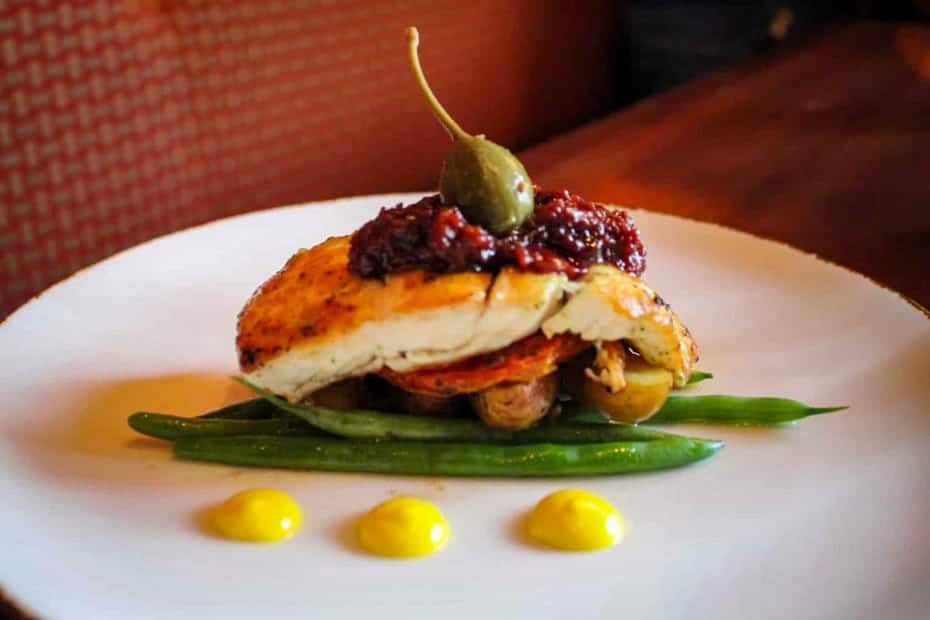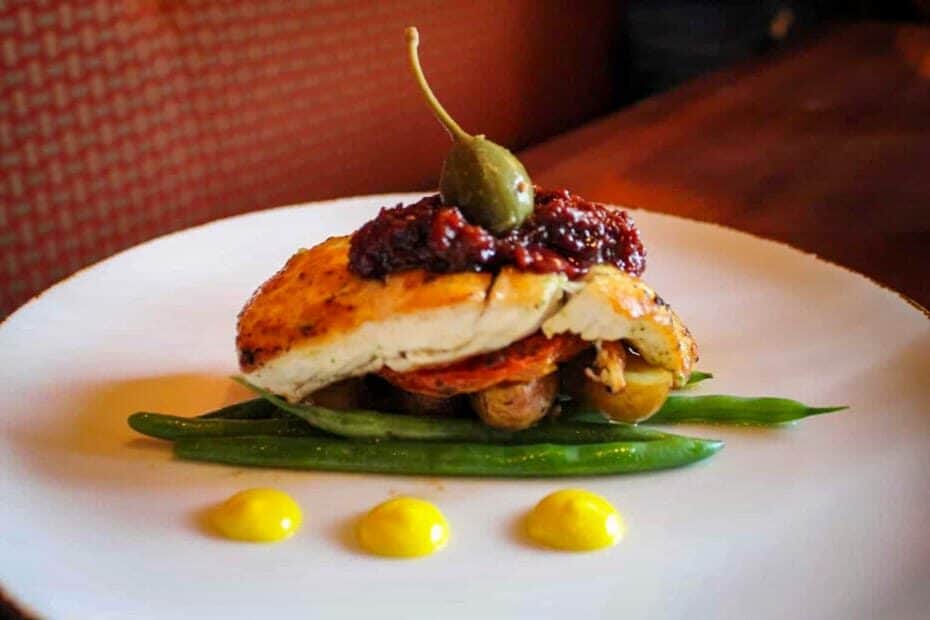 The fish was perfectly executed. And if you are familiar, you know Halibut is a fine fish. I'm more than willing to pay any reasonable price for it when I find it on a menu. The menu describes the olive topping as a marmalade. But I've been calling it a tapenade ever since I left.
However the chef describes this portion, I can guarantee you it was divine. The flavors between the olives, mustard sauce, and tender Halibut combined to make a meal pleasing to the senses. I would say I would order this again, but I've selected a different menu item each visit. The menu here is extremely seasonal and constantly changing.
Below is a look at some of the meals we have had in the past at Tiffins Restaurant. Some may or may not still be on the menu. They do, however, represent the kind of menu selection and food quality you can expect from Tiffins.
First, we have a venison dish. I remember this dish being highly recommended and the venison extremely tender. The pea puree looked anything but appealing. It turns out appearances can be deceiving. This was delicious.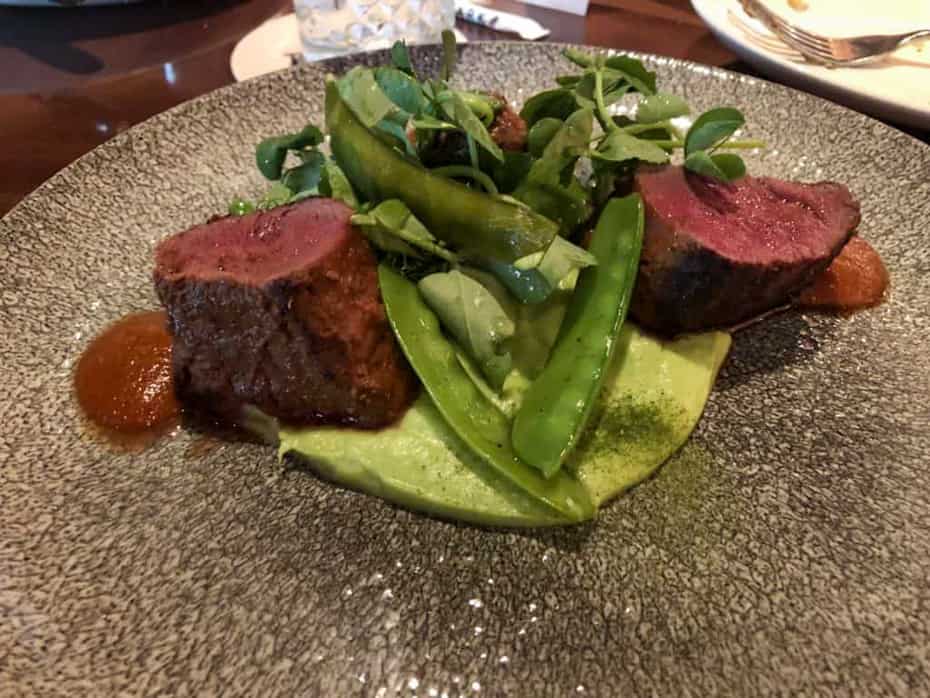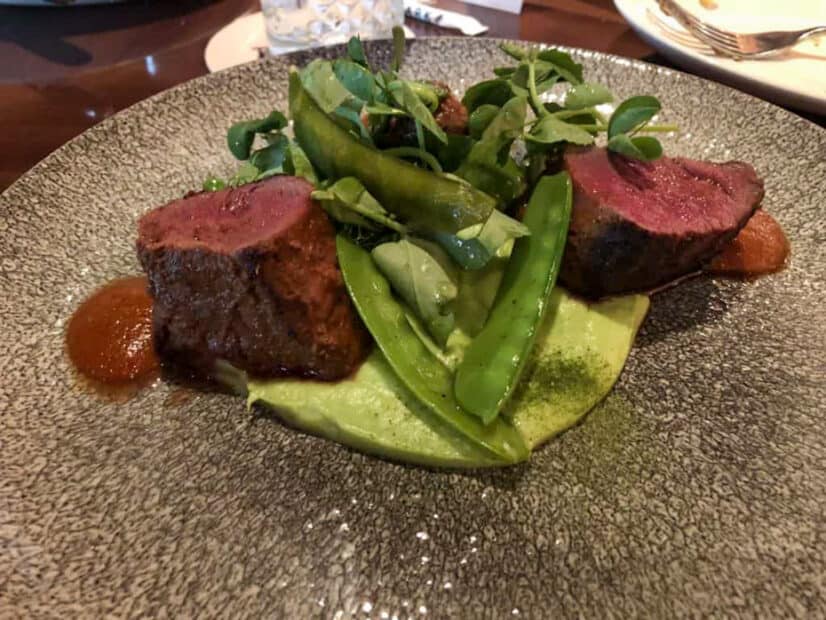 The Tiffins pan-seared duck was another tasty option. I'm not a huge fan of duck but the mushrooms were outstanding along with the puree. Over the times that I've eaten at Tiffins, I have found that these accompanying purees have all been absolutely delicious.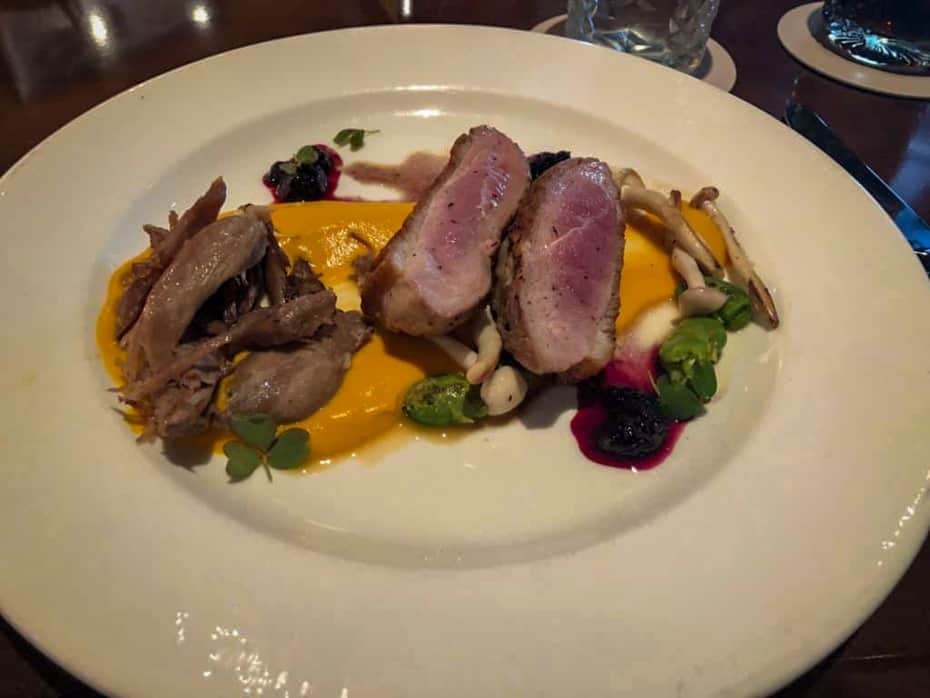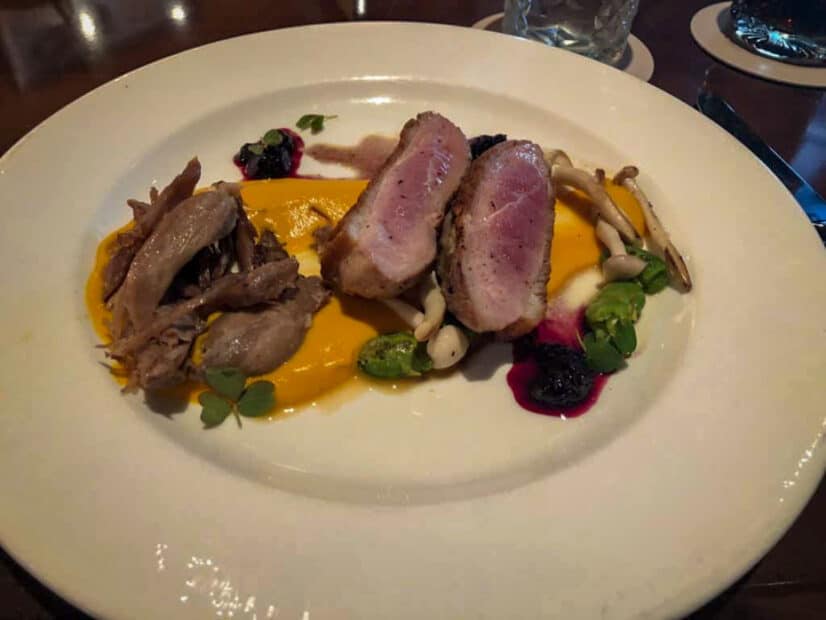 This grilled swordfish dish with carrot puree might be one of the most memorable things I've ever eaten. I had never tried swordfish before, and it's not something you commonly find on a menu. I would order this again in a heartbeat if it were to resurface on Tiffins menu.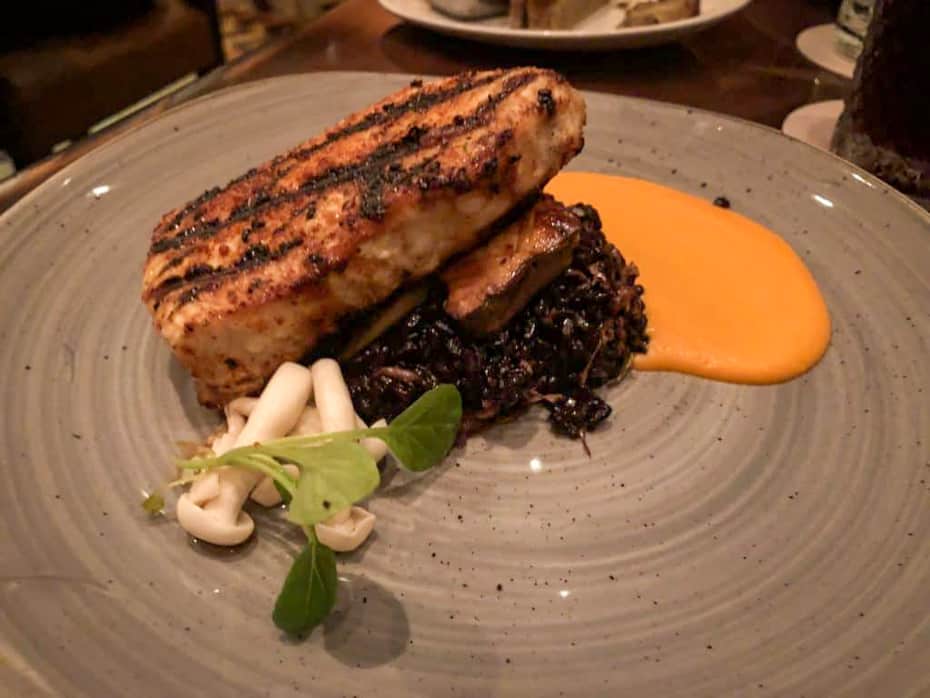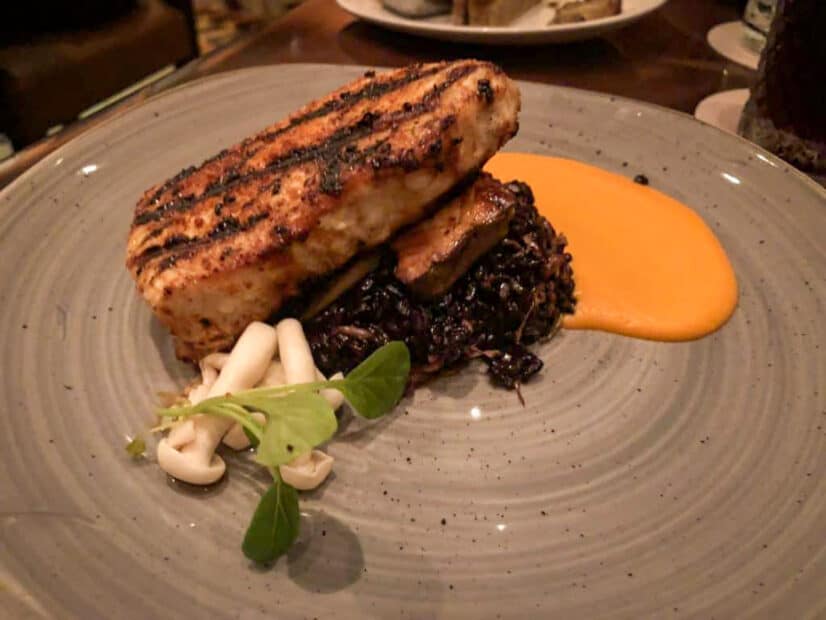 Back to this visit, where I decided to order an appetizer with my meal. Tiffins Restaurant is one of the few places where I'm interested in having a full three-course meal. The only other places I look to having a full course meal at Disney are restaurants like Jiko, The Cooking Place, or dinner at California Grill (review).
I ordered the mushroom soup described as wild Chanterelle ragout, truffle oil, and crispy shiitake's.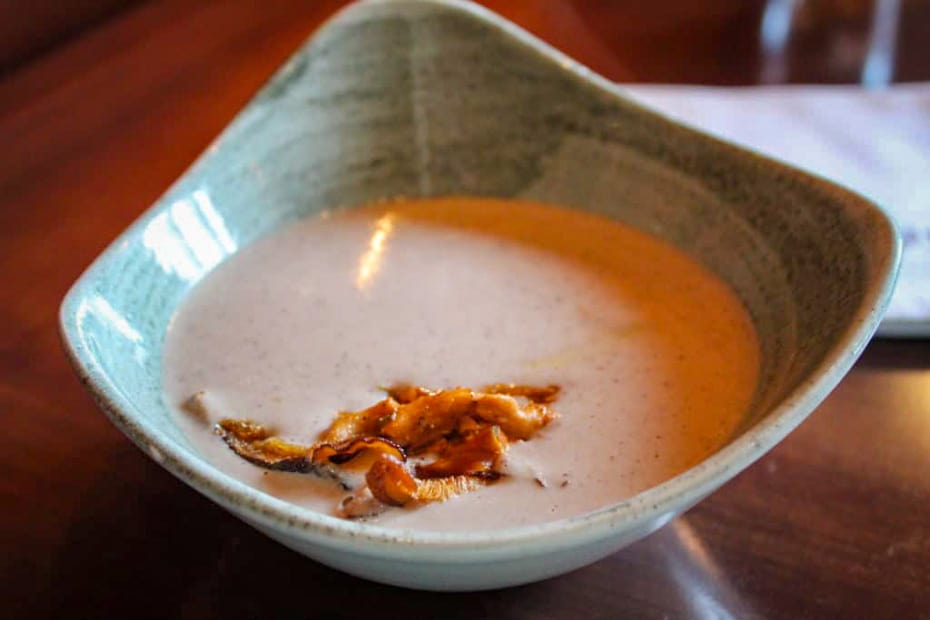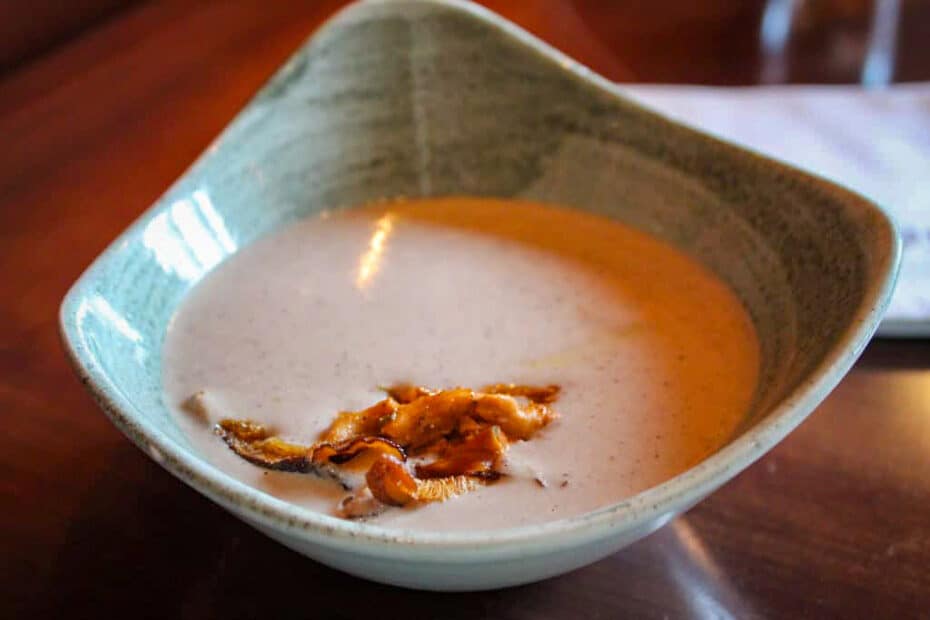 The server brought the crispy, hot mushrooms out in this bowl and then poured the soup over them. I really can't explain the detail found in the creamy broth contrasted by the crispy mushrooms. A true explosion of flavor!
This dish gives the mushroom bisque at Storybook Dining at Artist Point (review) a run for its money.
Below is a look at the charcuterie offering we received on a different visit that was specially prepared for food allergies. The meat selections were carefully chosen. A special kind of bread/cracker was brought out in place of the traditional side. All nuts were left off the dish as well.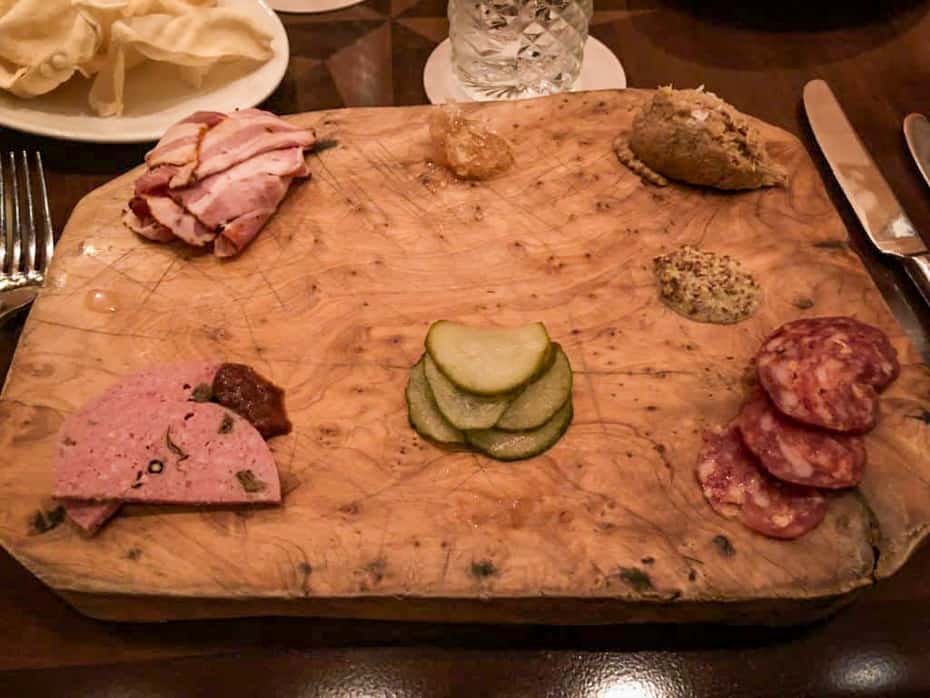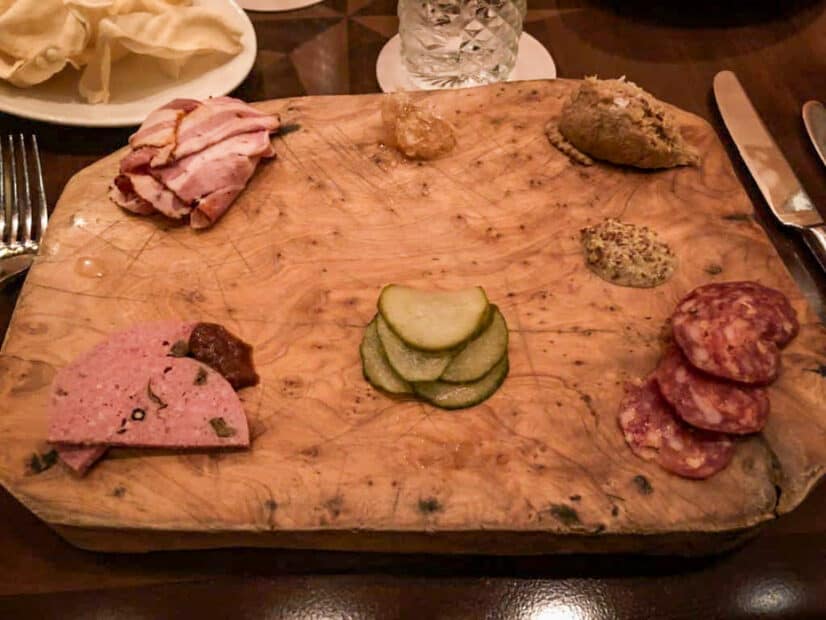 I try to mention these things regarding food allergies as much as possible. That way, if you have any food allergies, you can be assured that the chef and staff will take good care of your needs.
Tiffins has its very own special bread service that's provided during the course of the meal. Of course, the bread is what you can expect from a standard bread service at any fine dining restaurant.
The oil is a pomegranate lacquer that has several spices in it. It is probably more of an acquired taste. I would recommend not overdoing this item on a first bite. I do enjoy it but only in small doses.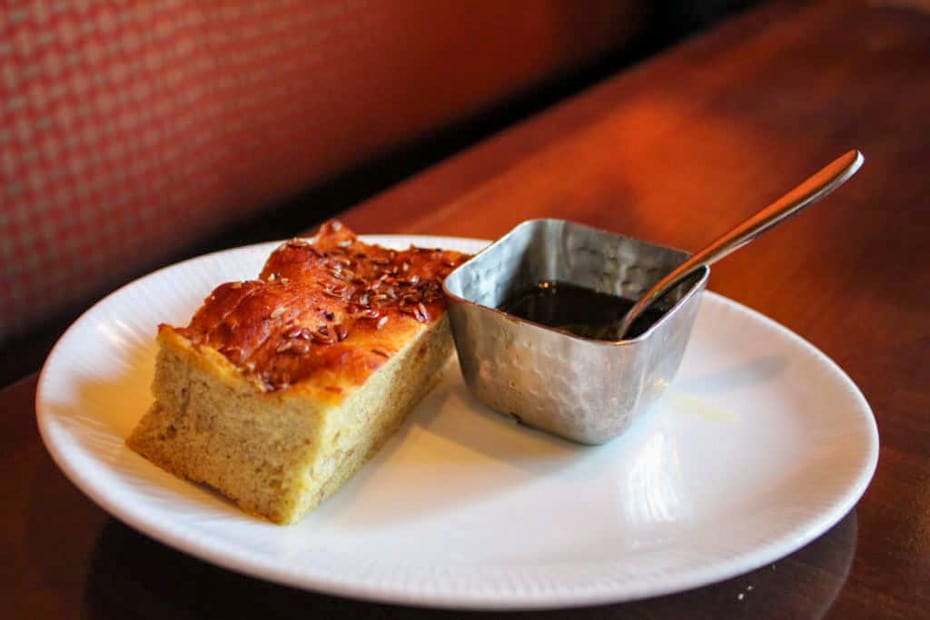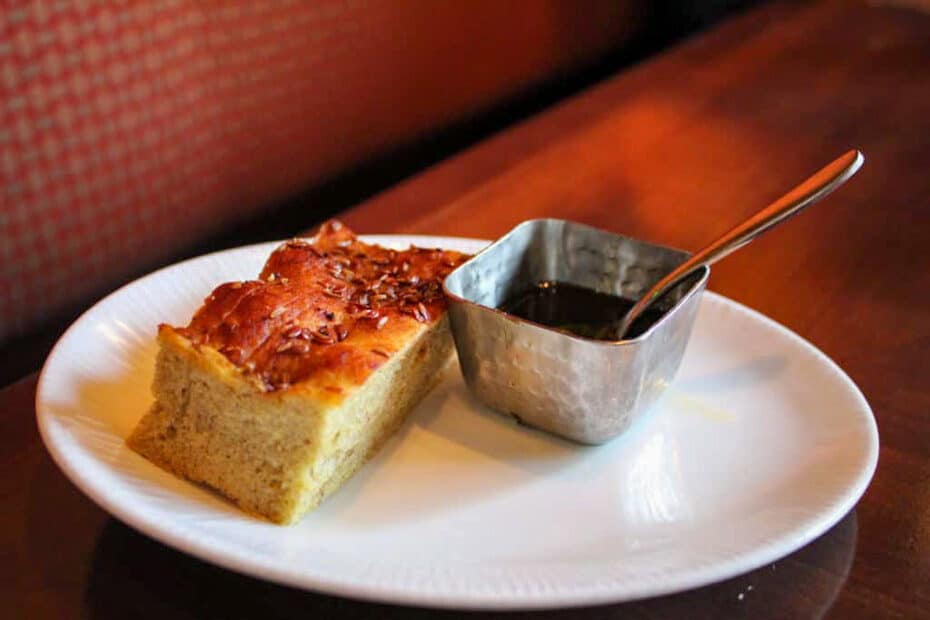 Ordering the special chef menu gave me the opportunity to try a dessert. The desserts that came with this special were the South American Chocolate Ganache and the Guava Mousse.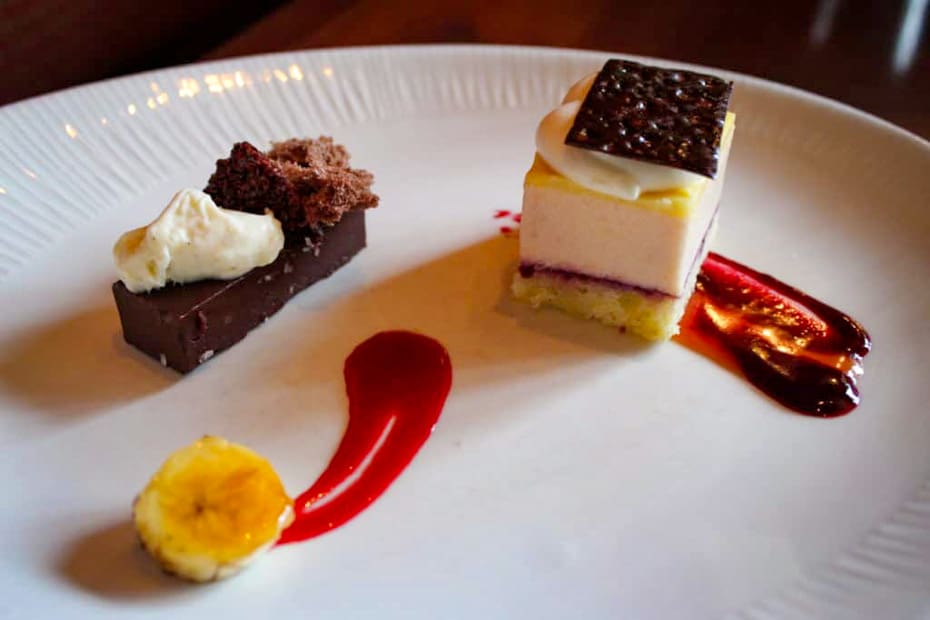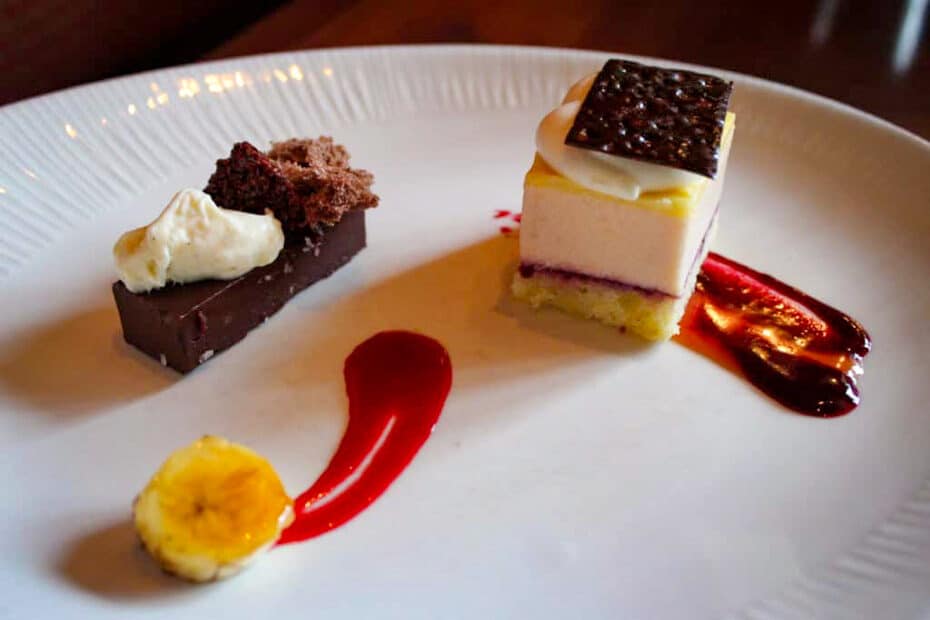 The ganache is similar to a flourless chocolate cake. It is a rich chocolate with a smooth, creamy texture. There is also a twill-like substance on top similar to cotton candy but chocolate.
The Guava Mousse is a creamy bite with sharper flavors found in the lemon-y curd and pomegranate sauce. Both delicious and pleasing bites. This is by no means a sizeable dessert. But if you want a small bite to top off your meal, it's a great way to try two items or share.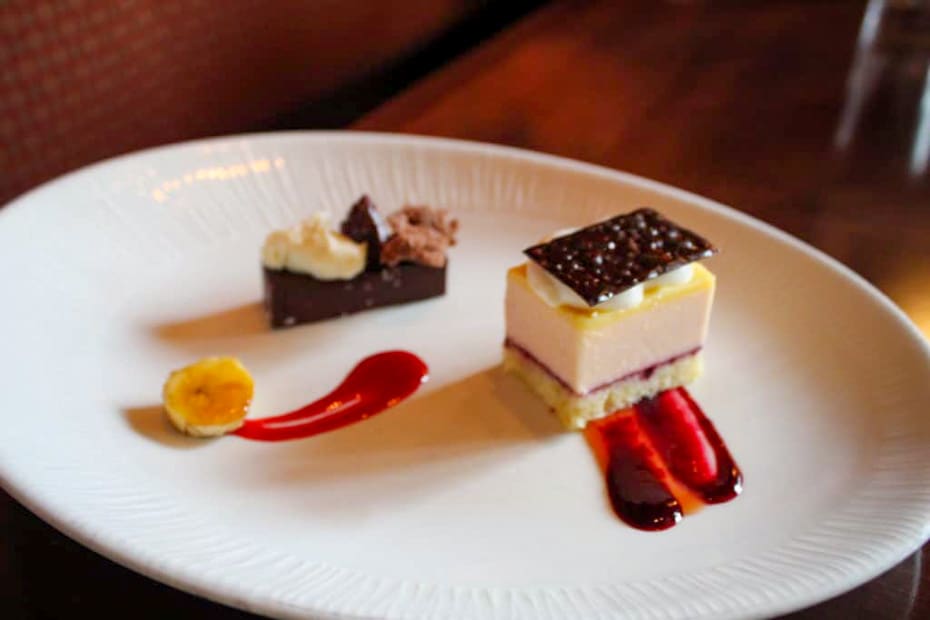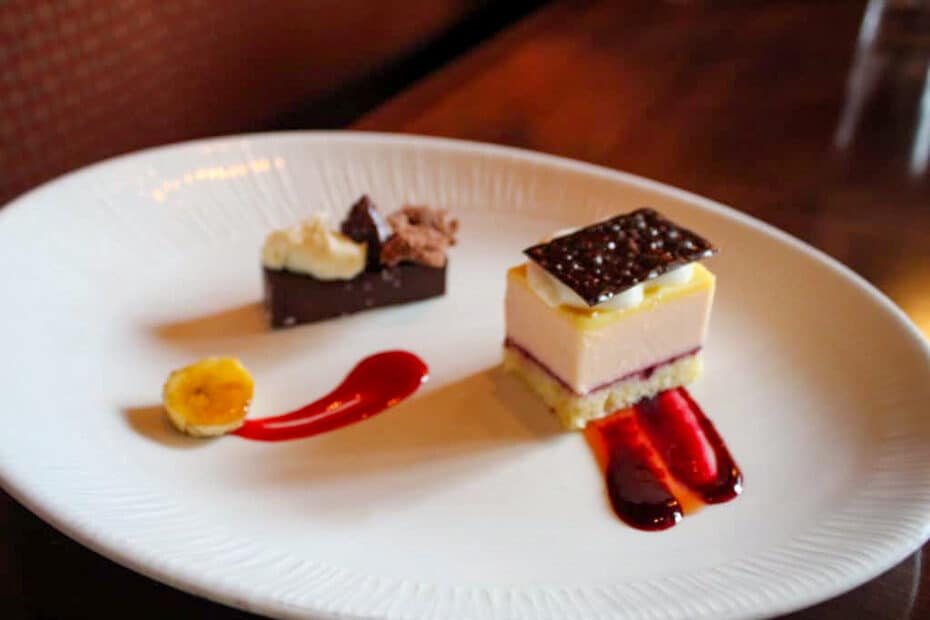 And here's a look at an allergy-friendly dessert offering. This sorbet trio dessert was dairy-free and actually avoids a number of food allergens. Check with the chef to see if it is an option for you if needed.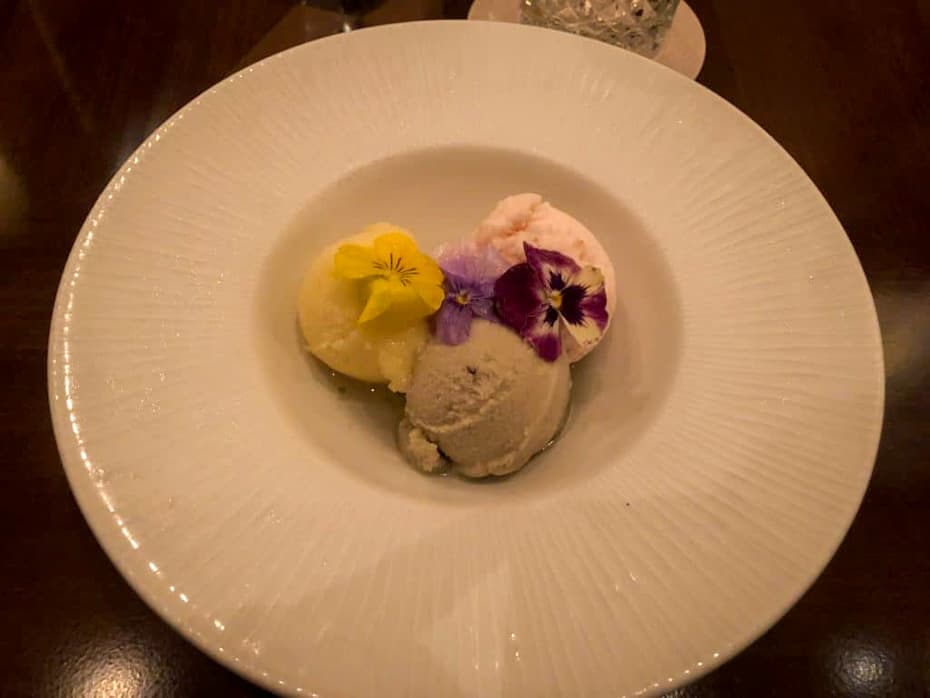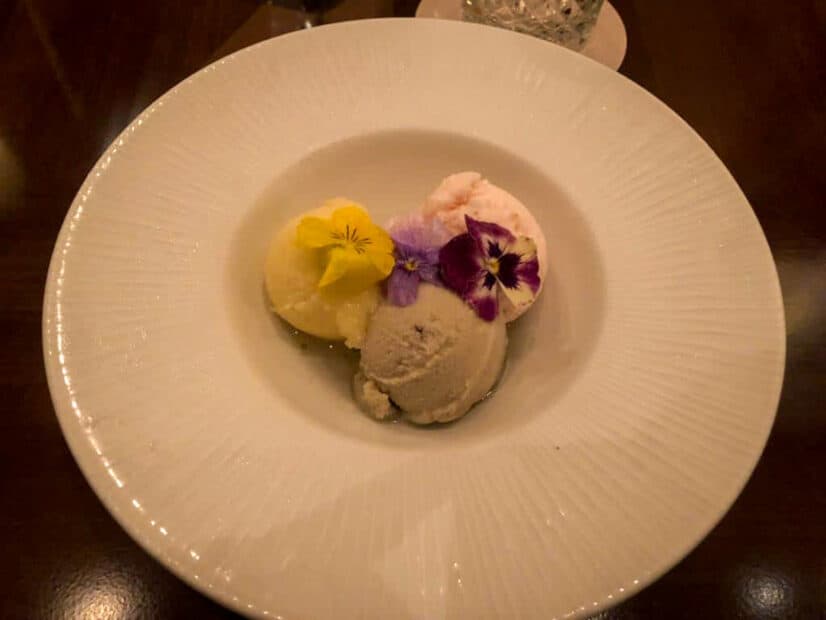 Final Thoughts on Tiffins Restaurant
Tiffins is an experience worthy of being called fine dining, and the ambiance charming. One of the things I love about Disney's Animal Kingdom, in general, is the educational aspect.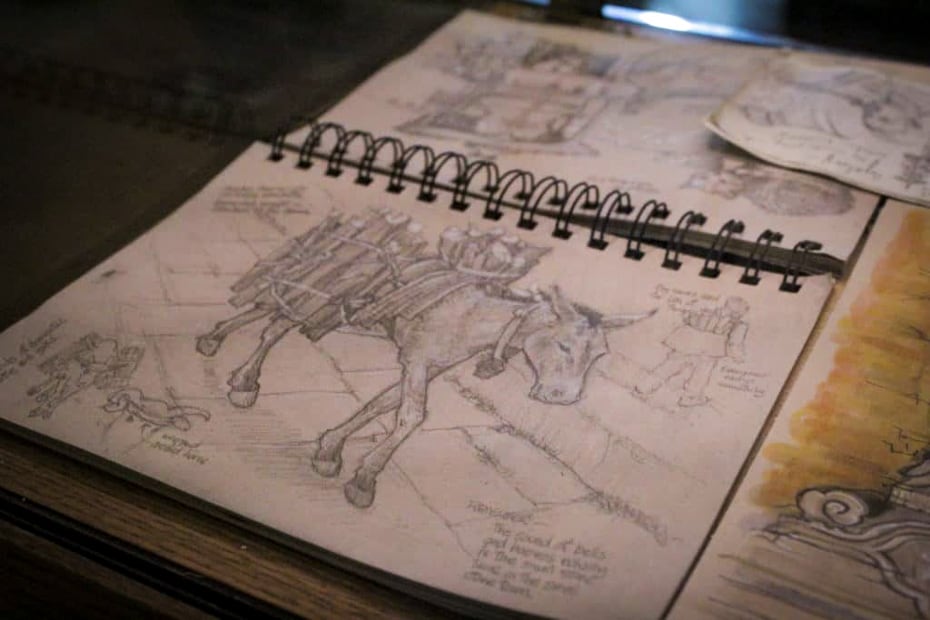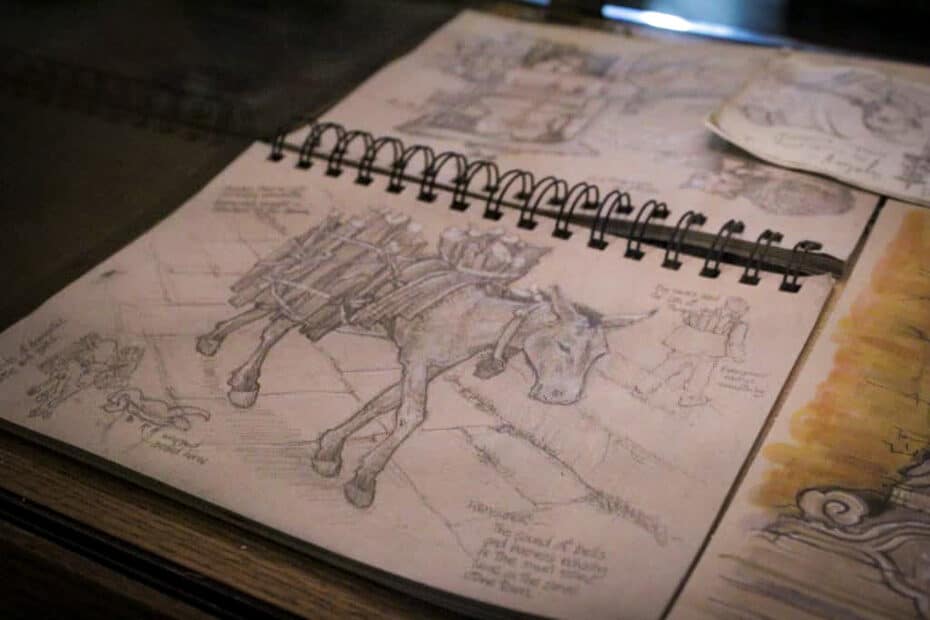 And that aspect is carried through to Tiffins where a continued sense of cultural and social anthropology is exhibited.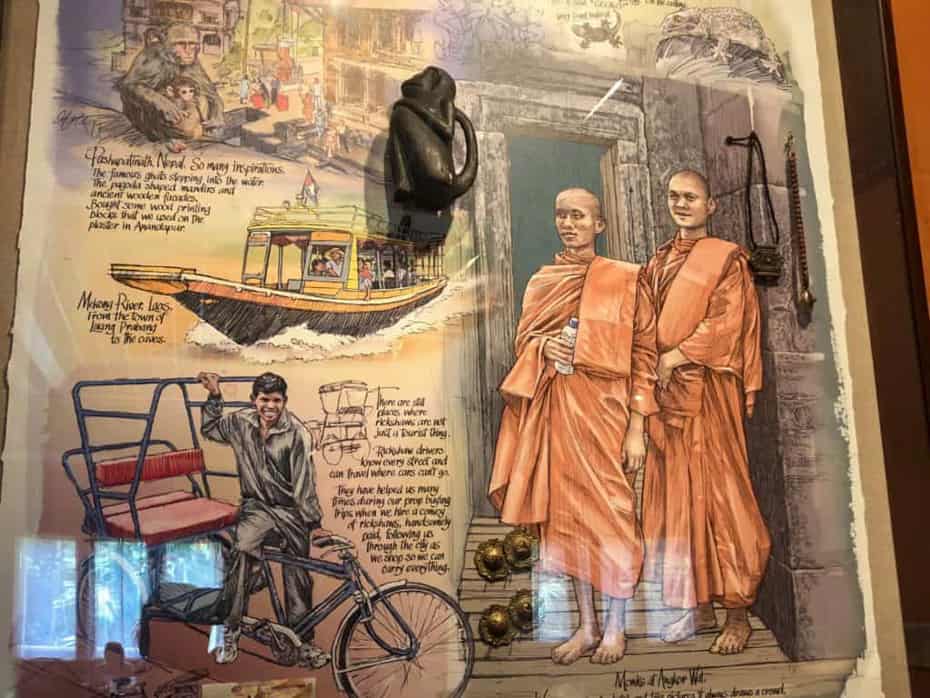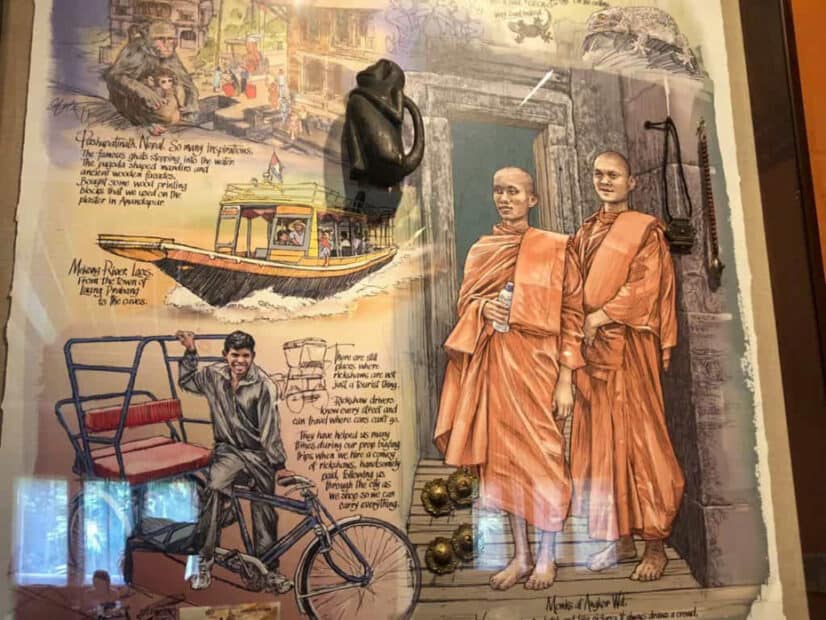 Those that share these types of interests will find themselves at home while dining at Tiffins.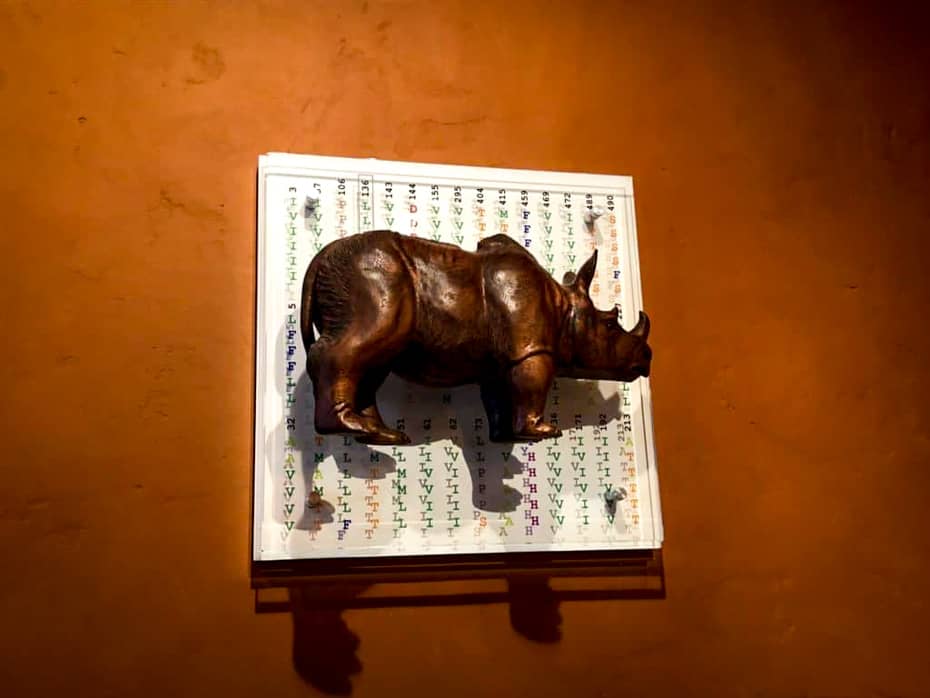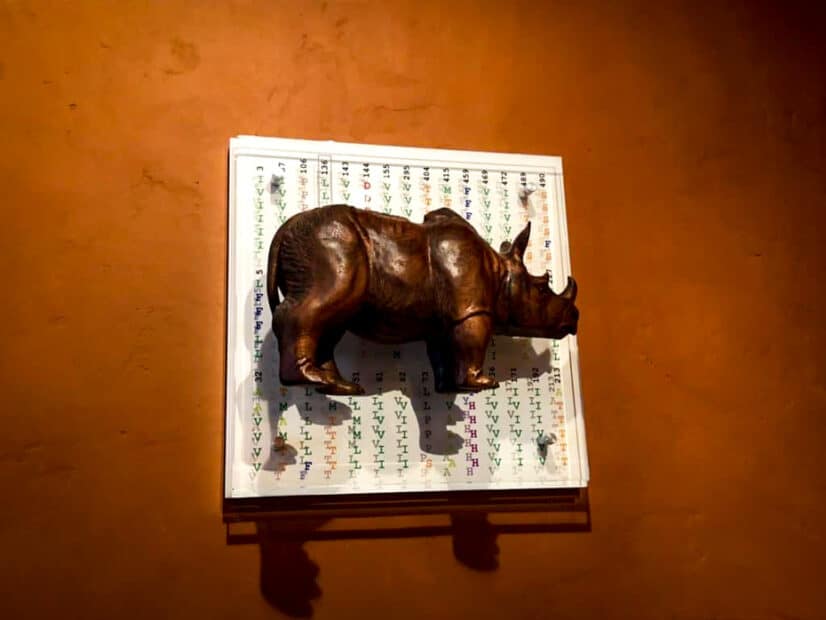 If you haven't had an opportunity to try it, I hope you will make it a dining priority on your next trip.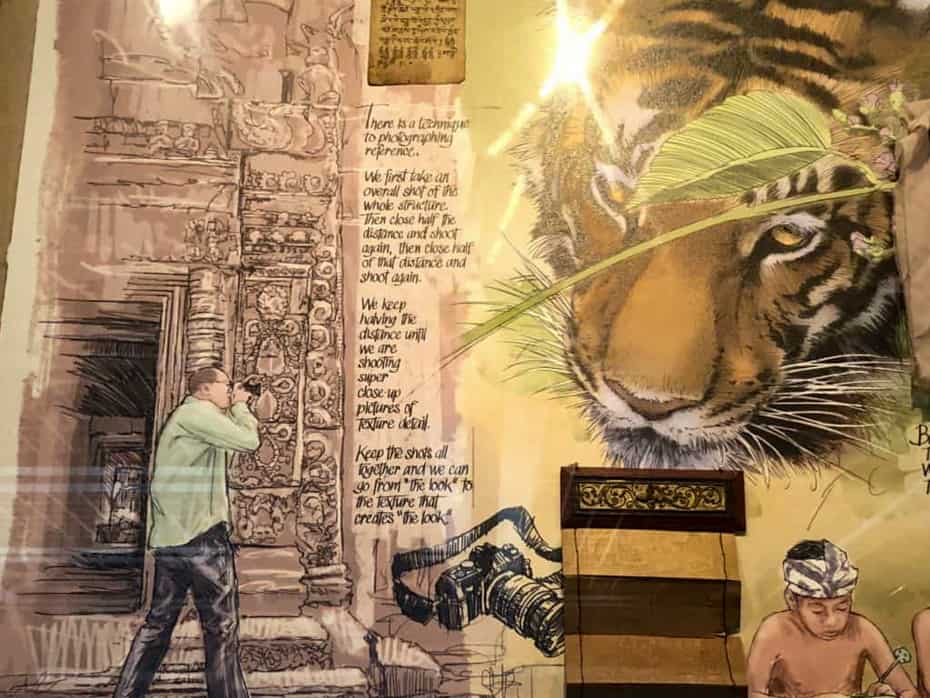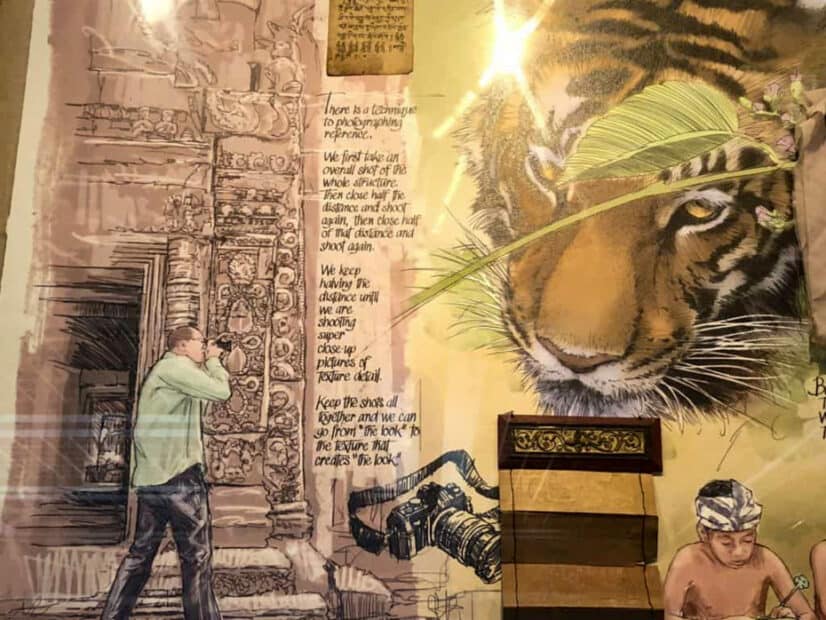 There are not many restaurants that win out for me over Tiffins. If you are looking for that one special meal during your trip, this will do nicely. You might also enjoy the brunch at the top at California Grill on Sunday's when it's available.
If you are spending a good bit of time at Animal Kingdom park, you might enjoy the Animal Kingdom quick service dining guide or the review of Disney's Yak and Yeti.
In addition, I have a few of my Disney World vegan food finds in the Flame Tree Barbecue review and a mix of regular and vegan items in the Satu'li Canteen review.
For those staying at Disney's Animal Kingdom Lodge (review), you might enjoy the Animal Kingdom Lodge restaurants guide or the review of Boma's breakfast buffet.
And then there's one of my personal favorite's, the Sanaa review with bread service. Bread service at Sanaa is something a little extra special.
You can also browse all of Walt Disney World dining reviews here on the site.
Lastly, Tiffins is open seven days a week for lunch and dinner service. And even though the restaurant has maintained popularity since it opened a few years back, most guests can easily obtain a reservation.
I hope this review of Tiffins was able to provide you with a good idea of what to expect when dining here. We always look forward to returning in the future.
Make sure to leave a comment below and let me know your take on Tiffins.