Meet Anastasia & Drizella at Disney World (Cinderella's Evil Stepsisters)
Meeting Anastasia and Drizella on your Walt Disney World vacation can be a nightmare! No, really, they are villains.
Cinderella's stepsisters always complain about some dramatic event or another. Typically, their conversation involves whining about a shoe that doesn't fit!
In true form, these stepsisters, who rarely leave each other's side, are somewhat challenging to find. But if you do run into them, you're sure to be entertained.
This article discusses the details of meeting Anastasia and Drizella at Walt Disney World. In addition, I'll provide some tips for locating the sisters, photos, autographs, and other details.
You can probably tell by their expressions in the picture below that they keep a sour attitude. So feel free to give them a hard time when you meet them.
This article was updated on January 24, 2023.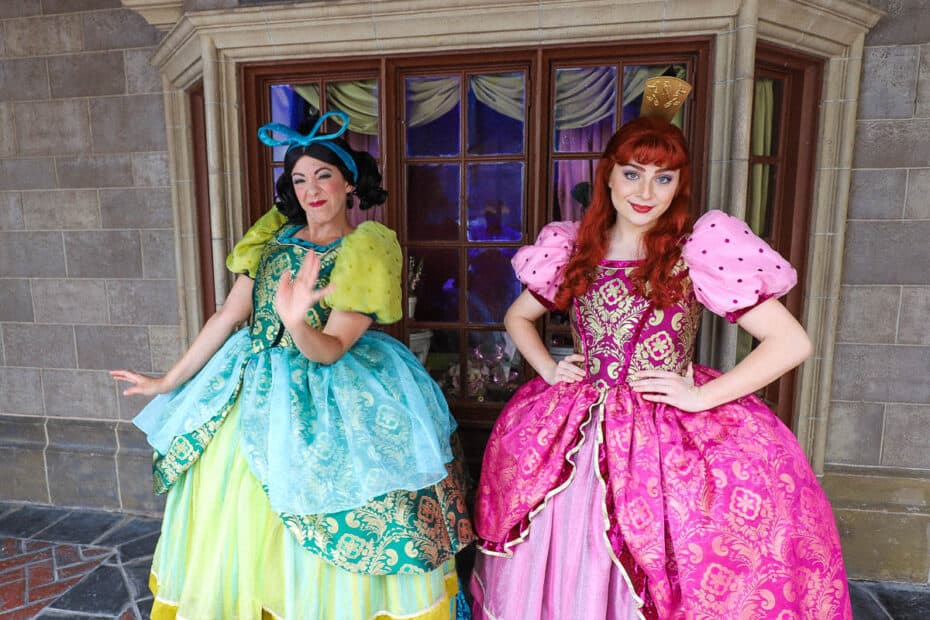 Typically, the stepsisters meet somewhere behind Cinderella Castle at Magic Kingdom Park. I say somewhere because they do move around from time to time.
At the time of this update, Anastasia and Drizella meet guests near Cinderella's Fountain. Cinderella's Fountain sits directly behind the castle.
The stepsisters are usually in the area off and on in the afternoons between 12:00 and 5:00 p.m. As always, you'll want to confirm their meet-and-greet times and location in the My Disney Experience app on the day of your visit.
Be aware that some days the sisters are not available. In the past, the stepsisters met an average of five days per week. When they weren't available, the Fairy Godmother met in their place.
Unfortunately, we have yet to see the Fairy Godmother return. So the stepsisters are out on most days.
Unfortunately, this meet-and-greet schedule is not listed on Disney's website. Therefore, if this character meet is important to you, I can't stress enough to check the app for those exact times on the morning of your visit.
Below is a photo of where the line forms for the character meet. A few families were already waiting ahead of me.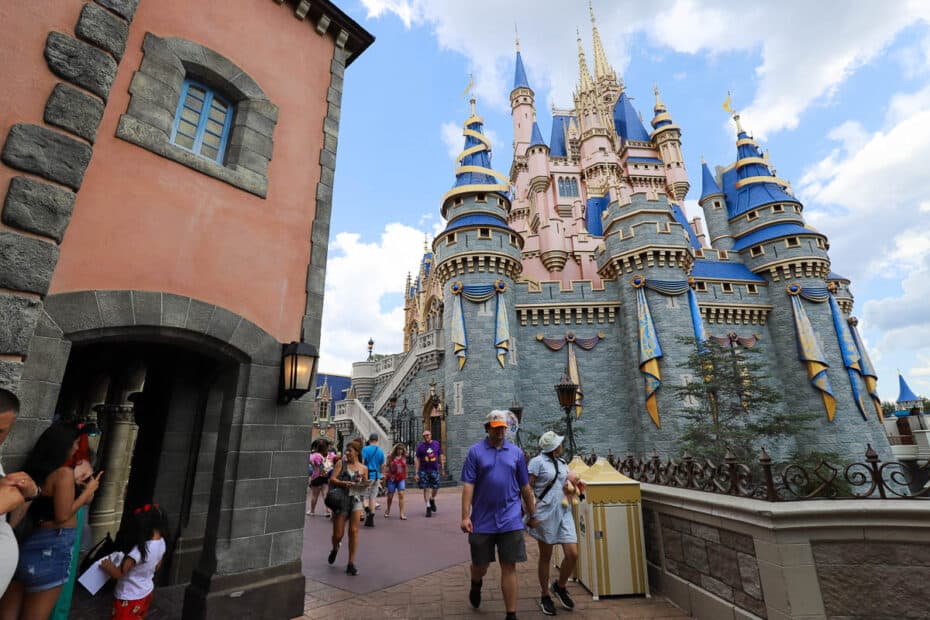 On this visit, I was at Magic Kingdom on a Sunday afternoon. Anastasia and Drizella were scheduled for an appearance at 2:20 p.m.
I joined the line to meet them at 2:17 p.m. The stepsisters came out at promptly 2:20 p.m., and I met them at 2:27 p.m.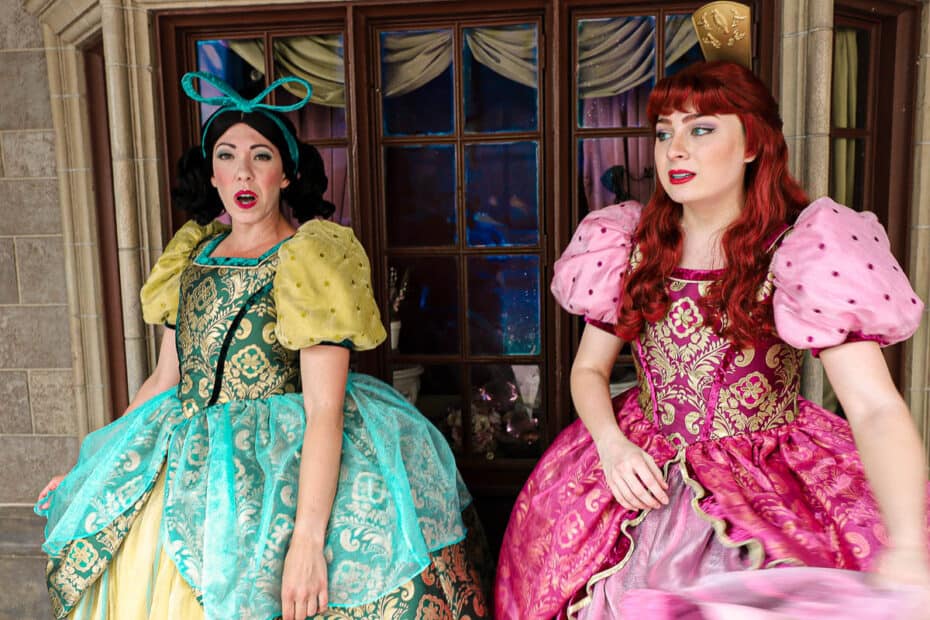 That wasn't too bad, considering I only spent ten minutes waiting. I can assure you they are definitely worth the wait.
A Photopass photographer was available at this location. Unfortunately, a photographer is not guaranteed, and we are seeing less of them at character meets.
You may remember that I recently went through all the character meets at Epcot. Some of them would have photographers available one day, but on another day, they didn't.
Additionally, Anastasia and Drizella sign autographs. So make sure to have your autograph book available for this character meet.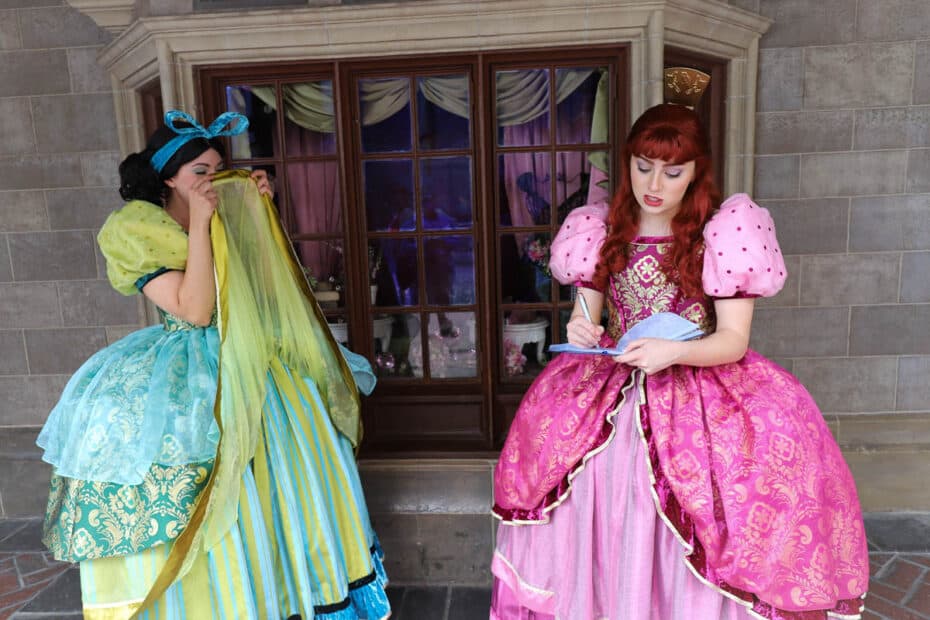 Here are their signatures.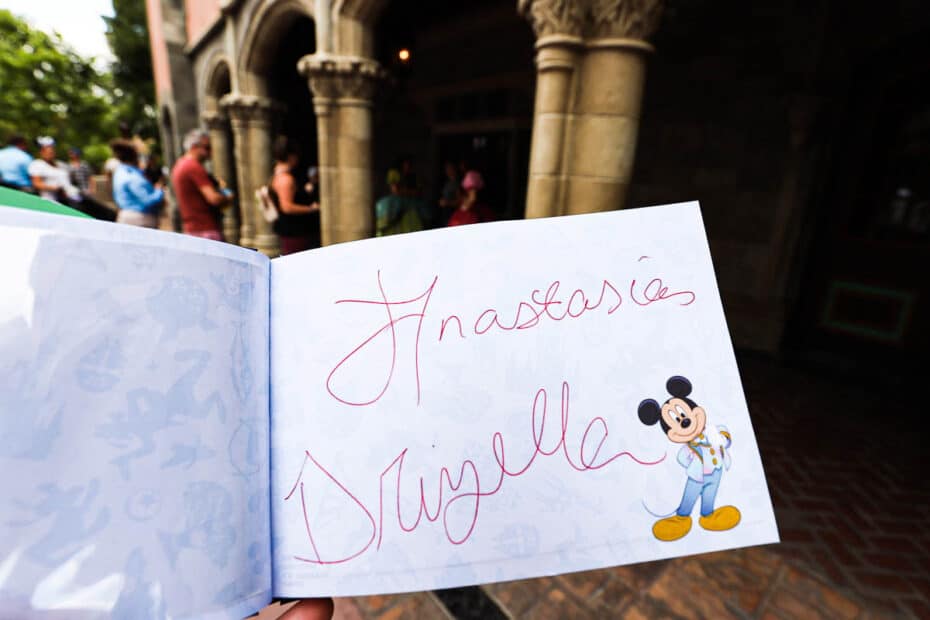 Previously, Anastasia and Drizella met daily at Magic Kingdom Park along the wall behind the carousel.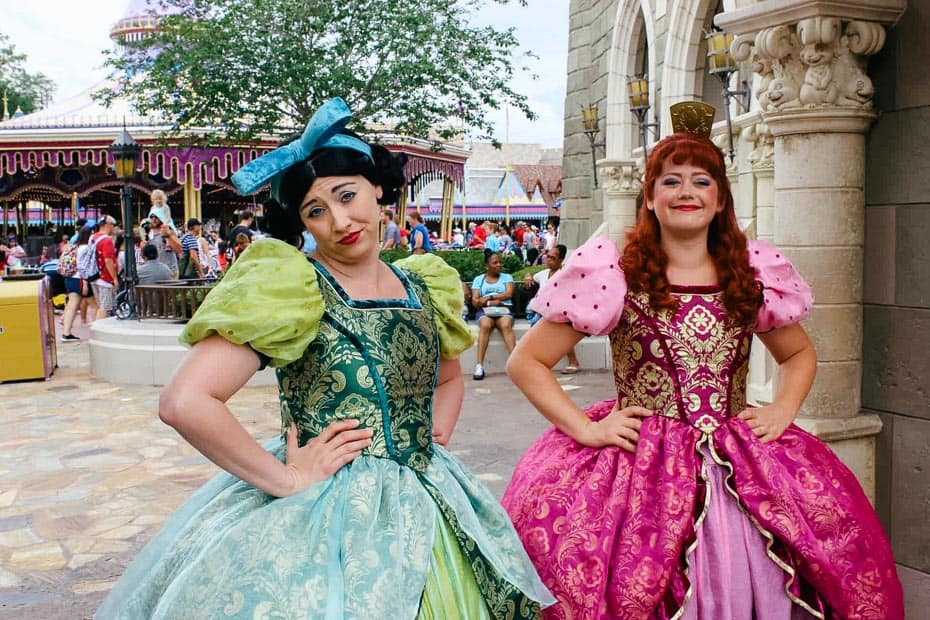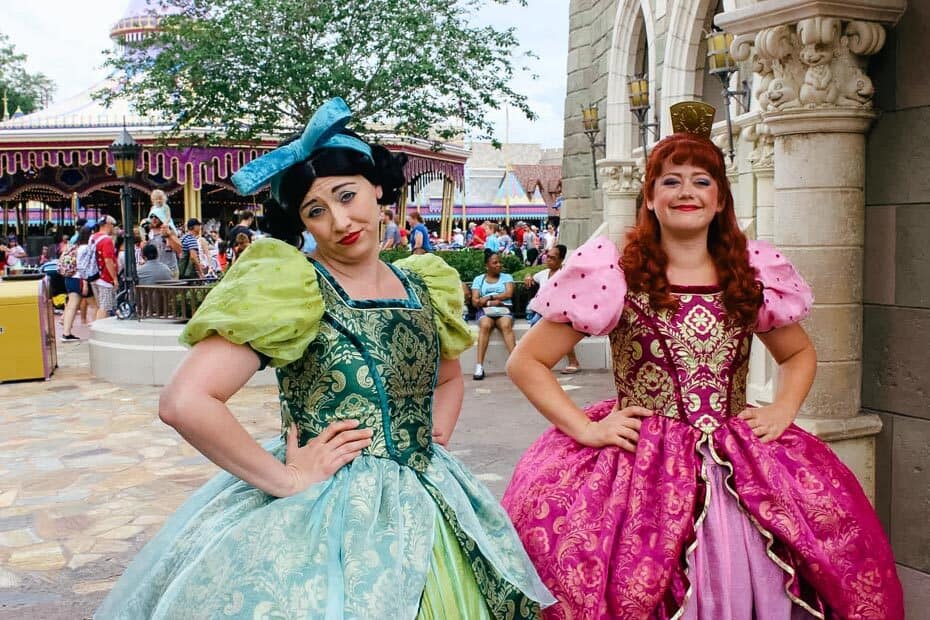 We've also seen them make appearances in the past at Mickey's Not So Scary Halloween Party. We have a separate article for meeting characters at the party.
Related: Meet Characters at Mickey's Halloween Party
Additionally, Cinderella meets daily at Princess Fairytale Hall. She also makes appearances at Cinderella's Royal Table and Akershus Royal Banquet Hall.
As for the Fairy Godmother, you might see her in the Once Upon a Christmas Parade at Mickey's Very Merry Christmas Party. She has become a rare character meet.
For those wanting to meet characters at Magic Kingdom, here are a few other locations:
We also have a list of all the Disney World character meets.
Additionally, you might enjoy character dining at Disney World. I have found that the food and character interaction at the Topolino's Terrace character breakfast is better than most.
In the Comments
Are you hoping to meet Anastasia and Drizella on your next Disney World vacation? Leave a comment or any questions below. I'll be happy to answer them based on my experiences.