Minnie Mouse Joins Mickey Mouse at Magic Kingdom (Limited Time Character Meet)
Since the World's Most Magical Celebration has ended, so has this special character meet. This information and photos have been left for historical reference.
Mickey is once again meeting guests as Mickey the Magician at Town Square Theater. Minnie has returned to her former character meet at Pete's Silly Side Show.
Mickey Mouse and Minnie Mouse are together again at Magic Kingdom. Historically, the pair only meet guests at Magic Kingdom on special occasions.
The last time they met together was in their birthday suits to celebrate their 90th birthday. Now, guests visiting Walt Disney World's 50th-anniversary celebration can meet Mickey and Minnie at Magic Kingdom in their celebration suits.
Here's a look at their iridescent outfits. These outfits are so pretty in person, too.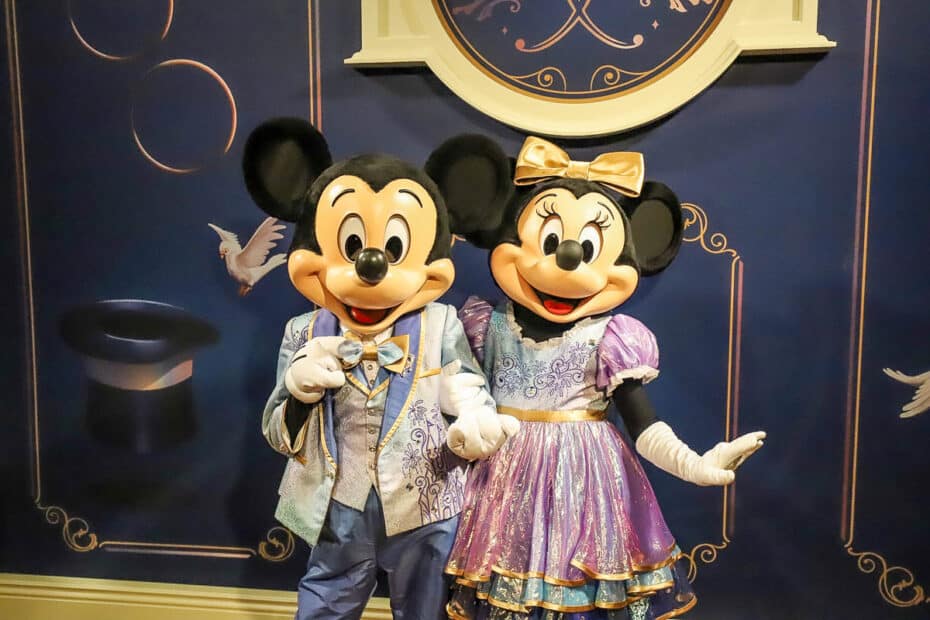 Mickey and Minnie meet daily inside Town Square Theater at Magic Kingdom. This location is where Mickey usually meets guests year-round.
Town Square is the first building on the right when you enter Magic Kingdom. Mickey and Minnie meet here daily between 9:00 a.m. and 10:00 p.m.
Regarding timing, you'll want to check the meet's exact times on the day of your visit. When Magic Kingdom's hour's change, the hours for this meet will usually adjust in correlation with the park's hours.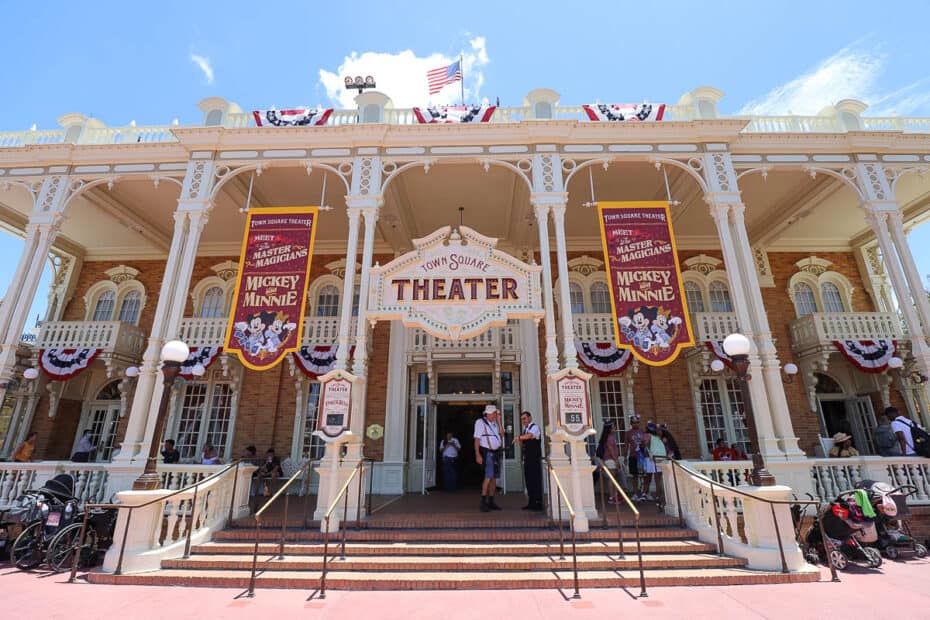 Additionally, this particular character meet is one of the Lightning Lane entrances offered through Disney Genie+ Service. So you do have the opportunity to select this character meet as one of your options throughout the day.
Depending on crowds, you might elect to use Genie+ because this character meet and greet often holds lines up to a 60-minute wait. However, if you plan it right, you may not need it.
On a positive note, the queue for this character meet is inside, so you'll wait in an air-conditioned space. Therefore, this location is a decent place to wait during extreme temperatures or inclement weather.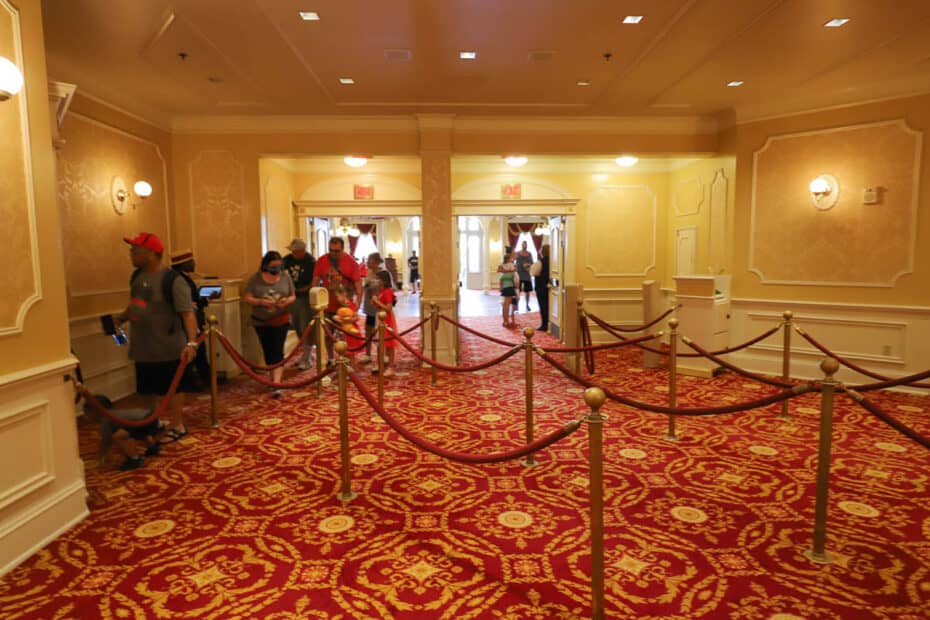 On the day of this visit, I practiced one of my tips to see how it worked for meeting the pair with a shorter wait. First, I watched the Festival of Fantasy Parade from the front porch of Town Square Theater.
The parade came through this specific area at 12:23 p.m. After the parade passed, I got in line to meet Mickey and Minnie at 12:32 p.m. The posted wait was 45 minutes.
Below is a photo of how many guests were ahead of me. I'll be honest. There was more of a line than I had anticipated. But keep in mind that most of these people were waiting during the duration of the parade. So they didn't get an opportunity to see it.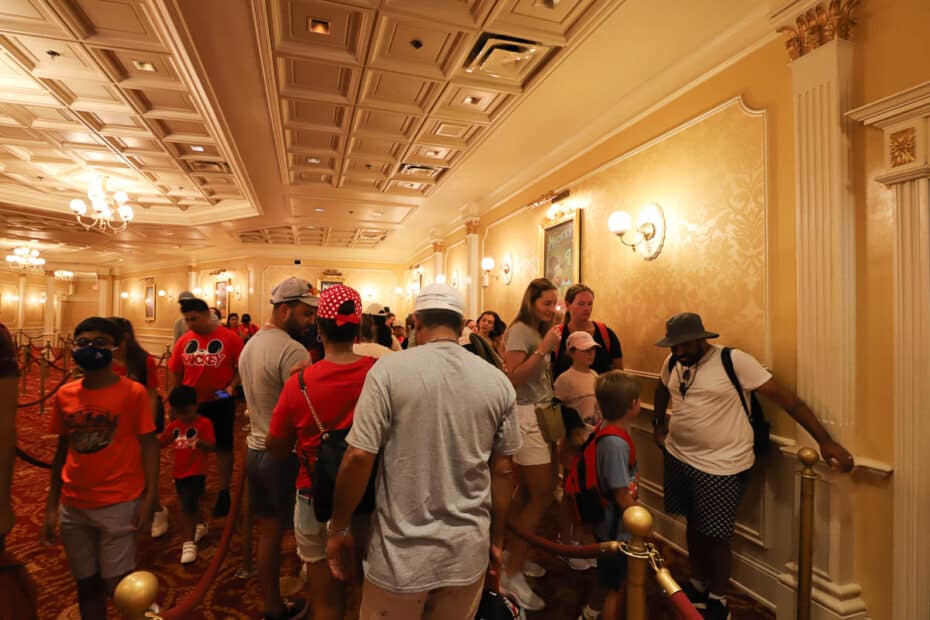 It only turned out to be a 35-minute wait, which was 10 minutes shorter than the posted wait time.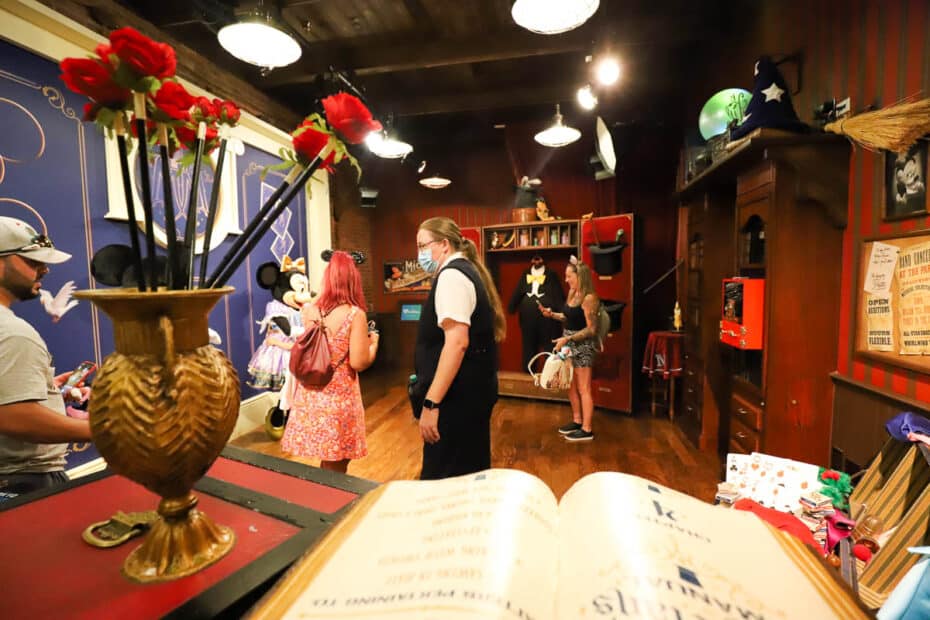 Mickey and Minnie both sign autographs, and they will take as many photos with you as you want. Unfortunately, if you have the Memory Maker, those pictures are made with a box, not a real person.
As much as I love the Memory Maker option, the lack of PhotoPass photographers at most character meets has made the upgrade less and less appealing. We've also seen these boxes installed at the Frozen character meet at Epcot.
Related: Meet Anna and Elsa from Frozen at Epcot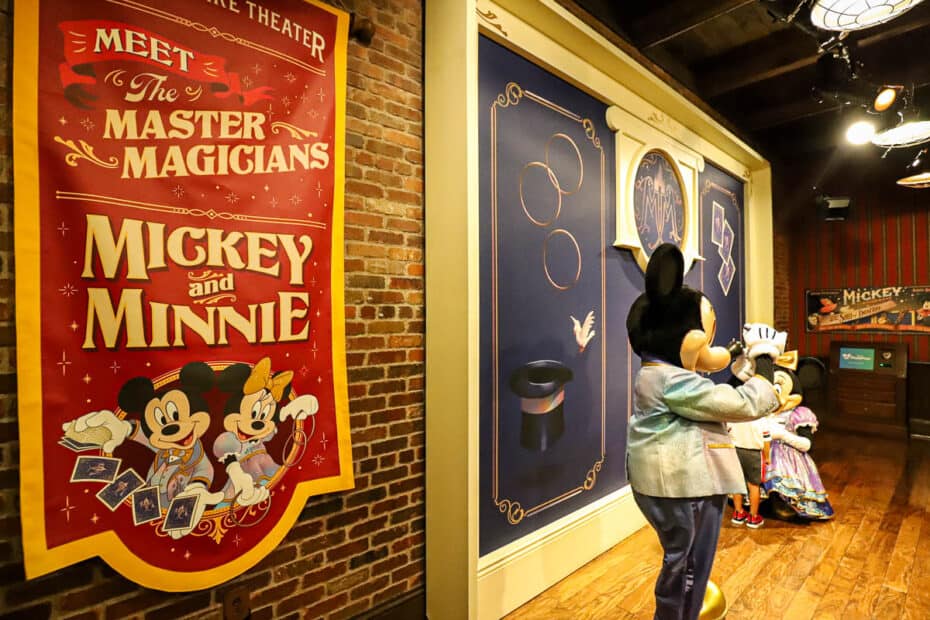 Speaking of the pair taking plenty of photos with guests, I want to make you aware of one inevitable thing. Some guests will take MUCH MORE TIME than others.
It's part of it. Don't be surprised or stressed when you see a family ahead of you take umpteen hundred photos in different arrangements. It happens, and they did wait in line for their turn, just like everyone else.
My philosophy for character meets is to take my time and get the photos I need while respecting the characters and those waiting behind me. I've met so many wonderful people while waiting in line to meet characters over the years.
I can assure you that you never know what your neighbors in line (or in life) might be dealing with or going through. So I try not to judge anyone for how long they spend getting a hug from a favorite character.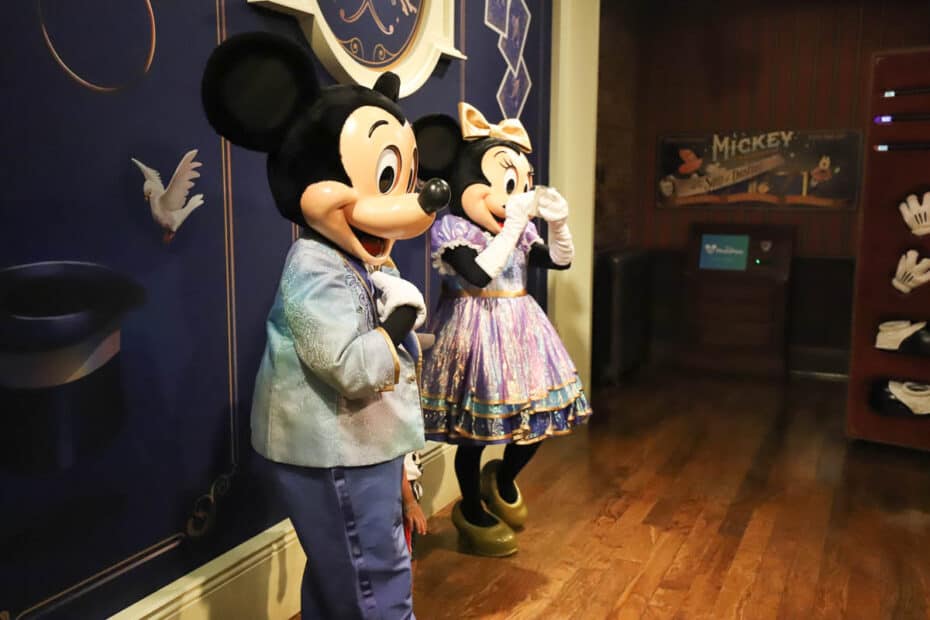 When it was my turn, I asked if either minded taking a few photos. Mickey gave Minnie a spin and made her dress twirl.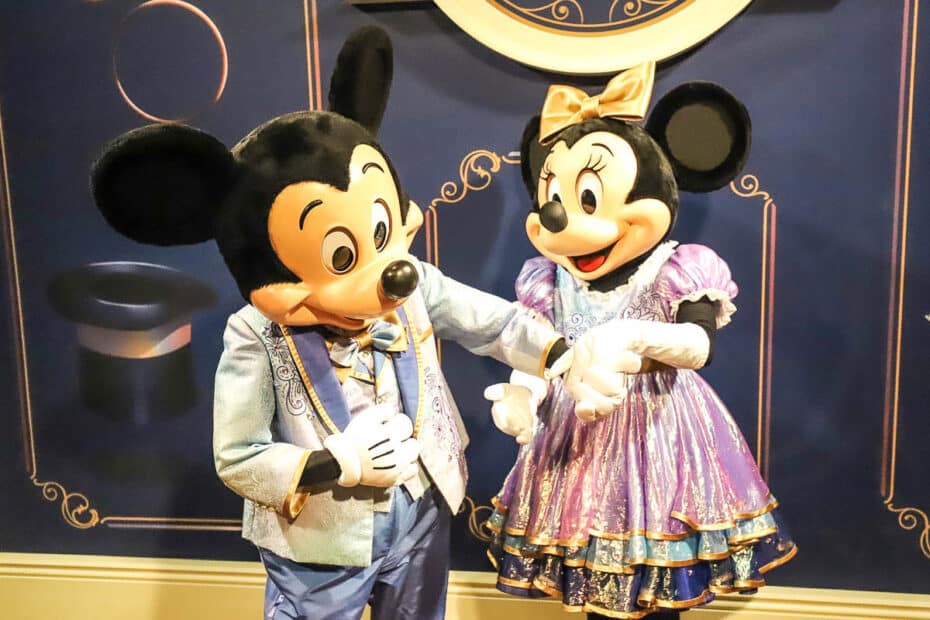 As always, they are the most adorable couple.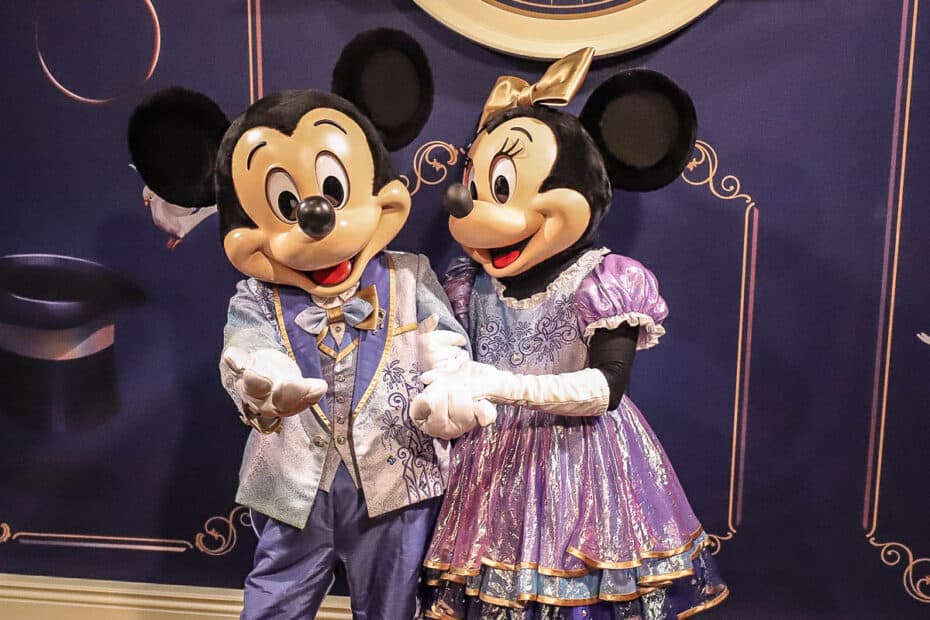 Meeting Mickey and Minnie Mouse together is always a treat. I hope you'll take the opportunity to do so on your next visit.
The only other location to meet the two as a couple is at Disney's Animal Kingdom, where they meet in their safari suits.
Related: Meet Mickey and Minnie at Adventurer's Outpost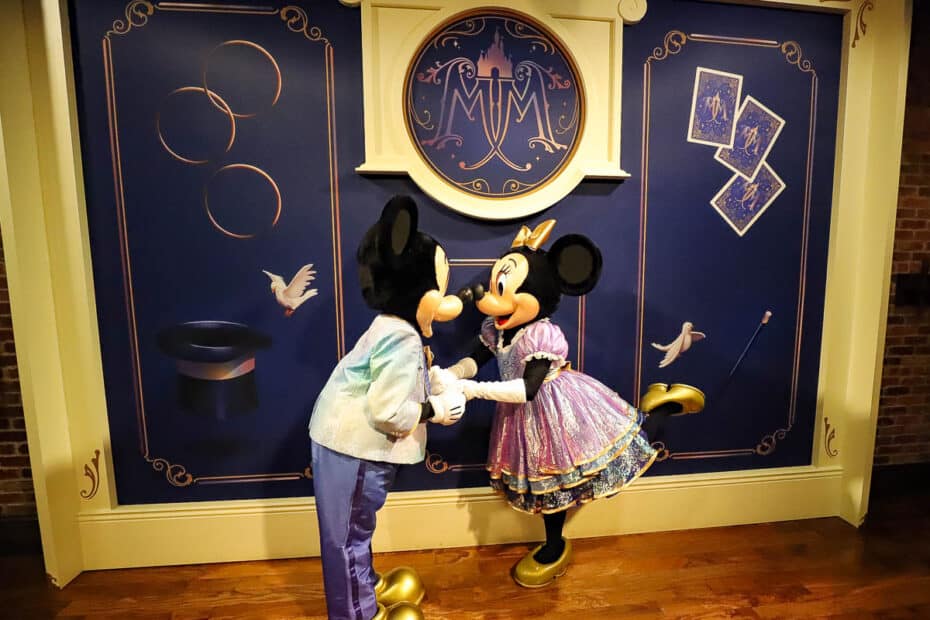 When I finished this character meet, the posted wait time was up to 70 minutes. I don't know about you, but I was happy with my 35-minute wait.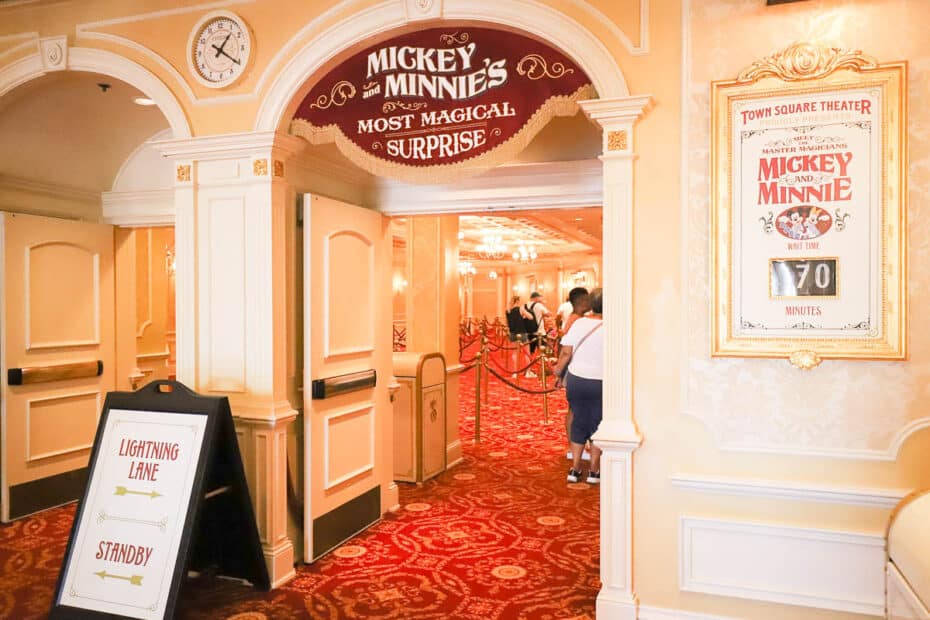 And if you don't want to wait in a lengthy, you can always check availability for Genie+ if you purchased it.
For the best times to meet Mickey and Minnie Mouse, try these times:
Immediately after either of the scheduled Festival of Fantasy Parades
First thing in the morning when it opens
During the fireworks (if you don't want to see the spectacular)
Get in line within 30 minutes of the meet-and-greet ending
Additionally, you might enjoy meeting these other Magic Kingdom characters:
Related: List of Every Character Meet at Walt Disney World
Do you plan to visit during the 50th-anniversary celebration? Will you take the time to meet Mickey Mouse and Minnie Mouse at Magic Kingdom?
Planning a Walt Disney World or other Disney Destination vacation?
Our friends and travel partner, Firefly Travels, excels at doing Disney differently. You can fill out a plan your trip form on their website, and someone will reach out shortly to discuss the specifics.