A Journey through the Germany Pavilion at Epcot
The Germany Pavilion in Epcot's World Showcase sits nestled between the Outpost and Italy Pavilion. The pavilion is handsome with bright pops of color and Tudor-style accents.
While this country doesn't offer a formal attraction, there are still several things to do here. Anyone that enjoys shopping, steins, pickle ornaments, cuckoo clocks, buffets, and beer, will find themselves right at home.
Even I've been known to drop some money on soccer jerseys here in the past. From the popular Biergarten to the Snow White character meet, Germany has a little bit of something for everyone. And we haven't even mentioned the Karamell Kuche yet.
This review will cover all of these items specific to the Germany Pavilion at Epcot.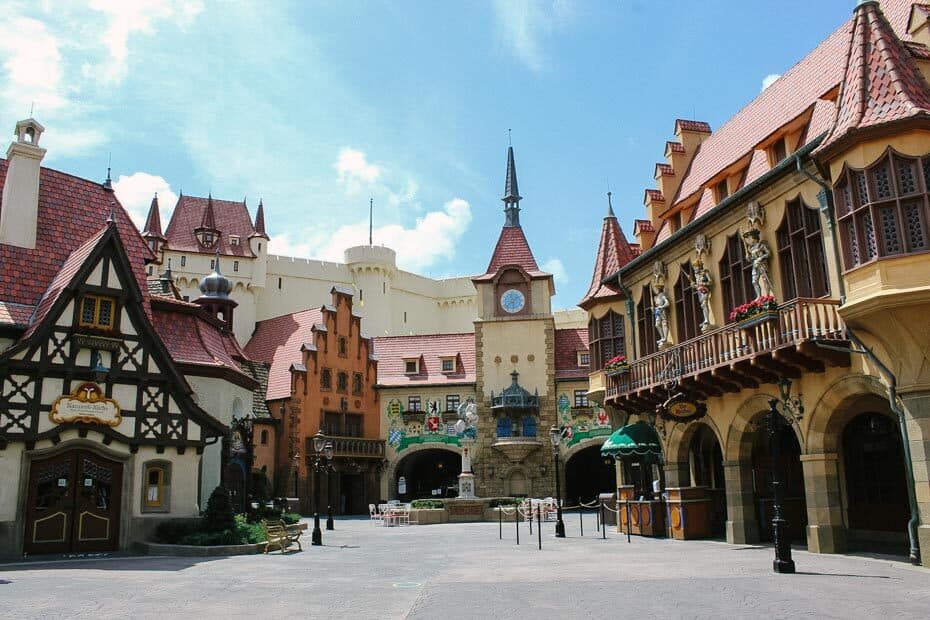 Epcot's Germany Pavilion
When touring the World Showcase, you might find yourself wondering what each country has to offer. Here are the items you can expect:
Architecture
Platz Square
Statue of St George and the Dragon
Clocktower
Entertainment
Meet Snow White in Germany
Model Train Station
Dining
Sommerfest (Quick Service)
Biergarten (Buffet, Table Service)
Karamell Kuche
Shops
Das Kaufhaus
Der Teddybar
Die Weihnachts Ecke
Glaskunst
Kunstarbeit in Kristall
Stein Haus
Volkskunst
Weinkeller
The Germany Pavilion is designed to look like a German village or town with different representations from the country's history. The heart of the pavilion is Platz Square that serves as an open courtyard for guests to enjoy.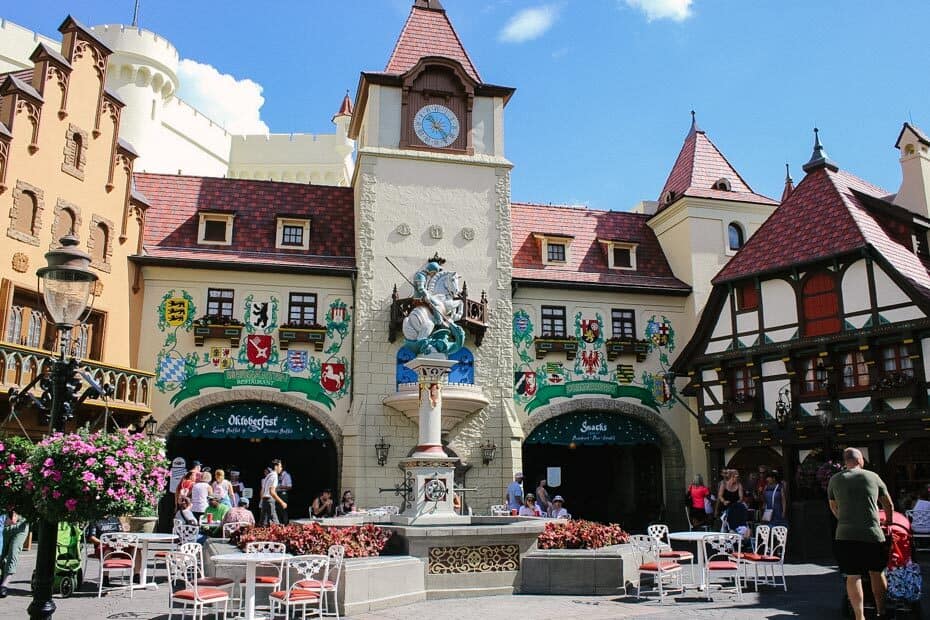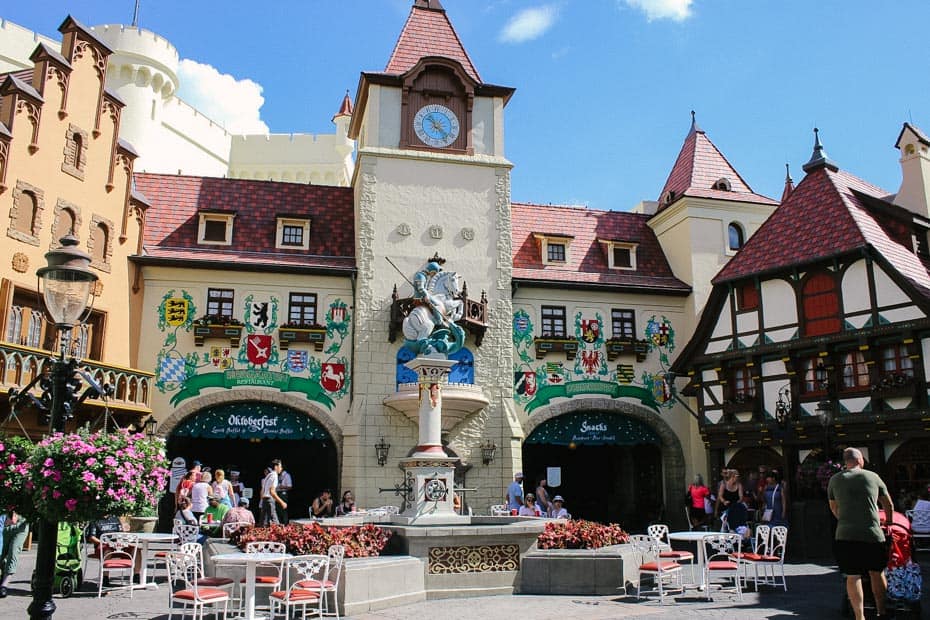 In the middle of Platz Square, you'll find a statue of Saint George and the Dragon. A brief google search provided the information that Saint George rescued a princess being offered as a sacrifice to the dragon.
Apparently, this dragon demanded human sacrifices, and Saint George saved the day by taming and then slaying the dragon. I find it amusing that as much time as I've spent here, I never knew or thought too much about what the statue represented.
However, the circumstances of recent times have given me a little extra time to work on this pet project for the website. The World Showcase is my favorite thing within the Disney theme parks. Therefore, I hope to offer a great resource for those who want to tour each country more in detail.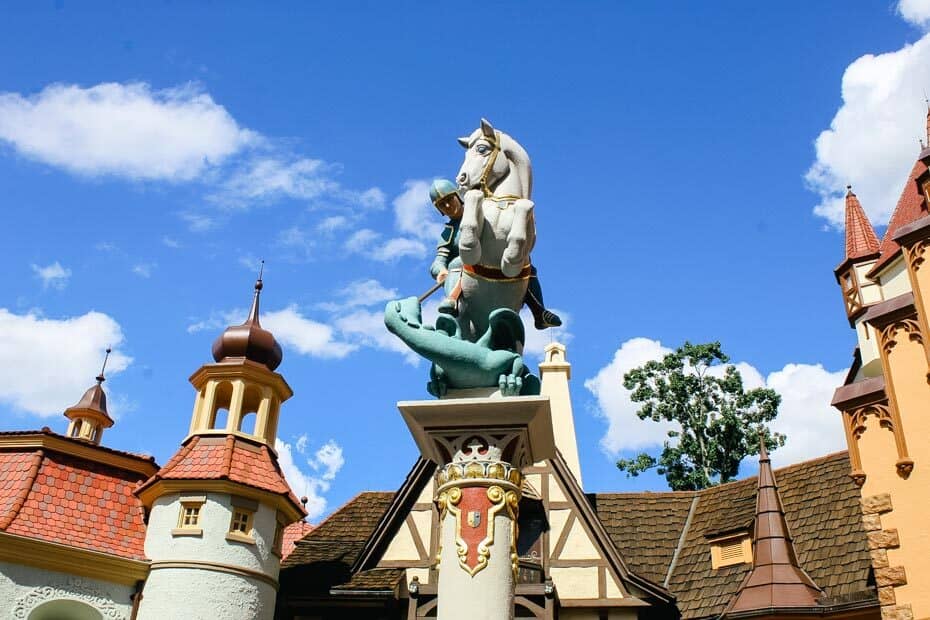 In the center of the pavilion, there's a clock tower that is similar to the Glockenspiel in Munich. Every hour on the hour, a male and female come out from behind the closed doors to ring the bell.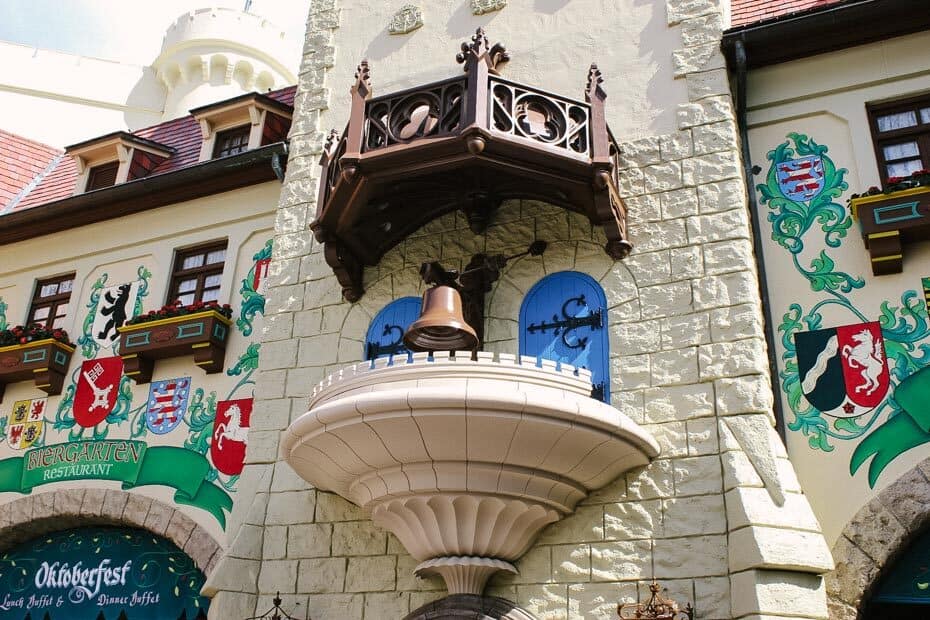 Upon first glance, the Germany Pavilion seems plainer than some of the other pavilions. However, there's a lot of rich details if you take the time to observe a little closer. And while some of the pavilions offer more in the way of attractions and entertainment, Germany's strong suit can be found inside its delightful shops. We'll take a look at those in more detail a little further down.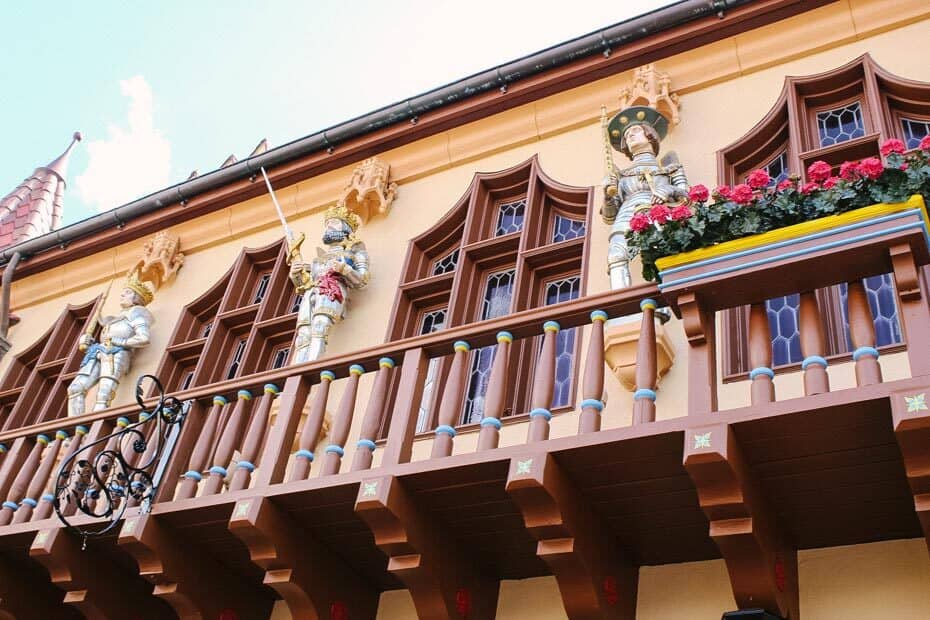 Usually, Snow White has a character meet alongside her wishing well in the Germany Pavilion. However, at this time, this form of entertainment is not being offered.
Below is a picture of the location.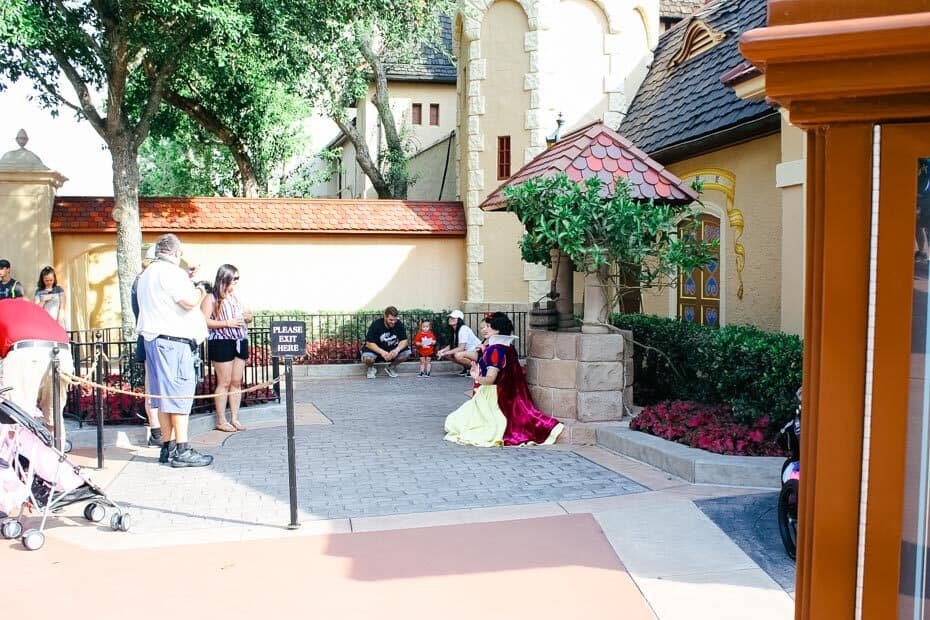 You can read more about meeting characters here in the Epcot character guide.
Germany also has a miniature train station on the far right outskirts of the pavilion. While not listed as entertainment, I think most of us can agree that the Romantic Road Train Station in Germany is quite entertaining. Adults and children alike can spend a good amount of time watching the little trains in action.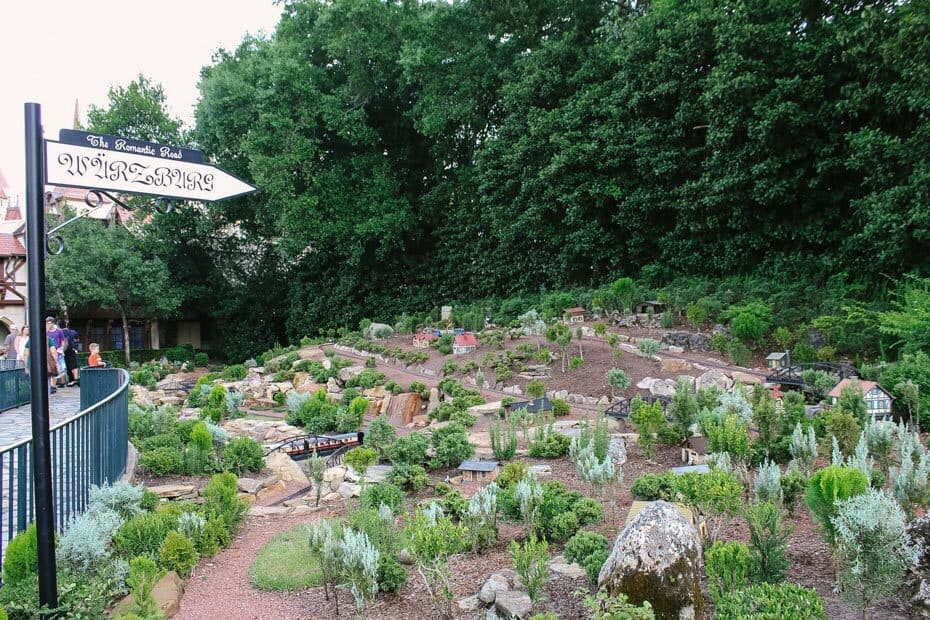 If you haven't ever stopped to observe, you really must on your next visit. The entire station is set up down to the villagers in various displays. To be fair the trains are a bit disproportionate in size, but it's really not that noticeable in real life.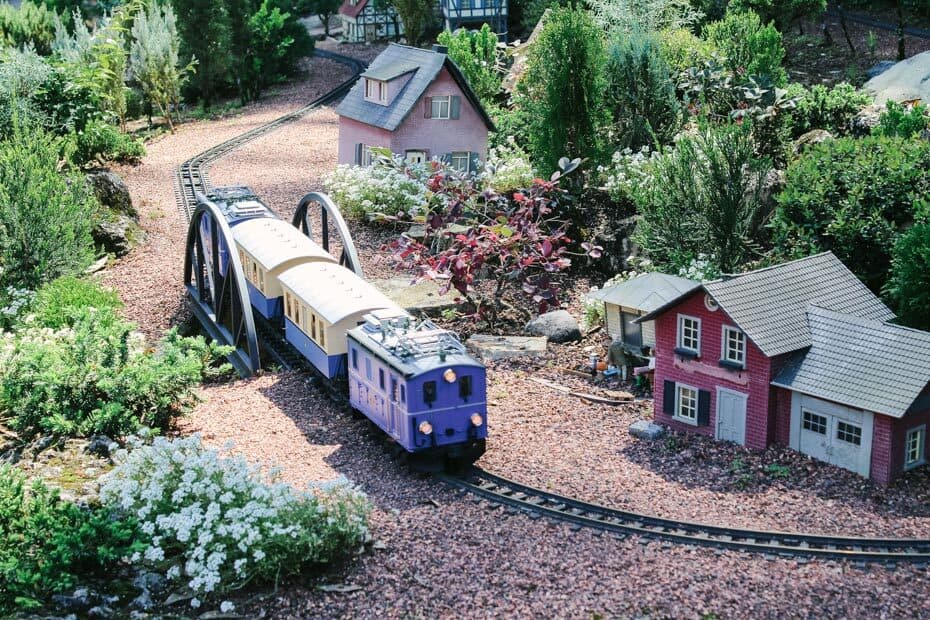 Watching the trains running along is a really mindless activity. And that's what being on vacation is about, right?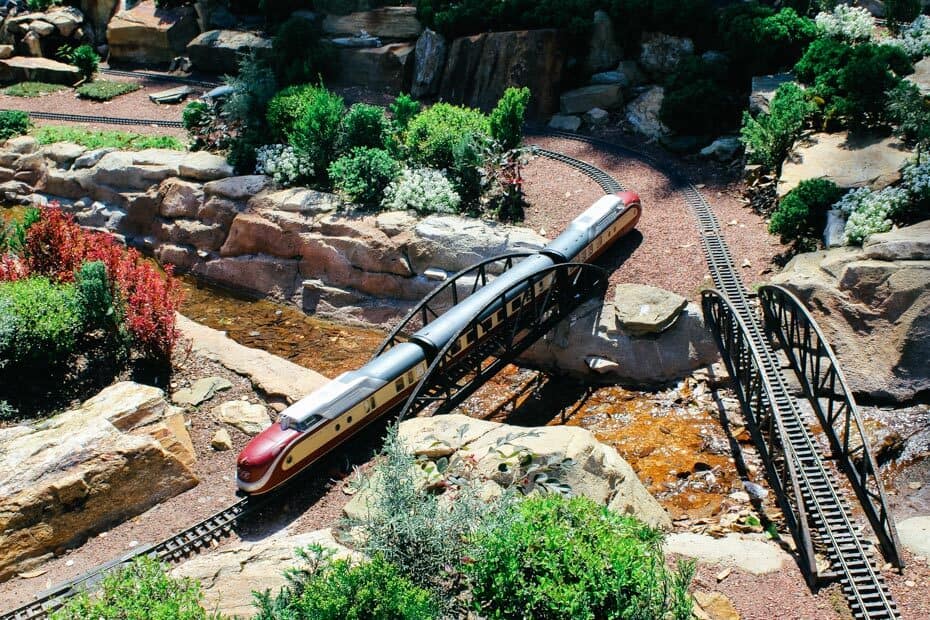 Dining in the Germany Pavilion
Most people are familiar with dining in the Germany Pavilion at Epcot due to the popular Biergarten buffet. Additionally, there's an opportunity to pick up a quick-service snack or meal at Sommerfest and a sweet treat inside Karamell Kuche.
Sommerfest is a quick-service located toward the back of the pavilion next to Biergarten and Der Teddybar.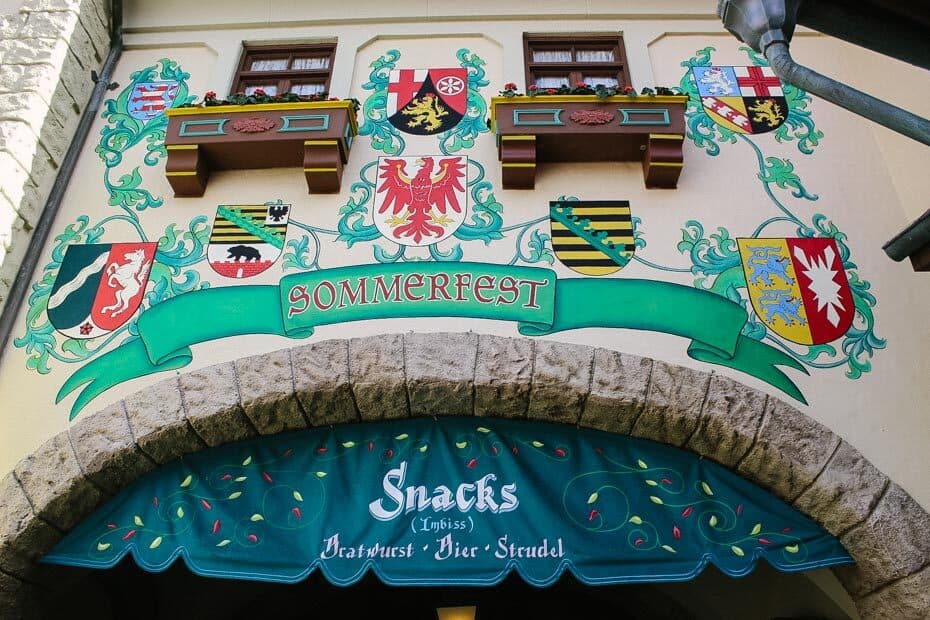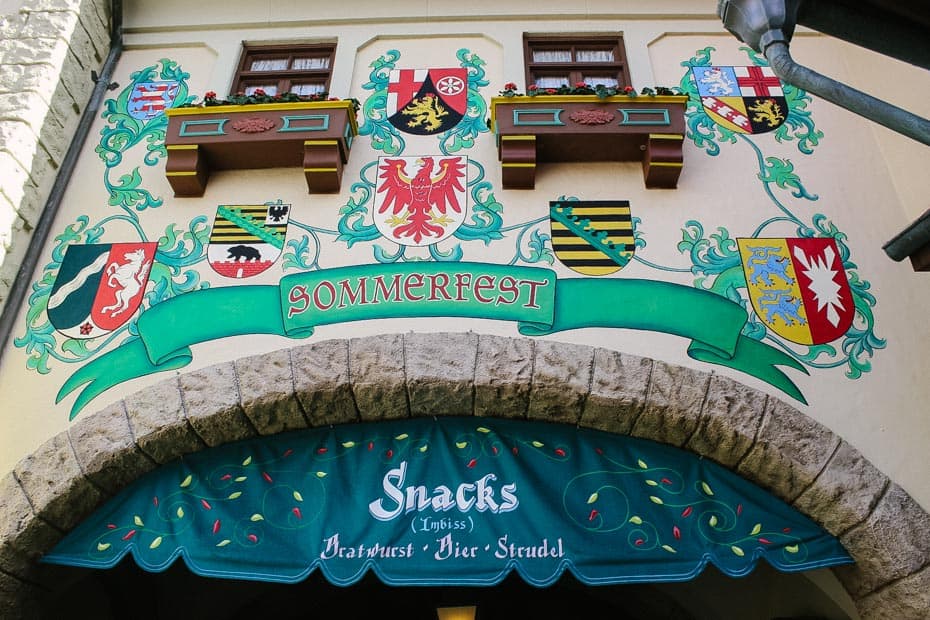 Sommerfest offers German-style sausage with sides of a nudel gratin or potato salad. This is also the place to pick up a few German beer selections. I haven't had the opportunity to try dessert here, because I find the Karamell Kuche hard to pass up when I'm looking for a sweet treat in the area.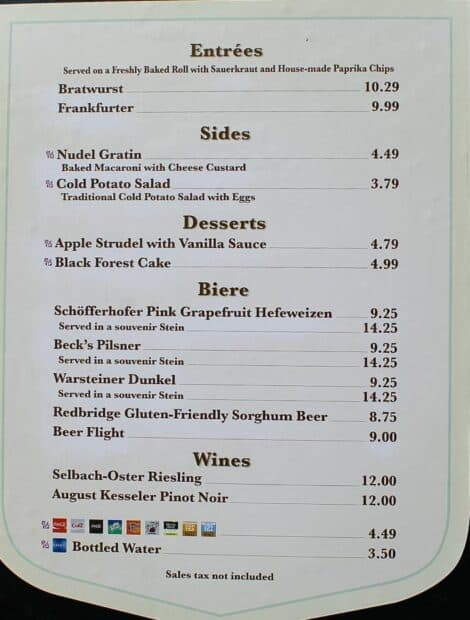 Biergarten seems like one of those "rites of passage" type restaurants at Walt Disney World. The restaurant, under normal circumstances, provides a German buffet with a sideshow while dining.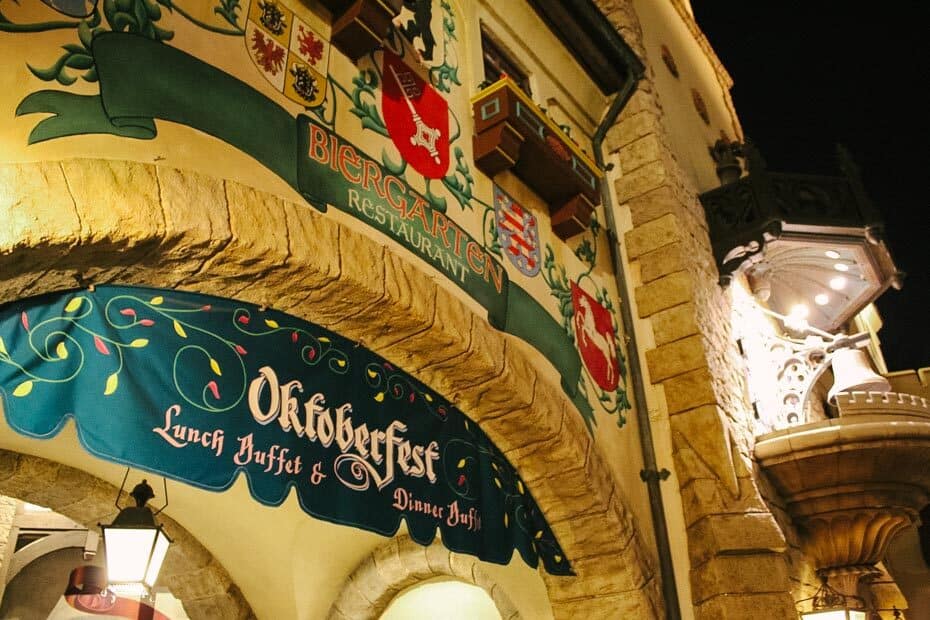 The restaurant offers a large covered waiting area toward the back of the pavilion. This area is usually fairly crowded during lunch and evening hours.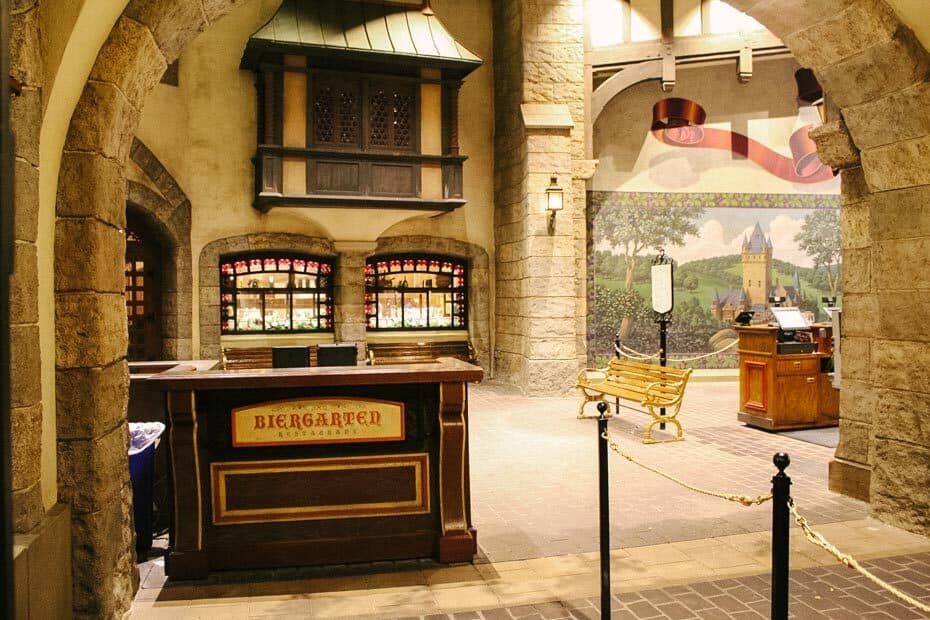 During this time, Disney has changed the set-up of Biergarten and they are offering family-style meals provided at the table in lieu of the buffet. You can view their current menu here on Disney's site if you like.
Below is a photo of the menu from when the buffet was being offered.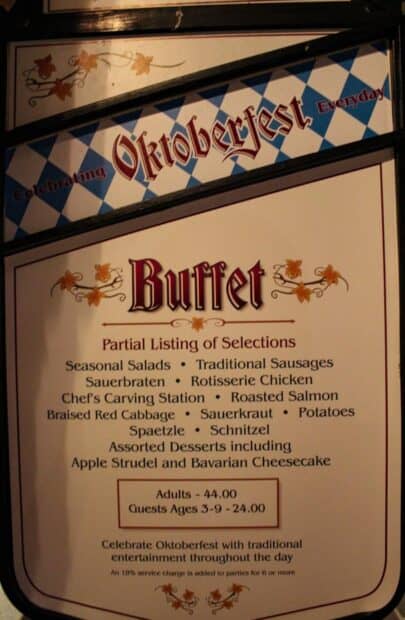 Perhaps, the most popular stop in the Germany Pavilion is the Karamell Kuche. This stop offers everything you can think of in caramel flavor, and there's a little chocolate in the mix too.
Between the Karamell Kuche and Les Halles Boulangerie over in France, I could get into real trouble. When I'm in Orlando, I try to refrain from visiting the shop until toward the end of my stay.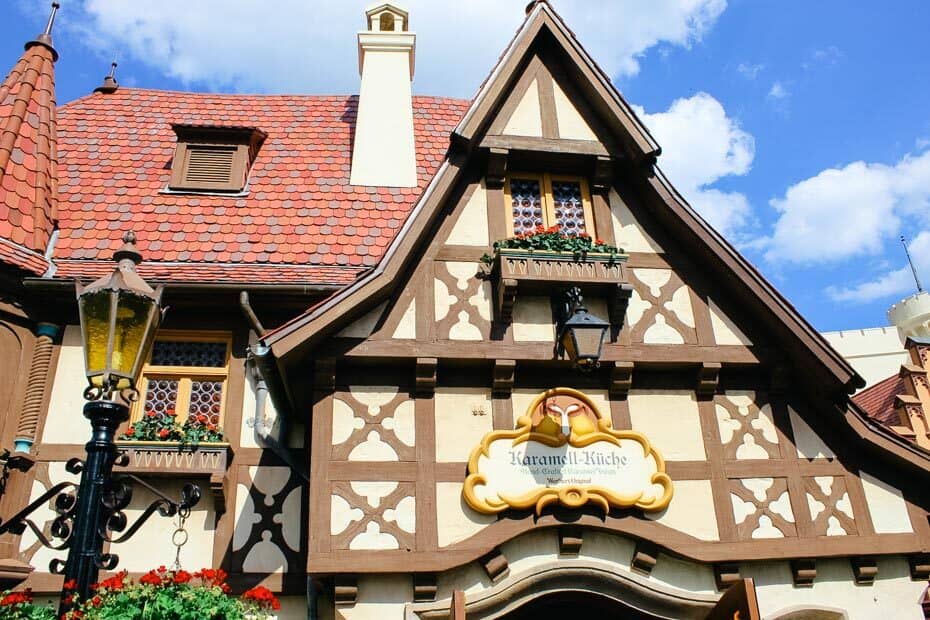 The Karamell Kuche sells fresh caramel popcorn and even provides the opportunity to watch it being prepared in the back corner of the shop. Or you could look in from the outside through that window in the back of the picture below. But those known to give in to the sweet smell of irresistible caramel will be a goner once they step inside the store. Fair warning.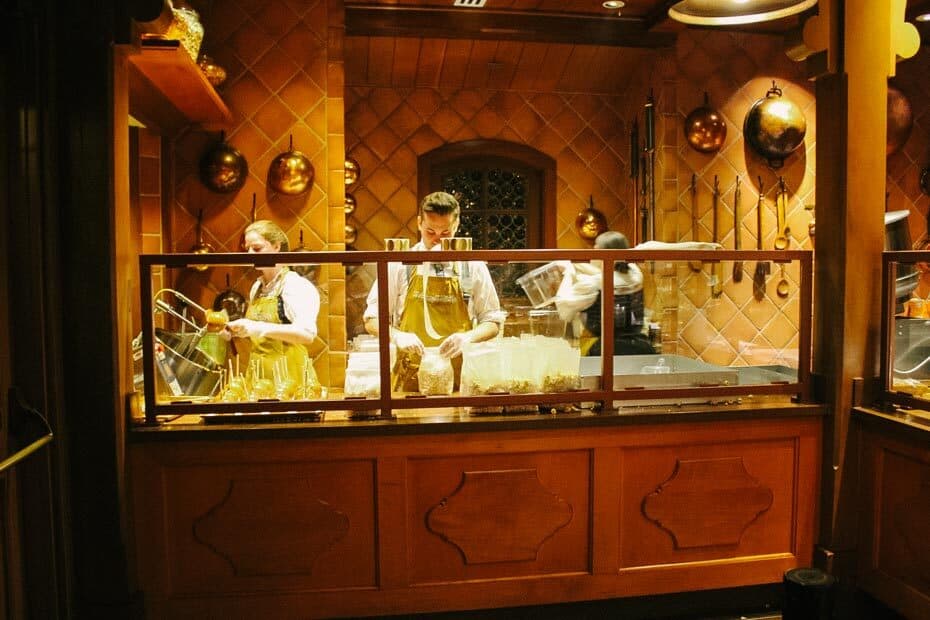 Not only that but you have to walk by this display case that will doubtlessly leave you yearning for more.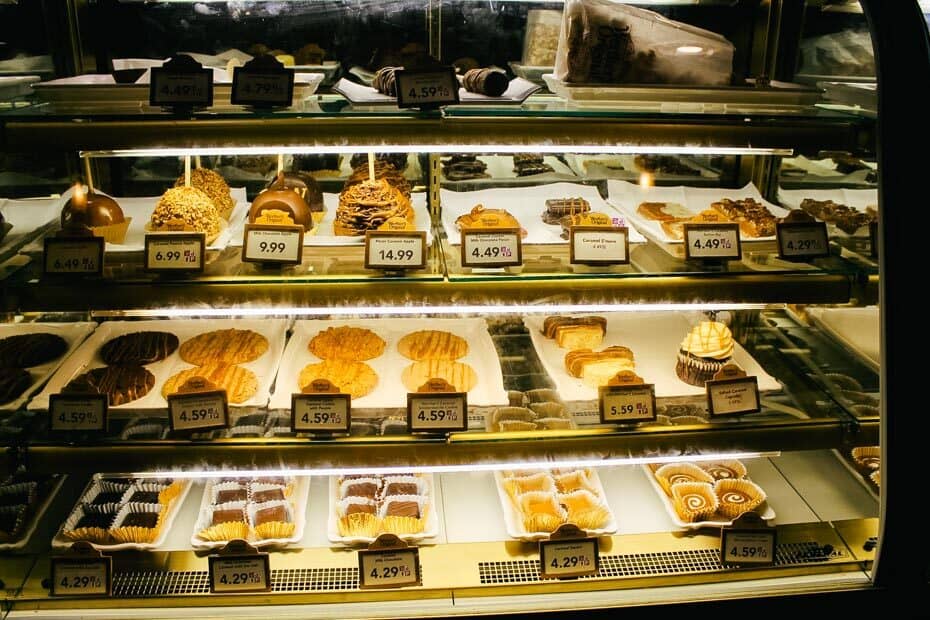 For those needing recommendations, we always get caramel corn. It packs and travels well if you can make it last that long. My dad also thoroughly enjoys the homemade caramel treats along the bottom row. I have heard good things about the German chocolate cupcake, but unfortunately, when I tried it, the cake was a bit stale. And if you like candy-dipped strawberries, this is the treat I always get here to eat on the spot.
If you are wanting to take a few caramels home, ask the cast member to place them in a separate plastic container. The caramel corn that is made fresh in the store is packaged in bags with a seal. There are pre-packaged bags available in the store as well.
Germany Pavilion Shops
When it comes to the Germany Pavilion there is an enormous amount of shopping involved. We'll take a look at a few of the shops below and what you can expect to find in each one. The pavilion is kind of a semi-circle so the stores are either on the right or left-hand side separated by Biergarten in the middle. Each store opens up to its neighbors giving the feel of one large store once inside. This is also a fairly reasonable place to shelter in the event of a pop-up thunderstorm.
As you enter the Germany Pavilion on your right-hand side you'll run into the first shop called Das Kaufhaus. This is a great place to pick up soccer jerseys and a few items branded with German-made automobile brands like BMW.
The entrance to Das Kaufhaus is underneath the balcony in the picture above. Below is a look at some of the merchandise you can expect to find in the store.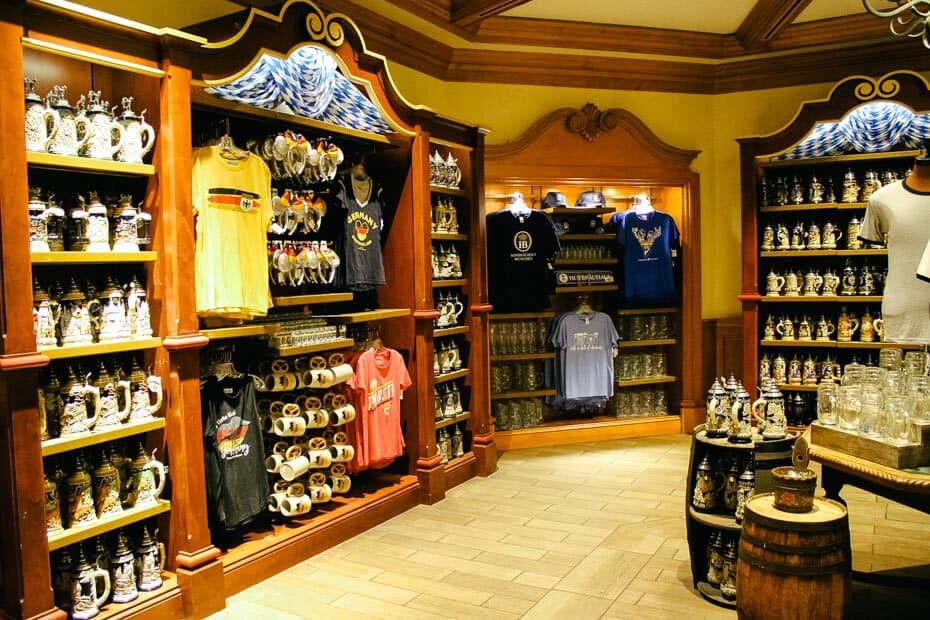 As you continue on through Das Kaufhaus the store opens up into Der Teddybar. There is also a separate exterior entrance toward the back of the pavilion.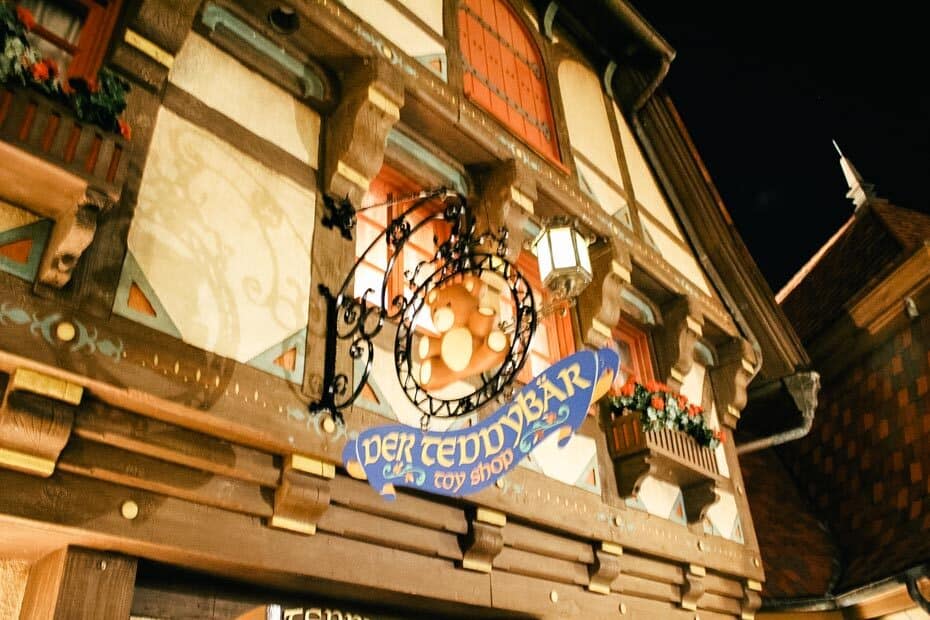 This is one of my favorite stores to browse because it's full of unique (and expensive) plush items.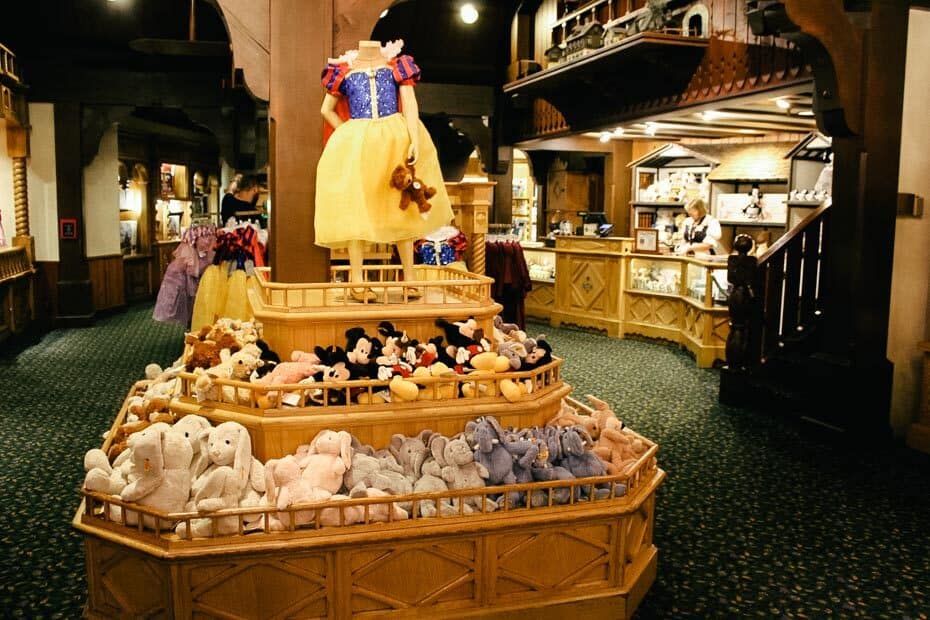 Der Teddybar carries an extensive line of Steiff merchandise. Some of these items range in price up to hundreds of dollars. So if you are the kind of parent that gives in to your child's demands, you might want to skip this one. Or maybe not?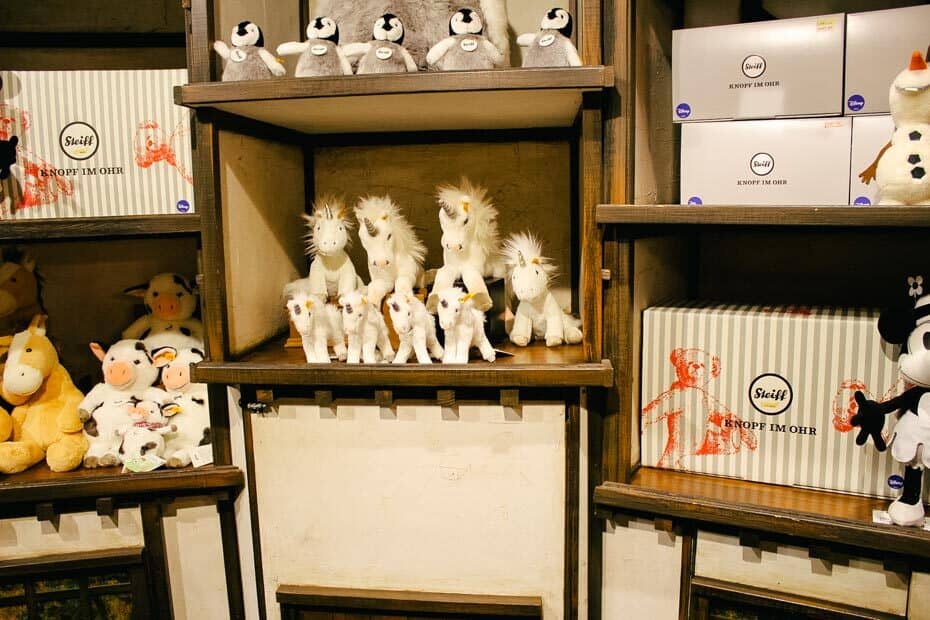 *Der Teddybar is also home to the Kidcot location for the Germany Pavilion. You'll find a table in the back of the store with an activity.
Across to the other side of the Germany Pavilion is the popular Die Weihnachts Ecke commonly referred to as the little German Christmas Shop.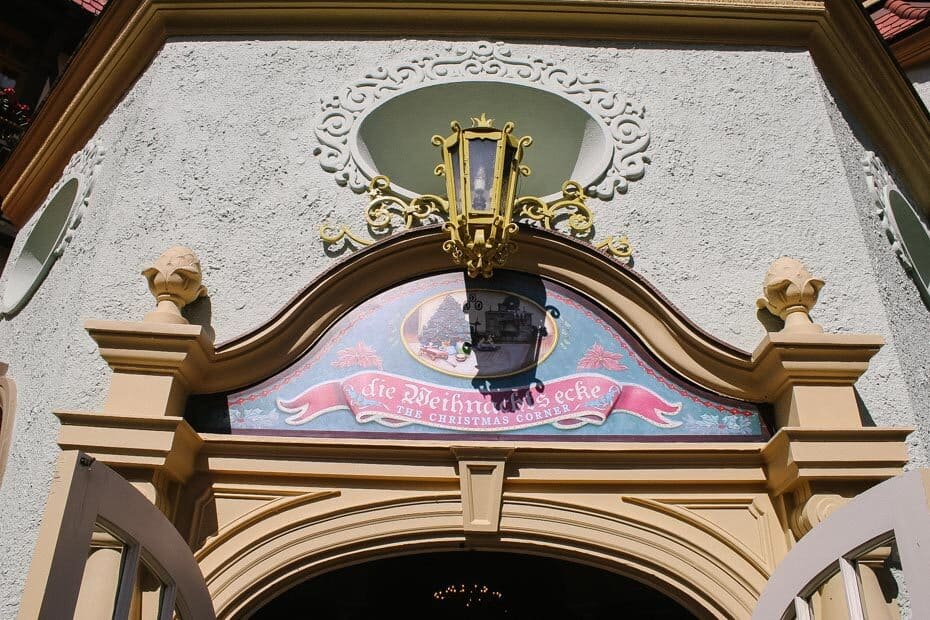 This is the place to pick up a pickle ornament for your Christmas tree, among other things.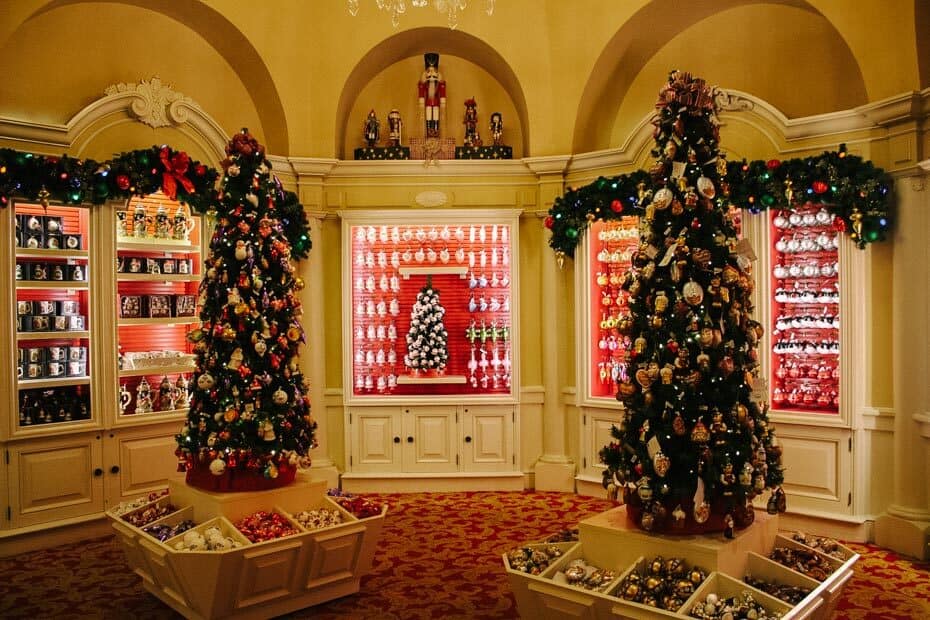 Next door to the Christmas shop is Kunstarbeit in Kristall, offering a variety of glass products.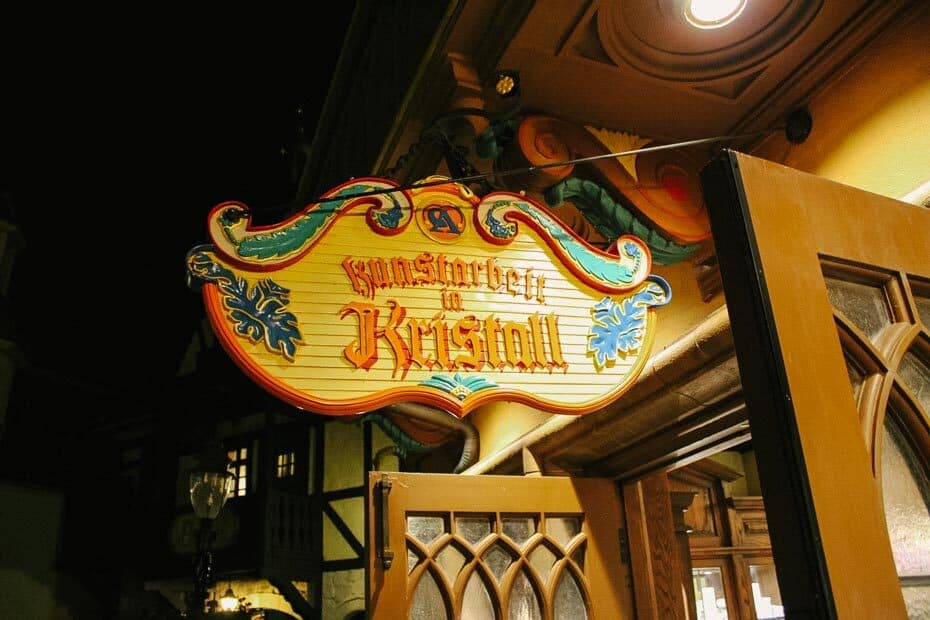 This is another store that offers some unique items and I highly recommend stopping in to observe some of the beautiful artwork. I don't personally collect any of these items, but spending a little extra time here has become a tradition in the past few years. If you are a fan of Disney merchandise, you'll really enjoy seeing the pieces on display.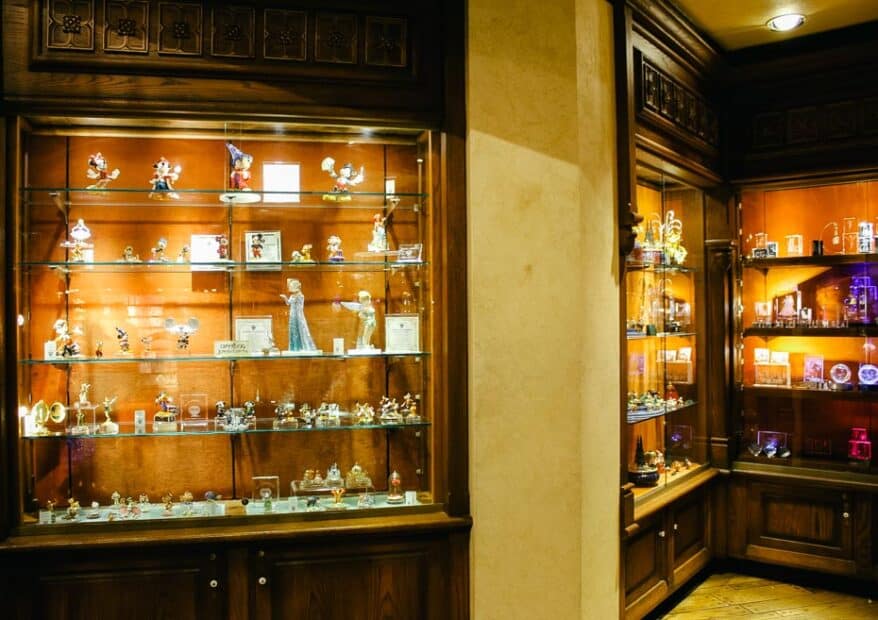 For those looking to possibly pick up a real German cuckoo clock, try Volkskunst Clocks and Crafts while shopping in the pavilion.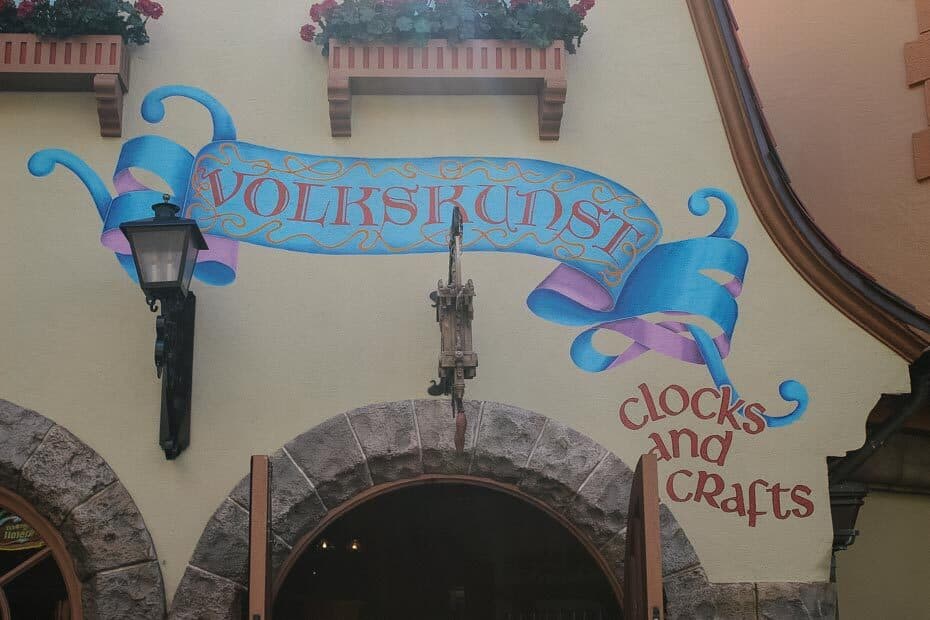 Stein Haus offers a variety of steins and other similar cast products.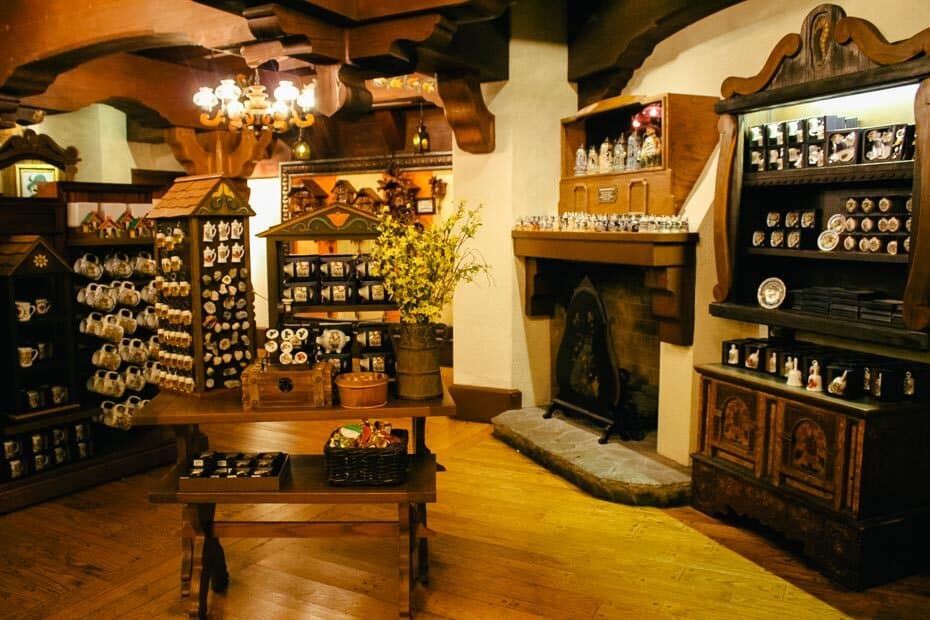 These shown are probably some of the more standard steins, but the store offers a variety of different options. I think we all have someone in our life that would enjoy a sturdy German stein. I know I do.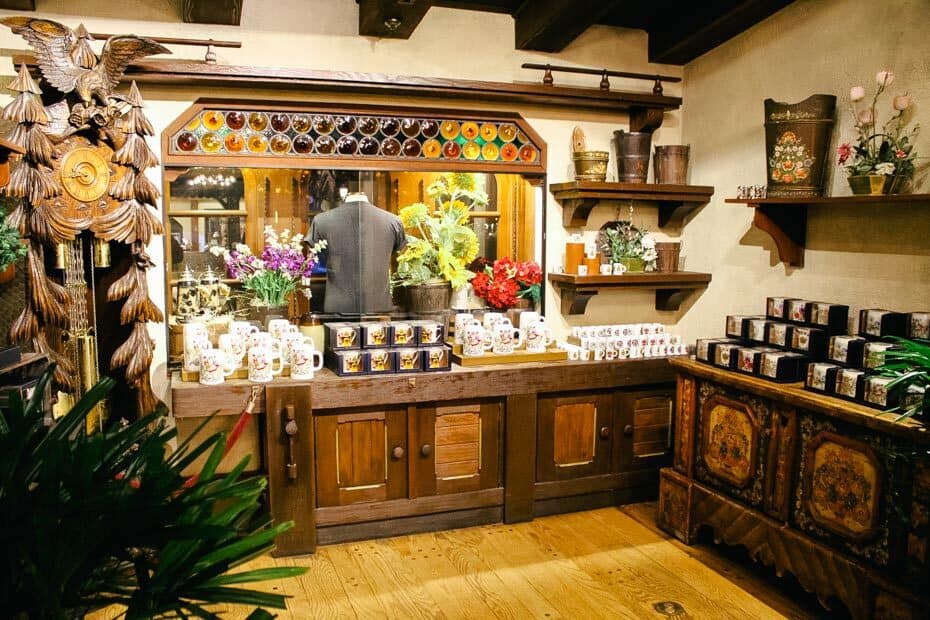 Final Thoughts on the Germany Pavilion
This wraps up our close-up look at touring Germany in the World Showcase. Hopefully, this review provided a little insight and information to add to your plans. If you are a fellow World Showcase Traveler like myself, leave me a comment below and let me know your favorite thing about the pavilion.
Make sure to take a look at my recent tour of the Japan Pavilion. That review contains a lot of fun shopping as well.
You might also enjoy these other reviews of countries in the World Showcase.
If you are considering staying near Epcot you might want to look over these Disney World Resort Reviews.
Our most popular reviews include our Disney's Blizzard Beach Water Park Guide, and I keep an ongoing timeline of Disney Loungefly Backpacks.
Feel free to share any comments or thoughts about the Germany Pavilion at Epcot down below. I enjoy hearing your tips or favorite things to try!