A Journey through the Germany Pavilion at Epcot
This article visits the Germany Pavilion in Epcot's World Showcase. We'll look at dining options, entertainment, and the shops located in the pavilion. Unfortunately, Germany's Pavilion does not offer a formal attraction.
Germany's Pavilion sits nestled between the Outpost and Italy Pavilion in the World Showcase at Epcot. It's a handsome pavilion with bright pops of color and Tudor accents.
While this country's pavilion doesn't have a ride or attraction, there are still several things to do. Anyone who enjoys shopping, steins, pickle ornaments, cuckoo clocks, buffets, or beer will find themselves right at home.
Even I've been known to drop some money on soccer jerseys here. From the popular Biergarten to Snow White's character meet, Germany has a little bit of something for everyone.
And we haven't even mentioned the Karamell-Küche yet. It's home to an active Werthers caramel kitchen that will lure you inside by its smell alone!
This article was updated on February 17, 2023.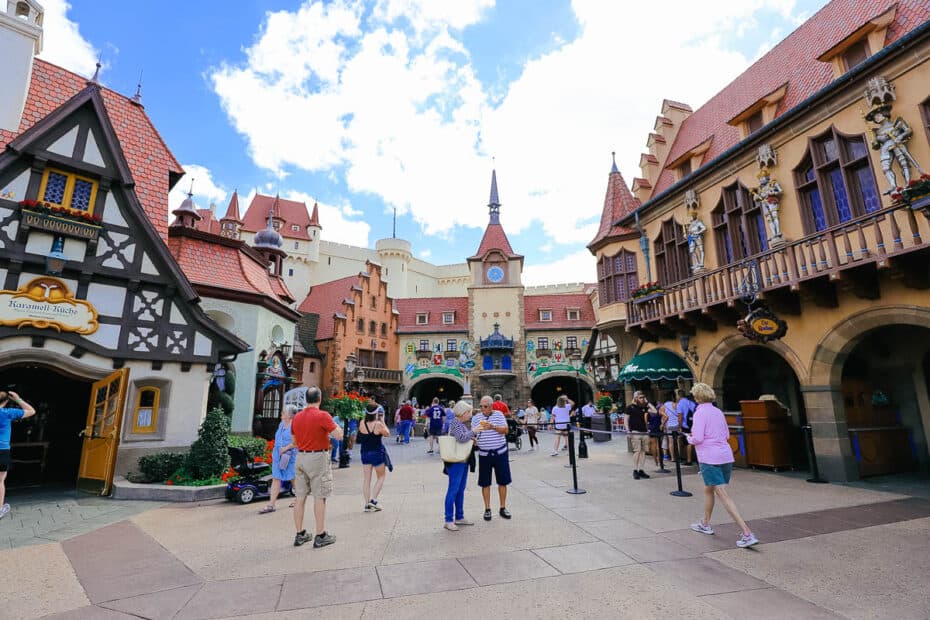 Epcot's Germany Pavilion
Below is a list of the different architectural references, entertainment, restaurants, and shops in the Germany Pavilion.
Architecture
Platz Square
Statue of St George and the Dragon
Clocktower
Entertainment
Meet Snow White in Germany
Model Train Station
Various Bands (Throughout Festivals)
Dining
Sommerfest (Quick Service)
Biergarten Restaurant (Table Service)
Karamell Kuche (Candy Shop)
Bier (Beer and Snack Cart)
Bier und Brezeln (Beer and Pretzels)
Shops
Das Kaufhaus
Volkskunst
Der Teddybar
Die Weihnachts Ecke
Stein Haus
Weinkeller
Kunstarbeit in Kristall
Glaskunst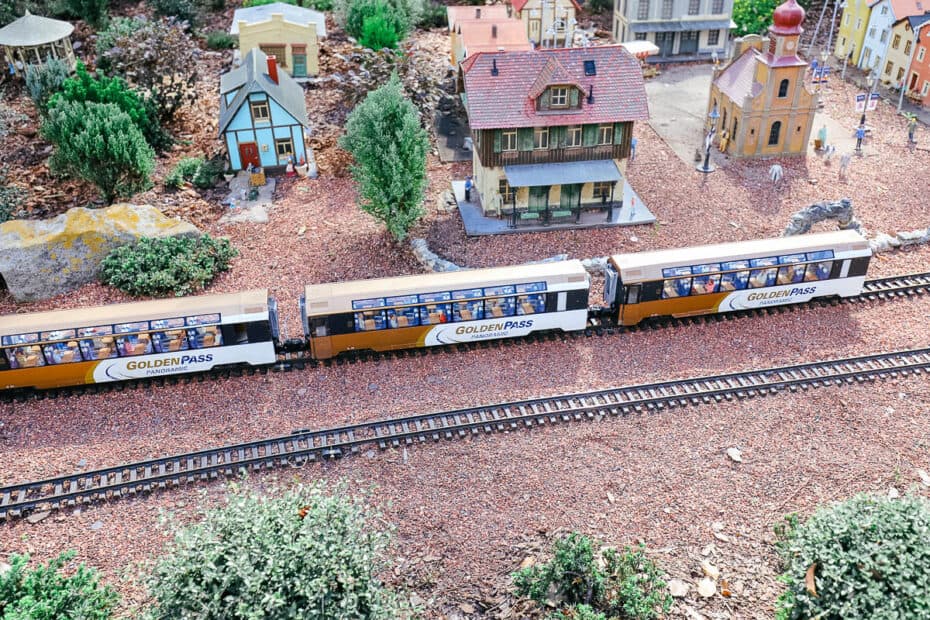 Epcot's Germany Pavilion is designed to look like a German village or town with various representations of the country's history. Platz Square, the heart of the pavilion, serves as an open courtyard for guests to enjoy.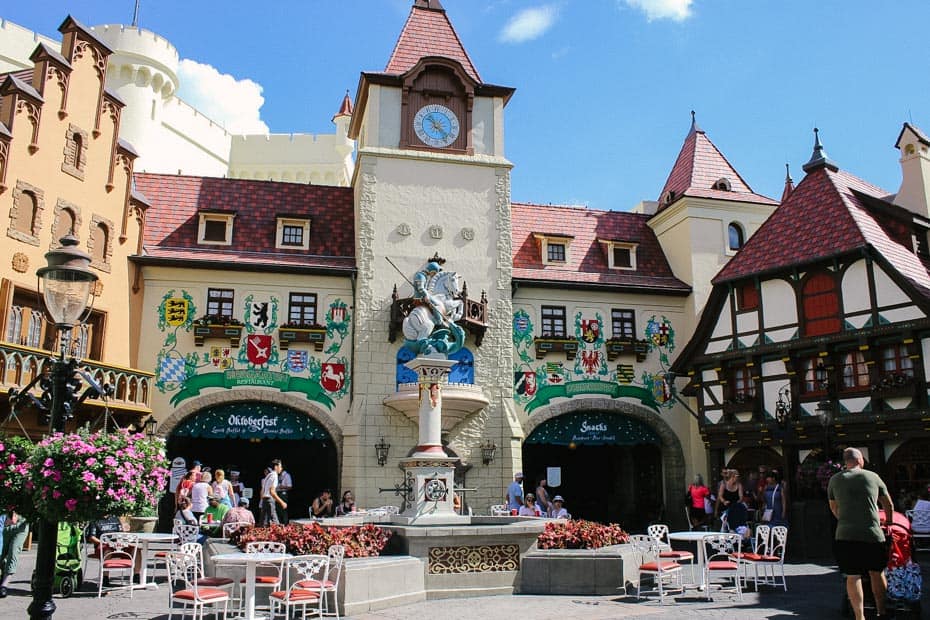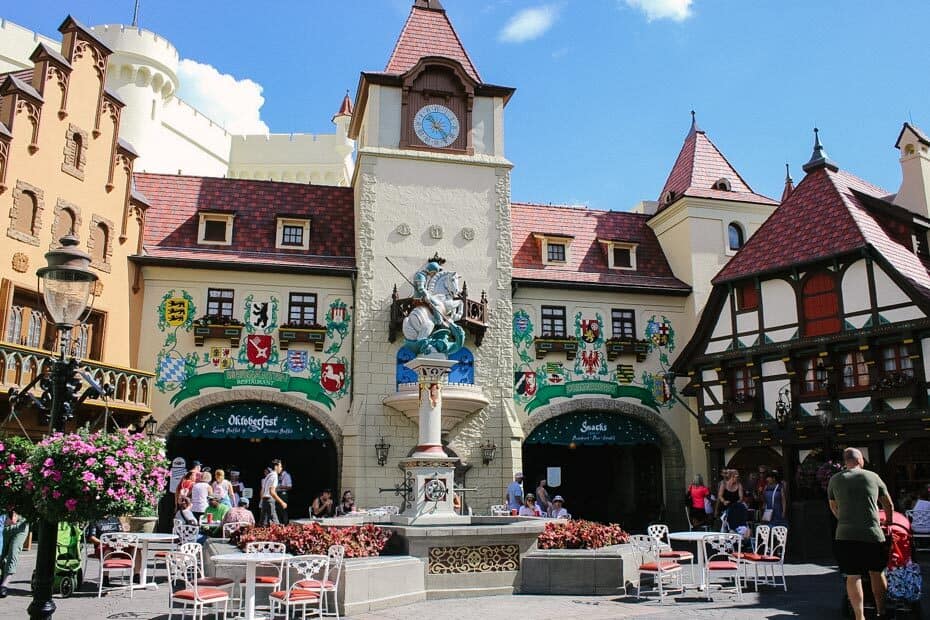 In the middle of Platz Square sits a statue of Saint George and the Dragon. This statue represents the patron Saint George who rescued a princess being offered as a sacrifice to the dragon.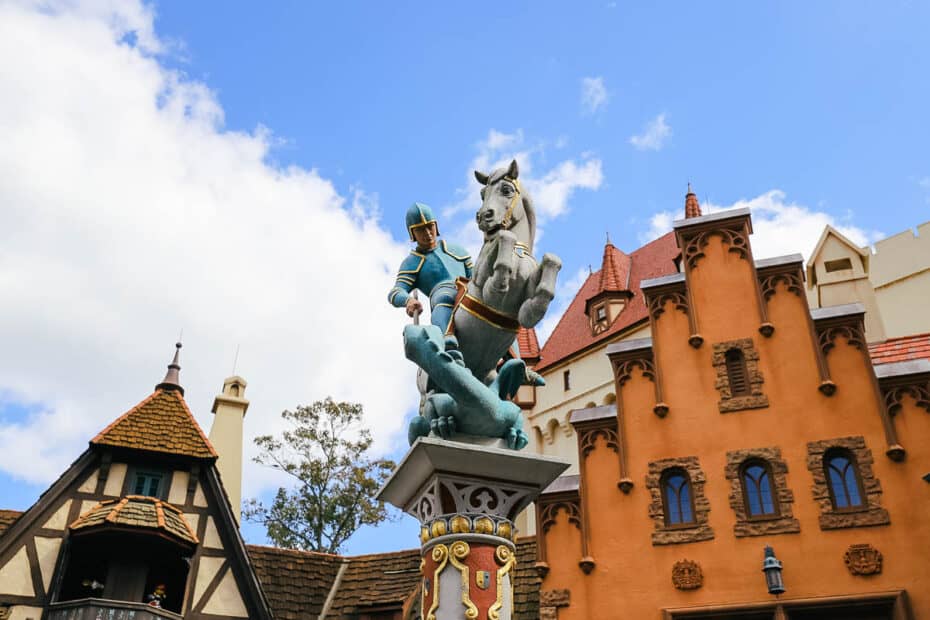 Additionally, a clock tower sits in the center of the pavilion, similar to the Glockenspiel in Munich. Every hour on the hour, a male and female come out from behind the closed doors to ring the bell.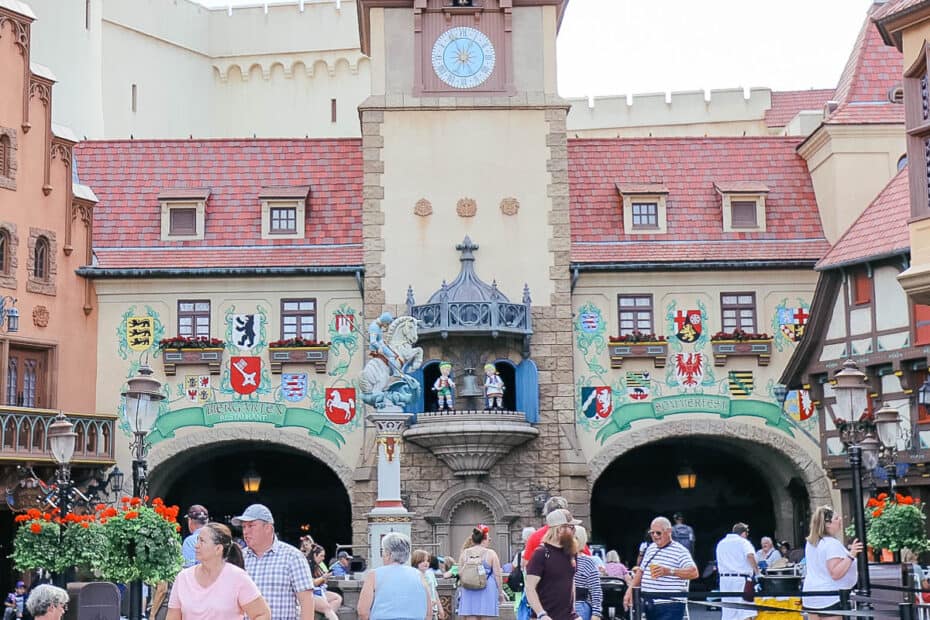 Upon first glance, the Germany Pavilion seems plain compared to some of the other pavilions. However, if you take the time to explore, there are many rich details.
While some of the pavilions have an attraction that makes them stand out, Germany's strong suit can be found inside its delightful shops. Of course, some might argue that beer and pretzels are the clear reasons to spend time here.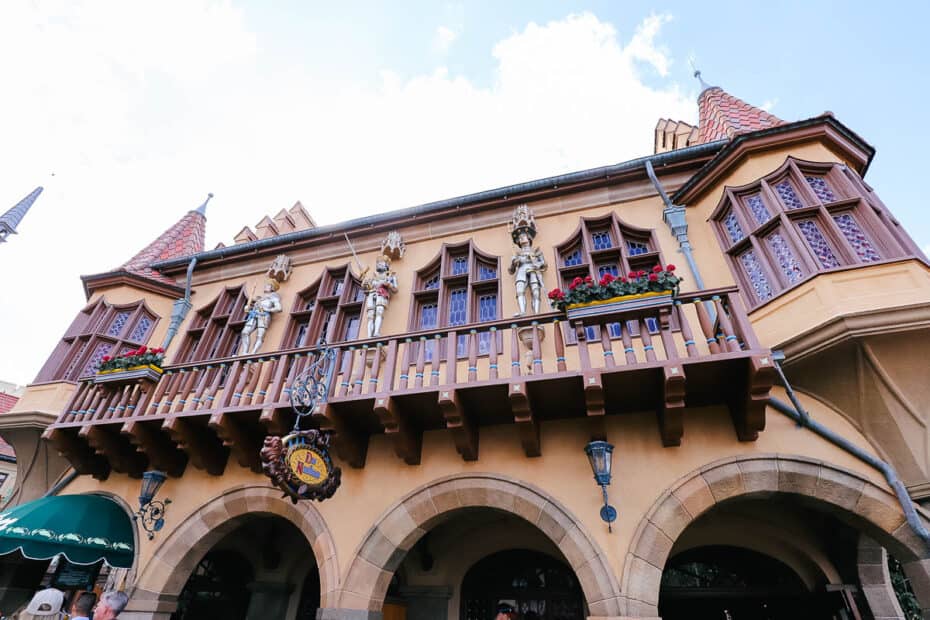 Entertainment in the Germany Pavilion
There are a few forms of entertainment in the Germany Pavilion, including a character meet and a train station that runs year-round. You do not want to miss the miniature trains. They are adorable.
Snow White Character Meet
Snow White meets daily in the Germany Pavilion at Epcot. Here character meet-and-greet is located on the far left side of the pavilion.
She meets guests next to her wishing well. Snow White is available most days between mid-morning and about 4:00 p.m. You'll want to check the My Disney Experience app on the day of your visit for her exact times.
Related: Meet Snow White at Epcot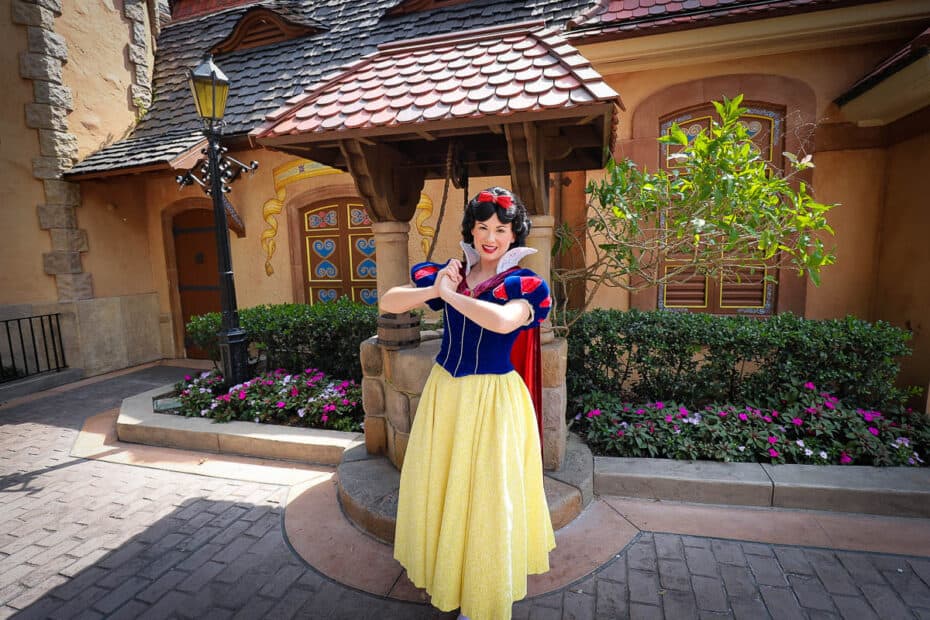 Romantic Road Train Station
Germany also has a miniature train station on the far right of the pavilion. While it's not listed as formal entertainment, I think most of us can agree that the train station in Germany is quite entertaining.
Adults and children spend a lot of time watching the little trains in action.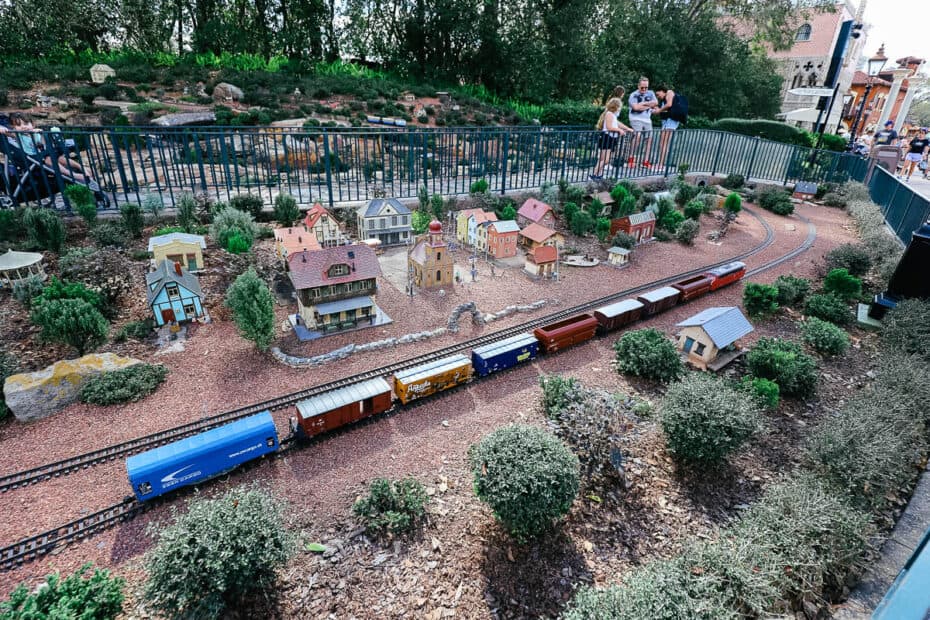 If you haven't ever stopped to observe, you must on your next visit. The entire station is set up down to the villagers in various displays.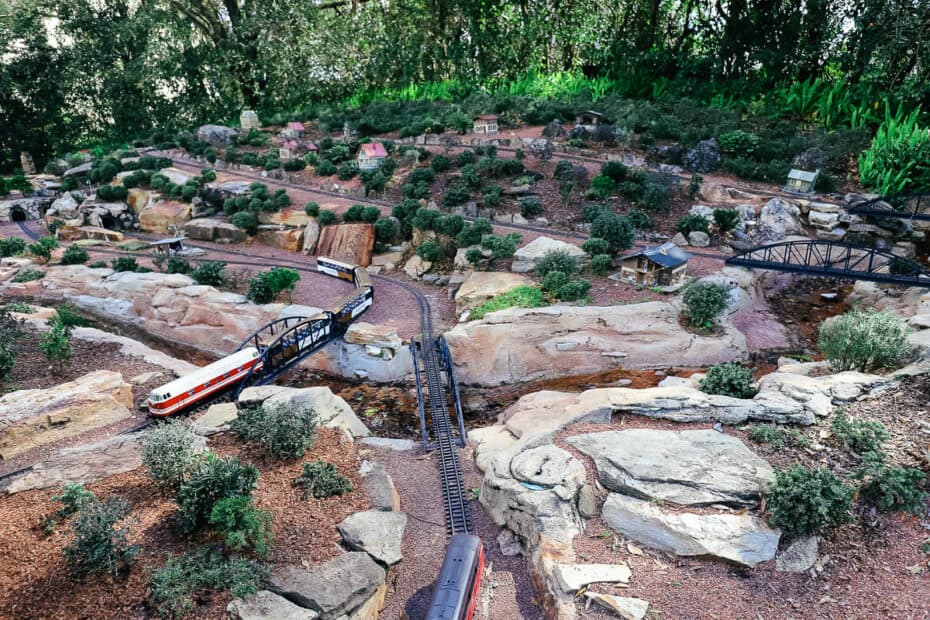 Bands
Throughout the year, Epcot is home to many festivals. Typically, each festival brings a new band to the Germany Pavilion.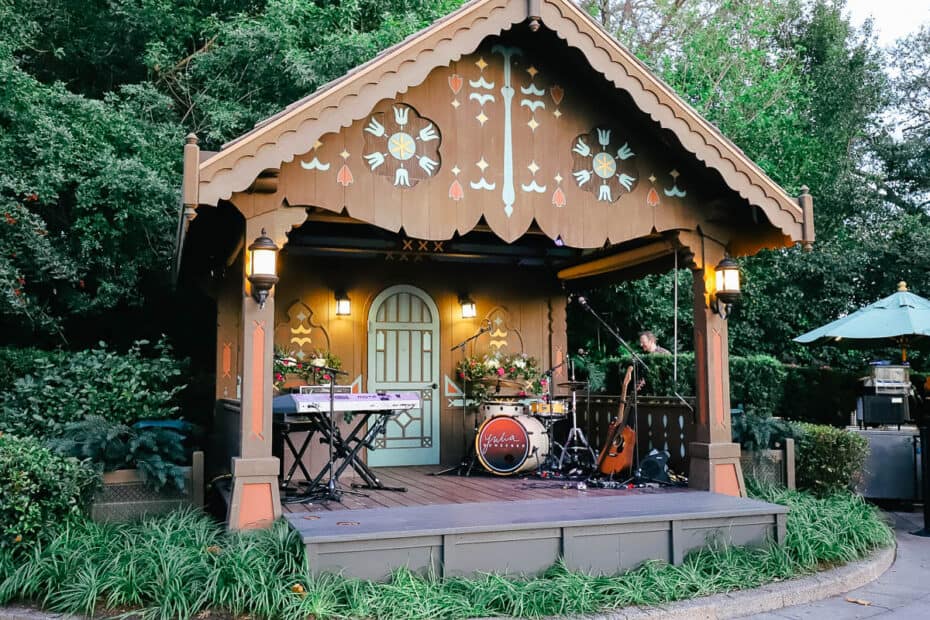 During the Epcot Festival of the Arts, Julia Scheeser and Band performed daily. For reference, Julia Scheeser lent her voice to Belle and Princess Jasmine for the live-action German versions of Beauty and the Beast and Aladdin.
Here is a video of a partial performance.
Dining Options in Epcot's Germany Pavilion
Most people are familiar with dining in the Germany Pavilion at Epcot because of the popular Biergarten Restaurant. Additionally, the pavilion offers several other opportunities to pick up various treats, pretzels, beer, or wine.
Sommerfest
Sommerfest is a quick-service kiosk toward the back of the pavilion next to Biergarten and Der Teddybar.
Sommerfest currently offers bratwurst served on a roll with sauerkraut and house-made paprika chips. You can preview their entire menu here on Disney's site.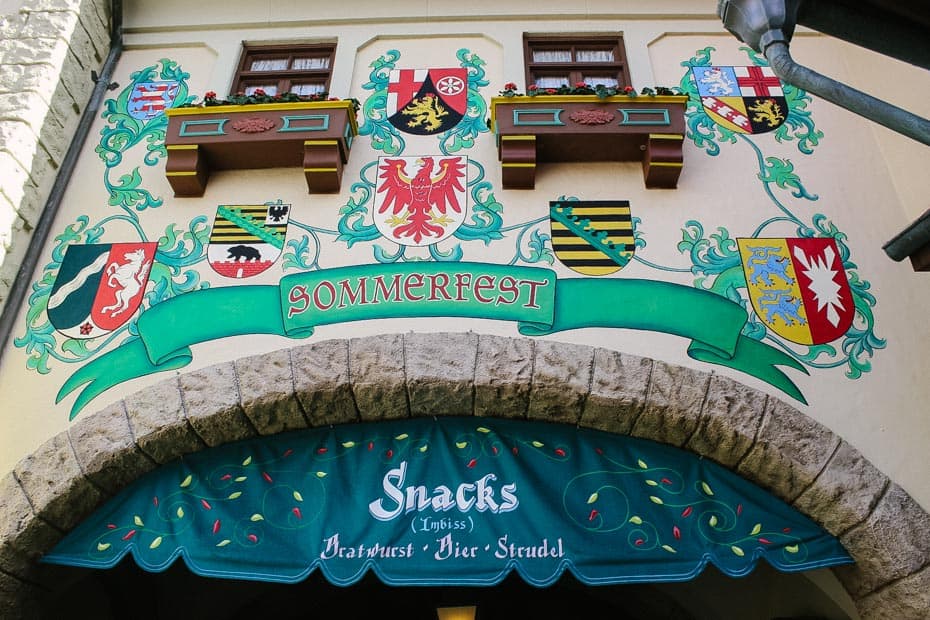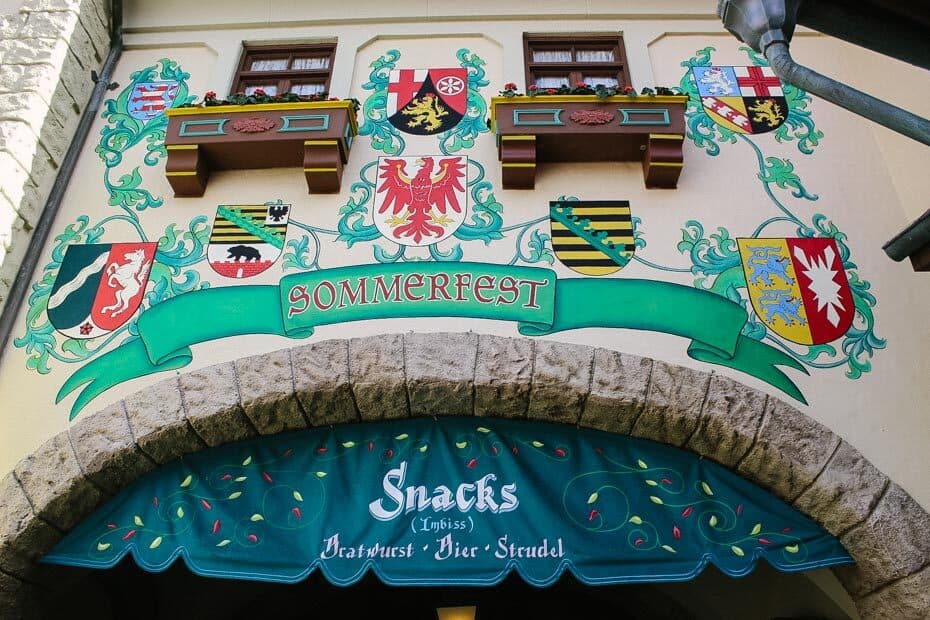 Biergarten Restaurant
Biergarten seems like one of those "rites of passage" restaurants at Walt Disney World. The restaurant is known for its popular German buffet with entertainment while dining.
That entertainment is a live polka band! Inside Biergarten, you can celebrate Oktoberfest any day of the year.
Some popular buffet items include bratwurst, rotisserie chicken, pork schnitzel, Bavarian cheesecake, and hand-pulled apple strudel. You can also order various German beers, including several beer flights.
Preview the menu for Biergarten here on Disney's site.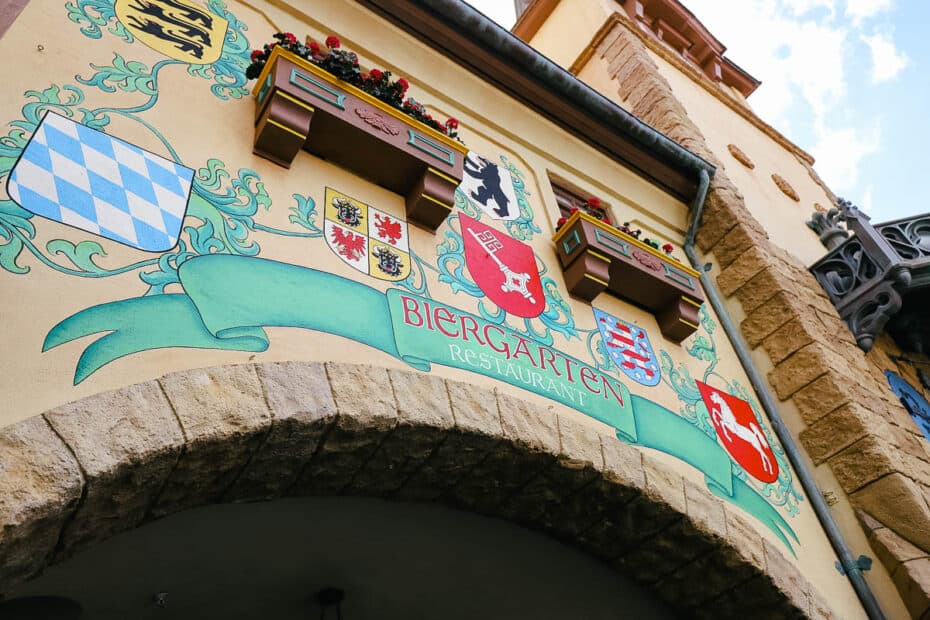 Karamell Kuche
Perhaps, the most popular stop in the Germany Pavilion is the Karamell Kuche. This stop offers everything you can think of in caramel flavor, and there's a little chocolate in the mix too.
Between the Karamell Kuche and Les Halles Boulangerie over in the France Pavilion, it's always so hard to pick just one thing. You can't even walk by the place without having an instant sweet craving.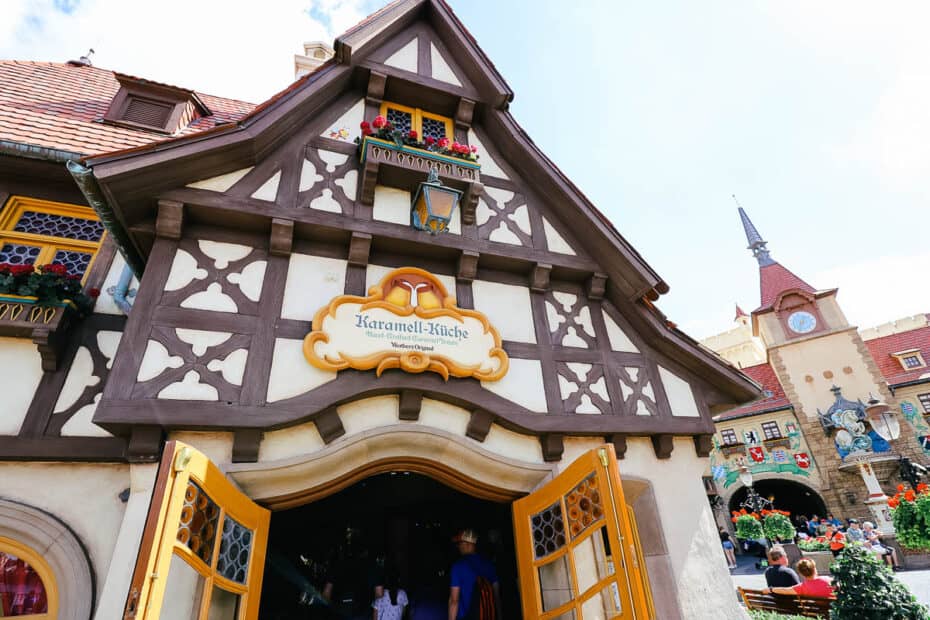 The Karamell Kuche sells fresh caramel popcorn. You can watch it being prepared in the back corner of the shop.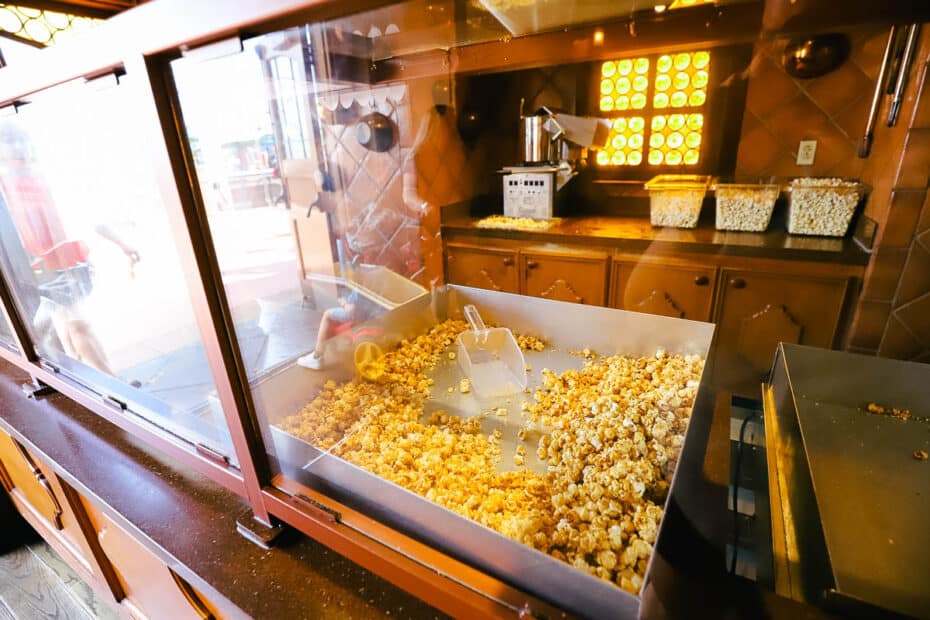 Their display case features cupcakes, cookies, caramel apples, fudge, and other treats.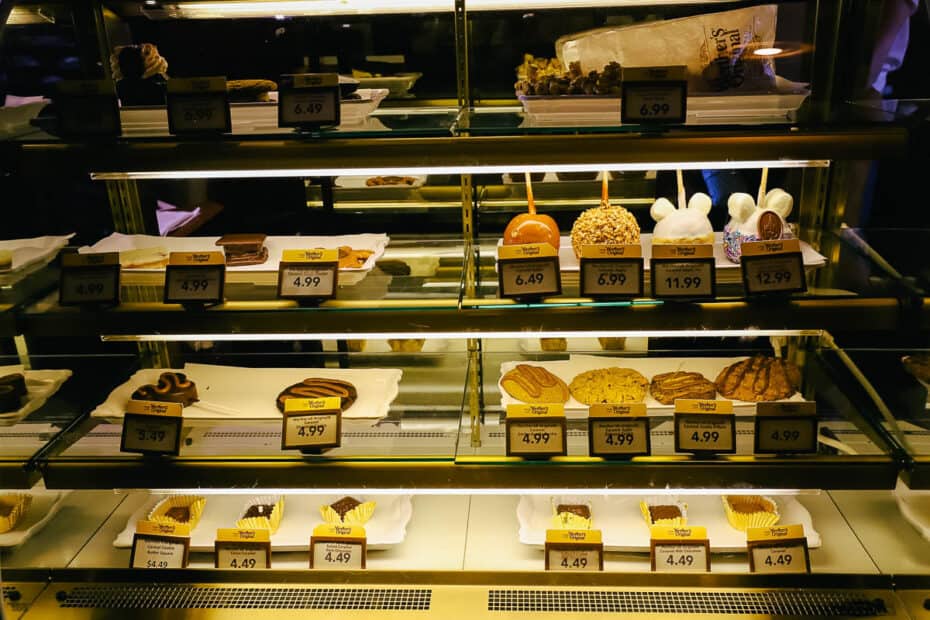 Along the back wall, there's a display with other Werther's brand caramel products.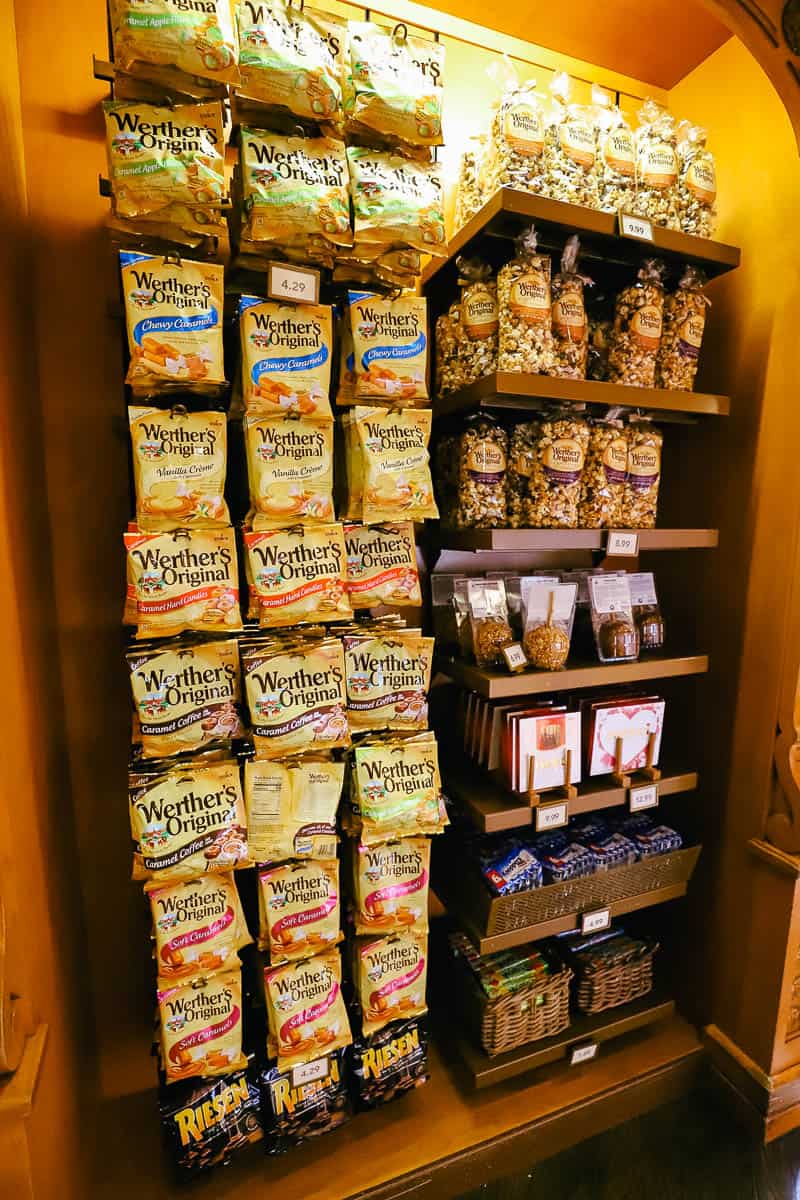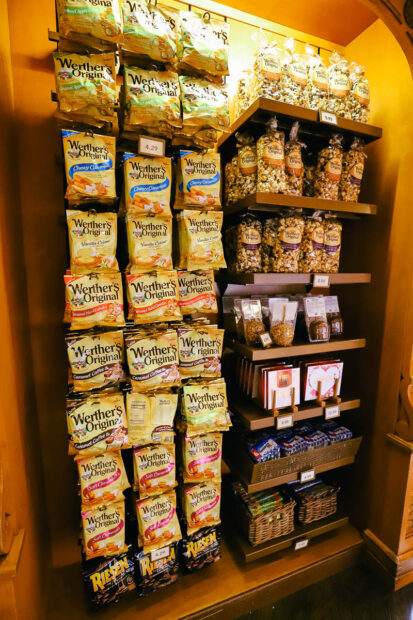 Additionally, you can pick up a soda, bottled tea or water, or sports drink at this location.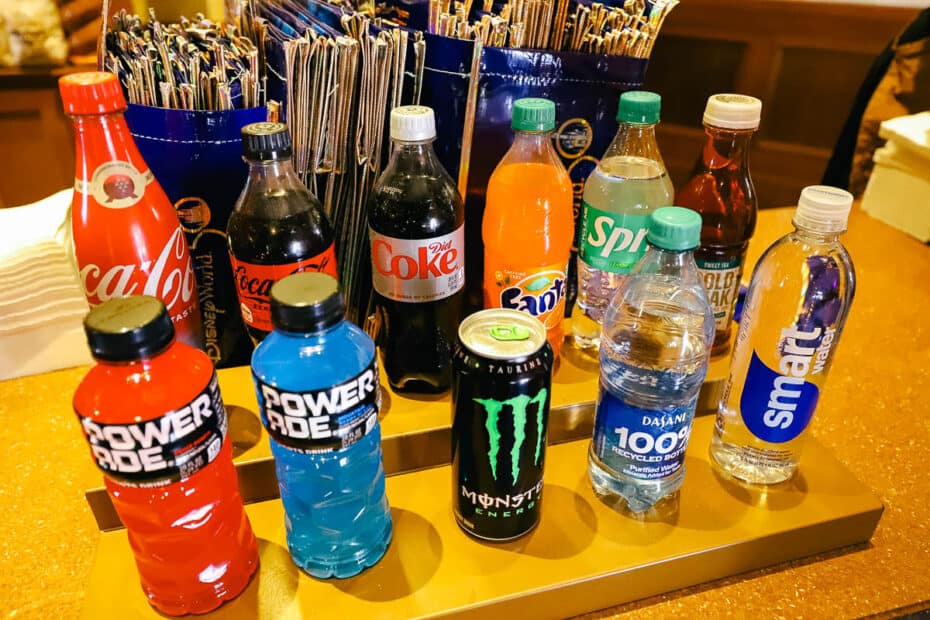 Bier und Brezeln
There's a beer and pretzel cart on the lagoon side of the Germany Pavilion.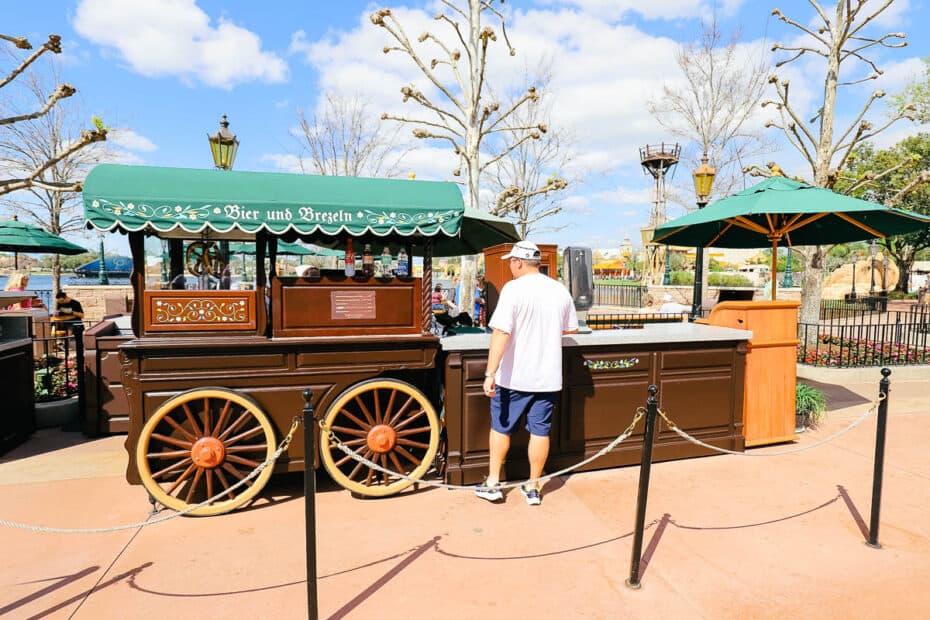 Here is a preview of their menu.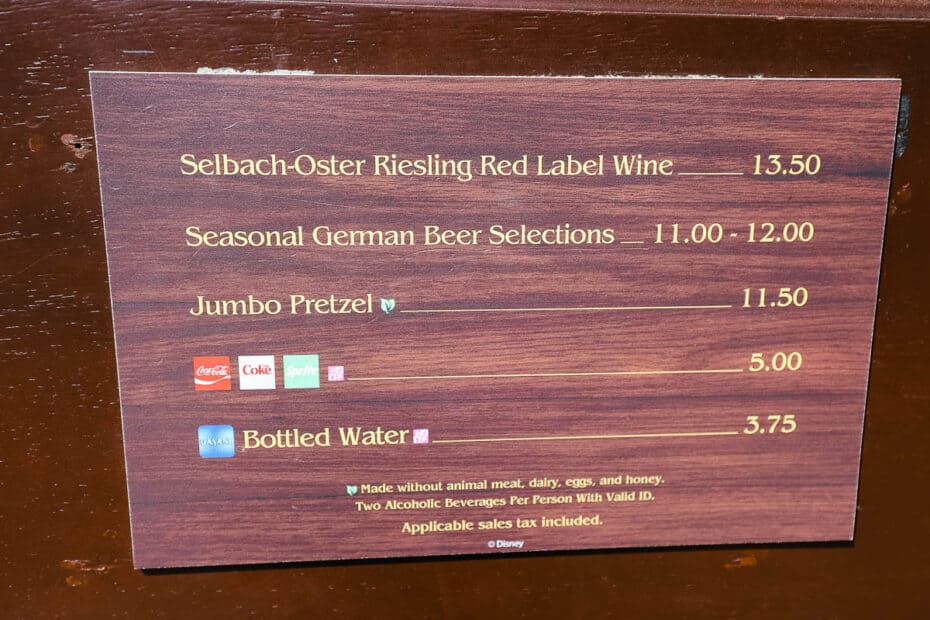 Bier
Additionally, there's another beer cart next to Das Kaufhaus toward the front of the pavilion.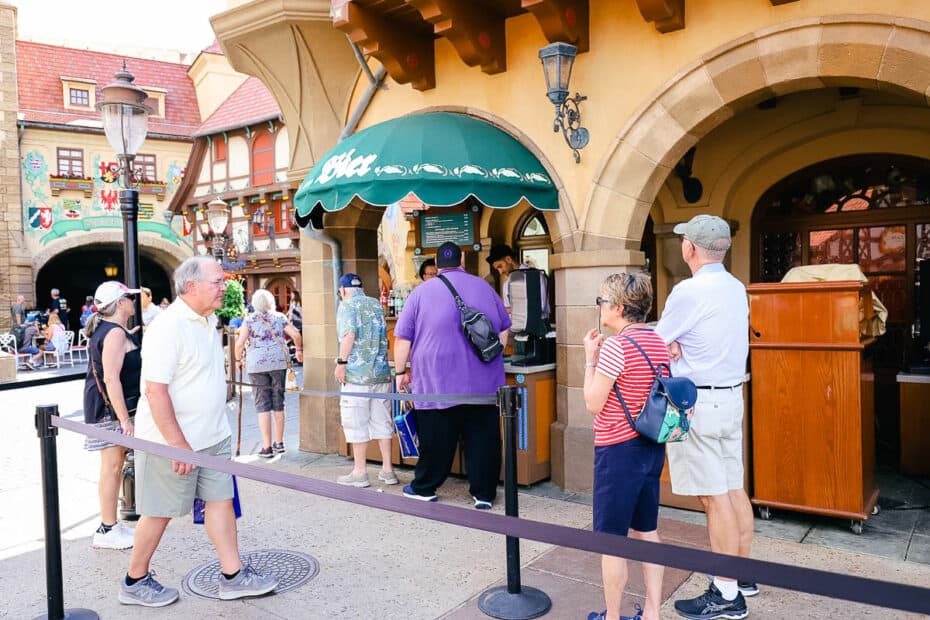 They also sell jumbo pretzels, frozen slushy options, and several beverages with alcohol.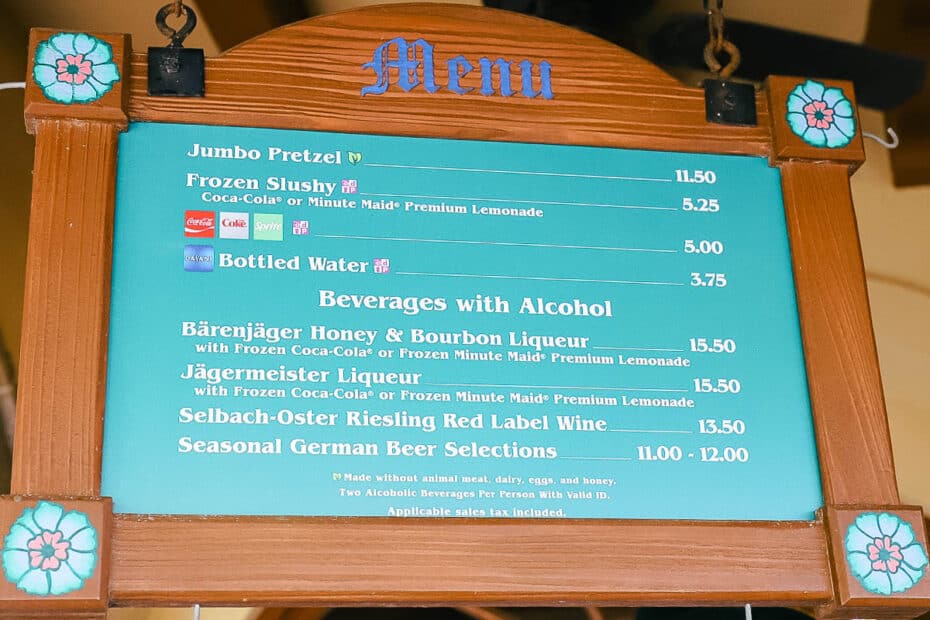 Weinkeller
If you're looking for German wines, you might step inside Weinkeller. This is more of a gift shop. However, they have a counter at the back where you can purchase samples of various wines and liqueurs.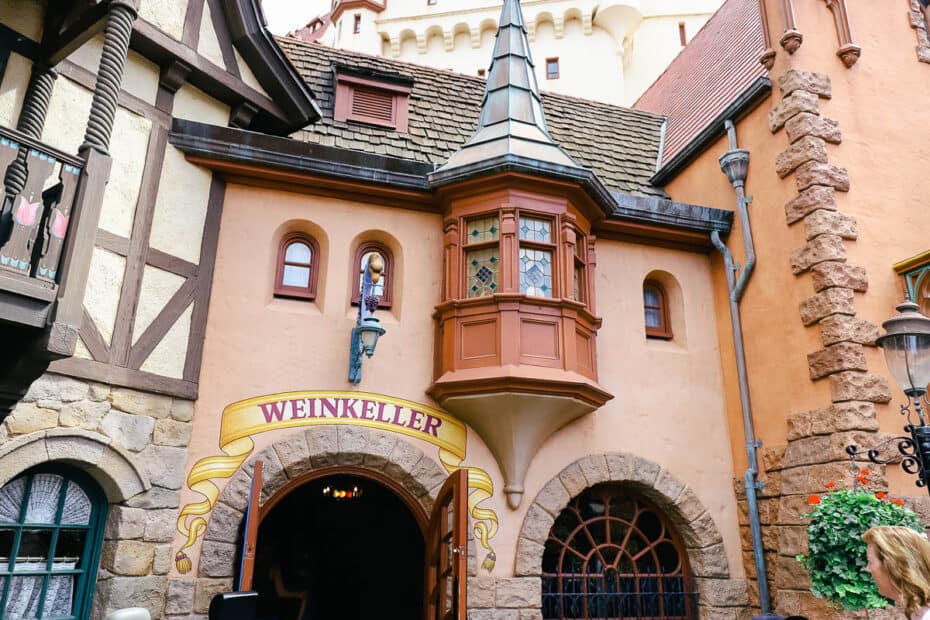 These were the selections available as of this update.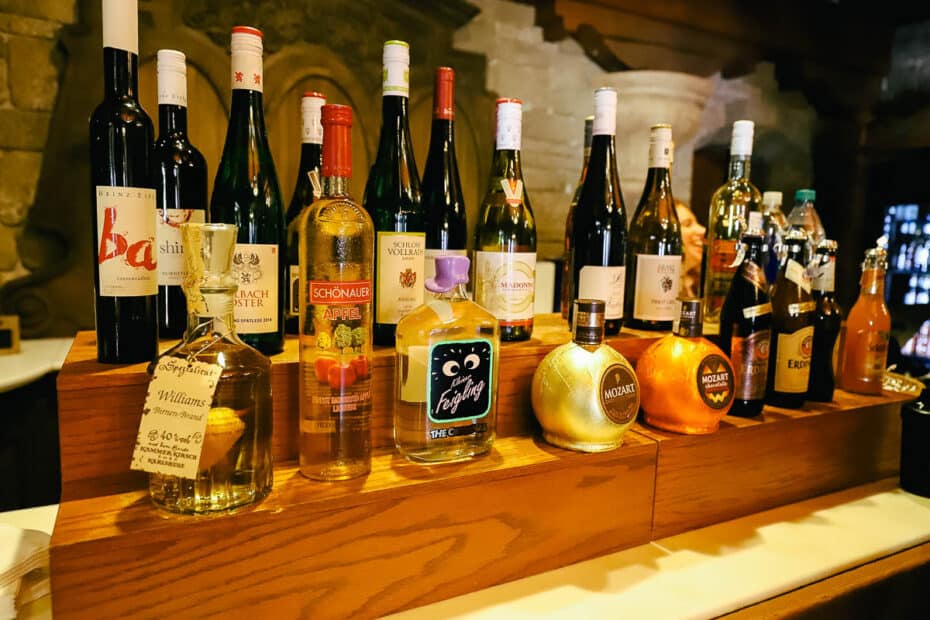 Here is a price list for the red wine, beer, and liqueurs.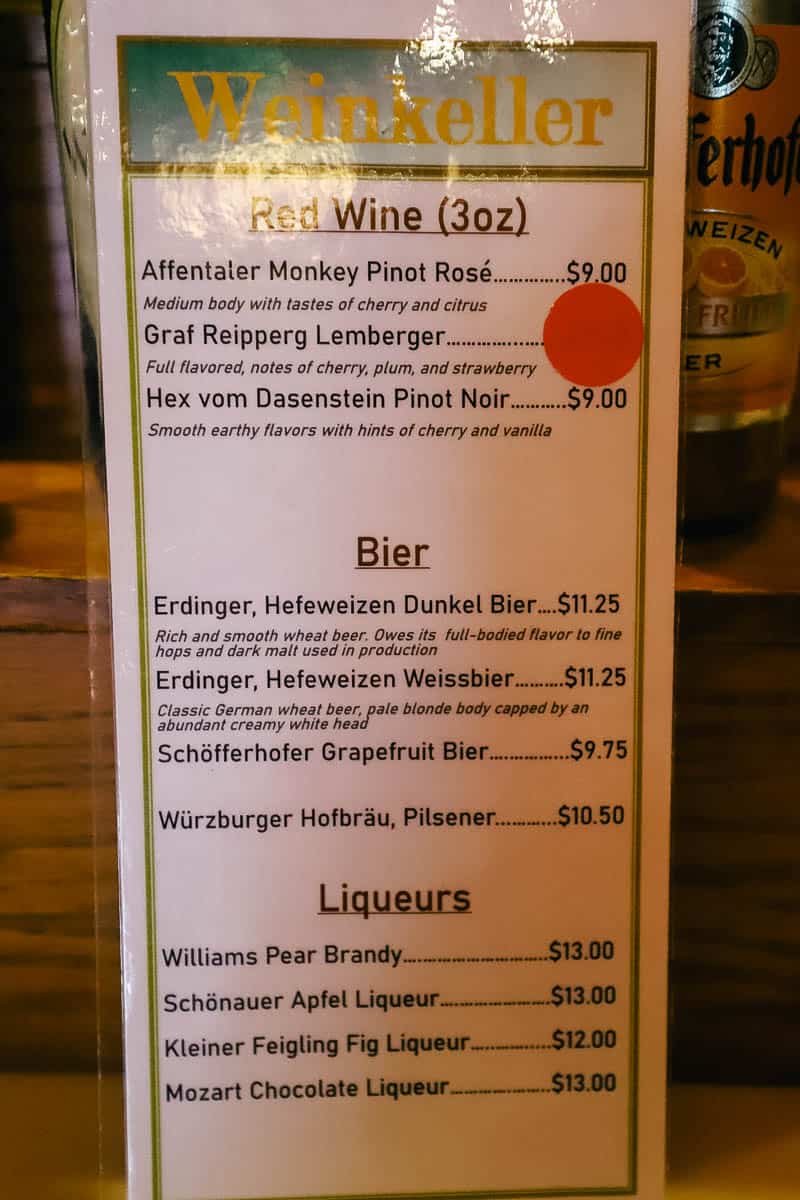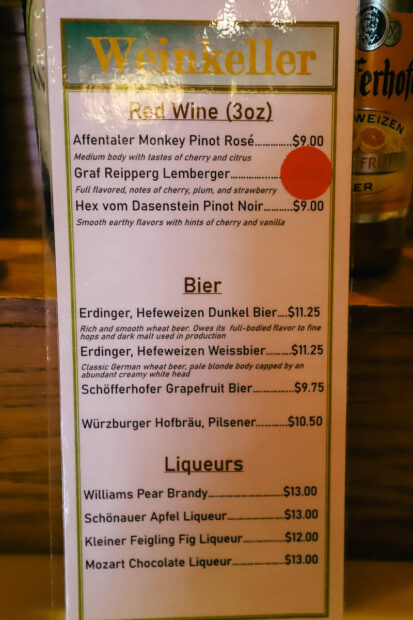 Another menu shows dessert wines and white wines.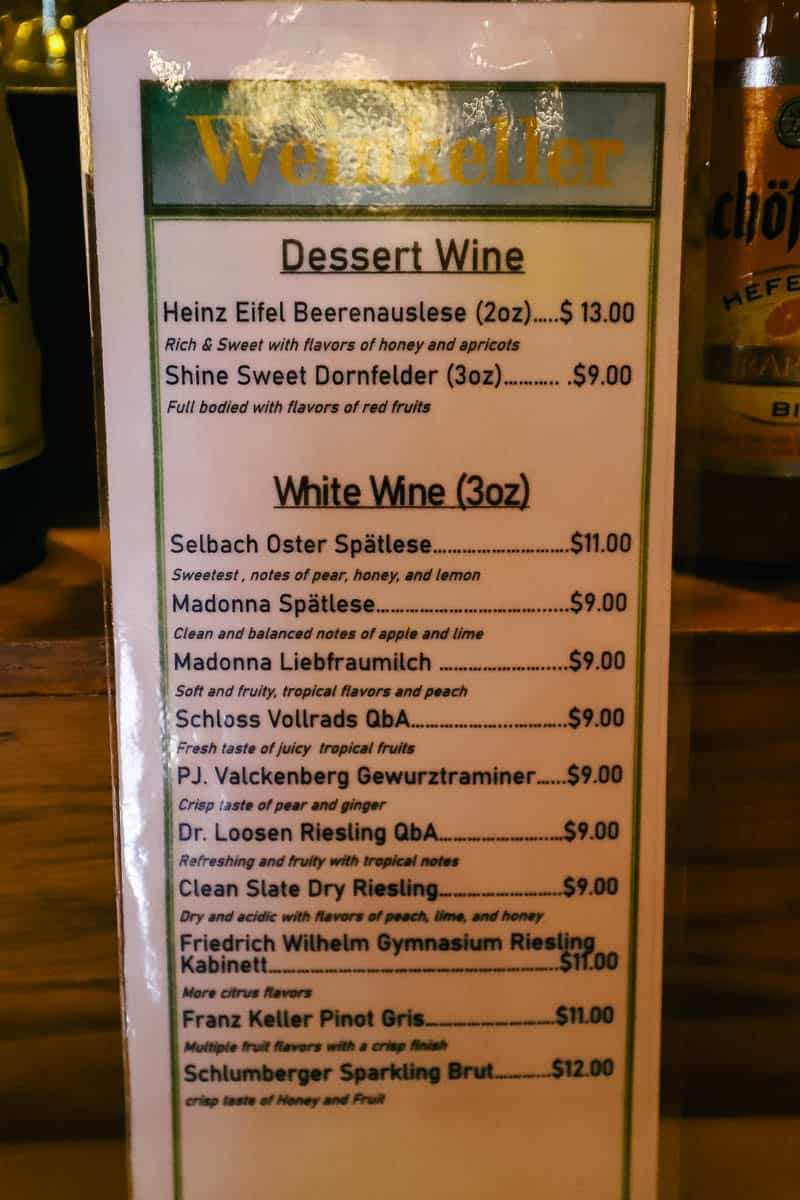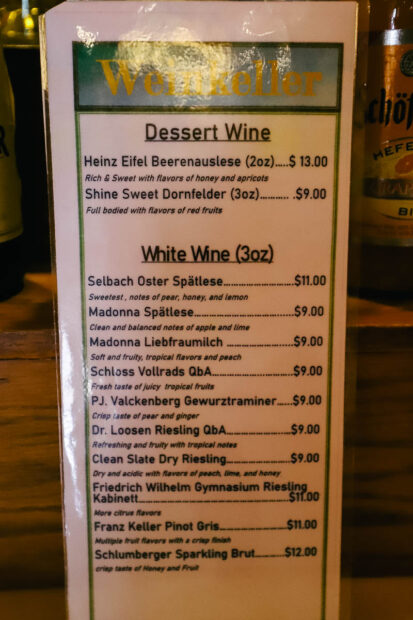 This is an exceptionally popular location. It took quite some time for the area to clear out enough to get a few photos.
Germany Pavilion Shops
When it comes to the Germany Pavilion, there's an enormous amount of shopping involved. We'll look at the shops below and what you can expect to find in each one.
*However, as of this update in 2023, not all of the shops in Germany are open. Additionally, some are lacking their usual merchandise.
Das Kaufhaus
As you enter the Germany Pavilion, one of the first shops you'll run into is Das Kaufhaus. Formerly, this shop had tons of German-branded merchandise, especially soccer jerseys and German-made automobile merchandise.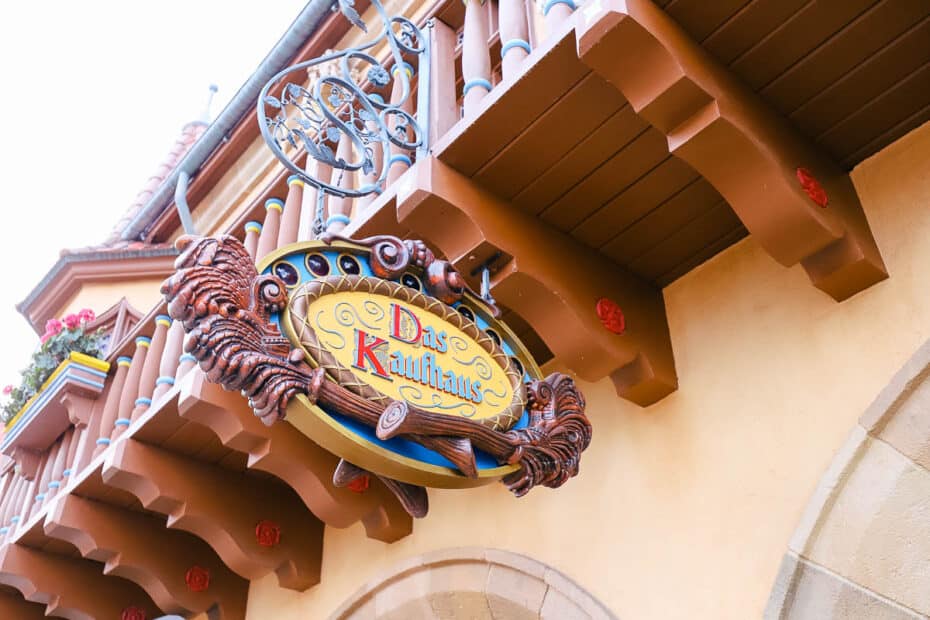 So I was surprised to see that it's currently being used as a Christmas shop.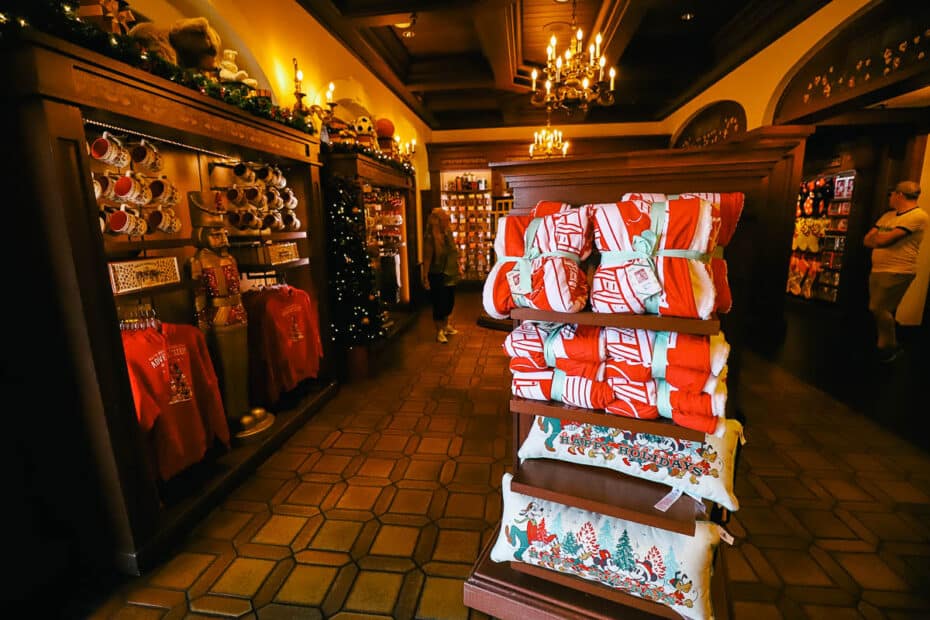 Since the pavilion already has a year-round Christmas shop, this seemed like a bit much. But, hopefully, shopping will improve since most things have returned to normal.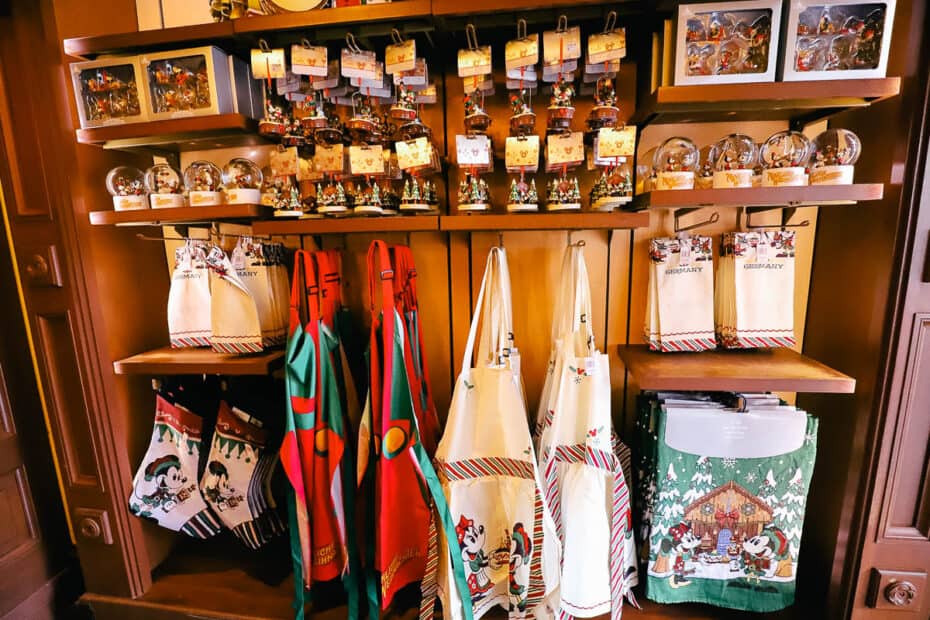 Volkskunst Clocks
For those interested in cuckoo clocks, try Volkskunst Clocks and Crafts.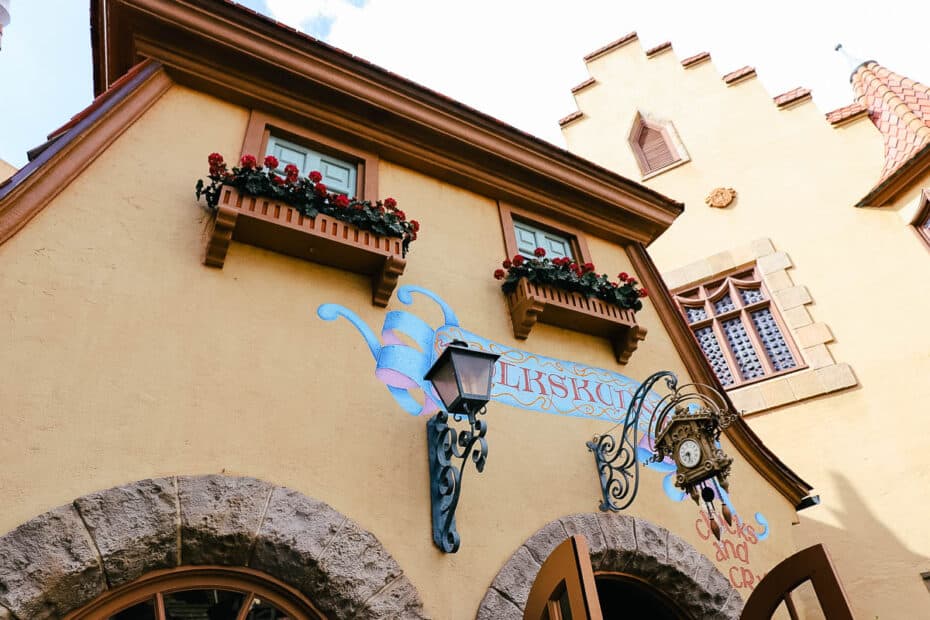 However, there were literally only four available on this visit.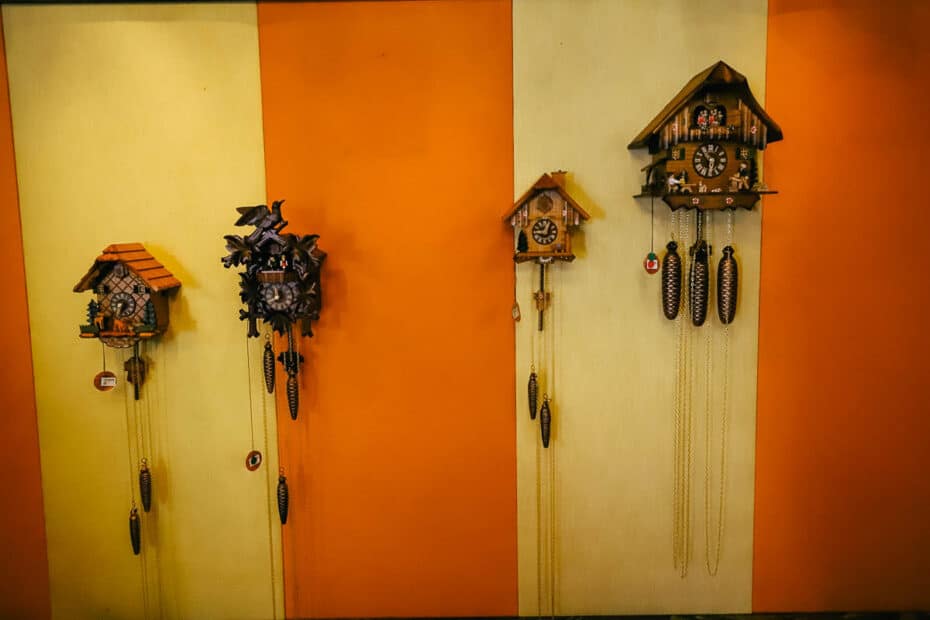 This shop did have a few items that resembled the German stereotype.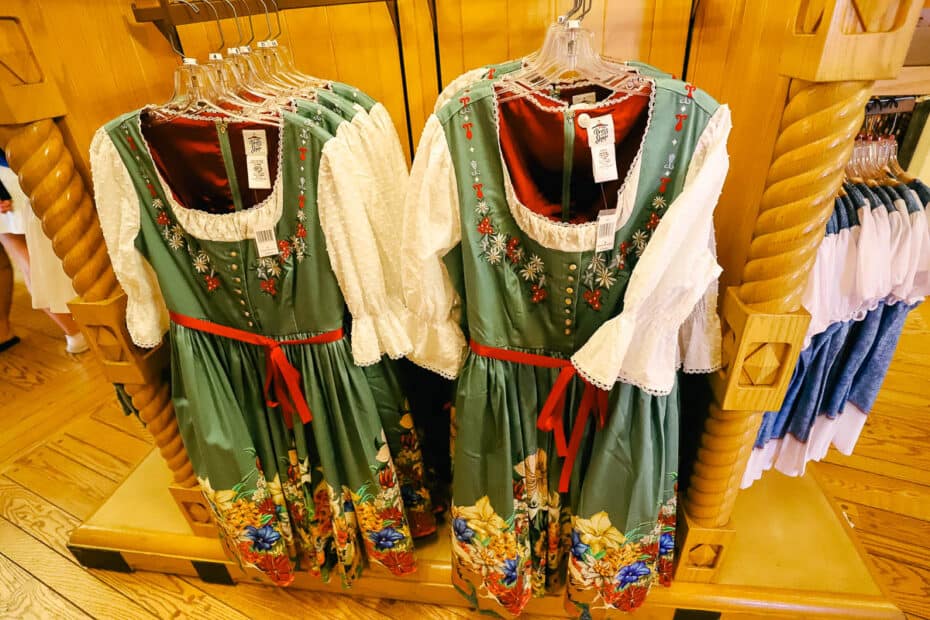 Pretzel purse, anyone?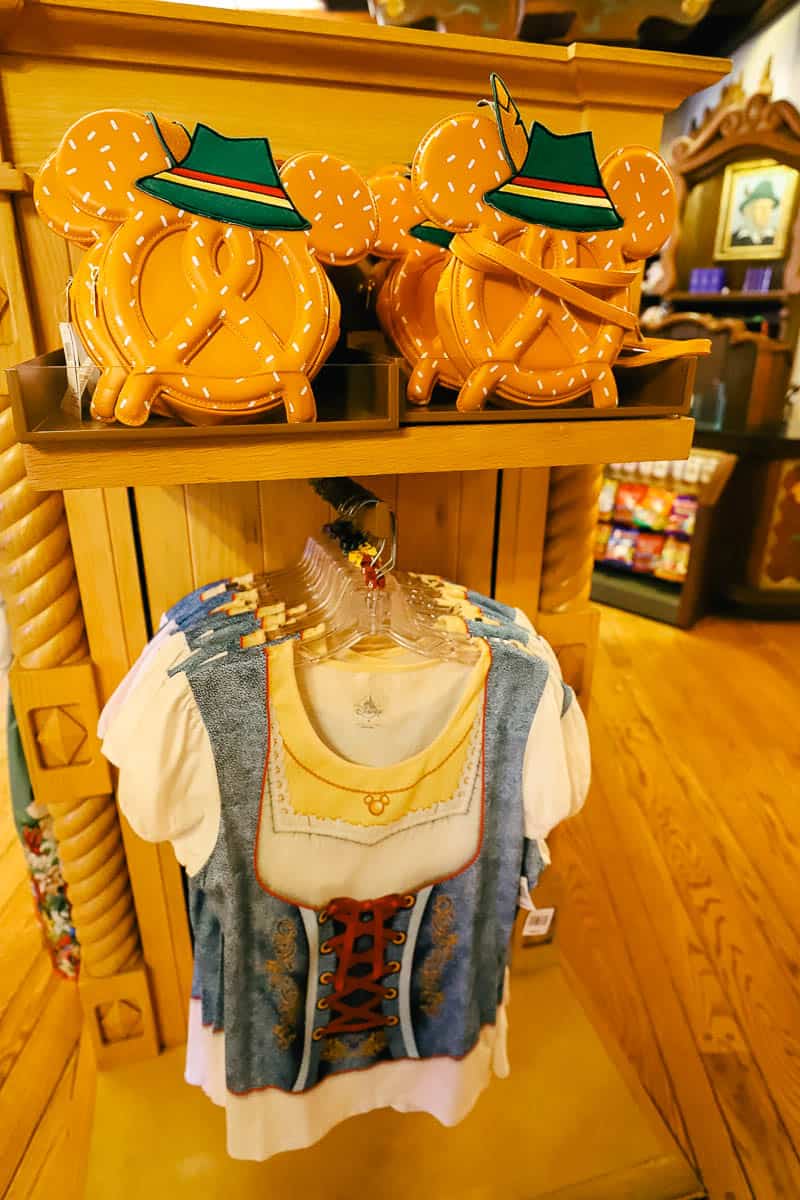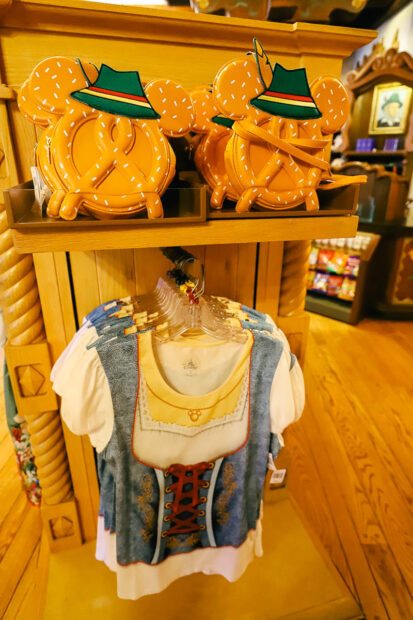 You could dress as Minnie Mouse, except make it a dirndl.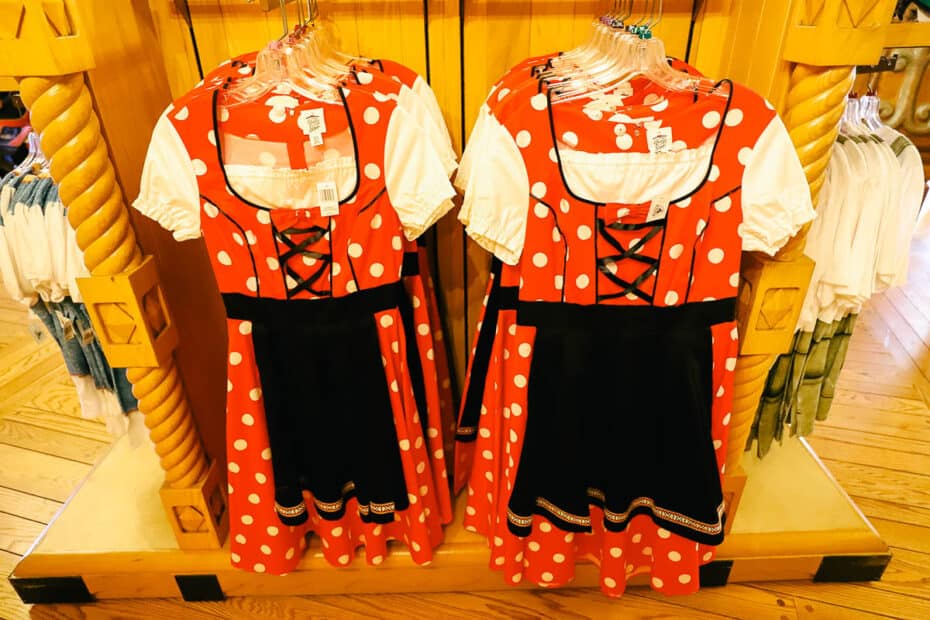 There were also a few Playmobil toys available.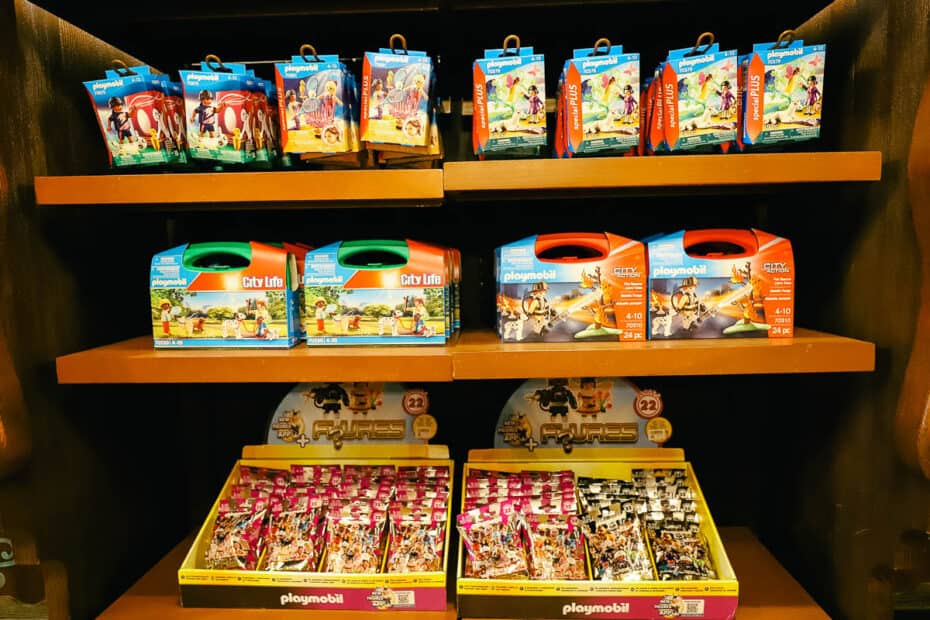 Here are a few flavors of Haribo gummy bears.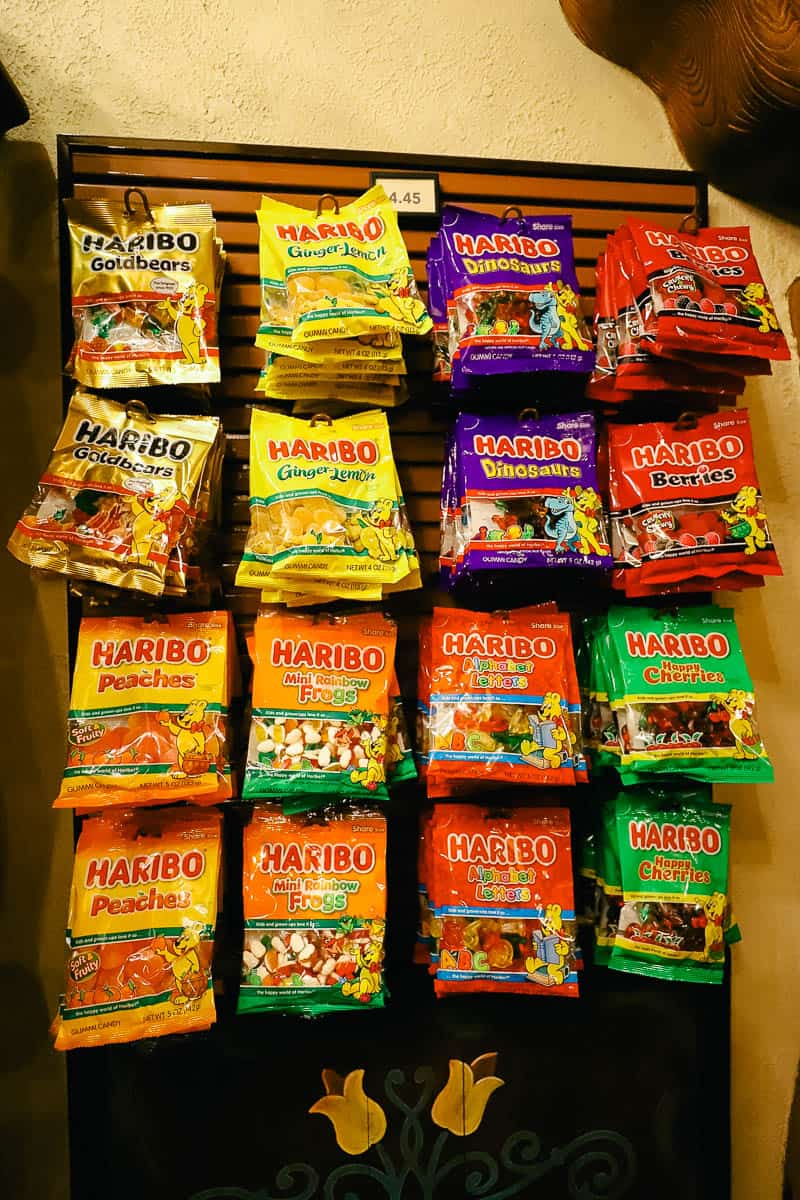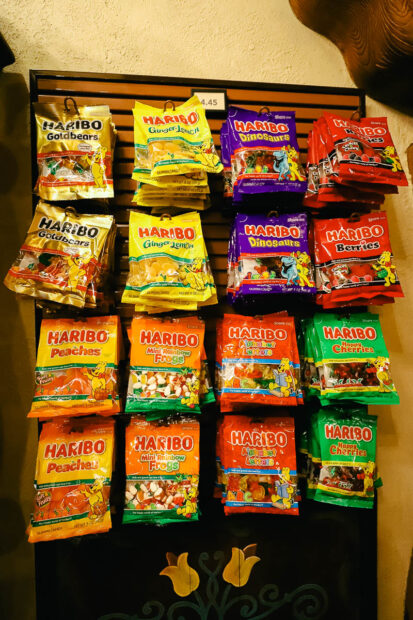 Additionally, some of the merchandise from Der Teddybar has been relocated inside the clock shop.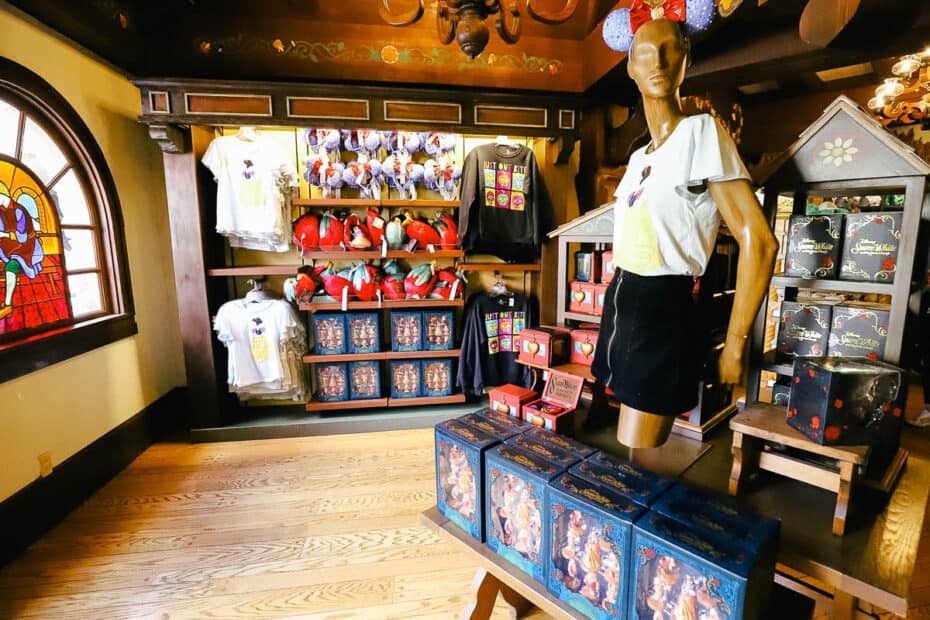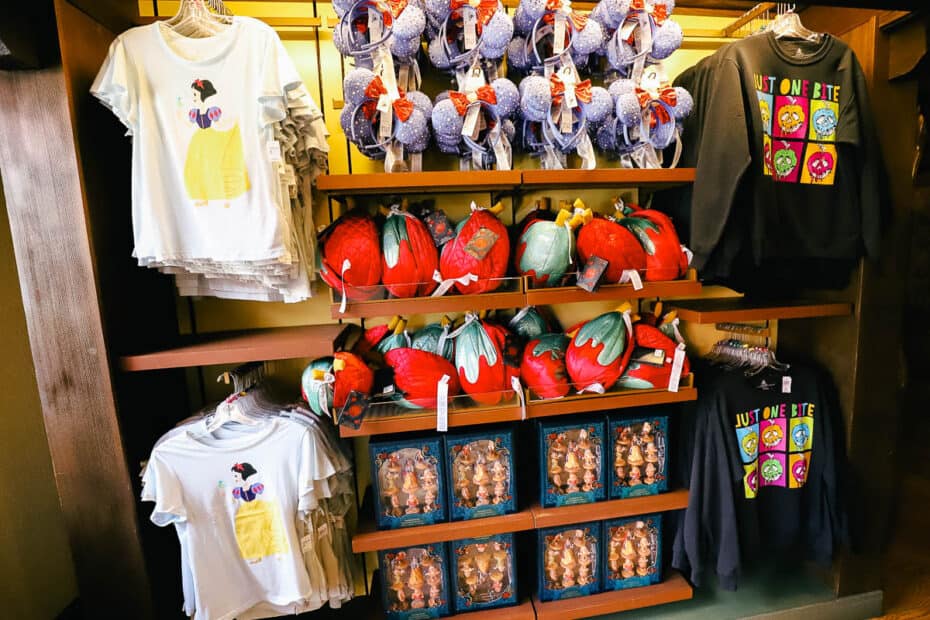 Der Teddybar previously carried an extensive number of Steiff dolls and toys. Here are a few photos of the items that were available in Volkskunst.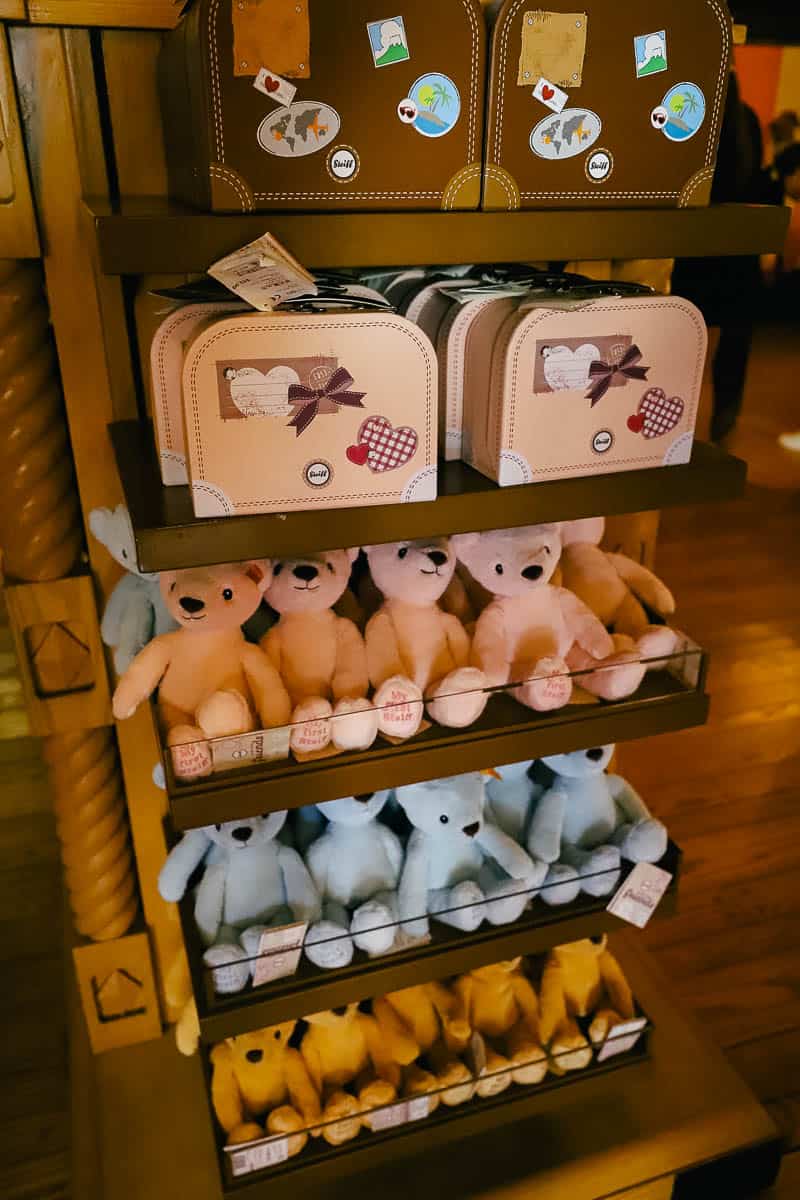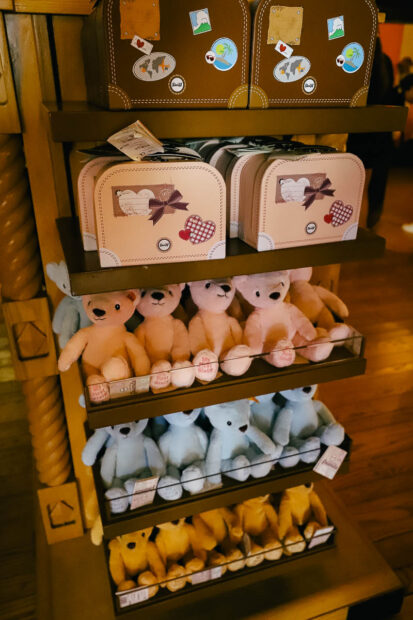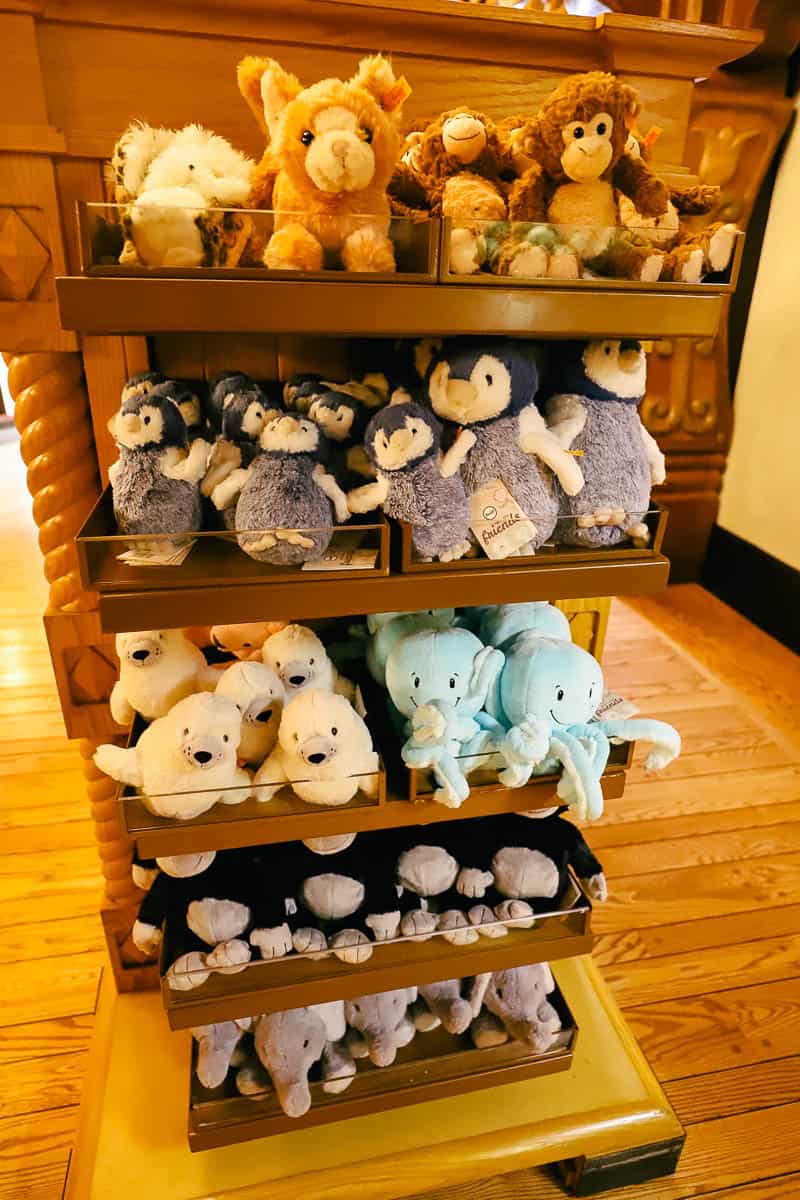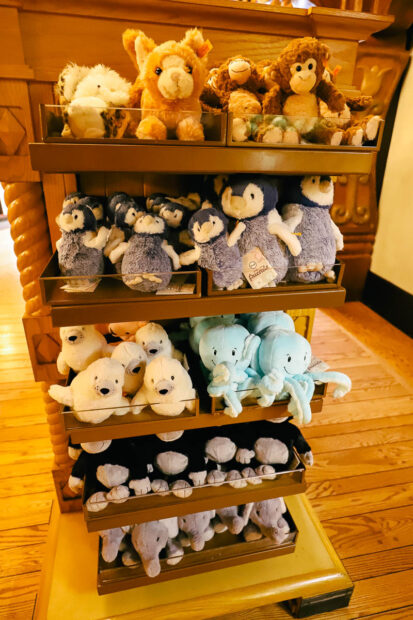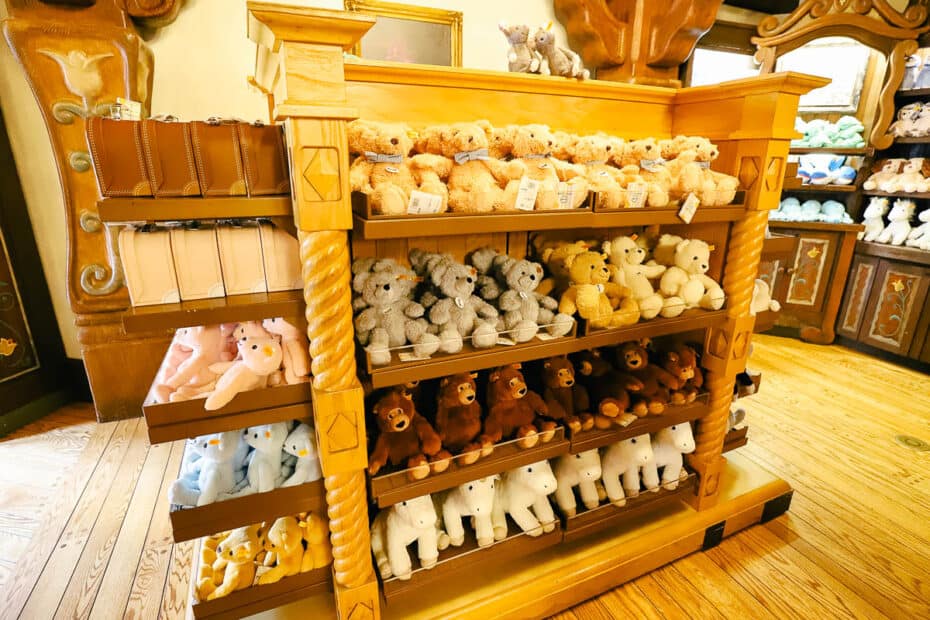 Der Teddybar
As you continue through the clock shop, the store usually turns into Der Teddybar. However, at this time, Der Teddybar remains closed.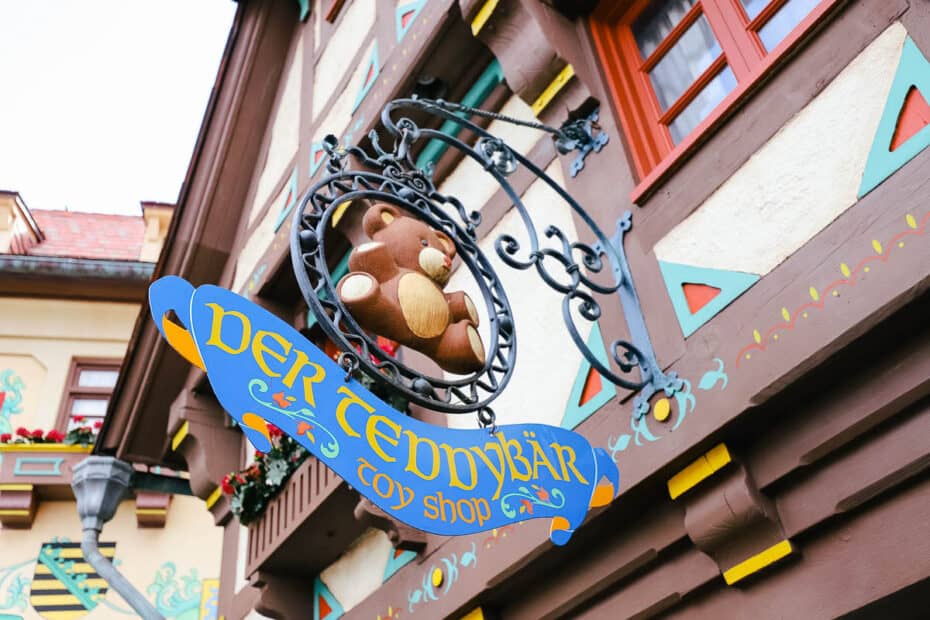 Die Weihnachts Ecke
Across the Germany Pavilion is the popular Die Weihnachts Ecke, commonly referred to as the little German Christmas Shop.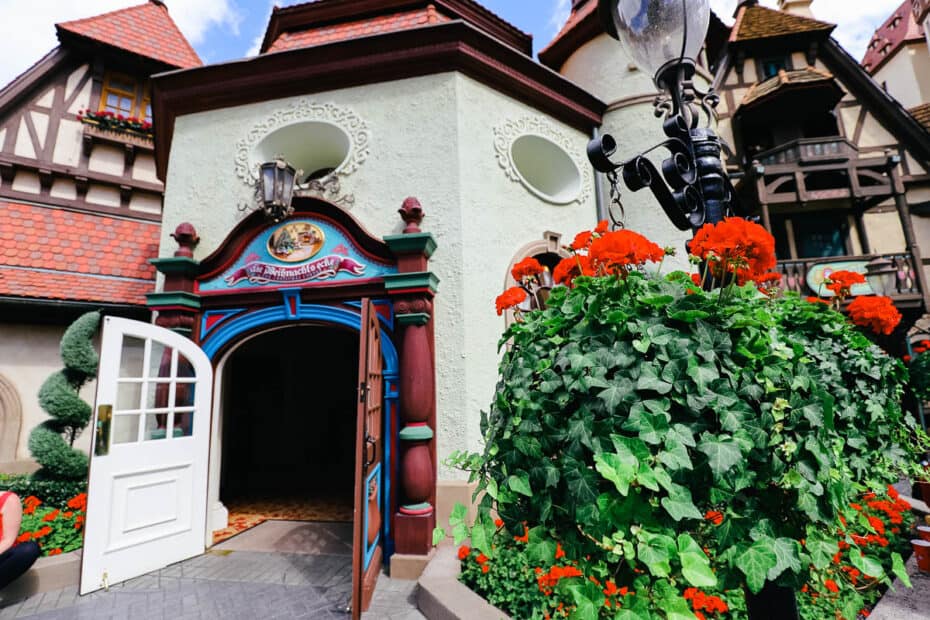 This is the place to pick up a pickle ornament for your Christmas tree, among other things.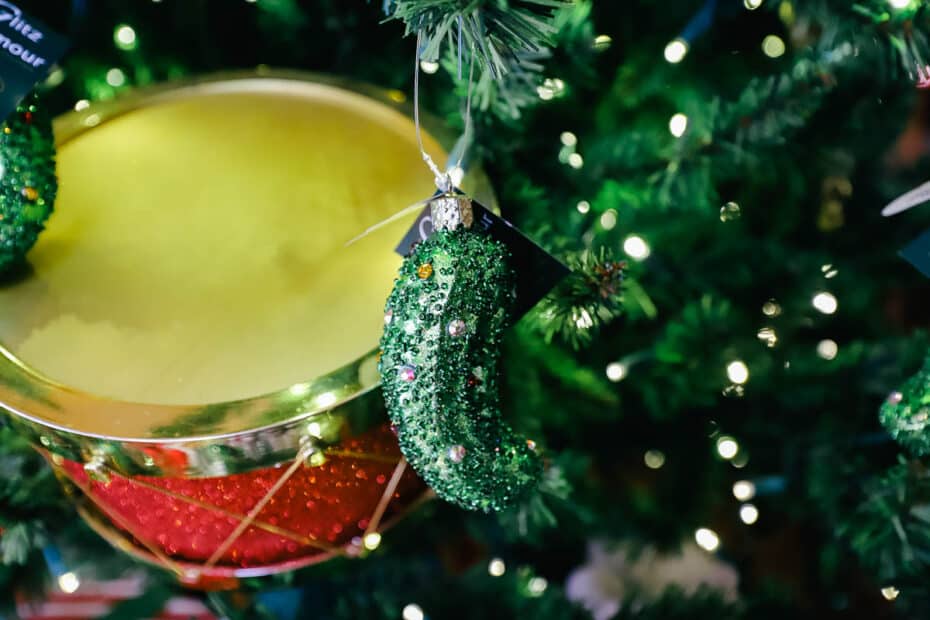 The sign below tells how a pickle brings good luck and is always the last ornament placed on the tree. On Christmas morning, the first child to find the gherkin was rewarded with an extra gift. This tradition encouraged children to appreciate all the ornaments on the tree instead of focusing on the presents.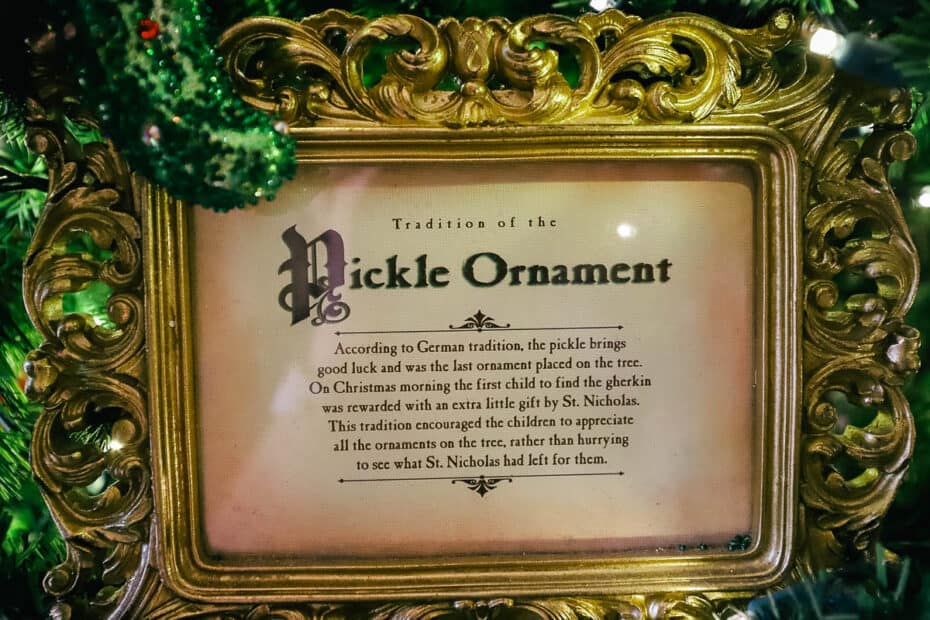 Here is a look inside the gift shop.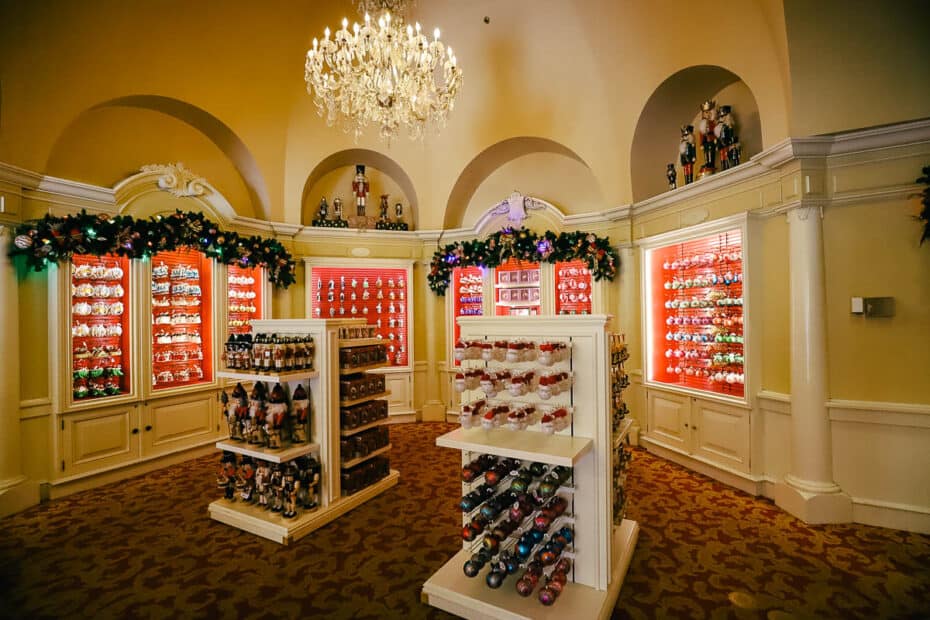 A wreath was hanging from the wall covered in cardinals.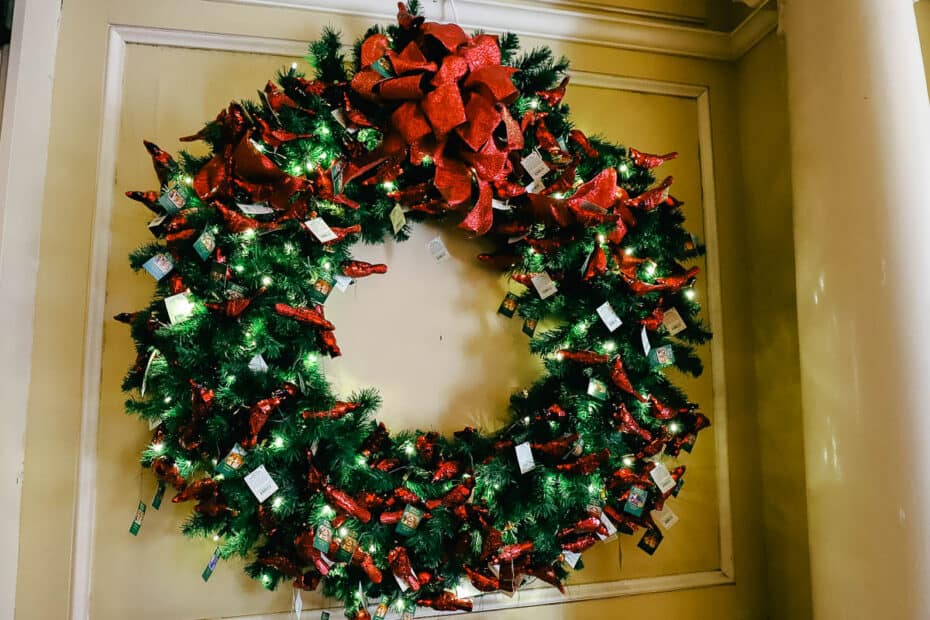 There were a few nutcrackers.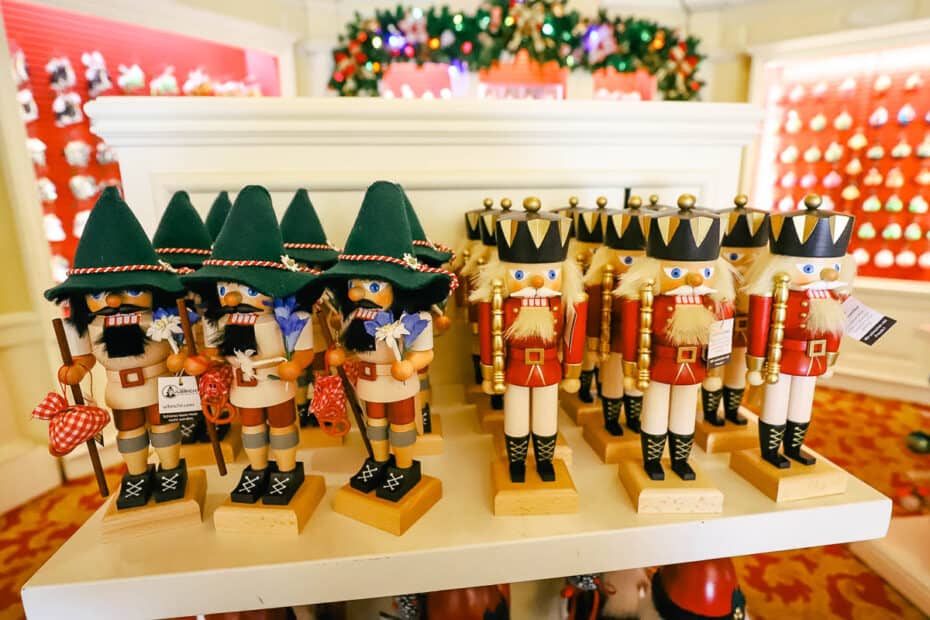 When I read the label on the box, I thought it said, "find all the scents," so I was expecting it to smell good.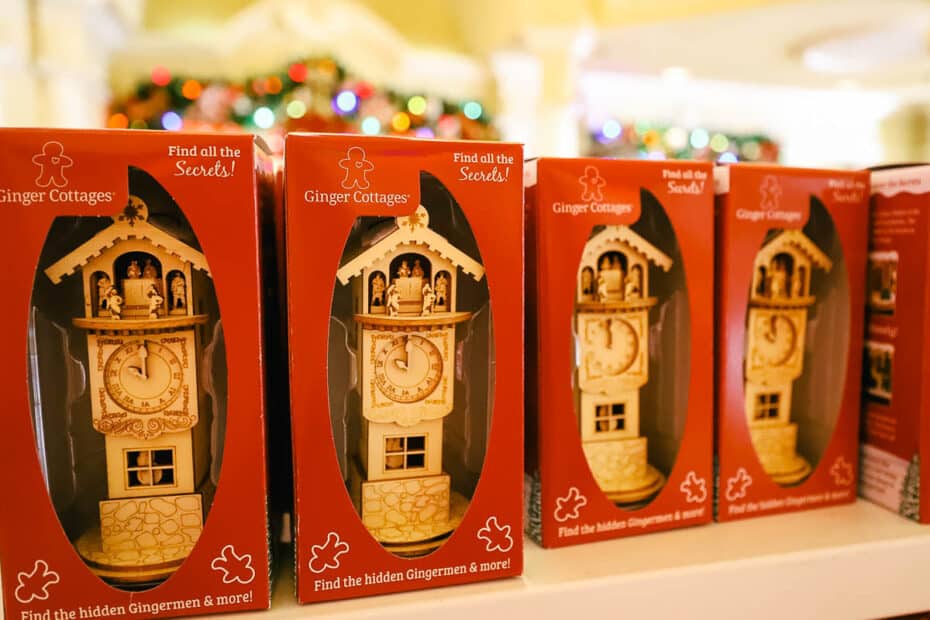 There were plenty of ornaments.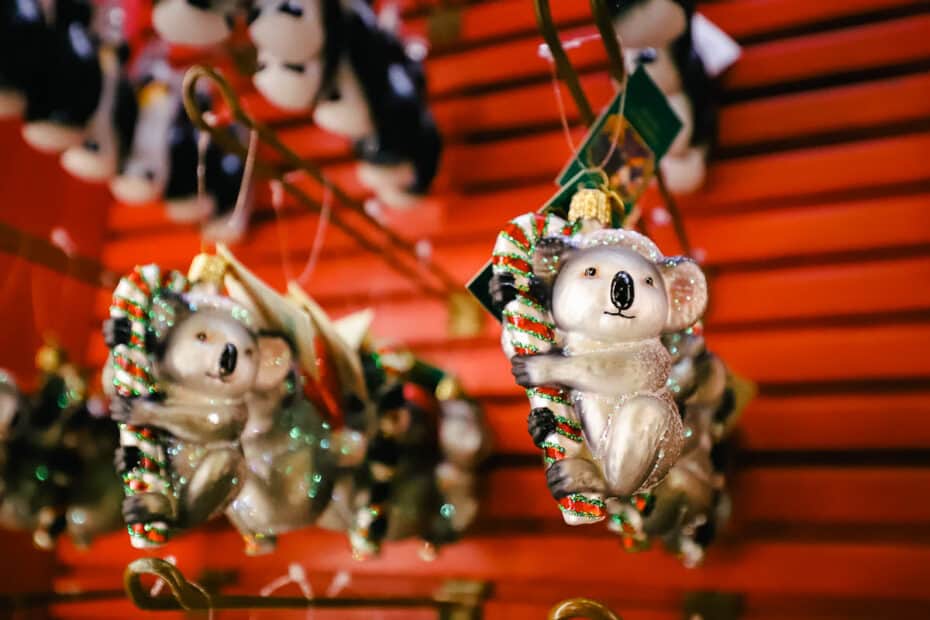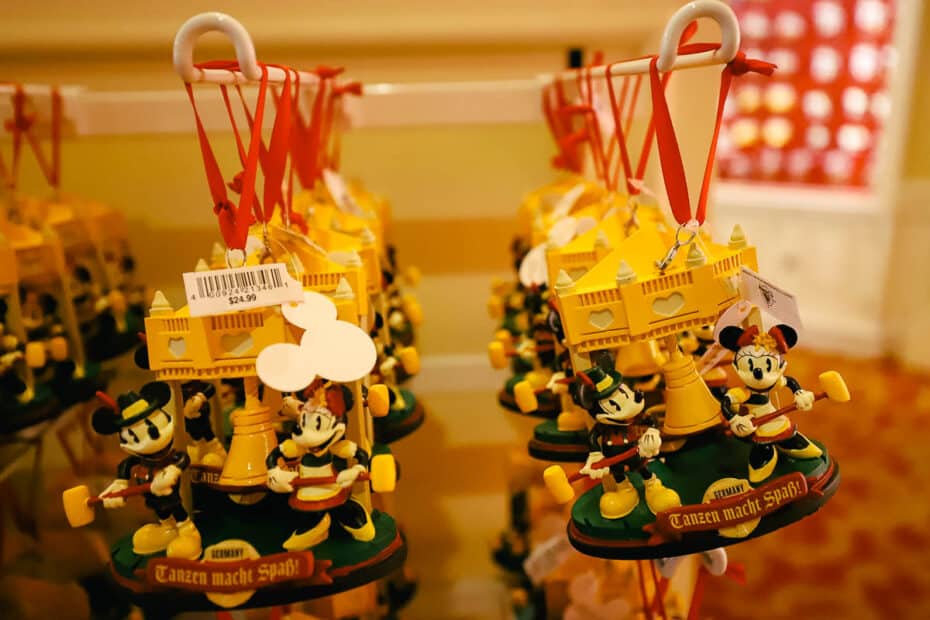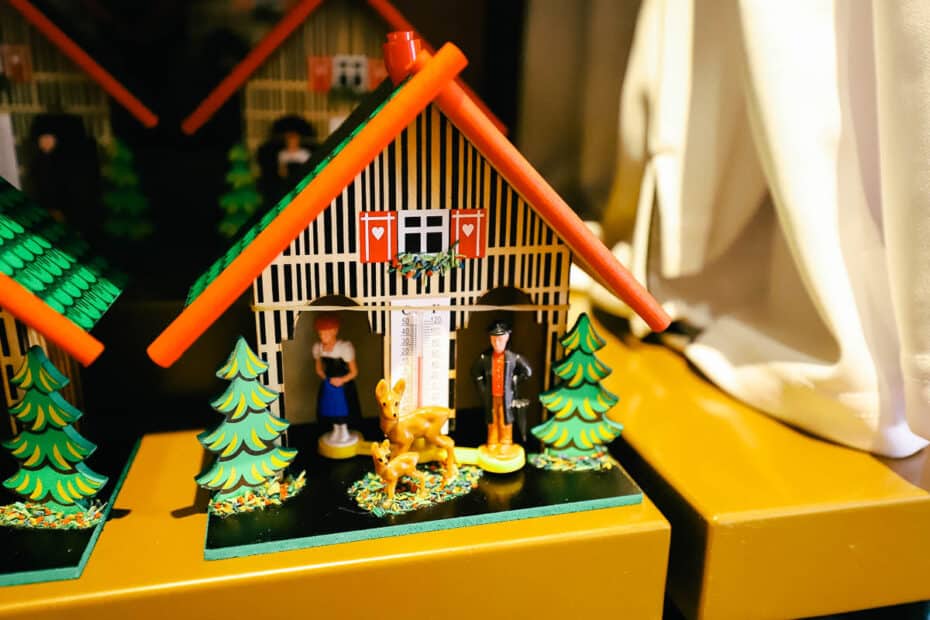 Stein Haus
Next to the Christmas shop is Stein Haus. For the record, once you're inside, most of these stores lead into each other. You can start at the Karamell Kuche and stay inside until you reach Kunstarbeit in Kristall. Then you can do the same with the other shops in the pavilion.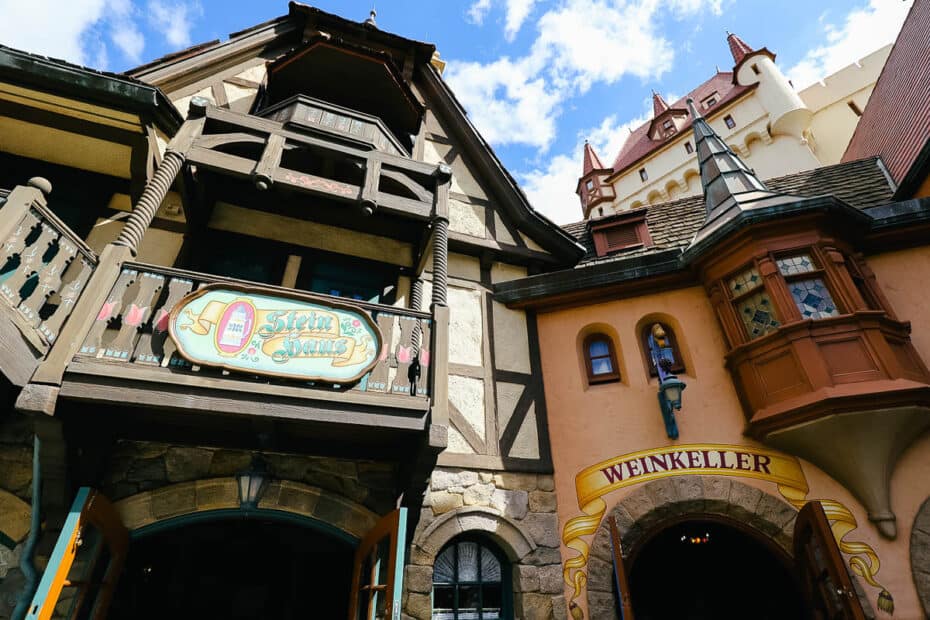 For the sake of these pavilion articles, we try to provide photos of all the merchandise and order each piece by its location.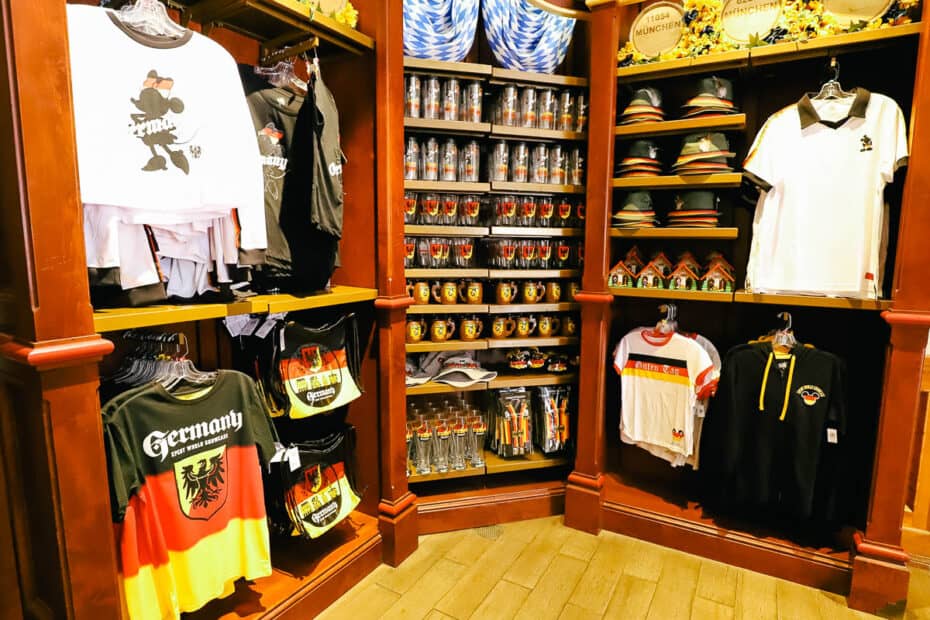 With that said, these are only samples of what we saw on our visit. You could visit a few months from now and find completely different merchandise in some of the shops.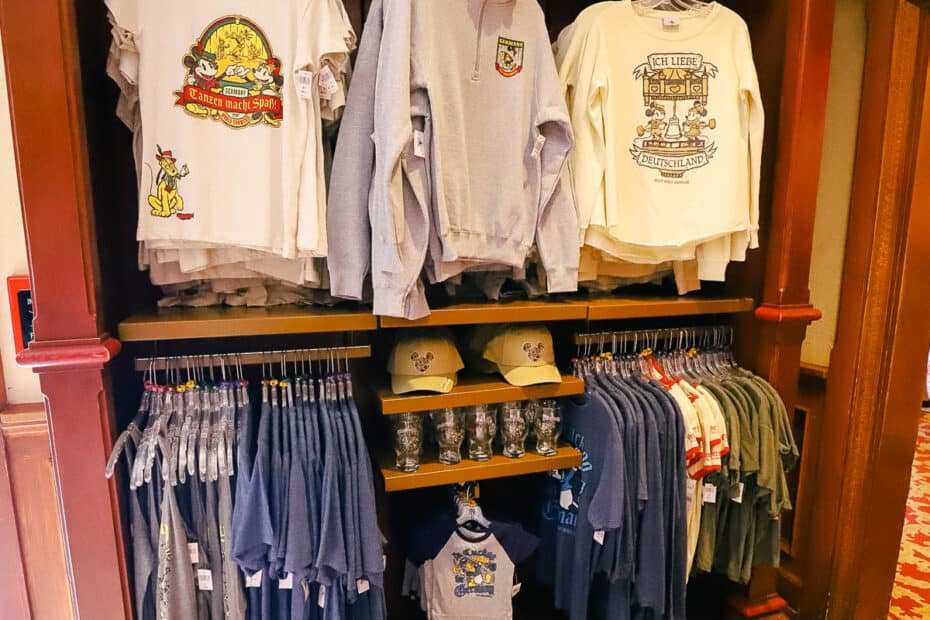 There were a few items with Biergarten and Bratwurst branding.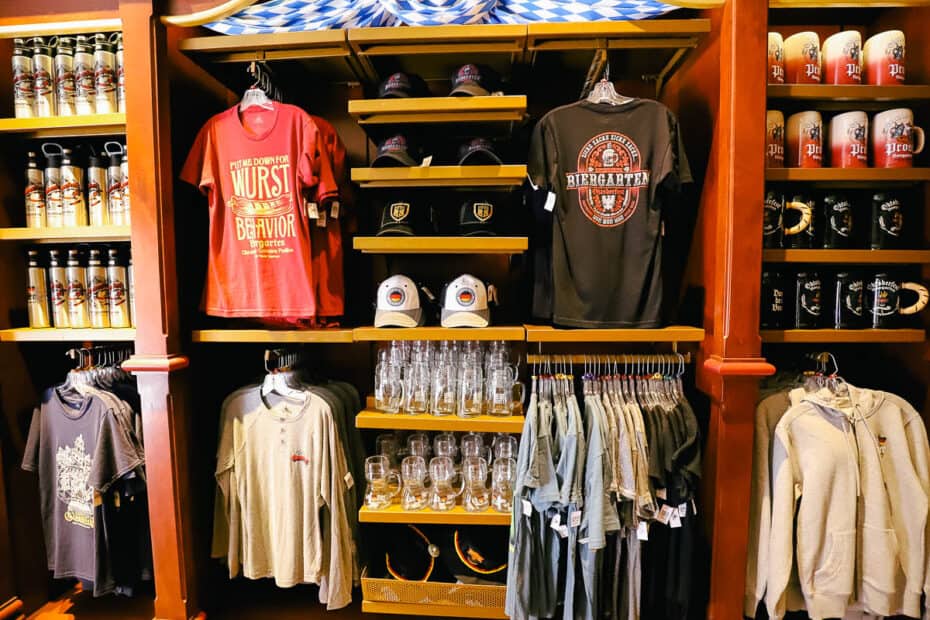 Since the name of this shop is Stein Haus, it was fitting that they had steins.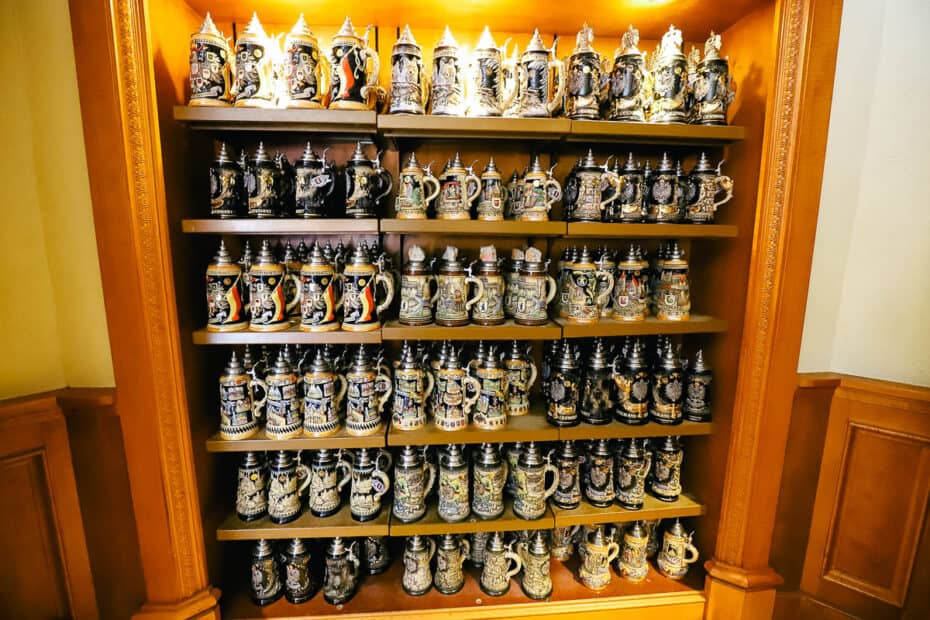 Here is a closeup.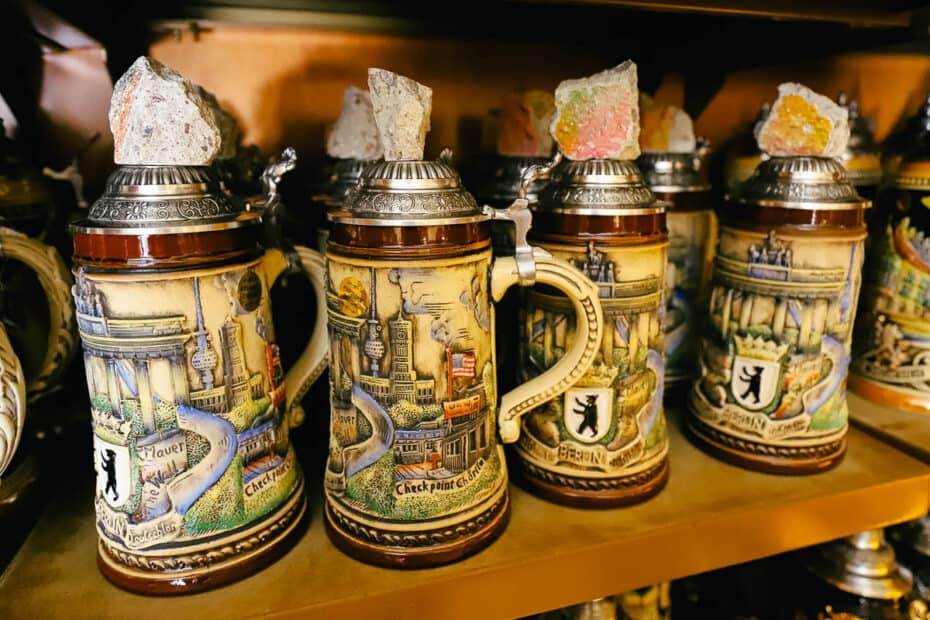 It might be hard to tell, but the steins below are all miniature. I guess they could hold a shot.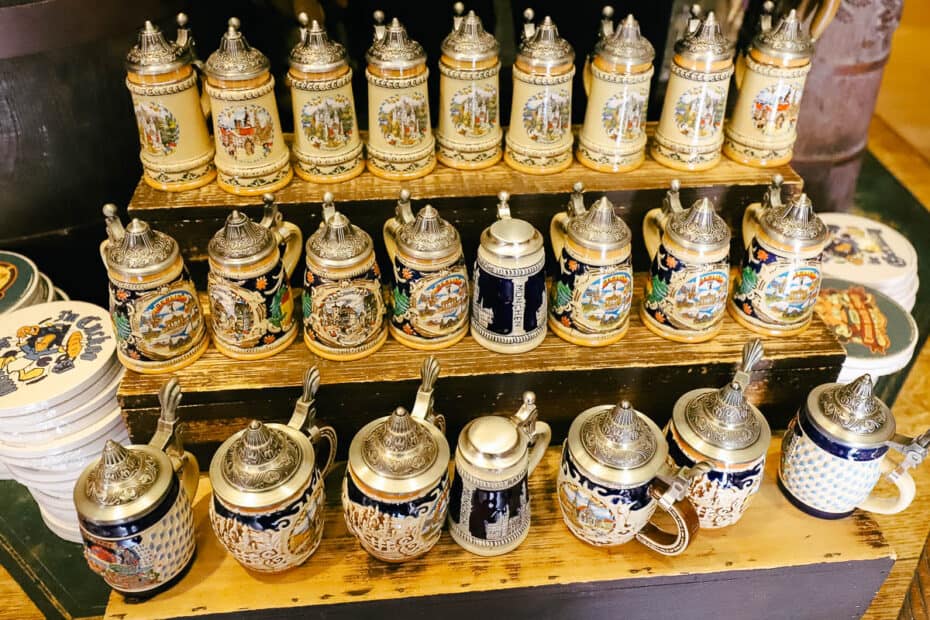 I also noticed that a few beers were available at the register.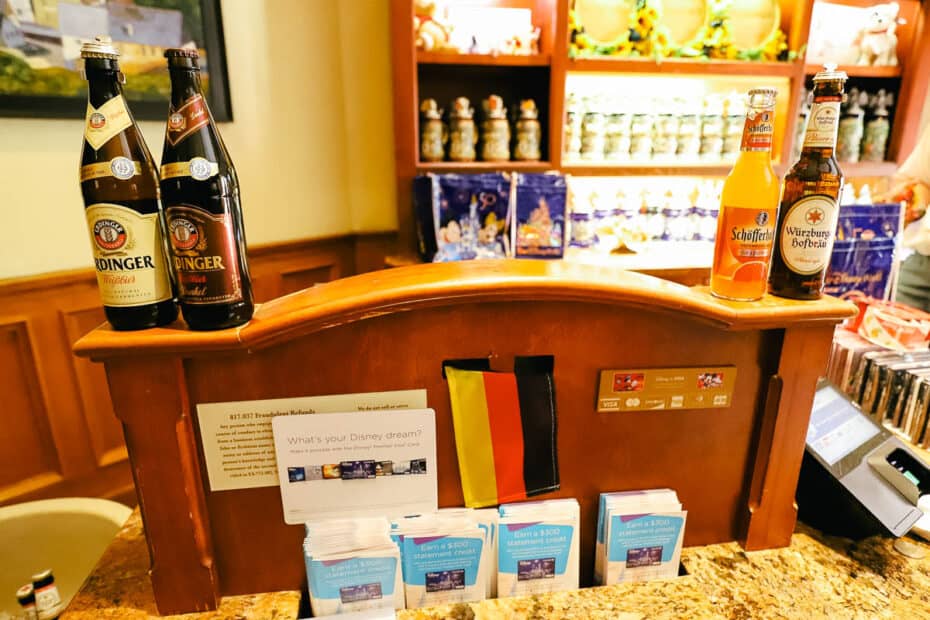 Weinkeller
We stopped in Weinkeller earlier to see the individual drinks you could purchase at its bar. However, we didn't look at the items in the shop.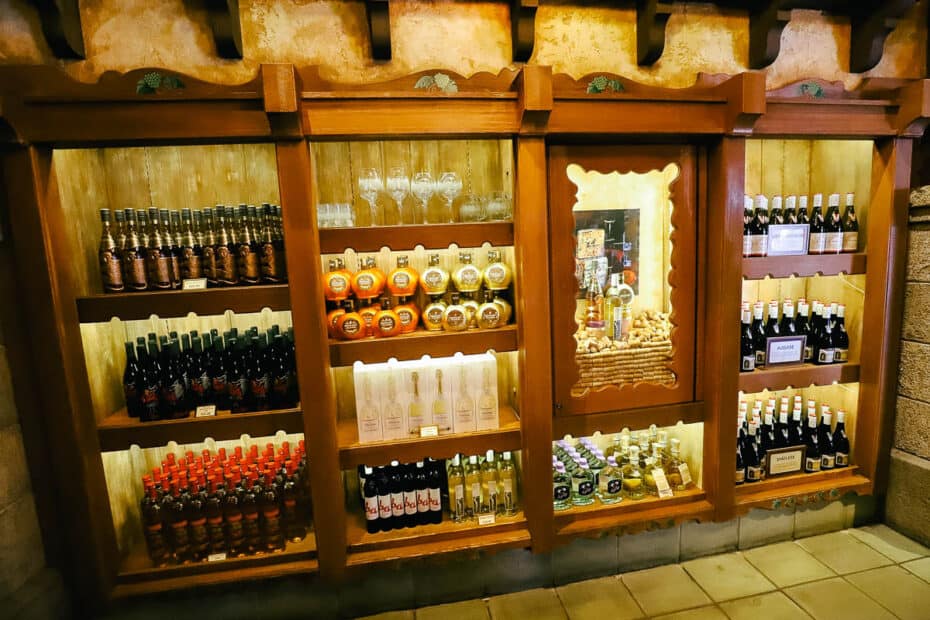 Mainly, the shop sells German wines.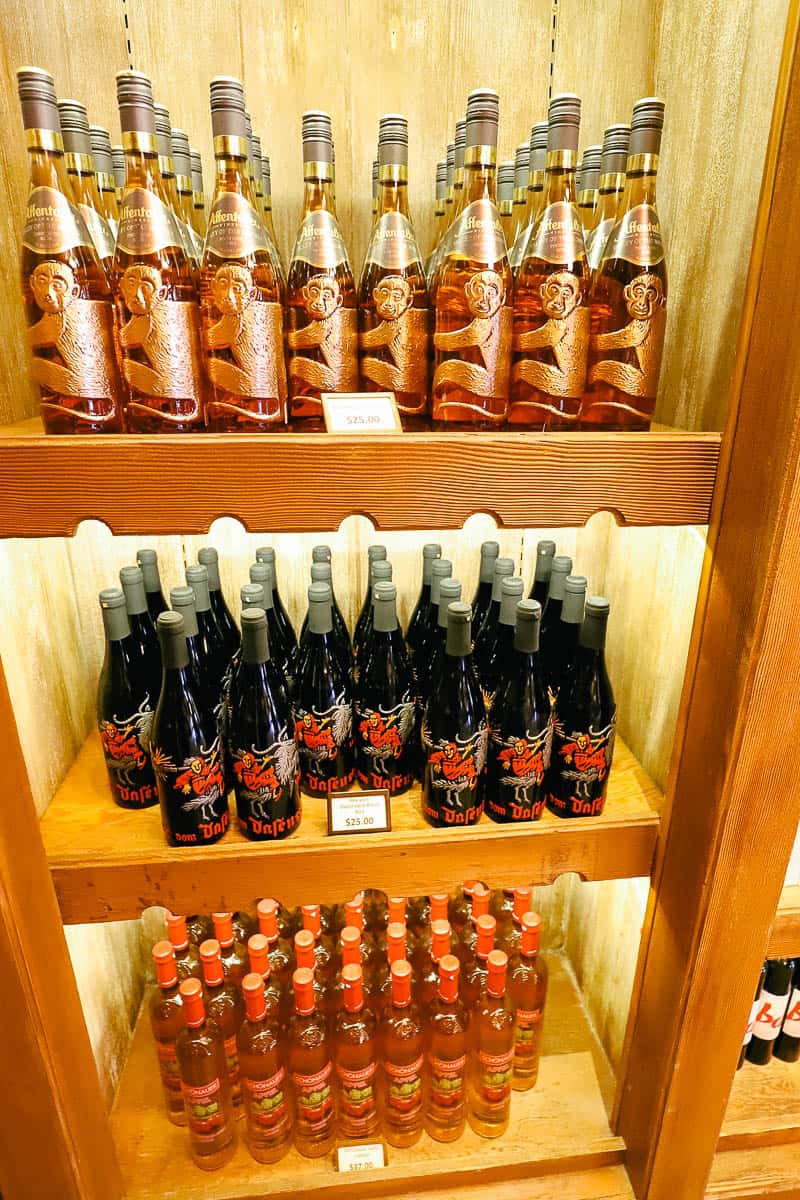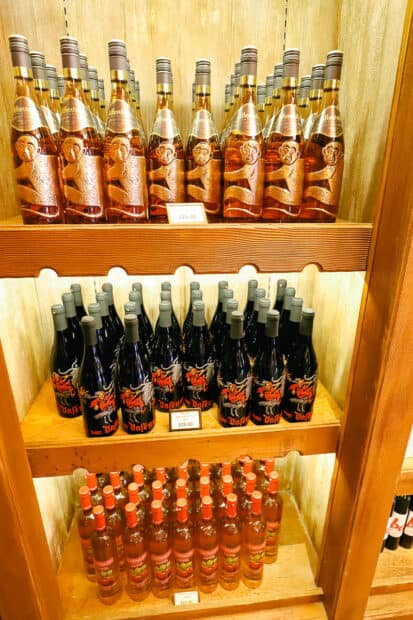 They do have a decent number of options if you would like to purchase a bottle to take back to your room.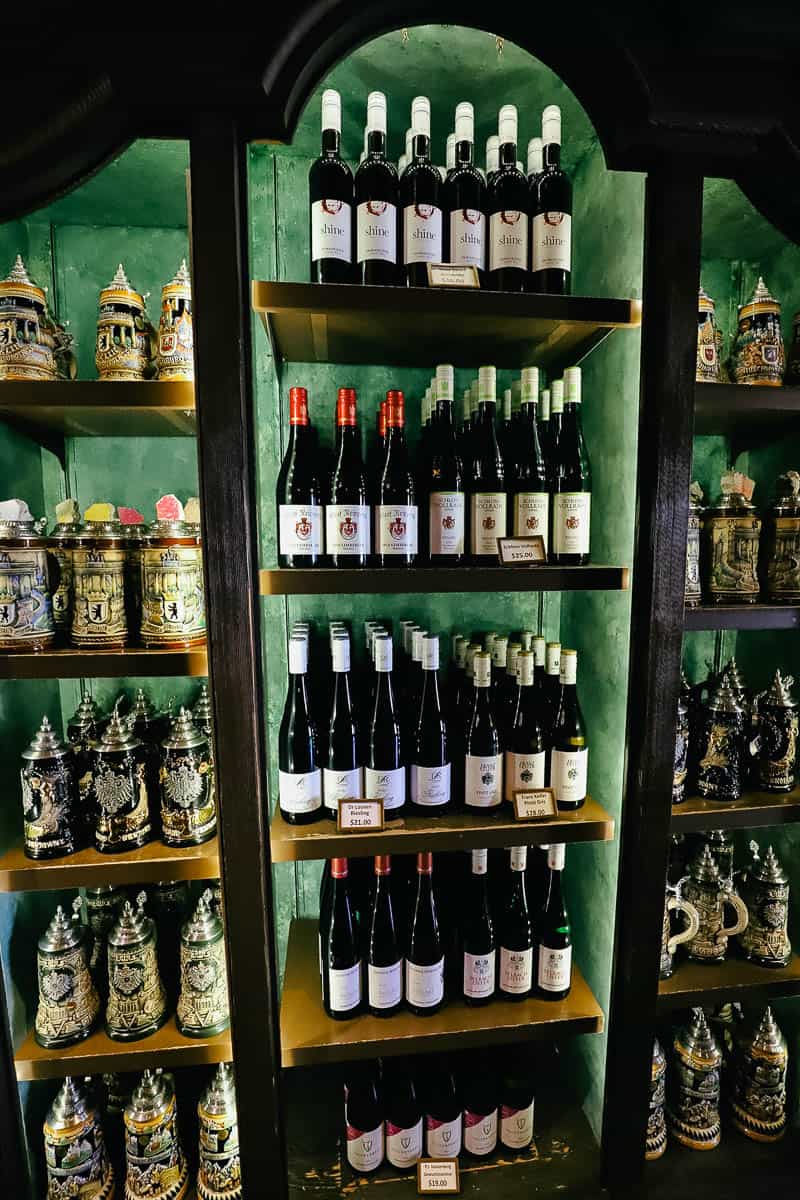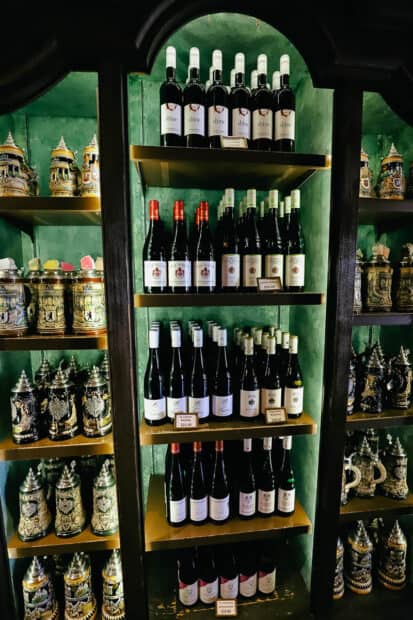 Here are a few more.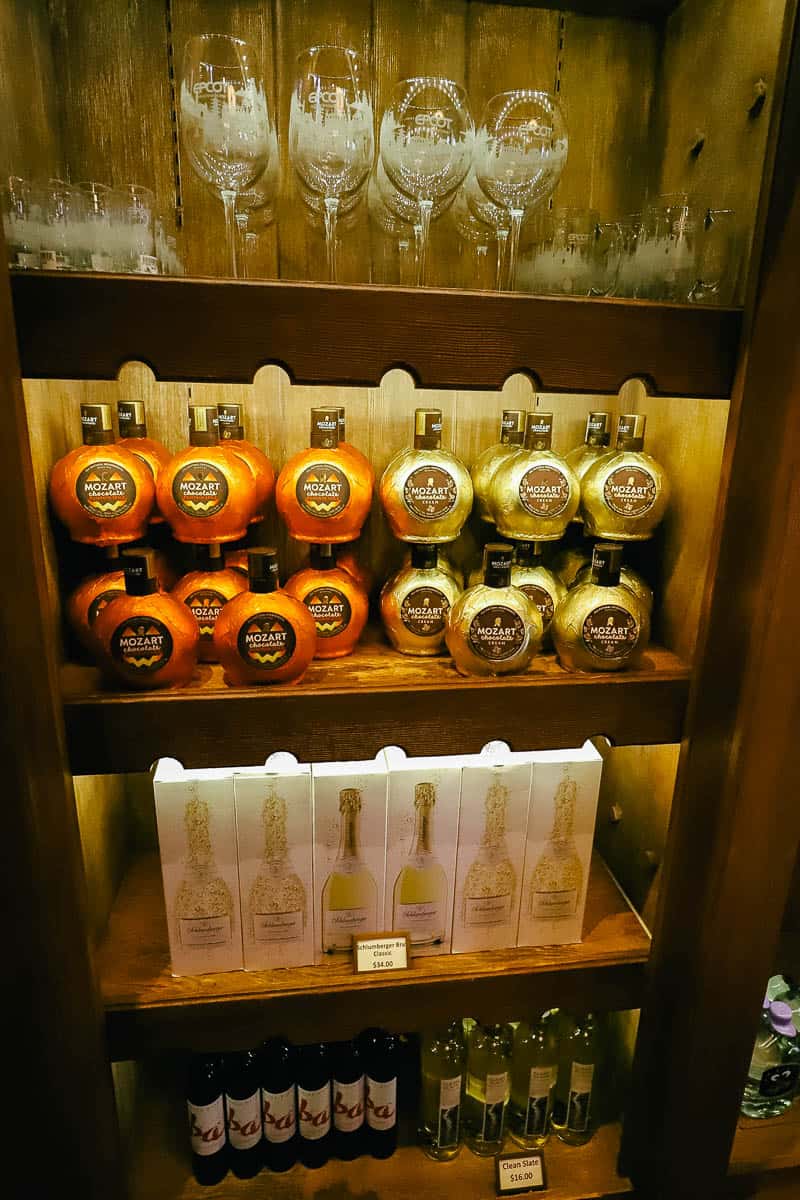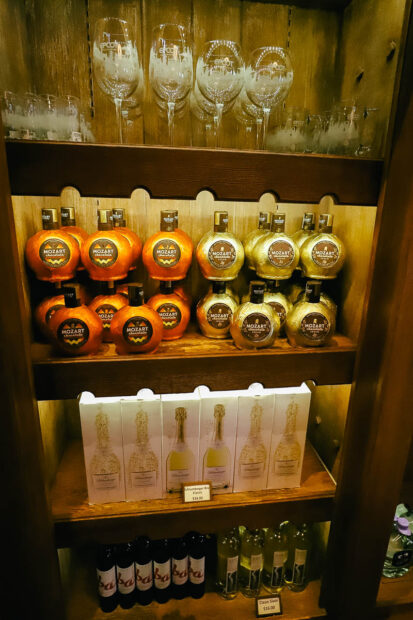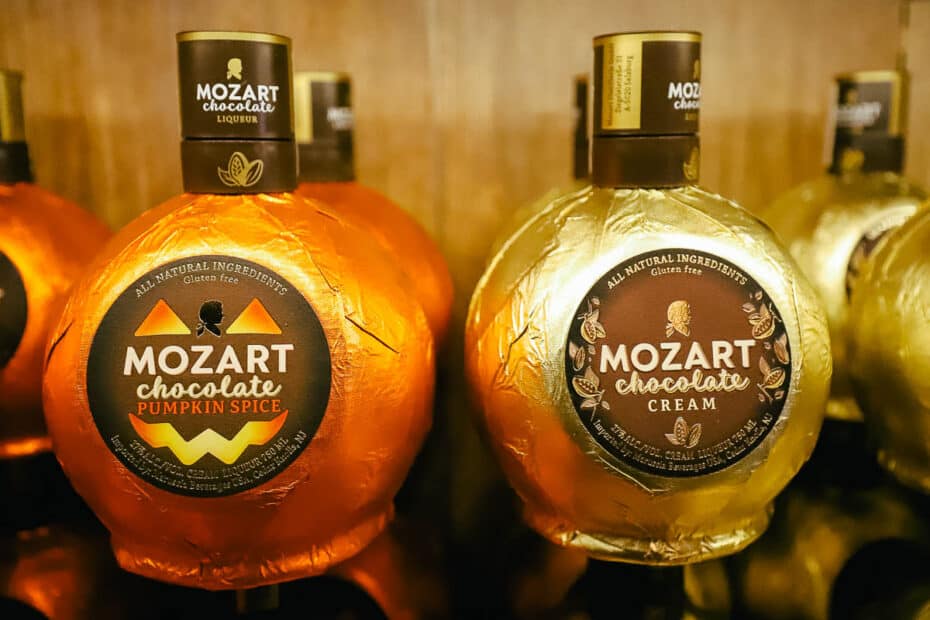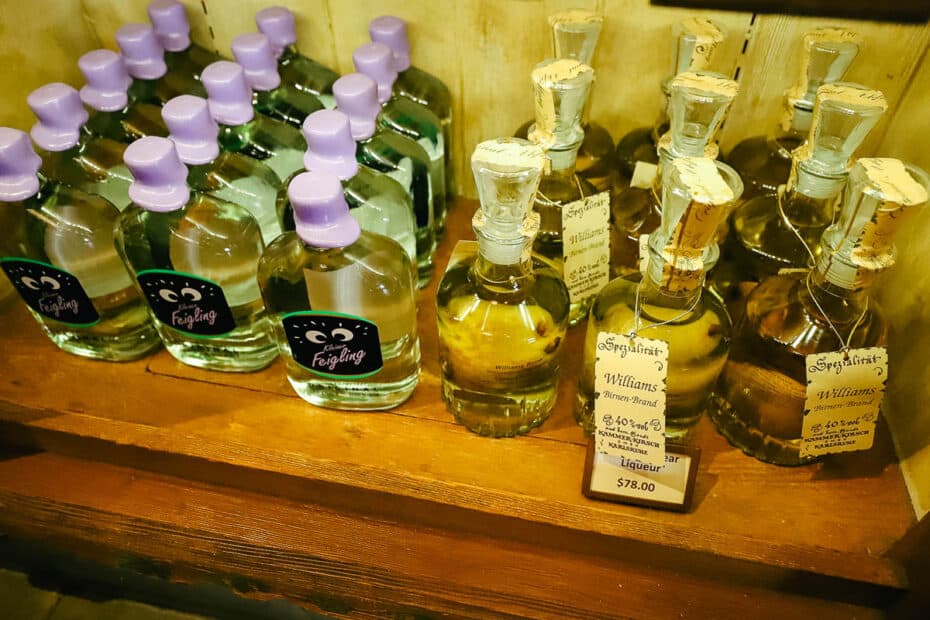 Pear liqueurs often have a real pear in the bottle. Fun fact, they place the bottles over the pear blossoms, and the pears grow inside the bottle.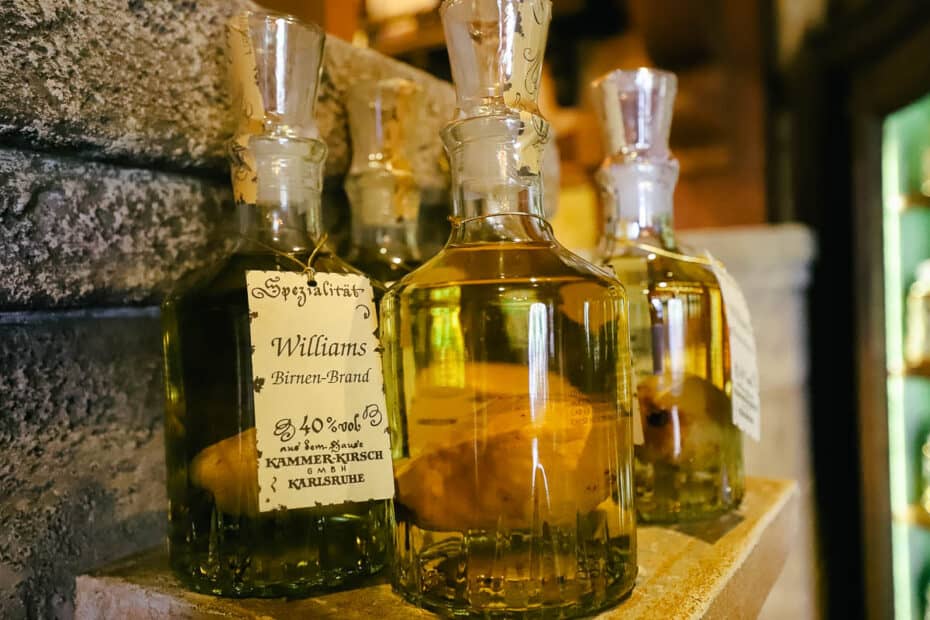 Kunstarbeit in Kristall
Next door to Weinkeller is Kunstarbeit in Kristall, which is the Arribas Bros. location at Epcot.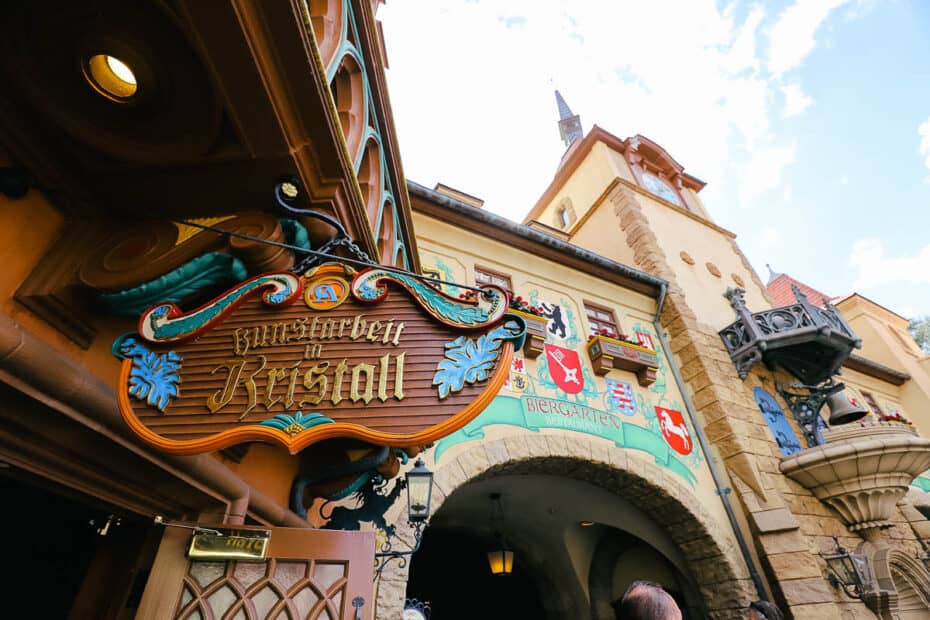 Inside you'll find a variety of glassware, jewelry, tiaras, and more.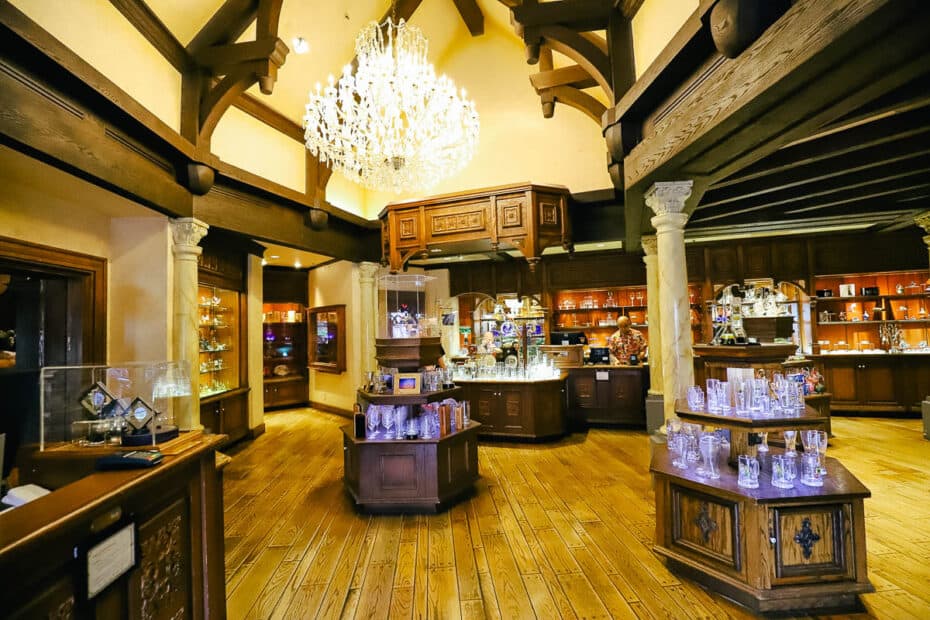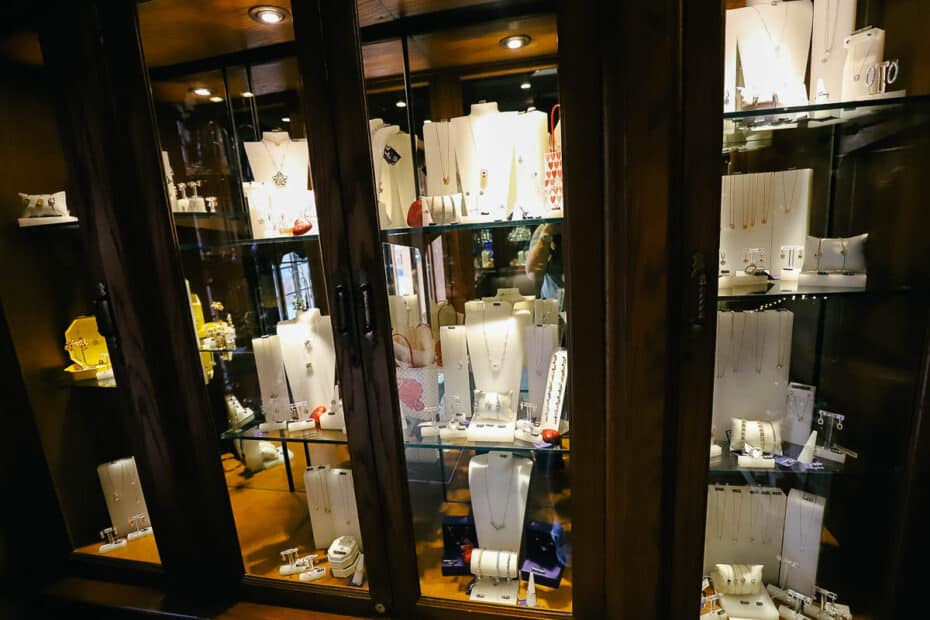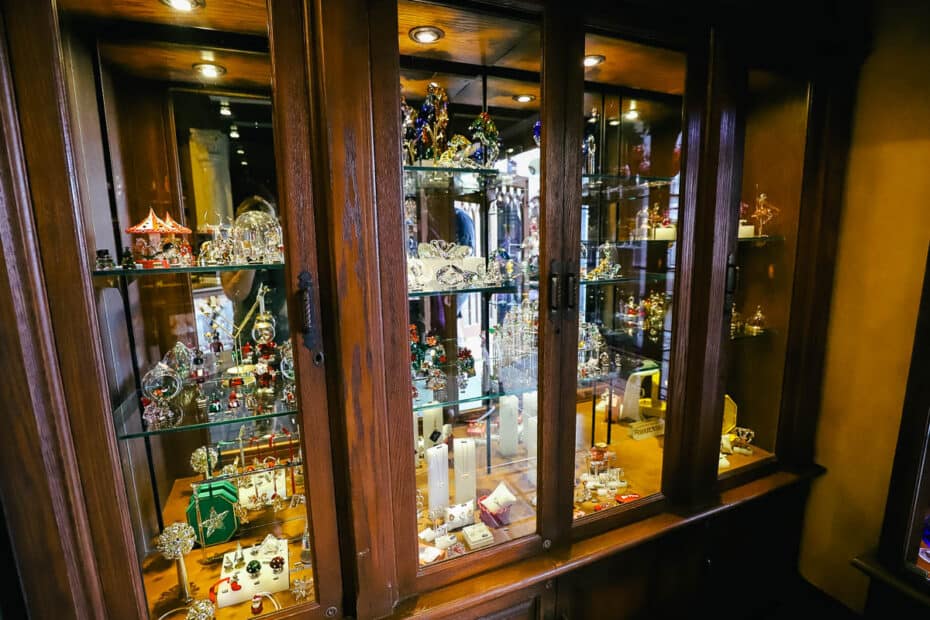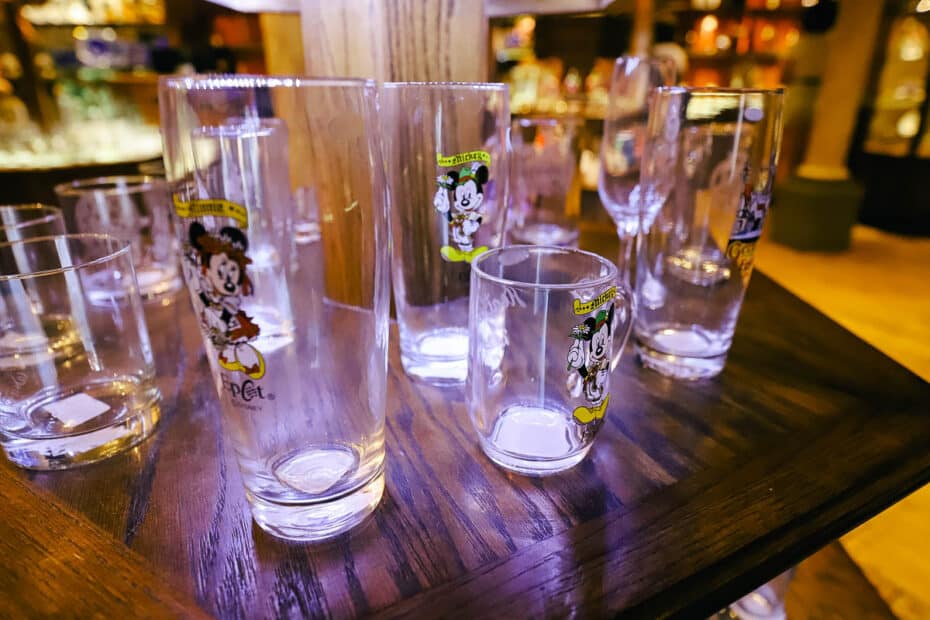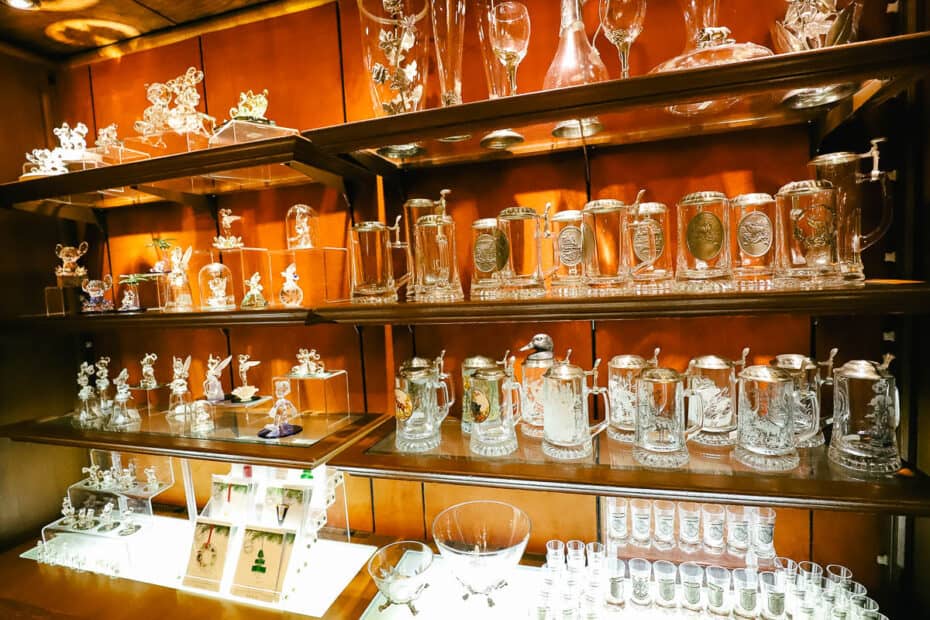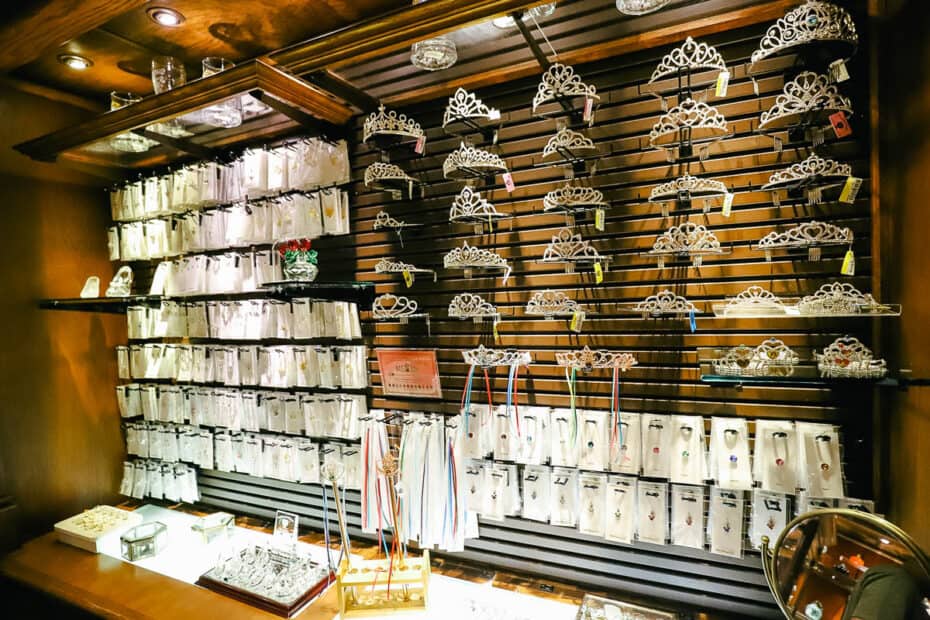 Most of the tiaras range from $50.00 to $100.00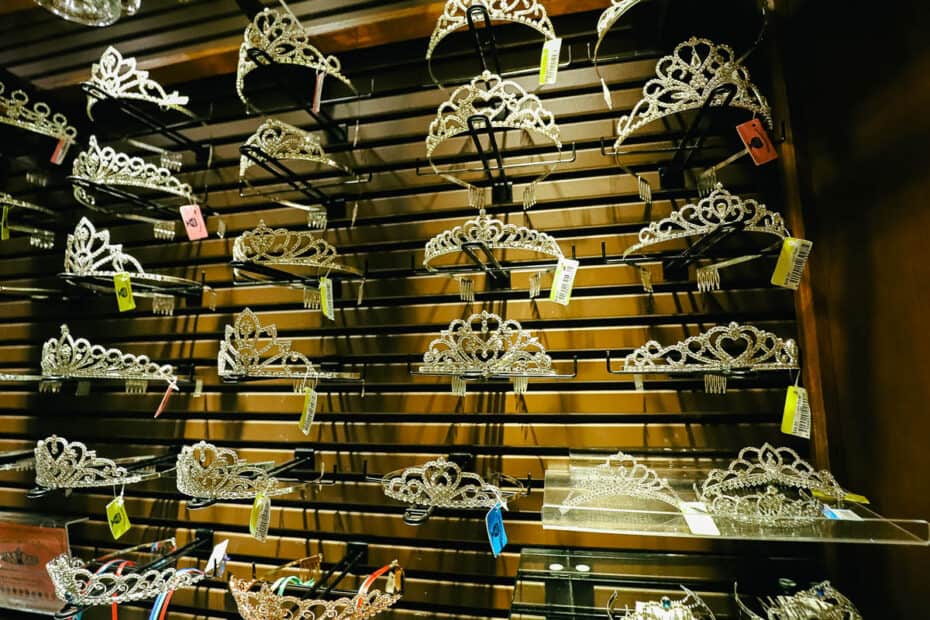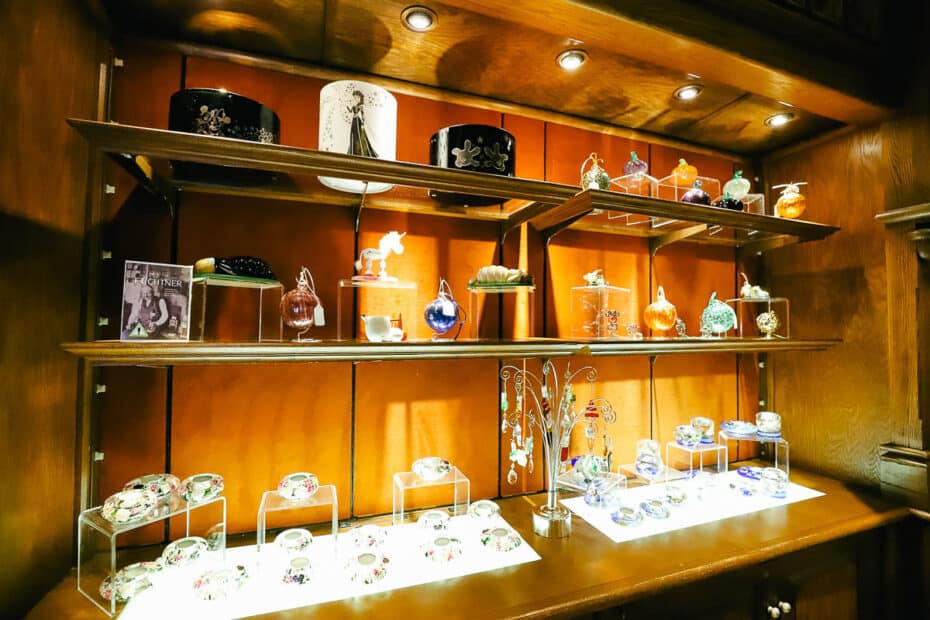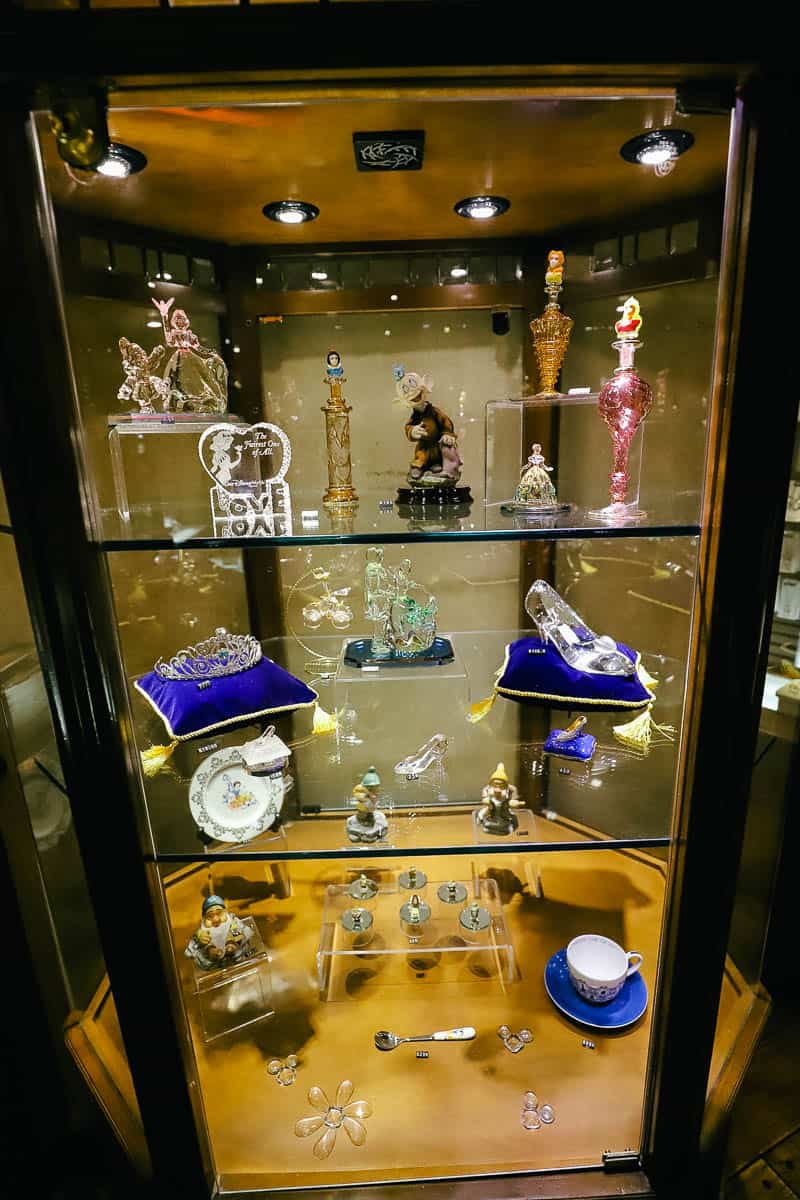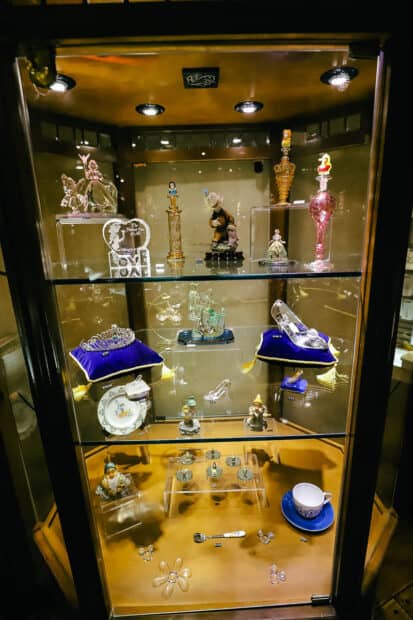 There was someone available who could add custom touches to a variety of items in the shop.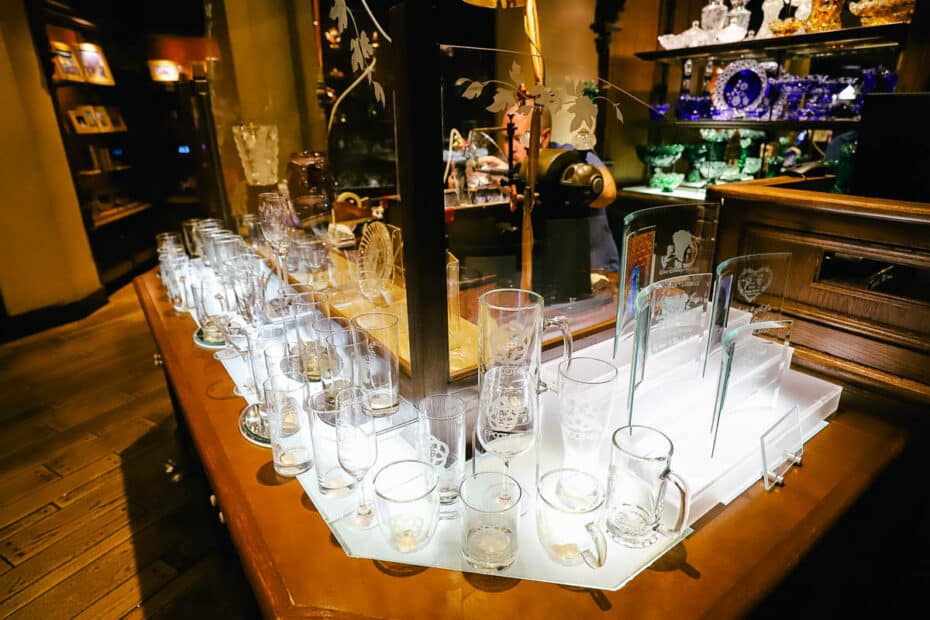 Glaskunst
Lastly, there's another Arribas location called Glaskunst near the lagoon side of the pavilion.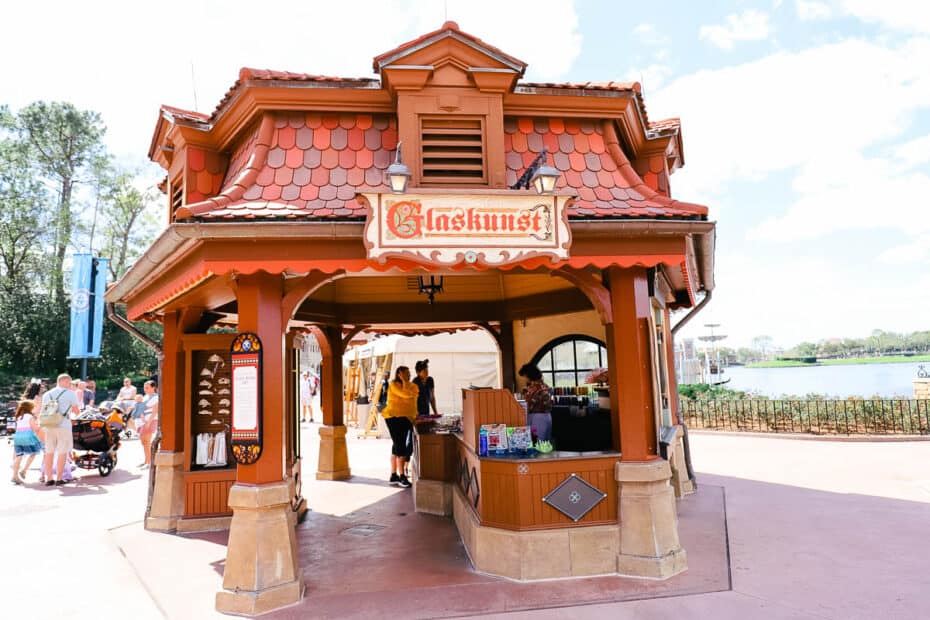 At this time, they have a make-your-own Glass Artwork setup inside the kiosk.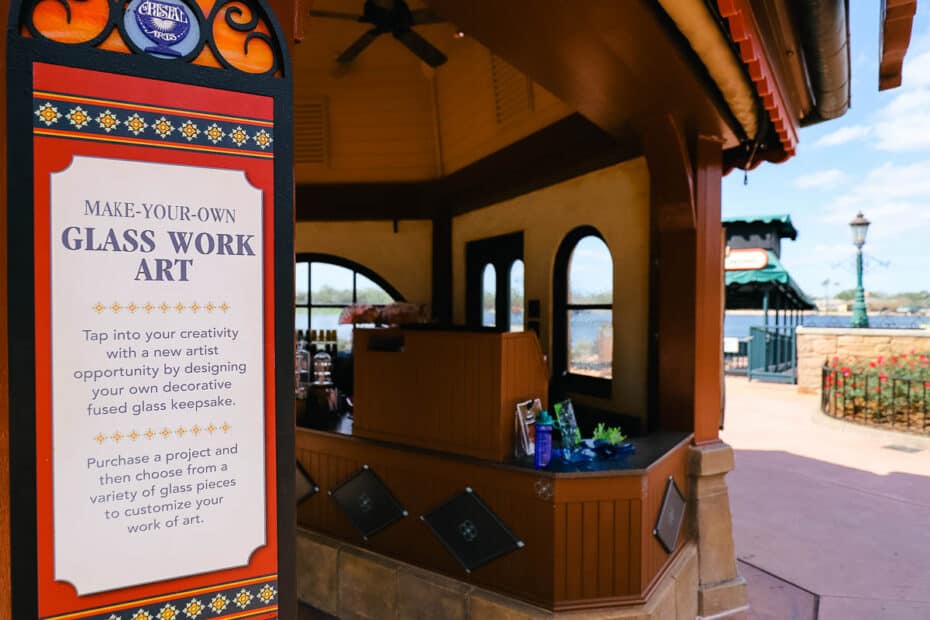 A cast member will help you select a project. Then you'll choose the pieces and colors. After that, you assemble your art.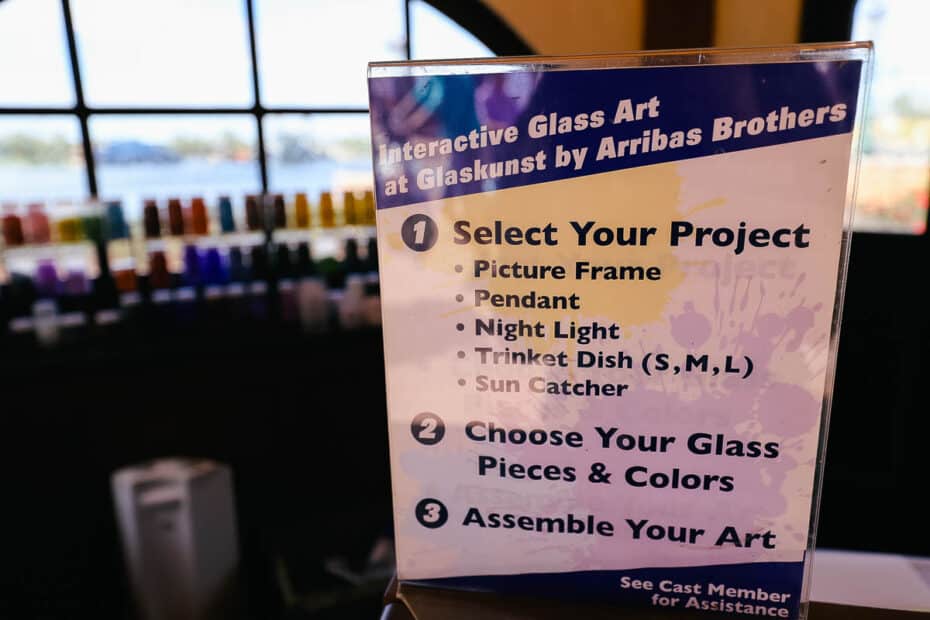 Here are a few samples.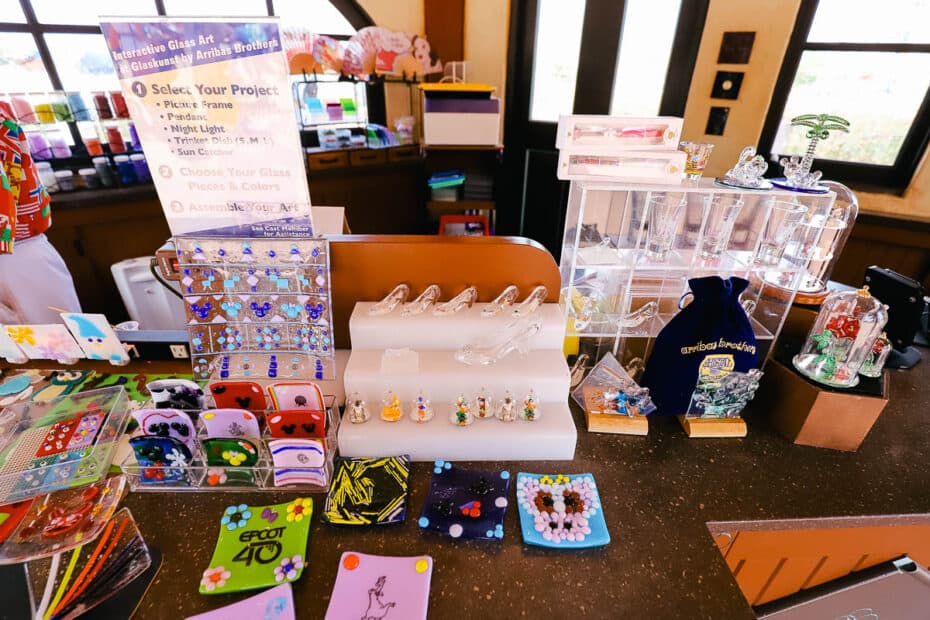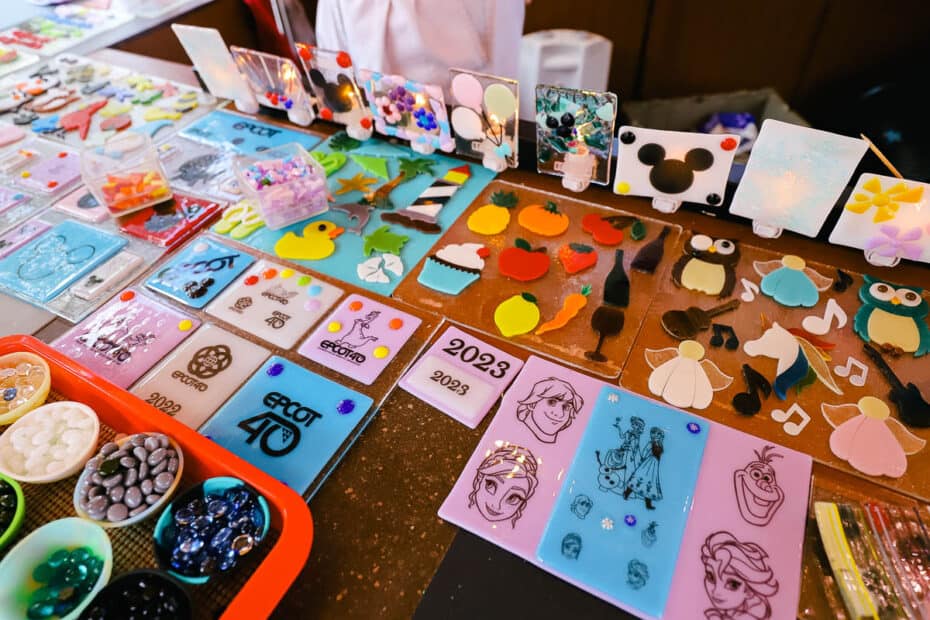 Final Thoughts
This wraps up our journey to the Germany Pavilion in the World Showcase. Hopefully, this review provided a little insight for your next visit.
You might also enjoy these other reviews of countries in the World Showcase.
If you are considering staying near Epcot, you might want to consider some of these nearby Walt Disney World Resorts.
In the Comments
What do you think of the Germany Pavilion at Epcot? Do you enjoy touring this pavilion? Are there any items you must try?
Planning a Walt Disney World or other Disney Destination vacation?
Our friends and travel partner, Firefly Travels, excels at doing Disney differently. You can fill out a plan your trip form on their website, and someone will reach out shortly to discuss the specifics.