The Pool at Disney's Port Orleans French Quarter (Doubloon Lagoon)
This article takes an in-depth look at Disney's Port Orleans French Quarter pool, the Doubloon Lagoon Pool. We'll preview photos of the pool, the aquatic play area, hot tubs, and more.
Walt Disney World has some of the cutest resort pools around, and Disney's Port Orleans French Quarter pool is no exception. This pool is overshadowed by a giant sea serpent whose tail forms a bridge over it. Also, a water slide comes out of the serpent's mouth!
Port Orleans French Quarter is unique from other Walt Disney World Resorts. While most resorts have a feature pool and at least one quiet pool, the French Quarter only has the Doubloon Lagoon Pool.
However, it's important to note that Port Orleans French Quarter is the smallest of the moderate resorts at Disney World. So it's safe to say that its feature pool is more than adequate, given the resort's size. In other words, don't let the fact that it only has one pool deter you from planning a stay here.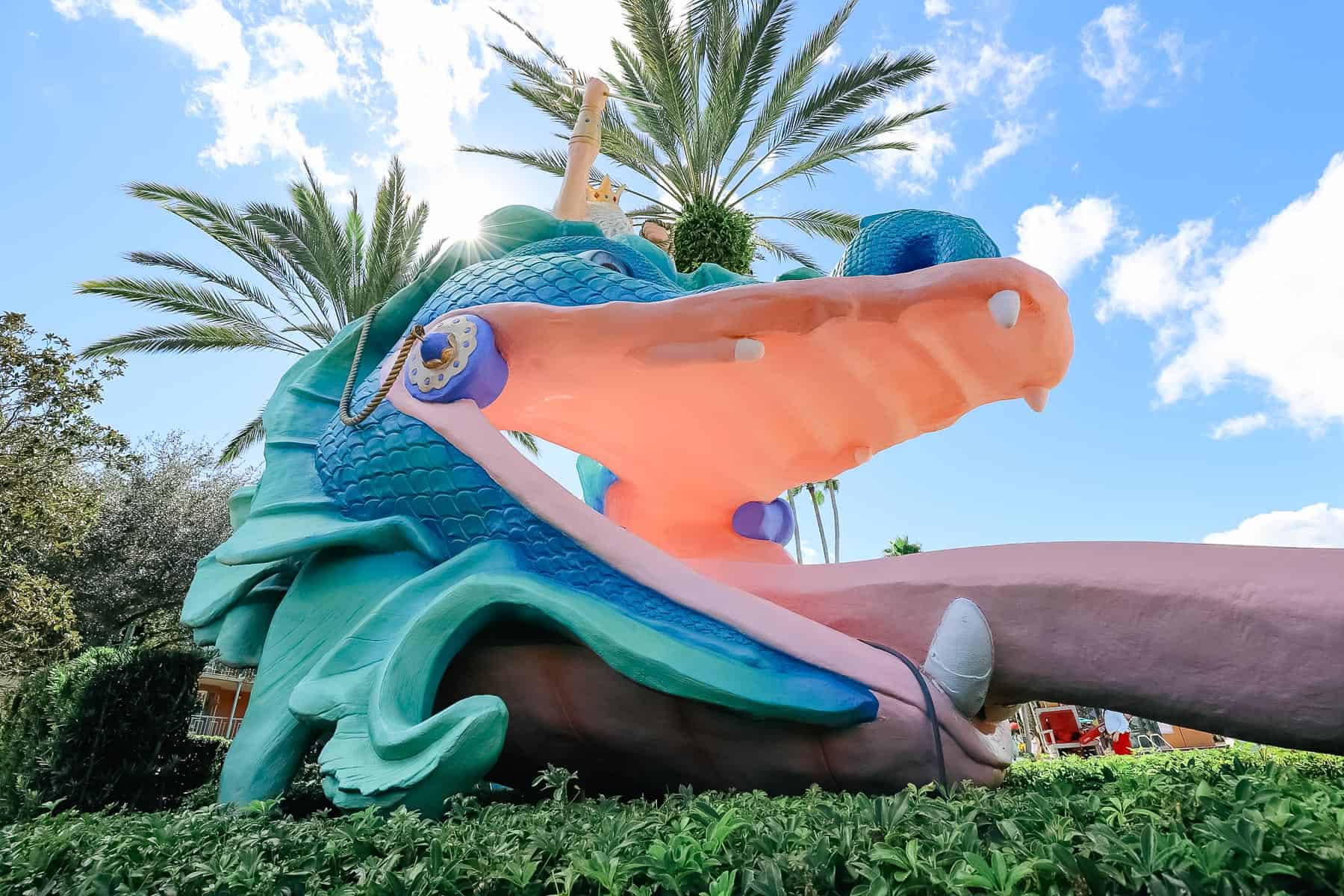 Port Orleans French Quarter Pool
When you exit the French Quarter's lobby, a large recreation area sits directly behind it. The Sassagoula River acts as a boundary on the opposite side. Friendly alligators greet you as you make your way toward the pool.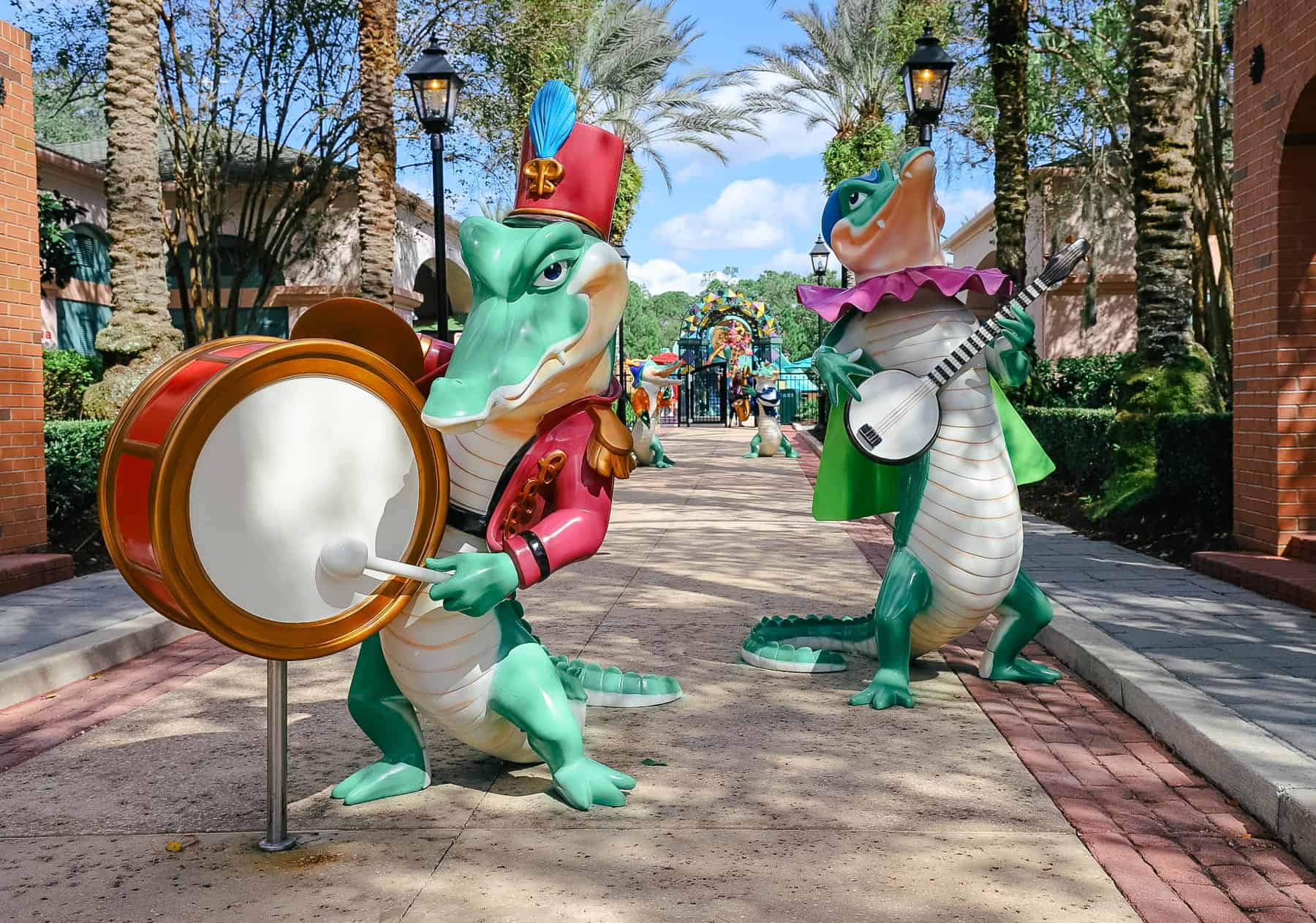 A larger-than-life Mardi Gras jester waits to greet you inside the pool gates.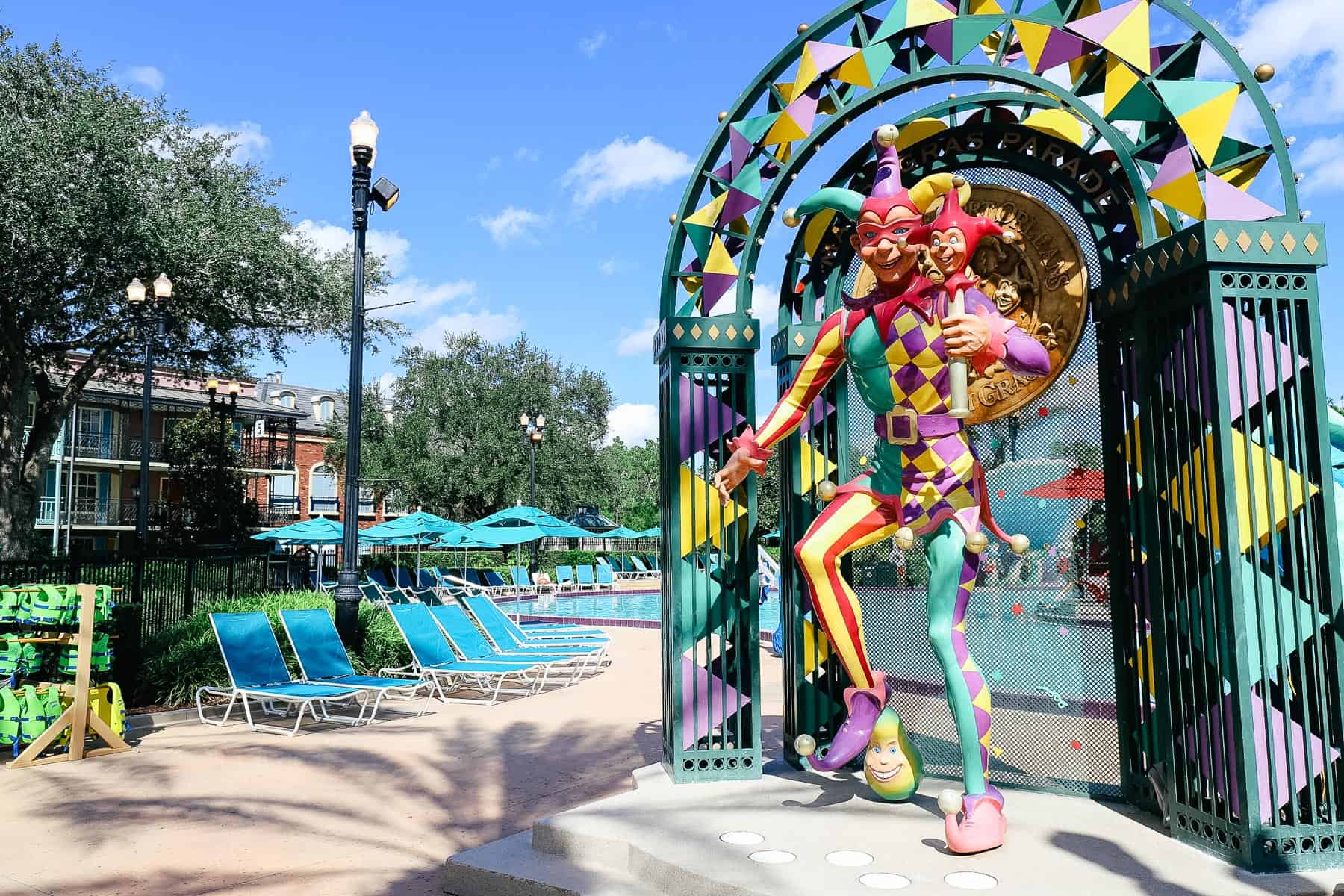 More friendly alligators are scattered throughout the pool area.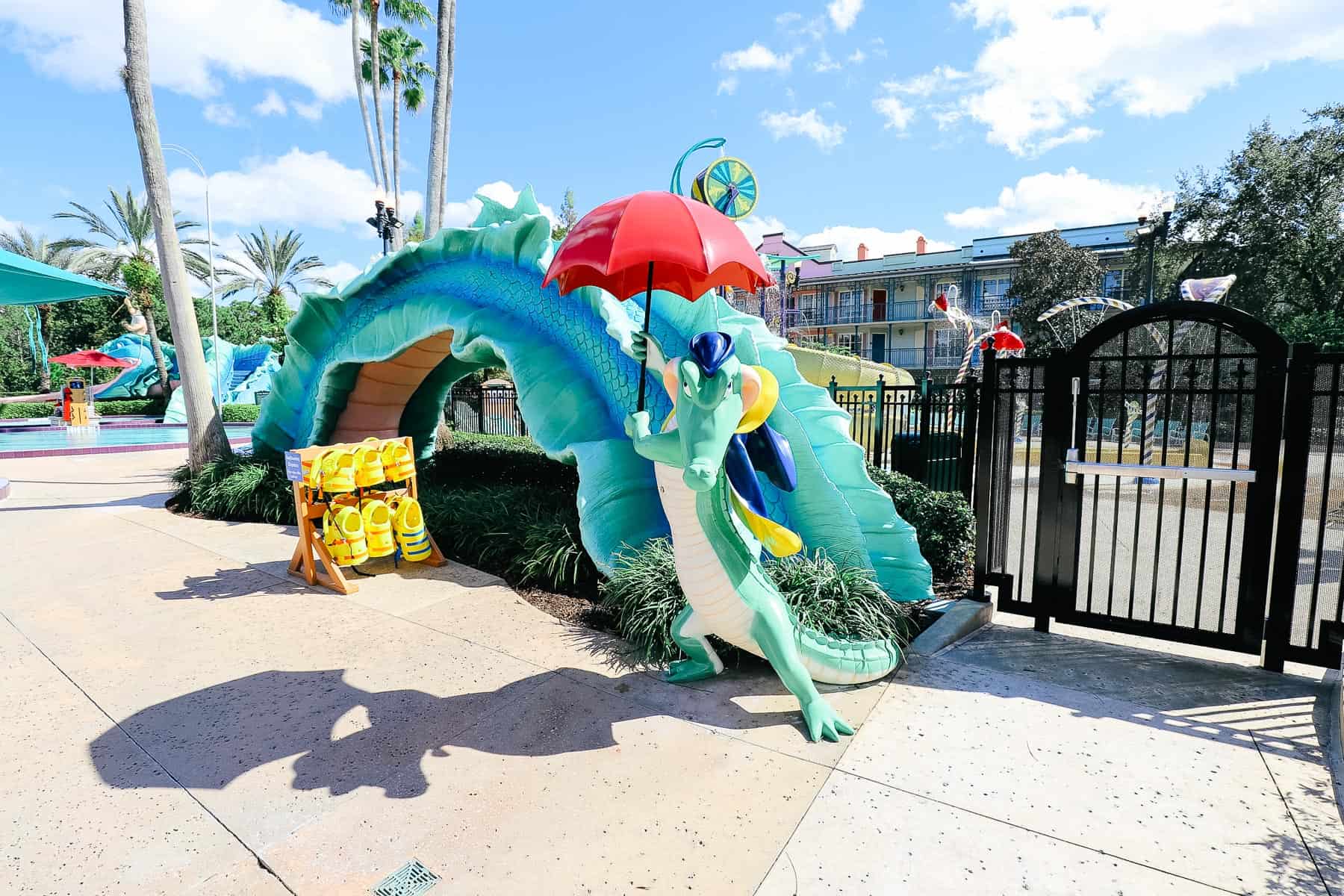 Complimentary life jackets and towels are provided at the pool. So you don't have to worry about bringing these things from home.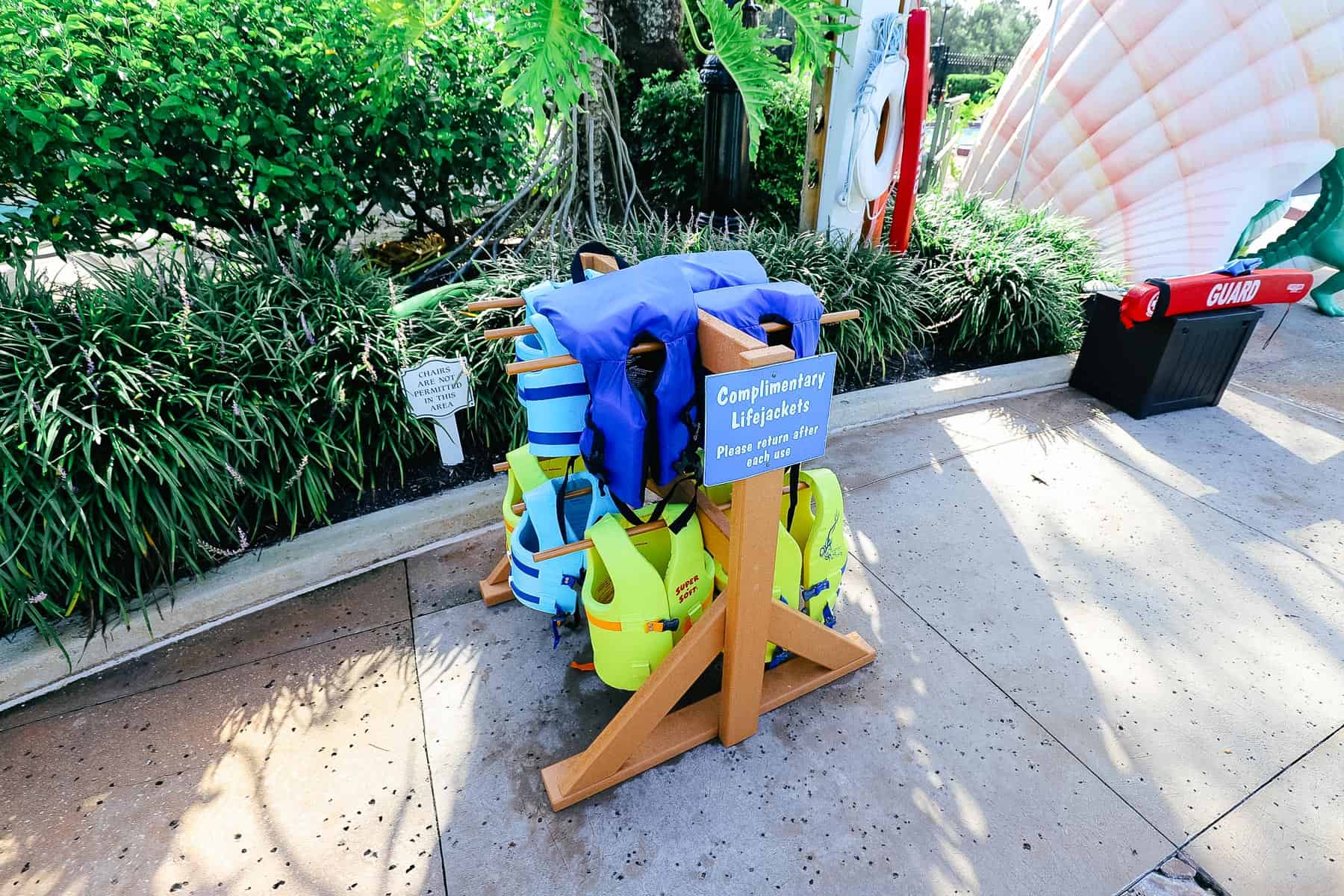 Pool Hours at Port Orleans French Quarter
French Quarter's pool hours were posted between 10:00 a.m. and 11:00 p.m. on our last stay. However, those hours are typically reduced to 10:00 a.m. until 10:00 p.m. during the cooler months. Pool hours are posted on each gate.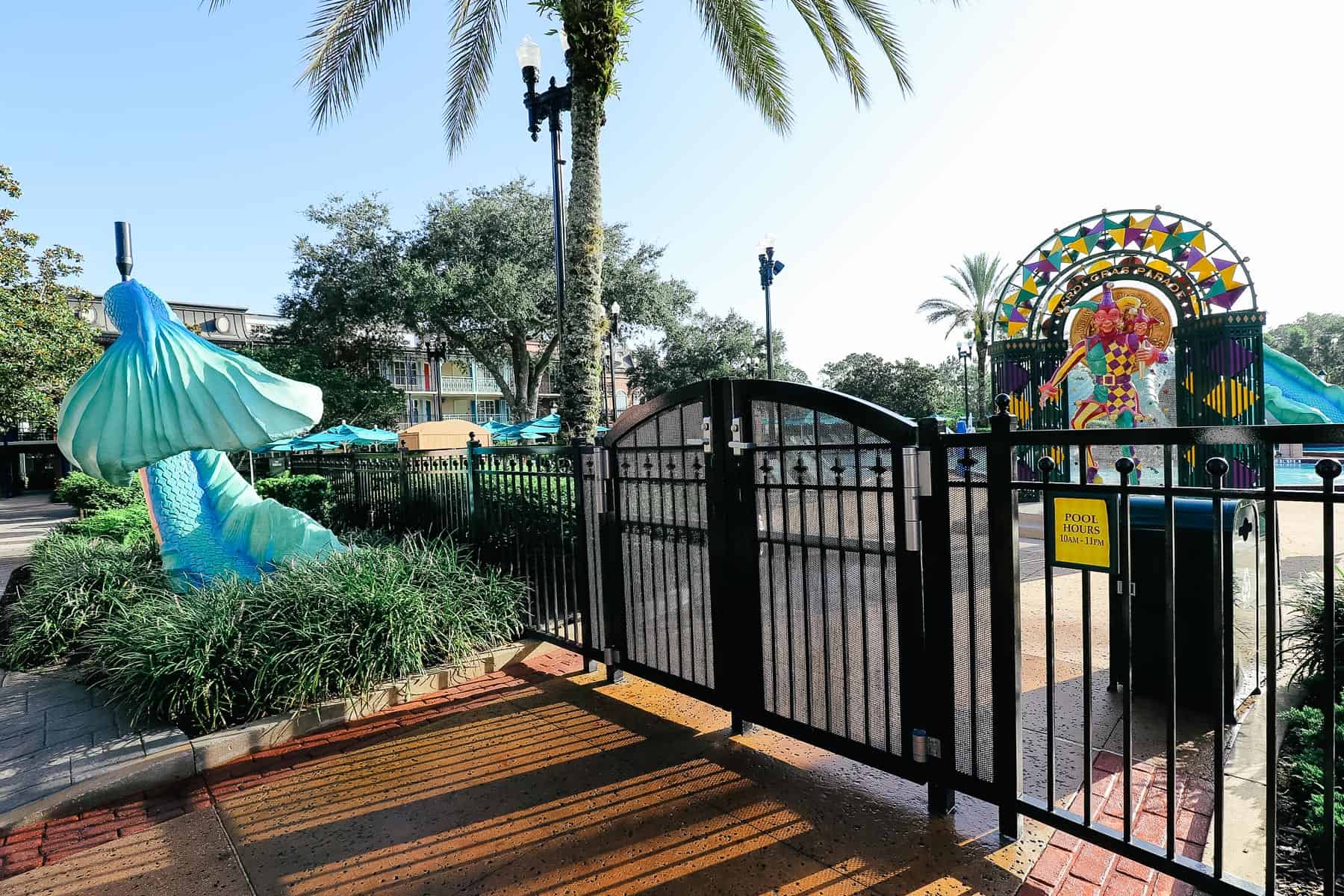 The Doubloon Lagoon Pool
Doubloon Lagoon has a maximum depth of 4.5′ (four feet, five inches). It is one of the most child-friendly pools at Walt Disney World.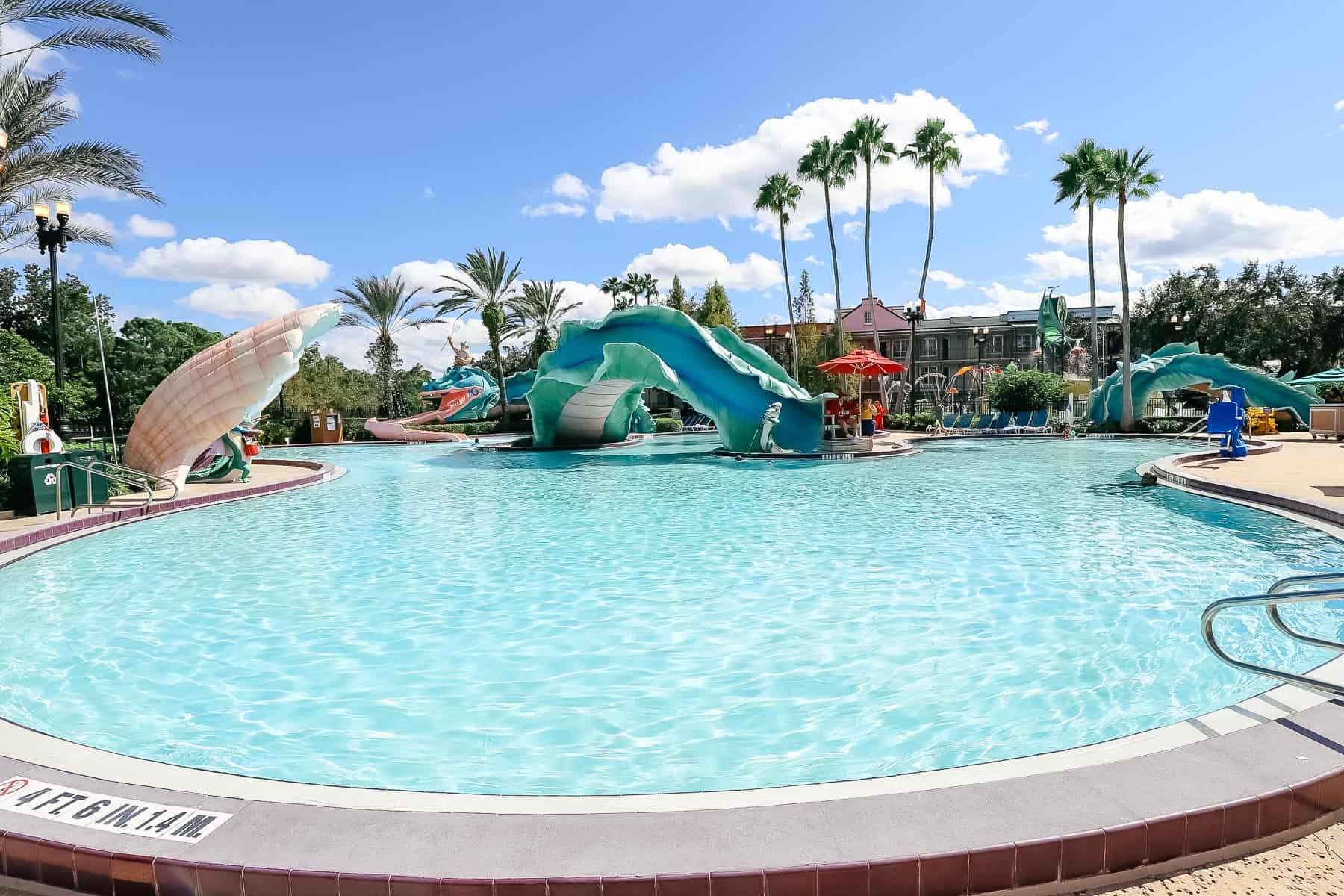 Pools at Disney are heated to 82 degrees. For Floridians, that's freezing. However, those coming from colder climates will probably find the water's temperature comfortable. Well, it's comfortable until you go to get out of the pool on a chilly January evening.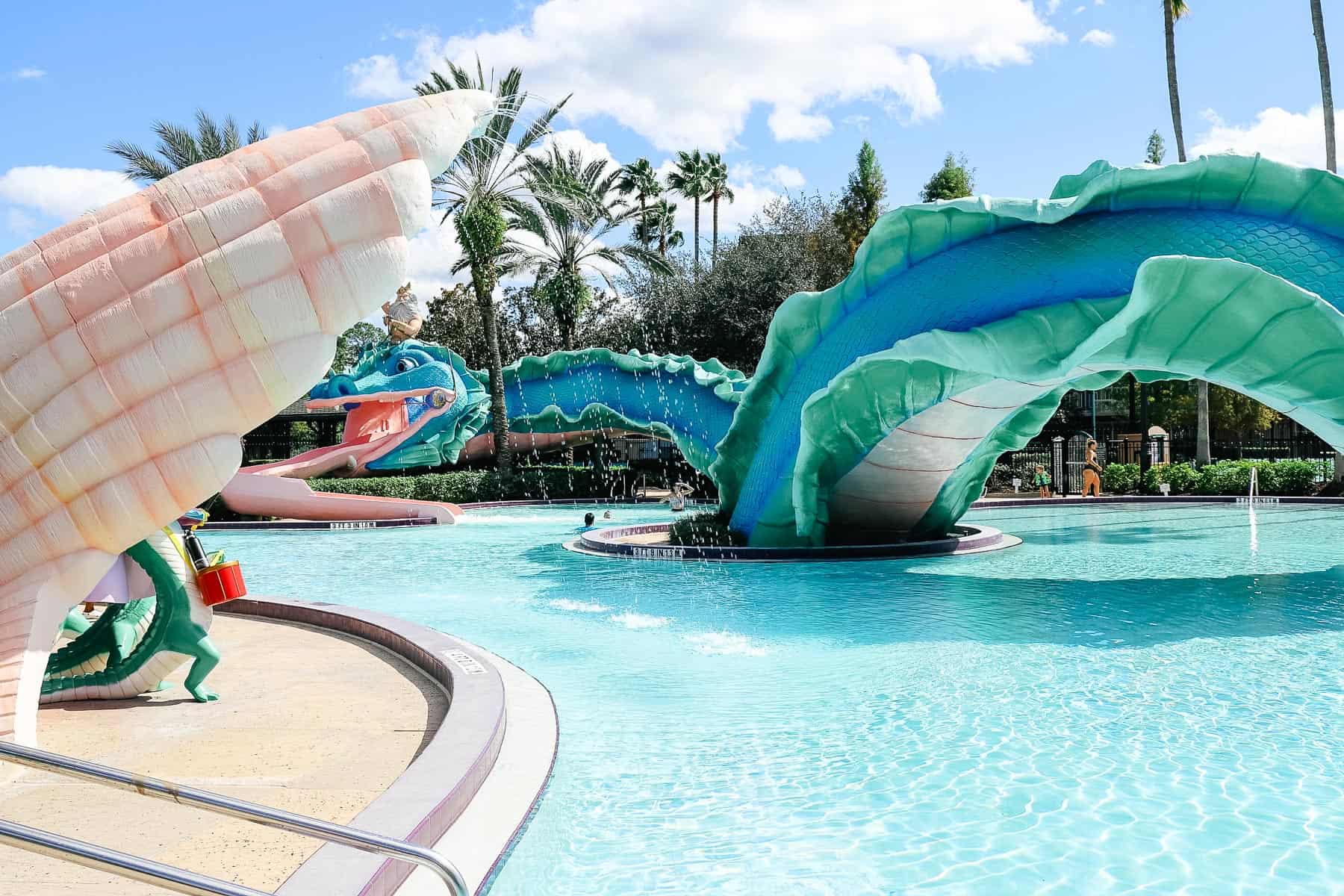 Part of the serpent's body extends over the pool, forming a bridge.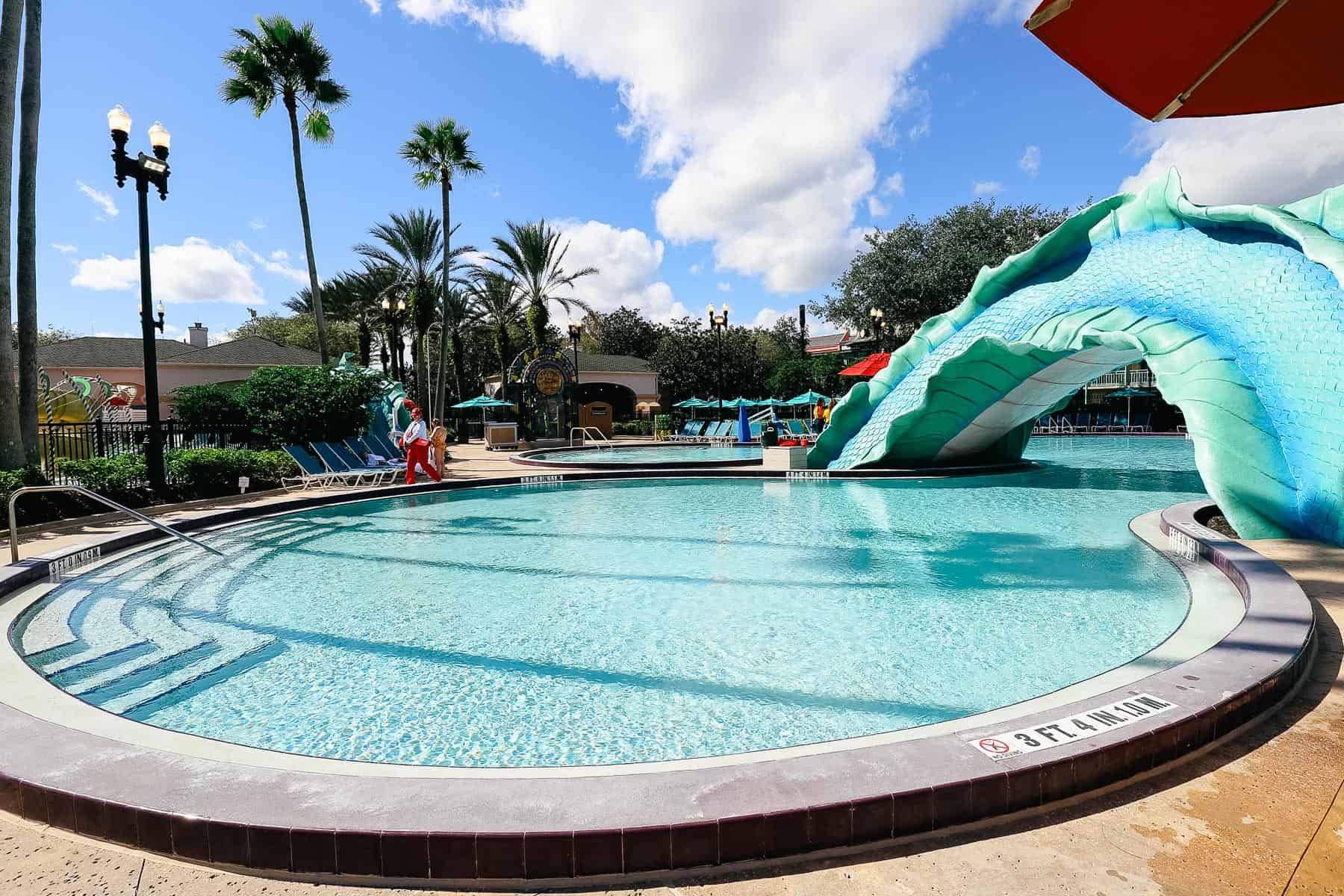 Unfortunately, you probably won't be able to see over the sides of the bridge. I had to lift my camera to take this photo.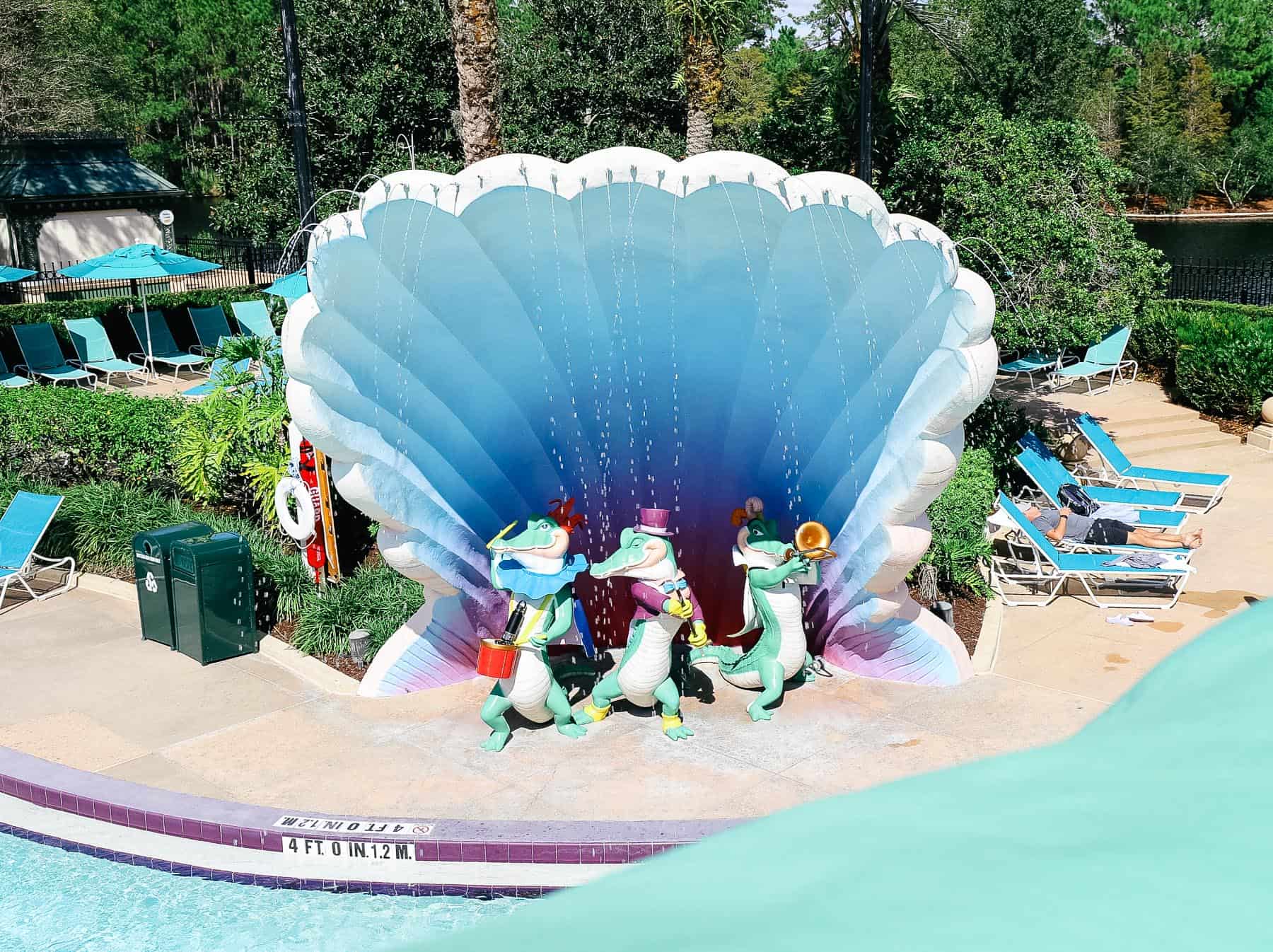 Here is the view from underneath the water feature.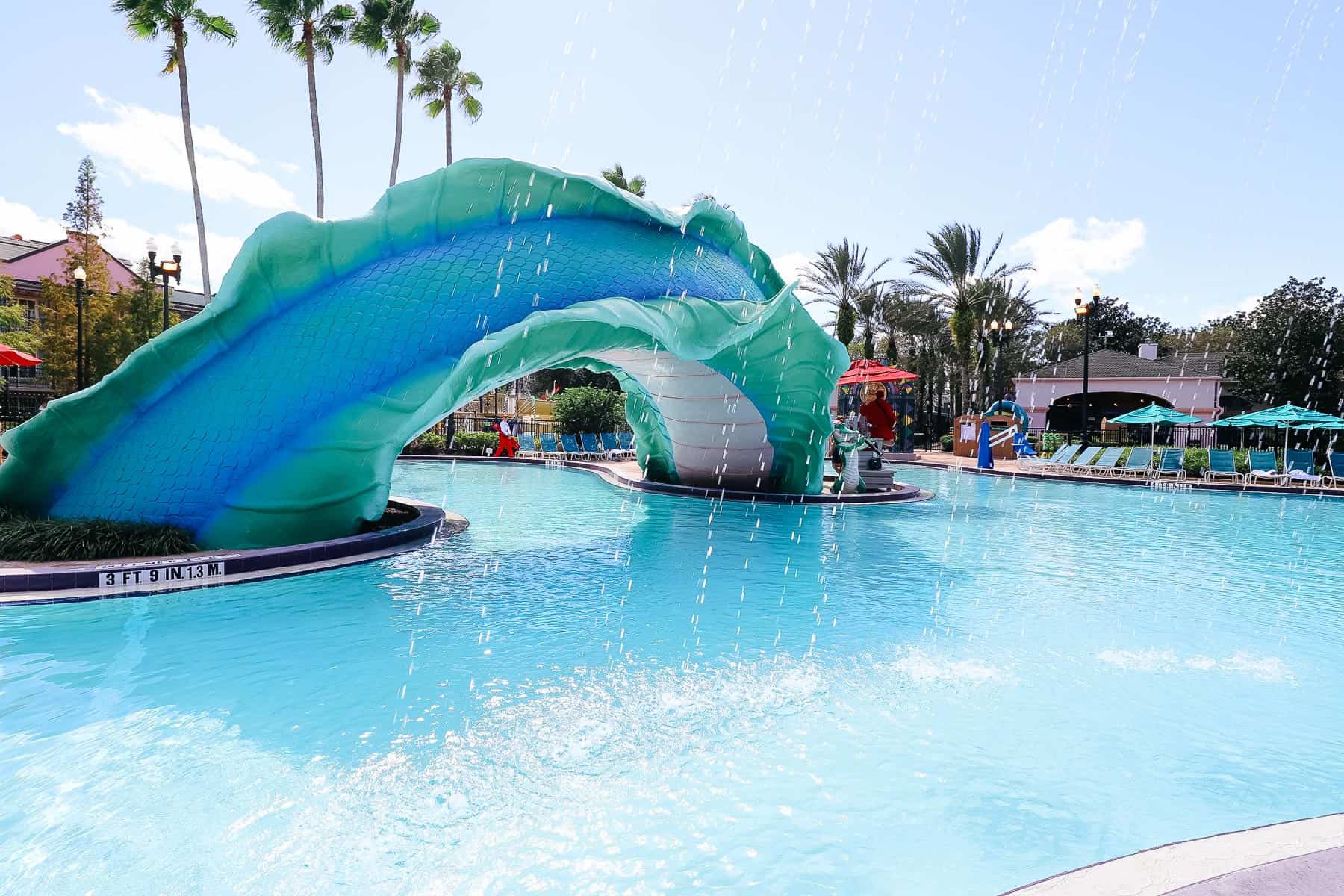 Water Slide at Port Orleans French Quarter
Port Orleans French Quarter has a waterslide at the pool. This area comprises the serpent's head and tongue protruding to form a slide.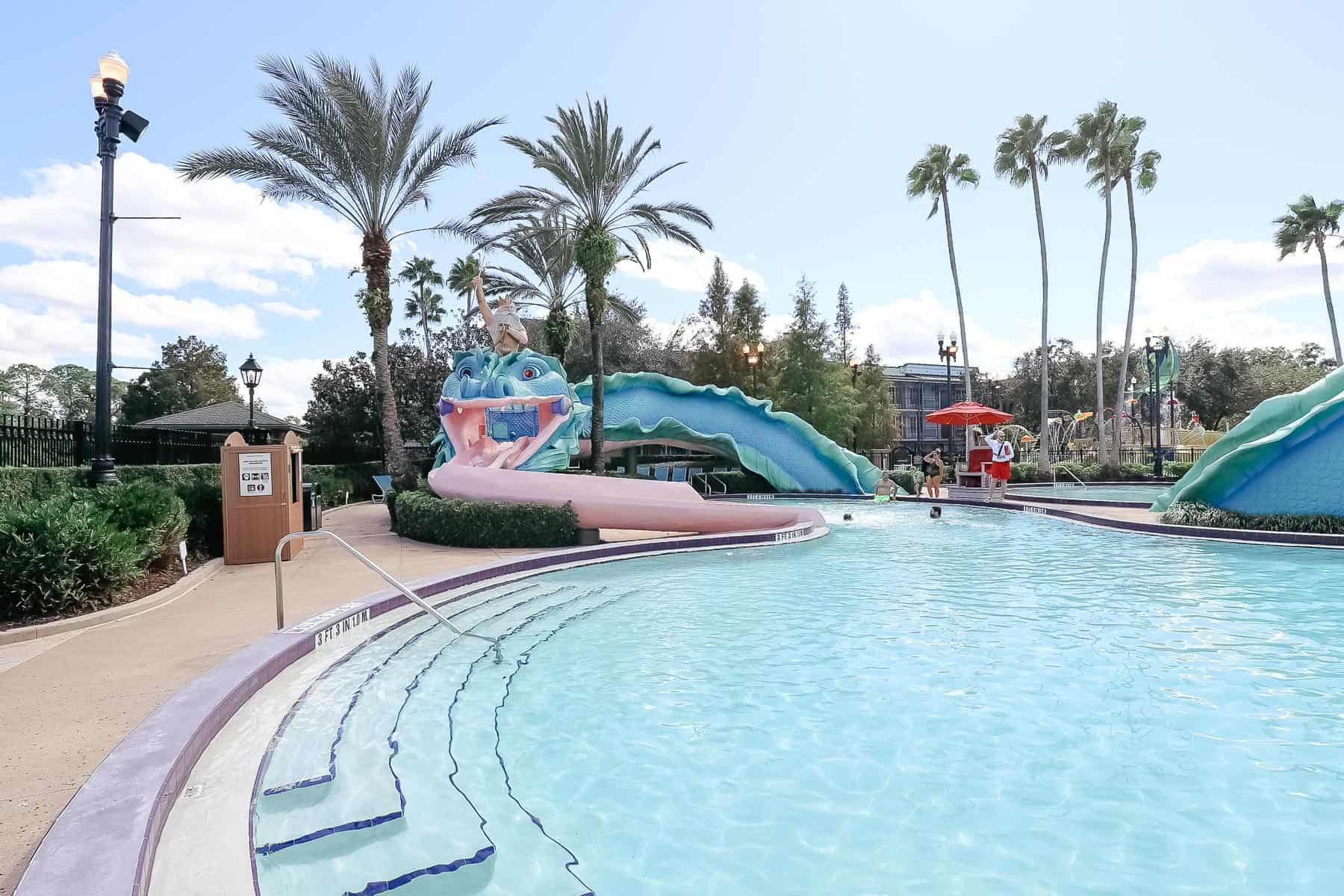 King Triton reigns supreme over the sea serpent, whose name is Scales. The slide is a total of 51′ long.
Related: Disney Resorts with Water Slides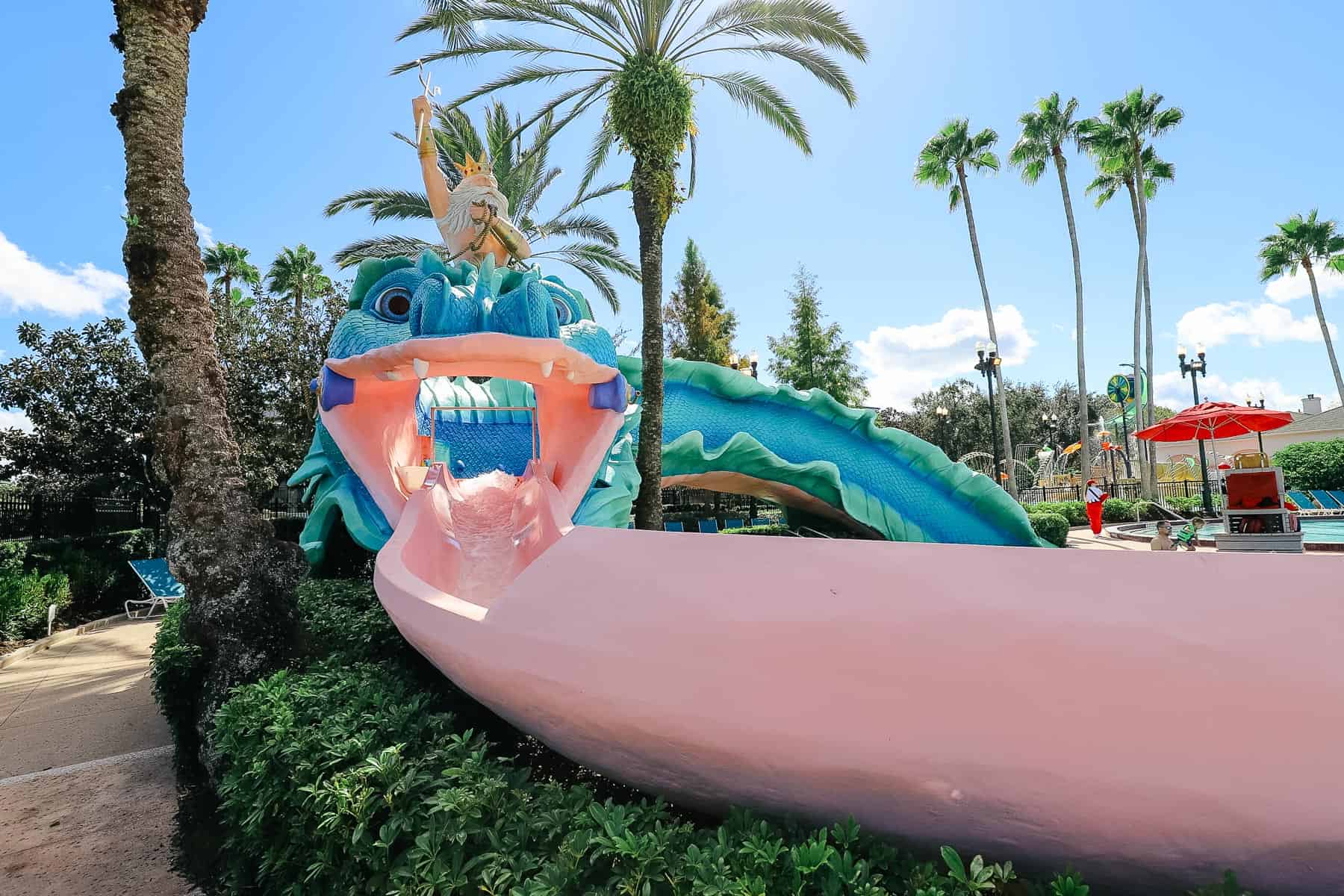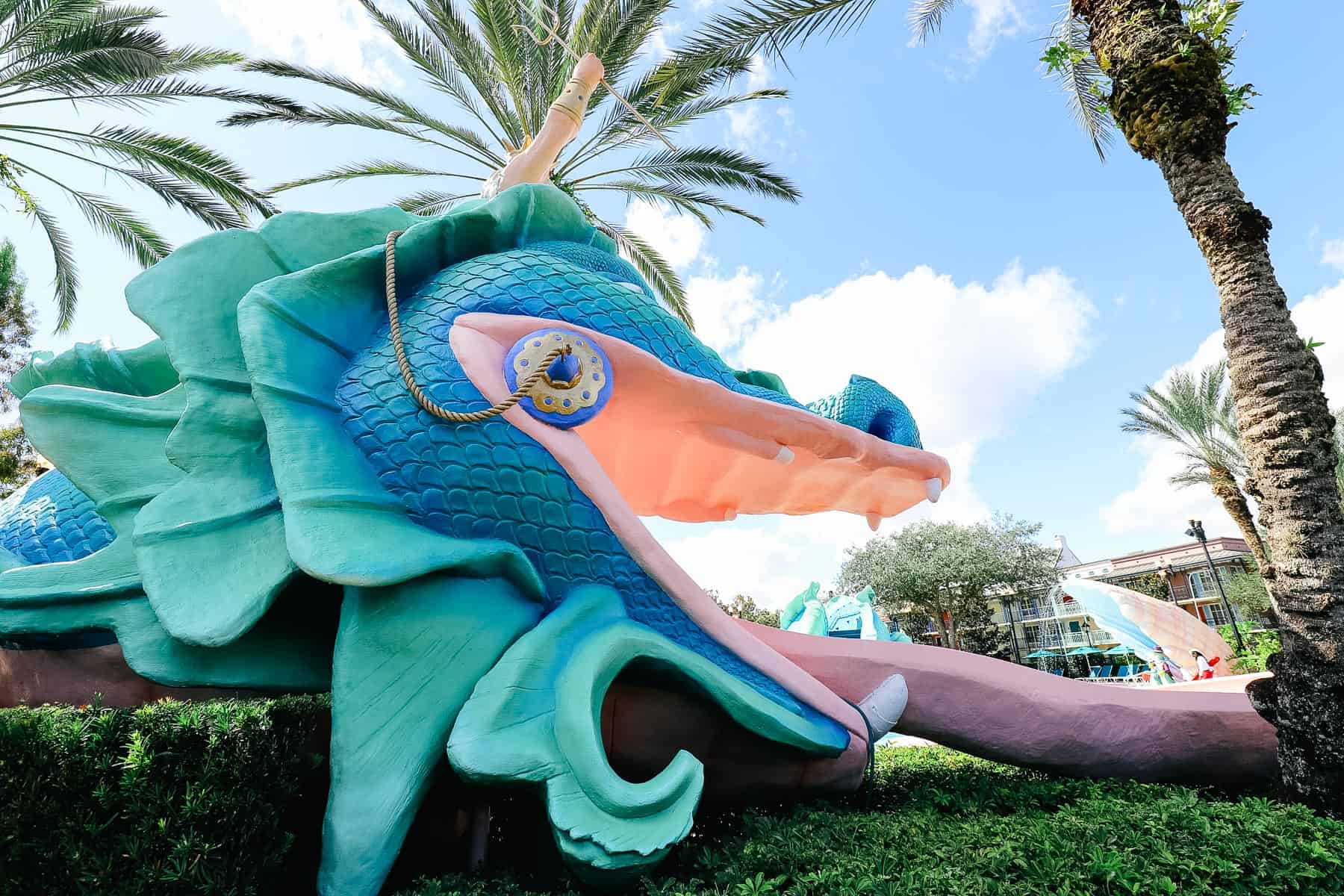 It's a reasonably mild slide, which makes it child-friendly.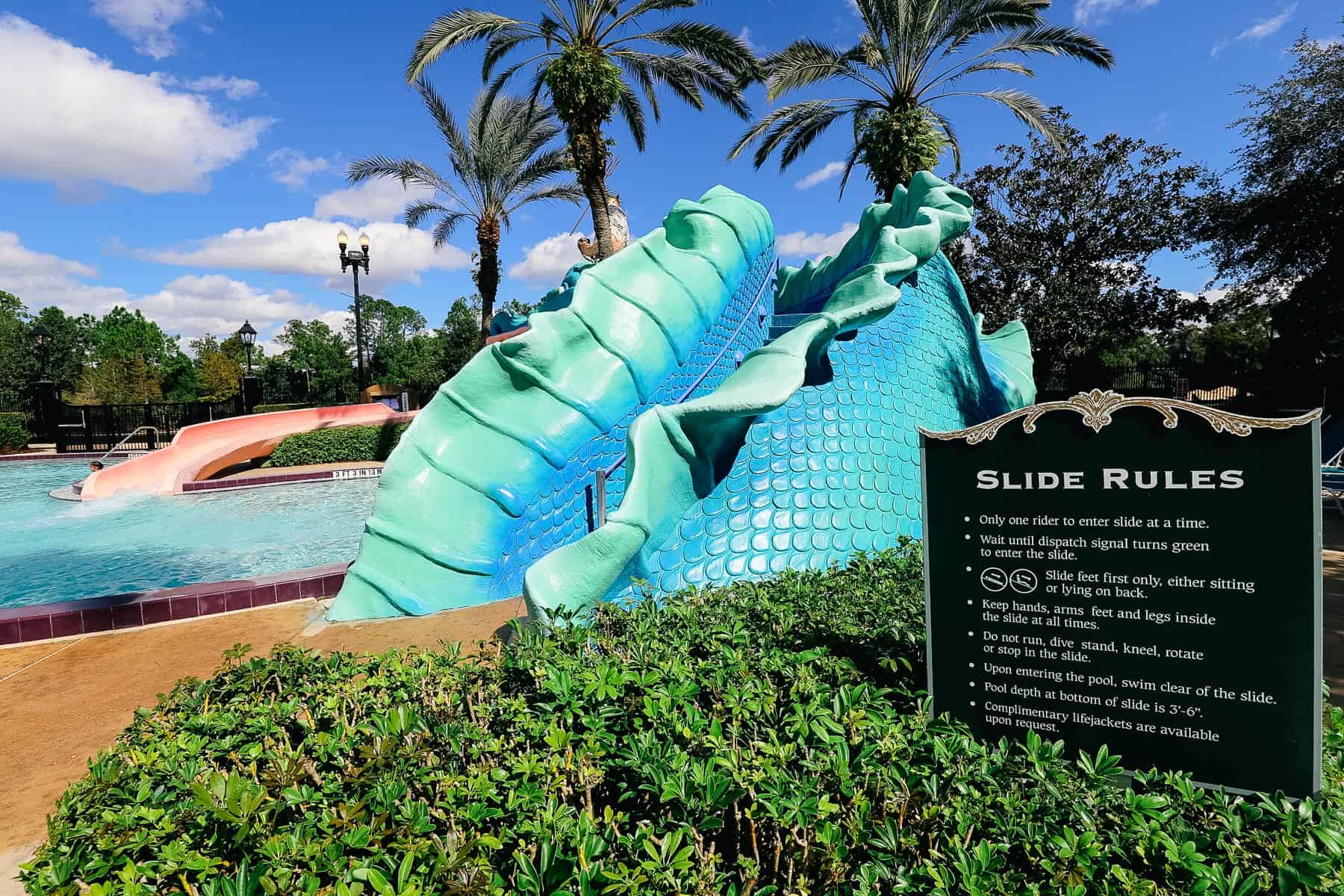 You'll only have to climb a few steps to reach the top.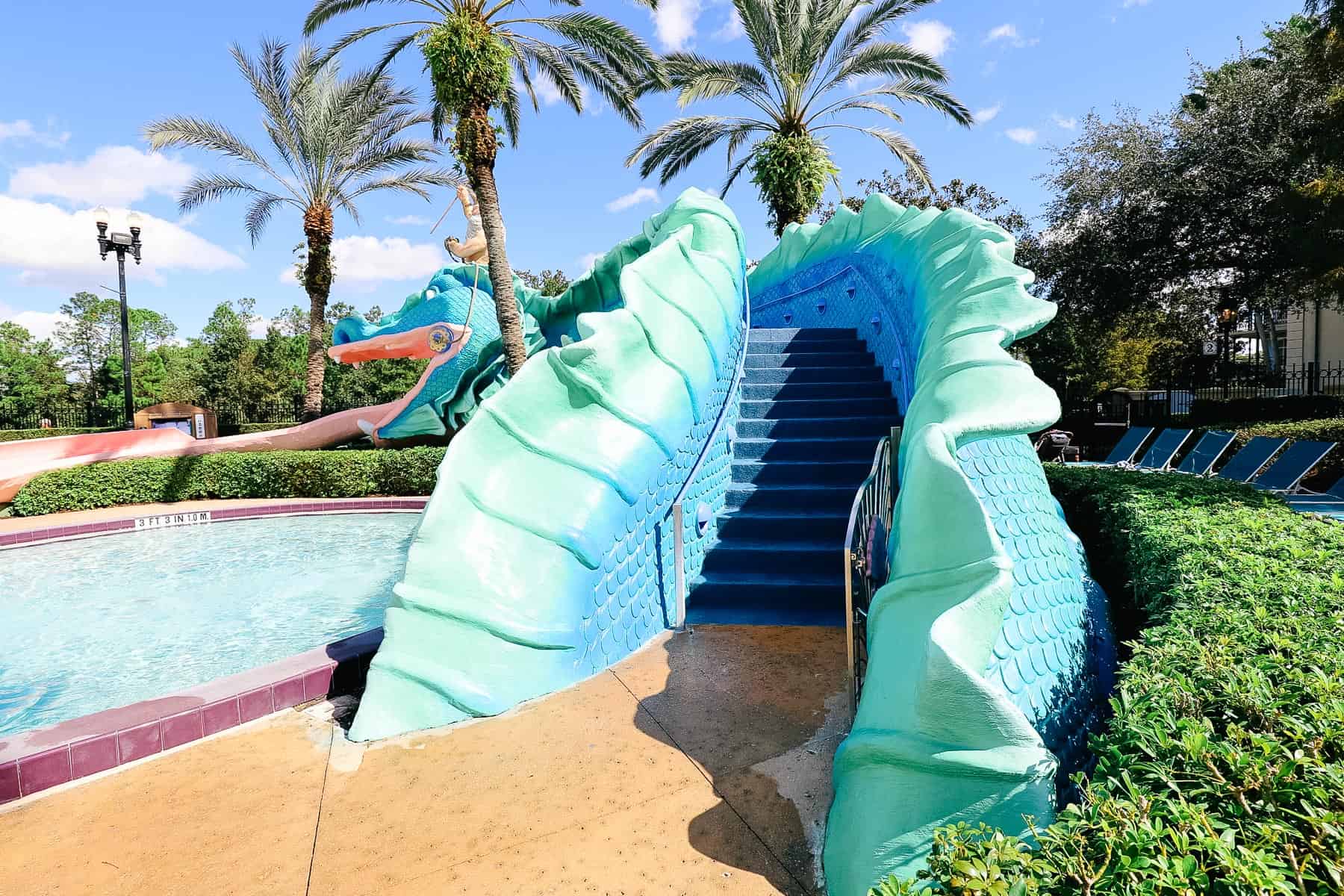 Here is the view from above.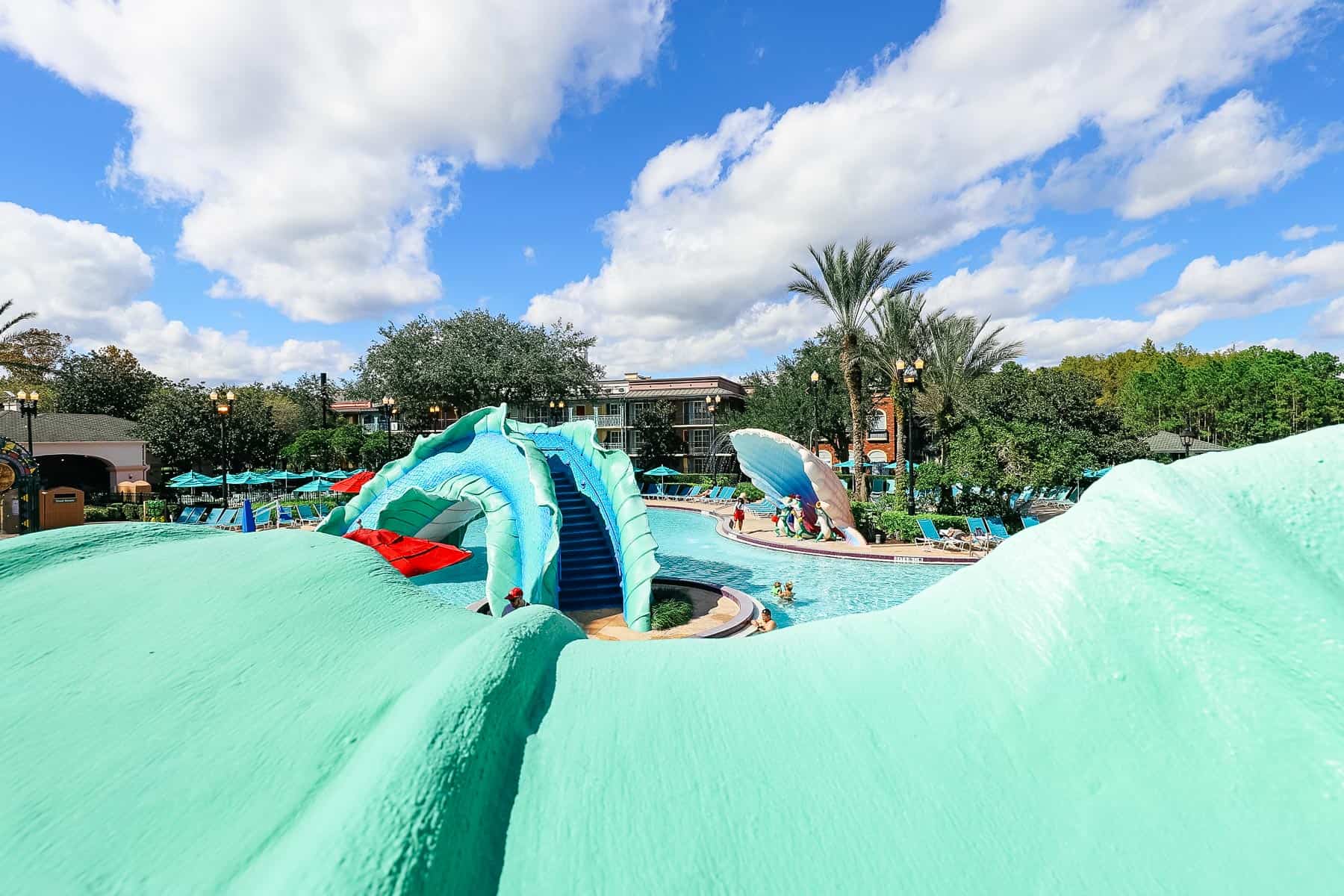 At the top of the slide, you'll sit down, feet first, and wait for the light to turn green.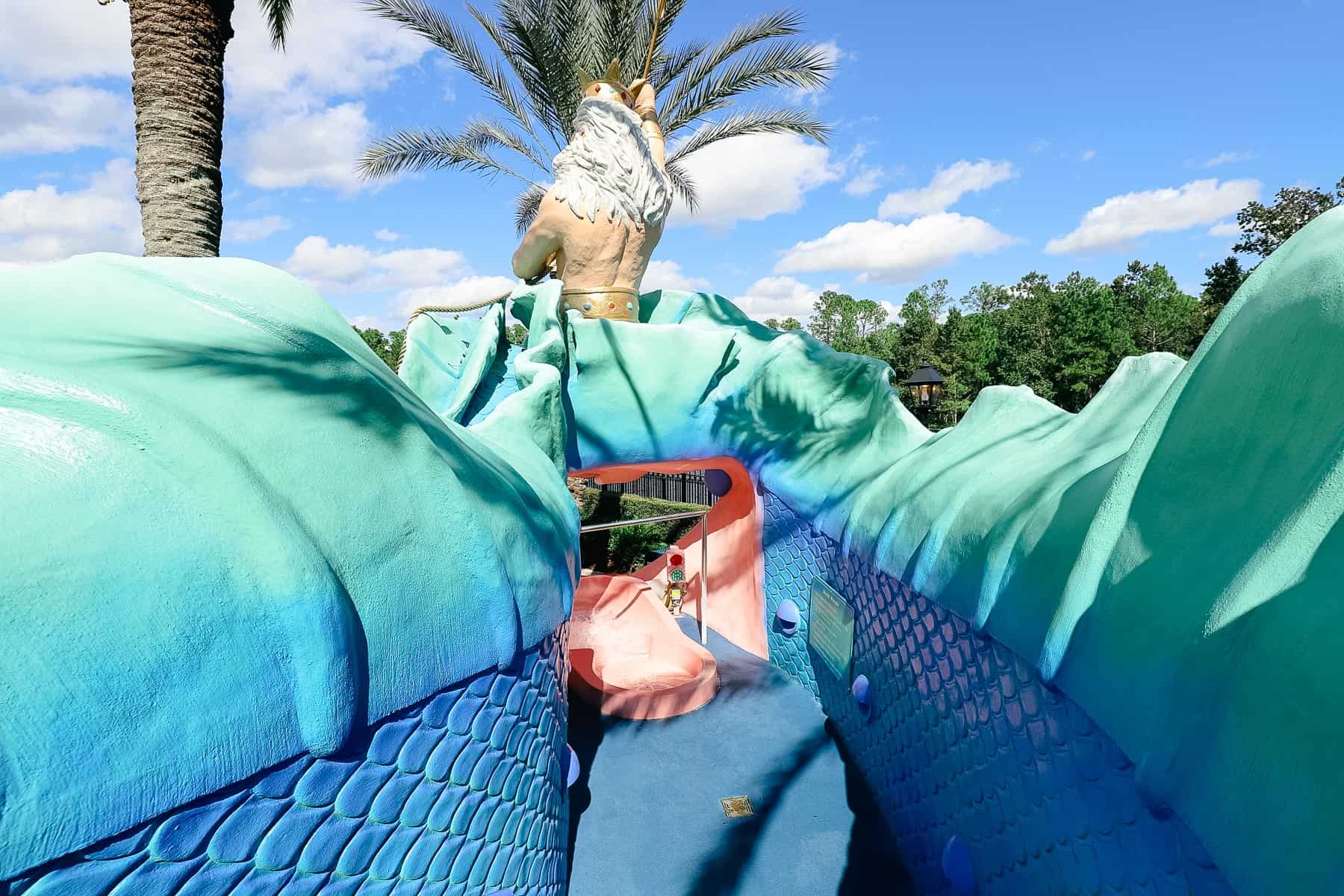 Isn't it the cutest?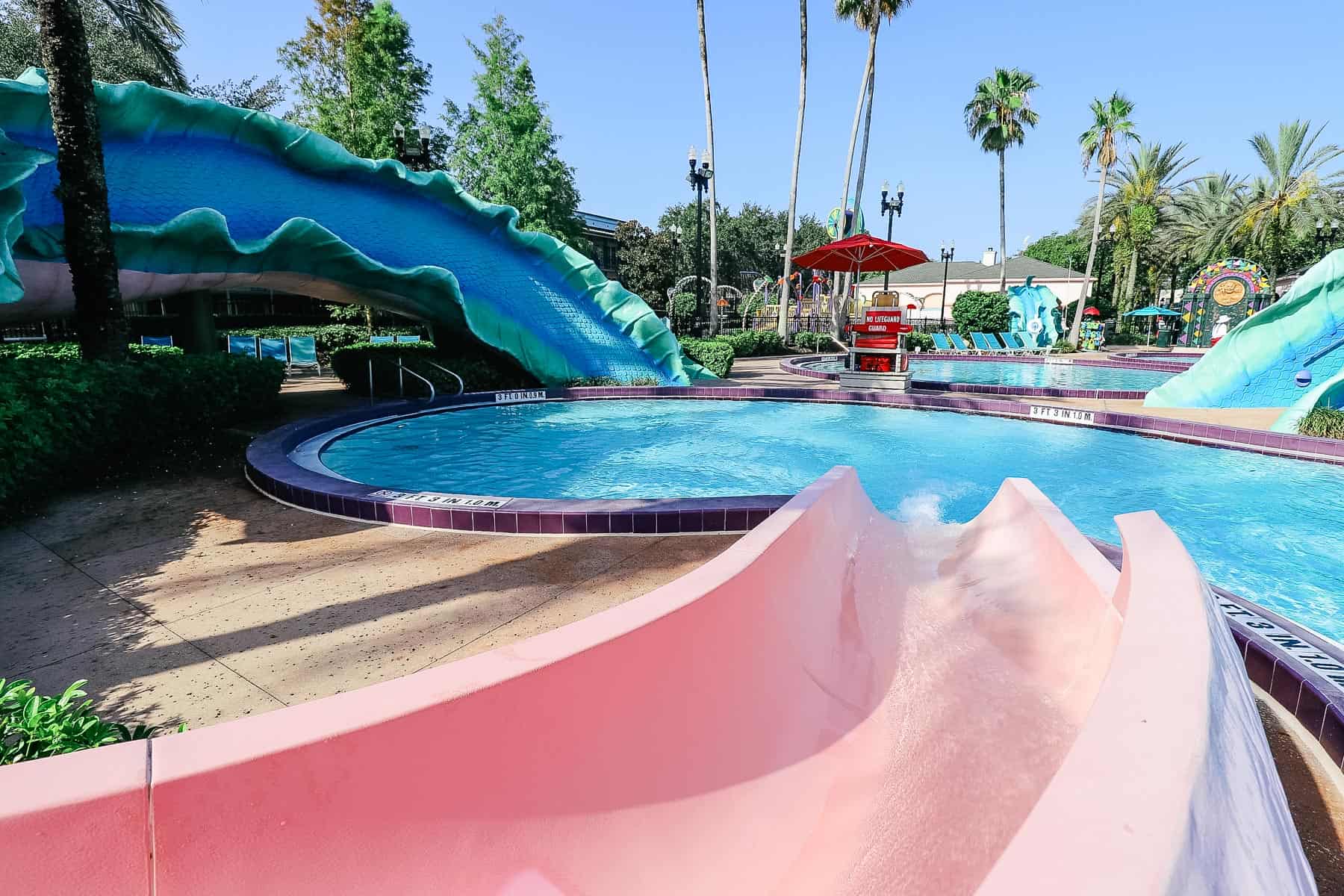 My niece stayed at Disney's French Quarter when she was four. To this day, the pool remains one of her best memories from the trip.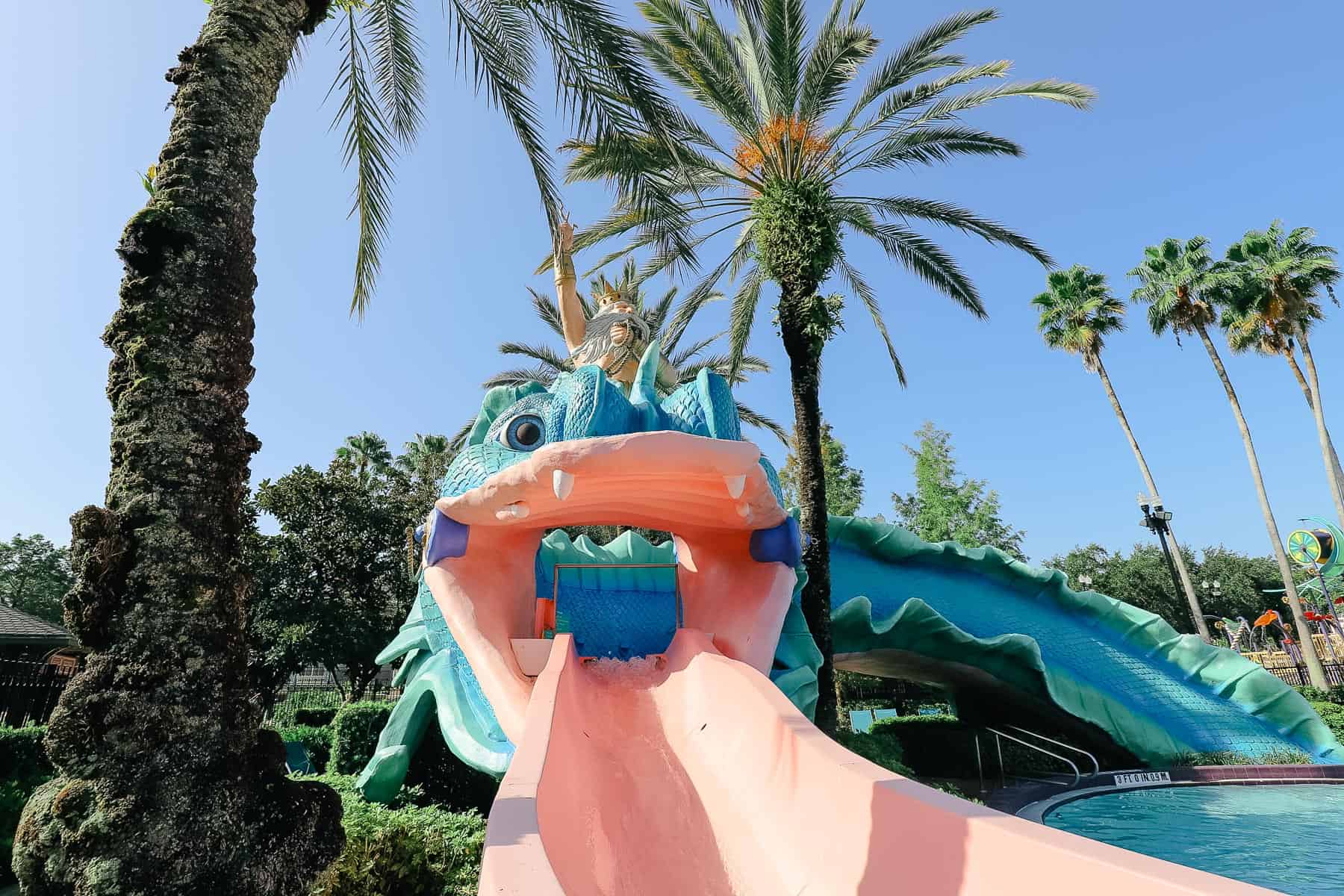 Port Orleans French Quarter Pool Photos
Here are a few more photos of the Port Orleans French Quarter pool.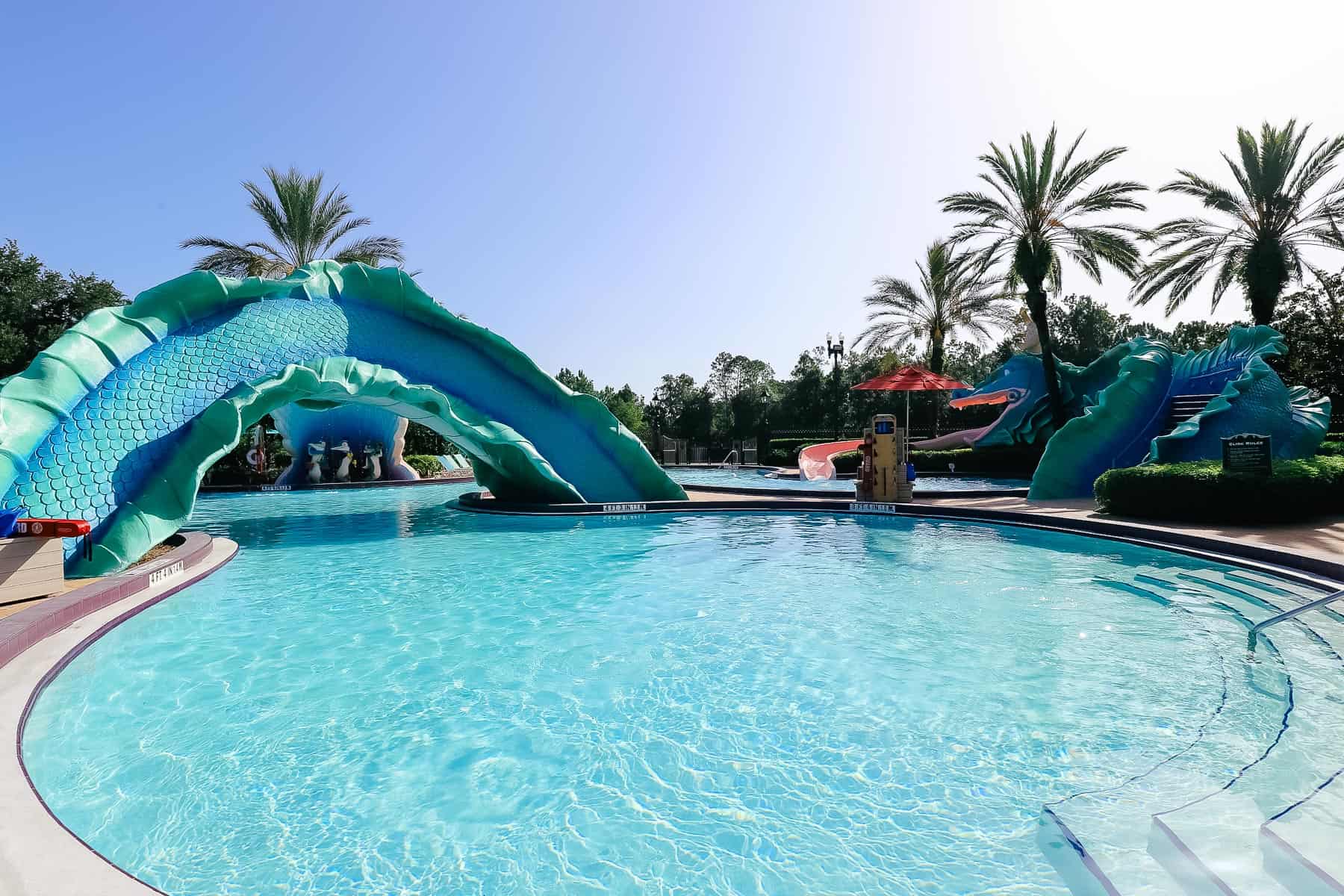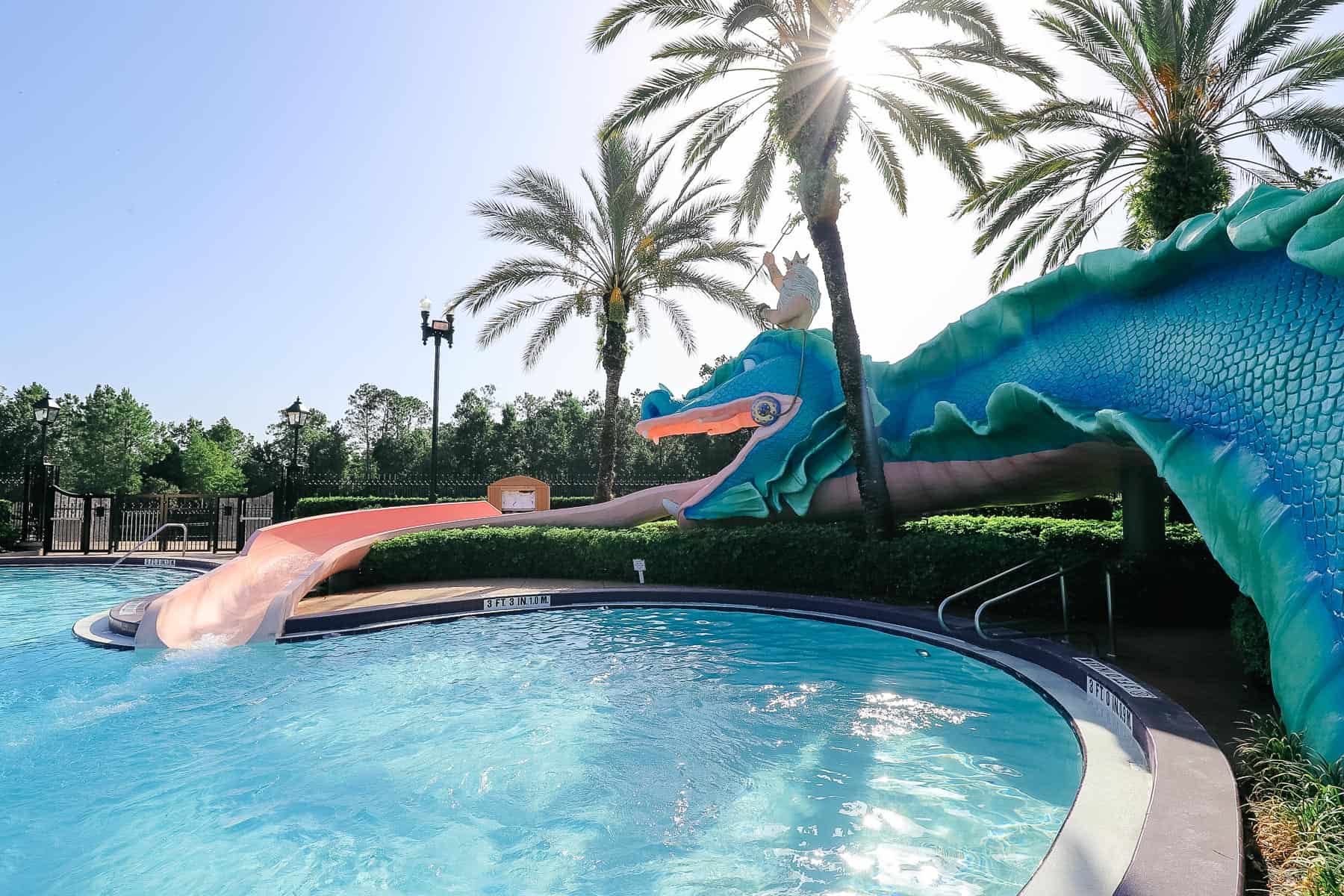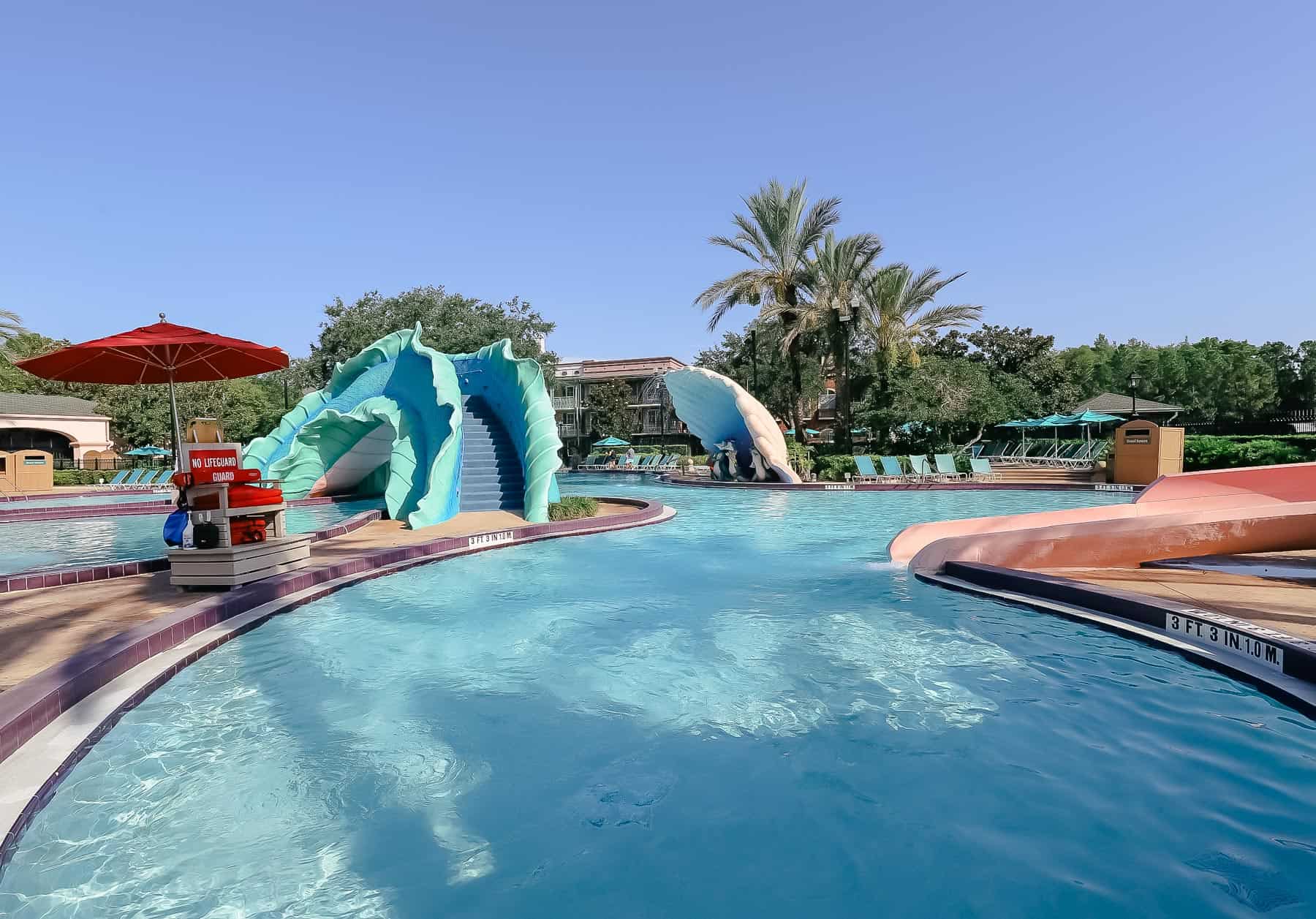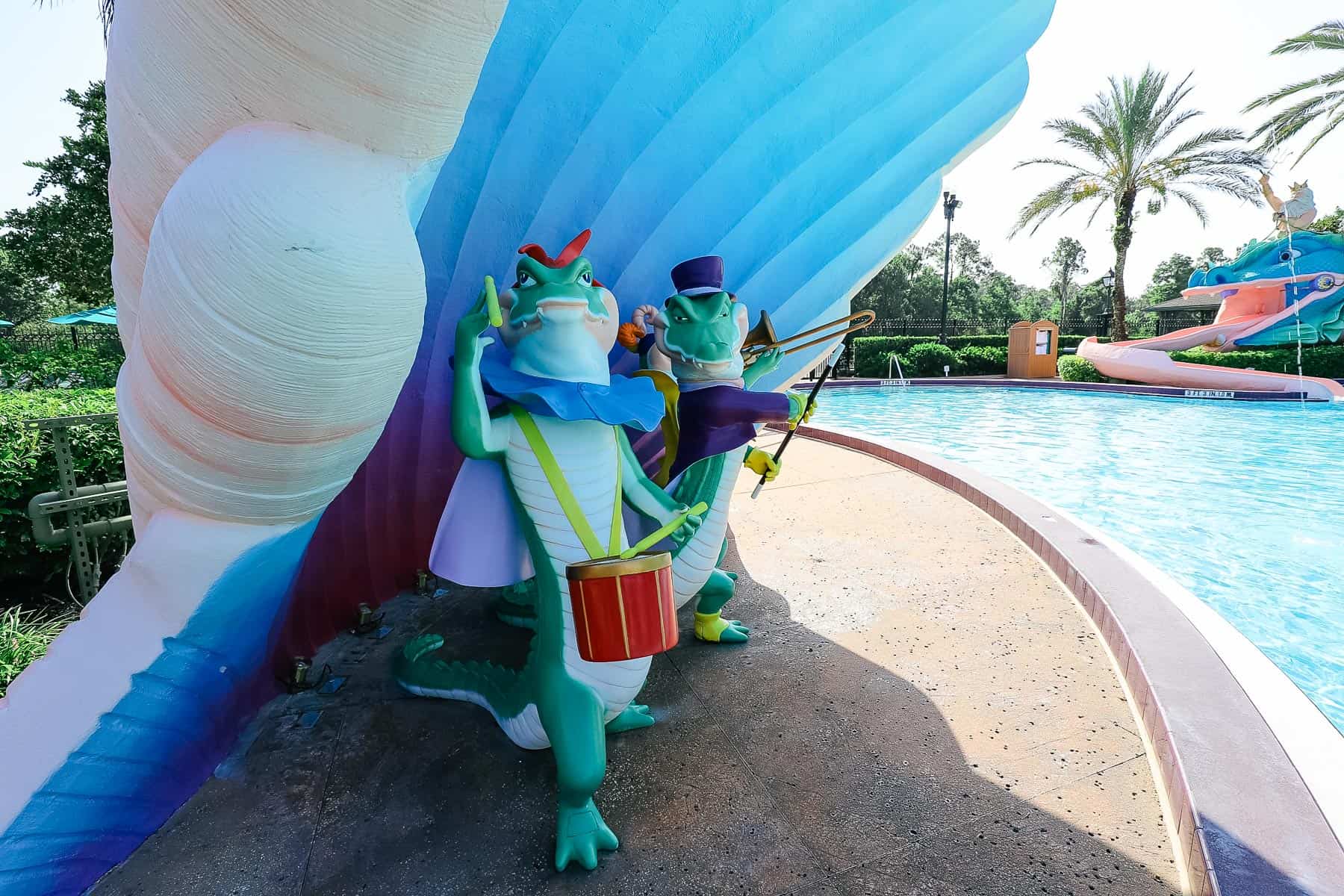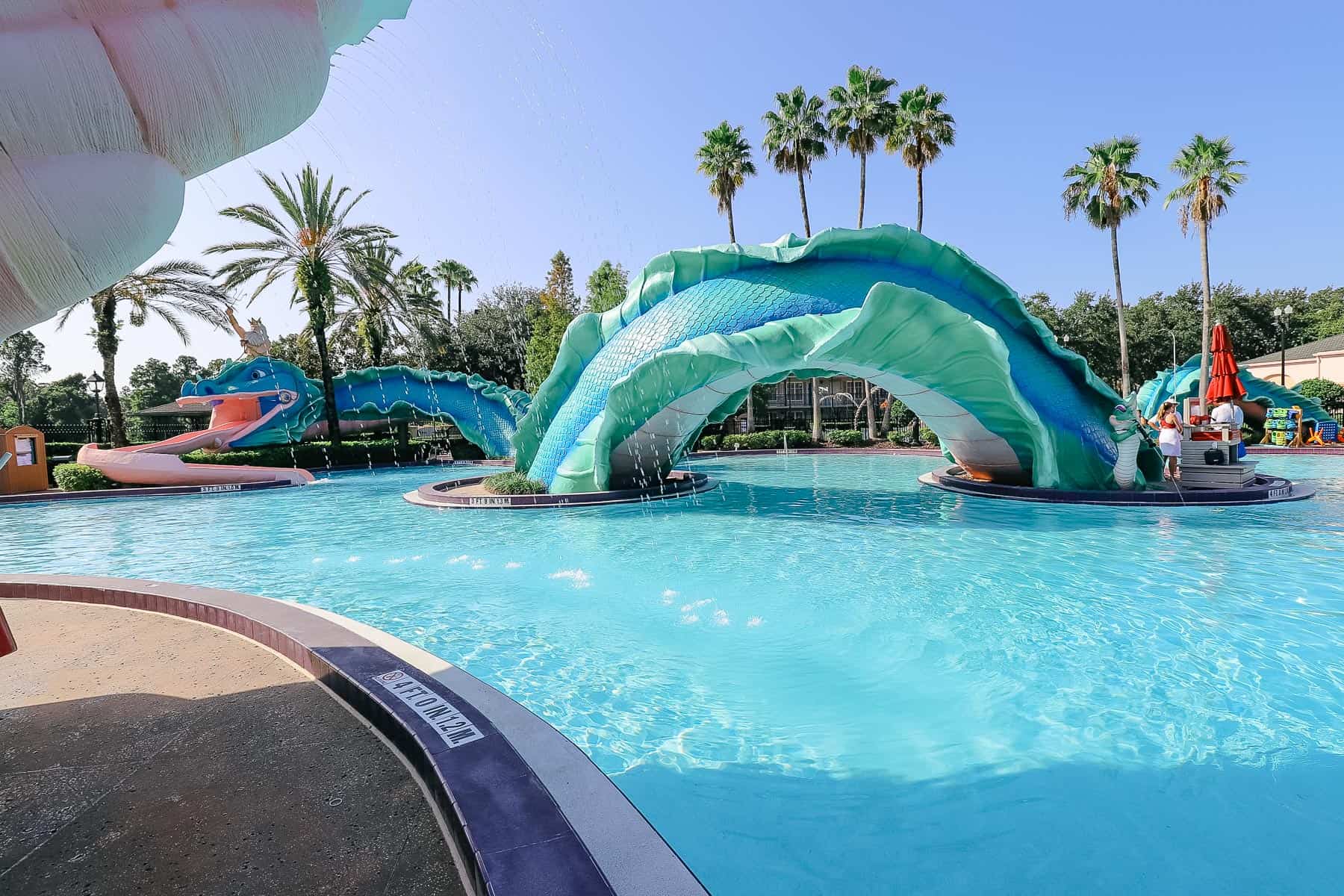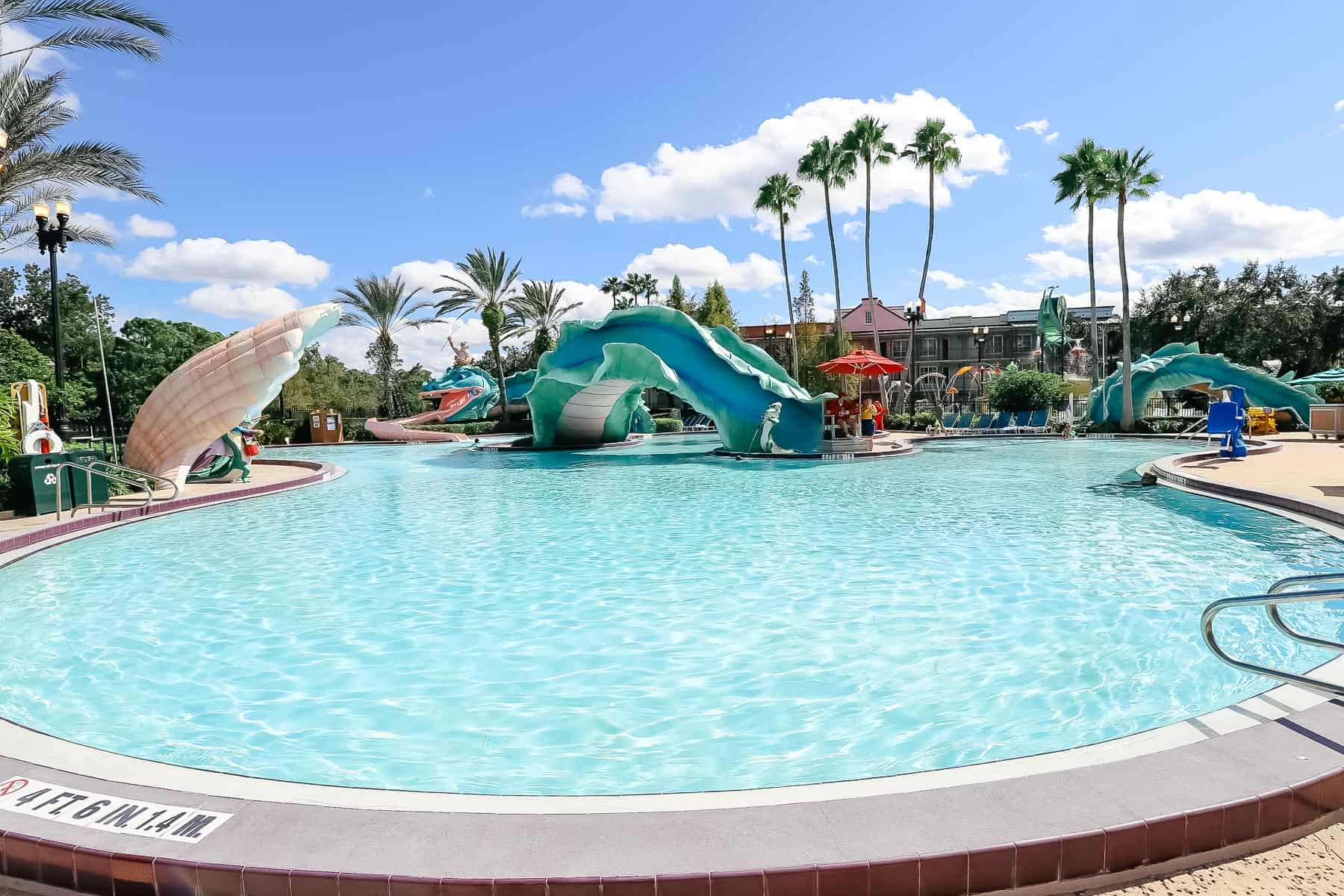 Splash Pad at Port Orleans French Quarter
A splash pad or aquatic play area is available at the Doubloon Lagoon Pool. This area is designed for children ages 12 and under.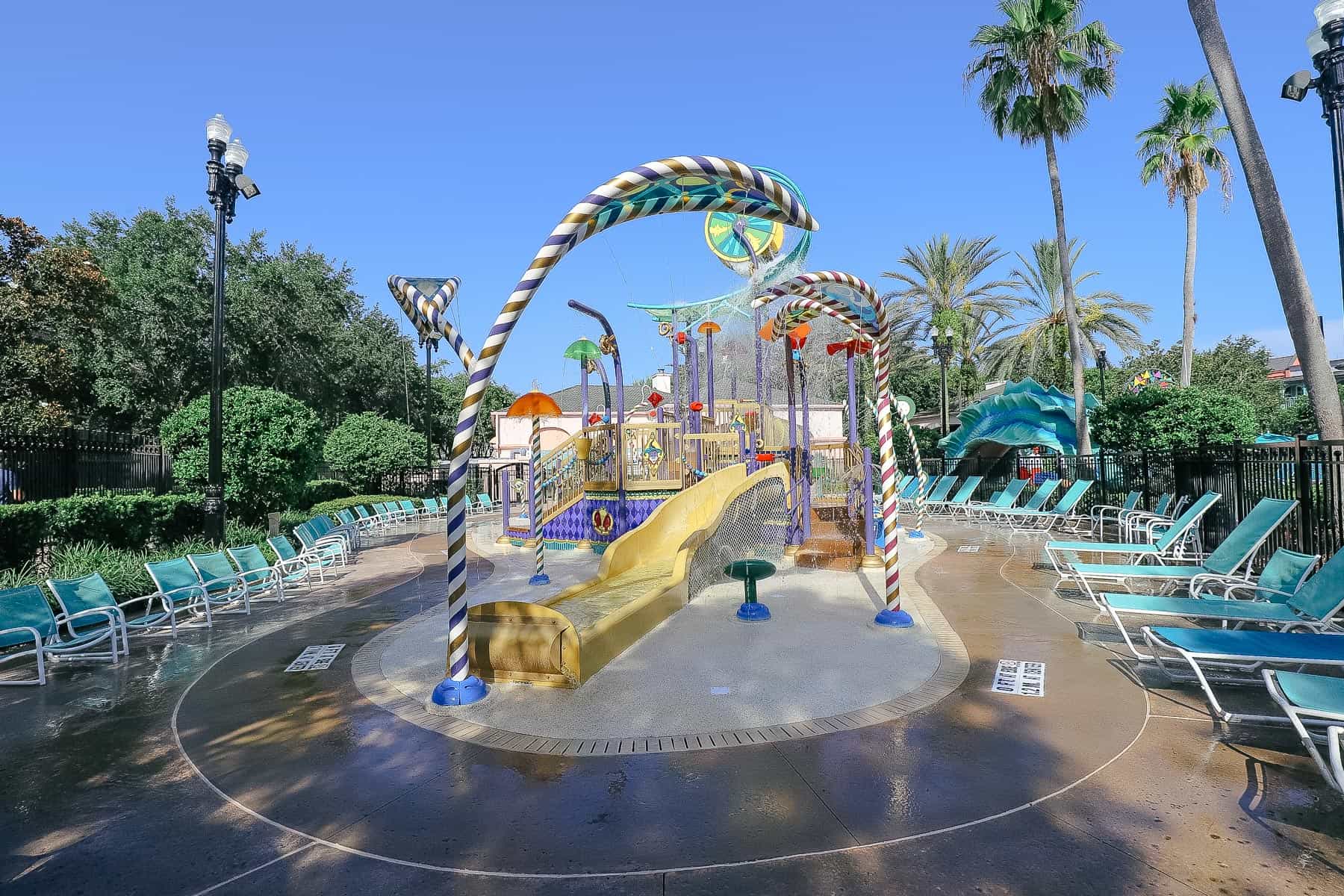 It's within a separate fenced area from the pool, making it easier for parents to keep an eye on their children.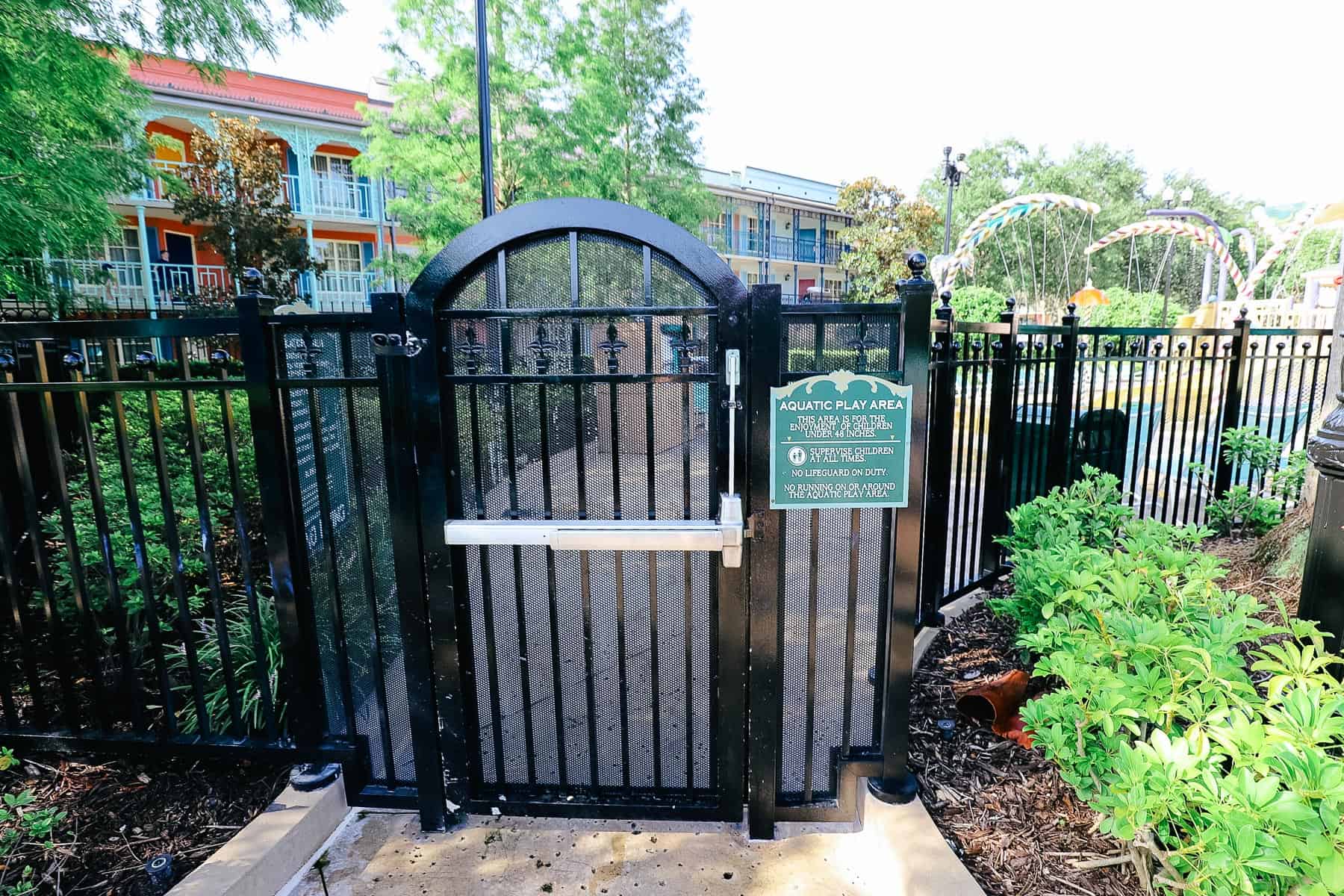 One end of the play area features a tube water slide.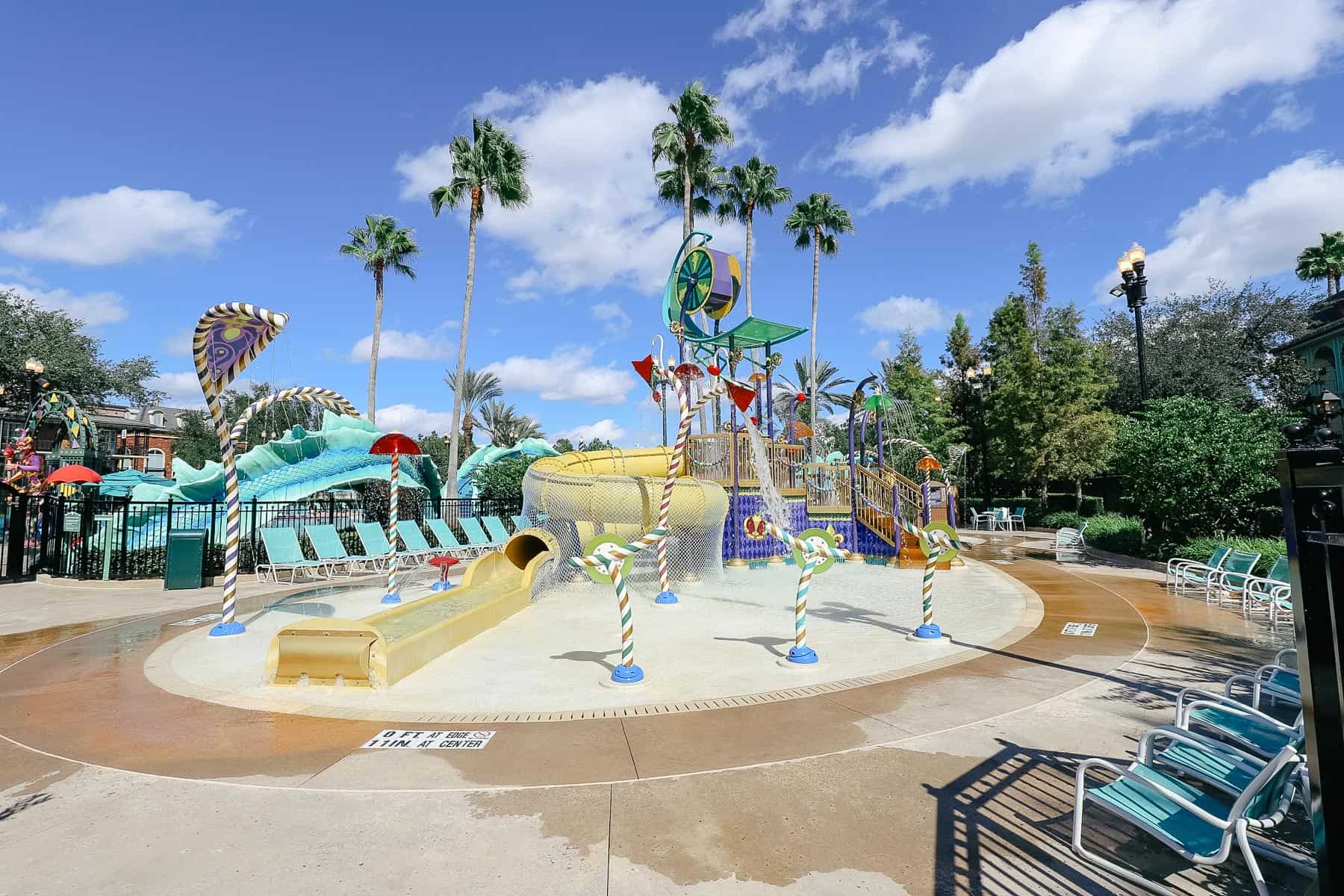 The opposite end has a regular slide.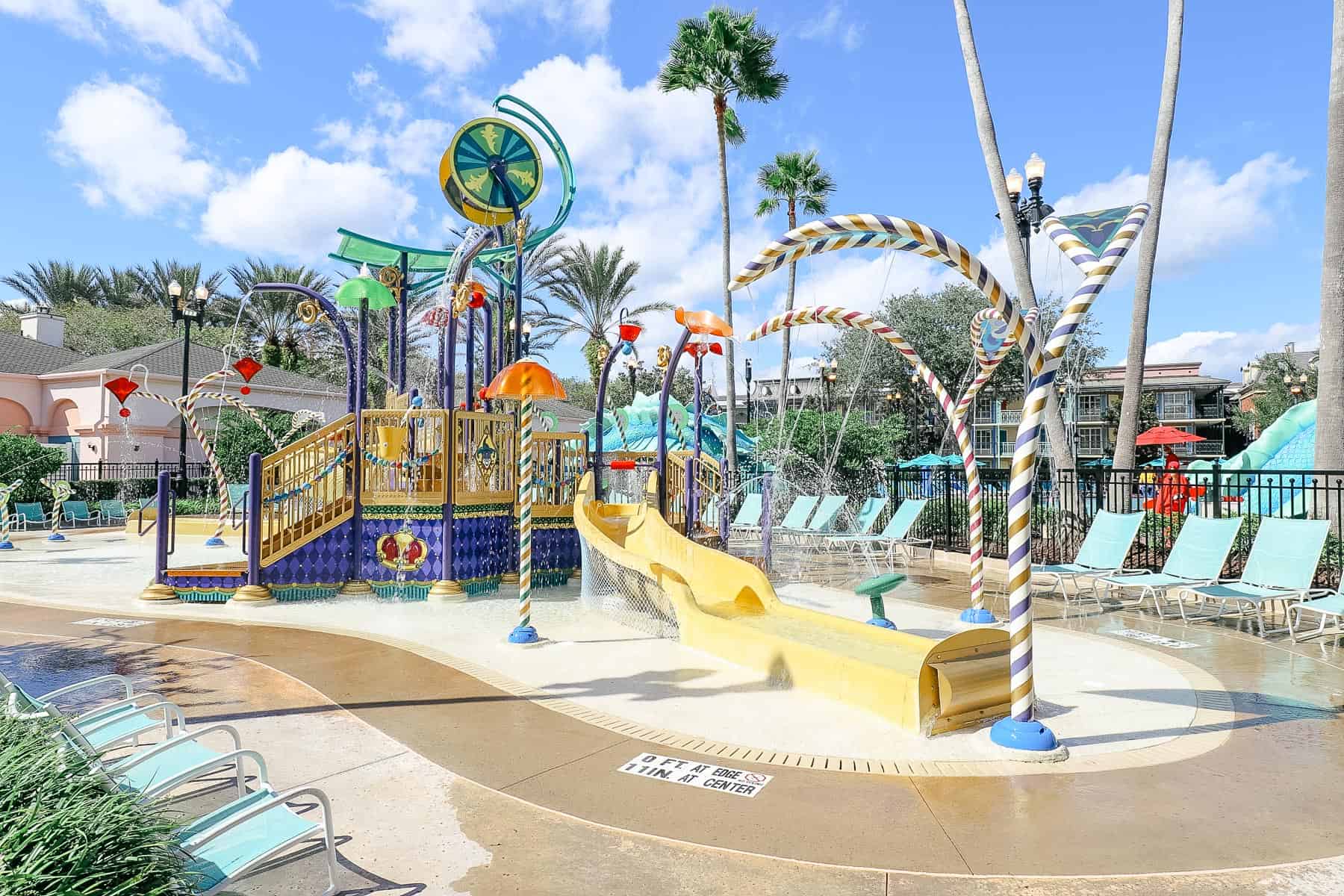 Mardi Grog's Poolside Bar
Mardi Grog's is the poolside bar at Port Orleans French Quarter. They serve sandwiches, salads, kids' meals, and various beverages. Additionally, they offer cocktails, beer, and wine.
You can preview the Mardi Grog's Menu on Disney's site to see current items and prices. You can also mobile order food to-go from the nearby Sassagoula Floatworks and Food Factory. You'll just have to walk to the lobby to pick it up.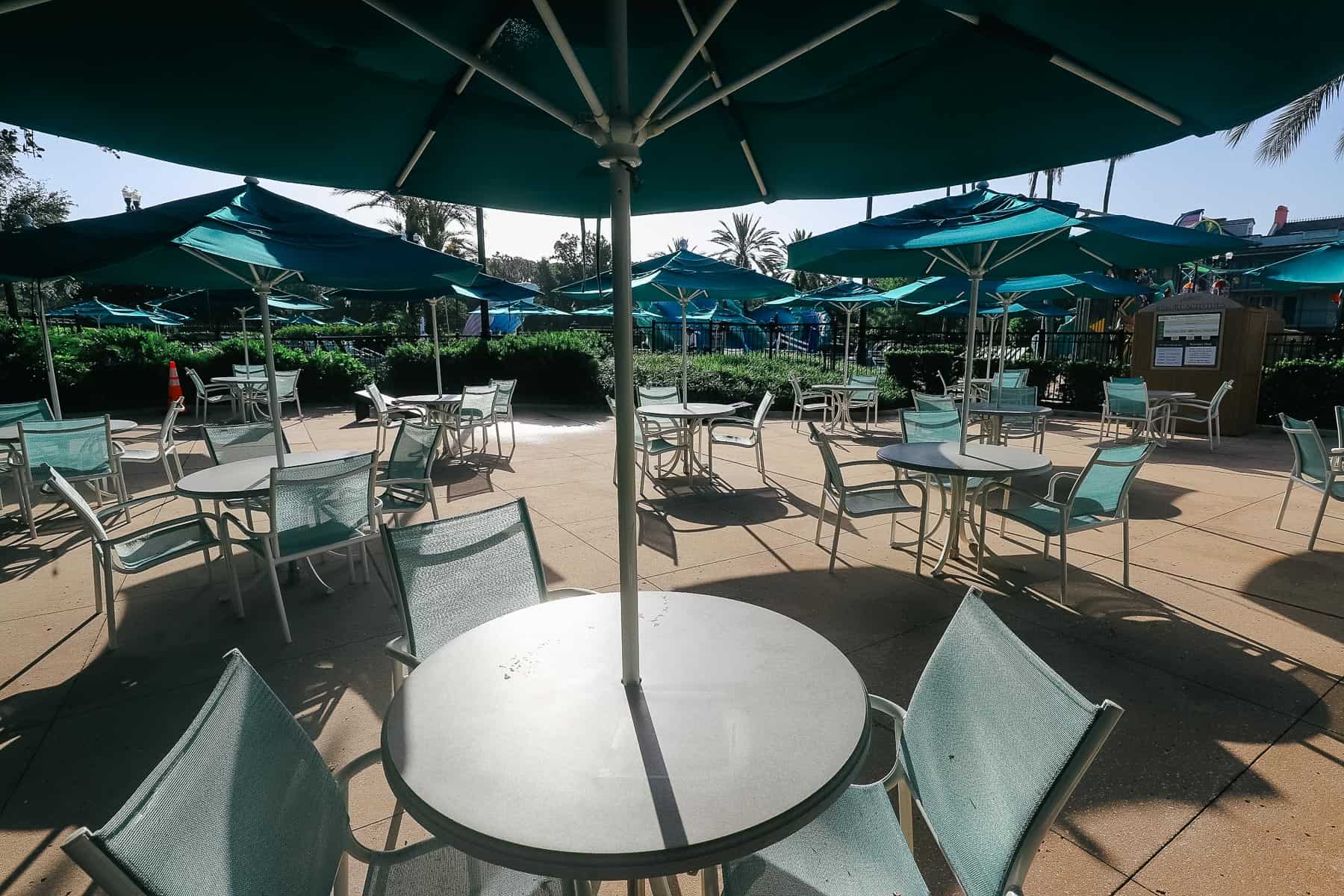 Hot Tub at Port Orleans French Quarter
You'll find two gated areas with other amenities between the lobby and the pool area. On the right side, you'll find a whirlpool spa area. Laundry on the Levee (the resort's laundromat) sits adjacent to this area.
Related: Laundry at Port Orleans French Quarter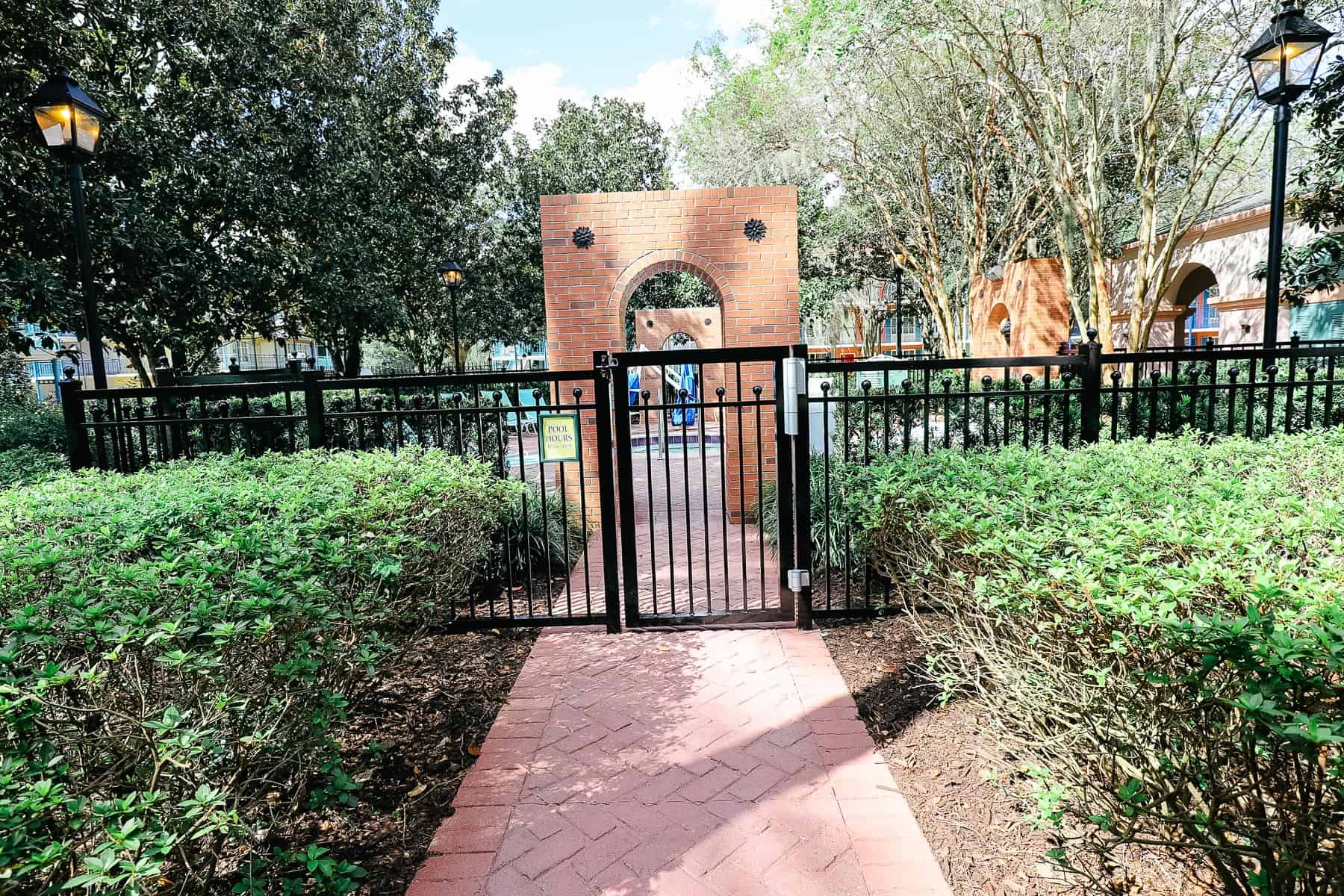 It's a small hot tub with a private space to lounge, separate from the main pool area. I would say it's more of an adult-friendly area. However, on our last stay, the hot tub area was run rampant by a bunch of children who had little supervision.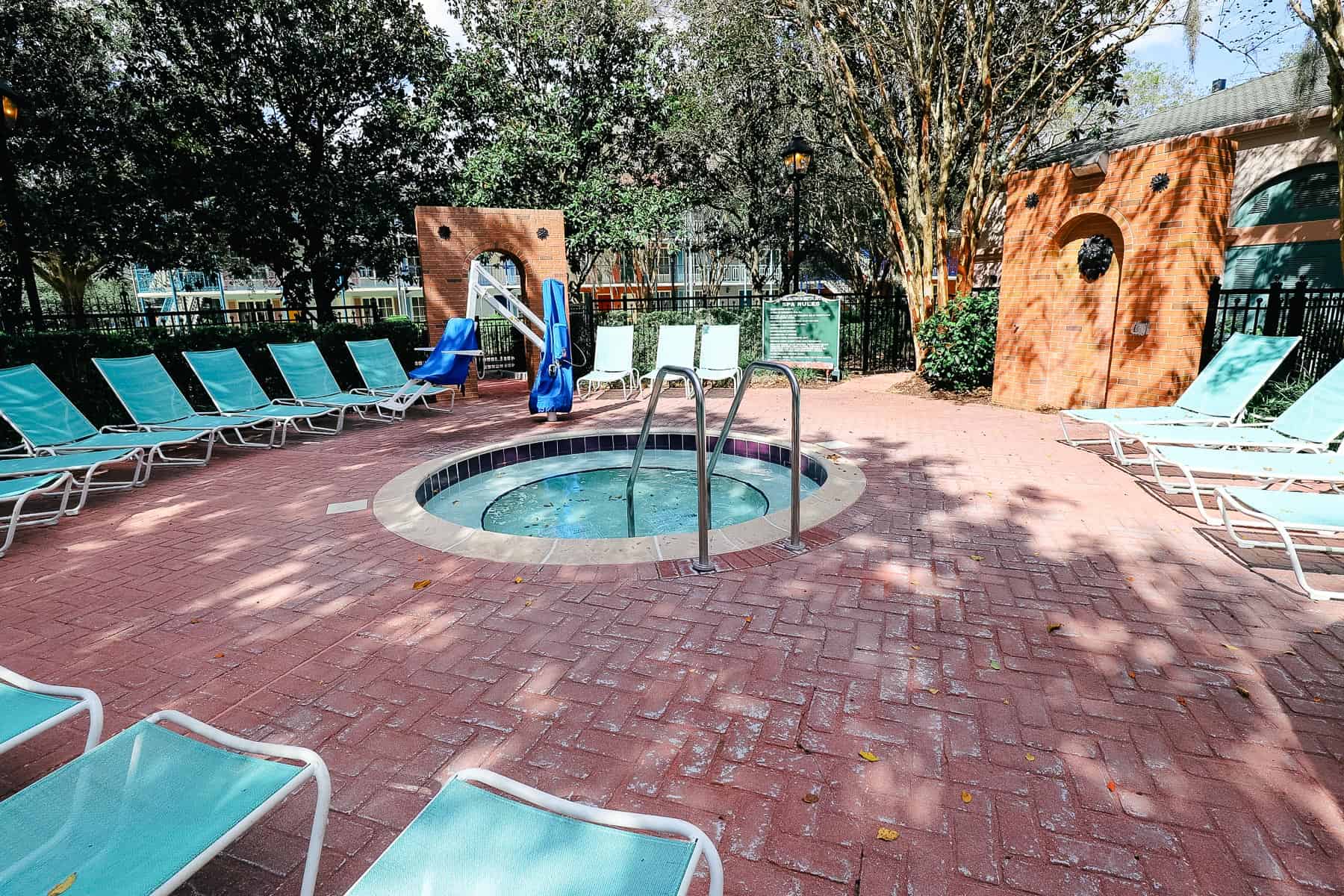 Playground at Port Orleans French Quarter
A playground sits across the walkway from the hot tub area.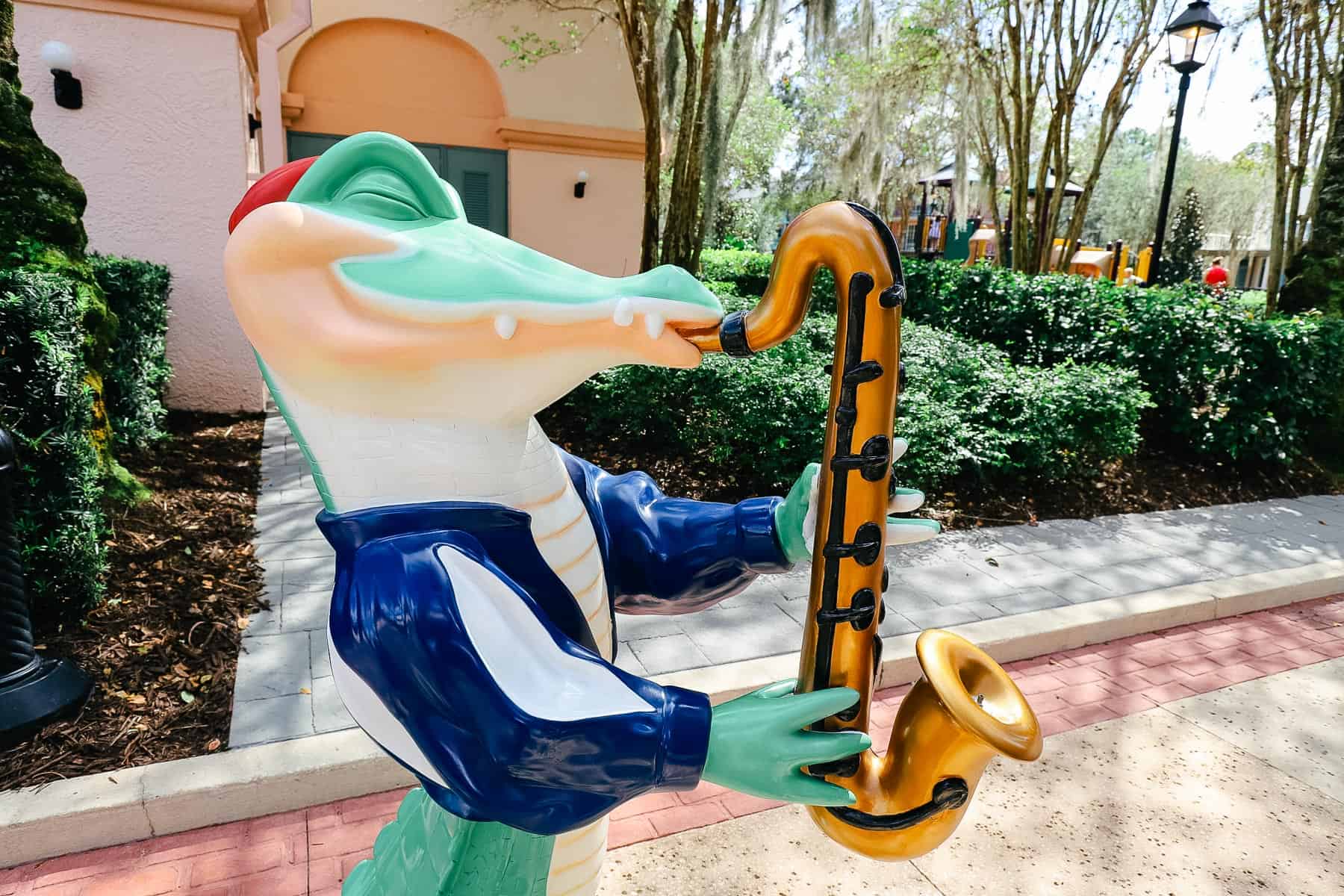 It, too, is in a separately fenced area.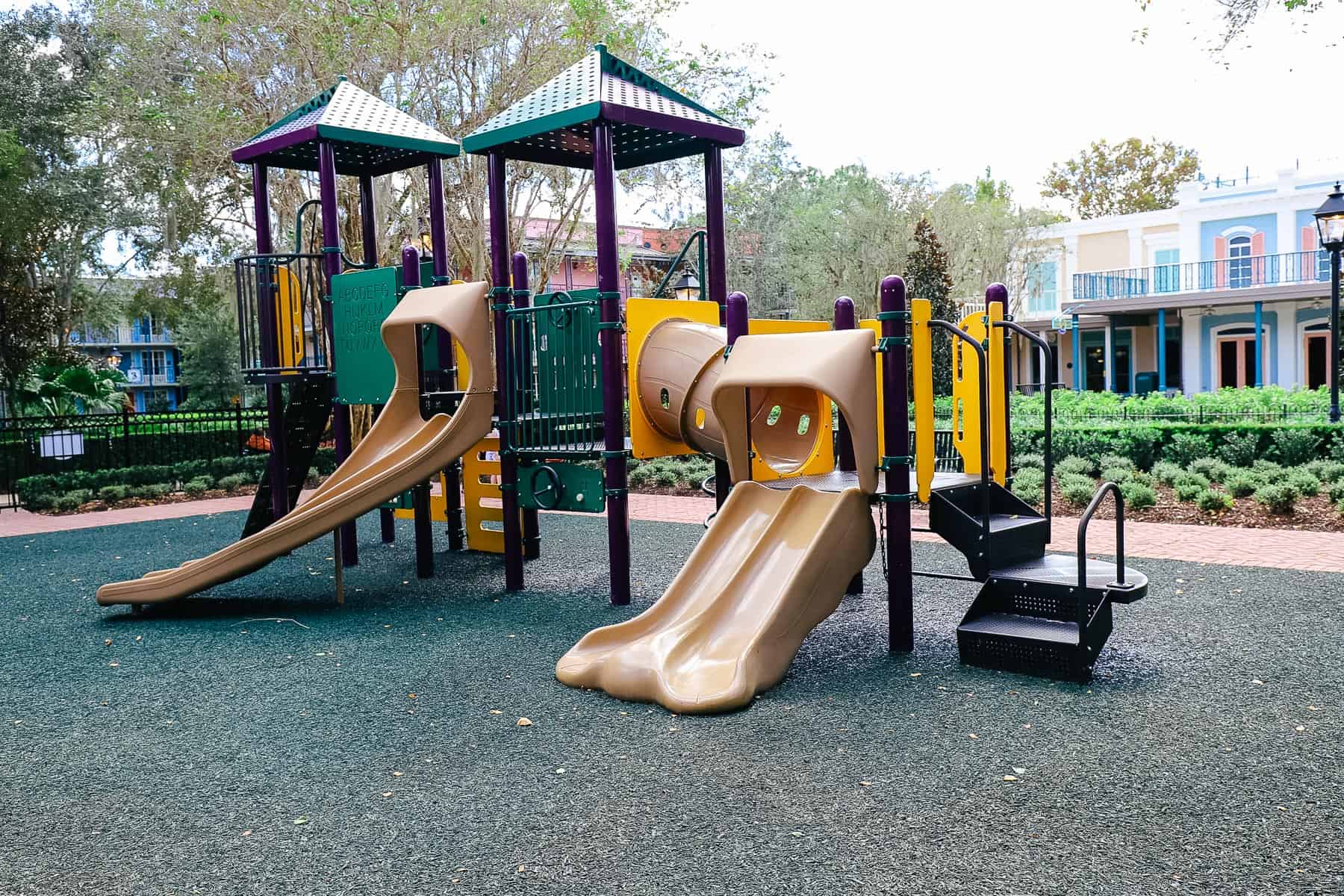 Final Thoughts
Aside from Coronado Springs, Disney's Port Orleans French Quarter is our second choice for moderate resorts. Its boutique size provides a simple footprint, making it easy to get from one destination to the next.
No matter your room location, it will only be a short walk to the lobby, pool, or transportation. We also think you'll want to spend some time at the pool, especially those with children.
Theming for the resort is on point. And those friendly gators poised with their favorite jazz instruments are sure to make you smile a time or two during your stay.
Port Orleans French Quarter is only a short walk or boat ride from Port Orleans Riverside. Guests of the resort are welcome to use the pools at Port Orleans Riverside. But I think most will agree the Doubloon Lagoon far supersedes Ol' Man Island.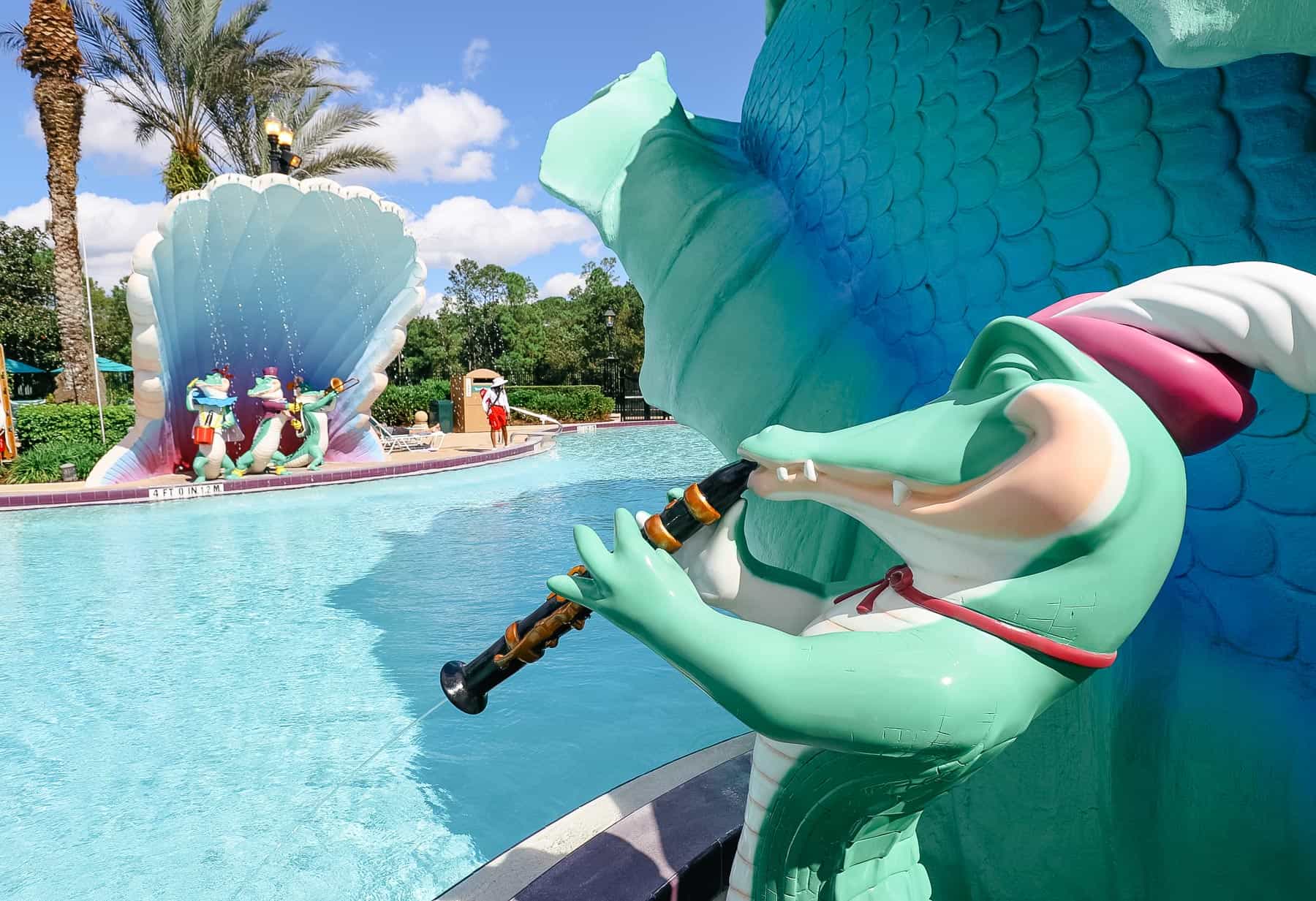 Those planning a stay at Port Orleans French Quarter might enjoy our resort guide. It lists our coverage to date for the resort.
Or you might enjoy these other articles:
You might also enjoy some of our top picks for the best pool at Disney World. They include:
In the Comments
So, what are your thoughts about the pool at Disney's Port Orleans French Quarter? Does it look like fun?
Planning a Walt Disney World or other Disney Destination vacation?
Our friends and travel partner, Firefly Travels, excels at doing Disney differently. You can fill out a plan your trip form on their website, and someone will reach out shortly to discuss the specifics.