The Pool at Disney's Port Orleans French Quarter (Doubloon Lagoon)
Walt Disney World has some of the cutest resort pools around and the pool at Disney's Port Orleans French Quarter is no exception. This pool is overshadowed by a giant sea serpent whose tail forms a bridge over it. Not only that, a water slide comes out of the serpent's mouth!
In this article, we'll take an in-depth look at the pool at Disney's Port Orleans French Quarter. Additionally, we'll cover the adjacent aquatic play area, pool bar, and other nearby amenities.
For starters, French Quarter is a little different from most of the other Walt Disney World Resorts. Usually, the resorts have a feature pool and at least one quiet pool. However, French Quarter only has one pool, the Doubloon Lagoon Pool.
That said, French Quarter is the smallest of the moderate resorts at Disney World. And its feature pool is more than adequate, given the resort's size. So, don't let the fact that it only has one pool deter you from planning a stay here.
Let's take a look at the details.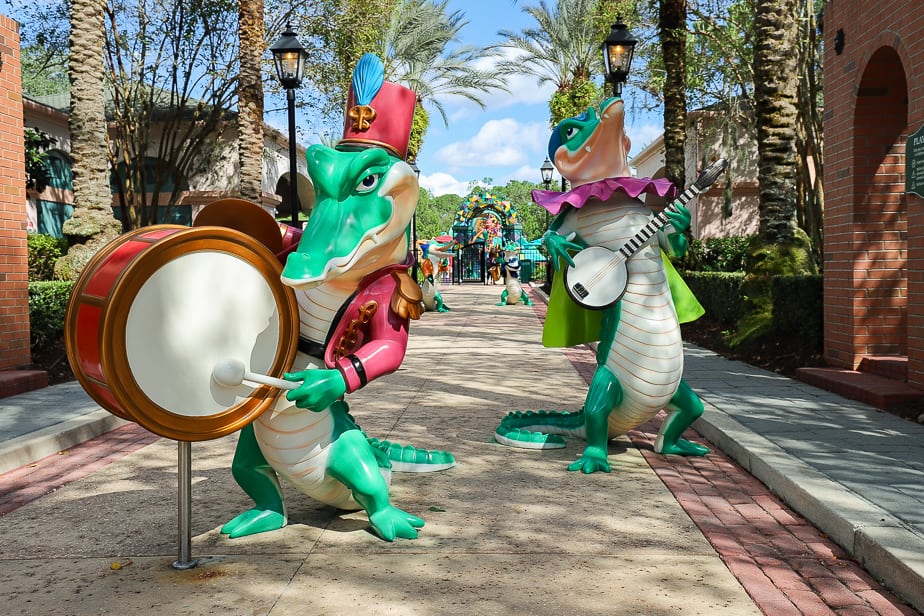 The Doubloon Lagoon Pool is located directly behind the resort's lobby along a walkway.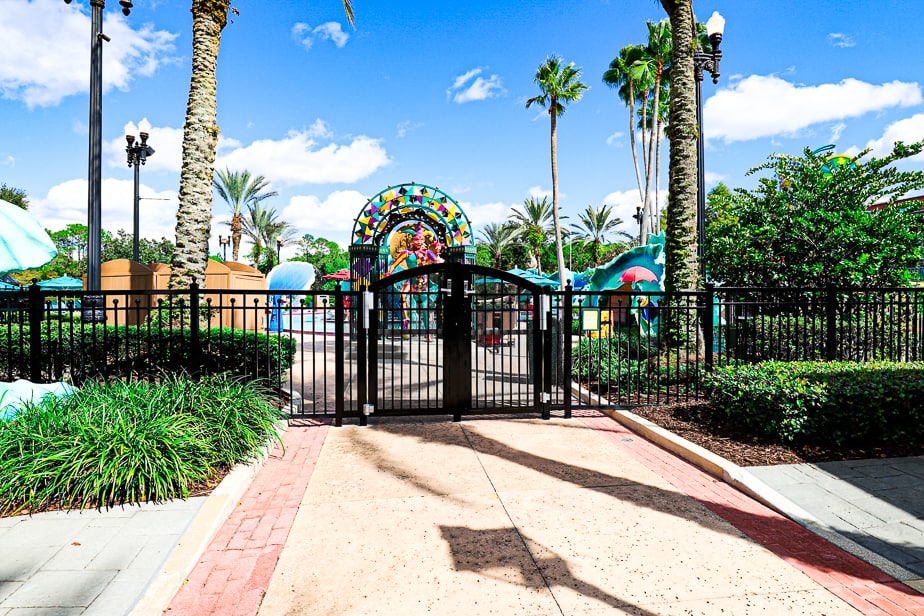 Once inside the gated pool area, you'll encounter this large Mardi Gras Jester.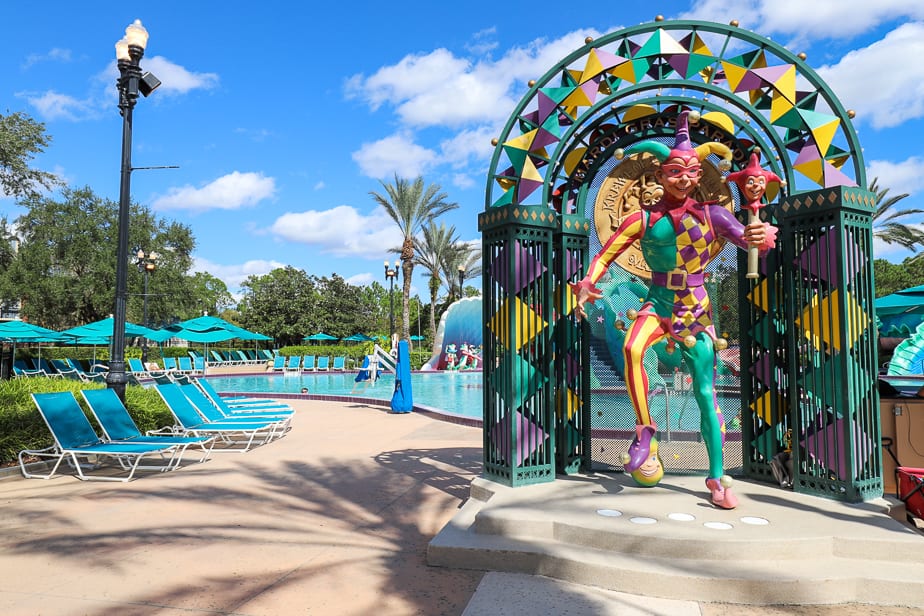 Friendly alligators are scattered throughout the pool area as well.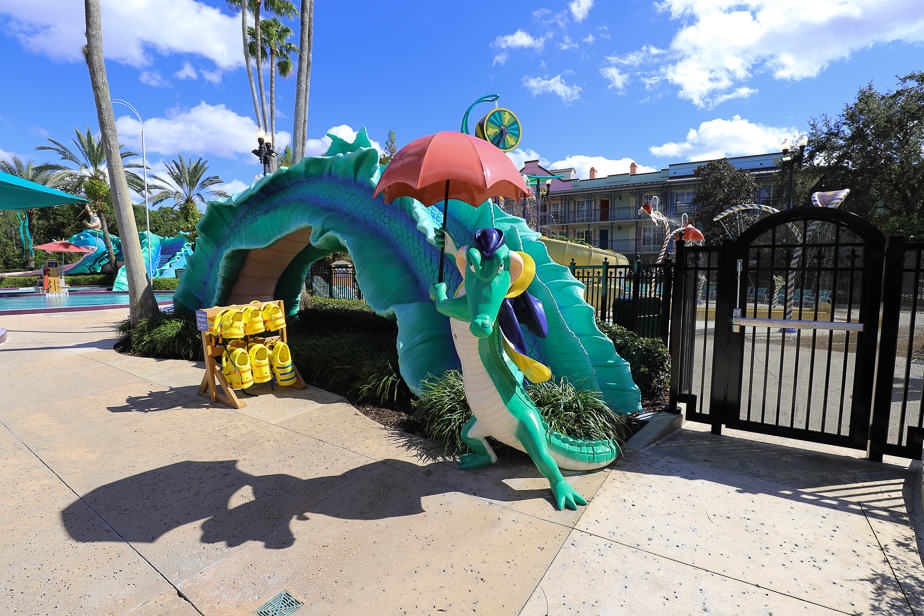 Here are a few of the rules. The pool is usually open daily from 10:00 a.m. until 10:00 p.m. However, those hours might be reduced during cooler temperatures.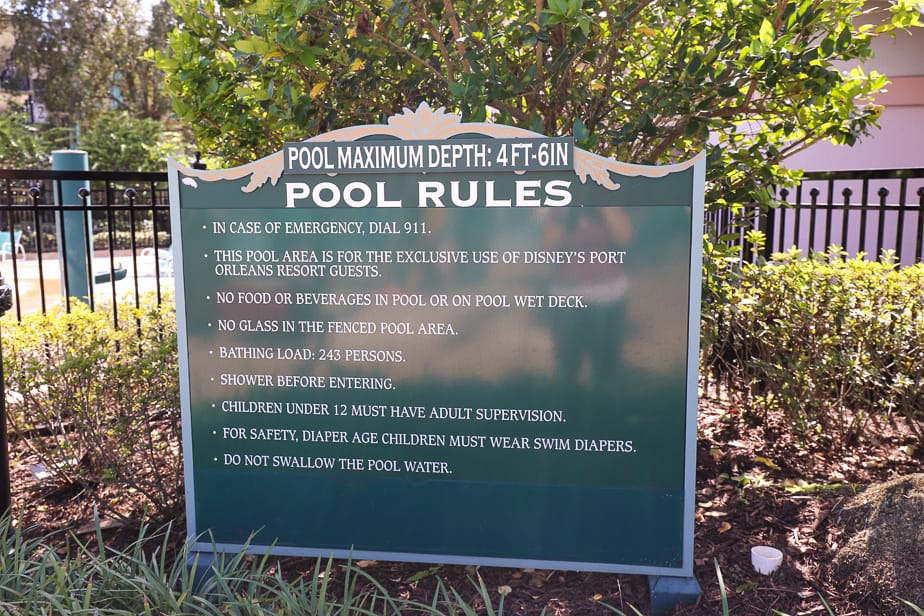 The sign above indicates the pool has a maximum depth of 4.5′ and can accommodate 243 guests.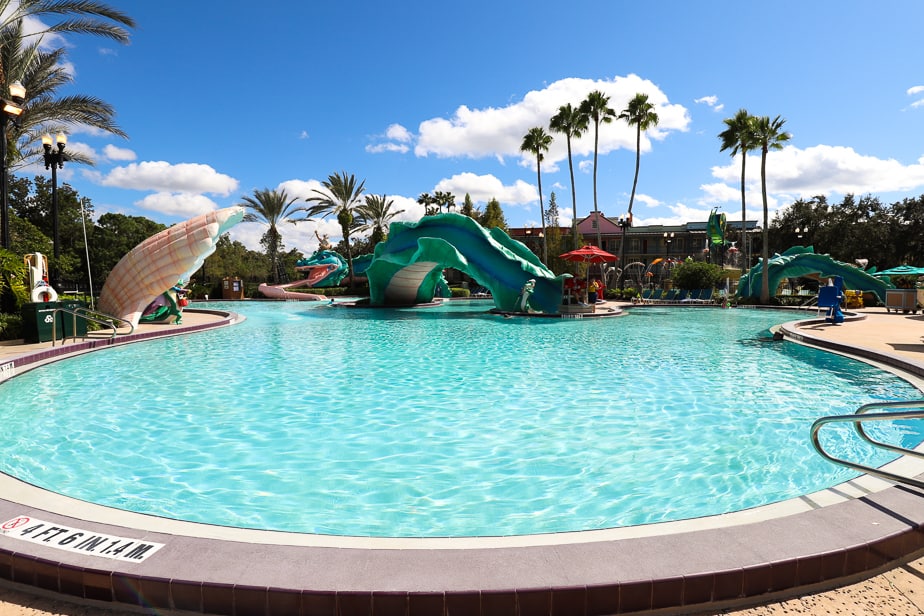 There were less than 20 guests at the pool on the day of this visit. However, it was a bit chilly, which made for a decent time to get pool pictures.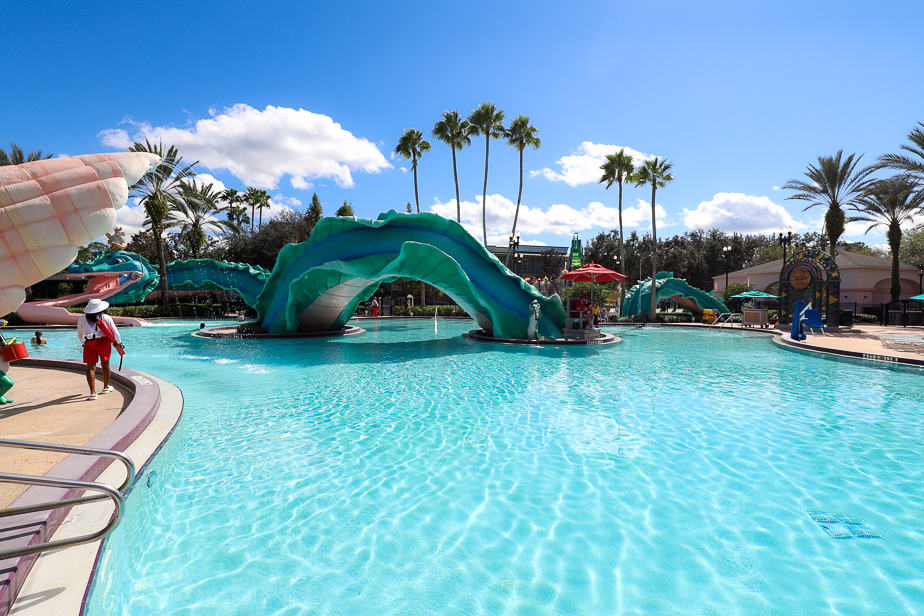 All of the pools at Disney are heated to 82 degrees. For Floridians, that's freezing. However, those coming from colder climates will probably find the water's temperature comfortable.
Part of the serpent's body extends over the middle of the pool, making a bridge.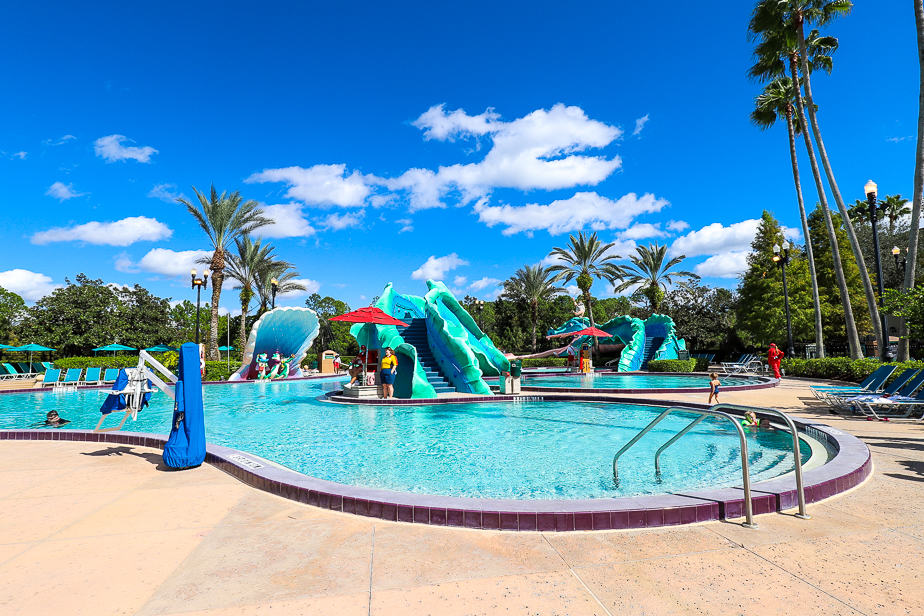 Unfortunately, unless you're tall, you won't be able to see over the sides of the bridge. I had to lift my camera to take this photo.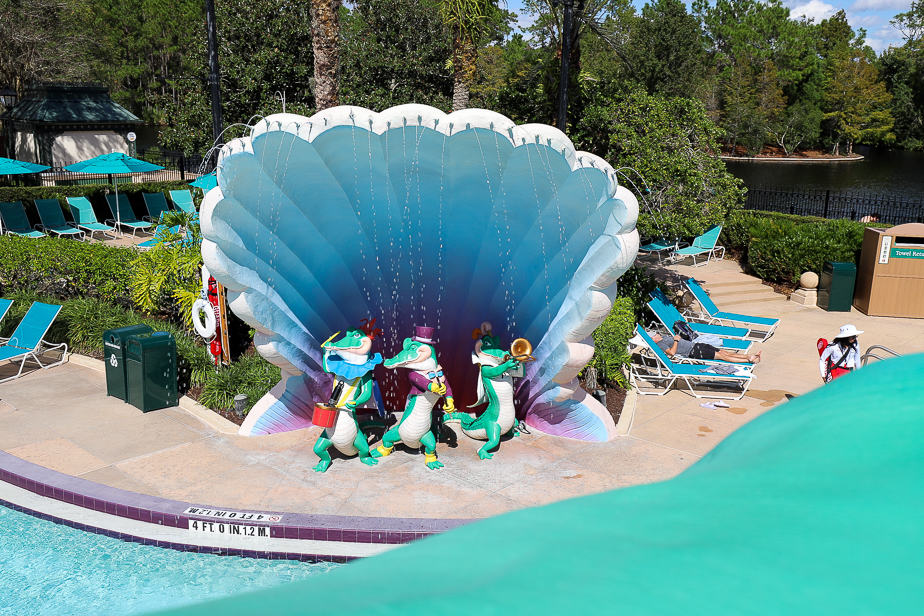 And here is the view from down below underneath the water feature.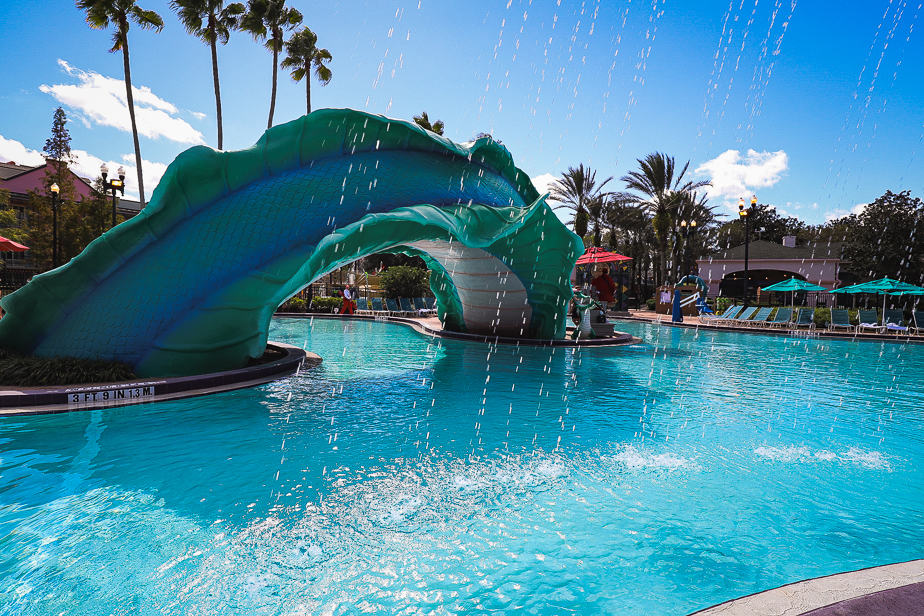 We see King Triton as he reigns supreme over the sea serpent.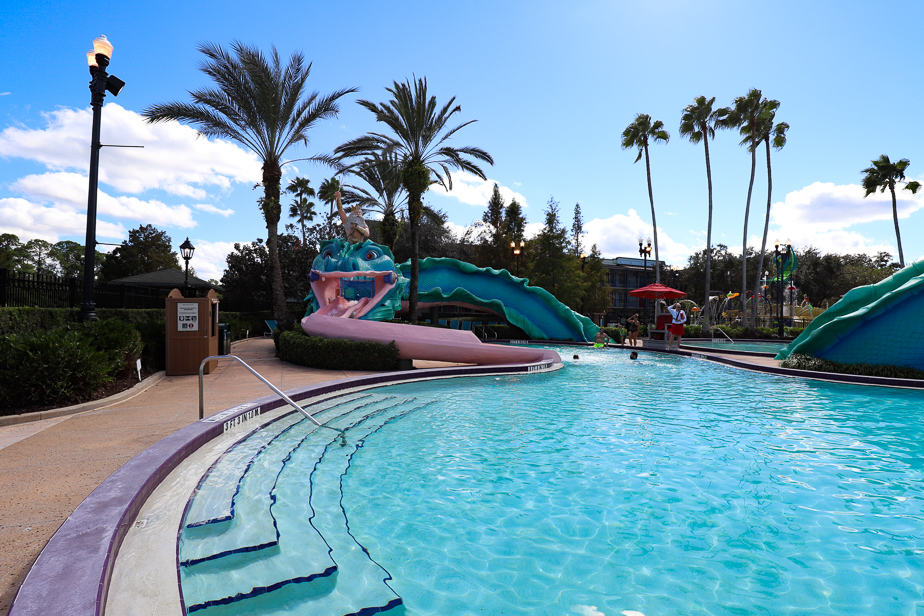 Scales, the slide is a total of 51′ long.
Related: Disney Resorts with Water Slides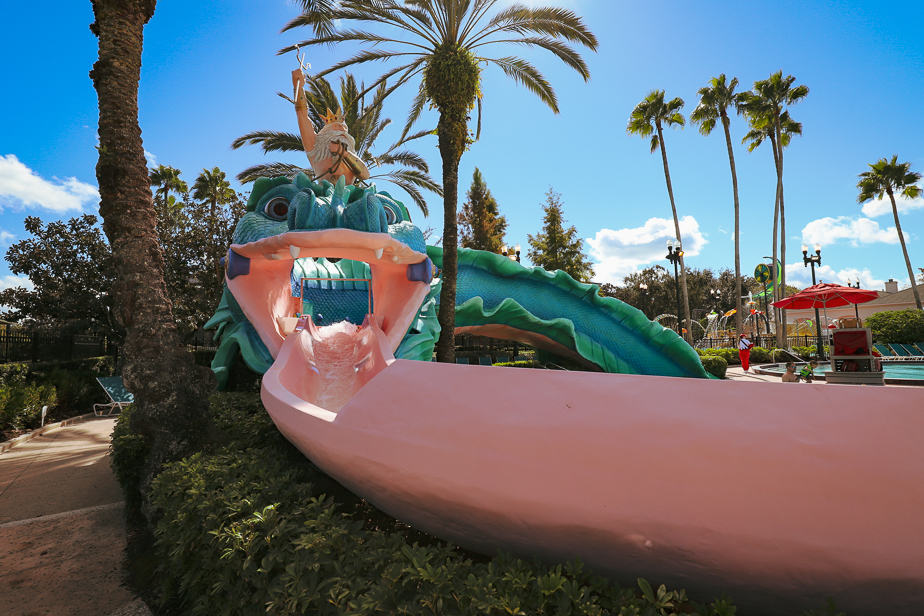 It's a reasonably mild slide, which makes it extremely child-friendly.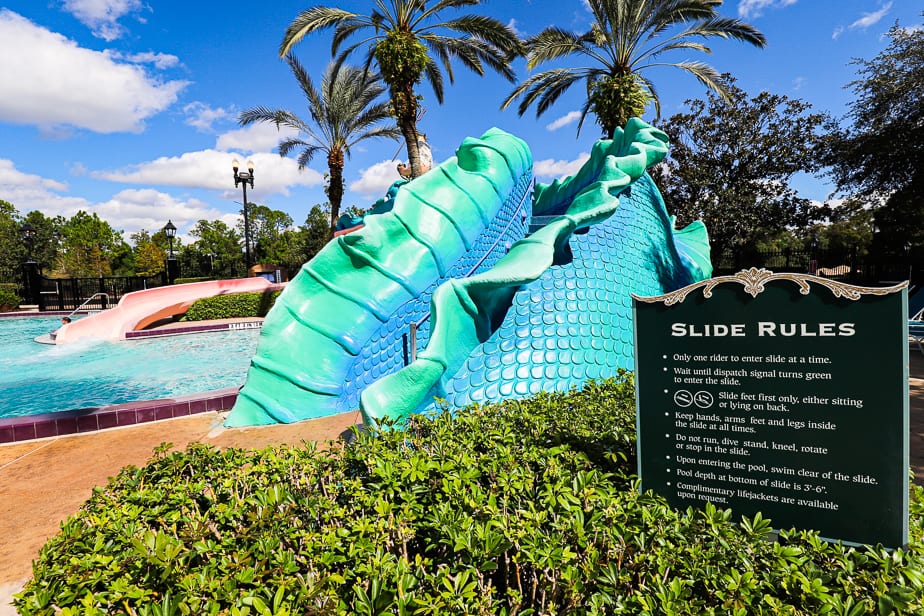 You can tell there aren't many steps to climb to get to the top.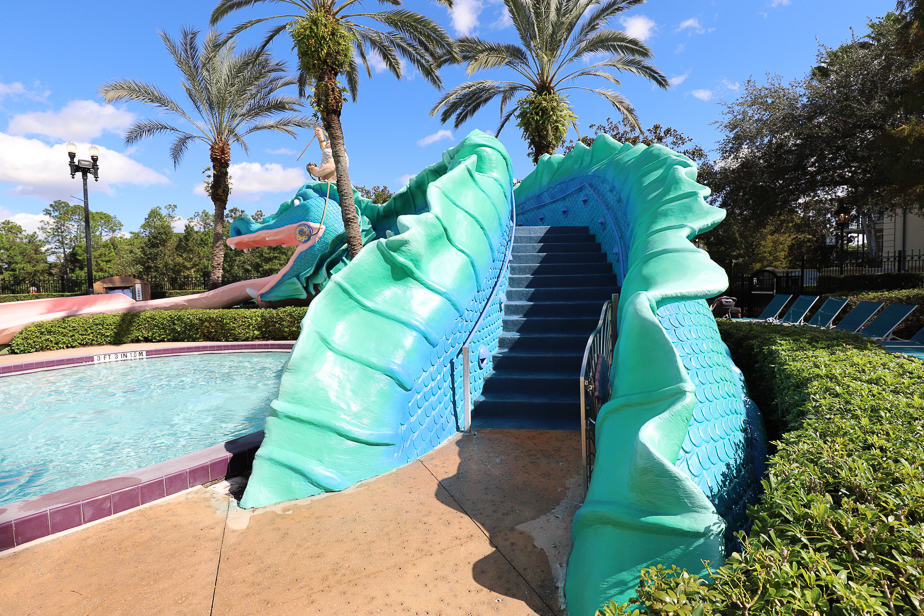 Here is a look from down below.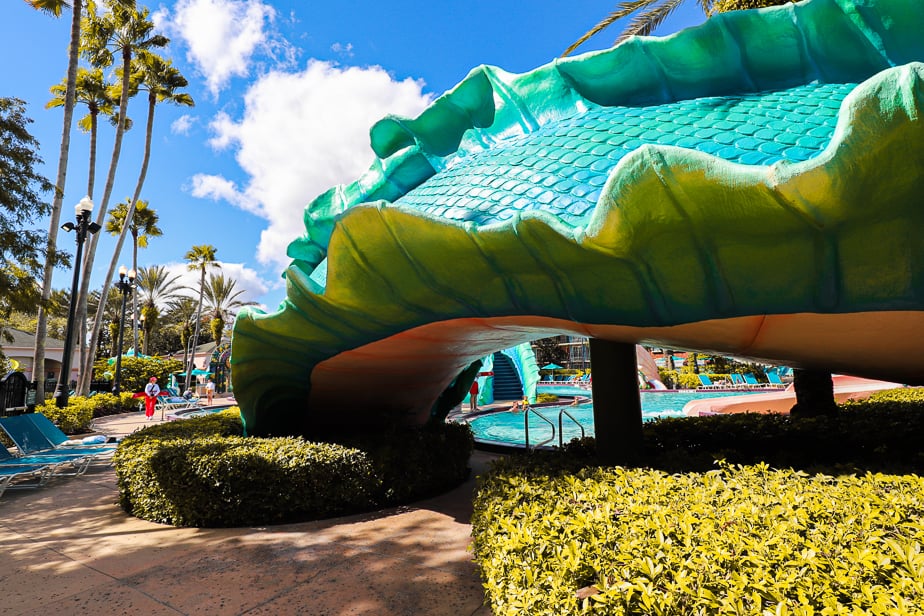 At the top of the slide, you'll sit down, feet first, and wait for the light to turn green.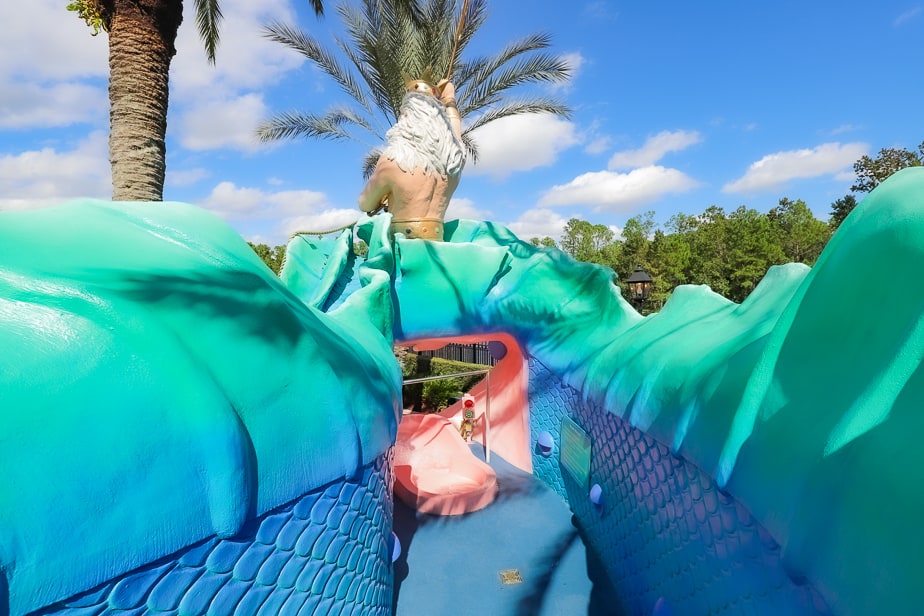 Isn't it the cutest? Seriously.
Related: Best Resort Pools at Disney World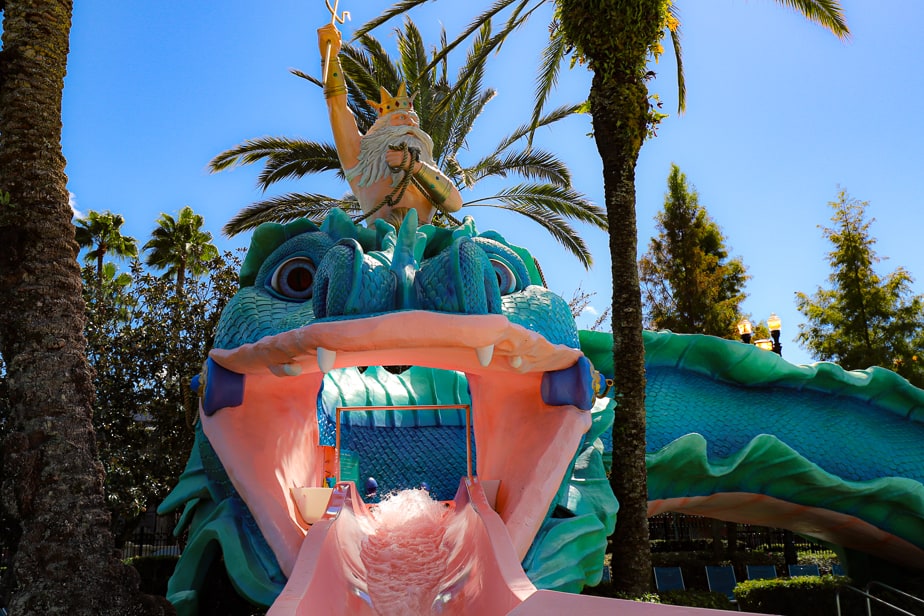 It's one of the most charming pools and great for children.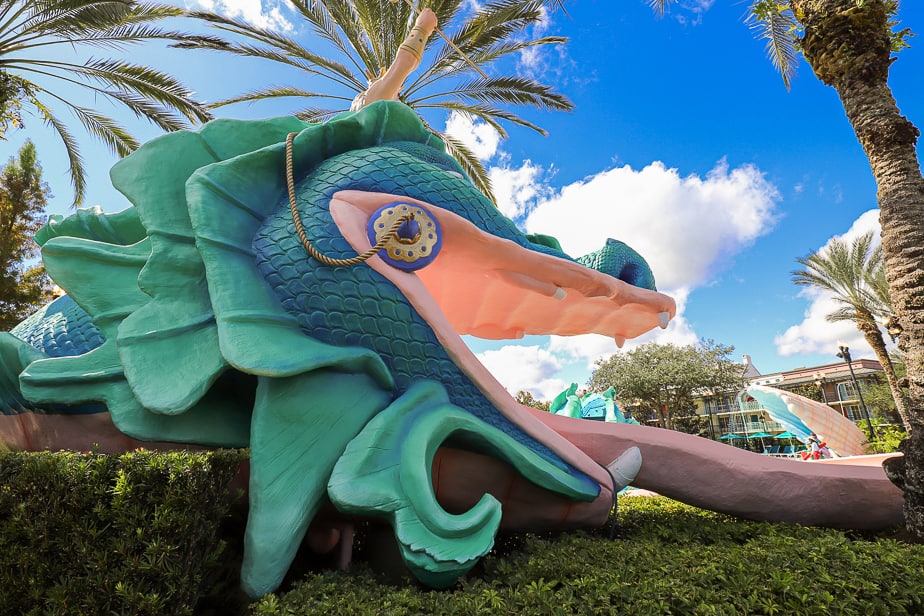 My niece stayed here when she was four years old, and the pool is one of her main memories from the trip.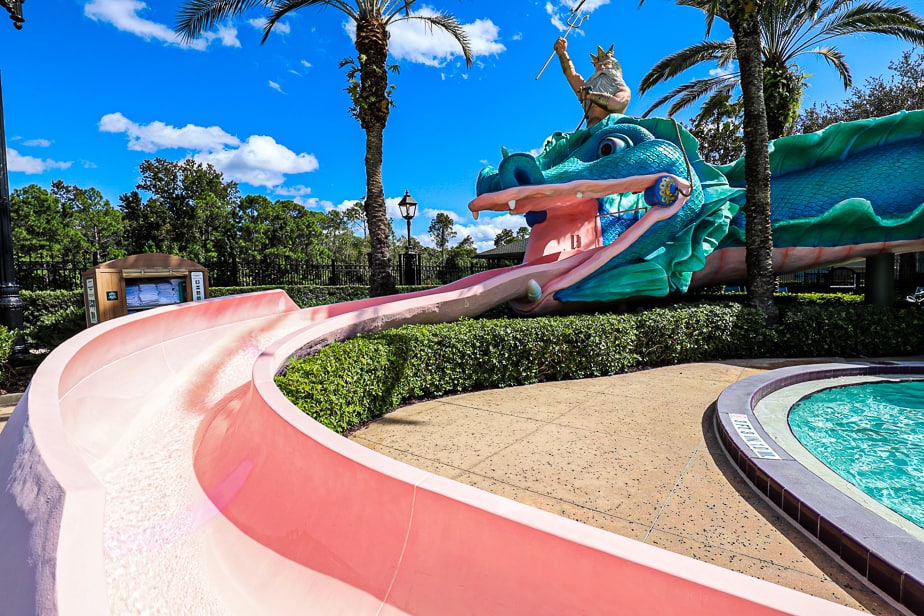 And it gets bonus points for having these Jazz musicians!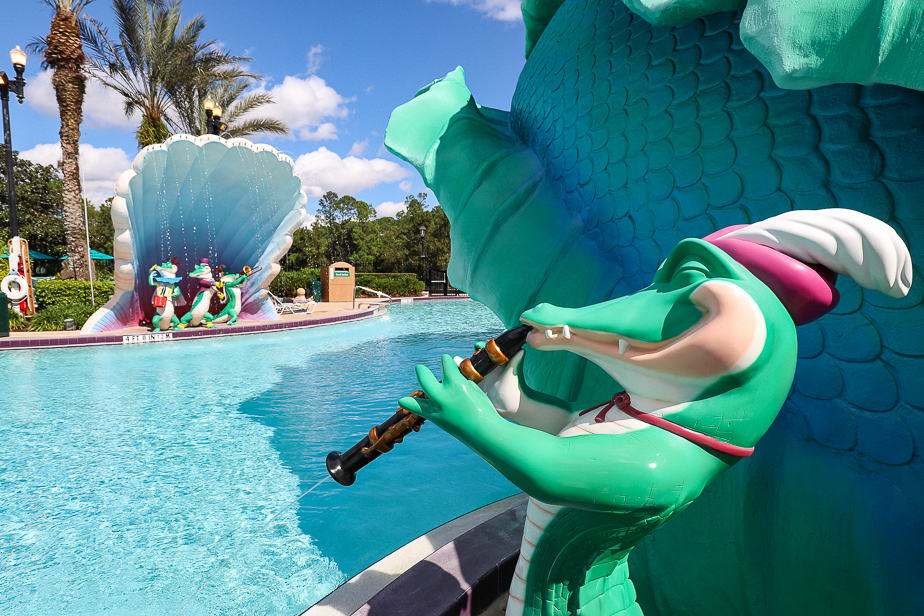 In addition, there is an aquatic play area for children ages 12 and under adjacent to the pool.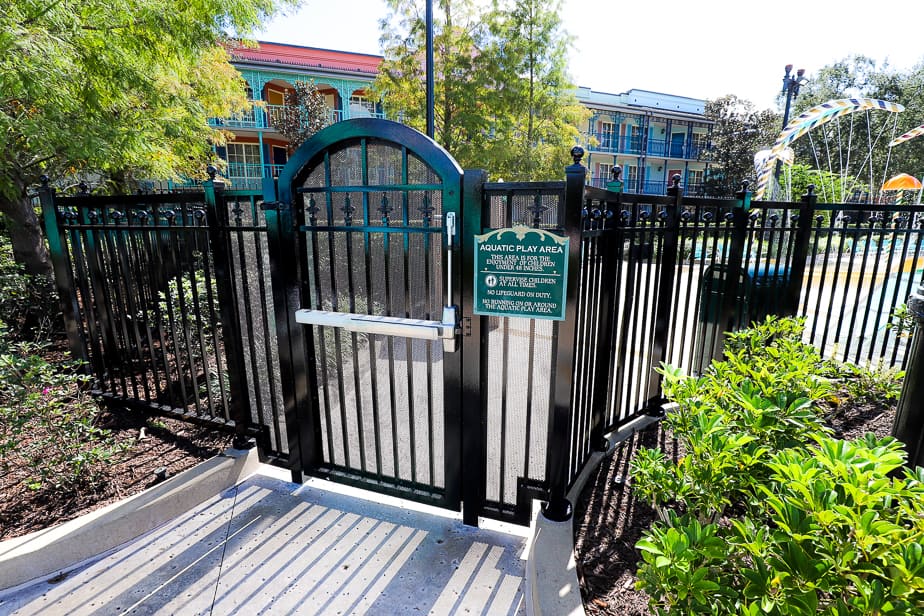 What kid wouldn't want to play in such a fun area?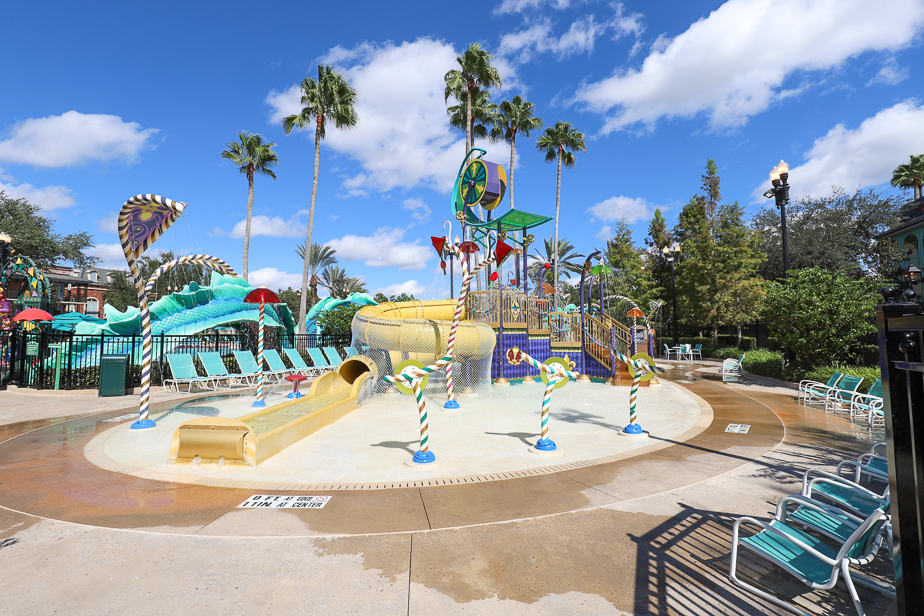 It has a tube water slide on one end and a regular slide on the opposite.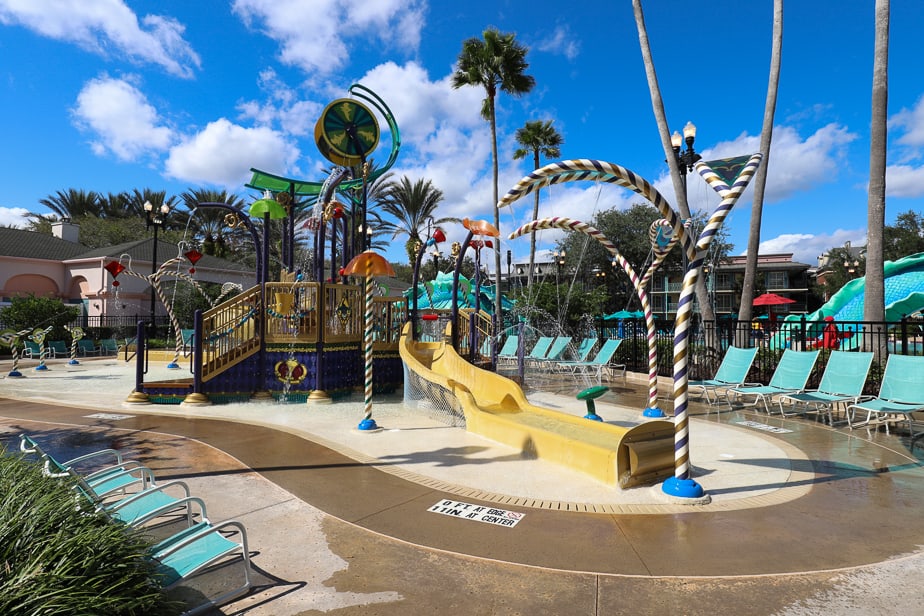 Outside of the gated pool area is Mardi Grog's, the pool bar for Port Orleans French Quarter.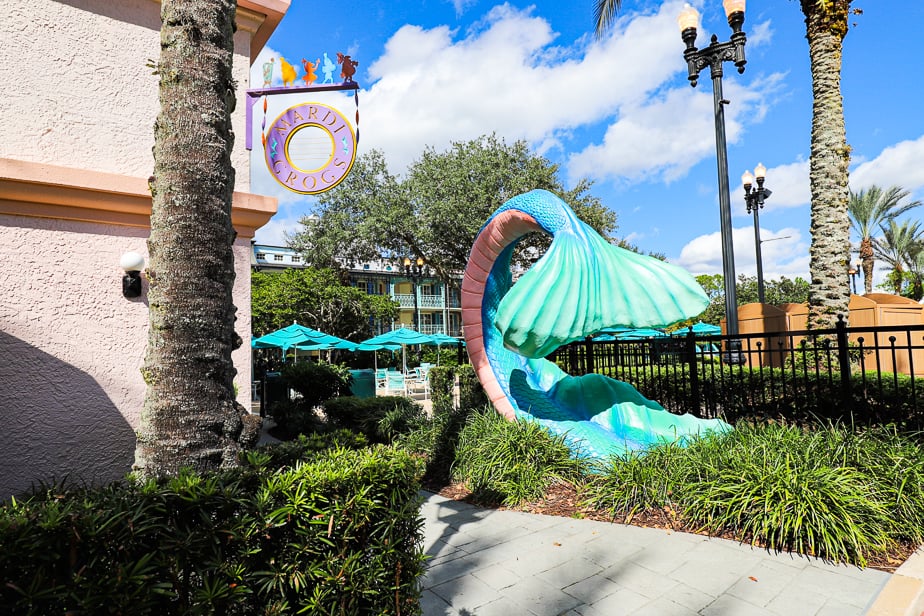 They serve sandwiches, salads, kids' meals, and various beverages.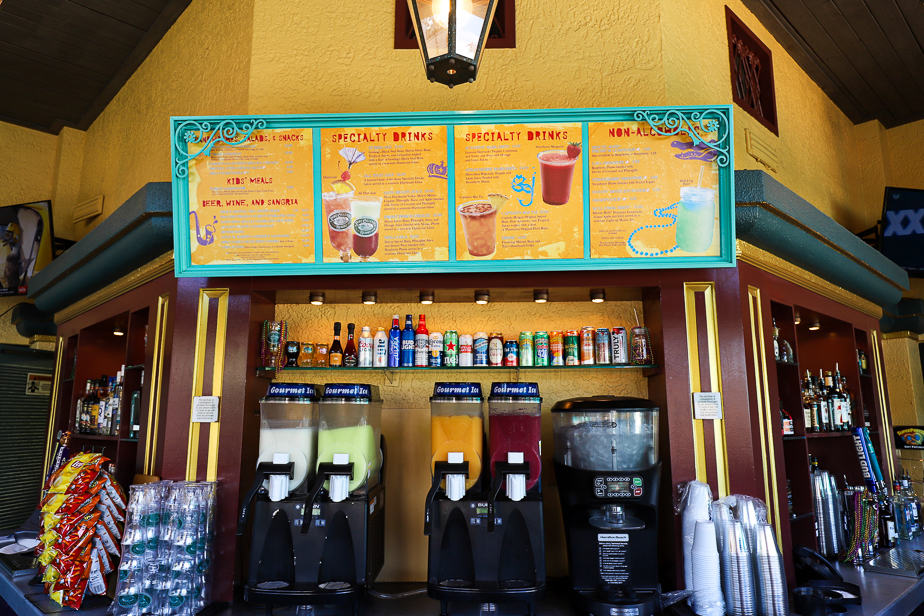 You can preview the Mardi Grog's menu here on Disney's site if you like.
Additionally, mobile ordering from Sassagoula Floatworks and Food Factory is another option for dining at the pool. You'll just have to walk to the lobby to pick it up.
Lastly, there is a gated area between the lobby and pool area with a hot tub or whirlpool spa. This area is adjacent to Laundry on the Levee, French Quarter's laundromat.
Related: Laundry at Port Orleans French Quarter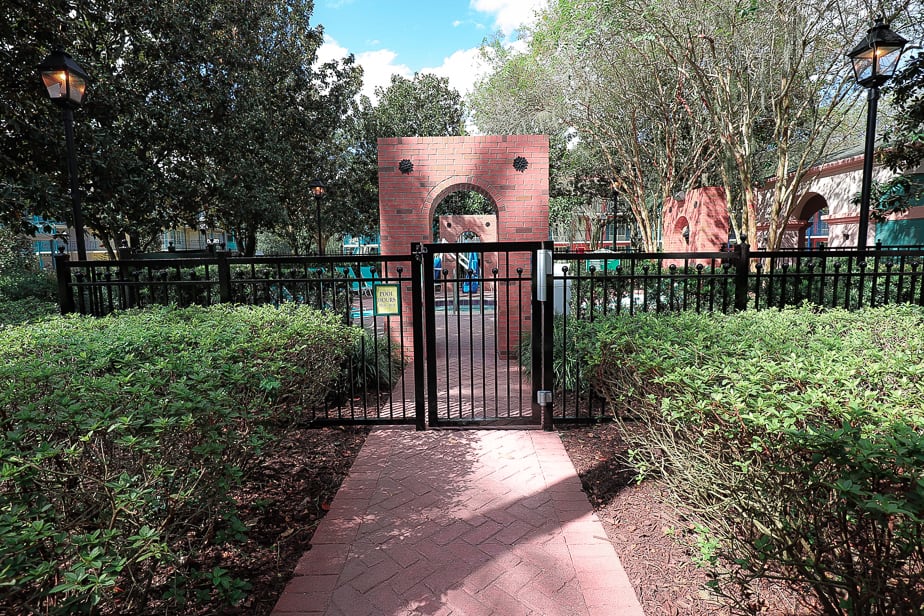 It's a small hot tub. However, it does provide a private space to lounge that's separate from the main pool area.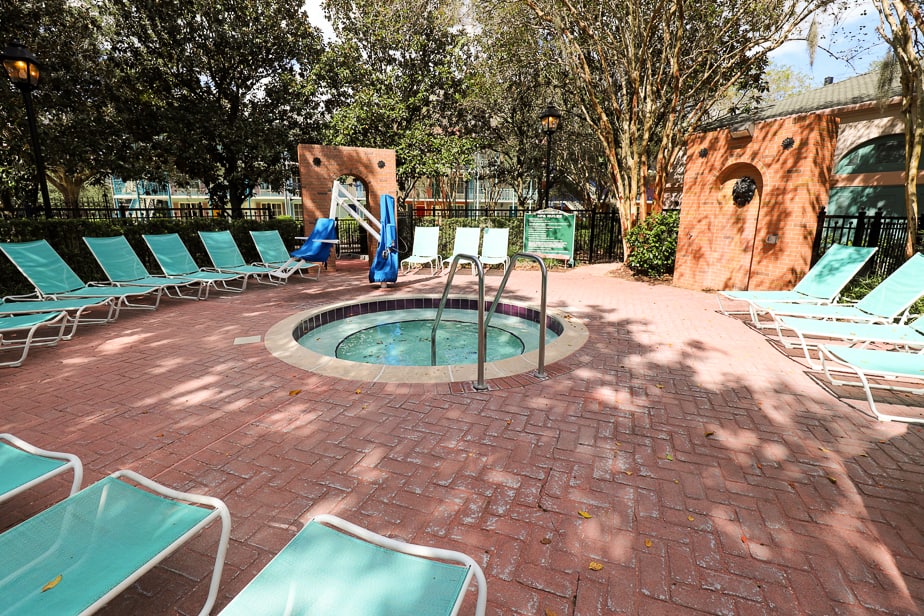 And across the walkway is a playground.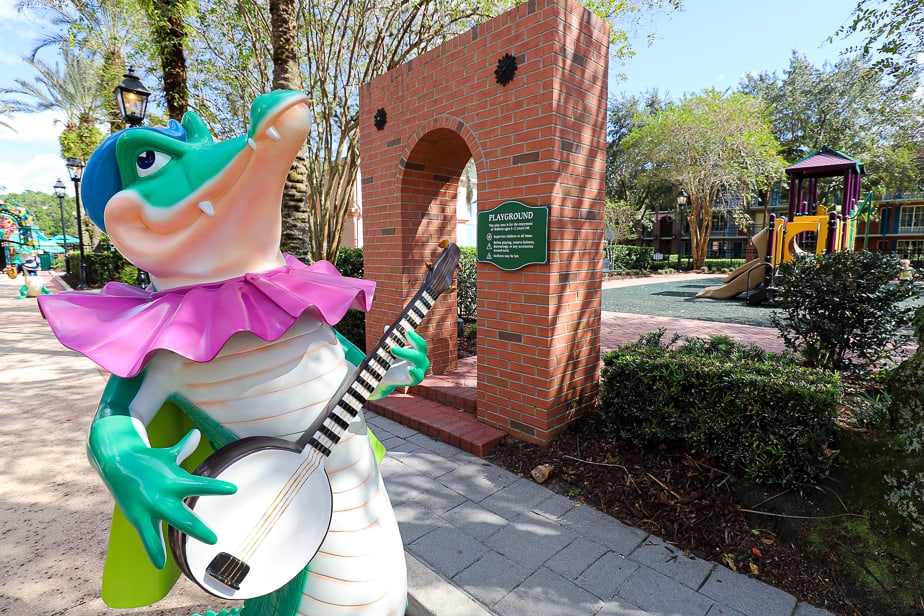 For more information about Port Orleans French Quarter, all of our articles related to the resort are available here. In case you missed it, we recently covered the gift shop here.
Or you might enjoy these other articles:
Considering a few other resort pools at Disney World? Here are some of our other picks:
So, what are your thoughts about the pool at Disney's Port Orleans French Quarter? Will it work for your group? Leave a comment down below and share your opinion.