Residence Inn by Marriott at Flamingo Crossings Review (Near Disney World)
Wow. Before we even start, I want you to get out the list of places you are considering staying on your next Walt Disney World vacation. Now, I want you to put the Residence Inn by Marriott at Flamingo Crossings at the top.
Guys, I'm not kidding. I can't tell you the last time I had such a delightful time at a hotel. Well, come to think of it, I enjoyed my stay at Bonnet Creek's JW Marriott a few months back.
But that would be like comparing an apple to a watermelon. While they're both fruits, neither fall in anywhere near the same category, especially when it comes to price ranges.
Additionally, I committed earlier this year to seek out more budget-friendly hotels near Disney World. Times are tough. So tough that many of us have to choose between drastically cutting our usual vacation budget or not making a trip at all.
For this review of the Residence Inn by Marriott at Flamingo Crossings, we'll look at the things we usually cover in a resort review. However, I'm going to try and take that a step further and discuss how a stay at this hotel can considerably help cut other expenses.
So get out your suitcase and plan to do things differently this time. We're off to Disney World for a stay at the finest affordable nearby hotel.
Seriously, take a look and see for yourself. It was almost like staying at the Grand Floridian.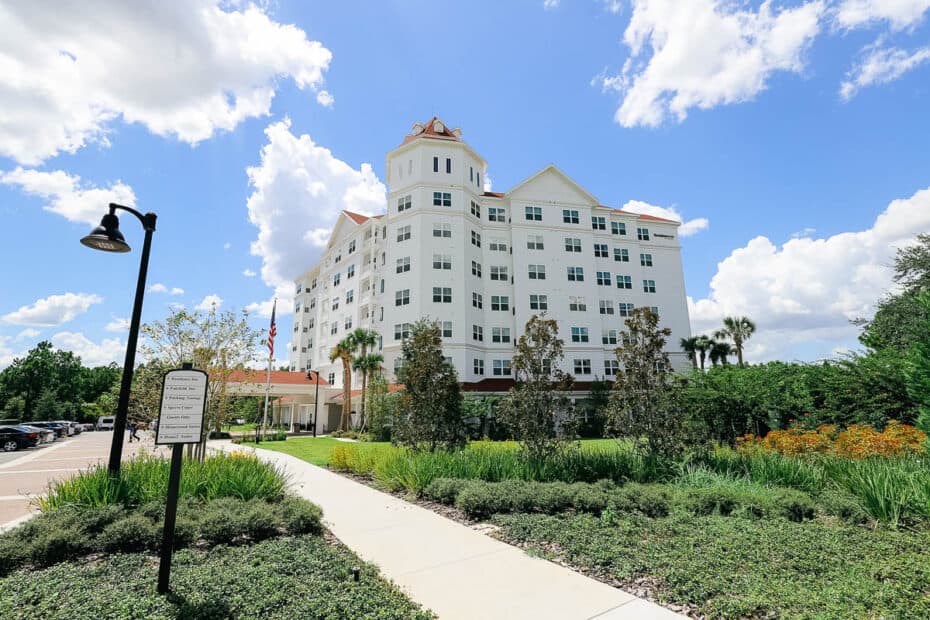 Residence Inn at Flamingo Crossing Review
First, we'll look at the studio, the starting room type at the Residence Inn. This room comes with a king-size bed and features 440 square feet.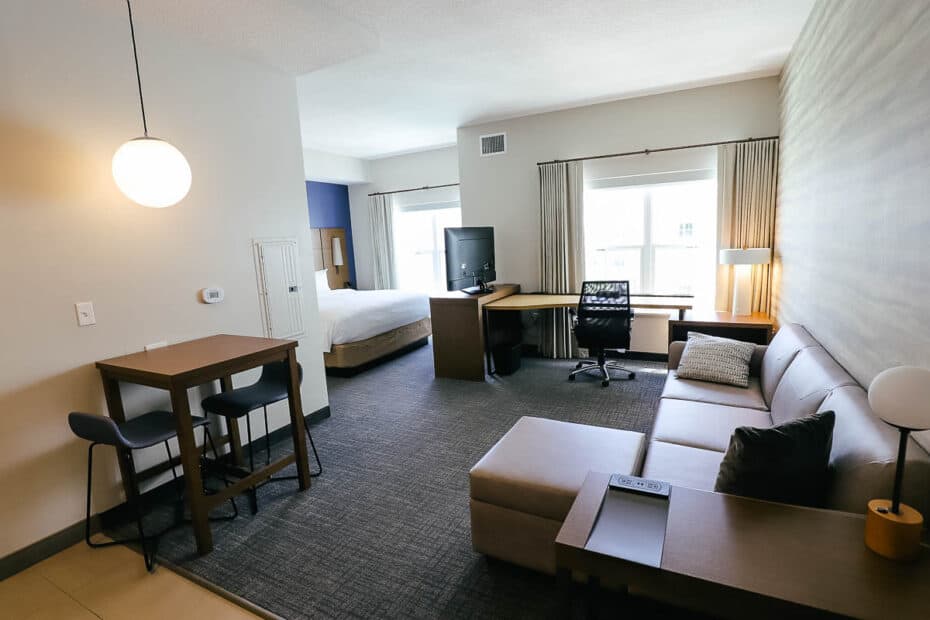 When I opened the door to this space, I was beyond impressed and knew I had made a good decision. Typically, when I stay in the Disney World area, I review a few hotels and then move to a condo in Reunion.
Unfortunately, my usual condo was booked most of the time I needed it. So I ended up reserving this studio. After all, it was reasonably priced and close to Disney World.
As the time approached to leave the condo and check in here at the Marriott, I began to fear I might have made a wrong decision. Did I really want to spend nearly two weeks in a hotel?
Would I have the essentials to prepare healthy meals during my stay? Then, when it was all said and done, would I save money by staying here?
The answer is yes. So much, yes, that given the convenient layout of this room and its amenities, I'd stay here again and again.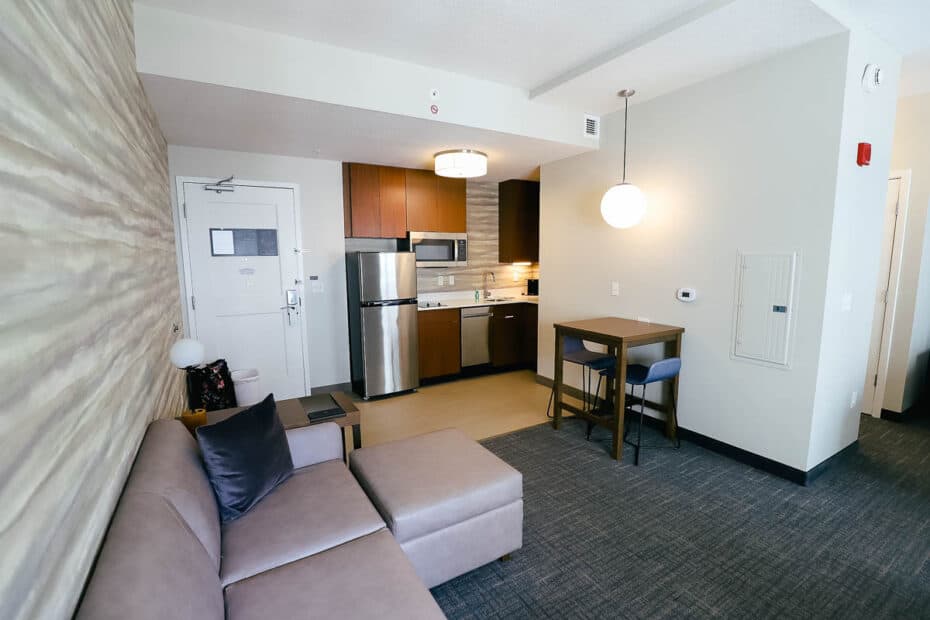 One of the things that impressed me the most was this large desk. Several blog posts were written at that very spot.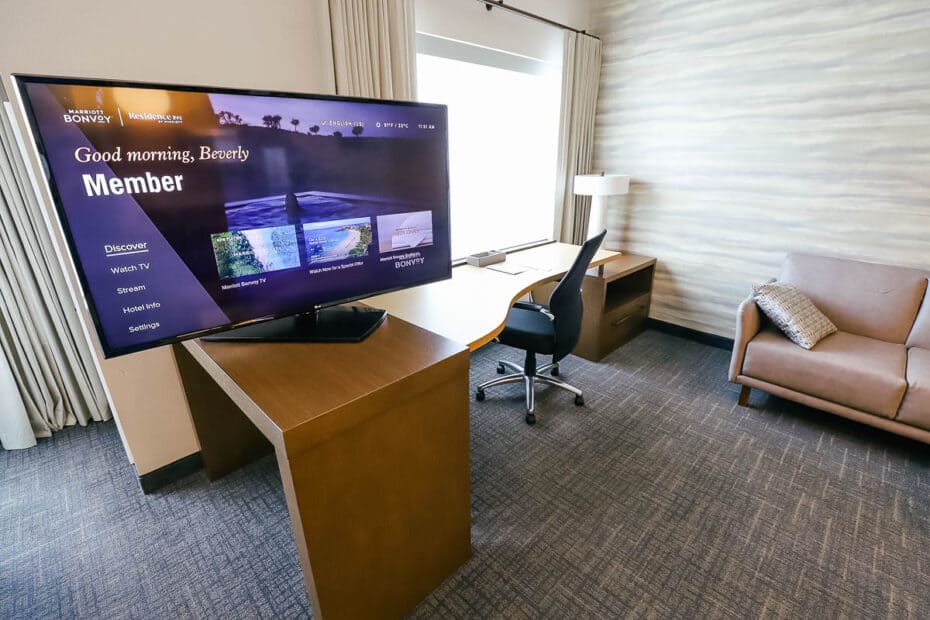 Additionally, I liked how the television was positioned on a swivel stand. So when you sit in the living room, you can turn it to that area. Then you could turn it to the bedroom if you wanted to watch something before falling asleep.
The sofa had an ottoman. Oddly, it was a bit higher than the seating area. If I had to make one complaint about the room, it was that the sofa wasn't comfortable. It was one that sits low to the ground, so you have to consciously make more of an effort when you go to get up.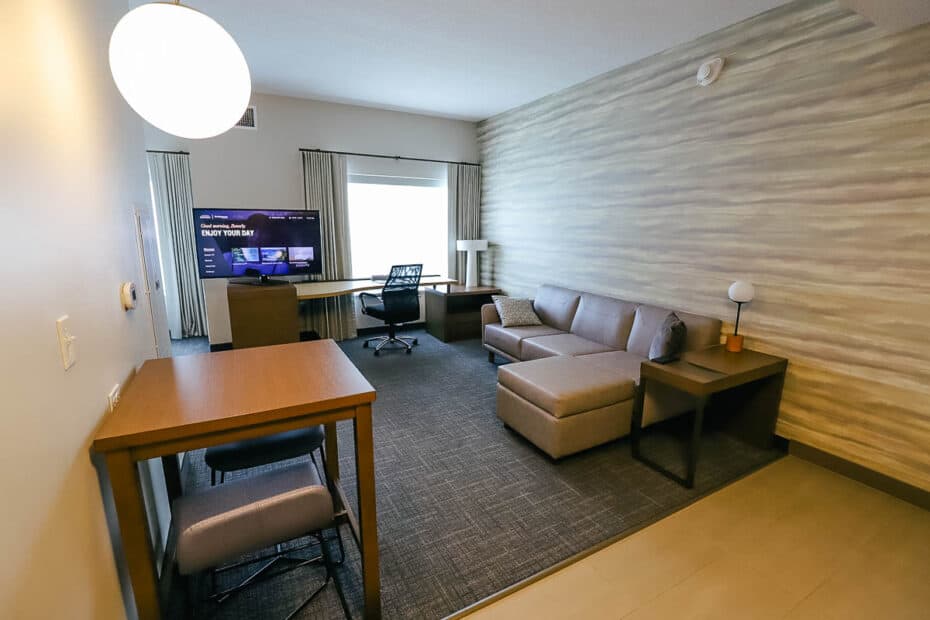 A counter height table for two provides a small dining area.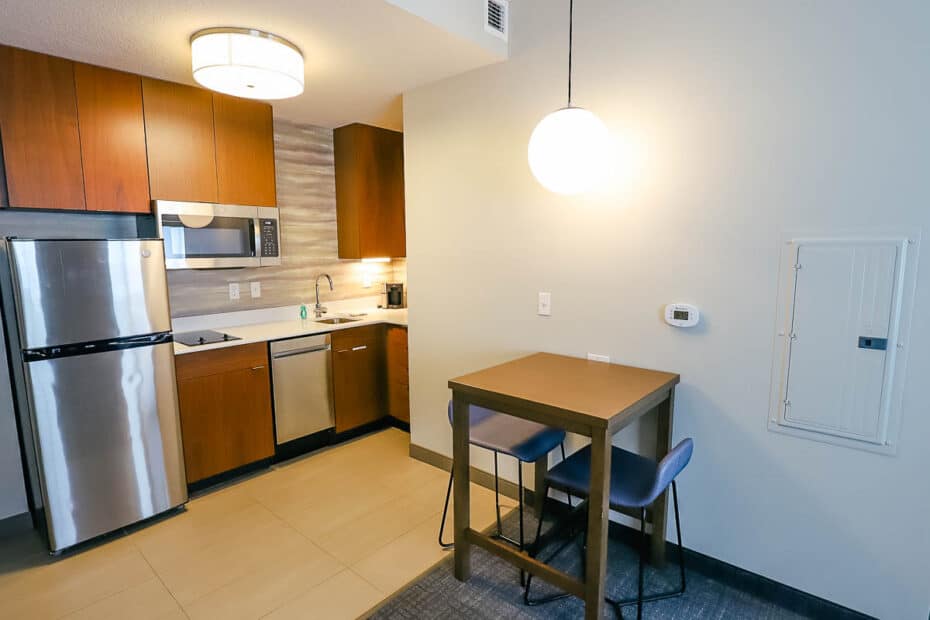 The kitchen was most impressive. I had plenty of room to prepare meals during my stay.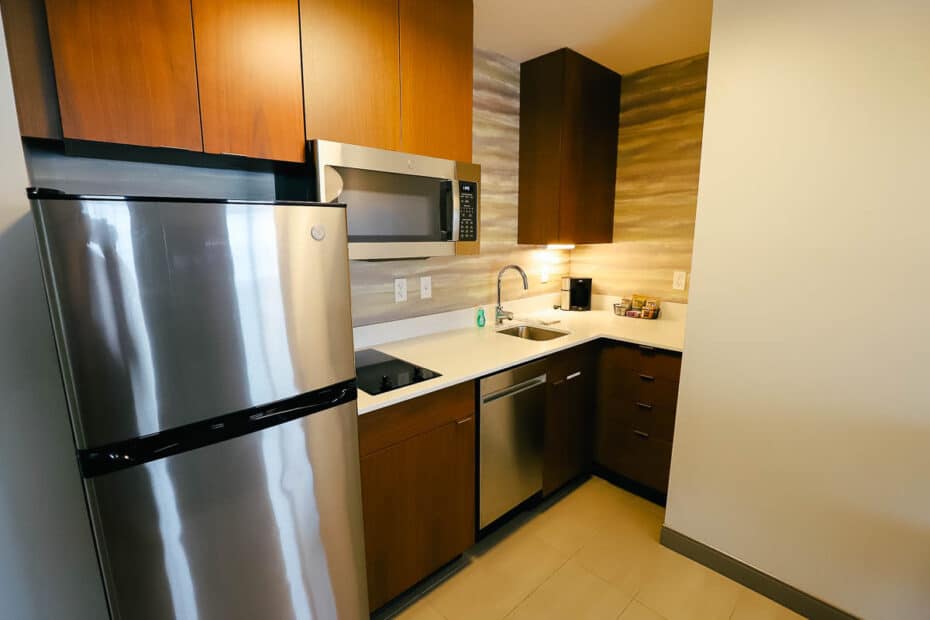 I took photos of everything, so you could get an idea of what's available. The refrigerator and freezer are full-size.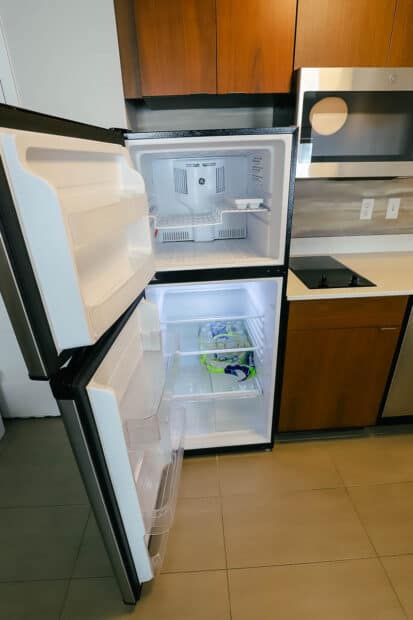 When I buy groceries, I usually put most of them in a carry-on bag with rollers to bring from the car to the room. Of course, you could have groceries delivered if desired.
Additionally, if I have several items, i.e., cases of water, soft drinks, etc., I will get one of the luggage carts and use it to bring everything up.
Here is the built-in microwave. Underneath, it offers a ventilation fan and light over the cooking area.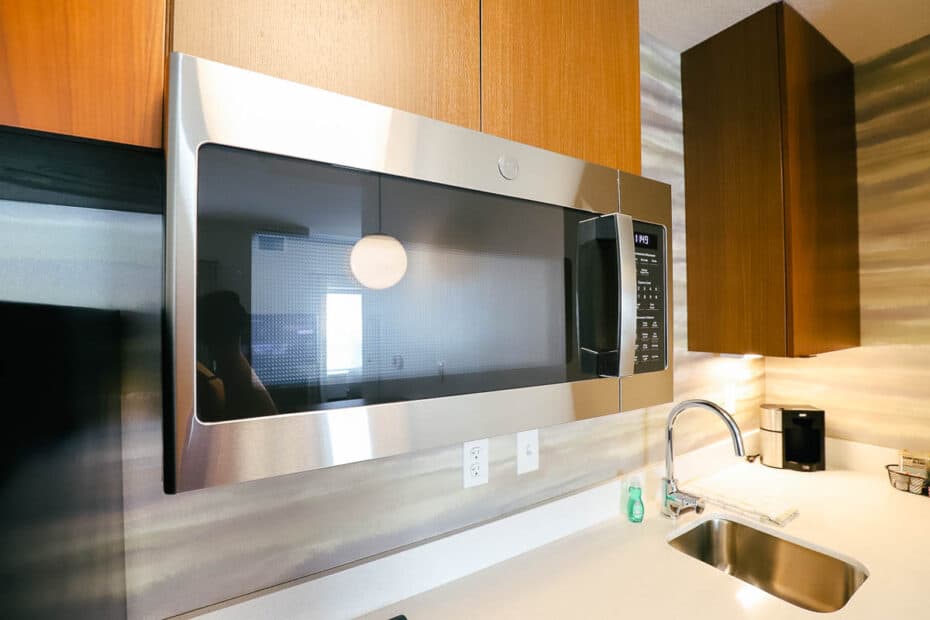 There was a two-top burner. One note here was that while the burners worked well, it took them longer to heat up than what I'm accustomed to using. So if you think they're not going to work well, give them a few minutes longer.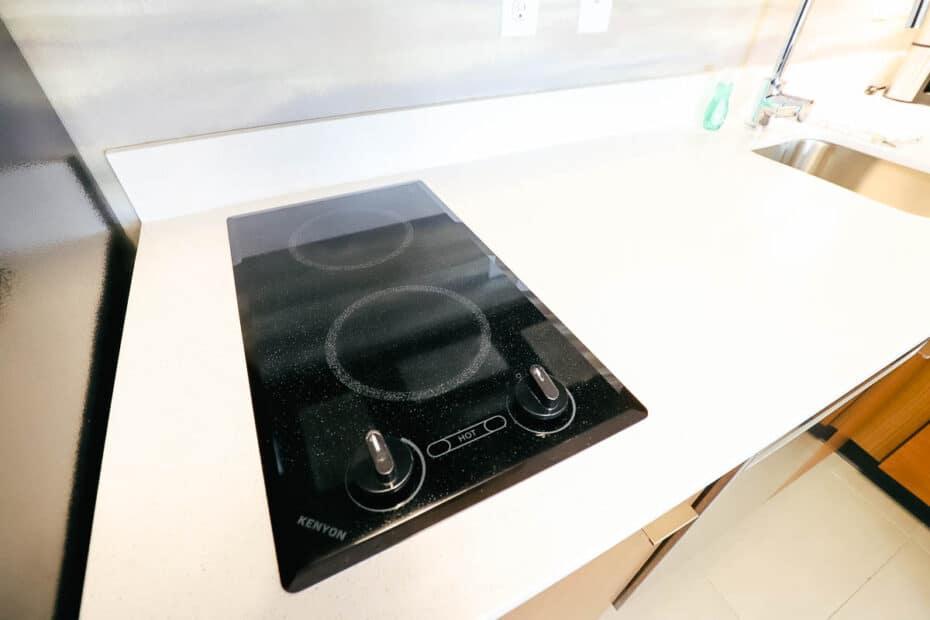 I appreciated the small dishwasher. It was nice to fill it and turn it on instead of having to deal with washing dishes by hand.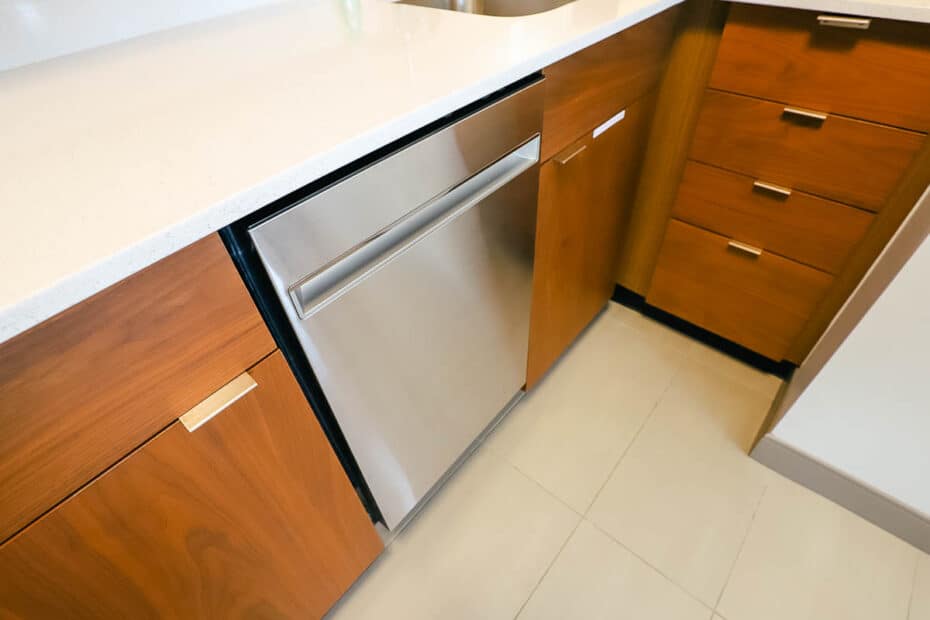 An individual cup coffee maker sits toward the back of the counter area. Since the hotel serves a complimentary breakfast every morning, I picked up my coffee downstairs. However, I would have preferred to be able to have made coffee with a regular coffee maker.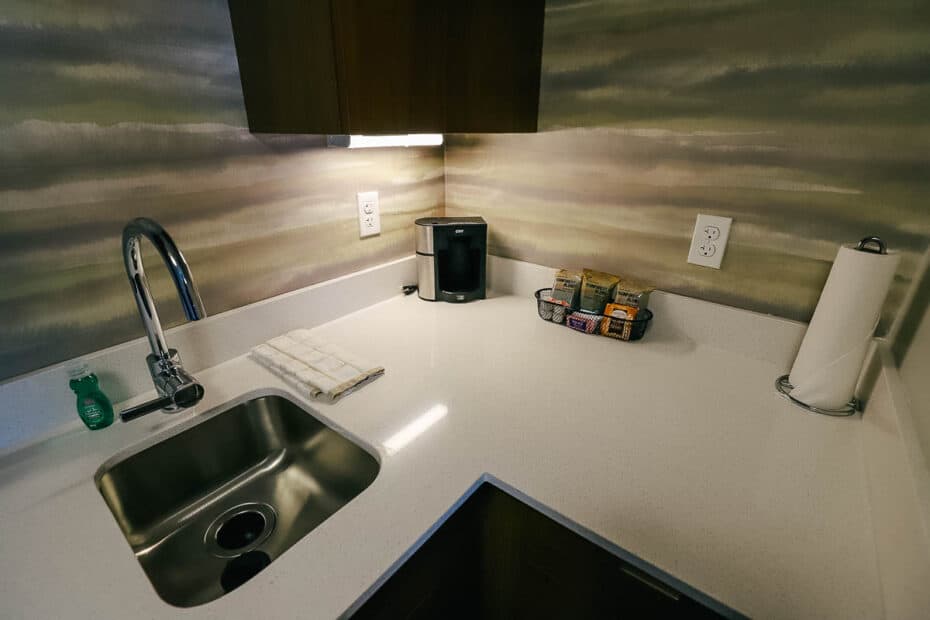 There were plenty of plates, bowls, mugs, and glasses.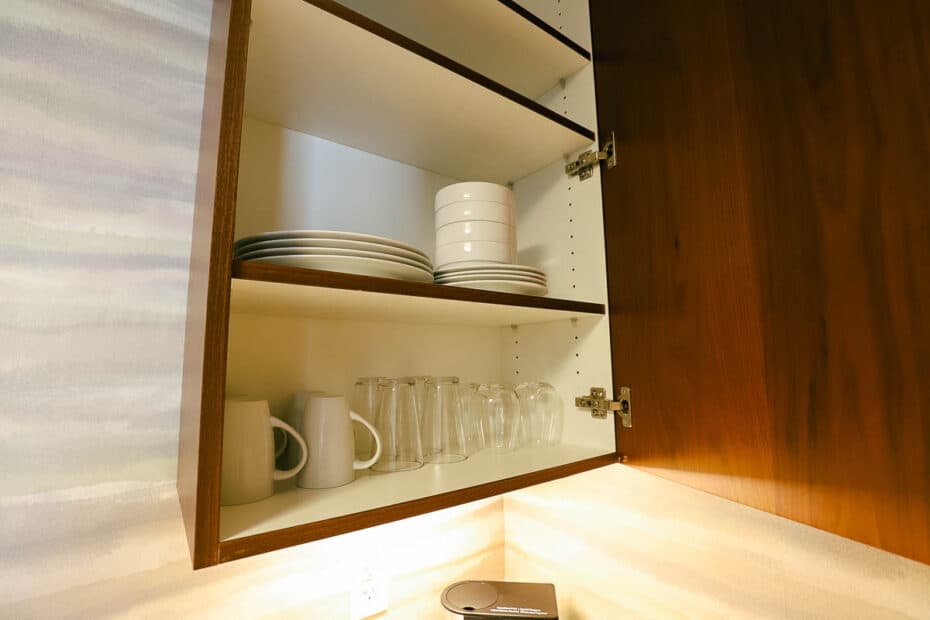 Toward the top, there was a toaster oven. The only thing I felt was missing was a blender.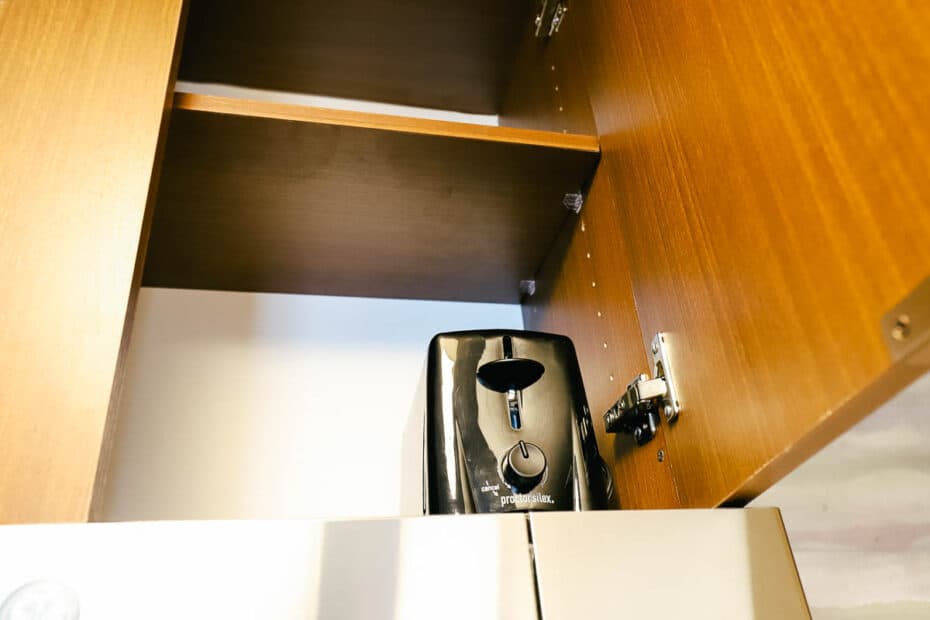 Below the cooktop, there were several pots and pans. Thankfully, they were of good quality. Unfortunately, some places provide cheap items that don't hold up well.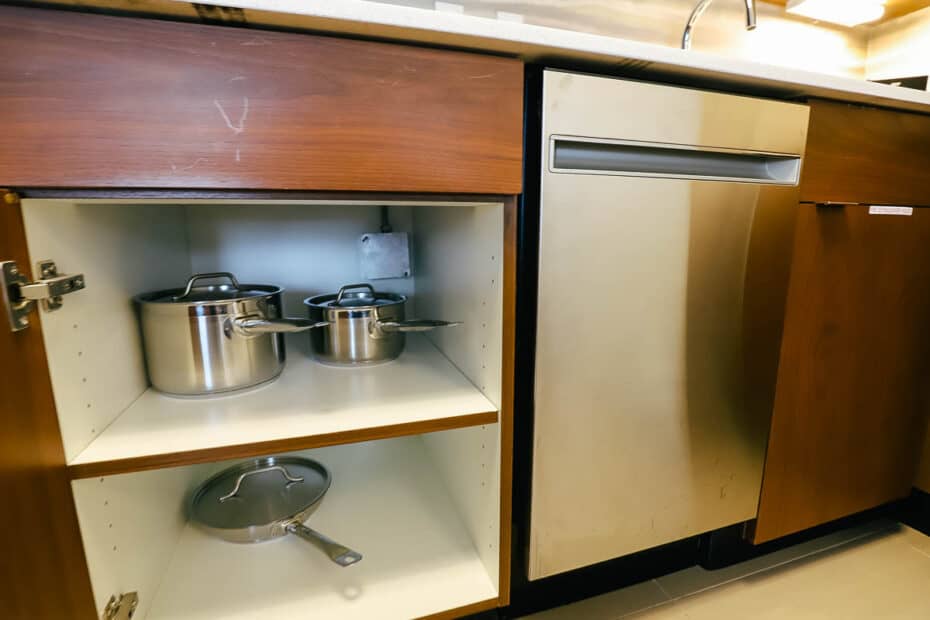 Again, I took a photo of everything, so you would know what to expect. It was nice to have a cutting board and cooking utensils.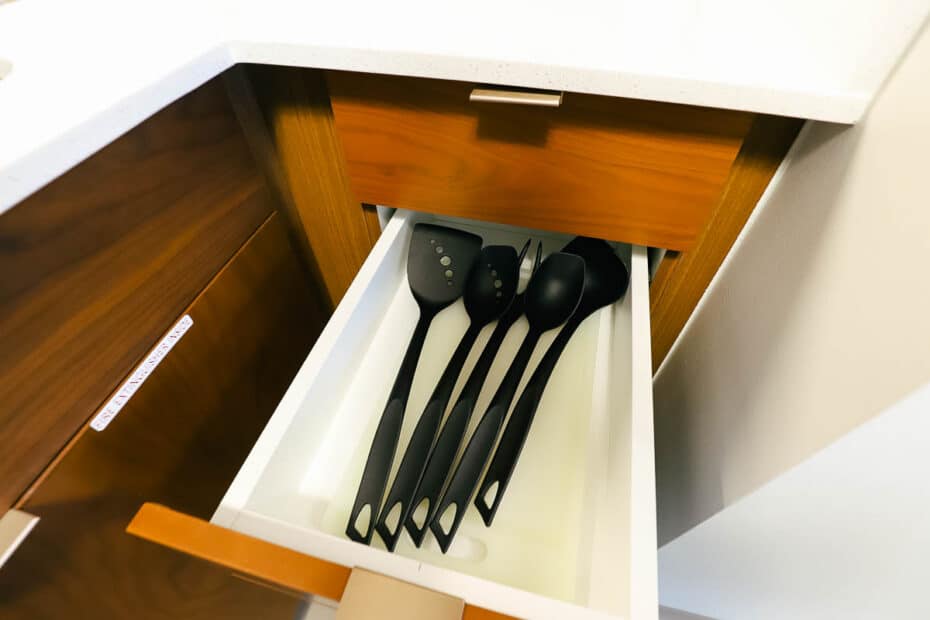 There was a vegetable peeler, can opener, corkscrew bottle opener, measuring spoons, and cups.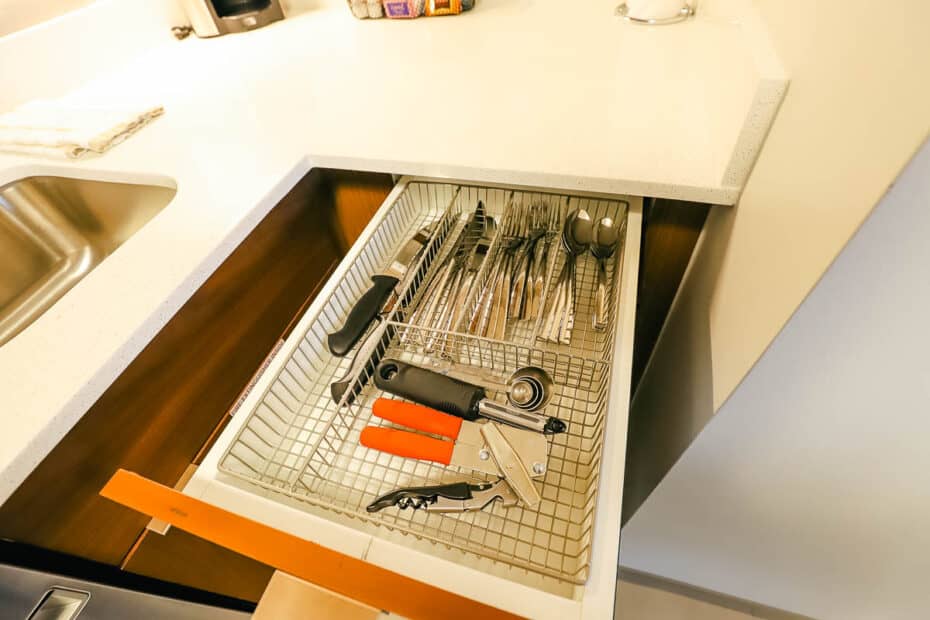 In drawer number two, we have dish rags, pot holders, a decent sponge, salt and pepper shakers, and dishwasher detergent.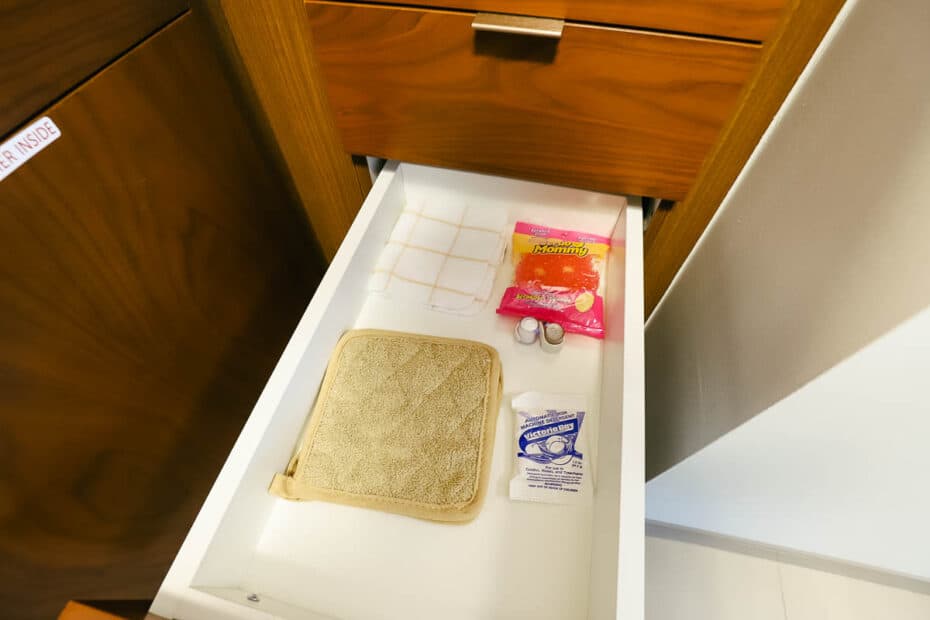 Lastly, there were mixing bowls (with lids), a colander, and a large measuring cup.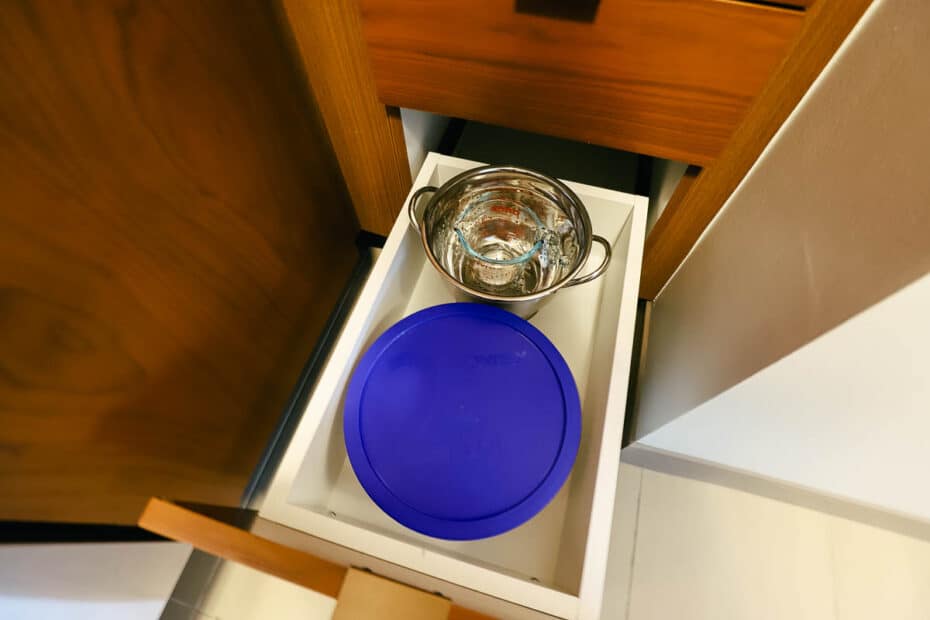 Overall, there was almost anything you could want or need to prepare a meal. Having access to these extras makes a world of difference when traveling.
The studio room at the Residence Inn comes with a king-size bed and sleeps up to two guests. In addition, the hotel offers one and two-bedroom suites if you have a larger party.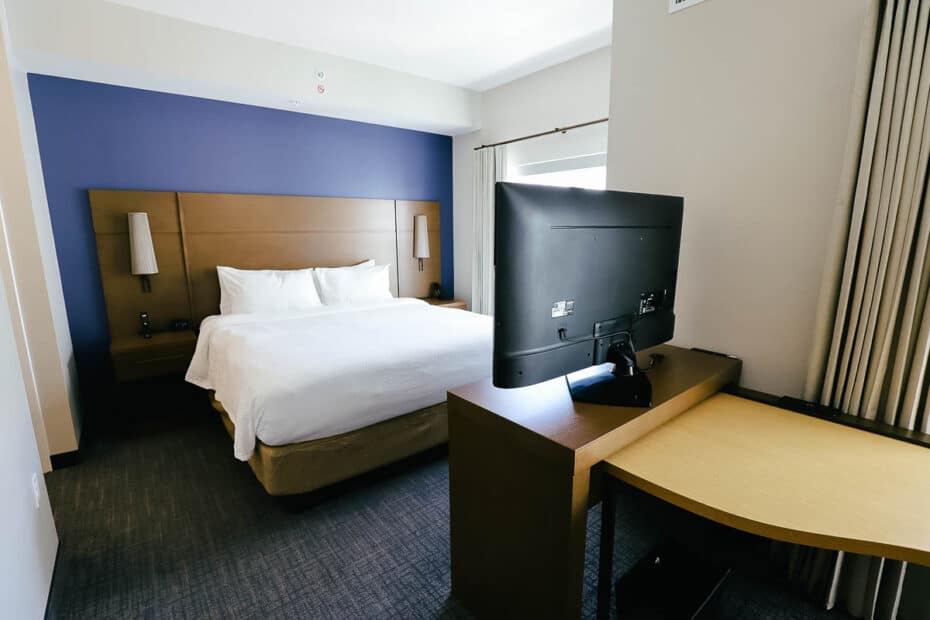 While I'm not sure if I received an upgraded view or not, it felt like it. My window looked out to the beautiful pool area.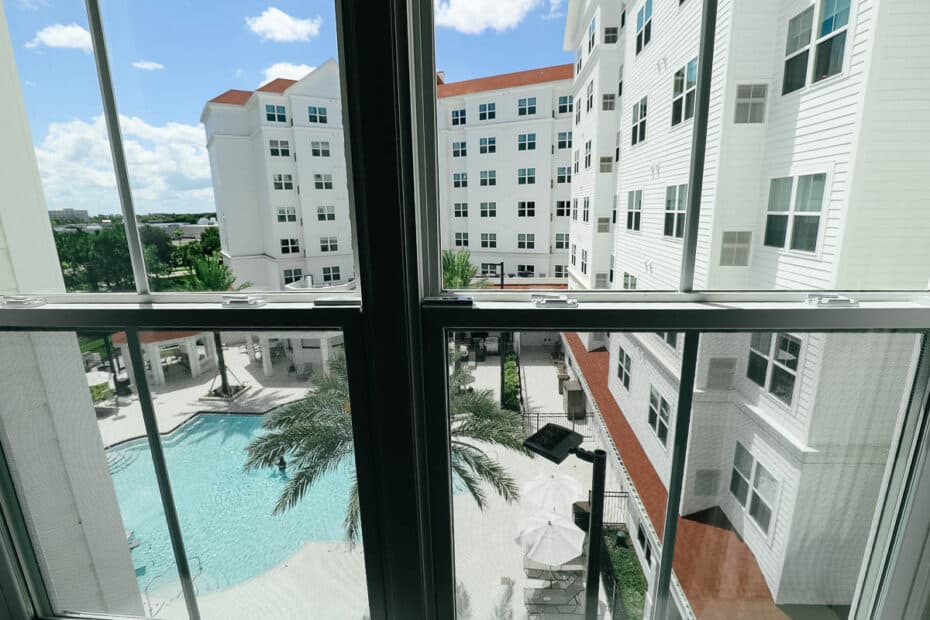 The guest bath had a separate vanity from the actual bathroom area.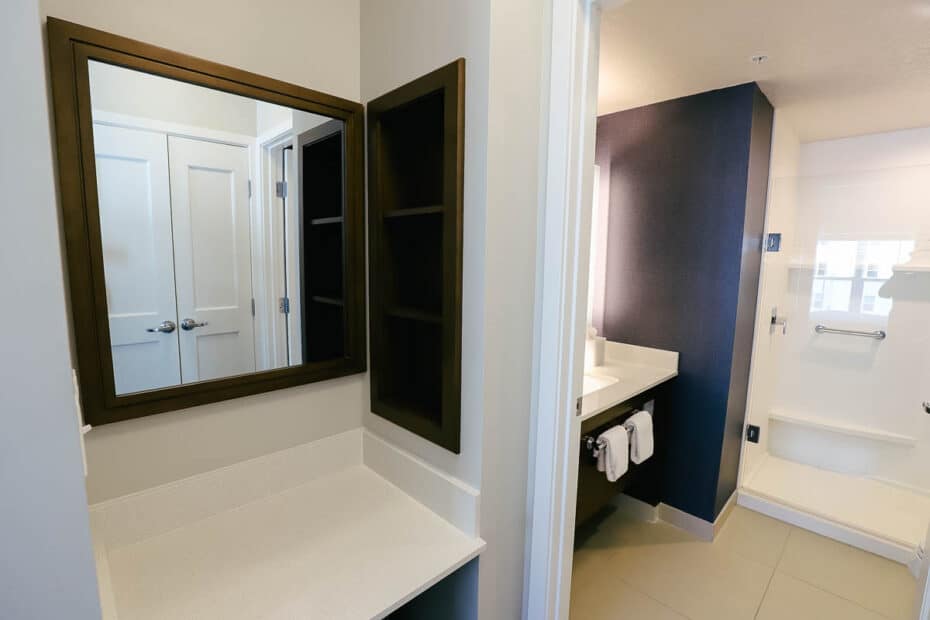 It was nice to have this space to spread out a bit, and I used the built-in shelf for my sunscreen, hairspray, and other similar products.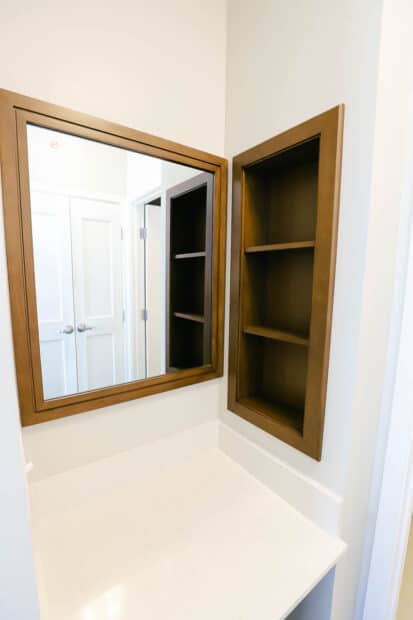 Here's a look at the layout of the space.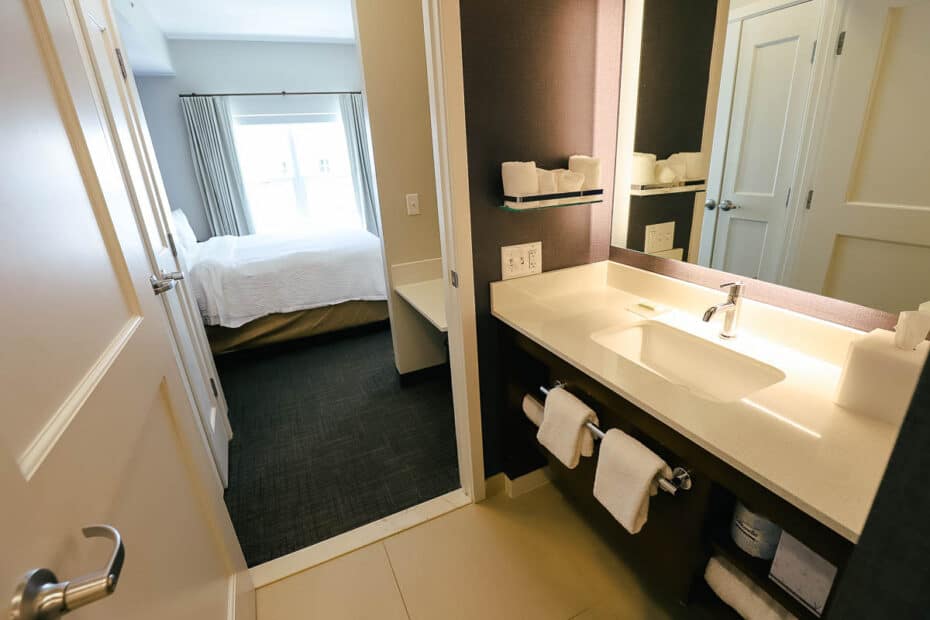 The shower had a glass door that opened both ways. Note the faucet is on the opposite side of the shower. It was convenient to turn the water on and let it heat up without having to lean in the entire shower.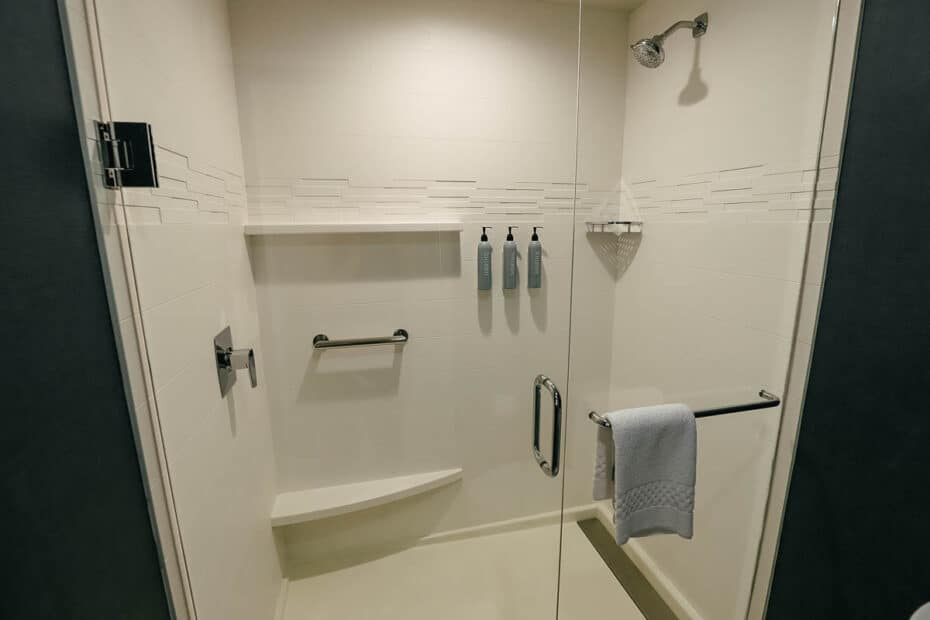 Speaking of convenience, there's a nice little ledge on the back of the shower, which is helpful for shaving. And the shower had a higher ledge to place any other necessities. Those are also built-in shampoo, conditioner, and bath gel bottles on the wall.
You may remember we saw these same features next door at the Fairfield Inn by Marriott at Flamingo Crossings a few months back. That's another excellent option if you don't need a kitchen during your trip.
Related: Fairfield Inn at Flamingo Crossings Review
You can watch the video of the room below if you would like a different perspective.
Now that we've gone over the details of the room, let's look at a few other amenities. Below is a photo of the laundry facility, which is located on the ground floor.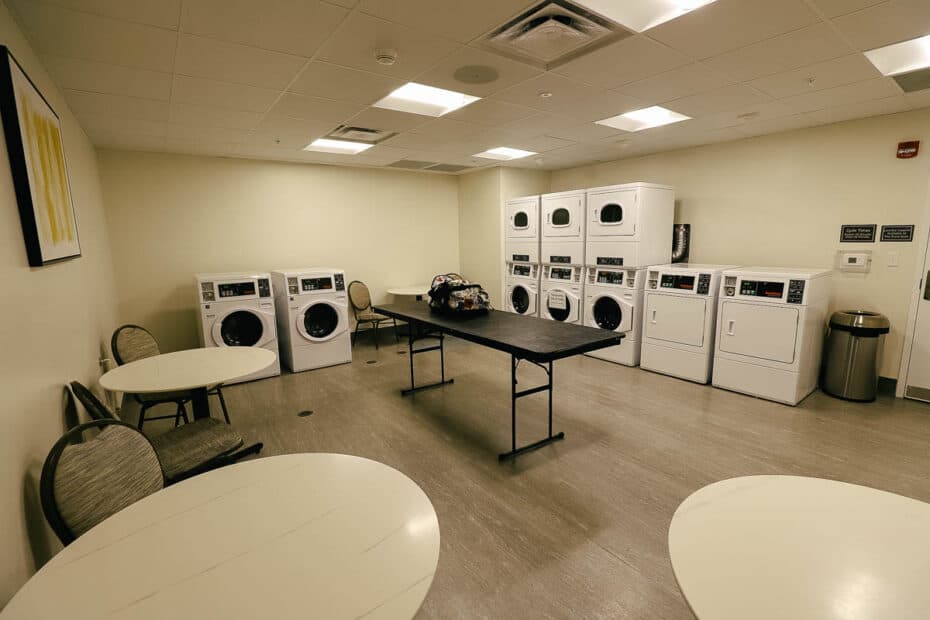 Laundry costs $2.50 a cycle, and the machines take quarters. They keep plenty on hand at the front desk if you don't have change.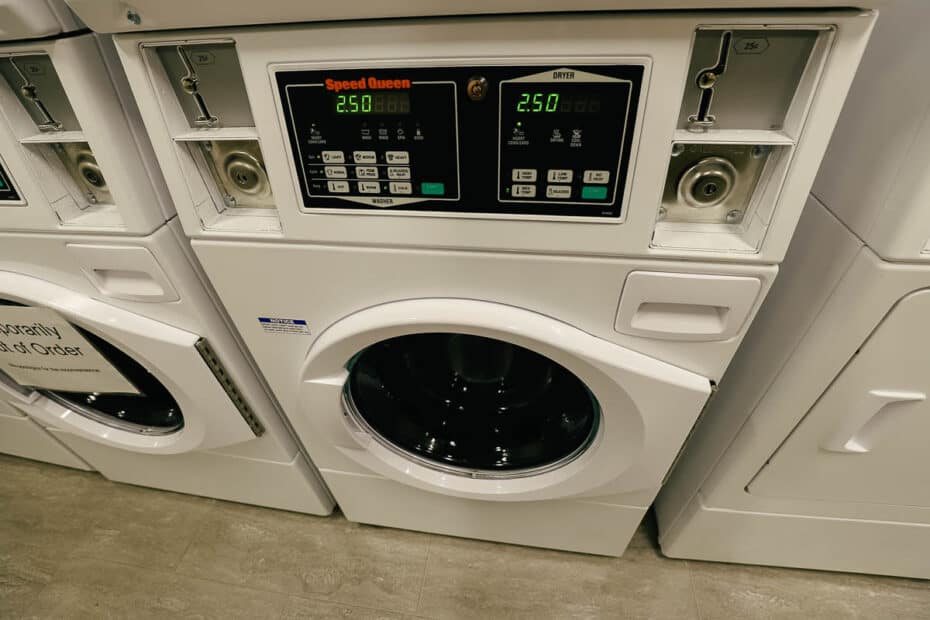 Next door to the laundry, there's an exercise room.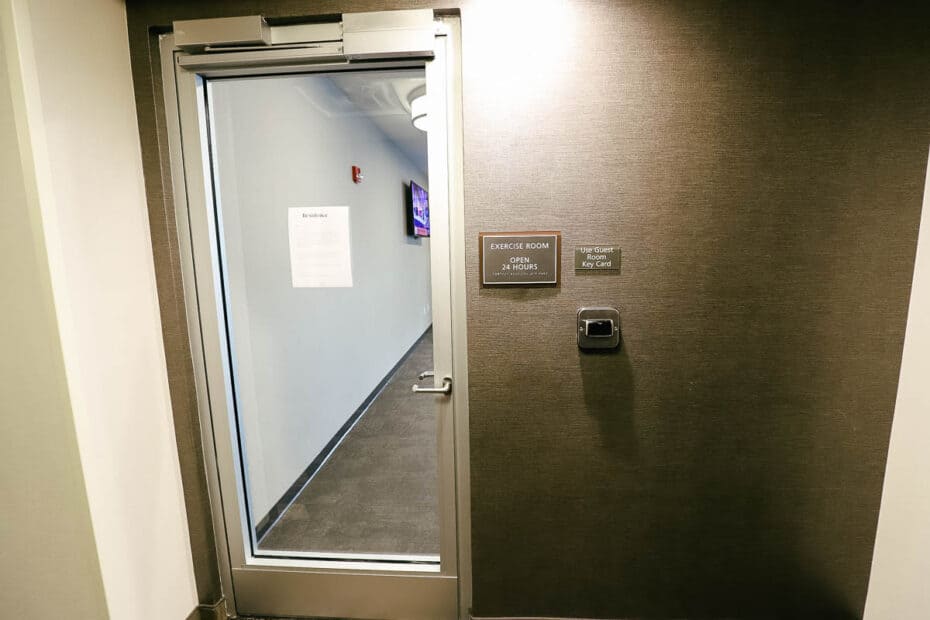 I was able to get in a couple of workouts during my stay and felt there was a good variety of machines and weights.
A bottle refiller with filtered water was provided.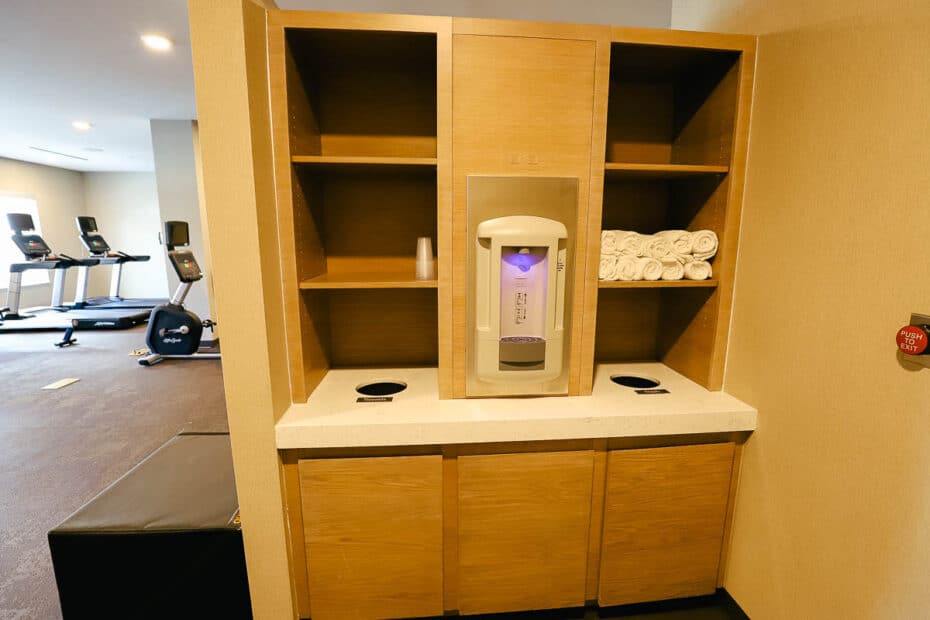 The hotel's lobby is substantial.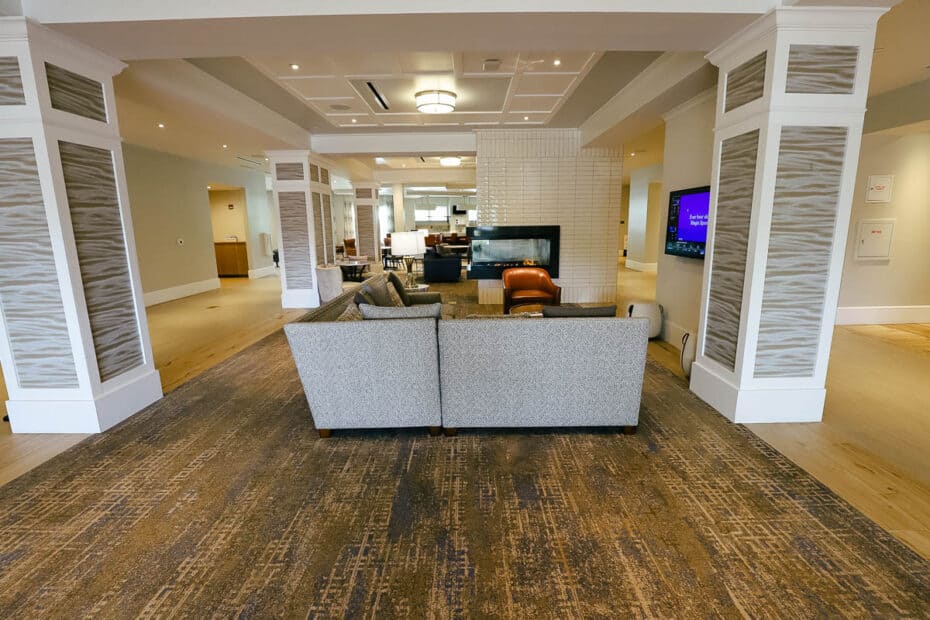 Near the front desk, there's a small shop with convenience items.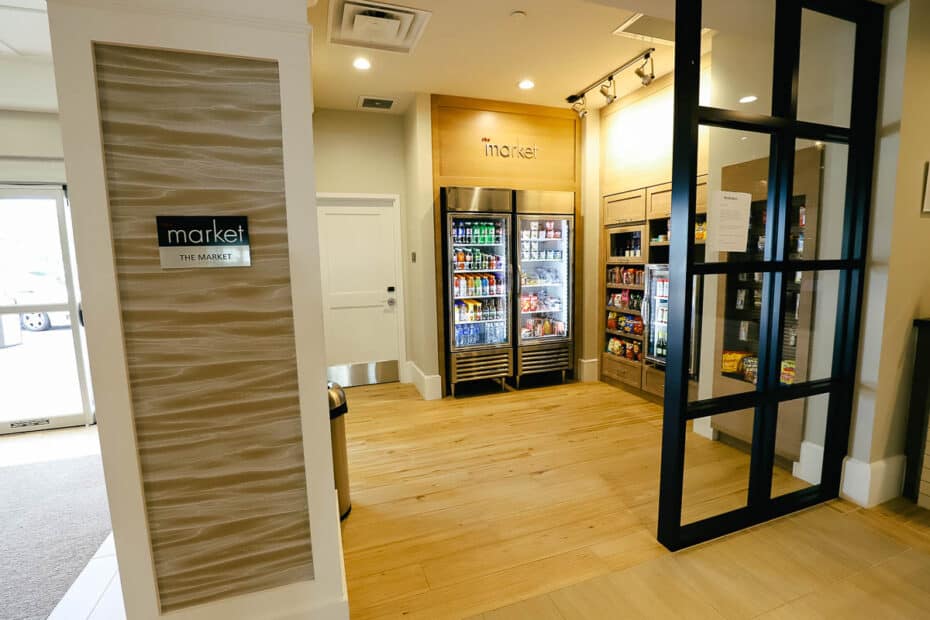 Here's a look at what's immediately available in case you need something.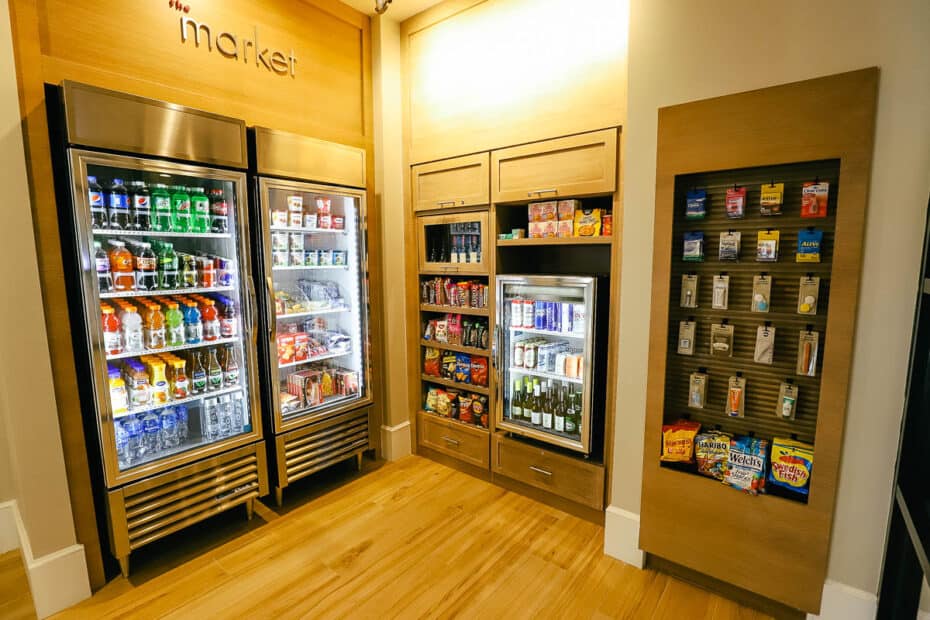 However, technically, you can walk across the street to the Target Market. But it's still nice to have a few things available, especially if you come in after everything else has closed.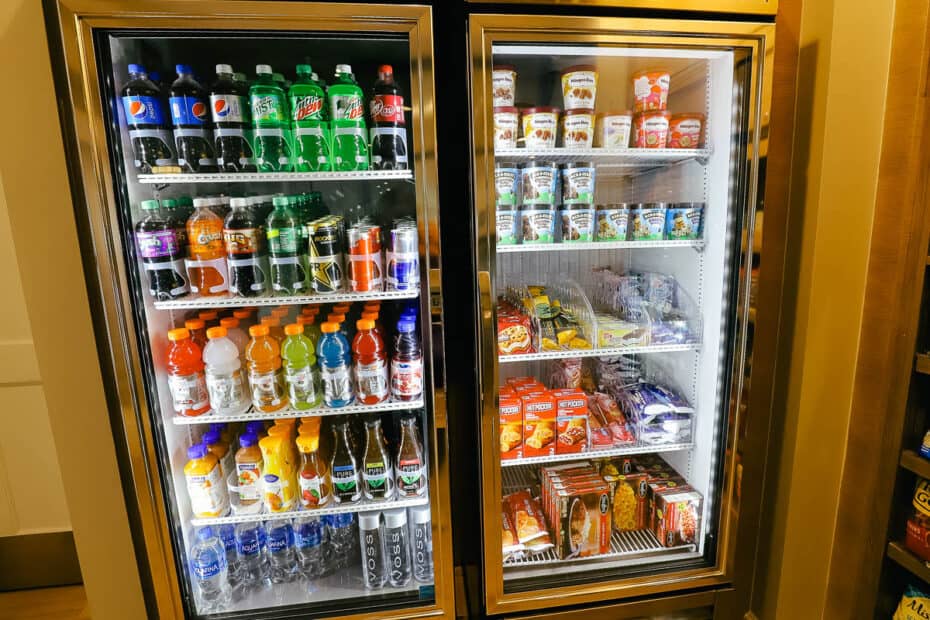 Items ranged from snacks to microwaveable meals.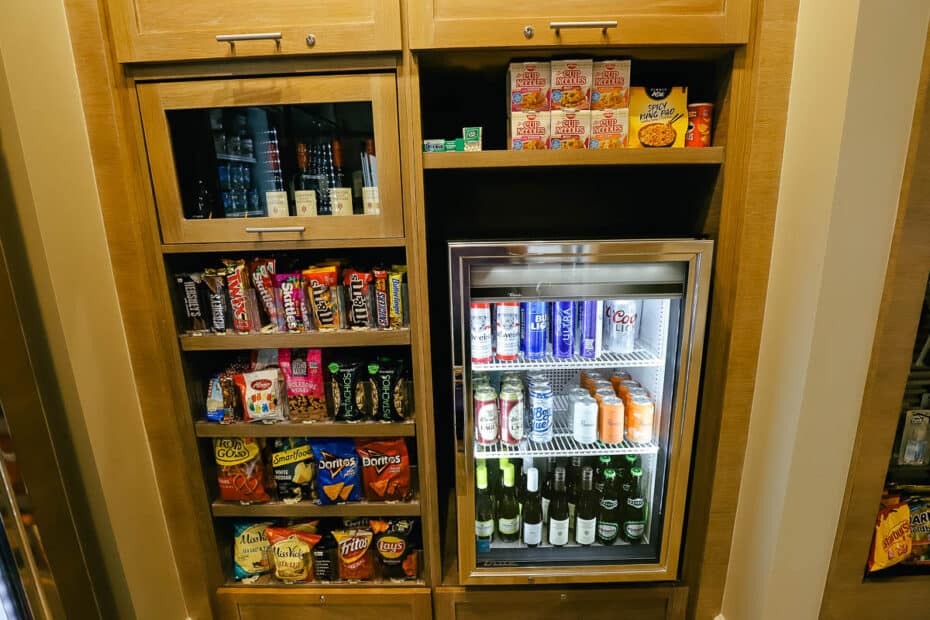 Most hotels have a selection of over-the-counter medicines and similar convenience items.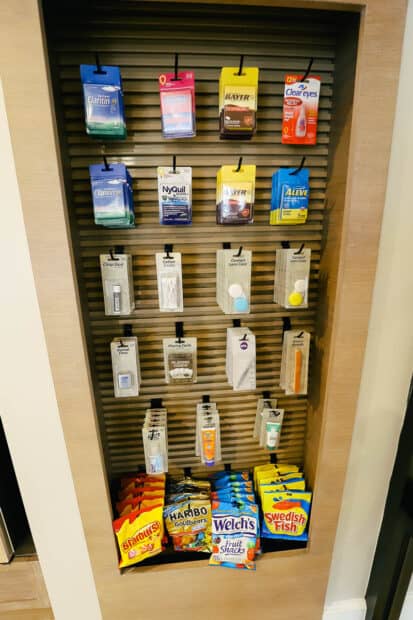 Here is a better look at the lobby.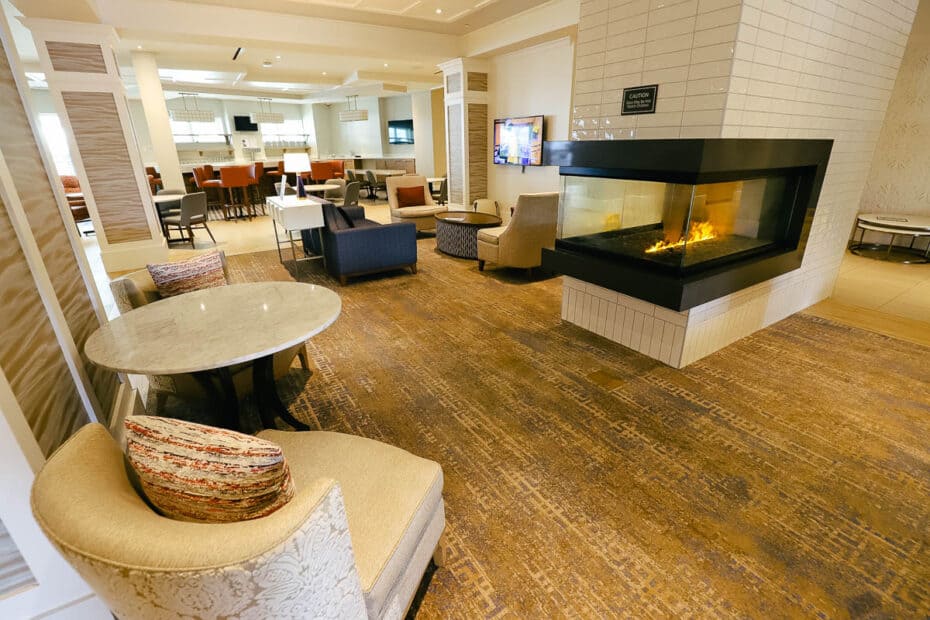 In the mornings, these spaces tend to fill up with everyone enjoying breakfast.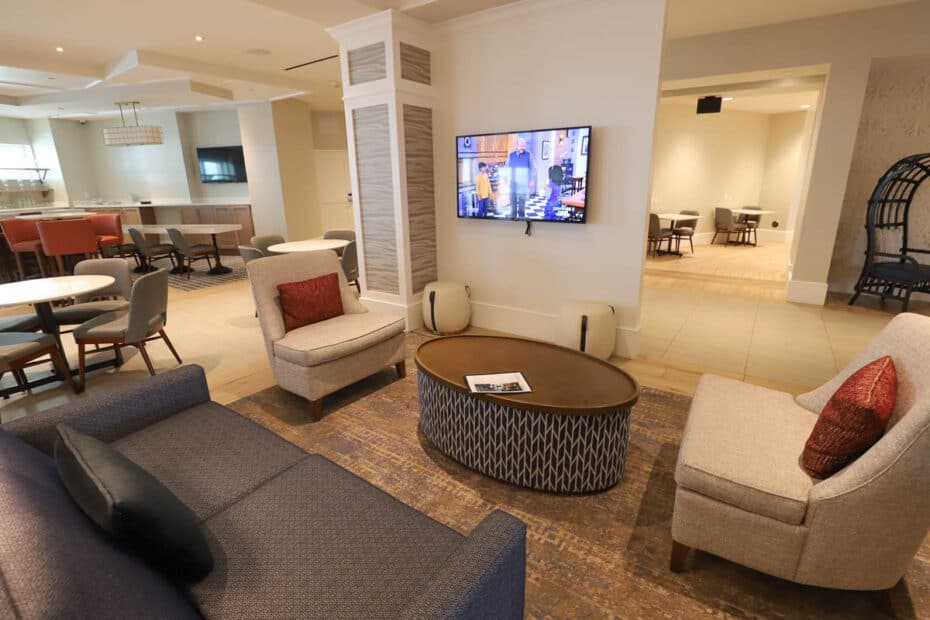 There is also a bar area. Funny thing, the bar is open every evening, but I never knew it until the end of my stay.
Since my room was located toward the back of the resort, I used a separate elevator to come and go through the hotel's back door. So I never came through the front entrance other than when I first arrived.
One evening, though, we had a terrible lightning storm. It got so bad that I decided to come down to the lobby, and that's when I noticed the bar was open. If it hadn't been for the storm, I would have never realized that the hotel offered a nightly bar service.
Also, if you stay toward the back of the hotel, make sure to locate the stand-alone elevator. It's located near the laundry room. I could literally park, enter the building with my room key, and be in my room within three or four minutes.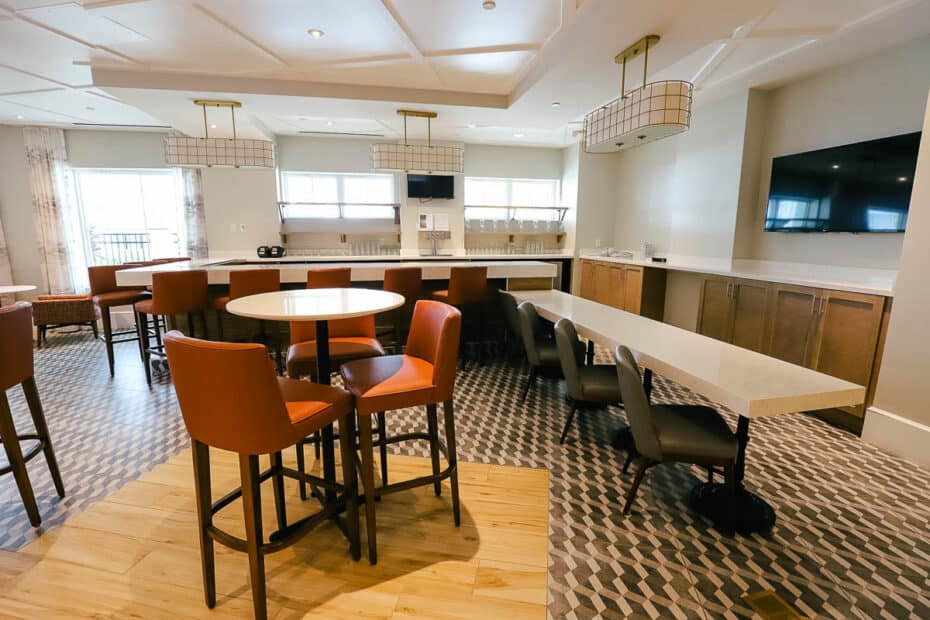 One of the nicest benefits of staying at this hotel is the complimentary breakfast. Now I enjoy splurging on a lovely breakfast here and there during vacation.
But we all know that breakfast for a family of four can be outrageous. You can quickly drop $100.00 or more for breakfast at a table service restaurant.
Thankfully, the hotel's breakfast had enough offerings that I enjoyed it every day during the entirety of my stay.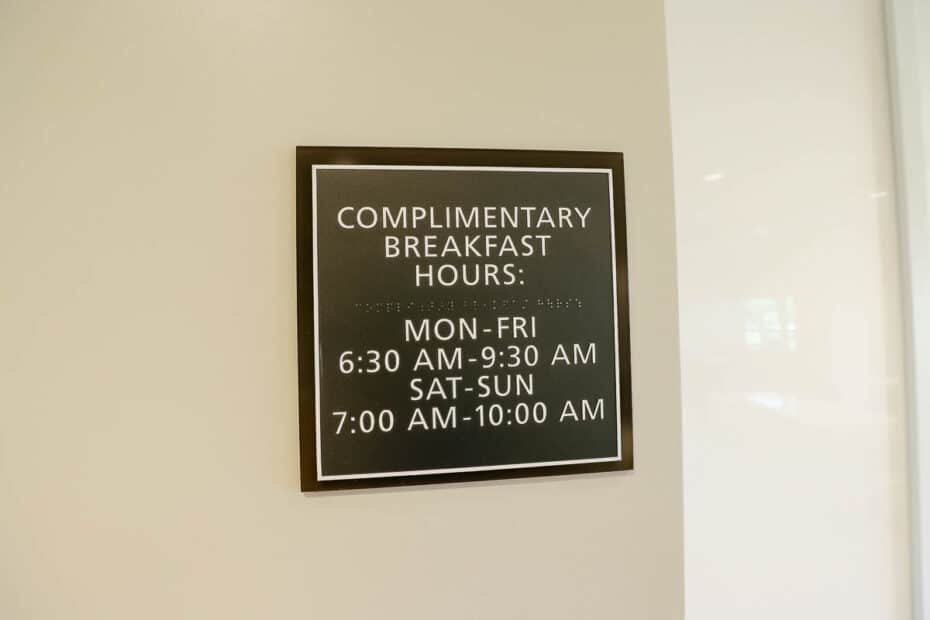 Here is a look at the buffet area, which includes a choice of meat and a vegan substitute each morning. Meat choices rotated between pork sausage, turkey sausage, andouille sausage, and bacon.
There were also scrambled eggs available every day. Toward the end of the left-hand side, there was an oatmeal station with more toppings than I've ever seen.
On the right-hand side each morning, there was fruit which usually consisted of apples, bananas, and oranges. Individual yogurt cups and small cartons of milk were also available.
Next, there was a bread box. It was full of bagels, blueberry and apple muffins, sliced bread, and English muffins. Accompaniments included cream cheese, spreads, butter, and hard-boiled eggs.
Then toward the end of this side, there was a selection of various cereals and juices.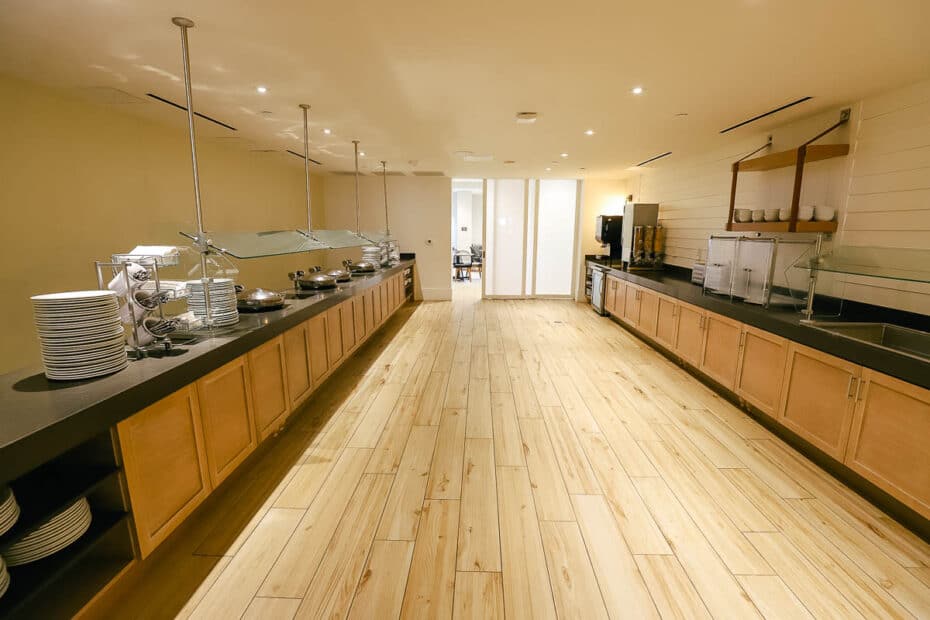 You'll find a large station of make-your-own Mickey waffles at the back of the main dining room. I've stayed at a few hotels that charge for these same waffles.
Lastly, the hotel sets up a coffee bar with regular coffee, decaf, hot water, and iced coffee, along with the usual accompaniments. There was even a vegan creamer available.
Since I was at the hotel for an extended stay, I'd enjoy different things here and there to break up the routine. For example, sometimes, I would grab a few extra slices of bacon and use the bread in my room to make a bacon sandwich for lunch later.
Every now and then, I would get a muffin or yogurt for a snack. Now don't get me wrong, I wasn't loading up my plate with extras. But it was nice to have access to a warm breakfast each morning.
More than anything, I noticed large families gathering at the tables each morning to have breakfast with their loved ones. Everyone seemed refreshed and excited about the day ahead.
As a single mom, I couldn't help but think how it must be a blessing to some of those families not to have to worry about the expense of breakfast each morning.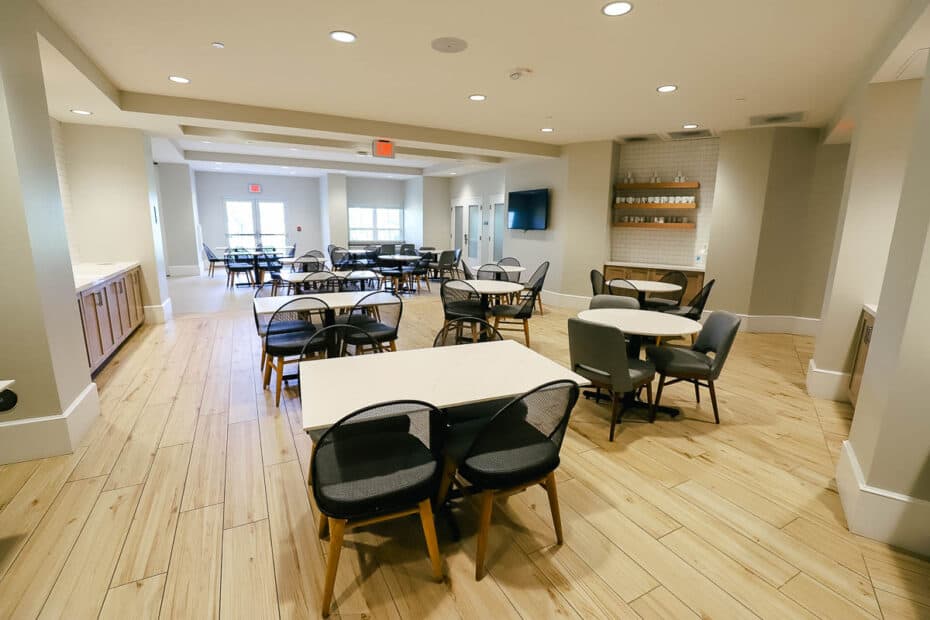 Moving on, we'll look at the resort's pool. Towels were provided at the pool.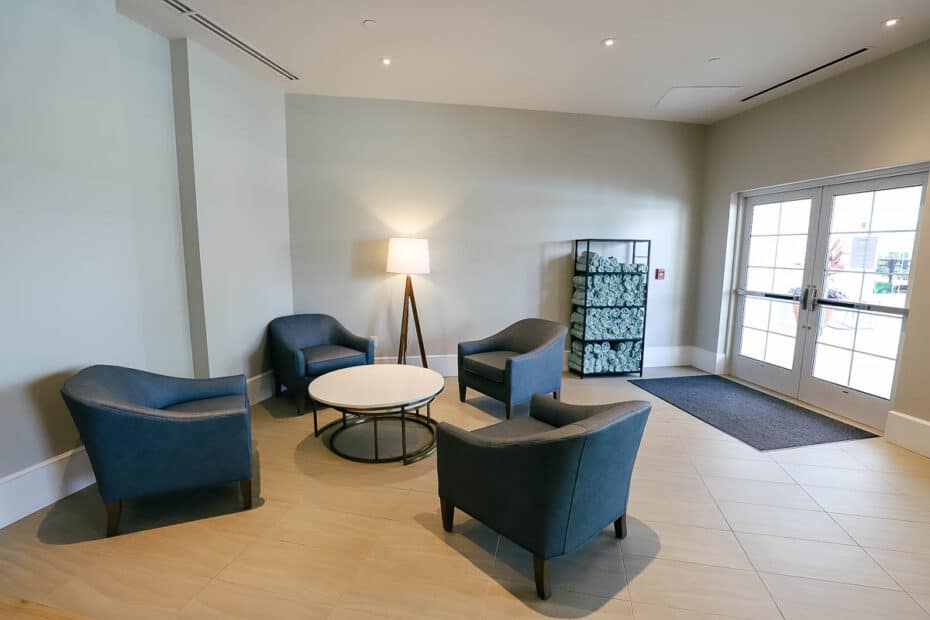 The pool was open daily from 8:00 a.m. until 11:00 p.m.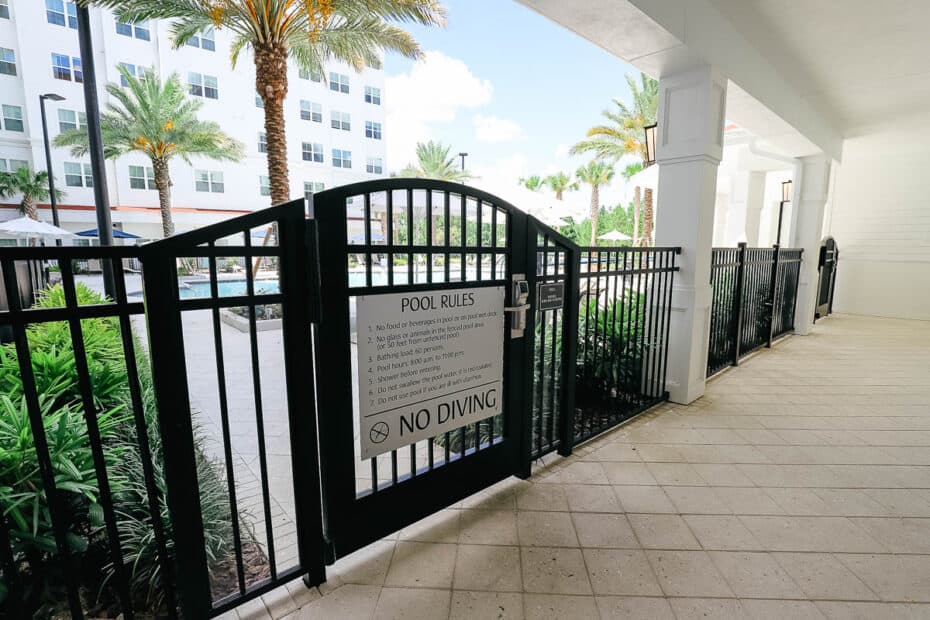 Since the pool sits in a courtyard area, there's plenty of shade on one side and full sun on the opposite side.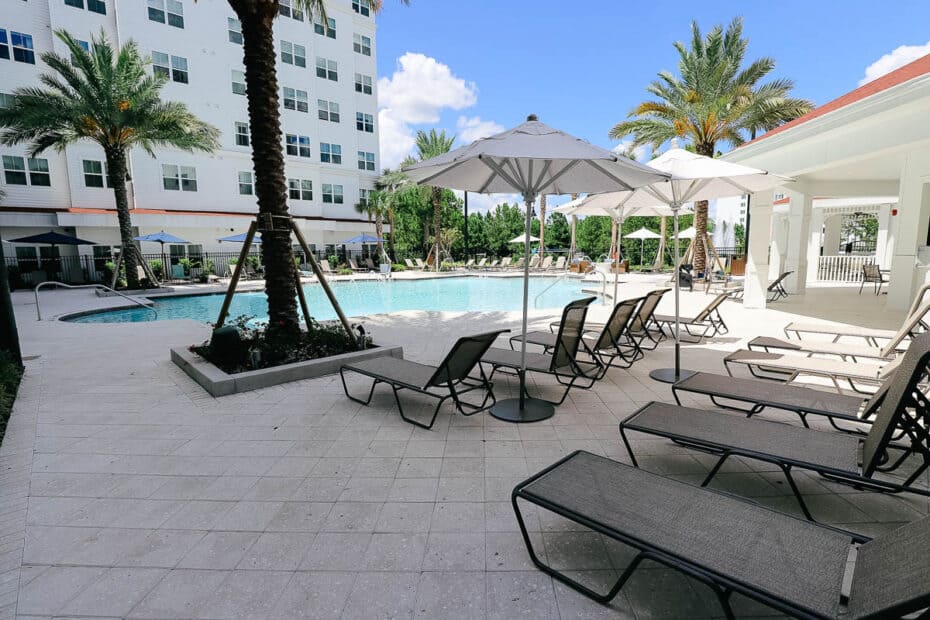 While I noticed plenty of guests using the pool, it never appeared crowded.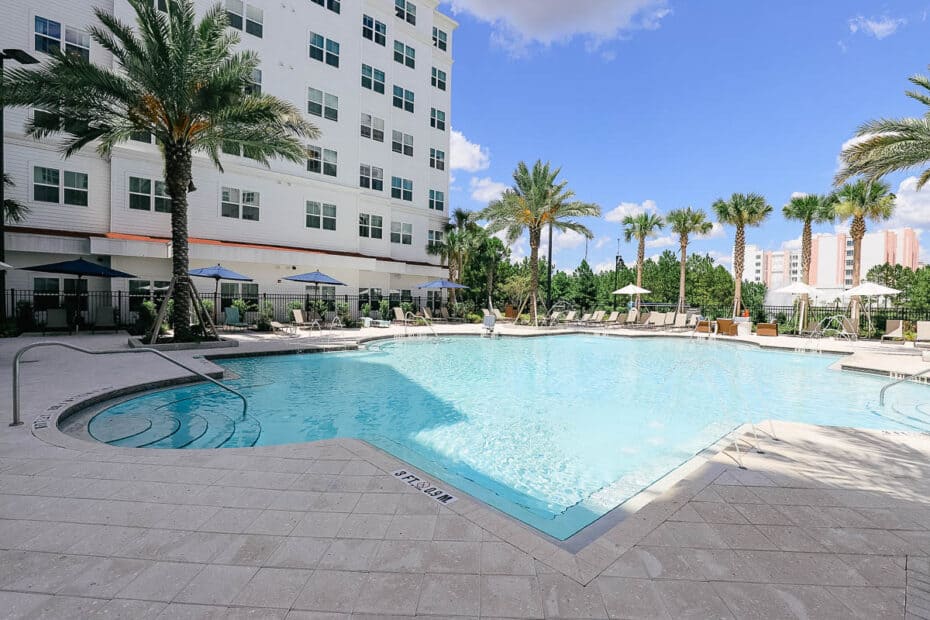 On the far side of the pool, there's a pool bar. I didn't spend much time at the pool, but I don't believe it ever opened during my stay.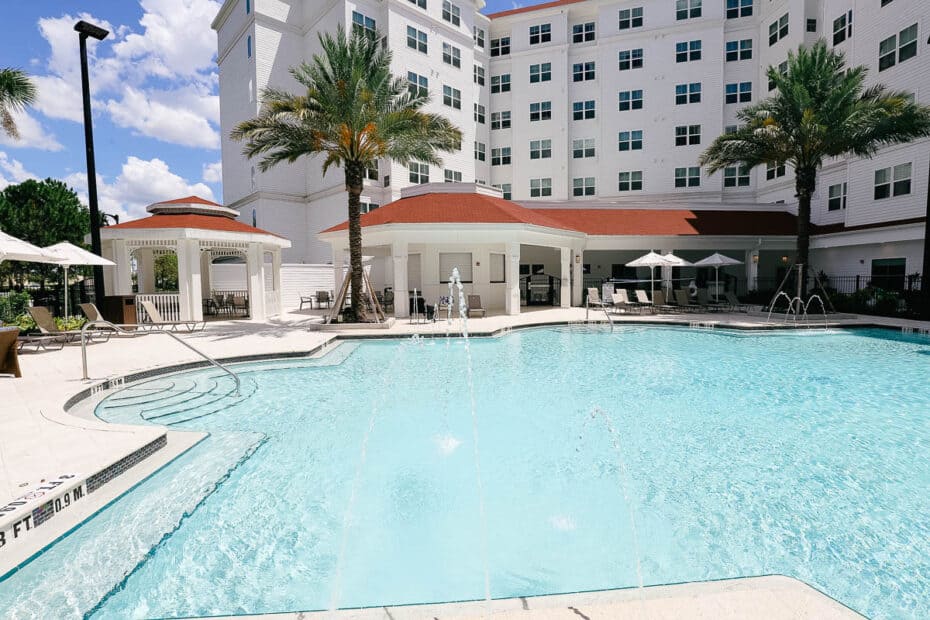 Regardless, there were many lovely places to lounge and relax near the pool.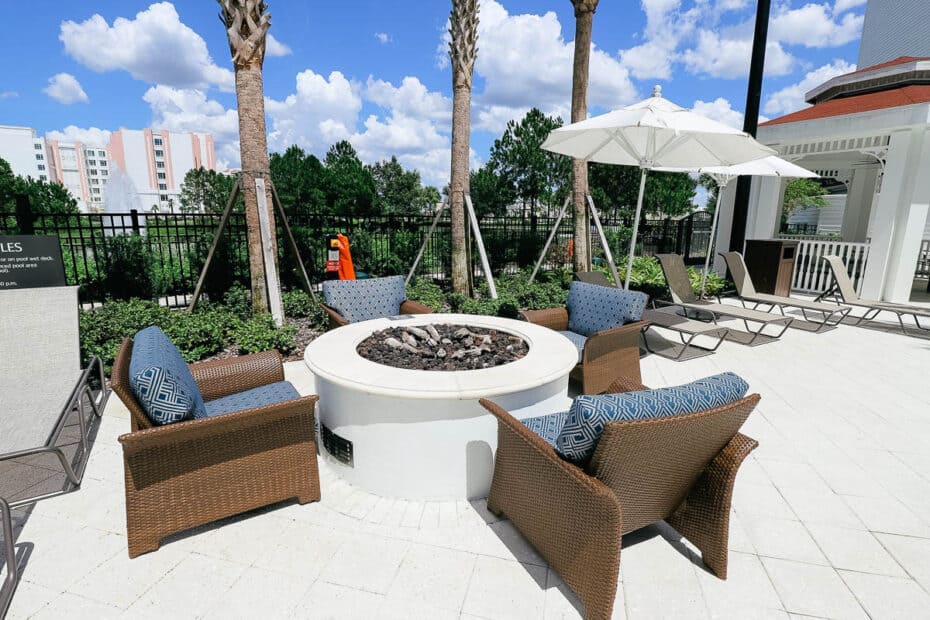 Additionally, there were plenty of tables and chairs.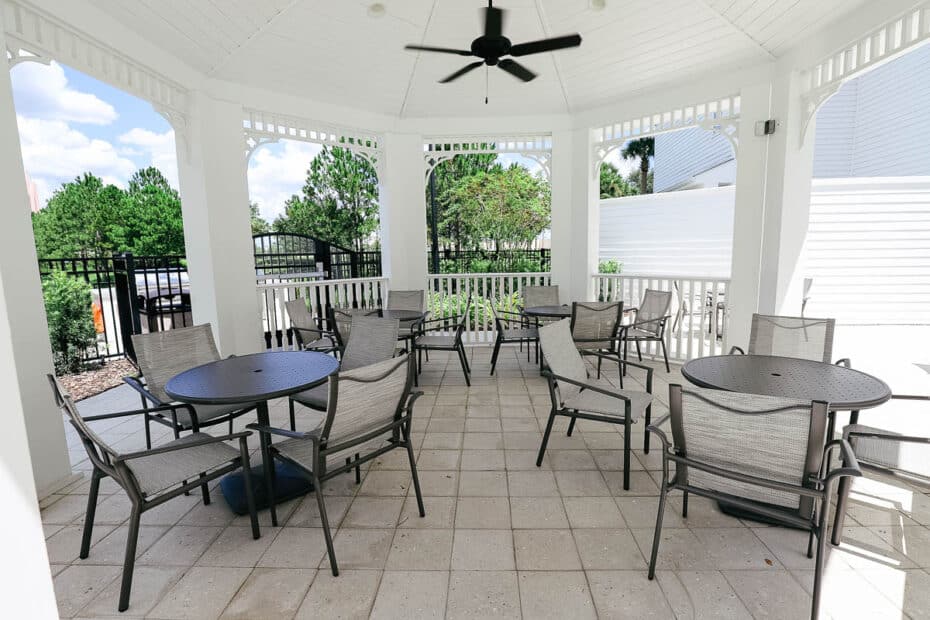 One of the things that impressed me the most was these two gas grills near the pool. You could easily pick up steaks, burgers, or hot dogs from the grocery store and enjoy a meal by the pool.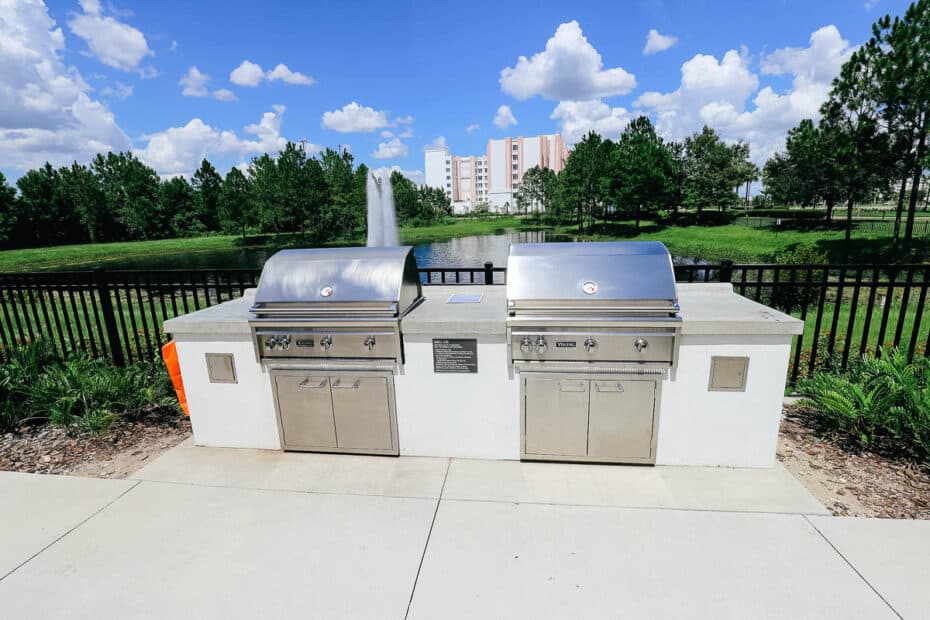 Before we wrap things up, I wanted to mention housekeeping at the hotel. I received the opportunity to have someone service my room every day of my stay.
Of course, some days, I only requested trash removal because I didn't need full service. But I couldn't help but note that the housekeepers I met were all considerate and kind.
Since some days I stayed at the hotel all day to work, I could tell they worked long hours. On the days I was out, I was often greeted with a thank you note for leaving a tip.
Unfortunately, it's rare to receive such excellent service these days. The humble attitude of the staff at the Residence Inn completely won me over. I'm thankful for having the opportunity to meet many of them.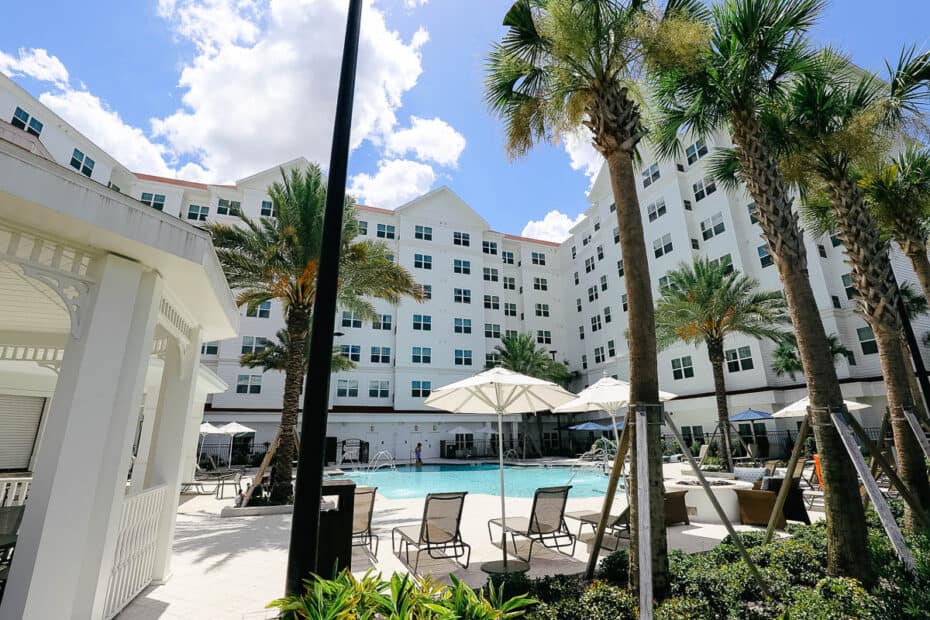 Overall, I was completely satisfied with my stay. If you're looking for a place with room to spread out, a budget-friendly option, or just something new, I encourage you to book a stay here and see how you like it.
For more details on the Residence Inn by Marriott at Flamingo Crossings, you can visit their website here.
I hope you enjoyed this hotel review. We also have a full guide to choosing the best hotel at Flamingo Crossings. But I think you probably know that the Residence Inn tops the list.
For more off-property options, you might enjoy the following:
Or try our list of the best Marriott Hotels Close To Disney World.
In the comments:
What are your thoughts after reading this review of the Residence Inn by Marriott? Will you plan a stay here?