The Top 5 Reasons to Stay at a Bonnet Creek Resort (Near Disney World)
If you've been eyeballing hotels near Walt Disney World, you've likely come across a few of the Bonnet Creek Resorts. Practically on the property, you can't get closer to Walt Disney World than these hotels without staying on-site.
But even though they're close, are these hotels worth the hassle of staying off-site? For many, the mere mention of staying outside the Disney bubble sounds taboo.
While there are benefits to staying at a Disney-owned hotel, there are as many good reasons to consider staying at Bonnet Creek. Of course, every destination will have its pros and cons.
Below, we've come up with the top five reasons to stay at a Bonnet Creek Resort. Additionally, I've ranked each hotel in order of our preference.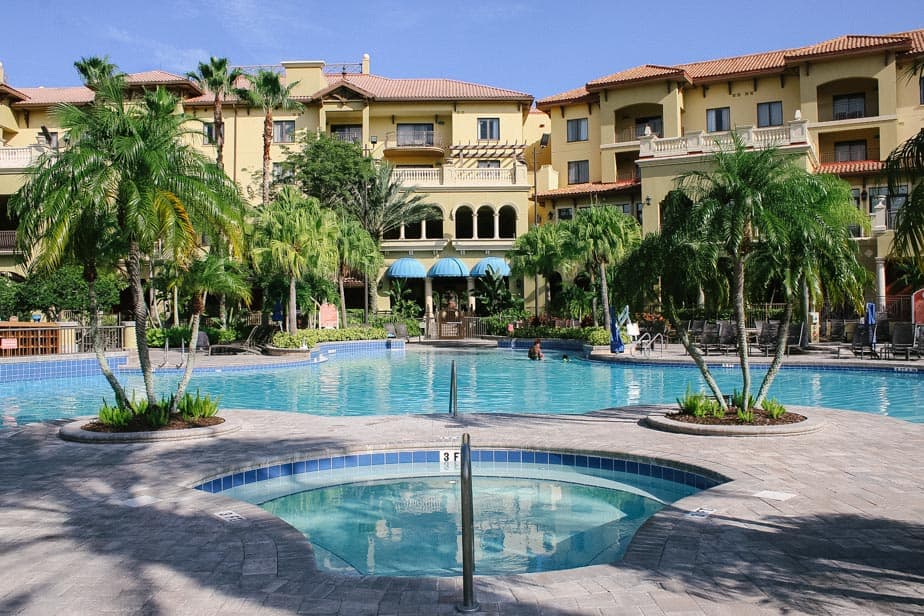 Why We Love Bonnet Creek
Over the past few years, we've stayed at all the Bonnet Creek hotels. Each stay has been impressive.
Some of our stays have felt so first-rate that it's had us questioning why we would ever stay elsewhere. There's even one hotel at Bonnet Creek that I'd return to in a heartbeat.
Think plush hotel, endearing staff, and late-night room service on a feathery bed. Couldn't we all use a weekend getaway in such a place?
But I digress. Let's look at those five top reasons to stay at Bonnet Creek. Then we'll discuss which one's the best.
Proximity to Walt Disney World
First and foremost, we love Bonnet Creek because of its proximity to Walt Disney World. Bonnet Creek is a large parcel of property that adjoins Walt Disney World on three sides and is named after a creek that runs across it.
This development sits on Chelonia Parkway, which intersects Buena Vista Drive between Disney's Riviera Resort and Typhoon Lagoon. Disney Springs is only a few blocks away.
You can be at most of the Walt Disney World theme parks within less than 10 minutes from the Bonnet Creek Resorts. Disney's Hollywood Studios and Epcot will be the closest in proximity.
Magic Kingdom and Animal Kingdom will be a little further out. However, as a whole, you'll be as close to the major destinations at Walt Disney World as you would if you were staying on the property.
In some instances, you'll be closer to a few destinations than other hotels. Unfortunately, however, none of the Bonnet Creek Resorts are within walking distance of the theme parks.
Related: Hotels Within Walking Distance to Magic Kingdom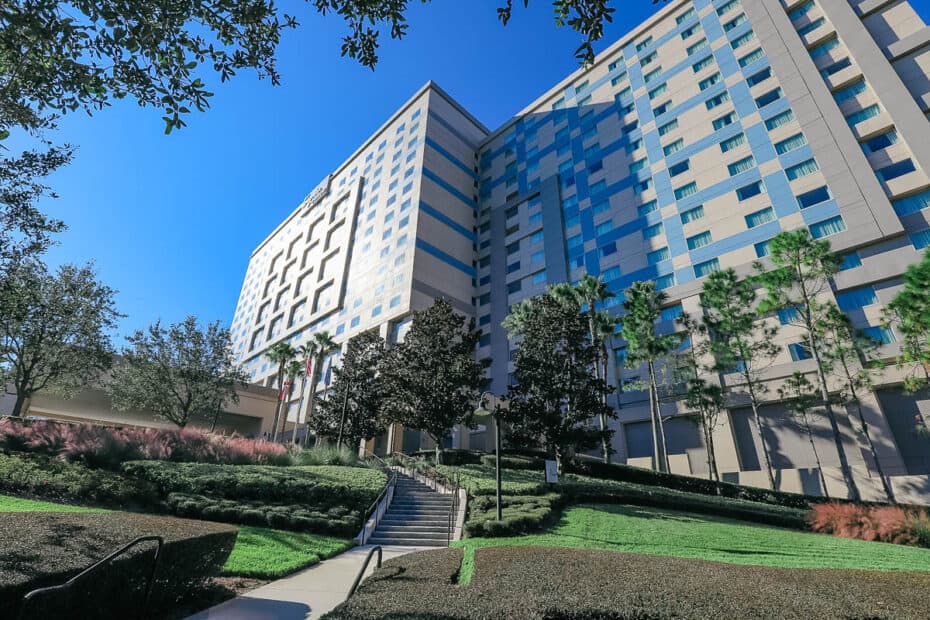 Pools
Our number two reason for loving the Bonnet Creek hotels is their pools. I'm not kidding when I say each hotel has a fantastic pool.
For starters, JW Marriott Bonnet Creek has a classy pool with two sides. One side is more kid-friendly, while the other is more for adults.
When you enter the pool area, an attendant greets you and escorts you to the seat of your choice. They'll bring fresh ice water and make the most delightful neck roll out of a towel for your seat.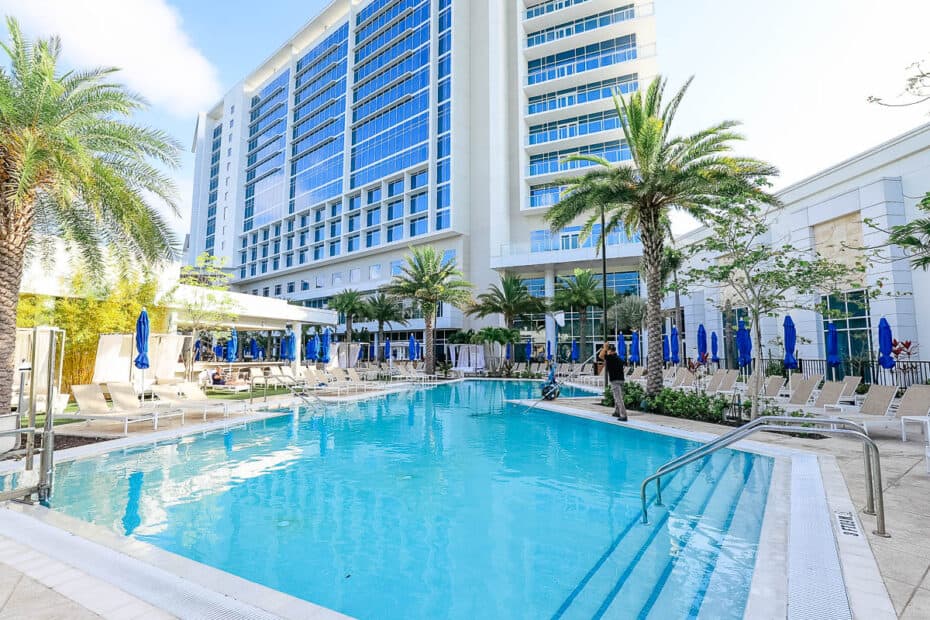 Over at Waldorf Astoria, the pool is serene, surrounded by stunning palm trees. Here you can also expect immediate service from the pool staff upon arrival.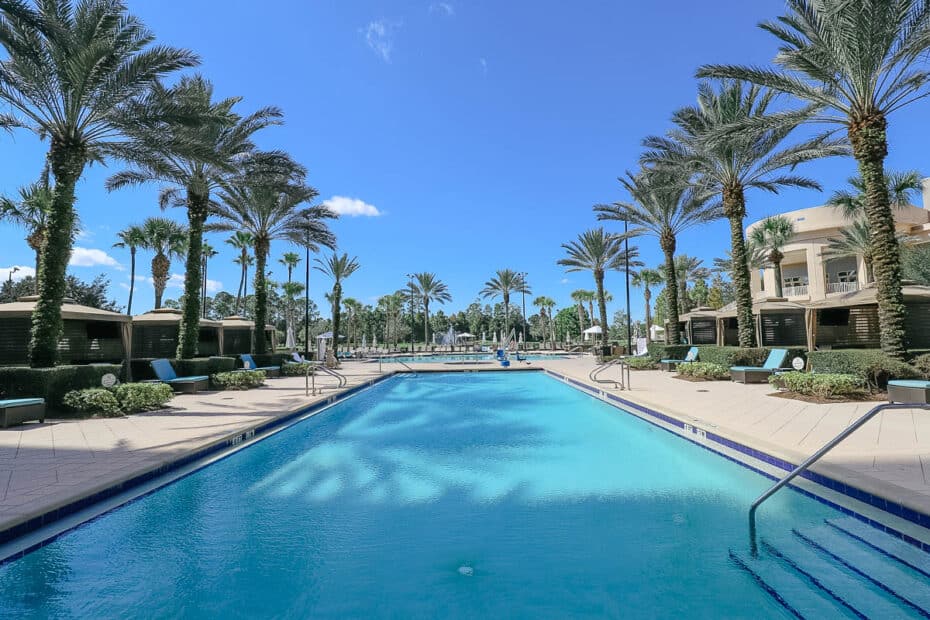 Next door, at the adjoining Signia by Hilton, a lazy river adjoins two pool areas. Guests staying at the Waldorf Astoria or Signia can use either of the resort's pool areas.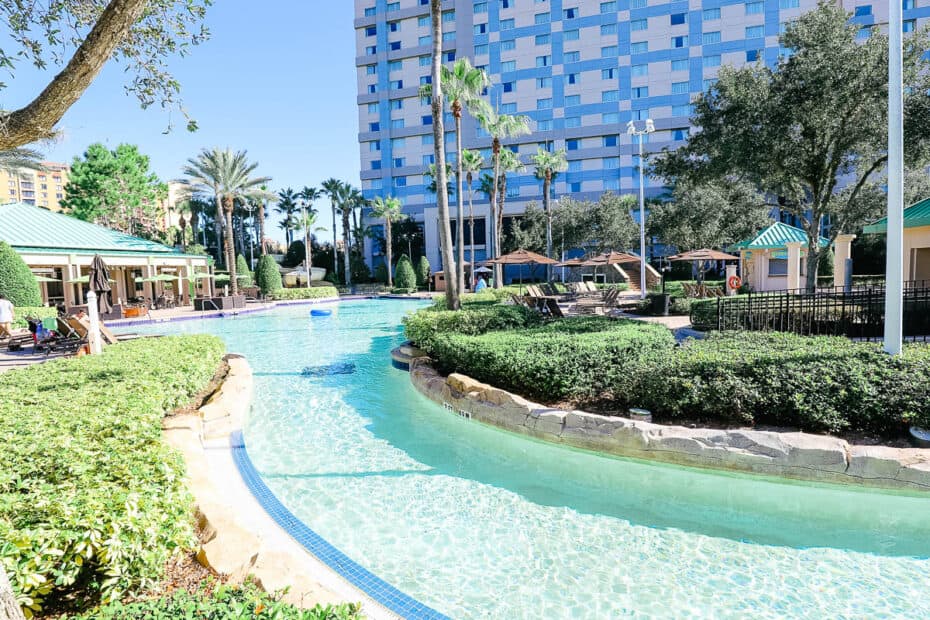 Across the street, Wyndham Grand Orlando sits among the Wyndham Vacation Club, which offers seven pool areas. Among the pools, you'll find two lazy rivers and a separate pirate pool designed with children in mind.
Related: The Pools at Wyndham Grand Orlando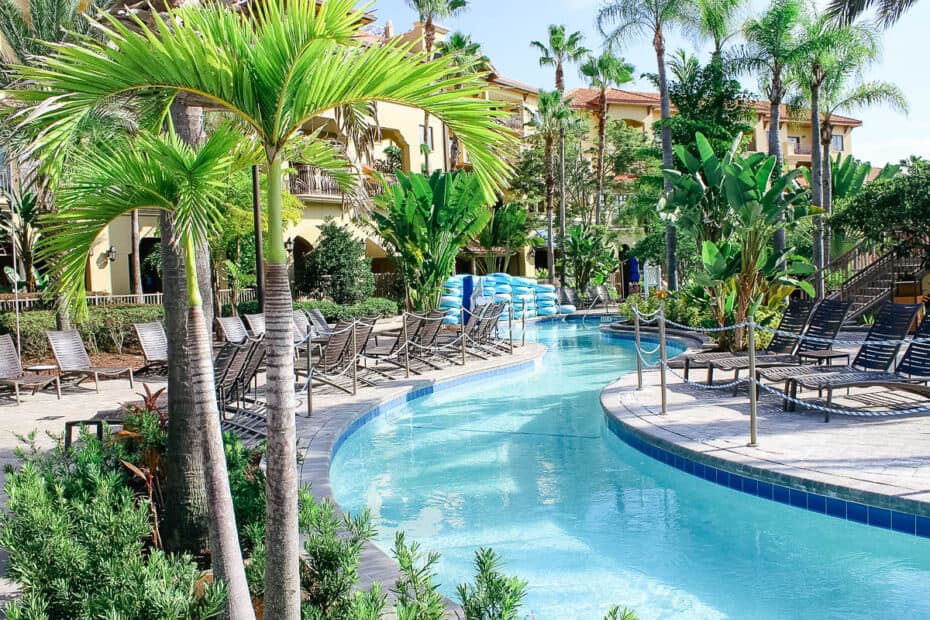 Dining Options
I don't know about you, but I'm always looking forward to my next opportunity to dine at an upscale hotel. Thankfully, all of the Bonnet Creek hotels have excellent dining options.
So our third reason for staying at a Bonnet Creek resort is the restaurants. Among the four hotels, we find restaurants listed in Open Table's Top 100 Restaurants in the United States (here) and Orlando's Michelin Guide's recommended restaurants (here).
Bull & Bear is located at the Waldorf Astoria and is known for its signature fried chicken. But you can order anything from Oysters Rockefeller for starters to their Veal Oscar entree. I doubt you can go wrong.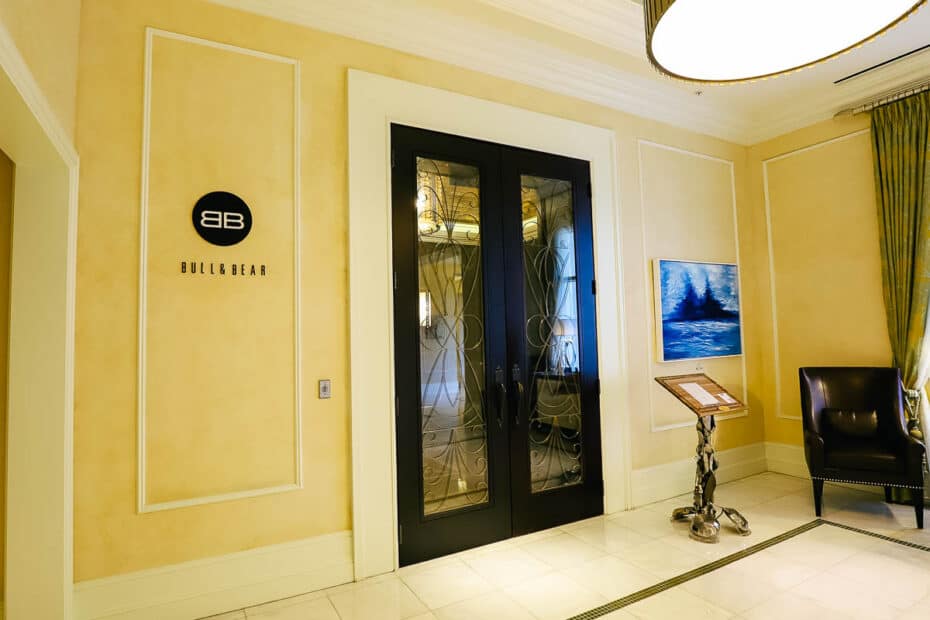 For a casual meal, you can order a salad by the pool. You'll find these types of items refreshing after all that theme park food.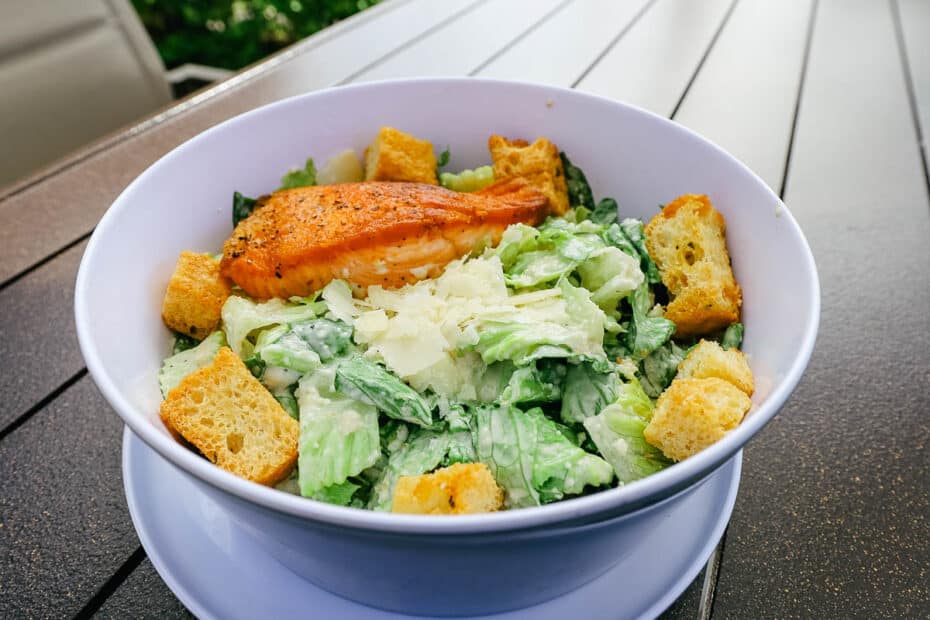 Over at Bonnet Creek's JW Marriott, don't miss the delicious weekend brunch at Unreserved Food Bazaar.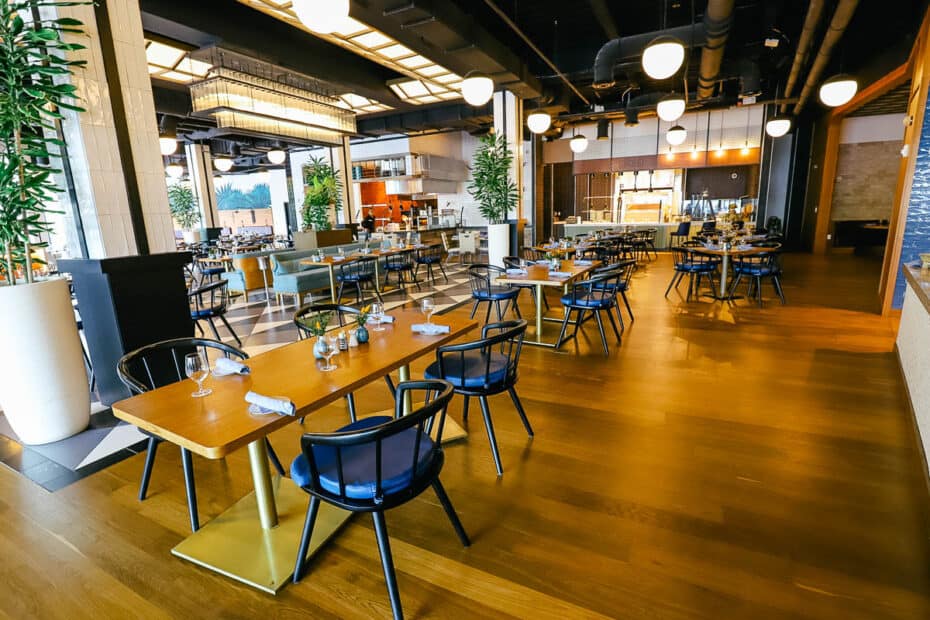 Of course, if you're staying at this particular Marriott, you'll have a hard choice between room service and the Michelin-recommended Sear + Sea Woodfire Grill for dinner.
My recommendation? Stay for an entire week and do both.
Related: Dining Options at JW Marriott Bonnet Creek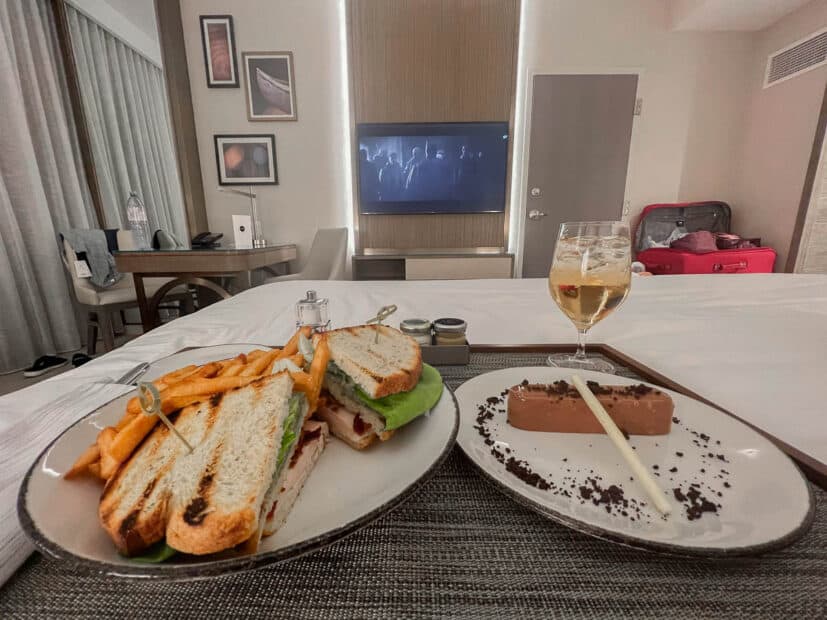 Lavish Amenities
While the hotels at Bonnet Creek range between moderate to higher-end price points, they all have one thing in common-lavish amenities. While we've already touched on the pools and dining options that can fall under this reason, there are a few other lavish amenities we've yet to discuss.
One of those amenities–hotel spas. Each of the Bonnet Creek Resorts offer a day spa.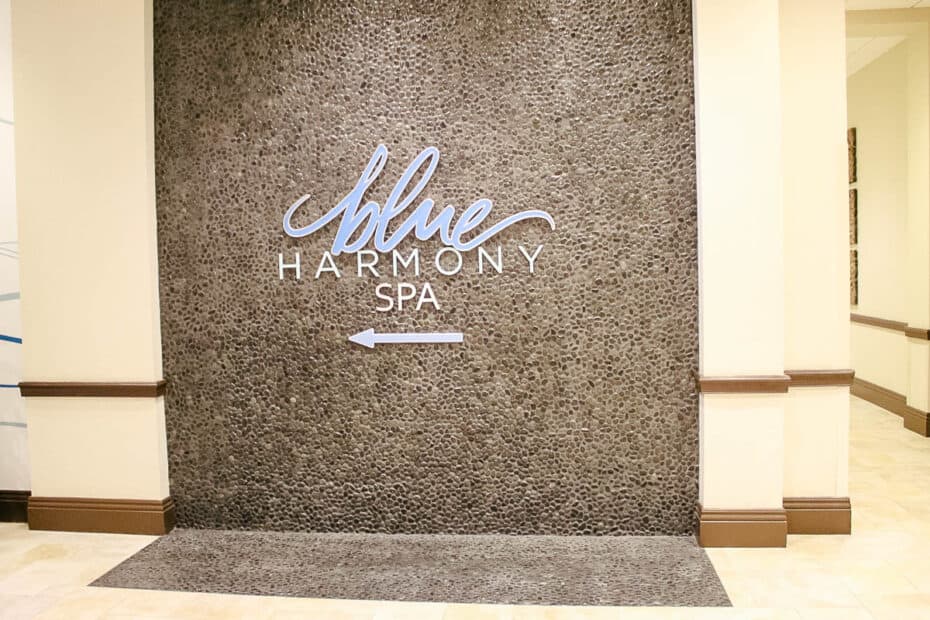 You can spend the morning or afternoon getting anything from a Hydrafacial to Himalayan Salt Therapy treatment.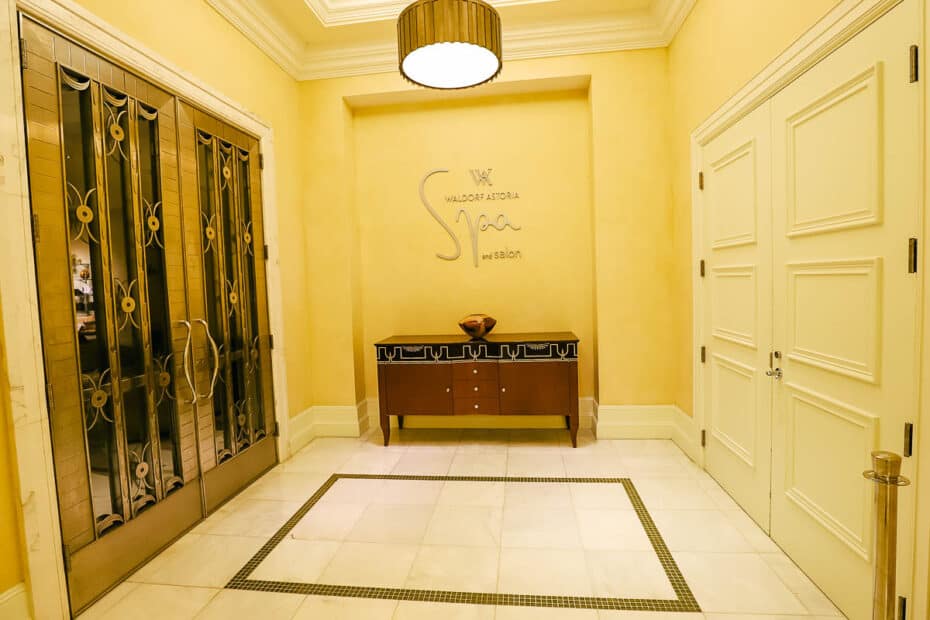 Additionally, each of the resorts has full-service fitness centers with state-of-the-art equipment. You can use the gym at your leisure or schedule a private class with an instructor for an extra cost.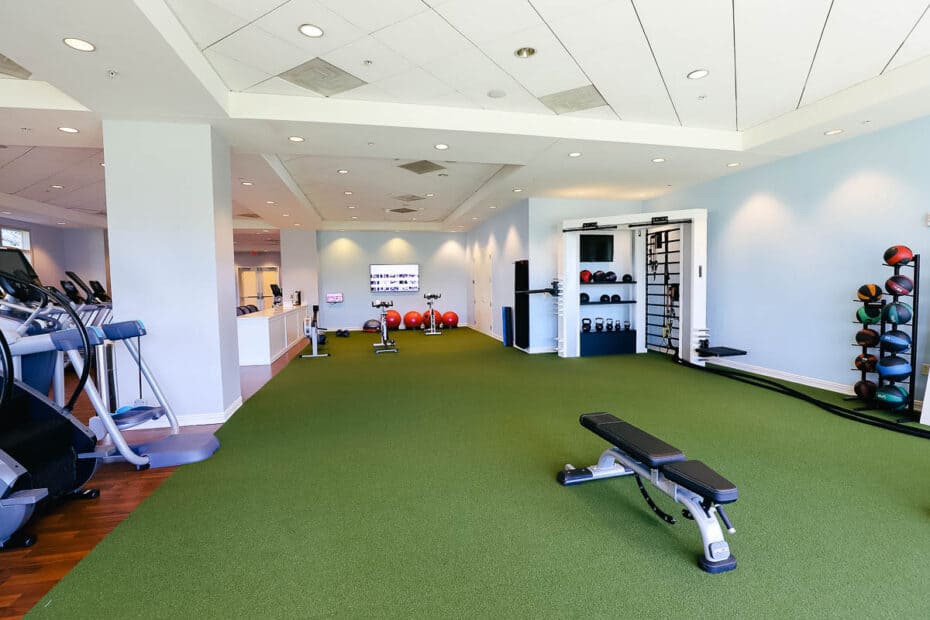 As for children, the Wyndham Grand Orlando and JW Marriott Bonnet Creek tend to be the most child-friendly. Surprisingly, the JW Marriott has an astonishing kids' club on their fifth floor.
After touring this rooftop deck along with the interior of the Hidden Garden Kids Club, I was a little jealous not to be privy to such a location when I was growing up. More details for the day and night programs are available here.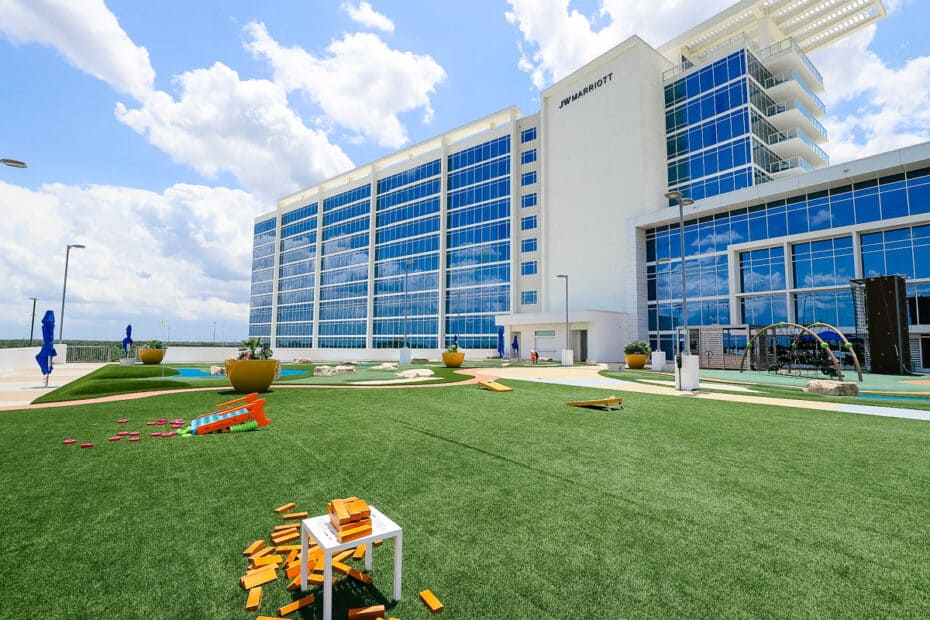 Those looking to enjoy the finer things in life might enjoy an after-dinner coffee or cocktail in Peacock Alley, the Waldorf Astoria's luxurious lounge.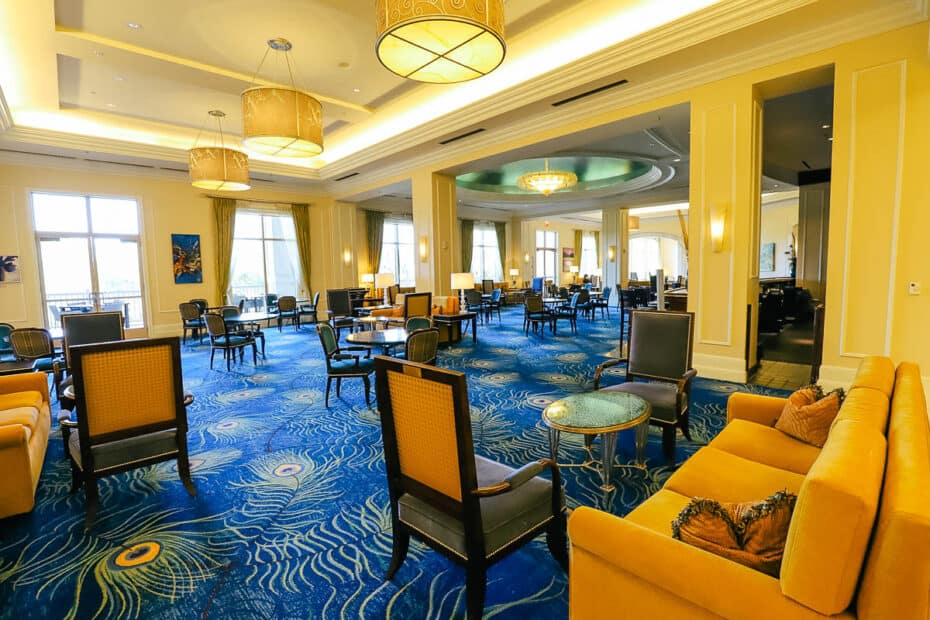 Price
Finally, our last reason for staying at Bonnet Creek is the price. Most will be delighted to find that the Wyndham Grand Orlando and Signia by Hilton average in the same price range as most of Disney's moderate resorts.
However, these hotels offer far more amenity-wise than you'll find at the moderates. Some of the price differences you'll need to consider when comparing overall costs are resort fees, parking, and transportation.
All Bonnet Creek Resorts charge a resort fee, which at the time of this article, includes shuttle bus transportation to and from the various destinations at Walt Disney World. You'll want to check with transportation specifics at each resort.
*Note that transportation works differently for guests of the Wyndham Vacation Club, not to be confused with the Wyndham Grand Orlando Bonnet Creek Hotel.
In comparison, the resorts at Walt Disney World do not have a separate resort fee. Additionally, Walt Disney World no longer charges resort guests for parking at their resorts or at their theme parks.
As for the Waldorf Astoria Orlando and JW Marriott Bonnet Creek, these resorts will be comparable to one of Disney's deluxe resorts. Those looking for a more plush hotel without feeling immersed in Disney will lean toward either of these Bonnet Creek hotels.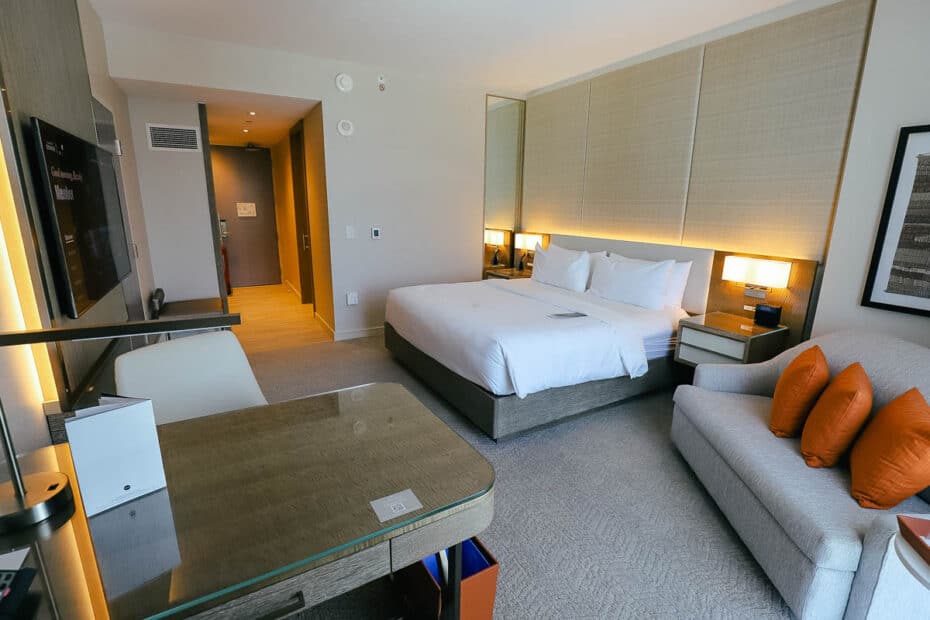 Bonnet Creek Resorts Ranked
Now that we've discussed some of the top reasons to stay at Bonnet Creek, I ranked the four hotels in order of our preference. Since the hotels vary in price range, you'll want to take that into consideration when making a decision.
#4 Signia by Hilton at Bonnet Creek
Last but definitely not least is the Signia by Hilton at Bonnet Creek. This hotel is most comparable to Wyndham Grand Orlando, which sits across the street.
Signia is an excellent option for a hotel stay, especially since it's connected to the Waldorf Astoria. If you want a more budget-friendly rate stay at the Signia and hang out at the Waldorf's pool all day.
You'll get the best of both worlds!
Related: Hilton Signia Bonnet Creek Review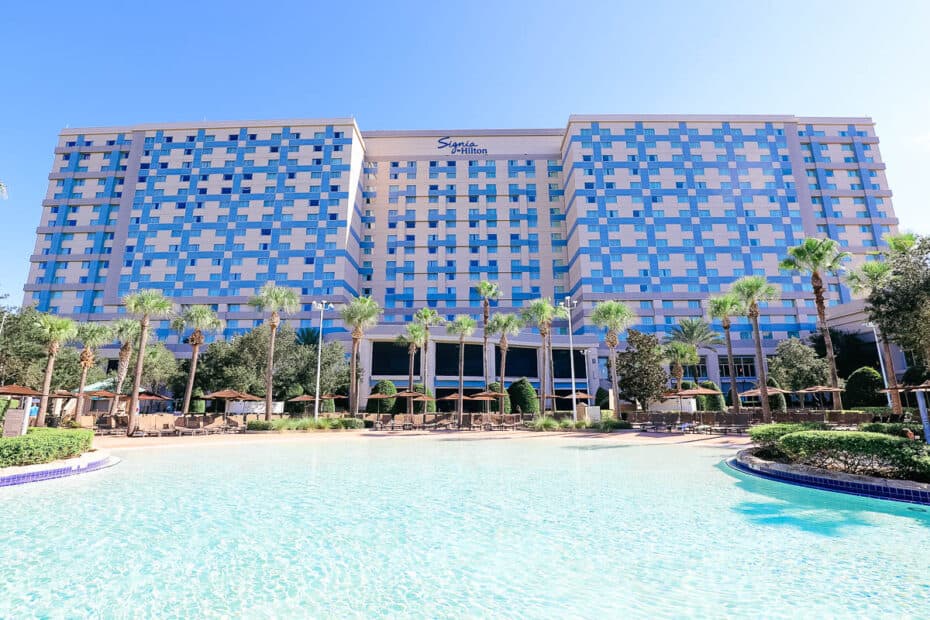 #3 Wyndham Grand Orlando Bonnet Creek
It's hard to go wrong with a stay at the Wyndham Grand Orlando. I would choose it over any resort in the same price range.
What's so great? Since the tower hotel sits among seven other vacation club towers, there are tons of amenities available to guests.
How many resorts do you know that have five pools and two lazy rivers? You don't even need to leave the hotel to have a vacation!
Related: Wyndham Bonnet Creek Review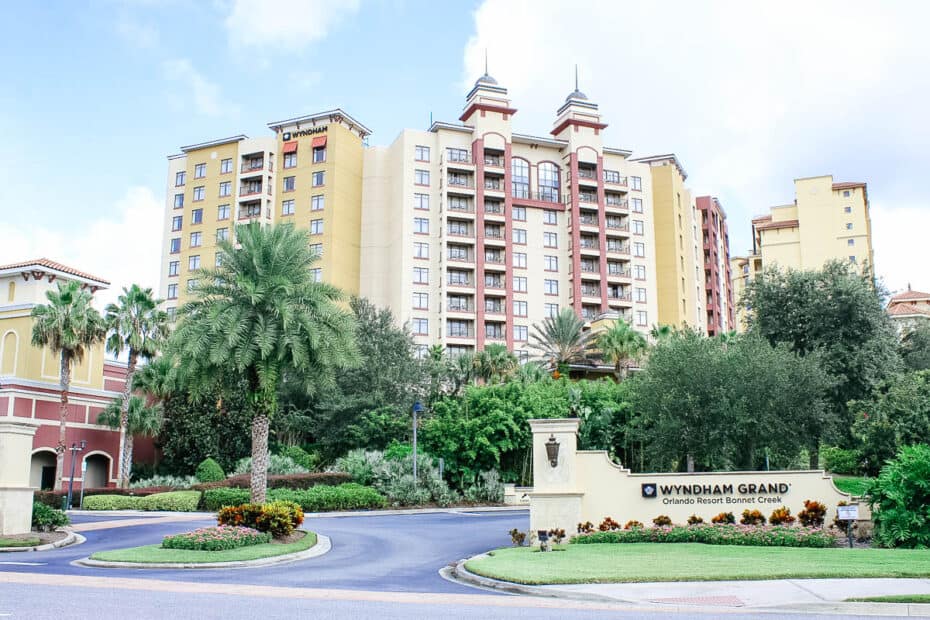 #2 Waldorf Astoria Bonnet Creek
Those who like the finer things in life will want to plan a stay at the Waldorf Astoria. Just listening to the hotel's name roll off your tongue feels like a privilege.
Expect formalities galore when you plan a stay here. Upon arrival, a doorman is waiting with ice cold bottled water. You're immediately invited inside the tremendous lobby, where you'll feel as though you stepped into a painting.
There aren't too many places that command such a feeling!
Related: Waldorf Astoria Bonnet Creek Review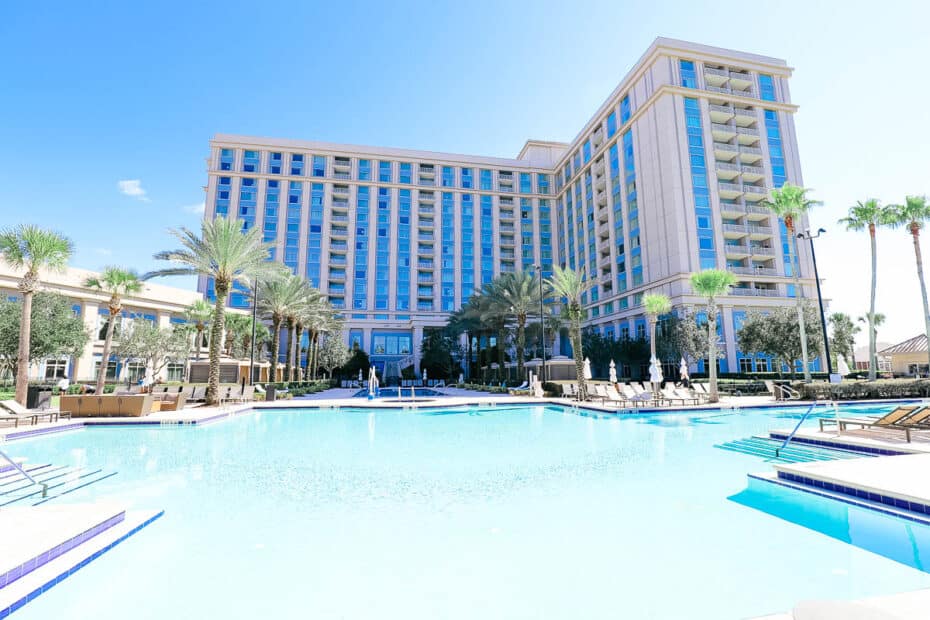 #1 JW Marriott Bonnet Creek
Earlier, I mentioned a plush hotel, room service, and feathery beds all in the same sentence. We have arrived at my top Bonnet Creek hotel choice, the JW Marriott.
When I wrote the initial review of this stay, I called it the hotel with the WOW factor. Looking back, there's one word that sums up my last stay here–memorable.
We've stayed at so many hotels over the last few years that some of those stays tend to blend together. But everything about this hotel stands out.
I can't wait to make more memories here in the future.
Related: JW Marriott Bonnet Creek Review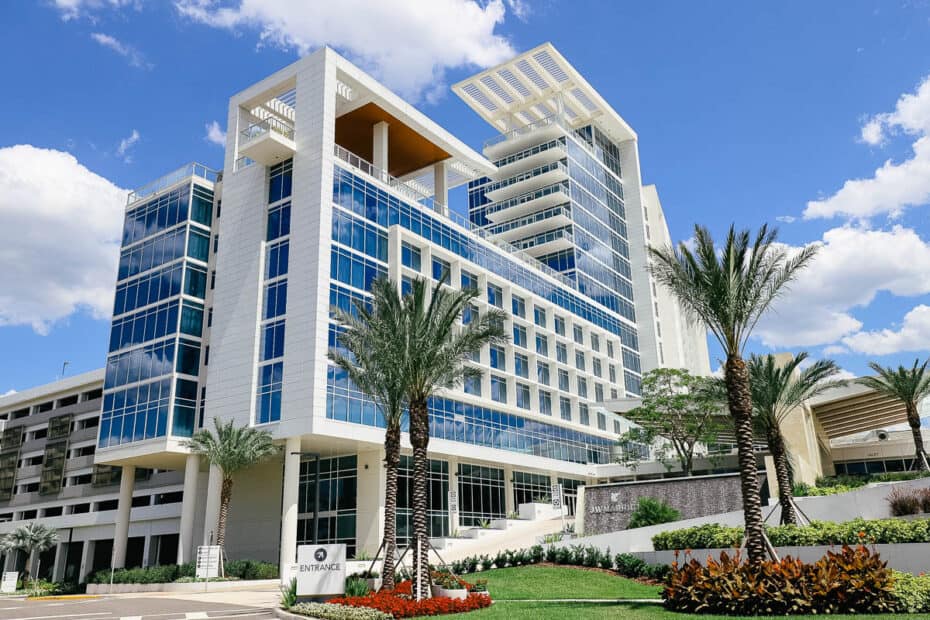 There you have it! We've looked at the top reasons to stay at the Bonnet Creek Resorts and ranked them.
Hopefully, this article answered some of your questions about the area or solidified your decision to stay here. Or maybe it helped you narrow down which resort was right for you.
Whatever you decide, I hope you'll have a pleasant and plush stay!
For more articles, you might enjoy the following:
In the Comments
What do you think about these hotels at Bonnet Creek? Have you stayed at any of them?