Flamingo Crossings Hotel List (Near Disney World)
This article lists the hotel options at Flamingo Crossings near Walt Disney World. Additionally, we provide an overview of each hotel and what we consider the best Flamingo Crossings hotel.
Flamingo Crossings is a name tossed around the Disney community often. But, until a few years ago, you'd find this Florida toll road exit nearly deserted.
At that time, insiders knew you could find a room at one of the exit's two lone hotels for more than reasonable prices. Unfortunately, there wasn't much else around. Well, not much, except for the Walt Disney World gates that sit within less than a half mile of Flamingo Crossings.
However, as we head into 2023, things have changed. What was once a forgotten pile of dirt is now a developed community. Flamingo Crossings is home to a mix of residential and commercial properties, including six hotels.
Did I mention that Disney owns the land where Flamingo Crossings sits and leases the property to a prominent developer? Even a large residential complex was built to provide affordable housing for Disney World cast members.
As fascinating as the story of this development is, it's not uncommon. Real estate markets are cyclical.
But all good things must come to an end at some point. So I imagine we'll likely soon find ourselves searching for the cheapest hotels available. That is, if we can even swing a Walt Disney World vacation in the first place.
So with these considerations, I've decided to put together a guide to the resorts at Flamingo Crossings. At the time of this article, we've stayed at four of the six hotels at Flamingo Crossings.
If you compare the hotels, you can discern which one works best for your trip. Thankfully, there are some excellent options, and all the hotels are considered budget-friendly.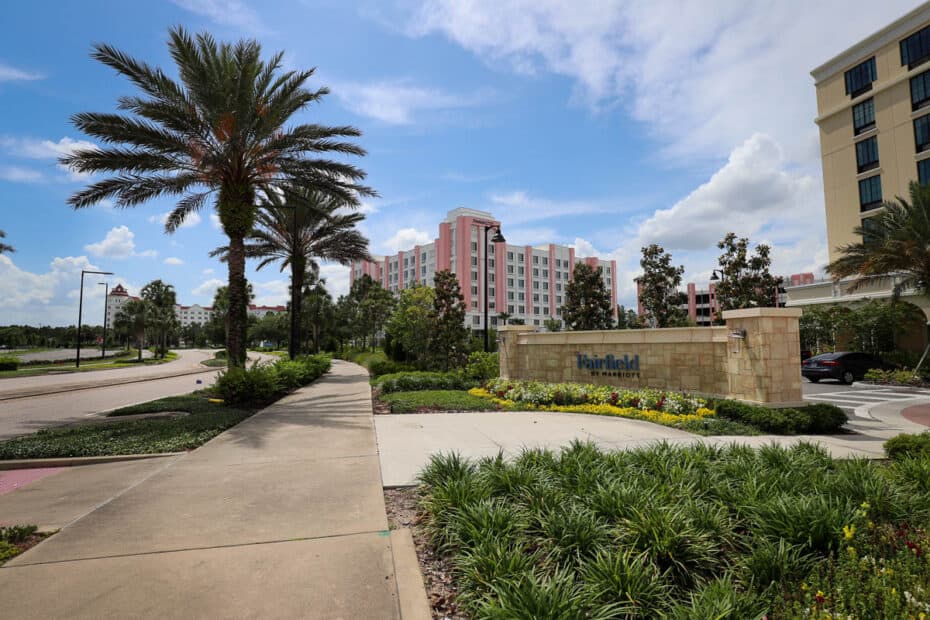 List of Hotels at Flamingo Crossings
Here are the hotels you'll find at Flamingo Crossings:
Towneplace Suites by Marriott
Springhill Suites by Marriott
Home2 Suites by Hilton
Homewood Suites by Hilton
Fairfield Inn and Suites by Marriott
Residence Inn by Marriott
Below we'll go over each of these hotels, and I'll link to the complete resort reviews where applicable. Each of the Flamingo Crossings hotels is ranked in order from our least favorite choice to the best.
Disclosure: This page has affiliate links. Resorts Gal may be compensated if you make a purchase. These come at absolutely no cost to you and help support our business.
#6 TownePlace Suites by Marriott at Flamingo Crossings
Our least favorite hotel choice at Flamingo Crossings is the TownePlace Suites by Marriott. While our last stay here wasn't terrible, it wasn't great either.
This particular TownePlace Suites is one of the two original hotels at Flamingo Crossings. Therefore it's dated compared to the four newer hotels.
Additionally, this hotel is pet-friendly. During our stay, I woke up several nights because of barking and owners taking their dogs out in the wee hours of the morning.
I wouldn't necessarily say that I would refuse to stay here again. But with so many better options nearby, this hotel would be far down my list, which is why it comes in last in our rankings.
Now, if I were traveling with a pet, it would probably be a top choice. Rooms at this hotel come with a small kitchenette, a living area, and a desk area.
Related: Towneplace Suites at Flamingo Crossings Review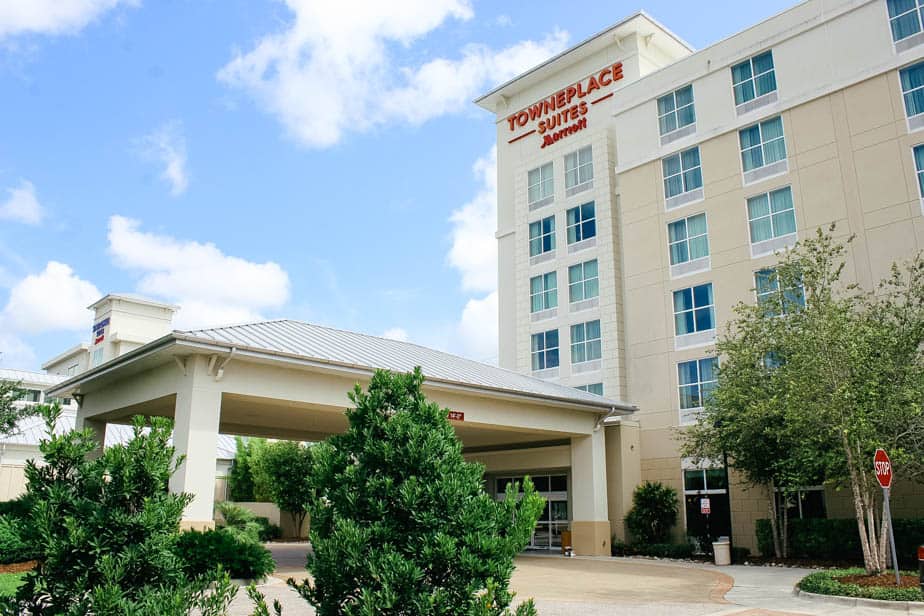 Bonus: Towneplace Suites offers a complimentary breakfast each morning. Their rates are available on Expedia.
#5 Springhill Suites by Marriott at Flamingo Crossings
Immediately next door to the Towneplace Suites is the Springhill Suites by Marriott. Unfortunately, I don't have a formal review of this hotel, but I've stayed here many times.
Before moving to the area, this was my family's go-to hotel for a first-night stay. Back then, when we drove to Orlando, we usually spent a week to ten days at Disney World.
However, I wouldn't want to pay Disney prices for the first night since we wouldn't arrive until later in the evening. So I would book a room here at the Springhill, and we'd pack an overnight bag for this hotel.
Below is a photo of the spacious rooms at the Springhill Marriott. If the other hotels at Flamingo Crossings weren't brand new, this option would likely rank higher.
So if you find a considerable price difference between this hotel and the others, don't hesitate to consider this one. Also, this hotel is not pet-friendly. Therefore, you won't encounter the same issues I noted with the sister resort above.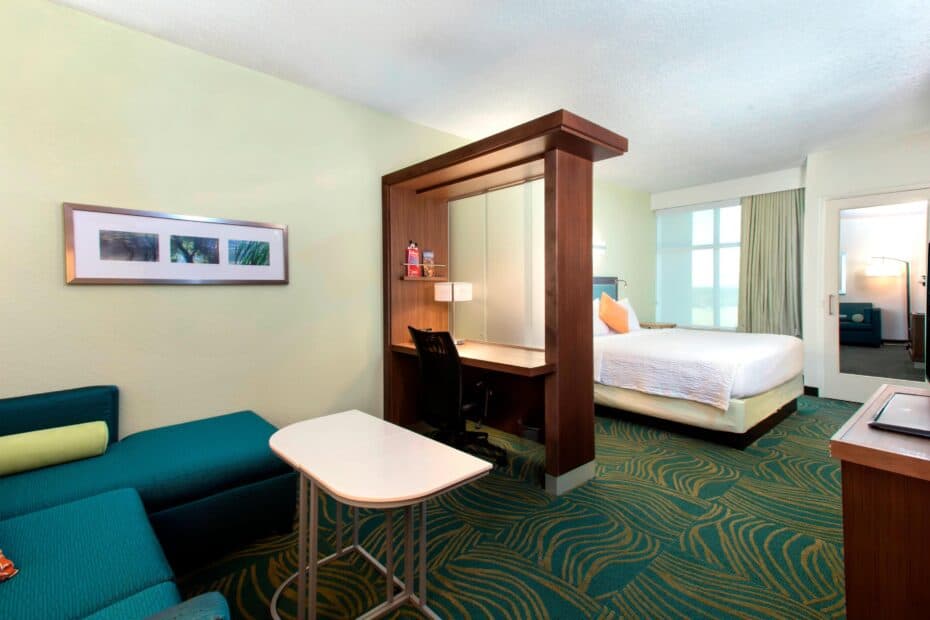 Bonus: Springhill Suites at Flamingo Crossings offers complimentary breakfast daily.
#4 Home2 Suites by Hilton at Flamingo Crossings
One of the newer hotels at Flamingo Crossings is the Homes2 Suites by Hilton. It sits adjacent to the Homewood Suites.
During my last stay at Flamingo Crossings, I walked around the area and took photos of the new Hilton hotels. Like the rest of this site, Hilton has two connected sister hotels.
The Home2 Suites, pictured below, also offers complimentary breakfast. I mention the complimentary breakfast because breakfast for a family of four over the course of a week's vacation can get expensive.
Not to mention having to buy lunch and dinner daily. The cost of food alone can add up quickly on vacation.
Between the reasonable hotel prices at Flamingo Crossings and being able to factor out the cost of breakfast, you're looking at significant savings compared to staying on property at Disney World.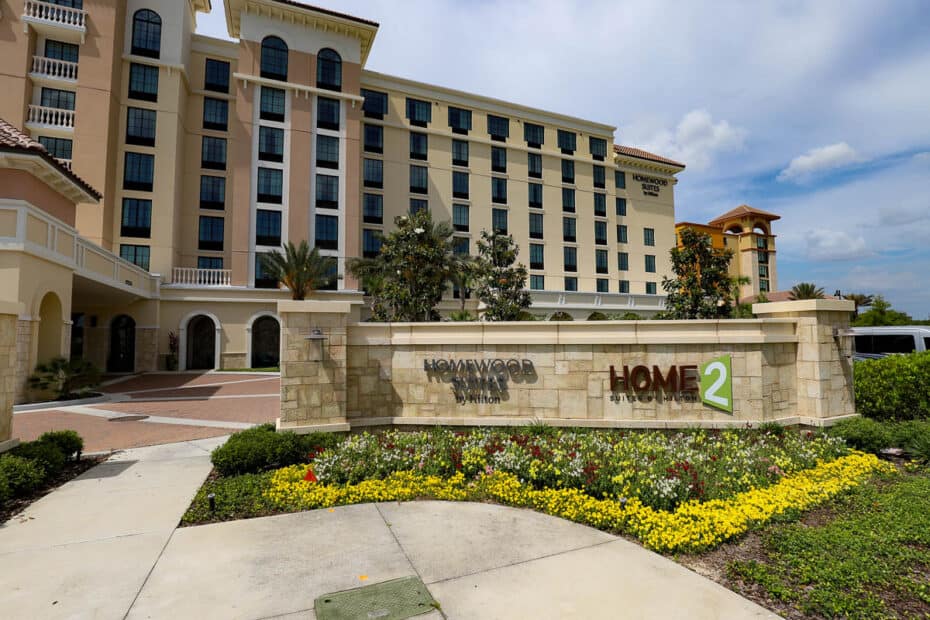 #3 Homewood Suites by Hilton at Flamingo Crossings
Attached to the Homes2 Suites is the Homewood Suites by Hilton. Like the other newer hotels at Flamingo Crossings, this one gets rave reviews.
All of the rooms at Homewood Suites range from a king-size suites to larger family suites. Having amenities like small kitchens and spacious floor plans are hard to pass up for the price.
Additionally, complimentary breakfast is available at this hotel, and it's pet-friendly.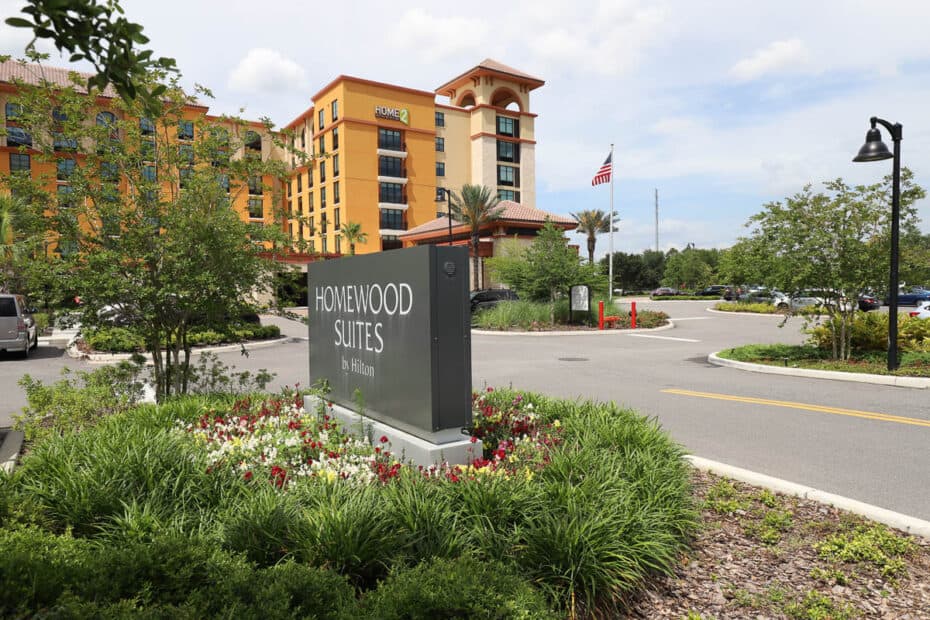 #2 Fairfield Inn and Suites by Marriott at Flamingo Crossings
It's no secret that I love our choices for the top two hotels at Flamingo Crossings. First, we'll start with the Fairfield Inn and Suites.
This hotel offers a range of standard-size rooms to suites. When we stayed here this last Spring, we stayed in a king-size guest room.
What I loved most about this stay was the reasonable price for the amenity. It felt like a good deal.
Our room also had a microwave and mini-fridge. So I was able to prepare small meals and I could store and reheat leftovers.
Additionally, most Marriotts offer premium television channels. We even watched a few new-release movies during our stay.
Related: Fairfield Inn and Suites at Flamingo Crossings Review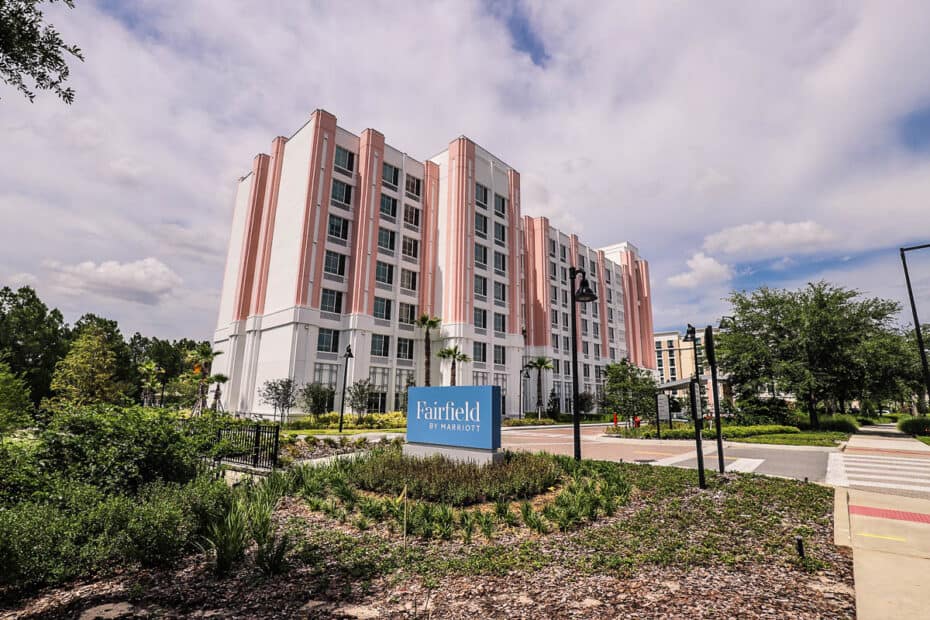 Bonus: A complimentary breakfast buffet is served in the lobby daily.
#1 Residence Inn by Marriott at Flamingo Crossings
Seriously, look at the Residence Inn at Flamingo Crossings, and you cannot help but be reminded of the Grand Floridian. Even better, this hotel feels plush while maintaining reasonable rates.
For this stay, I was at the Residence Inn for nearly two weeks, and I loved it. More than once, I found myself thinking I could live there full-time.
Each morning I had breakfast at the hotel's complimentary buffet. Often, I would prepare dinner in my suite's full kitchen.
Compared to most of my stays at Disney World, I saved so much money here that I didn't know whether to feel embarrassed or impressed. There were no complaints.
Related: Residence Inn at Flamingo Crossings Review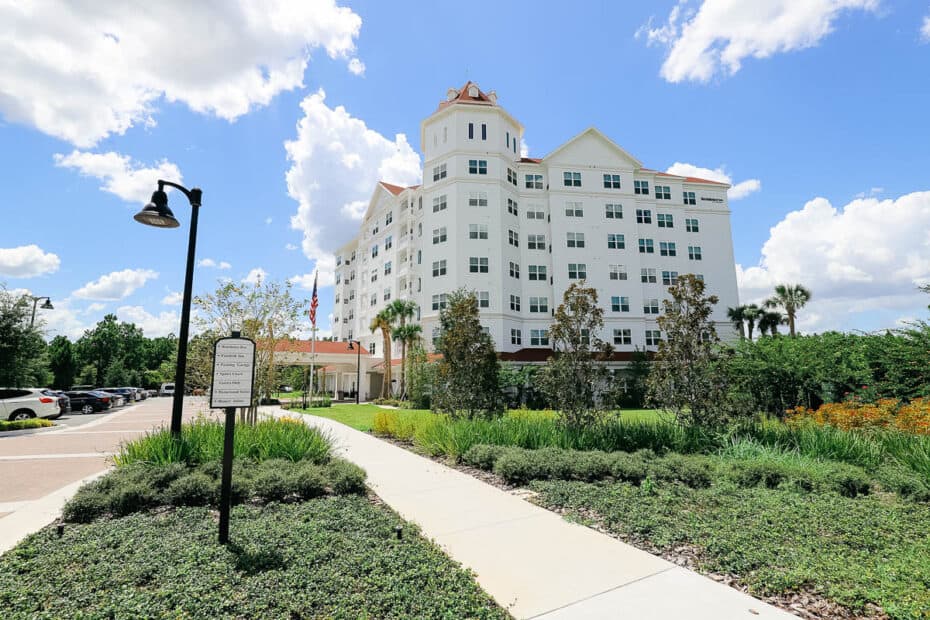 Reasons for Considering a Flamingo Crossings Hotel
Before we wrap things up, I felt there were two significant reasons worth mentioning when considering any of these hotels. Those reasons are the price and the proximity to Walt Disney World.
It's no secret that guests tend to "go down the rabbit hole" when it comes to racking up debt to finance their Disney vacation. When my son was younger, we made many trips to deluxe resorts that could have been paid for upfront had I decided to stay at a resort like one of these at Flamingo Crossings.
I love hotels, in general, and had there been a blog back then that encouraged me to stay in my price range, I might have listened to their advice. So for that reason, I try to be candid.
Yes, I always want to stay club-level at Disney's Beach Club or splurge for a relaxing weekend at the JW Marriott Bonnet Creek. But what I want and can afford are entirely different manners.
So don't feel you have to stay at the nicest resort no matter the cost. Instead, stay at Flamingo Crossings or somewhere that works for you. Then when you can, put a little extra money back for that "next time" resort.
Additionally, Flamingo Crossings is worth considering because of its proximity to Walt Disney World. On my last stay, I timed a few of my trips. It took approximately 15 minutes to travel from the parking lot of my hotel to Epcot's parking lot.
You could give or take a few minutes from that average for every other destination at Disney. However, this exit has become a high-traffic area.
So you'll want to take into account extra traffic in the mornings up until about 9:00 a.m. and in the evenings from 5:00 p.m. until 7:00 p.m. The road between Coronado Springs and Flamingo Crossings gets exceptionally congested during these times.
Final Thoughts on the Hotels at Flamingo Crossings
Overall, Flamingo Crossings has new hotels for reasonable prices near Walt Disney World. Anyone looking for extra room or budget-friendly options will want to consider these hotels.
We'll try to get back to the two Hiltons in the next couple of months for a proper review. But given their newness, I can't imagine you'll have any issues.
Related Articles:
In the Comments
What do you think about these hotels at Flamingo Crossings? Is there one in particular that stands out? Have you stayed in this area before?