Transportation at Disney's Port Orleans Resorts
If you're planning an upcoming stay at Disney's Port Orleans Riverside or French Quarter Resort, you'll want to learn about the different transportation options available. It's important to know your options before your vacation, so you'll have an idea of the best way to get around while you're there.
In this article, we'll take a detailed look at the transportation options offered at both Disney's Port Orleans Resorts. Since the resorts reopened, I've visited several times to provide updates.
In a nutshell, both resorts provide boat service to and from Disney Springs. Additionally, they offer bus transportation to Disney Springs and other destinations at Disney World.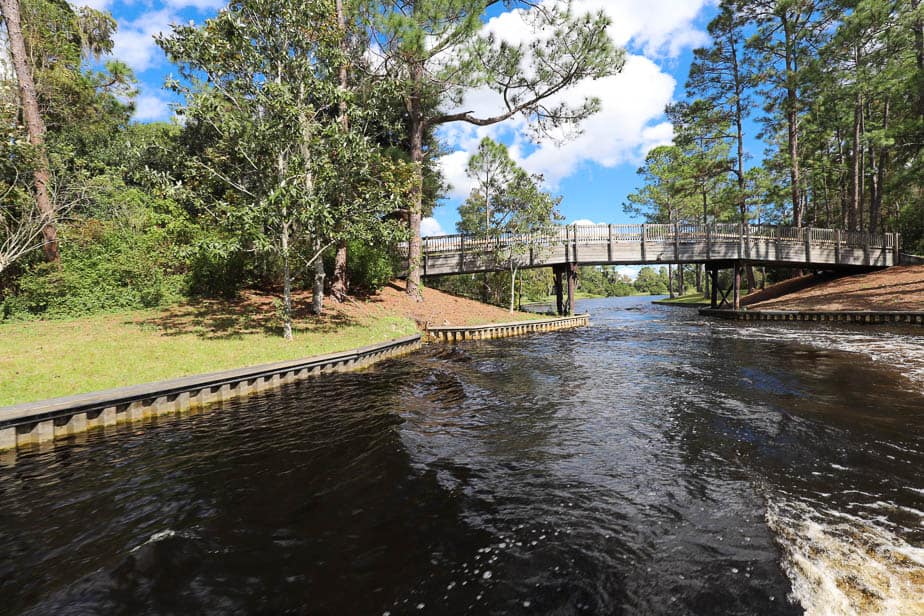 Port Orleans River Cruise
We'll start with the water taxis that take guests to and from Disney Springs. Most will enjoy the ease of traveling by boat to the popular shopping and dining venue. It's one of the perks of staying here.
Additionally, some will enjoy taking the scenic river cruise for leisure. It's a pleasant ride, so feel free to take a boat ride for pure enjoyment. You don't even have to exit when you reach Disney Springs.
The Sassagoula Steamboat Company travels from Port Orleans Riverside to French Quarter and Disney Springs. After that, it travels back vice-versa, which means it usually stops twice at French Quarter along the route.
Below is the river cruise entrance at Port Orleans Riverside. The boat dock is located along the water directly behind the resort's lobby.
Related: Disney's Port Orleans Riverside Review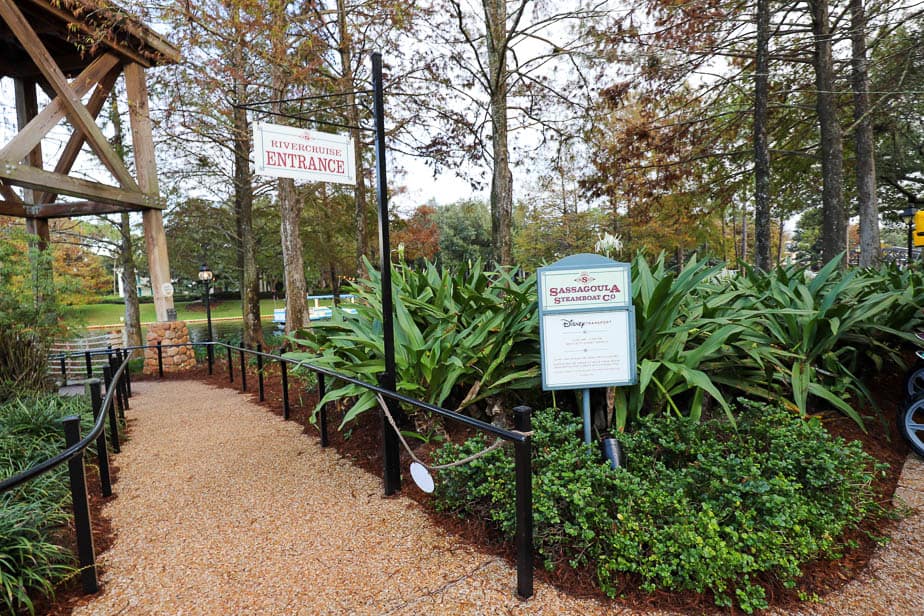 Boats run from 10:00 a.m. until 11:00 p.m. from the Port Orleans Resorts to Disney Springs.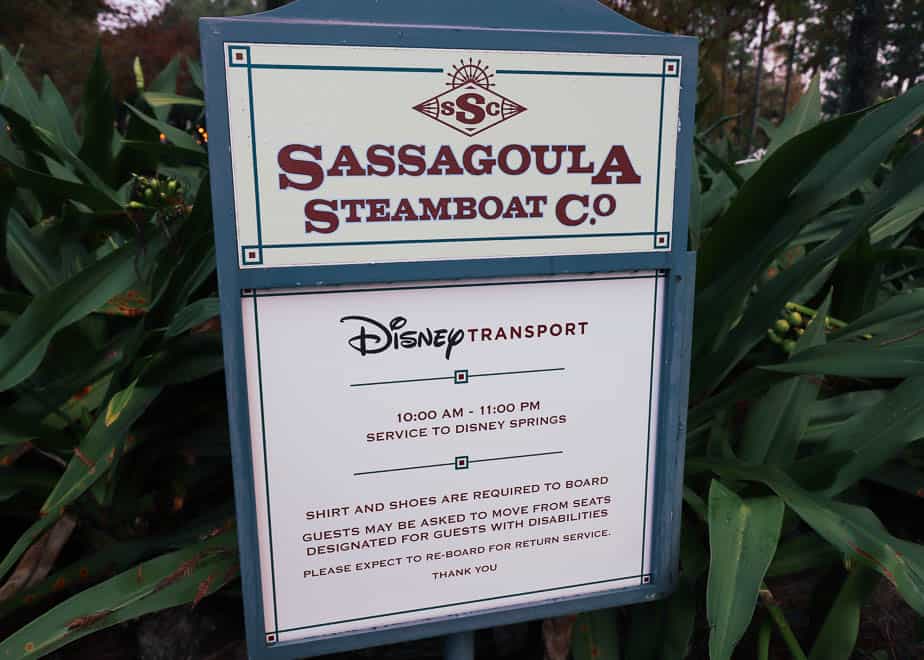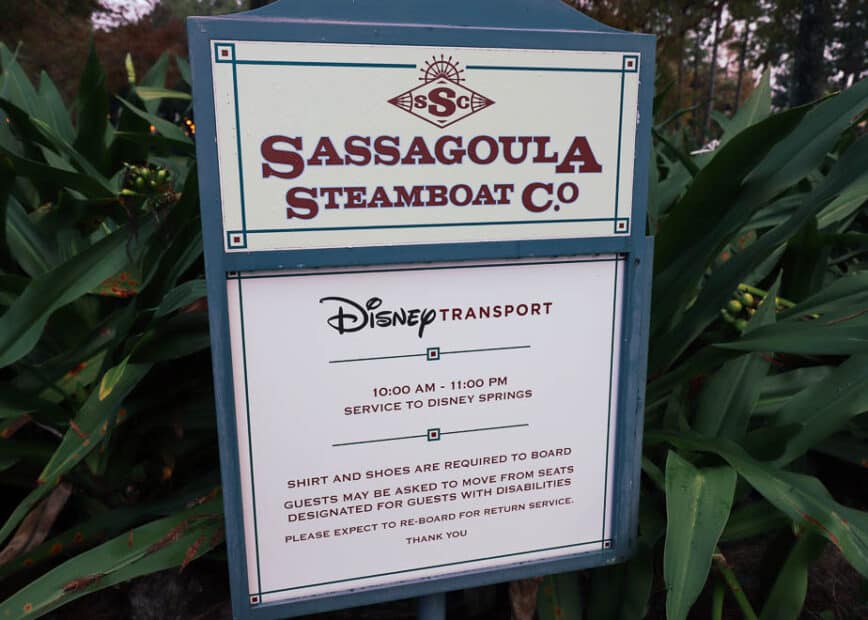 You'll wait in a dedicated area for the next water taxi to arrive.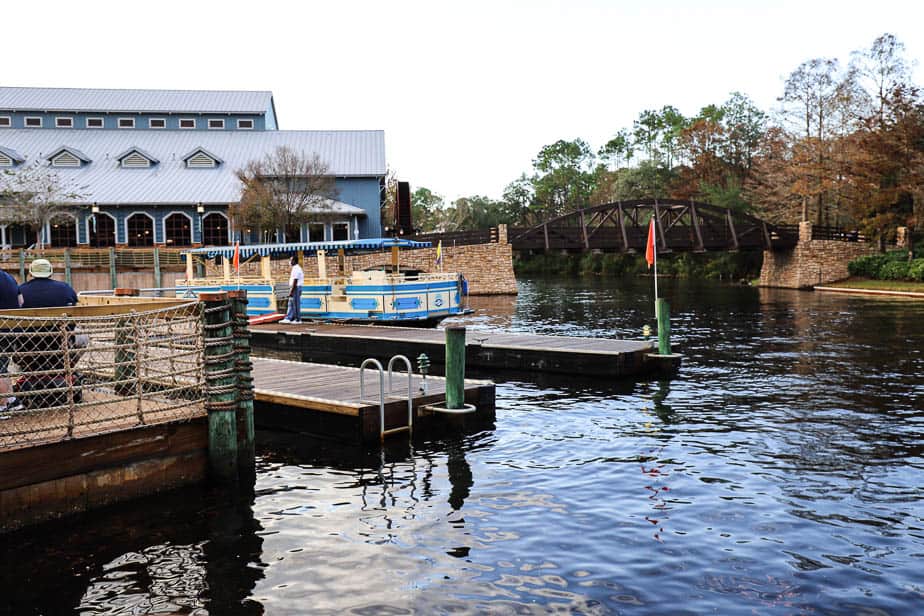 After boarding, you'll sail down the river to Port Orleans French Quarter.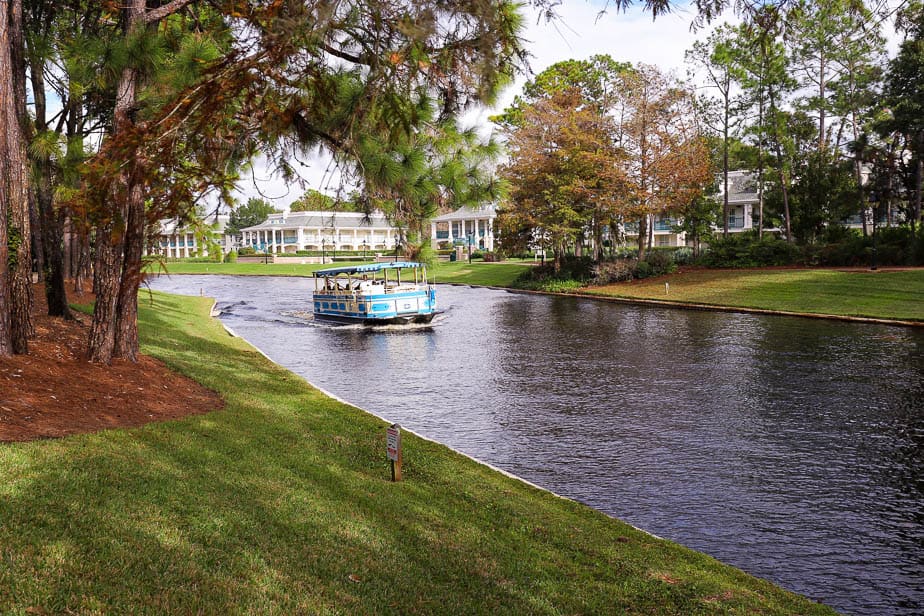 If you're headed to Disney Springs, you'll want to stay on board. Or you can disembark if you're visiting French Quarter.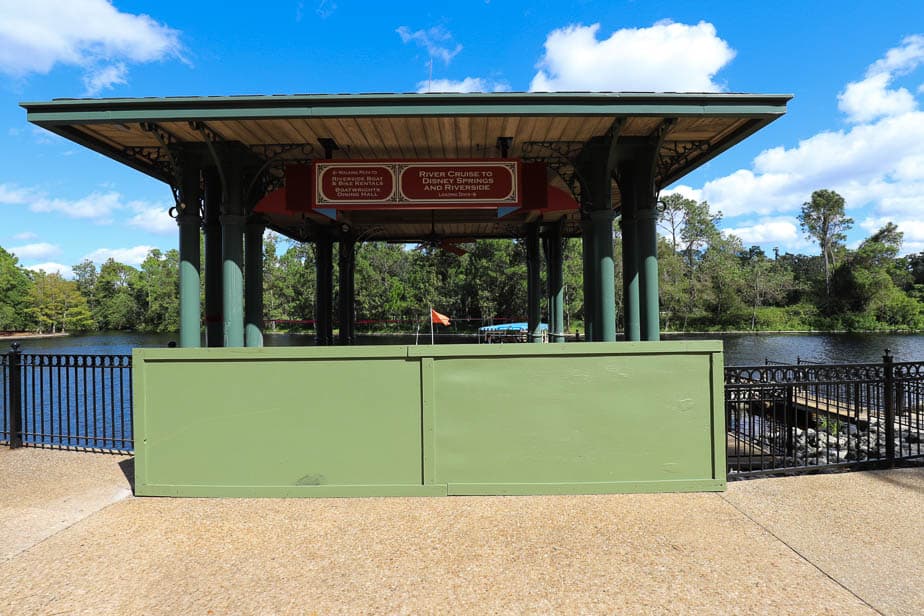 Briefly, I'll mention that there is a walkway between Riverside and French Quarter. So if you would prefer to walk or don't want to wait on a boat, walking is a pleasant option.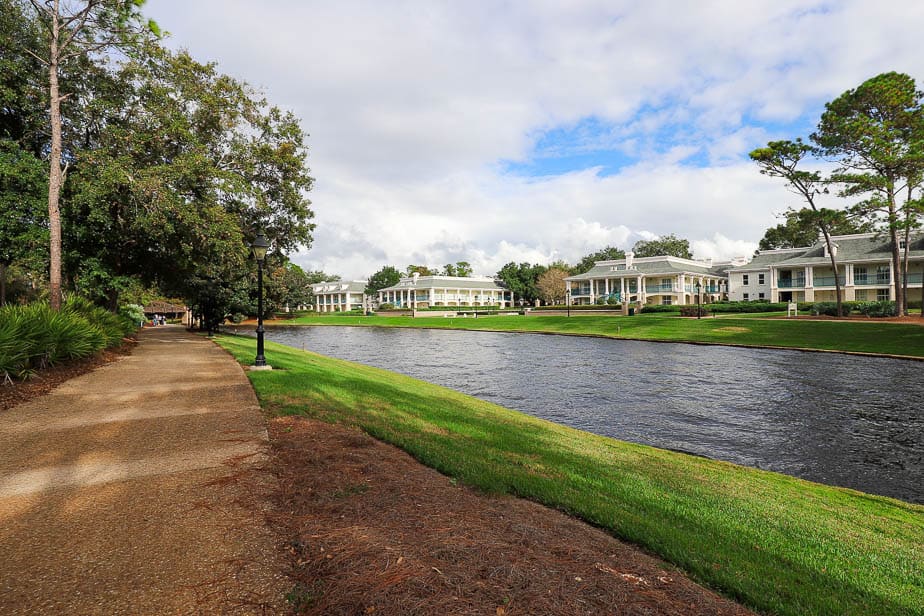 Anyway, below is a photo of the Port Orleans French Quarter boat dock.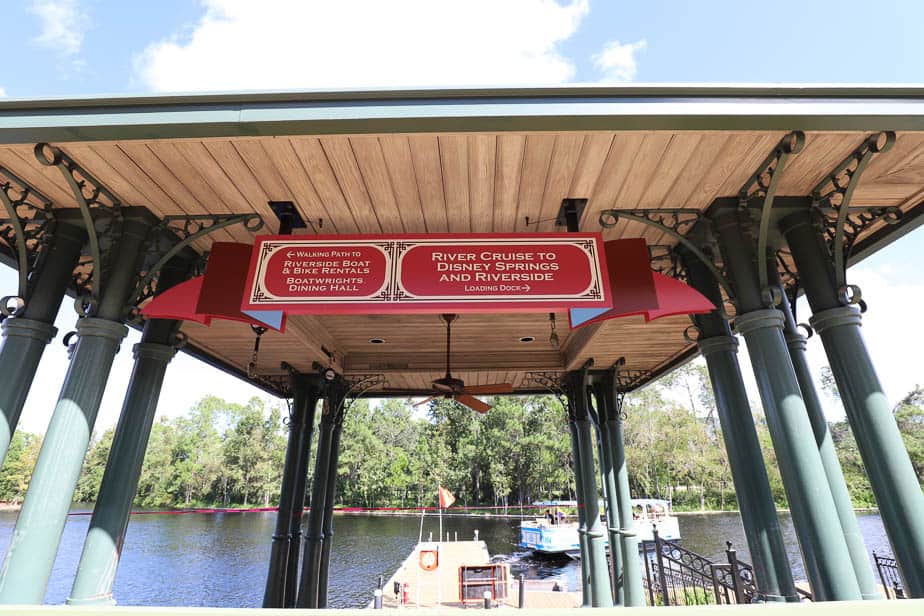 There's a ramp off to the side where guests will exit.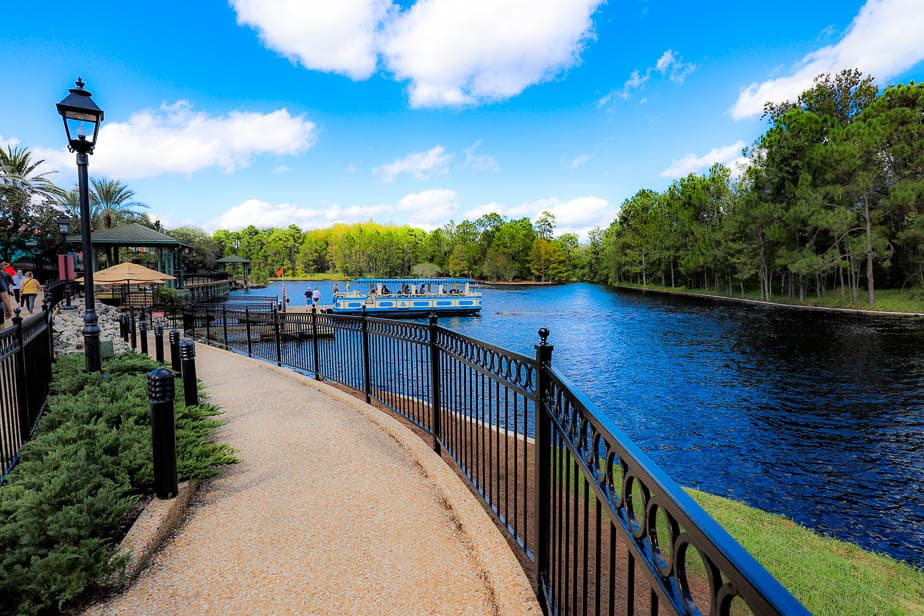 After the boat unloads and reloads, you'll continue to Disney Springs. The entire boat ride from Riverside to Disney Springs takes approximately 30 minutes.
You'll want to make sure to allow plenty of time when you are headed to a dining reservation. It can take time to wait for a boat to arrive, then the length of the boat ride plus any stops, and then the time it takes to walk to your dining reservation.
Disney Springs is a massive venue, and it might be a long walk to where you're headed once you get there. So make sure you're familiar with the other ways to get around Disney Springs once you arrive.
Related: Disney Springs Transportation Guide
Along the Sassagoula River, you'll see Disney's Treehouse Villas Resort. This is one of the few places I've yet to stay.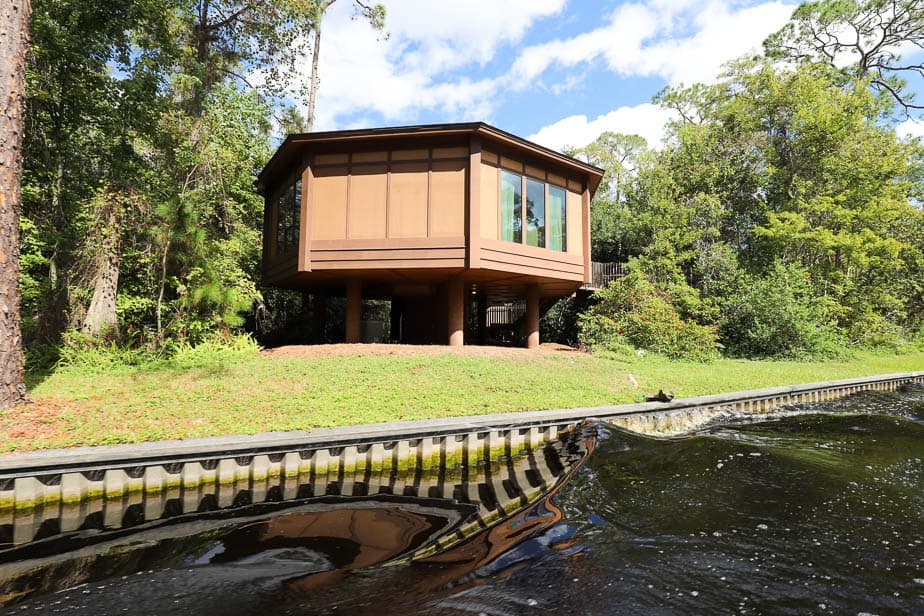 You'll cross under a few wooden bridges.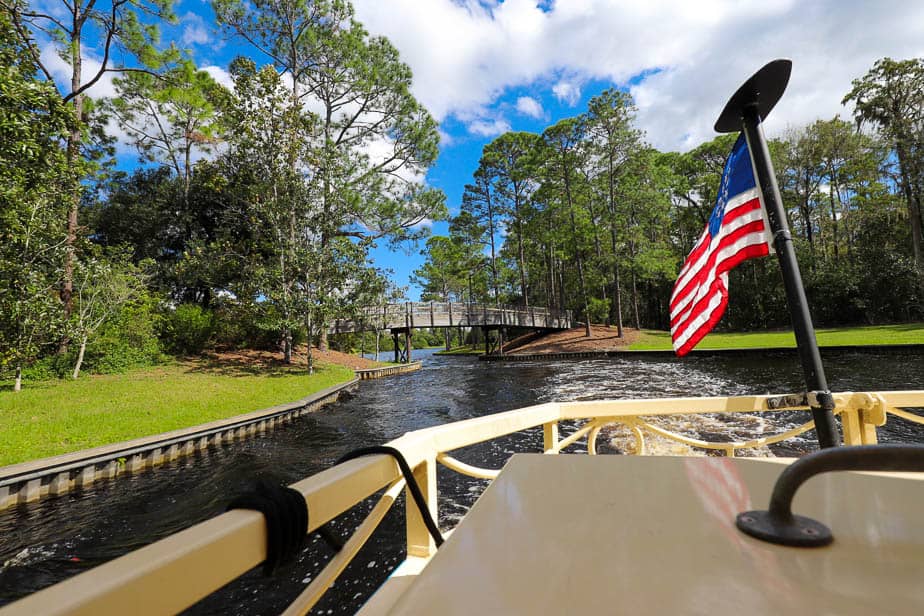 When you come out onto Lake Buena Vista, you'll see another boat dock to your left. This is the boat dock from Disney's Saratoga Springs Resort. They have their own boat service to and from Disney Springs.
Related: Saratoga Springs Resort Review
It's a beautiful view from the boat to this Disney World Villa Resort.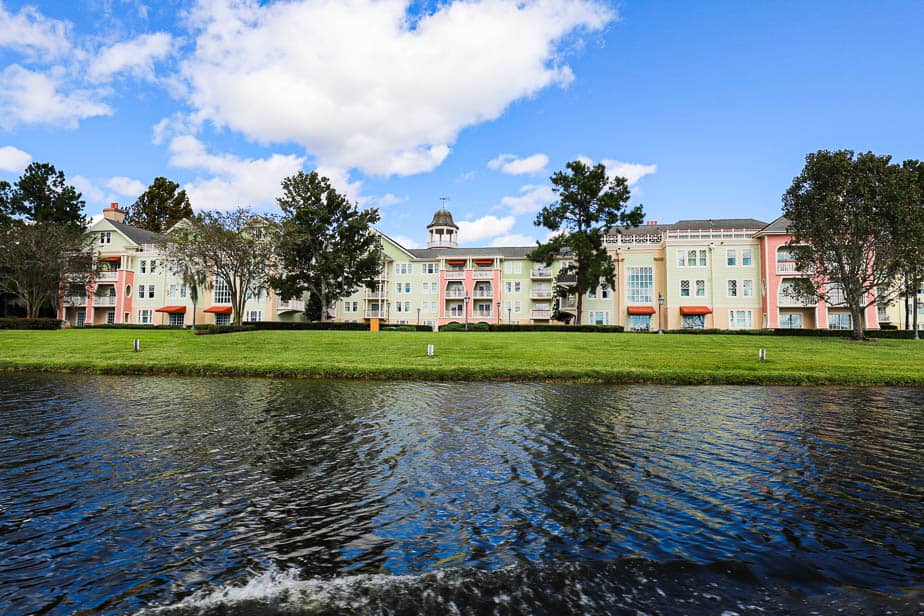 You'll pass by this welcome home sign.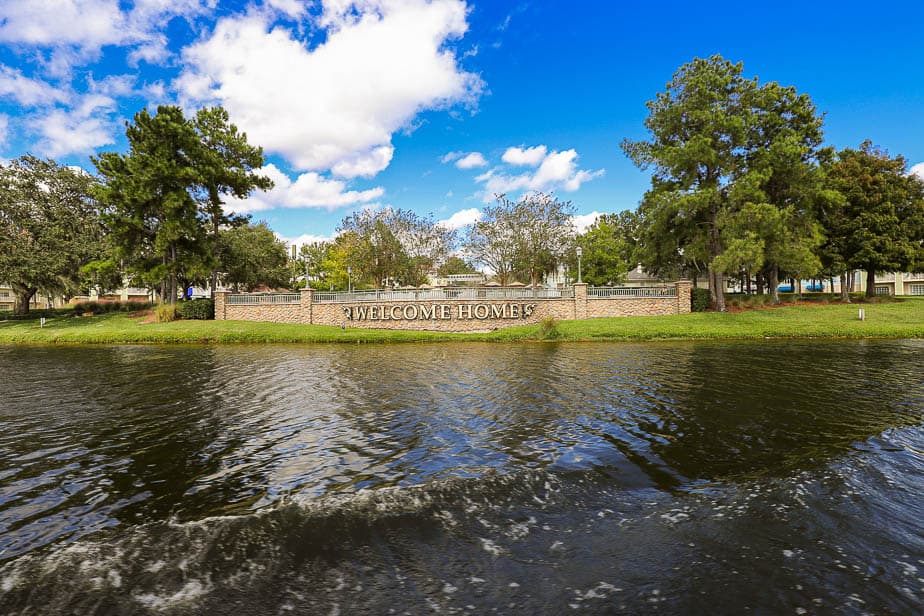 And on the opposite side of the boat, you'll have this expansive view of Disney Springs. Most of those locations along the water are restaurants. Serious foodies will want to plan several meals here during their stay.
Related: Best Restaurants at Disney Springs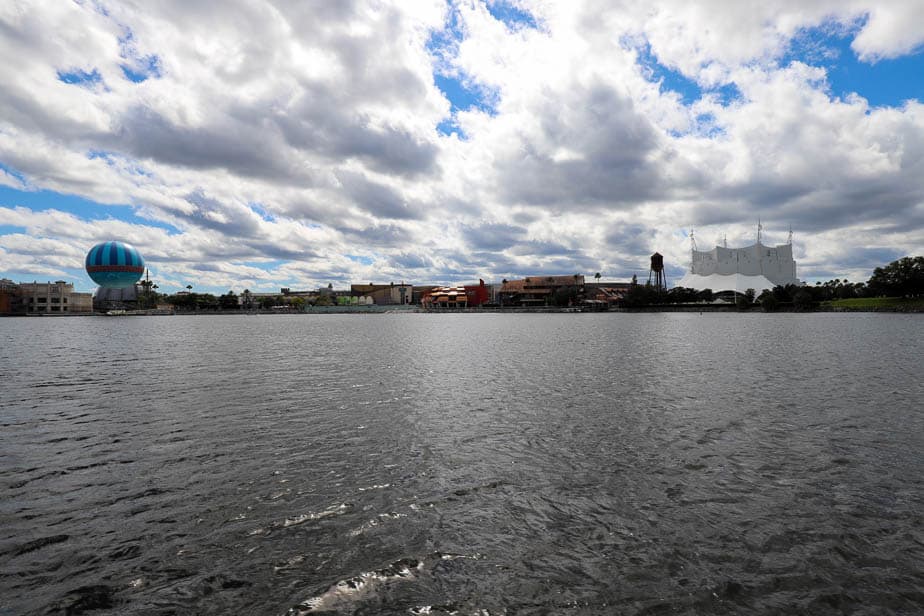 Finally, you'll arrive at the Marketplace boat dock. That means you've traveled to the far end of Disney Springs.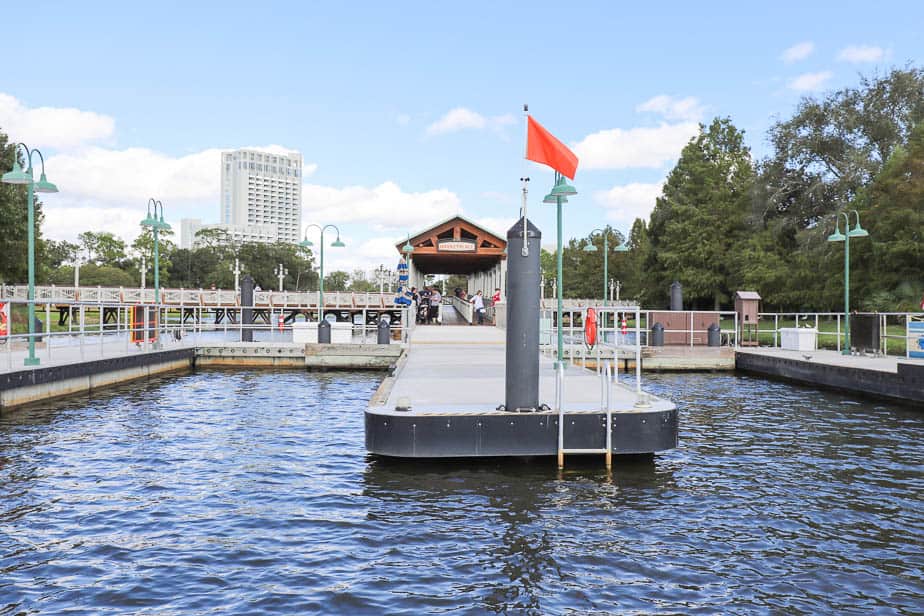 When you return, you'll head back in the same direction stopping at French Quarter and then to Riverside. The boat ride from Disney Springs to French Quarter Resort is approximately 15 minutes.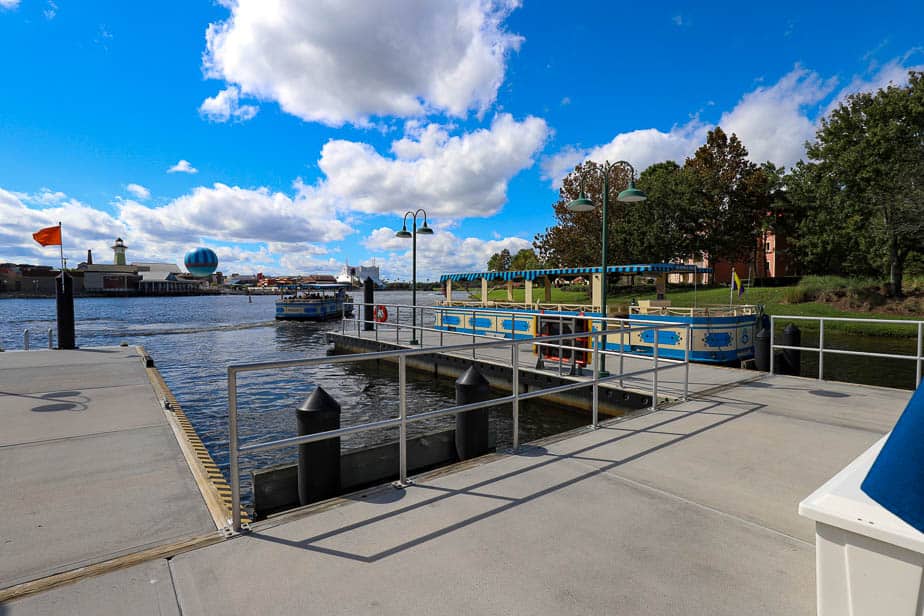 Boat transportation is one of the most pleasant ways to get around Disney World.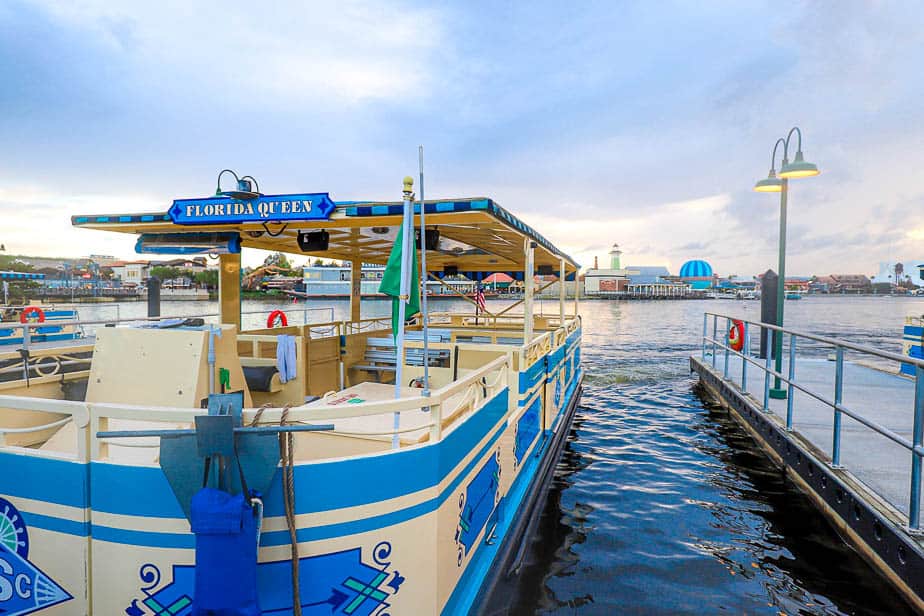 Related: Disney's Friendship Boat Guide
Bus Transportation at Disney's Port Orleans Resorts
In addition to the water taxis, Port Orleans French Quarter and Riverside offer bus transportation. Each resort has a bus stop located in front of the resort's main entrance.
At either resort, walk out of the lobby, and turn to your immediate right. You'll see the bus stops down the sidewalk on the right.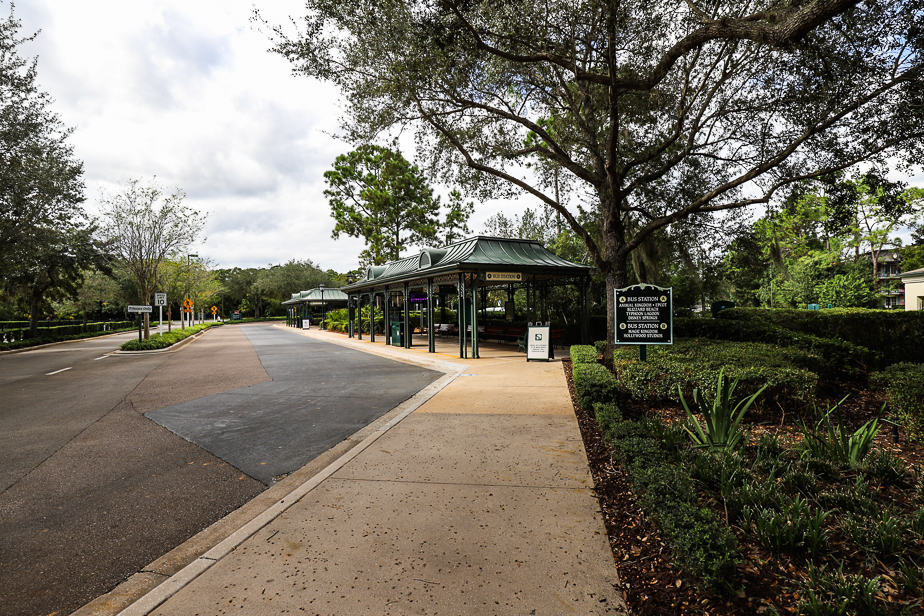 Buses at Port Orleans French Quarter and Riverside travel to the following locations:
Magic Kingdom
Epcot
Hollywood Studios
Animal Kingdom
Blizzard Beach
Typhoon Lagoon
Disney Springs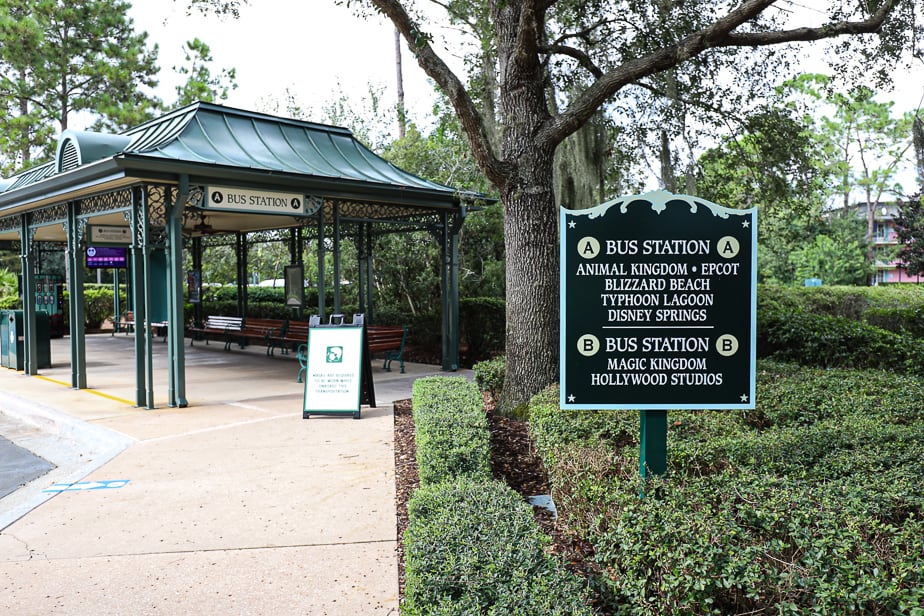 A few benches are available and a television screen that indicates the wait for the next bus.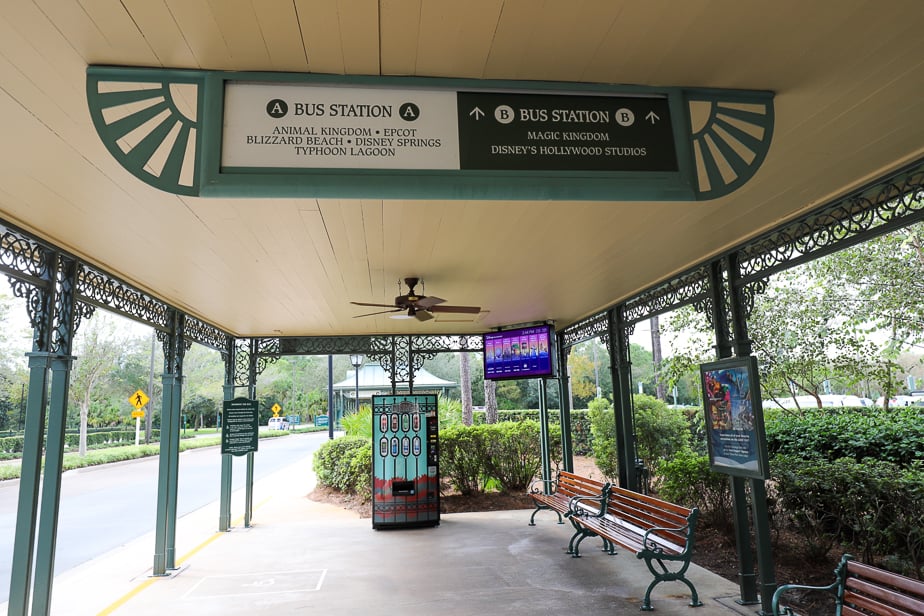 Additionally, Port Orleans Riverside, has an internal bus system with a total of four different bus stops. You'll want to locate which bus stop is closest to your room.
The bus stops at Riverside are the South Depot (main lobby), East Depot, North Depot, and West Depot. Since Riverside has so many stops the bus ride will be considerably longer given the extra stops.
And during the slower times of day, the Riverside bus might make a stop at French Quarter before going to Riverside. So if you're traveling to Riverside and getting off at the main lobby, make sure you're not at French Quarter.
One time, I wasn't paying attention and exited the bus at French Quarter. It wasn't until I walked into the lobby that I fully realized I was at the wrong resort.
While it wasn't a big deal, it was a decent walk back to Riverside. I guess I could have taken the boat.
Thankfully, transportation at the Port Orleans Resorts is fairly simple. I hope this article provided you with a few tips for getting around on your upcoming vacation.
Both of the Port Orleans Resorts fall under Disney's moderate resort category. For more information, all of our articles relating to the French Quarter are here. And all of our articles for Riverside are listed here.
If you're wondering which one I prefer, you might like to read our article comparing the two resorts. Spoiler, French Quarter is my favorite.
Related: Port Orleans Riverside vs. French Quarter
Additionally, you might consider staying at one of Disney's other moderate resorts. If so, try these resort reviews:
In the comments: Do you have any questions about the transportation options at the Port Orleans Resorts? Have you ever taken the boat from either resort to Disney Springs?
Planning a Walt Disney World or other Disney Destination vacation?
Our friends and travel partner, Firefly Travels, excels at doing Disney differently. You can fill out a plan your trip form on their website, and someone will reach out shortly to discuss the specifics.