Disney's Port Orleans Riverside Resort Review
This review of Disney's Port Orleans Riverside Resort provides a detailed account of our stay. We discuss our experience, the resort's amenities, and a few pros and cons.
Disney's Port Orleans Riverside is massive. So massive that it might be difficult to conceive the actual size of the resort if you've never visited.
Like most moderate resorts at Disney World, this is not a hotel where you hop on an elevator to come and go from your room. Yes, they have elevators in most (not all) of the buildings. But you'll first have to walk to your building to locate your room.
As inconvenient as it sounds, staying at a resort spread over approximately 200 acres has perks. There's no argument–Disney's Port Orleans Riverside is stunning, especially if you haven't spent much time in the South.
Riverside is often called a "romantic" resort with its diverse landscape, massive oak trees, and garlands of Spanish moss gently swaying in the breeze. Don't be surprised to find guests passing you in horse-drawn carriages after 5:00 p.m.
You might even reserve one for yourself on an evening at the resort. Day or night, the resort offers plenty to do, and nearby Disney Springs is only a boat ride away.
But is a stay at Port Orleans Riverside right for you? Below, I'll share the details of our latest visit. Hopefully, by the time we finish, you'll have the answer to that question.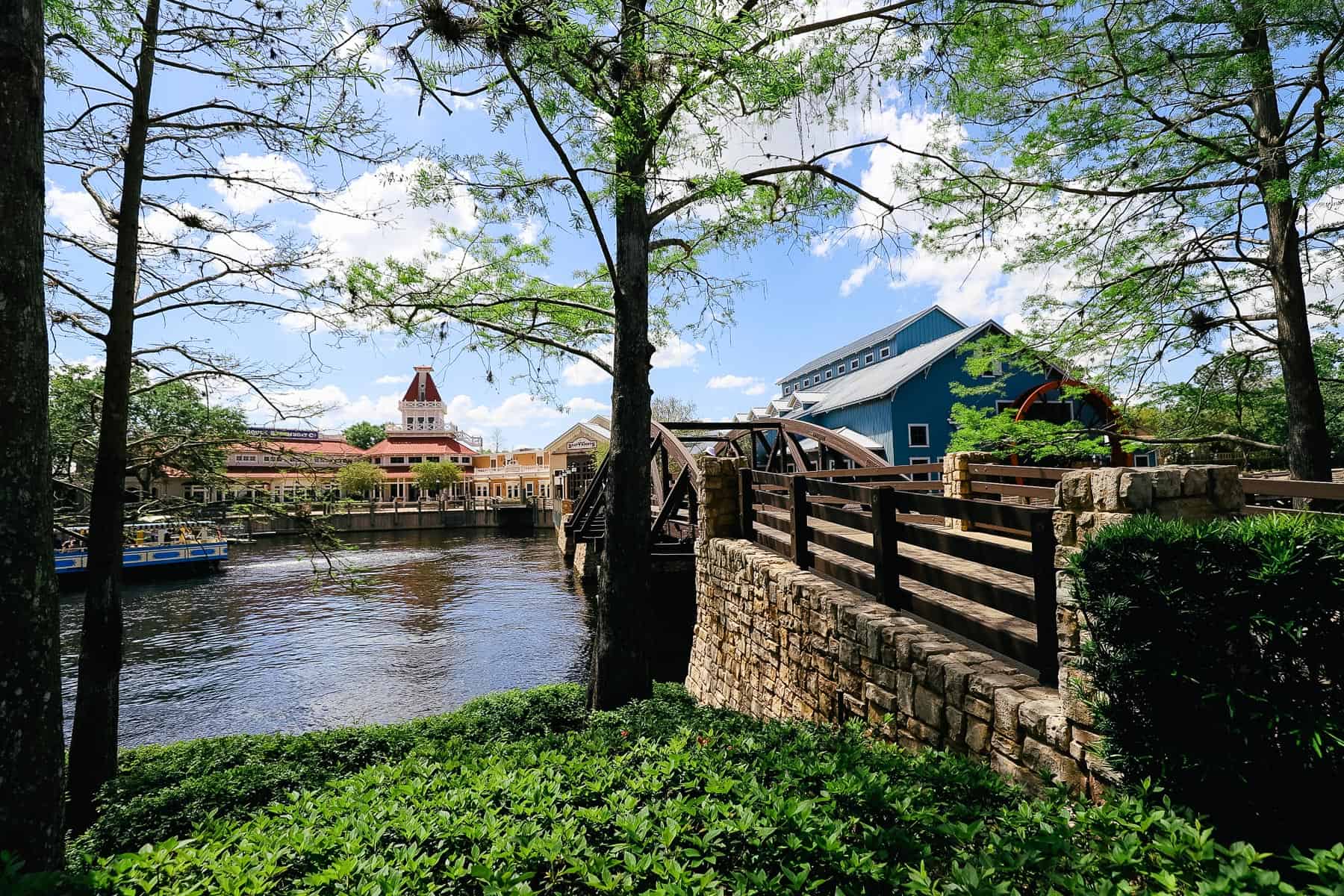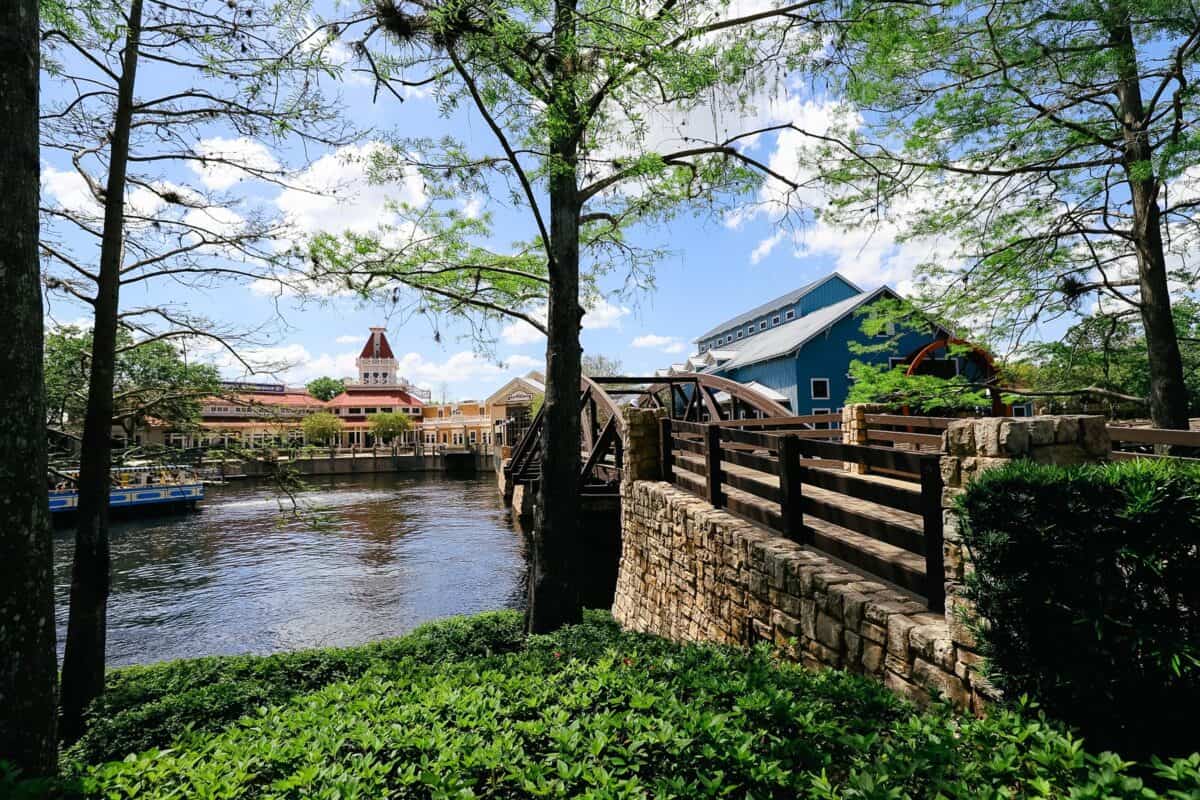 Port Orleans Riverside Review
During our stay at Port Orleans Riverside, I spent almost an entire day at the resort, taking photos and touring the grounds. As I strolled along the Sassagoula River (the river between Riverside and French Quarter that continues to Disney Springs), I was reminded of what makes Disney Resorts unique.
Where else can you find a resort with such broad, open spaces? A place that makes you feel like you've stepped back in time. It reminded me of an uncrowded oasis–a blatant paradox from the theme parks.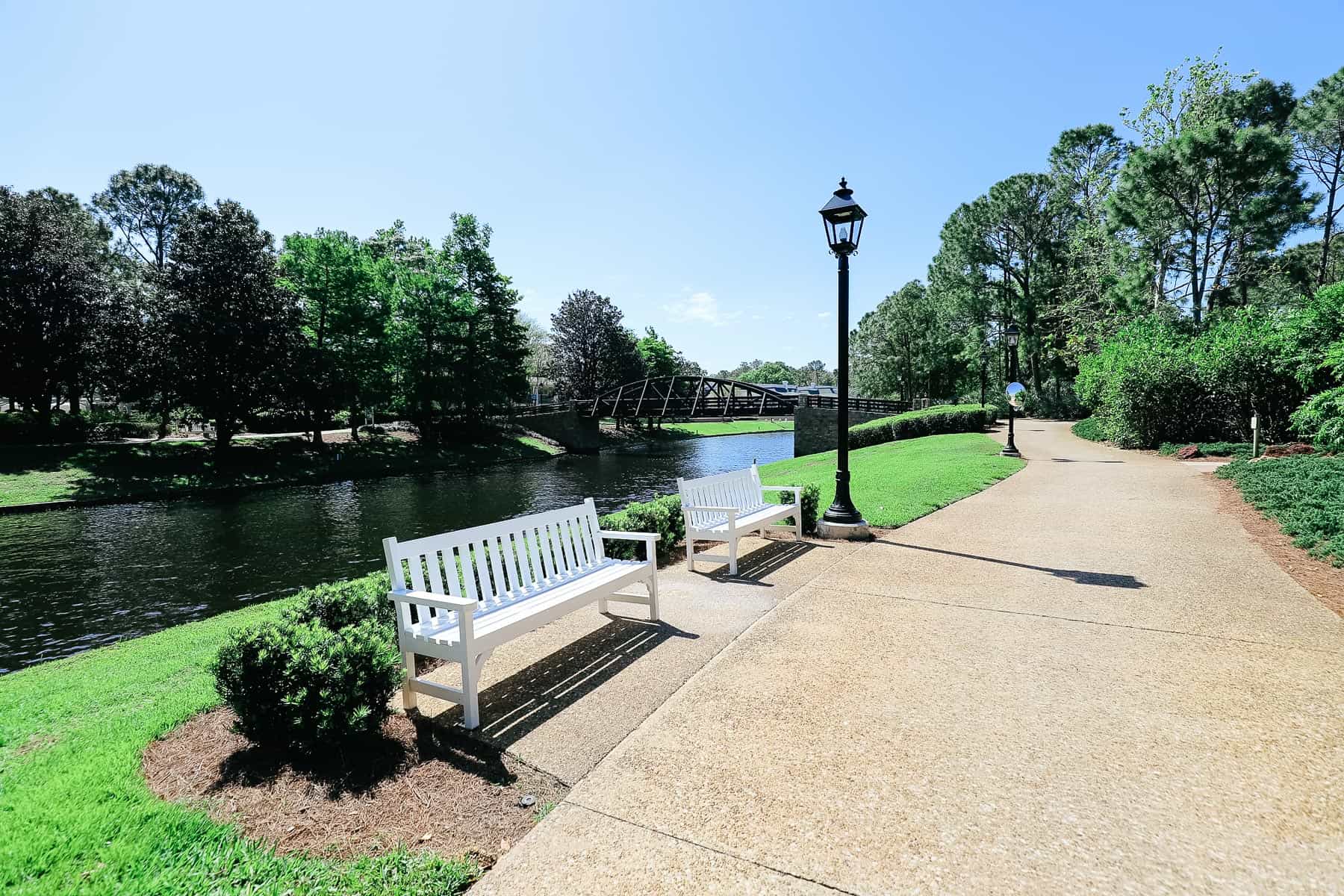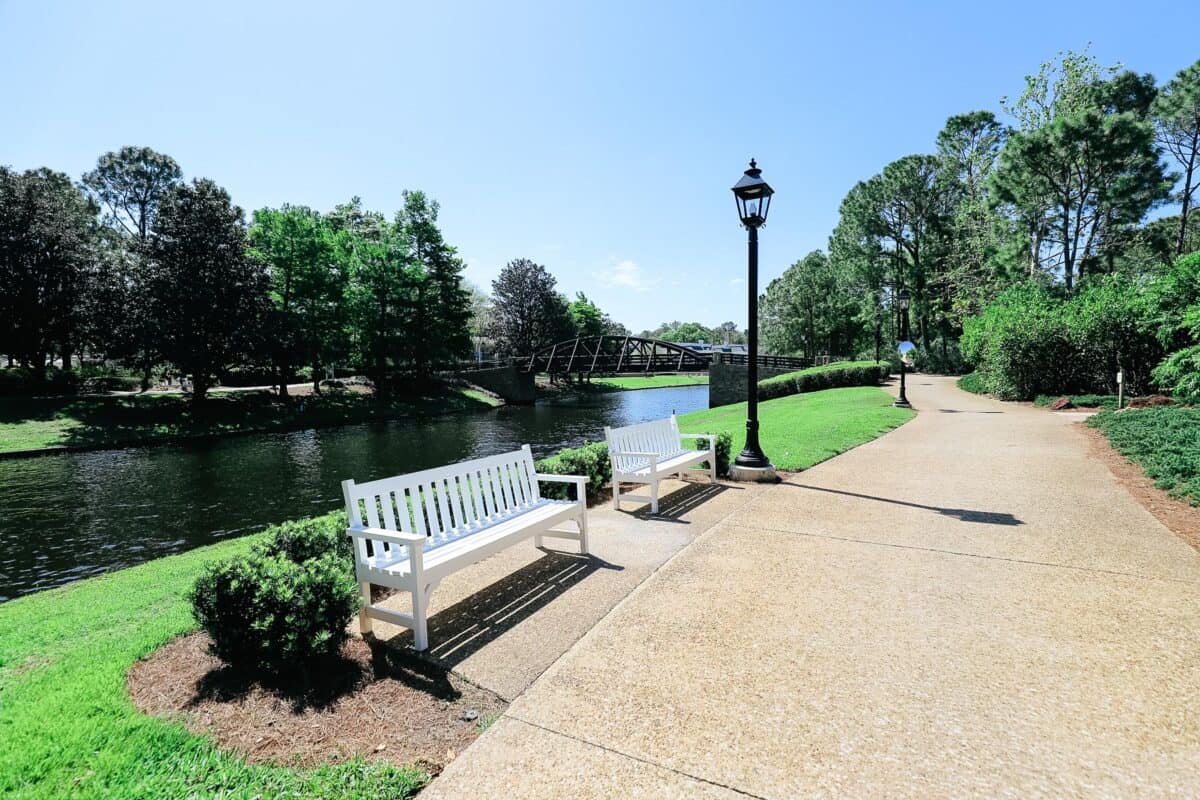 Riverside comprises two distinct areas: Magnolia Bend and Alligator Bayou. Both reflect the landscape you might find on the Bayou in rural Louisiana.
Magnolia Bend comprises four white mansions with manicured lawns. This area reflects a softer, more traditional style.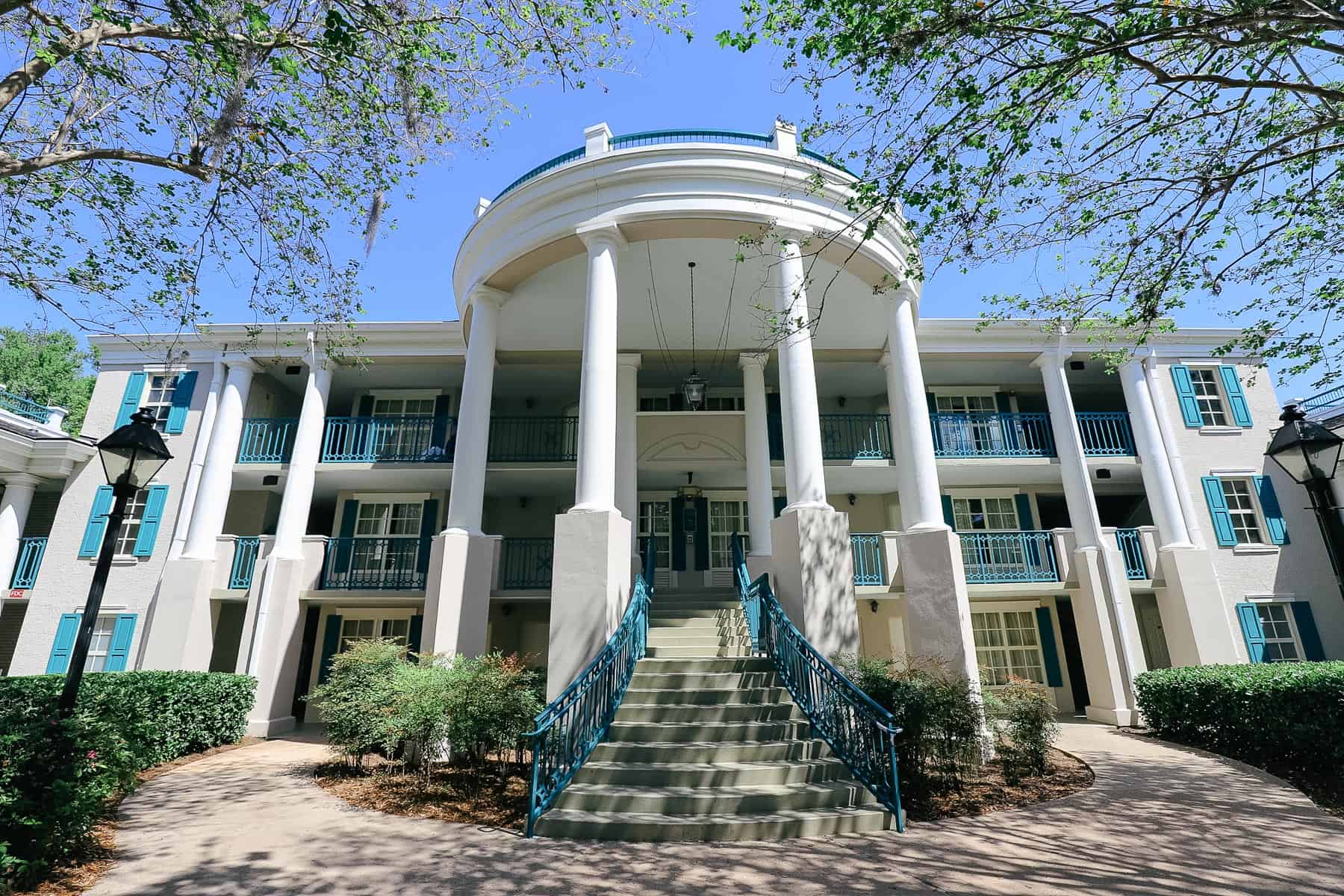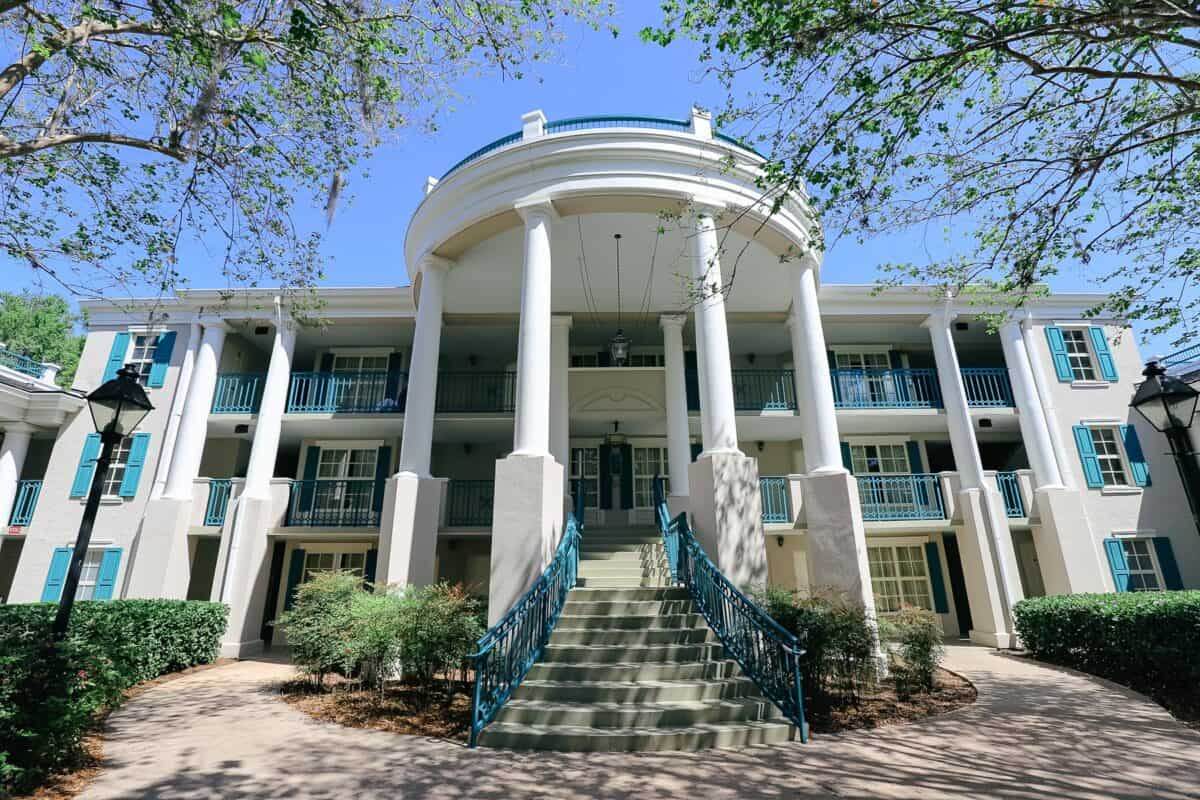 While Alligator Bayou is themed to the backwoods of the Bayou, this section of the resort has a woodsy, outdoor feel.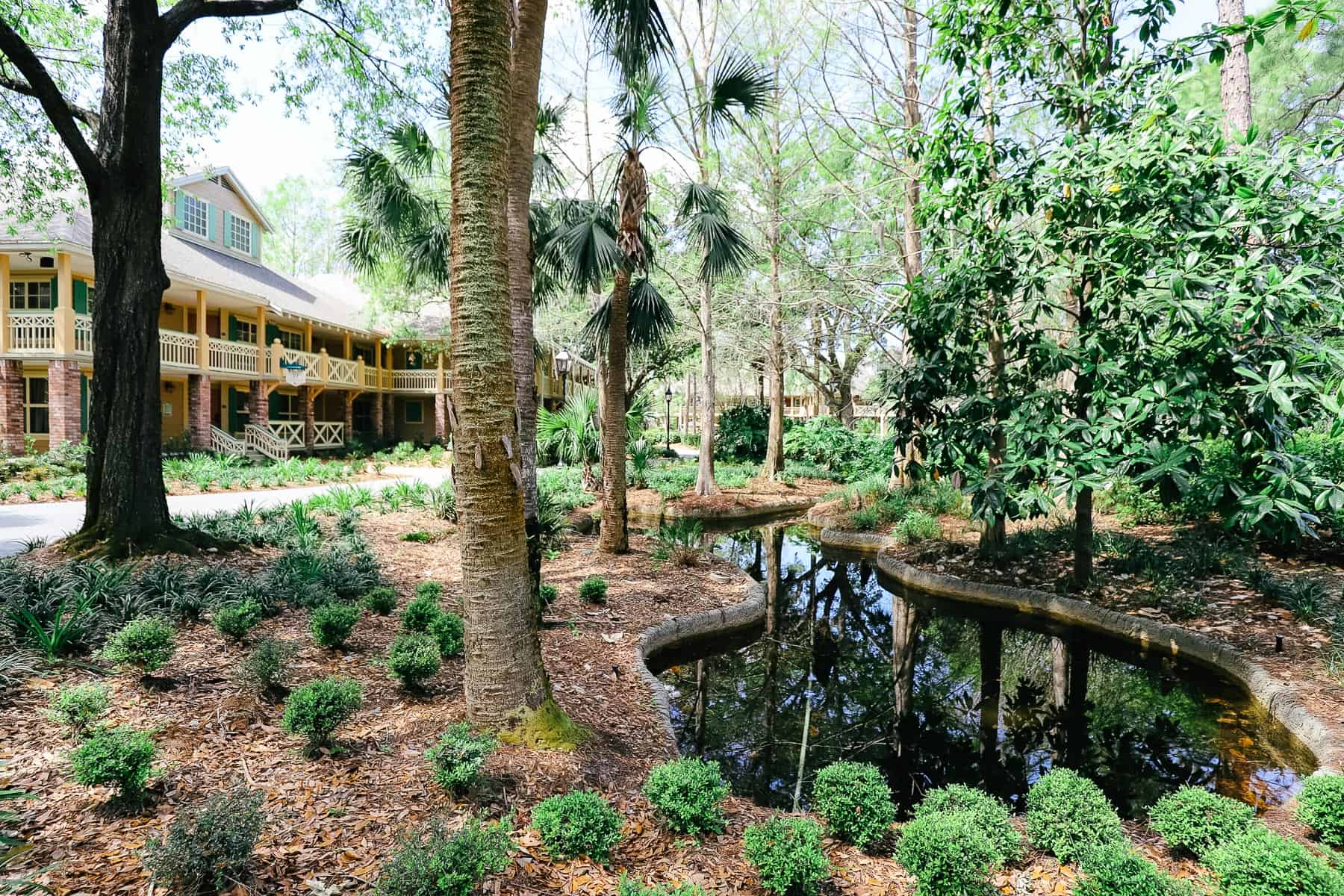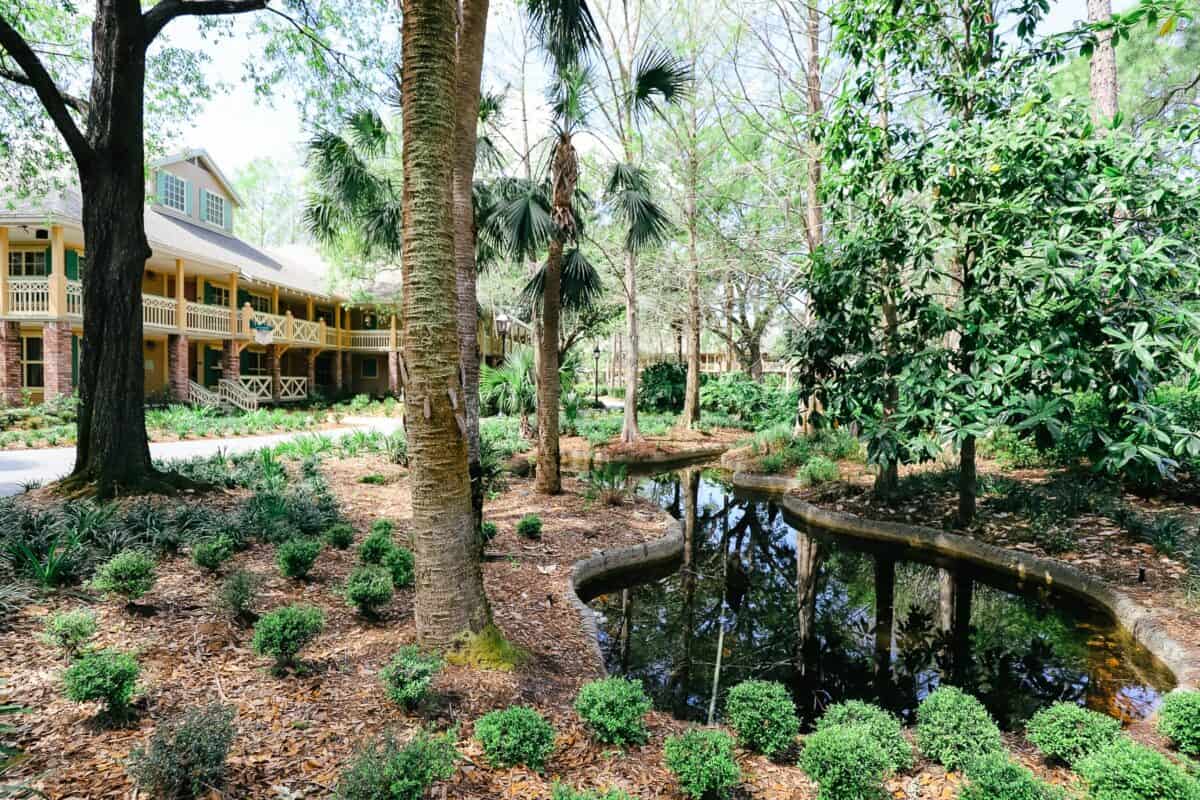 Riverside sits next door to sister resort Port Orleans French Quarter. Disney's French Quarter is an entirely separate resort with New Orleans theming, including a touch of Mardi Gras. It's also a boutique resort, nowhere near the size of Riverside.
Related: Disney's Port Orleans French Quarter Review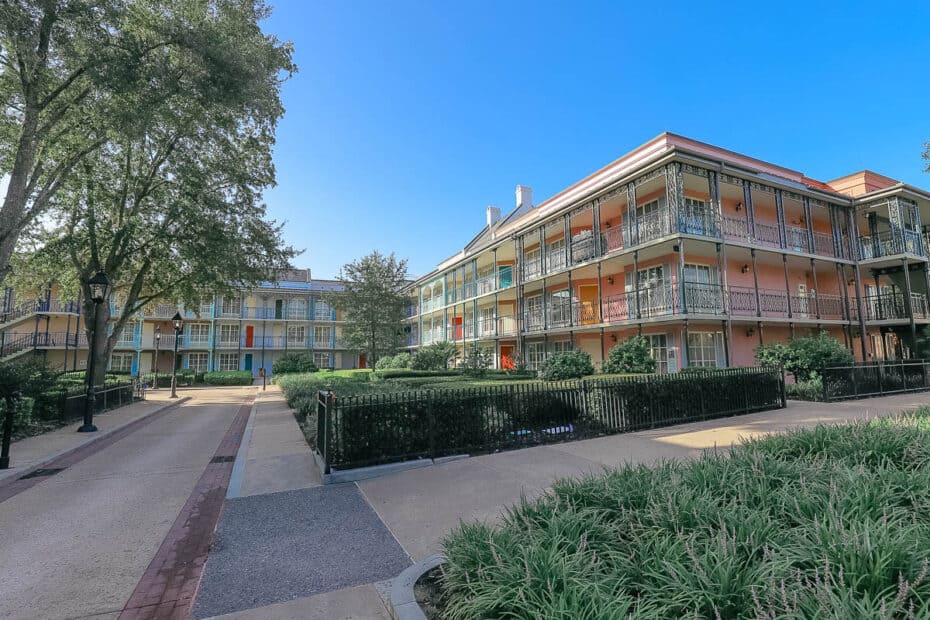 Both resorts are located on Disney's Sassagoula River, with only a short walk between them. Guests are welcome to use the amenities at either resort.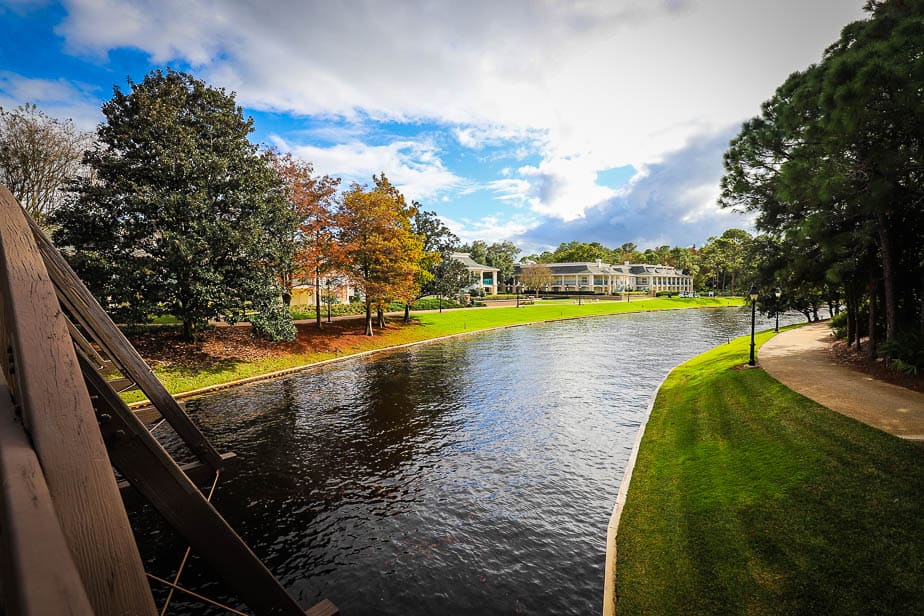 Rooms at Port Orleans Riverside
The options can get confusing when selecting a room at Port Orleans Riverside. So we'll start with Magnolia Bend, home to the mansions.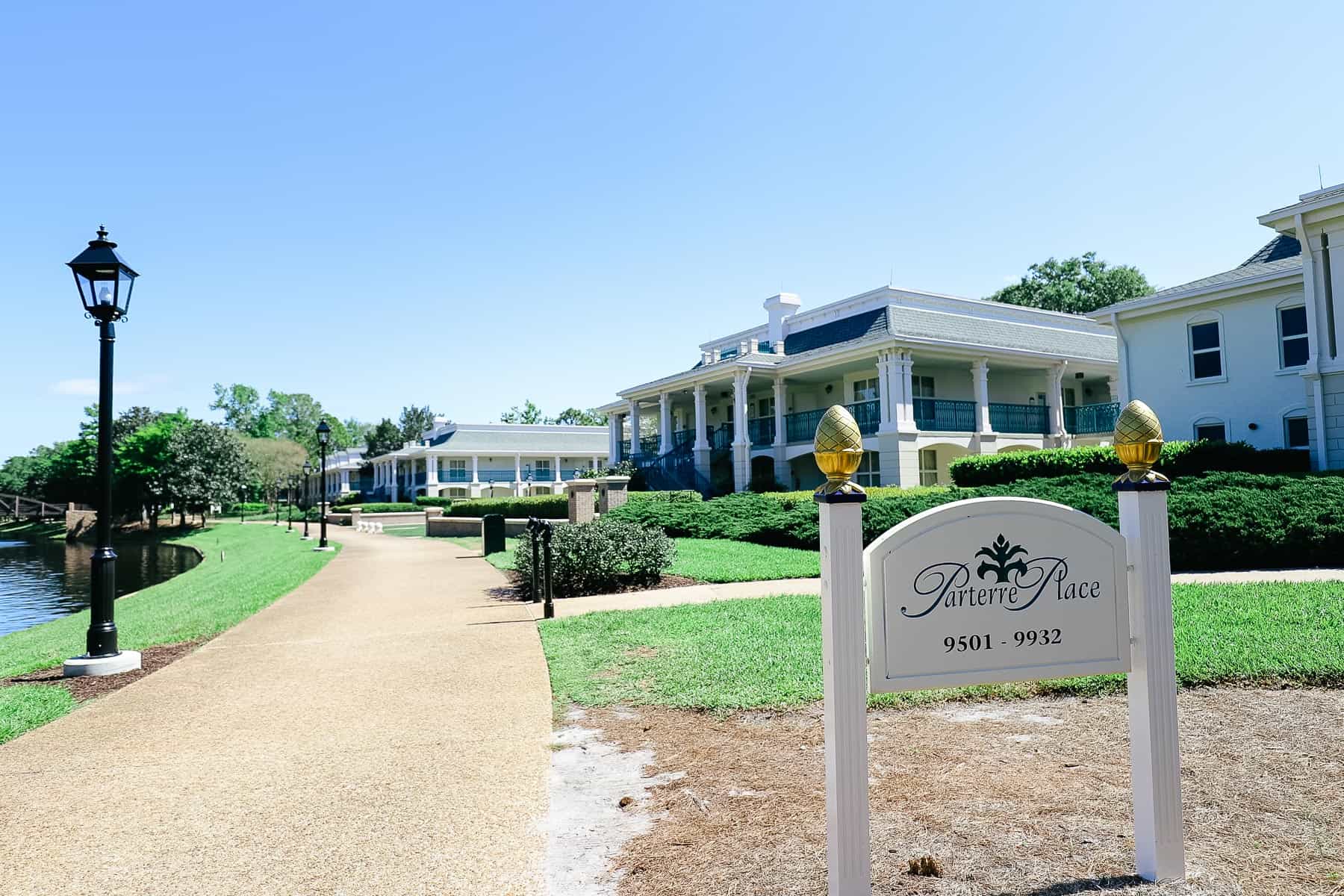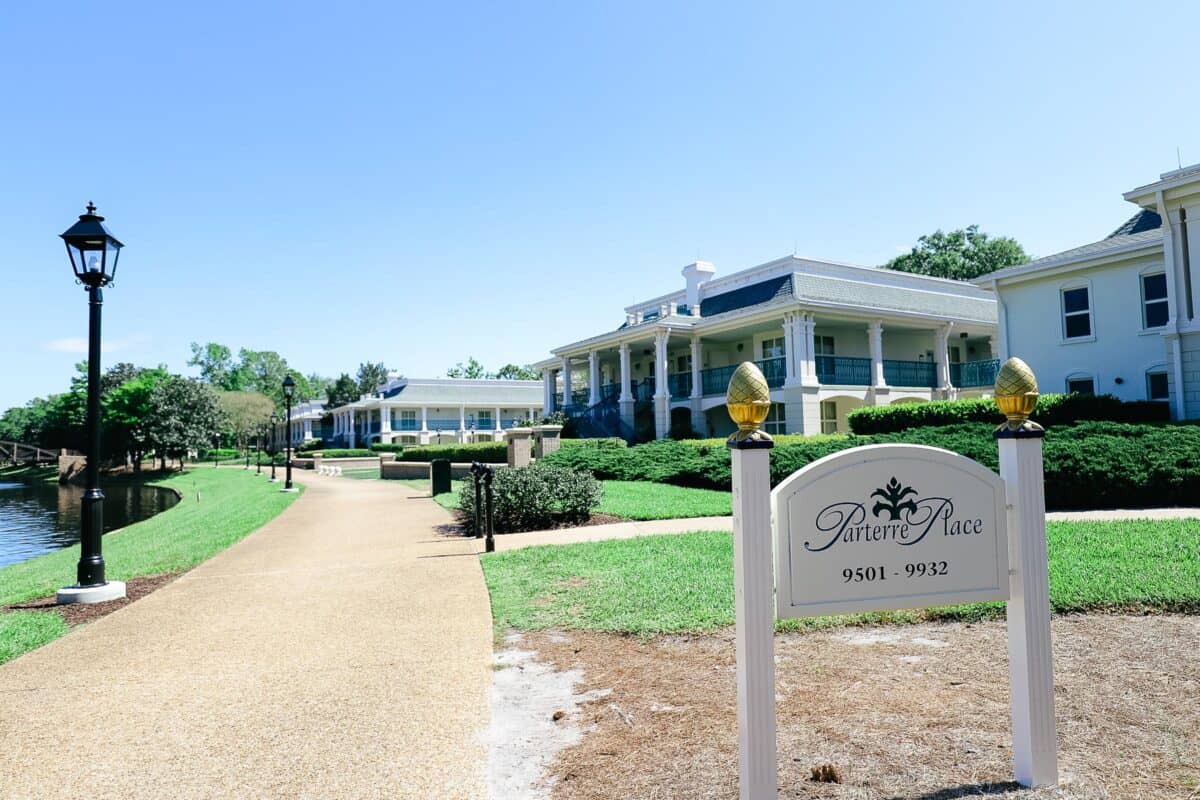 The four mansions at Magnolia Bend are:
Arcadian House
Magnolia Terrace
Oak Manor
Parterre Place
Magnolia Bend is home to standard guest rooms and royal guest rooms. Standard rooms are located in Arcadian House and Magnolia Terrace. Royal guest rooms are located in Oak Manor and Parterre Place.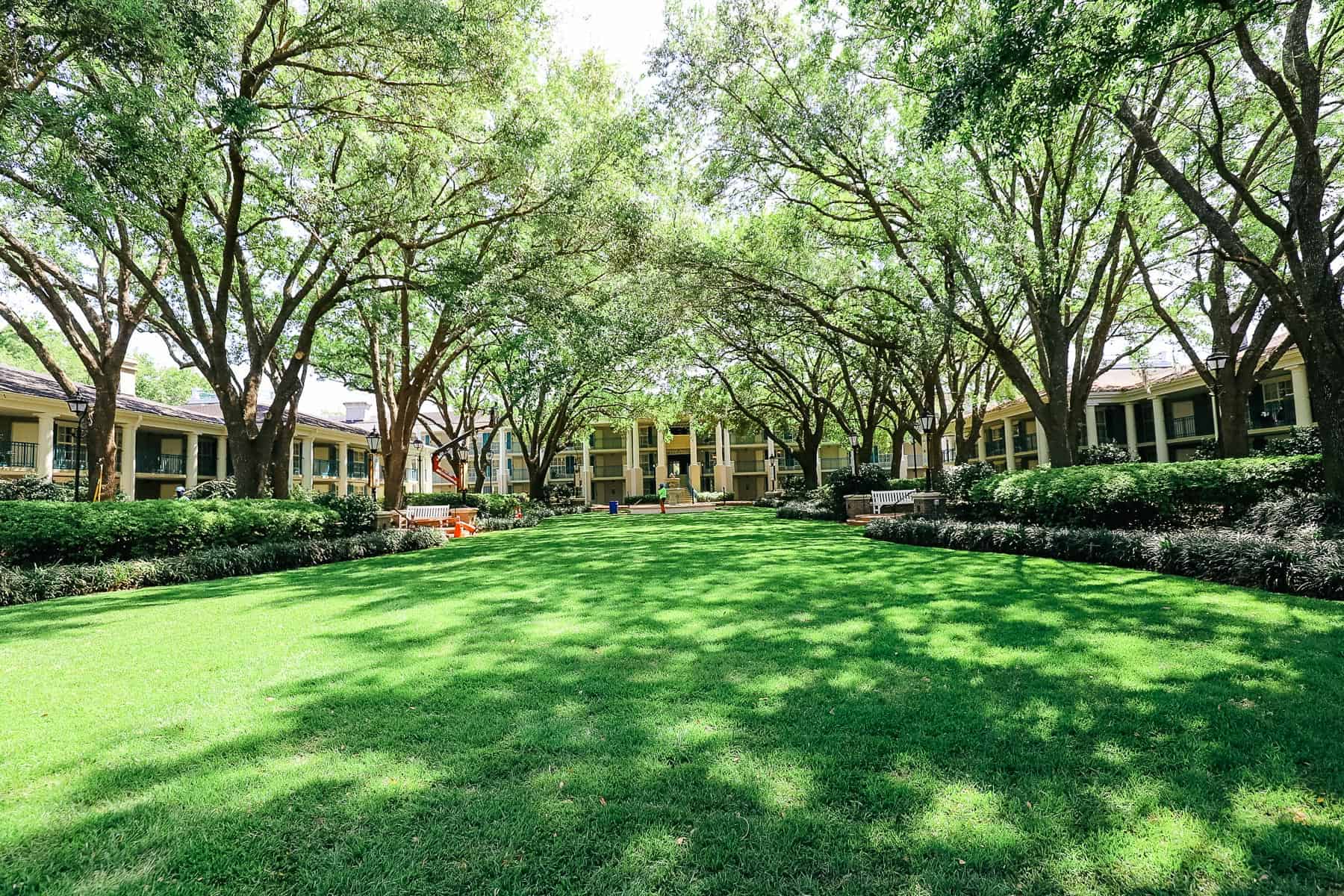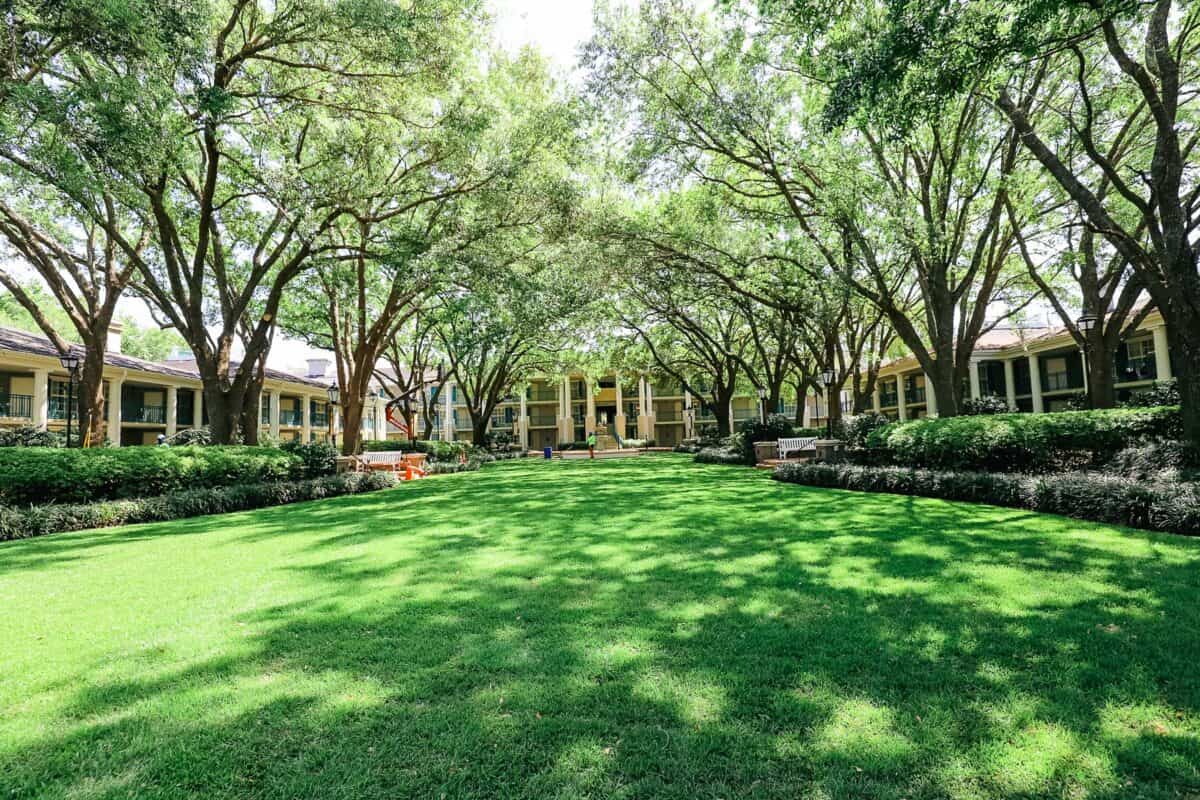 Royal Guest Rooms
Before we get into room details for this stay, I wanted to leave the following excerpt so you'll know about our experience with the royal guest rooms.
We reserved a royal guest room on our first-ever stay at Port Orleans Riverside. Unfortunately, that was many years ago, so I don't have photos.
Not knowing any better, I assumed an upgrade would mean a better room location, view, and an overall better experience. But, little did we know the royal rooms are located on the far end of Magnolia Bend in Parterre Place.
So we ended up in a room with a parking lot view at the back of Parterre Place. We were not anywhere near a bus stop or anything else!
So, what is a royal guest room? Well, it's a room that is a little more decorated than a standard guest room. You can expect attention to detail in the room's fixtures and furnishings. In addition, Disney princesses are featured in the room's artwork.
Additionally, the headboards have a button that makes the art above the bed light up. Sure, your children will probably think the headboard element is fun, but that's about it.
Oh, and you might get a letter from Princess Tiana at check-in. But it's not a big deal.
Unfortunately, because of the room and its location, I ended up with a bad taste in my mouth for Riverside. I felt like I had paid a considerable amount for a room upgrade with no extras.
Also, being so far from the bus stop was frustrating. At check-in, we were told the bus stop at the main entrance would be the closest to our room. So every time we left, we had to walk to the front of the mansion, across one of the bridges, through the resort, and then out past the entrance to the bus stop.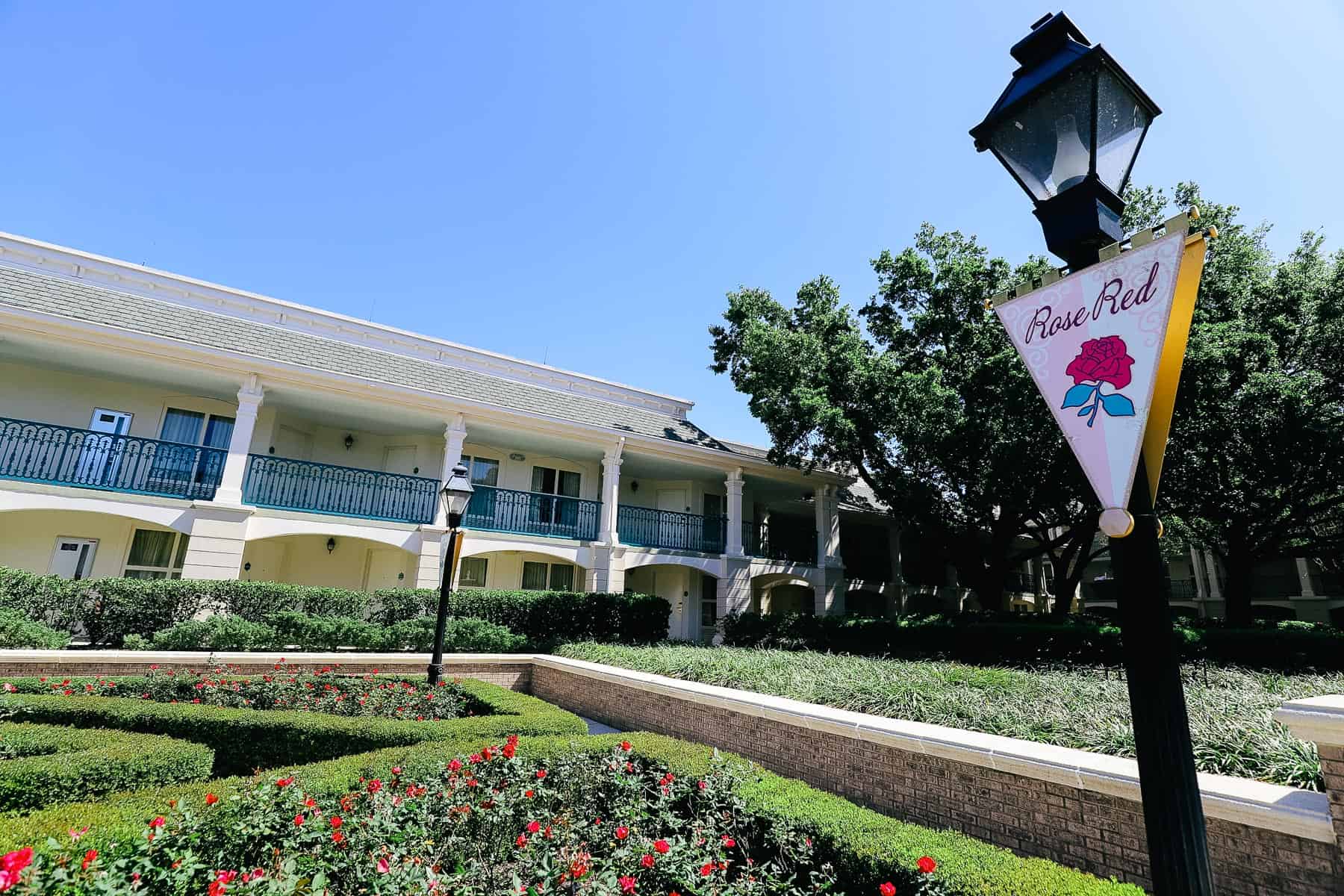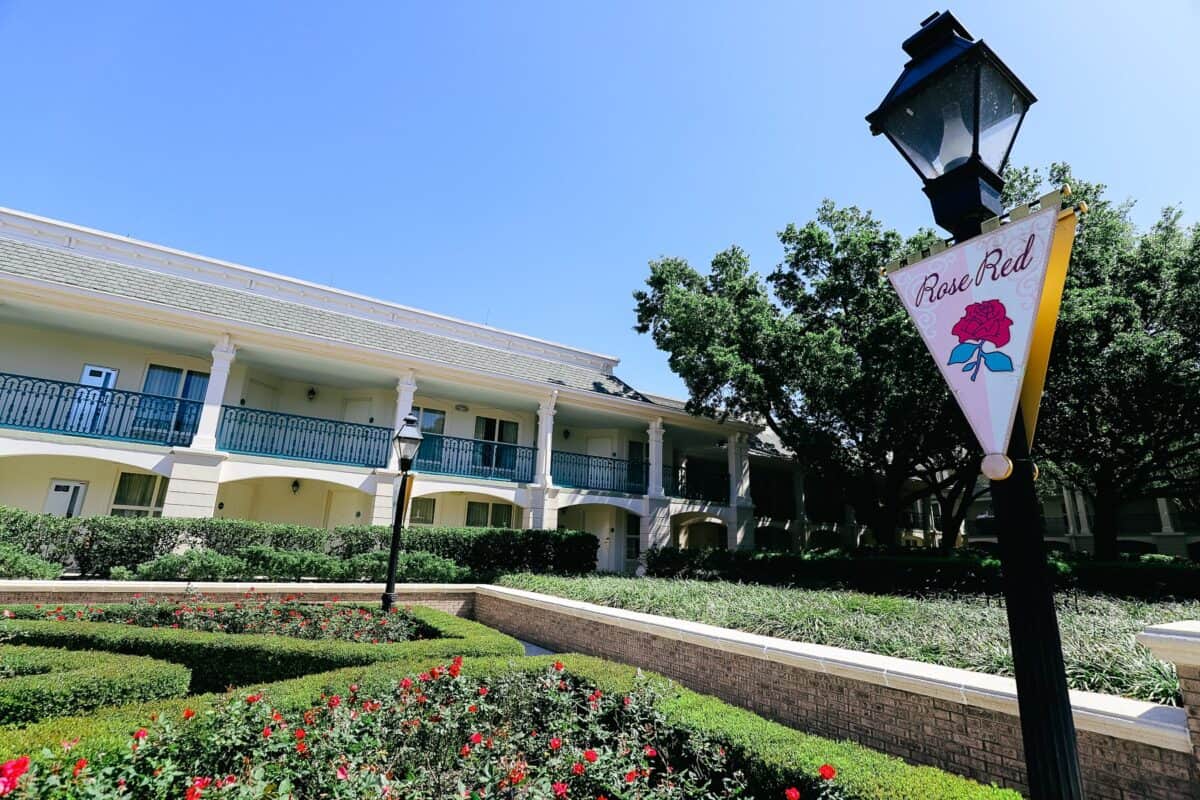 Preferred Rooms
So knowing what I know now, the only upgrade I would generally consider at Riverside is a preferred room. By Disney's standards, a preferred room at Riverside means close to dining, shopping, transportation, and the resort's main lobby.
Preferred rooms are located in buildings 14, 15, 18, and 27 in Alligator Bayou. Unfortunately, there are no preferred rooms in Magnolia Bend.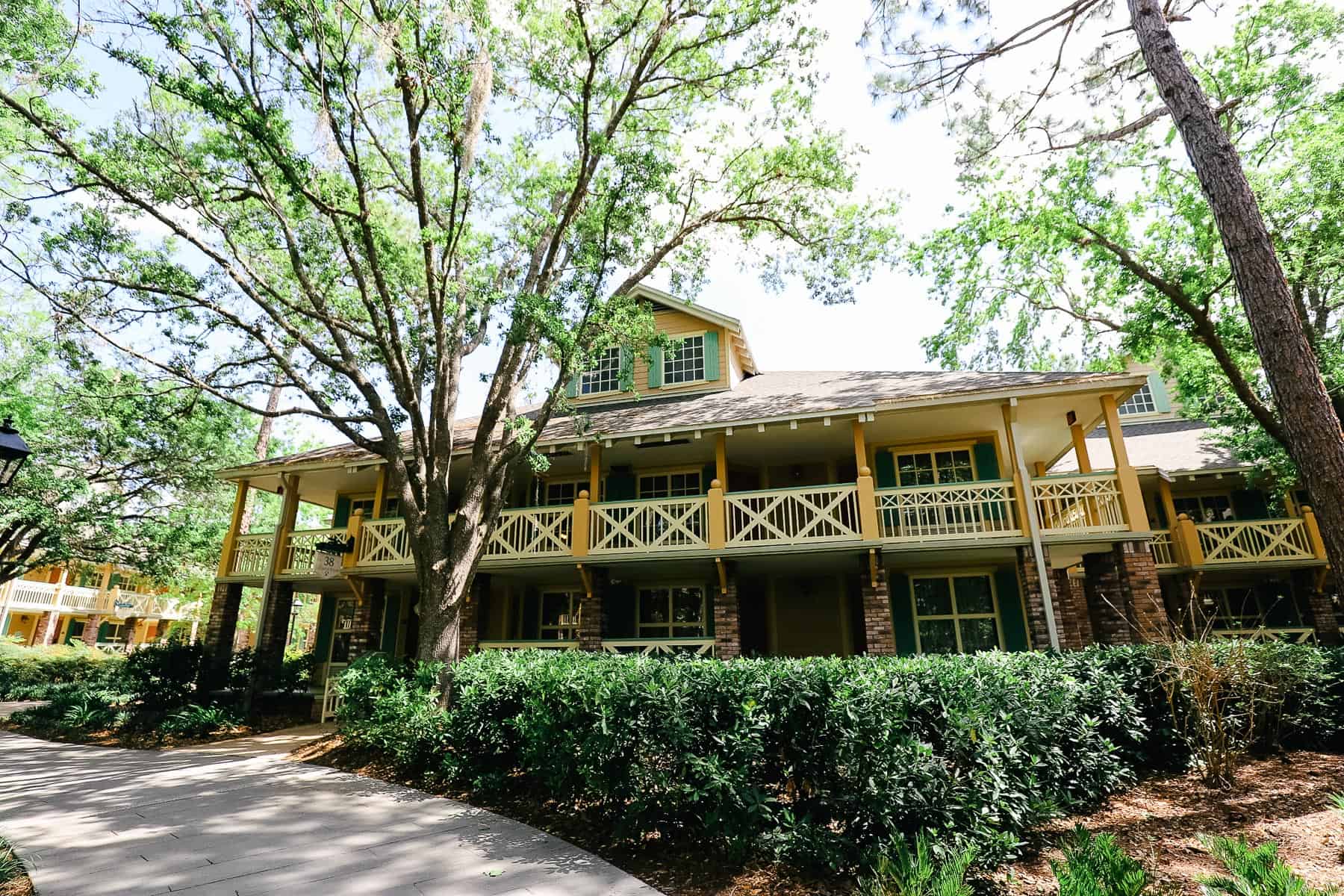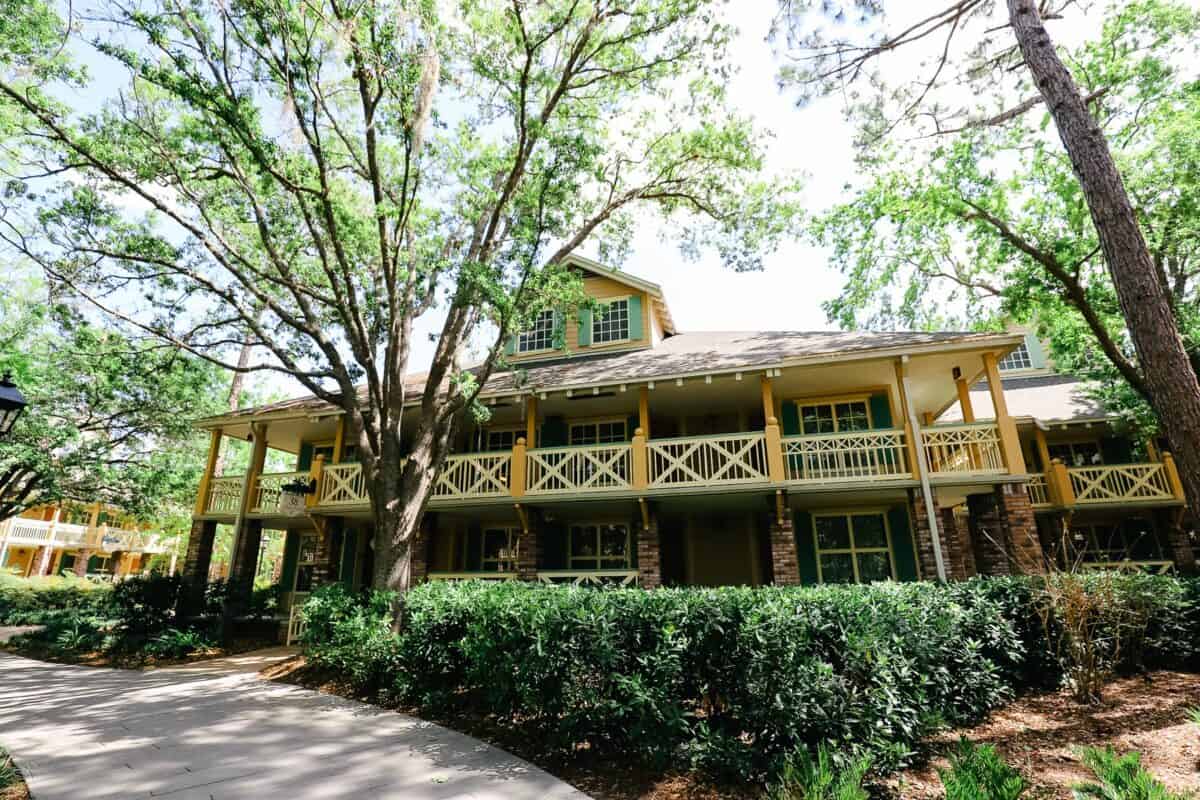 Other Room Upgrades and Considerations
Other room upgrades consist of room views and an option to upgrade to a room with a king-size bed. All standard guest rooms in Magnolia Bend have two queen-size beds, except for the king upgrade.
As for the room views, I wouldn't normally consider paying for an upgrade. All of the rooms at Port Orleans Riverside have exterior access. Unfortunately, rooms at this resort do not have individual balconies.
So if you pay for an upgraded view, you'll have to look out from the large front window of your hotel room. I don't know about you, but we rarely open the curtains when we stay in this type of hotel room. Everyone that passes by can see inside.
Before we preview our room, there's one other important thing you'll want to know about the resort's accommodations. Magnolia Bend has elevators in each building.
All of the mansions are three stories in the middle, and the surrounding buildings have two stories. There is an elevator shaft in the center of each building. Exterior staircases are located on the corners.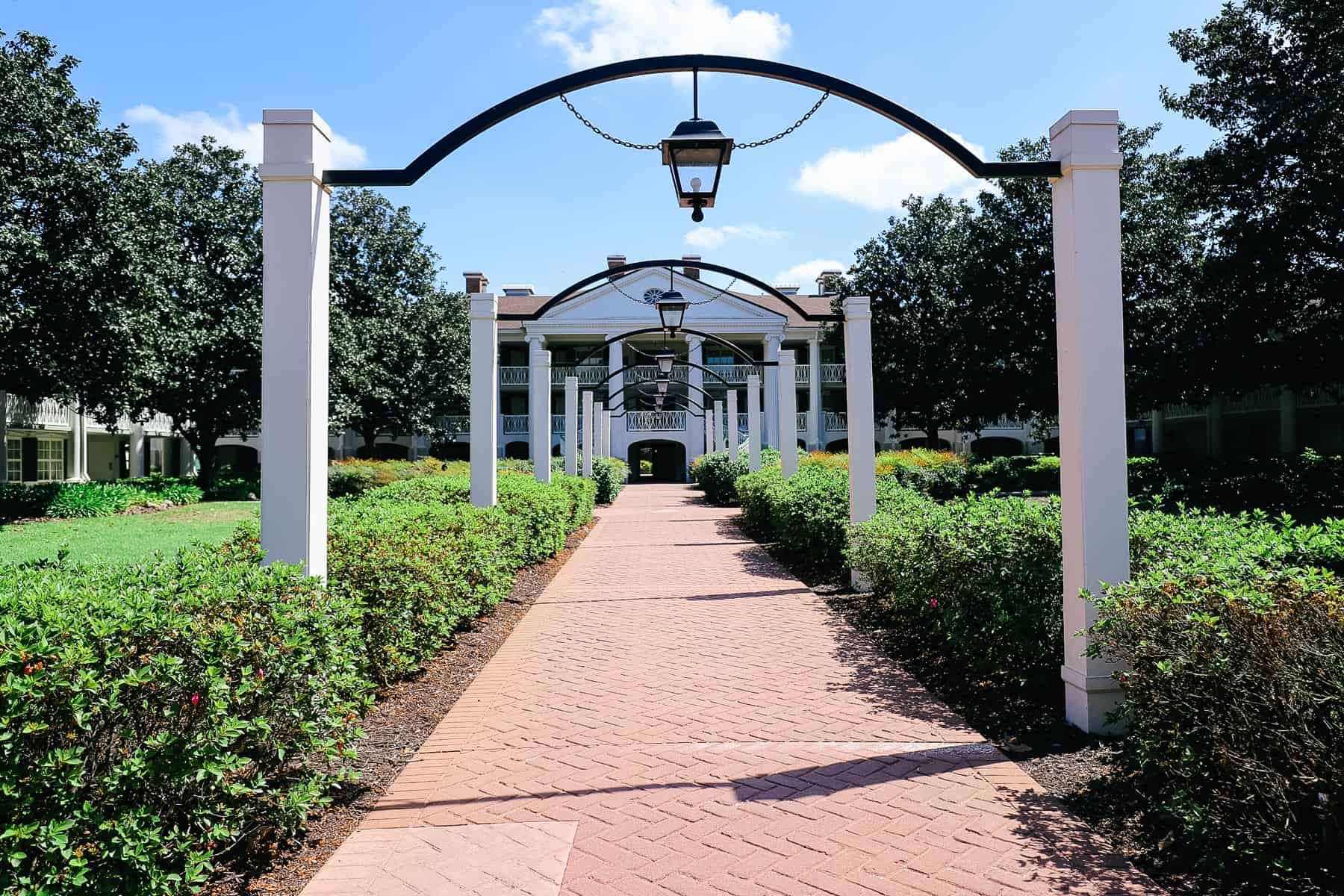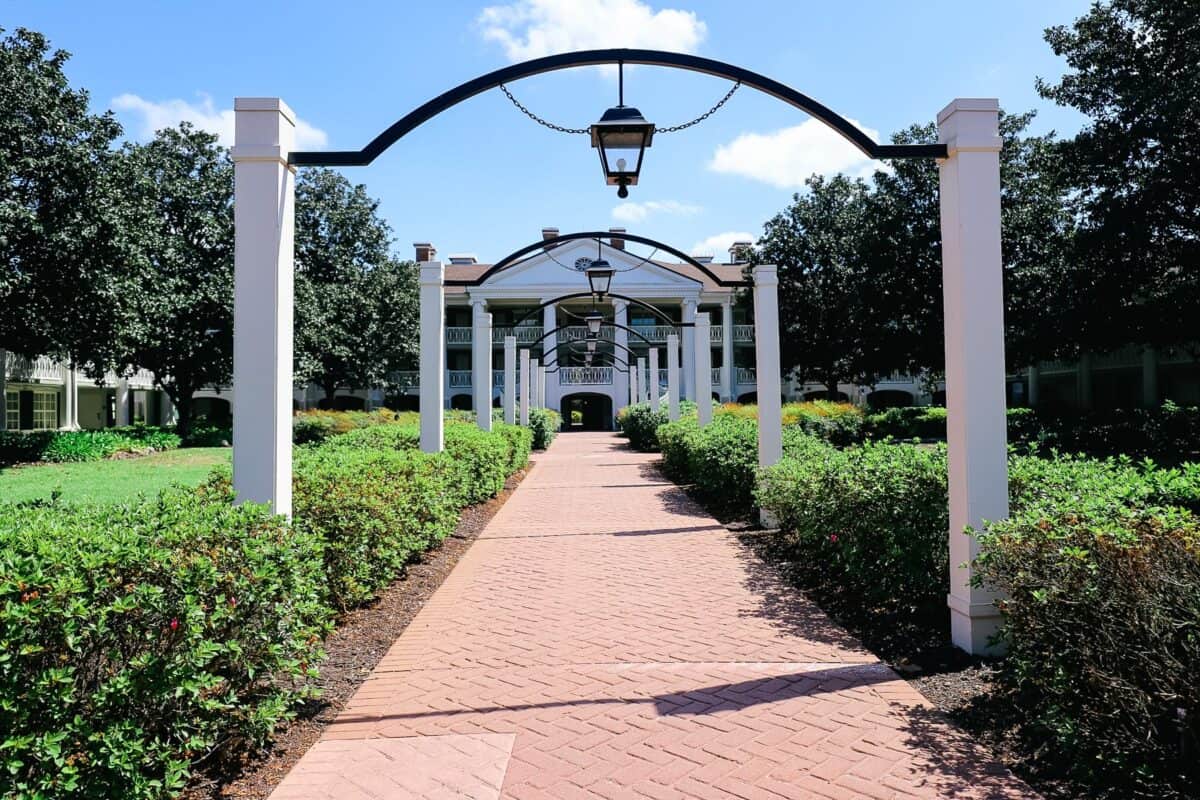 However, Alligator Bayou buildings do not have elevators. This section of the resort consists of 16 buildings. Each of the Alligator Bayou buildings has two stories.
When it comes to resorts with no elevators at Walt Disney World, there are only a few. Those few are the Alligator Bayou section of Port Orleans Riverside, Disney's Caribbean Beach Resort in its entirety, and only a few select buildings at Disney's Old Key West have elevators.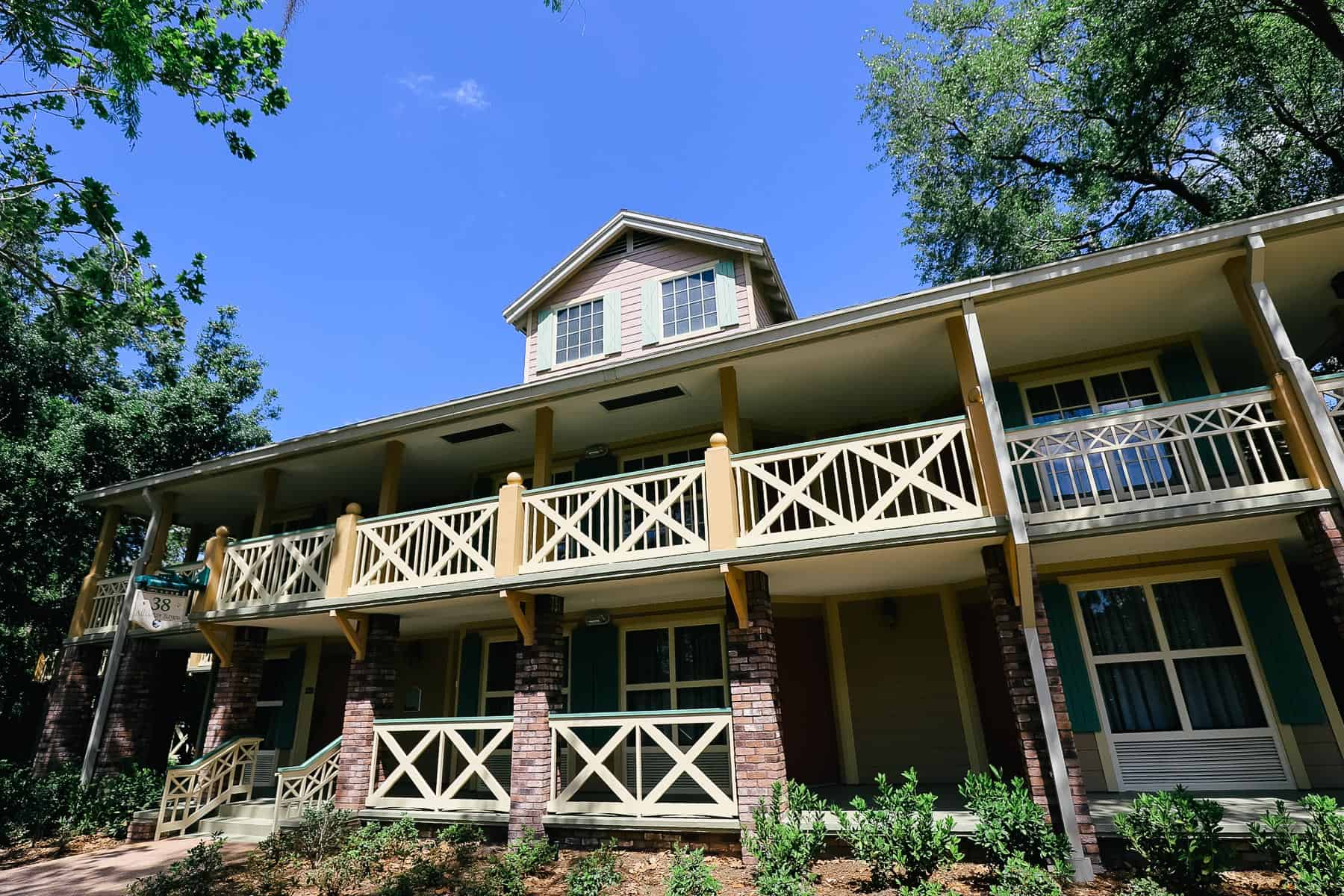 While Alligator Bayou not having elevators might be a deal-breaker for some, rooms in this area are still sought after because they sleep up to five guests. They have two queen-size beds and a 5th sleeper for a small child.
The fifth sleeper is a single pull-down Murphy bed under the television area. This bed comfortably sleeps guests up to around 12 years old.
Most will have to consider one of the Disney World Villa Resorts (Disney Vacation Club) to find a room to accommodate five or more guests. Additionally, a few of Disney's value resorts offer family suites.
However, villas and family suites will cost considerably more than a room with a fifth sleeper at Riverside. *Disney's Caribbean Beach also now offers a select number of rooms with a pull-down sleeper for a fifth guest.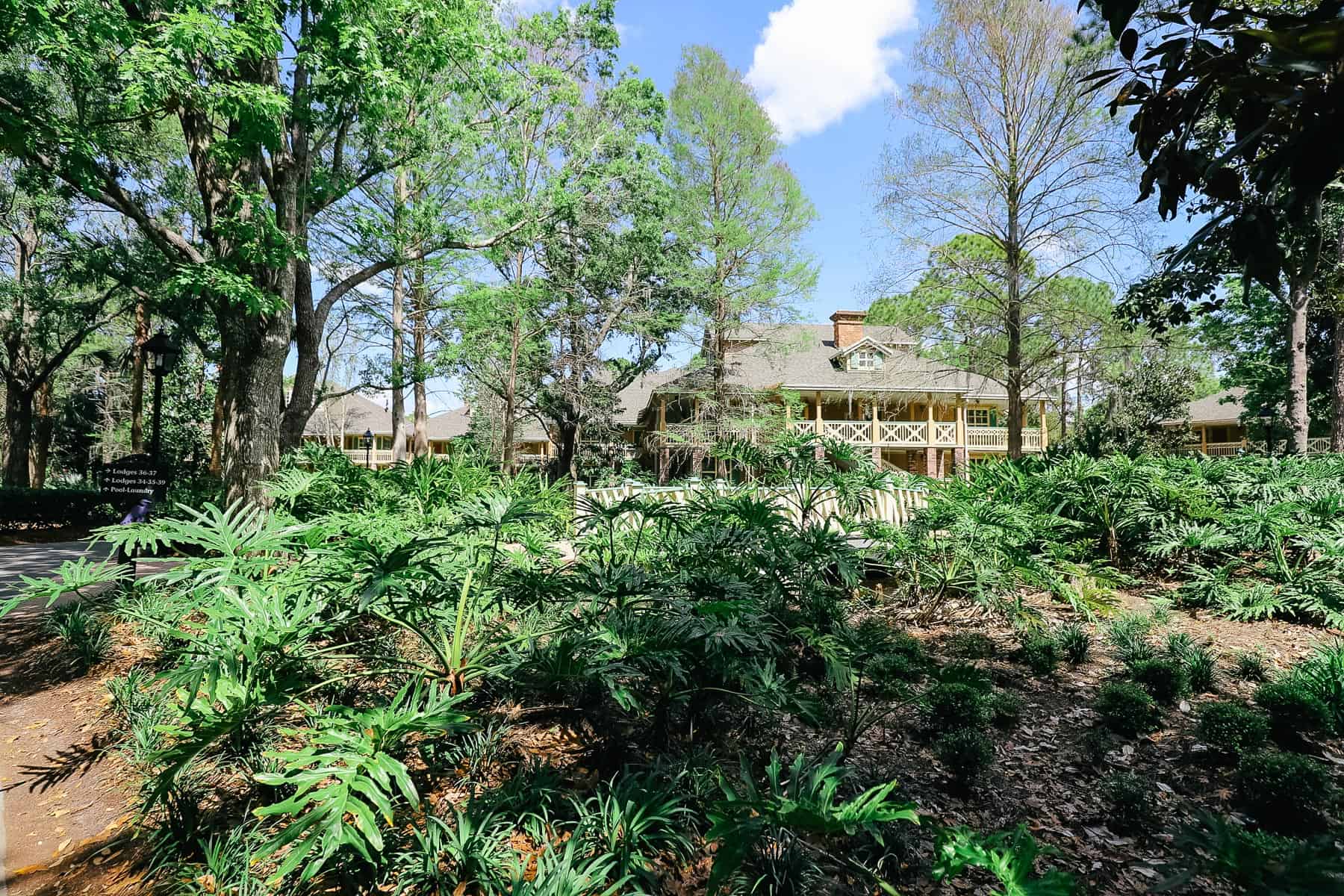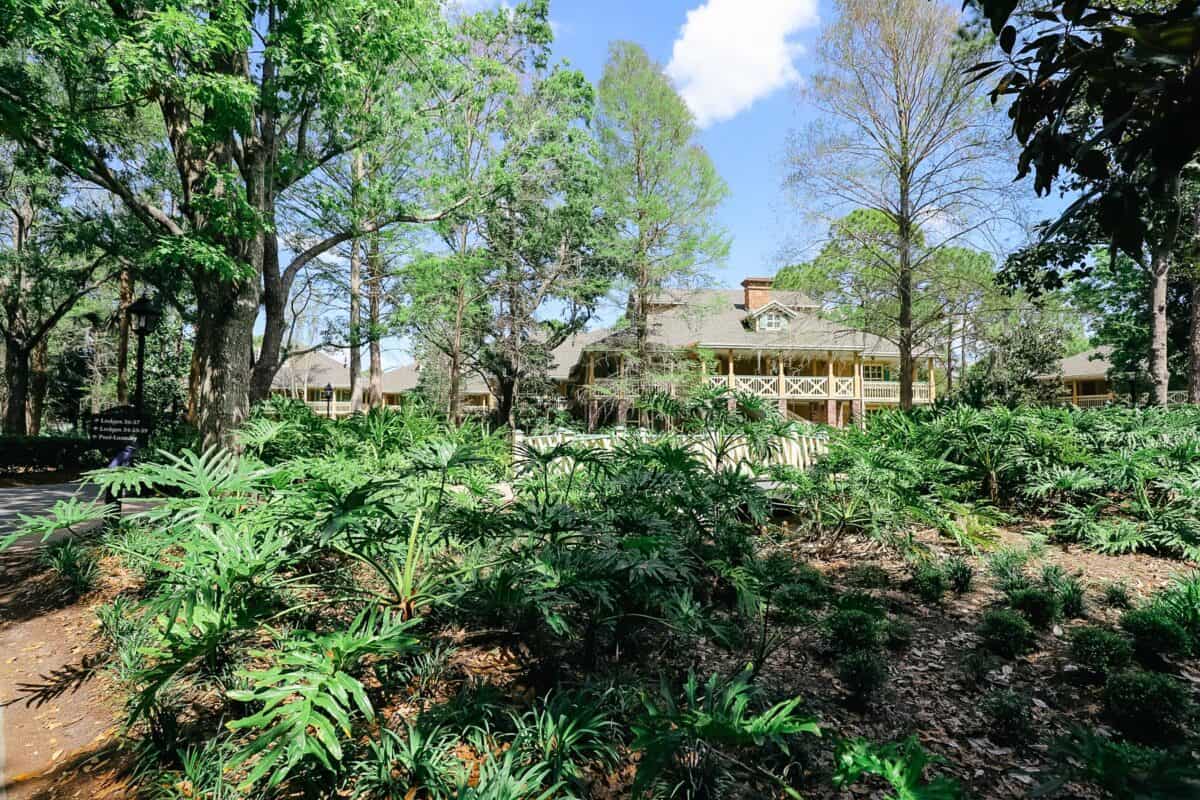 Our Room at Port Orleans Riverside
When I went online to reserve our room at Port Orleans Riverside, the only room available was a standard woods view. Since the resort rooms have been updated since our last stay, this resort was at the top of my priorities for the website.
We like to stay on top of resort updates as much as possible. So I ended up booking a woods view room. Our room assignment was on the first floor of Magnolia Terrace in the Magnolia Bend mansions.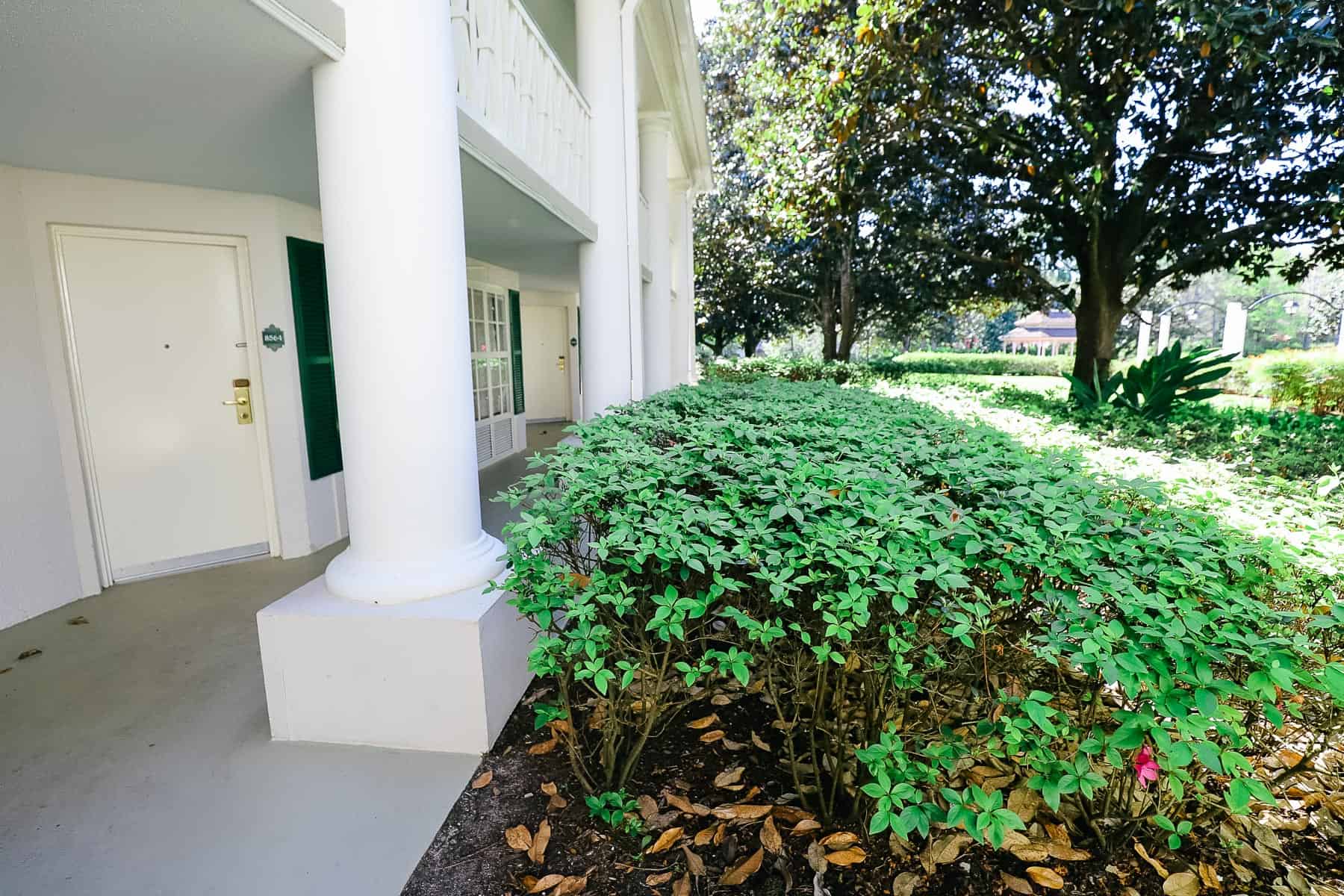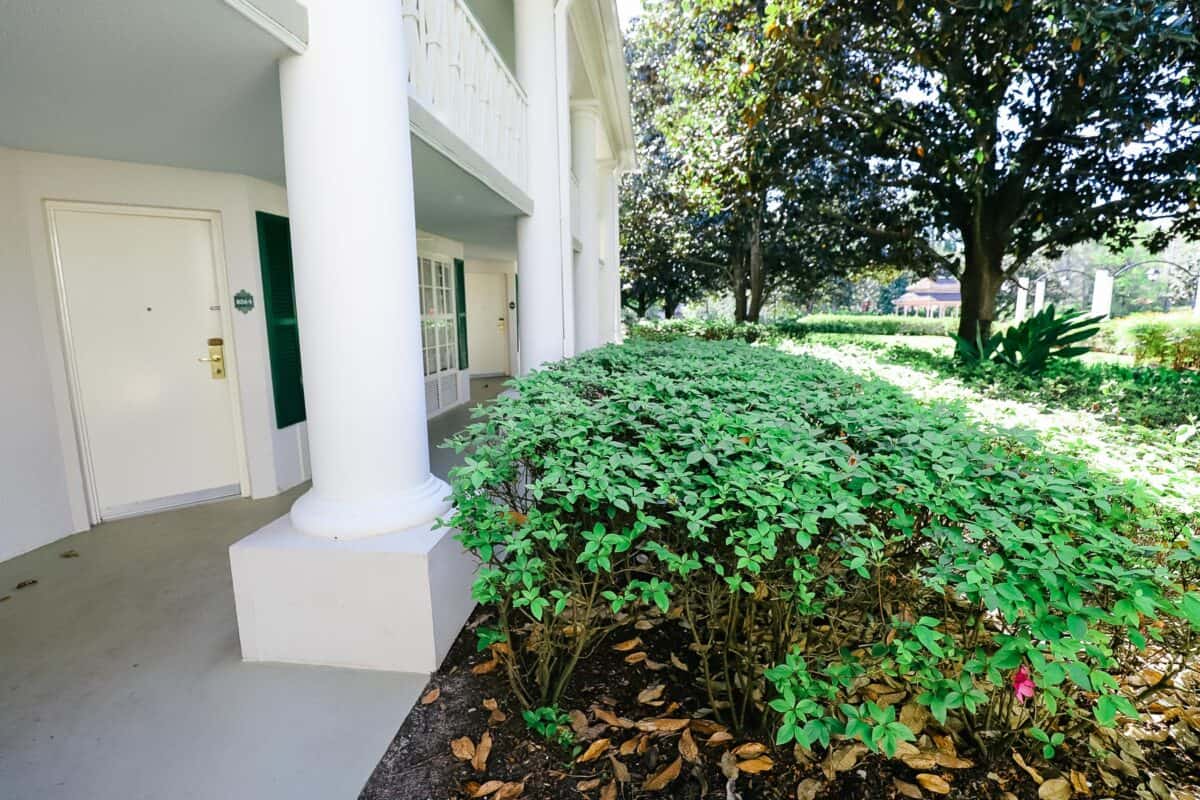 At first, I wondered if I would feel the same way about the mansions after all these years. But, surprisingly, I found this room to be convenient, and we enjoyed it.
While we were in the mansions, our room location was close to the bridge that crosses over Ol' Man Island to the Sassagoula Steamboat Company (check-in area).
Additionally, we were only a stone's throw away from the East bus depot. So it was less than a five-minute walk back to the room each night.
One evening during this trip, we attended Disney After Hours at Magic Kingdom and returned to the room at 1:30 a.m. Tired and exhausted, it was like a breath of fresh air to get back to the room so quickly.
As for the room view, this is a photo of the courtyard from outside our room. It was a pretty view.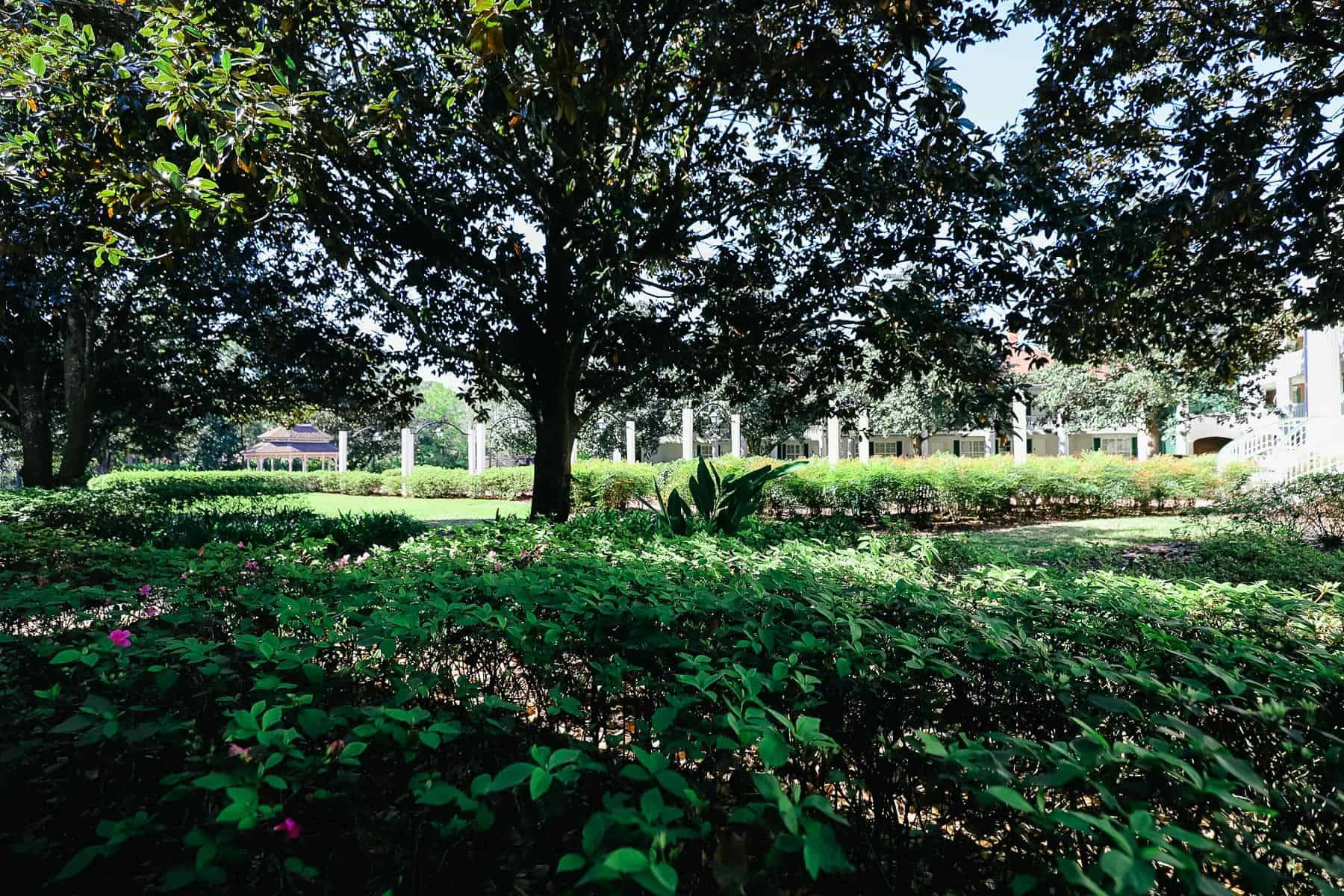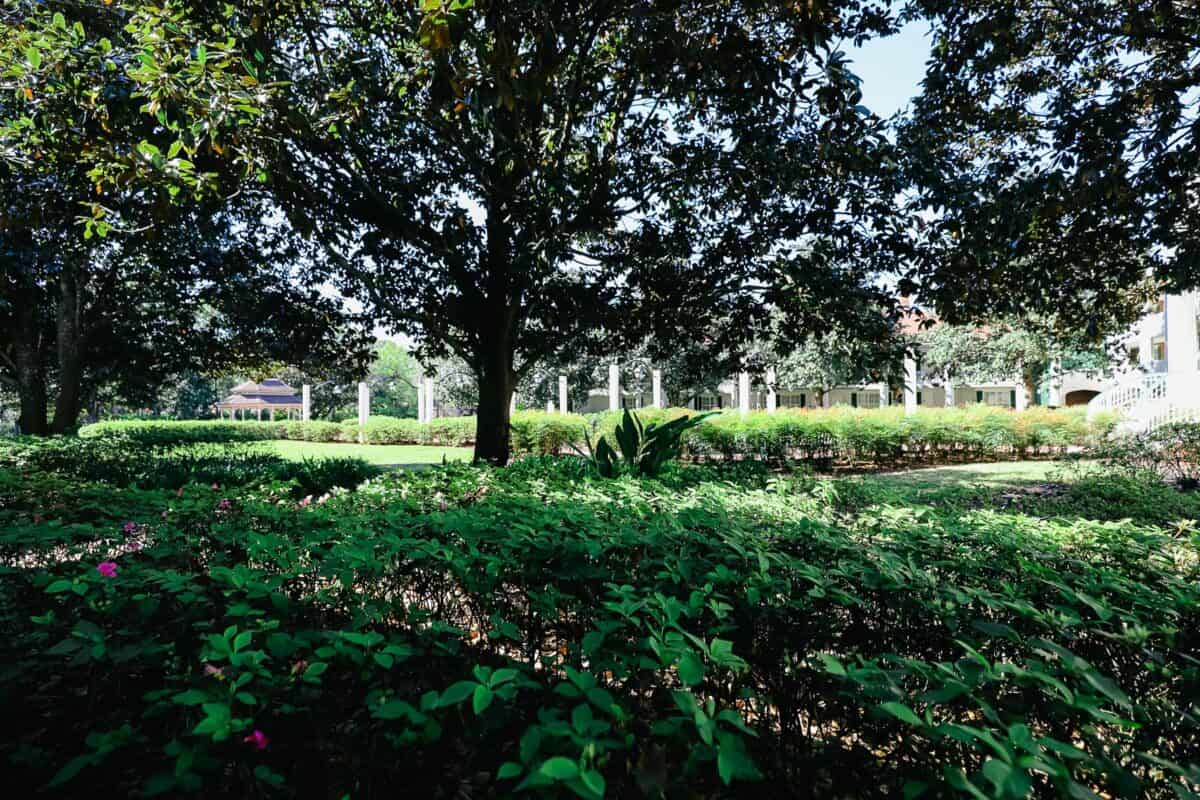 But here is that same view from inside the room. So I'll let you judge whether a room view upgrade is worth it.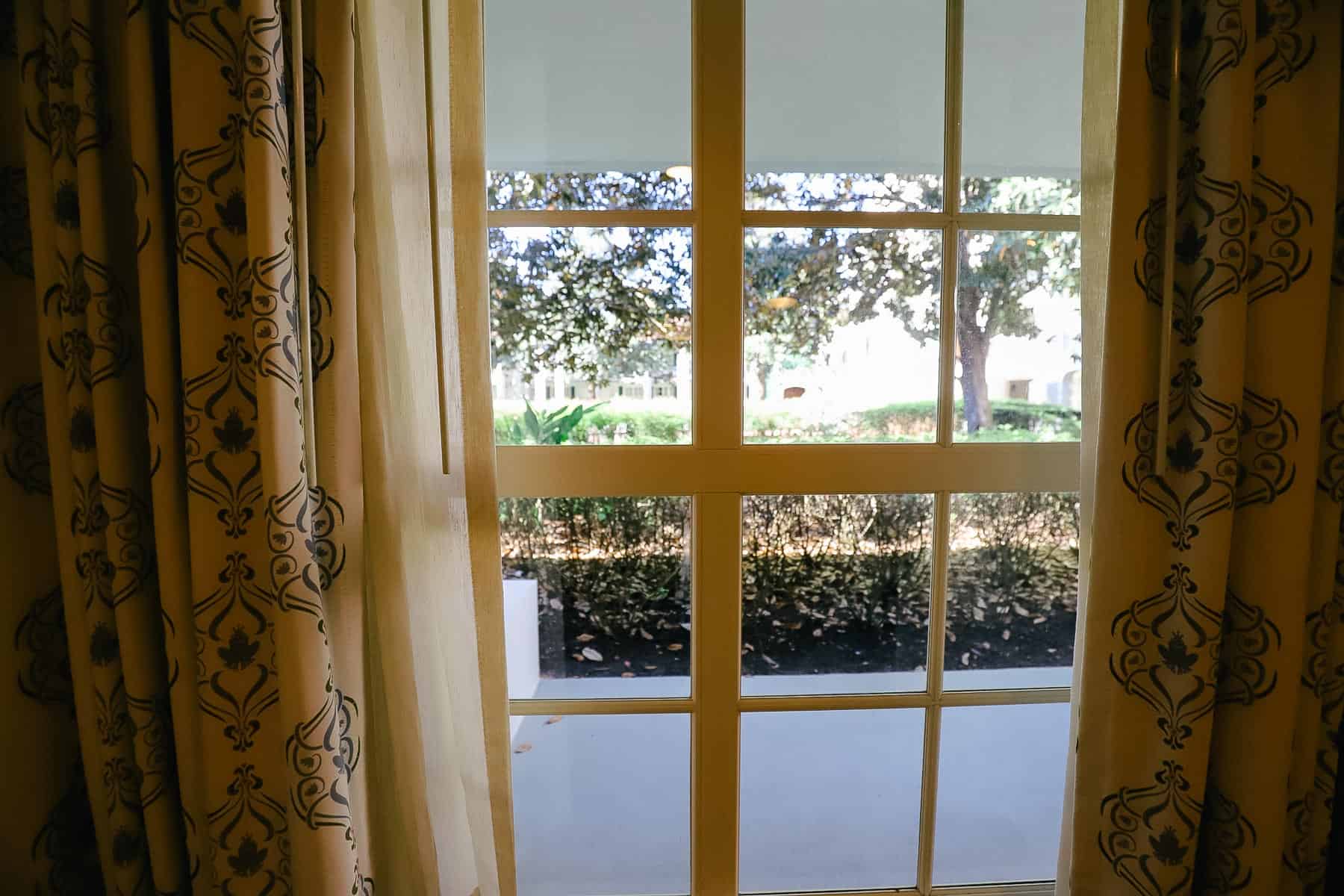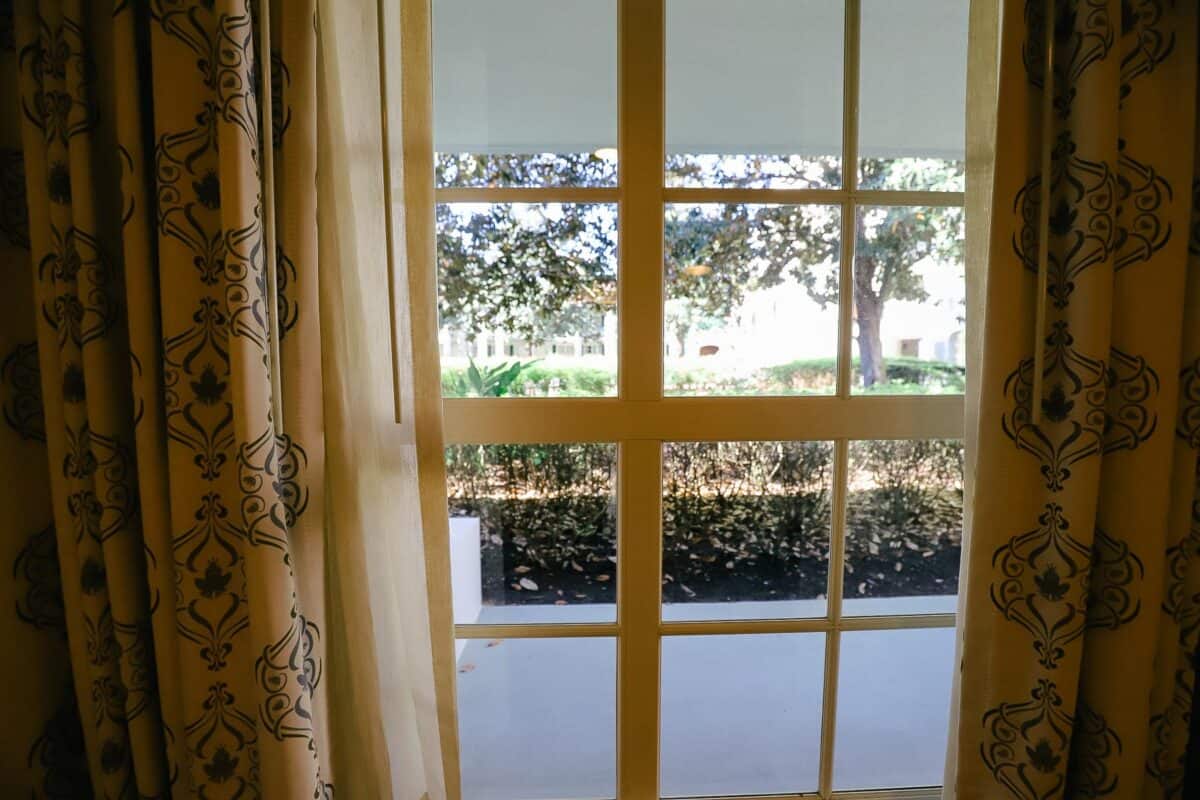 Our room was pleasant, with subtle touches from Disney's animated film, The Princess and the Frog.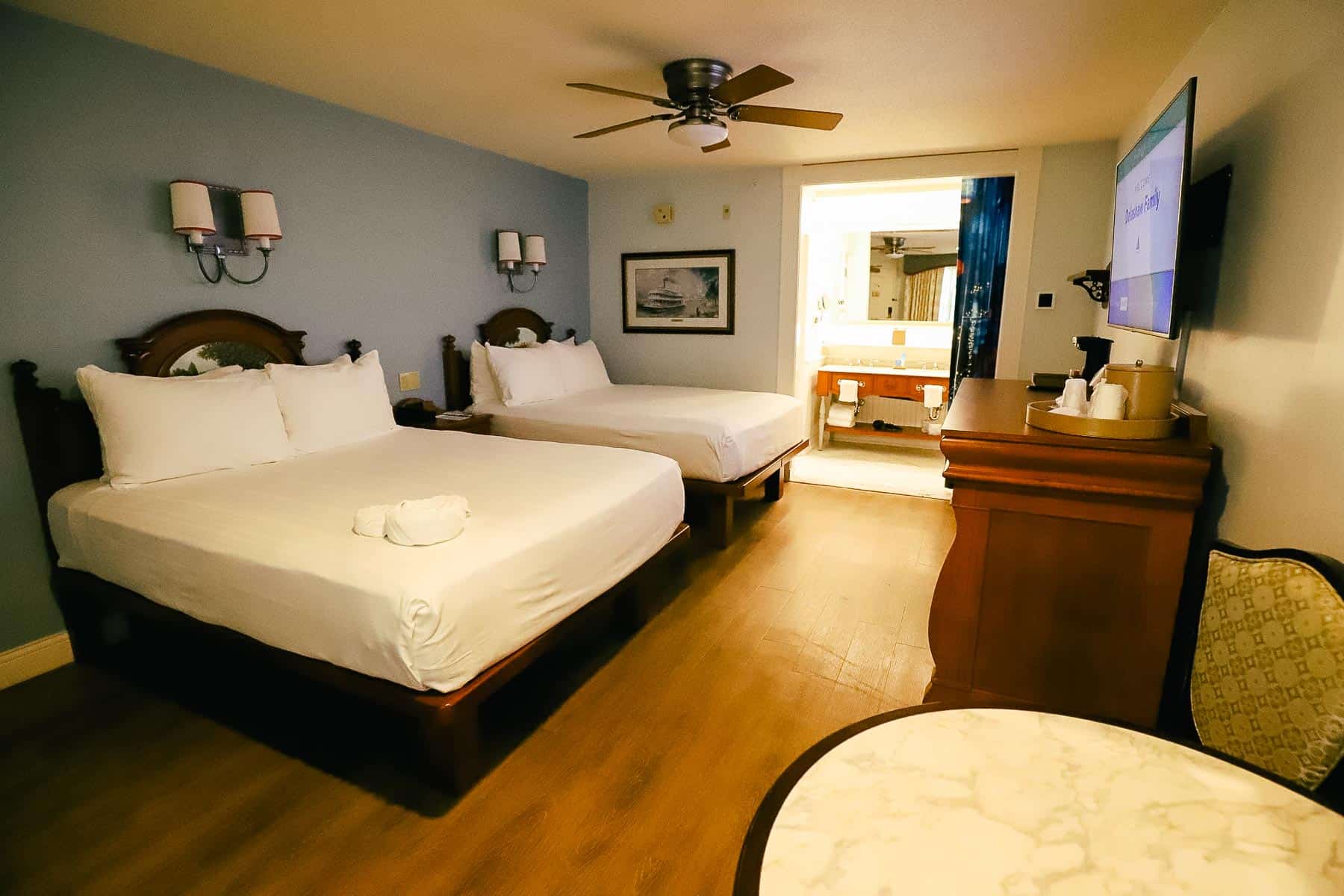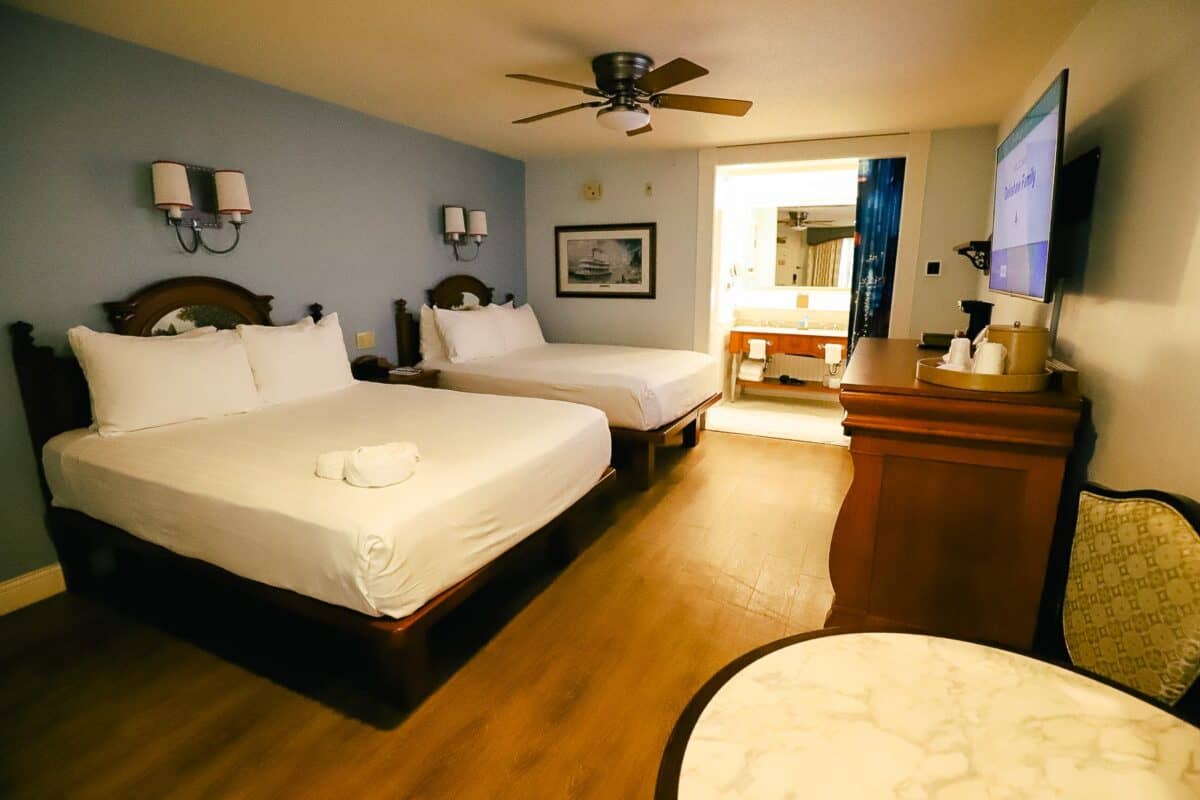 Additionally, the guest bath featured two sinks and plenty of space.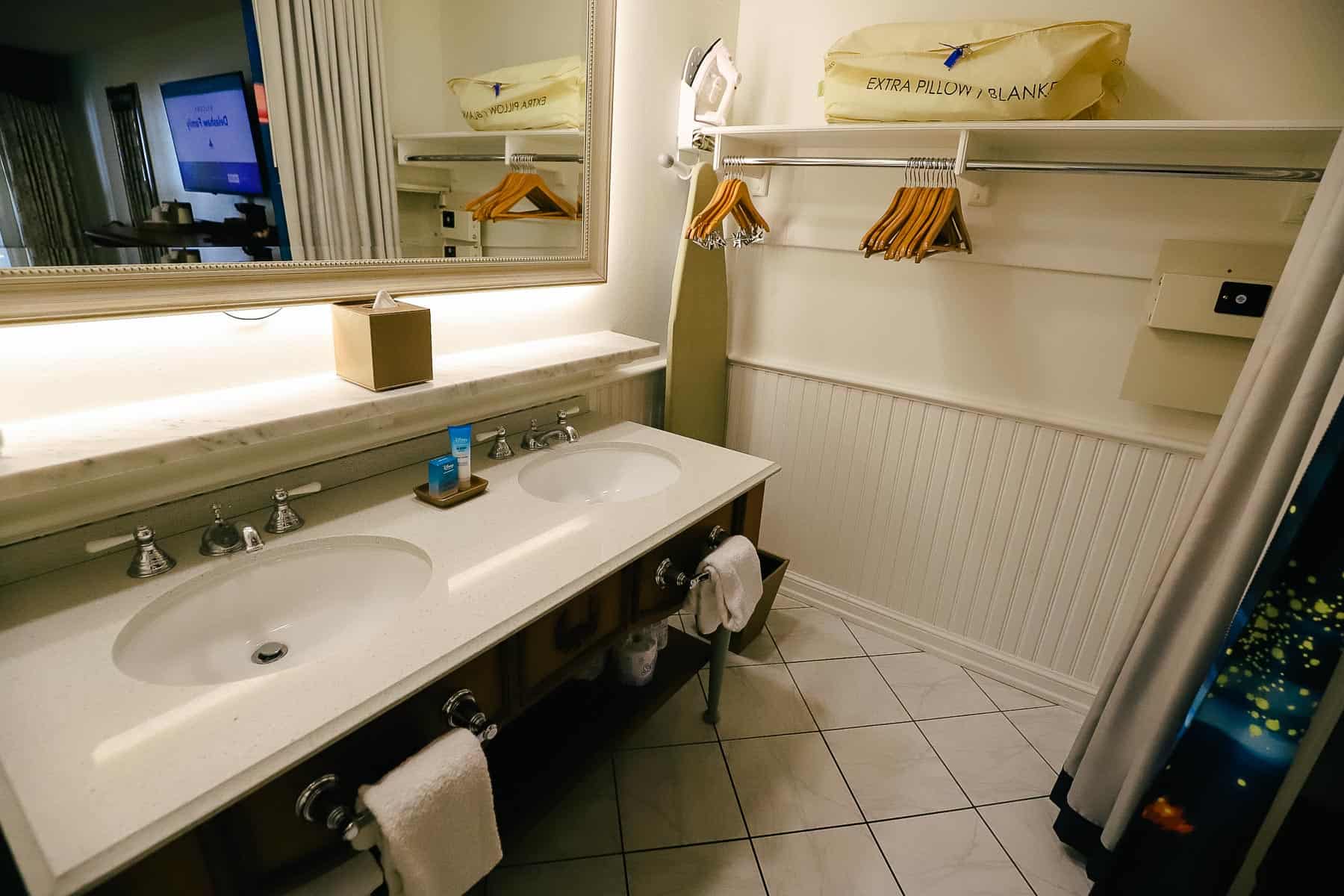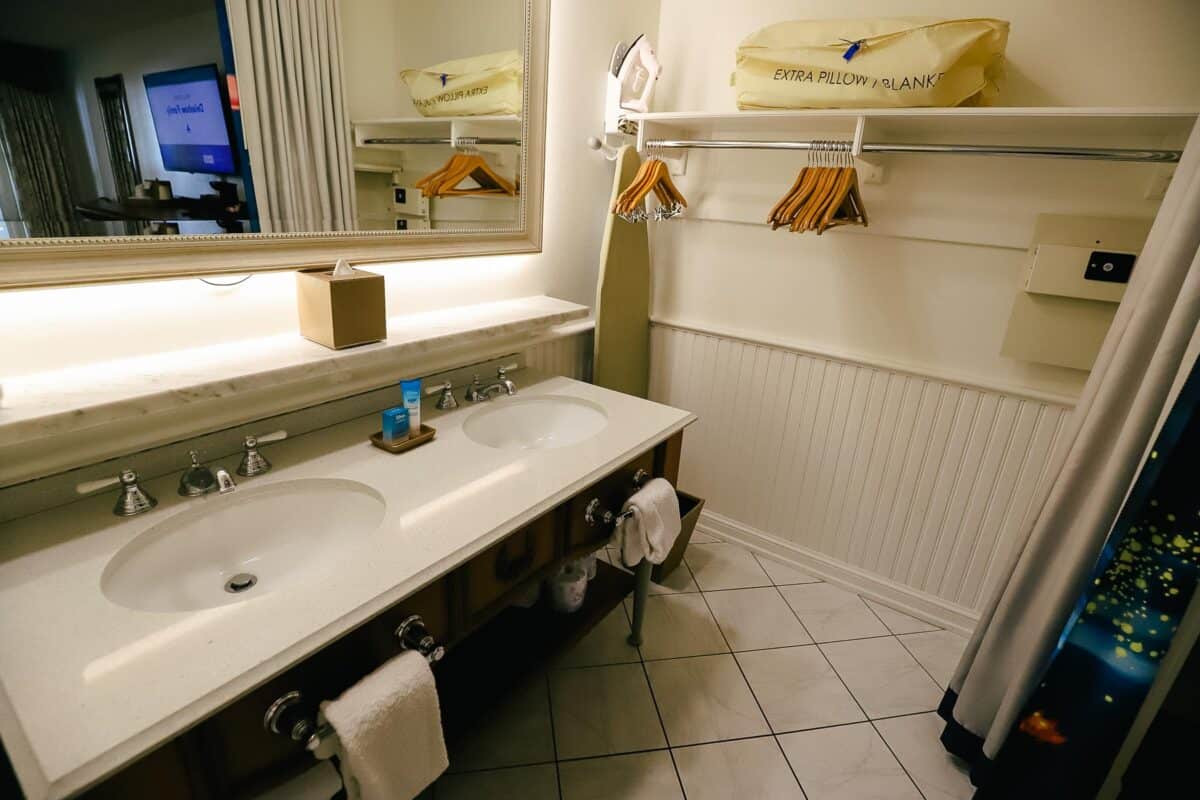 The water closet was separate and had a tub with a shower combination and toilet.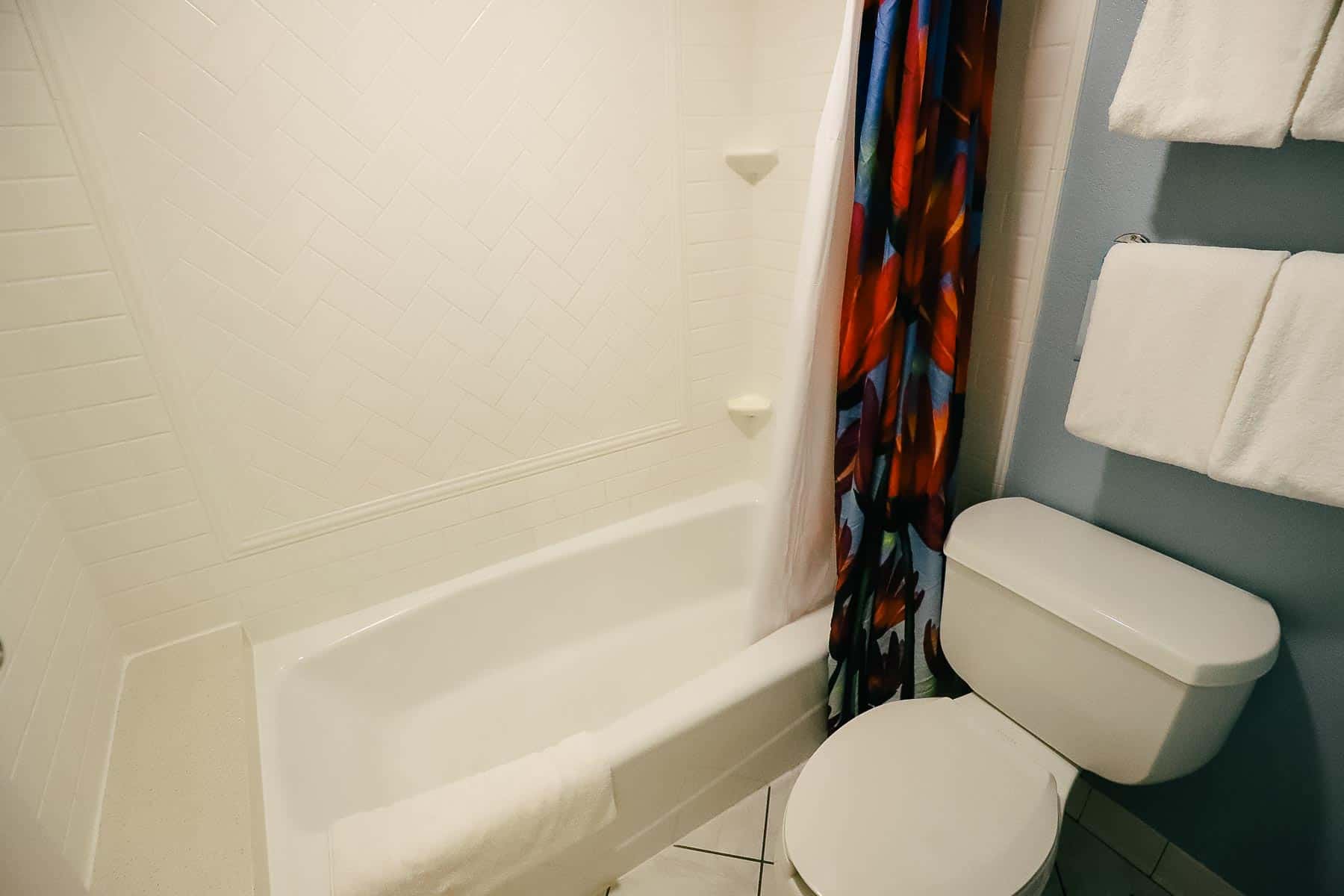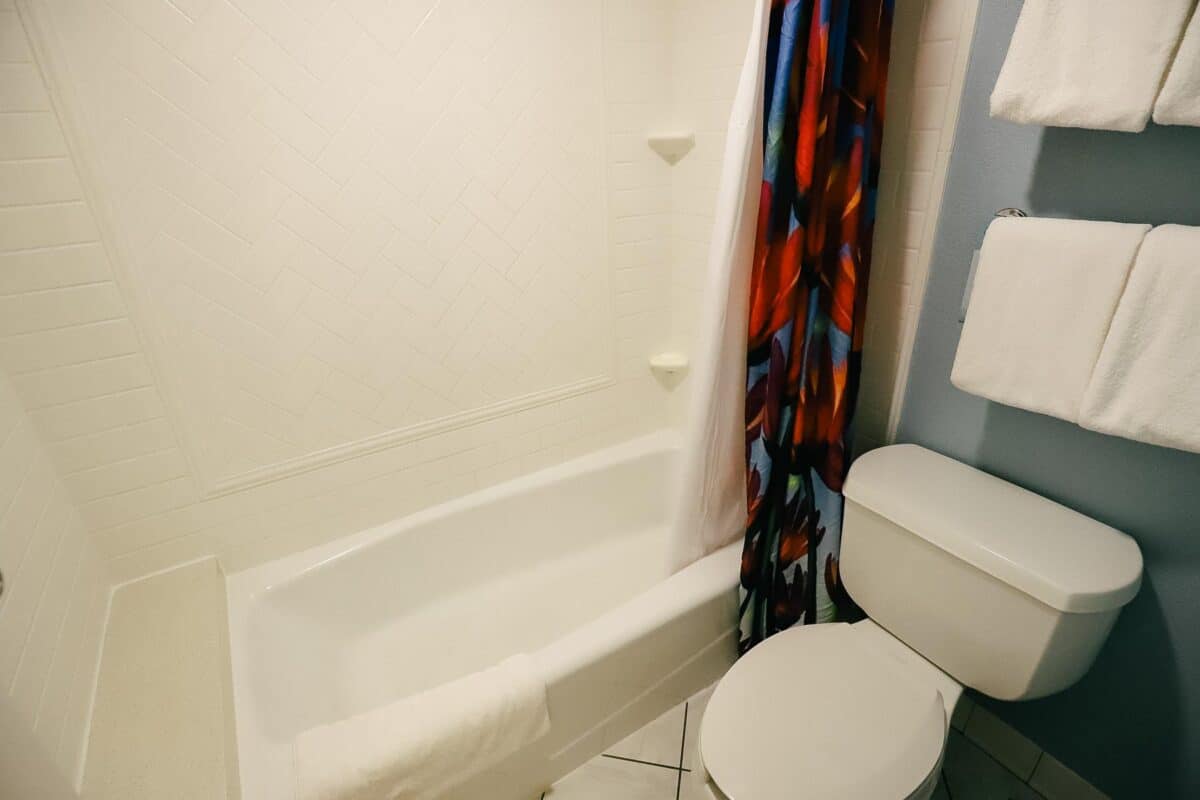 We also loved how these curtains separated the room from the vanity area. We have a separate photo and video tour of this room for more room details. It contains close-ups of all the room's amenities.
Related: Port Orleans Riverside Standard Room Tour (Video and Photos)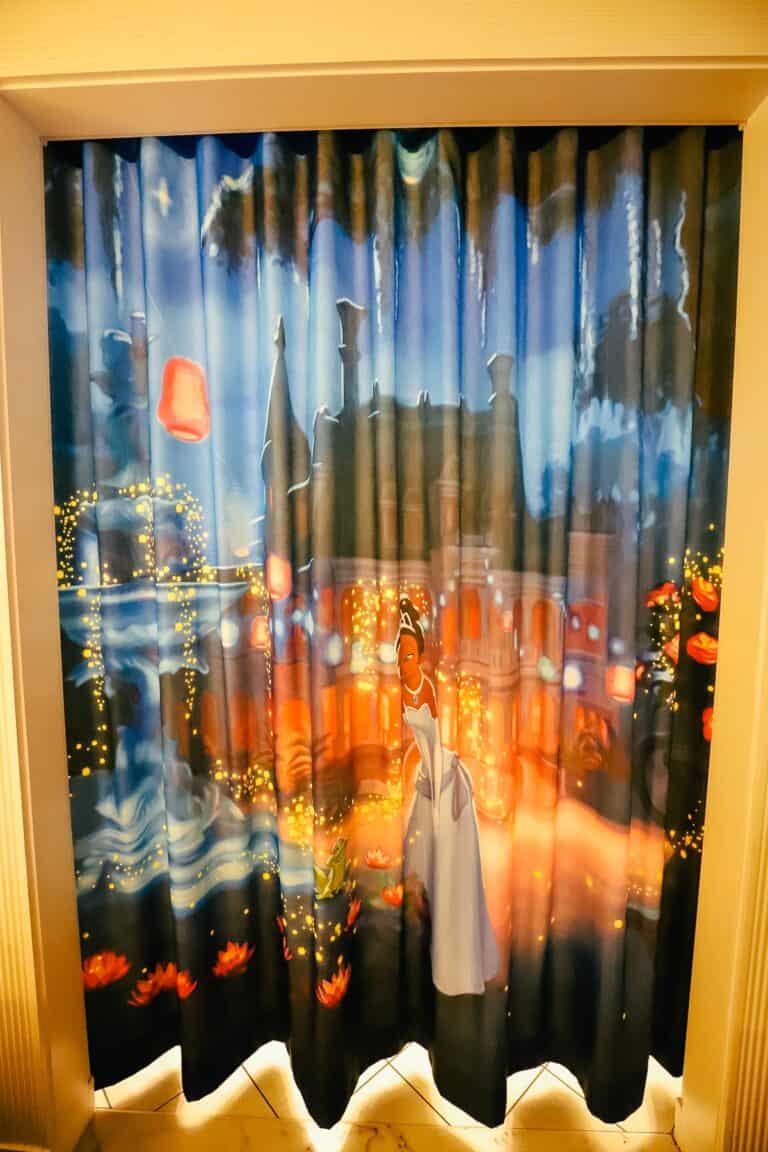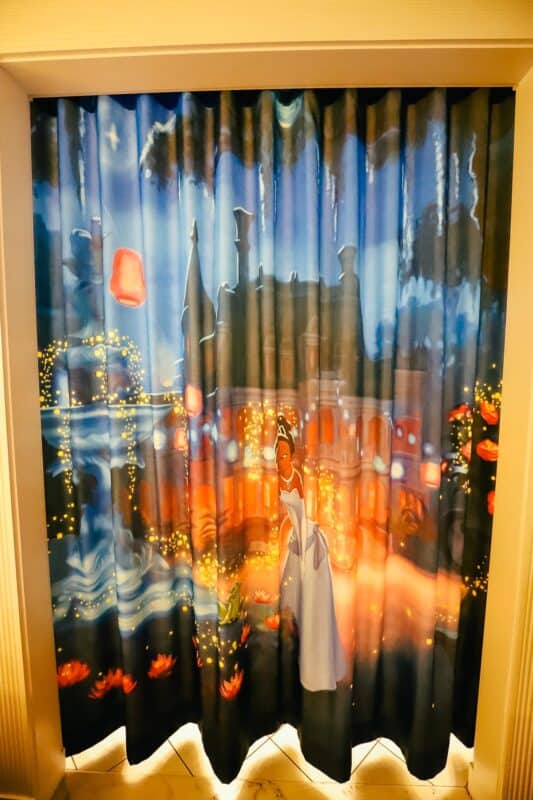 Recreation
Like most resorts at Walt Disney World, Disney's Port Orleans Resort has plenty of recreational activities. You can plan a full resort day to enjoy the main pool or leisure pools and everything else the resort offers.
For starters, the resort's feature pool, Ol' Man Island, is a three-acre island designed to resemble an old sawmill.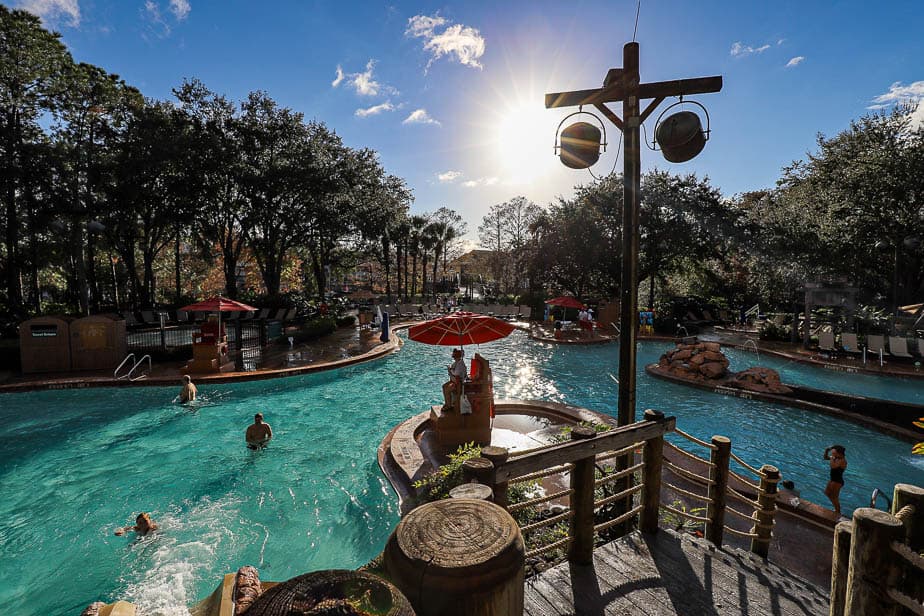 This pool area has a 95′ long water slide and several other fun water elements.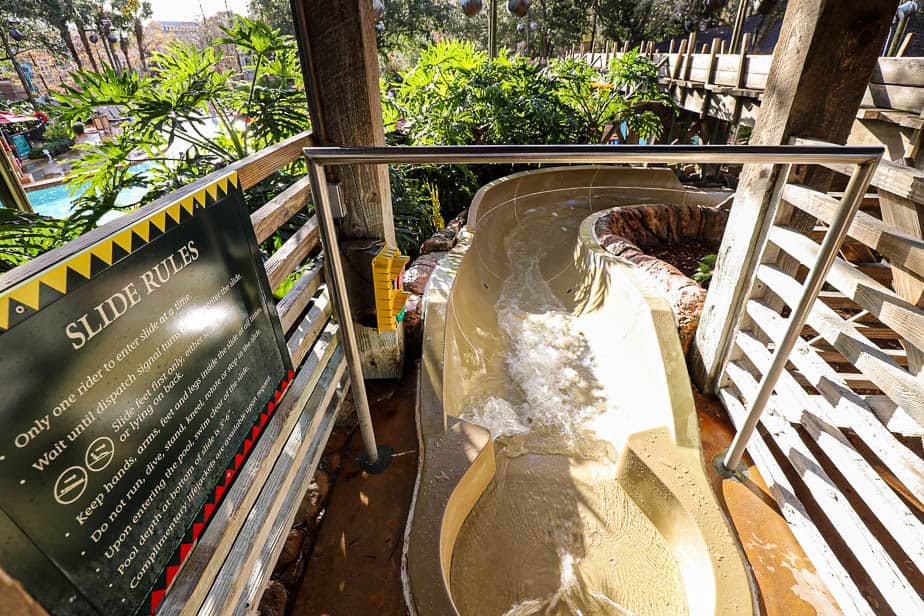 Additionally, there's a playground available on Ol' Man Island.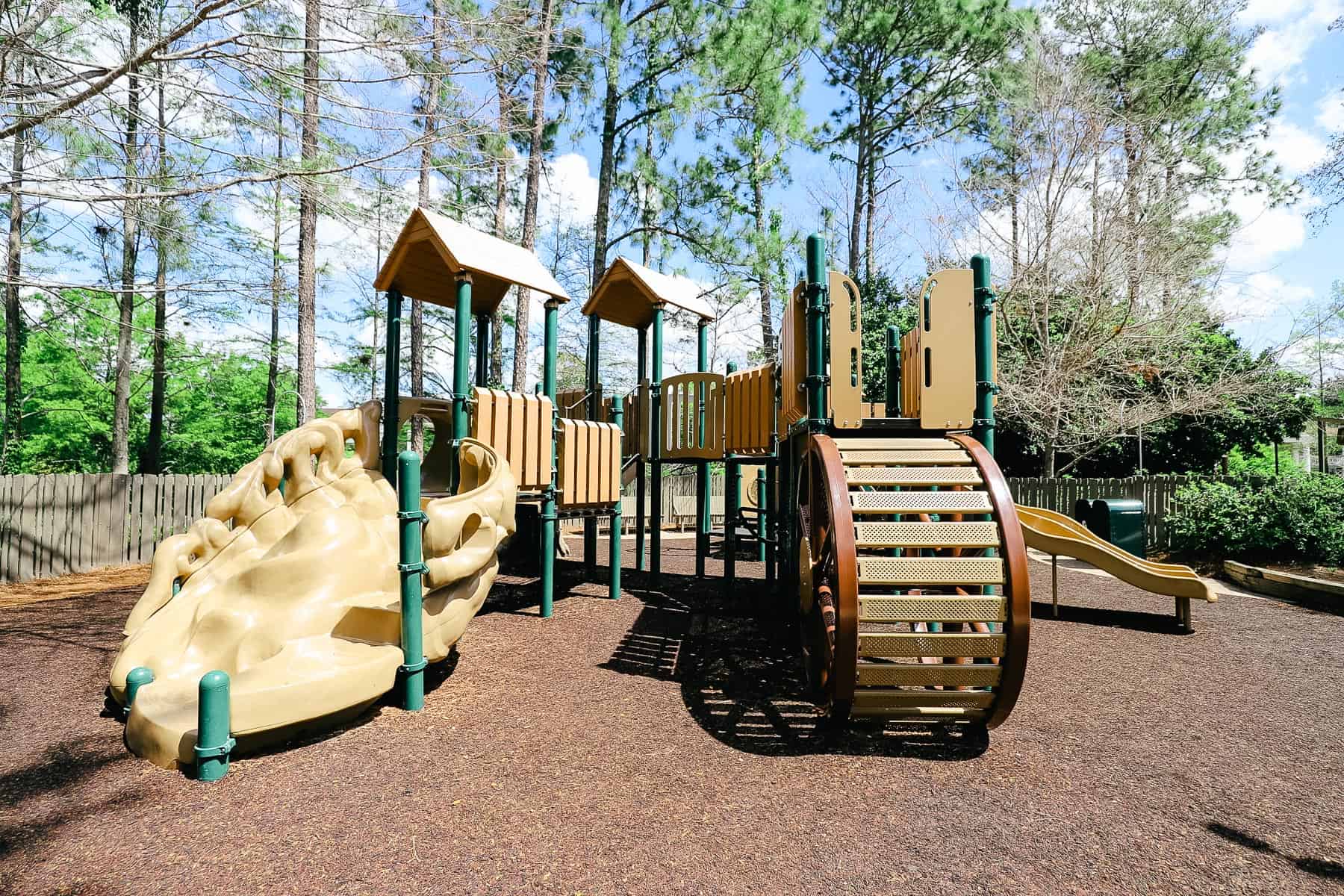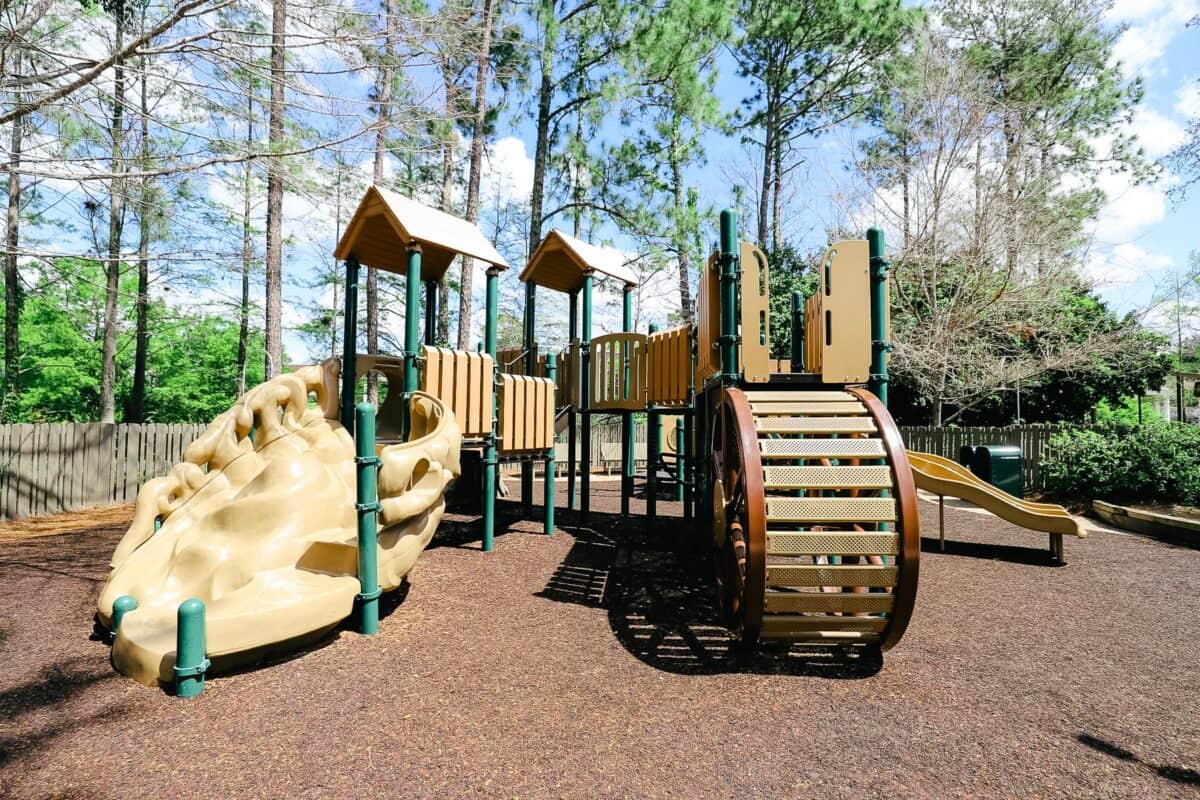 Muddy Rivers Pool Bar serves snacks and beverages nearby.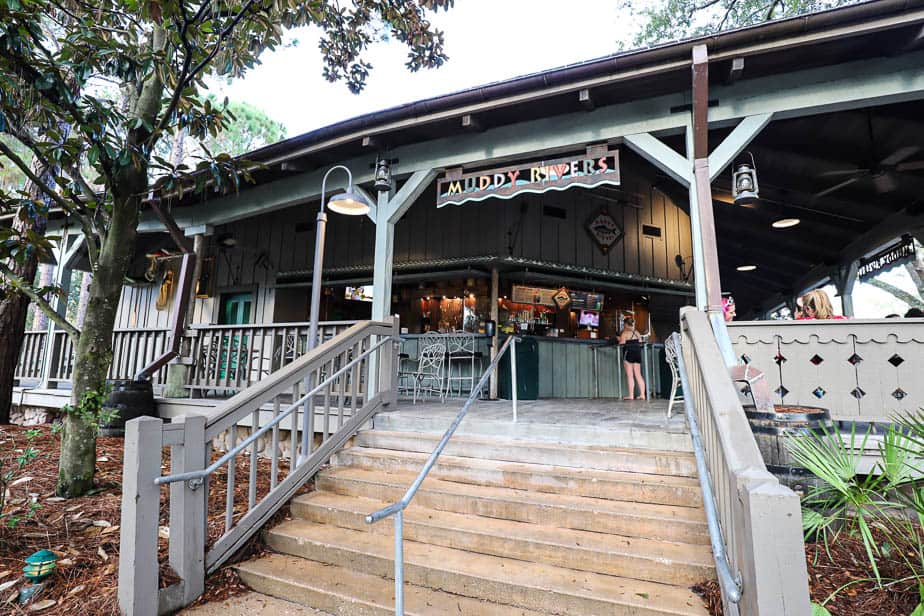 A campfire and Movies Under the Stars are held at the pool area. There will be a recreation schedule available at the resort during your stay. It will list the movies and the nights they are offered.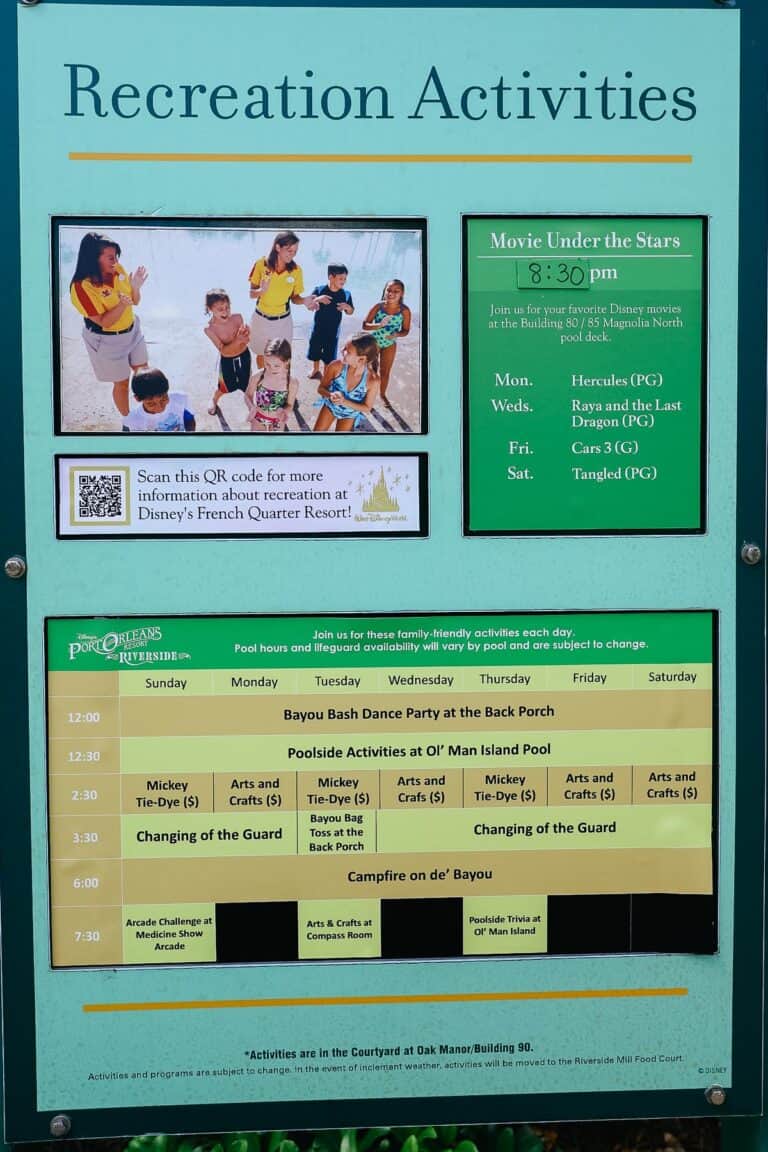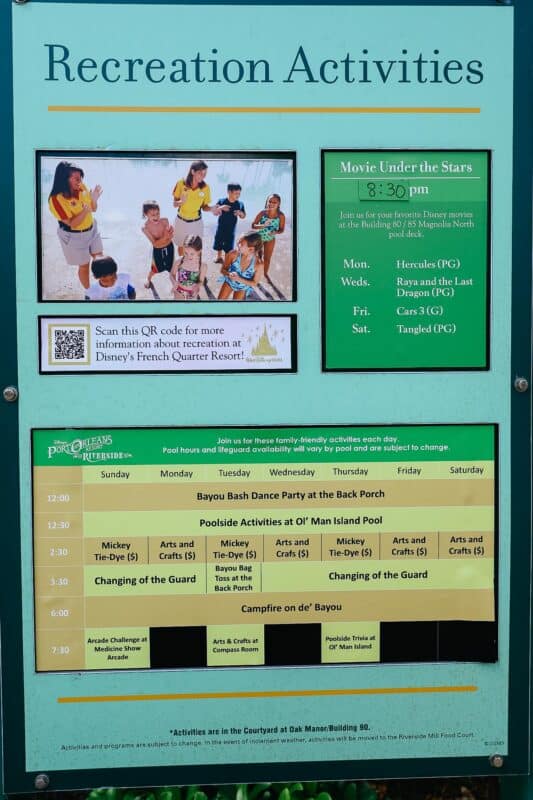 The Fishin' Hole is located on Ol' Man Island behind Muddy Rivers. Guests can participate in cane pole fishing daily between 7:00 a.m. and 1:45 p.m. for a small extra fee. The fee includes cane poles, bait, and dock time.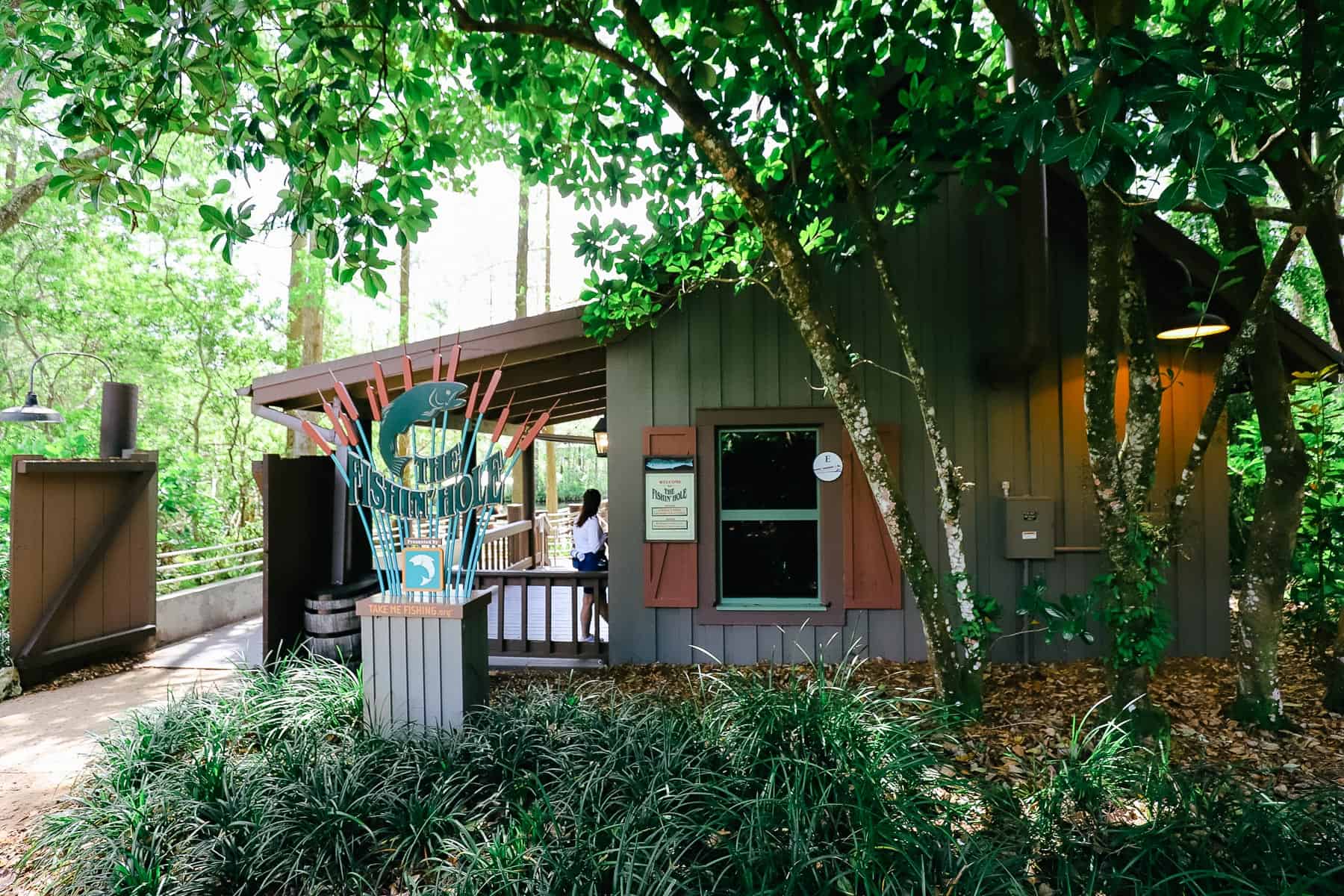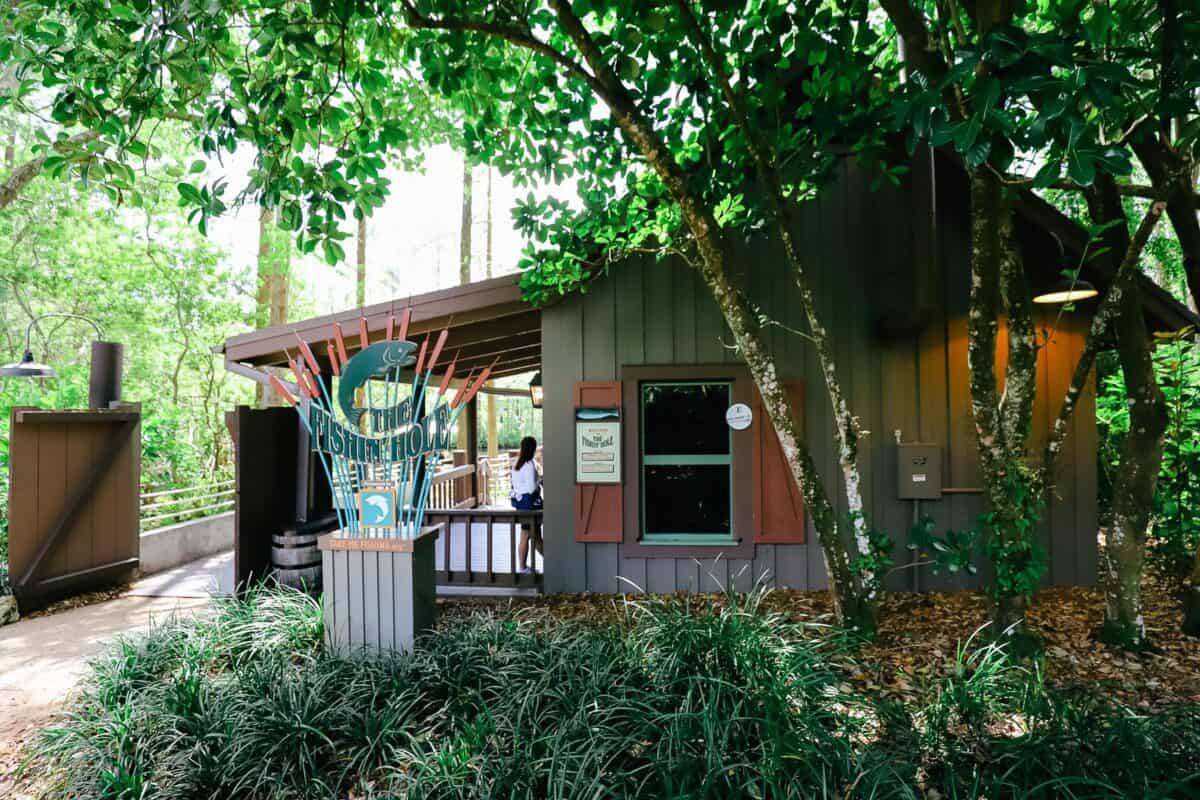 Here is a list of the types of fish you might catch.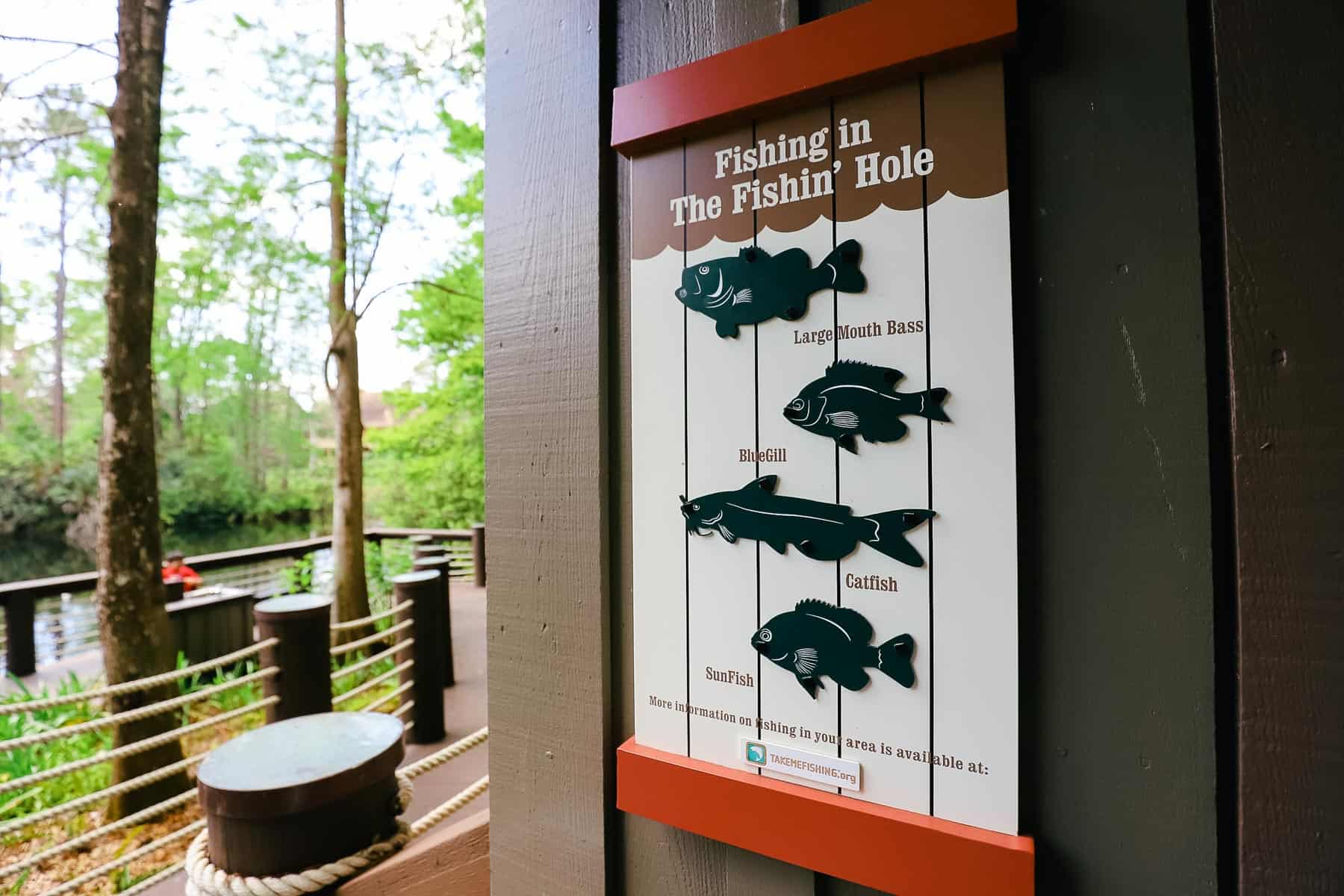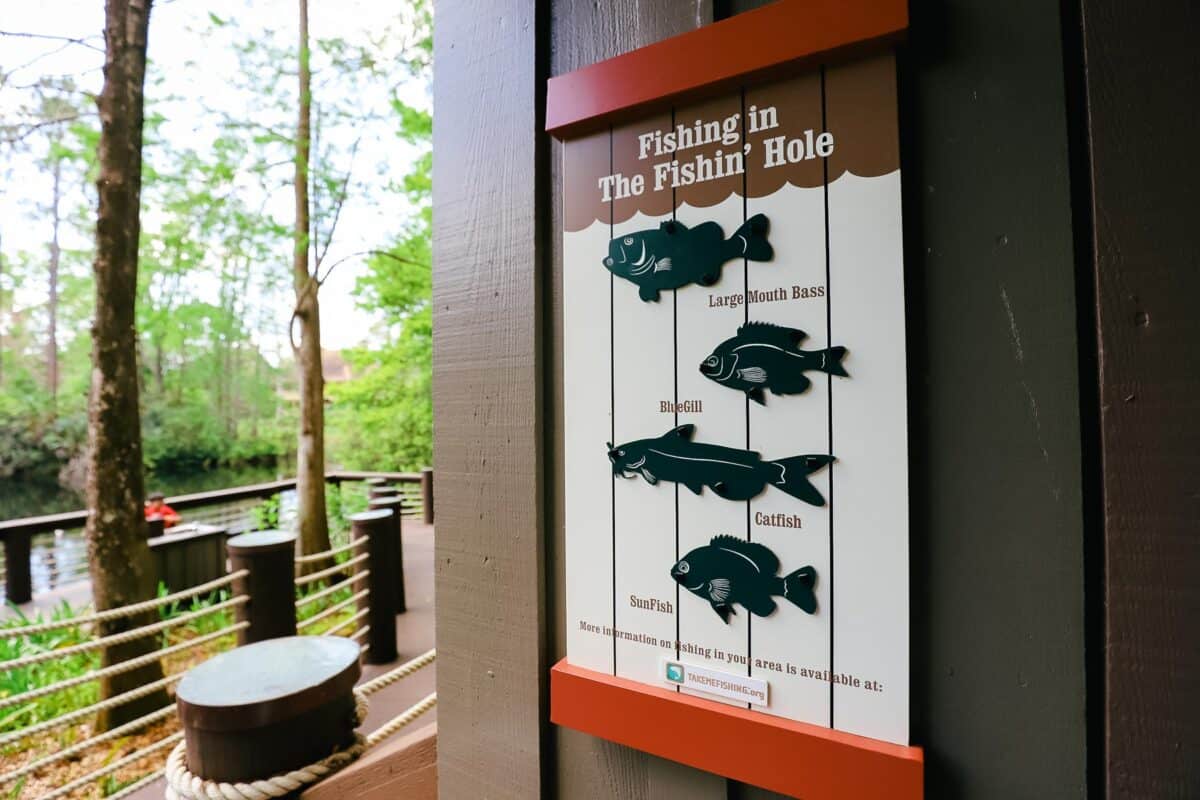 Of course, they are all catch-and-release. But catching them is the fun of the matter.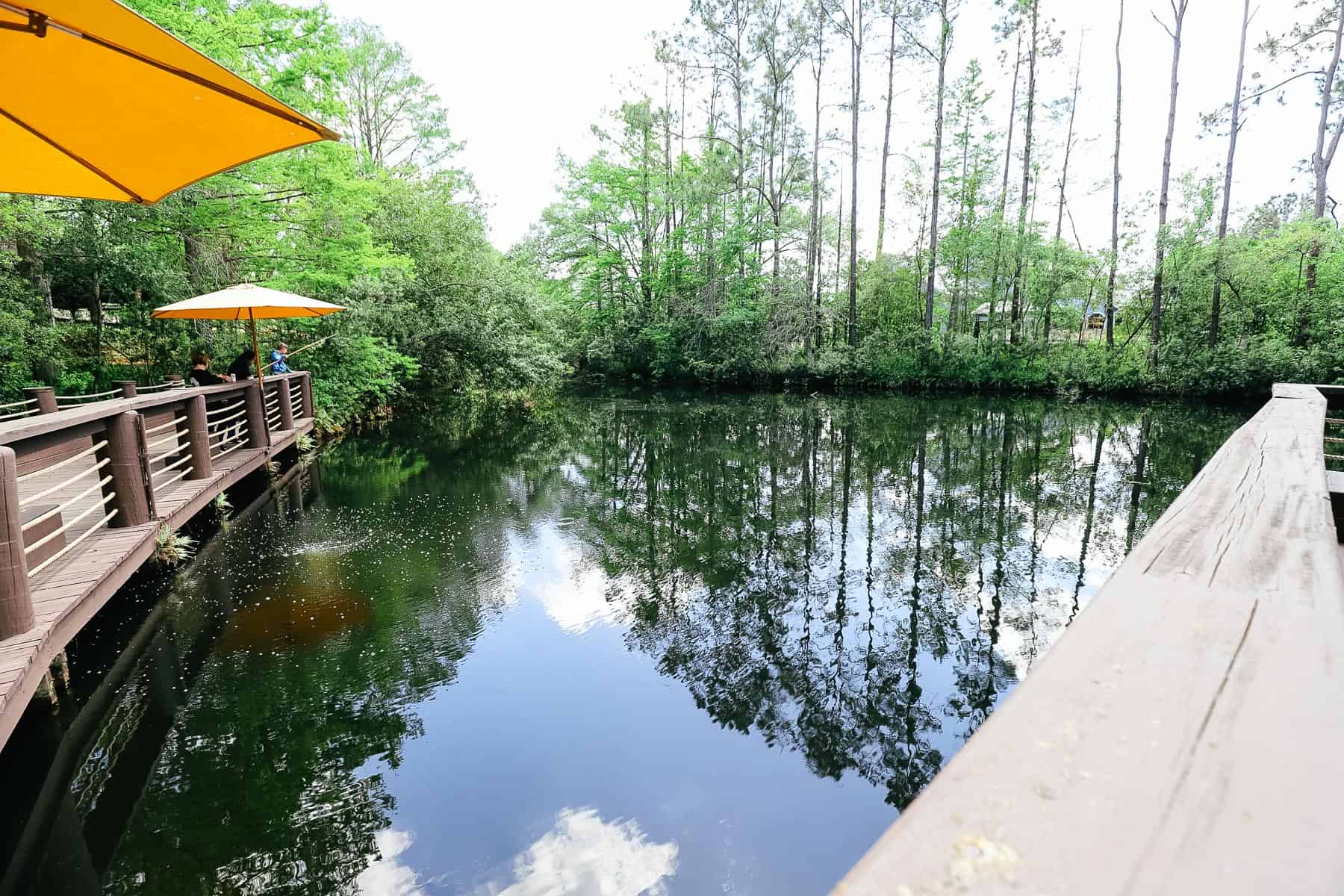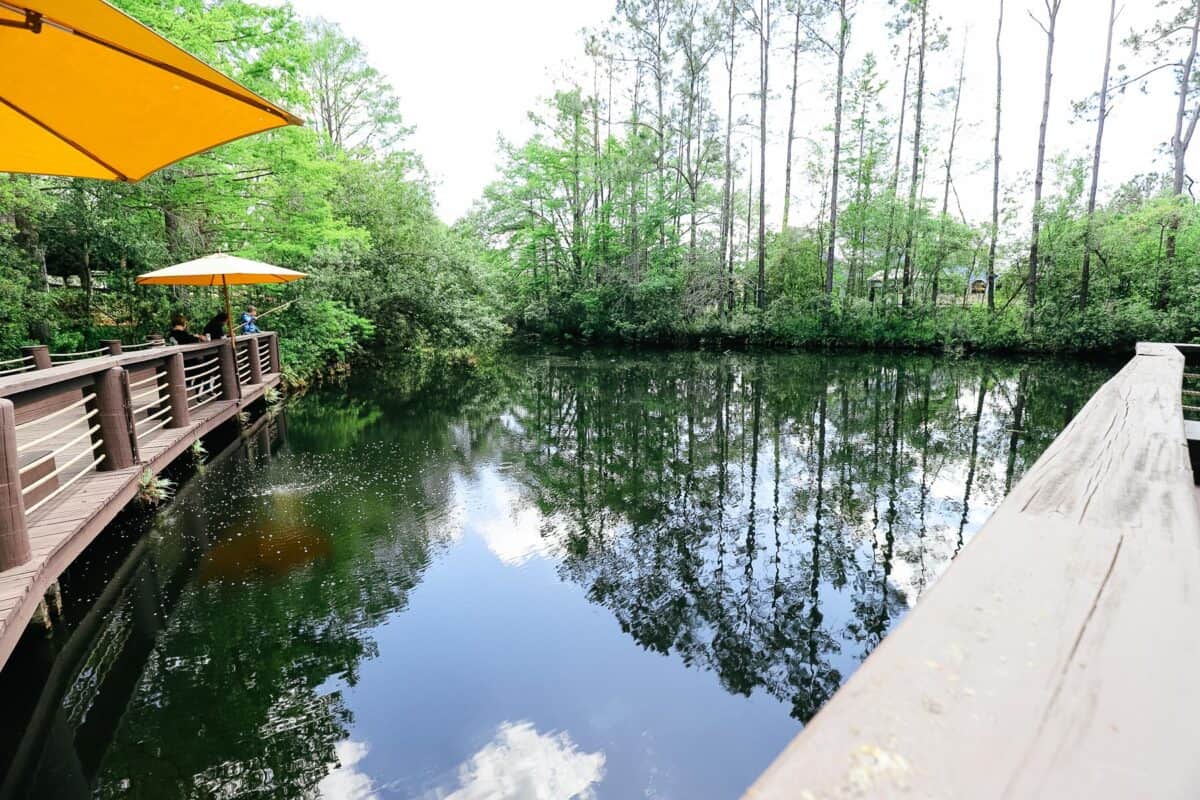 Or you might rent a guided fishing tour along the Sassagoula River at Port Orleans Riverside. These tours accommodate up to five guests and usually last two to four hours.
More information about reserving this type of excursion is available here on Disney's site. All fishing at Walt Disney World is catch-and-release only.
Horse-drawn carriage rides are available most evenings. They last approximately 25 minutes and cost $55.00 at the time of this update. You can reserve this experience in advance here on Disney's site.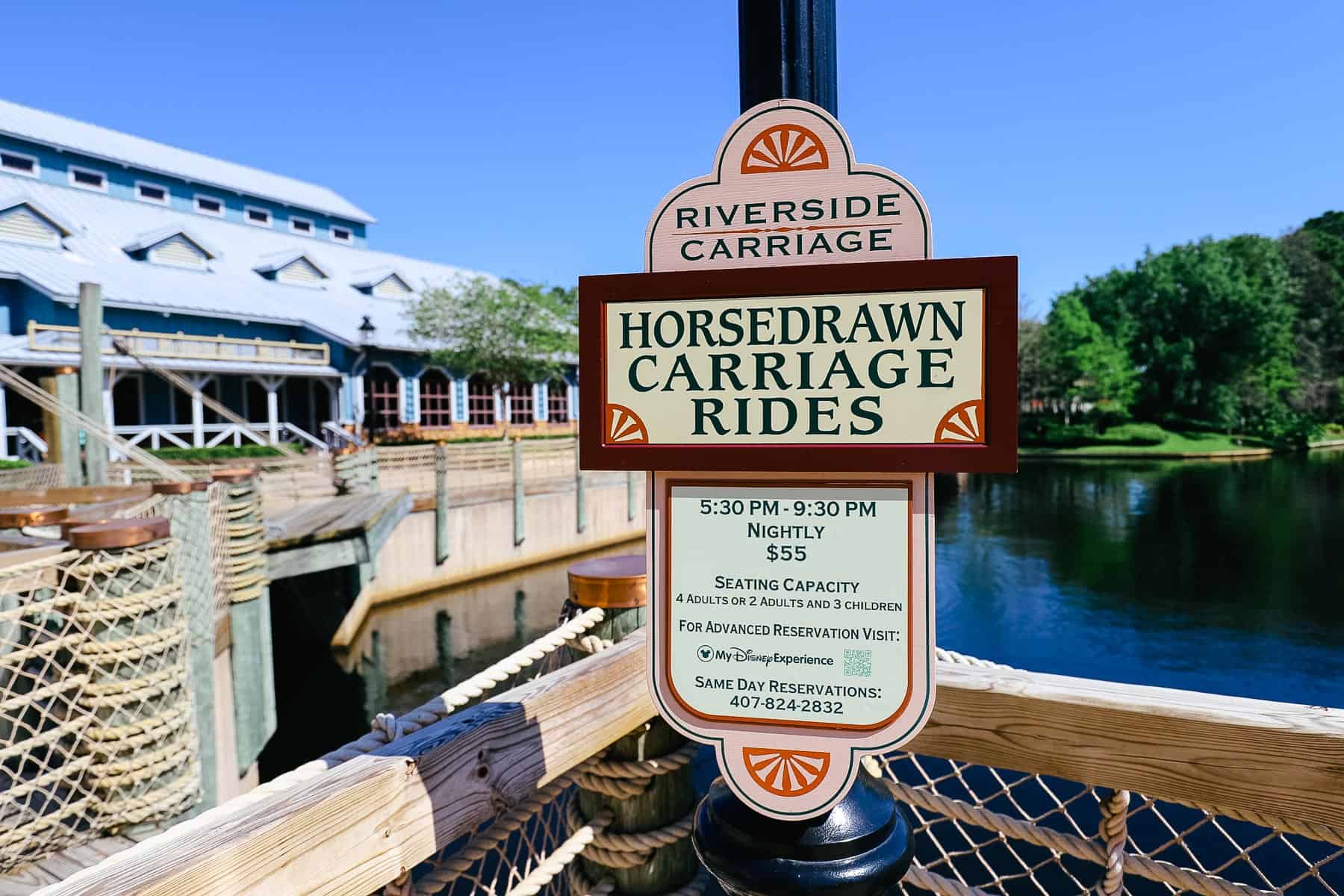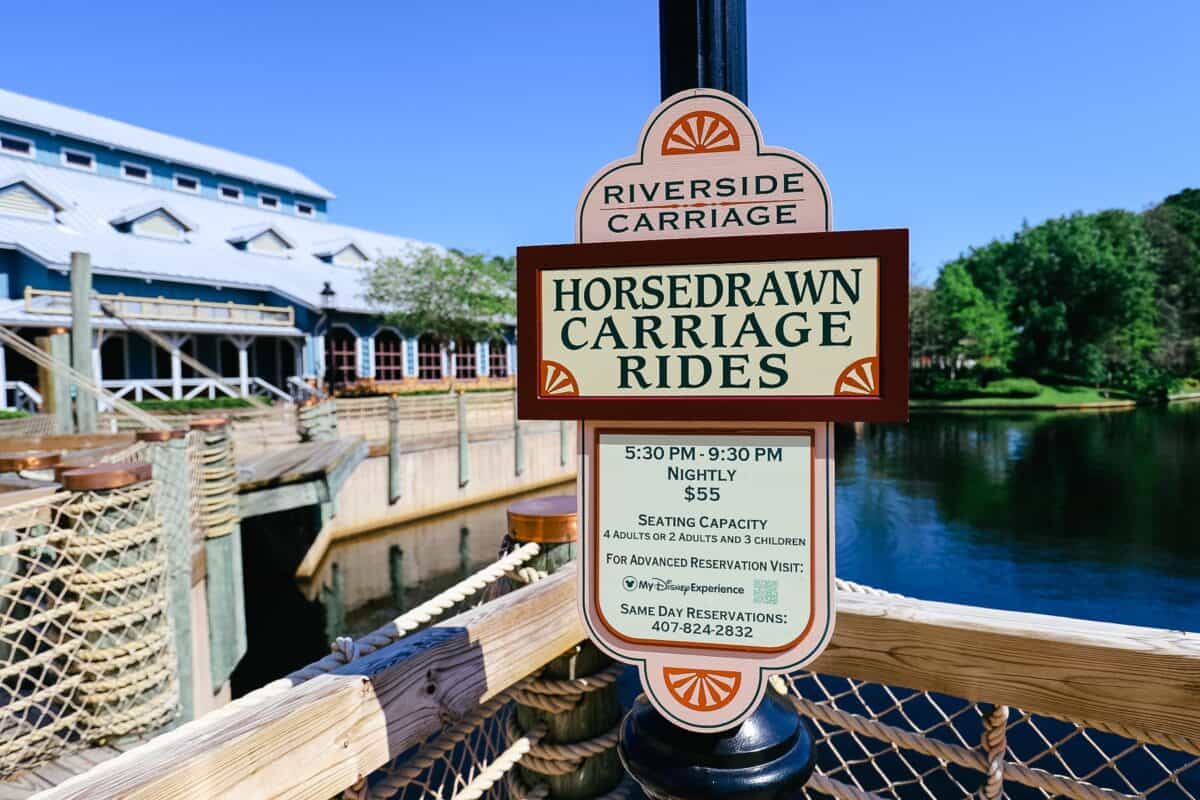 Bike rentals are available at Port Orleans Riverside. Bikes are an excellent way to tour the resort. They have Surrey and regular bike rentals available.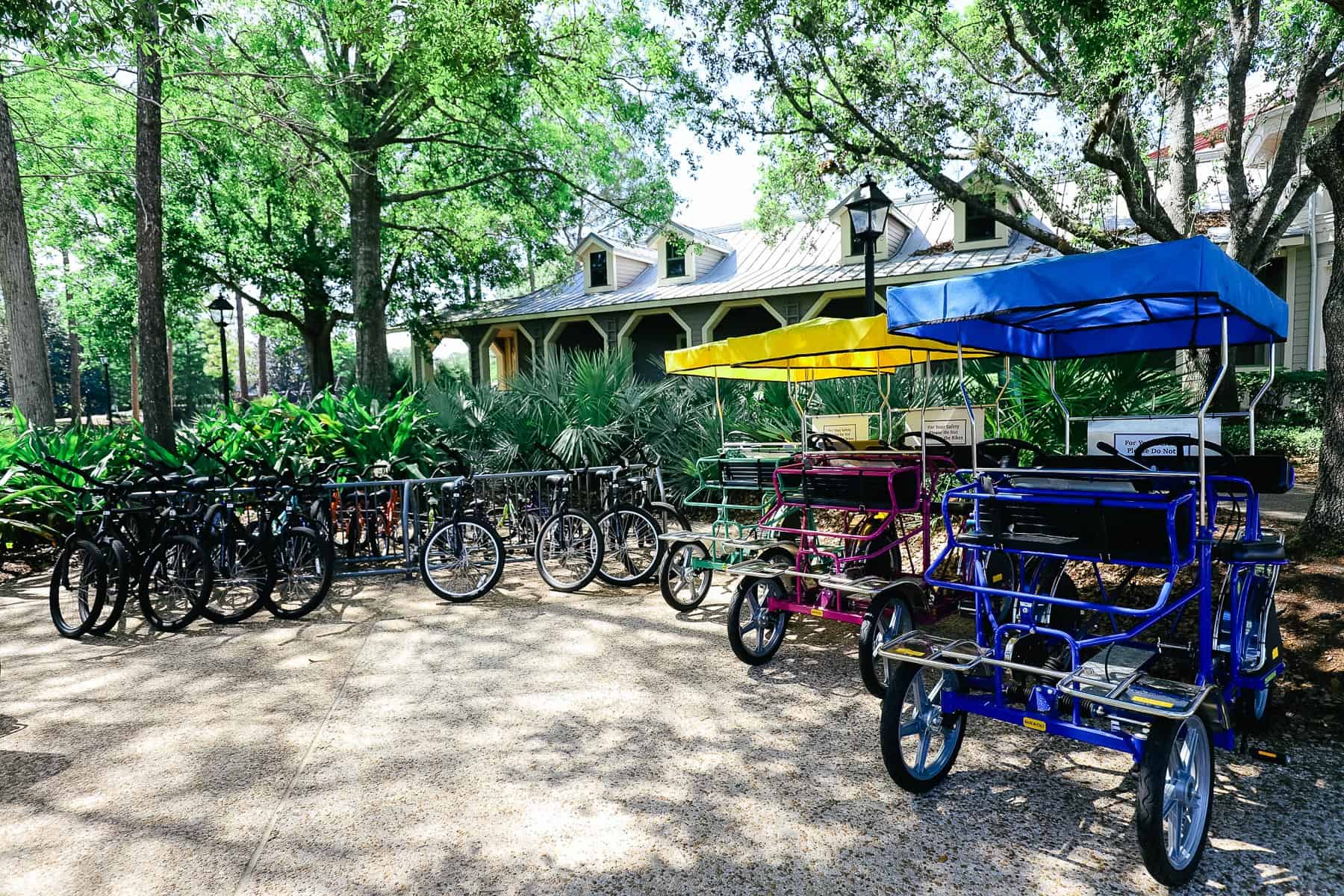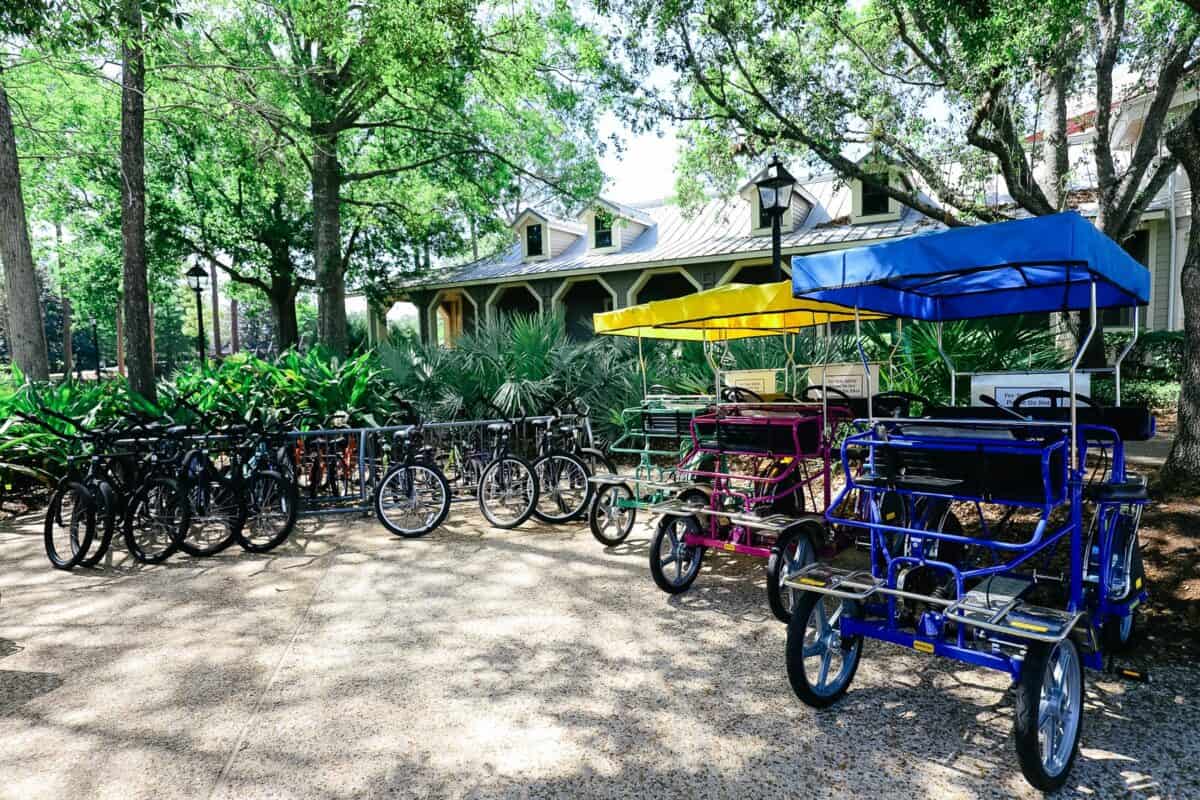 The following prices were posted:
Bike Rentals $9.00 per 60 minutes or $18.00 per day
Surrey Bike (2-seater) $20.00 for thirty minutes
Surrey Bike (4-seater) $22.00 per thirty minutes
Cane Pole Fishing $6.00 per thirty minutes
Guided Bass Fishing $235 for a two-hour excursion
Guided Bass Fishing $455 for a four-hour excursion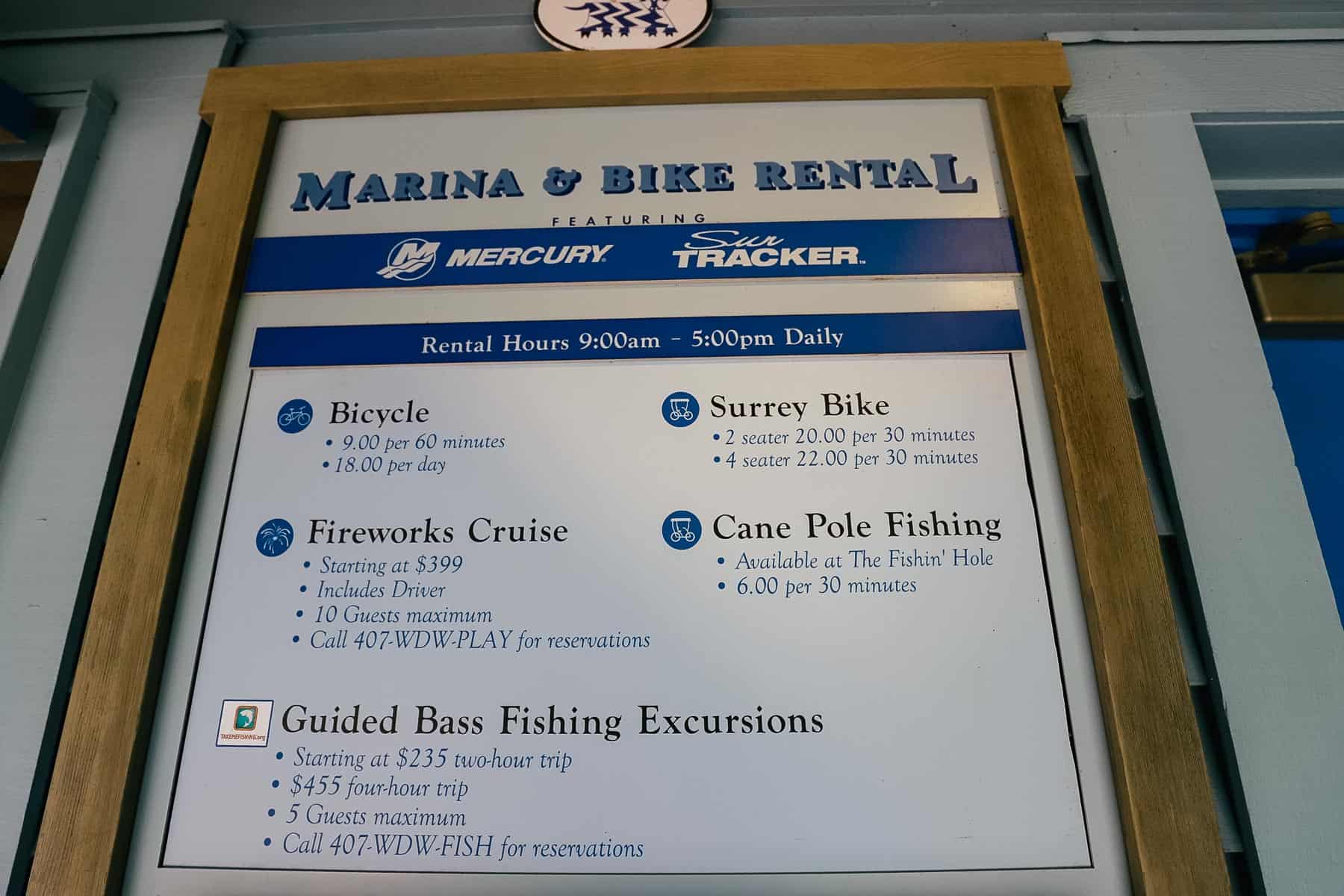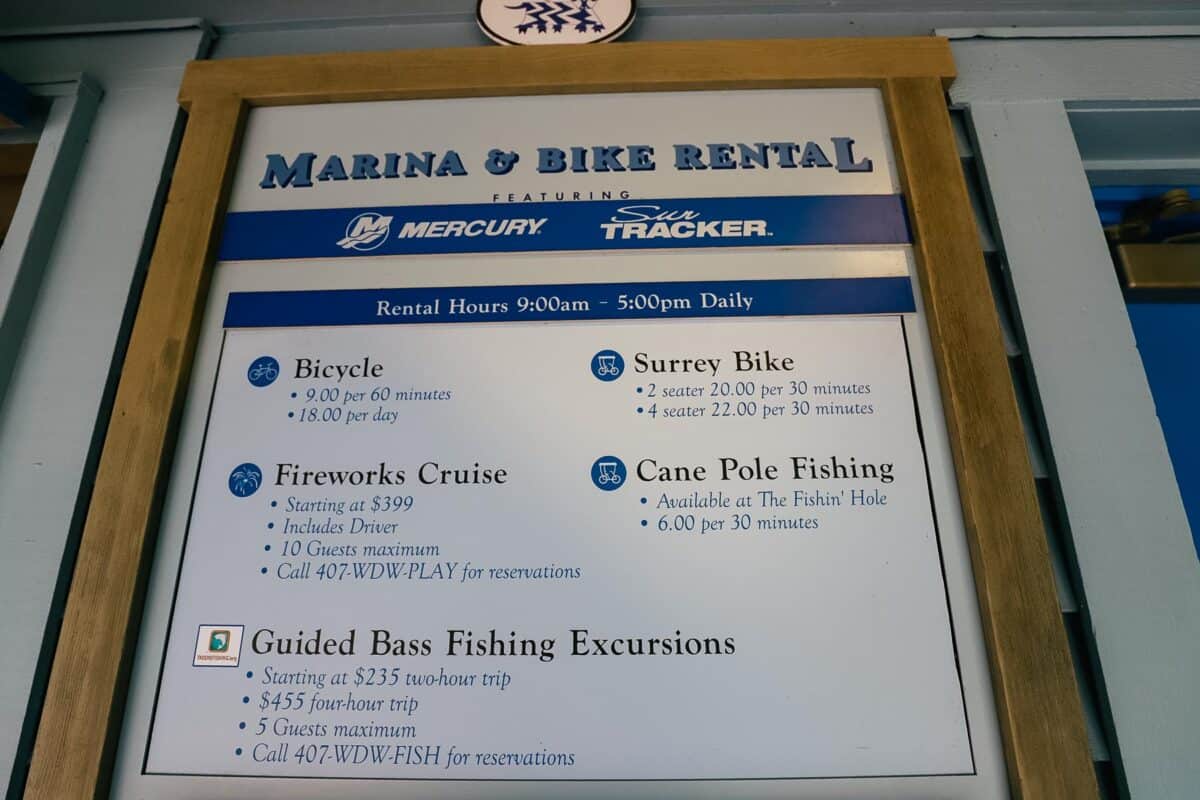 Note: Fireworks Cruises are listed in the photo above. However, these cruises launch from different resorts. Therefore, while you can rent a cruise here, you will have to travel to another resort to participate.
Port Orleans Riverside has five leisure or quiet pools spread out over the resort's grounds. Alligator Bayou has three quiet pools spread out amongst its buildings. They all look like the pool in the photo below.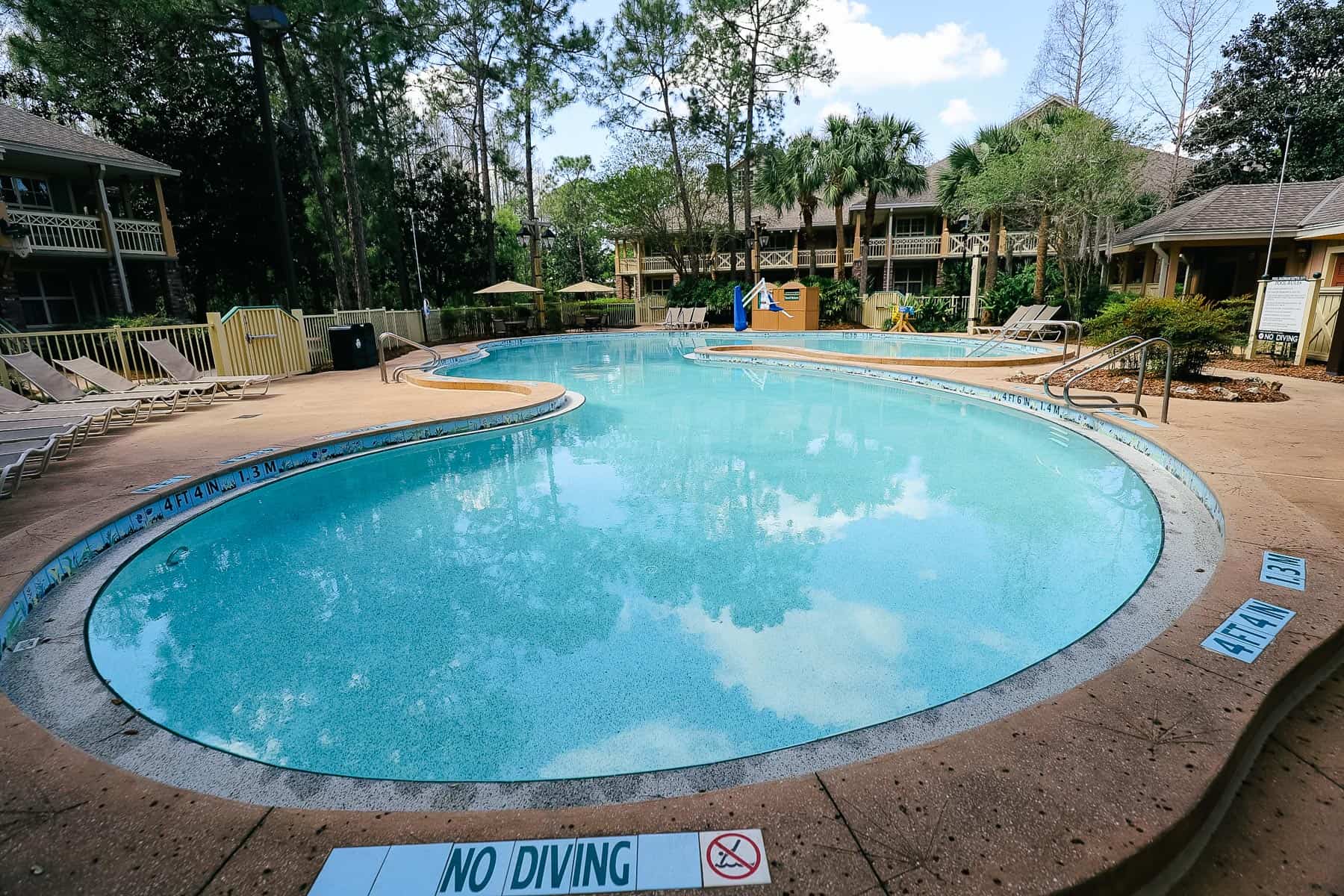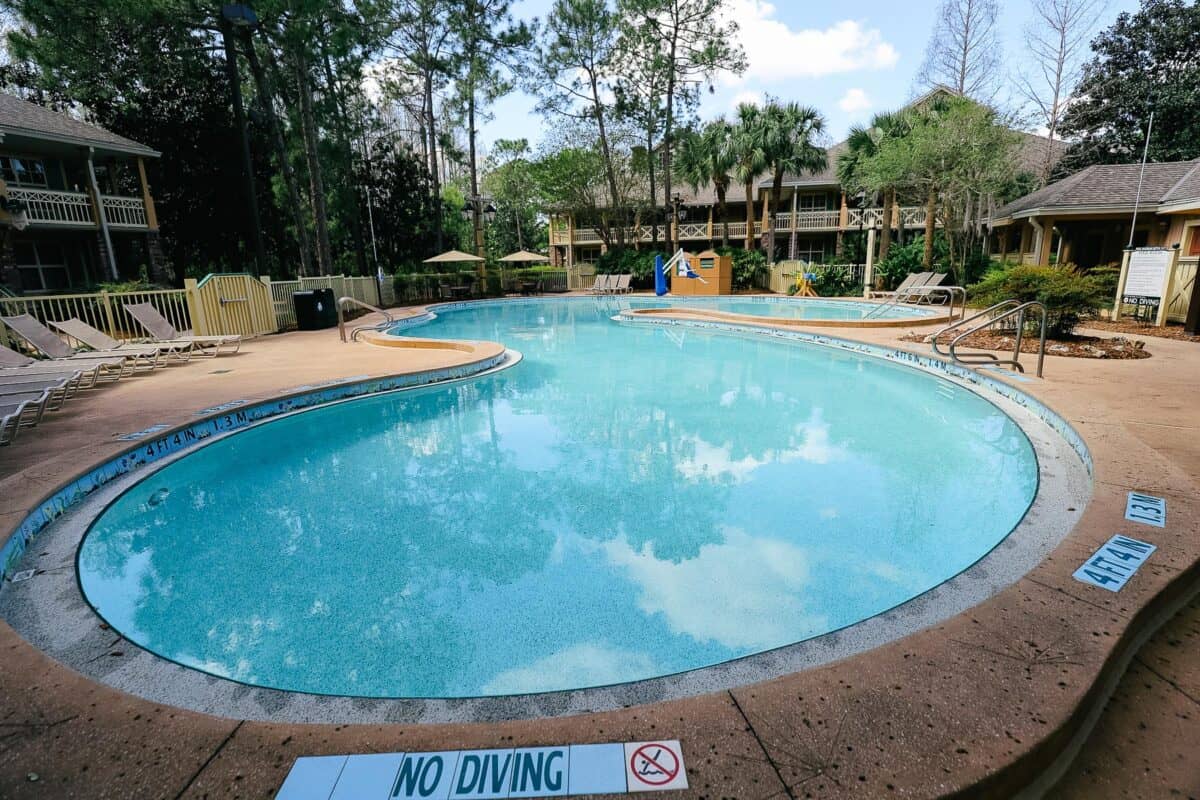 Additionally, Magnolia Bend has two large quiet pools between the various mansions. One is between Acadian House and Magnolia Terrace. The other is between Oak Manor and Parterre Place. They both look like the pool in the photo below.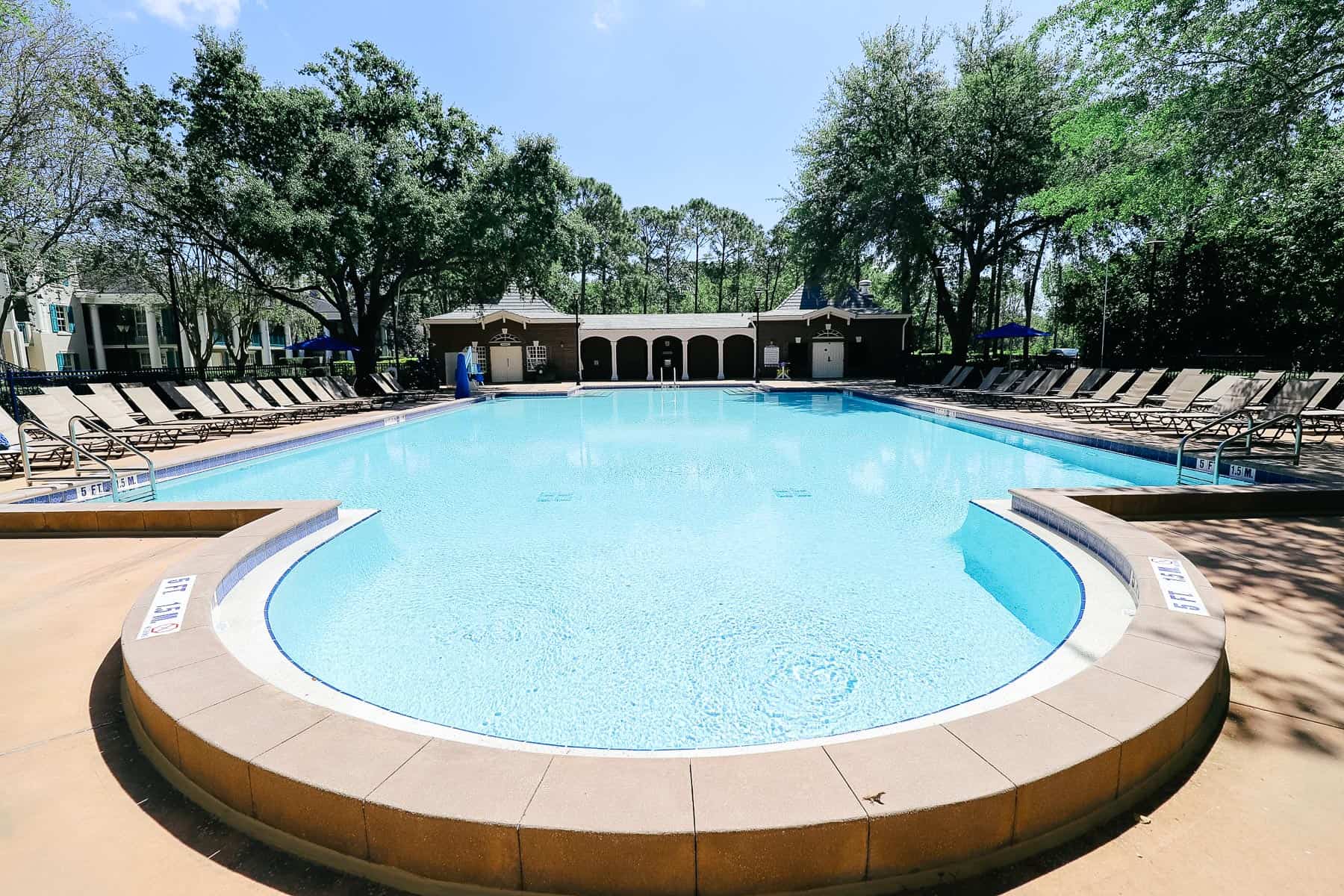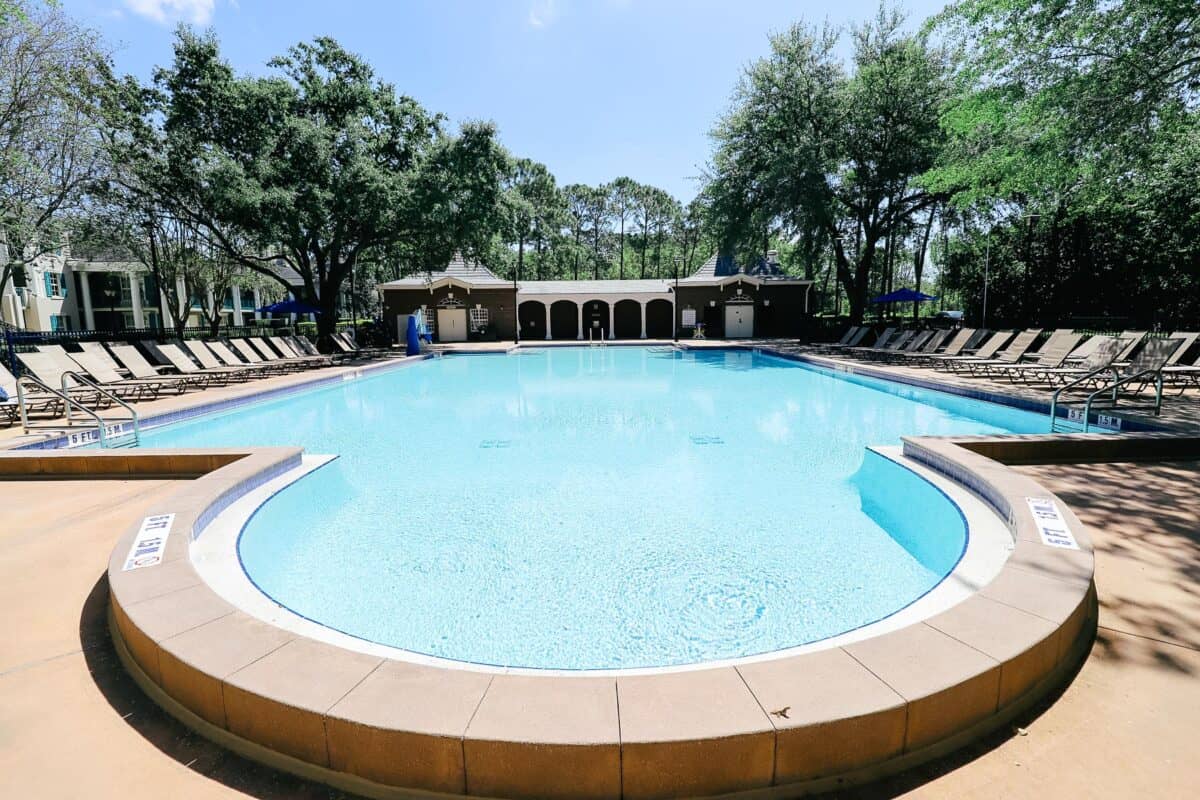 We have an entire article that details the different pools at the resort if you want to learn more.
Related: The Pools at Port Orleans Riverside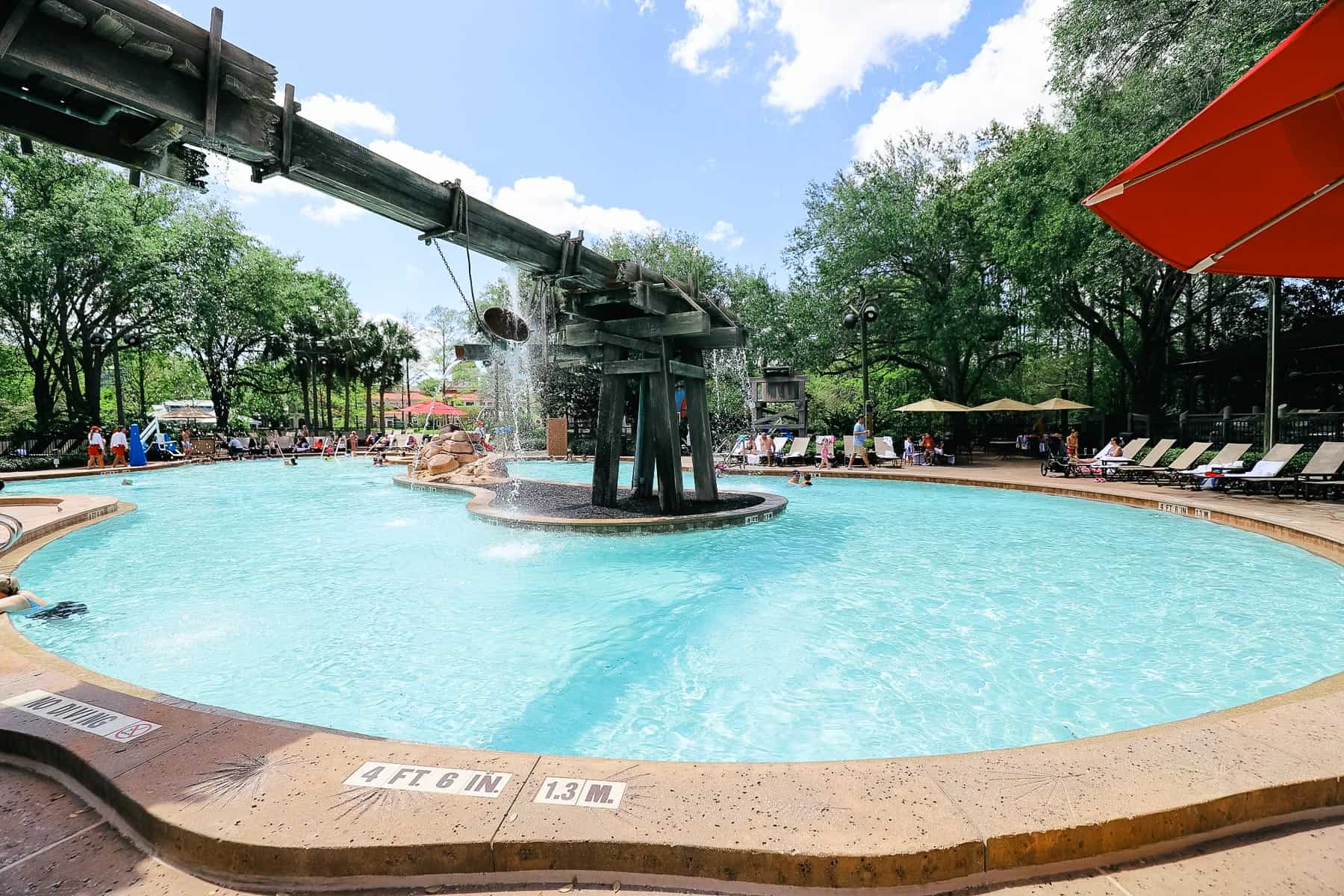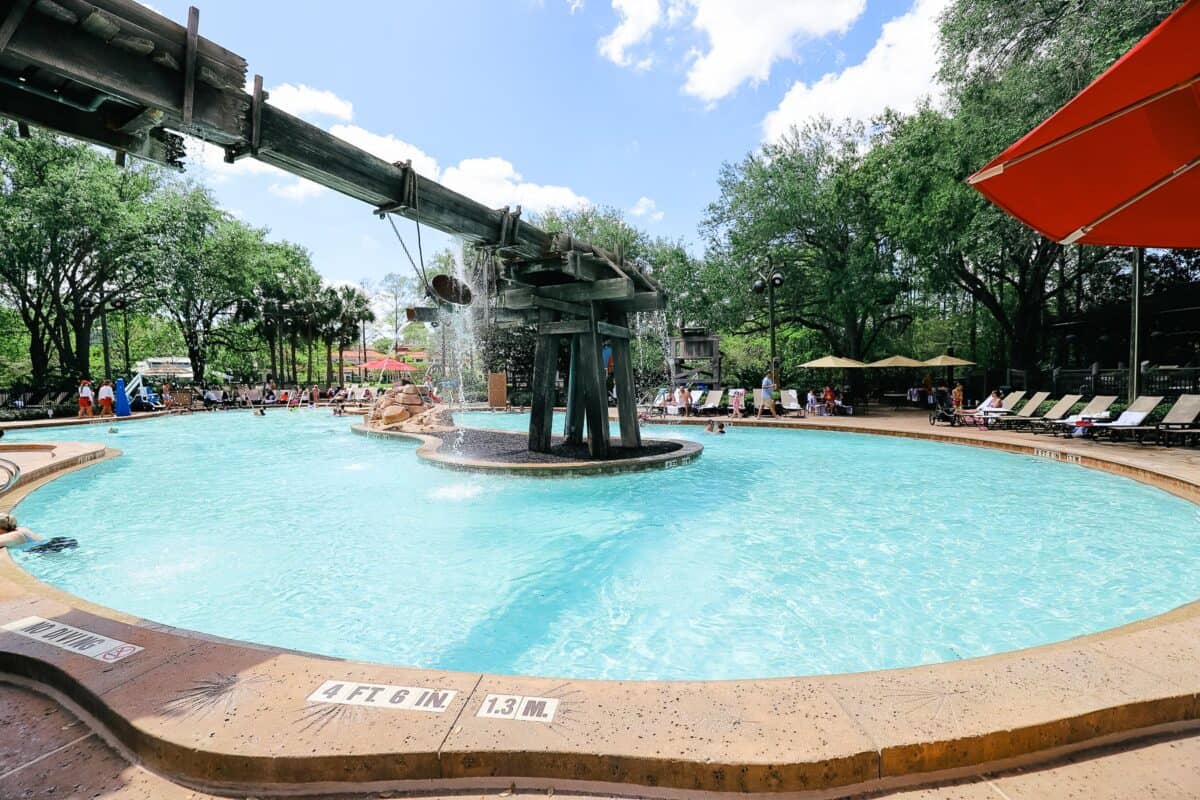 For those who prefer a little fun indoors, don't miss the resort's arcade. Medicine Show Arcade is off the resort's main lobby in the Colonel's Cotton Mill building.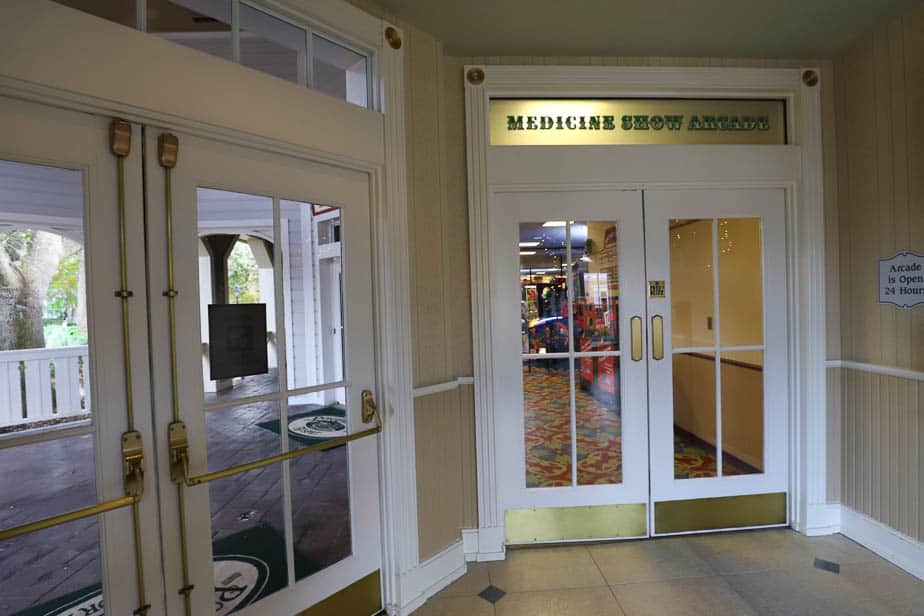 It's a sizable arcade with plenty of games.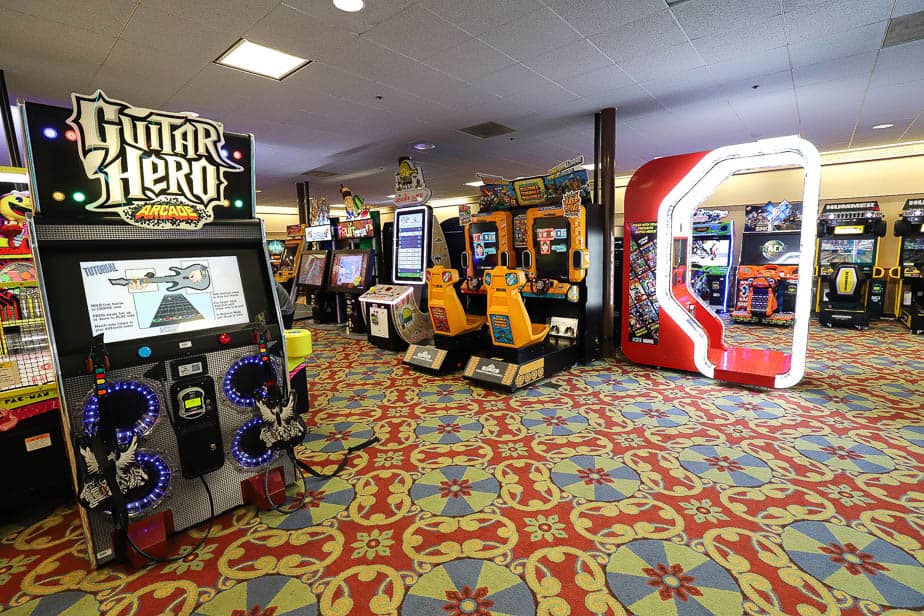 Here is a photo of the jogging trail posted at the resort.
Related: Best Jogging Trails at Disney World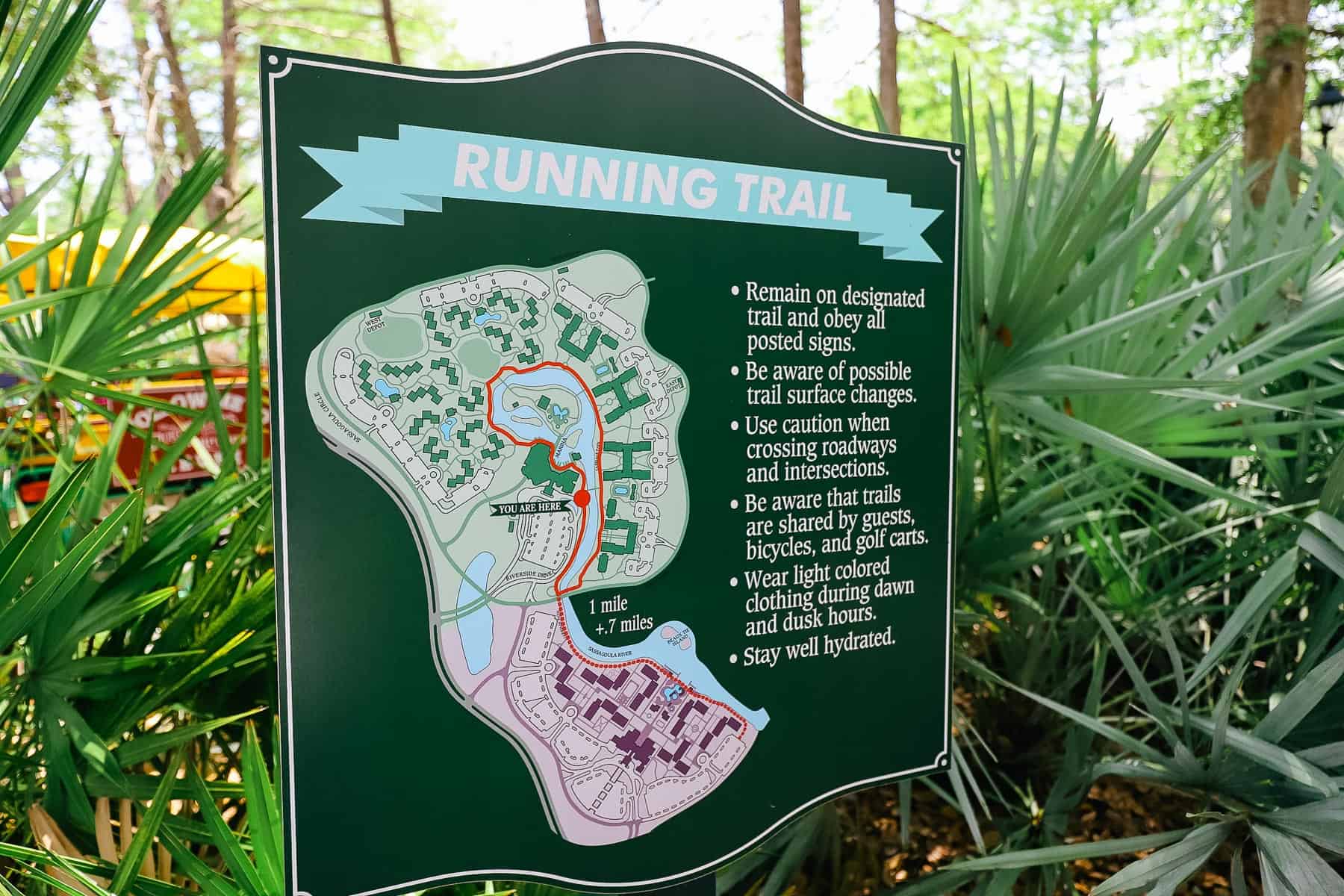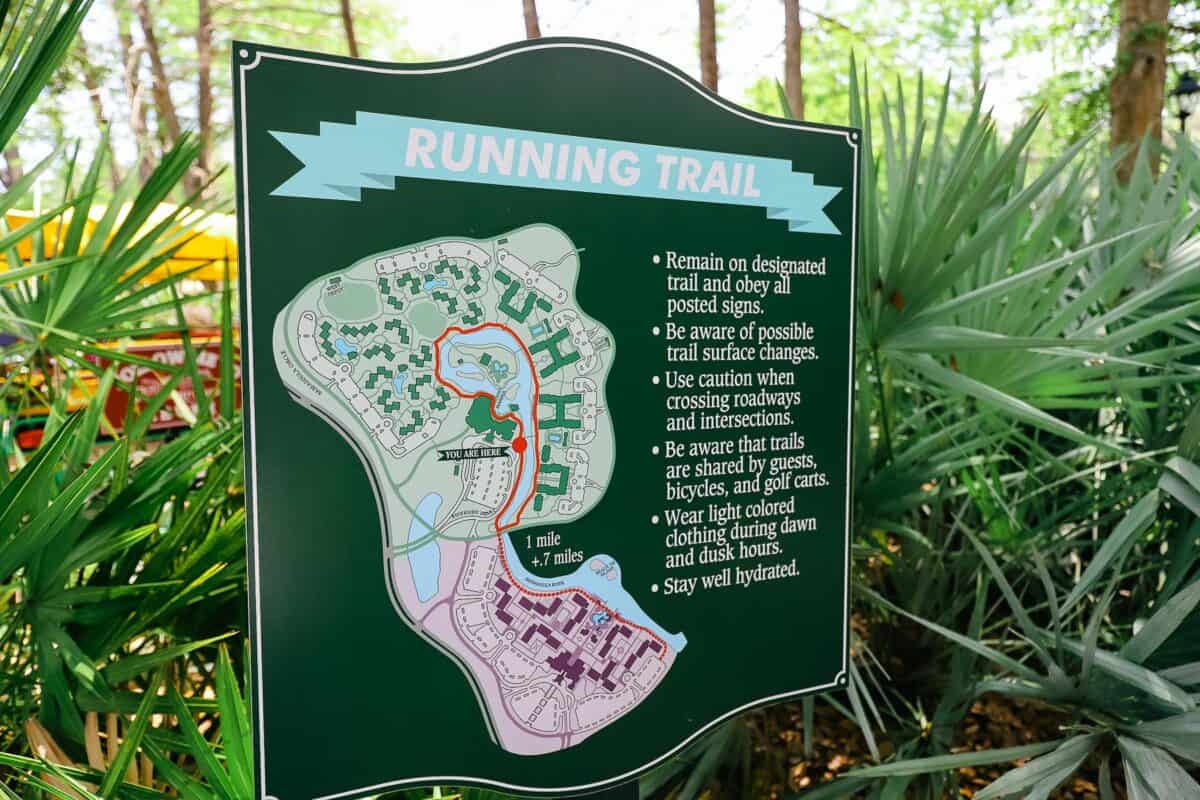 Dining
Port Orleans Riverside has multiple dining options. The resort features a large counter service food court, a table service restaurant, a bar with a lounge, and one pool bar.
Riverside Mill Food Court is located off the resort's lobby. The quick service is open daily from 7:00 a.m. until 11:00 p.m. and serves breakfast, lunch, and dinner. During this last stay, I had lunch and breakfast there one morning.
Related: Riverside Mill Food Court Review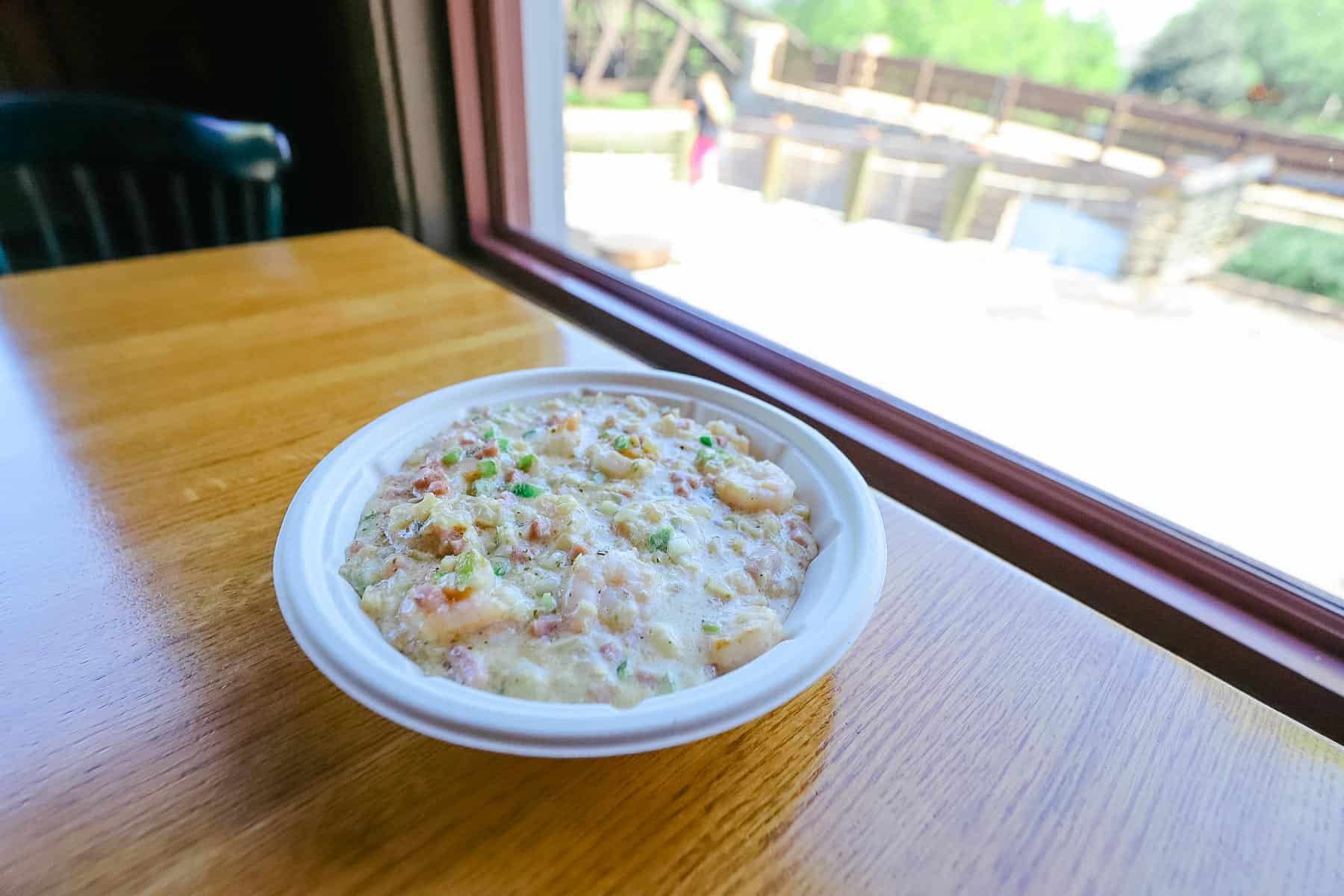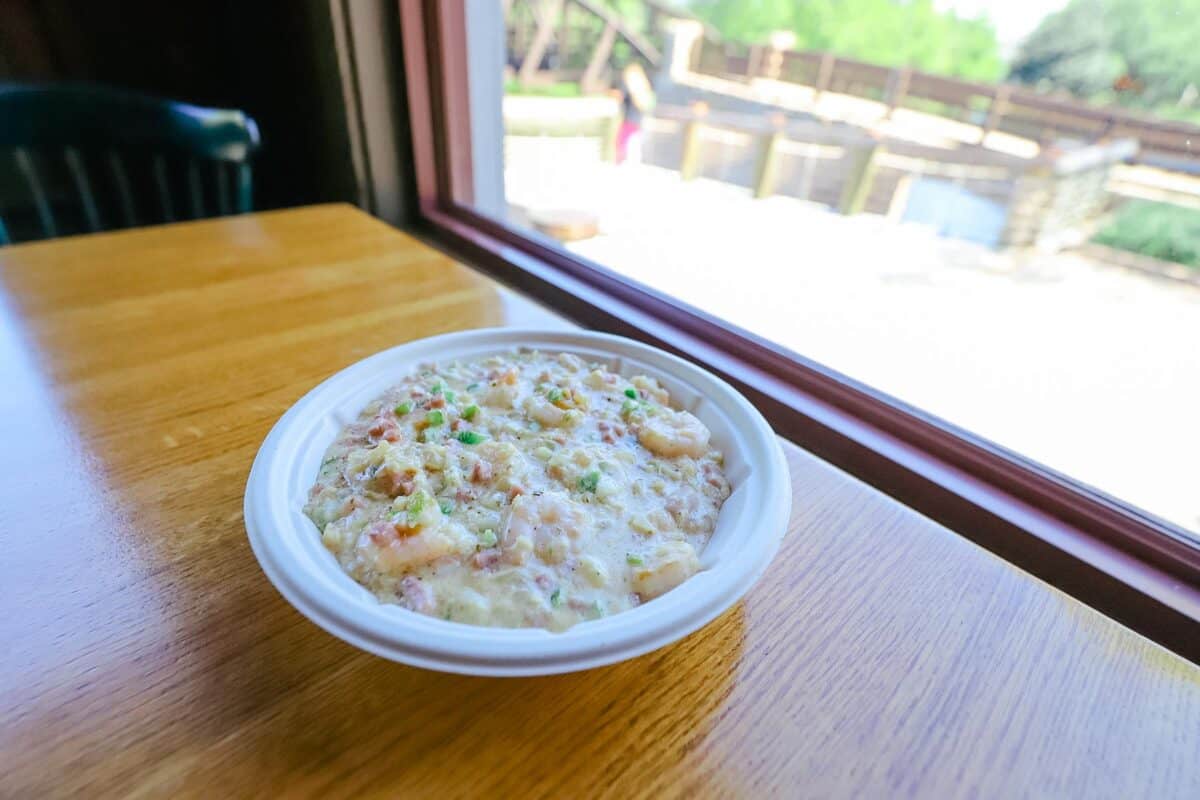 Boatwright's Dining Hall is the table service dining location for Port Orleans Riverside. This restaurant is open nightly from 5:00 p.m. until 9:00 p.m. Expect American cuisine with a creole touch. You can preview the menu here.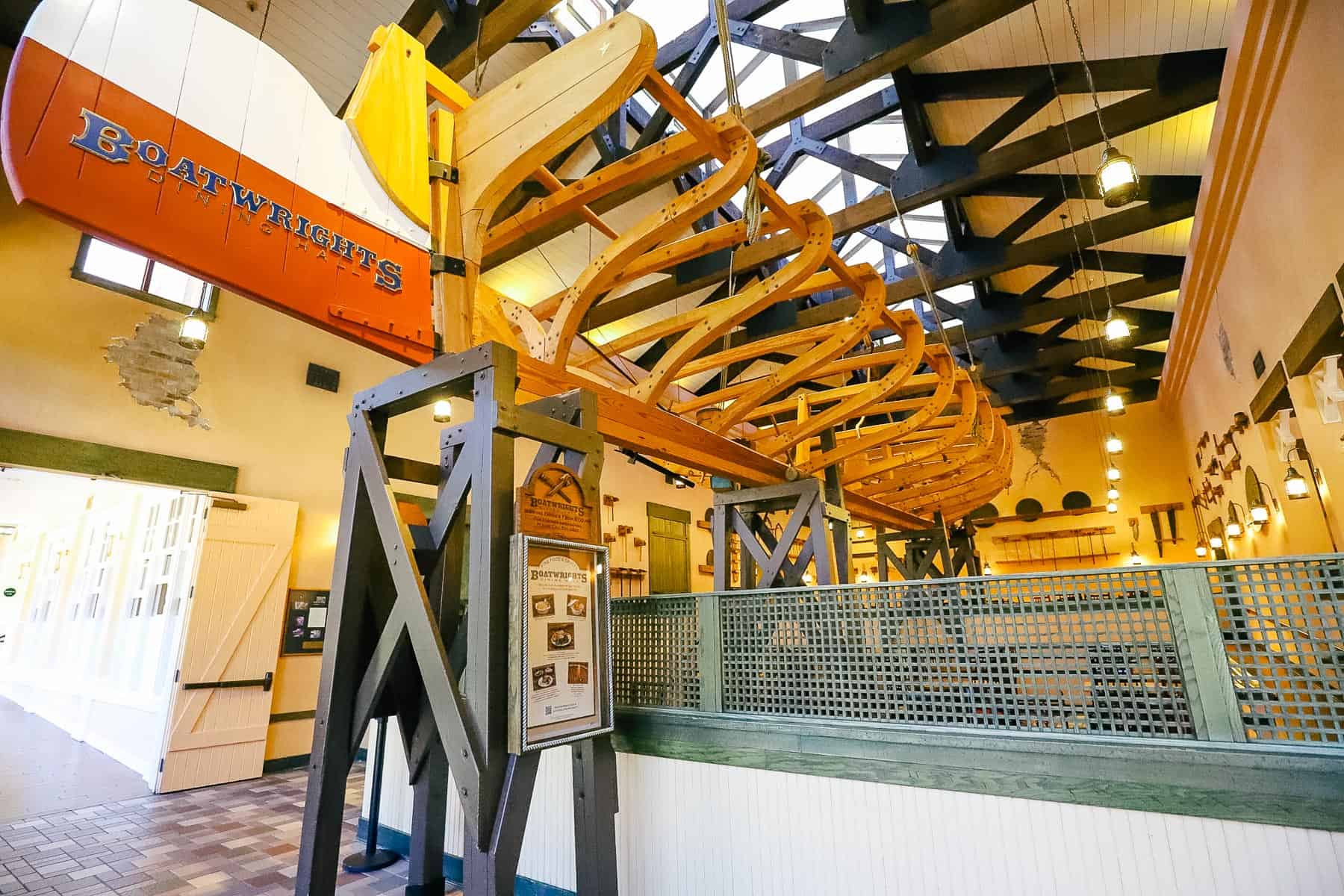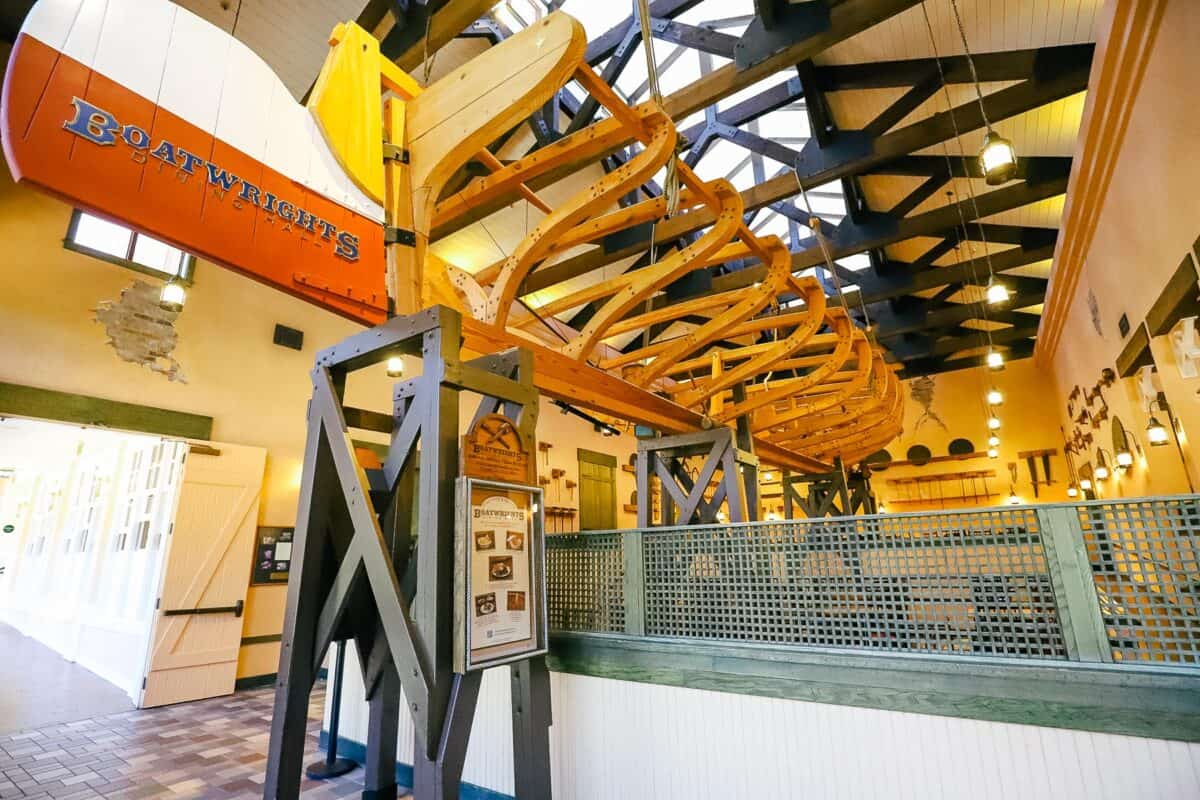 River Roost Lounge is the bar and lounge located immediately off the lobby of Port Orleans Riverside. This location is where the infamous Yehaa Bob Jackson performs on Wednesday through Saturday evenings from 8:30 p.m. until midnight. The act is a musical and comedy medley mix.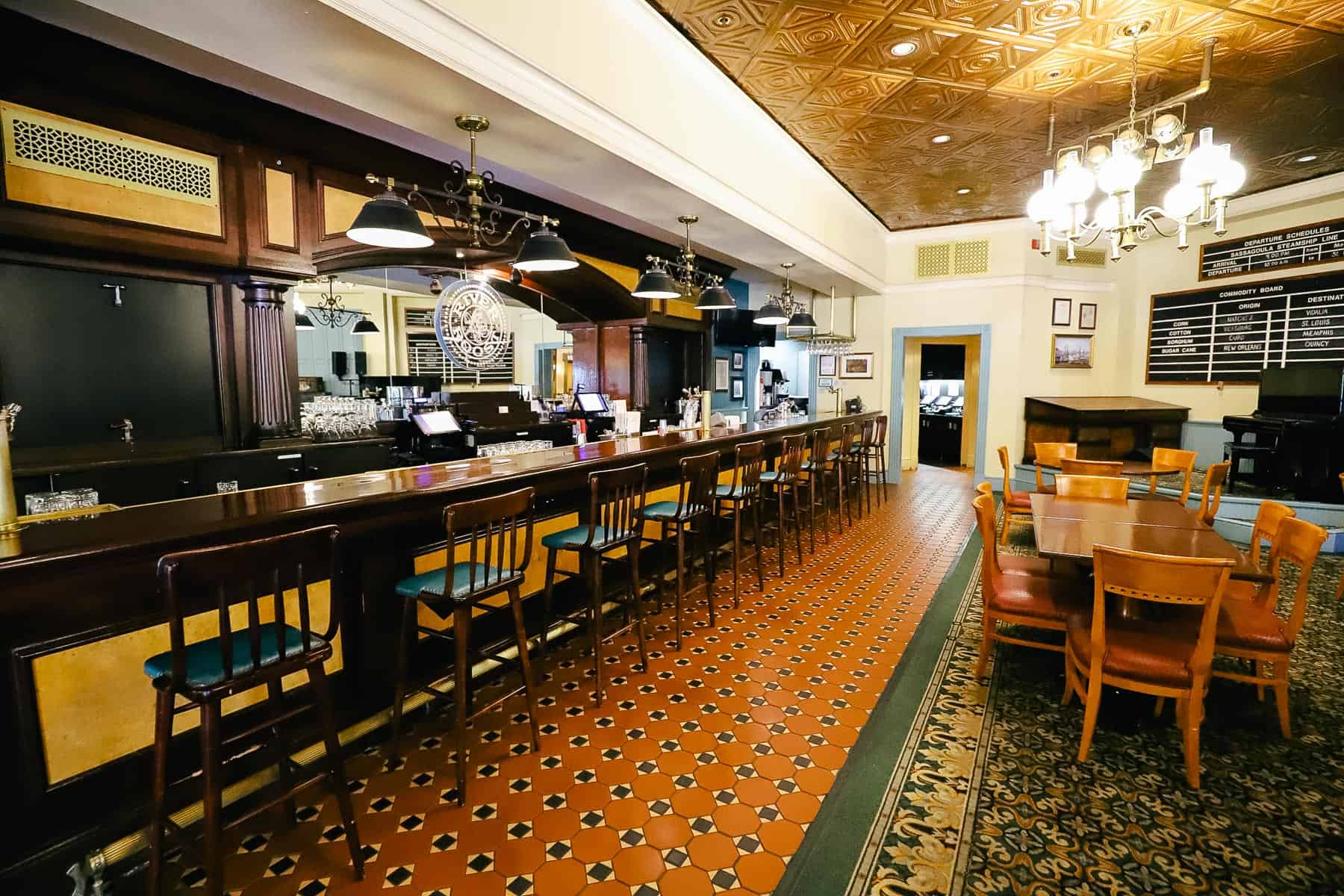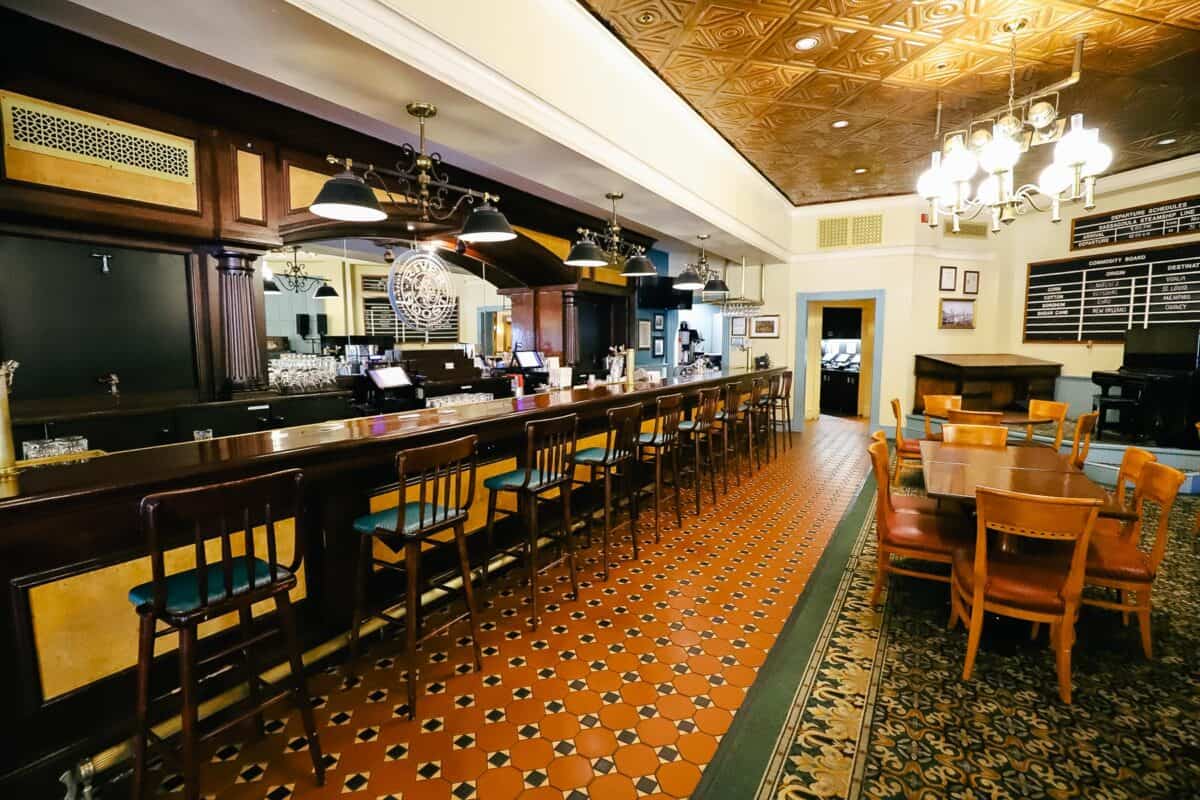 Lastly, Muddy Rivers is the resort's pool bar at Ol' Man Island. This pool bar offers the classic Disney cocktail menu and limited quick-service food options.
Related: Port Orleans Riverside Restaurant Guide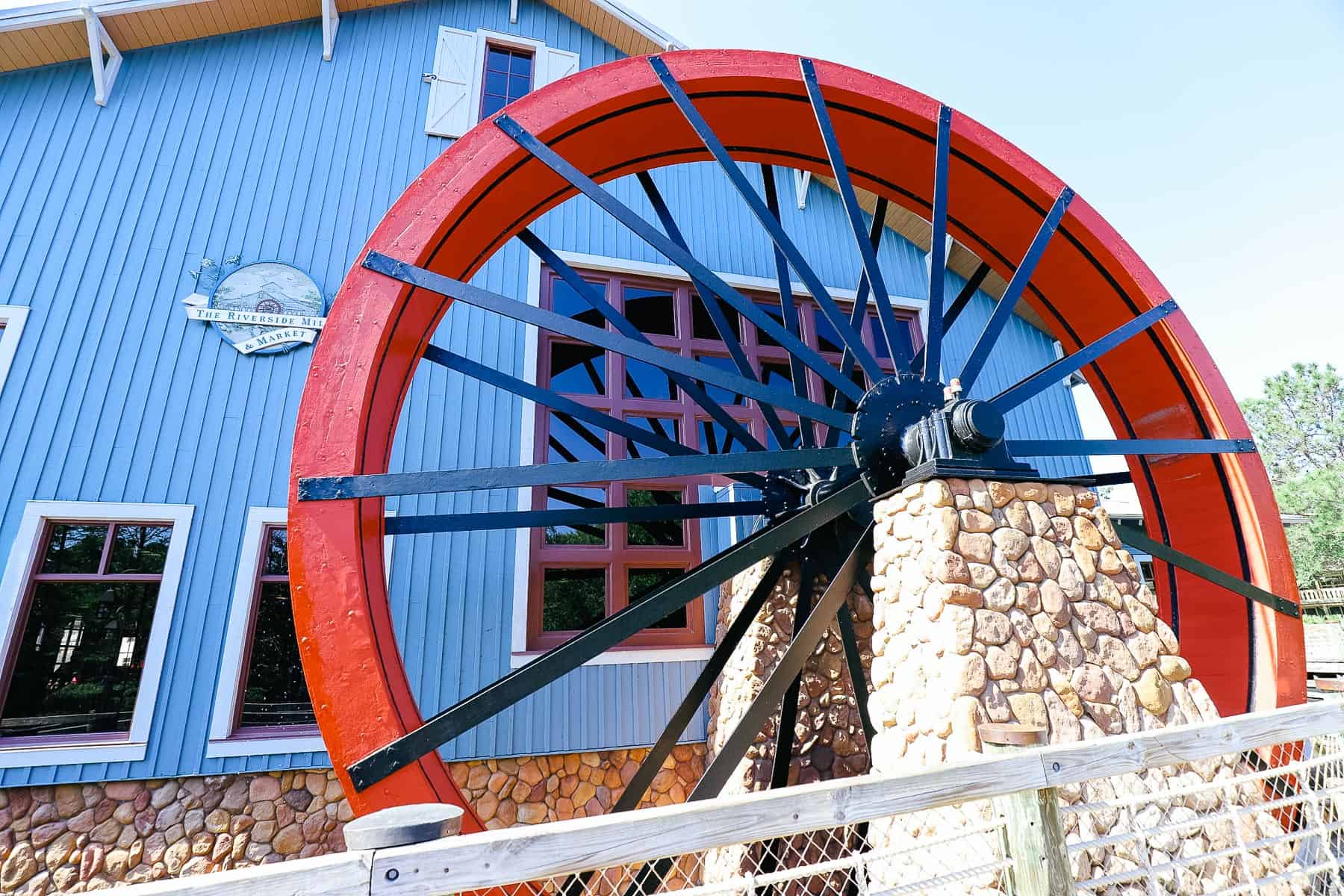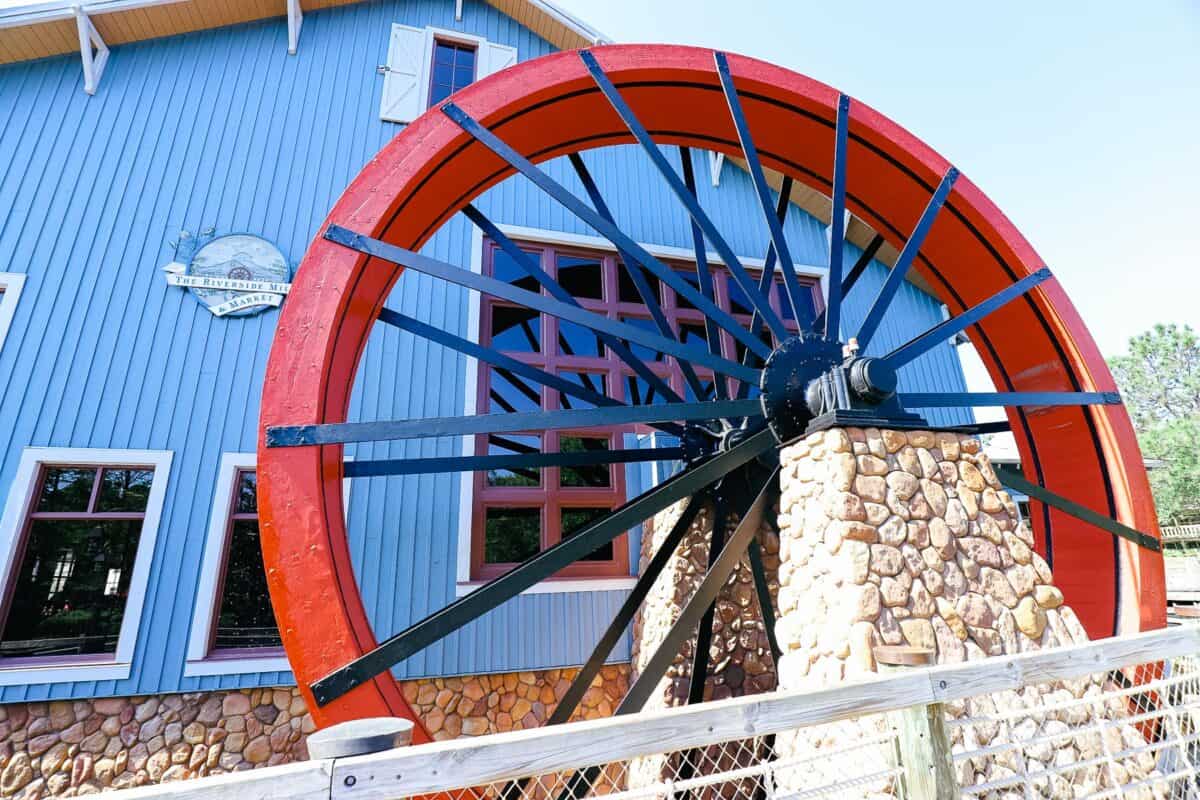 Additionally, since Disney's French Quarter is so close to Riverside, guests can walk over and enjoy the resort's lounge, pool bar, or counter service. French Quarter has an excellent counter-service dining location. However, they do not offer table-service dining.
Related: Sassagoula Floatworks and Food Factory Review
Disney Springs is only a short boat ride from Port Orleans Riverside. This venue offers close to 60 dining establishments.
There are so many restaurants available. It's hard to keep up with them all! So we have a separate article that lists a few of our favorites.
Related: The Best Restaurants at Disney Springs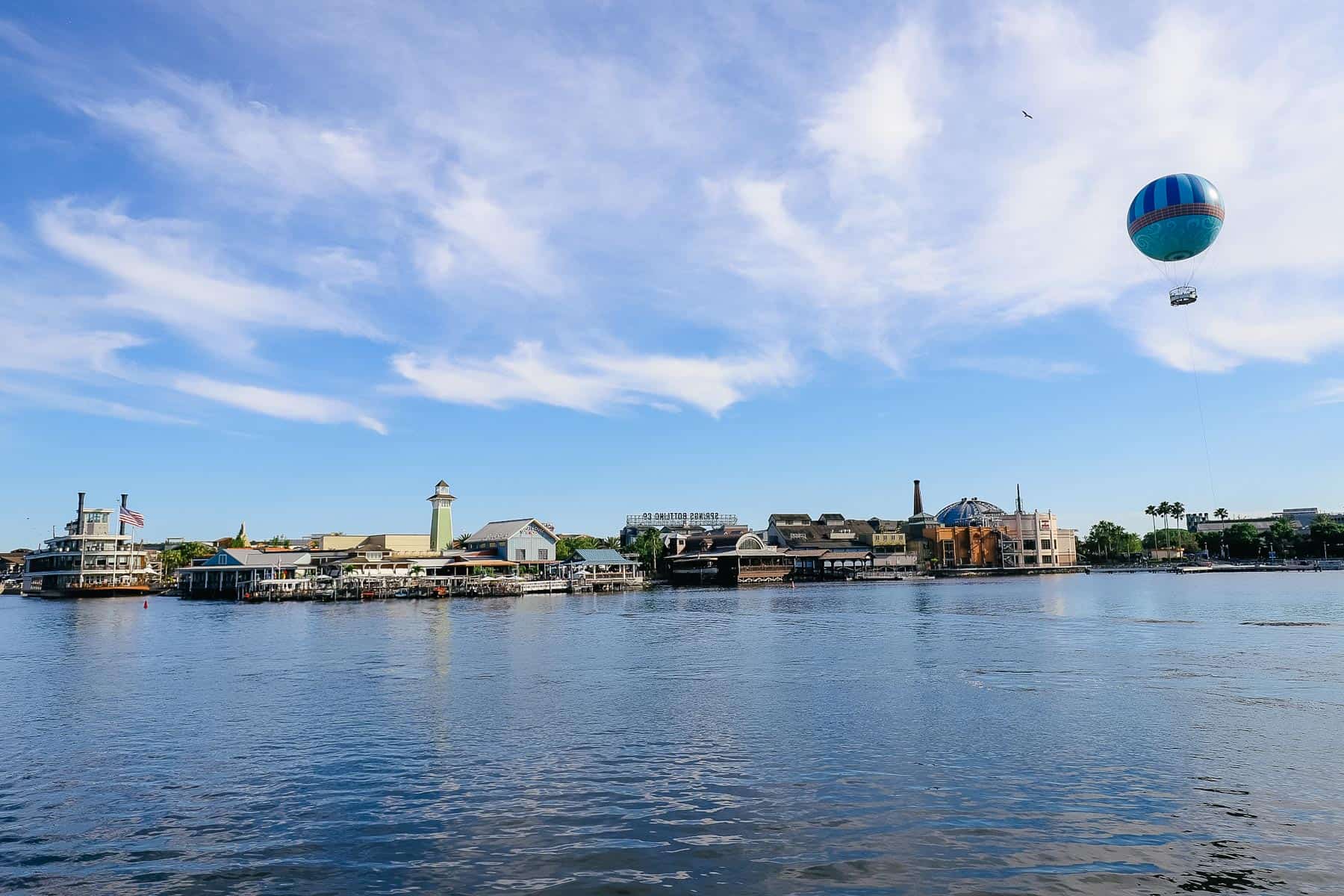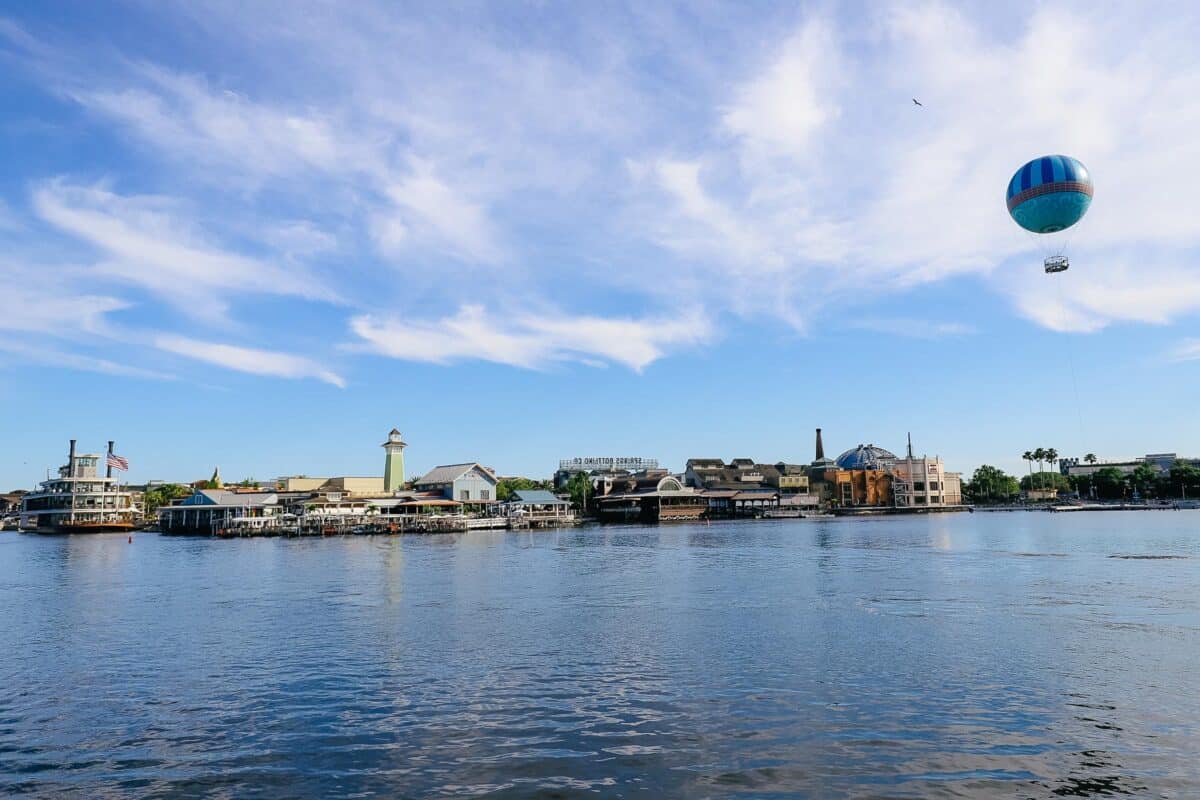 Transportation
We'll briefly examine the transportation options available at Port Orleans Riverside. As we discussed, Disney Springs is only a short ride away from the resort via a water taxi.
The water taxis stop at Riverside, French Quarter, and Disney Springs. Then, they travel back and forth in that exact order.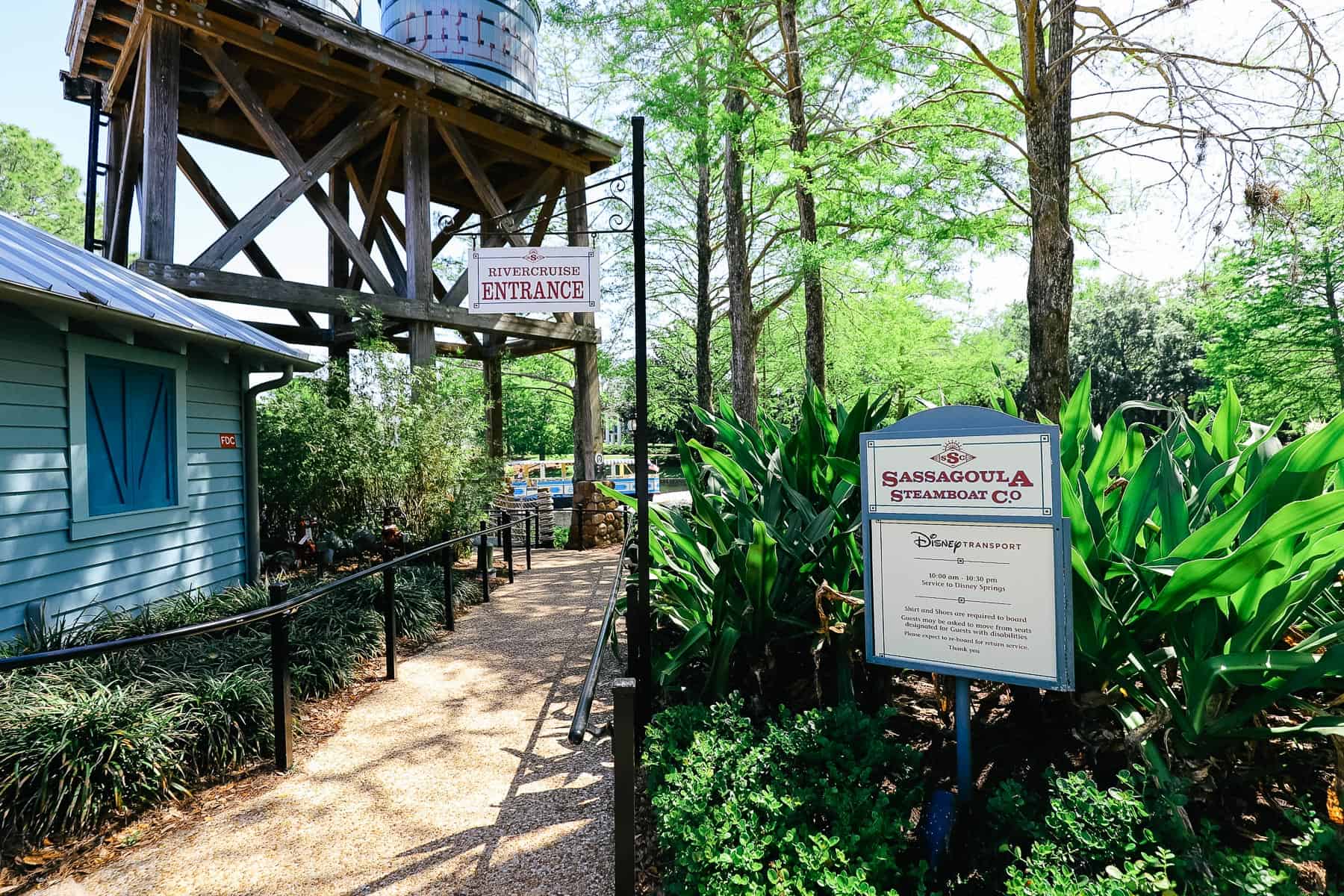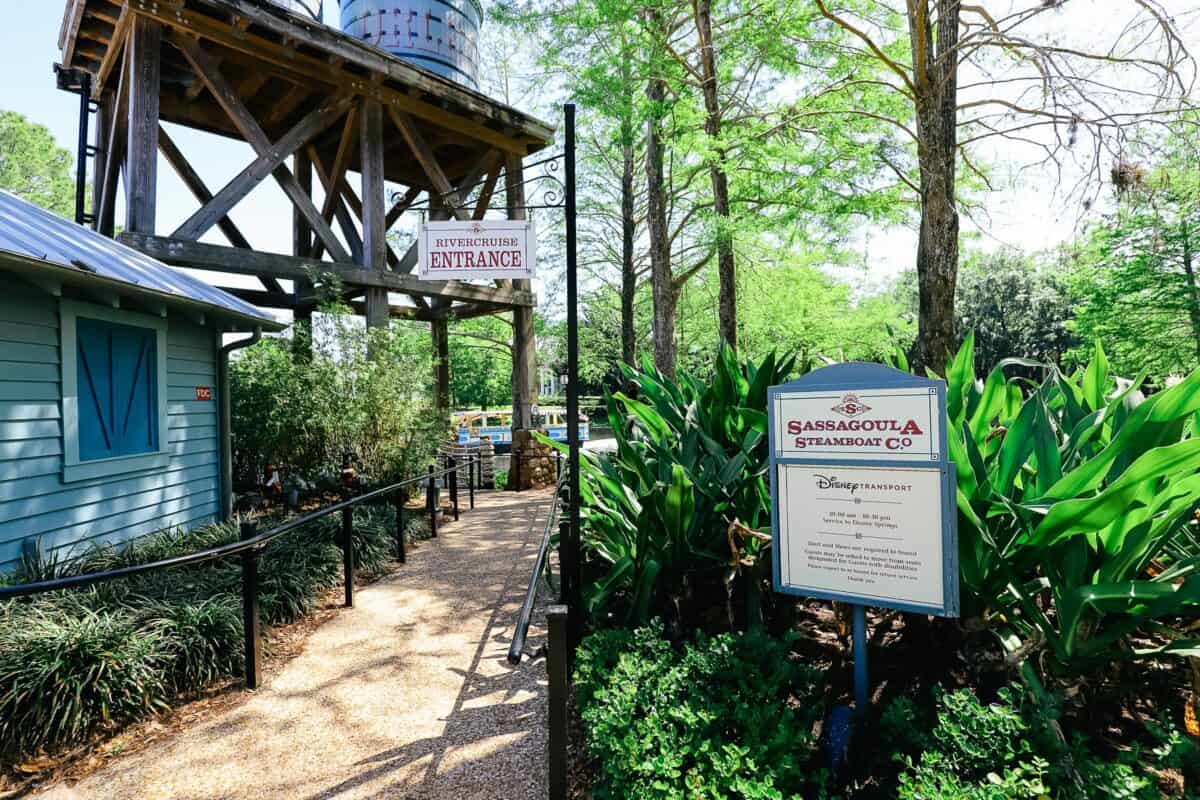 Additionally, Port Orleans Riverside offers bus transportation to the following locations:
Magic Kingdom
Epcot
Hollywood Studios
Animal Kingdom
Blizzard Beach
Typhoon Lagoon
Disney Springs
So if you don't care to take the boat to Disney Springs, you can always catch a bus. Check out our transportation guide for more in-depth coverage of the options available at Riverside and the French Quarter.
Related: Transportation Options at Disney's Port Orleans Resorts
It's important to mention that Port Orleans Riverside has an internal bus system with four bus stops. The bus stops travel in the following order.
South Depot (Main Lobby)
West Depot
North Depot
East Depot
During less busy times, the resort shares a bus service with French Quarter. One of the things to consider is that you'll likely spend a decent amount of time on the bus, given all the stops it makes along the route.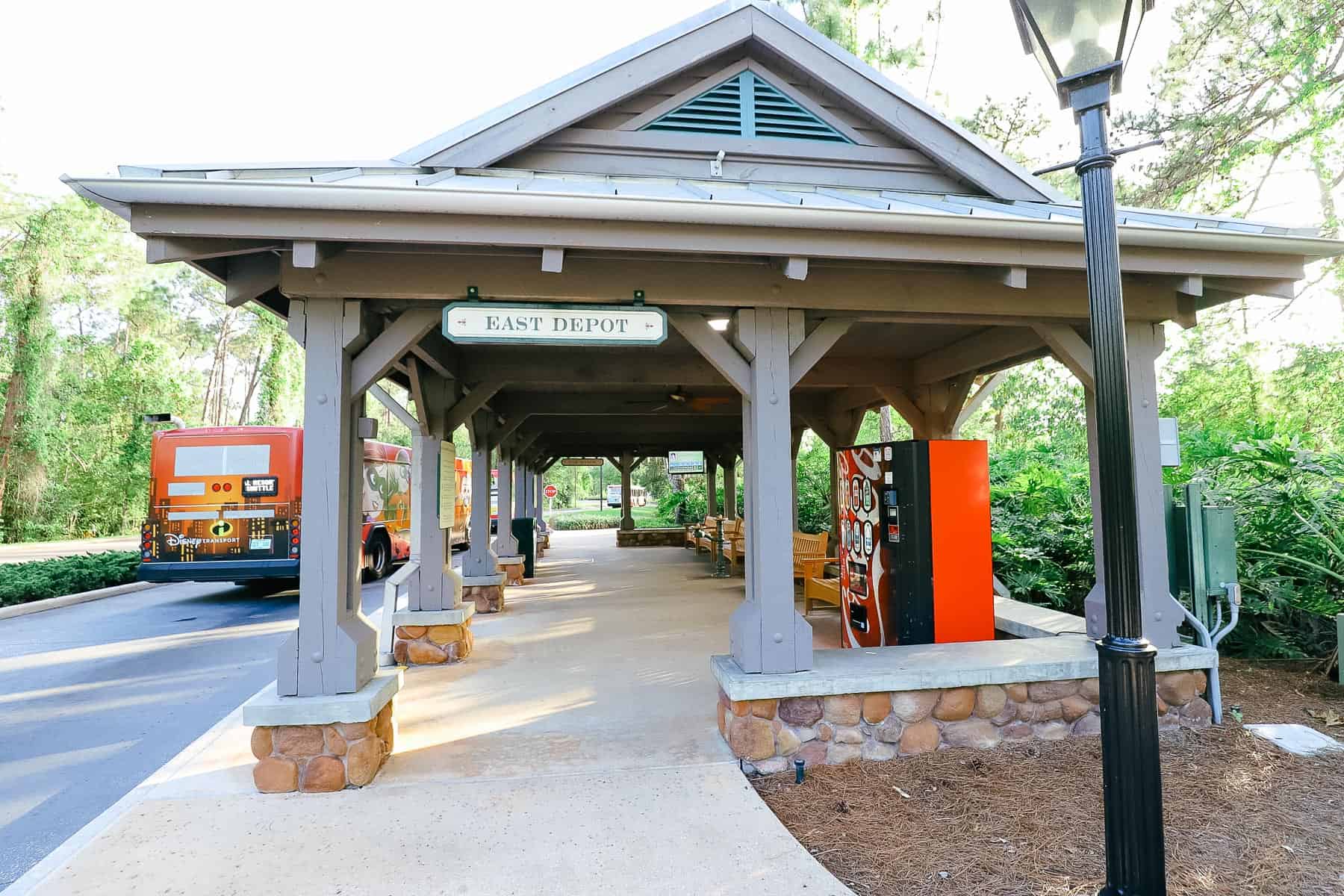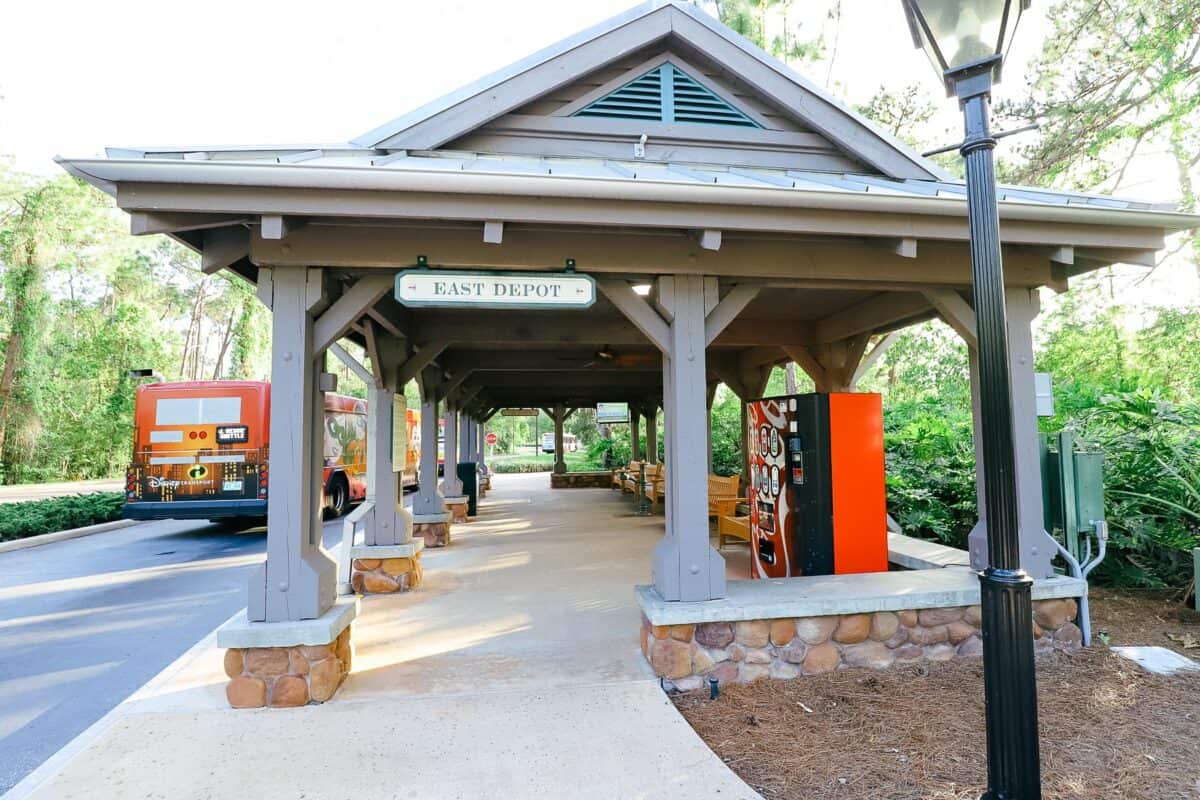 Extras at Port Orleans Riverside
So far, we've covered some ground in this Port Orleans Riverside Review. However, I felt a few odds and ends were missing.
One of those things is the resort's lobby, the Sassagoula Steamboat Co. building.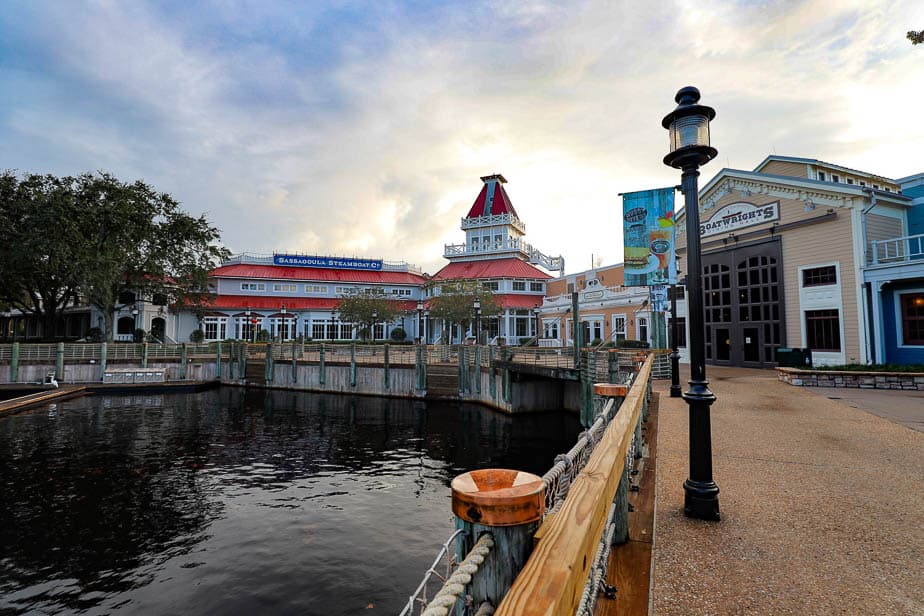 Inside you'll find all of the main amenities at the resort. This building is home to the arcade, counter service restaurant, table service restaurant, gift shop, lounge, and check-in area.
The check-in area is in a large room with plenty of seating. Most of us bypass check-in these days with Disney's text-to-room service. However, they had issues when we checked in for this stay, so a long line formed.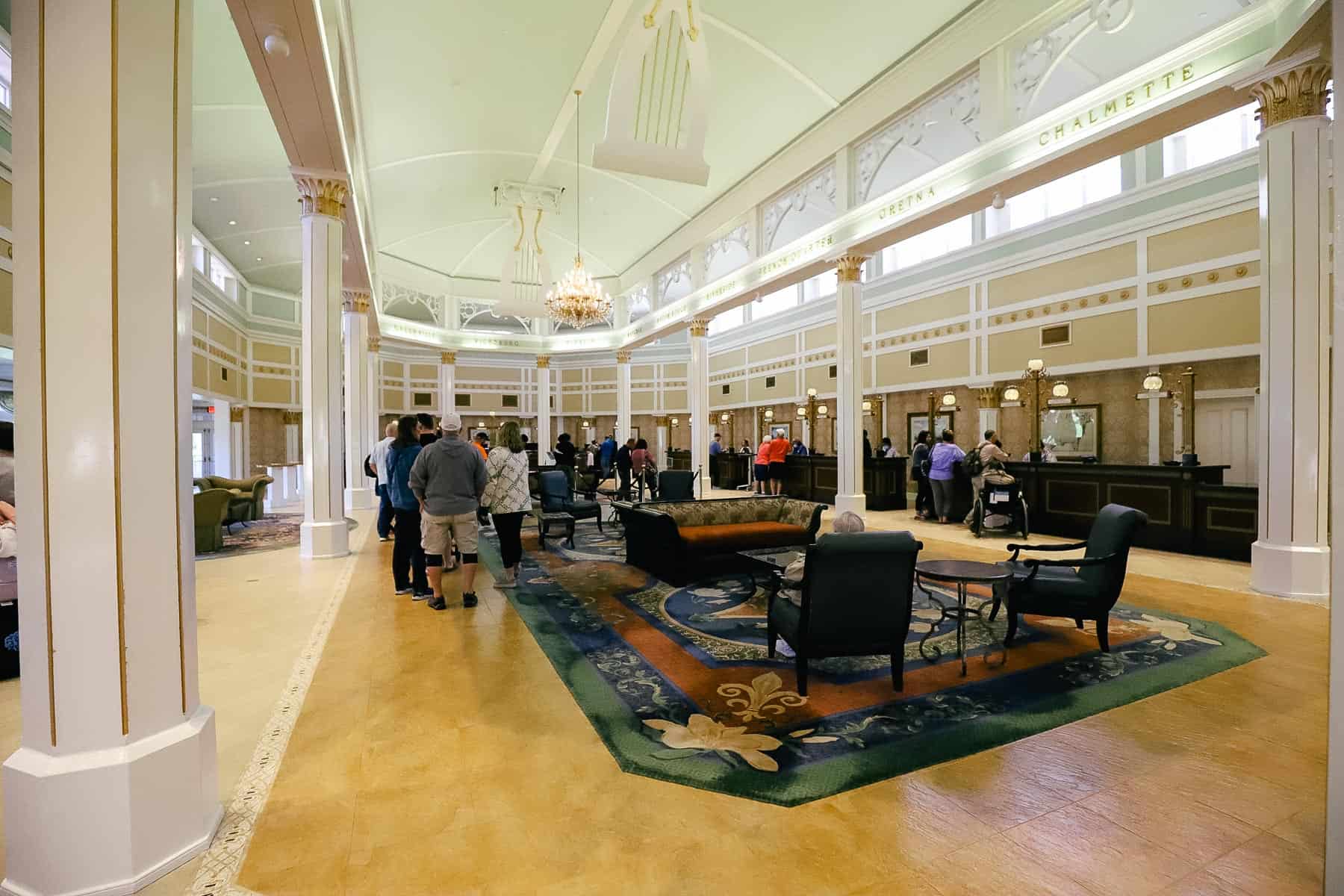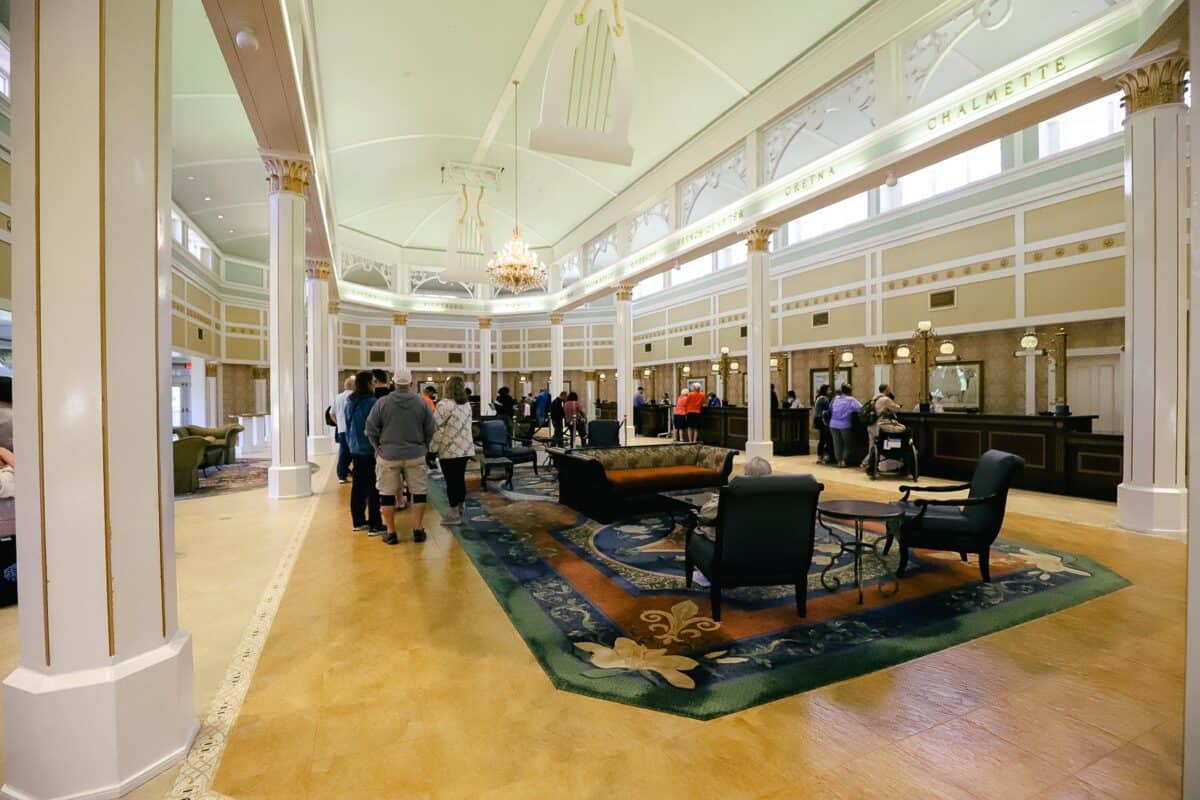 Fulton's General Store, the resort's gift shop, is one of the largest on property! We recently provided a new photo tour of the gift shop if you want to see photos of the merchandise, grocery items, and sundries available during our visit.
Related: Fulton's General Store at Riverside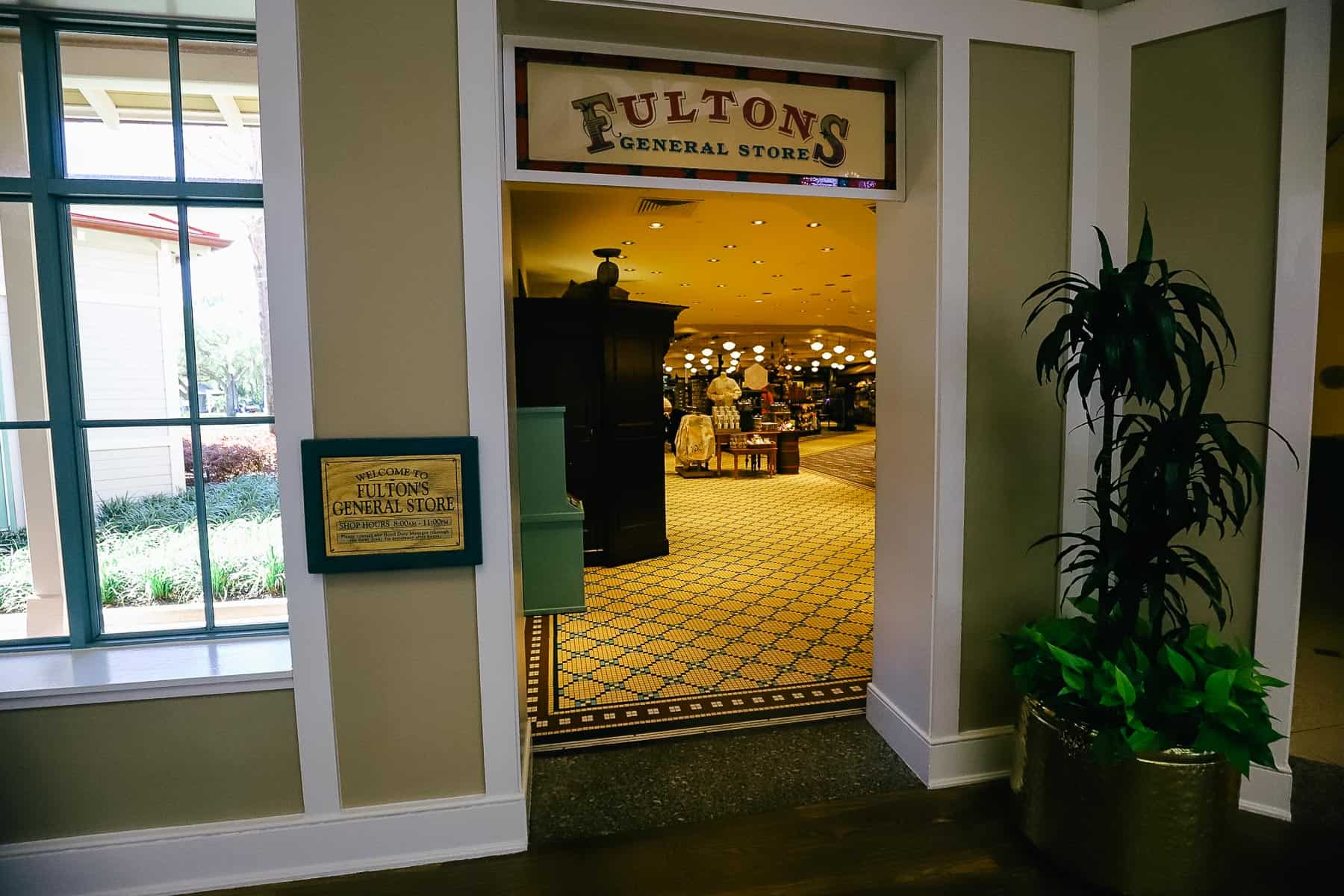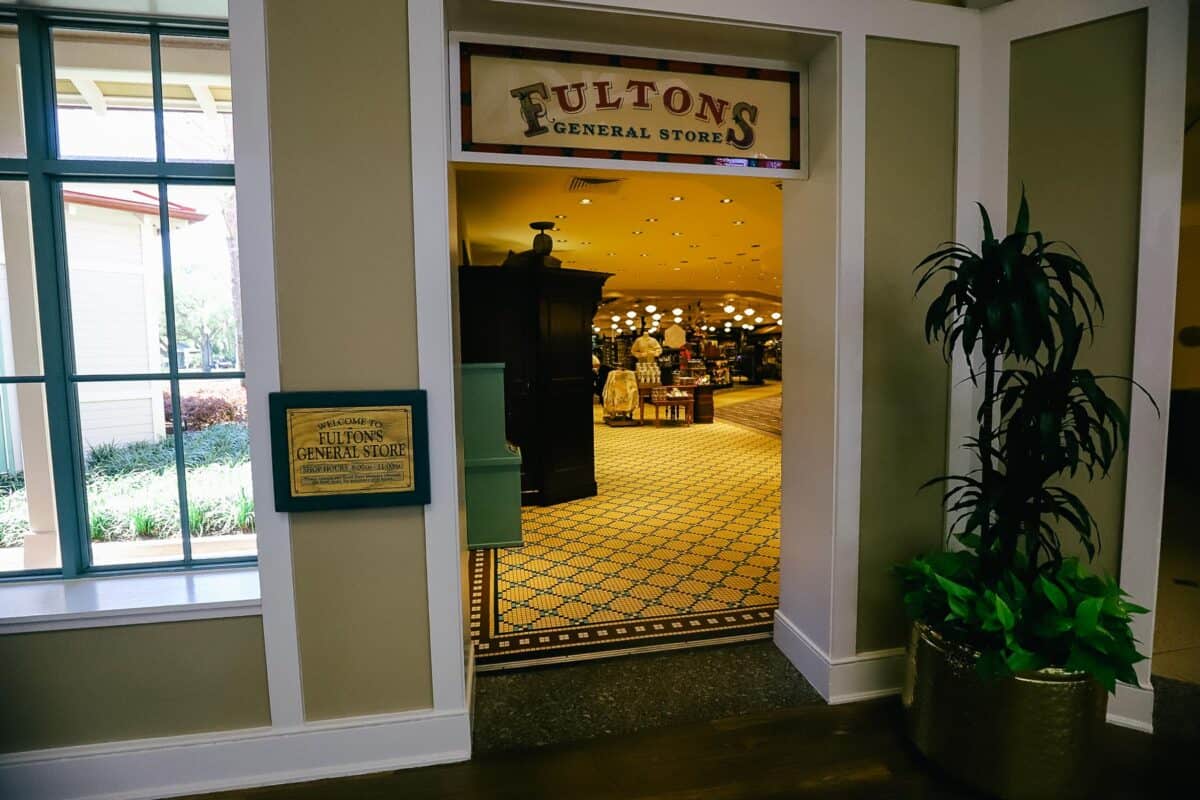 Laundry facilities are available at each of the resort's quiet pools.
Related: Laundry at Port Orleans Riverside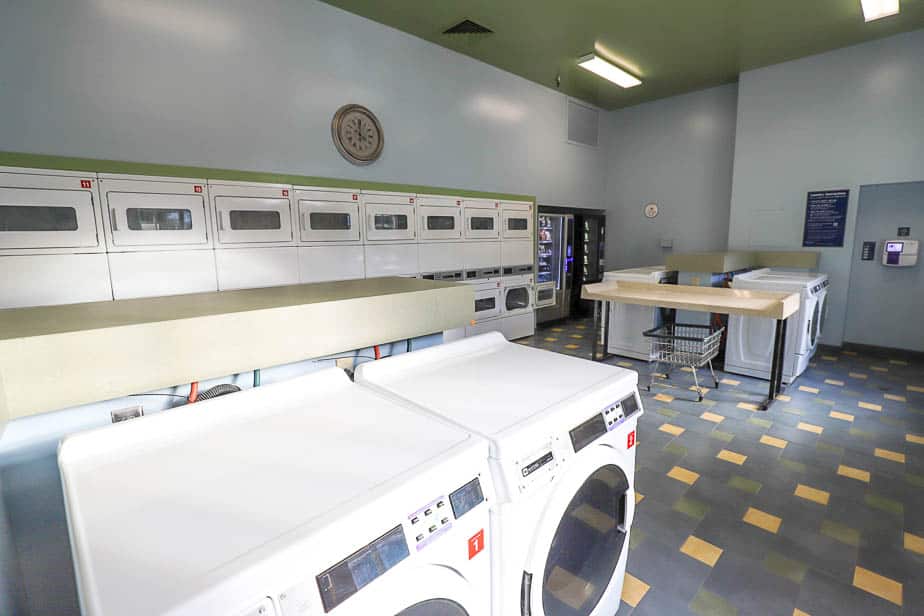 Pros and Cons of Staying at Port Orleans Riverside
Overall, Port Orleans Riverside is a lovely resort with two varying landscapes. While I think that most will enjoy a stay here, there are a few pros and cons you'll want to consider.
The fact that Port Orleans Riverside is such a large resort is a positive for some and a negative for others. Due to the resort's size, there is more to explore and tons of recreation.
However, the resort's size contributes to the need for an internal bus system. For example, if you're leaving for Magic Kingdom first thing in the morning from the main bus stop, the bus will make three more stops before leaving the resort.
So this is something I would resolve to deal with upfront. If you set unrealistic expectations that the bus service will get you to and from the parks swiftly, you'll end up frustrated or, worse, angry.
Additionally, you might have a long walk back to your room. So make sure to consider this when planning. You might prefer the boutique size of the French Quarter over Riverside because of the resort's smaller footprint.
Related: Port Orleans French Quarter vs. Port Orleans Riverside
As we discussed, Riverside doesn't have a ton of dining options. However, this is not a huge deal if you're willing to take the boat to Disney Springs for several meals during your stay.
Also, Riverside is one of the few resorts that offer a 5th sleeper for an extra guest. So the price alone for the additional guest accommodation could be the thing that tips the scale toward a stay here.
Don't forget that if you receive a second-floor room assignment in Alligator Bayou, you'll have to take the stairs. Of course, you can always request bell services to deliver your luggage to the room.
Final Thoughts
Overall, Disney's Port Orleans Riverside is a tremendous resort that offers a retreat from the busyness of the Disney Parks. Its grounds are romantic, and the location along the scenic river is charming.
For many, the variety of landscapes offered at the resort is appealing. Unfortunately, others may find the resort overwhelming due to its size.
Overall, this resort might be perfect if you want something different from your typical hotel or need that extra bed! We were pleasantly surprised about this last stay.
For more information, we have a complete guide for the resort:
If you've read this entire review of Port Orleans Riverside and you're still unsure, you might consider a few other resorts:
Or you can browse our entire list of Disney World Resort Reviews.
In the comments:
Have you stayed at this resort before? Did this review of Port Orleans Riverside answer your questions about planning a stay here?
Planning a Walt Disney World or other Disney Destination vacation?
Our friends and travel partner, Firefly Travels, excels at doing Disney differently. You can fill out a plan your trip form on their website, and someone will reach out shortly to discuss the specifics.