Disney's Port Orleans Riverside Restaurant Guide
This article provides an overview of the restaurants at Disney's Port Orleans Riverside Resort. We'll discuss each location in detail and offer tips for dining at the resort or nearby.
If you have an upcoming visit planned or are considering a stay at Disney's Port Orleans Riverside, you might wonder what dining options are available at the resort. Yes, Mickey waffles are available for breakfast.
But you might feel a carb overload by day three or four and want something different. So you can walk down to the French Quarter and trade those waffles for Mickey-shaped beignets. (I'm kidding, kinda.)
In all seriousness, Port Orleans Riverside has several dining options. Between the resort's quick service food court, lounge, pool bar, and table service dining option, there's usually something for everyone.
Below, we'll look at these resort restaurants and a few items we've tried to date. Additionally, we'll go over how to get those beignets and the convenience of taking a water taxi from the resort to Disney Springs for dining.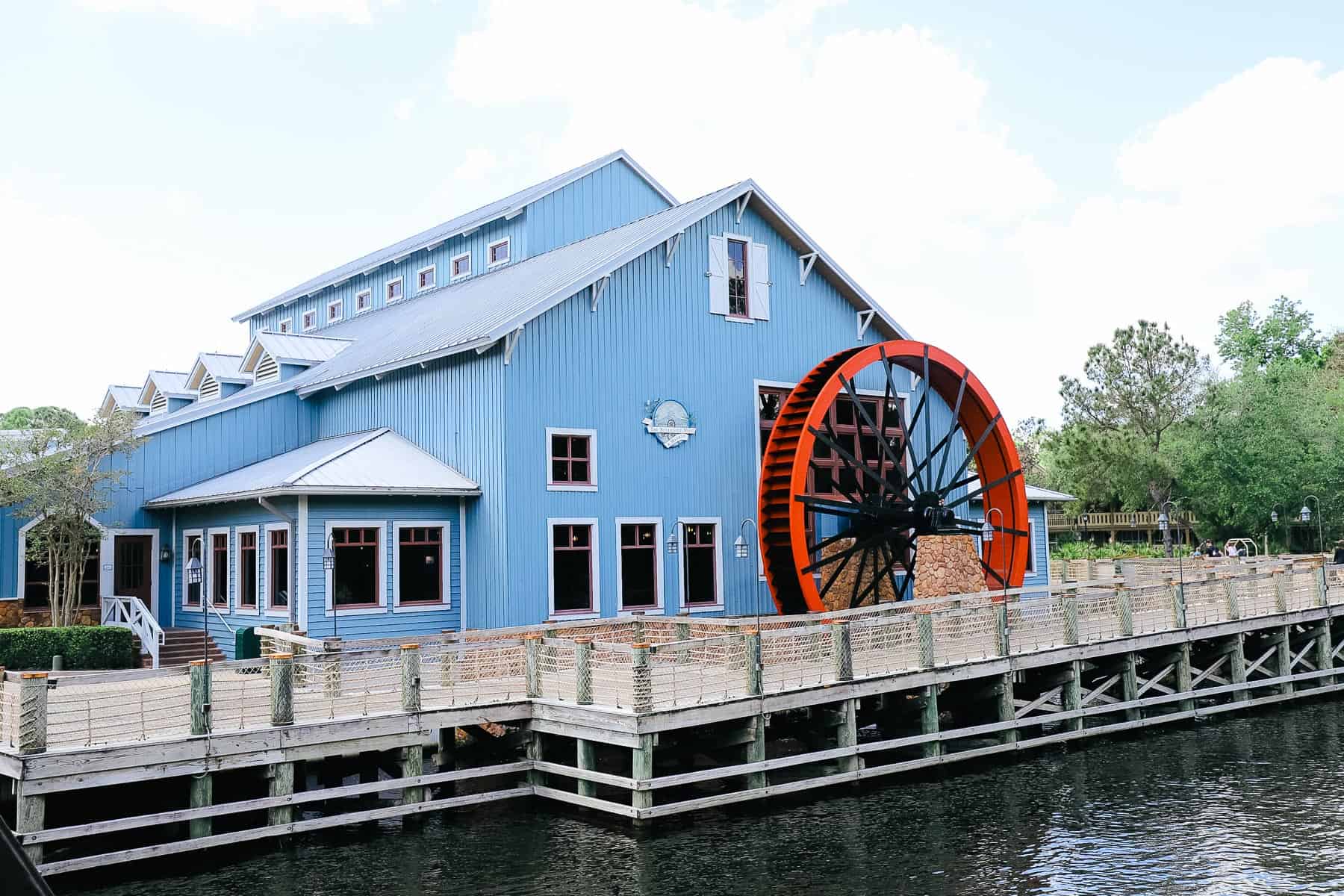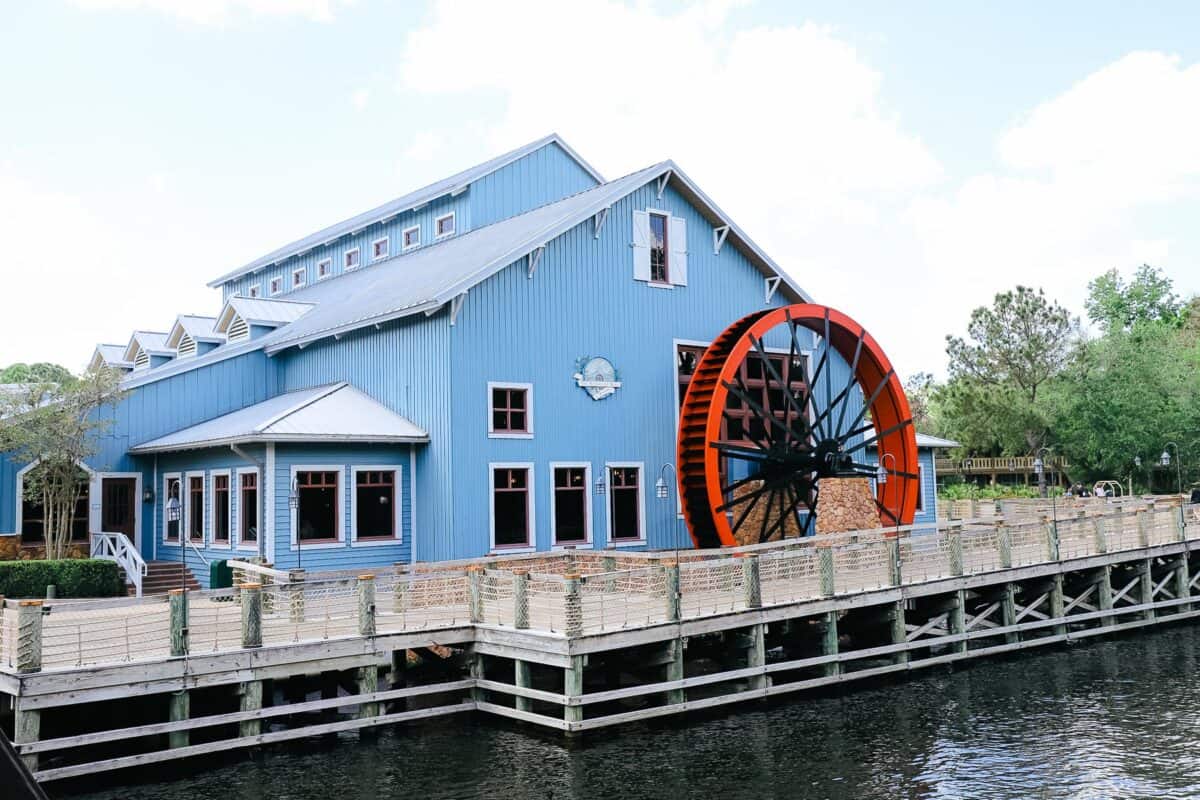 Restaurants at Disney's Port Orleans Riverside
Here is a list of the restaurants at Disney's Port Orleans Riverside Resort:
Riverside Mill Food Court (Quick Service)
River Roost (Lounge)
Muddy Rivers (Pool Bar)
Boatwright's Dining Hall (Table Service)
Port Orleans Riverside is one of the larger moderate resorts at Disney World. However, considering the resort's size, it doesn't have nearly the number of dining options as one might expect.
Thankfully, Riverside is within walking distance of Disney's Port Orleans French Quarter, where a few more dining options are available.
Additionally, both Port Orleans Resorts offer boat service to Disney Springs. So there will be a tremendous number of dining options only a short boat ride away.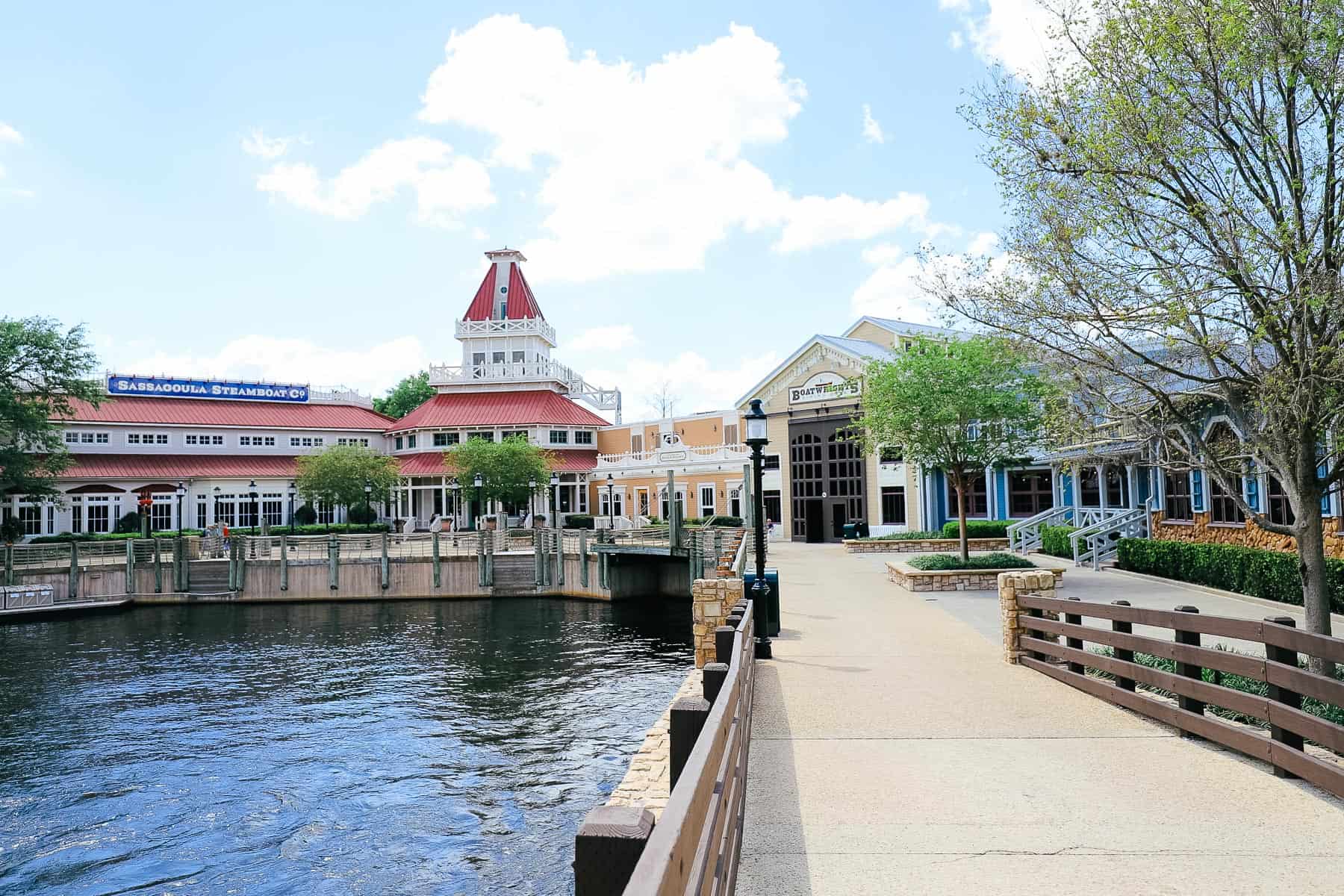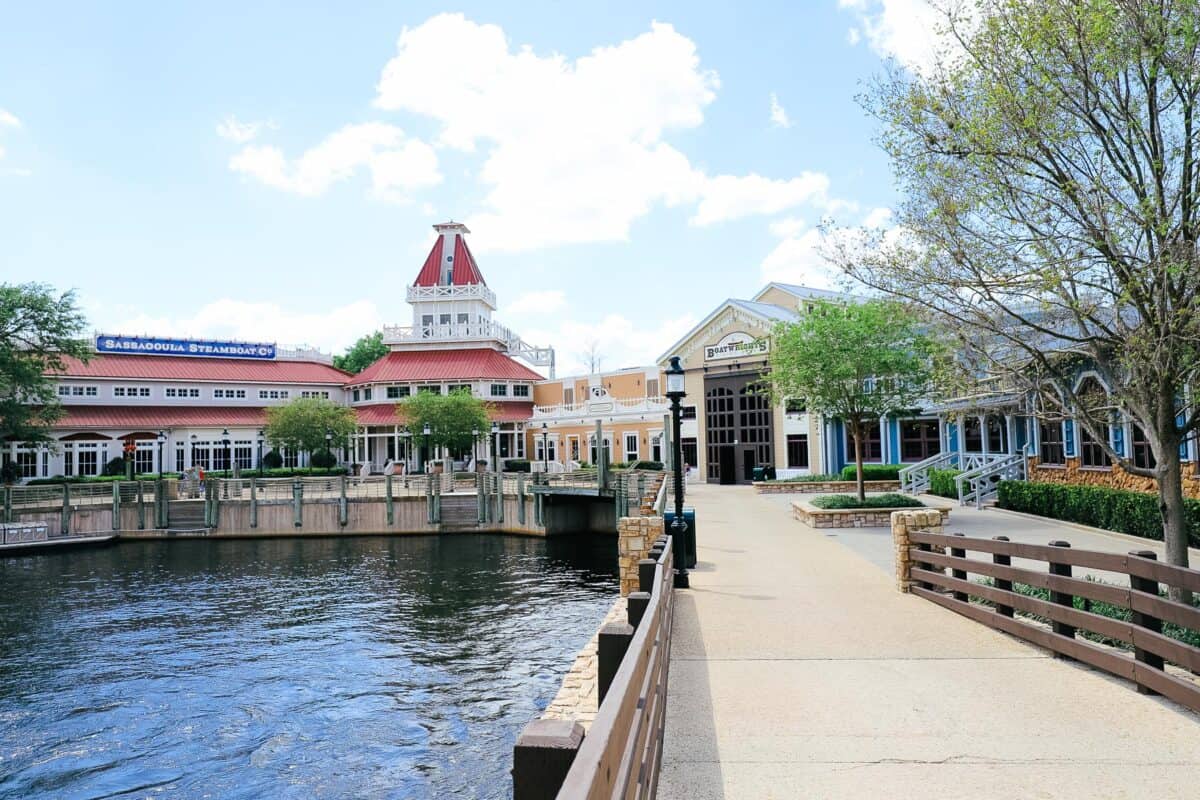 Riverside Mill Food Court
Riverside Mill is the primary quick-service dining location at Port Orleans Riverside. They are open daily from 7:00 a.m. until 11:00 p.m. They serve breakfast, lunch, and dinner.
Riverside Mill Food Court is down a hall off the resort's main lobby. If you're coming from the resort side, you'll run into a separate exterior entrance close to the water wheel.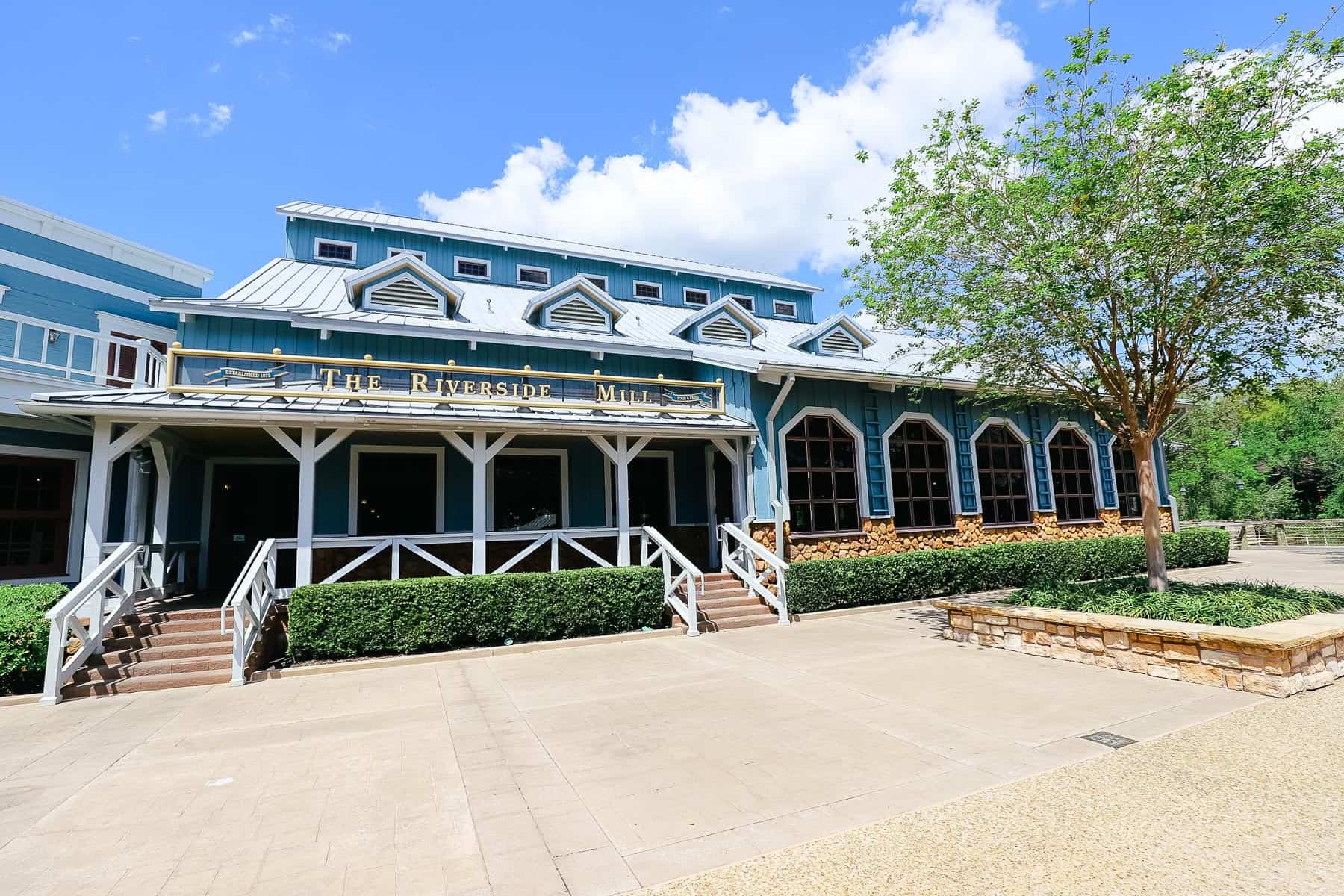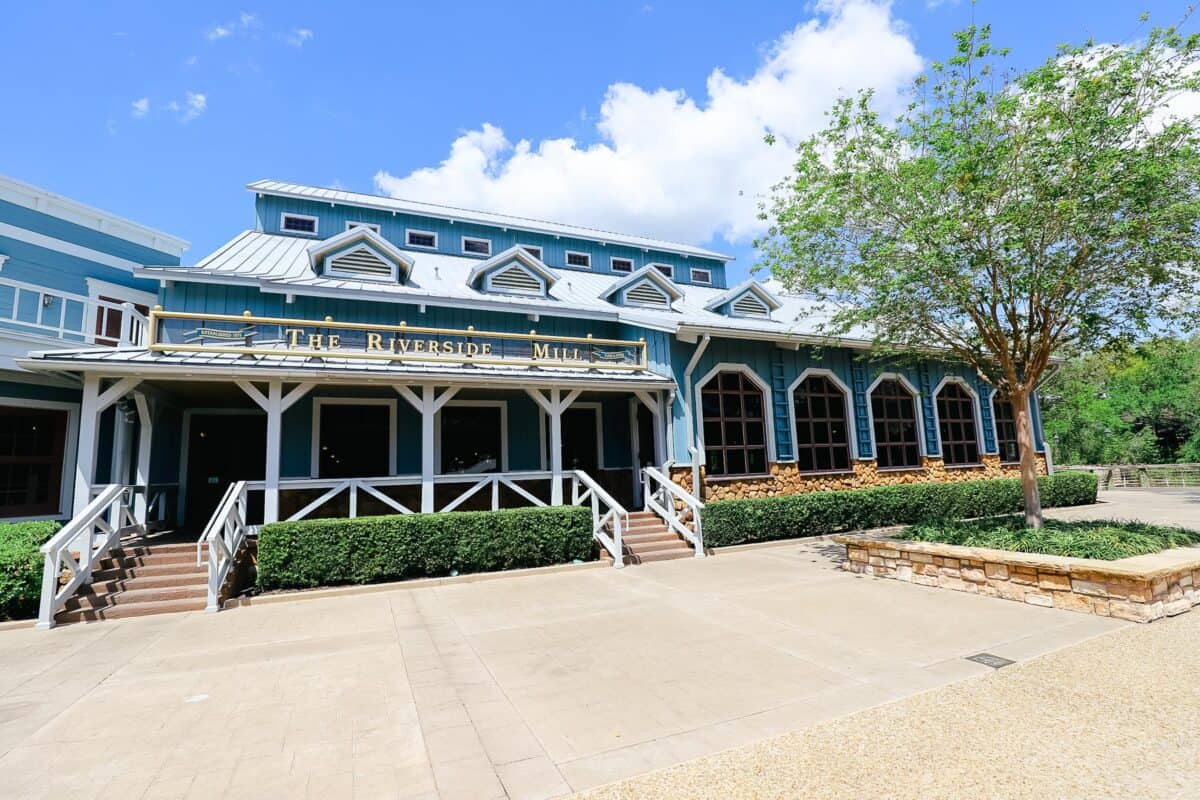 Riverside Mill is designed to mimic an old-fashioned Southern mill paying tribute to the era when steamboats sailed the Mississippi River. A large cotton press runs through the center of the food court's ceiling. Outside, a massive water wheel churns along.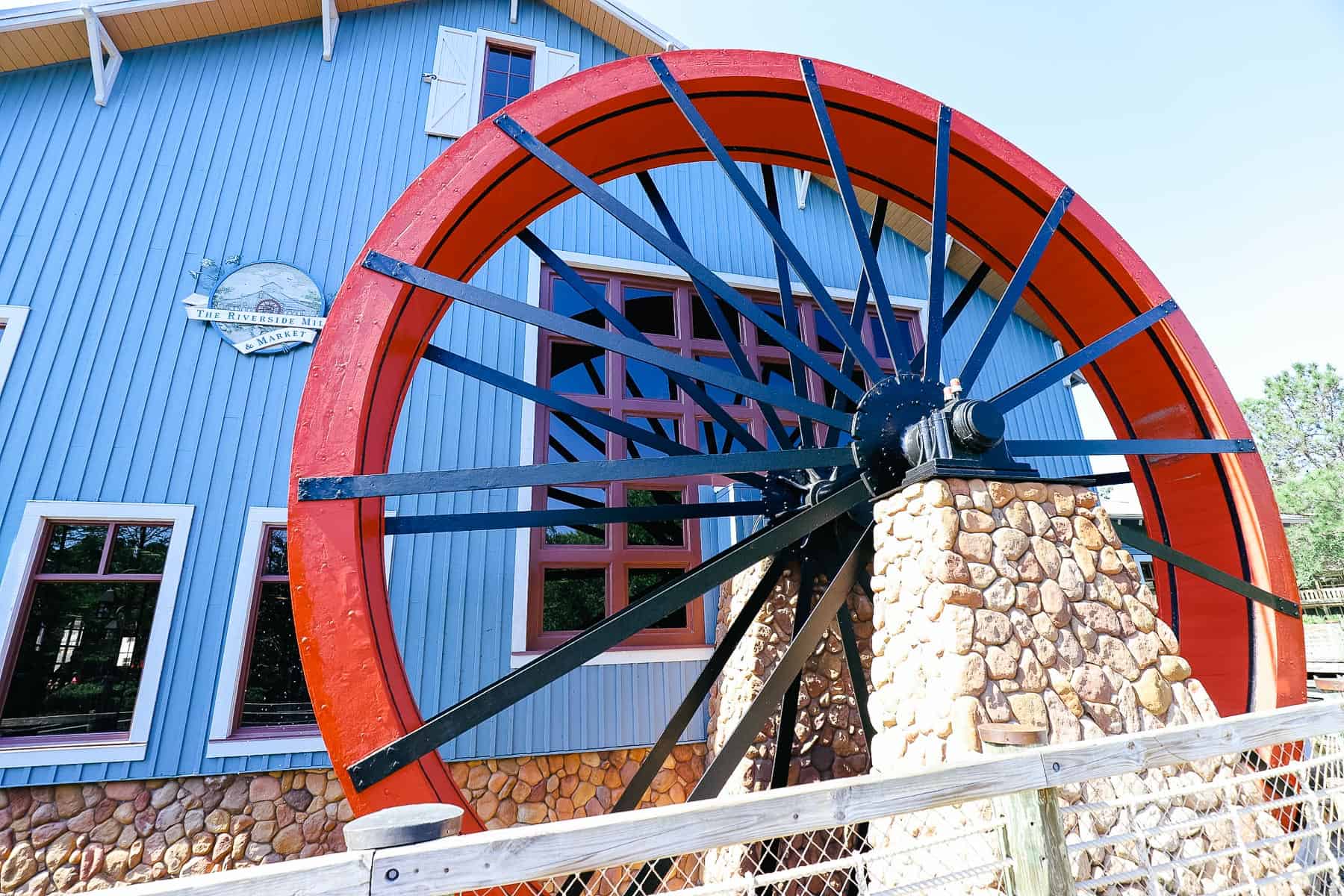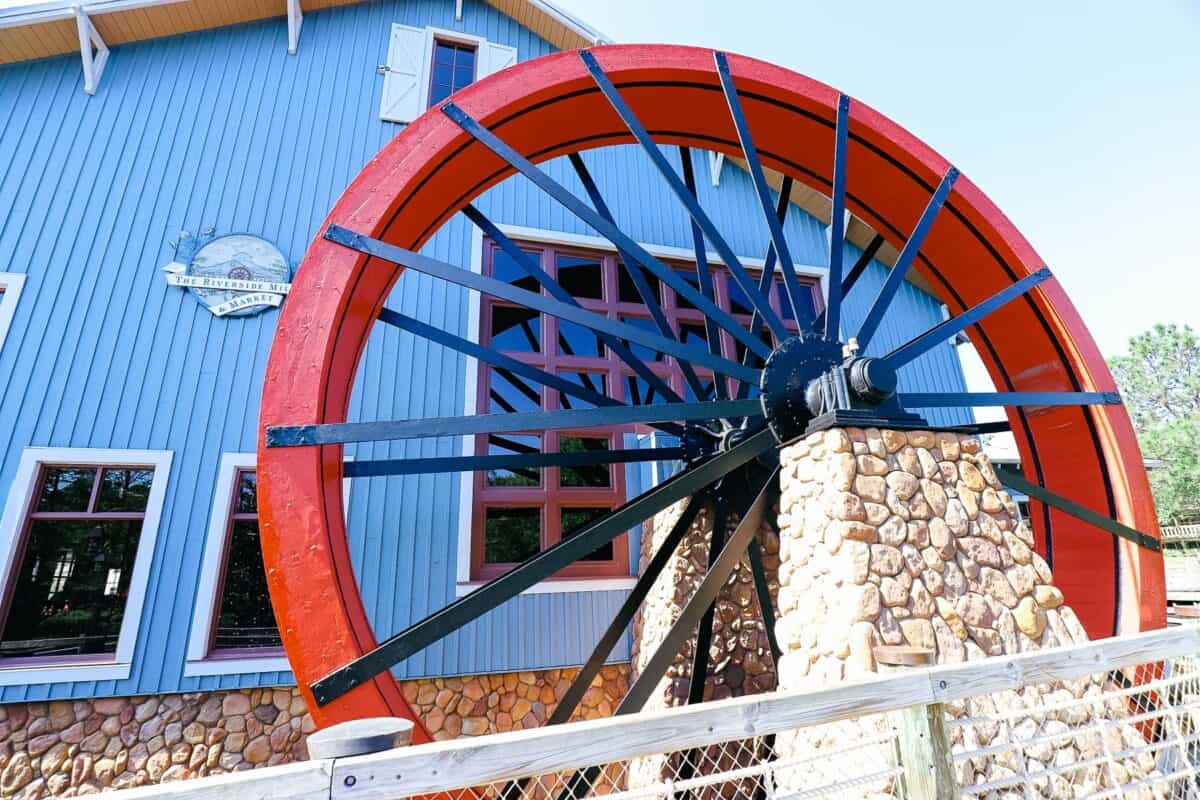 In addition to those Mickey-shaped waffles, Riverside Mill Food Court has a few other breakfast options including:
Bounty Breakfast Platter
Bacon, Egg, and Cheese Bagel Sandwich
Ham and Cheese Omelet
Pancakes with Berry Compote
Plant-based Mickey Frittata
Overnight Oats
Kids' Meals
For lunch or dinner, the menu includes:
Jambalaya
Bayou Amber Ale Burger
House Seasoned Grilled Chicken Sandwich
Chicken Strips
Burgers and Cheeseburgers
Roasted Salmon Dinner
Honey Barbecued Pork Sandwich
Shrimp and Grits
Various Sandwiches, Pizza, Pasta, and Salads
Plant-based options
Kids' Meals
You can preview the entire menu with prices here on Disney's site.
During our last stay, I tried the shrimp and grits. This was a huge serving that I recommend sharing. You might ask for an extra plate or bowl when you pick up your order.
My only complaint about the dish was that it was a little too garlicky for my taste. But since these grits are prepared-to-order, you could ask the cook not to add so much garlic.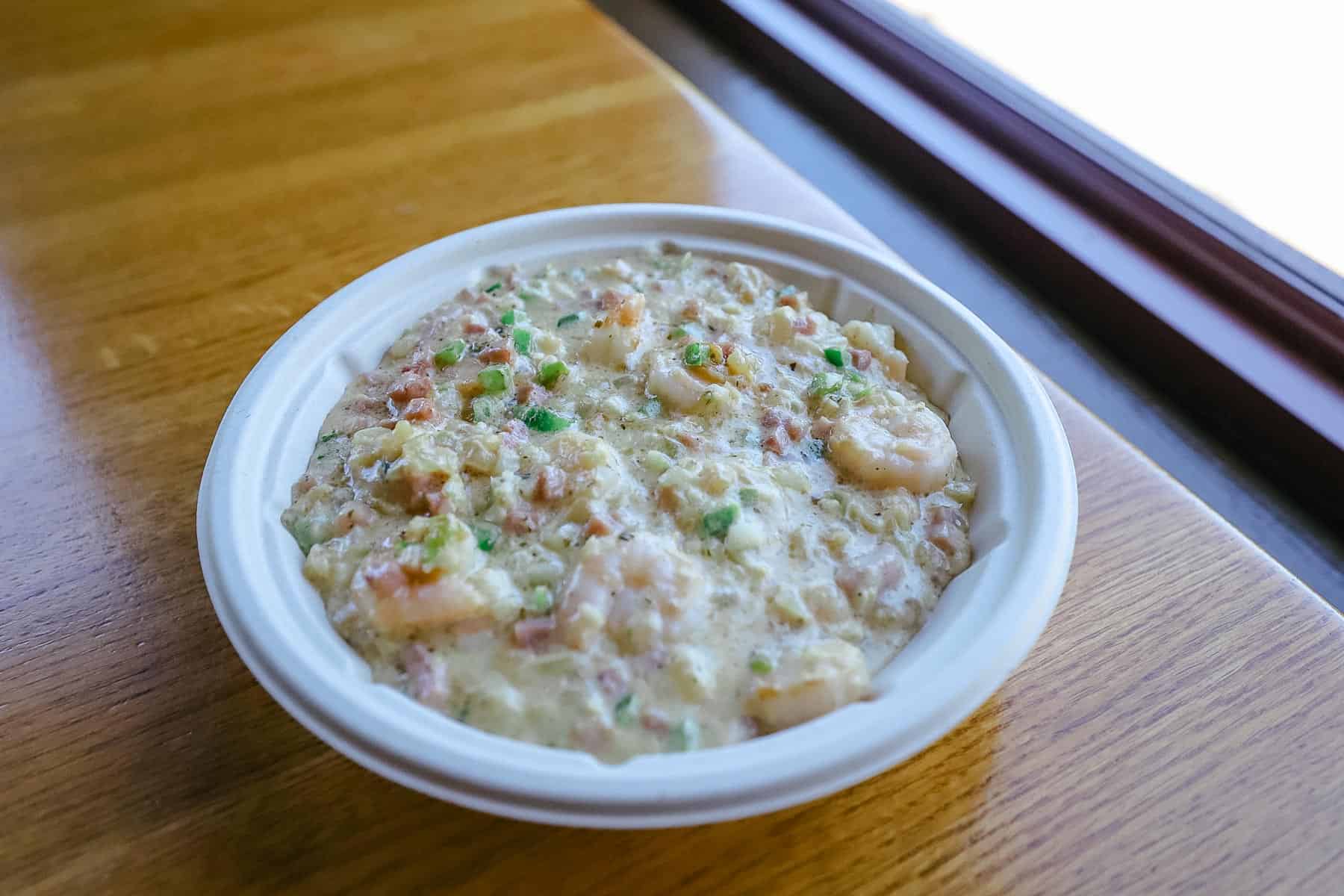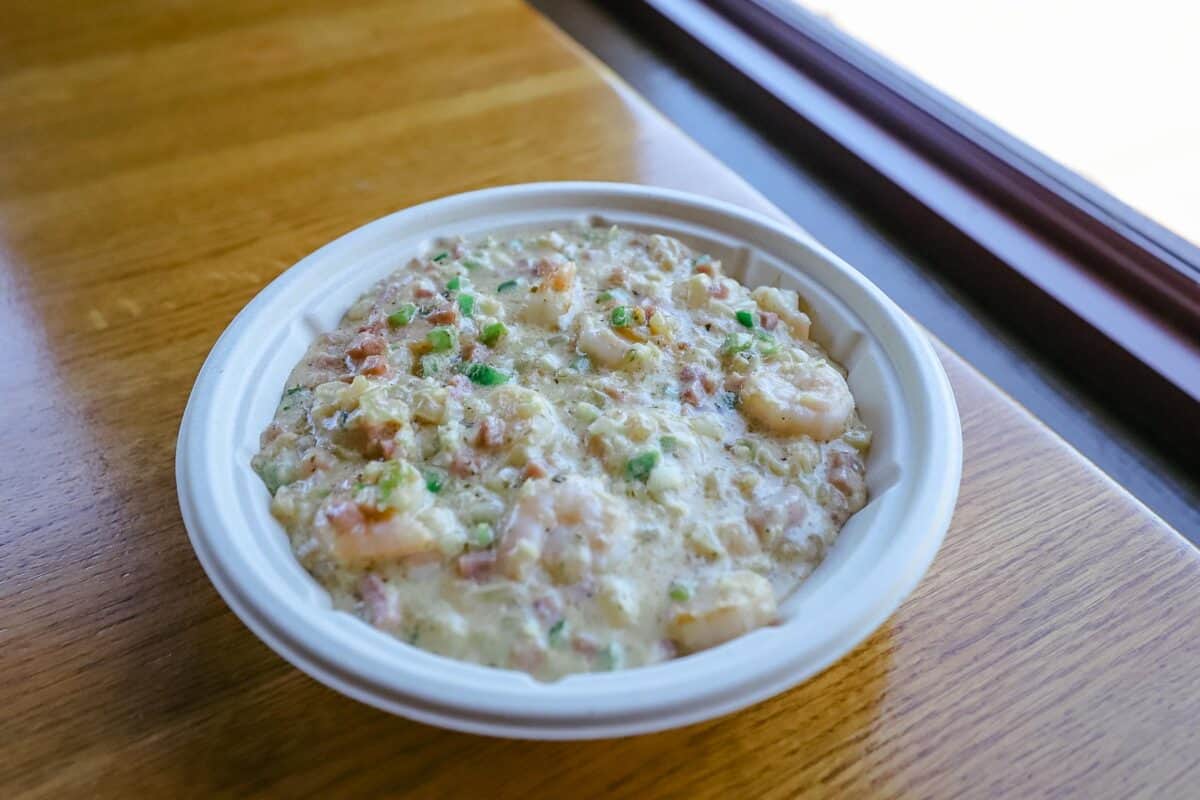 Riverside Mill also has a reasonable number of grab-and-go items. However, most grocery or pantry items can be found in the resort's gift shop, Fulton's General Store.
Resort refillable mugs are also available at Riverside's counter service. They are good at any refillable mug station at any Disney Resort for the length of your stay. At the time of this update, they are $21.99.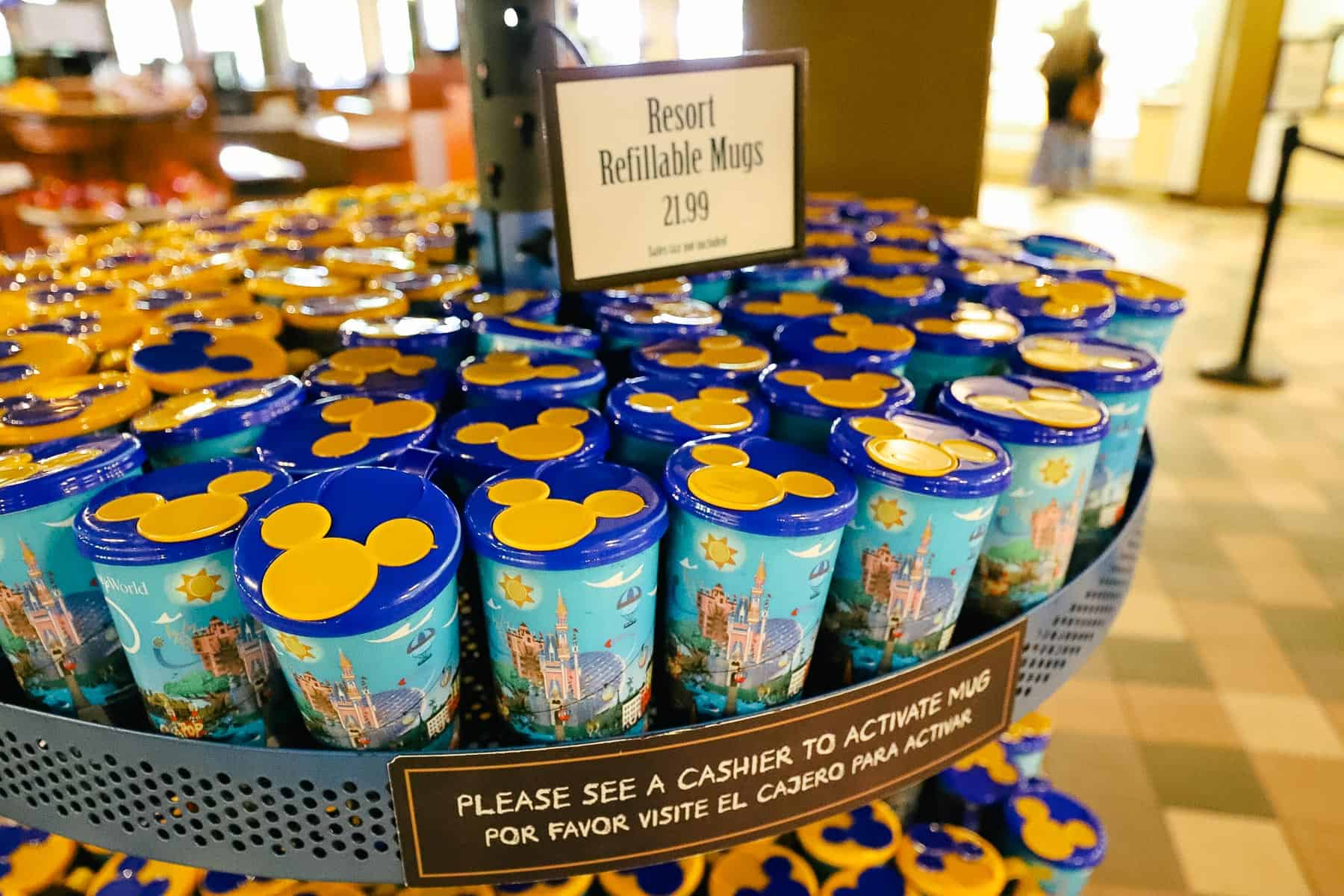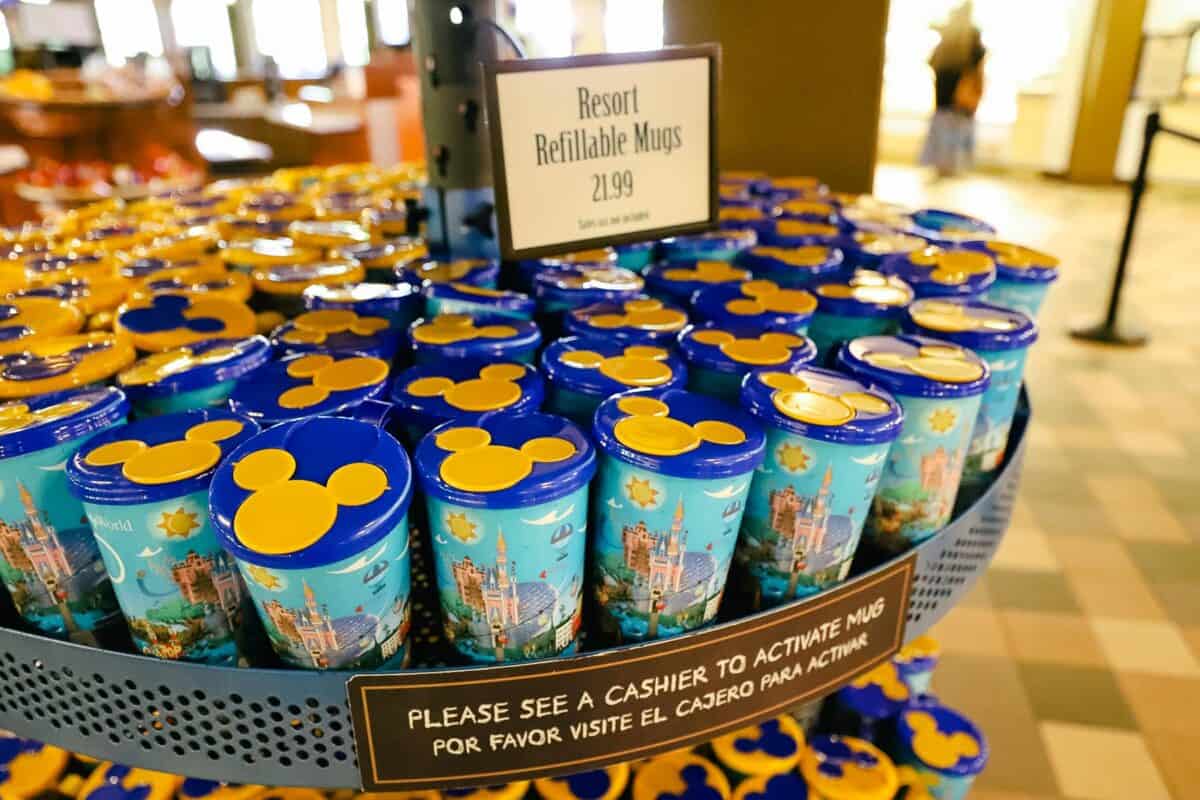 Riverside Mill Food Court has indoor and outdoor seating. If the weather is nice enough, you might enjoy a meal outdoors. The views of the surrounding Riverside Resort are stunning.
For more information about the food court, we have a separate article that provides detailed photos of all the items available on our last stay.
Related: Riverside Mill Food Court Review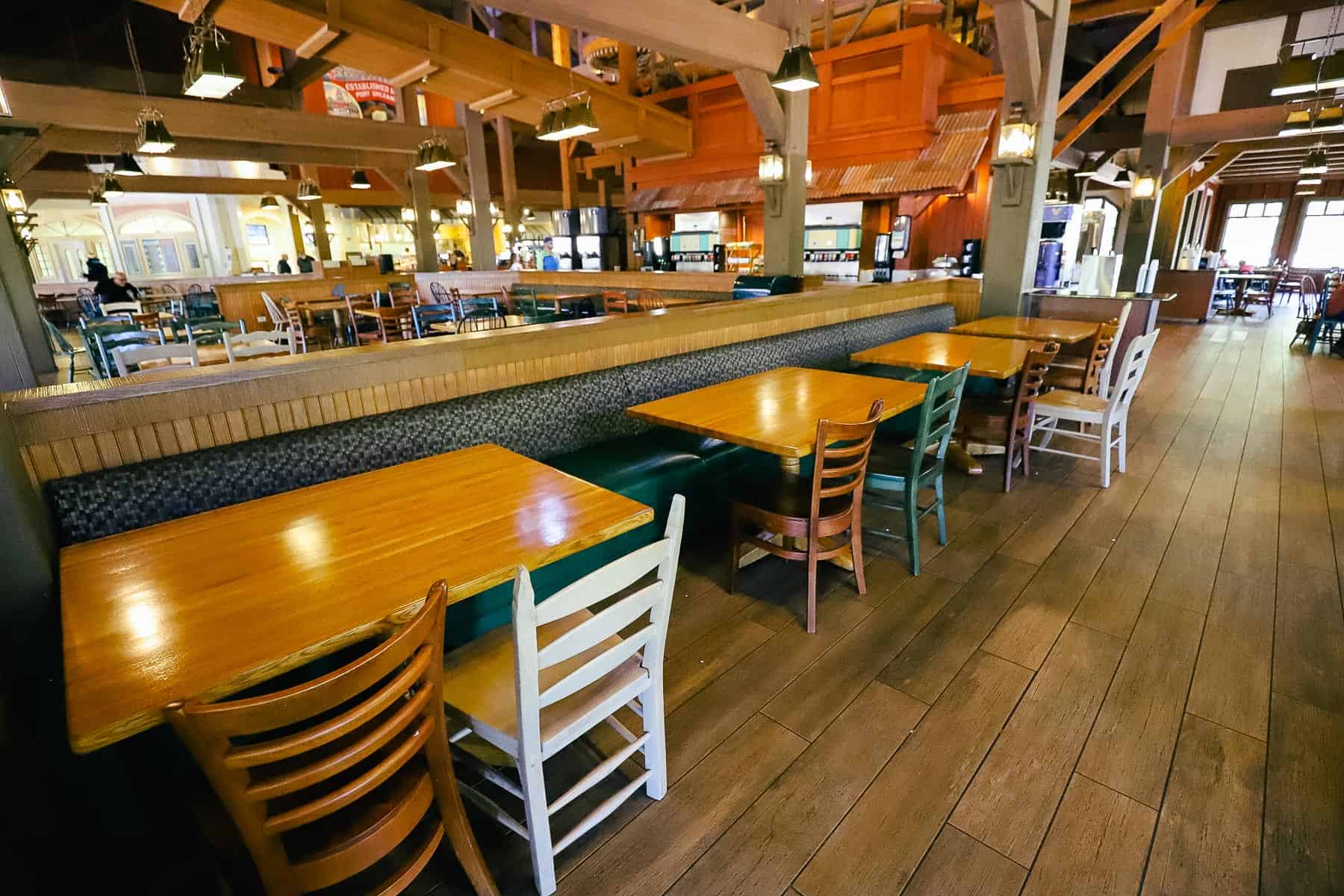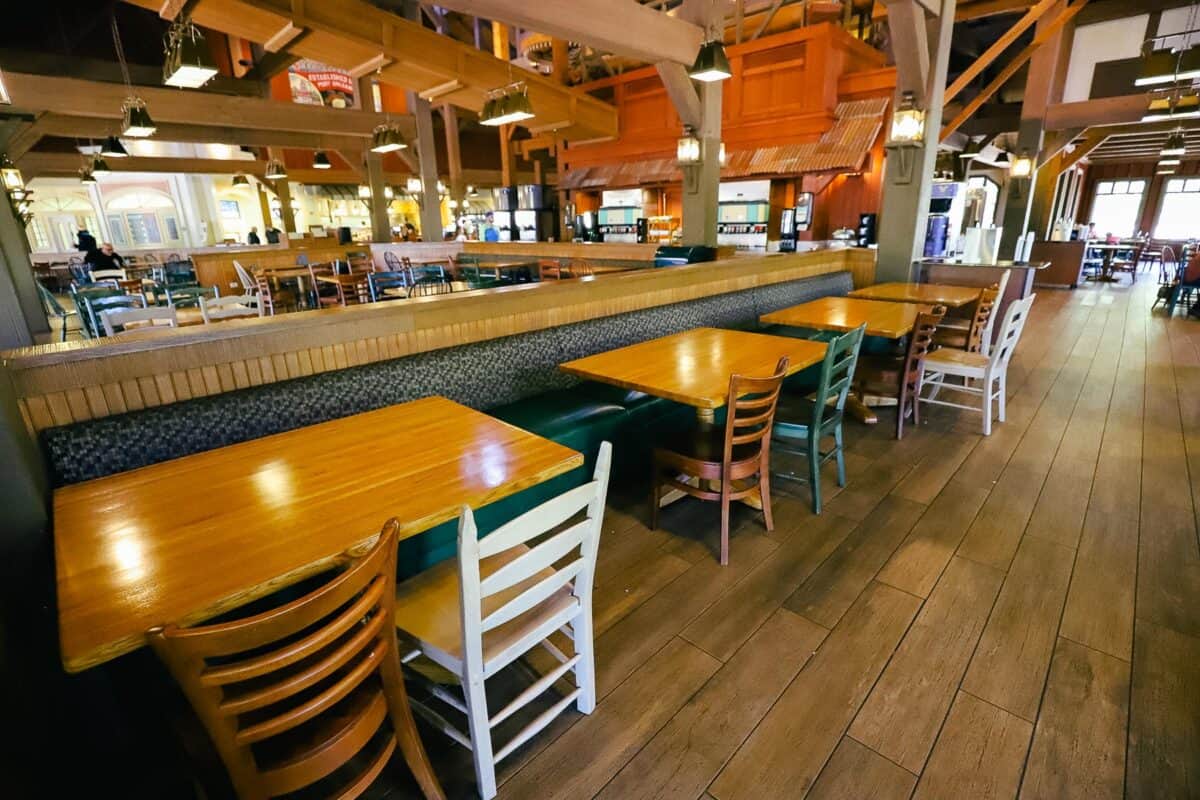 River Roost Lounge
River Roost Lounge is a cozy spot immediately off the lobby of Disney's Port Orleans Riverside Resort. River Roost is open daily from 5:00 p.m. to 12:00 a.m., and they serve a variety of appetizers, cocktails, beers, bourbons, and wines.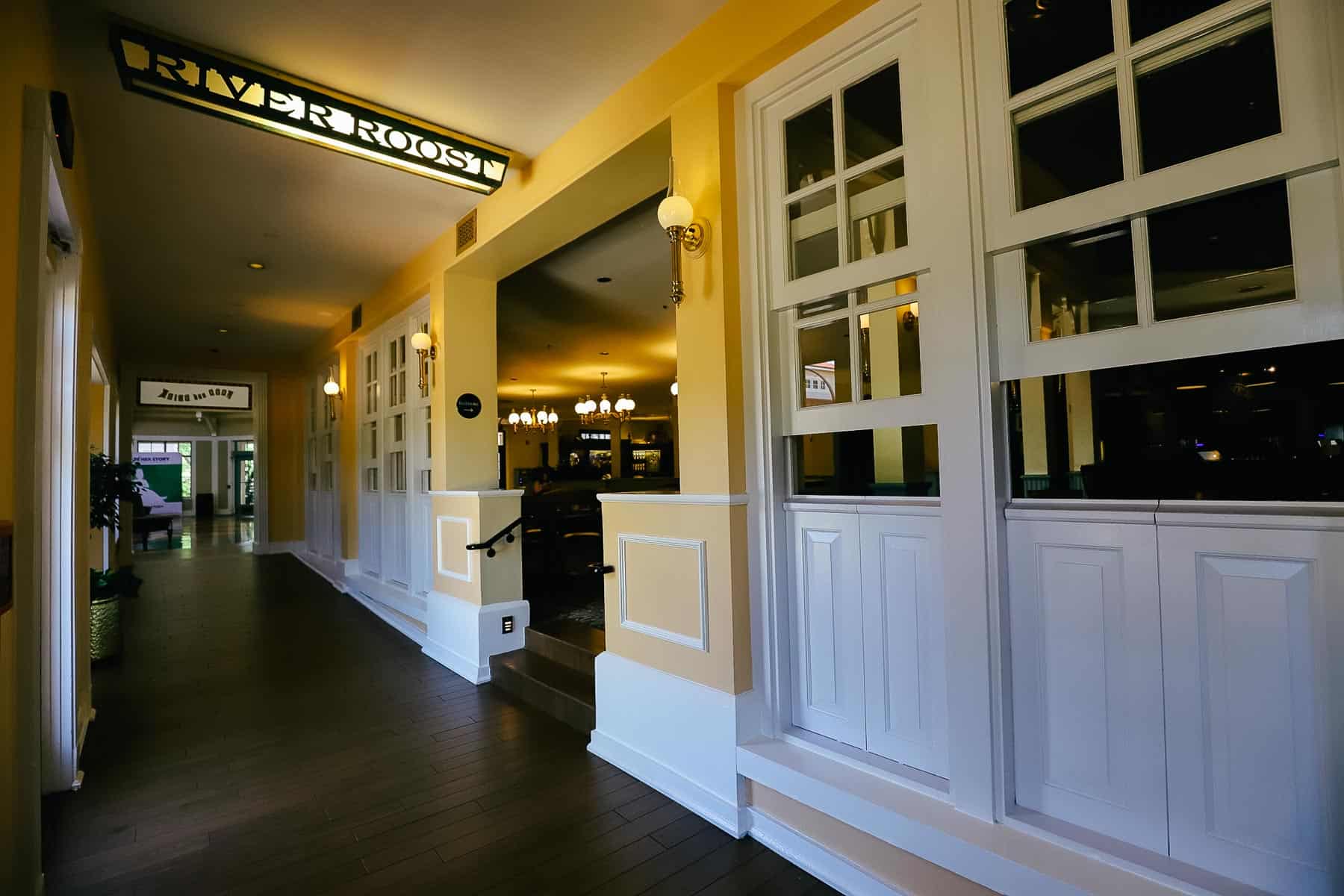 Inside, you'll find a common dining area with tables and chairs.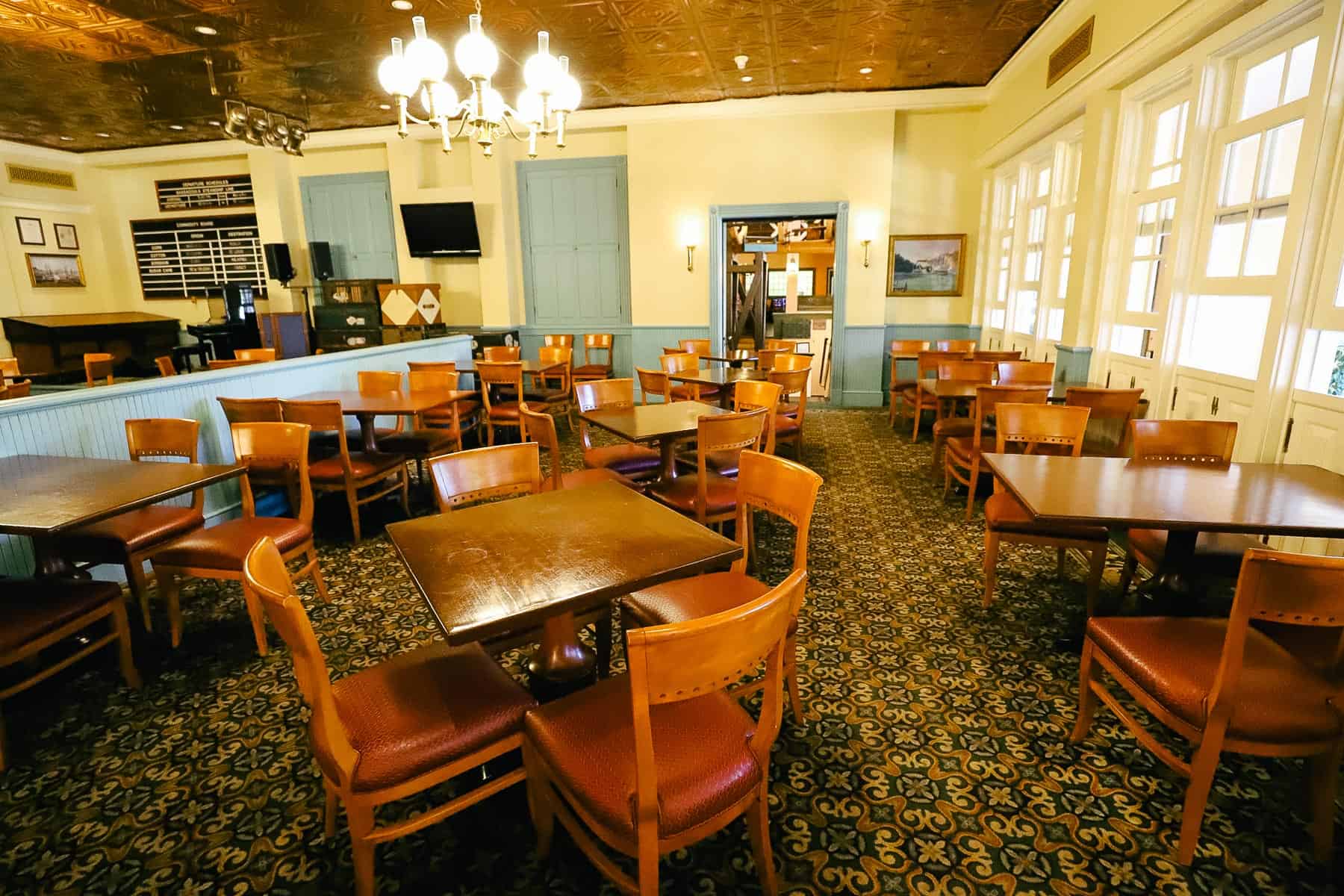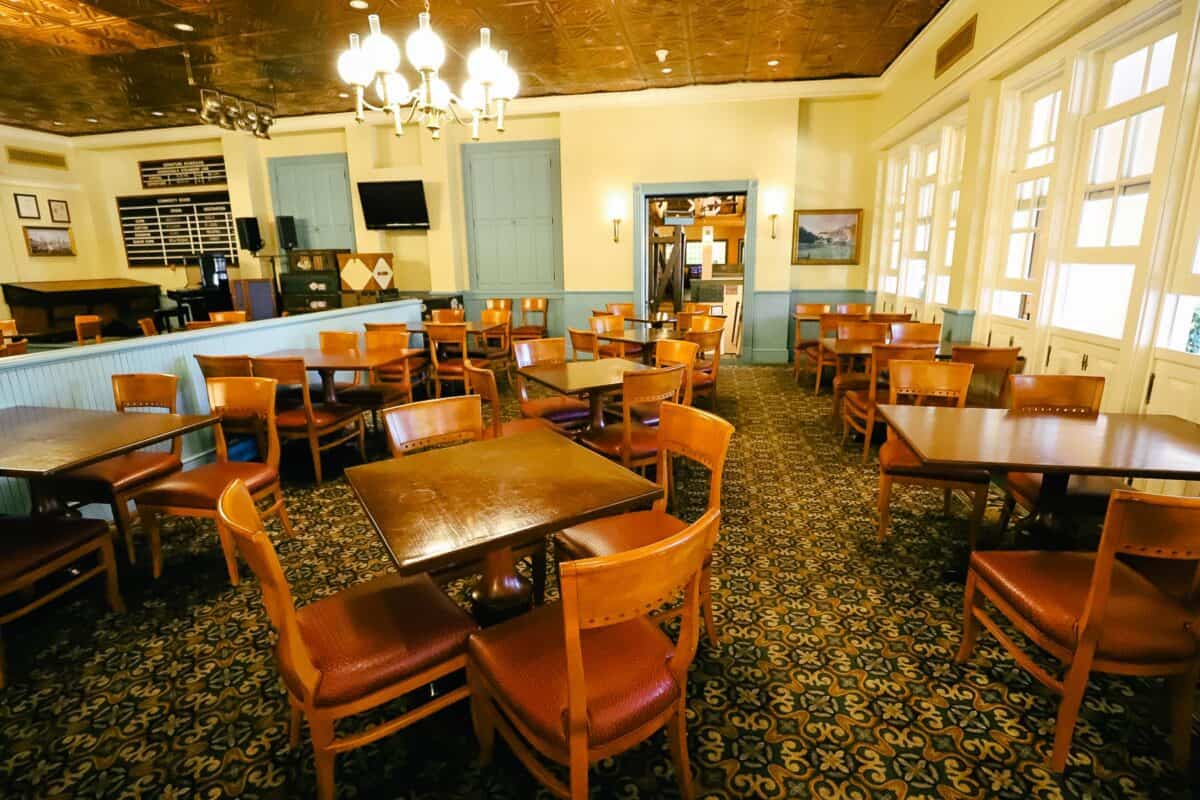 A handsome bar is also available if you prefer to sit there.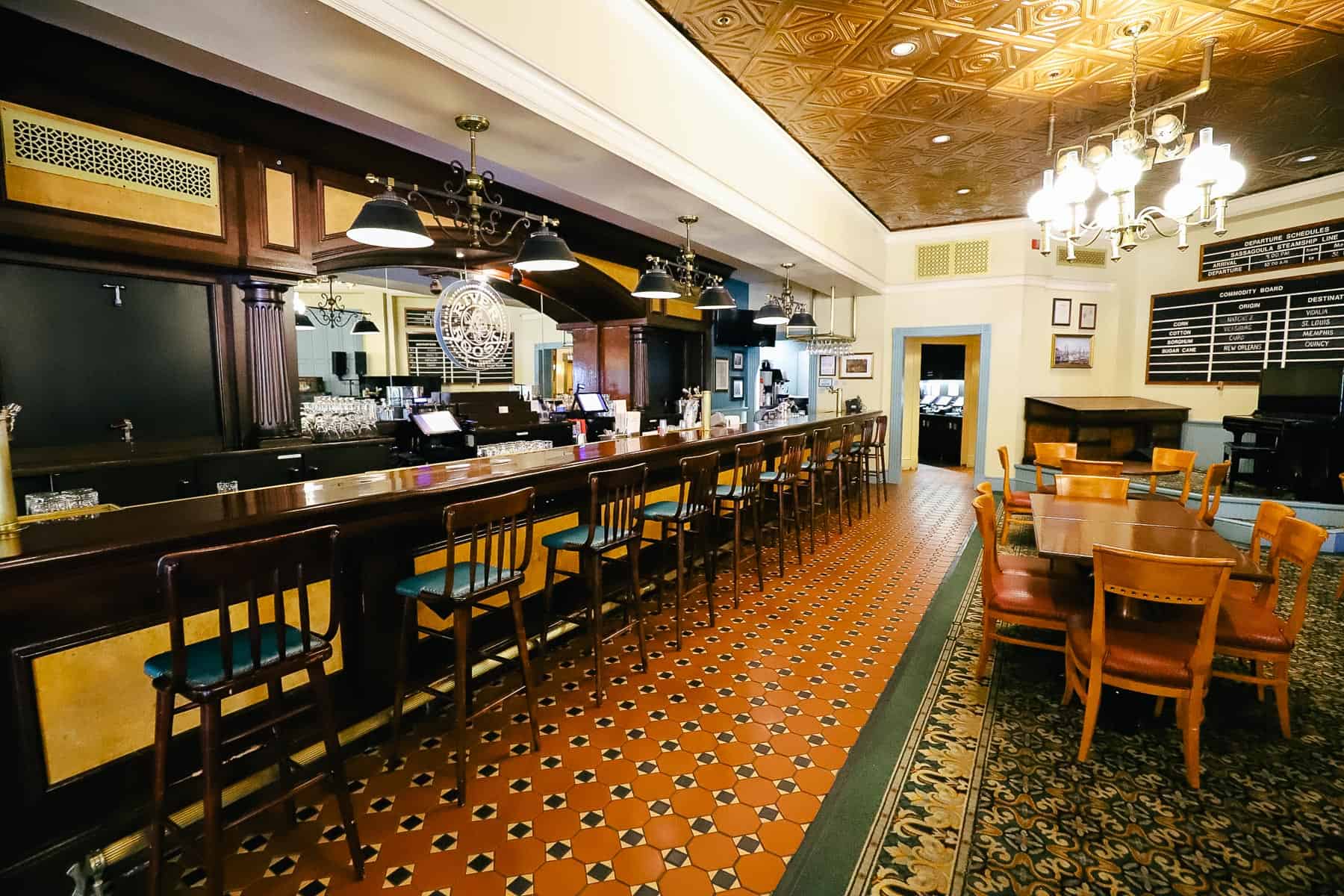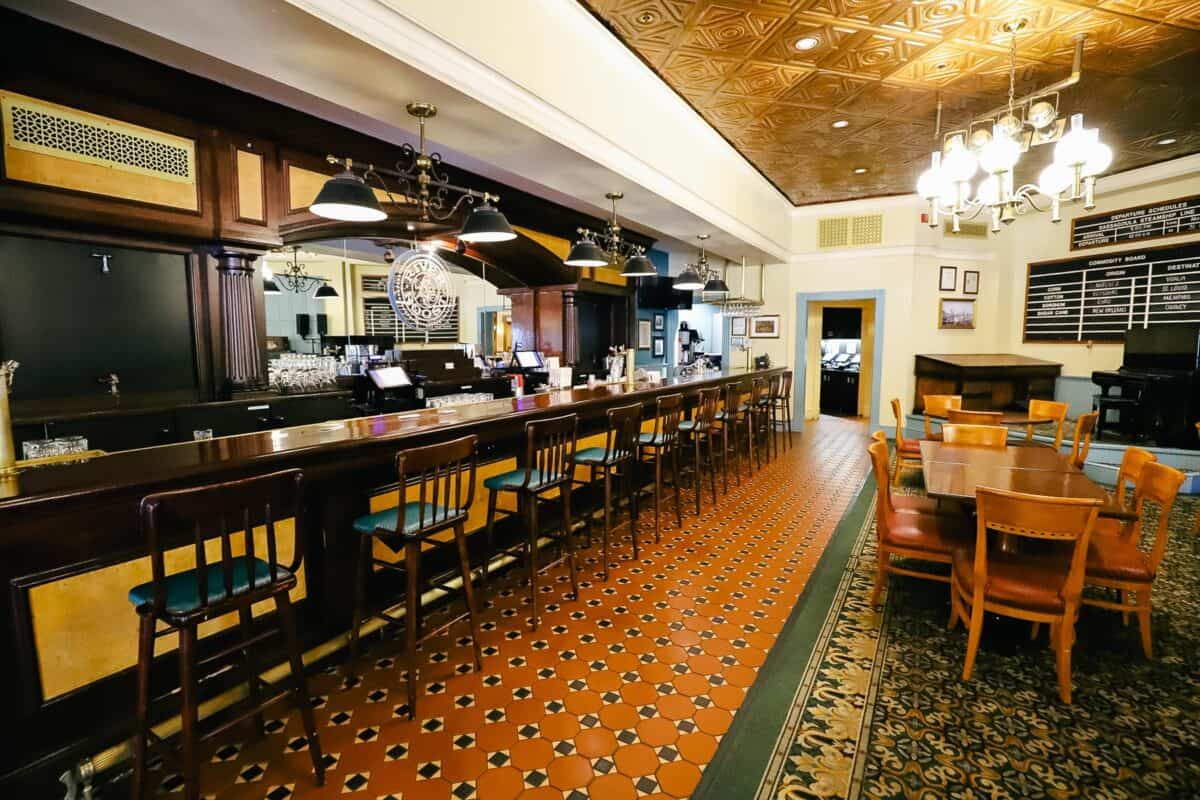 Appetizers include:
Loaded Potato Puffs
Spinach and Artichoke Dip
Bayou Wings
Charcuterie Board
Mardi Gras Fritters
Menu and prices are available here on Disney's site.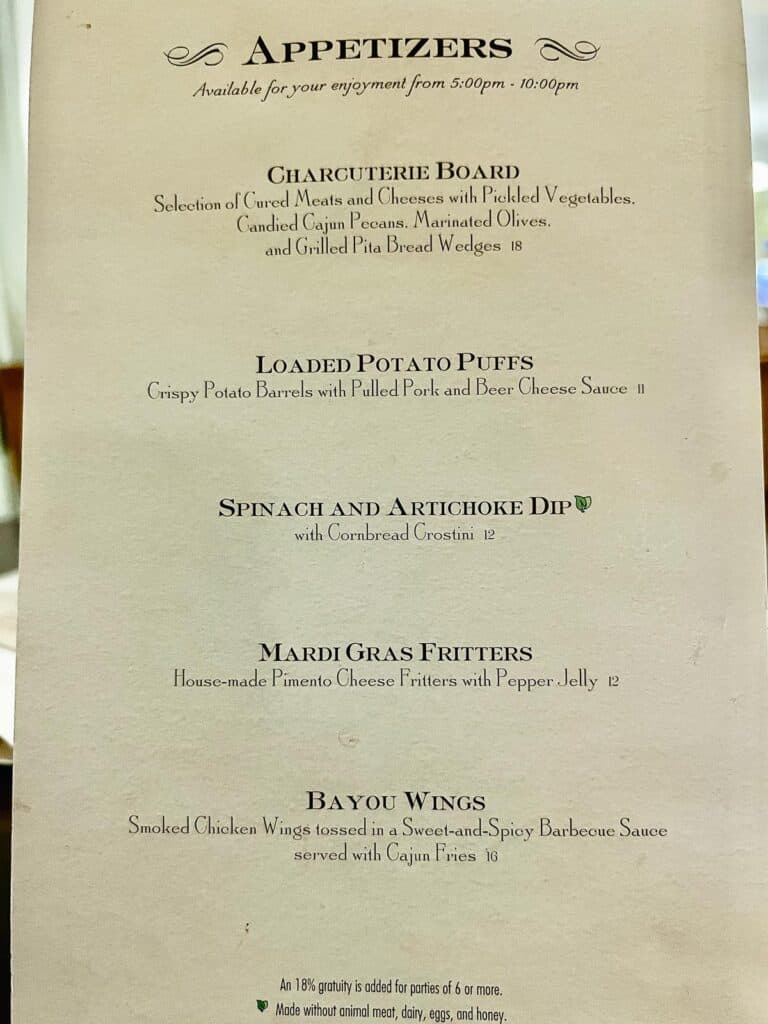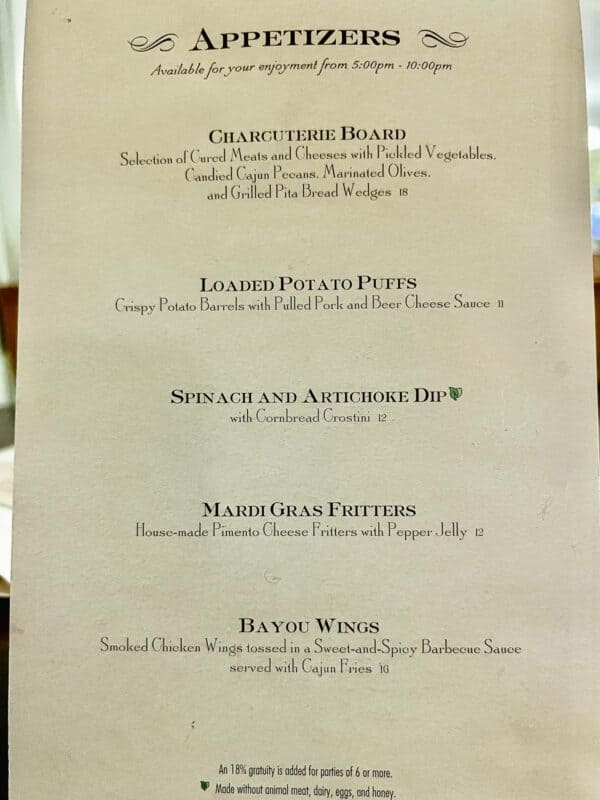 We had the charcuterie platter on our last visit. This spread contained several unique items like pickled veggies, grilled pita wedges, and candied Cajun pecans. Those pecans were yummy!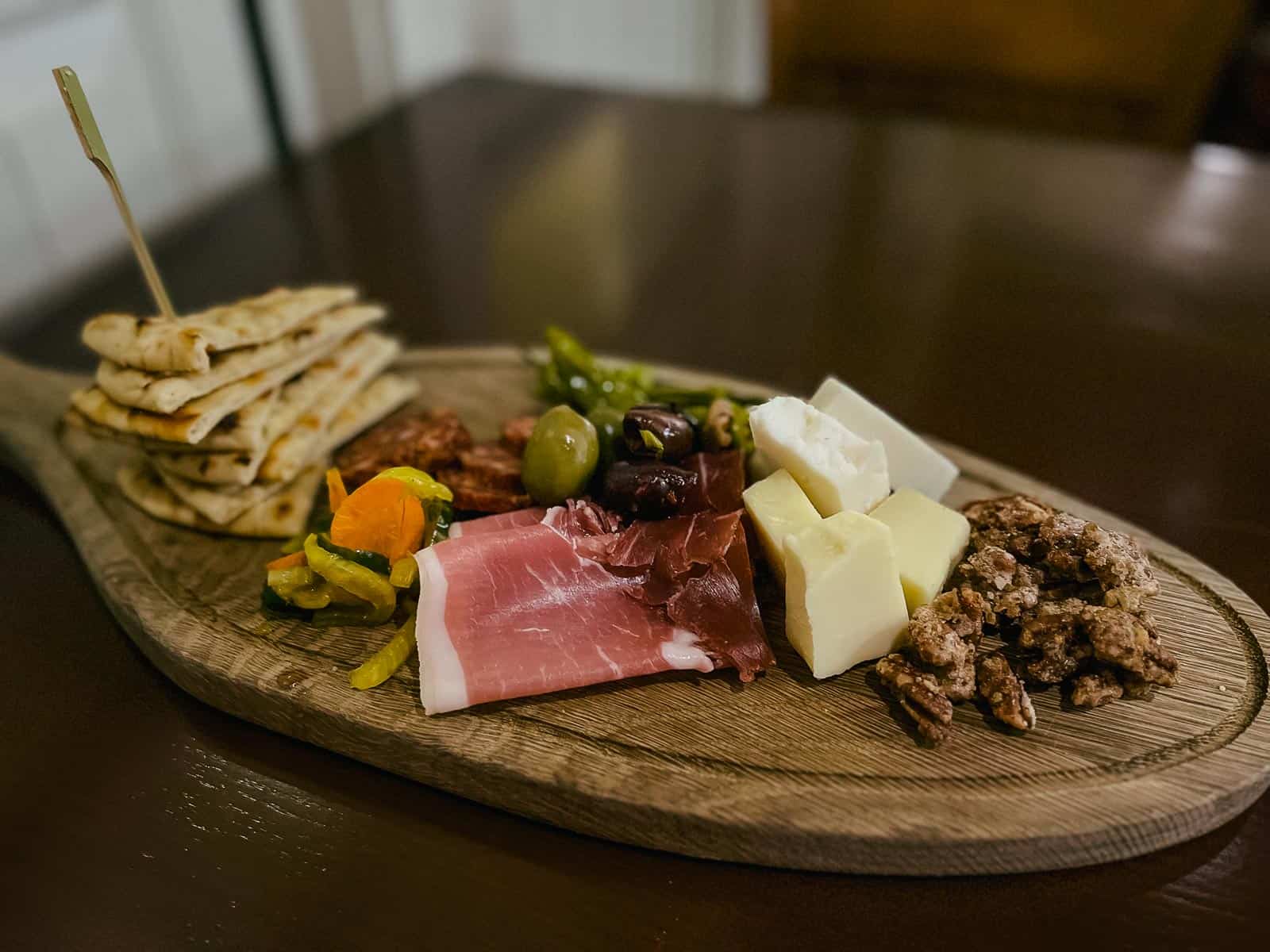 Additionally, River Roost Lounge offers live entertainment from musician and comedian Yehaa Bob Jackson on Wednesday through Saturday nights from 8:30 p.m. until 12:00 a.m.
River Roost is the perfect place to unwind after a long day at the parks or enjoy a drink before or after dinner. But no matter when you visit, you'll leave in good spirits!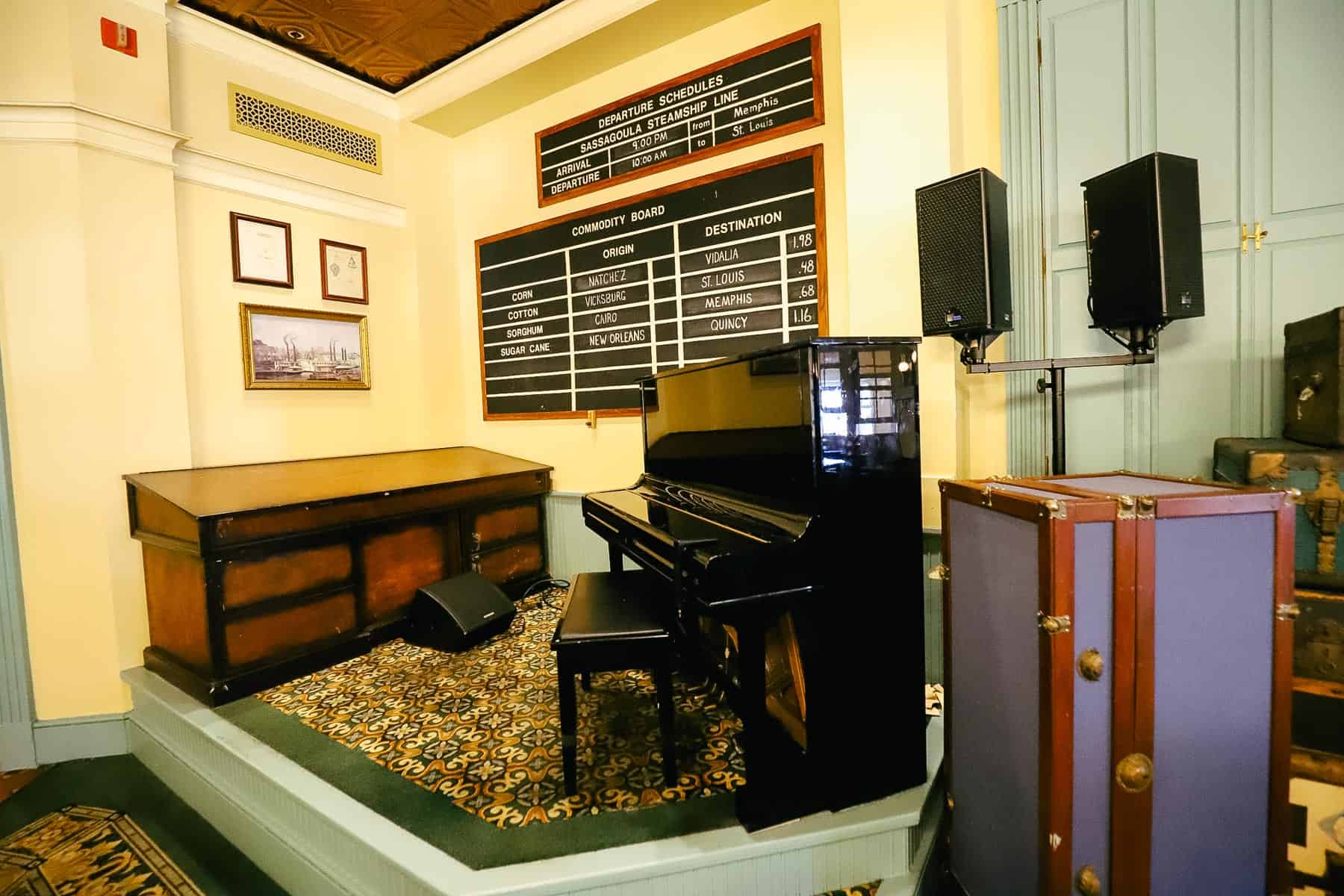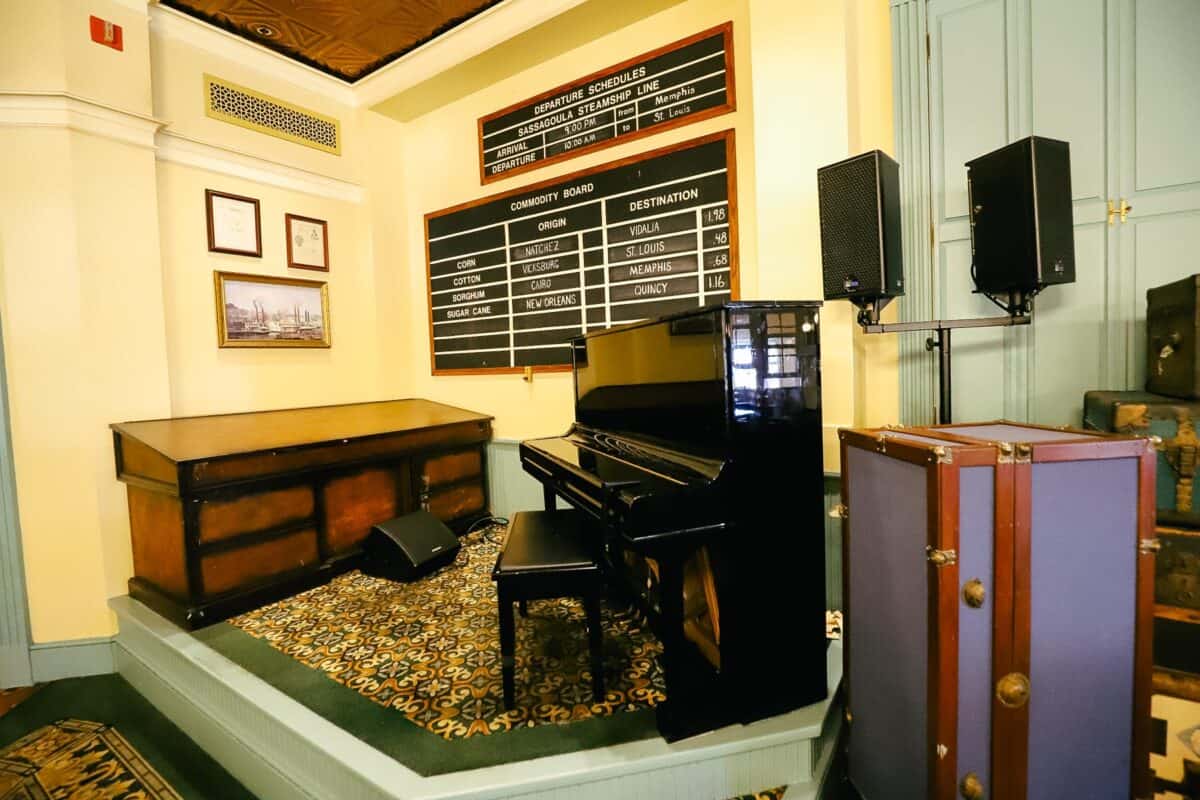 Muddy Rivers
Muddy Rivers is the quick-service pool bar at Port Orleans Riverside. They're open daily from 11:00 a.m. until 9:00 p.m.
Muddy Rivers has a large covered deck that wraps around the bar. You can enjoy river or pool views while sipping your drink.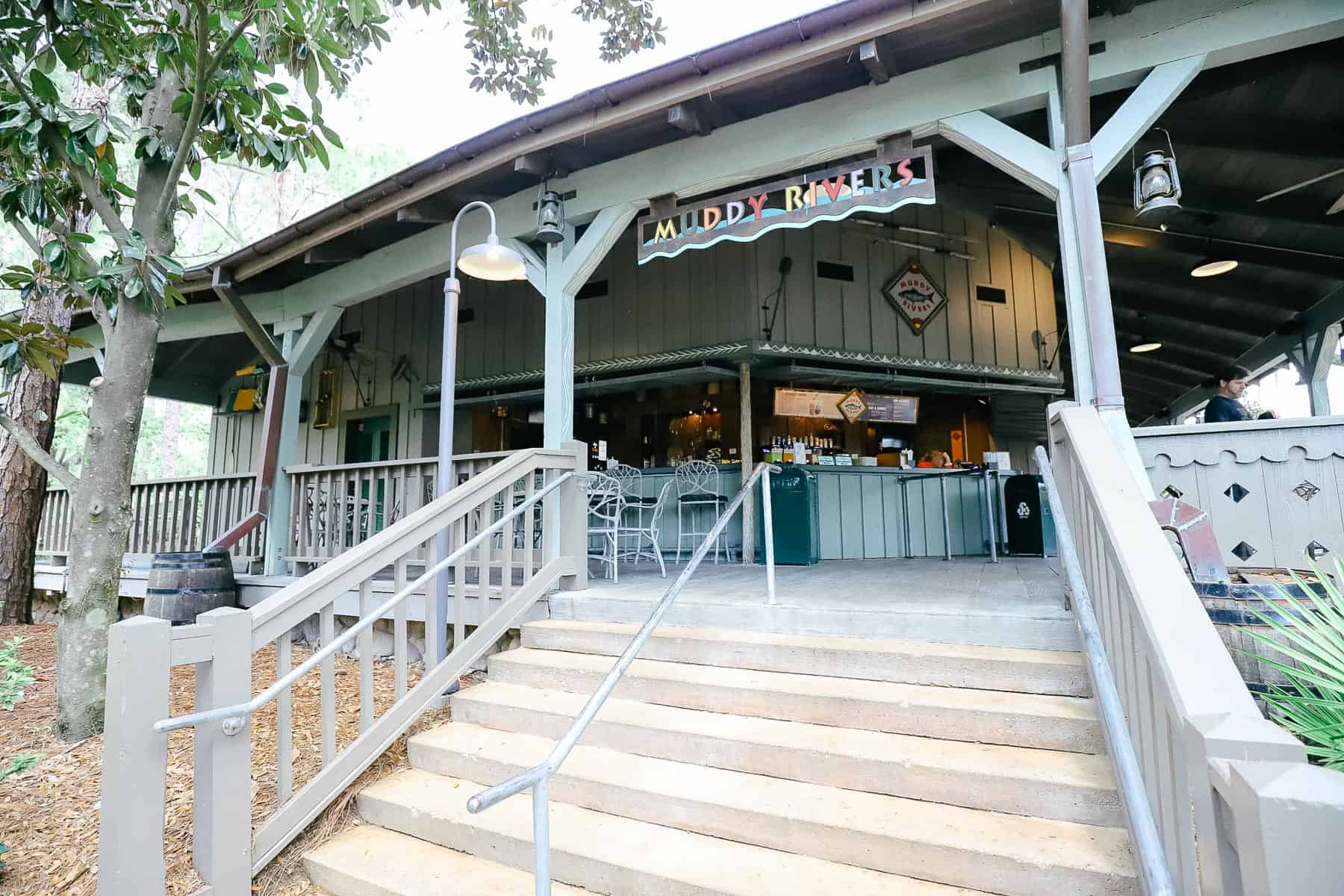 The menu features a few classic cocktails, as you might find on the Bayou. They include:
Hurricane
All that Jazz
Gata-Melon Juice
Front Porch Freeze
Nola Cola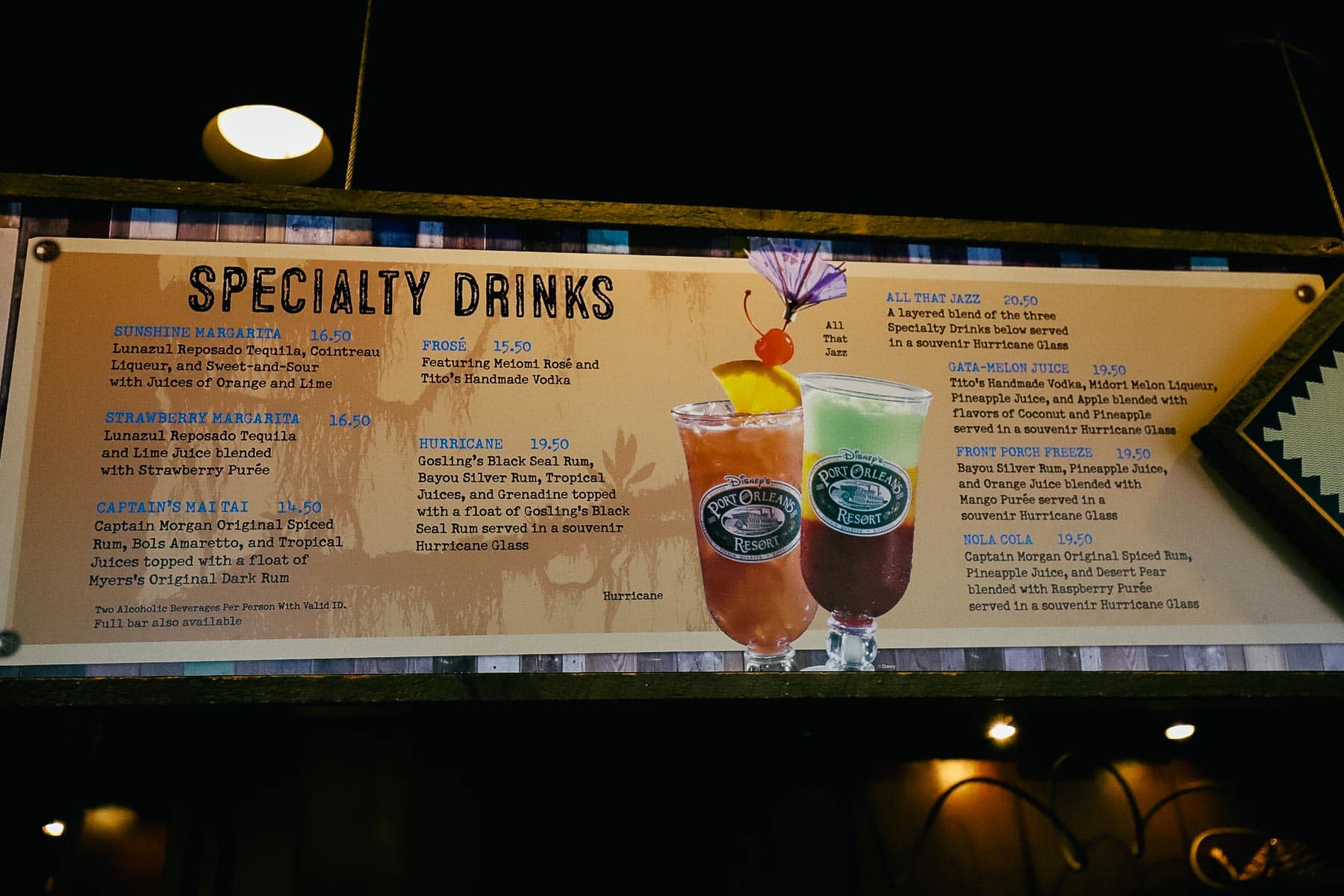 Food items include:
Caesar Salad with Grilled Chicken
Ham and Cheese Sandwich
Chicken Salad Sandwich
Pretzel with Cheese Sauce
Preview the menu here with prices. This location used to have kids' meals, but they were no longer available as of our last visit.
Regarding dining at the pool, I recommend placing a mobile order at Riverside Mill. You can pick it up and bring it back to the pool. It's only a short walk away from the feature pool, Ol' Man Island.
Related: Pools at Port Orleans Riverside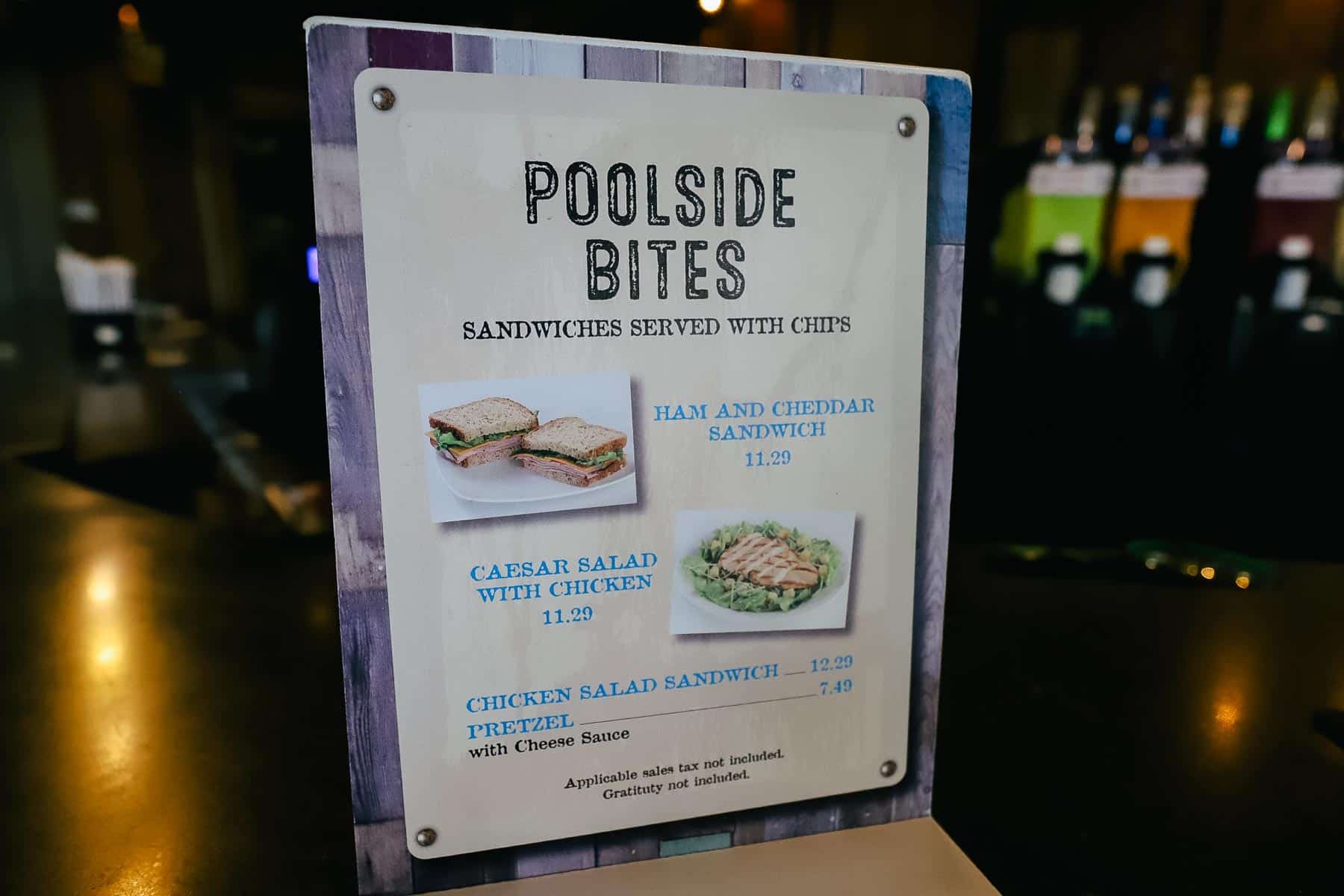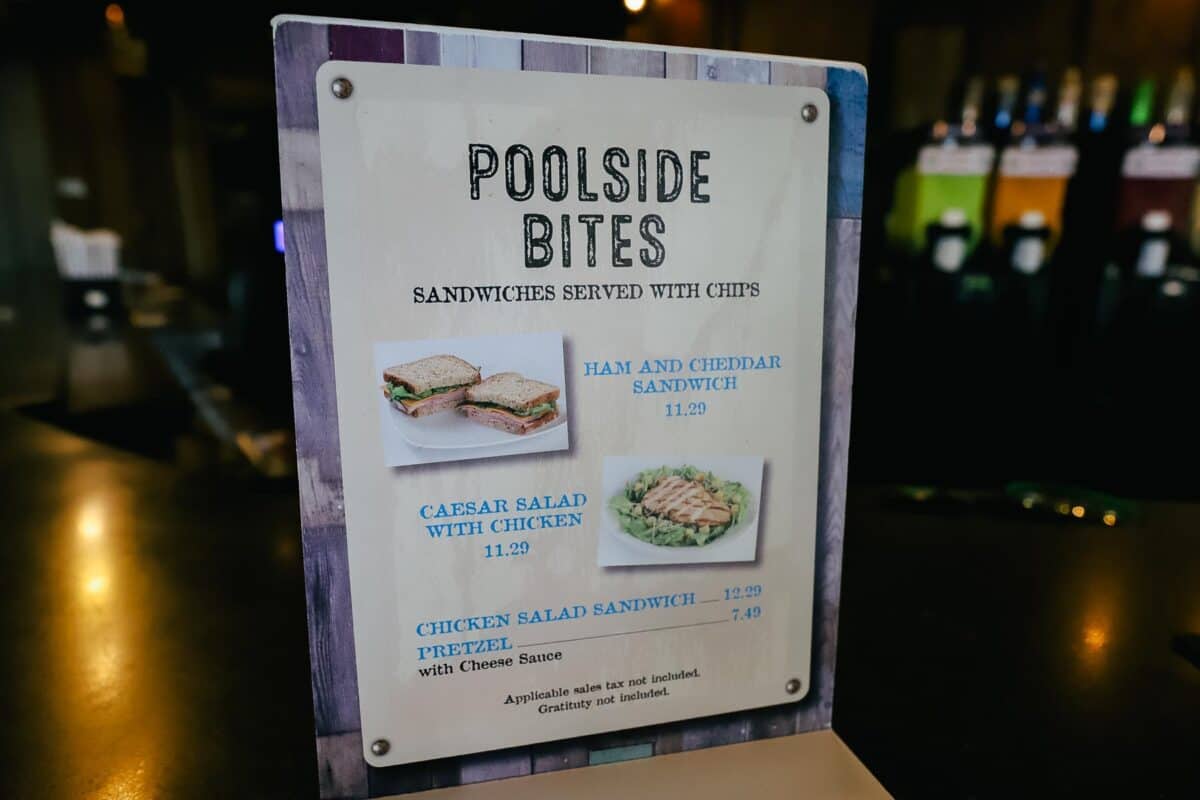 Boatwright's Dining Hall
Boatwright's Dining Hall is the table service restaurant at Port Orleans Riverside. It is open nightly from 5:00 p.m. until 9:00 p.m., and reservations are strongly recommended.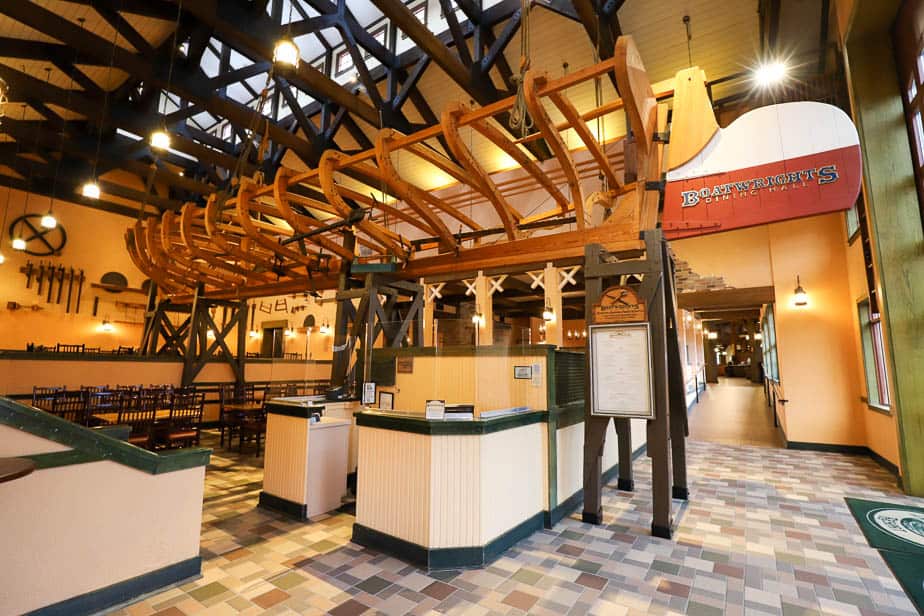 The restaurant serves up traditional flavors of the Louisiana bayou, with a menu that includes the following:
Taste of the Bayou
Boatwright's Harvest Jambalaya
Crispy Cajun Chicken
Blackened Prime Rib
Deep South Shrimp and Grits
Blackened Salmon
Harvest Red Beans and Rice
Lowcountry Seafood Boil
Preview the entire menu (including dessert!) with prices here on Disney's site.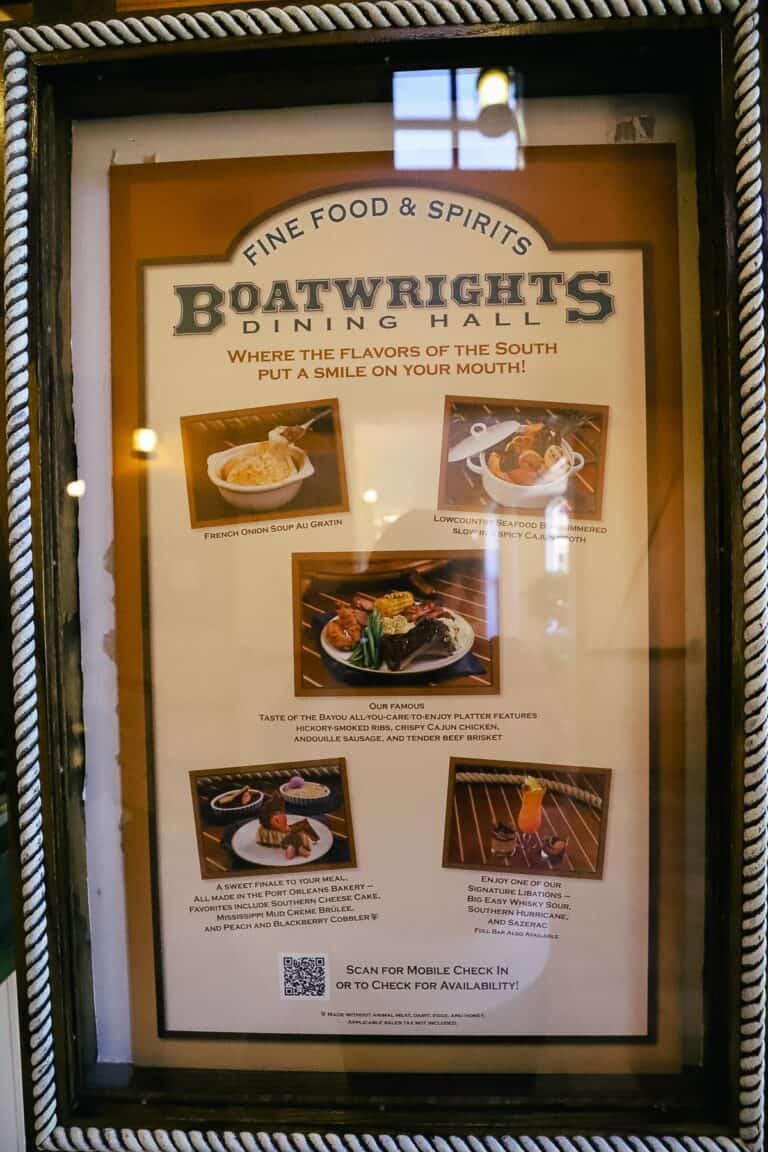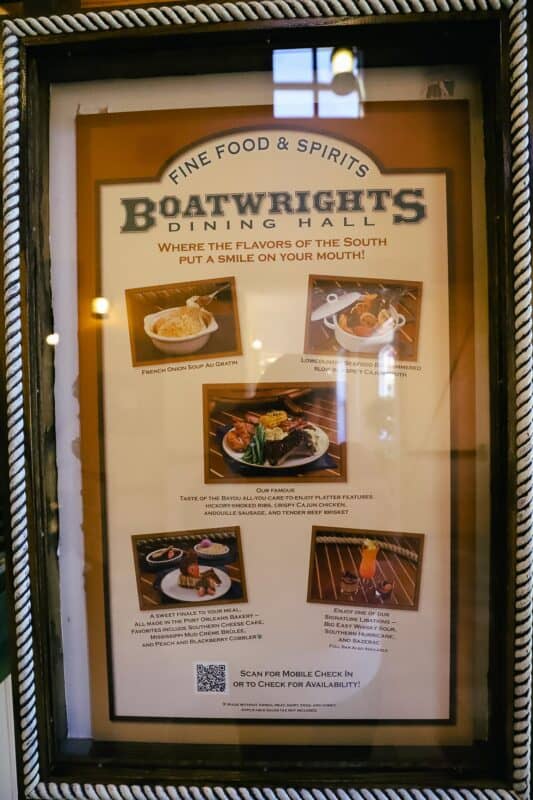 Restaurants Near Port Orleans Riverside
In addition to the restaurants we've already discussed at Port Orleans Riverside, you'll want to be aware of other dining options nearby. For starters, Sassagoula Floatworks and Food Factory is only a short walk or boat ride away from Port Orleans French Quarter.
Sassagoula Floatworks is the primary counter service at the French Quarter. We tend to favor the dining options here slightly more than Riverside Mill Food Court. However, besides a few entree items, both food courts have similarities.
Related: Sassagoula Floatworks and Food Factory Review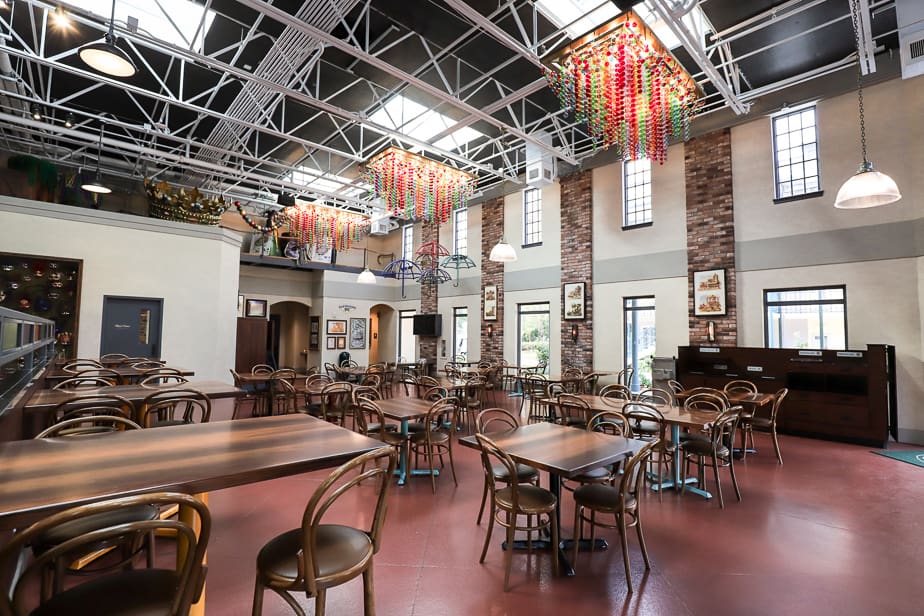 As promised, I wanted to mention that beignets are available at Scat Cat's Club Cafe, which is in the lobby of Port Orleans French Quarter. It sits adjacent to the resort's quick service.
This location serves beignets all day. Don't forget to order your favorite flavor of dipping sauce. Or better yet, you might enjoy their latest beignet entree for lunch or dinner.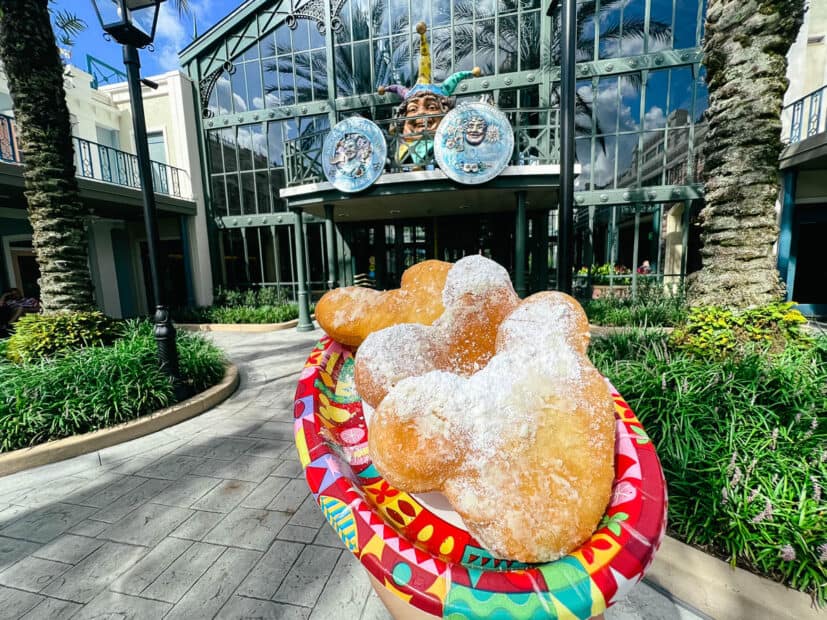 One factor that makes Riverside so desirable is the option to take the boat from Riverside to Disney Springs. It's a scenic ride down the Sassagoula River, and the dining options are endless at Disney Springs.
Related: Transportation Options at Port Orleans Riverside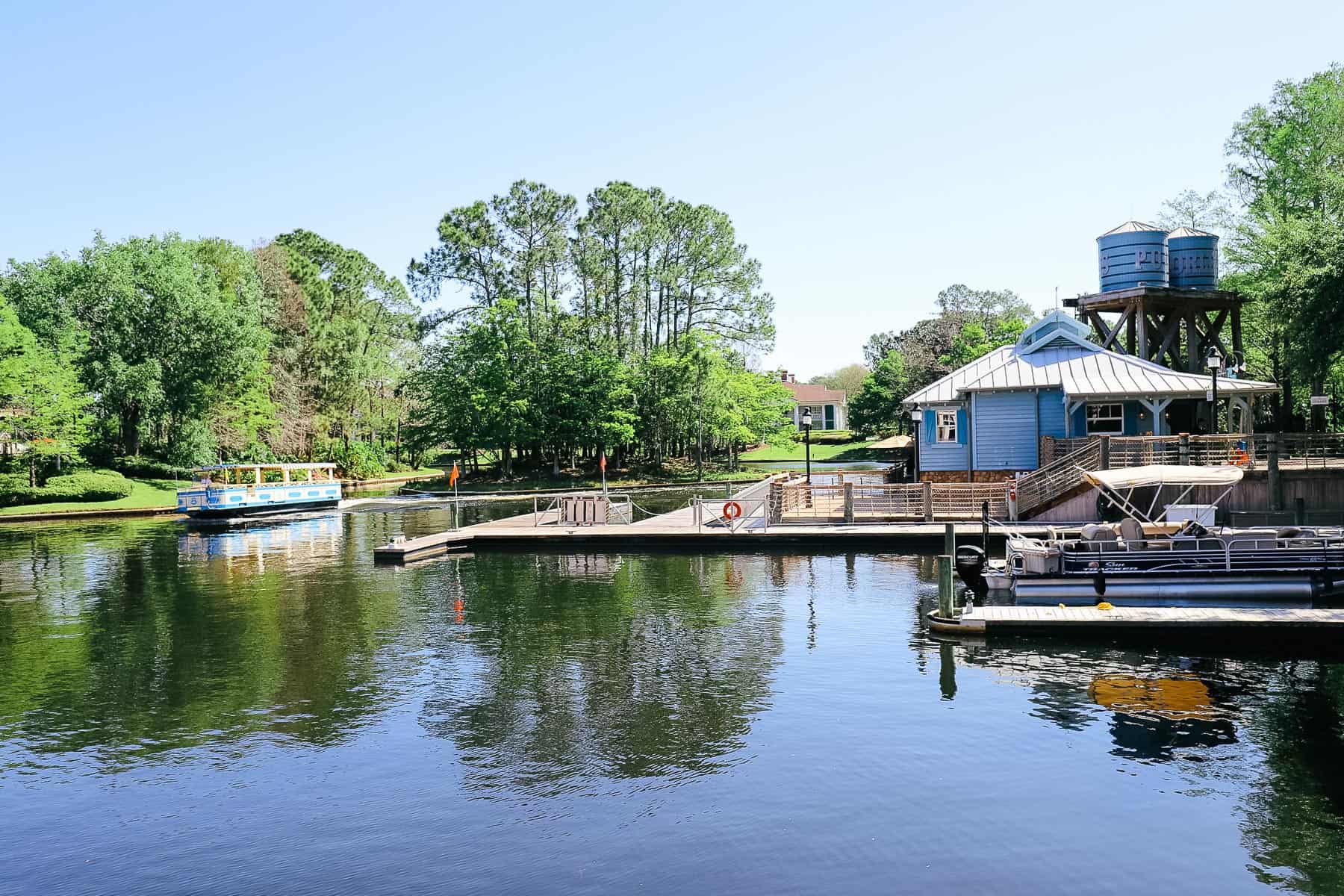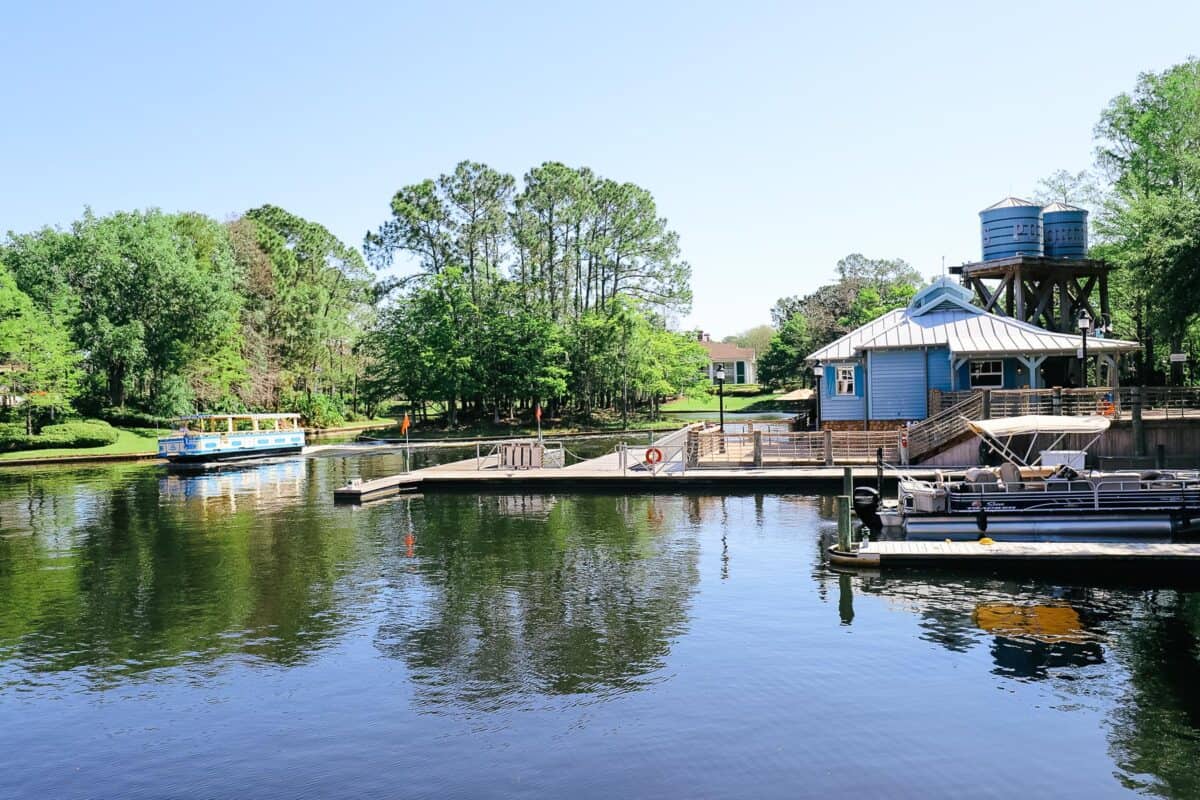 When you get to Disney Springs, you're dropped off at The Marketplace boat dock. For dining reservations, make sure you know where you're headed.
Related: Disney Springs Transportation Tips
You'll also want reservations for any table service restaurants at Disney Springs. Unfortunately, the venue is often crowded. As a result, it can be challenging to find available seating at popular restaurants.
Tip: Use the OpenTable app or website to make reservations for Disney Springs. This site has much more availability than My Disney Experience.
At Disney Springs, several restaurants are owned by chefs with James Beard Awards. These restaurants will have excellent options depending on your favorite kind of food.
Here are a few that we've enjoyed to date: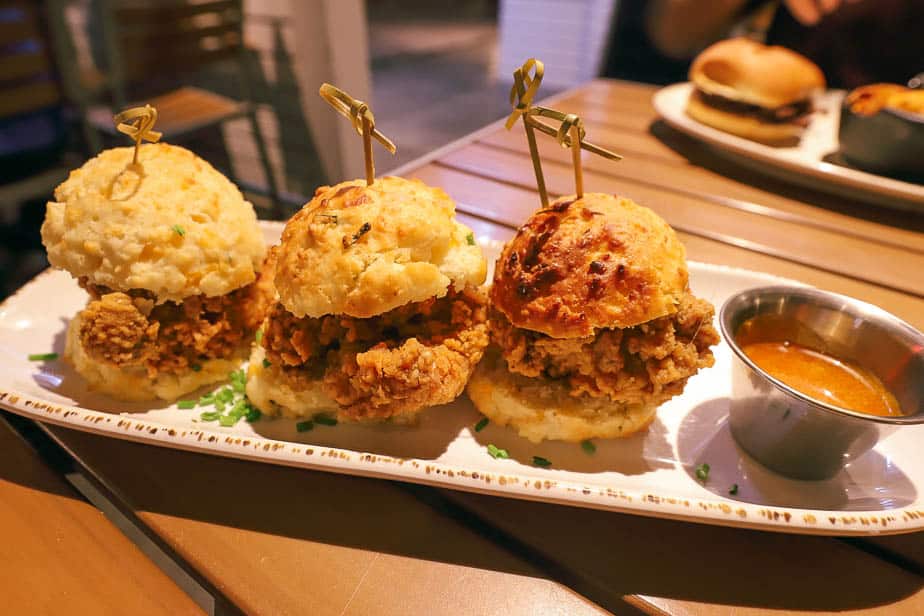 Additionally, there's Terralina Crafted Italian (Chef Tony Mantuano). Unfortunately, we haven't had a chance to have a meal here yet. But it's on our list.
If you're looking for quick service, you might enjoy D-Luxe Burger or Blaze Pizza. These are a few of our favorite budget-friendly options.
Don't get me wrong. These are just a few options. We have a complete guide to the best restaurants at the venue.
Related: Best Disney Springs Restaurants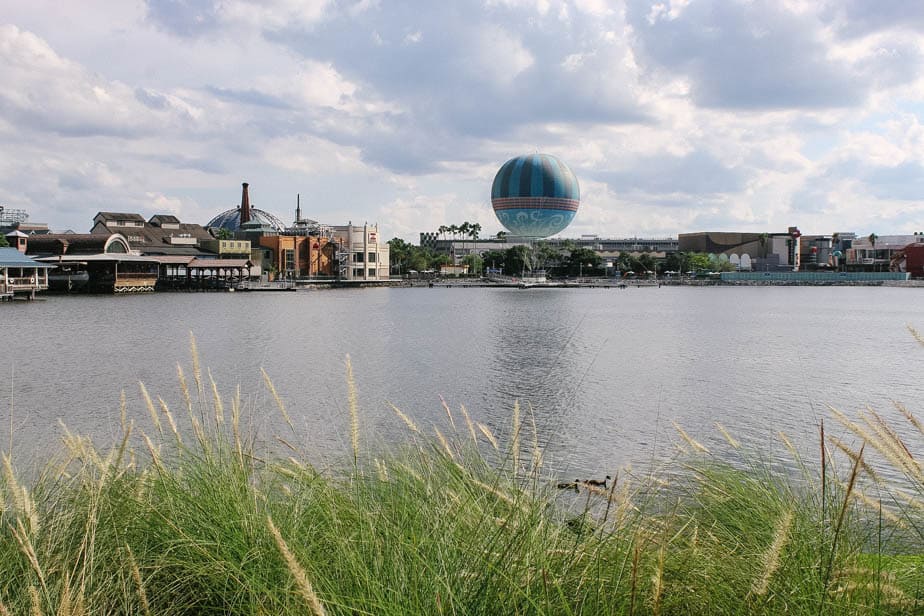 Final Thoughts on Dining at Port Orleans Riverside
Port Orleans Riverside is an excellent choice if you're looking for a great moderate resort with access to plenty of dining options. However, you will have to travel to get to some of them.
For more information on the resort, all of our related articles are listed in a resort guide:
Or you might enjoy these individual reviews:
Additionally, you might like to browse a few of our other resort dining guides. Some of our favorites include:
Have you been to Port Orleans Riverside? What did you think of the dining options? Let us know in the comments.