Meet Frozone at Disney's Hollywood Studios
Frozone is a character meet-and-greet at Disney's Hollywood Studios. He meets guests daily in the Pixar Place area of the park. Below we'll discuss where to meet him on your next visit to the park.
If you want to meet Frozone on your visit to Hollywood Studios, you're in luck. He now has a formal meet-and-greet location in the park.
You may remember earlier this year, Frozone began to appear as a character sighting at Disney's Hollywood Studios. During that time, he greeted guests from a distance in the grassy areas at the end of Hollywood Boulevard.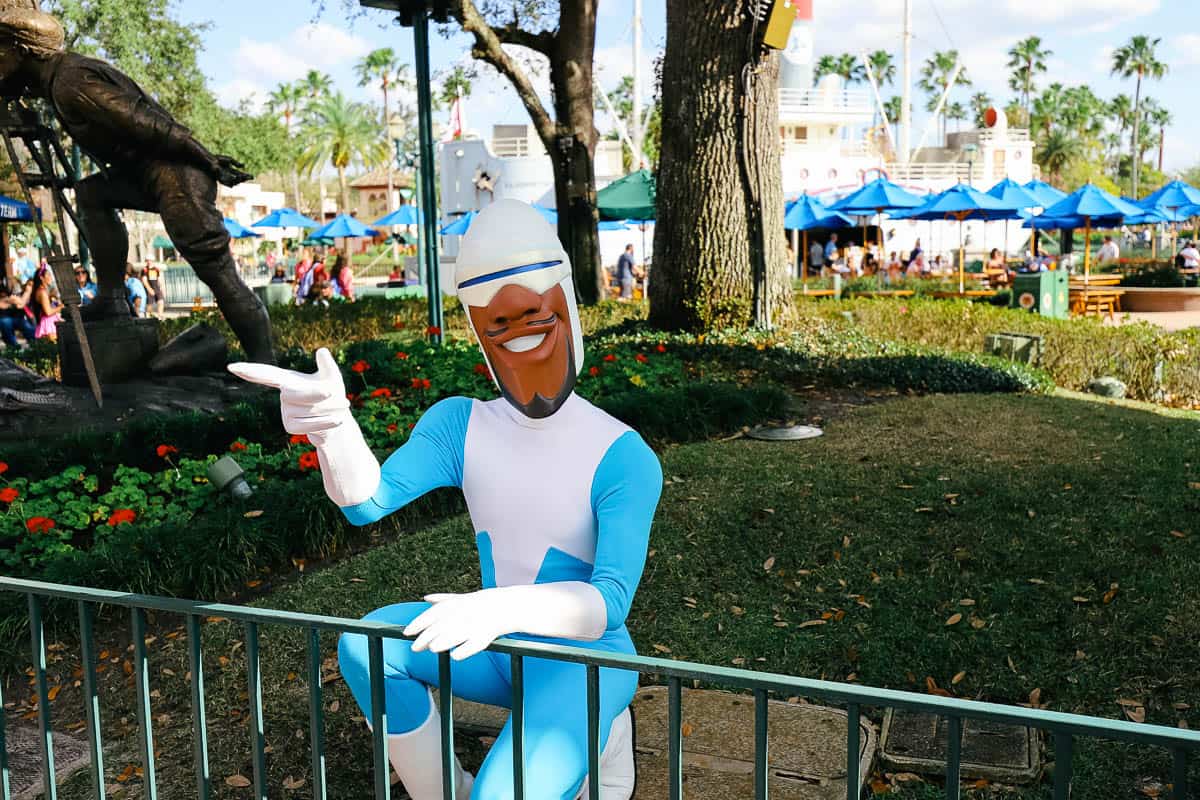 Additionally, Frozone met with Mr. and Mrs. Incredible a few years back in Municiberg Plaza at Hollywood Studios. At that time, they were part of a limited-time character opportunity called "The Super Shindig."
However, that dance party ended several years ago, and until his recent character sighting, we hadn't seen Frozone in the parks. Thankfully, Disney has added several character meet-and-greets to the area, including Frozone.
So guests can now meet Frozone, have their picture made with him, and get his autograph! Yes, you!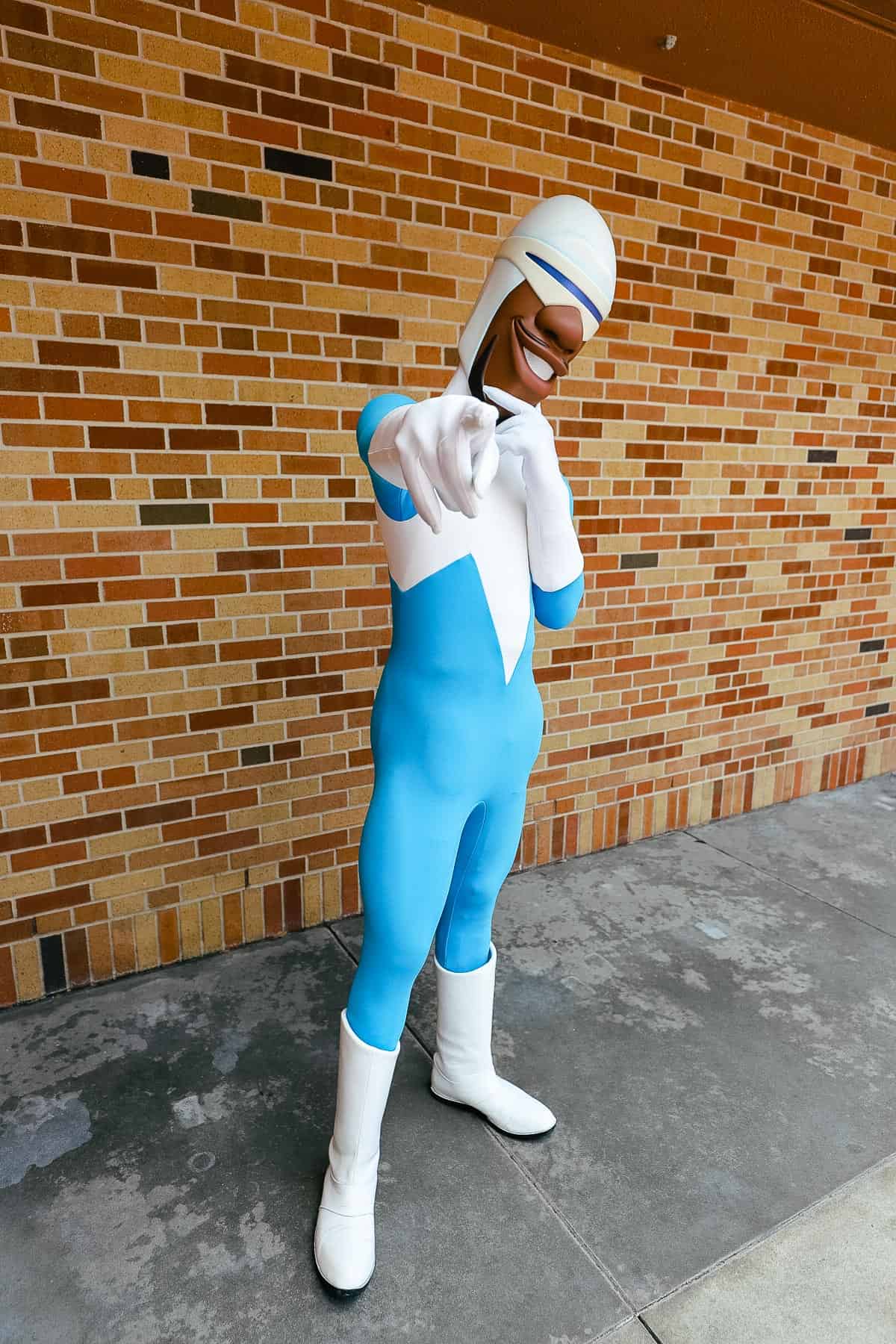 Frozone meets with guests at Pixar Place on the walkway past Walt Disney Presents. This location is on the left before you reach Toy Story Land's main entrance.
If you've ever visited Hollywood Studios before Toy Story Land, you might remember that this area used to be home to Toy Story Mania and the Buzz and Woody character meet-and-greet.
Here is a photo of the newly reopened area.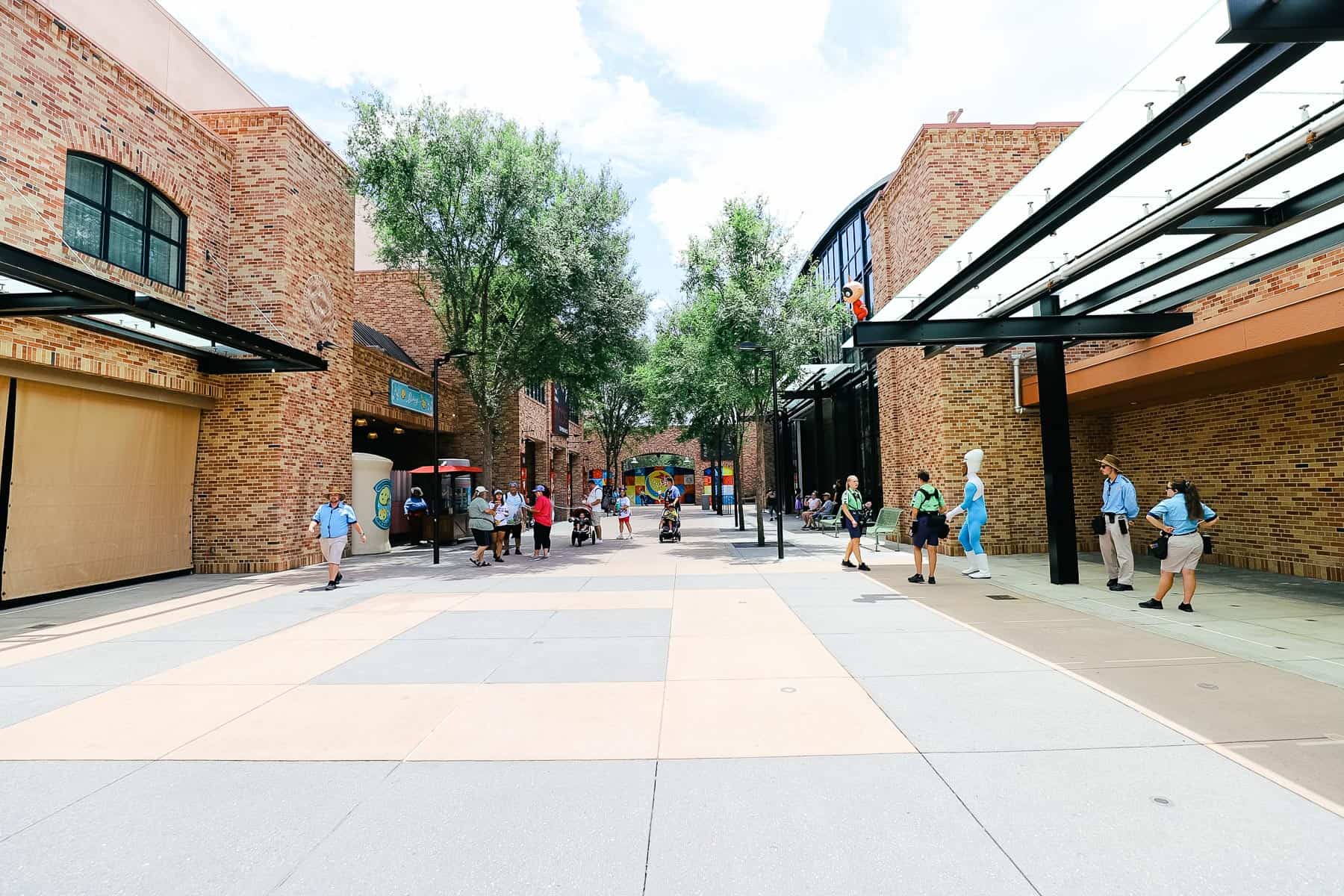 Surprisingly, we visited on a fairly slow day for the park, so there wasn't anyone waiting. With that said, I would anticipate a decent wait for these characters. On average, most character meets have a 30-minute wait.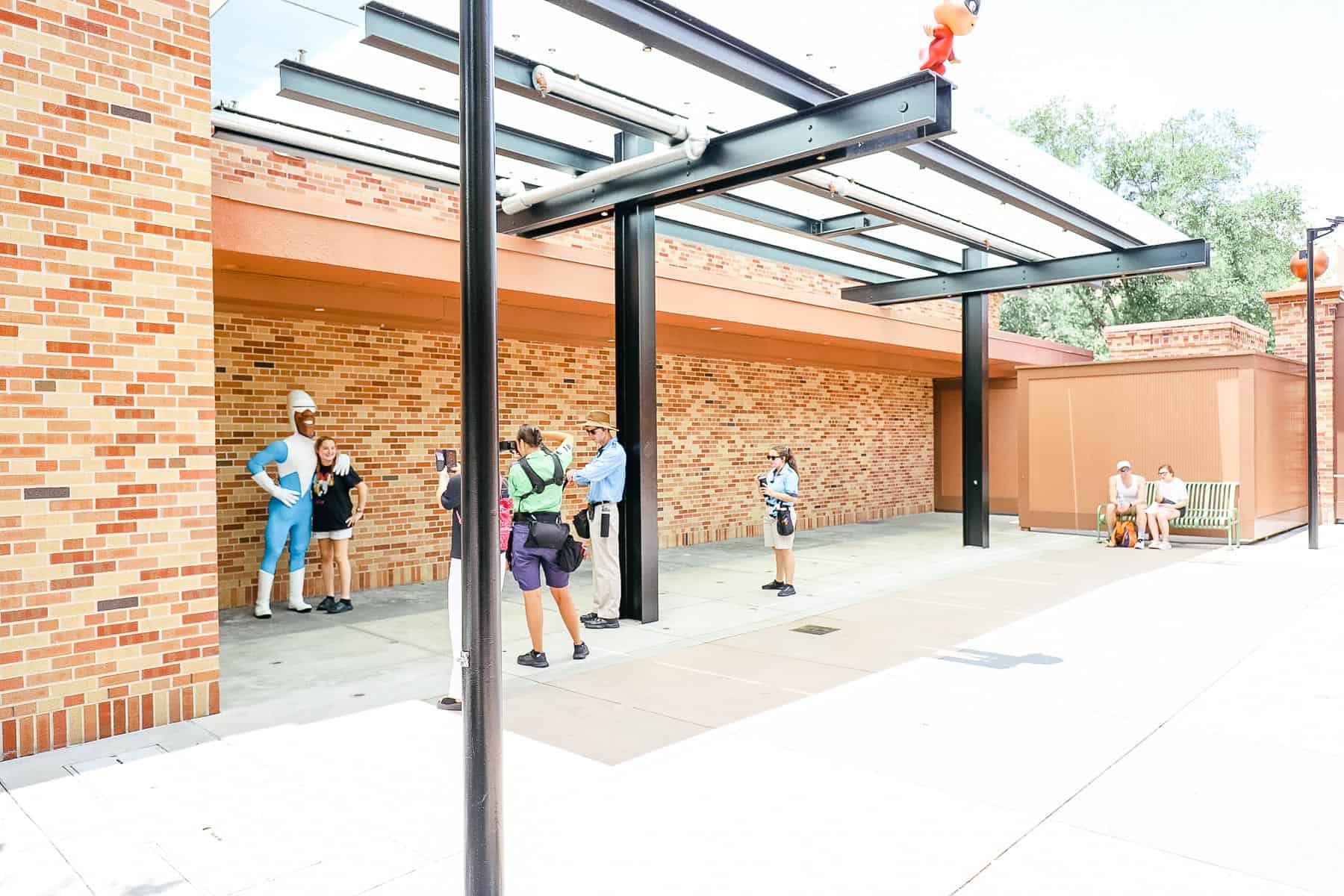 Frozone's meet-and-greet location was pretty bland, and the concrete doesn't look great in photos.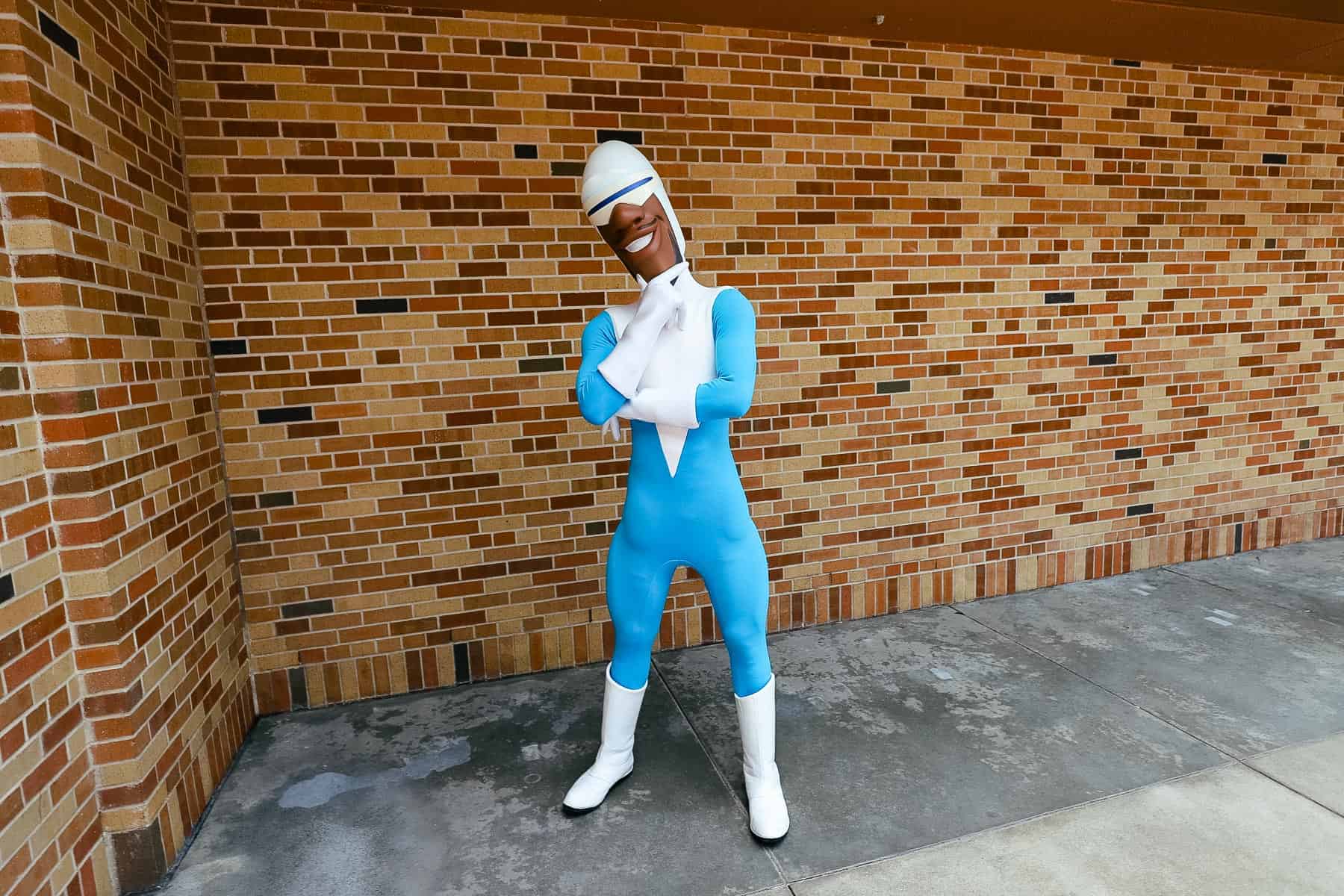 But it was still fun to have the opportunity to meet the superhero. Additionally, it was nice to see that a PhotoPass photographer was present at this meet-and-greet location. However, they are not guaranteed.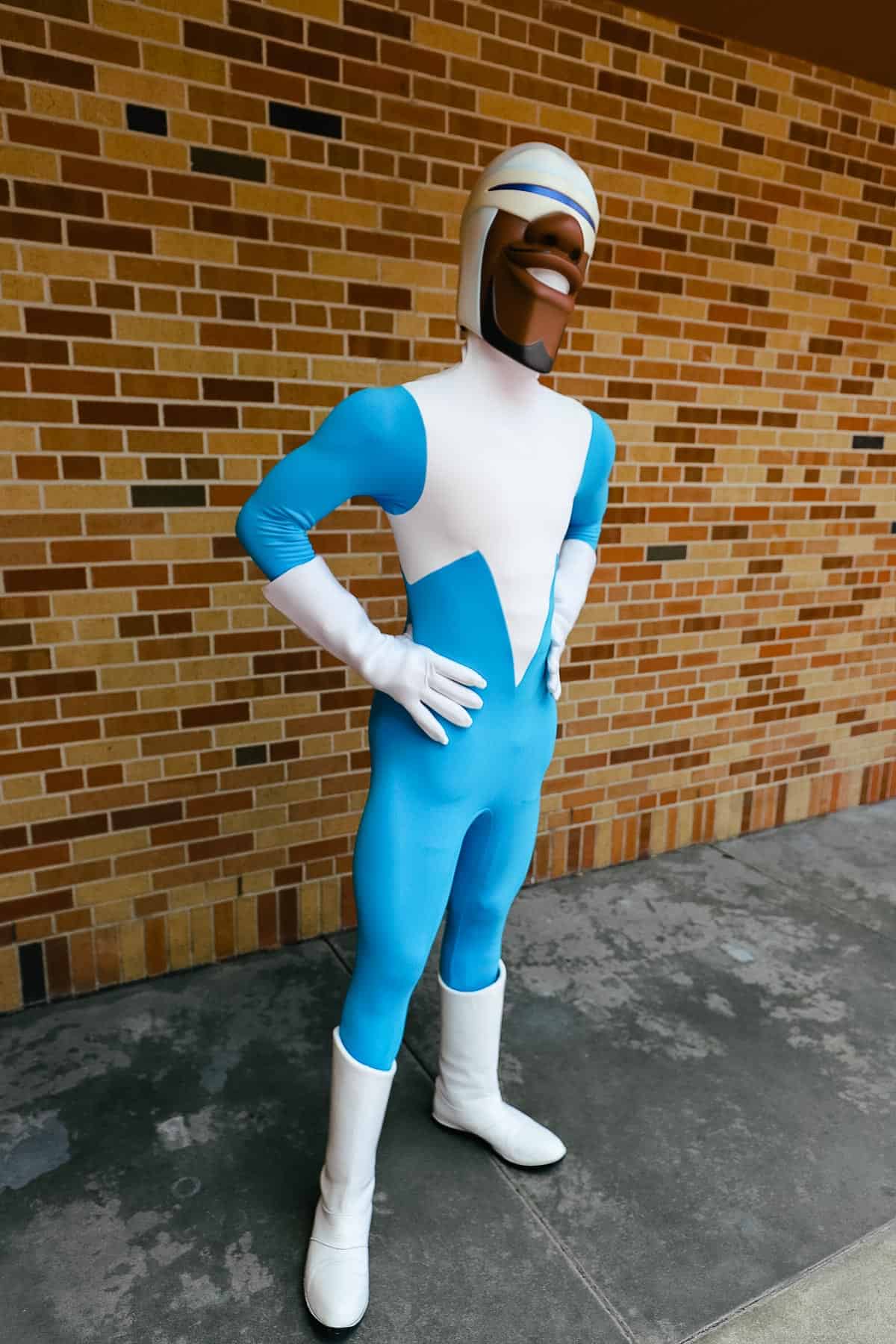 Frozone meets intermittently throughout the day at Pixar Place in Hollywood Studios. This is the only place to meet him at Walt Disney World.
As always, you'll want to check the My Disney Experience app for Frozone's exact time and location on the day of your visit. If he's not listed, you can always ask someone from the Guest Experiences team if he's meeting that day.
You can find the Guest Experience cast members standing under the blue umbrellas. They are scattered throughout the park and will be glad to help.
Overall, Frozone is an "incredible" character to meet! We hope you get to see him on your next visit!
For more meet-and-greets in the same area, try the following:
Additionally, you might enjoy some of these other characters that meet at Hollywood Studios:
Or you might like to browse our guide to meeting characters at Disney World.
In the Comments
Do you hope to meet Frozone at Disney's Hollywood Studios on your next visit? Is he one of your favorite Incredibles?
Planning a Walt Disney World or other Disney Destination vacation?
Our friends and travel partner, Firefly Travels, excels at doing Disney differently. You can fill out a plan your trip form on their website, and someone will reach out shortly to discuss the specifics.