Christmas at Epcot (With Lots of Photos)
It's that time of year once again, which means it's also time we stopped at Epcot for a holiday visit. While the park is still under considerable construction, the holiday touches help soften the park's mood.
So for this article, we'll look at a few photos of Christmas at Epcot. Most of the photos in this article were taken this holiday season.
As you probably know, Christmas at Epcot differs slightly from the other parks. That's because Epcot has seasonal festivals.
For the holiday season, Epcot has the International Festival of the Holidays, which runs from November 25, 2022, through December 30, 2022. Given the extensive offerings and limited festival dates, we've elected not to cover this festival in detail in 2022.
However, as we walk through the park, I'll mention a few highlights you might want to incorporate into your holiday planning.
This article was updated on December 2, 2022.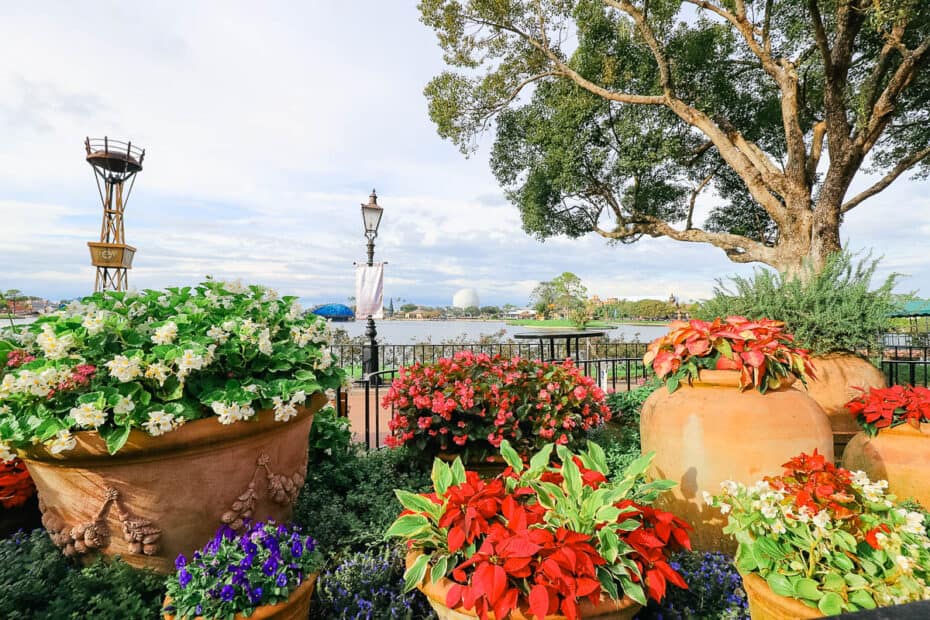 When you arrive at Epcot's main entrance, you are greeted by signage for the Festival of the Holidays.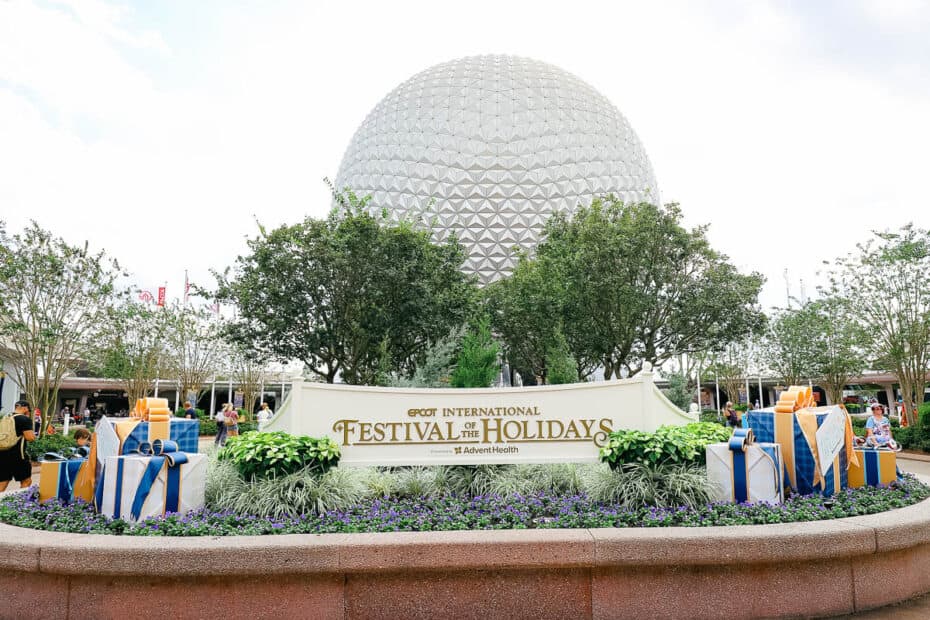 Since we can't walk directly through the center of the park due to construction, we'll head to World Celebration near the Imagination Pavilion. Between the Land and Imagination Pavilions, you might run into Winnie the Pooh in his Santa hat.
Related: Meet Winnie the Pooh with Tigger at Magic Kingdom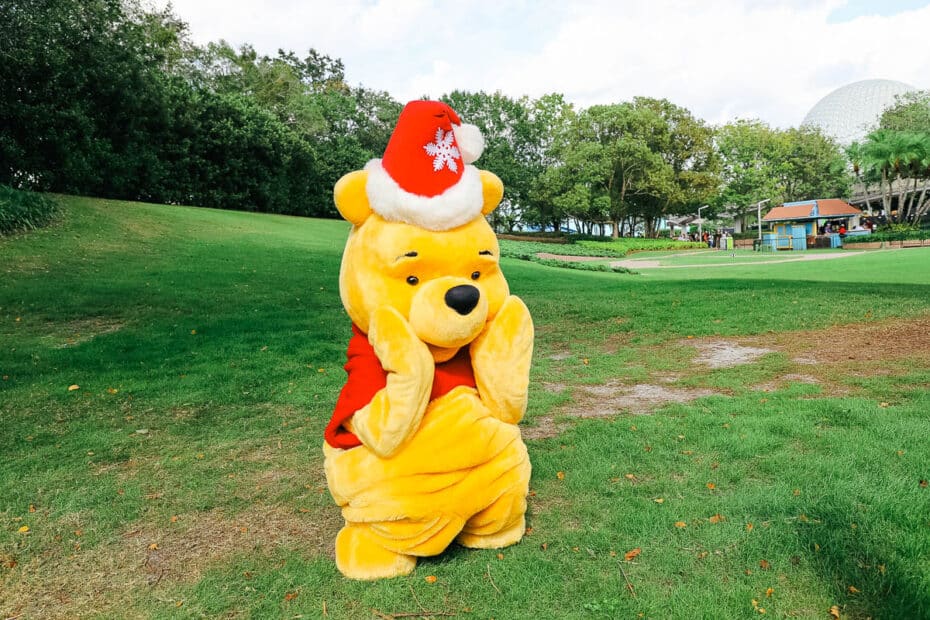 Inside the Land Pavilion, there's a special holiday overlay of Living with the Land called Glimmering Greenhouses. Disney decorates the attraction with festive holiday lights and Christmas decorations.
Related: Glimmering Greenhouses Holiday Overlay on Living with the Land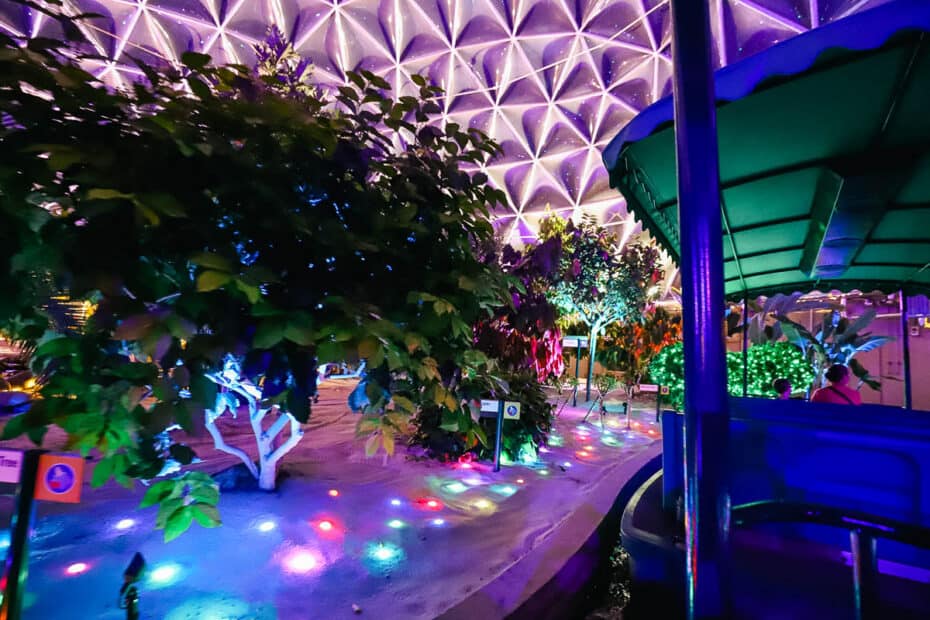 Living with the Land's overlay is so stunning that I've already ridden it twice this holiday season. Of course, you can ride it anytime during the day, but you'll want to return for another ride after dark for the best experience.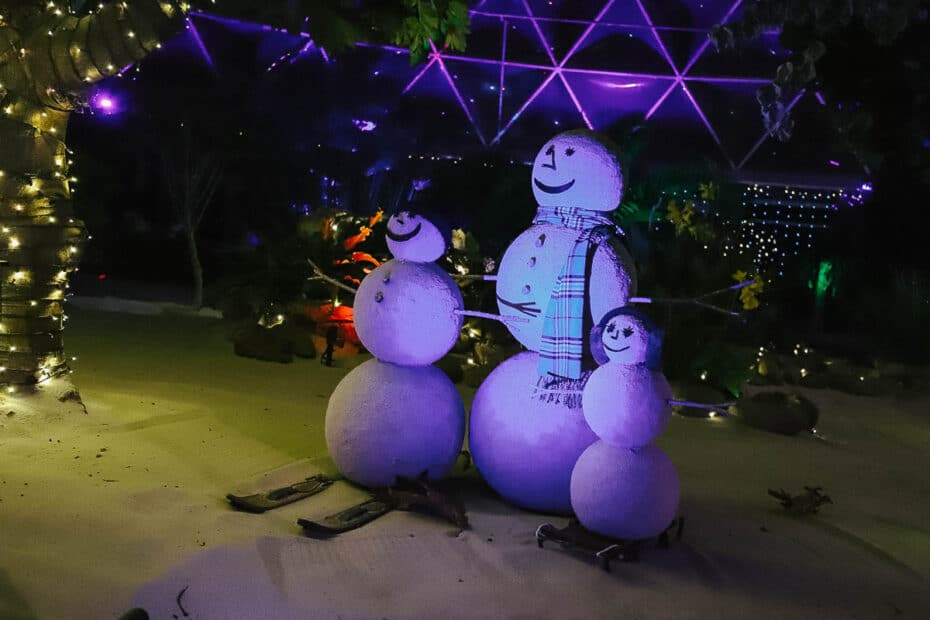 We'll continue toward the World Showcase Plaza. This is where Epcot's formal Christmas tree resides. This tree is a favorite for many. It's decorated with various phrases and decor from the countries represented in the World Showcase.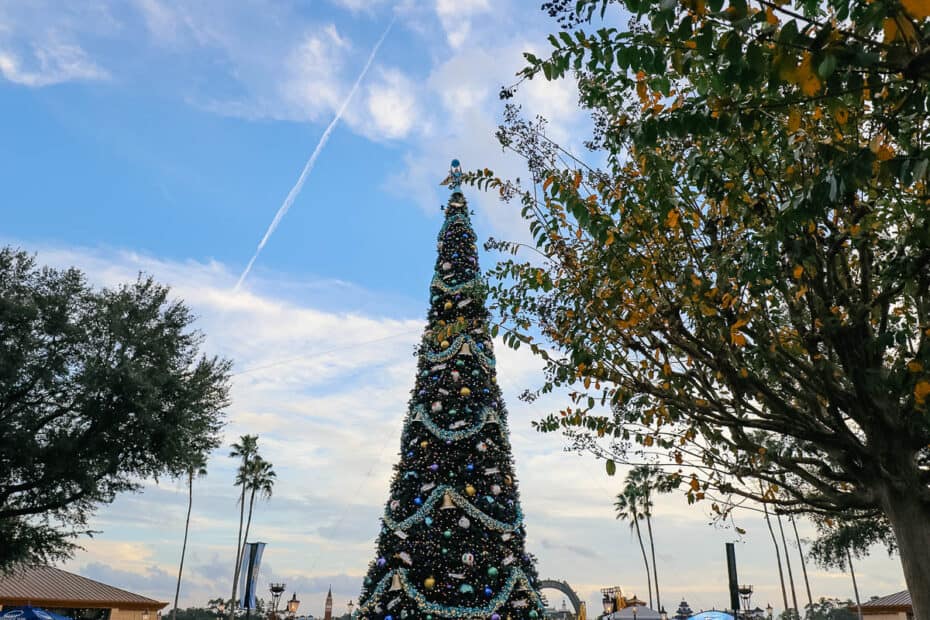 An angel sits atop the tree, presenting the world to the heavens above.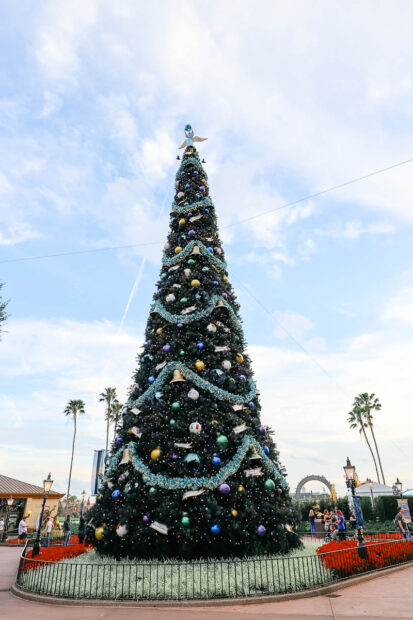 Behind the Christmas tree, there's a stage set up by the lagoon. It's for a gospel, rhythm, and blues group that goes by the name of Joyful. They will be at Epcot throughout the Christmas and Kwanza holidays.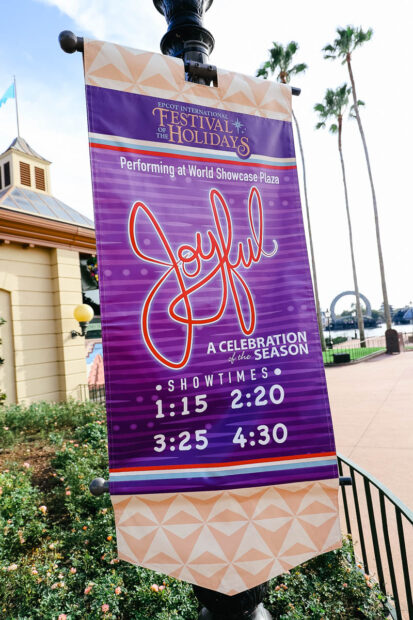 Joyful's performance times are as follows:
1:15 p.m.
2:20 p.m.
3:25 p.m.
4:30 p.m.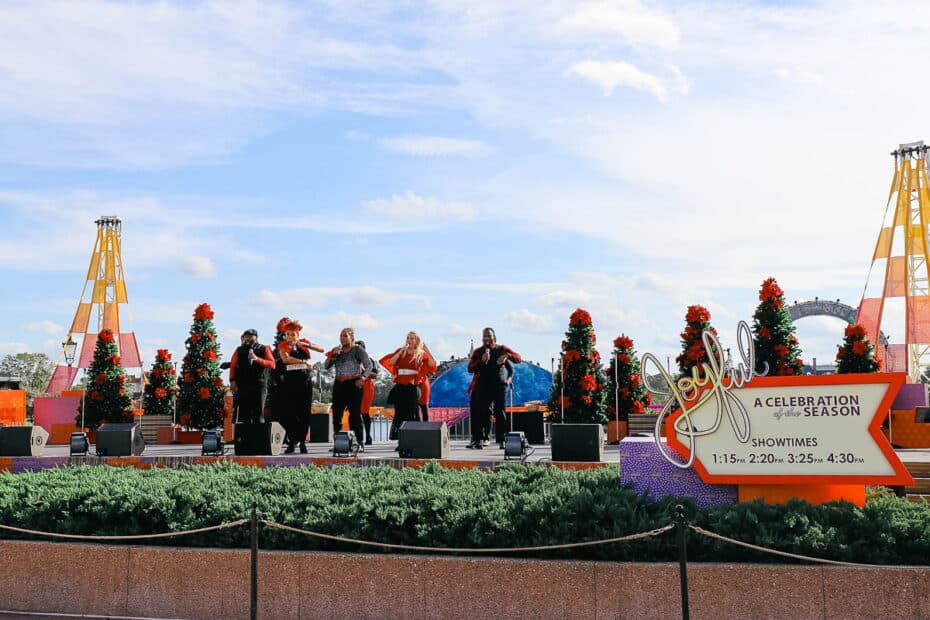 I saw a performance and can say they live up to their name. So make sure to see them for a little extra holiday spirit.
A popular argument in the Disney fan community, or Epcot fan community, is whether to head toward Canada first or Mexico. These days, I'm mainly at Epcot for Guardians of the Galaxy: Cosmic Rewind.
Those who have ridden Cosmic Rewind can agree that nothing else matters anymore. One ride has made Epcot a distinctive attraction park. (But it is a pretty awesome ride.)
Anyway, after a spin on Cosmic Rewind, I decided to head toward Canada, where I immediately ran into The Canadian Holiday Voyageurs.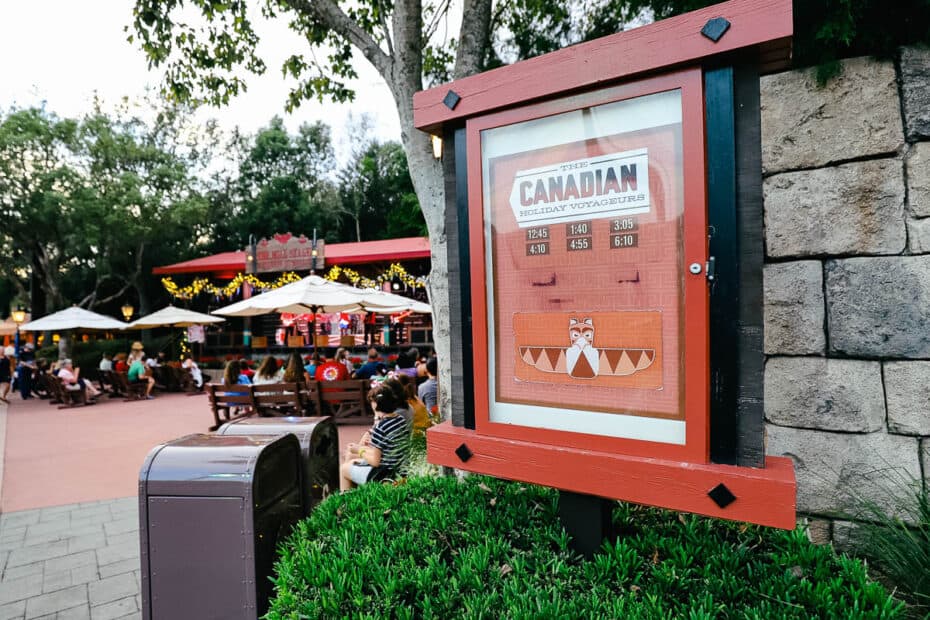 This group performs traditional songs from the Great White North. If you have the opportunity, take a moment to see them. They are a wonderfully entertaining ensemble.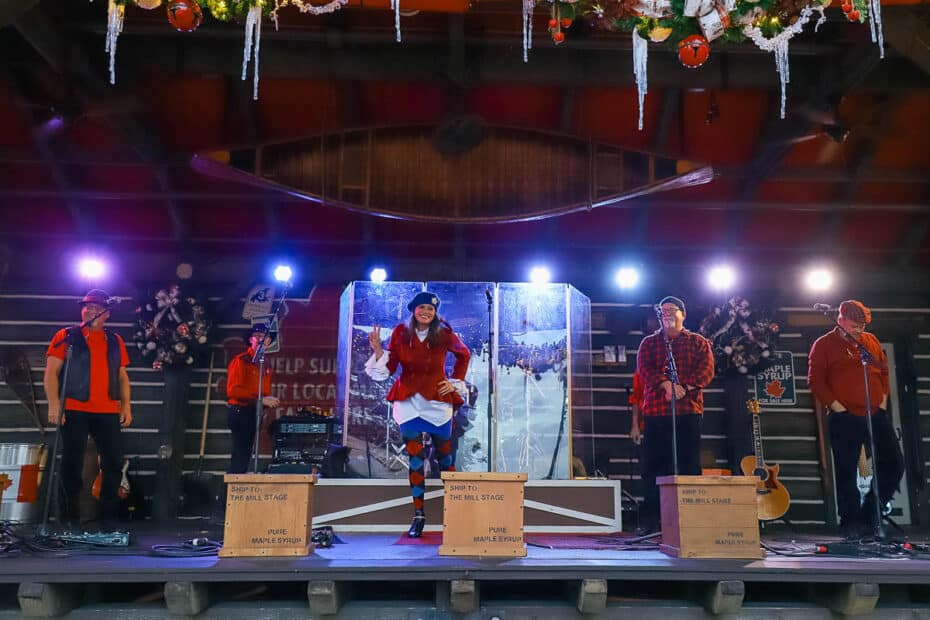 Next, we run into the United Kingdom Pavilion. Santa's from around the world are available in several World Showcase countries this year, and the UK is one of them.
Father Christmas is the name of Santa Claus in the United Kingdom Pavilion. He meets on a small stage at the back of the pavilion.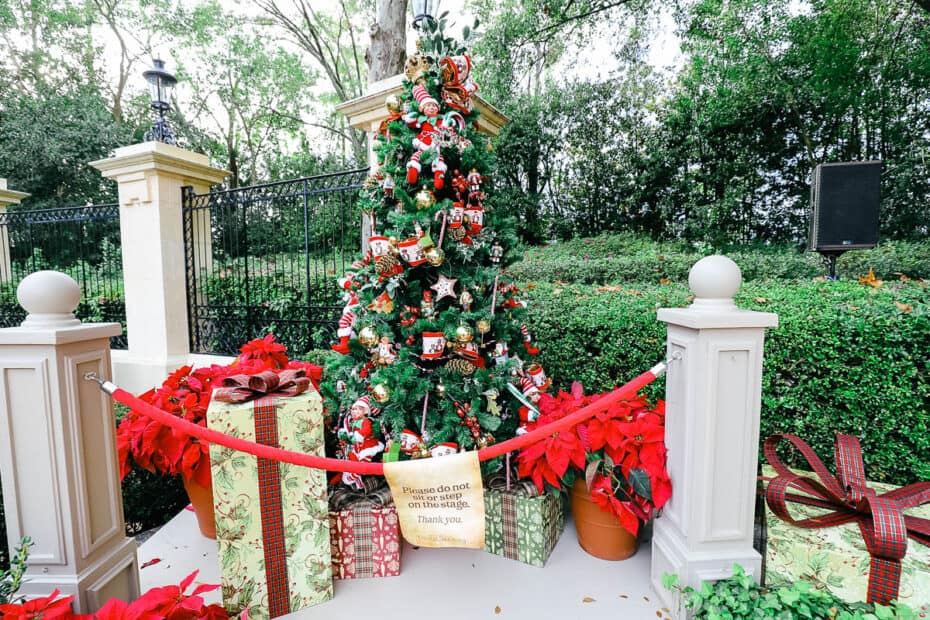 Times for Father Noel and the other Holiday Storytellers are listed in the My Disney Experience app.
*You can check for exact times on the day of your visit by selecting "entertainment" at the top of the drop-down menu. Then filter for Epcot, select show list, and you can scroll through to see each entertainment offering.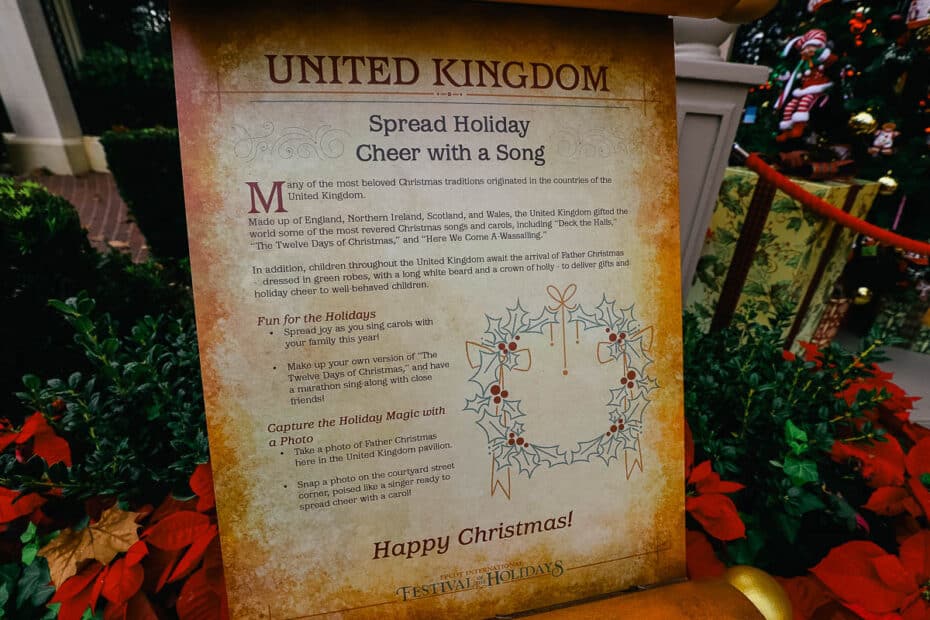 As we leave the United Kingdom, we see a ceramic teapot and a few cups with saucers. Poinsettias surround this beautiful display.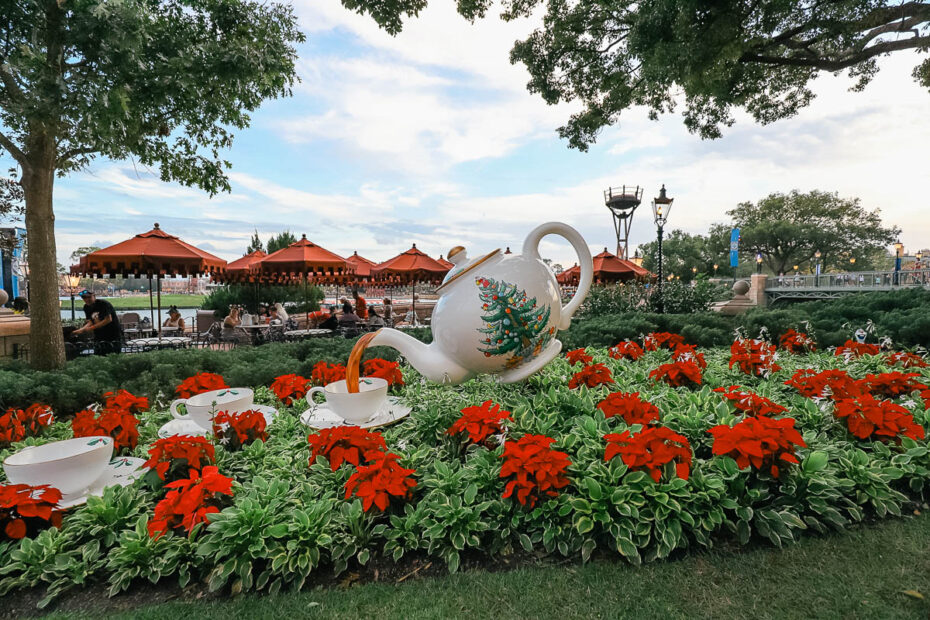 Before we head across the bridge to France, we'll stop at Epcot's International Gateway for a peek inside the windows of World Traveler. Guests that come and go through the front entrance might not always make their way down this far.
However, the Disney Skyliner sits right outside the International Gateway if you're traveling via gondola. We have a complete guide for using the Skyliner and the resorts it services.
Related: Skyliner Resorts at Disney World
World Traveler's windows change throughout the different seasons. I always stop for a few photos. Right now, you'll see Mickey dressed in plaid Christmas attire. Pluto is nearby.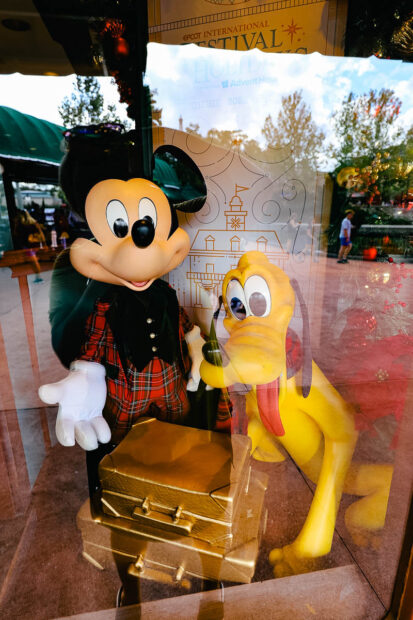 This year's display features Donald and Goofy dressed as singers in the Candlelight Processional.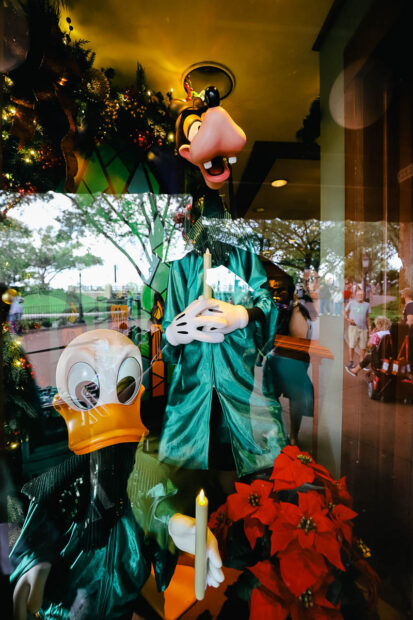 Another window features Donald's nephews as they prepare to light their candles.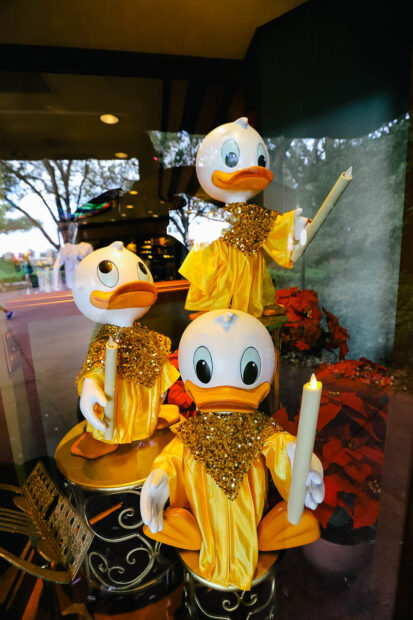 We cross the bridge to the France Pavilion as we continue on the promenade.
France has charming holiday decorations throughout the pavilion.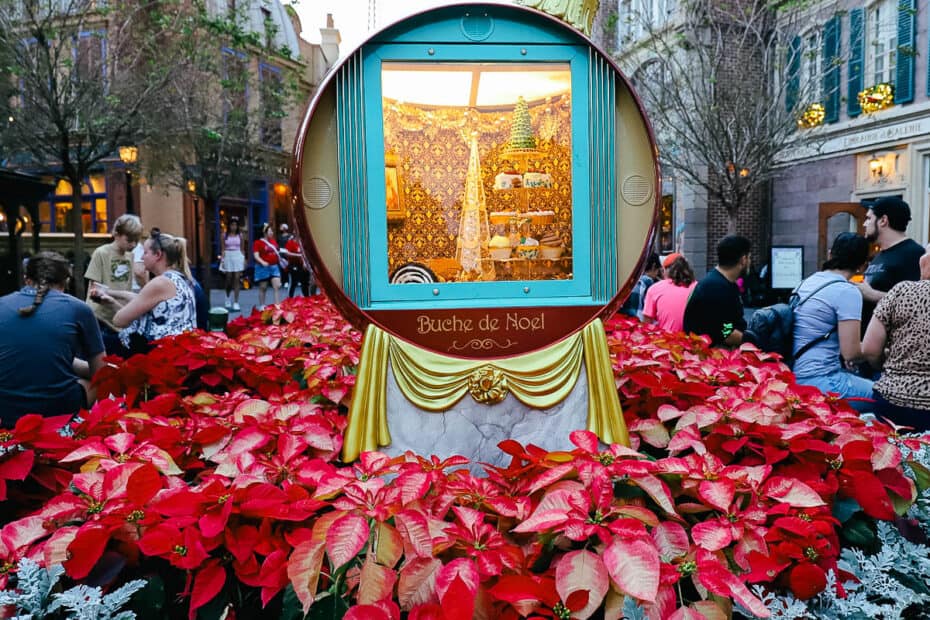 Another holiday storyteller in France, Pere Noel, is available periodically throughout the day.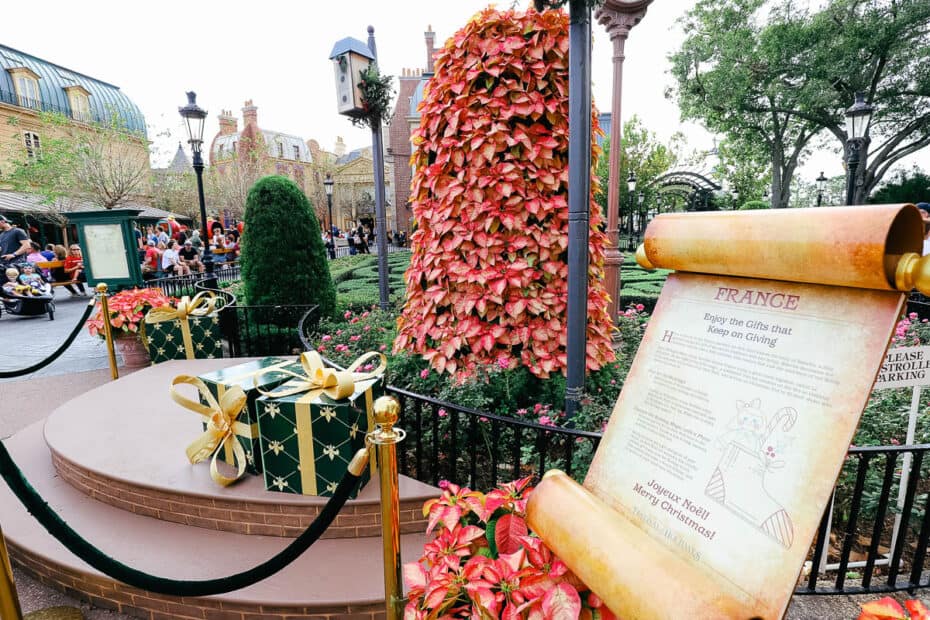 As far as holiday storytellers go, there are several:
Traditional Santa Claus Meet and Greet (The Odyssey)
Father Christmas (United Kingdom)
Pere Noel (France)
Hannukkah Storyteller (Near Morocco)
Daruma Storyteller (Japan)
La Befana (Italy)
Chinese Lion Dancer (China)
Barn Santa (Norway)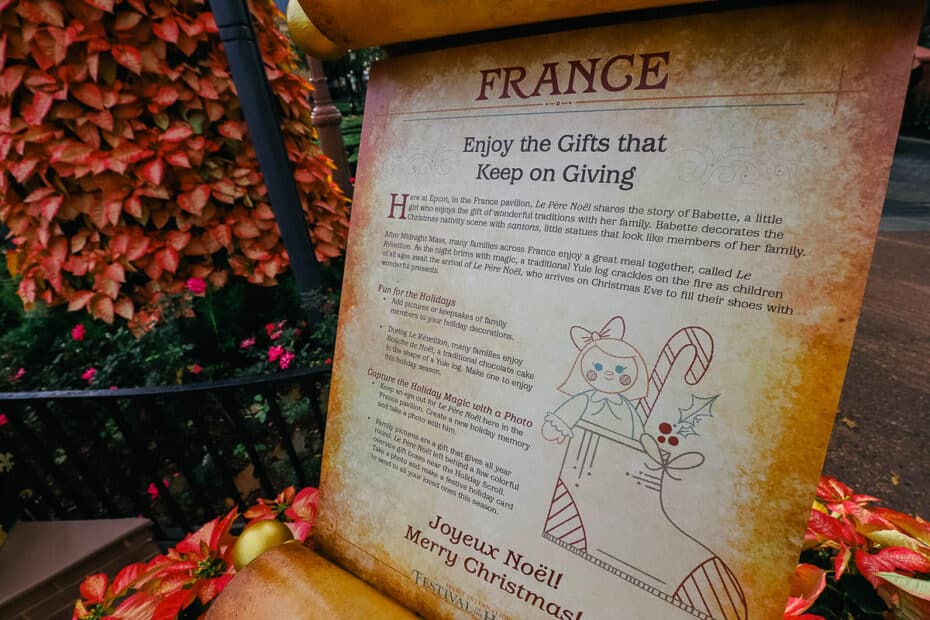 Here is Pere Noel.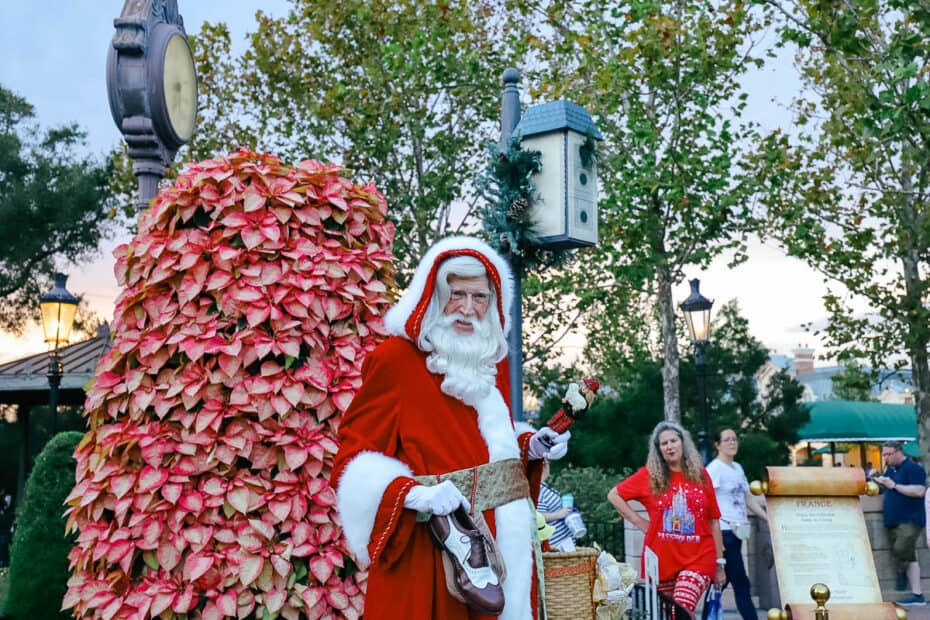 We continue through the Morocco Pavilion toward Japan. In the Japan Pavilion, you might see the Daruma Storyteller.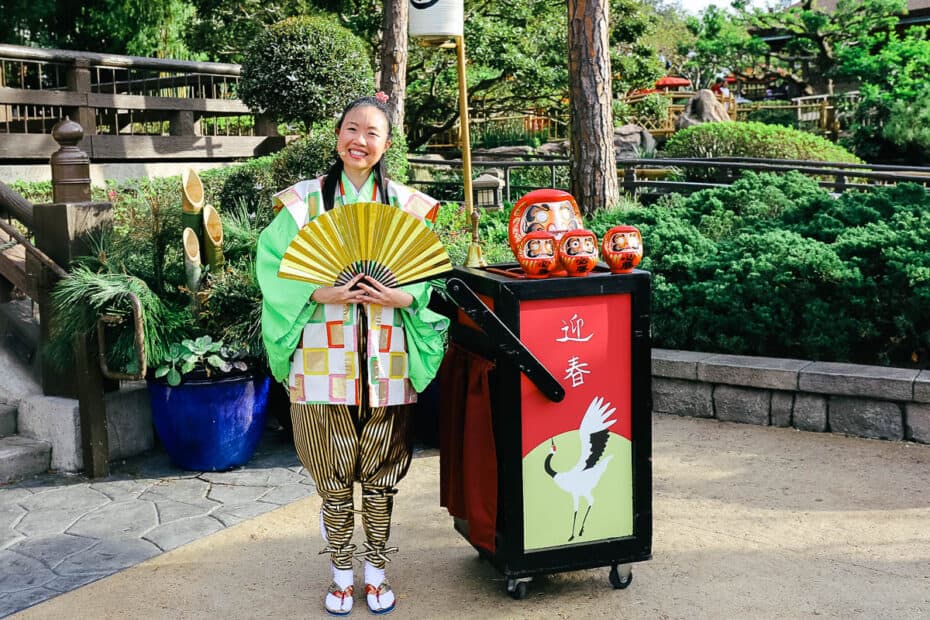 After Japan, we run into the American Pavilion. A beautiful American Christmas tree sits toward the center of the pavilion.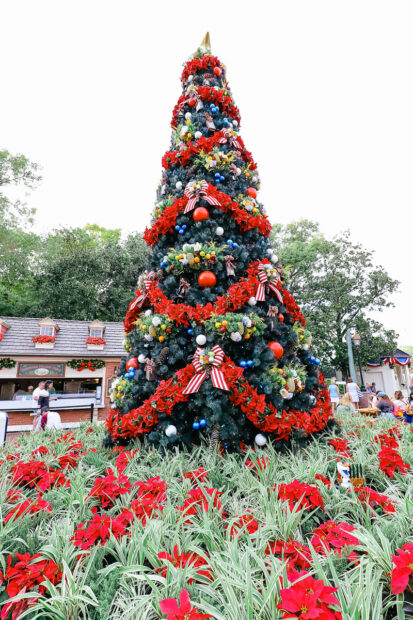 It has a garland of poinsettias, striped bows, lanterns, and fruit decorations. The more you look at it, the prettier it gets.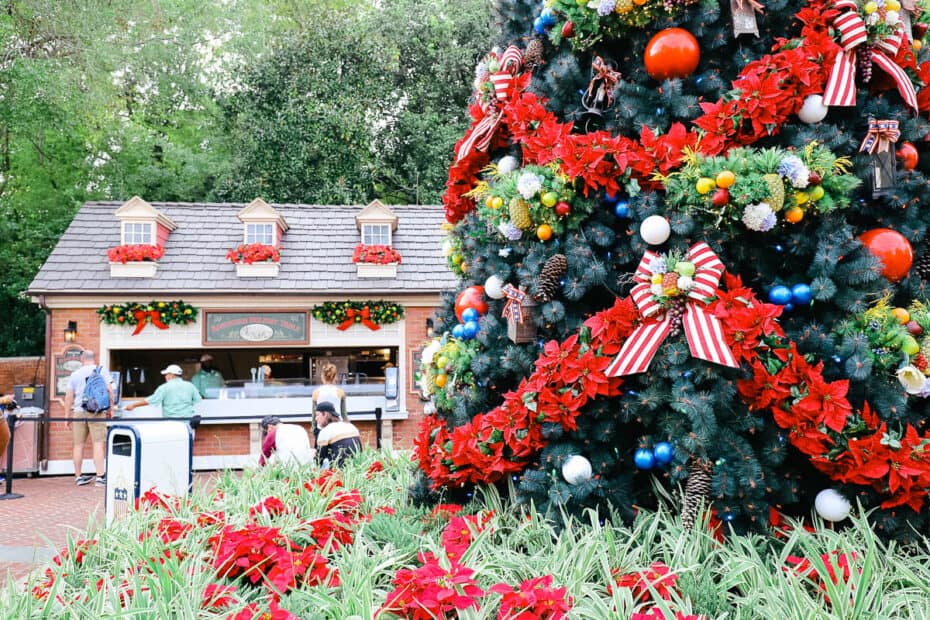 Inside the American Adventure, there's a gingerbread display.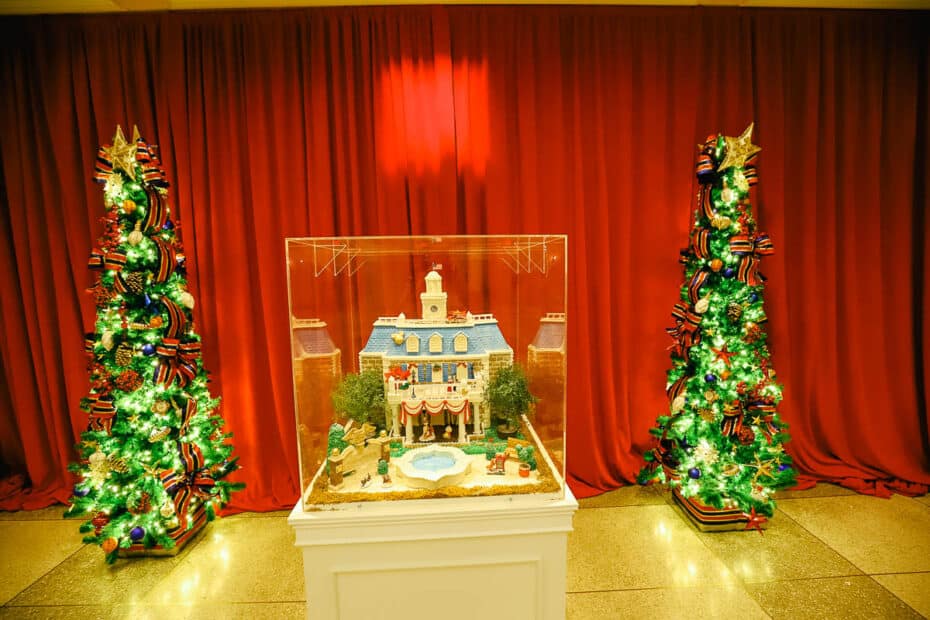 Well, there are several gingerbread displays. Here are a few photos.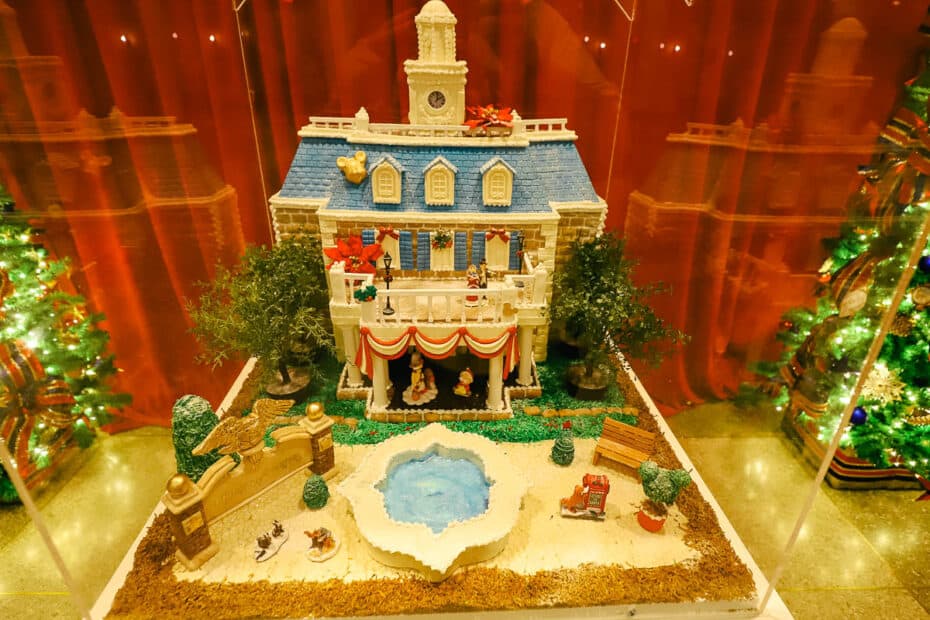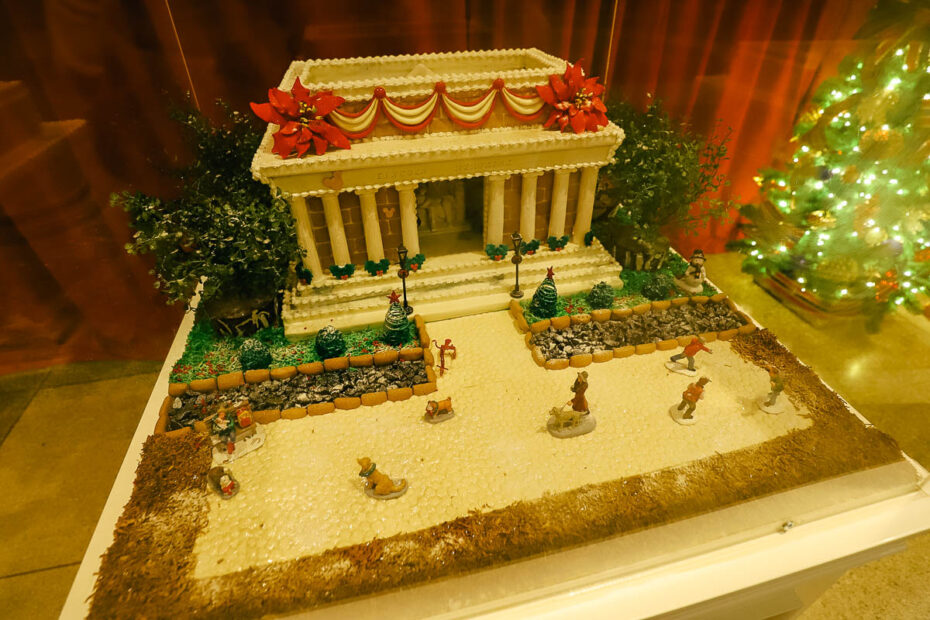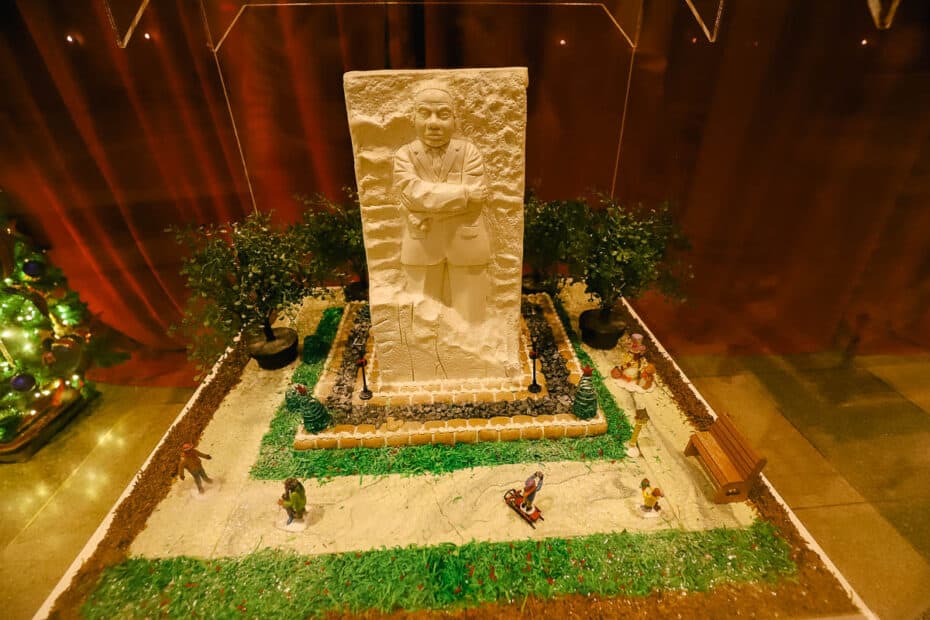 Perhaps, the most popular event of the International Festival of the Holidays is the Candlelight Processional.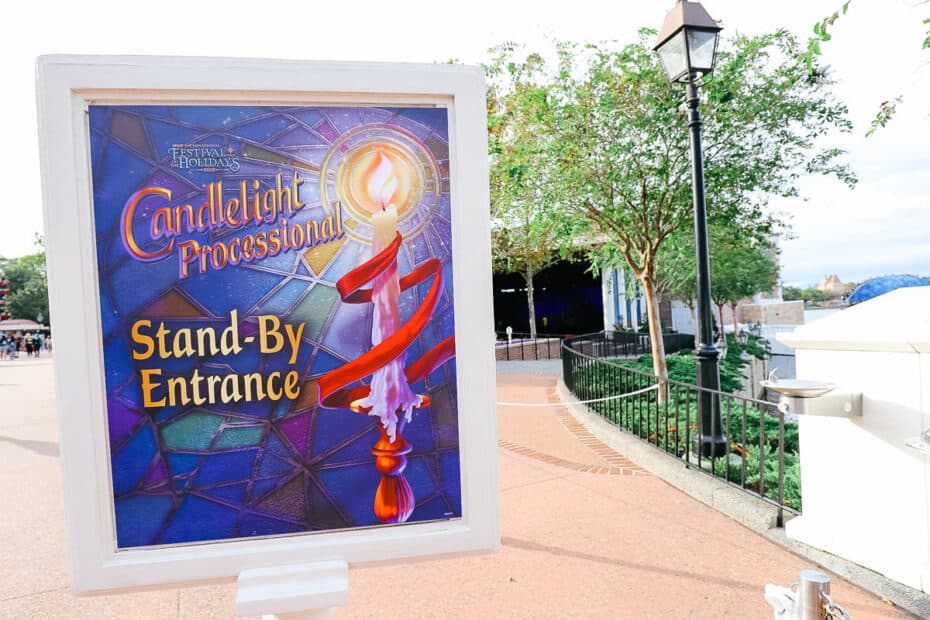 Each evening a celebrity narrator shares the story of Christmas and the birth of Jesus. There is a complete list of this year's narrators here on Disney's site with performance times.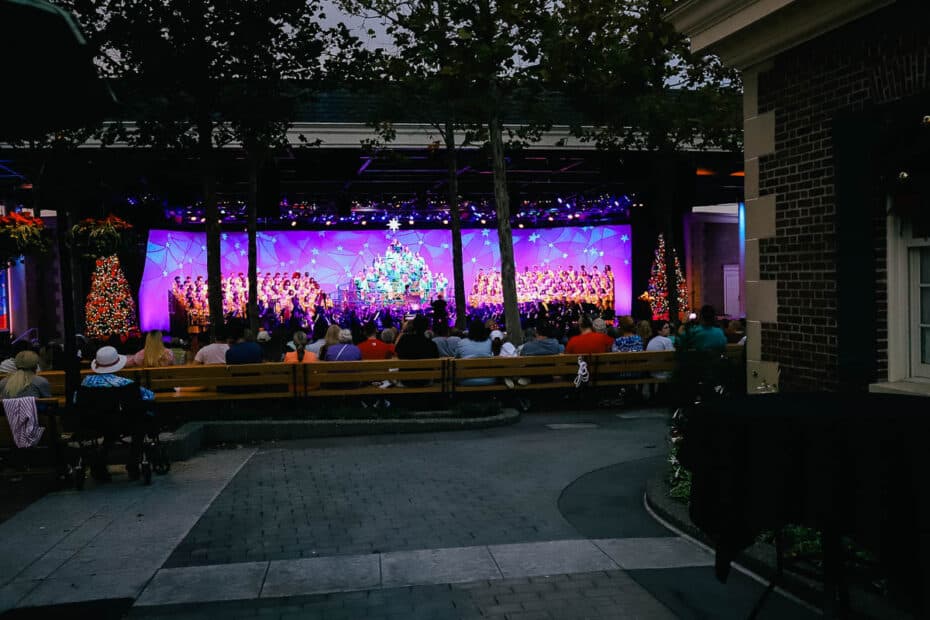 Next door in the Germany Pavilion, everything is trimmed in traditional Christmas colors.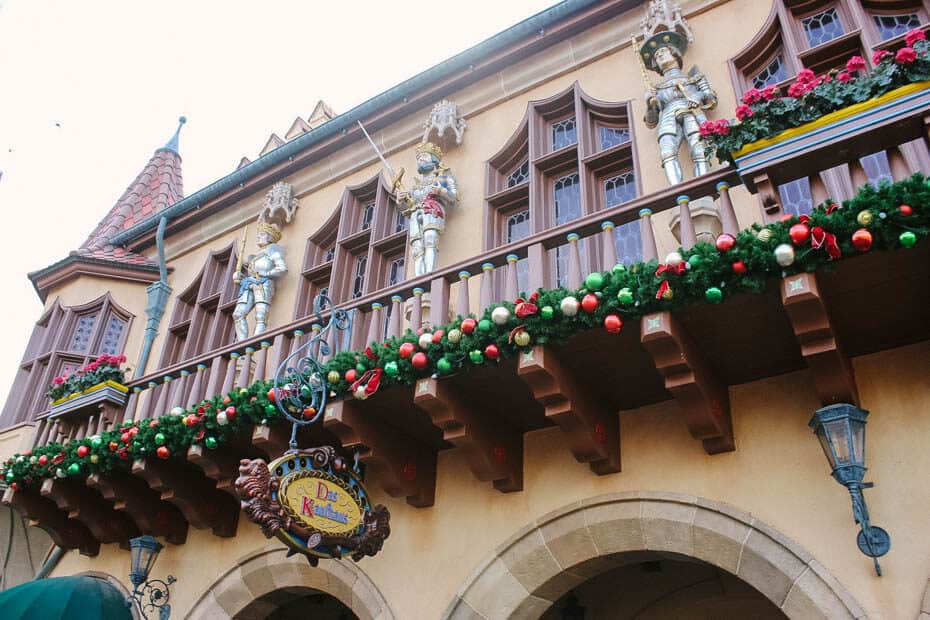 Be careful here. The sweet smell of caramel is sure to lure you inside the Karamell-Kuche.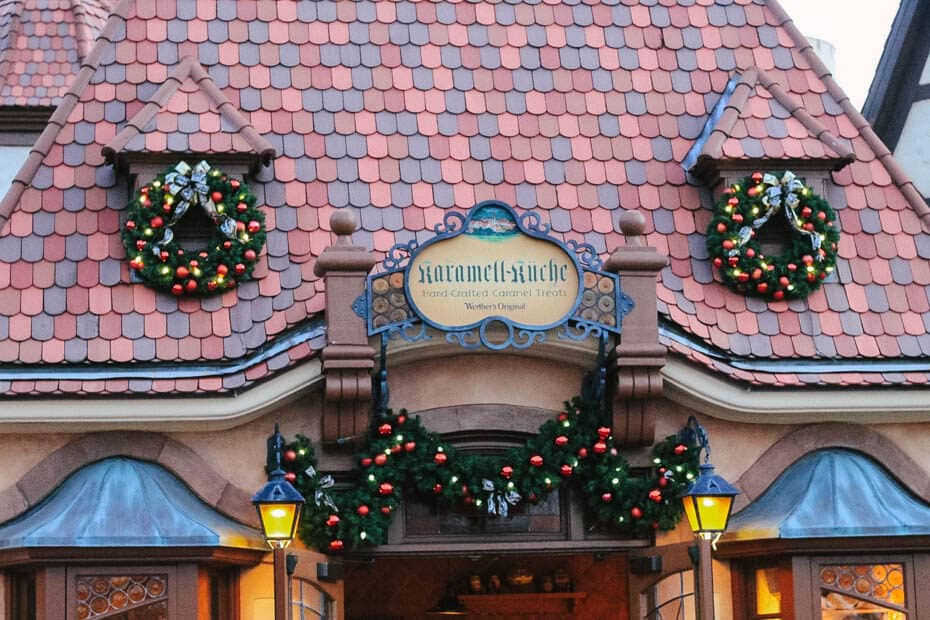 Epcot's Italy Pavilion is festive as well, with strands of garland.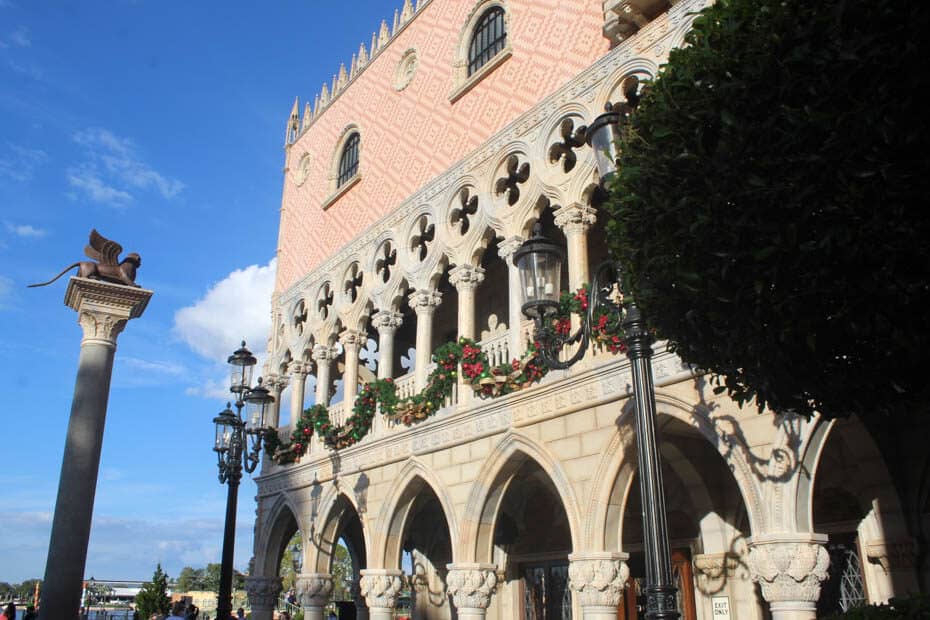 Over in the Norway Pavilion, we see more festive holiday trimming.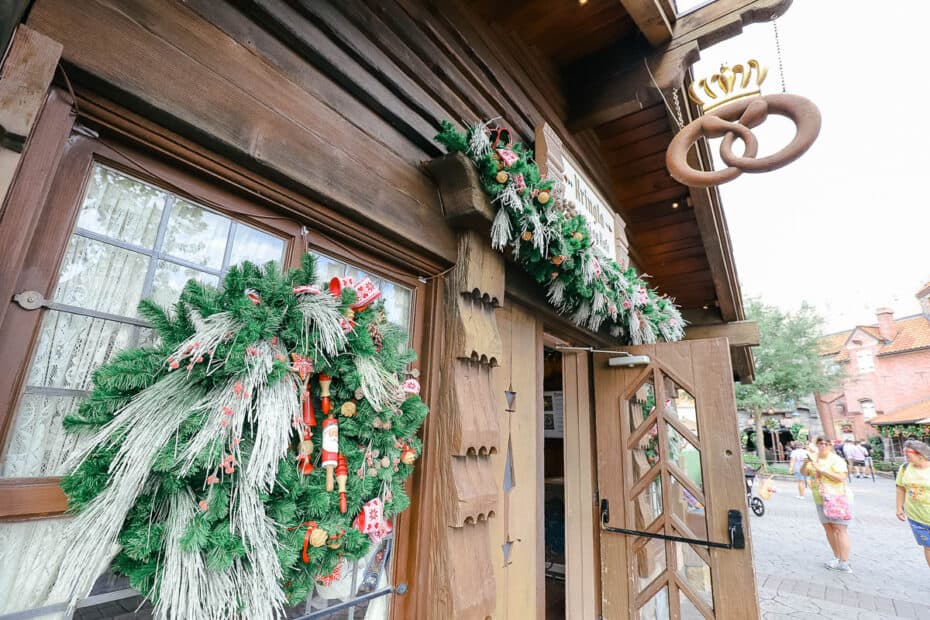 I thought these wreaths were gorgeous.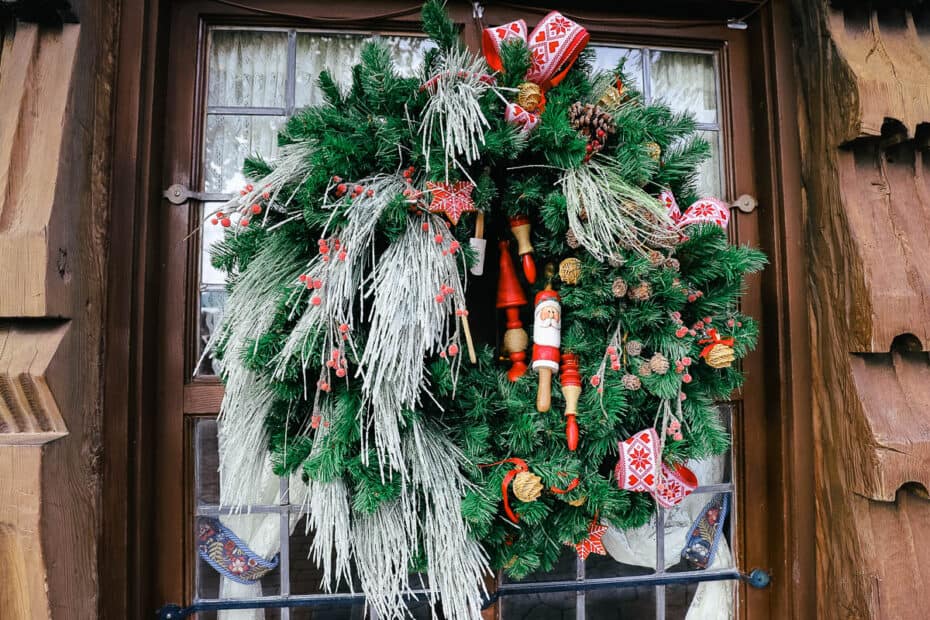 Pluto meets guests off and on throughout the day in his earmuffs. In addition, several characters meet in Christmas attire over the holidays.
Related: Christmas Characters at Disney World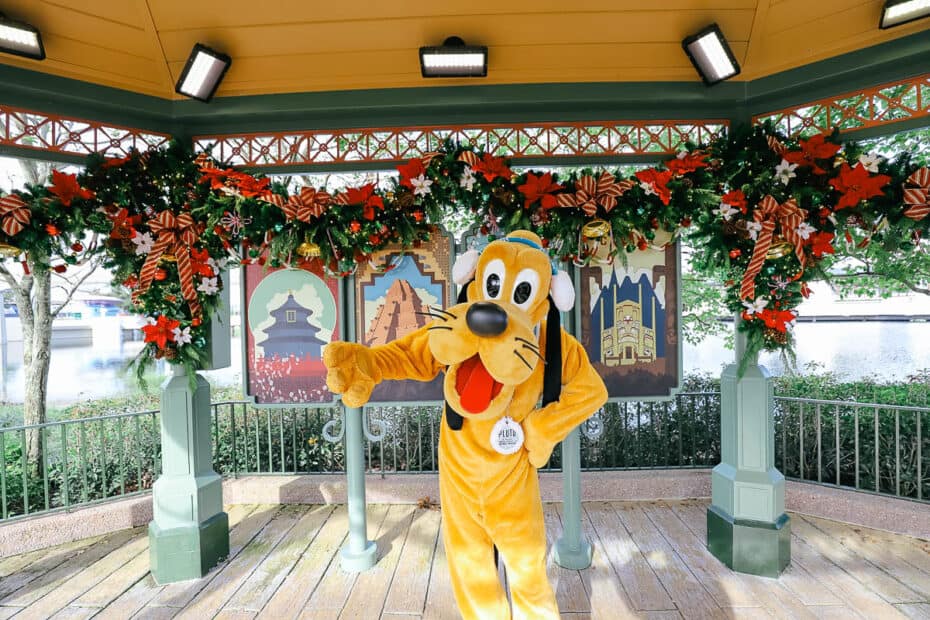 But if you are hoping to see a lot of Christmas characters, you'll want tickets to attend Mickey's Very Merry Christmas Party. There are several character meet-and-greets exclusive to the party.
Related: Characters at Mickey's Very Merry Christmas Party
Additionally, Olaf's Holiday Tradition Expedition returns this year. This fun scavenger hunt allows guests to search for mini-statues of Olaf throughout the World Showcase.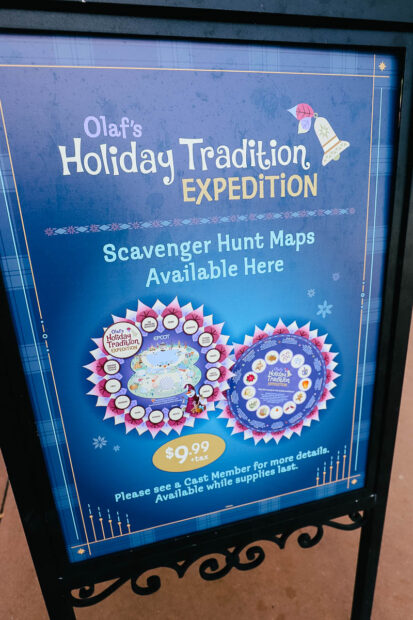 Here are the prizes for this year's scavenger hunt.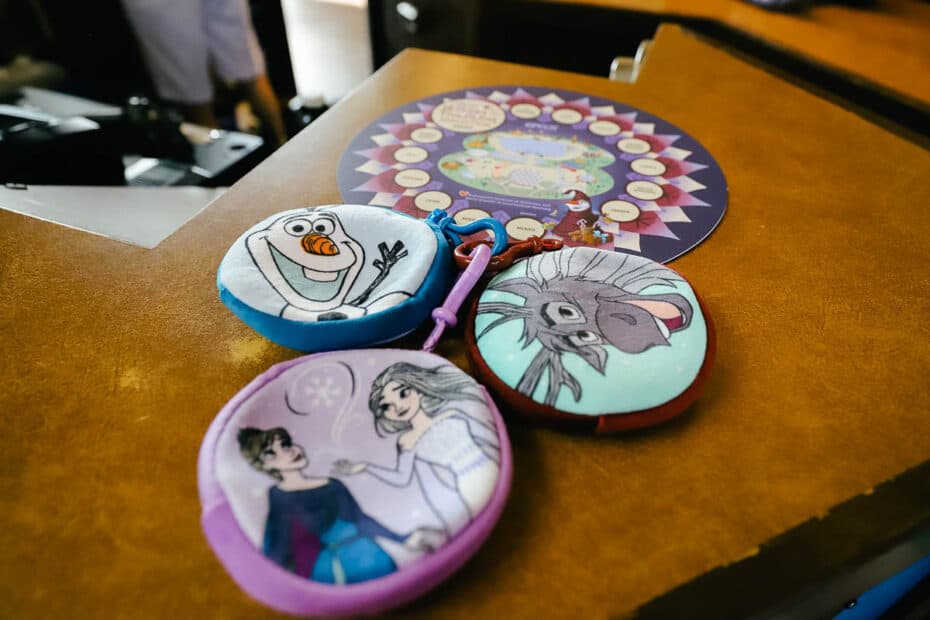 While taking photos of everything Christmas at Epcot, I took a few of the merchandise. These items below are part of the 2022 Walt Disney World Christmas merchandise collection.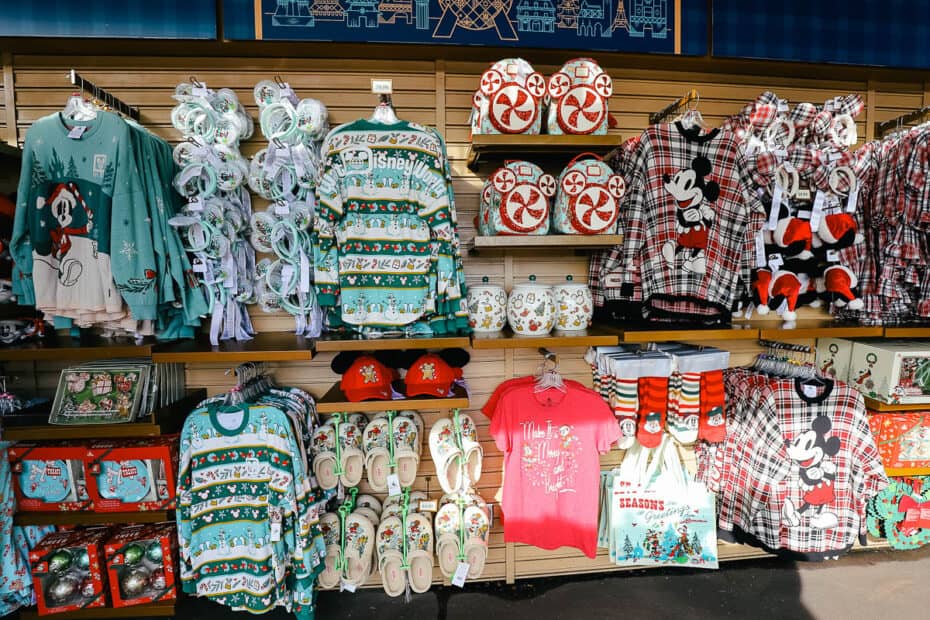 While the following items are specific to the Epcot International Festival of the Holidays.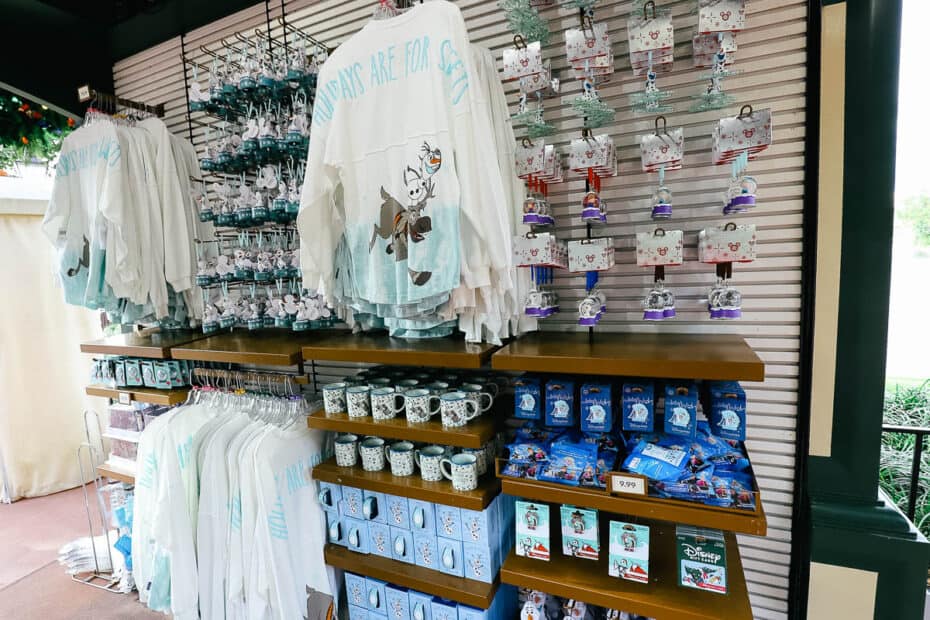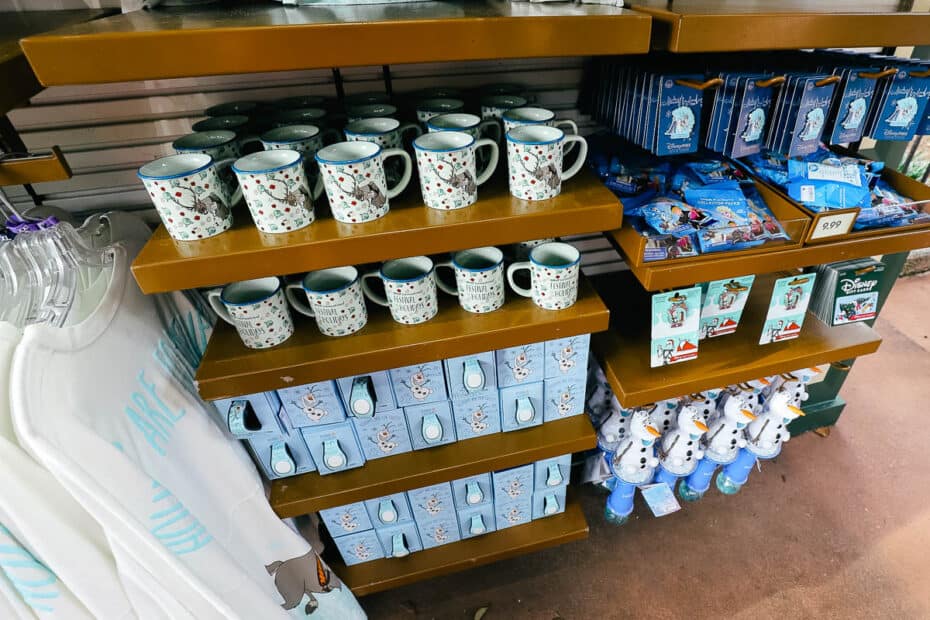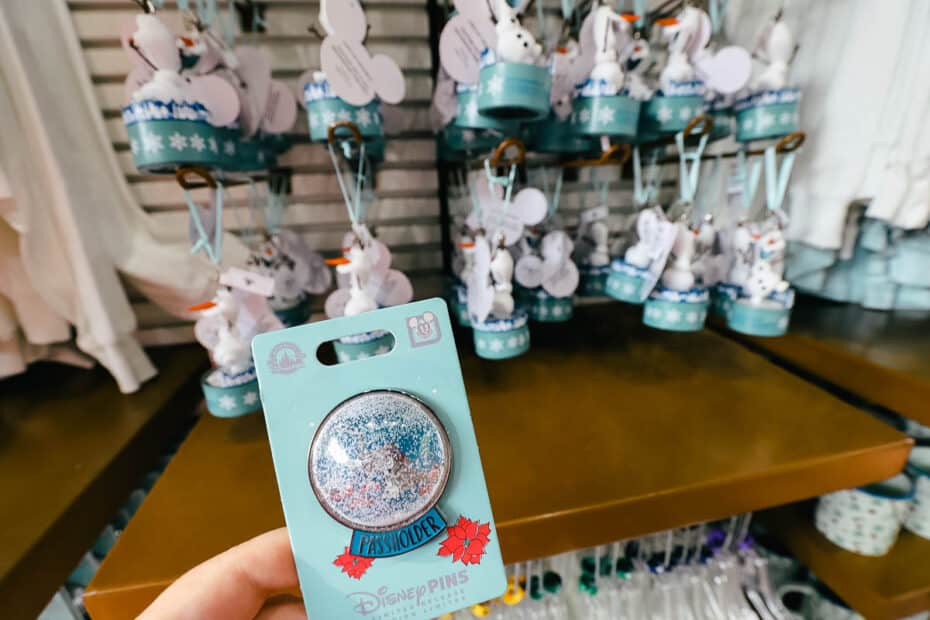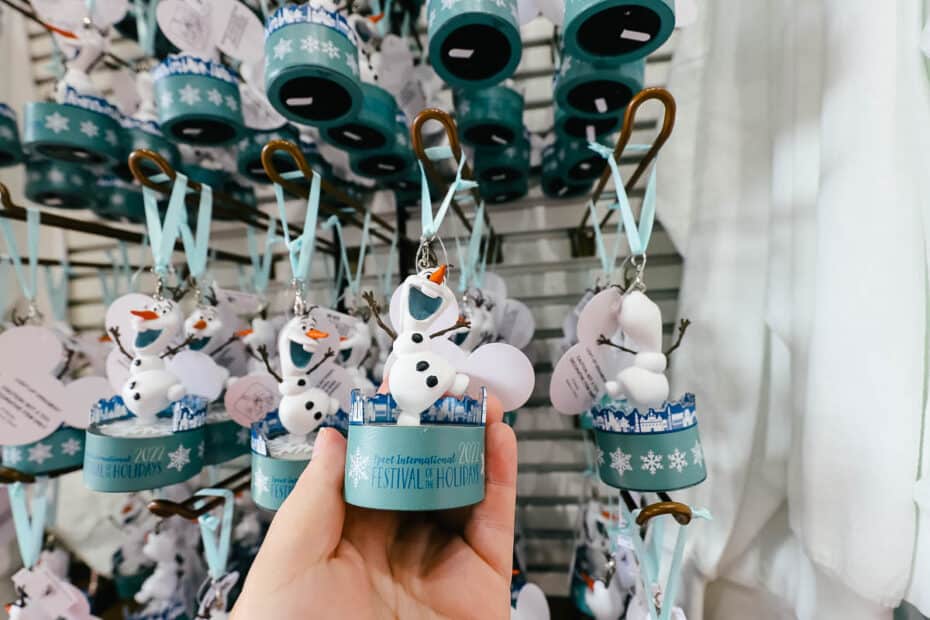 Here are a few more Epcot Christmas photos.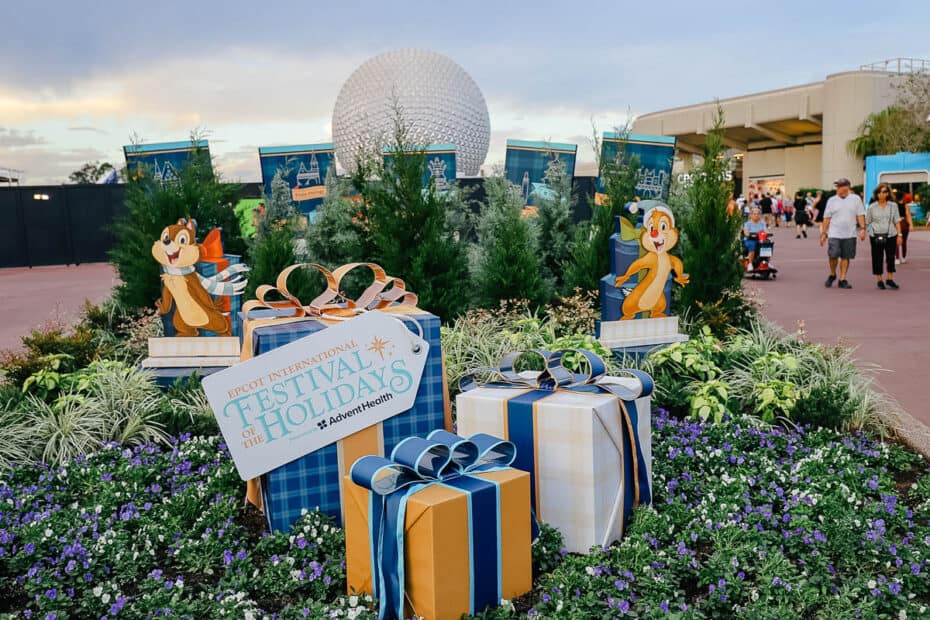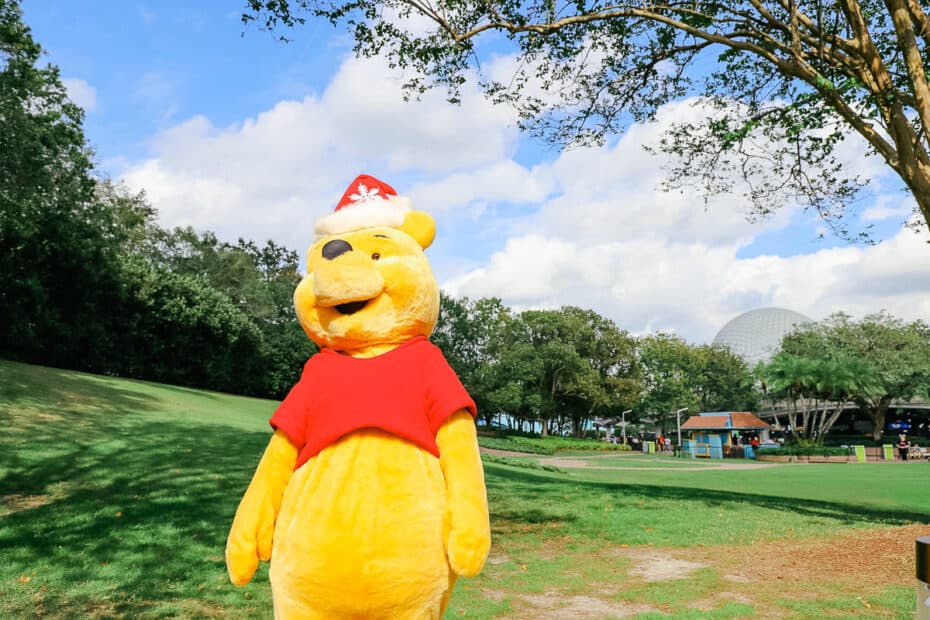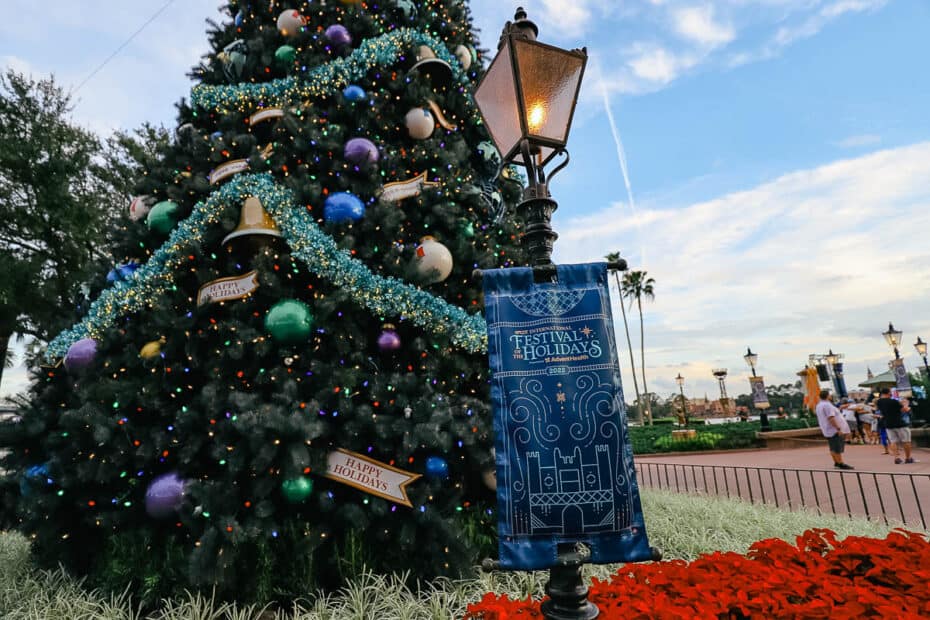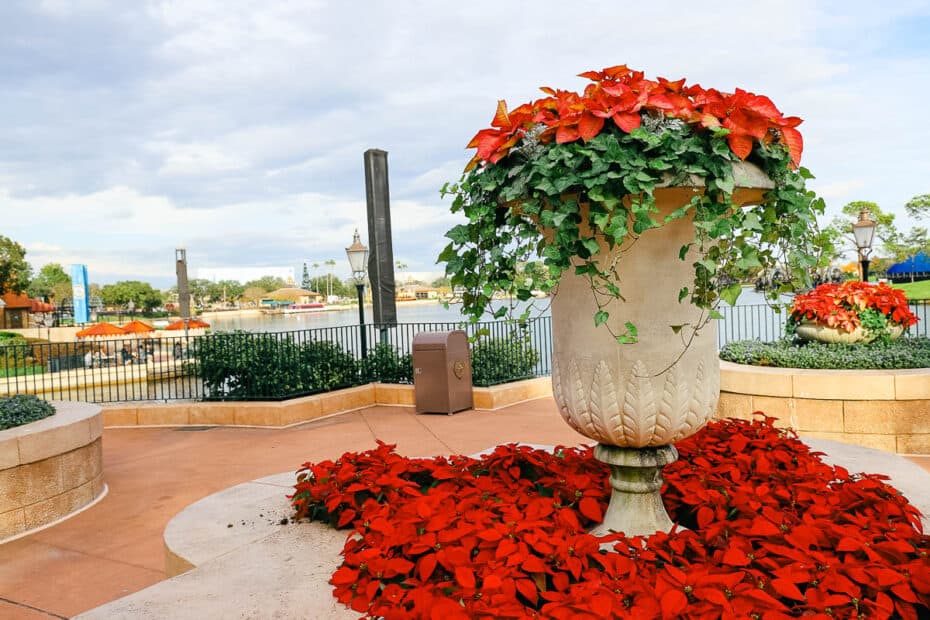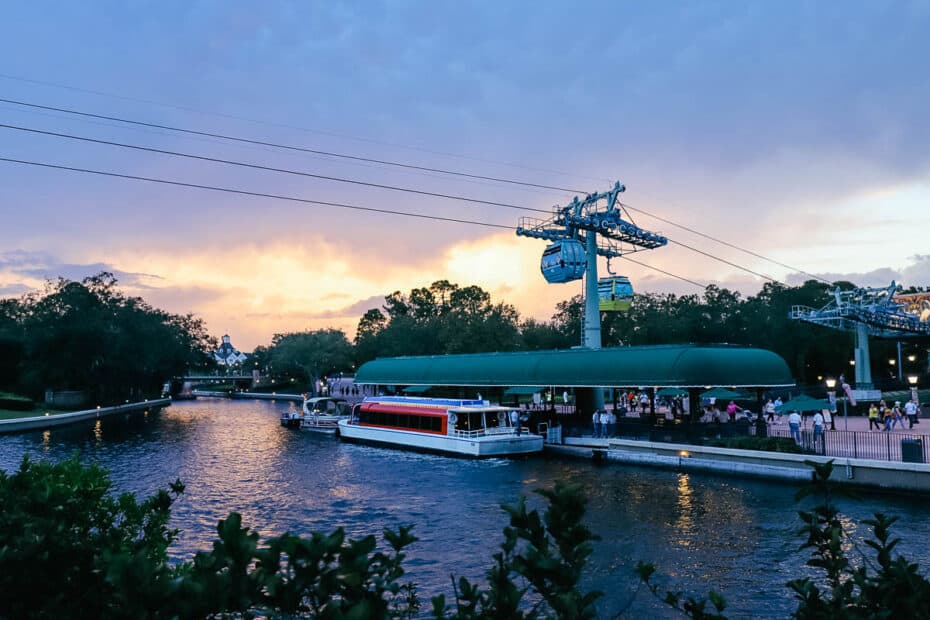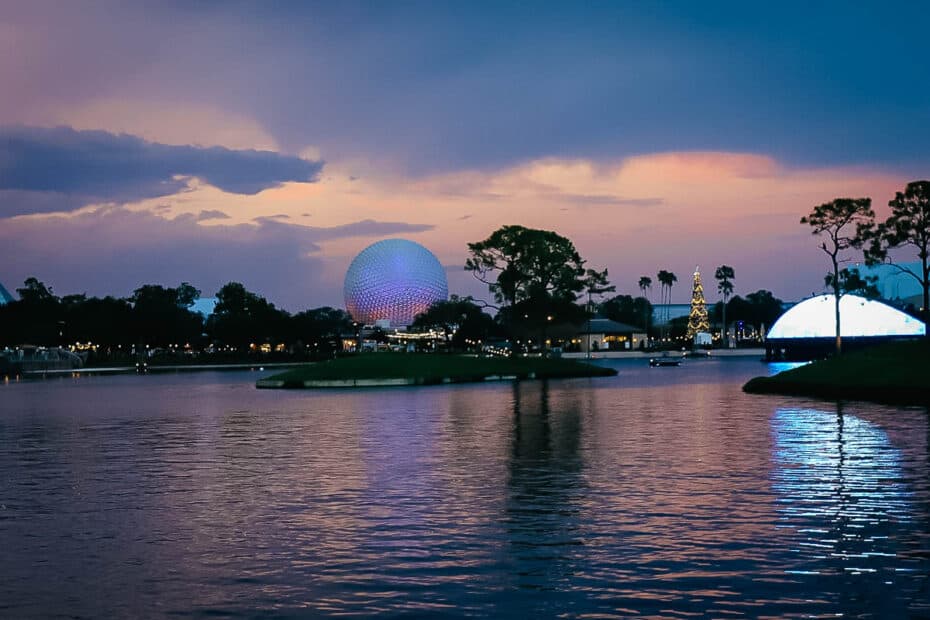 Finally, we made our way back full circle to the World Showcase Plaza. Epcot's Christmas tree looks dazzling in the golden afternoon sunset.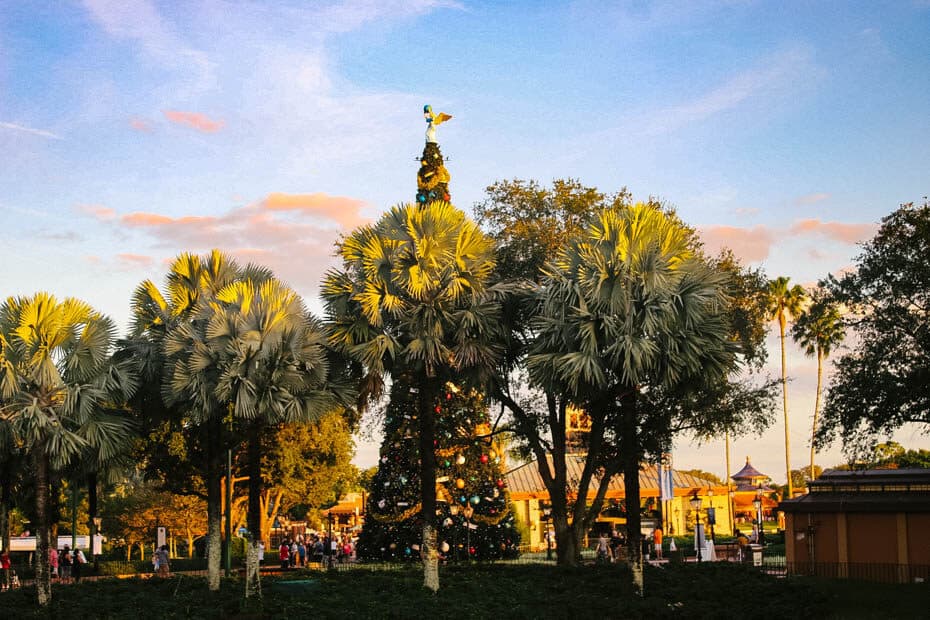 I hope you enjoyed this Epcot Christmas photo tour.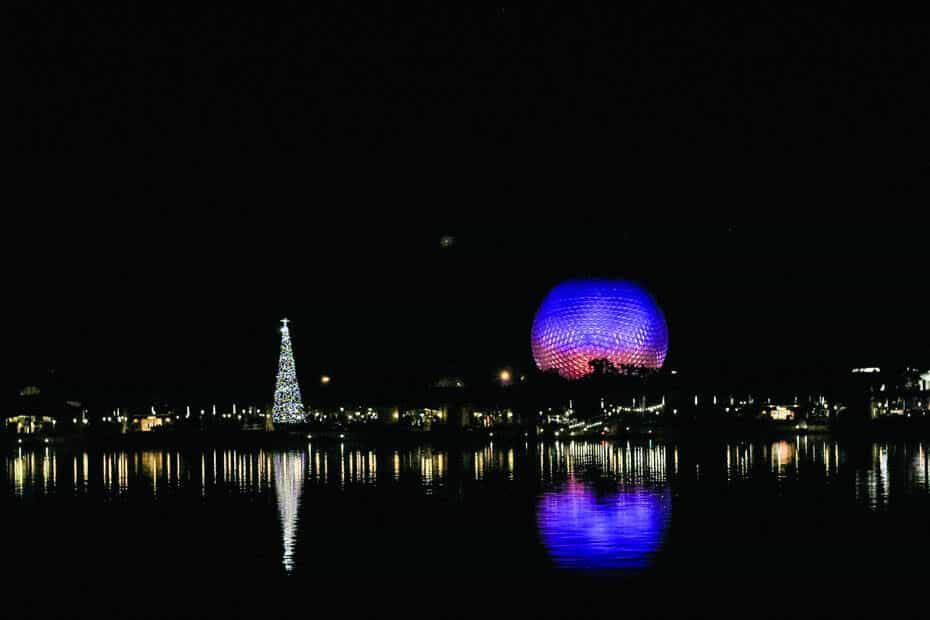 For more Christmas at Disney World, you might enjoy the following:
You might also enjoy our guide to the Best Disney World Resorts at Christmas.
If this is your first visit, let me share what we do here. Resorts Gal specializes in providing Disney World Resort Reviews. Some of our favorites in the Epcot Resorts area include:
We also provide a ton of information about dining and characters at Disney World. You can browse all of our Disney Restaurant Reviews. In addition, we have a complete guide to all the character meets at Disney World.
And if you would like to combine the two, don't miss the Ultimate Guide to Disney World Character Dining. It includes specifics for each character meal and is updated often.
In the Comments
What do you think of Christmas at Epcot? Did you enjoy this photo tour?