A Merry Epcot Christmas with Photos
As we can continue our look at the holidays in the parks, we find ourselves at Epcot for Christmas. So make sure you have a favorite snack by your side to graze on as we make our way through Epcot. Because what would Epcot be without some sort of food booth every 15 steps or so to pick up a treat or refreshment?
However, for the sake of this review and my personal diet, we'll only take a look at actual Christmas decor and characters at Epcot. And I felt like it would be fun for us to take a walk through the park in the actual way you might tour it. Or at least the way you might take a relaxing holiday stroll. Not to be confused with the actual cookie stroll offered at the Festival of the Holidays.
I do hope for you to be as excited for Christmas as Mickey Mouse is in the picture below. It's been a tough year for most of us. Sigh, I get it.
And smile, because you know Mickey and the gang will be waiting for your return!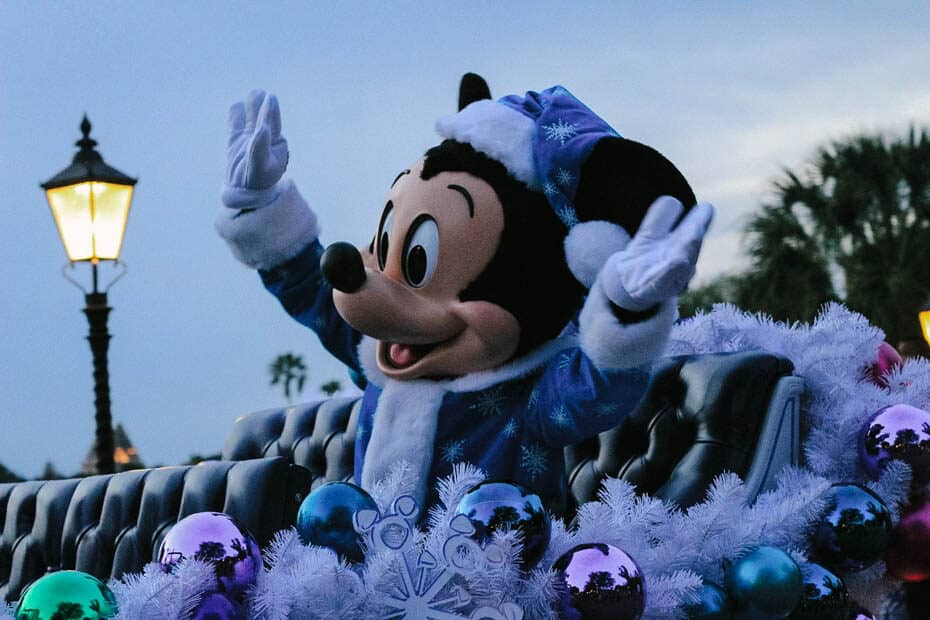 If you were to enter Epcot at the front of the park you would be greeted by several of these holiday cards, many construction walls, and signage for the Festival of the Holidays.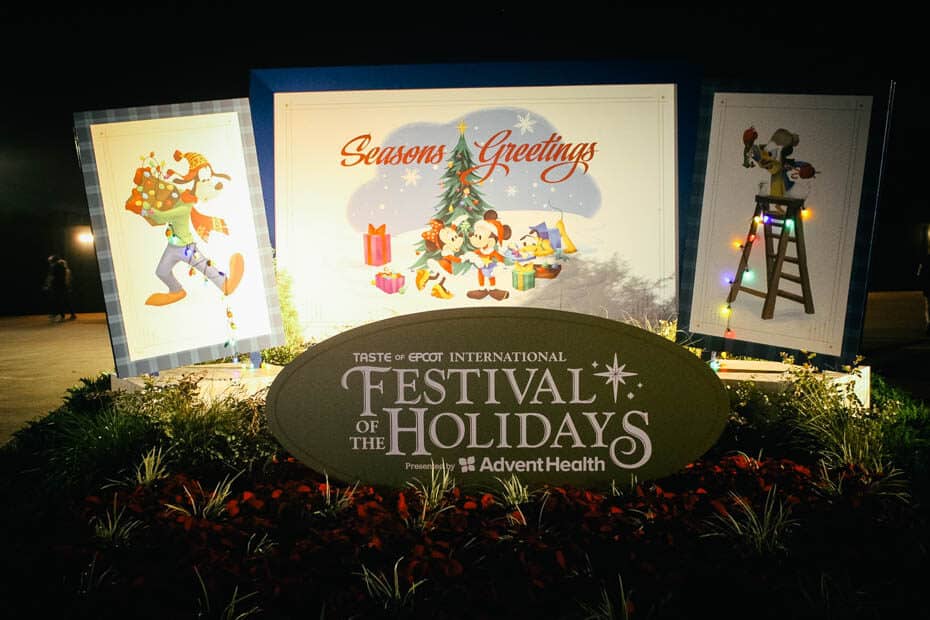 Since we can't walk directly through Future World anymore (because it's ripped to shreds), we'll head over to Future World East. There you'll be greeted by a variety of poinsettias in the large planters facing the Imagination Pavilion. There's not a lot going on holiday-wise in this area because it's truly under major refurbishment.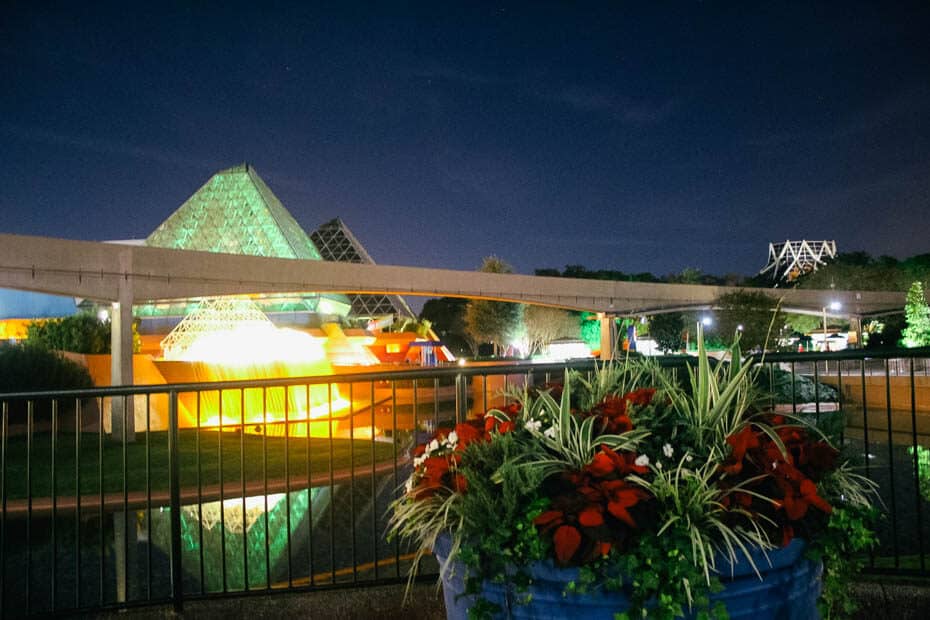 But between the Land and Imagination pavilions you might run into Winnie the Pooh in his Santa hat out tending to the garden.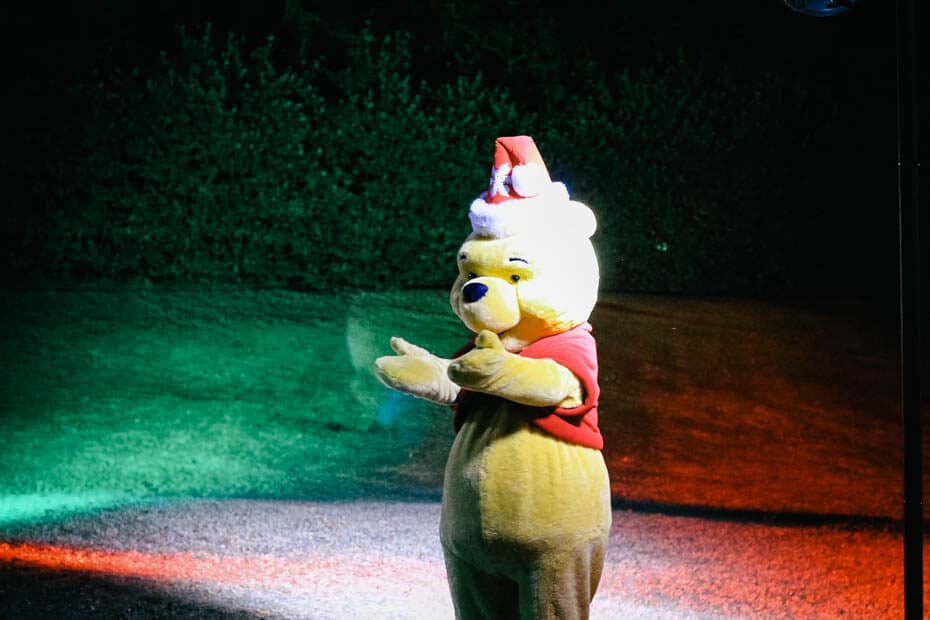 It was really nice to see that this distanced character meet is also available in the evening. They have festive red and green lights shining out onto the area.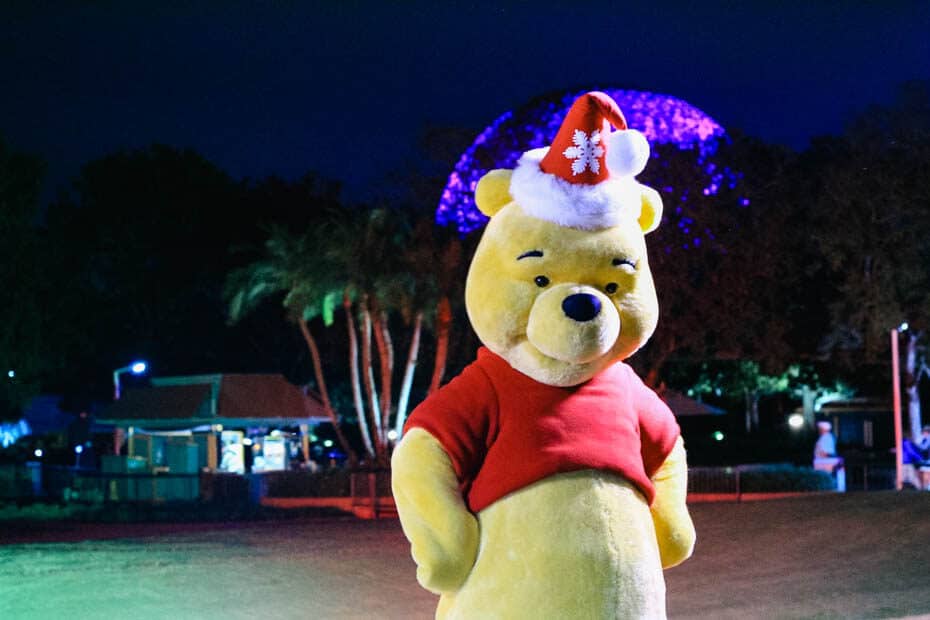 If you were to visit Epcot during the Christmas season, the number one thing not to miss is riding Living with the Land Merry and Bright nights during the evening. The entire ride (located in the Land Pavilion) is fully decked out in a variety of lights.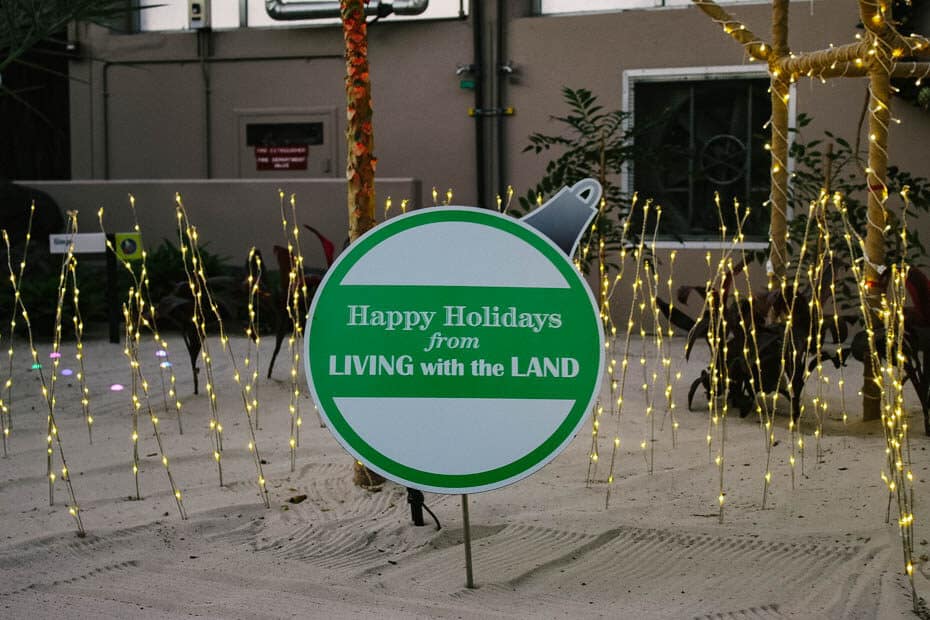 It's absolutely gorgeous! In fact, it's so stunning that I actually rode it four different times and took close to a 100 photos. I have a separate review of the Merry and Bright Nights here if you would like to enjoy it for yourself.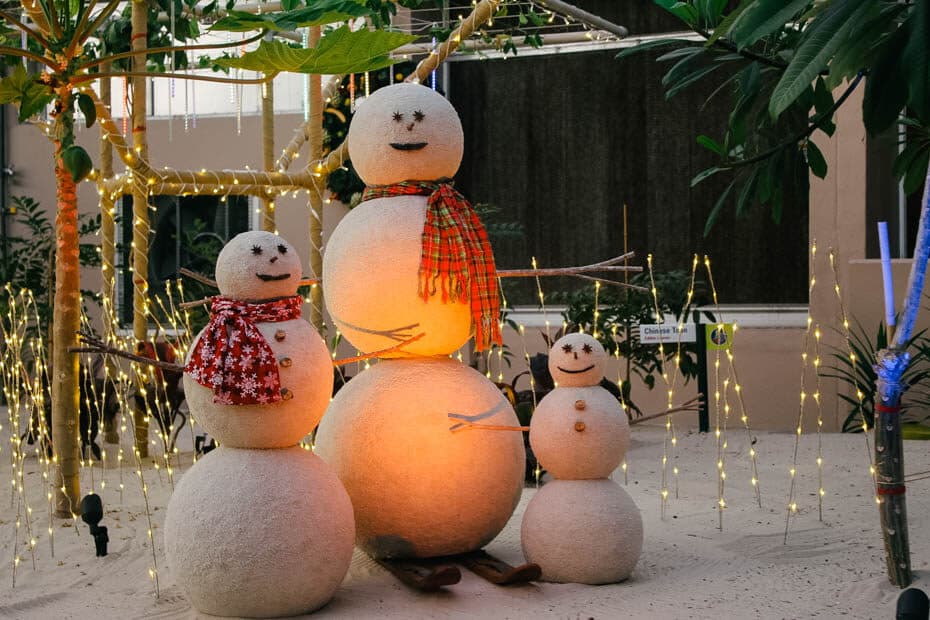 As far as the Future World area, or what's left of it, that's about it for Christmas decorations. But don't worry, we still have a lot to look at in the World Showcase.
We'll start this portion of our walk with Epcot's Christmas tree located in the World Showcase Plaza. This is a favorite tree for many, decorated with various phrases and decor from the different countries of the World Showcase.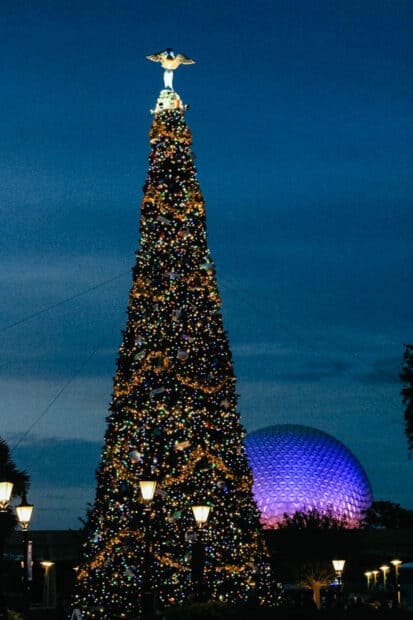 An angel sits atop the tree presenting the world to the heavens above.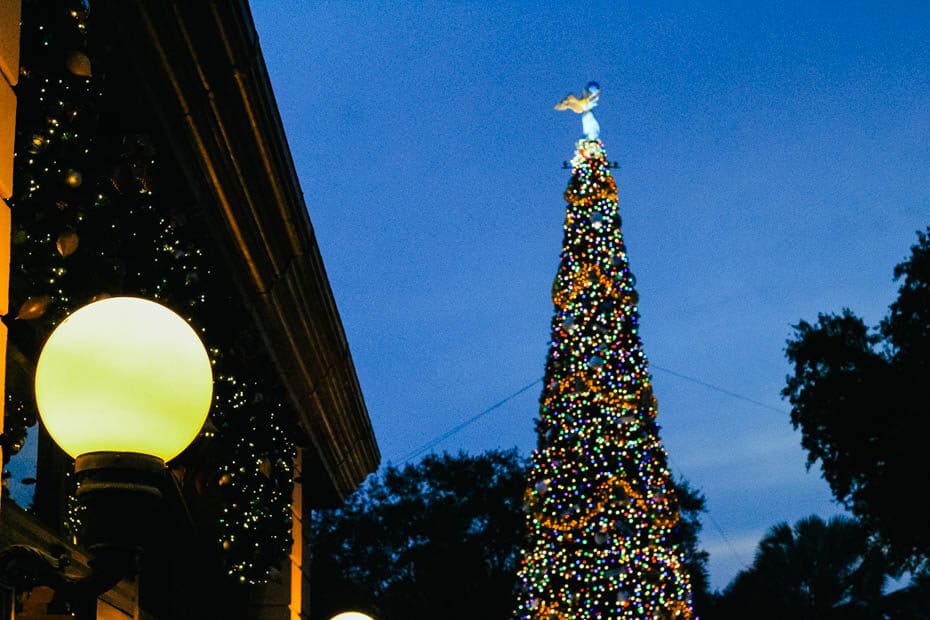 One evening I even caught the tree by the light of a full moon. I wanted to mention that the area around the back of the tree toward the World Showcase lagoon is spacious and makes for a nice place to take in stunning views of the tree and the park. It's also usually fairly private. So don't forget to take a walk through the area if you have a chance, especially around sunset.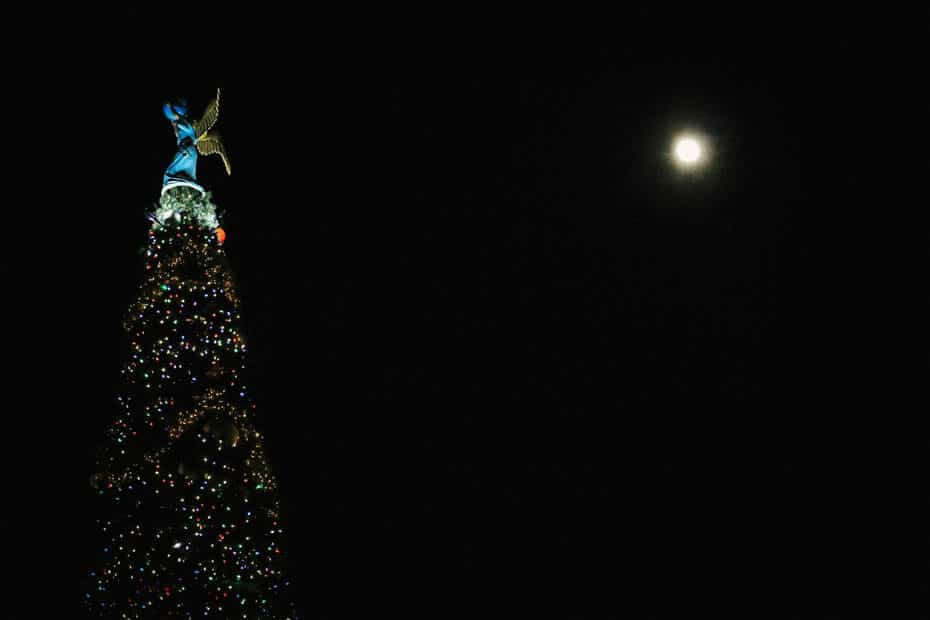 As we move on toward the different countries, we'll first stop at the Canada Pavilion. Most of the shop here have unfortunately yet to reopen. But you'll still find plenty of decor and the pavilion's attraction Canada Far and Wide is operating.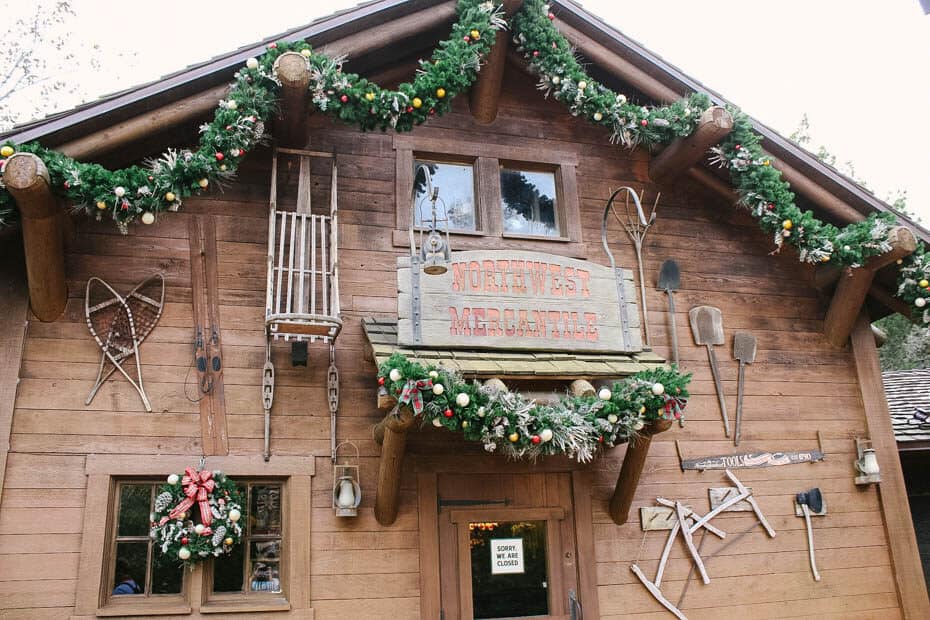 The garland and decor pay homage to the adventurous country. If you haven't explored the pavilion fully, I implore you to spend a little extra time checking out the gardens and walking through the back trail around and under the waterfall.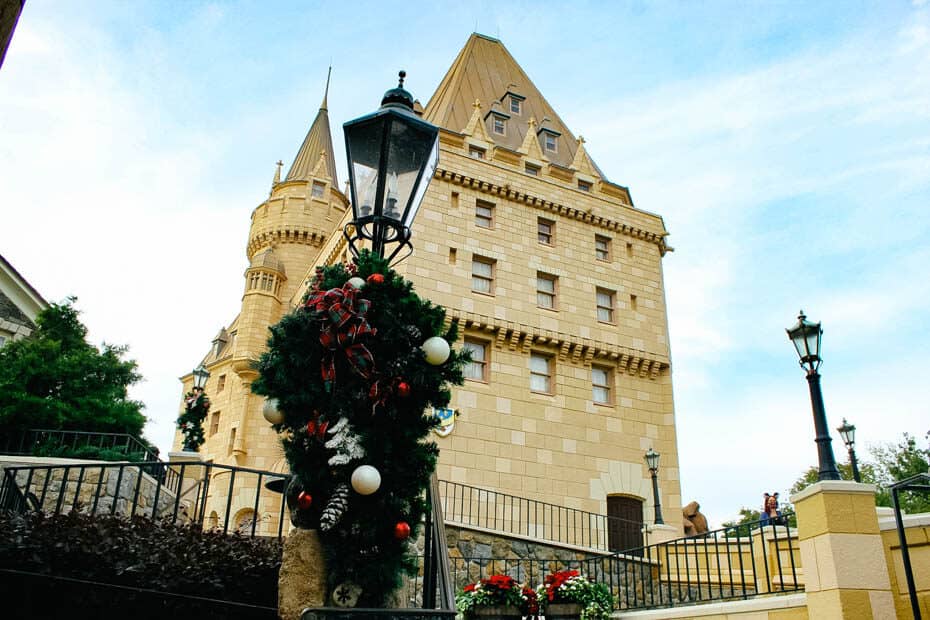 Before we reach the United Kingdom, we'll stop into the World Showplace building that rests in between the two countries. You'll find several Festival of the Holiday booths inside the pavilion and you might run into a musical performance depending on your timing.
There are two fun photo opportunities with Christmas-y backdrops inside the showplace. One features Frozen characters and winter trees.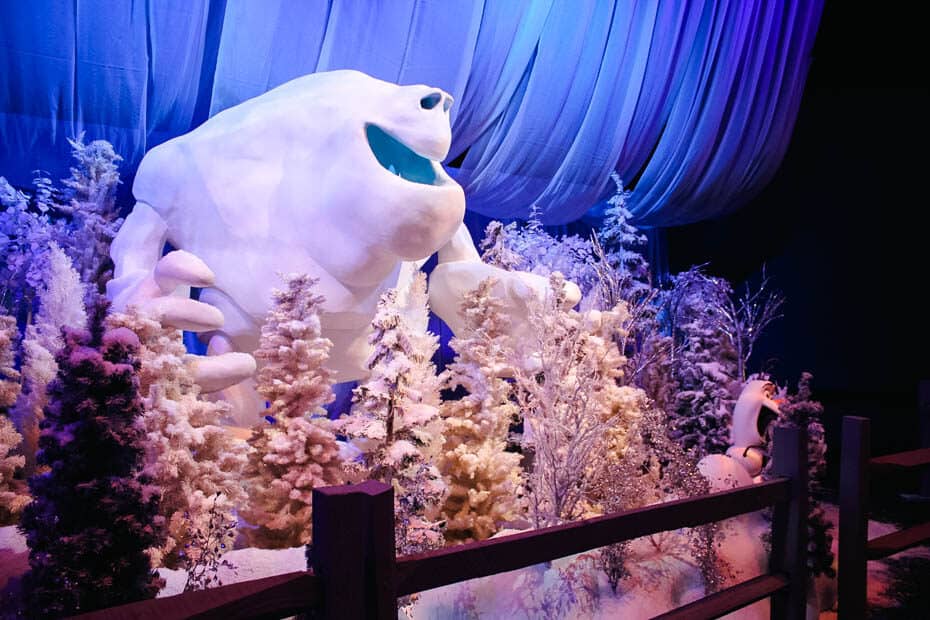 And the other features an Epcot Christmas backdrop with trees, reindeer, and other festive decor.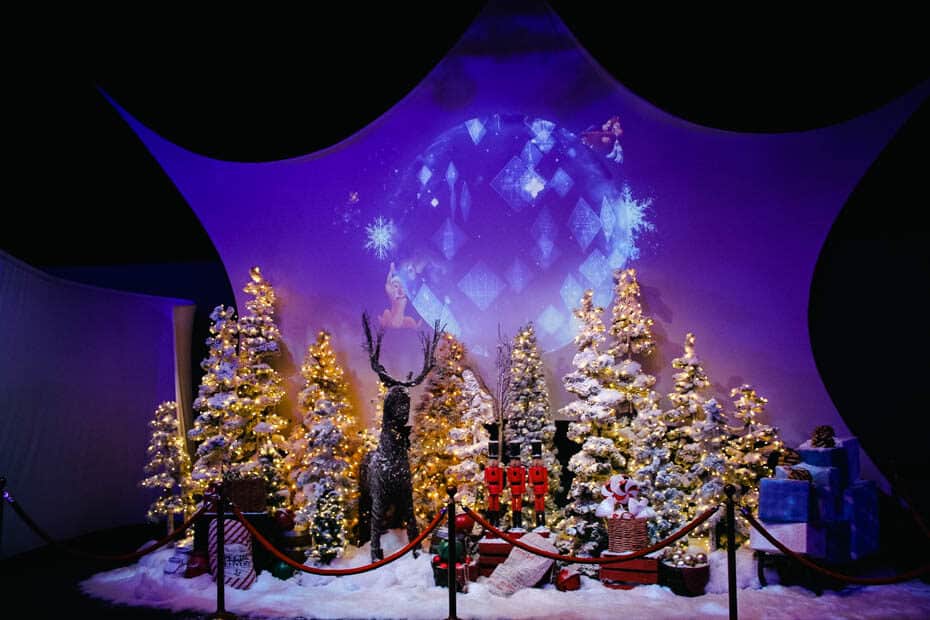 On this particular day, when I exited the World Showplace I heard what I thought was the faint sound of sleigh bells in the distance. As you may or may not know, all of the parks are currently offering cavalcades (pop up parades) throughout the day.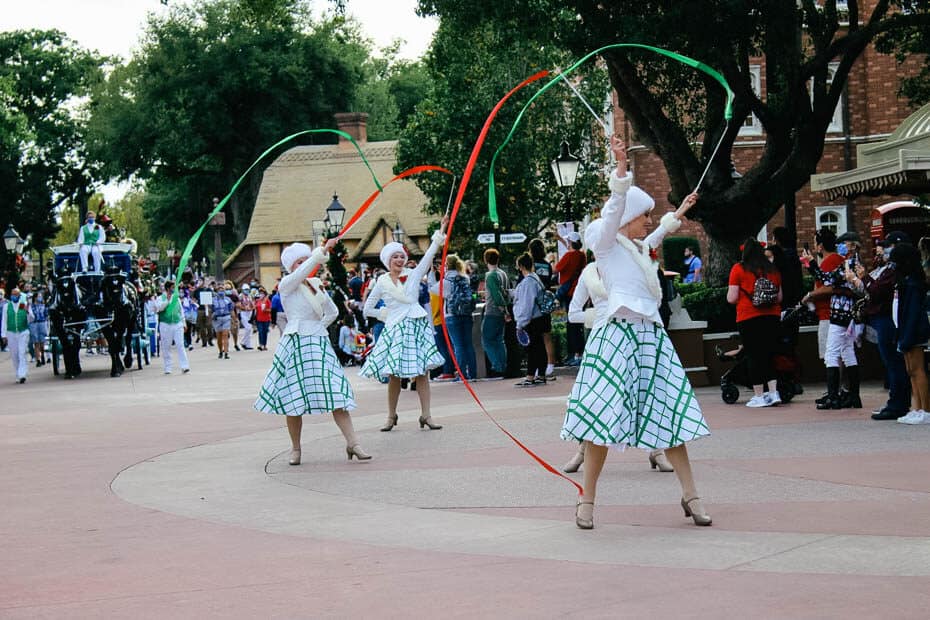 And sure enough, Santa was making his way through the World Showcase at Epcot.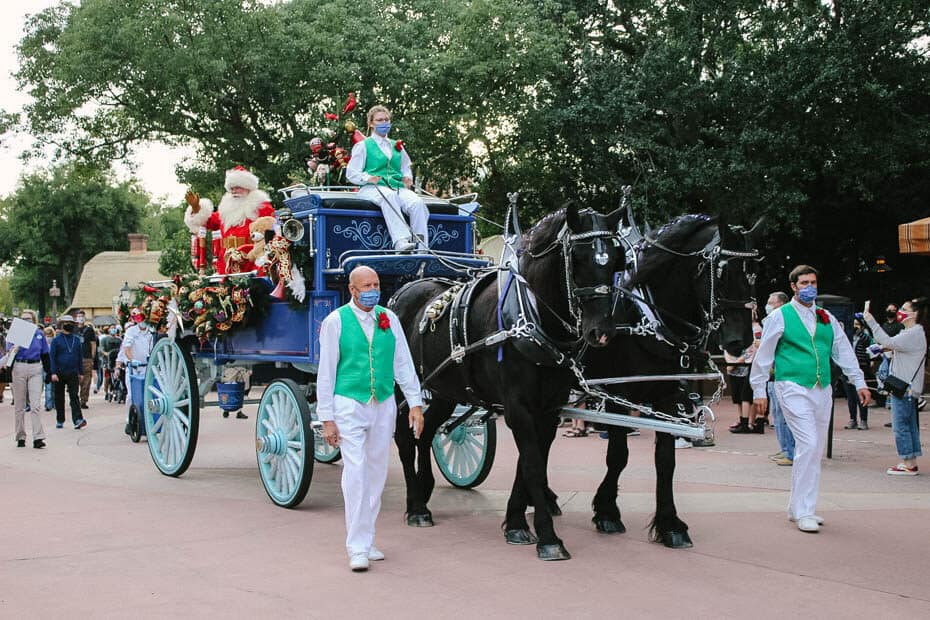 Yes, there are horses pulling his sleigh. It is a wonderful thing to see these kinds of interactions within all the parks. Since they are pop ups, you won't know exactly when they are coming. My best tip is to listen for any changes to the music in the area you are touring. As they approach the music will get louder.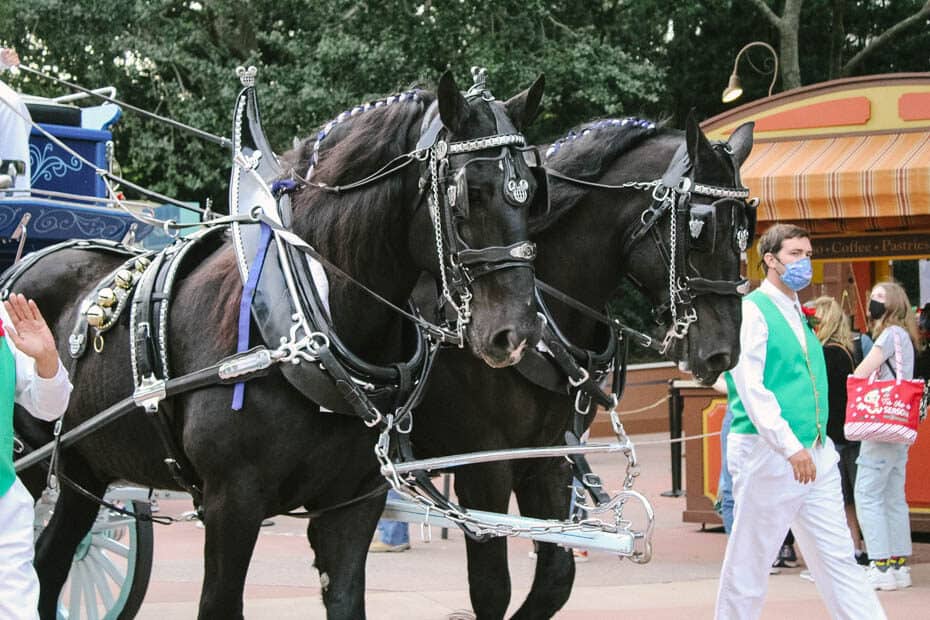 The cavalcades at Epcot begin not long after park opening and appear until right at sunset. It seems that on most days there are about three different groups that come through approximately four different times.
Santa's sleigh is exquisite! You might notice it is decorated with toys, bears, and nutcrackers.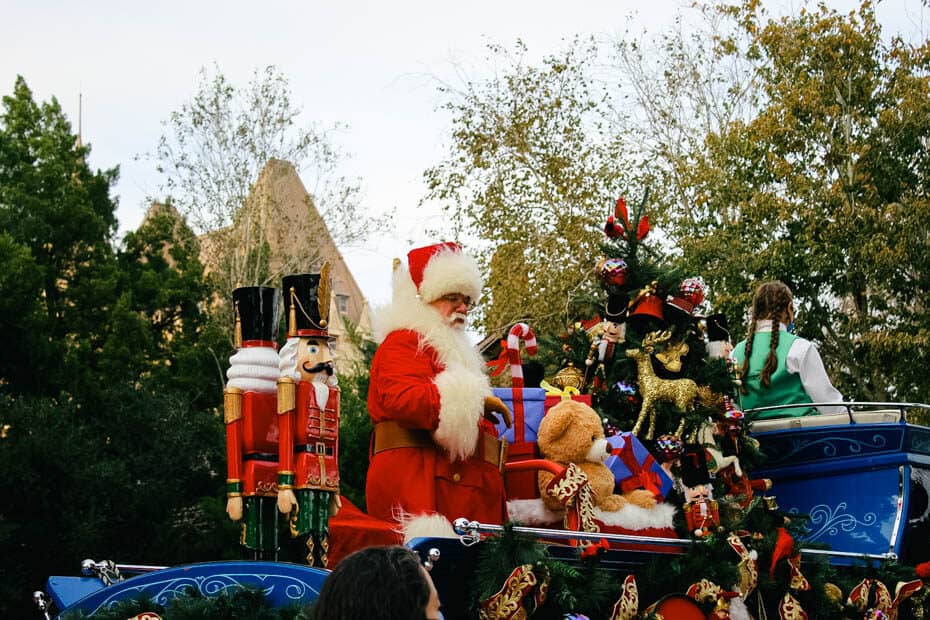 Santa waves to all the guests wishing them a merry Christmas as he passes by. The children absolutely love it and the time investment is a minimal 3-5 minutes.
As Santa makes his way on through the World Showcase, we can now move on to the United Kingdom pavilion. There's not too much going on here at this time, but the decor features traditional reds and greens.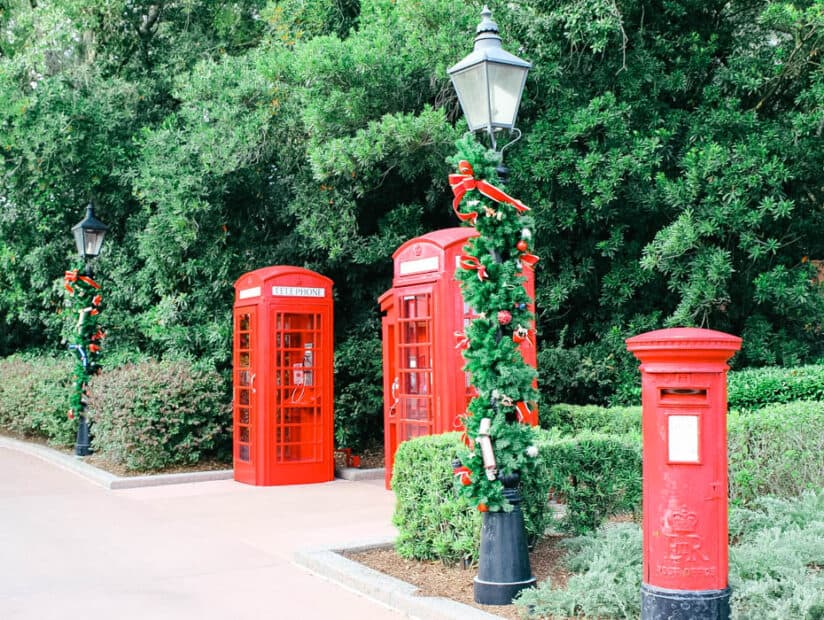 Back on Tudor and Cherry Tree Lanes there's the potential to run into a character greeting from a distance at the gazebo. I haven't ran into any here lately, but it's truly the luck of being in the right place at the right time.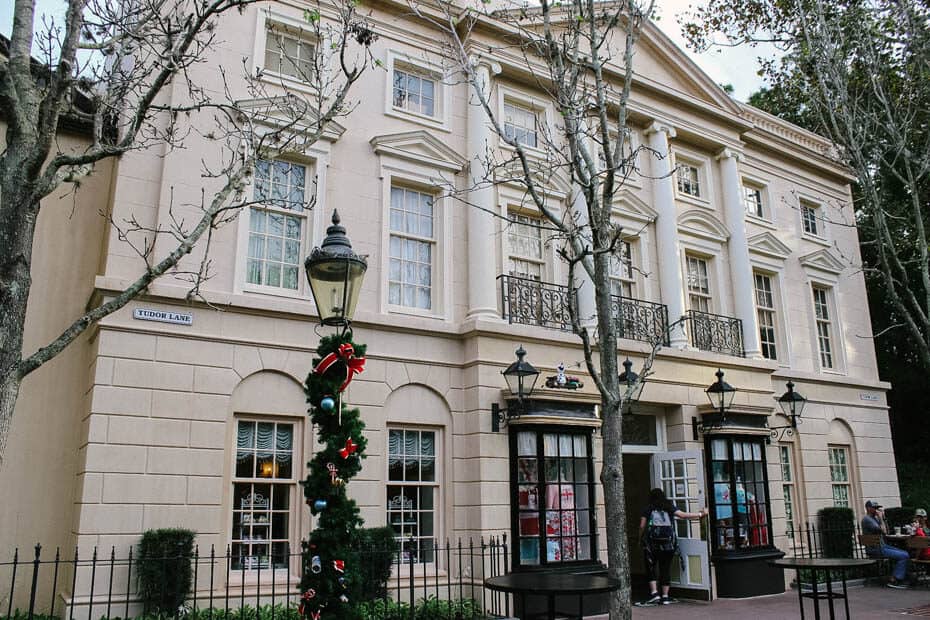 When you exit the pavilion there's a Christmas teapot display on the lagoon side.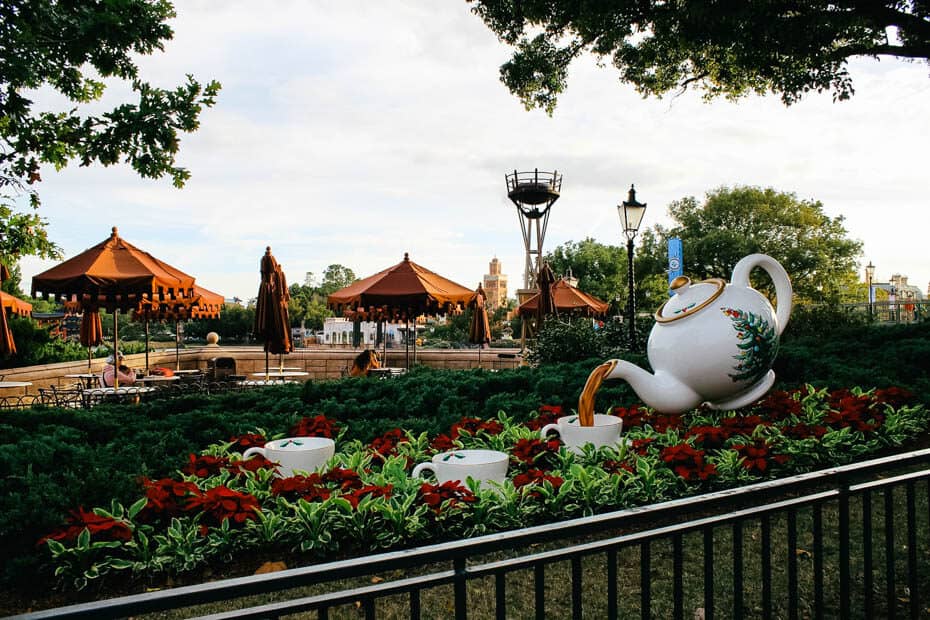 Before we head across the bridge to France we'll stop in at Epcot's International Gateway for a peek inside the windows of World Traveler. Guests that come and go through the front entrance might not always make their way down this far. This is also where the Disney Skyliner picks up just outside the park exit.
These windows change out through the different seasons and I always stop for a few photos. Right now you'll see Mickey and Minnie dressed in plaid Christmas attire.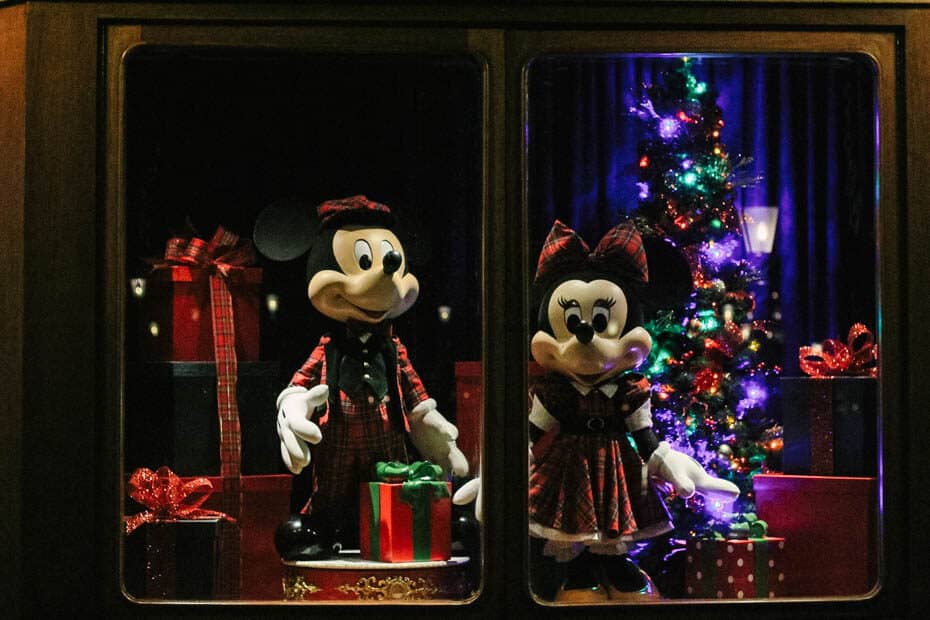 One window over, Donald is a little tangled up with his nephews in the Christmas lights. Don't you love the way these three look at him with complete admiration no matter what? Kind of the way children see their parents.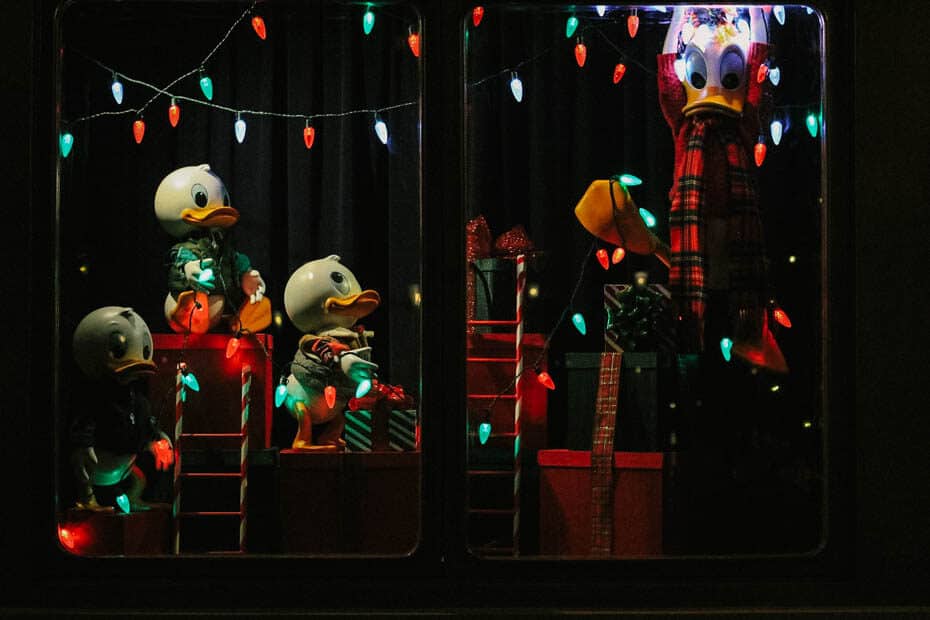 Pluto is patiently waiting to open his Christmas present, while Chip and Dale finish tying off a bow.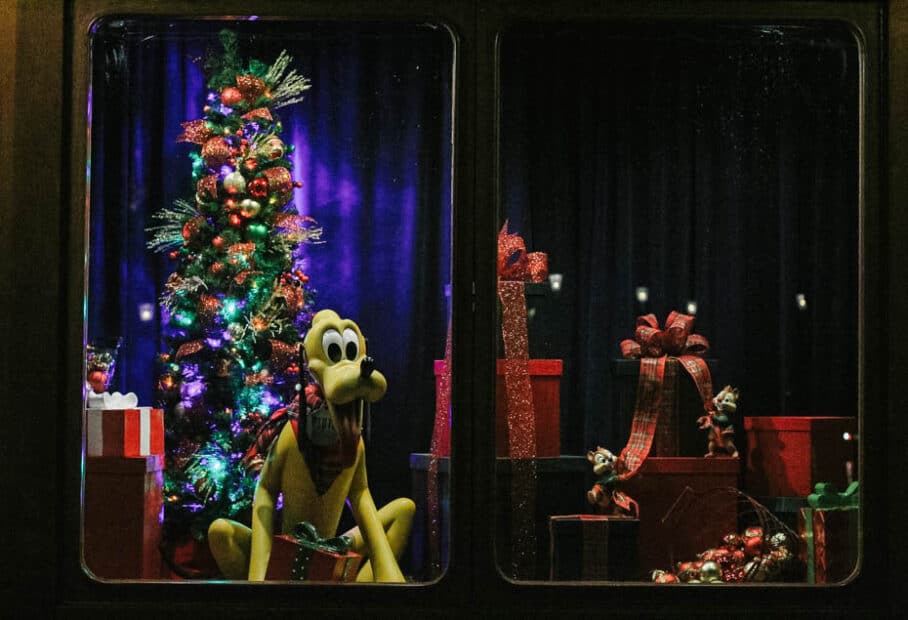 Moving on we find ourselves back on our Epcot Christmas tour in the France Pavilion.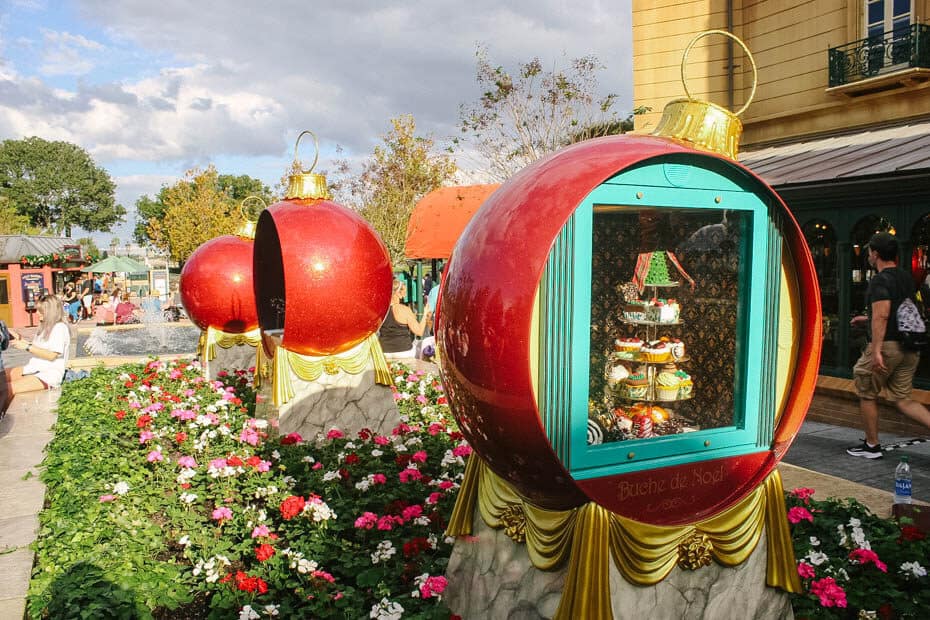 I found that France was the most decorated pavilion this year for the holidays. Thankfully, most everything in this pavilion has now reopened. There are three large Christmas balls out in the raised bed toward the entrance.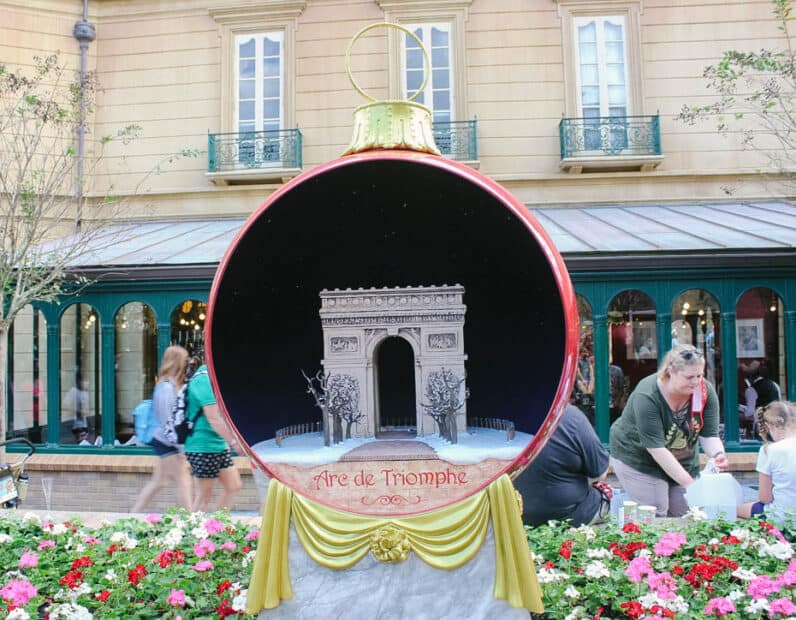 This is one of the most difficult places to get photos, because so many sit around the areas. But I don't mind the people one bit.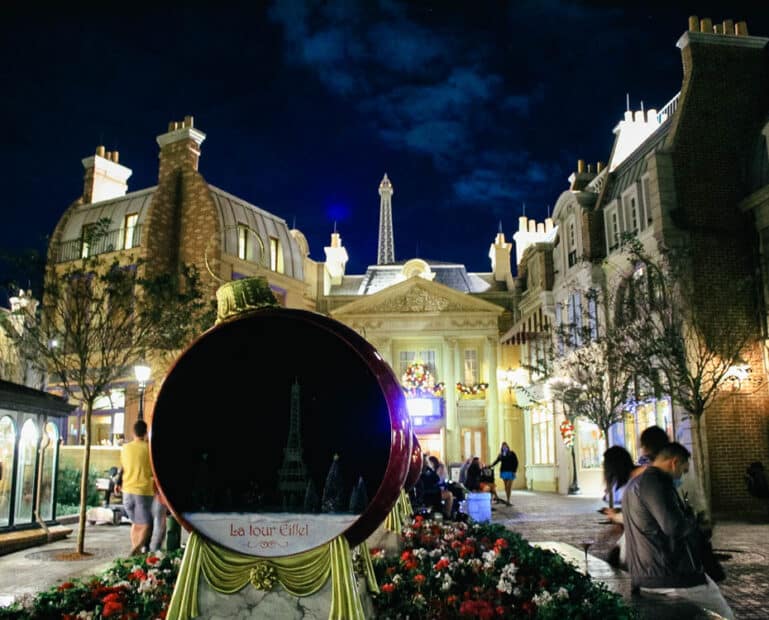 Each little ball has a symbol of France inside.
And all of the buildings have pretty decorations that light up in the evening.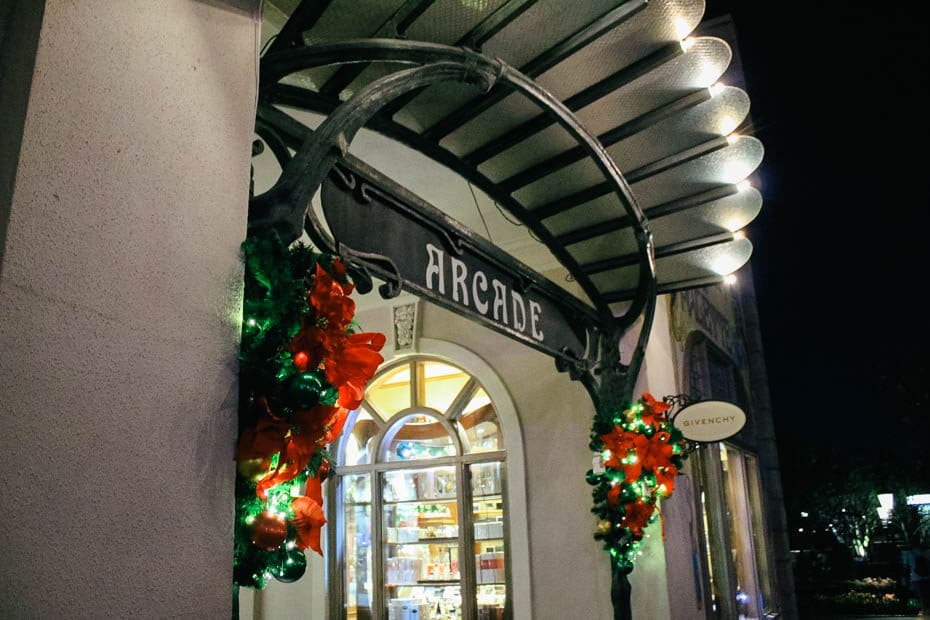 If you walk to the very back toward Les Halles Boulangerie Patisserie you'll see a few tinsel stars hanging across the walkway above. It's all very French.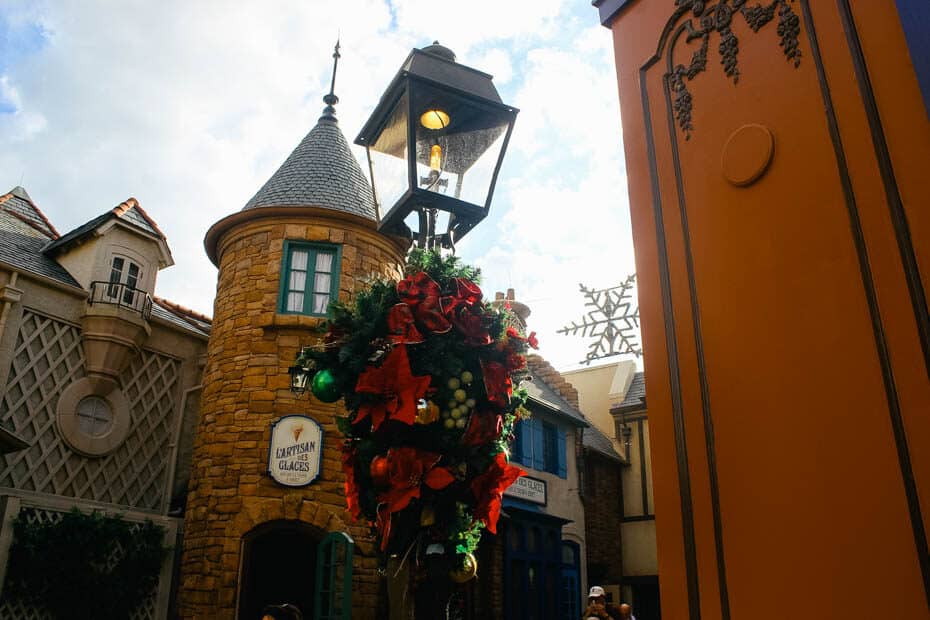 Even Chefs de France had a festive look. I mainly took this photo because I love the hanging plants from the light poles here.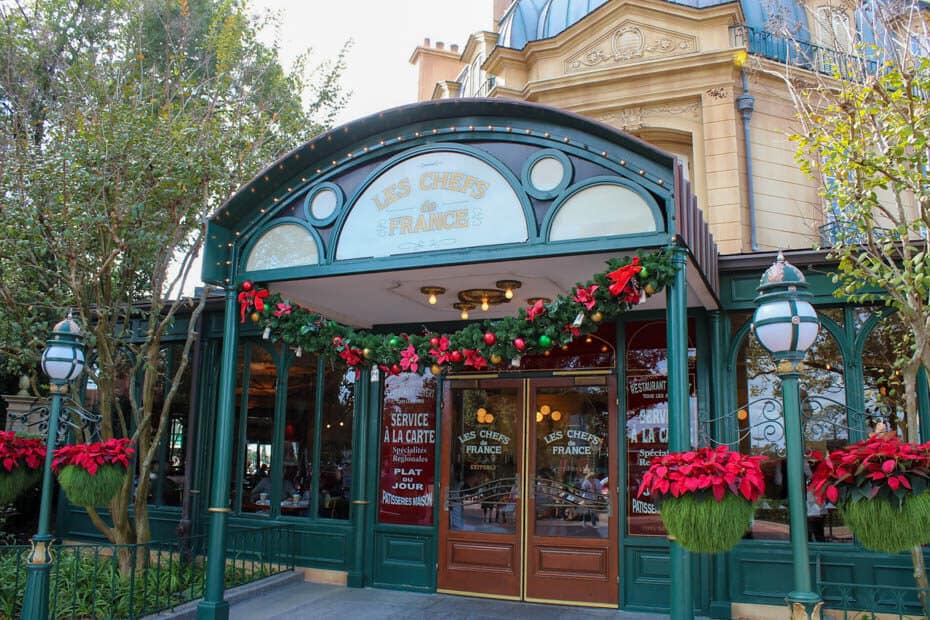 The Morocco Pavilion is next, but unfortunately there isn't much to see here. I did run into the Mickey and Friends pop up as I continued my stroll along the promenade.
On a sad note, most of the shops and restaurants are closing here because Disney is taking full control of the pavilion. So you can expect significant changes at Epcot's Morocco Pavilion in the future.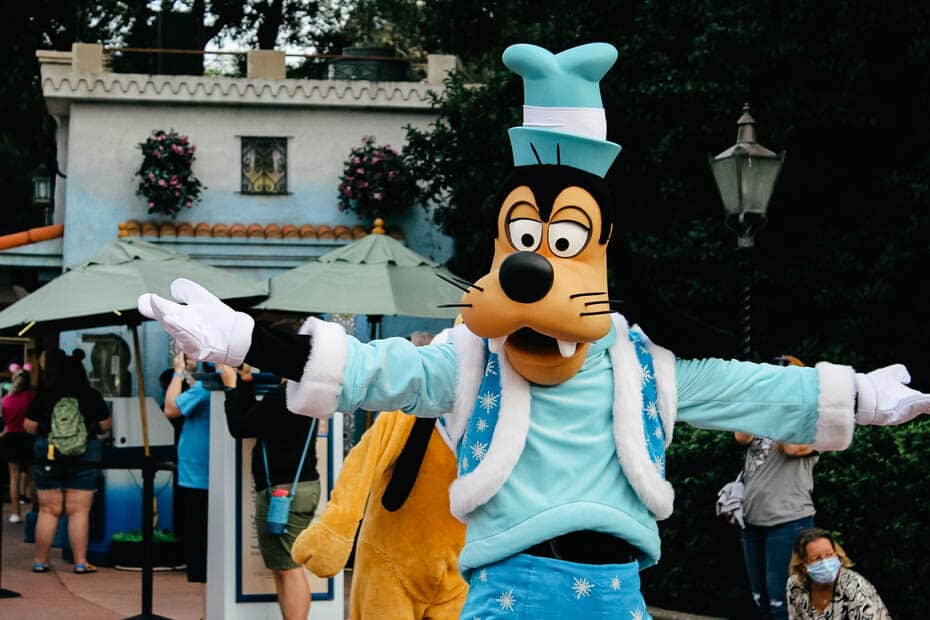 As far as this holiday pop up goes, you'll probably see Goofy and Pluto out ahead of the car. They are dressed in holiday apparel.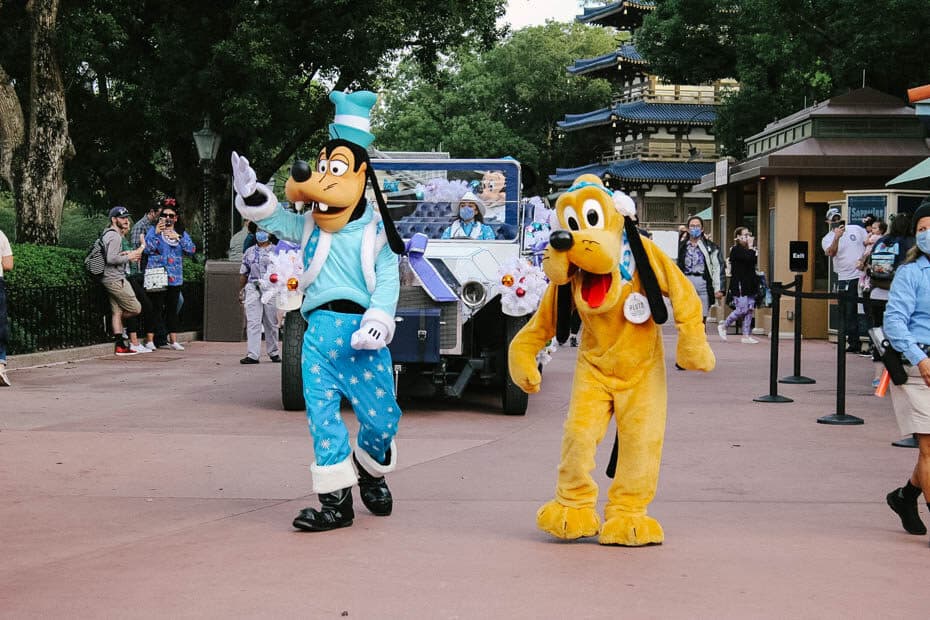 Mickey and Minnie get to ride in style. Their car is brightened up a bit for the Christmas in Epcot festivities.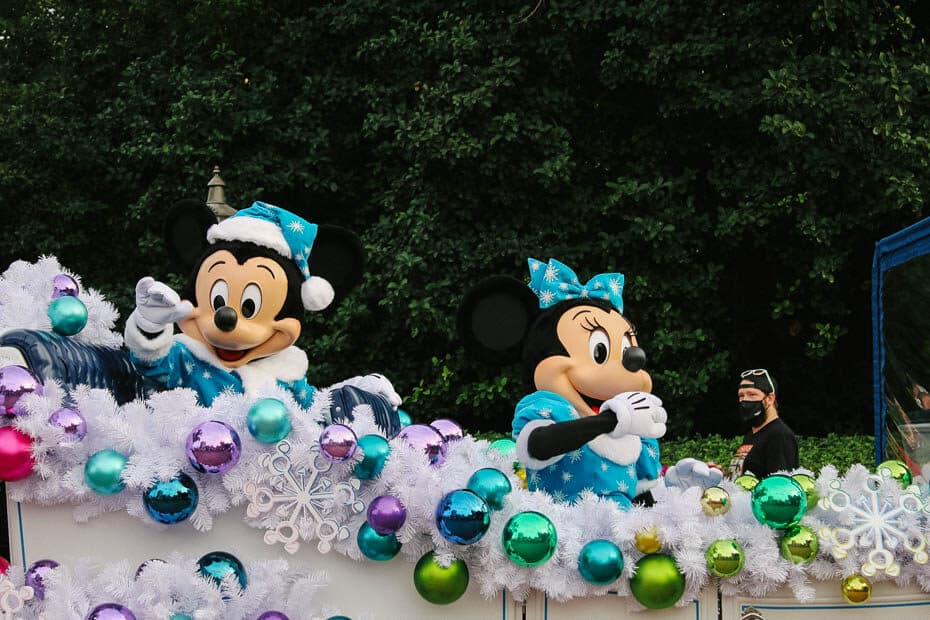 While the Japan Pavilion does have a lot to offer, there's not much along the lines of holiday decor.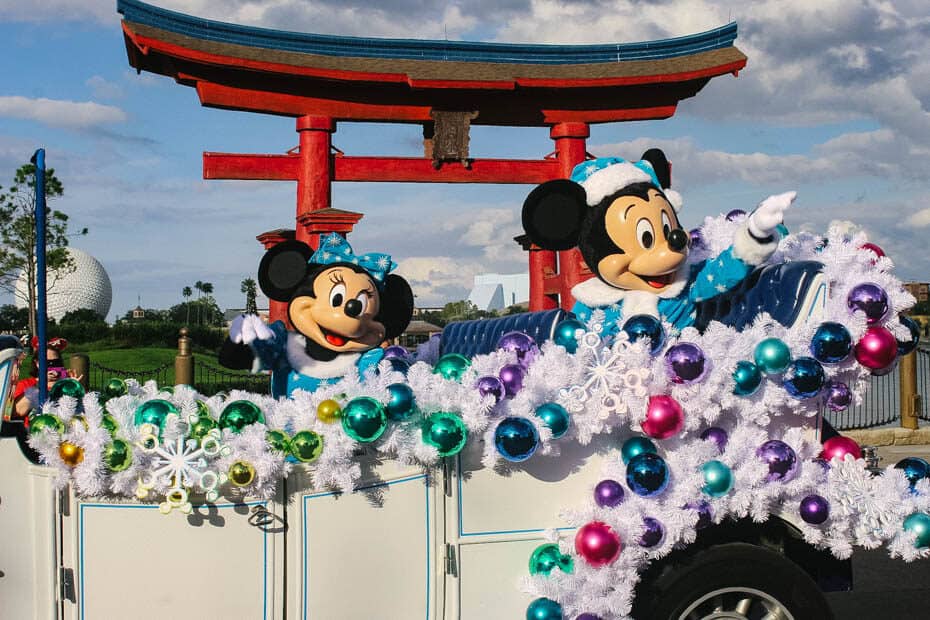 But the large Mitsukoshi department store is a wonderful place to do a little holiday shopping or pick up a souvenir.
And if you run into a pop up parade here, you might score the perfect #SpaceshipEarthSunday picture for your instagram feed. I wouldn't know anything about that.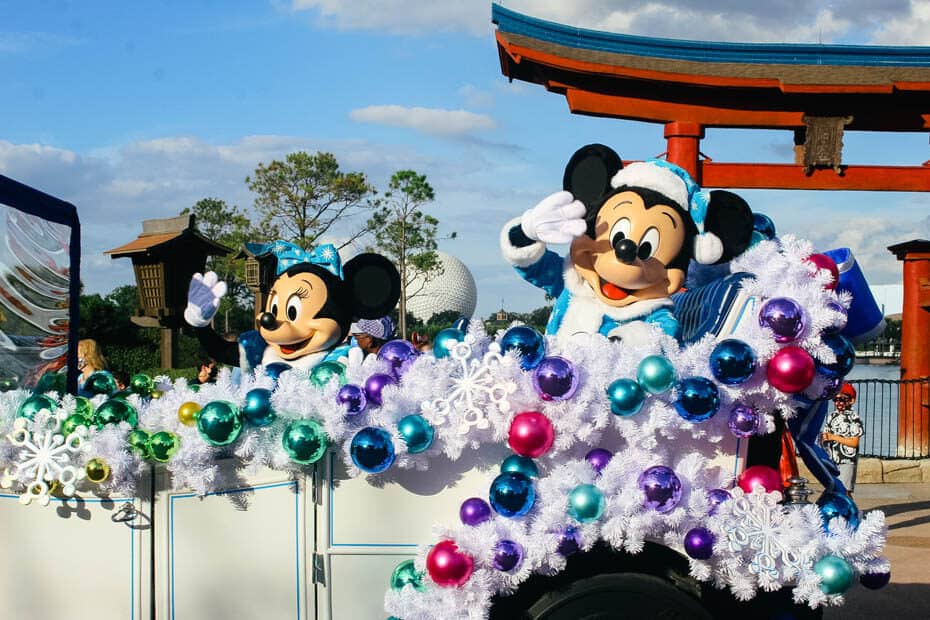 Our next country is none other than the American Pavilion, where I kind of made a major miss as far as photos go on both my recent visits.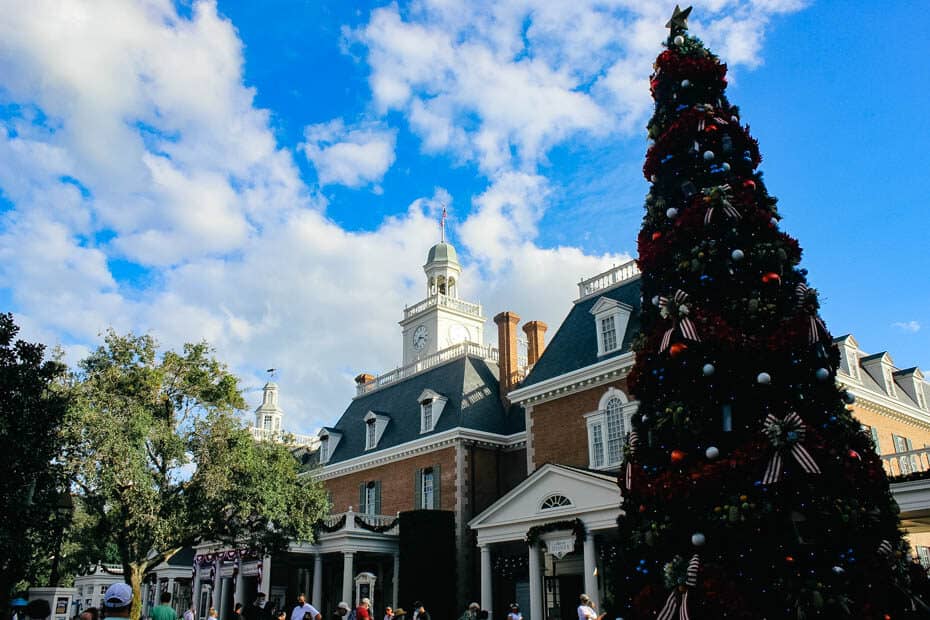 Inside there's a gingerbread display, and I completely forgot about it. So no gingerbread pics for you, sorry. But outside the pavilion there's a beautiful and very unique American Christmas tree.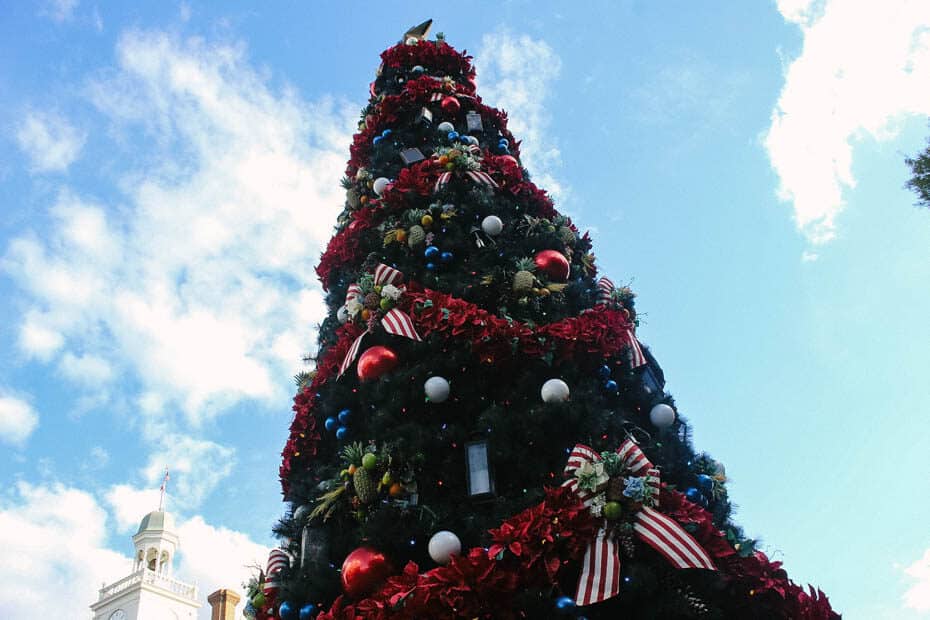 It has a garland of poinsettias, striped bows, lanterns, and fruit decorations. It seems like the more you look at it the prettier it gets. I've always assumed that this style of decor was original to the colonies. But a little internet research seems to say that is a myth and it actually began during the Rockefeller time period. Who knew?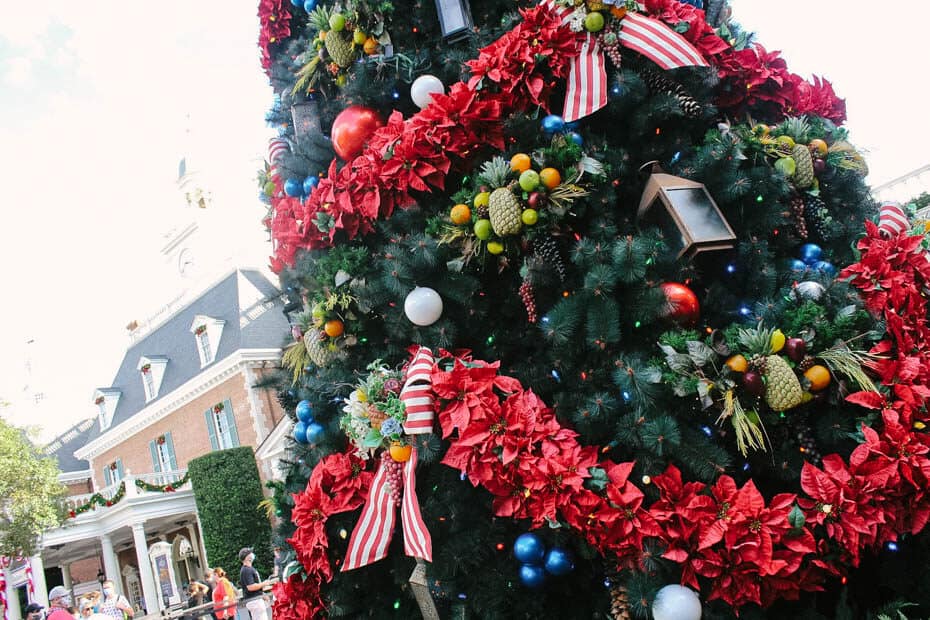 And next door in the Germany Pavilion, the Epcot Christmas spirit is alive and well.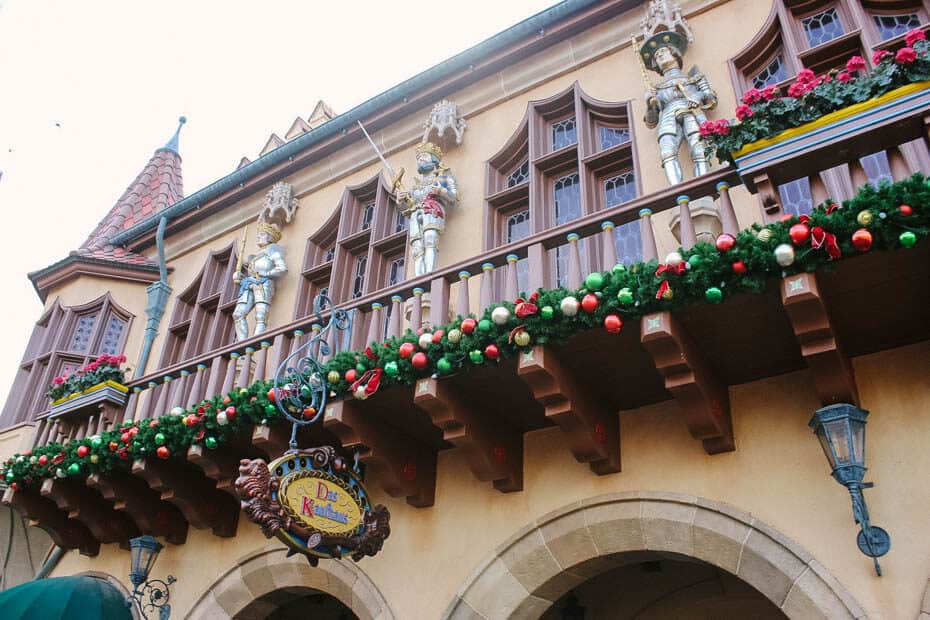 Every where you turn there's garland and pops of color.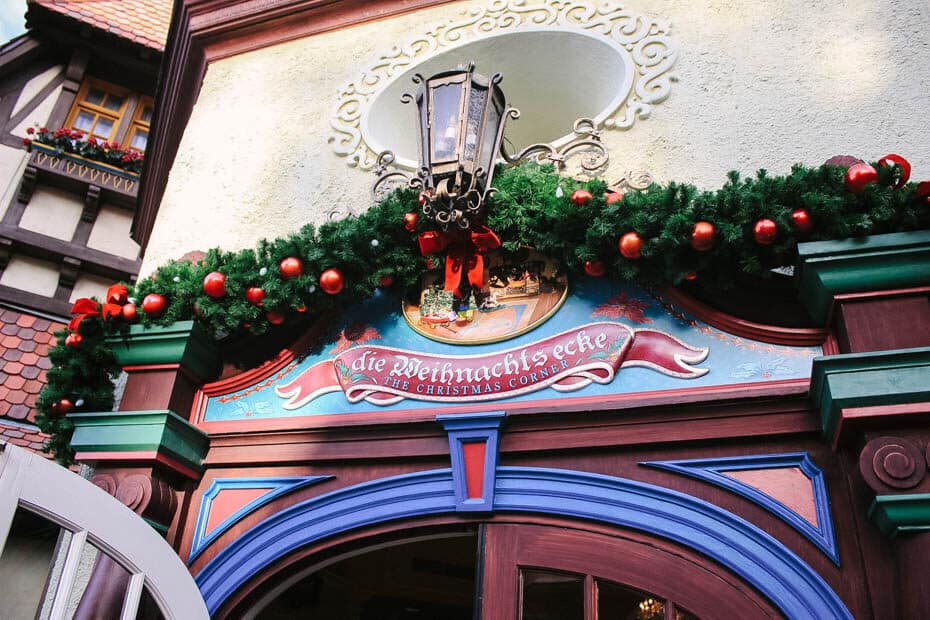 The Karamell-Kuche looks as scrumptious as the wafting smell of caramel that reaches you just outside its doors.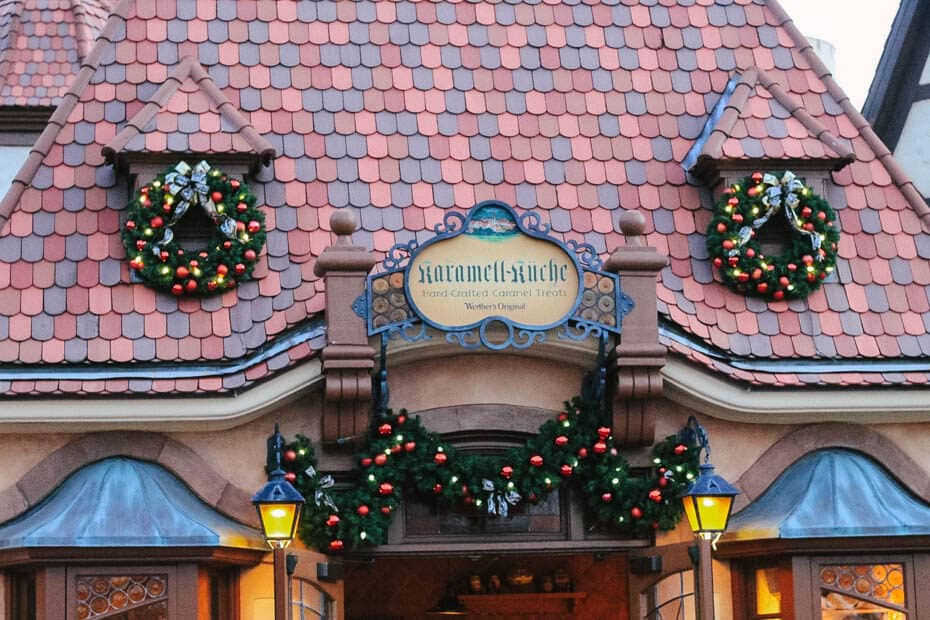 The traditional colors are quite cheerful.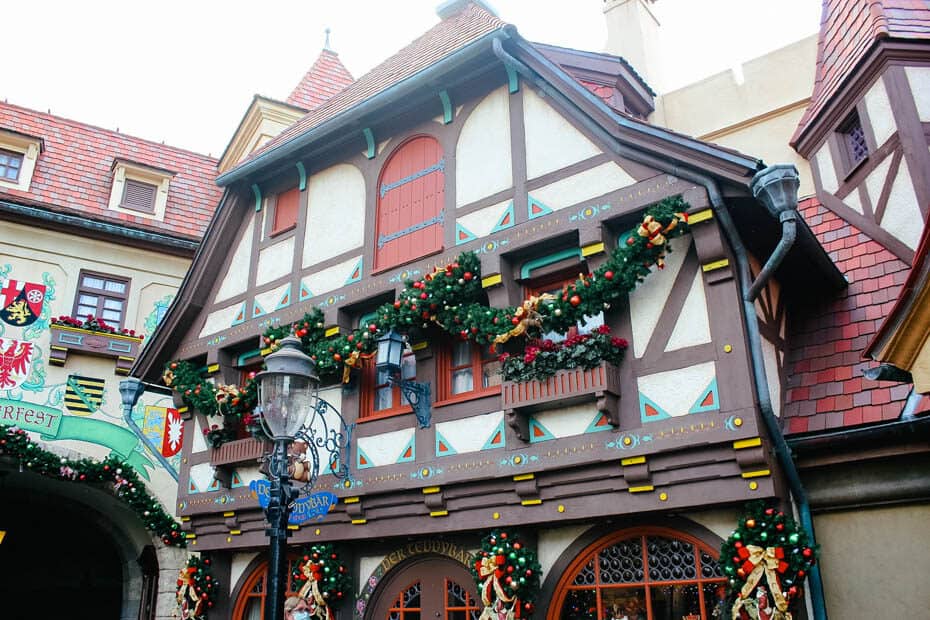 And there are even little pinecones tucked into the garland.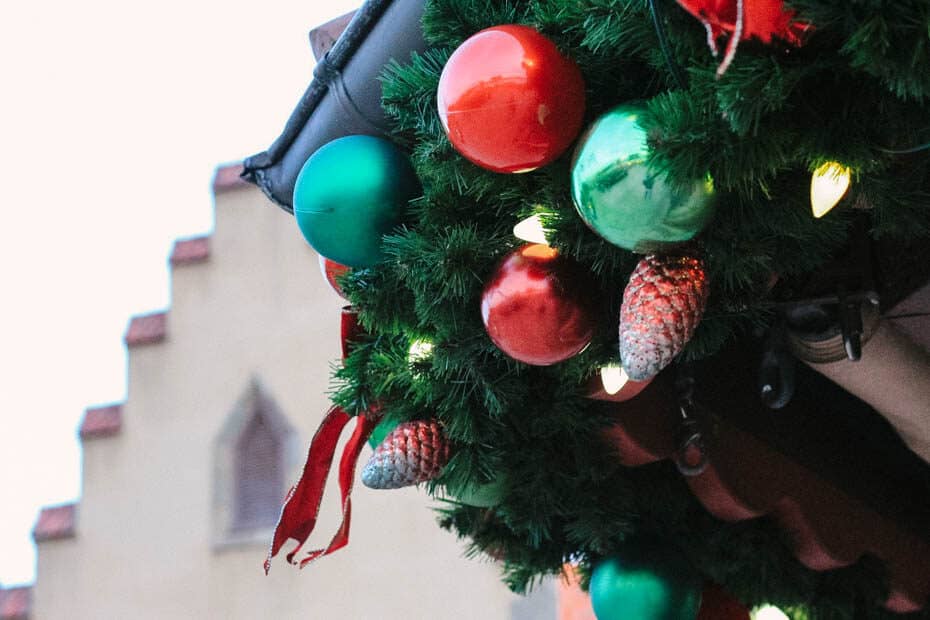 The Italy Pavilion is festive as well with strands of garland.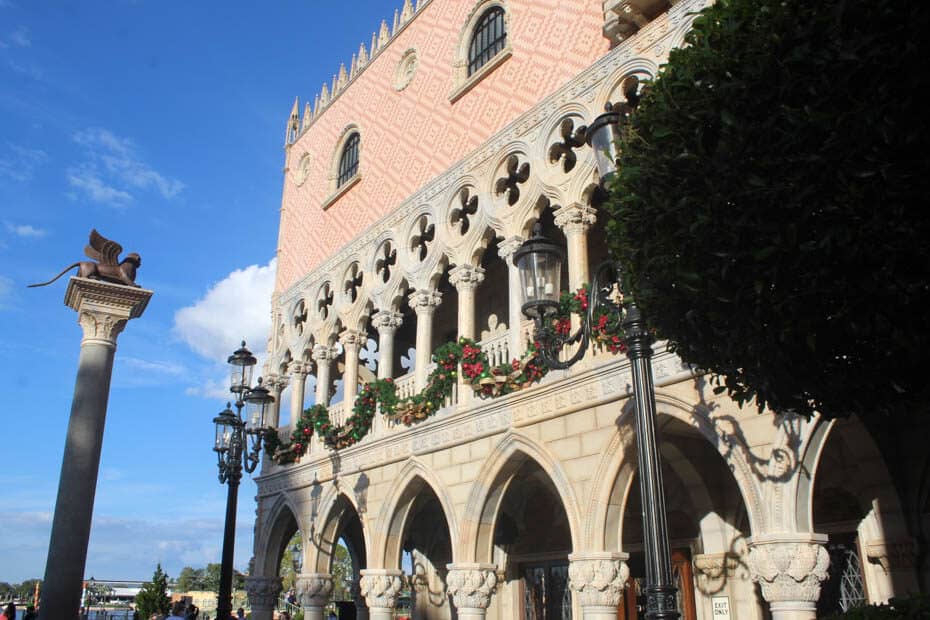 While the China Pavilion doesn't offer Christmas decor, it is good to report that the House of Good Fortune has reopened. Additionally, you'll find plenty of items representing the Chinese New Year inside.
Somewhere along the way I ran into Pluto again.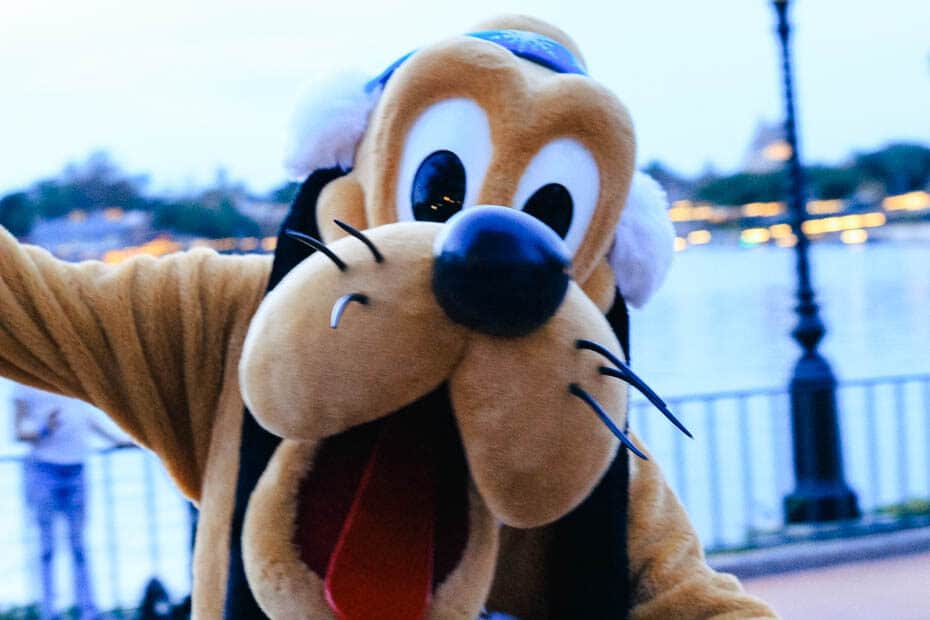 You'll also see a nod to the holidays in the Norway Pavilion as well. But a majority of the pavilion is dedicated to the line for Frozen Ever After and shopping.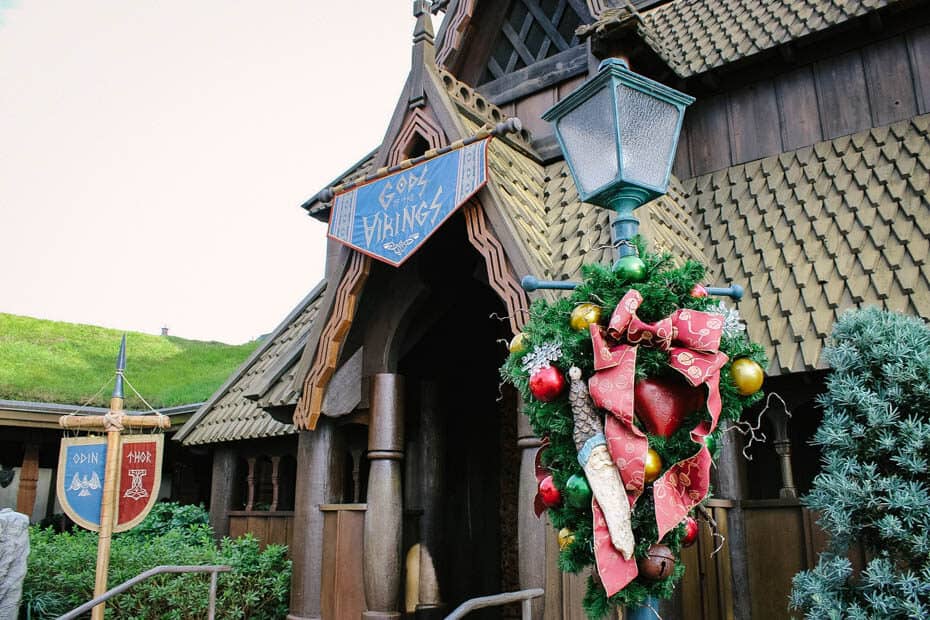 And over in Mexico's pavilion there's several pretty wreaths and garlands dressing the lagoon-side shops and restaurants. During the busier parts of the day you can expect to wait in a line just to enter the pyramid.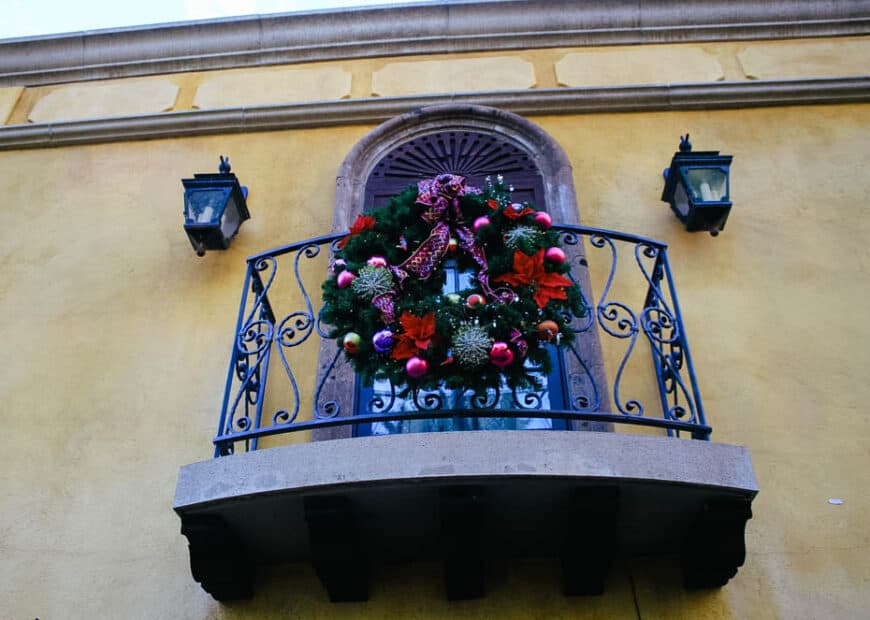 Finally, we have made our way back full circle to the World Showcase Plaza. The Epcot Christmas tree looks dazzling in the golden afternoon sunset.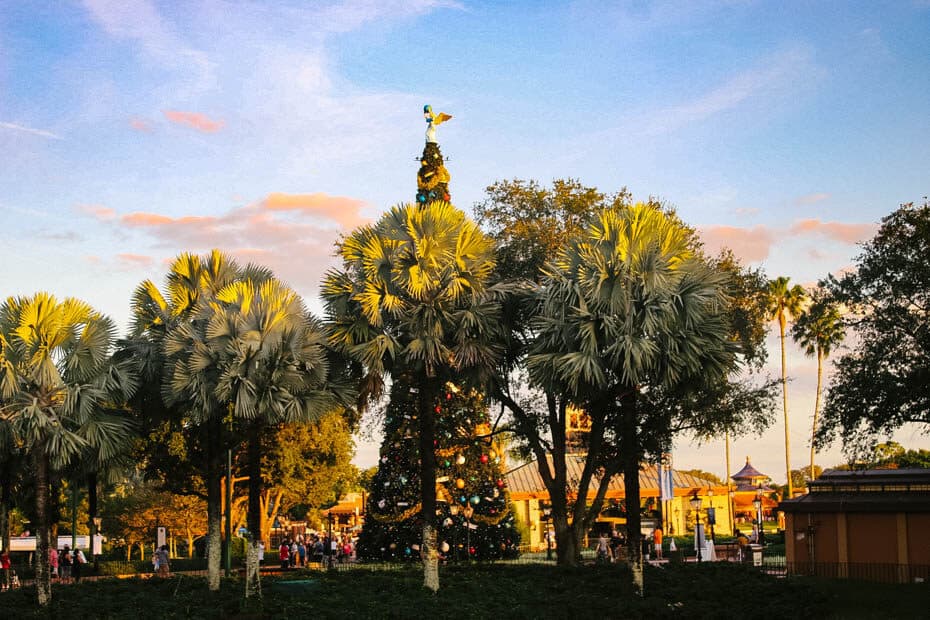 I hope you enjoyed our walk through Epcot at Christmas. We also recently took a walk through Christmas at Hollywood Studios here if you missed it. And there was Christmas at Magic Kingdom.
And here is our tour of Animal Kingdom during Christmastime.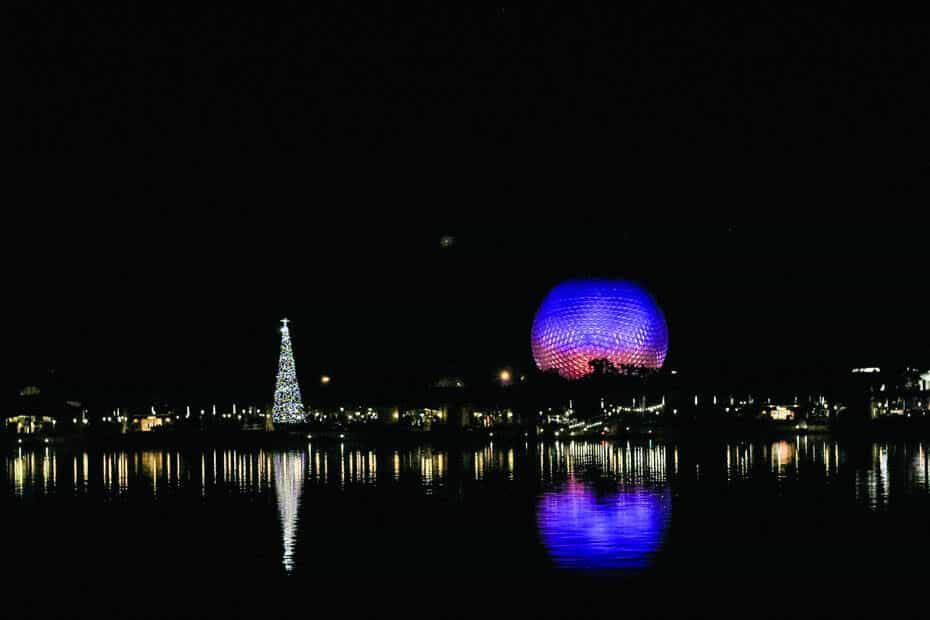 Thanks for joining along today! I hope you enjoyed this tour of Epcot during Christmas.
If this is your first time visiting the site, allow me to share with you a little of what we do here. Resorts Gal specializes in providing Walt Disney World Resort Reviews. Some of our favorites in the Epcot Resorts area include:
We also provide a ton of information about dining and characters at Disney World. You can browse all of our Disney Restaurant Reviews here. Our Disney character meets are here.
And if you would like to combine the two, don't miss the Ultimate Guide to Disney World Character Dining. It includes specifics and is updated often.
Merry Epcot Christmas in 2021 and beyond!