Epcot's Norway Pavilion (with Dining, Rides, and Attractions)
In this article, we visit the Norway Pavilion at Epcot. This popular country in the World Showcase is home to dining, attractions, and a character meet.
As we make our way around the World Showcase, we stumble upon the Norway Pavilion. Epcot's Norway sits between the Mexico Pavilion and the China Pavilion.
Of course, most associate the Norway Pavilion with Frozen since its home to an attraction and character meet for the sisters. However, most of us would probably imagine the actual country in a different light.
Thankfully, we can still see remnants of the Norwegian countryside and historical architectural elements amongst all the Frozen. Don't get me wrong, I love Frozen, and it has to fit somewhere.
But if given the opportunity to visit, we might love Norway a little more. Ultimately, the World Showcase and its countries were designed to inspire tourism by providing a little taste of the world in one small spot.
So let's look at Epcot's Norway Pavilion, and we'll throw all the Frozen things in the mix. Who knows?
By the time we're done, you might long to set sail on a Viking Crusie. These days, they're called "river cruises." Or you might go home and see if you, too, can learn to grow flowers on your rooftop.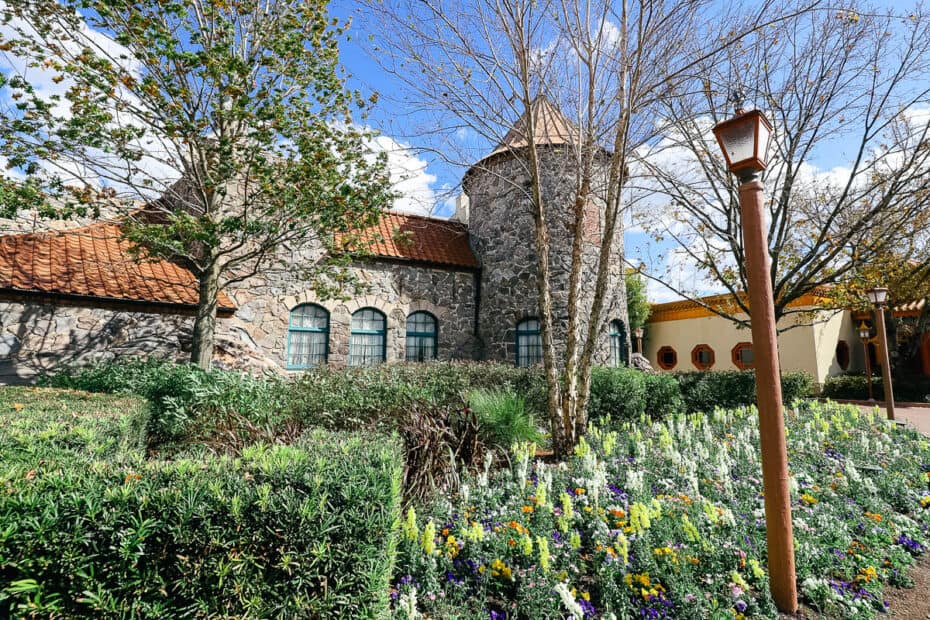 Epcot's Norway Pavilion
Here's a summary of what you can expect to find at the Norway Pavilion in Epcot's World Showcase:
Architecture
Attractions
Gods of the Vikings Exhibit

Frozen Ever After
Entertainment
Meet Anna and Elsa at the Royal Sommerhus
Dining
Kringla Bakeri Og Kafe (Counter Service)
Restaurant Akershus Royal Banquet Hall
Norway Pavilion Beer Cart
Shopping
The Fjording
The Puffin's Roost
Wandering Reindeer
Perhaps, one of the more interesting things about the Norway Pavilion is that it's the newest country in the World Showcase. Norway's Pavilion opened in 1998. Sadly, no new countries have been added to Epcot in over twenty years.
Stave Church Gallery
You'll find the Stave Church Gallery replica at the front and center of the pavilion. This is one of only a few replicas of the ancient structure. The original is housed in an open-air Norwegian museum.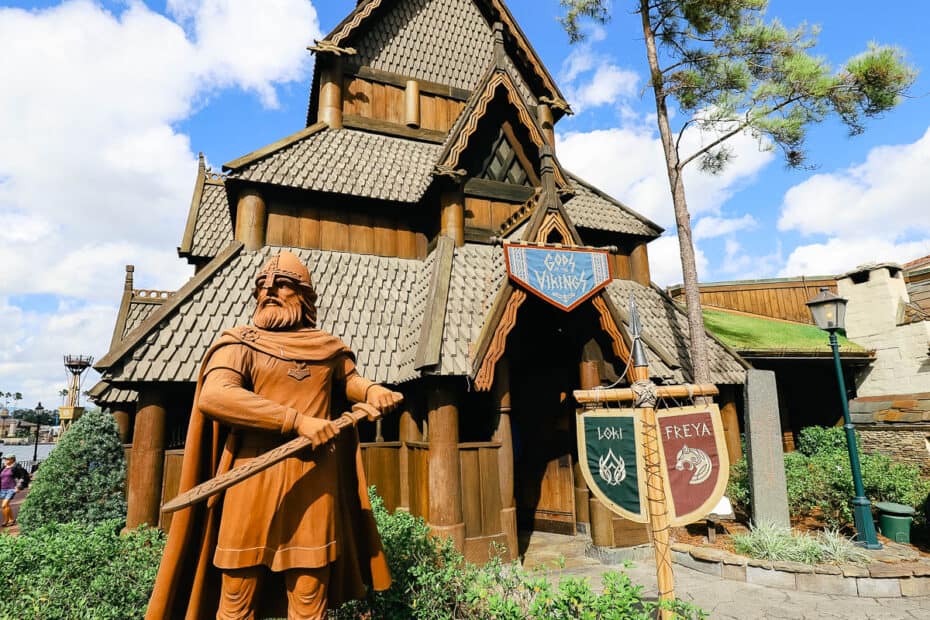 Around the Stave Church Gallery, a sign describes how Norway's stave churches were constructed with the same techniques used to build Norwegian ships. Many of the methods used were to help them stay preserved during the harsh winters. This resulted in a beautifully preserved church like the replica.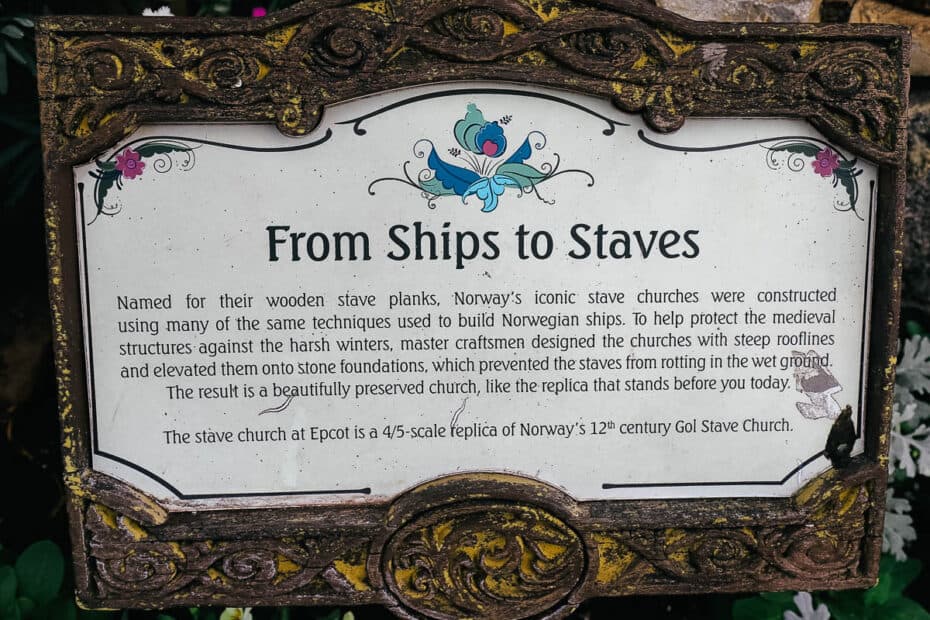 Norway's Stave Church features detailed, intricate wood carvings.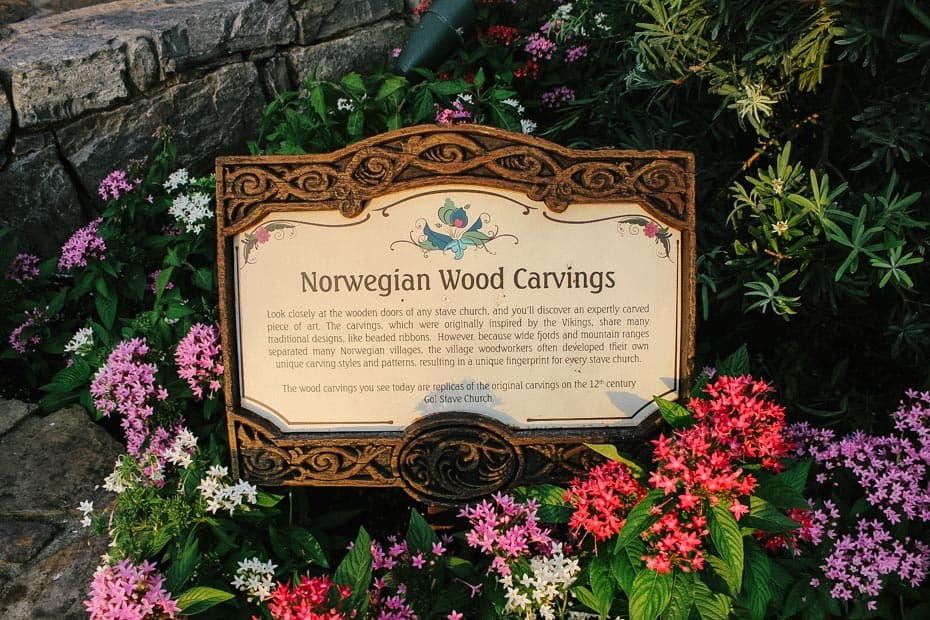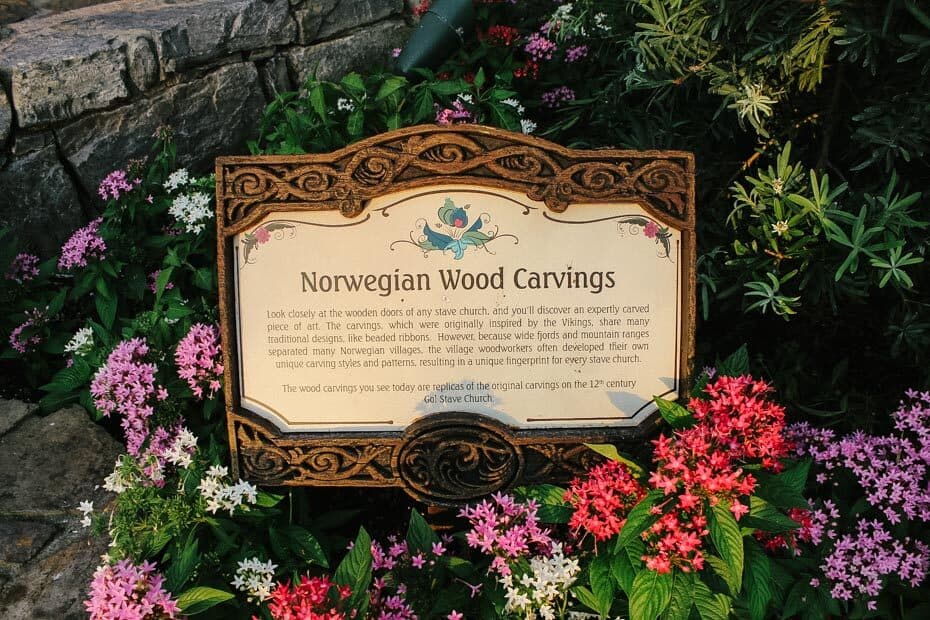 Here's an example of the door framing around the Stave Church Gallery. These types of carvings date back to the 12th century.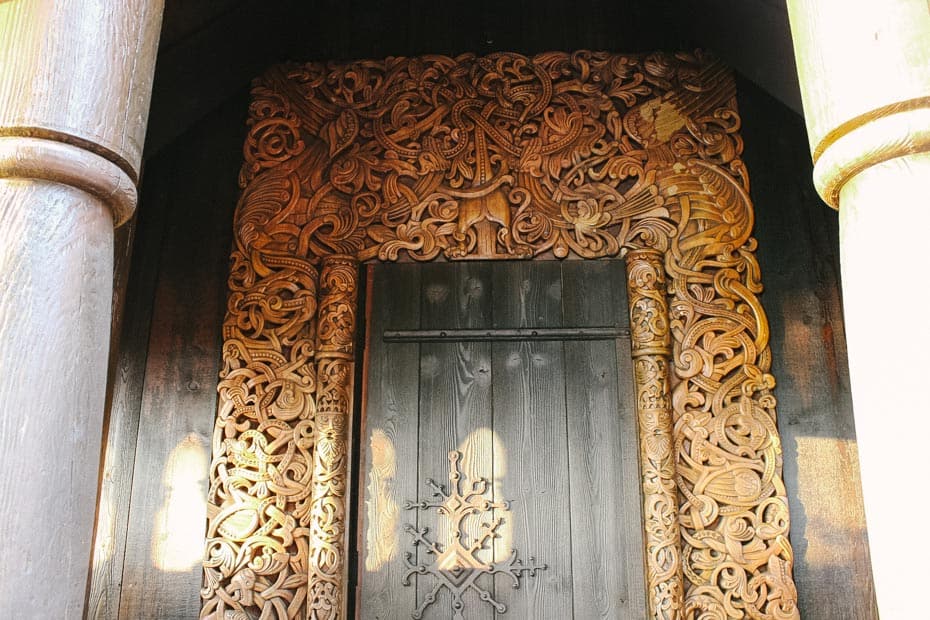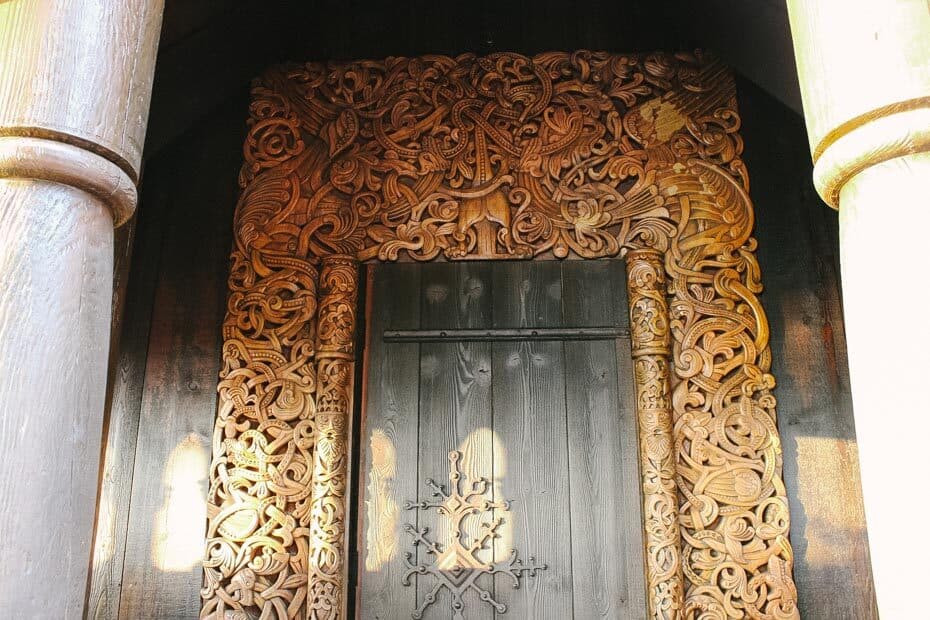 Norway's Pavilion represents four types of classic Norwegian architecture: Setesdal, Bergen, Oslo, and Alesund.
Currently, Epcot's Stave Church Gallery is home to the Gods of the Vikings exhibit. This exhibit debuted in 2018.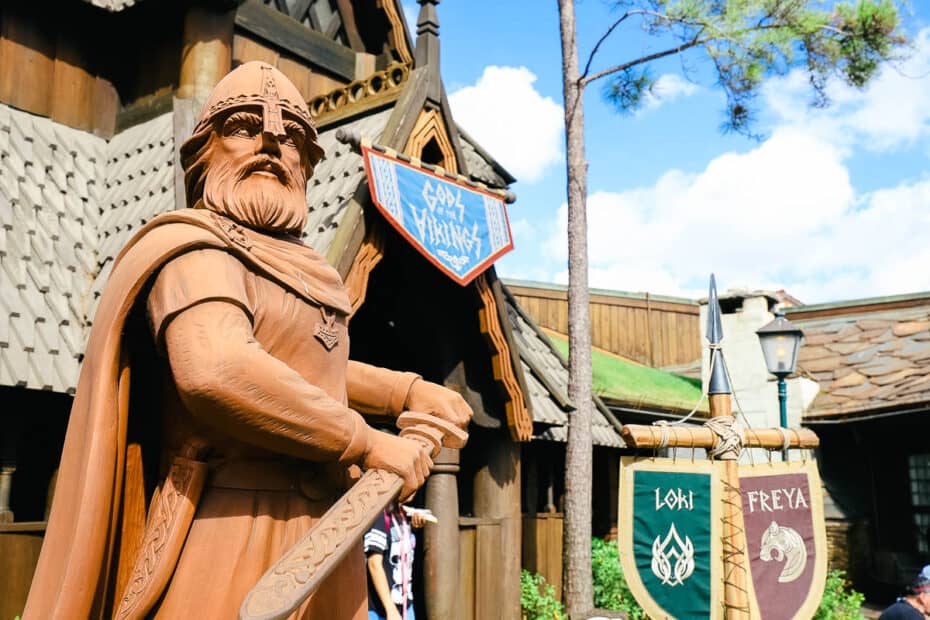 Inside, you'll find a mythological history of the Viking gods. Thor and Loki, modern-day Marvel heroes, are included in the exhibit. Additionally, the exhibit pays tribute to Odin and Freya.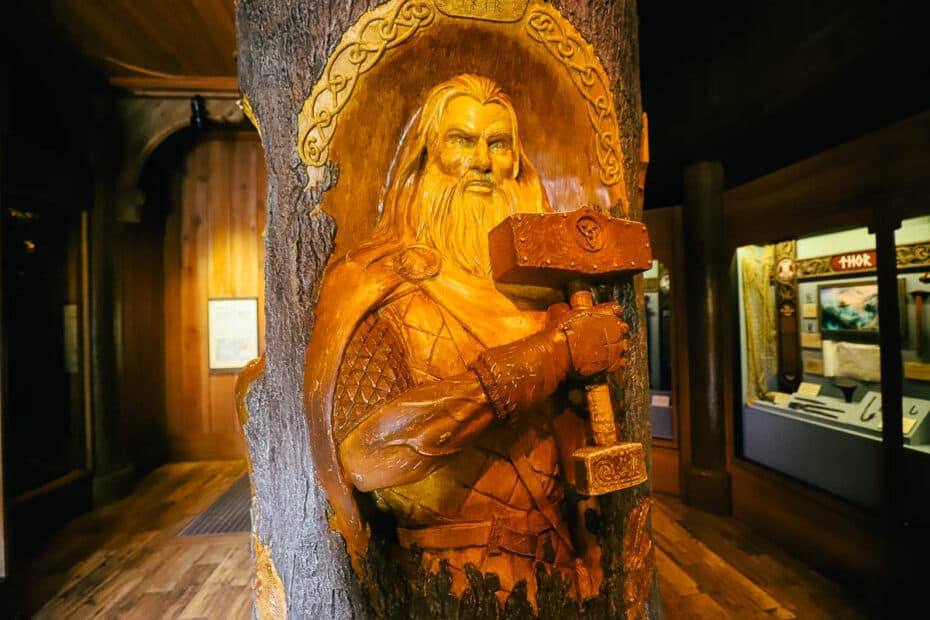 Also, the exhibit features a collection of artifacts dating back to the time of the Vikings. While the space is small, this location provides an unexpected wealth of information about the Vikings.
Related: Stave Church Gallery at Epcot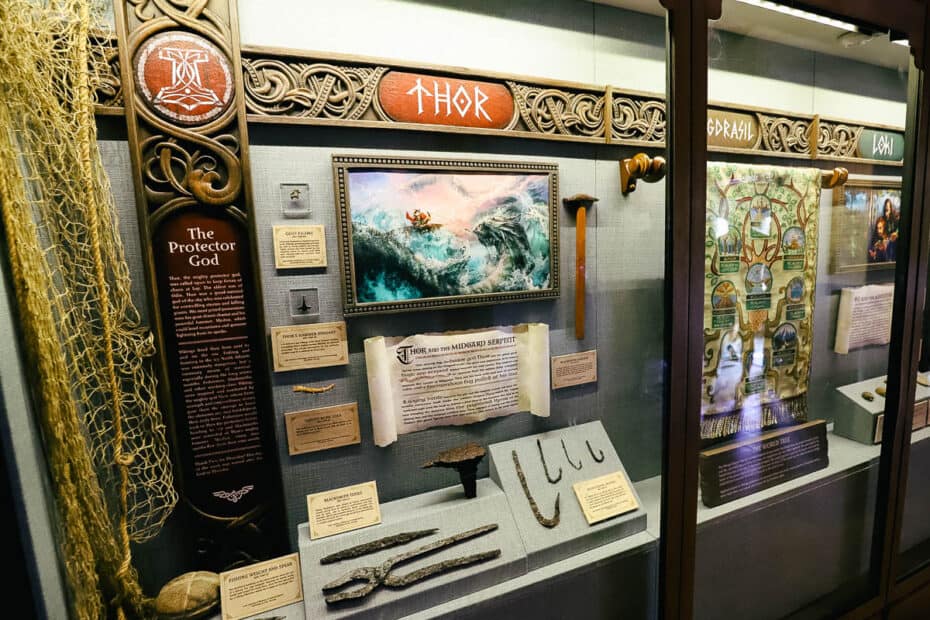 Frozen Ever After
Norway is one of a few countries in the World Showcase that has a ride. Formerly, that ride was Maelstrom, the Viking boat ride. However, as you likely know, it was replaced by Frozen Ever After.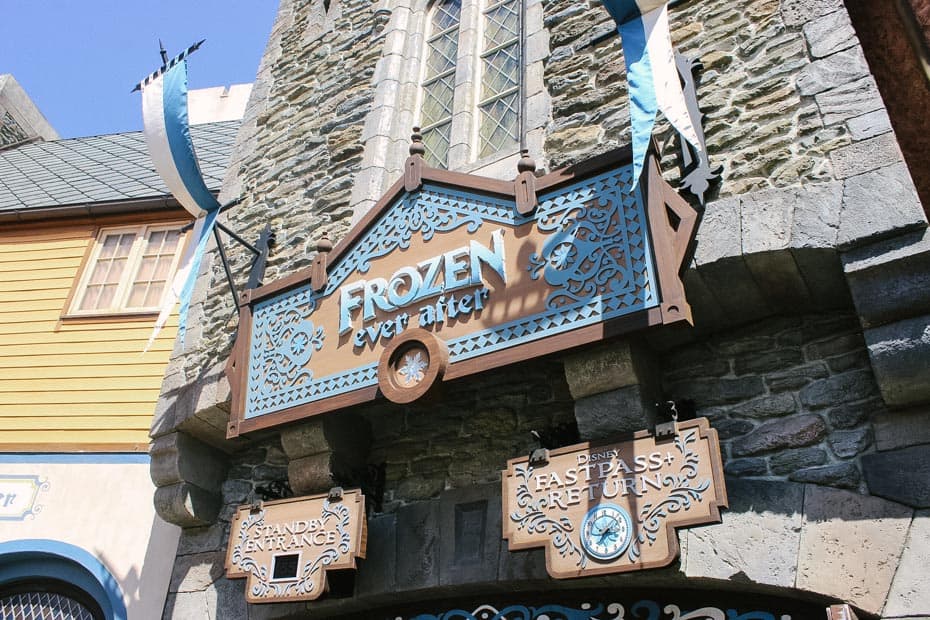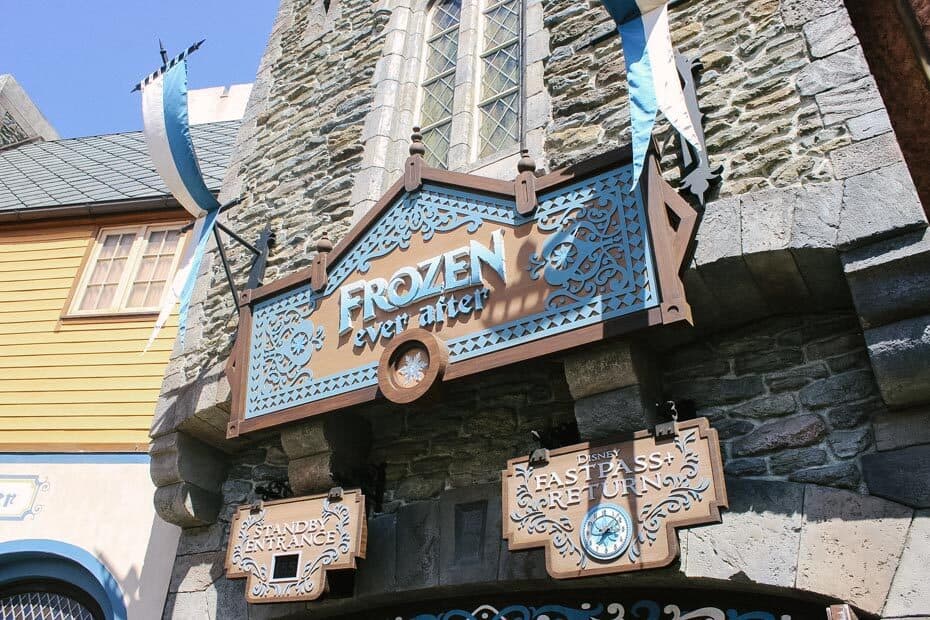 Frozen Ever After opened in June of 2016 to accommodate the growing fandom of the Frozen franchise. To this day, the attraction still holds long lines with an average of one hour or greater wait time.
Frozen Ever After is a slow-moving boat ride with no height restrictions. After boarding the boat, you'll embark on an adventure to Elsa's ice palace.
You'll pass favorite Frozen characters like Olaf, Anna, Kristoff, and Sven along the way. When you finally top the mountain, you're in for a rendition of "Let It Go" as Elsa casts you out of the castle.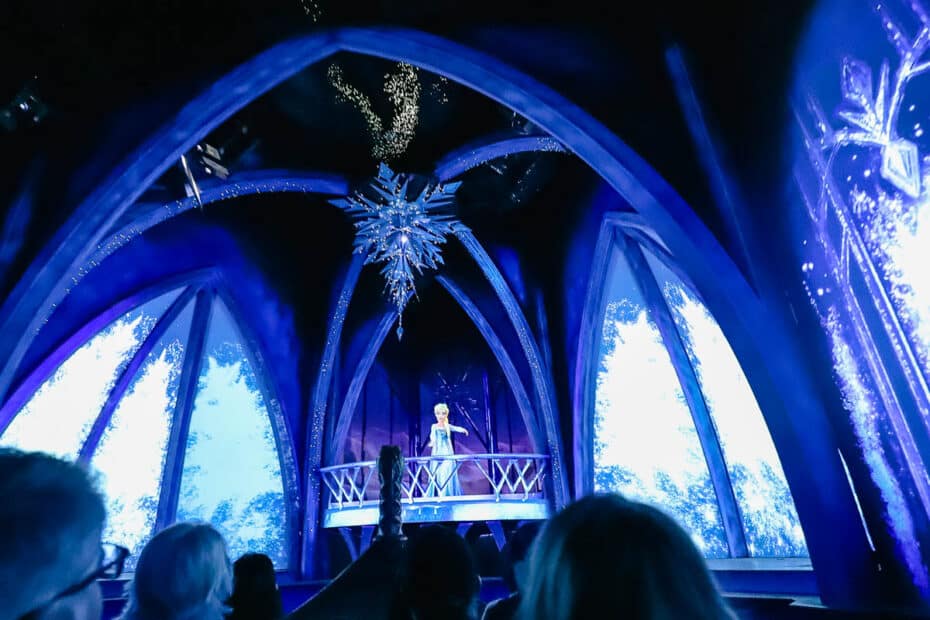 It happens so quickly you won't even have time to recognize the direction your vessel has taken. However, the ride is the least bit scary. Adults and kids alike enjoy this attraction.
Related: Frozen Ever After Ride Review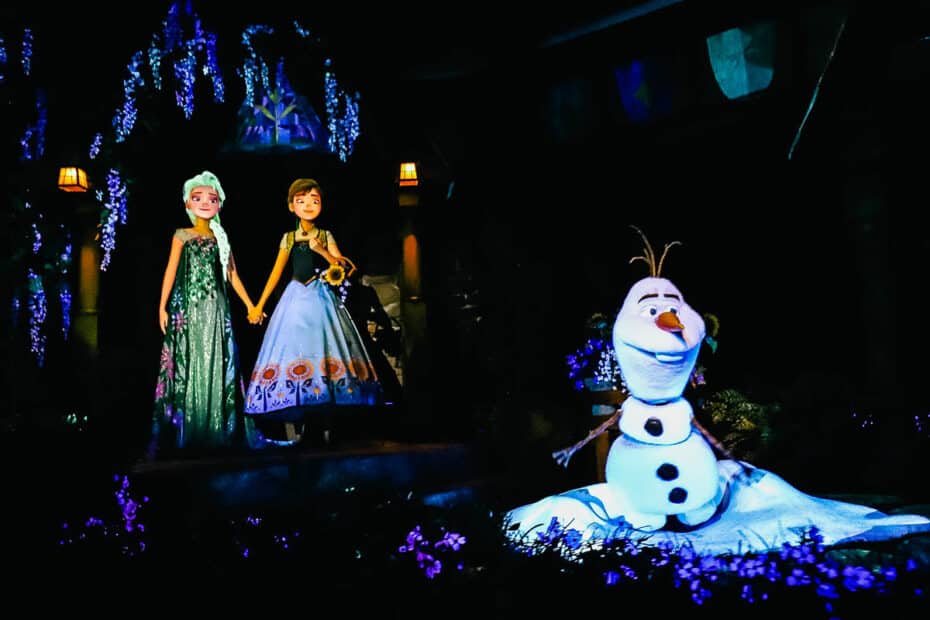 Anna and Elsa Character Meet in Norway
Epcot's Norway Pavilion is also home to one of the most popular character meets at Walt Disney World. You guessed it, Anna and Elsa meet here in their Royal Sommerhus.
This darling summer cottage is open daily from 9:30 a.m. until 6:30 p.m. However, you'll want to check the My Disney Experience app for the exact times of the meet on the day of your visit. (Times can change based on the season and other circumstances.)
Here's a photo of the Royal Sommerhus. Don't you wish you had a summer cottage?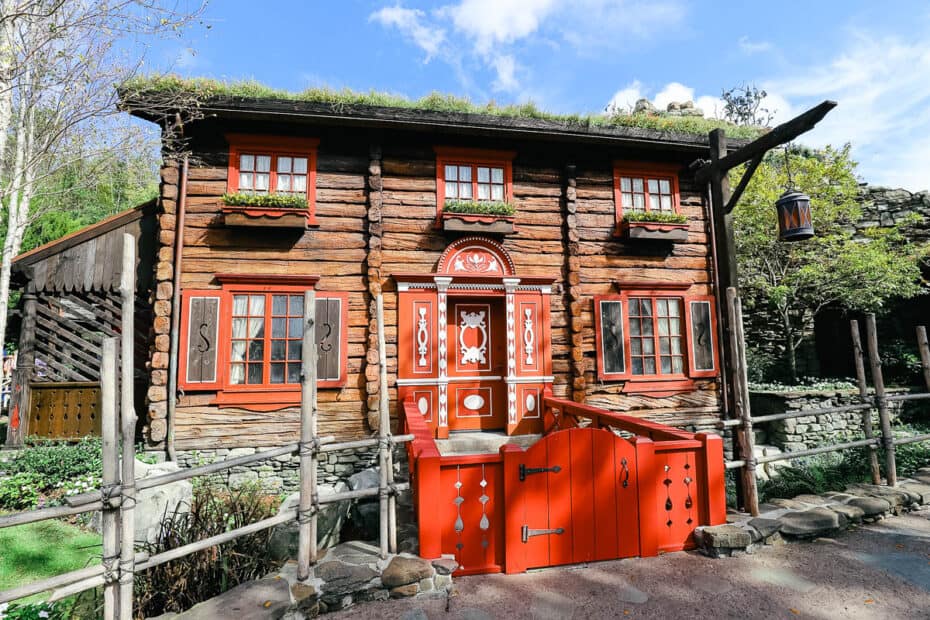 Inside, Anna and Elsa meet side-by-side in the same room. First, you'll have the opportunity to meet with Elsa. She wears her white dress from Frozen 2 at this meet-and-greet.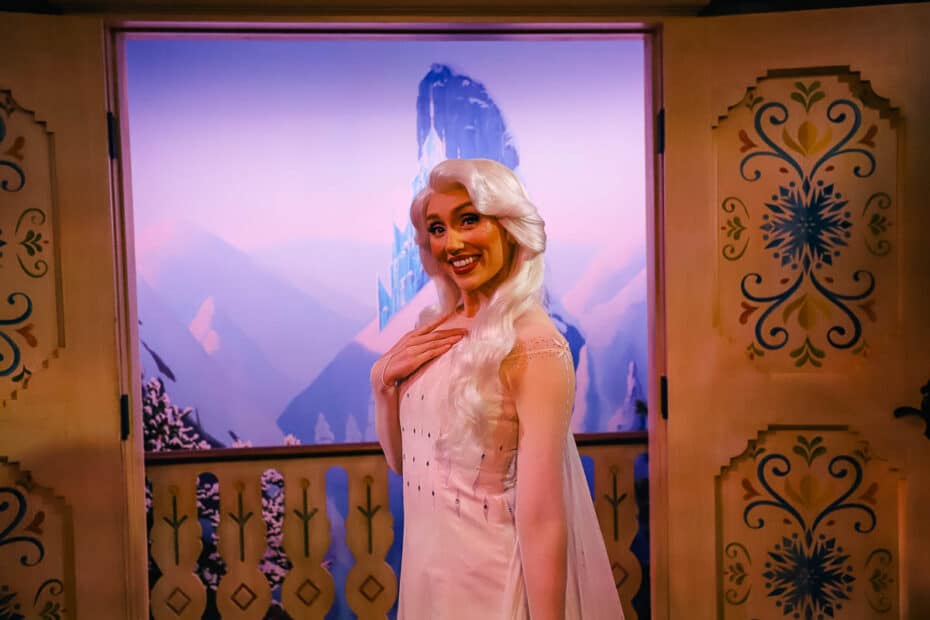 Then you'll have the opportunity to meet Queen Anna. She wears her royal robes for this character meet.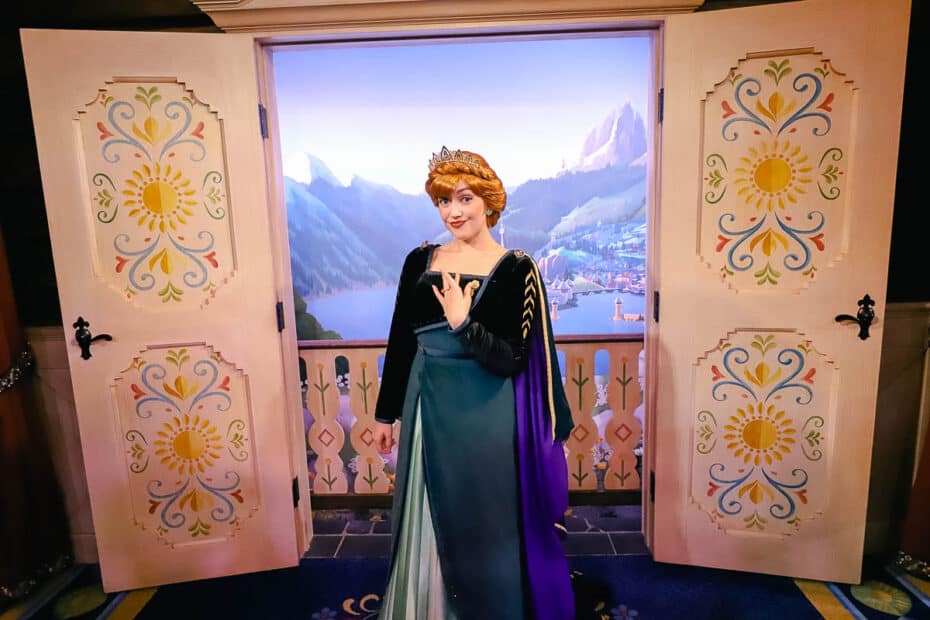 Anna and Elsa both sign autographs at this location. So make sure to have your autograph book out and ready. For more details, we have a separate article that lists all the places to see the sisters at Walt Disney World.
Related: Meet Anna and Elsa at Disney World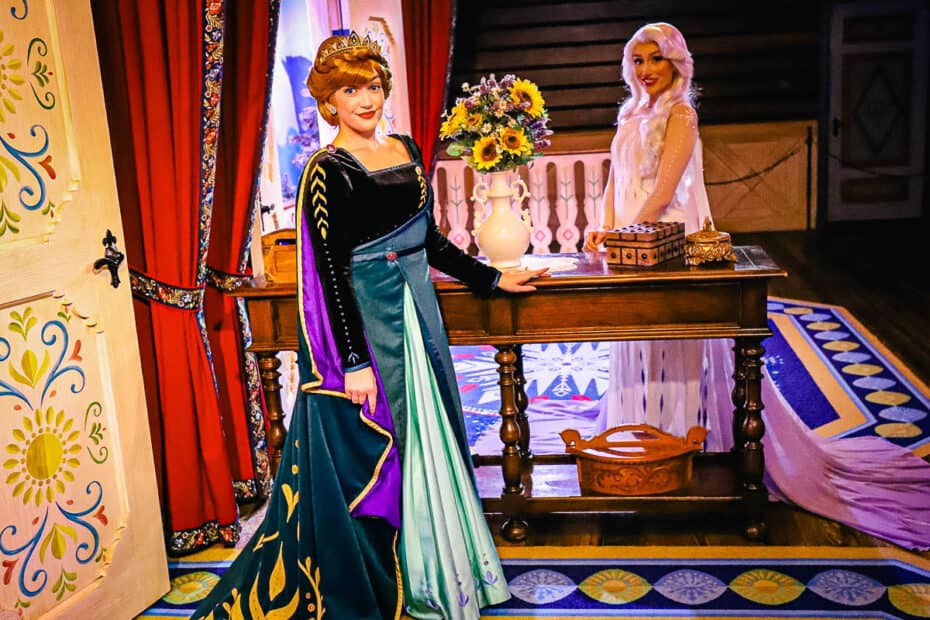 Dining Options in the Norway Pavilion
Norway is home to two dining options that are both reasonably well-known. One is a character dining experience, while the other offers a somewhat famous treat. Additionally, the pavilion has a snack and beer cart.
First, we have Kringla Bakeri og Kafe, a Norwegian Bakery. This is where you can pick up the often-talked-about school bread.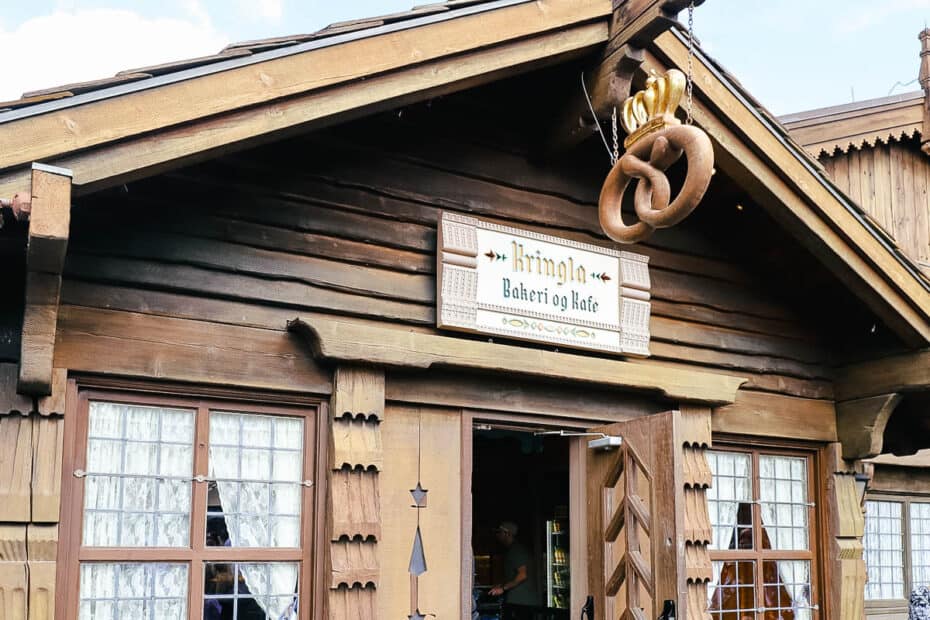 School bread is a sweet bread filled with custard, then garnished with icing and coconut.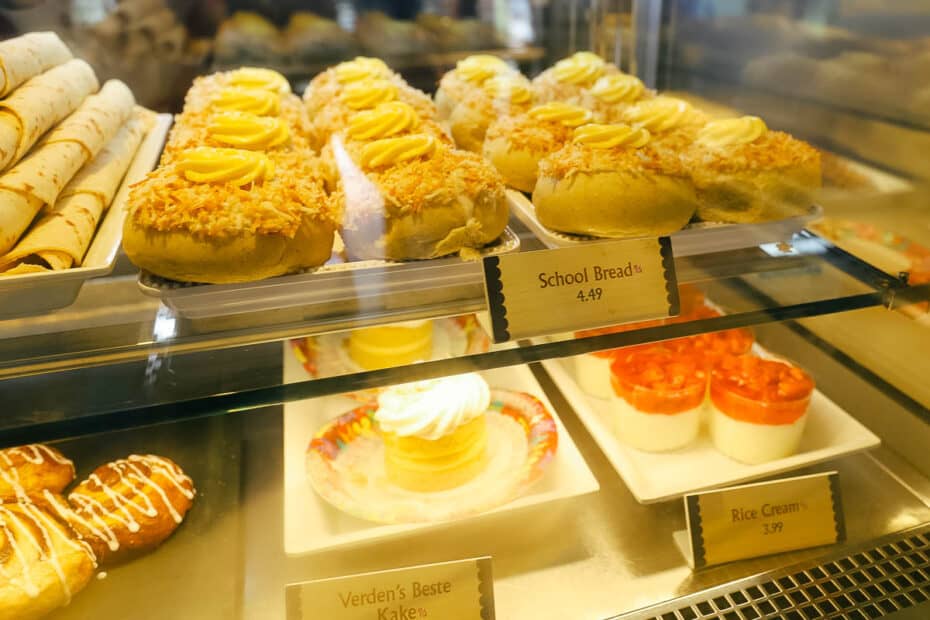 If school bread doesn't suit your fancy–don't worry. There are plenty of other tasty treats in the bakery's pastry case. Here's what was available on our last visit.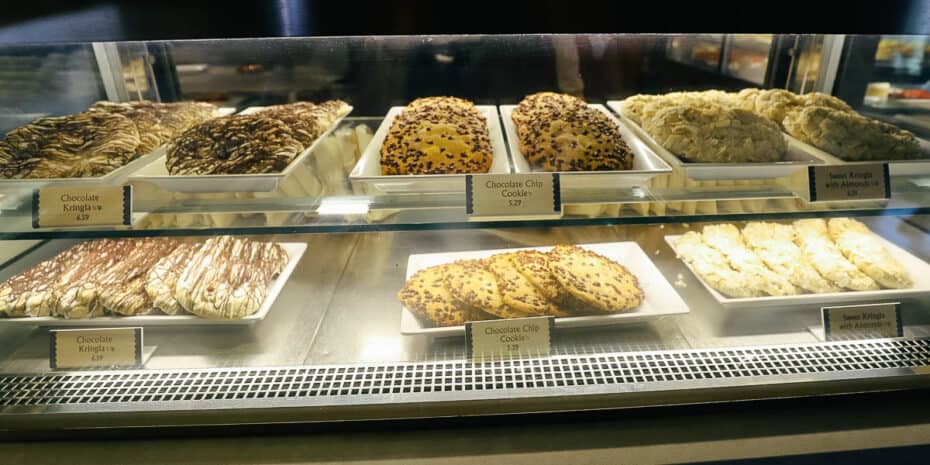 These are monster-size cookies! Those sweet pretzels, the chocolate Kringla, are also pretty popular.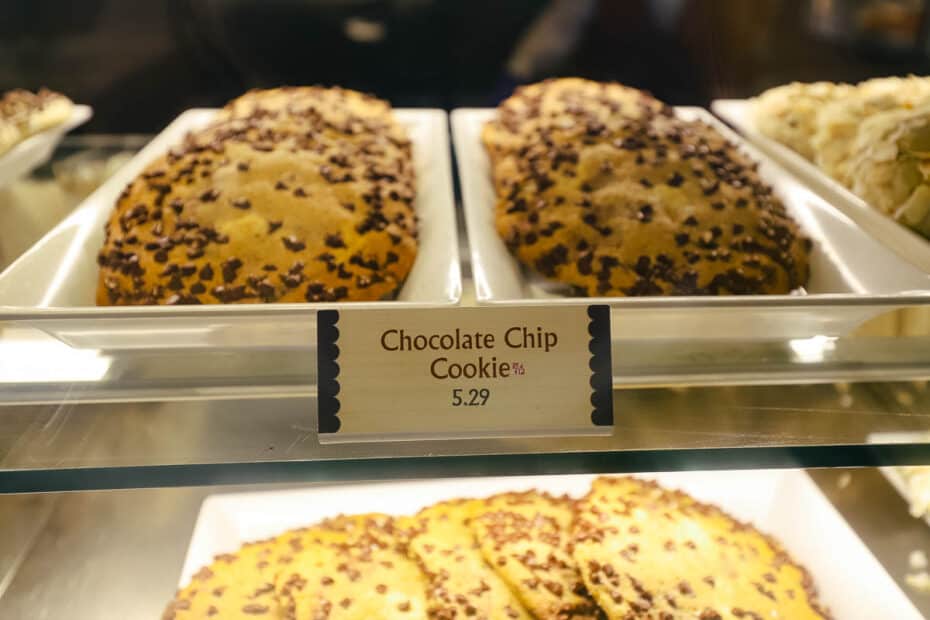 Additionally, those are massive Mickey-shaped cinnamon rolls in the center of the bottom row.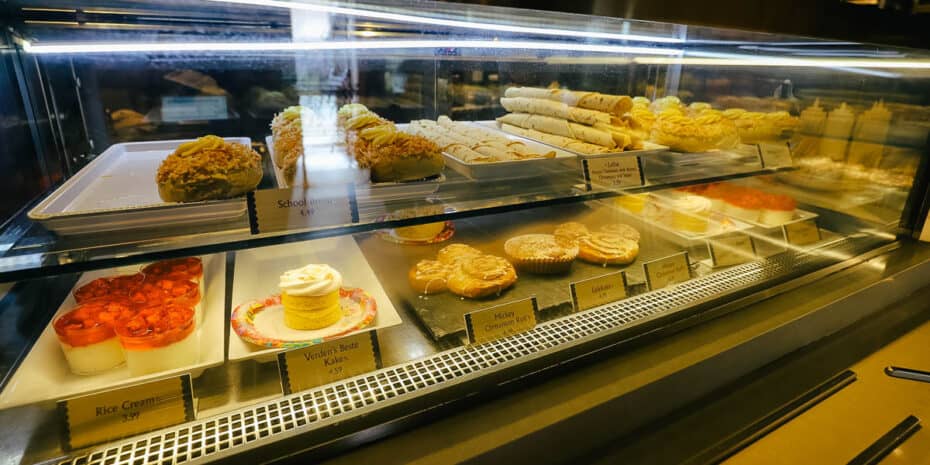 Here is the menu with prices for the Norwegian treats at Kringla.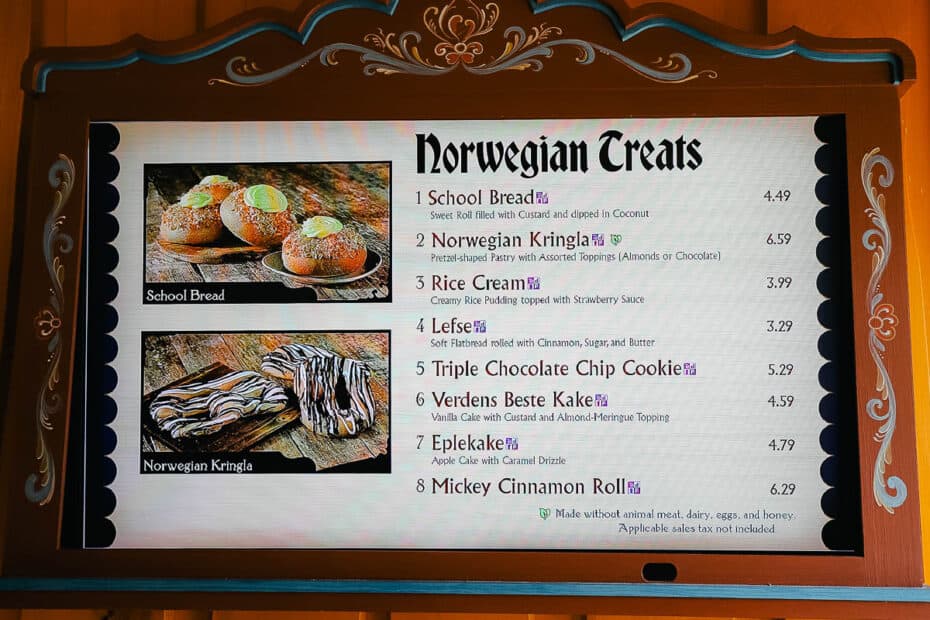 You can also pick up a variety of bottled beverages like soda, water, and juice. They have Voss Artesian bottled water if you're looking for something fancy.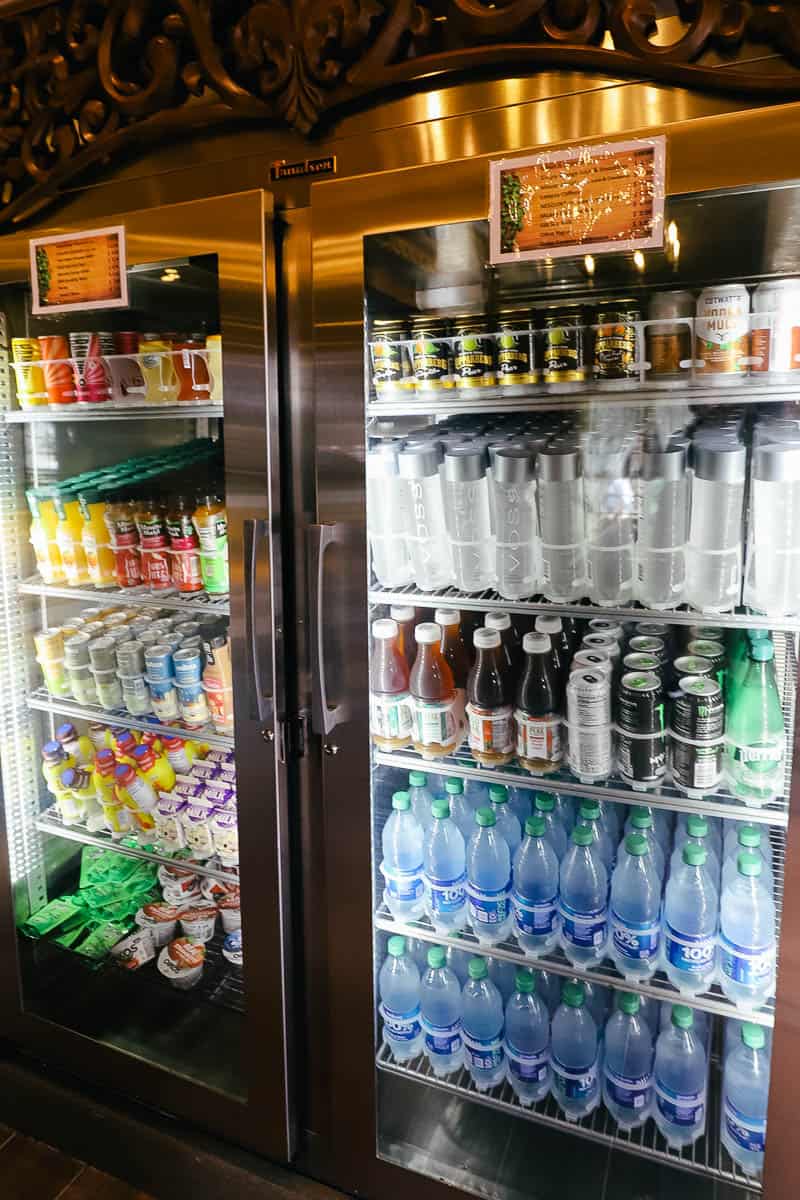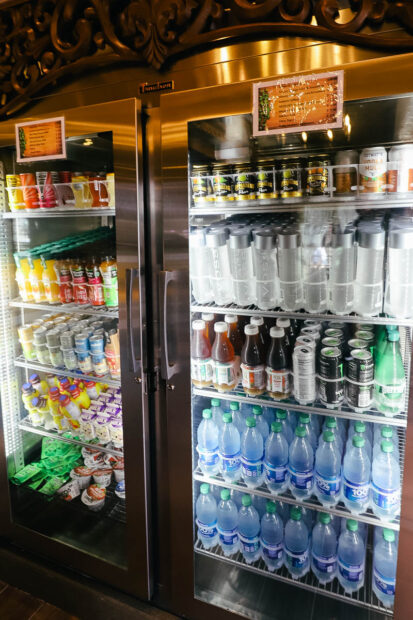 Epcot's Norway is also home to a popular Disney World character dining restaurant, Akershus Royal Banquet Hall. This restaurant is modeled after the real Akershus' Castle that still stands today in Oslo's Harbor.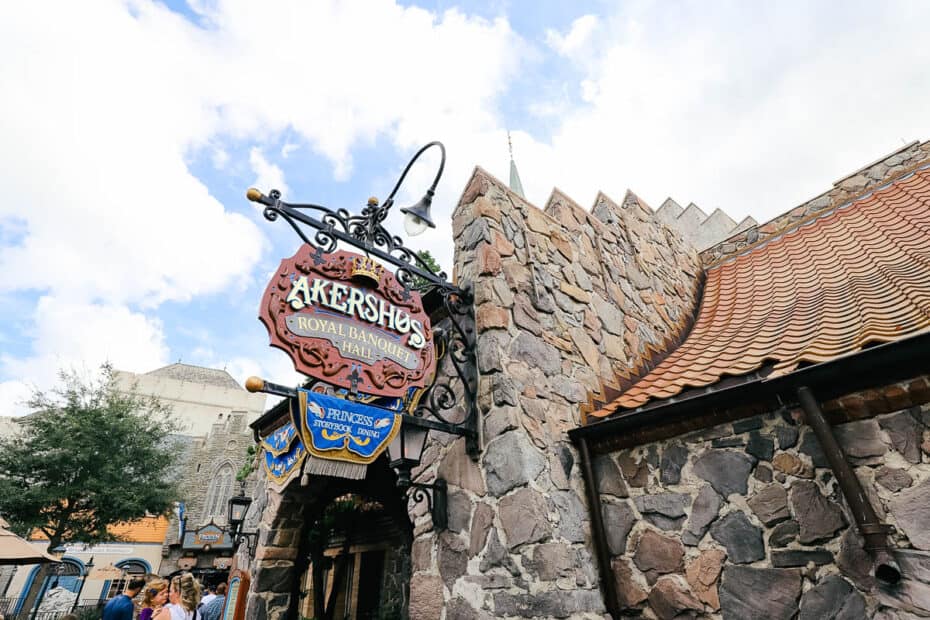 Akershus is Epcot's location for dining with Disney's Princesses. It's often referred to as Princess Storybook Dining.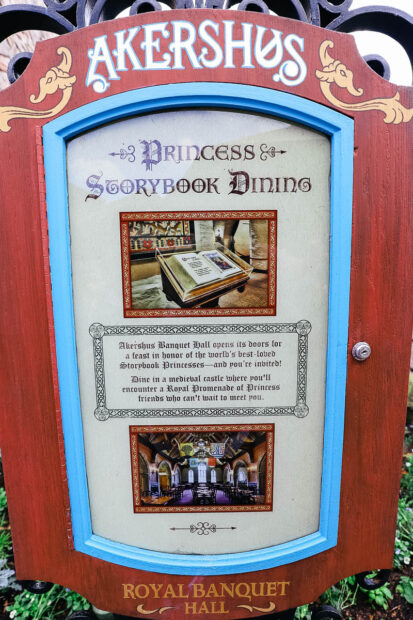 Since Akershus reopened, they are only offering dinner service daily between 3:00 p.m. and 8:00 p.m. Below is their menu, or you can preview it here on Disney's site.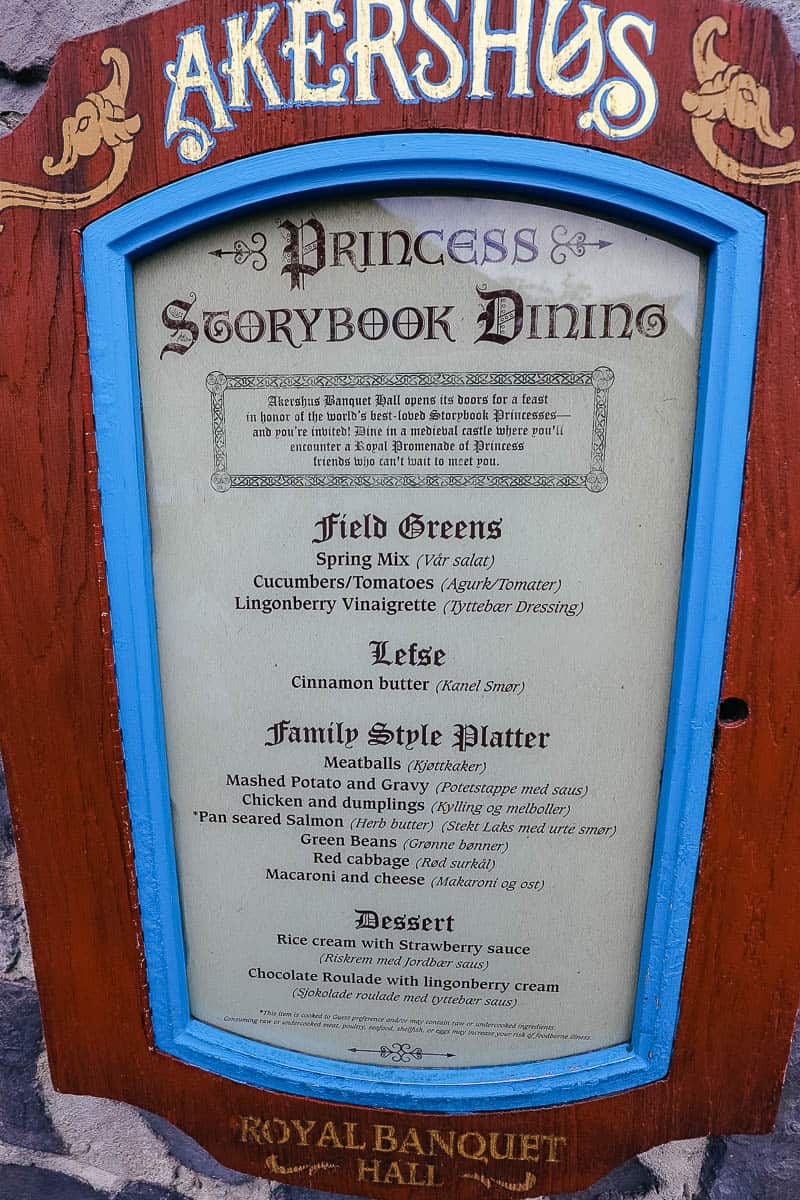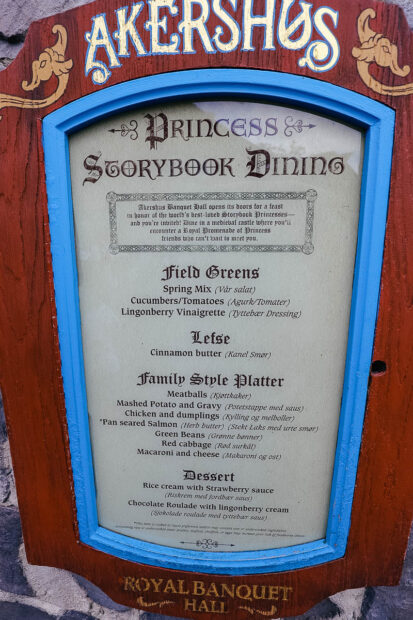 Previously, the restaurant offered all three meal periods. A few years back, we attended the character breakfast at Akershus.
We thought the food was okay. However, the princess interaction is what makes dining here appealing. It's an excellent place for children who look forward to seeing the princesses.
As far as the characters, Belle usually meets guests at the entrance. After you're seated, you'll have the opportunity to meet Cinderella, Aurora, Snow White, and Ariel.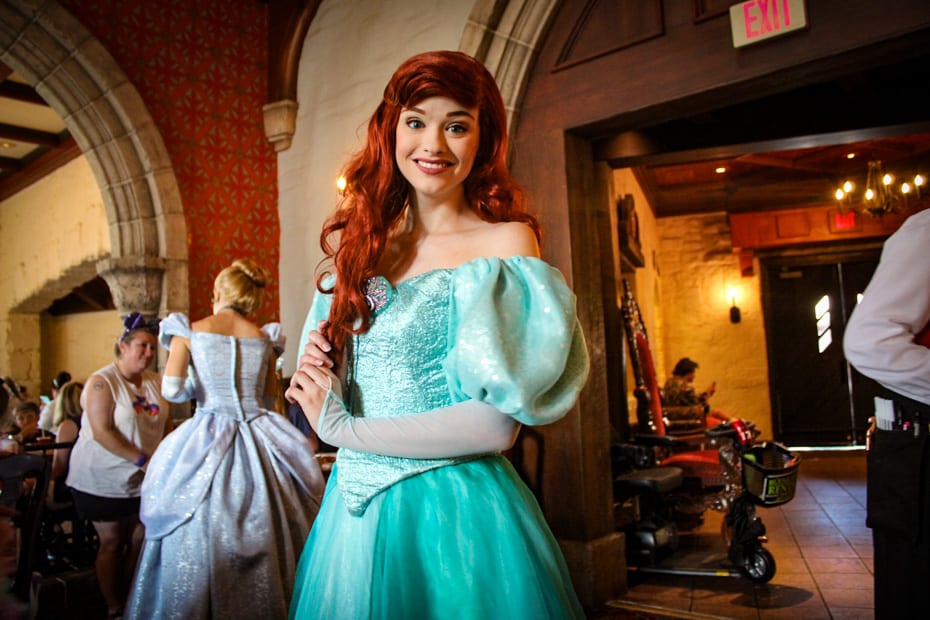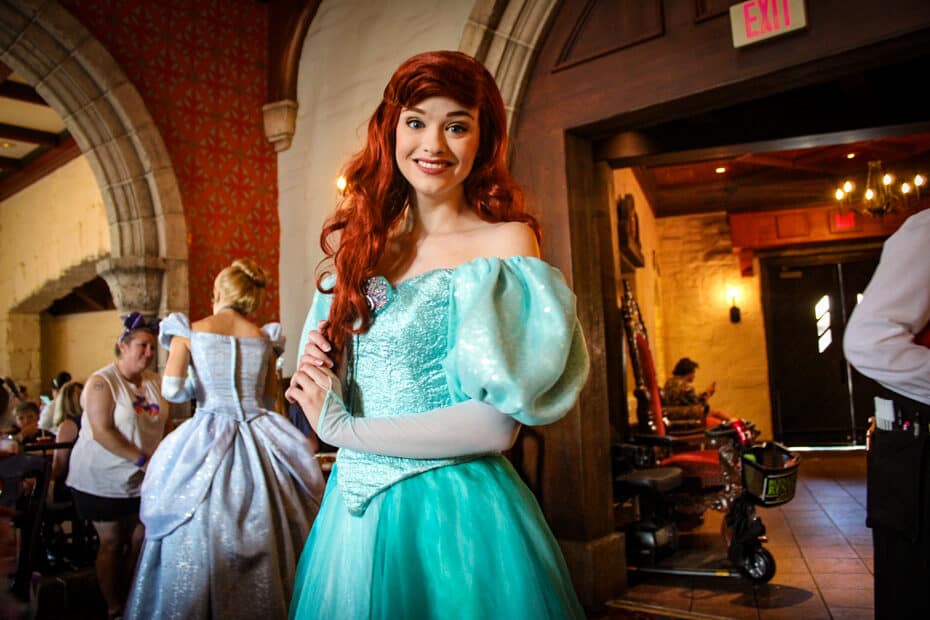 Lastly, a beer and snack cart sits on the outskirts of Norway's Pavilion, between the Stave Church Gallery and the Royal Sommerhus.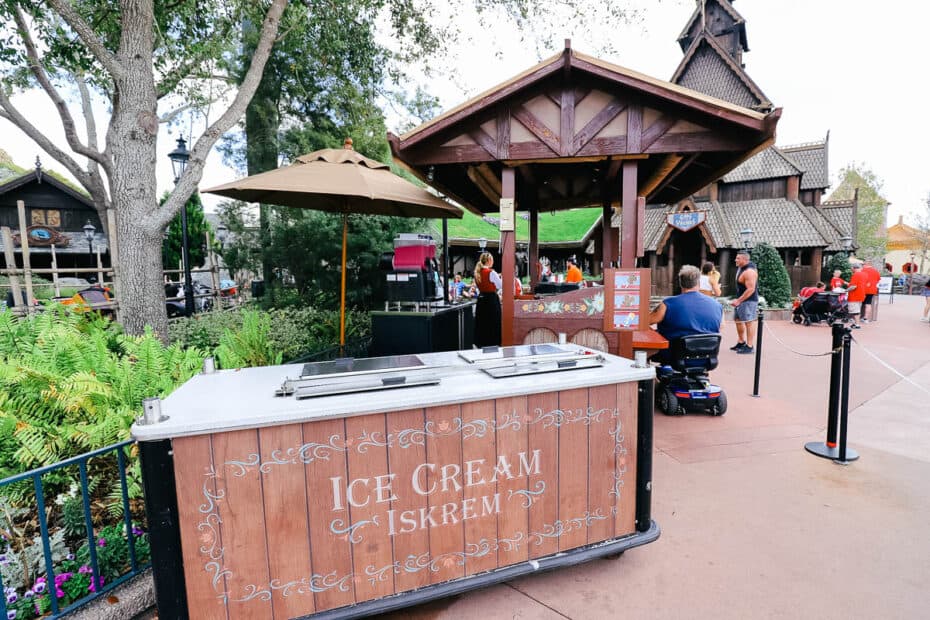 They have several of Mickey's Premium ice cream treats.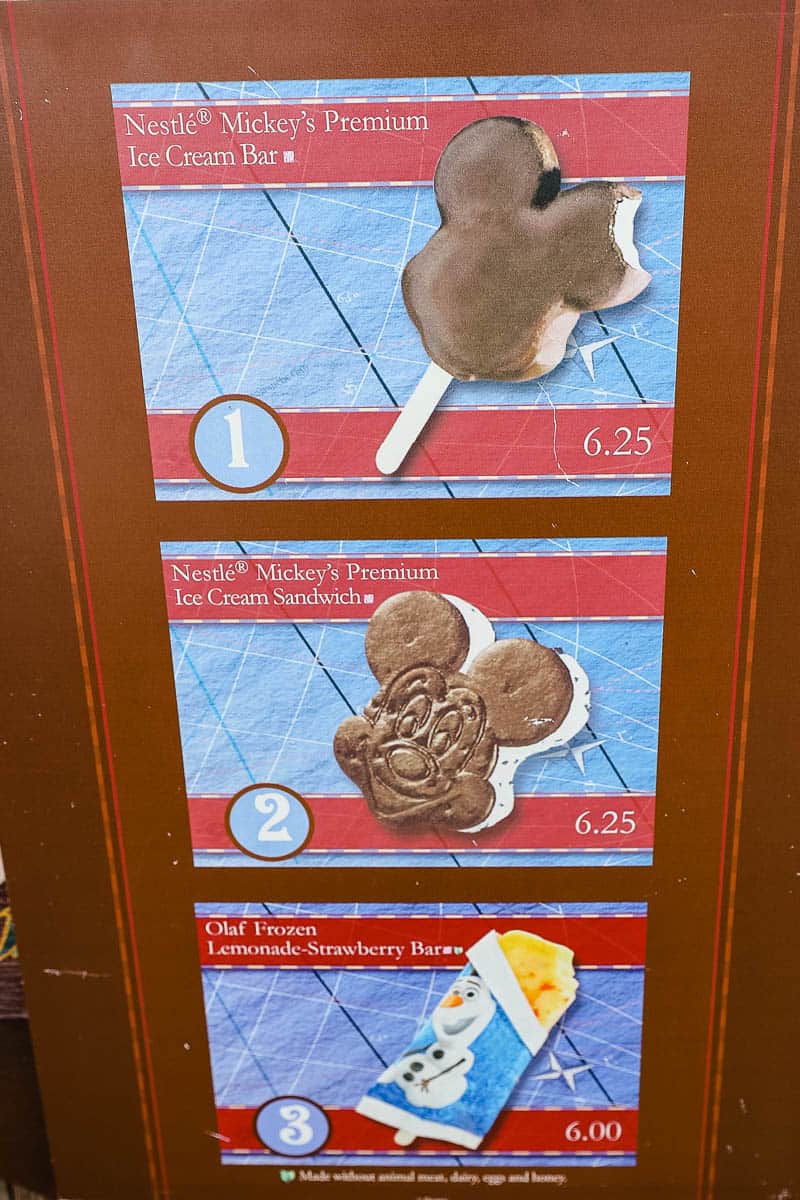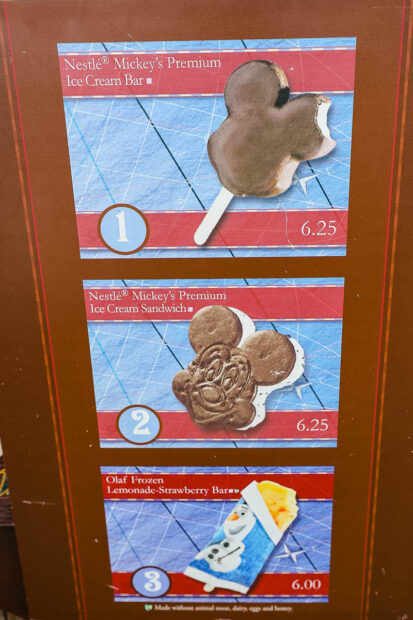 Additionally, they have a few Scandinavian Draft beer options, wine, bottled soda, and water.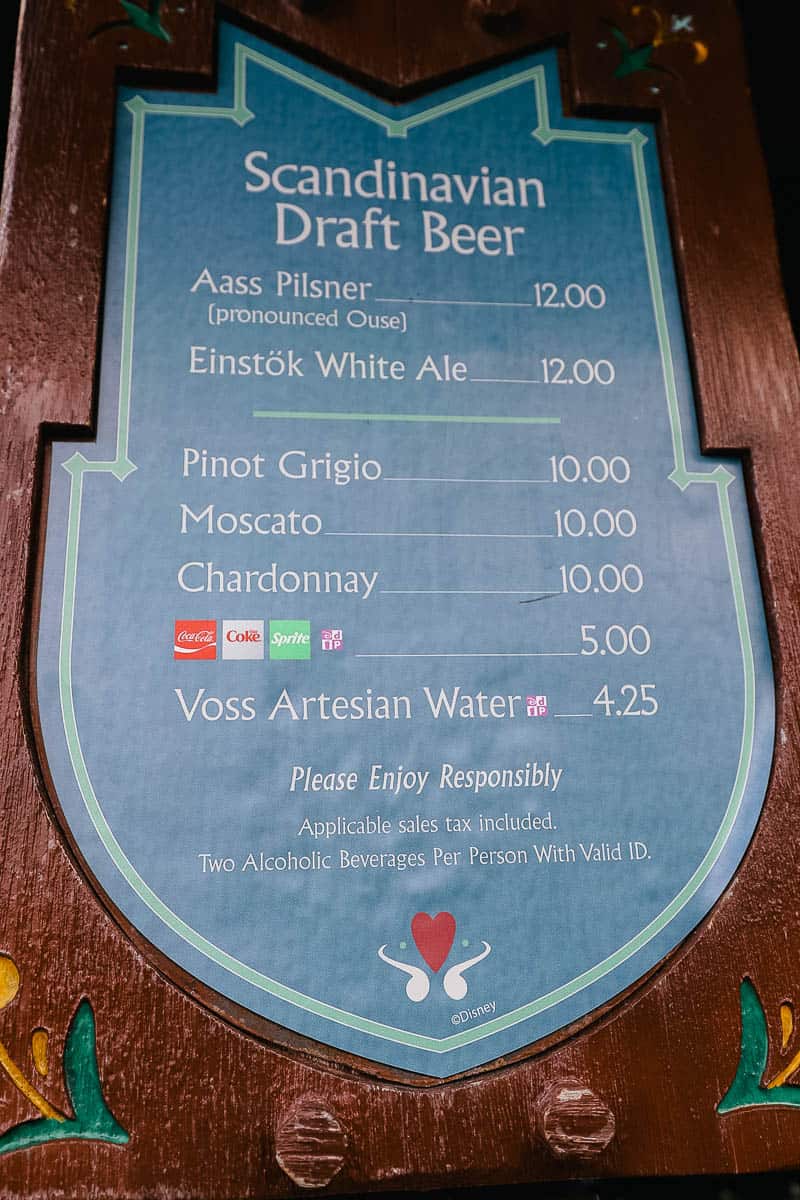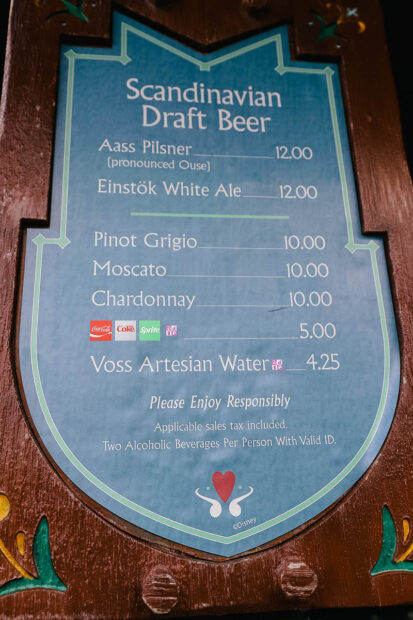 Shopping in the Norway Pavilion
Norway is home to several shops that blend to make one large store. However, each store carries unique merchandise.
First, we have The Fjording, the main shop for Frozen Ever After. This is where the attraction dumps you after exiting the ride.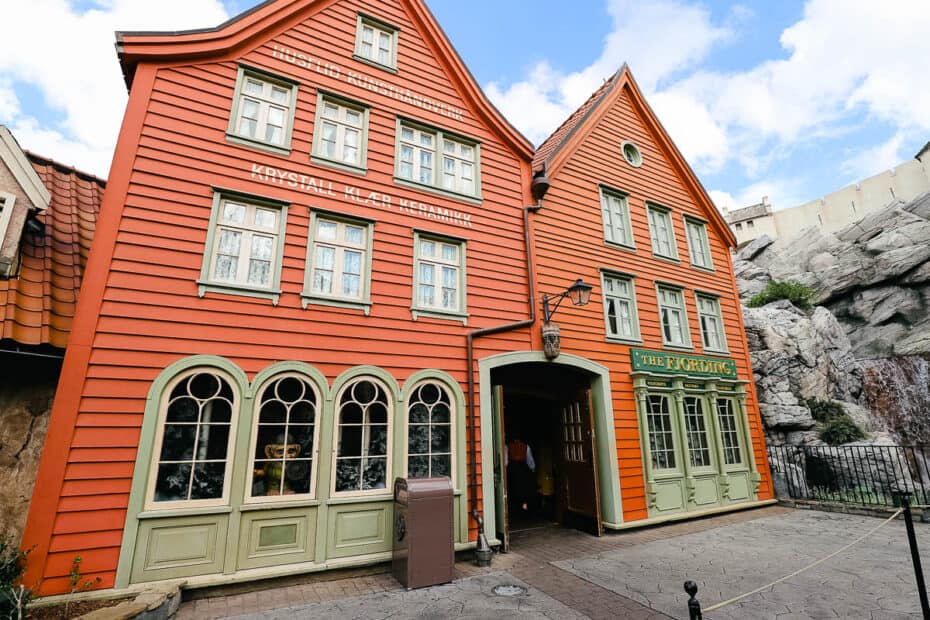 As you can imagine, this store is home to Frozen merchandise, including costumes and apparel.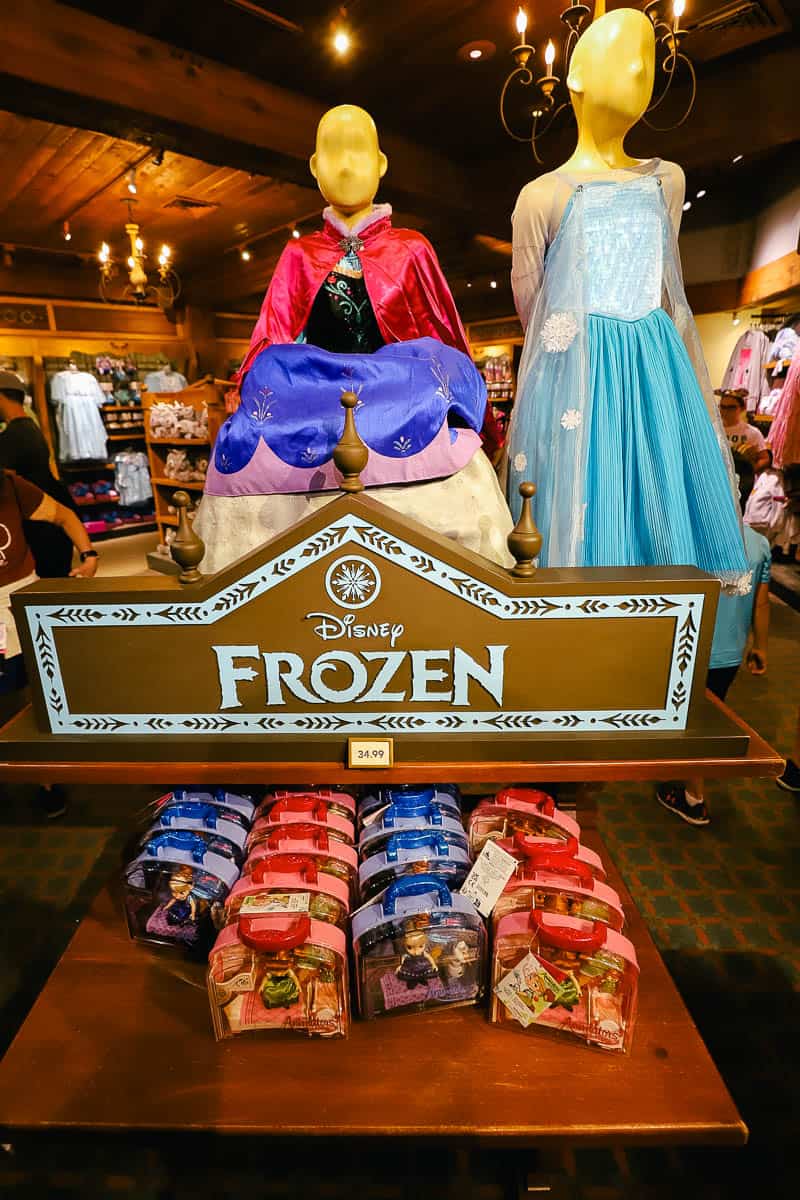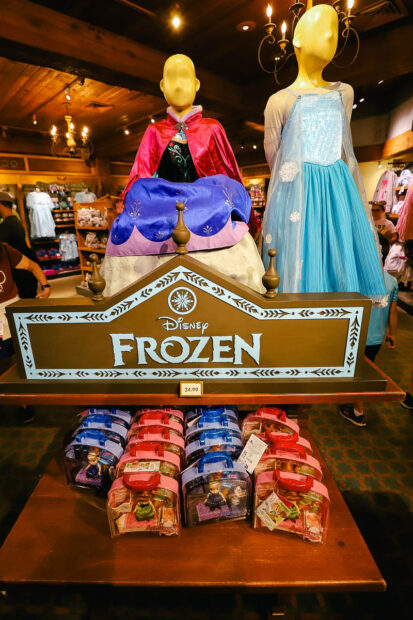 Here are a few photos of the items on display as of this update.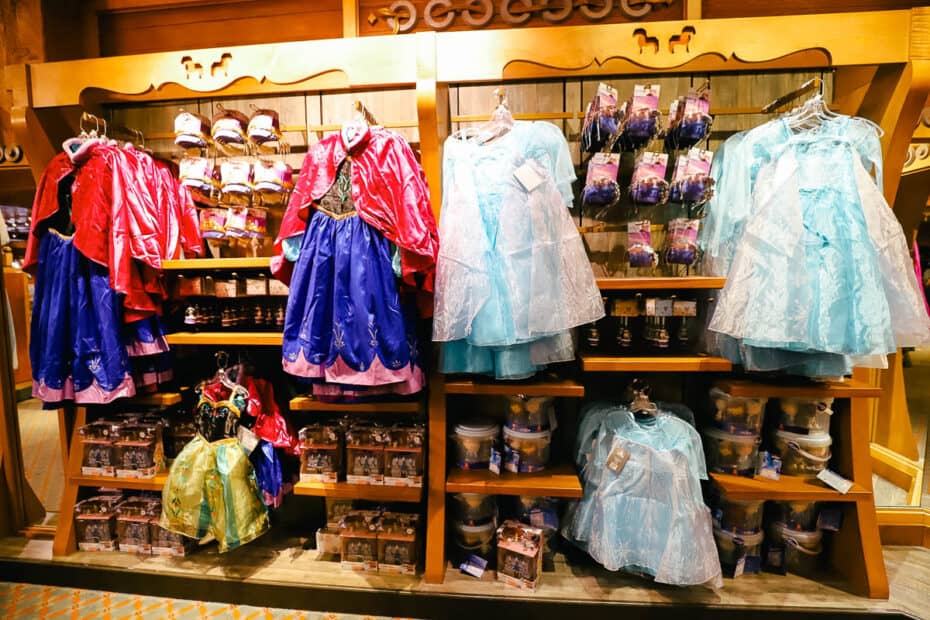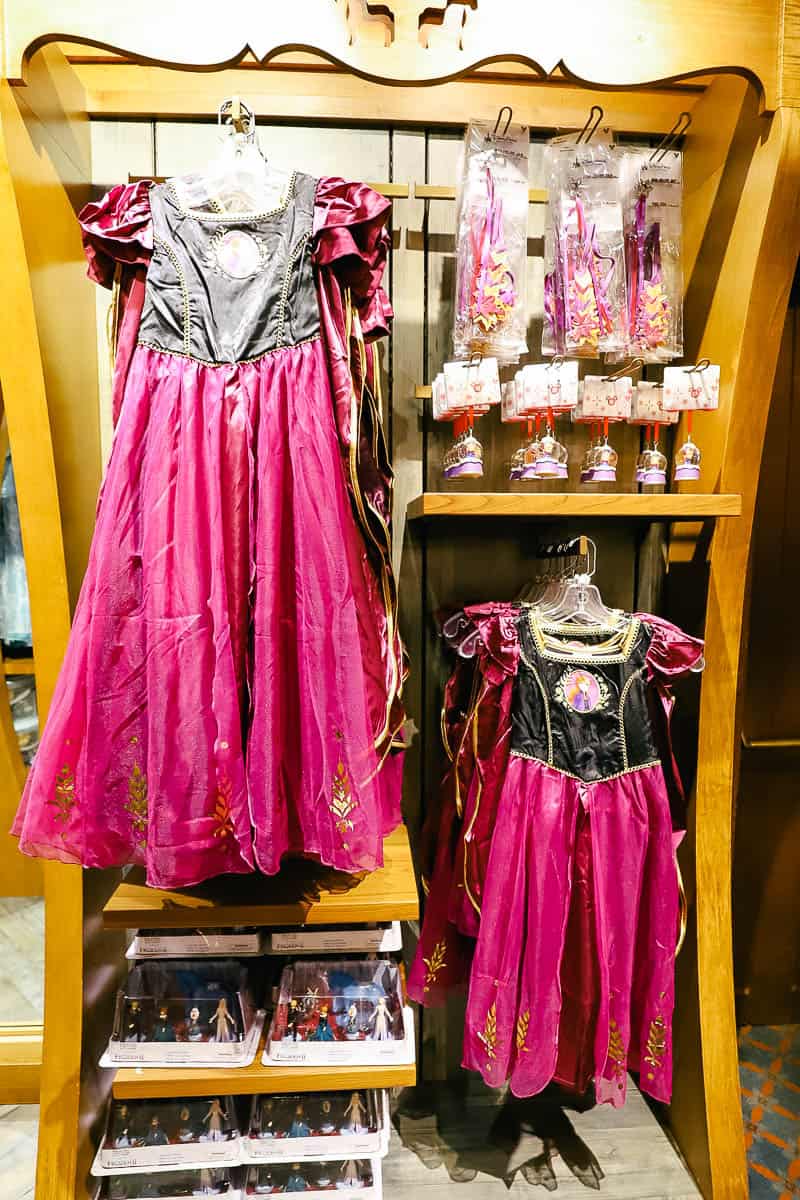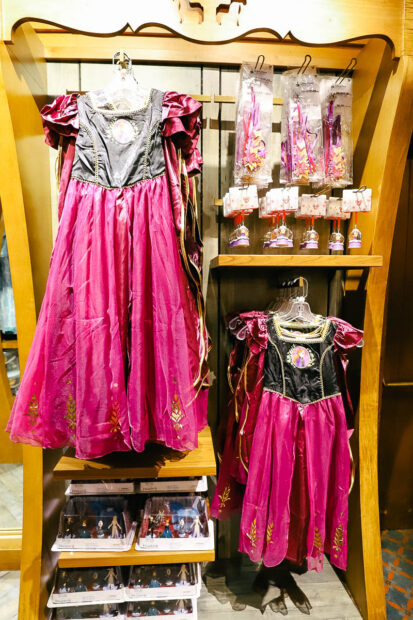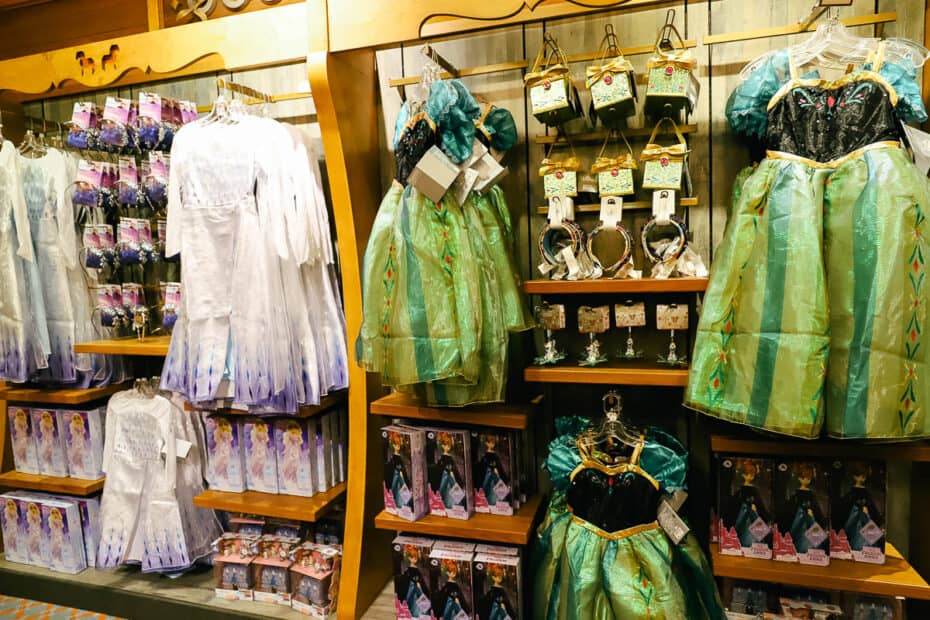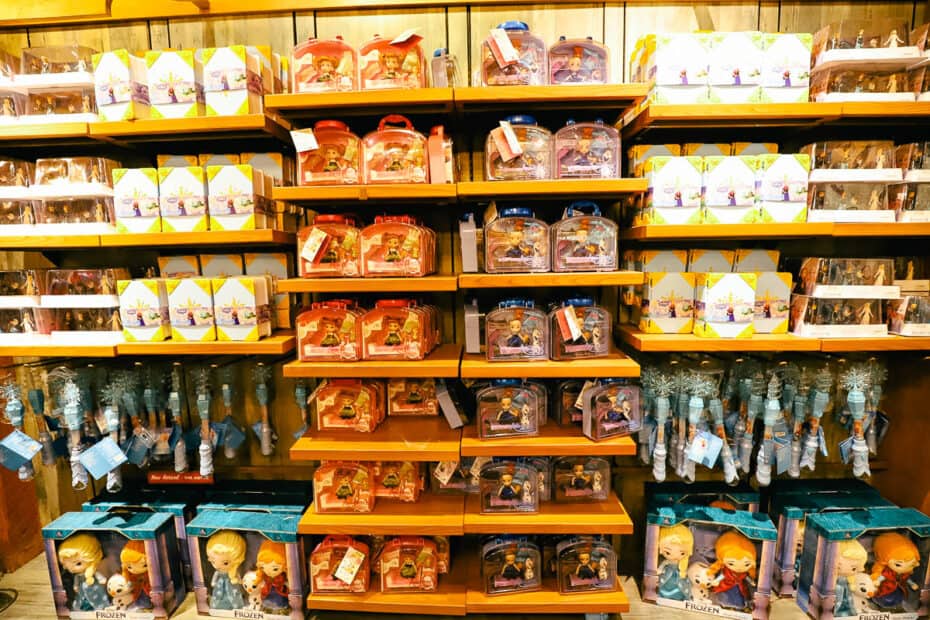 Connected to the Fjording, we find ourselves in The Puffins Roost, home to the giant troll statue. No touching! There's always a cast member nearby warning guests not to touch the troll.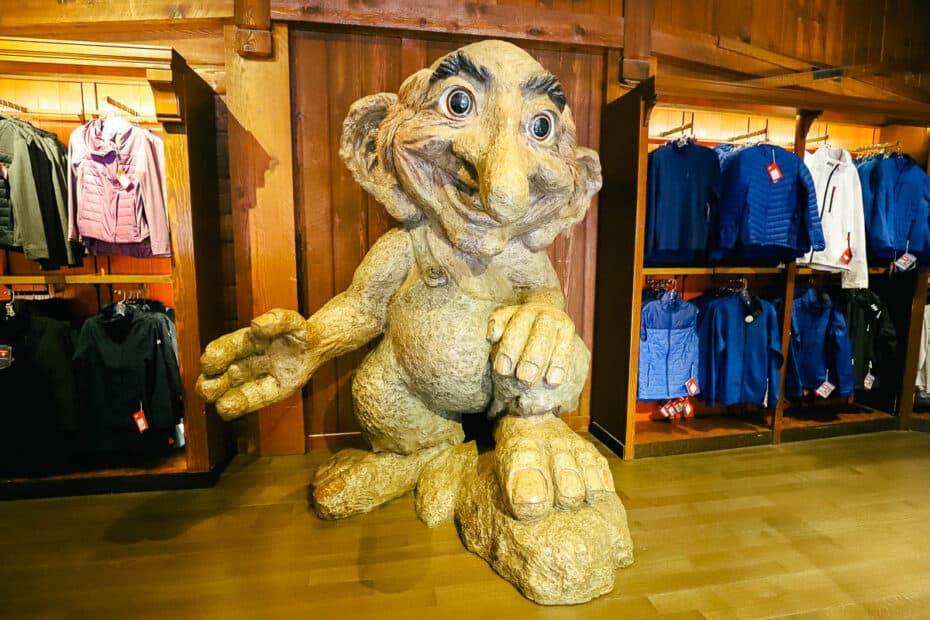 The Puffins Roost is where you'll find specialty items and brands from Norway.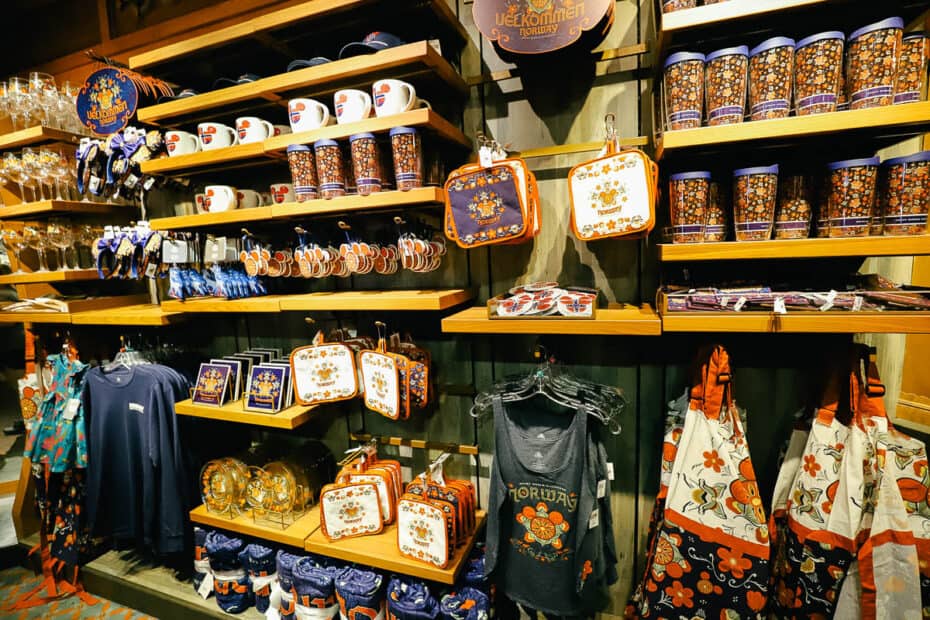 Norway also has an excellent selection of World-Showcase branded merchandise at the moment.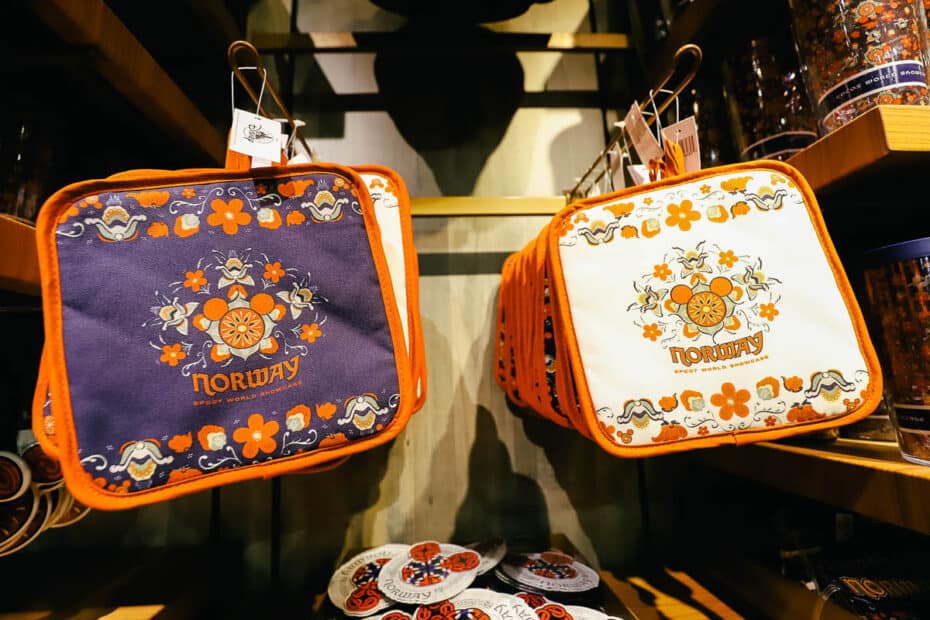 Here are a few of the other items we saw.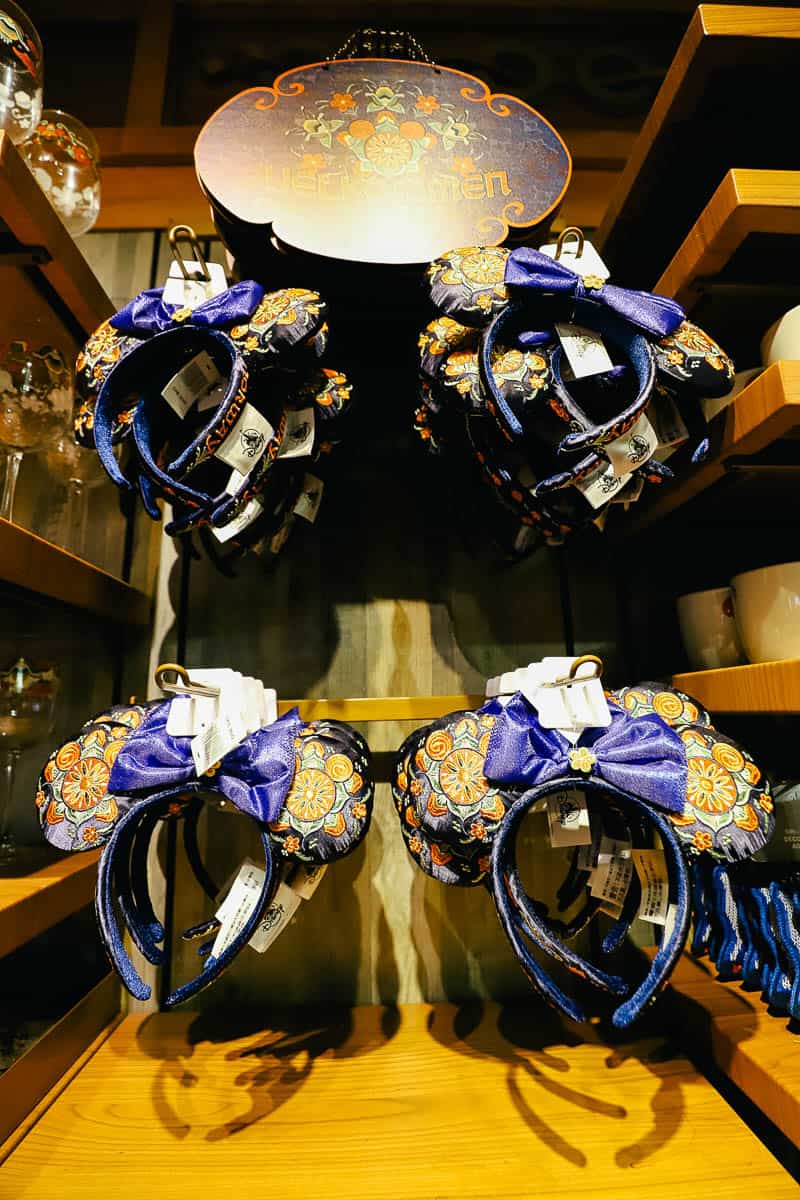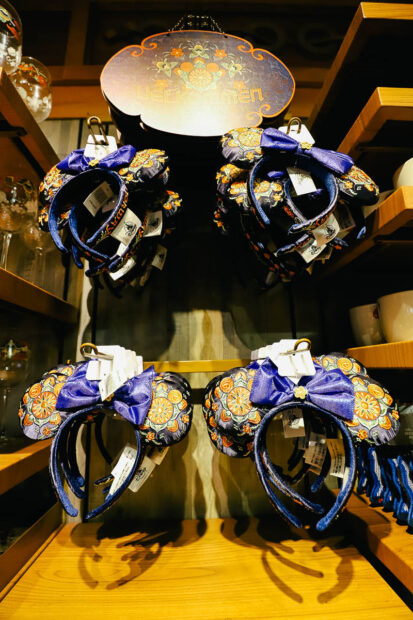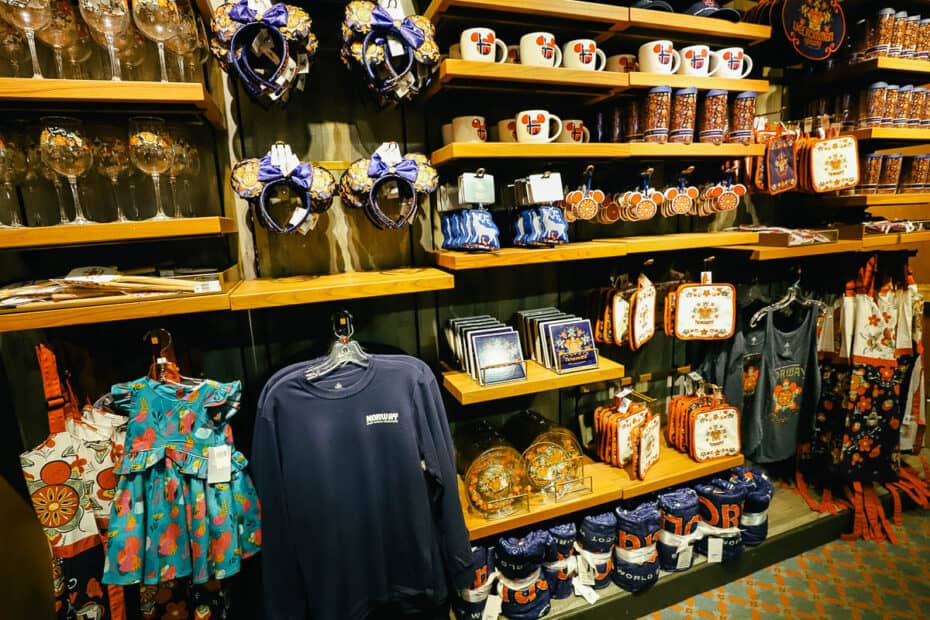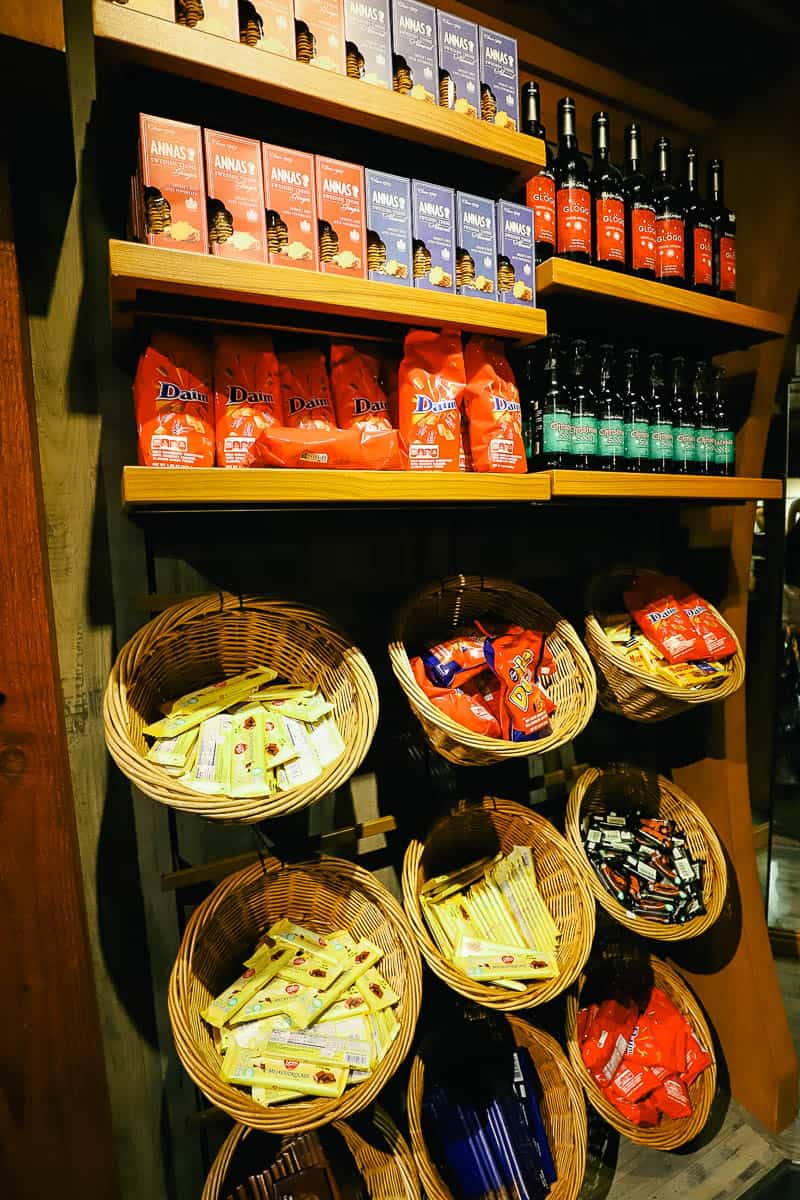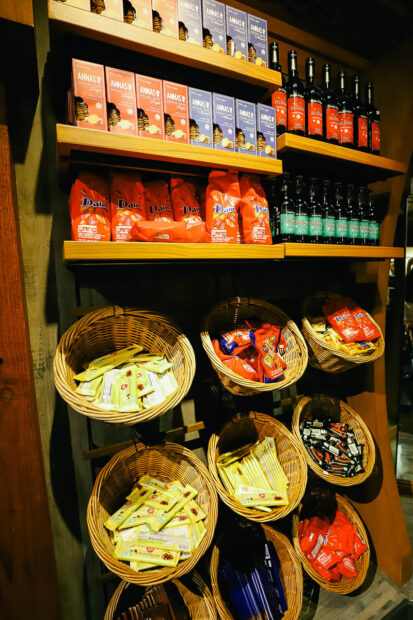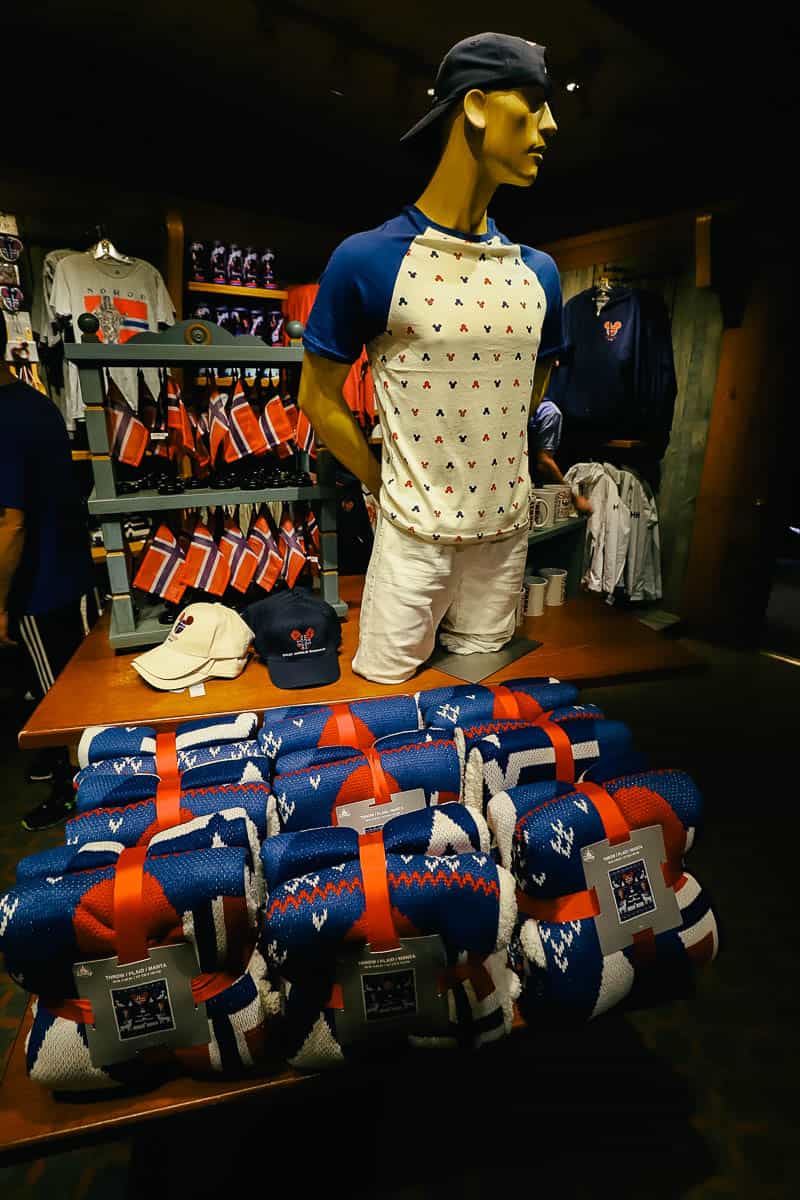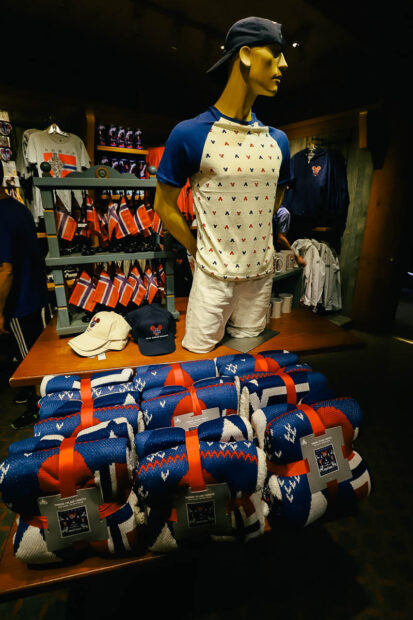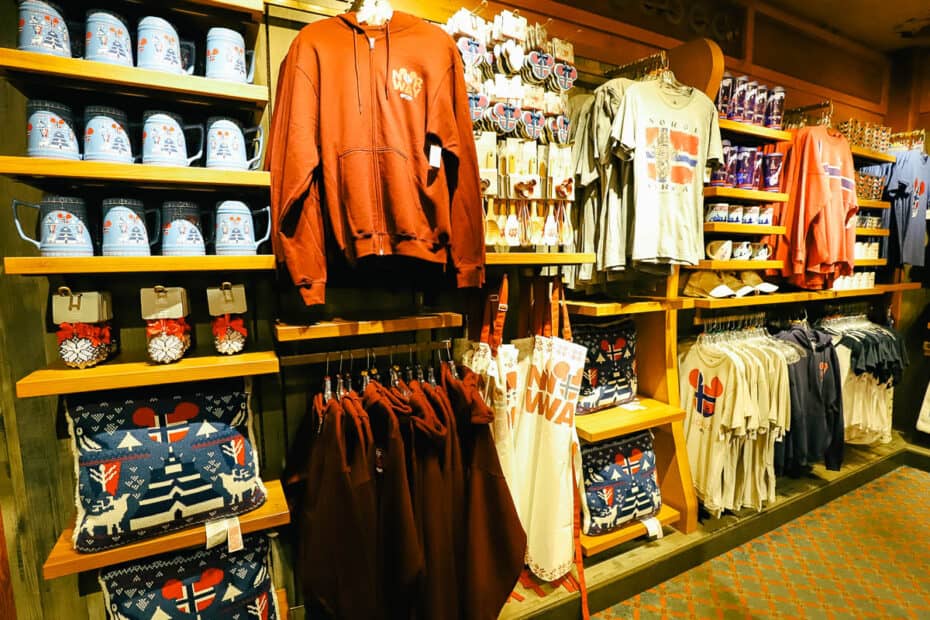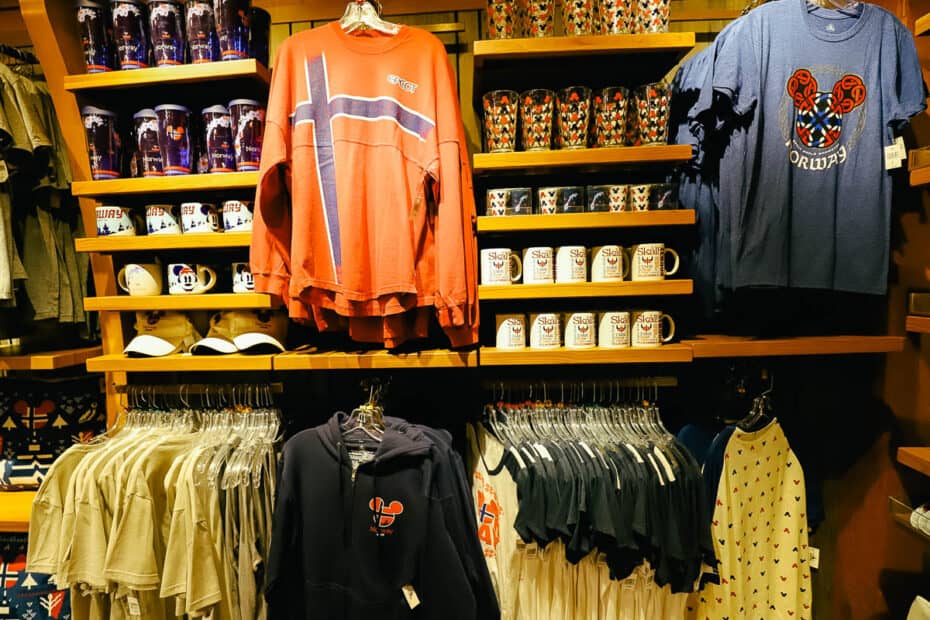 Regarding quality, the Norway Pavilion carries higher-end brands like Dale of Norway and Helly Hansen. If you didn't already know, I've got my eye on that black and white Mickey Mouse jacket.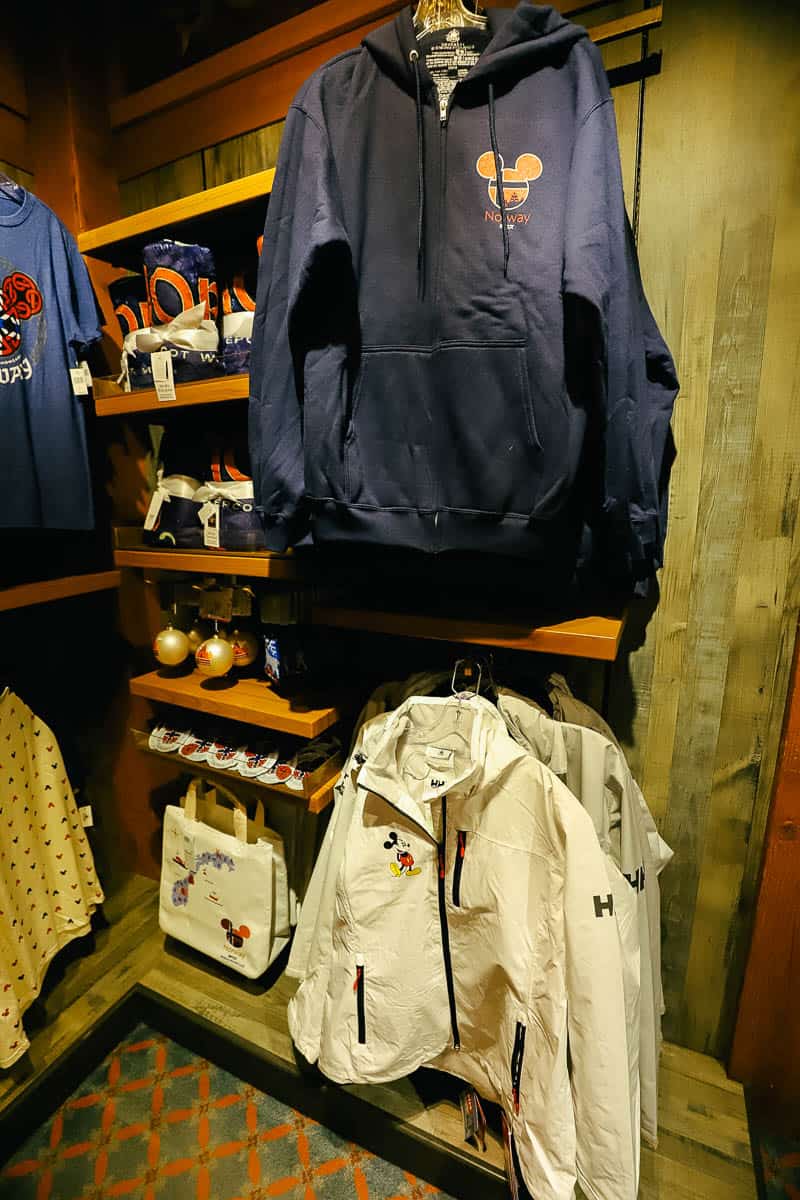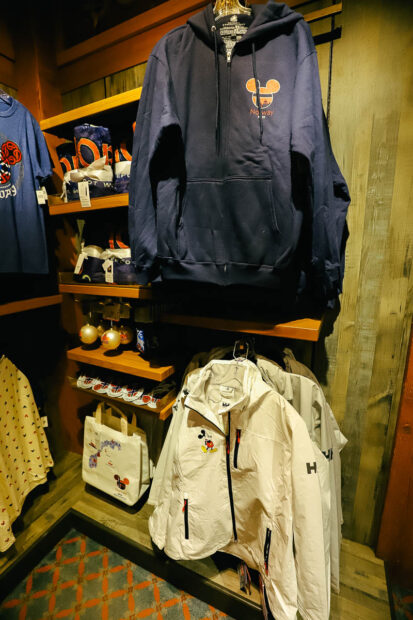 Of course, there will always be something I want in this shop.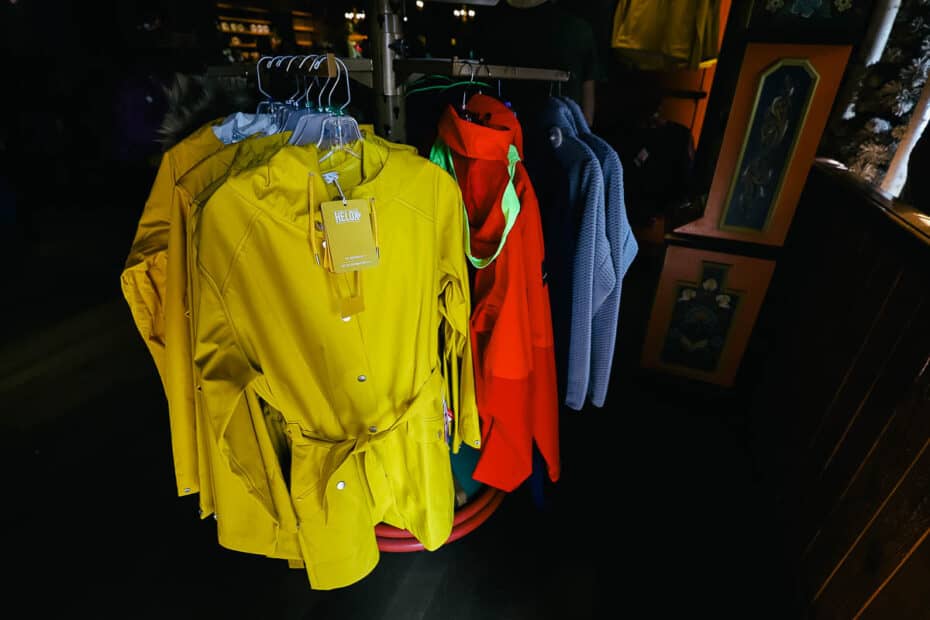 Behind those jackets, I noticed a pressed penny machine.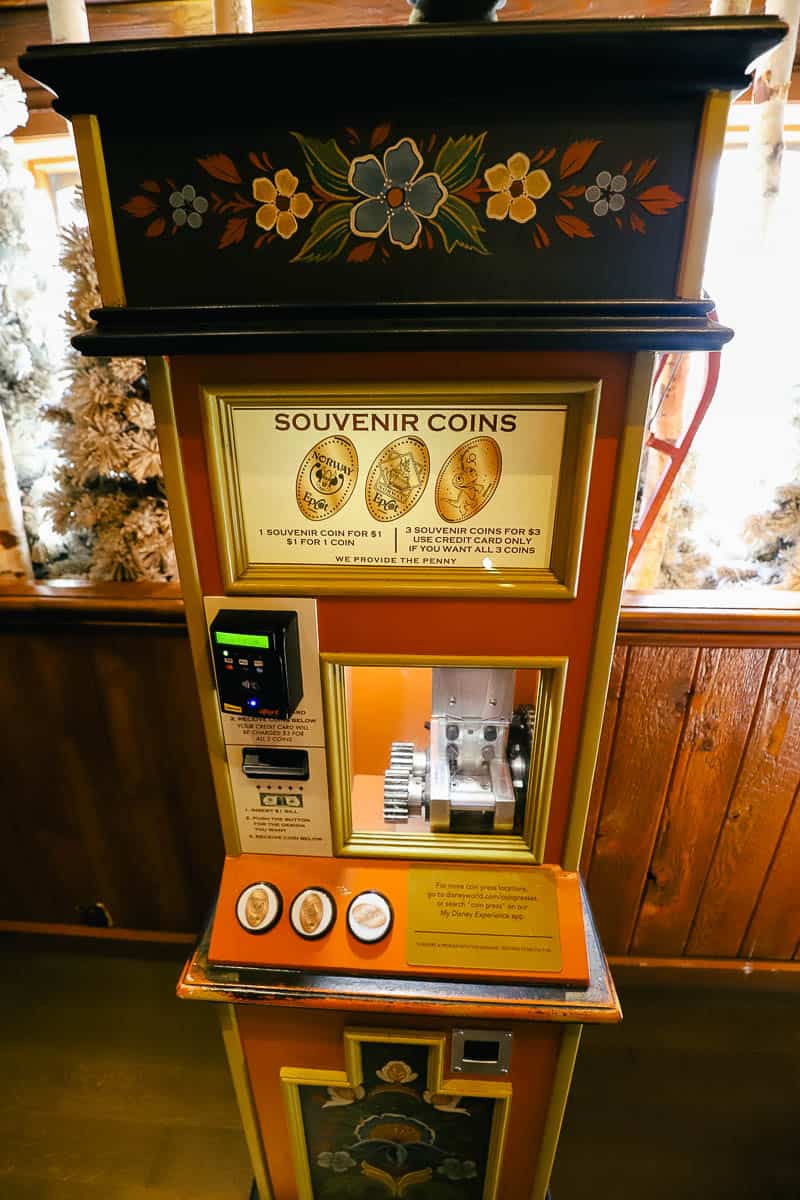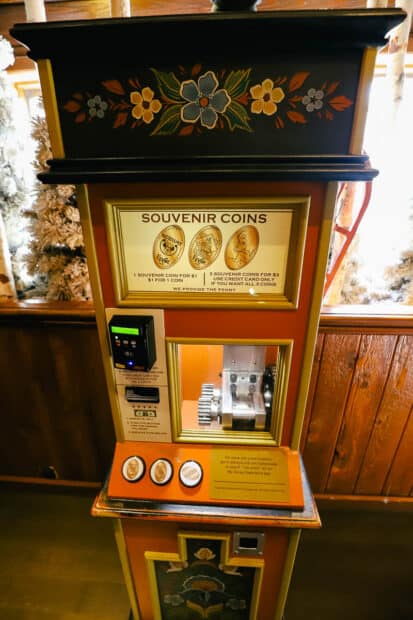 Here are the ones that were available on the day of our visit.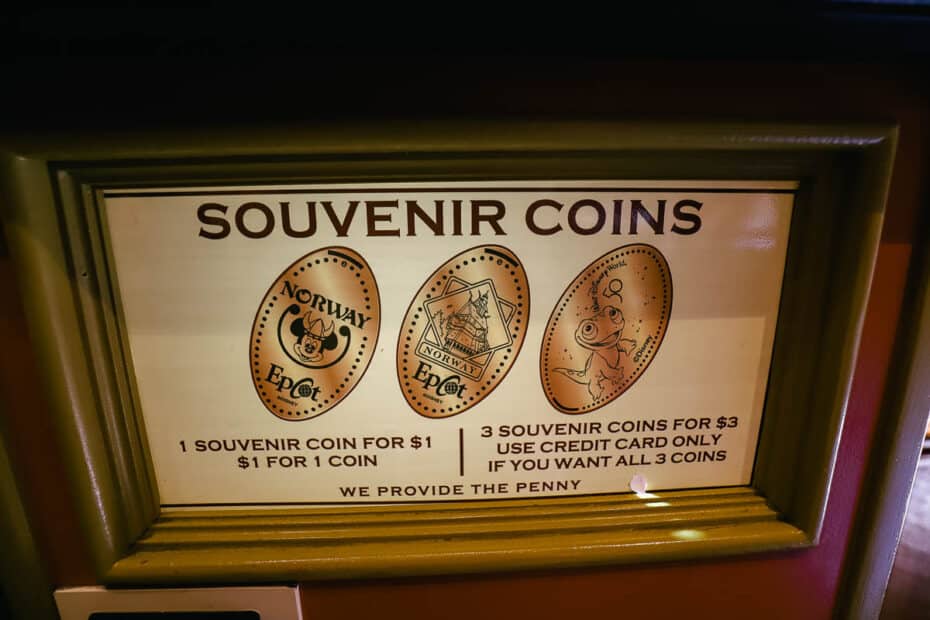 During the Festival of the Arts, Larry Dotson has an art booth set up inside the shop. If you're lucky, you might run into him and his wife. It's always wonderful to chat with them.
You know, I also always have my eye on a few of these. Thankfully, I'm fortunate to own several pieces from his collection.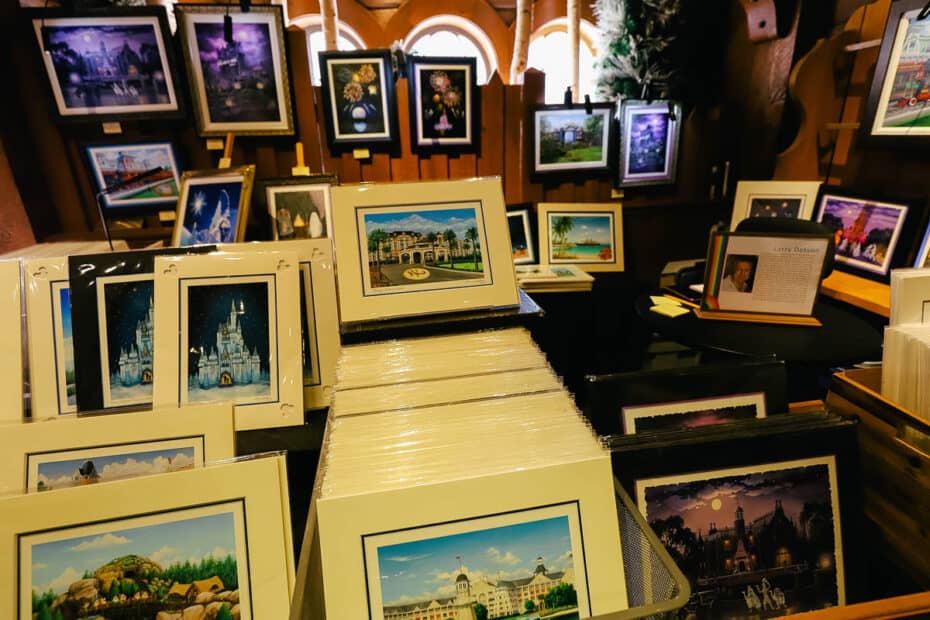 At the end of the store closest to Kringla, the shop turns into a boutique. This is where you'll find perfume, cologne, and sometimes jewelry.
It's also where you can pick up a bottle of fragrance by designer Geir Ness.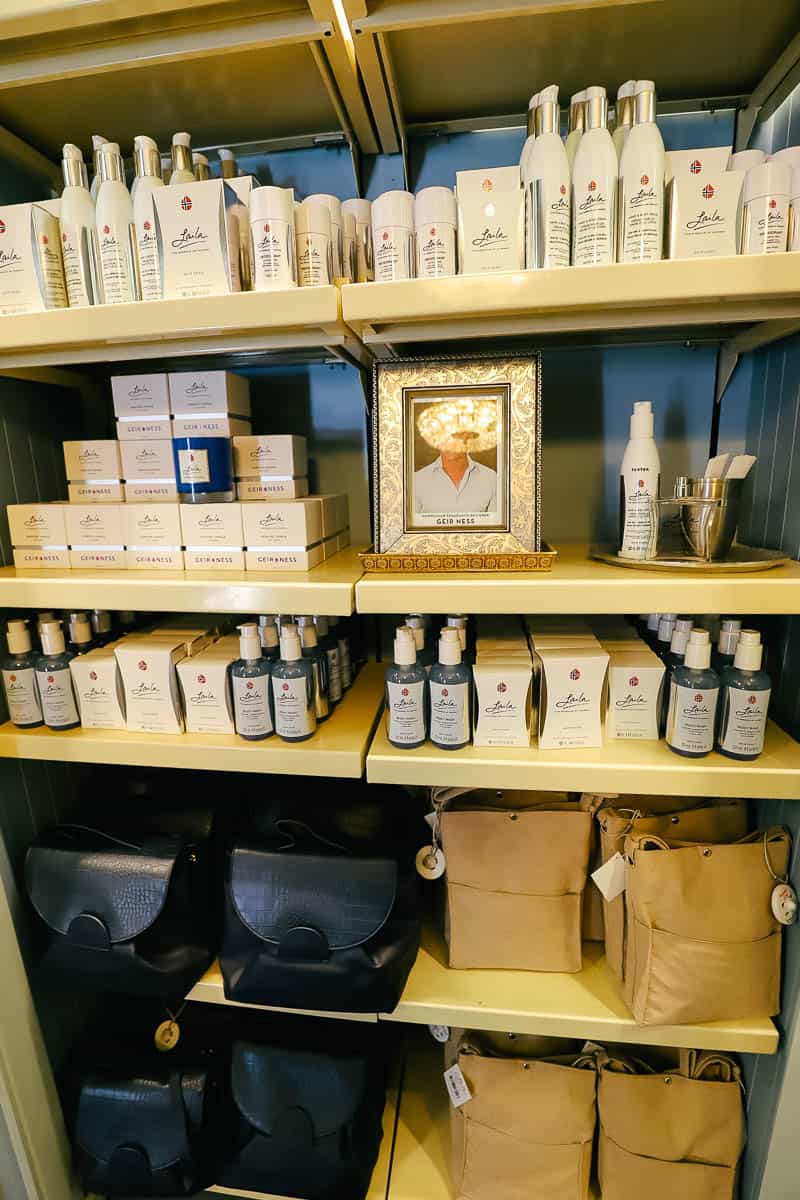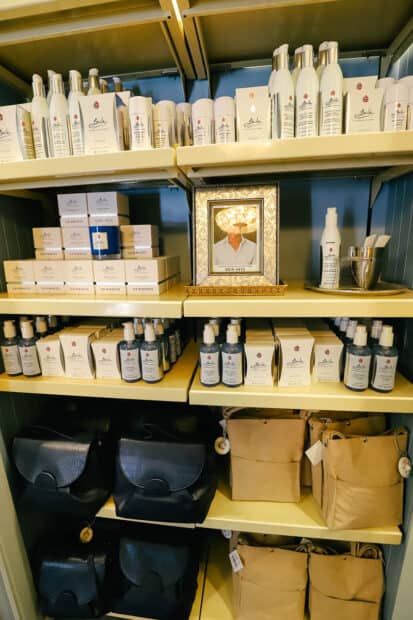 Laila is the original Geir Ness scent.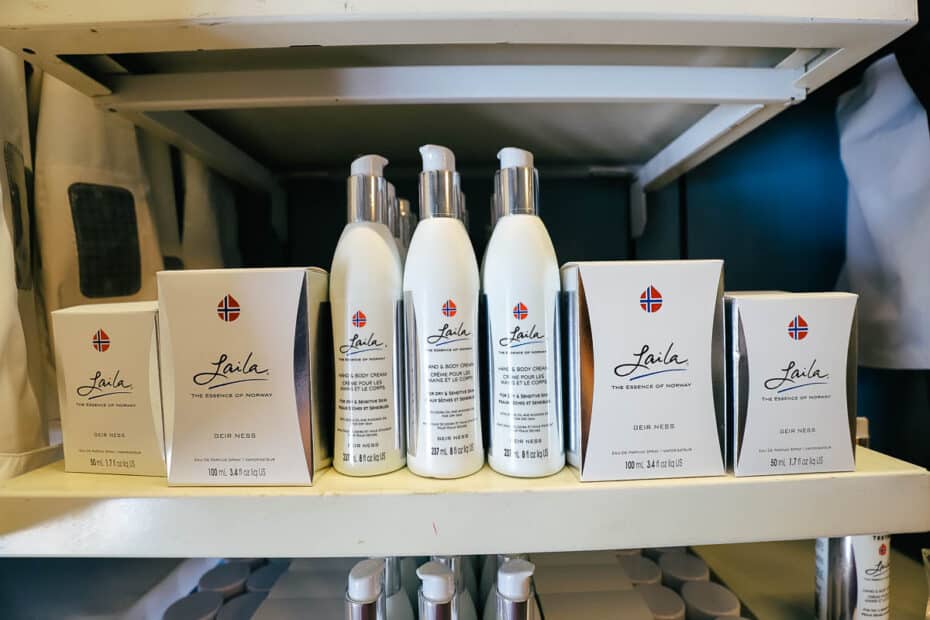 SNO is their newer collection.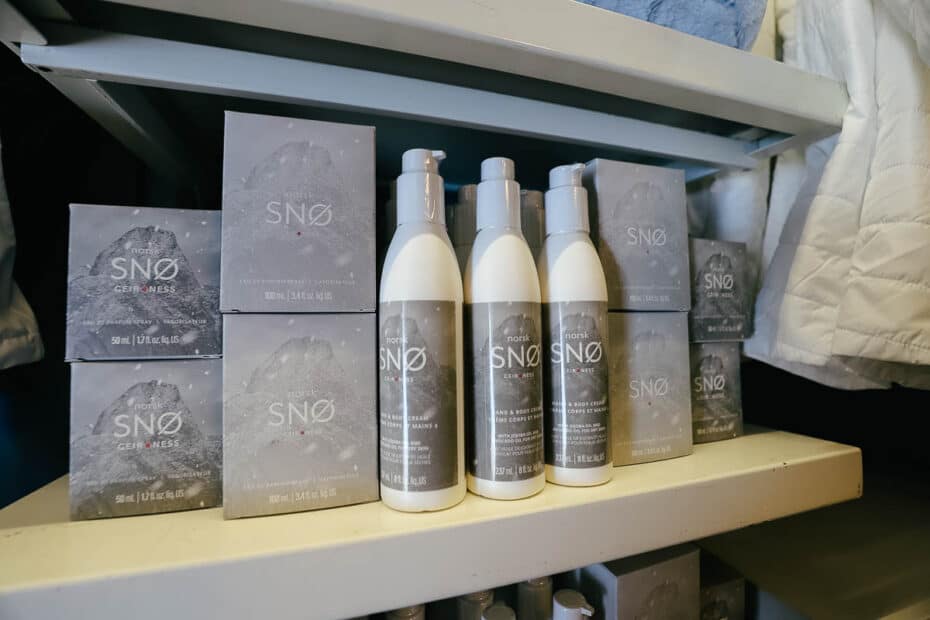 Last but not least, on the other side of Norway's Pavilion is The Wandering Reindeer. This former shop serves as the exit of the Royal Sommerhus. Unfortunately, this area is no longer being used as a store.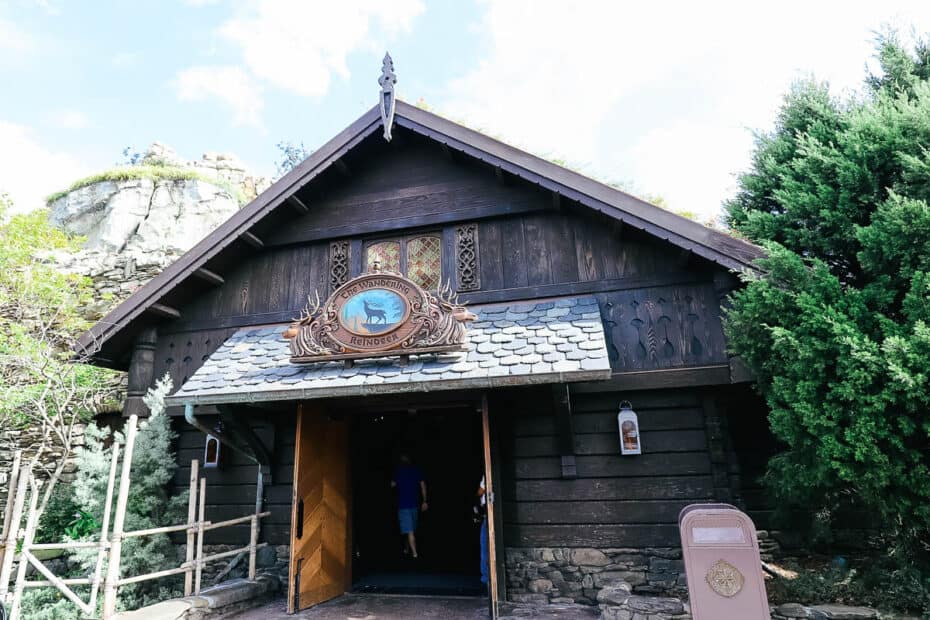 Lastly, the Norway Pavilion's Kidcot is located inside The Puffins Roost. Kidcot stops are available in each country of the World Showcase. They provide children with a free activity to participate in while touring.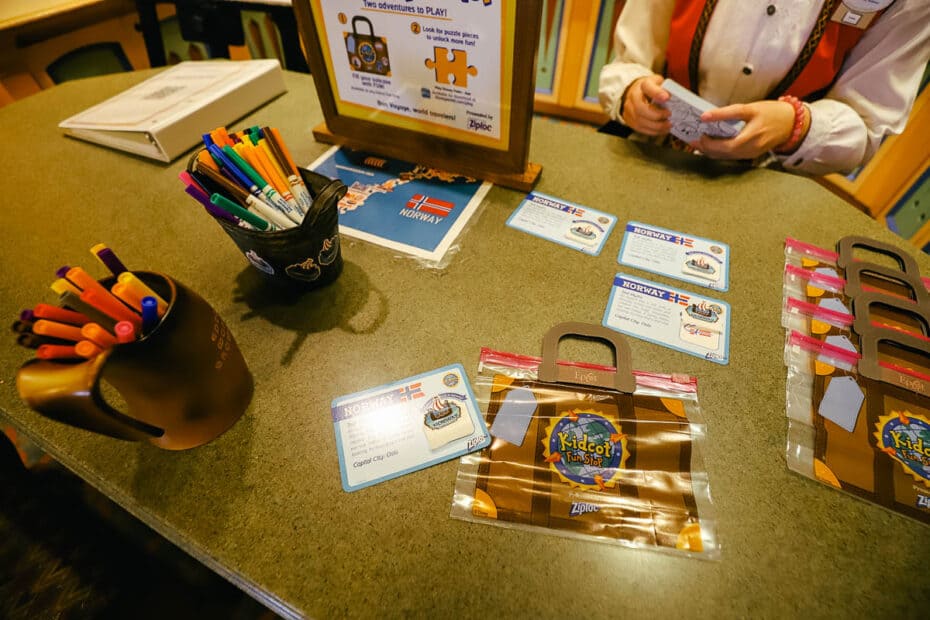 Final Thoughts on Epcot's Norway Pavilion
Overall, the Norway Pavilion is gorgeous, despite some overcrowding from one of Disney's most popular animated films. However, if you take the time to look closely, you'll notice some of the finer details.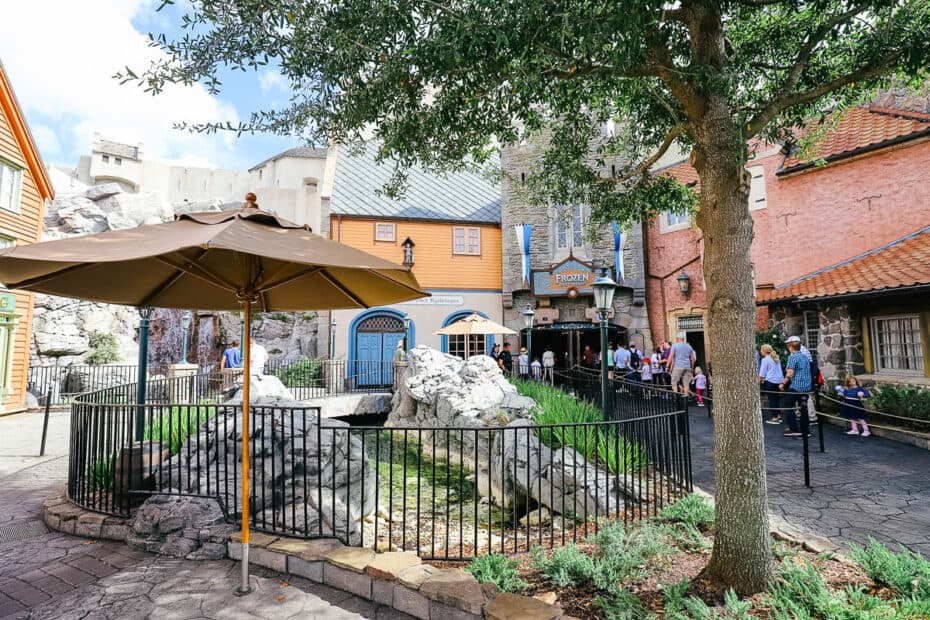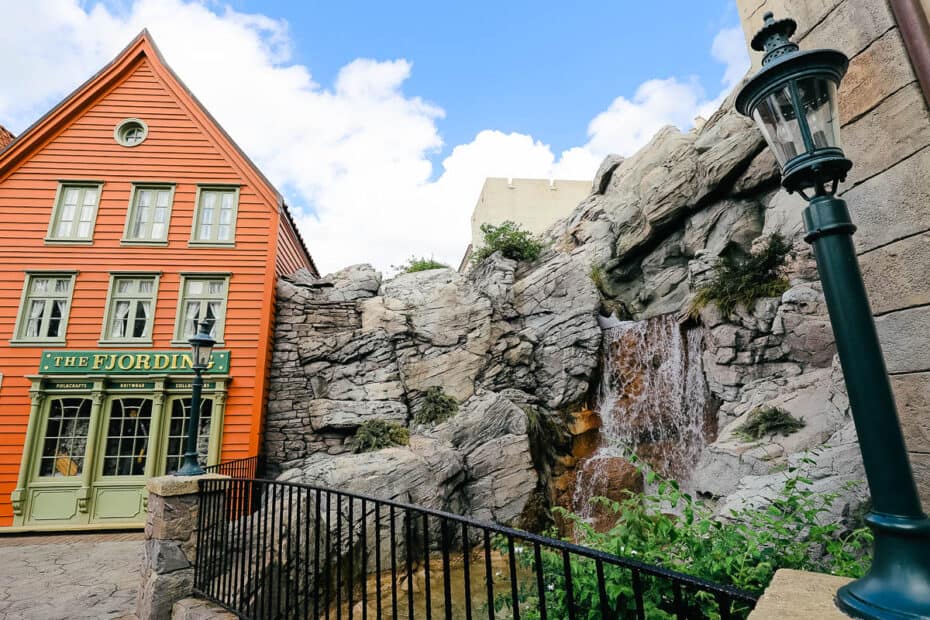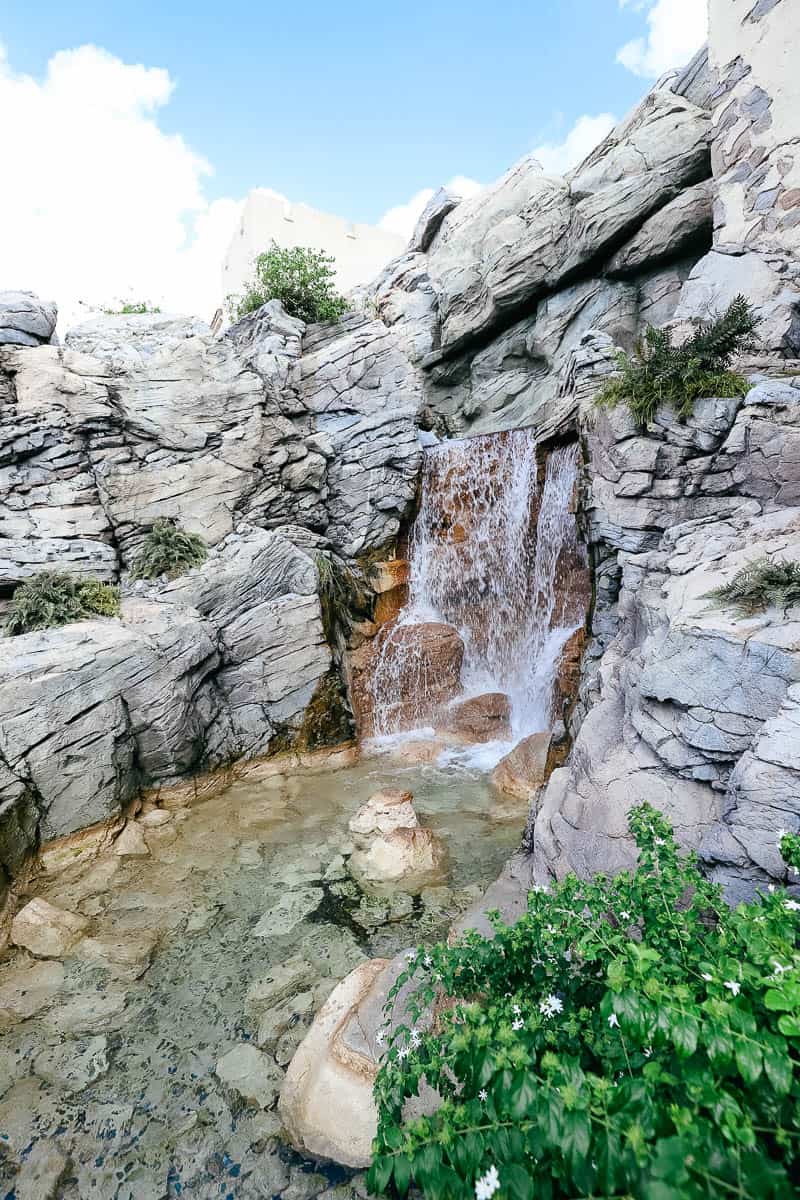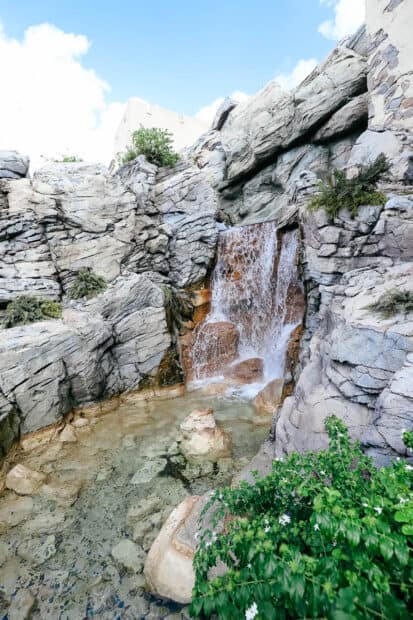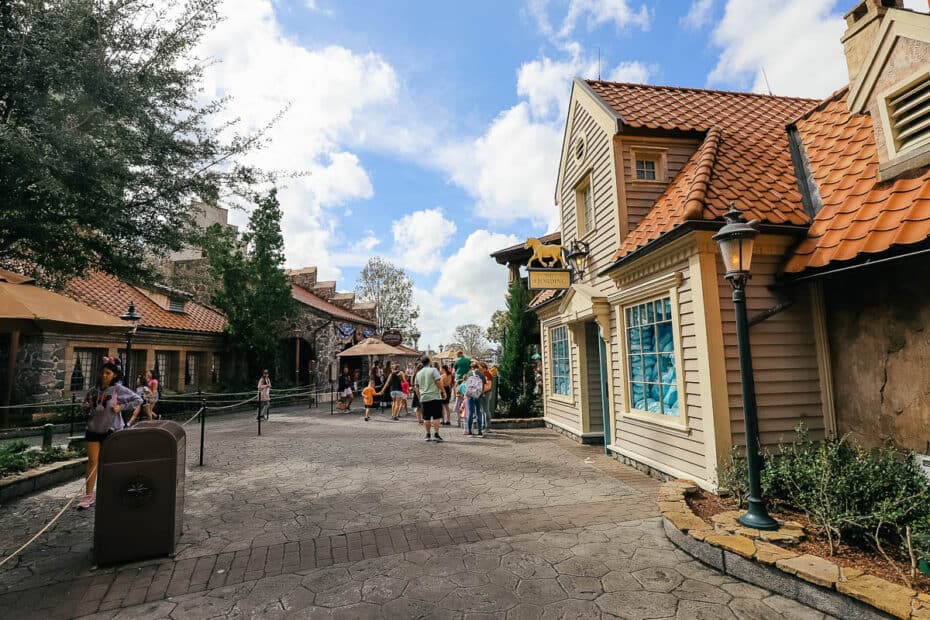 For more countries in the World Showcase, you might enjoy the following:
Related: Epcot Attractions List
If you are planning to spend a good deal of time at Epcot, you might consider staying in one of the Epcot Resorts. Those hotels include:
Related: Walt Disney World Resort Hotels List
In the Comments
What are your thoughts on the Norway Pavilion at Epcot? Do you enjoy exploring the pavilions? Have you ever ridden Frozen Ever After?
Planning a Walt Disney World or other Disney Destination vacation?
Our friends and travel partner, Firefly Travels, excels at doing Disney differently. You can fill out a plan your trip form on their website, and someone will reach out shortly to discuss the specifics.