Preview a One-Bedroom Villa at Disney's Riviera Resort
We're headed back to Disney's Riviera Resort to preview a one-bedroom villa. The one-bedroom villa at the Riviera sleeps up to five guests, similar to the resort's deluxe studio option.
However, the one-bedroom villa costs considerably more than the studio. Thankfully, the price comes with a few upgrades that might be worth it for a family of four or five.
For starters, the one-bedroom unit has a living room, kitchen, dining area, and a separate bedroom. The bedroom has one king-size bed. In addition, the living room has a queen-size pull-down bed and one single pull-down bed similar to the size of a trundle.
One-bedroom villas have a standard or preferred view option. And they have a split bathroom that allows multiple guests to get ready simultaneously.
Here is the set-up of the main living space in the unit.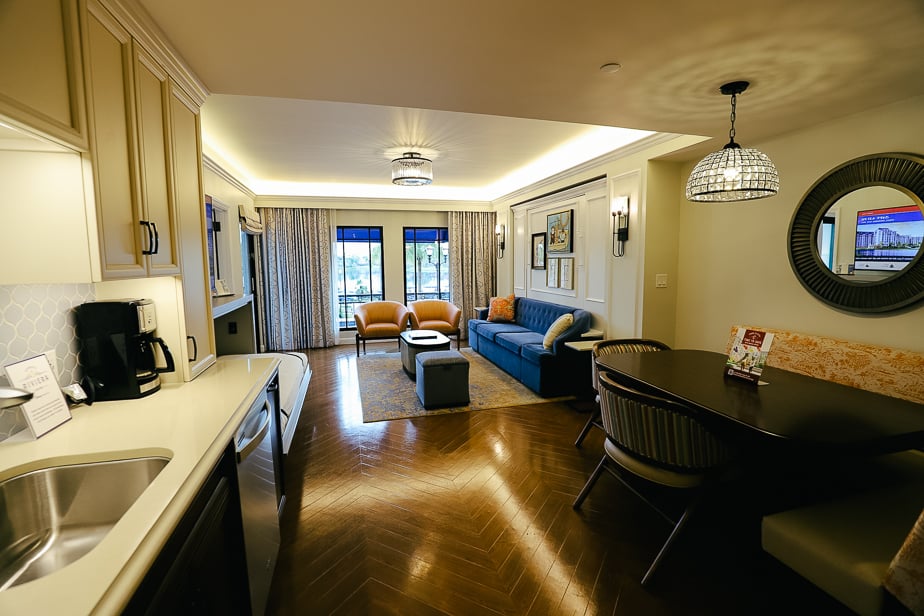 The kitchen offers standard appliances like a stove with an oven, built-in microwave, and dishwashers. In addition, small appliances like a coffee maker and toaster oven are available.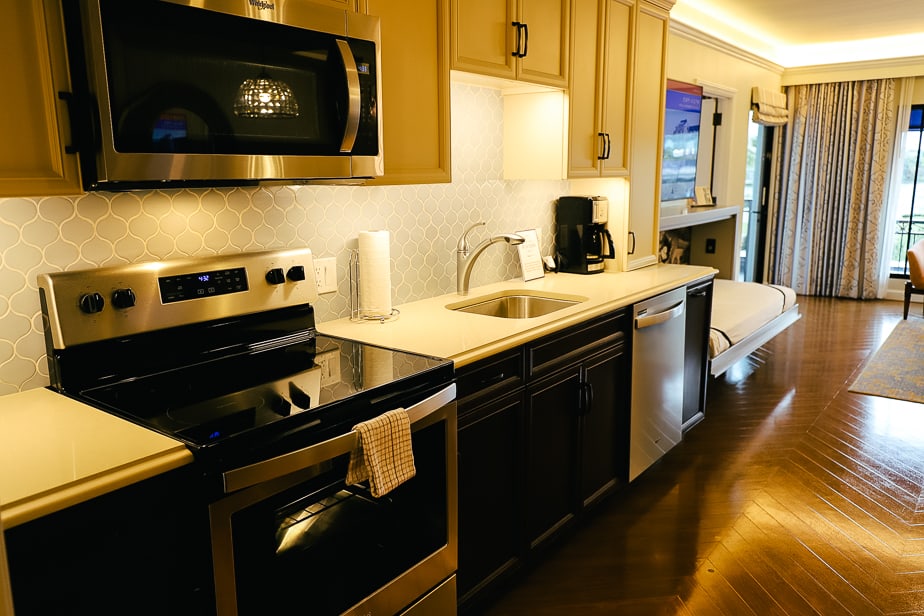 This unit has a full-size refrigerator. Dinnerware and silverware are available in the cabinets and drawers. In addition, Disney provides a starter roll of paper towels and dish soap.
Behind the refrigerator, there's a full-size dining table with banquette seating built into the wall.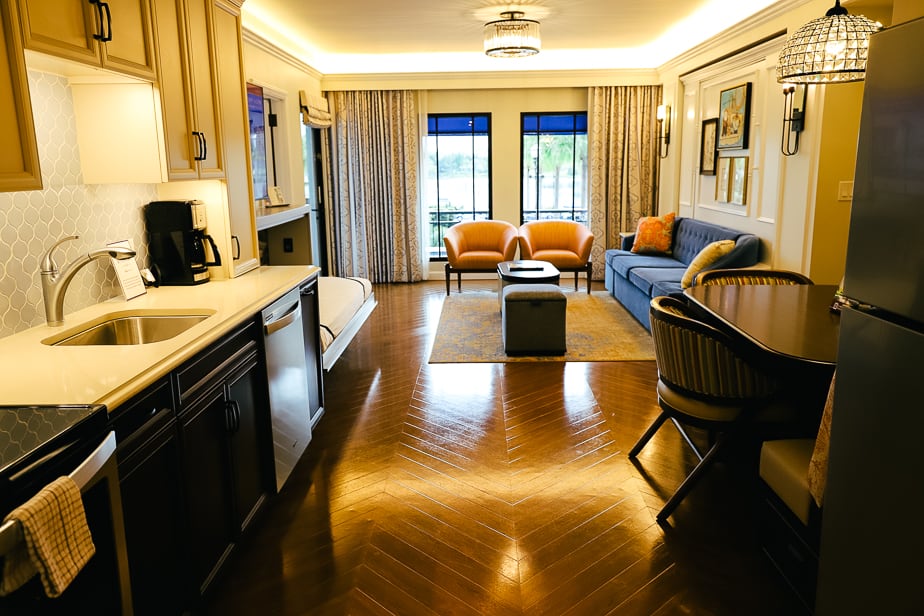 The living space offers an open floor plan. Underneath the television, you can see the single pull-down bed.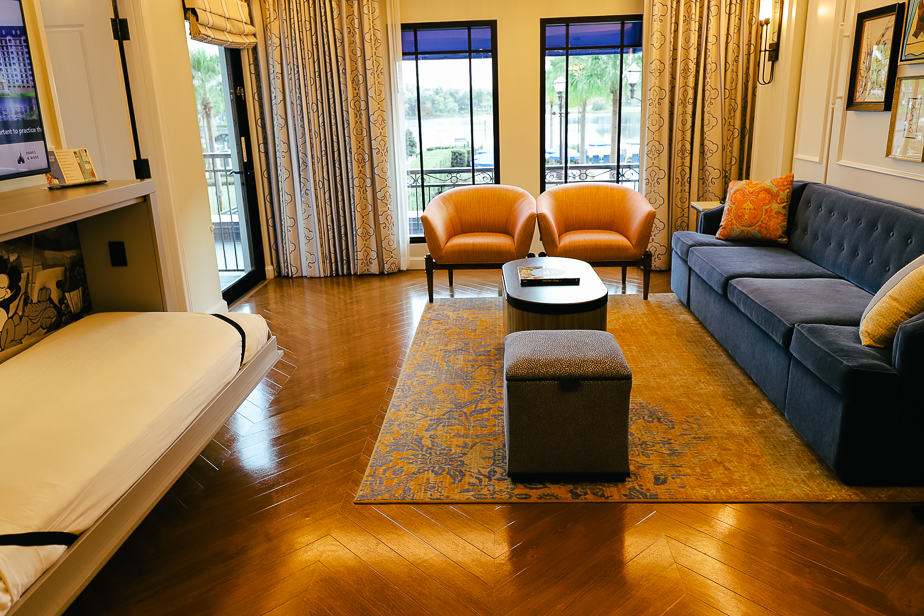 And this sofa folds down, allowing a queen-size Murphy bed to pull down from the wall.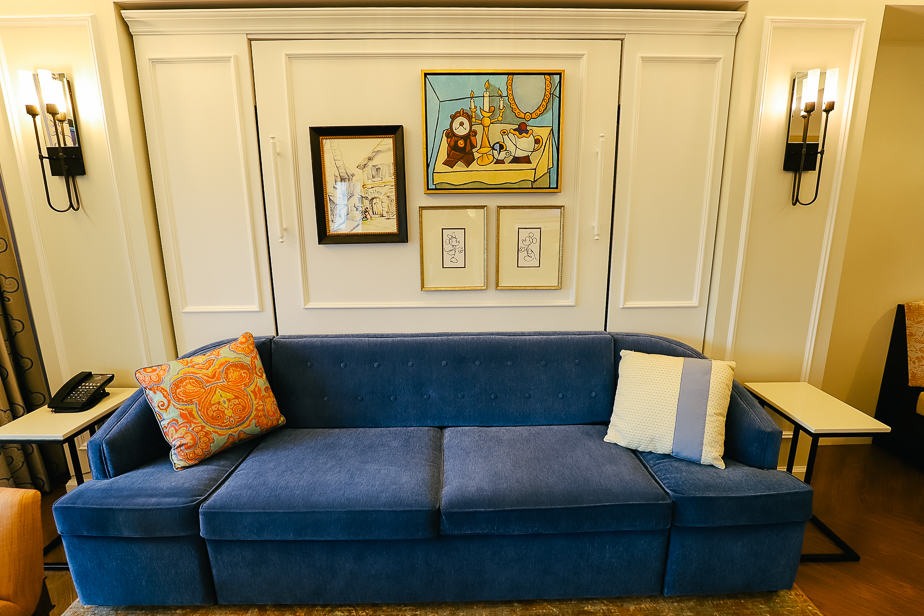 Below is a picture of the bedroom. All of the villas at Disney's Riviera Resort have gorgeous finishings. And many of the other villa resorts are being remodeled similarly to the Riviera.
Related: Disney World Villa Resorts
We have enjoyed staying here and feel like the resort is a step above most. It reminds me of the Waldorf Astoria at Bonnet Creek, a high-end hotel.
Related: Waldorf Astoria Orlando Review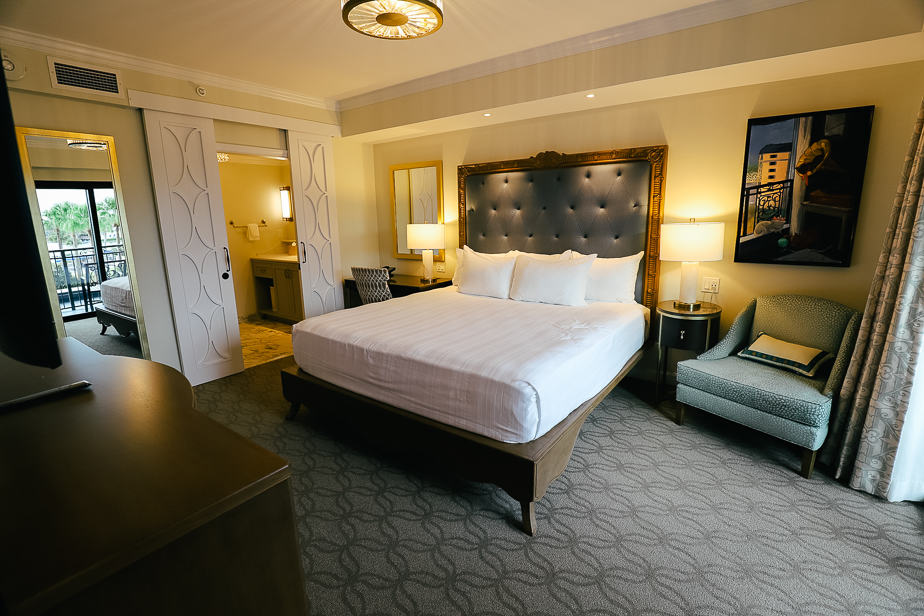 The bedroom has plenty of dresser space, a reading chair sits in the corner, and there's a desk with a chair if you need to get some work done.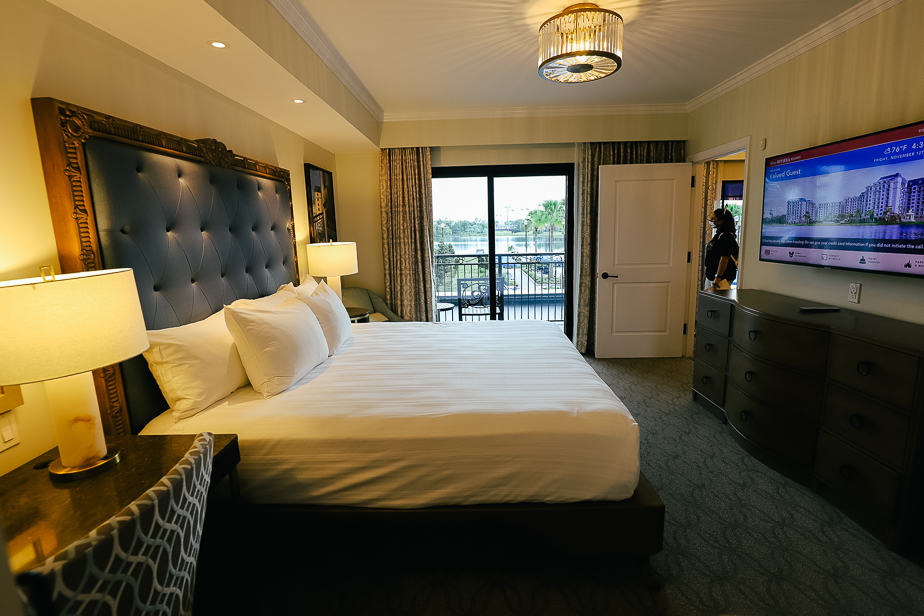 The bathroom is gorgeous. From the bedroom, you walk into an ample space with a soaking tub and vanity. You can close this door off separately from the other bath area.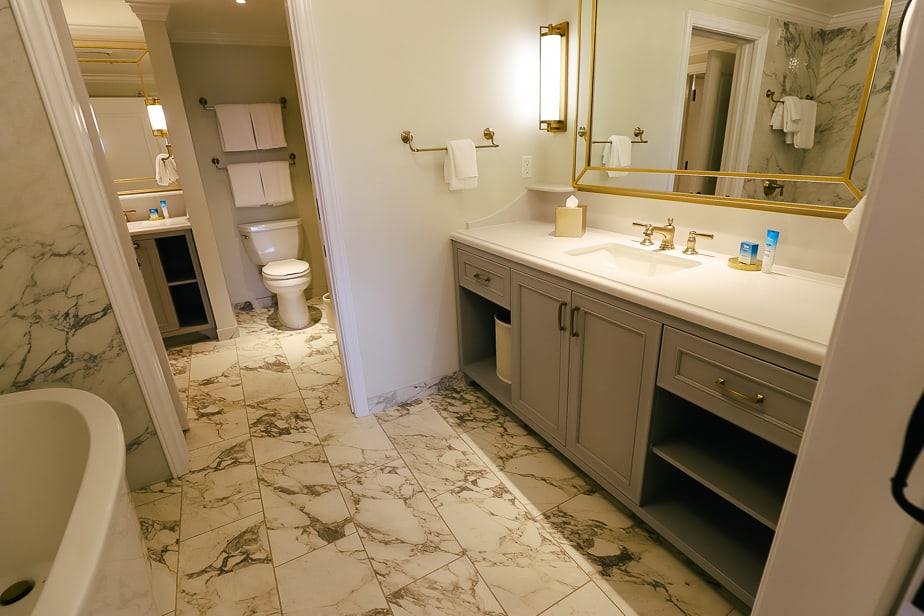 Here's that soaking tub.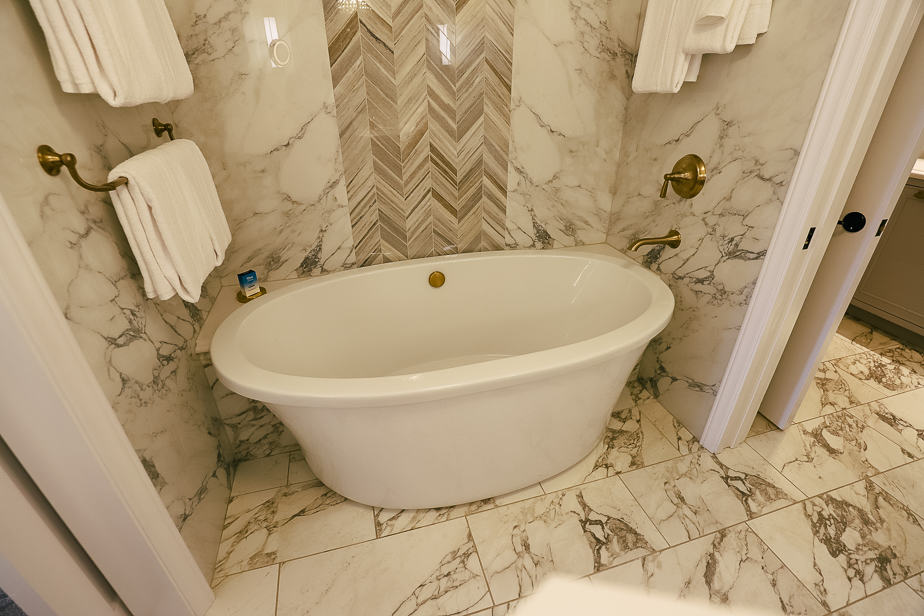 This portion of the bath opens back up to the foyer. One guest can easily use this bath to get ready, while another guest uses the opposite side. This side of the bath offers a walk-in shower.
Additionally, the one-bedroom villa at Disney's Riviera has a stackable washer and dryer in the unit. Disney will provide you with a couple of boxes of laundry detergent.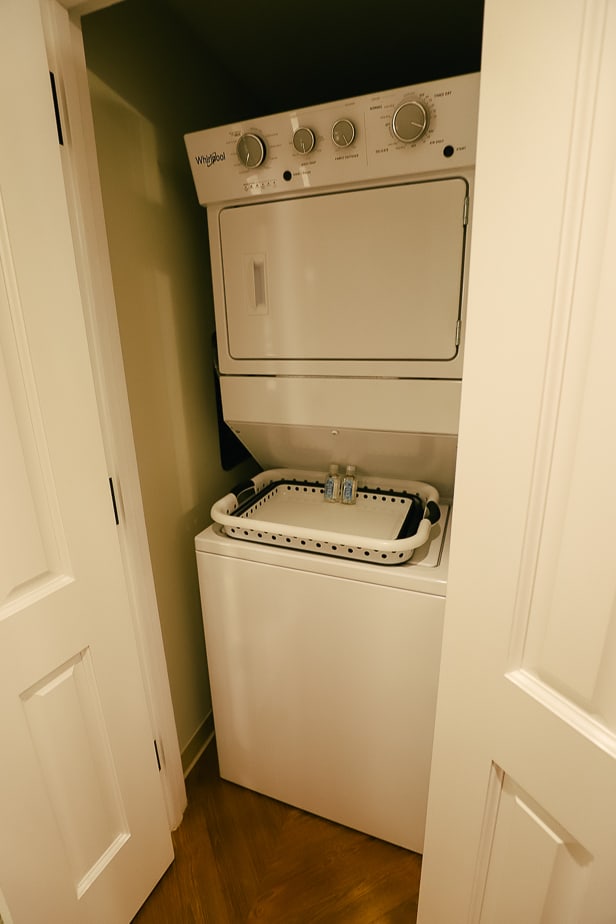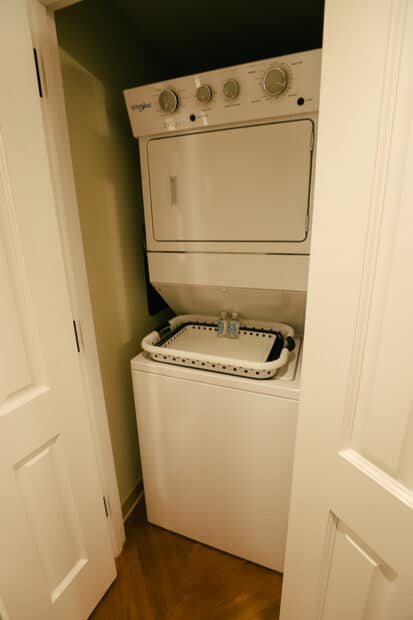 Another closest is available in the foyer with the usual amenities. There's a wall safe, iron, ironing board, vacuum cleaner, and a few extra pillows and blankets.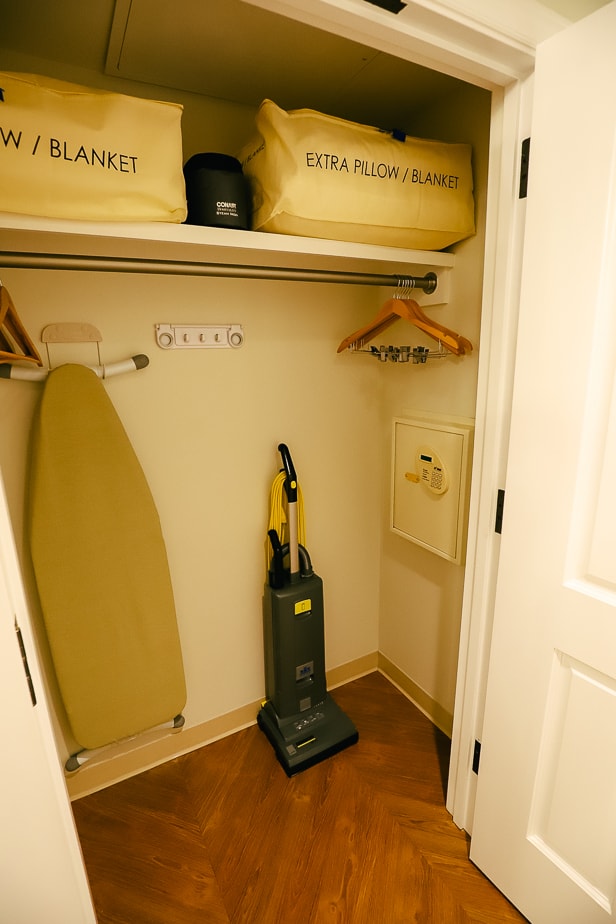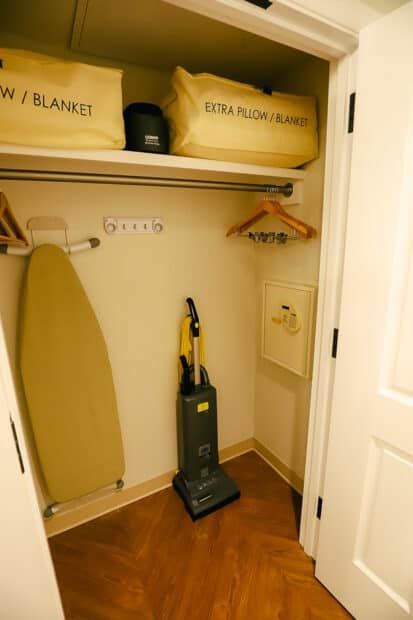 Choosing a villa can be difficult if you're planning a stay at Disney's Riviera. We've recently toured the other villas if you would like to weigh your options:
All of our articles for Disney's Riviera Resort are available here. Or you might enjoy reading the full review of Disney's Riviera Resort.
At the time of this review, a one-bedroom villa at the Riviera with standard view rents for approximately 33 points per night. Depending on the season, that averages around $1,000 per night, give or take $100.
You do not have to be a Disney Vacation Club member to reserve a room at Disney's Riviera. You can check with a travel agent to get a quote.
However, the Riviera is a trendy resort, and rooms do fill up quickly. So make sure to plan as far in advance as possible.
What do you think about the one-bedroom unit at Disney's Riviera Resort? Do you think it's worth the extra to have the whole kitchen and separate bedroom? Leave a comment below with your thoughts.
Planning a Walt Disney World or other Disney Destination vacation?
Our friends and travel partner, Firefly Travels, excels at doing Disney differently. You can fill out a plan your trip form on their website, and someone will reach out shortly to discuss the specifics.