The Pools at Disney's Riviera Resort
When it comes to picking a resort for your Disney vacation, the pool is a huge factor for most guests. The pools at Disney's Riviera Resort are one of the things that make a stay here so desirable.
In this review, we'll take a close look at Riviera's feature pool, the Riviera. We'll also preview the S'il Vous Play aquatic play area for children, the water slide, and the resort's leisure pool.
Make sure to pack plenty of sunscreen for your Disney vacation. Once you see the pools that are available to guests of the Riviera, you are going to need it. Don't be surprised if you find yourself planning a full resort-only day smack dab in the middle of your trip.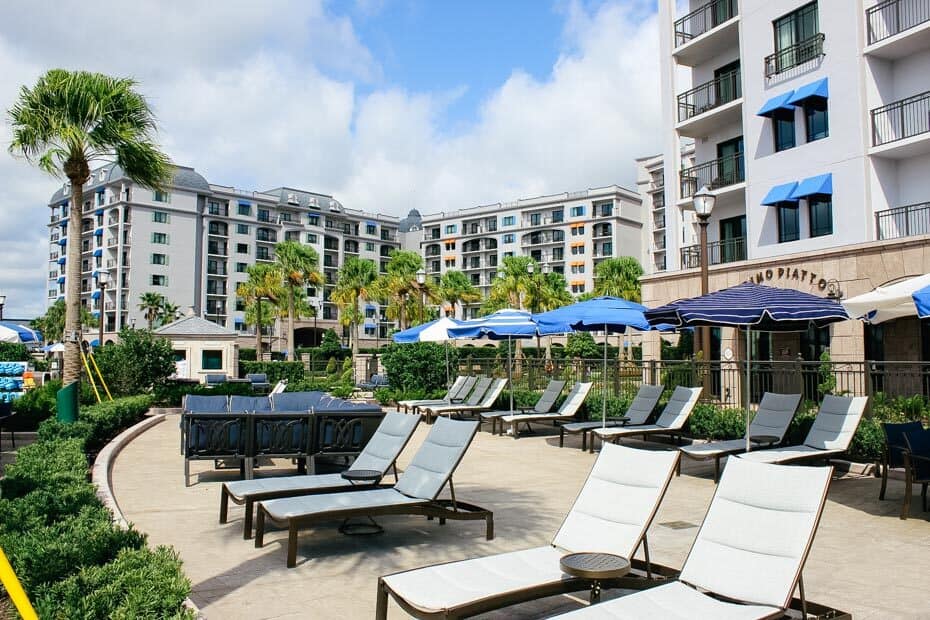 Our first stop is the Beau Soleil Pool, more commonly known as the quiet pool at the Riviera Resort.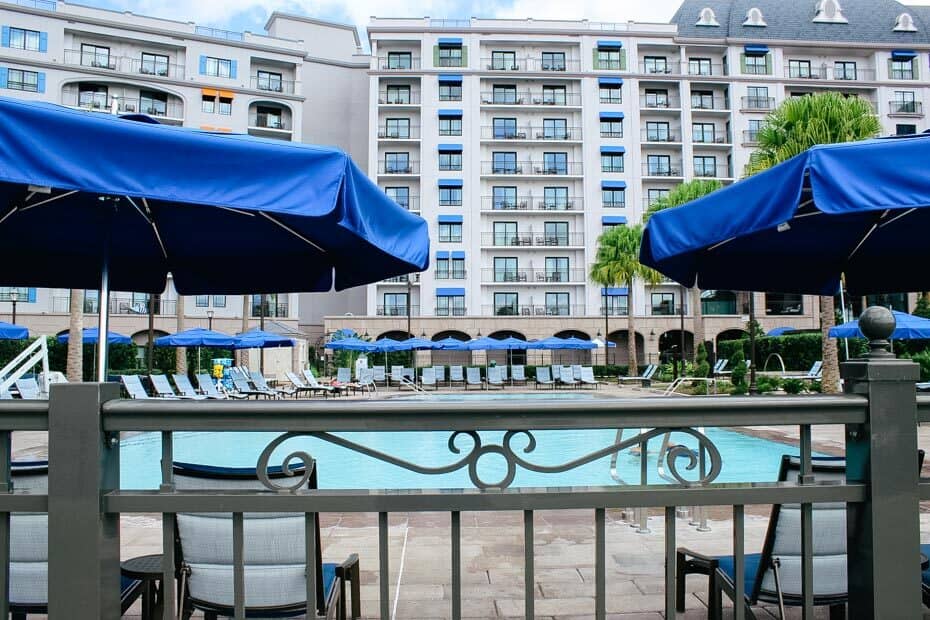 This leisure pool is larger than most of the other Disney resort's quiet pools. However, it is fairly quiet since most guests with children will be hanging out at the Riviera pool.
The Beau Soleil pool has plenty of places to lounge along with tables and chairs. If you are concerned about there not be a dining option at the pool, don't worry. While Disney's Riviera is a large resort, it's laid out in a very functional way.
Primo Piatto, the resort's quick service, and Bar Riva sit on the resort's exterior corner, only steps away from both pools. Better yet, you can use Disney mobile ordering from the pool and walk over to pick up your meal when it's ready.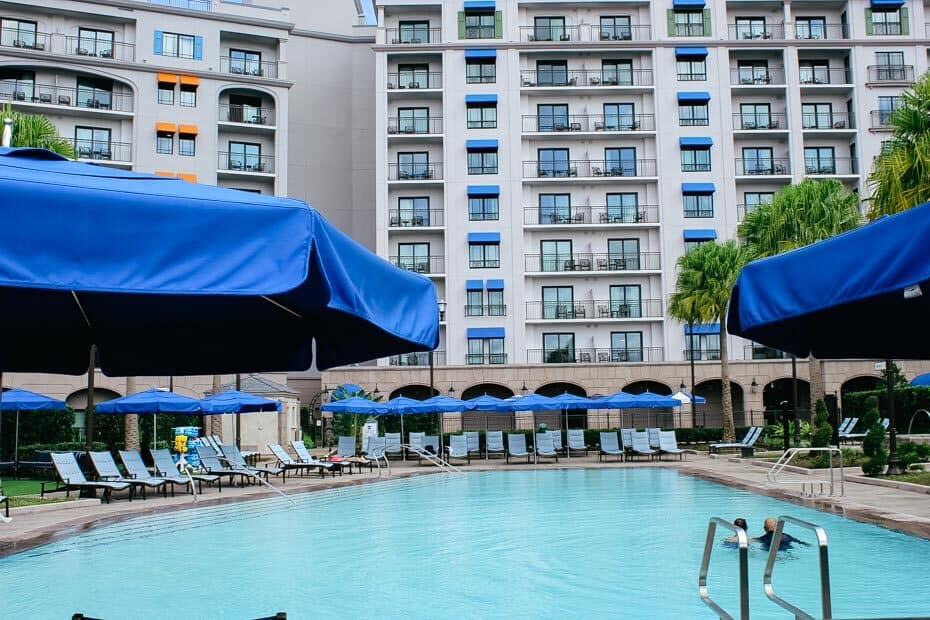 Next, we'll take a look at the Riviera Pool which is the resort's feature pool.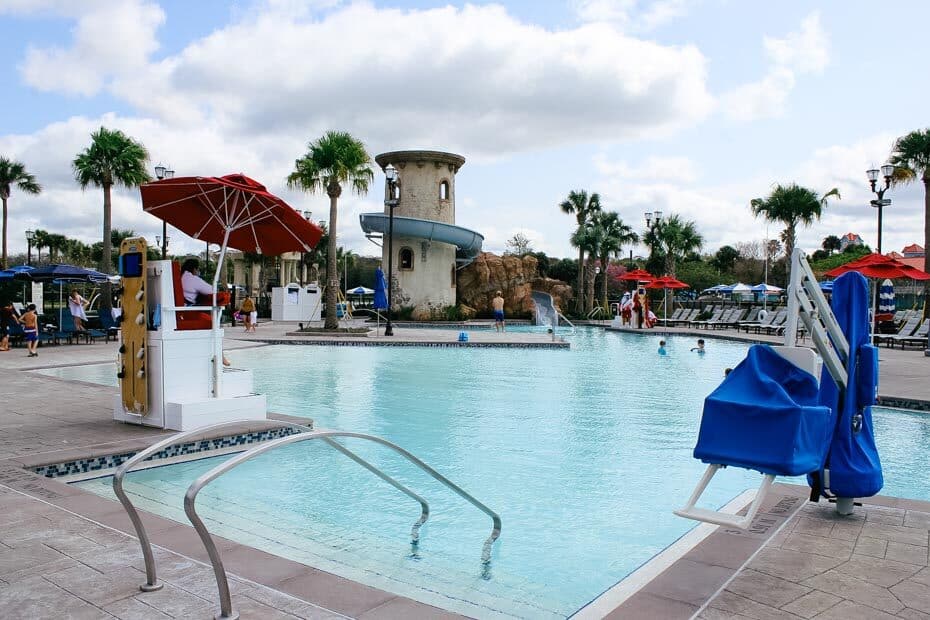 It's a large pool that sits toward the east side of the resort's backyard.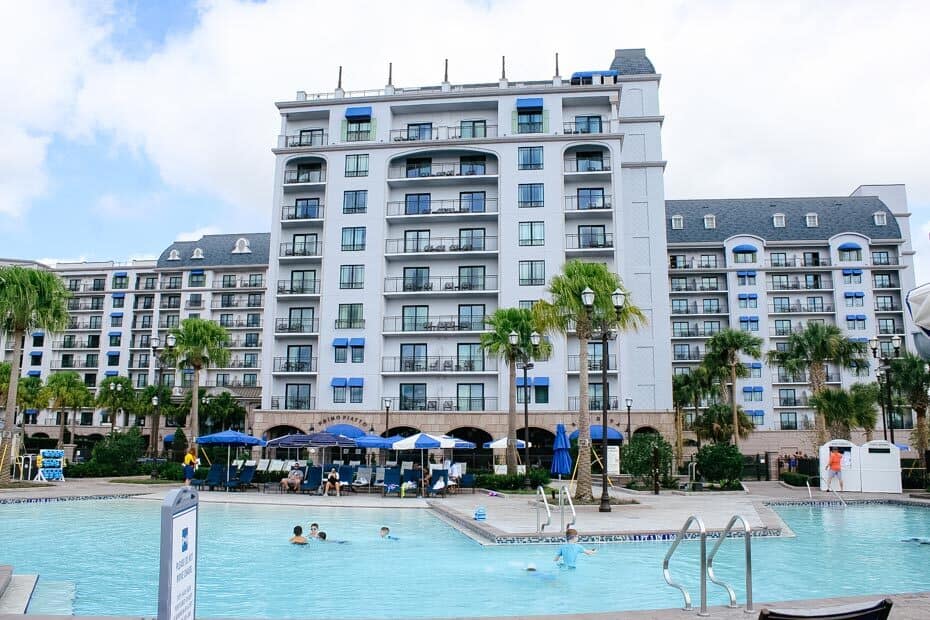 On my last visit, pool hours were between 10:00 a.m. and 10:00 p.m. With that being said, pool hours vary throughout the year at all Disney resorts depending on various factors.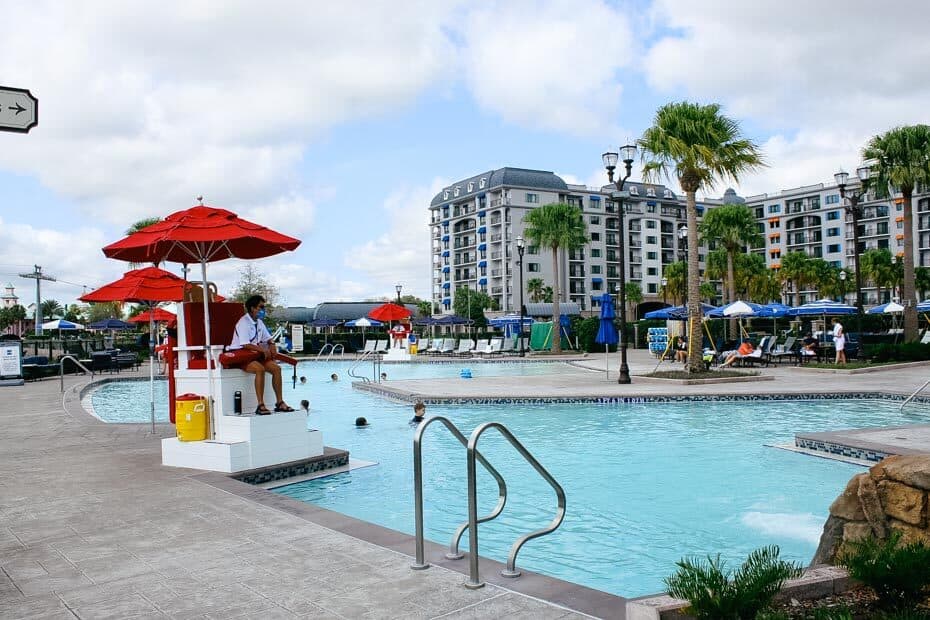 The Riviera pool has a spacious deck, providing plenty of places to lounge.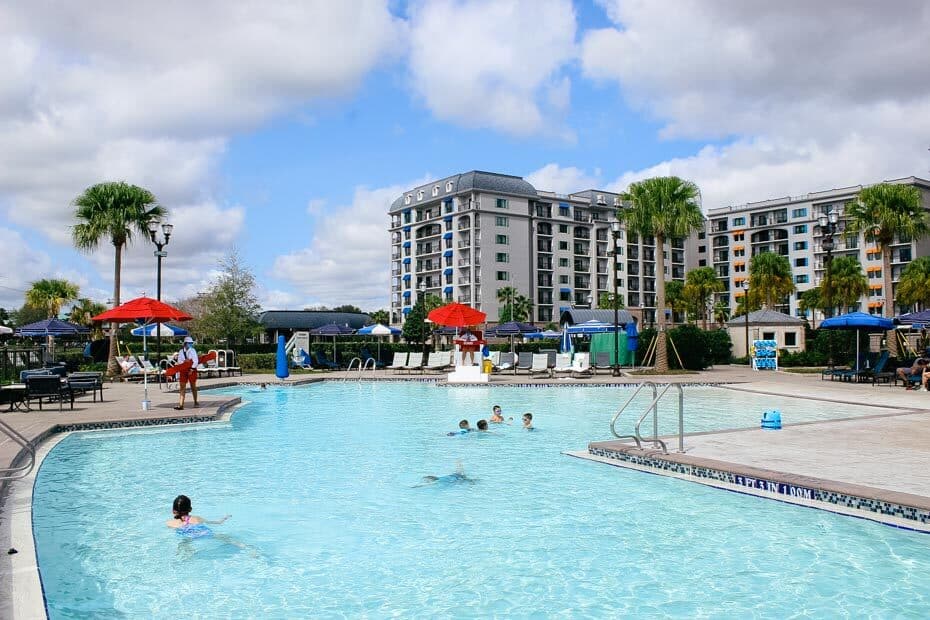 One end of the pool is zero-entry.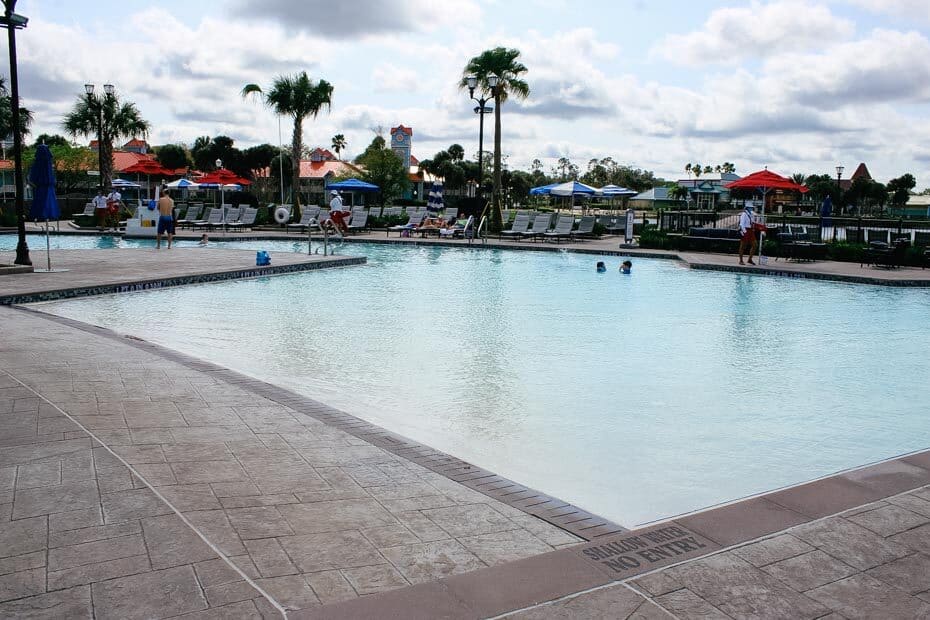 The other end of the pool has that amazing waterslide you've probably already heard about. I remember when the Riviera was being built, this was one of the most talked about aspects of the Disney Vacation Club Resort.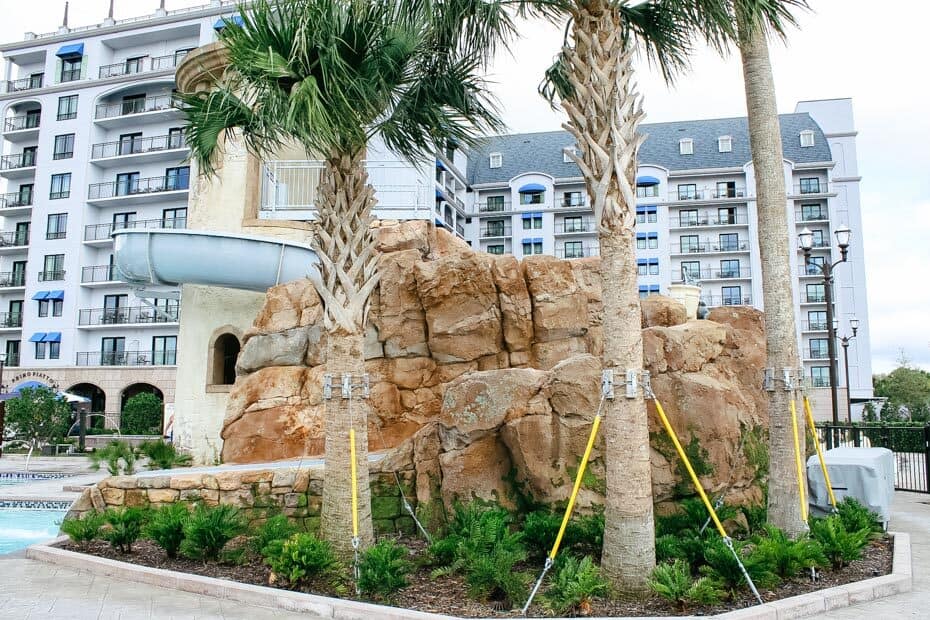 It's kind of like a tower or fortress with an interior entrance. You'll climb the spiral staircase up to the top.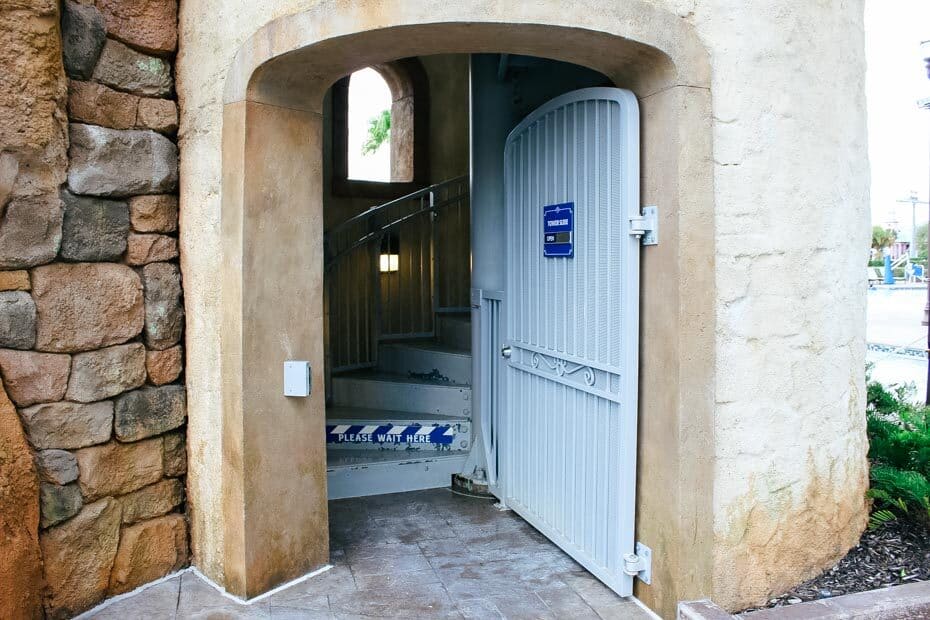 When you reach the top there's a small platform with a railing.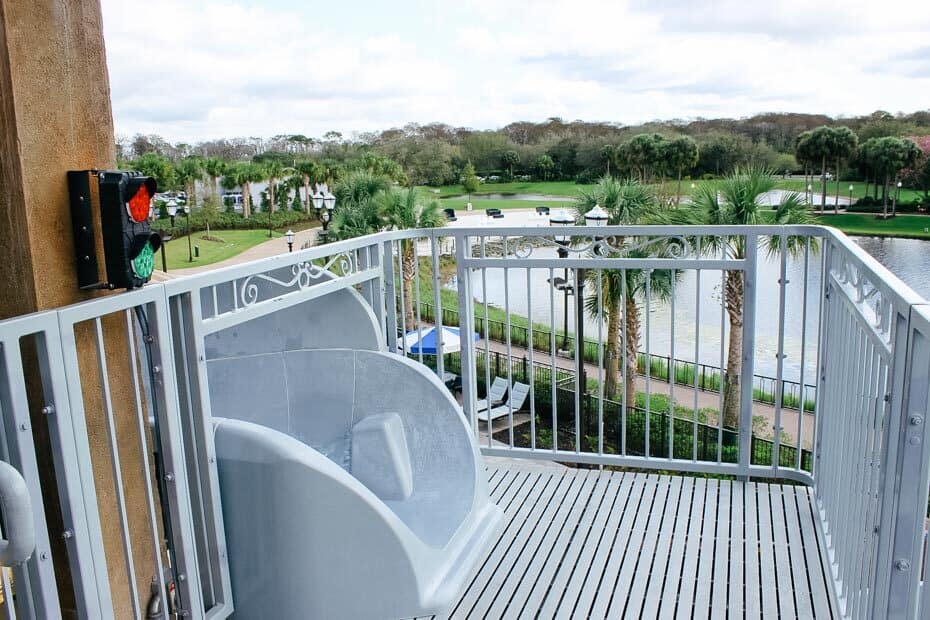 Once the light turns green, you are good to go.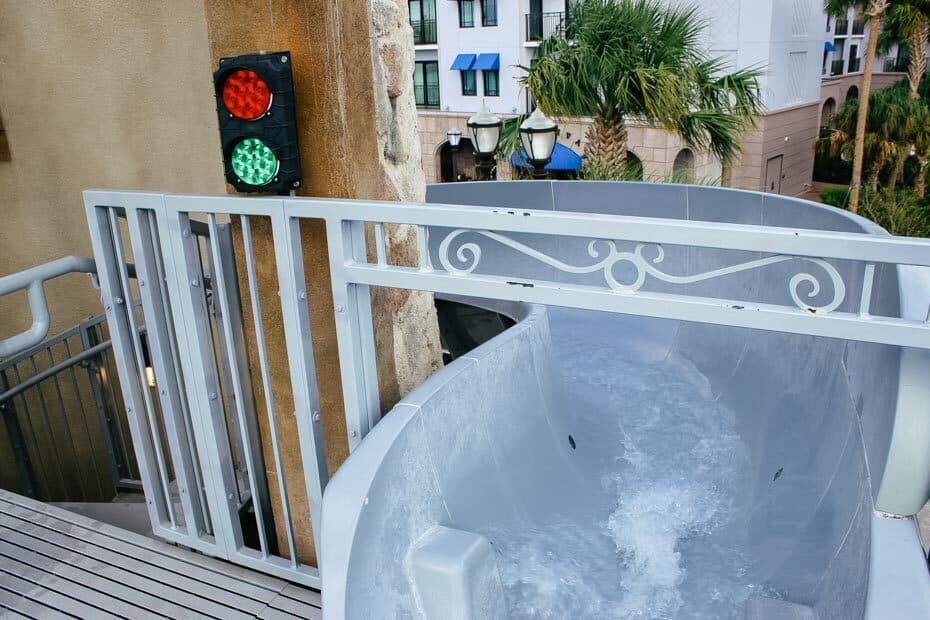 Look how much fun you'll have! Or maybe your children. You should probably go down on your own first. You know just to make sure it's appropriate for the kids.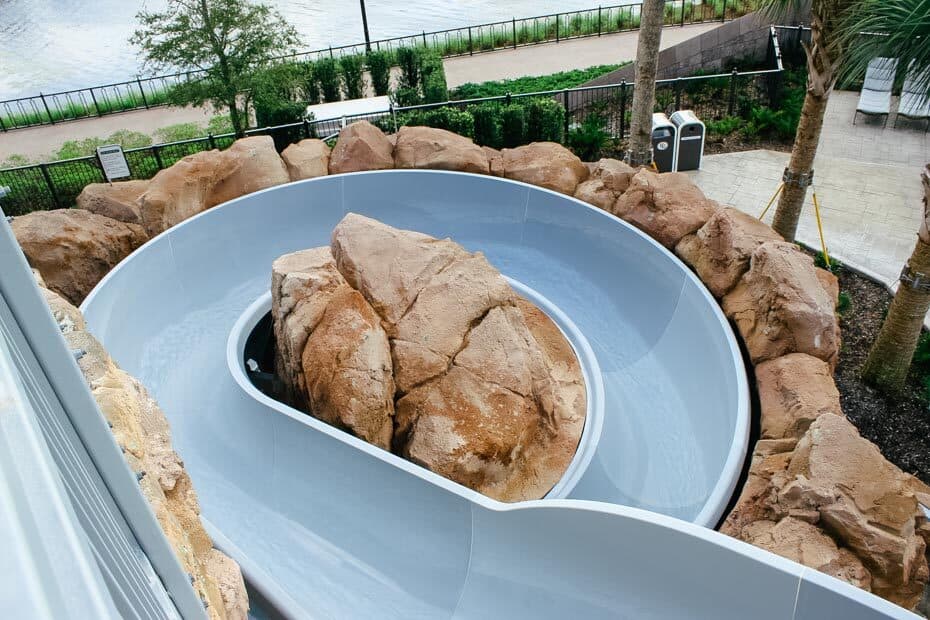 Nobody would blame you. If I hadn't had my cumbersome camera with me, I would have totally went for it. Even though I gave up water slides a few years back, after my last trip down the Flying Jib at Stormalong Bay.
Or maybe it was after I flipped out of the inner tube on a trip to my hometown's water park. I remember my family waiting for me at the end, not for sure if they should laugh or call for help. Come to think of it, that was when I gave up water slides for the last time.
I guess that says something about this slide at Riviera's feature pool since it actually does look like fun to me. Maybe next time I stay here, I'll report back to you on how it went. Maybe.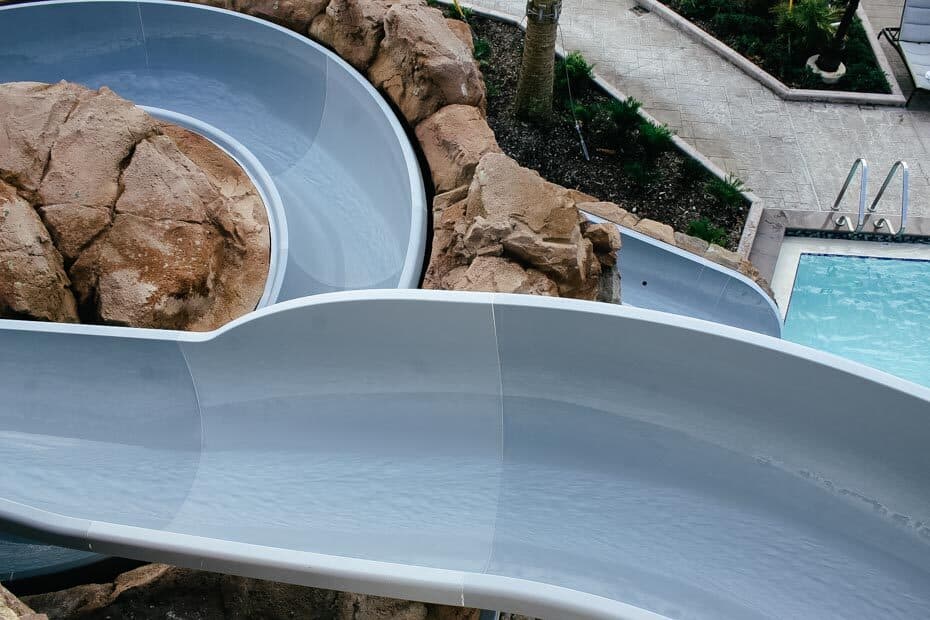 Speaking of staying at the newer resort, Resorts Gal has a full resort review of Disney's Riviera, including our room and overall thoughts.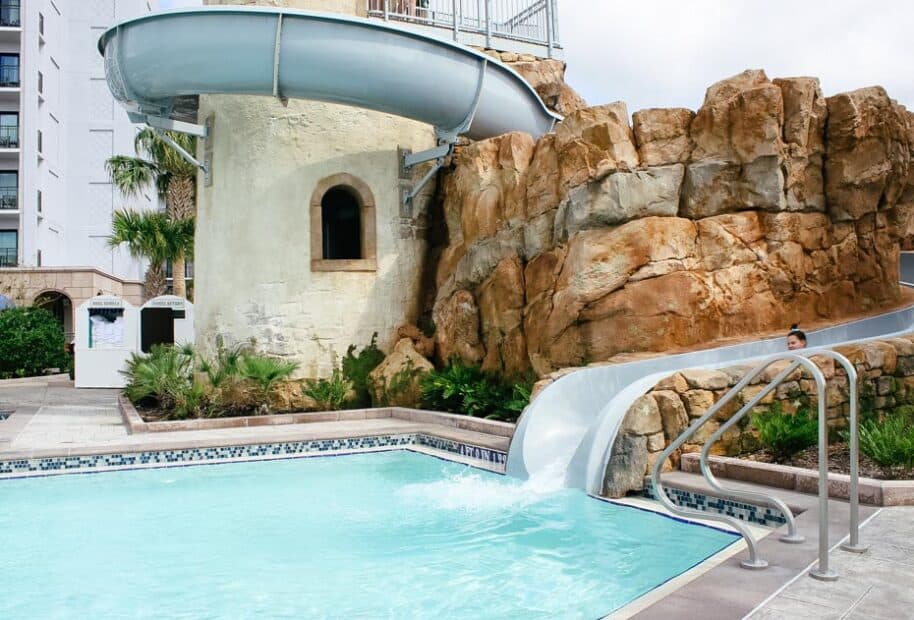 Anyway, behind the water slide is the S'l Vous Play area for children. S'il Vous Play is an interactive water play area that features characters from Fantasia.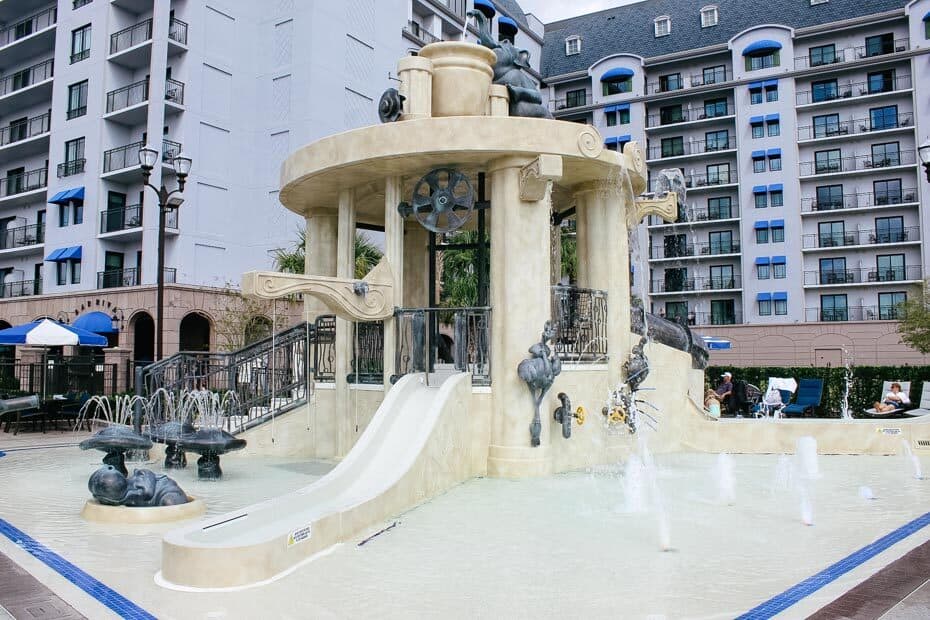 Per the sign below, the area is for the enjoyment of children under 48 inches.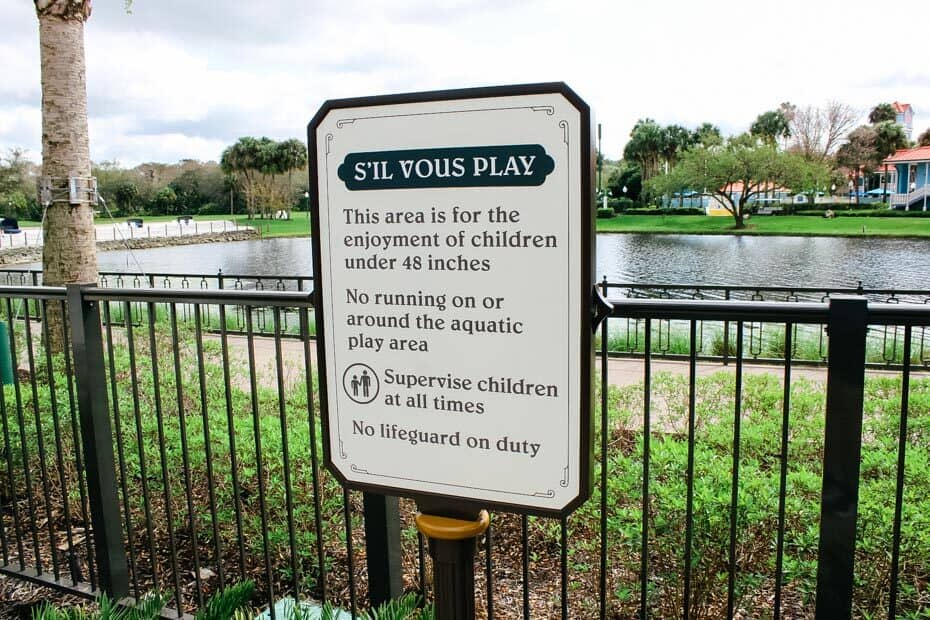 Most Disney resorts have installed these splash areas at their feature pools instead of kiddie pools in more recent years. You might even notice the tunnel slide in the picture below that mimicks the feature pool slide.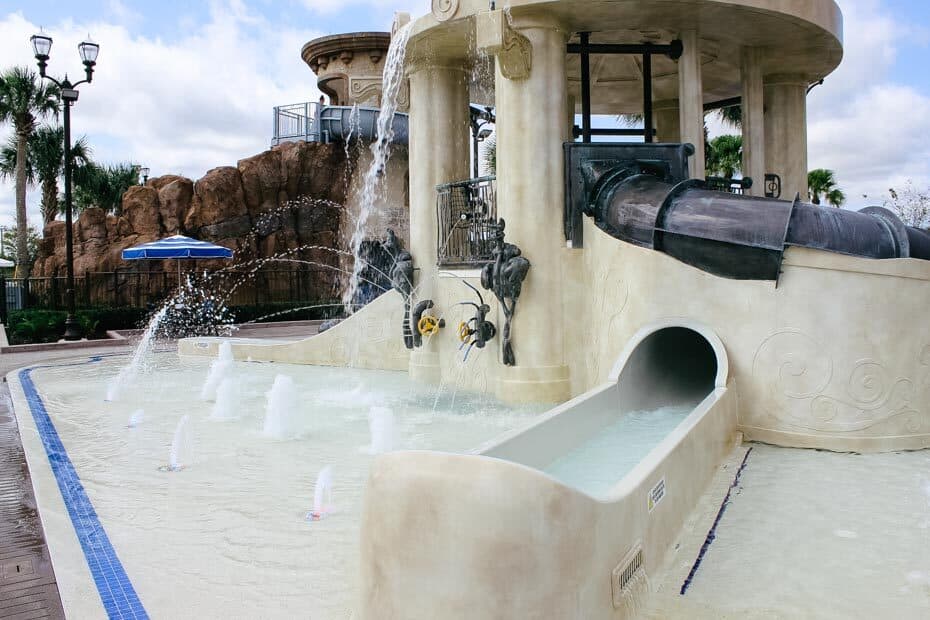 Here is a better view.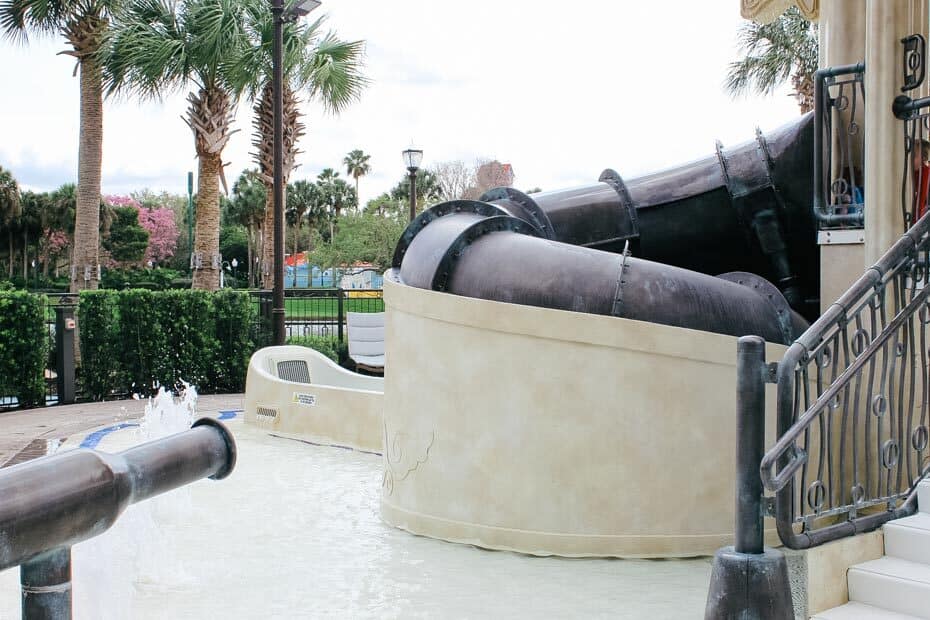 This aquatic play area is perfect for children.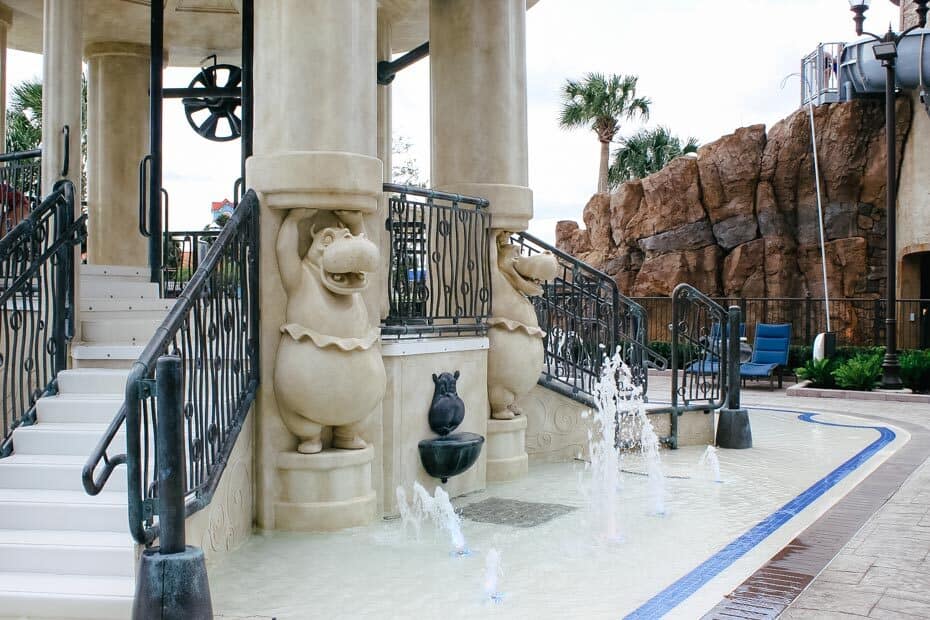 One other thing I wanted to mention was the spa area that sits out near the Riviera pool. These are always enjoyable, especially when temperatures are a little cooler.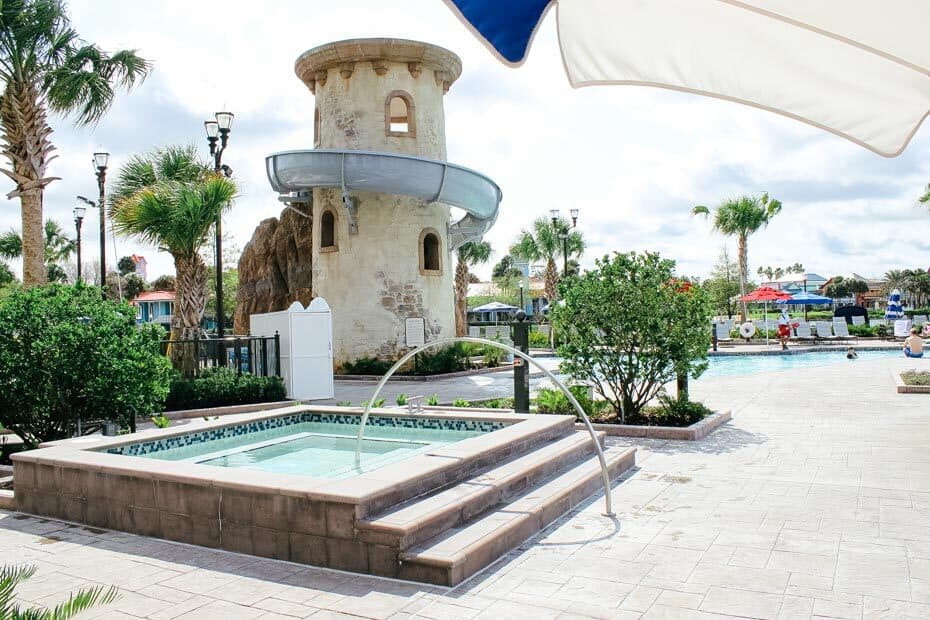 I'm not for sure what you would call this design, but I really like it.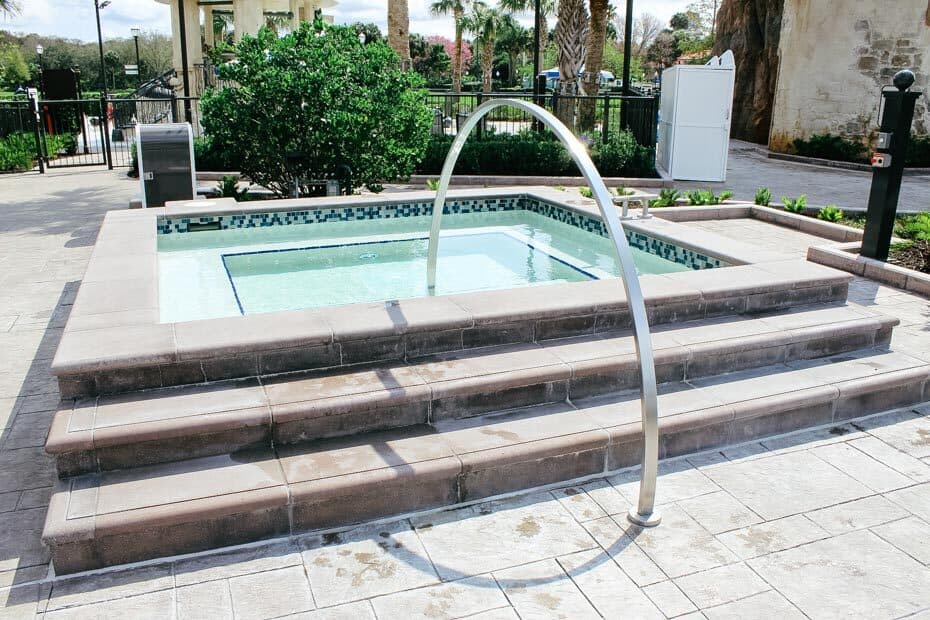 The Disney Skyliner can be seen in the distance from either pool.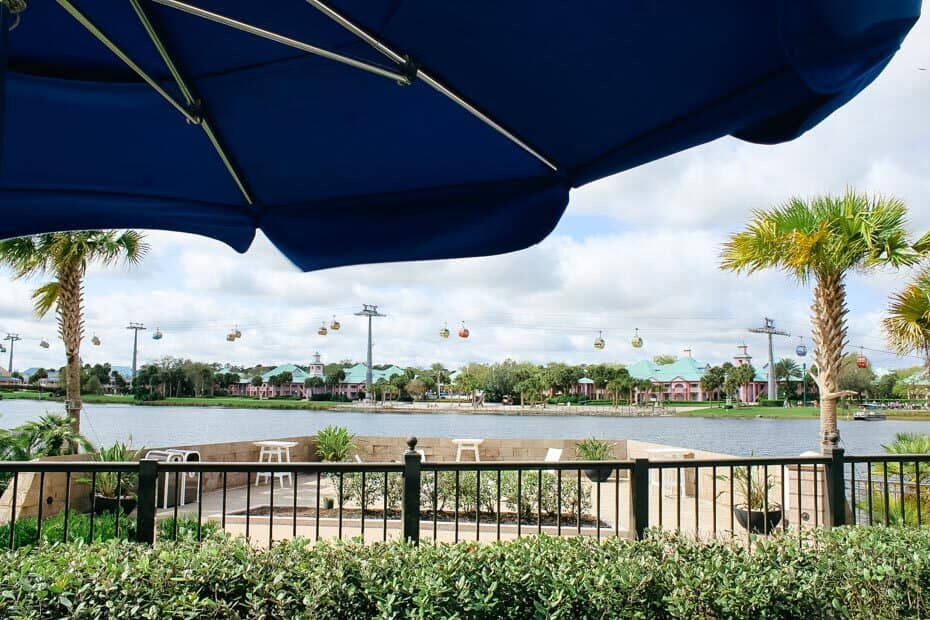 In this photo of the Riviera pool you can tell how close the dining locations are to the pool. That's the entrance for both where you see the black lettering over the umbrellas.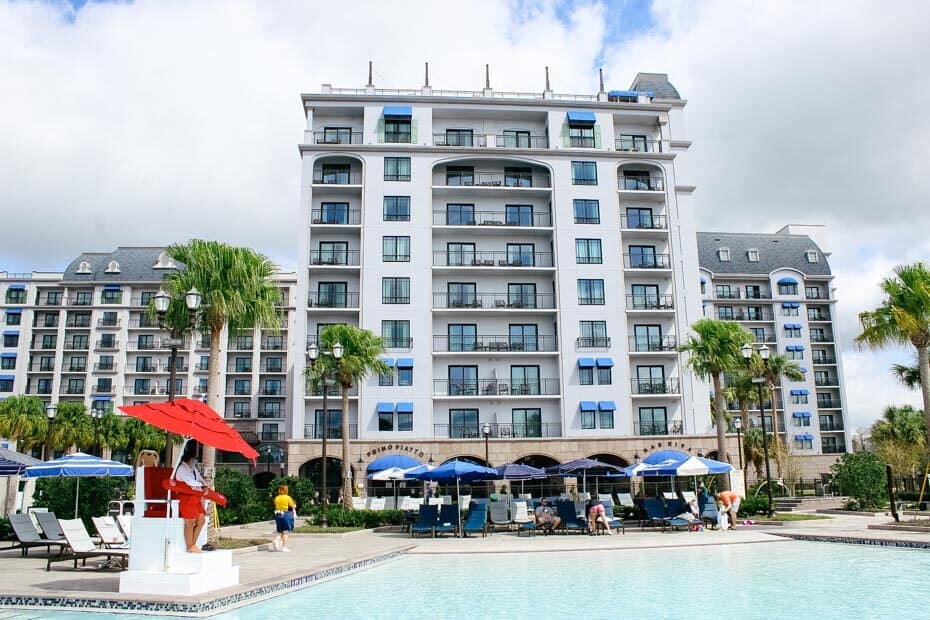 The pool deck features a variety of seating.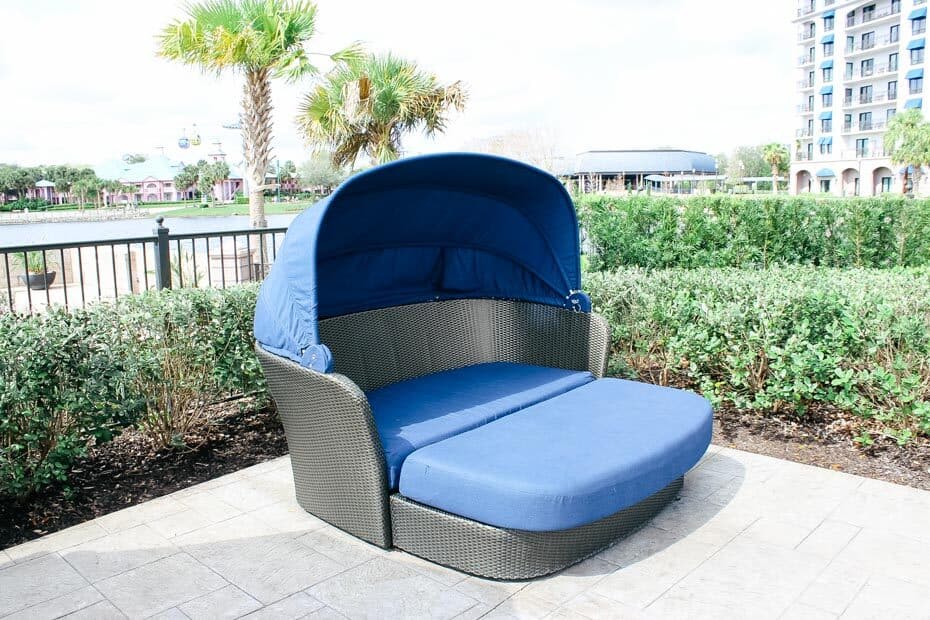 You can go full sun or sit under an umbrella. You know it's a rather sunny place.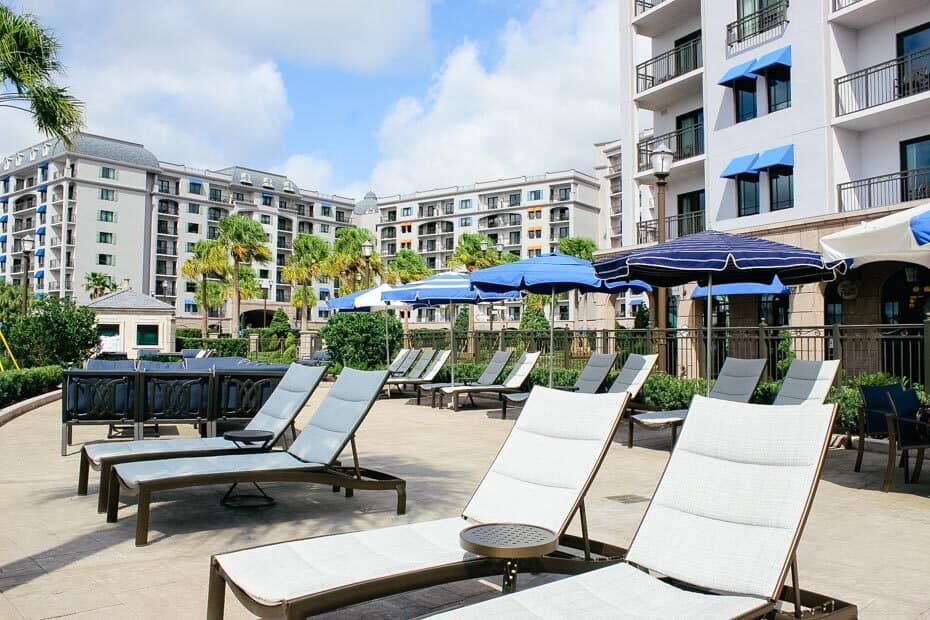 There are also several beach areas with loungers outside of the pool areas.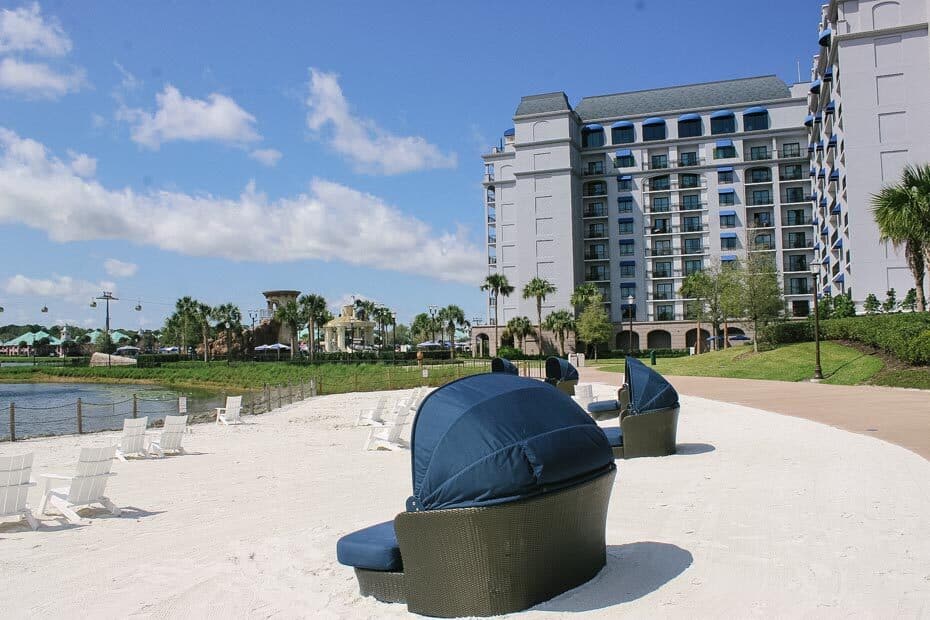 And there's a beautiful turf lawn directly behind the Riviera pool that looks out onto Barefoot Bay toward Disney's Caribbean Beach (review).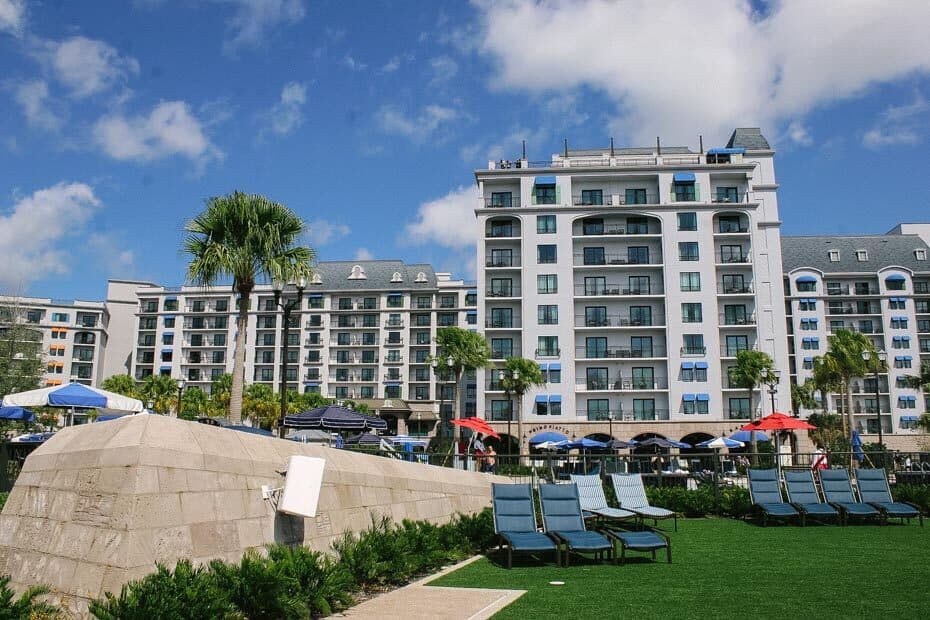 Wrapping things up, I wanted to include a few clips of the pools at Disney's Riviera Resort. It will give you a little different perspective of the feature pool area.
Hopefully, this review of the pools at Disney's Riviera was able to give you an idea of whether or not the resort is a good fit for your next vacation. On my initial visit, I wasn't quite sure how I felt about the hotel as a whole. But since then, I've returned a handful of times, and I have really fallen in love with the place.
Related: Best Pools at Disney World
From the Breakfast a la Art at Topolino's to picking up dessert at Le Petit Cafe, we've had some excellent times at the Riviera to date.
If you would like to learn more about the resort, I have a full review of Disney's Riviera Resort. It details everything you need to know to plan a stay here. And we recently added a Riviera Resort Dining Guide as well.
Resorts Gal specializes in providing reviews of the resorts and hotels at Walt Disney World. Other nearby resorts include Disney's Swan and Dolphin Hotel (review) and Disney's Boardwalk Inn.
Please leave me a comment below with your take on the pools at Disney's Riviera. I enjoy hearing about your Disney adventures or funny pool fiascos as well!