Riviera Resort's Tower Studio Rooms: Too Expensive and Tiny?
Recently, I had the opportunity to tour the tower studio rooms at Disney's Riviera Resort. While I love the resort, I assure you, I have no plans to reserve this room anytime soon.
Unfortunately, the tower studios at the Riviera are tiny and quite expensive, given the space or lack thereof. This tower room sleeps up to two guests.
As far as small spaces go, the tower studio has approximately 250 square feet. For reference, the average size of a hotel room at Disney World runs about 350 square feet.
This room reminded me of a college dorm. Granted, if this were a college dorm room for one, we'd probably brag about the high-end finishes and how far dorm rooms had come since our days in college.
But we're not talking dorm rooms. We're talking Walt Disney World Resorts. As in, a place where you take a vacation. Sadly, this studio doesn't feel like a place many of us would like to vacation.
Not only is this particular room small, but the cost of a studio tower room at the Riviera is high. In 2021 alone, pricing ranged from $429 per night off-season to $730 per night on busy holiday weekends.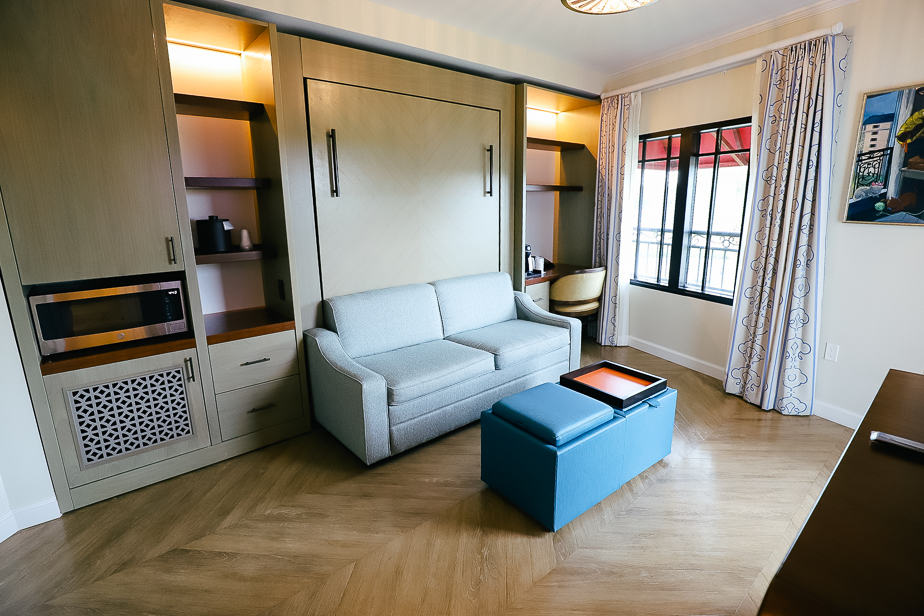 Speaking of weekends, you probably wouldn't want to spend more than a weekend here in a tower room due to the size.
When you walk into the room, you are greeted by a sofa that converts to a Murphy bed. Since we were only touring the various rooms at the resort, I didn't pull the bed down out of the wall.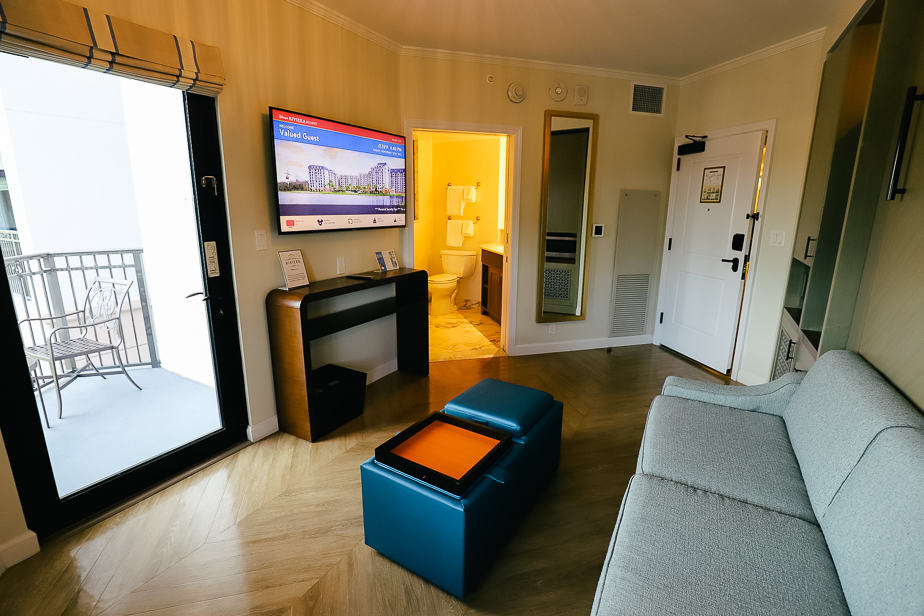 However, when the bed is in use, it does take up the majority of the space in the room. Trust me. I was getting in the far corners of the room to take the pictures with a wide-angle camera lens.
On the left side of the sofa bed, there are built-in compartments for the microwave and mini-fridge.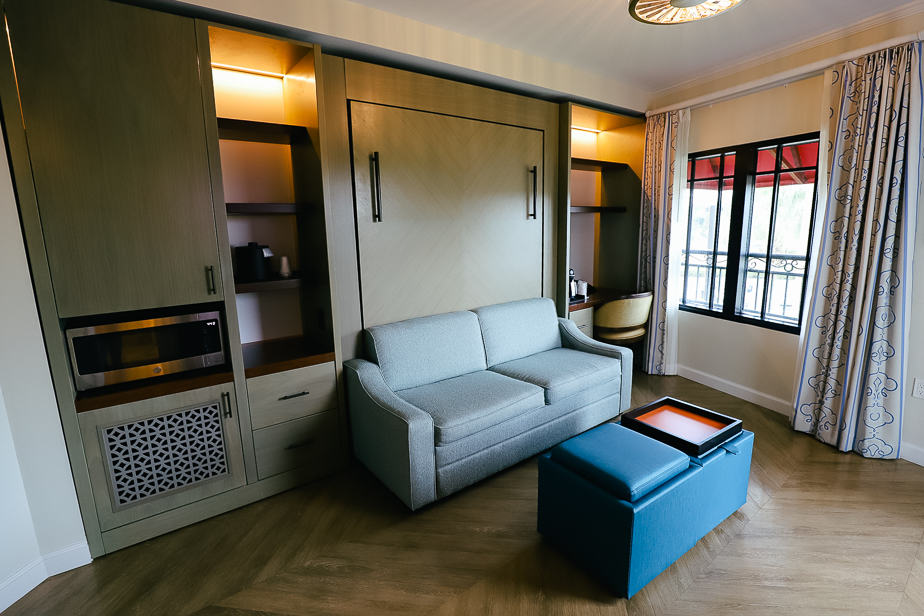 There's a desk on the right-hand side of the bed that doubles as the table for the room. A Keurig coffee maker was sitting on top of the desk and a few narrow drawers to the side.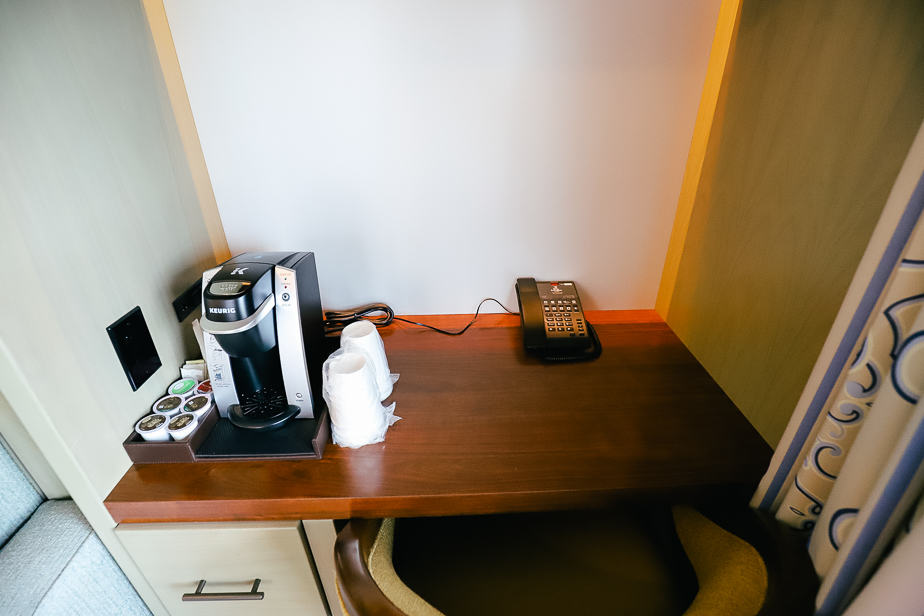 Here is another angle of the room. A large flatscreen television hung on the wall. There was an open sofa table with a shelf underneath that provided a place to lay a few items.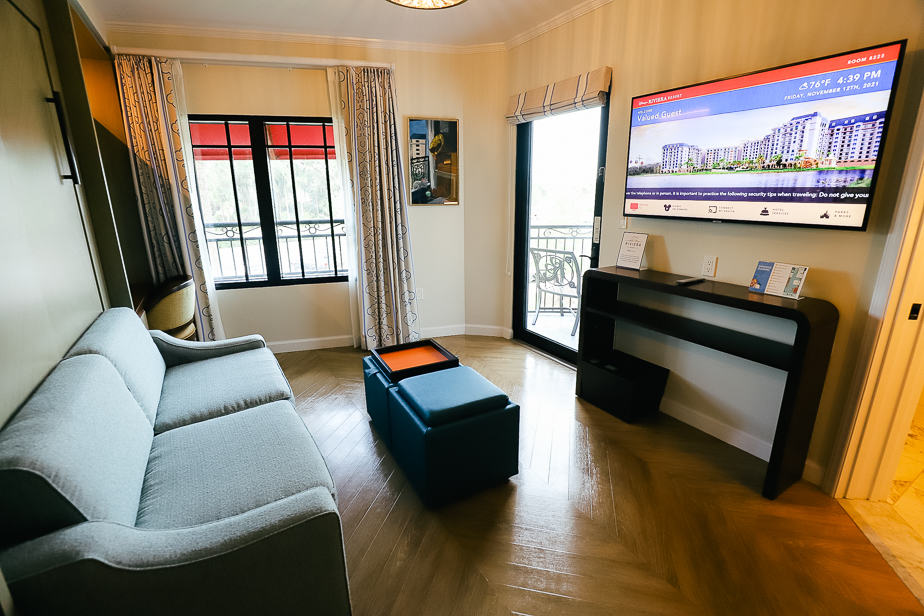 The guest bath offered gold finishes and a decent size walk-in shower.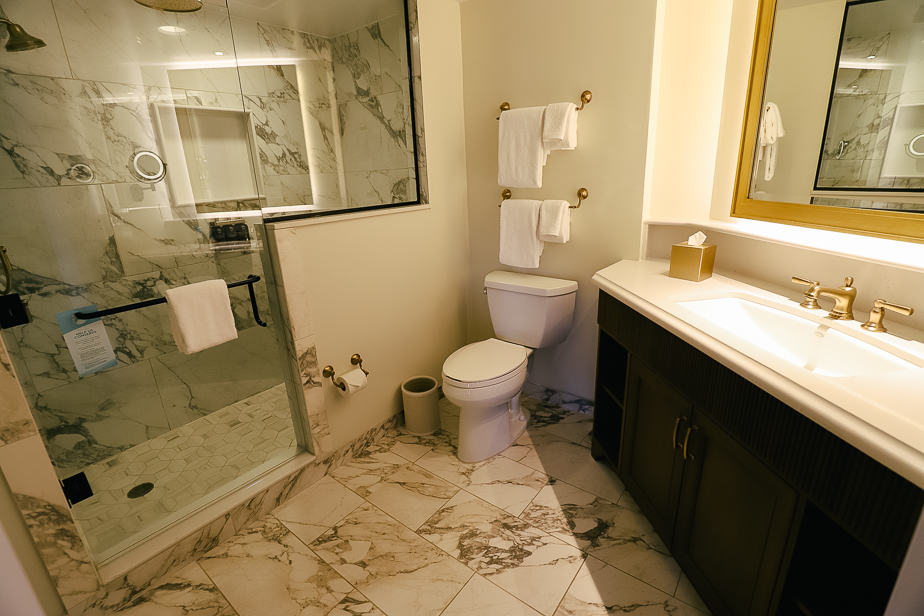 All of the amenities in the rooms at the Riviera Resort are a step above most others. For example, you might notice the large rainfall showerhead along with a standard showerhead with a separate detachment.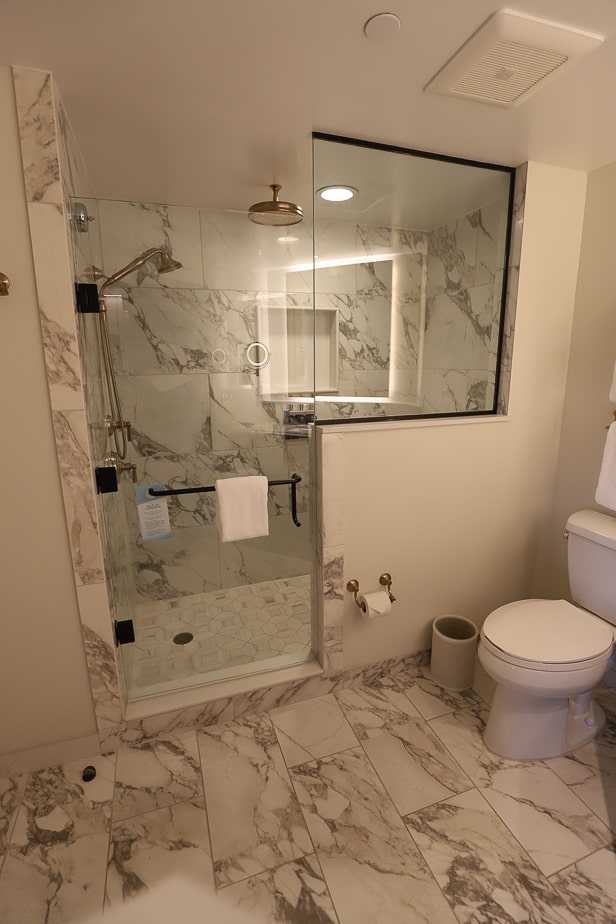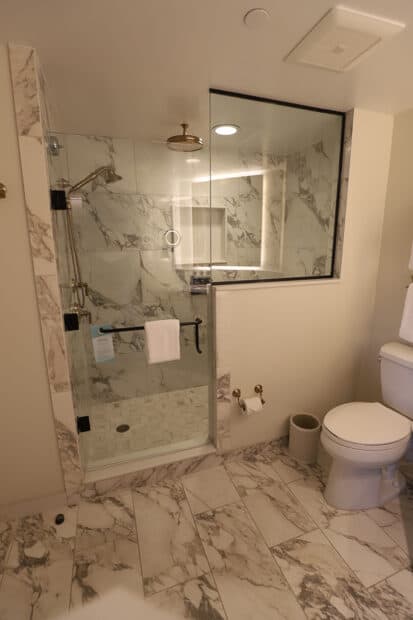 Unfortunately, there is no separate water closet, and the counter had one sink. However, there is a decent amount of counter space and storage underneath the vanity.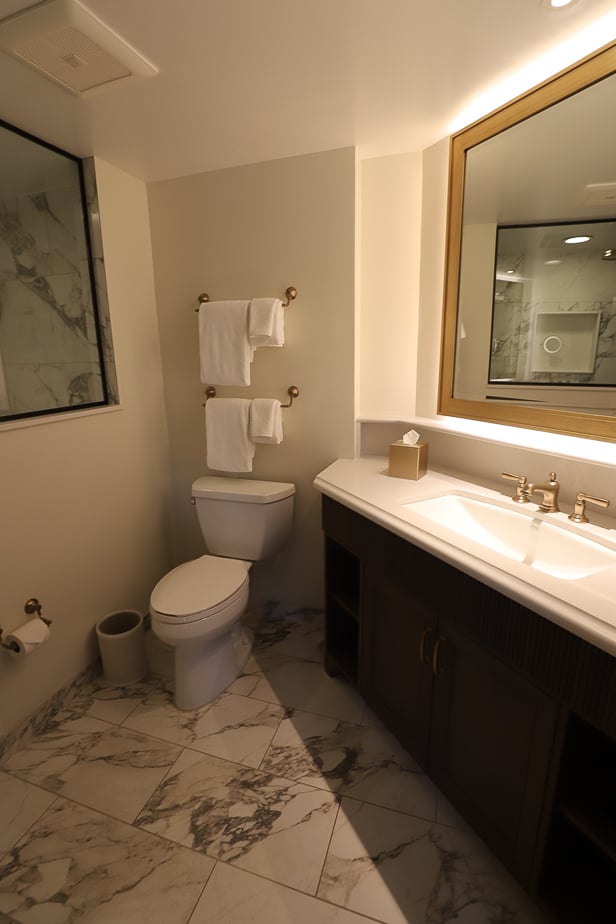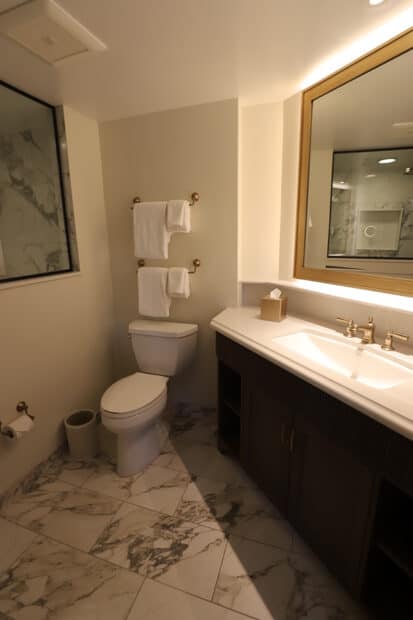 You'll find all of the same amenities you would find in a deluxe studio villa like a safe, iron, ironing board, and makeup mirror.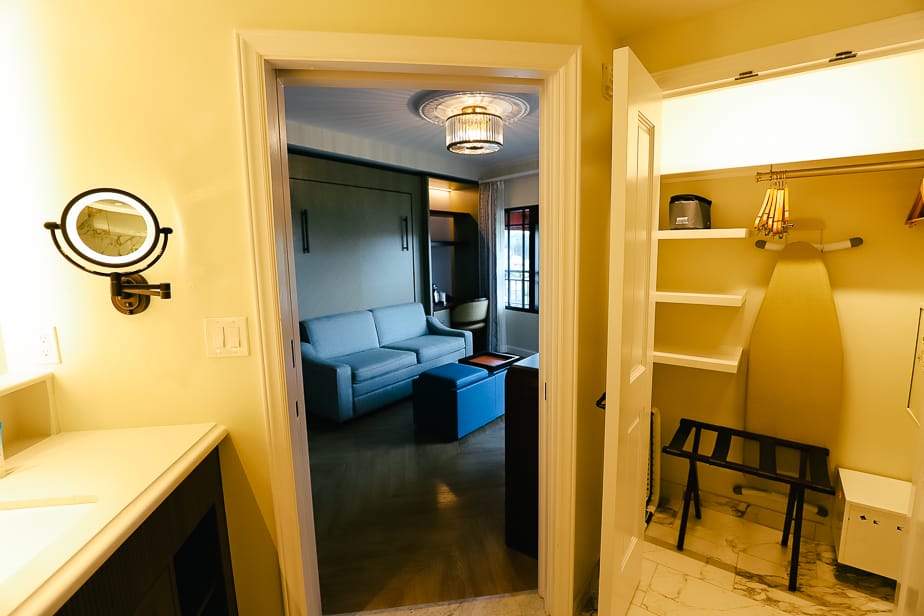 Here is an additional view.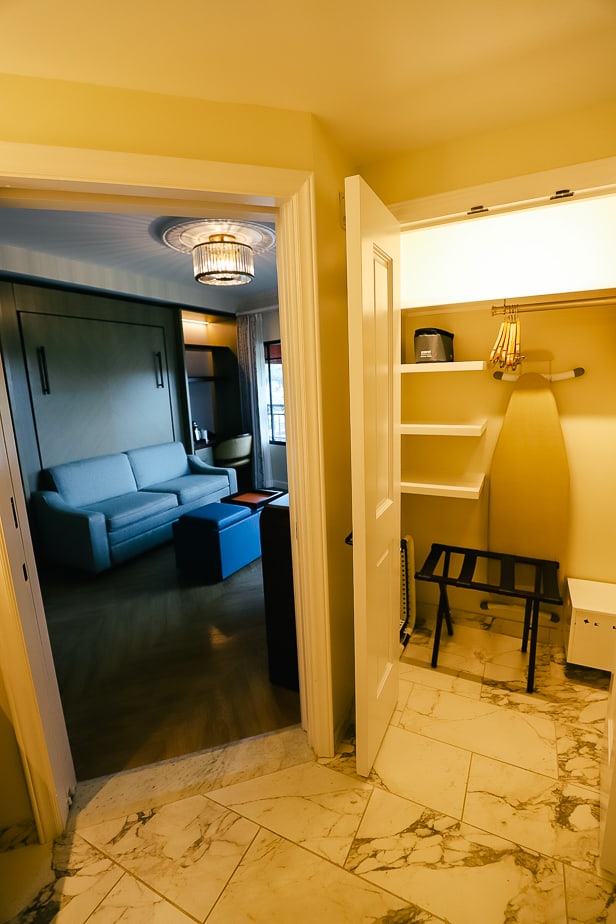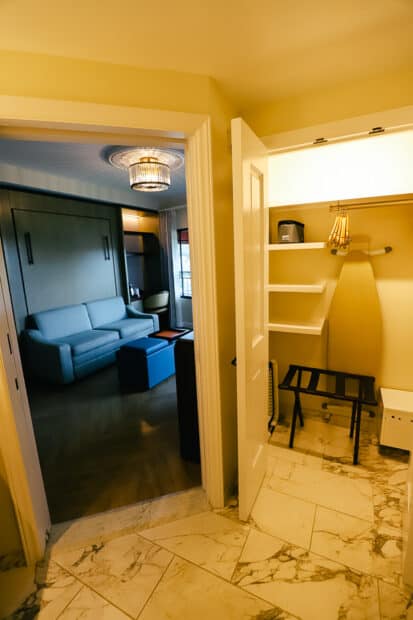 Lastly, the tower studio has a balcony with room for two. The balcony is a reasonable space if the weather is pleasant enough to use it during your stay.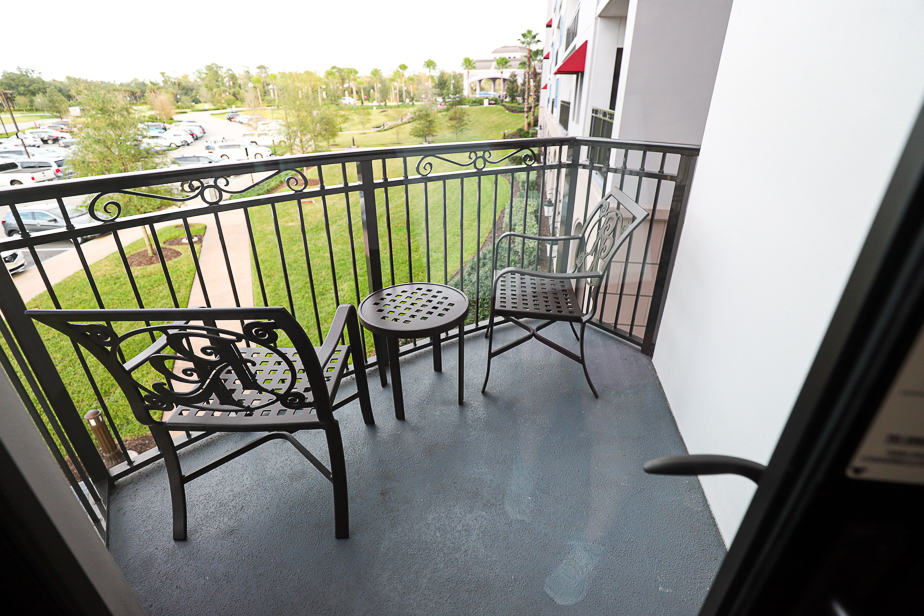 Overall, I felt the tower studio was not a unit that I would consider reserving for a vacation. So often, I travel by myself, and I don't feel like the price can justify the small space by any means.
You can stay at one of Disney's value resorts for far less the price and plenty more space. For example, I might consider a resort-like Pop Century or Art of Animation.
Related: Disney's Pop Century vs. Art of Animation
If I were looking to stay at the Riviera, I would choose a deluxe studio over the tower studio, even by myself. We preview that room in our resort review.
Related: Disney's Riviera Resort Review
Additionally, Riviera offers a 1-bedroom unit, a 2-bedroom villa, and a 3-bedroom grand villa. We'll try to get around to these rooms between now and the end of the year.
You can preview them here:
And I'll warn you, the grand villa is truly something special. During our tours at the various resorts, everyone asked if we had seen the luxurious villa at the Riviera yet.
No matter where we went, we were asked that, even at the Polynesian bungalows!
Ultimately, Disney's Riviera is a beautiful resort, and the nearby Disney Skyliner station offers excellent convenience to Epcot and Hollywood Studios.
Related: Disney Skyliner Resorts with Travel Times
If you would like to learn more about the Riviera, all of our articles pertaining to the resort are listed here.
Or you might enjoy these individual articles:
Additionally, all of our Disney World Resort Reviews are available here. Some of our most popular include our review of Disney's Polynesian Resort and the Disney's Beach Club Resort Review.
Have you considered a stay here at the tower studio at Disney's Riviera? What are your thoughts on the room? Too small or too much? Leave a comment below and let us know your take.
Planning a Walt Disney World or other Disney Destination vacation?
Our friends and travel partner, Firefly Travels, excels at doing Disney differently. You can fill out a plan your trip form on their website, and someone will reach out shortly to discuss the specifics.