2023 Construction and Refurbishment Progress at Disney's Boardwalk Inn
Disney's Boardwalk Inn is undergoing a multi-year refurbishment that includes a decent amount of construction work. Finally, we're beginning to see some visible progress in 2023.
Therefore, I thought it was time we took an informal visit to Disney's Boardwalk Inn to see the updates and scrutinize the changes. Overall, the updates have been positive. We can probably agree that many of these updates were long overdue.
As we see changes, I'll update this Disney Boardwalk construction timeline. So, if Disney's Boardwalk Inn is one of your favorite resorts, you might like to bookmark this timeline and check back now and then for updates. Let's look at those changes!
We last updated this article on August 28, 2023. We've highlighted the updates for this month below.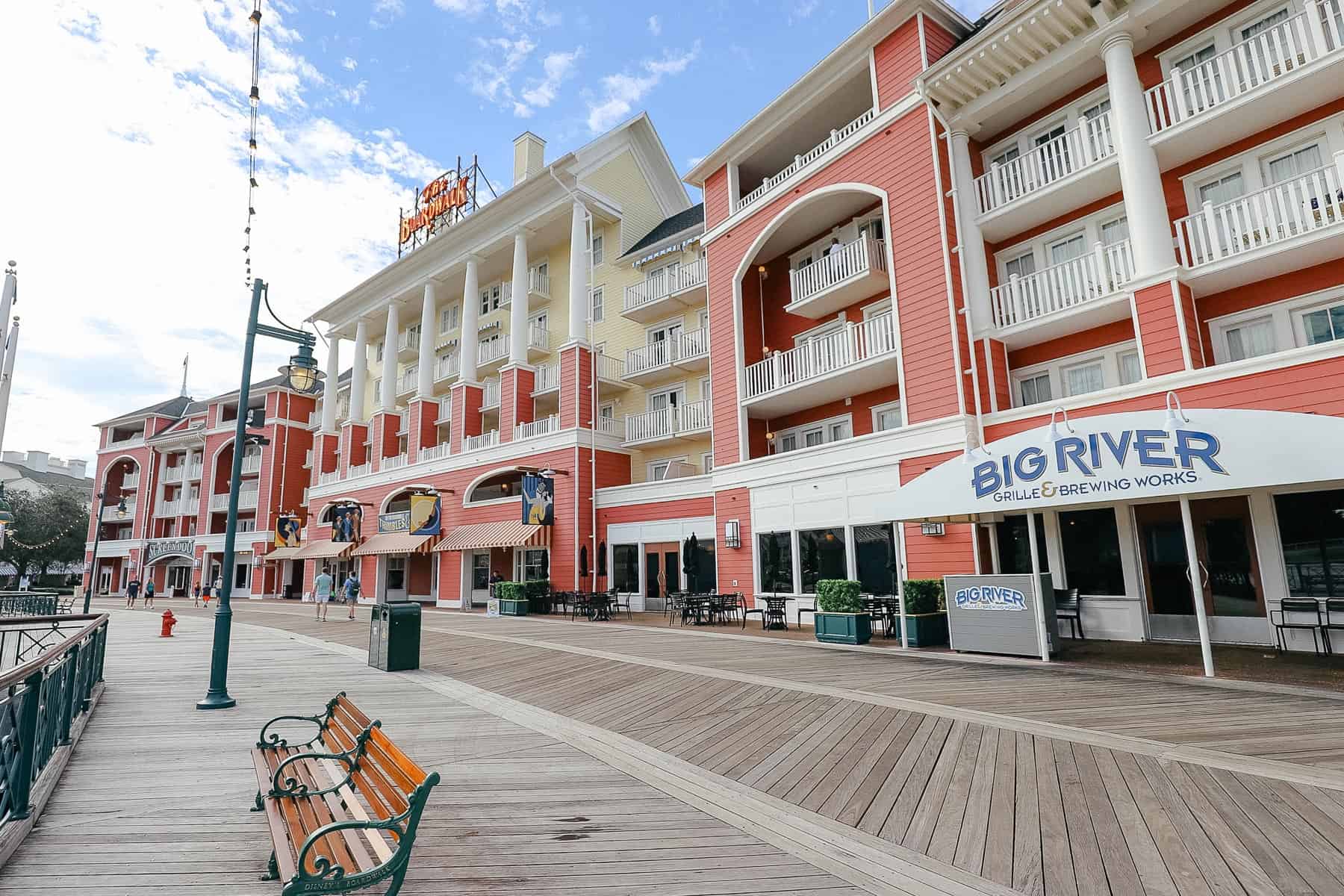 The Cake Bake Shop
We'll start with The Cake Bake Shop, a new restaurant set to open in 2023. Below is a photo of the former ESPN Club that took up this far end of the Boardwalk.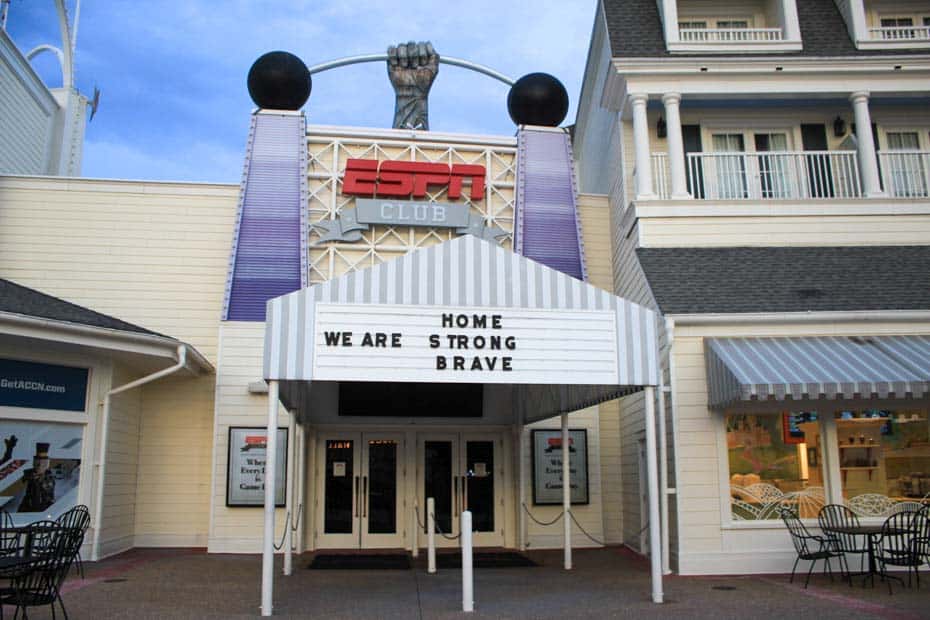 Here is a concept drawing of the new restaurant on a construction wall.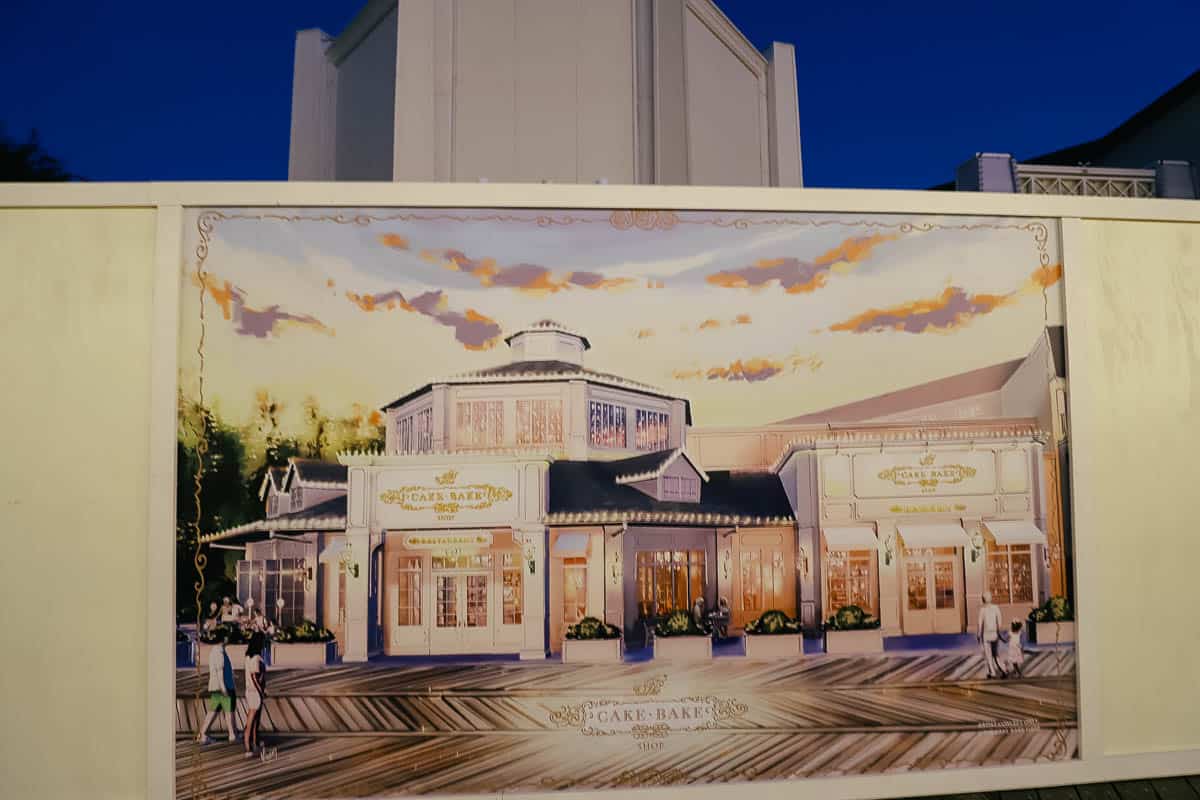 This photo below was taken in January 2023.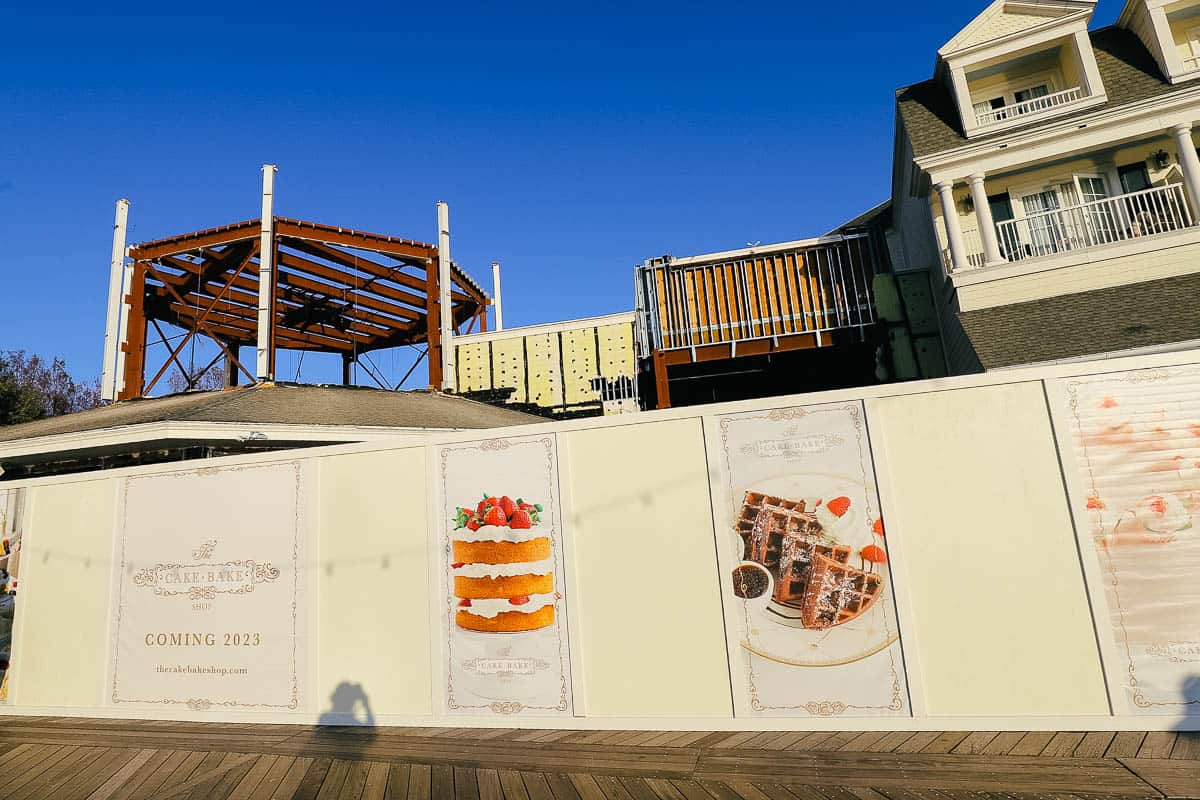 This next image was taken on February 15, 2023. Unfortunately, we couldn't see significant changes.
Related: Restaurants at Disney's Boardwalk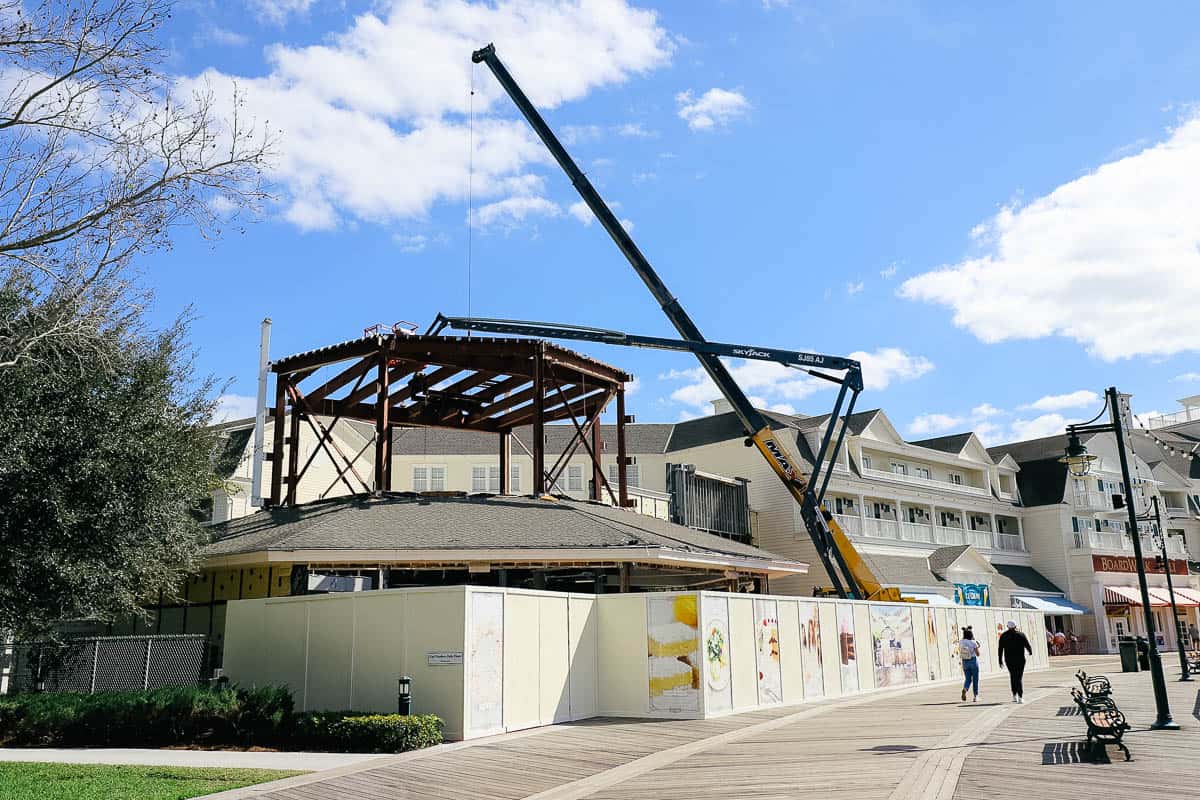 Then, in March of 2023, it looked like things took a step in the opposite direction.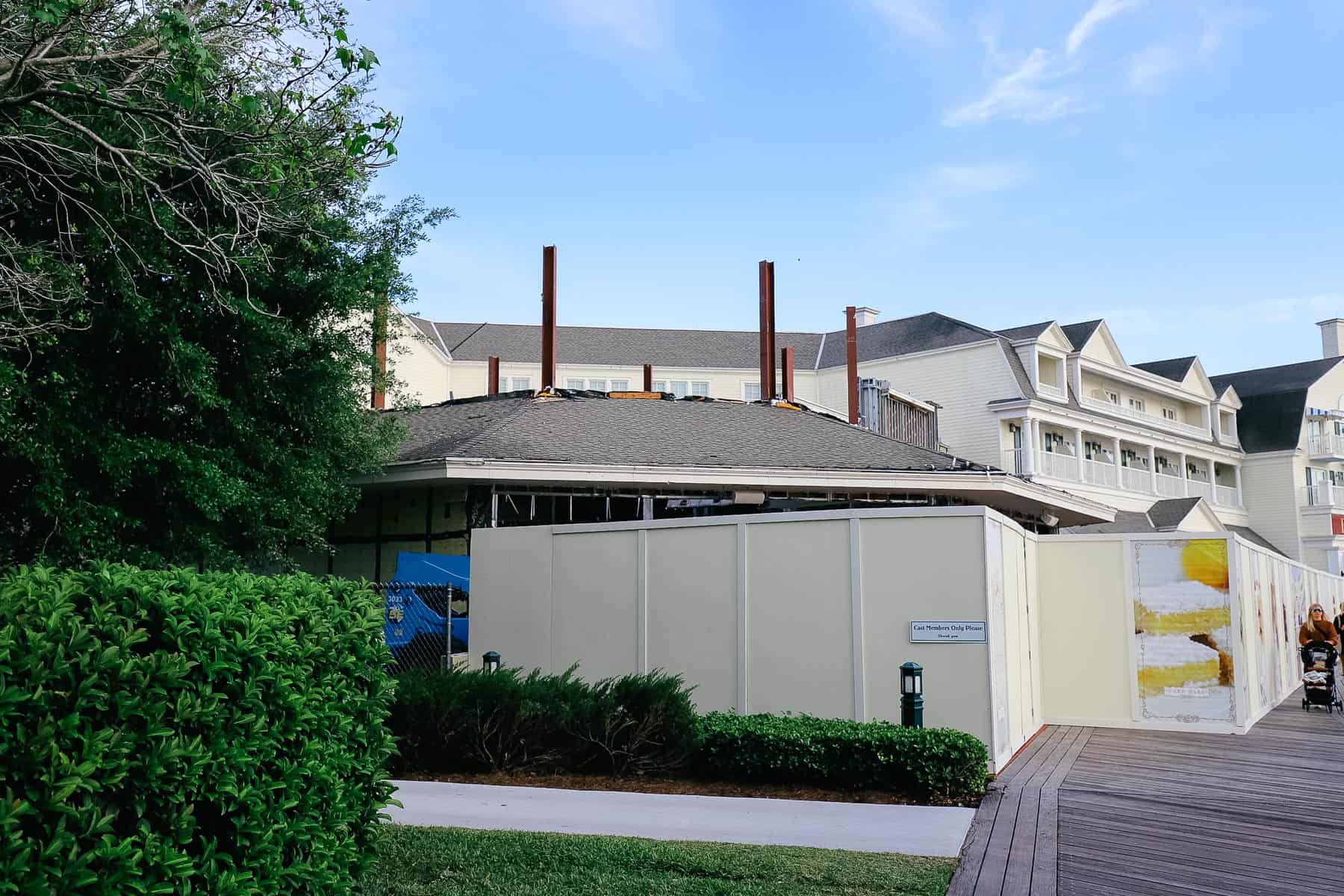 This next image was taken on May 15, 2023. Finally, they've figured out the roof structure and crow's nest. We walk through this area weekly, and seeing how long this project has taken has been interesting.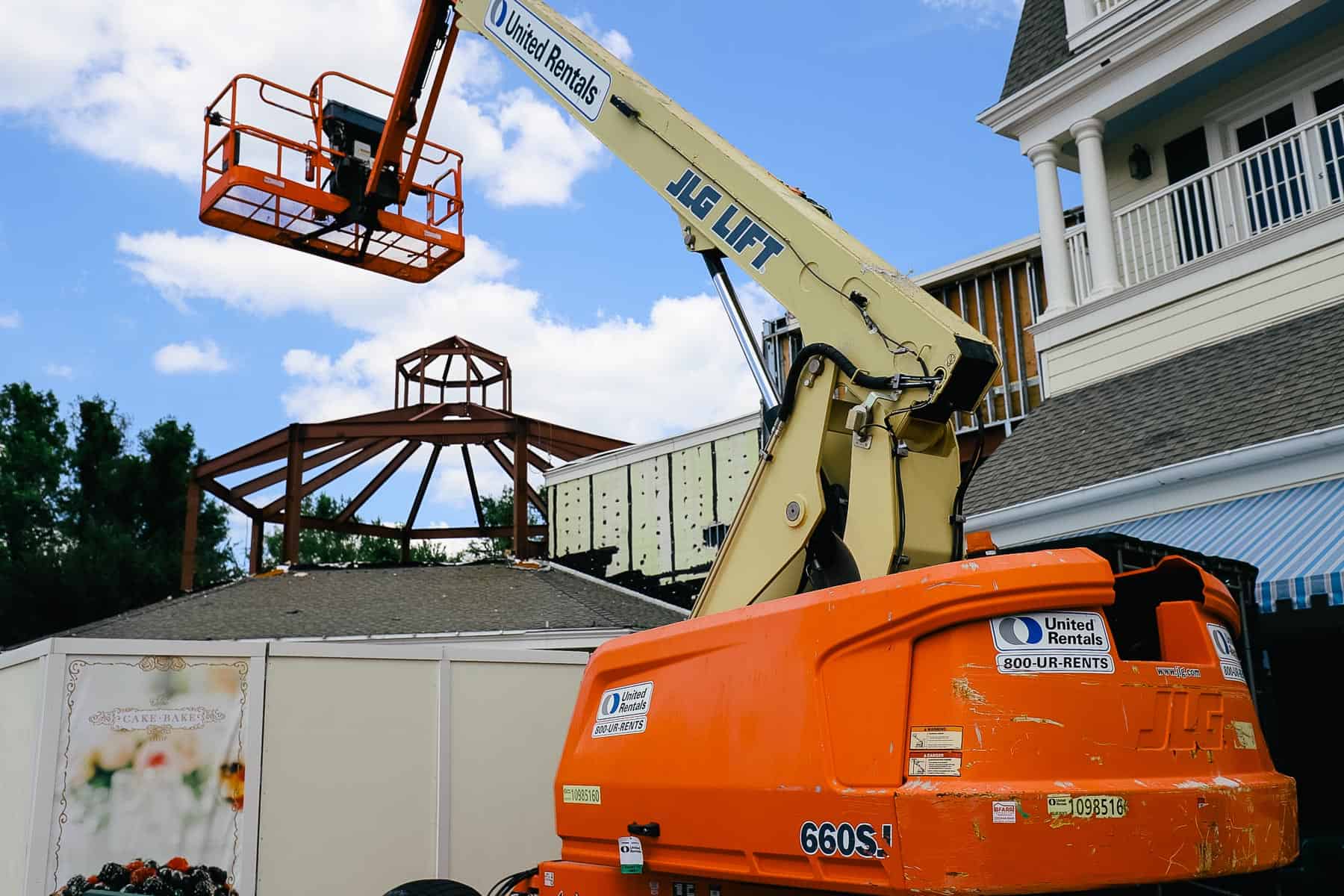 This photo was taken in early July. Not much has changed-it's baffling.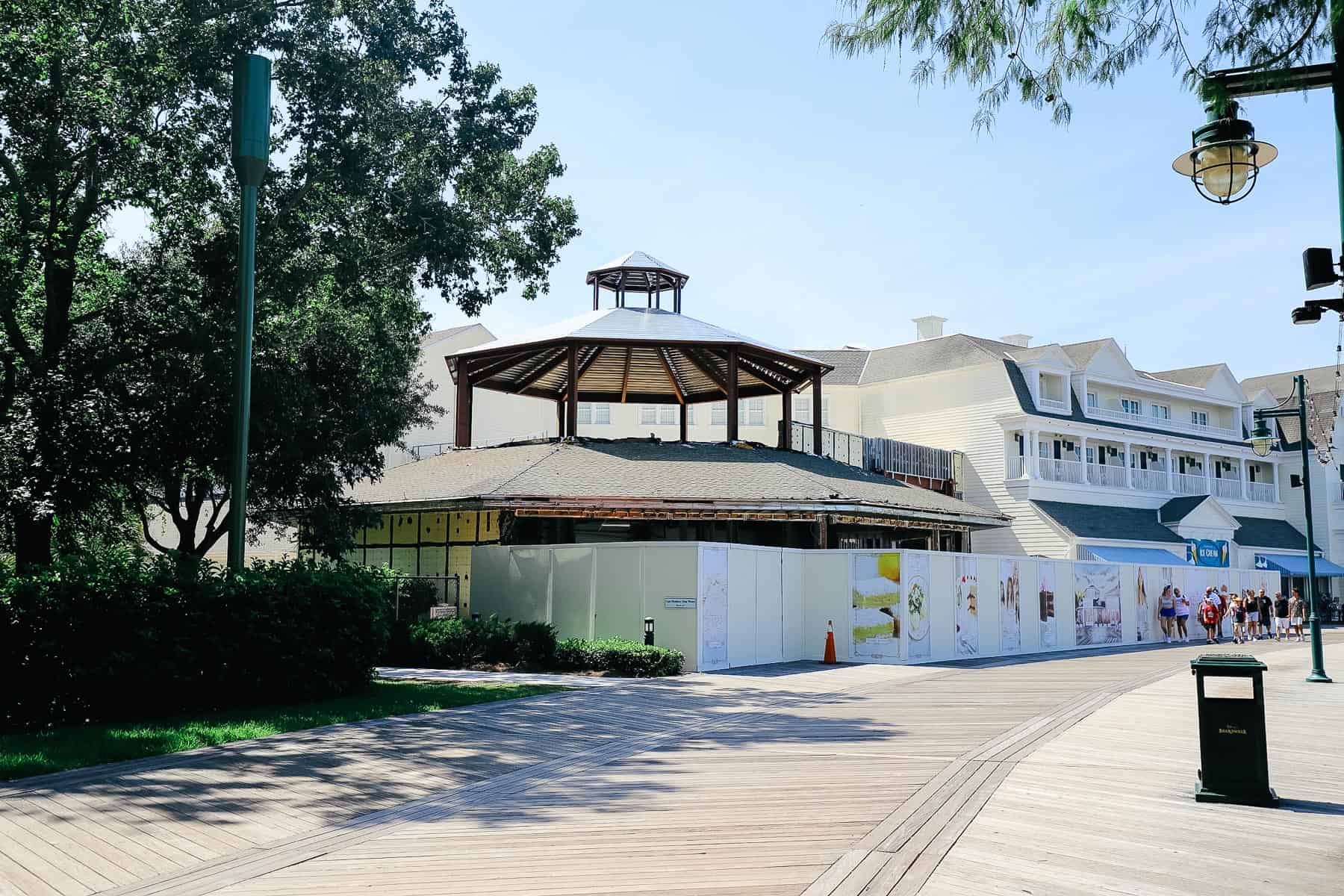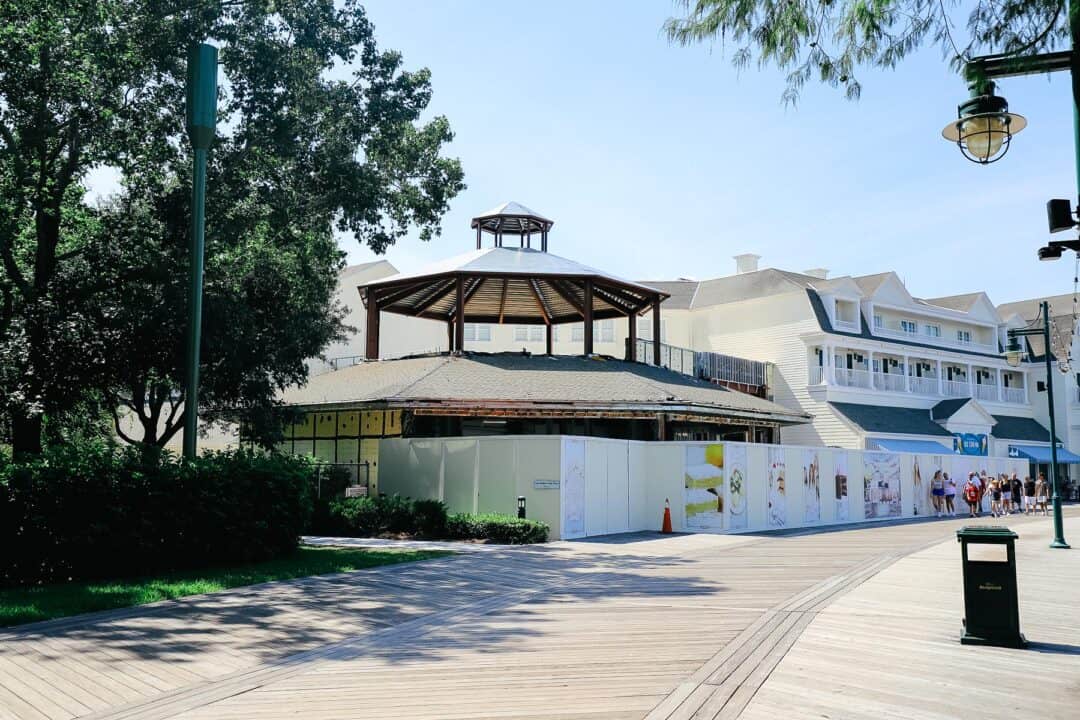 (New) This next photo was taken on August 26, 2023. We can see that some visible progress has been made since last month.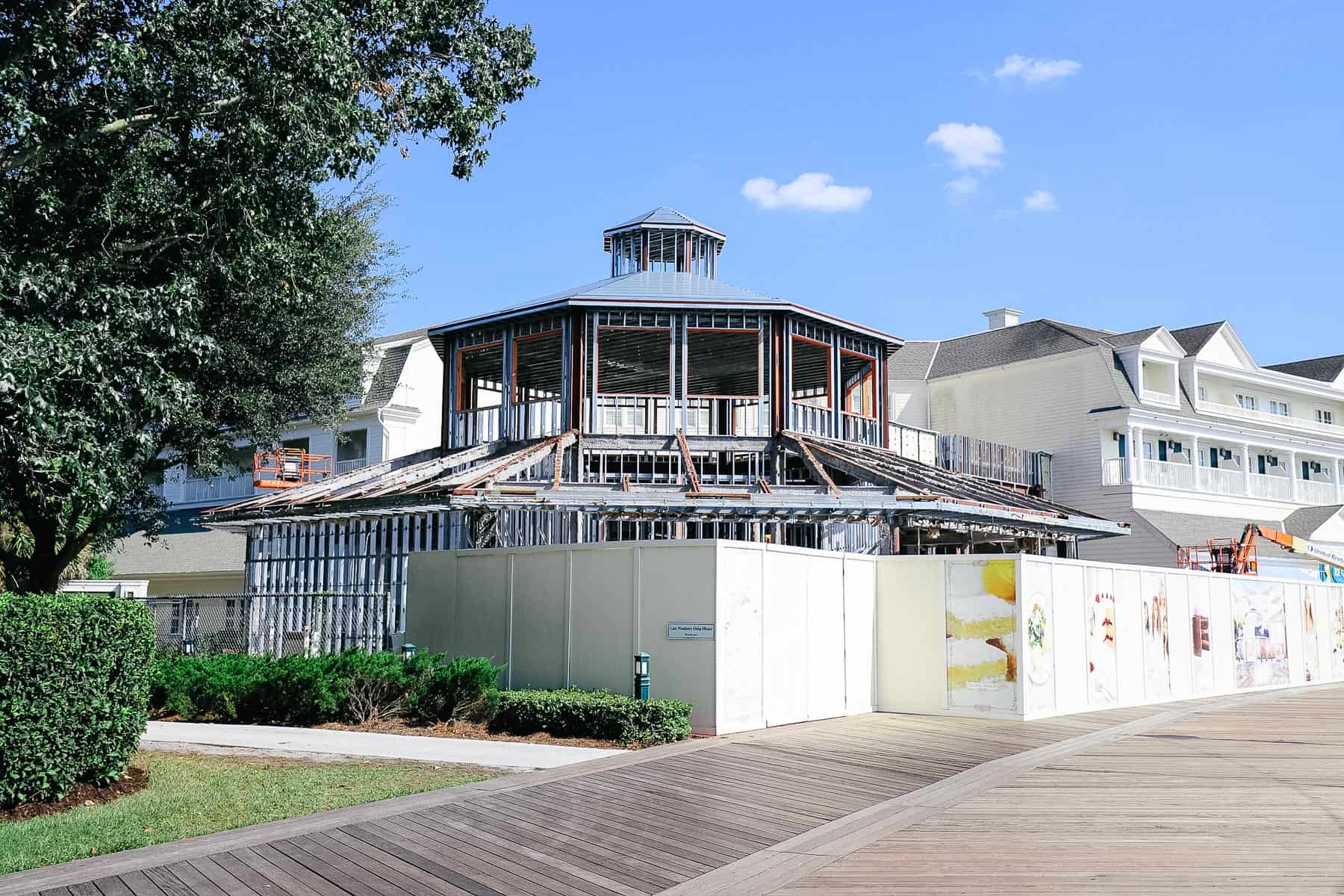 Interior Updates
All guests who reserve a room at Disney's Boardwalk Inn will receive an updated room. However, this is only for the Inn side of the resort, not the Disney Vacation Club (DVC) side.
On a previous visit, we noticed the hallways of the resort's main level had been freshly painted with updates. Since then, we stayed at the hotel. From what I could tell, the interior updates near the room areas appear complete.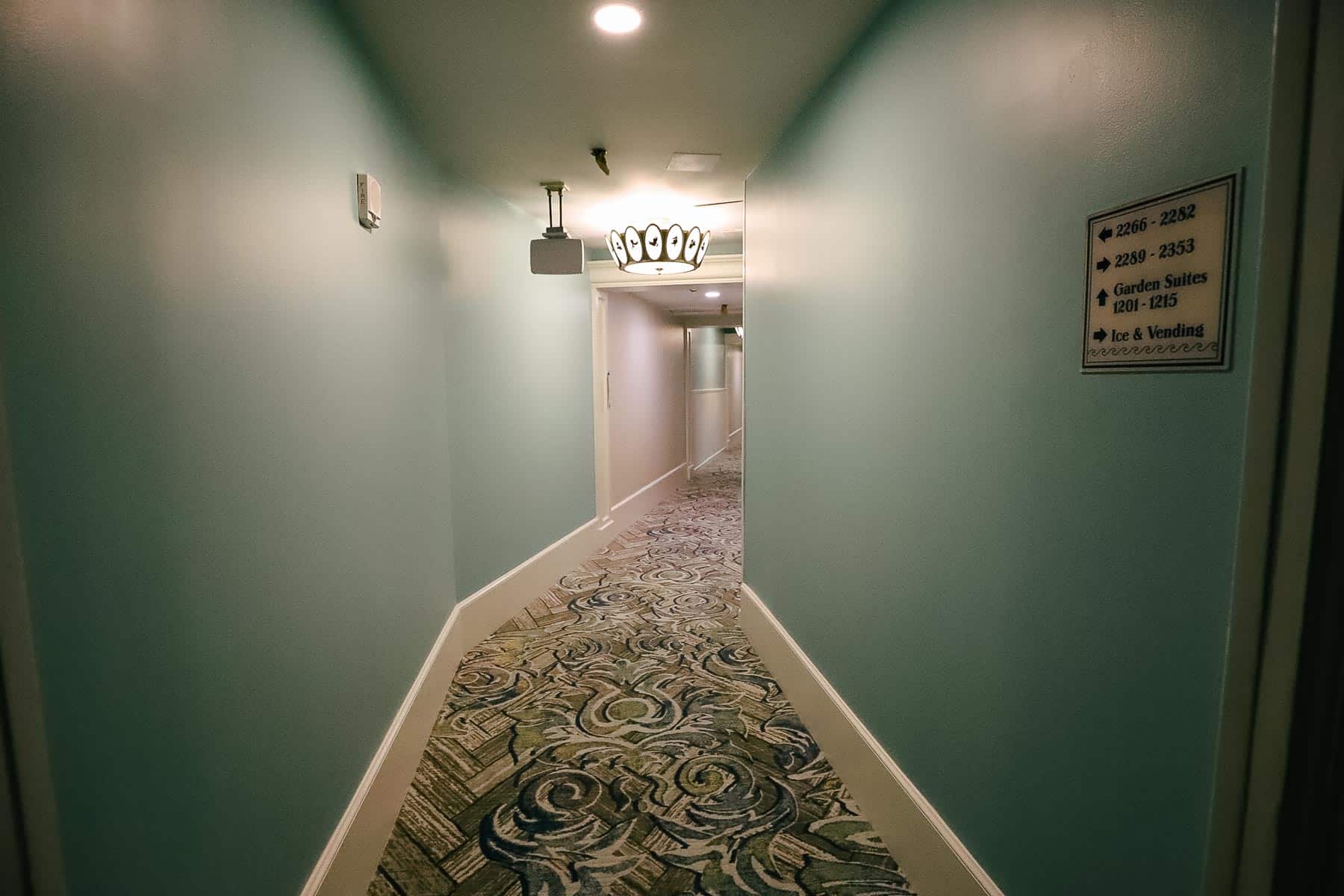 Far gone are the former bright and cheerful colors that greeted you on arrival. However, I think the updates are soothingly calm. Make no mistake, the mint color is bright, and so is the lighting. We had to put a towel at the foot of the door to block light from streaming in underneath it at night.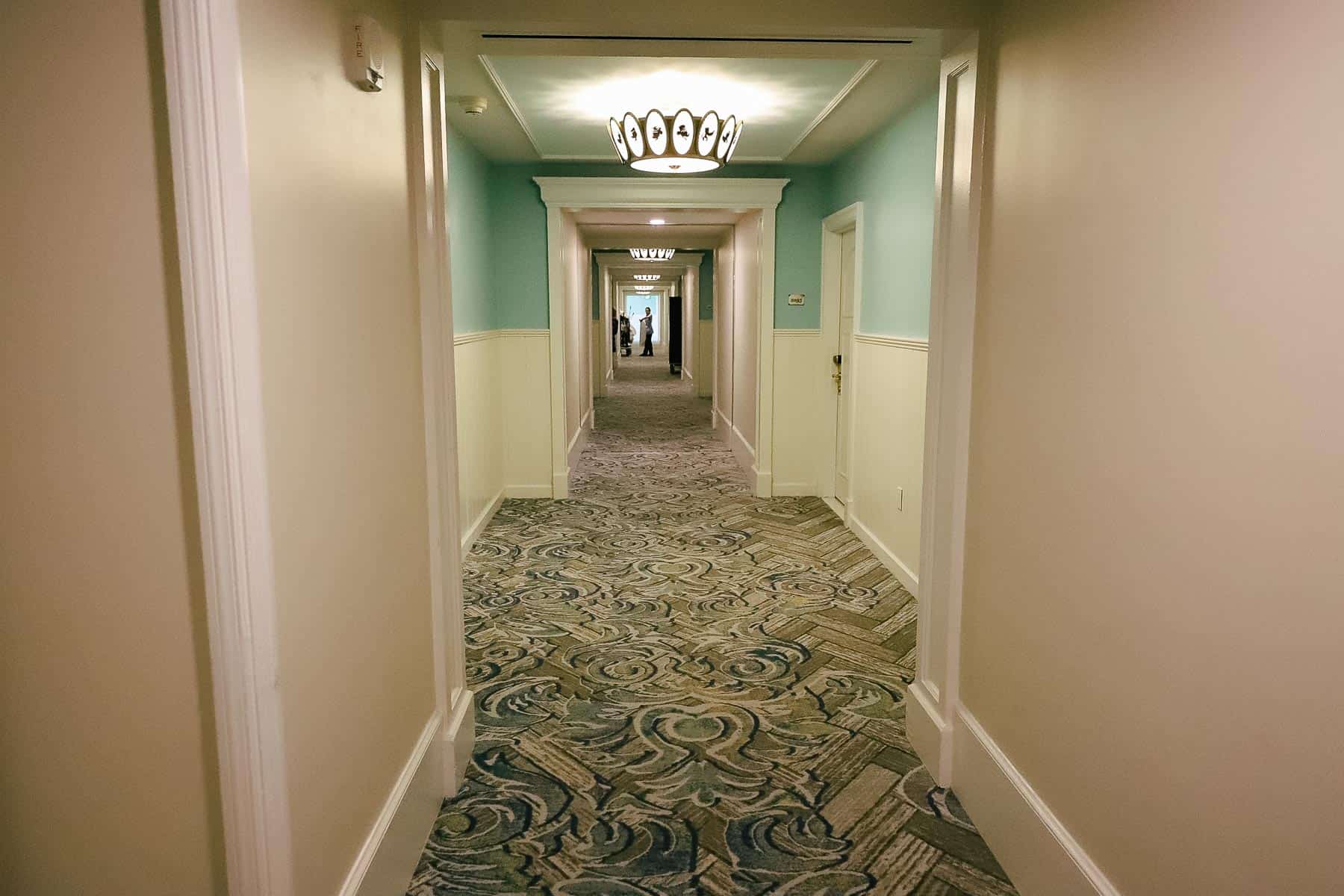 Here is a closer look at the carpet.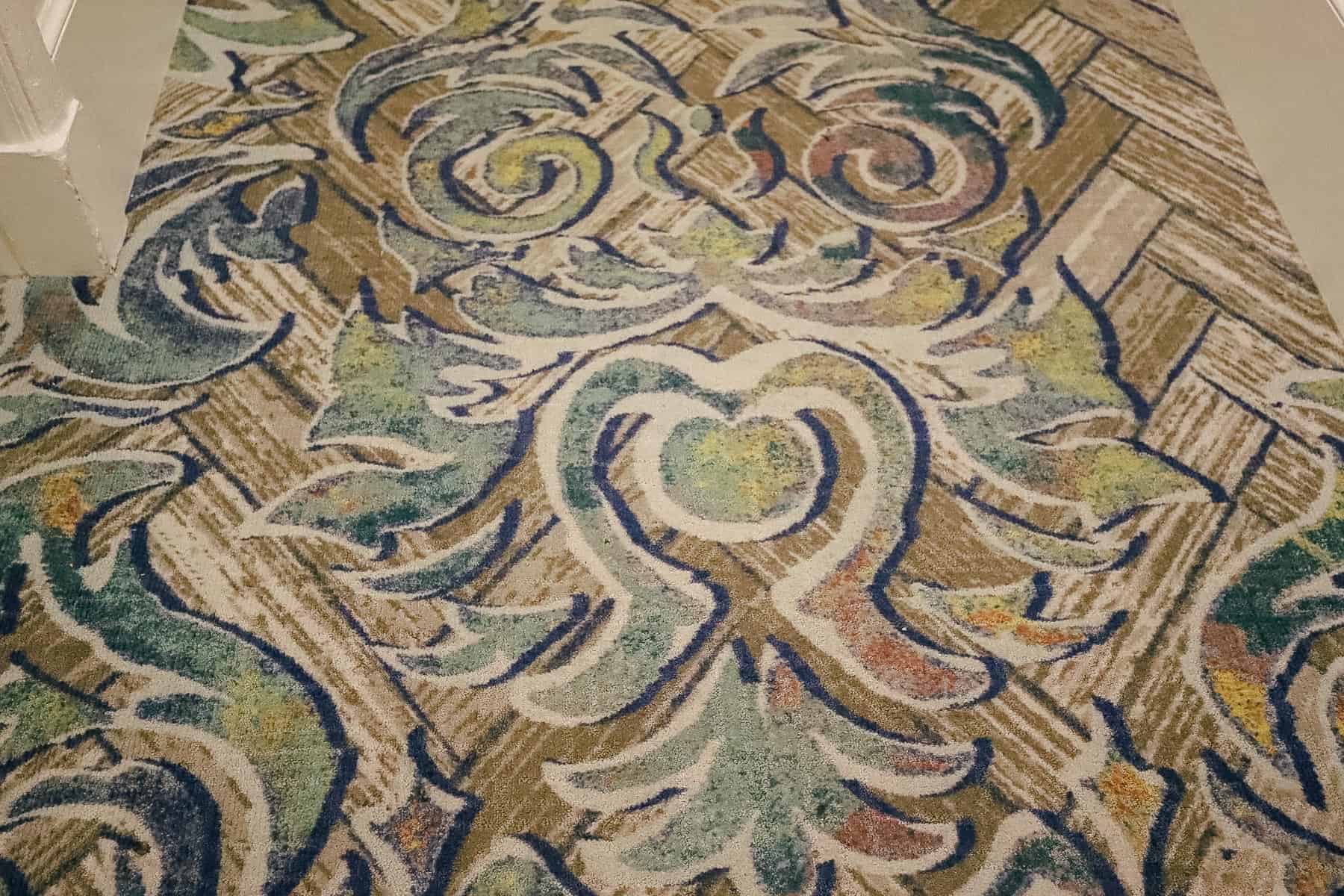 Silhouettes are an intricate part of the new light fixtures. I don't know about you, but I adore these fun accents. They are accurate to the turn-of-the-century style of the Boardwalk while also paying a nod to Disney.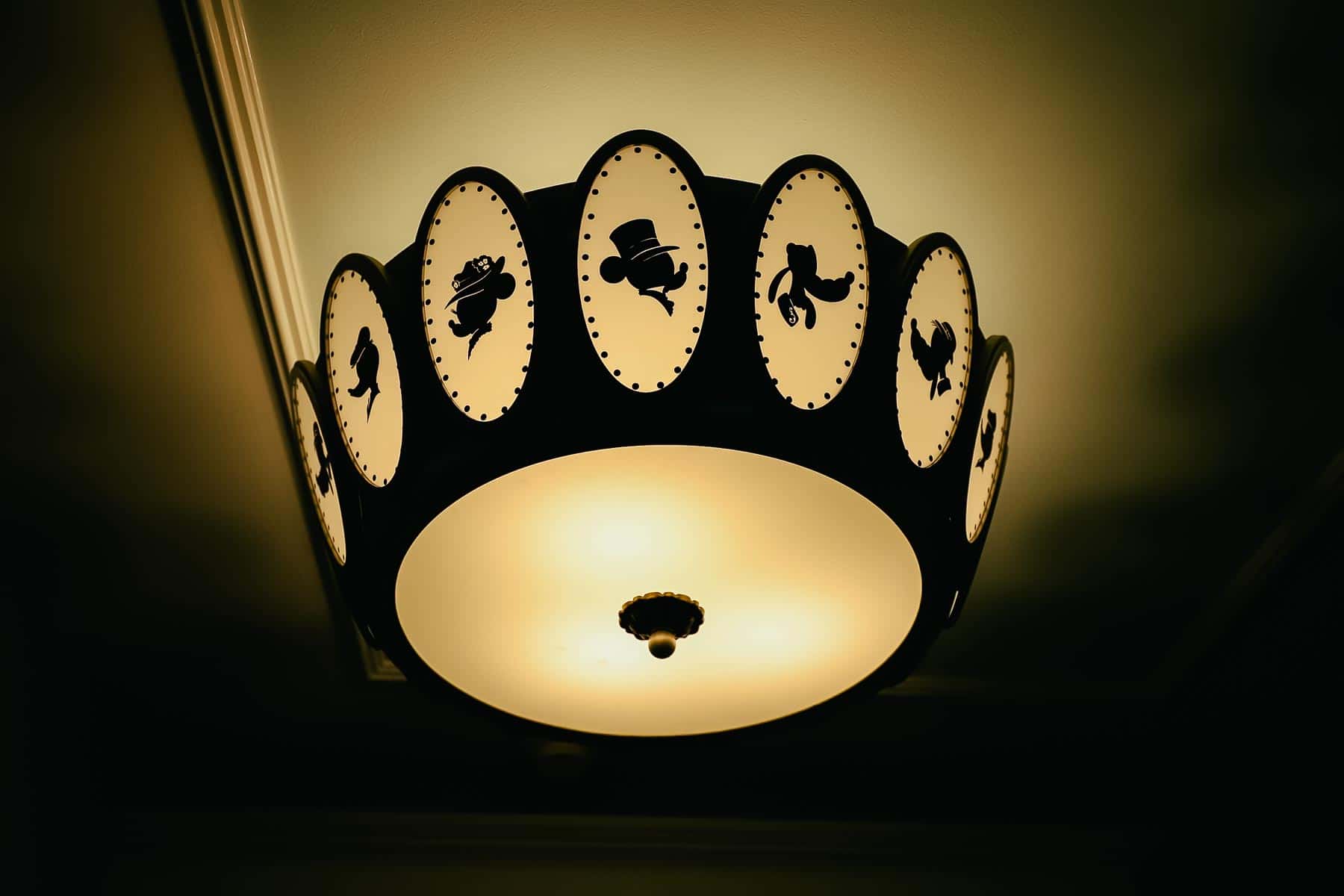 (New) Exterior Updates
Earlier in August, we saw the railings being sanded for a fresh stain.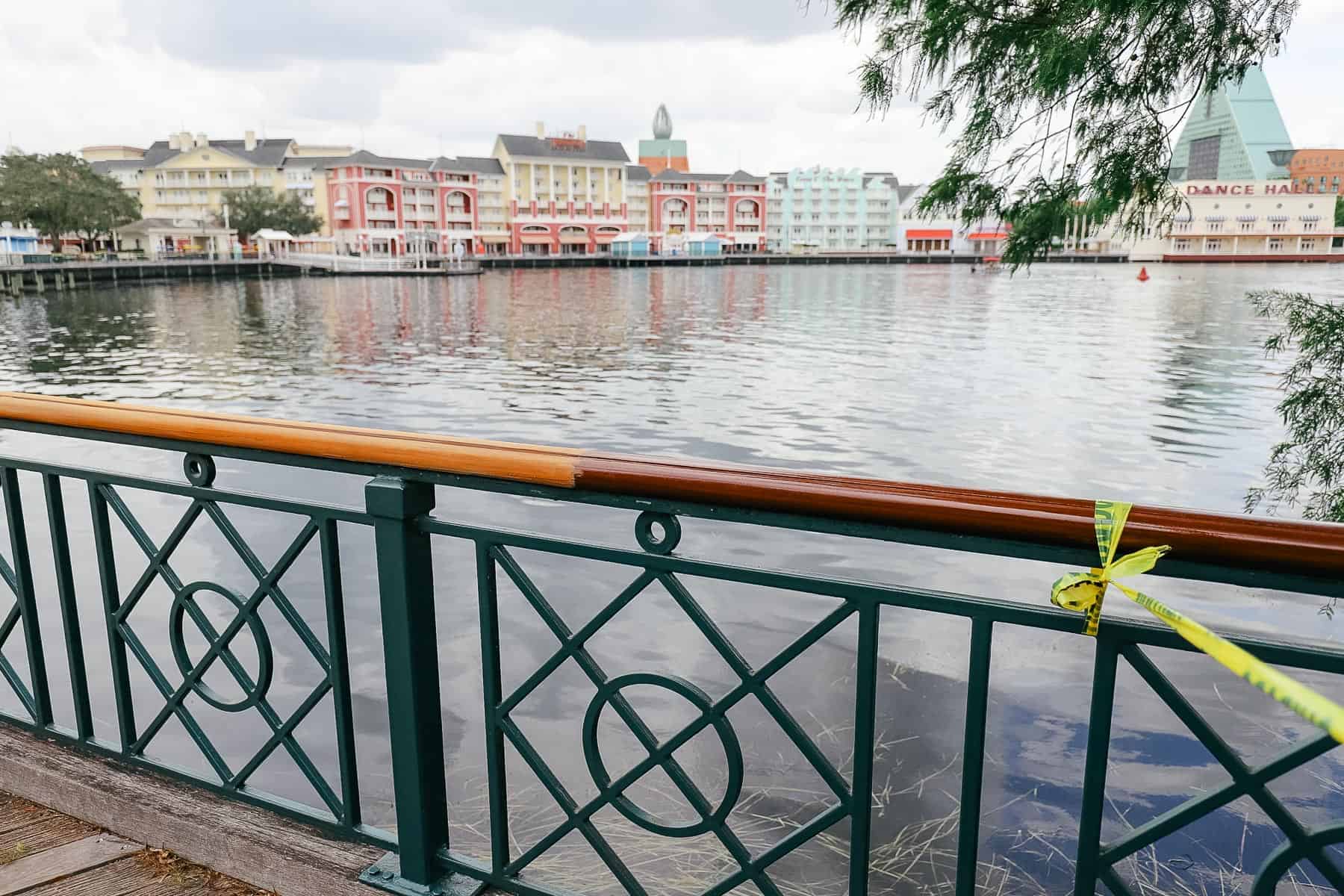 It appears that work has been completed.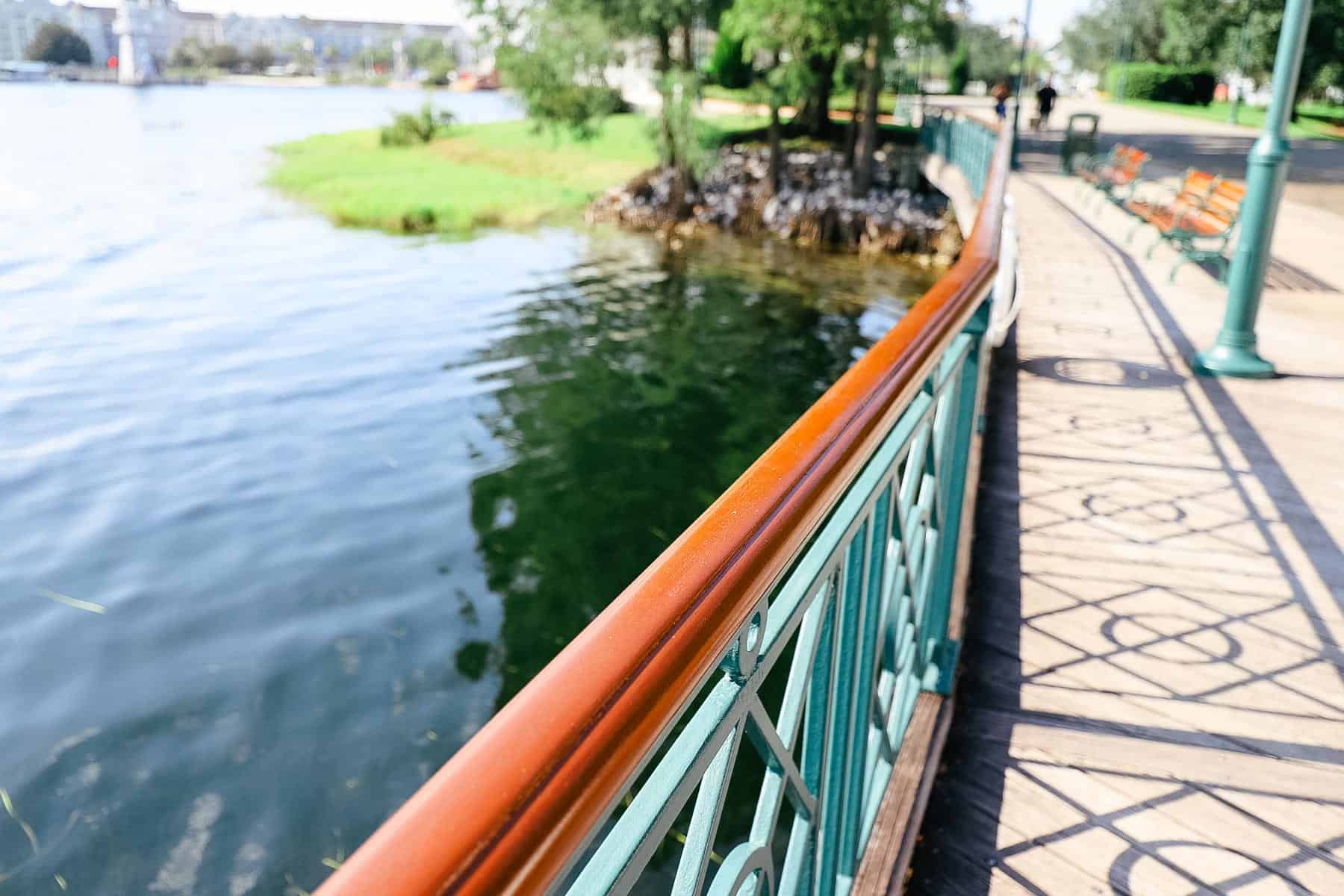 Also, the popular benches along the Boardwalk appear to have received a fresh stain.
I don't know if you've ever noticed, but each side says Disney's Boardwalk.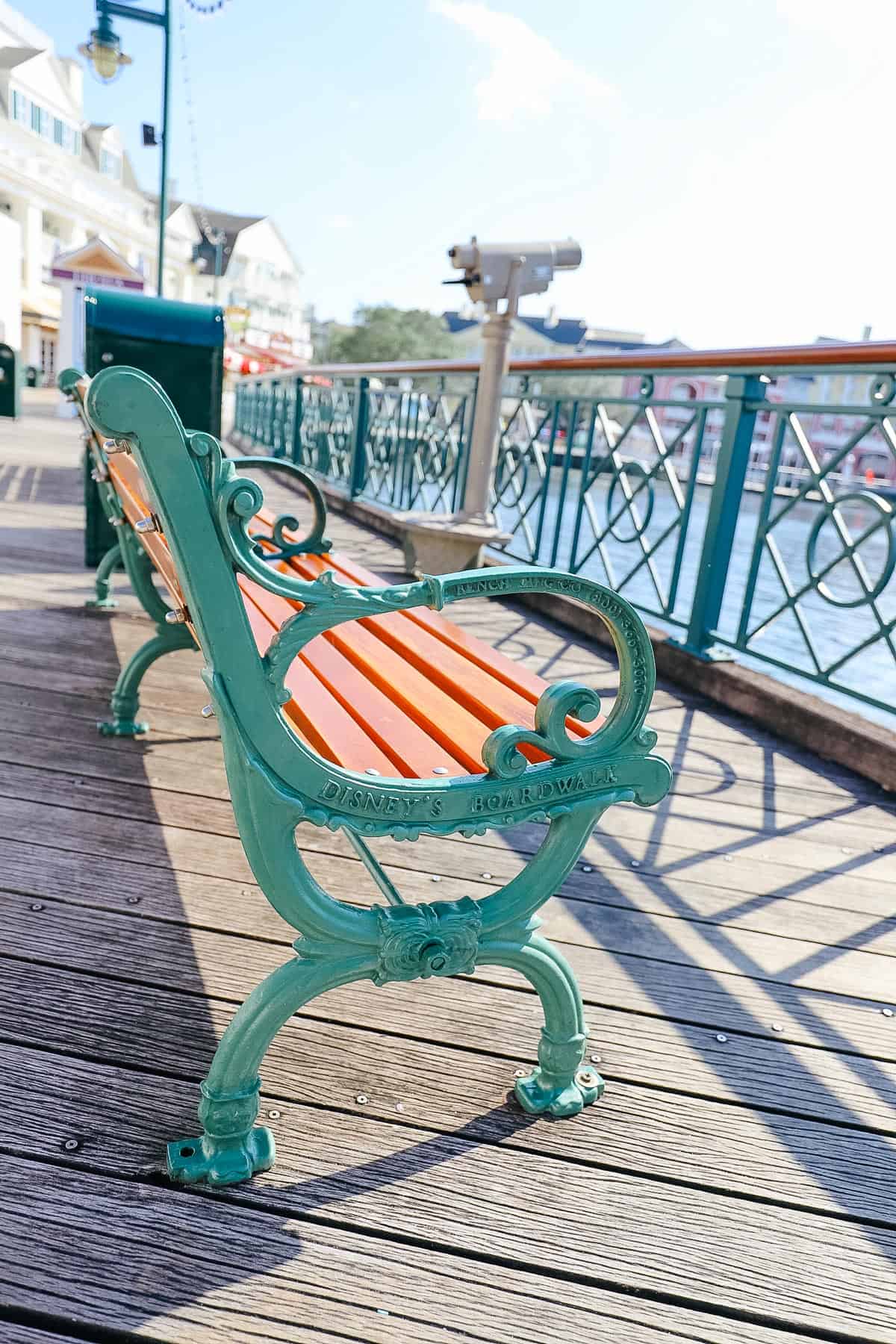 A scrim is covering the Boardwalk Deli. This location opened almost exactly a year ago. It appears to be in the process of getting a facelift.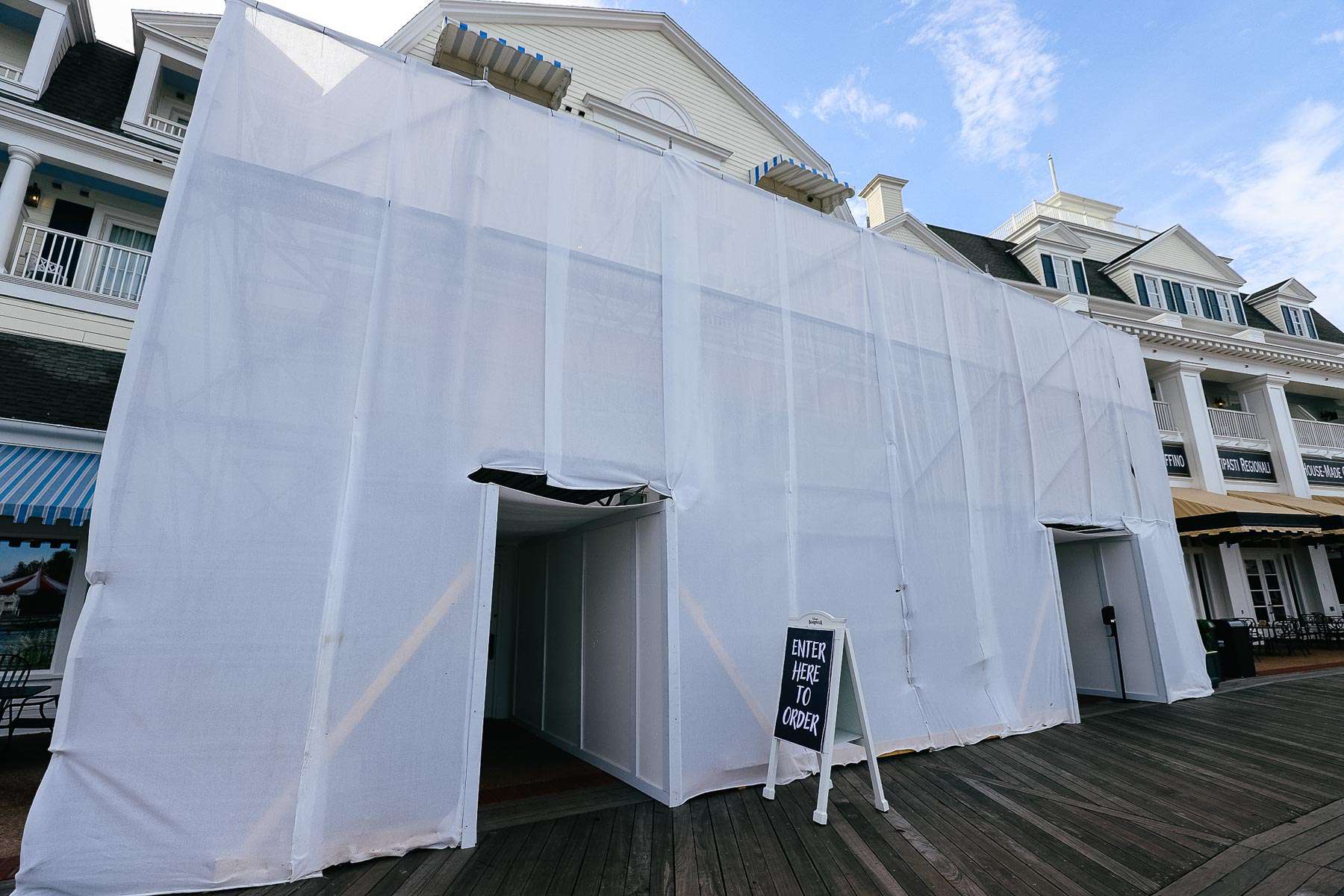 We spent a week at Disney's Yacht Club this month for our vacation. Several mornings, I woke up early and walked around the lake. Being up so early, I was privy to seeing some construction work.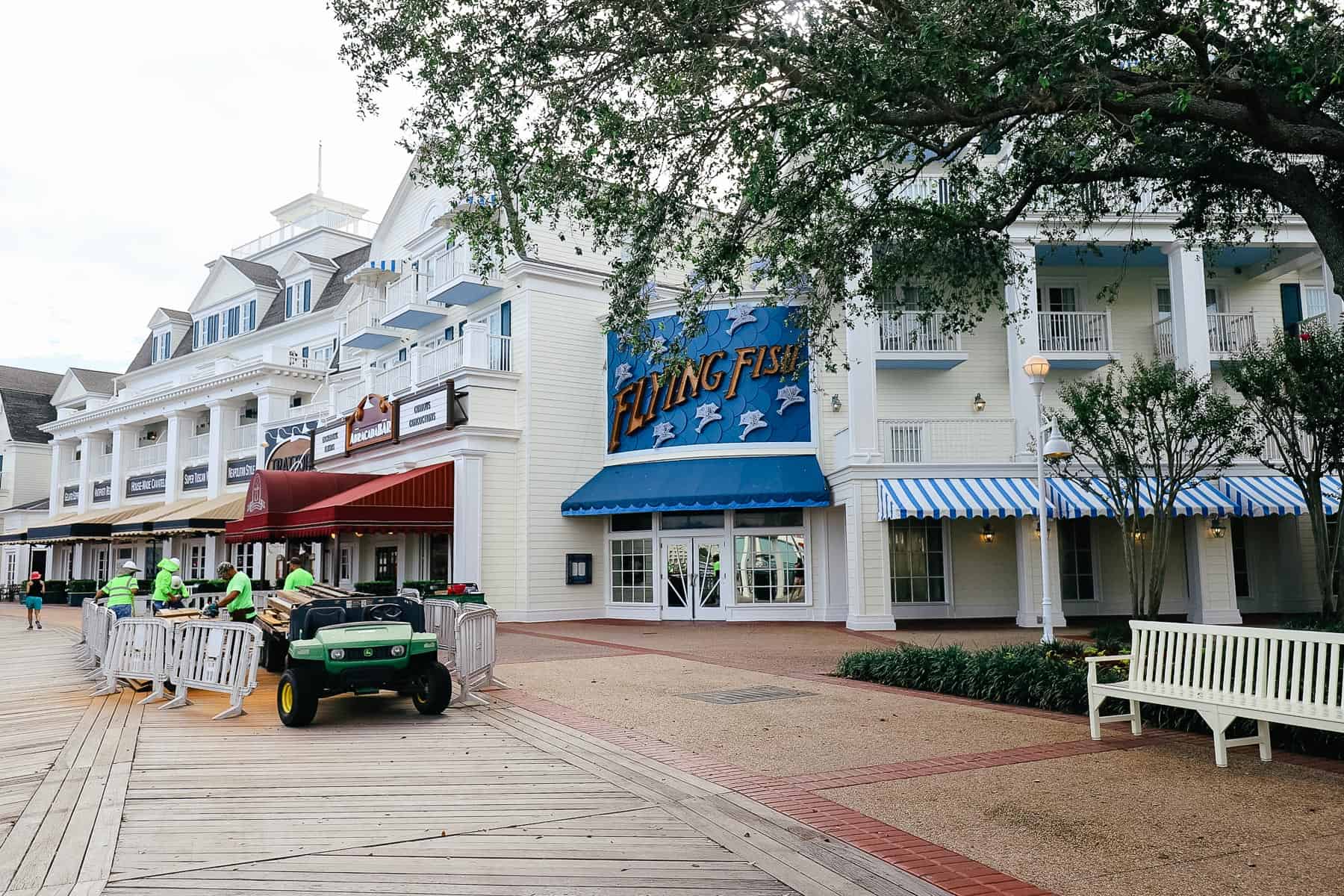 New boards were being installed on the Boardwalk.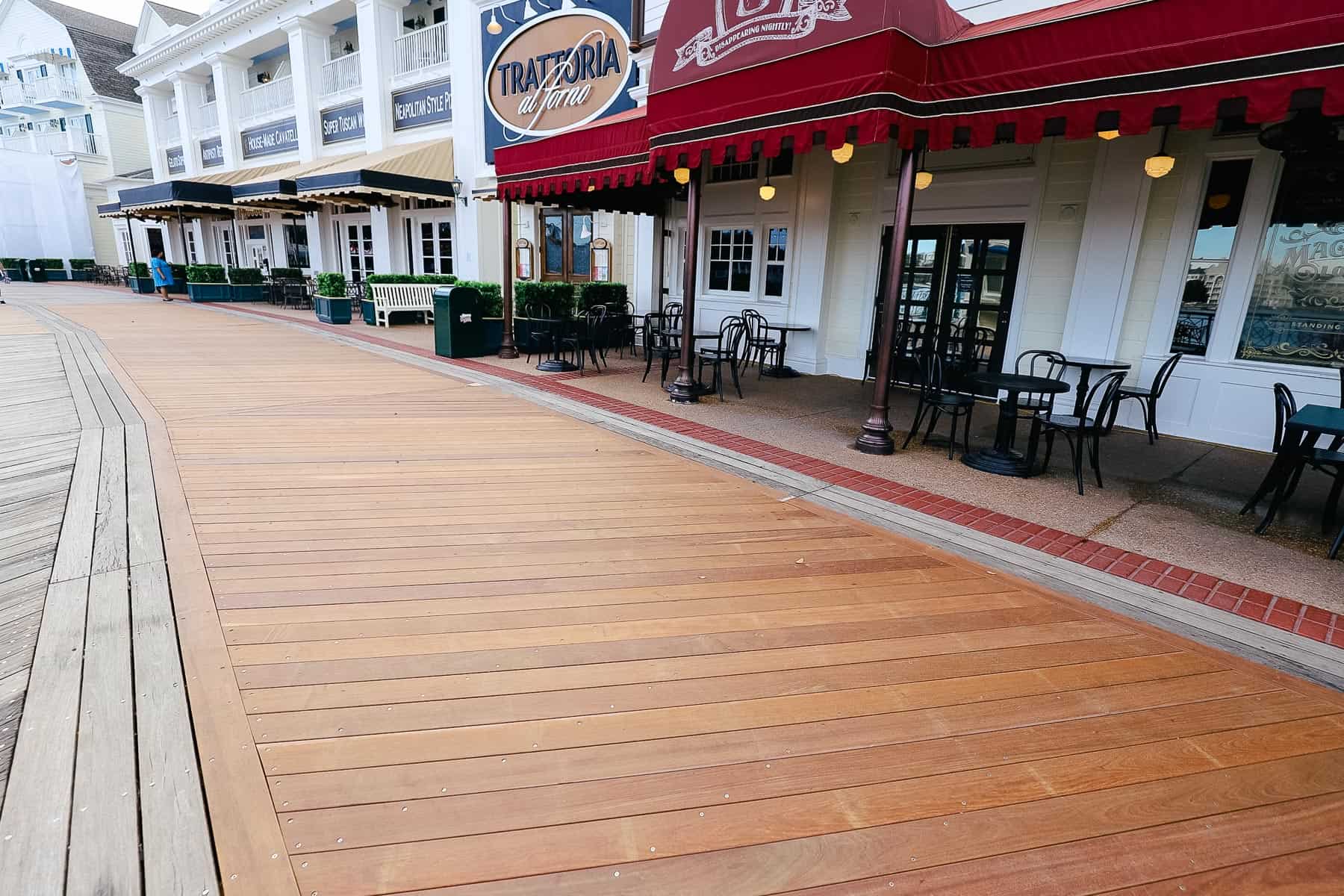 However, it appears the work will only be completed in certain areas.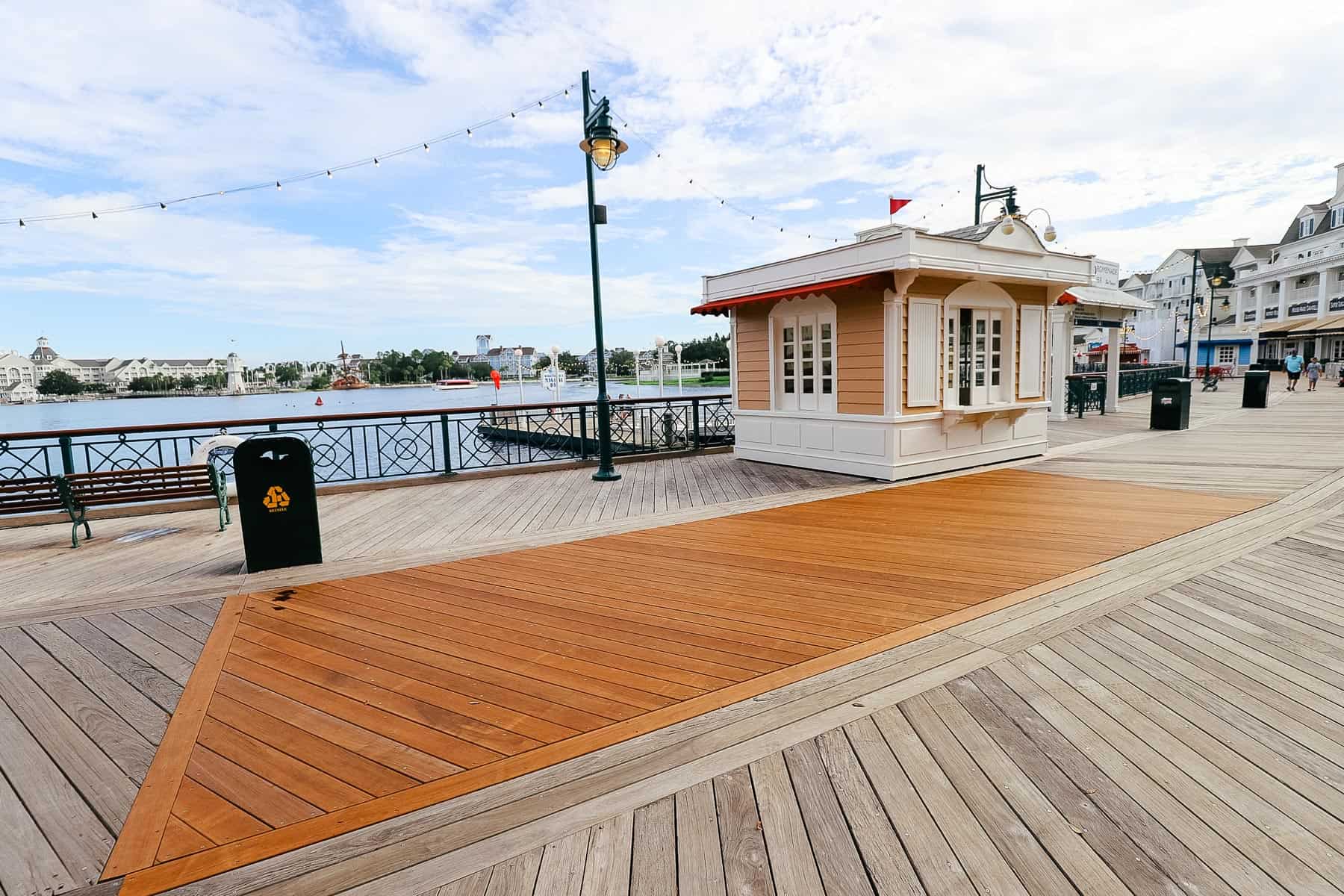 This photo below was taken on Saturday, August 26th. I didn't notice it while on the Boardwalk, but this picture shows awnings missing from Abracadabar. So we should see some new awnings in this area soon.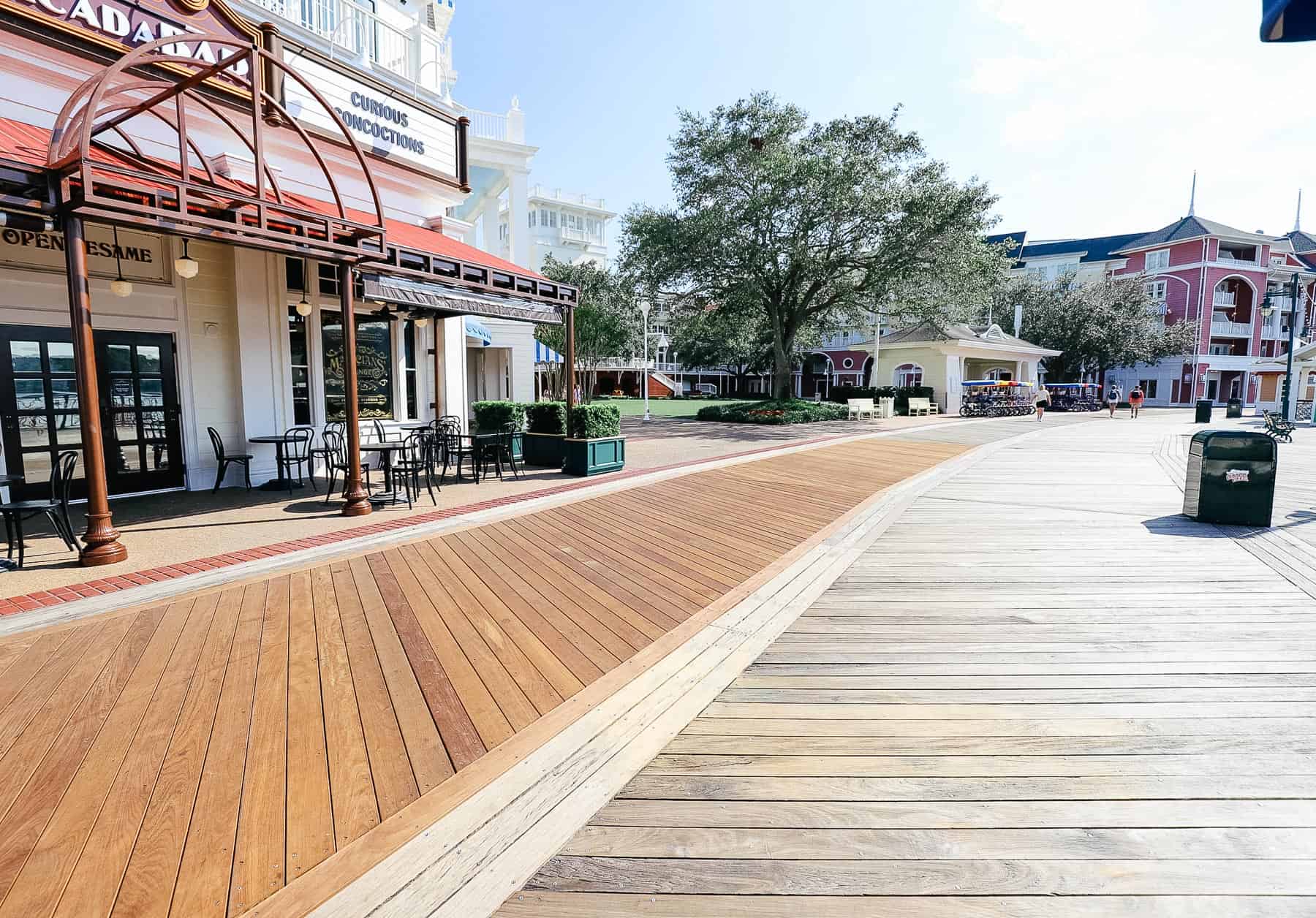 Belle Vue Lounge
On a previous visit, we were hit with the scent of new carpet after entering the resort's lower level below Belle Vue Lounge. Here, you can see where the interior staircase from the Boardwalk to the resort's second floor received a new rug.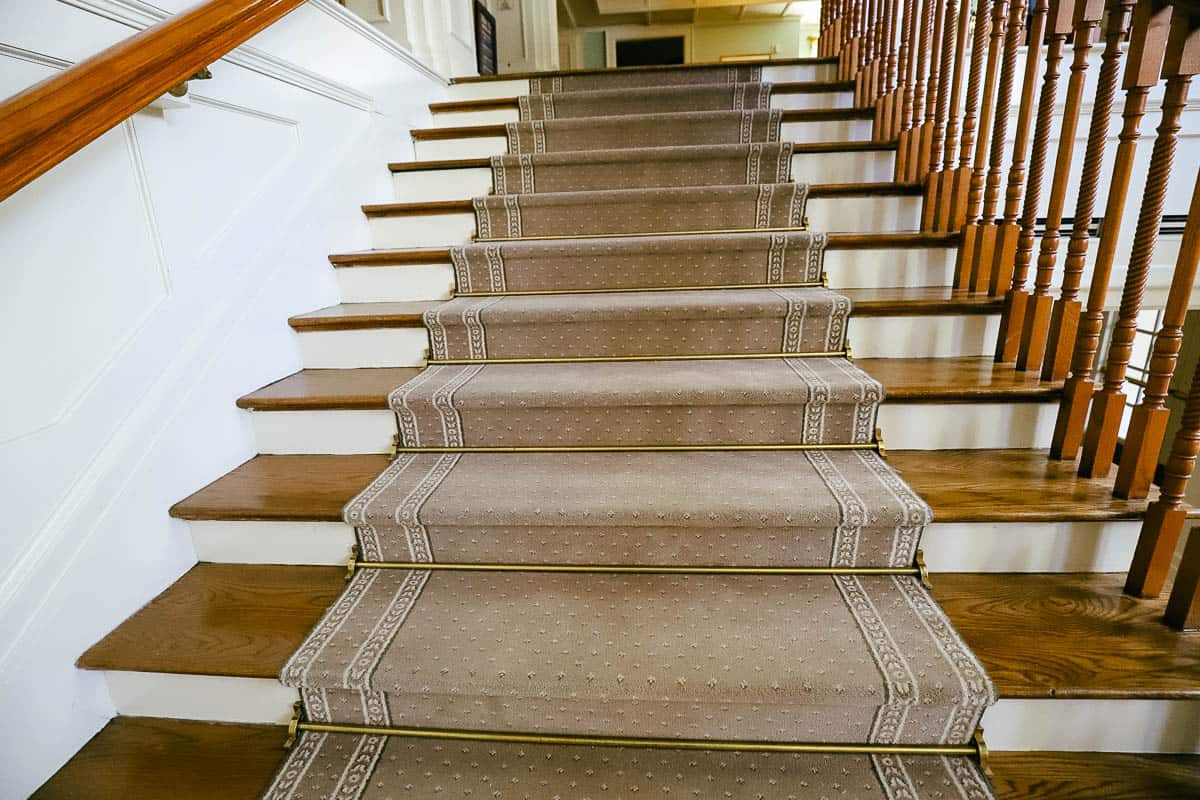 At the top of the staircase, I noticed the table and chairs had been removed. I'm also curious to see if the payphone booth toward the back of this area will be converted.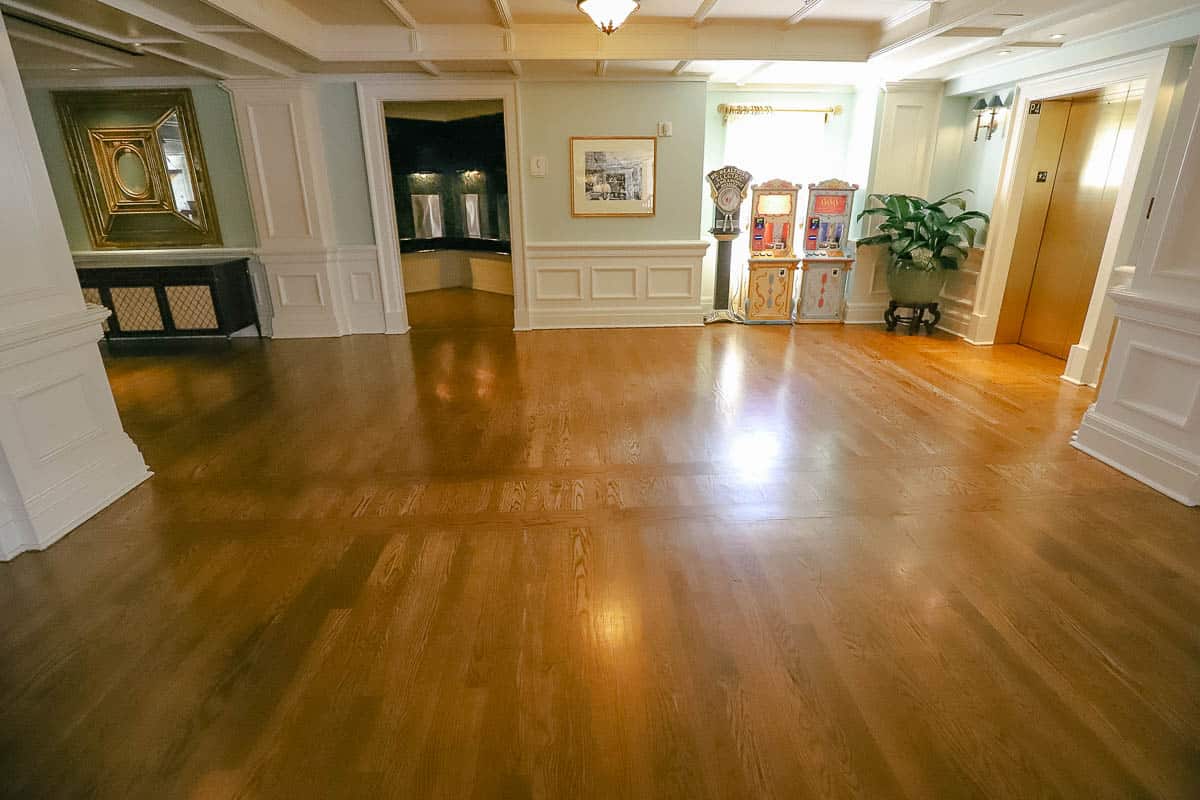 Behind the staircase is where you'll find Belle Vue Lounge. It's always been one of the coziest spots to take a break at the resort. Here is a photo of the former traditional style.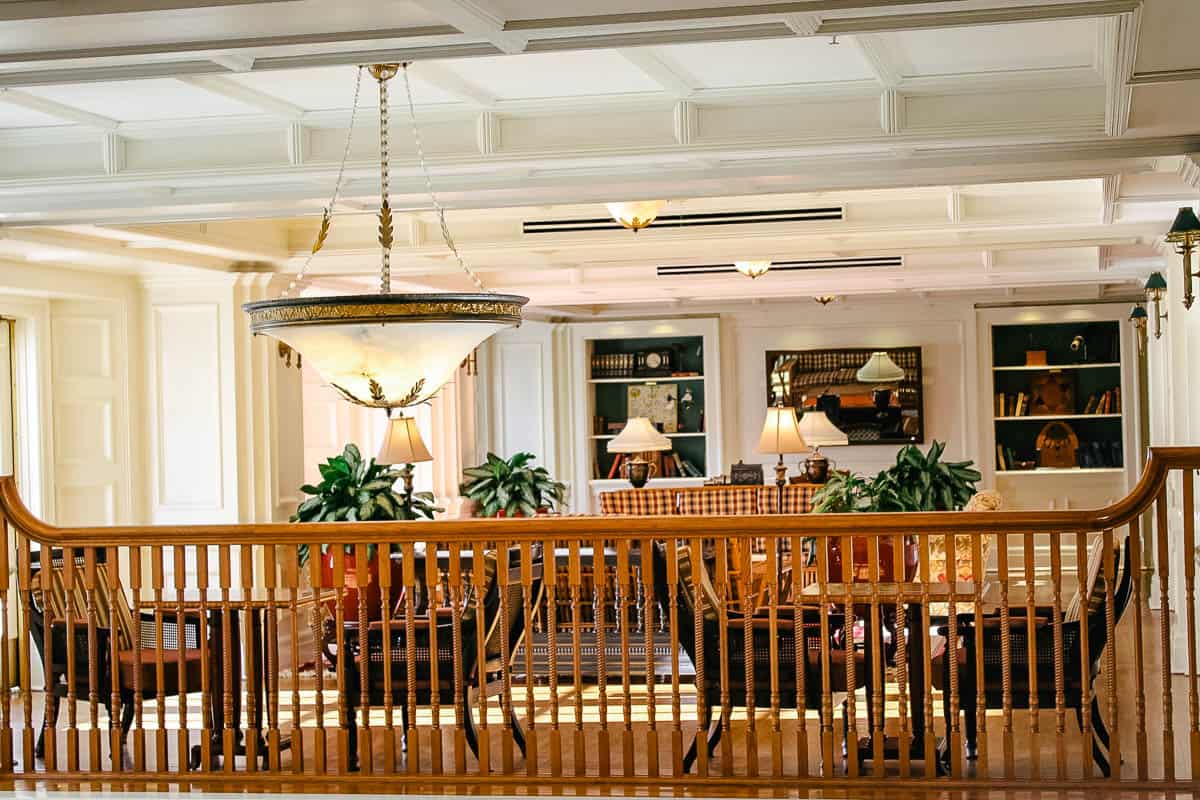 The entire space has been completely updated. While this isn't nearly as traditional, it was a Great Gatsby meets modern look.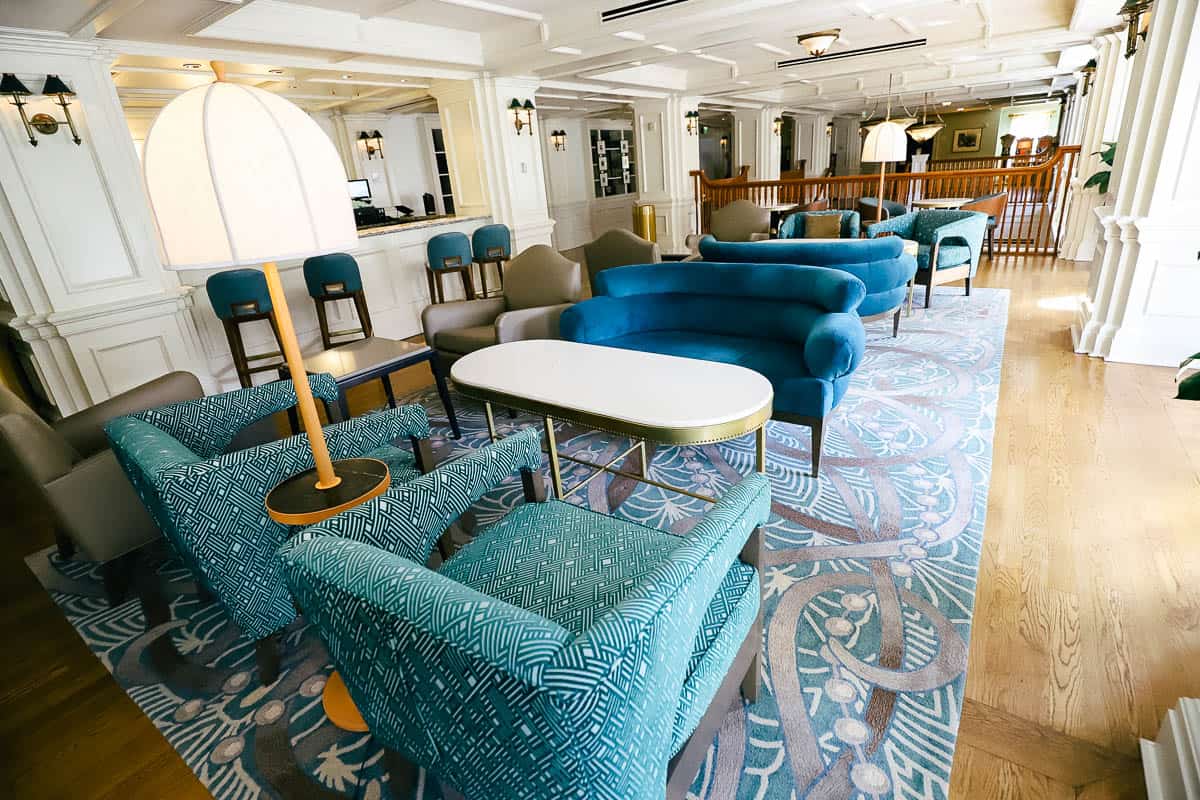 Thankfully, the lounge still commands that same classy feel as before.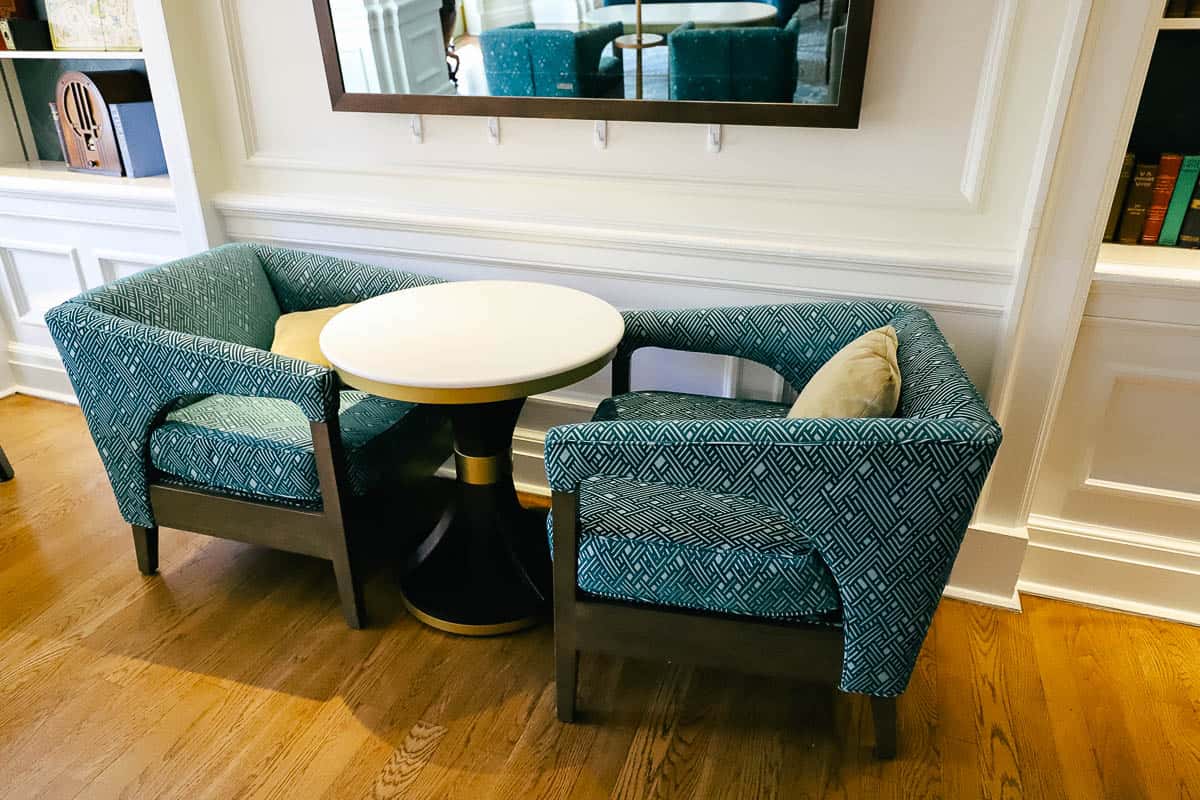 This is an excellent spot if you need a place to lounge outside your room. You can use the lounge anytime during the day; bar service is available from 4:00 p.m. until midnight.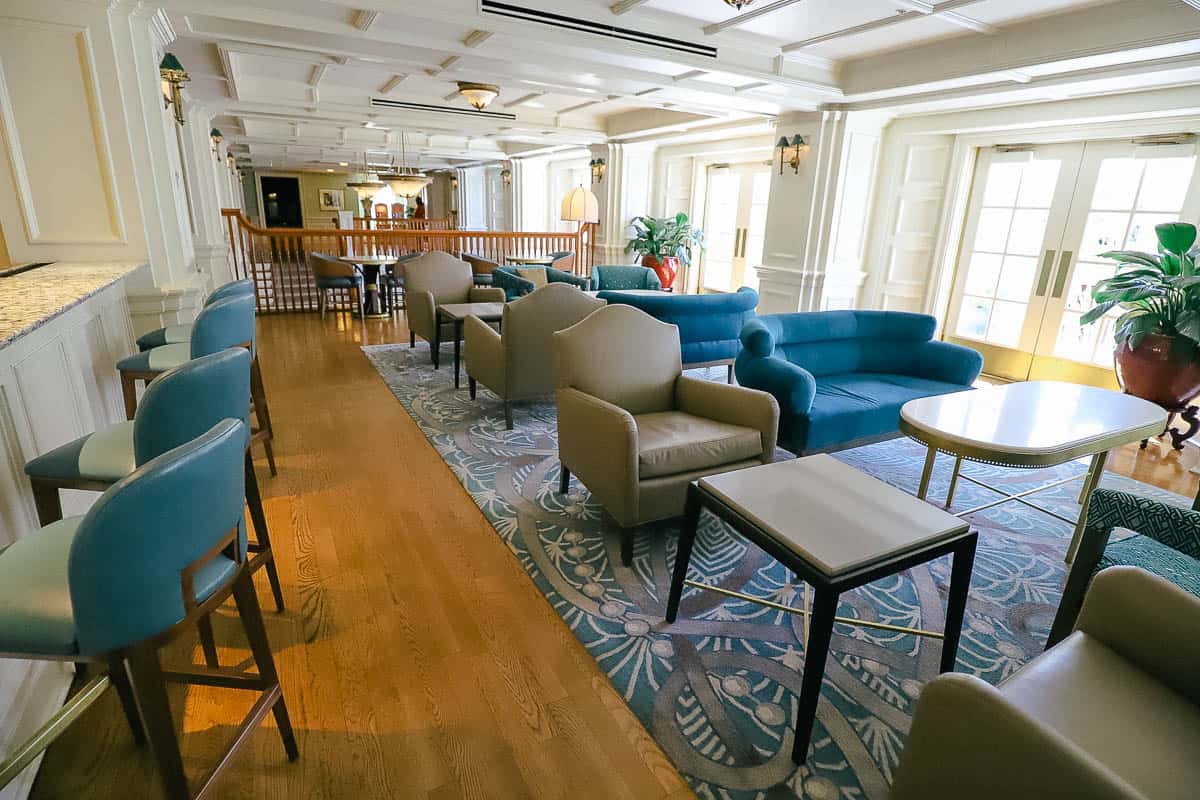 Here are a few photos of the new displays inside Belle Vue Lounge.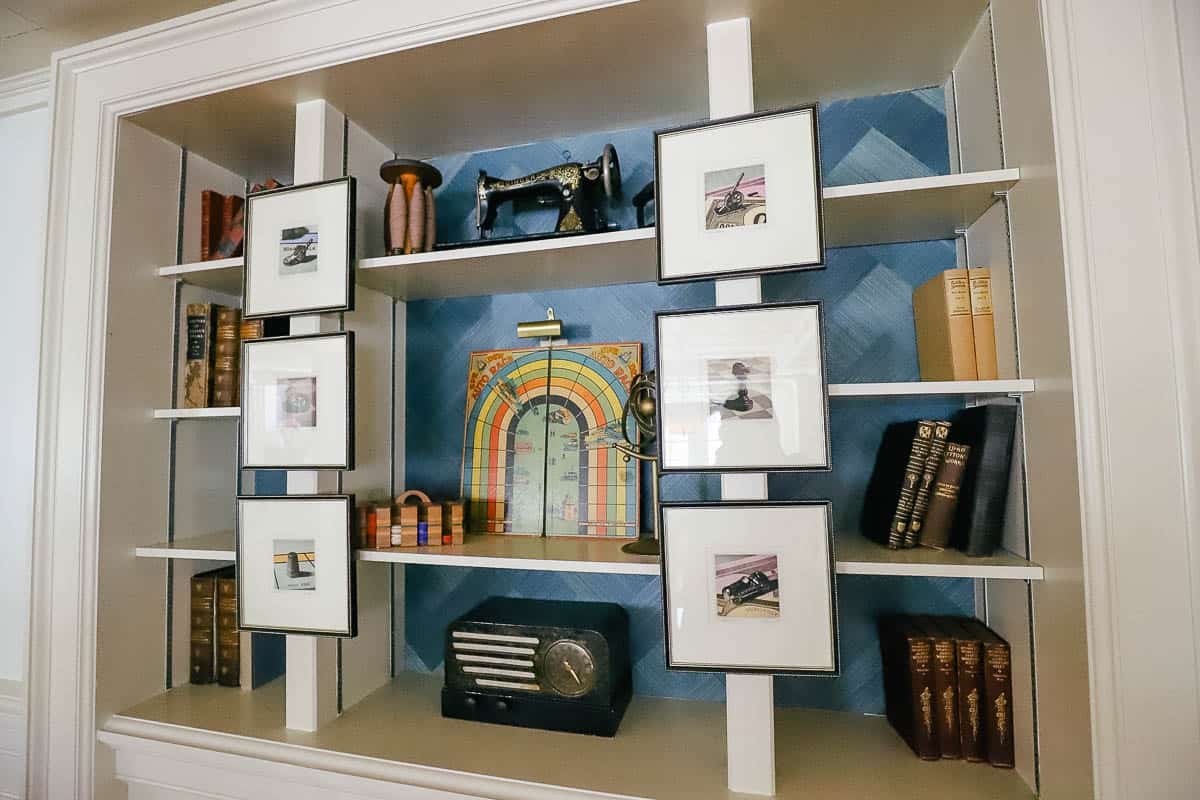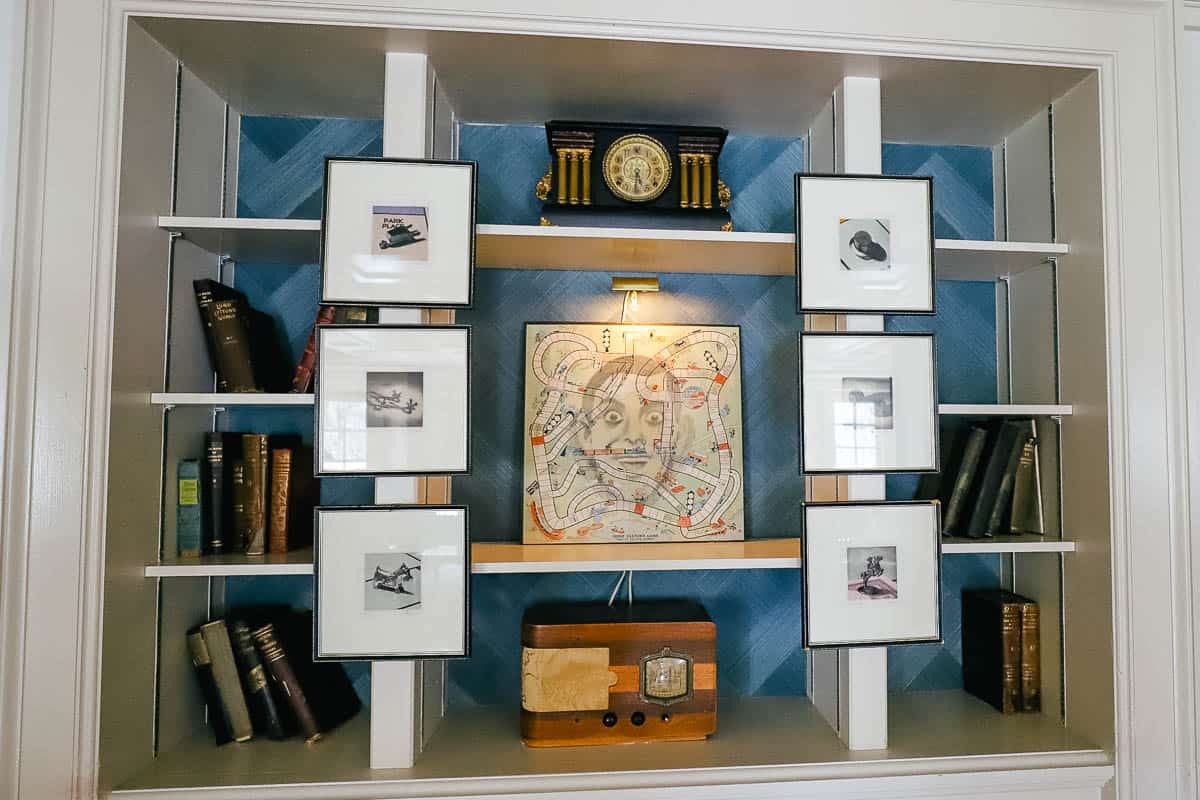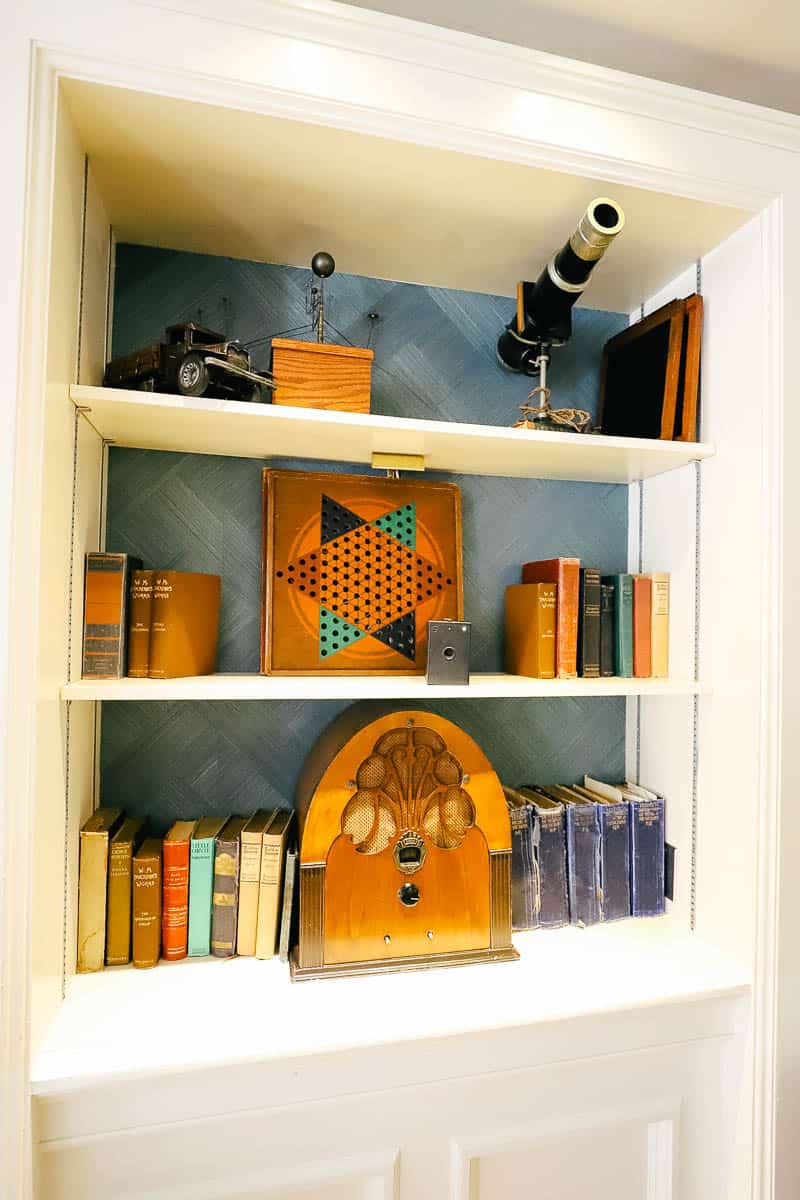 Look closely at the rug if you're as fond of hidden Mickeys as I am.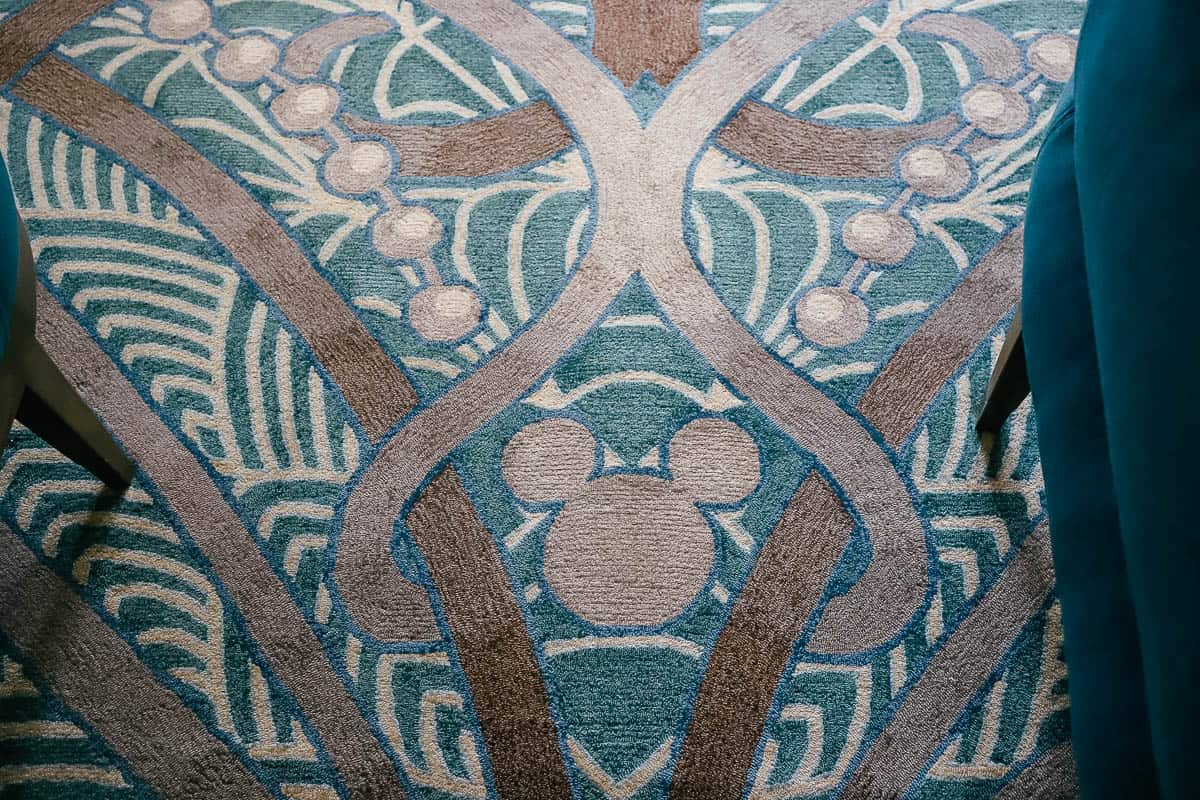 Boardwalk Inn Lobby
So far, we haven't seen any significant changes to the lobby at Disney's Boardwalk Inn. But the lobby is supposed to be updated eventually.
Update: During our stay, I asked multiple cast members if and when the lobby would be updated. Every response was–they didn't know. This refurbishment at the Boardwalk began in late 2021. So it's surprising to see how little progress has been made, other than the rooms, especially when the refurbishment at Disney's Beach Club across the lake has moved along so swiftly.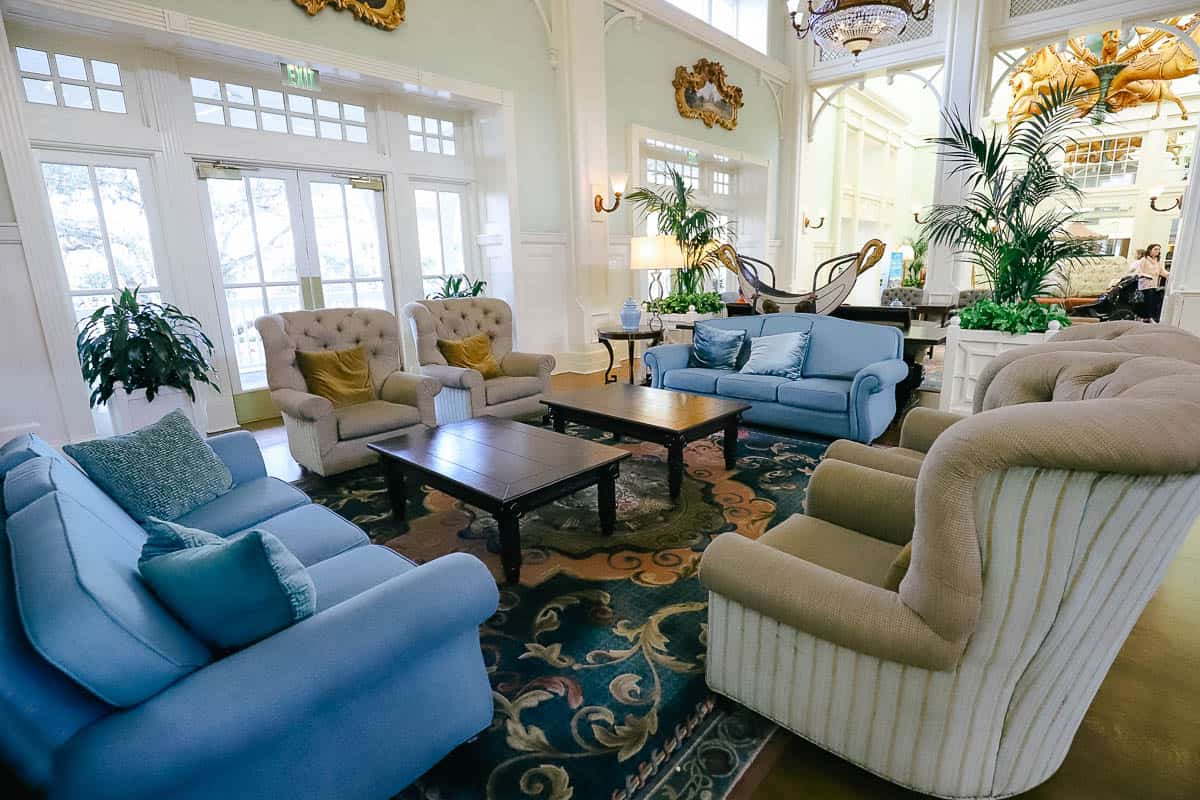 While the lobby is an excellent place to relax, it has a ton of wasted space between the sitting area and the check-in counters.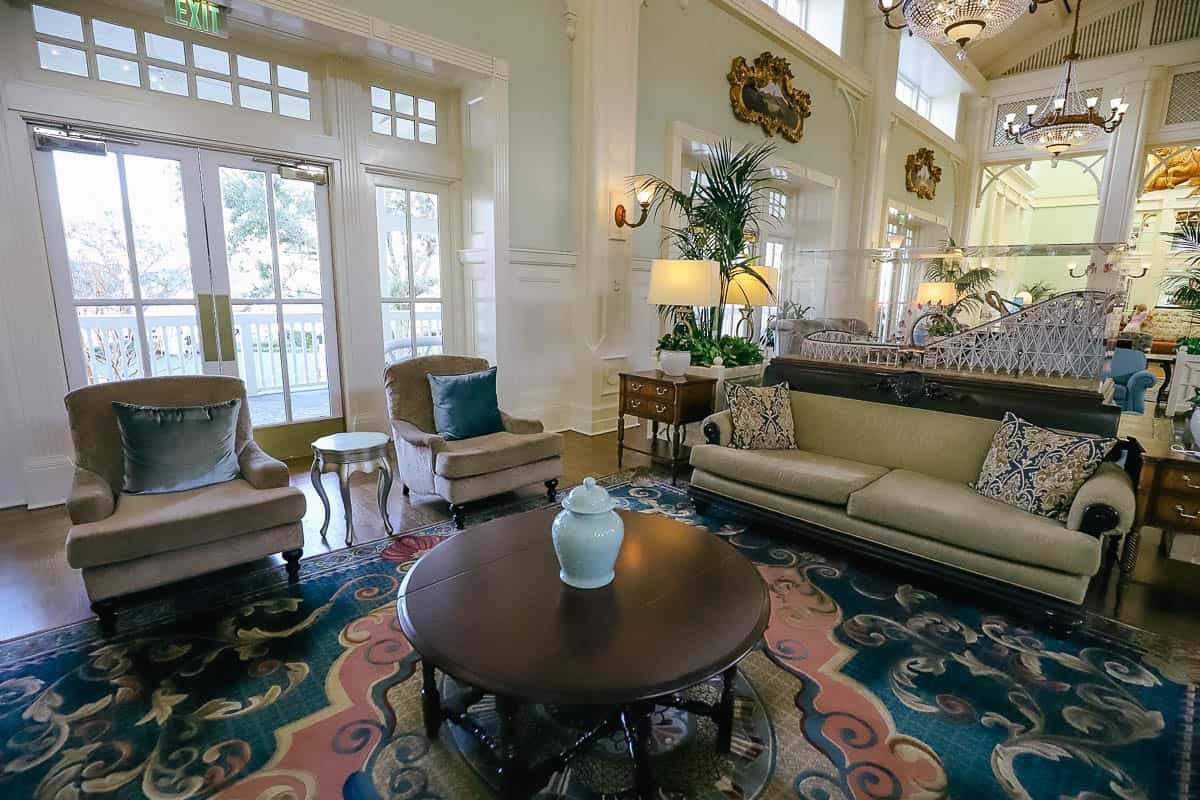 Earlier this year, most of the check-in area was behind walls.
However, that area reopened, and I'm not entirely sure anything changed.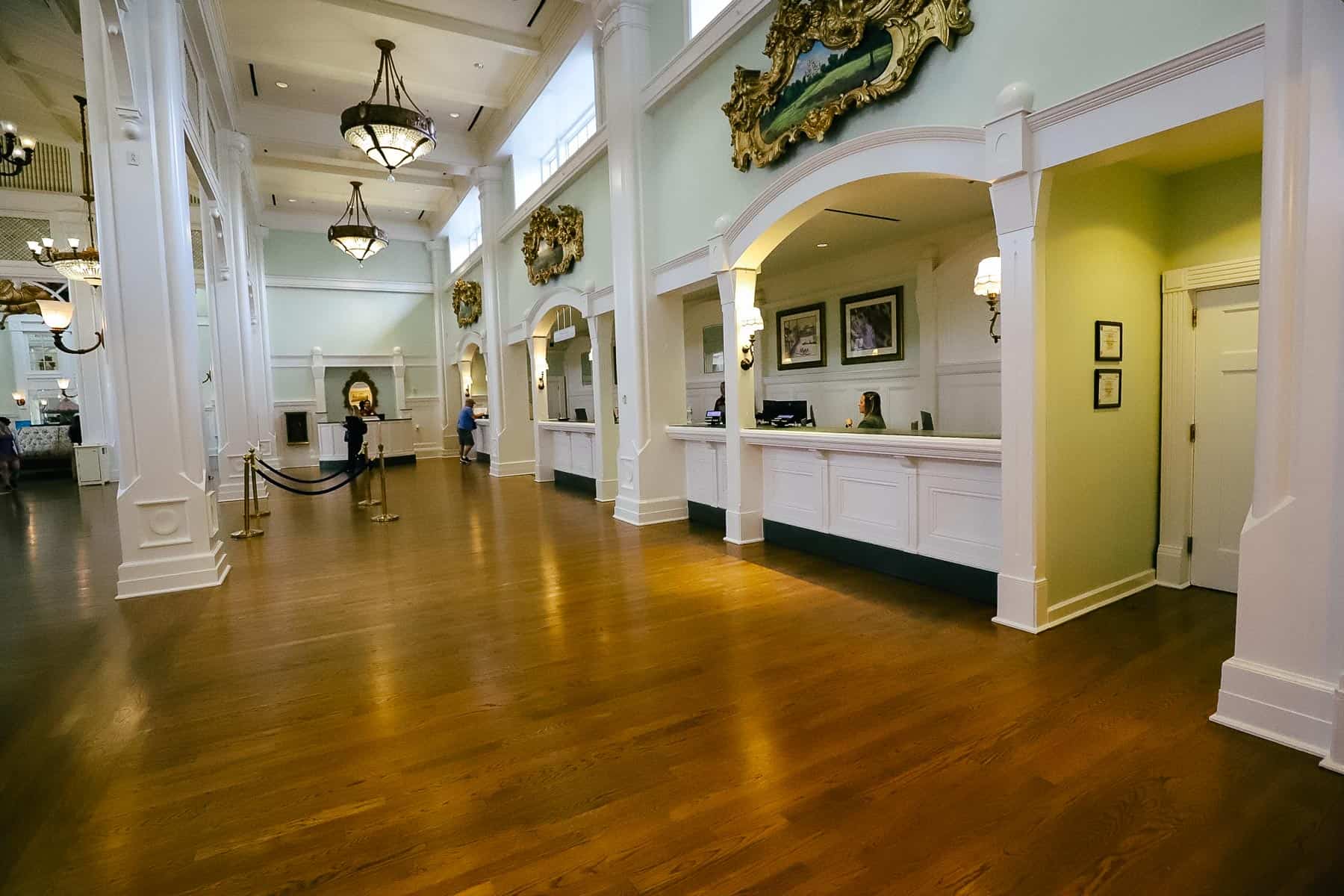 Here's another photo of the lobby.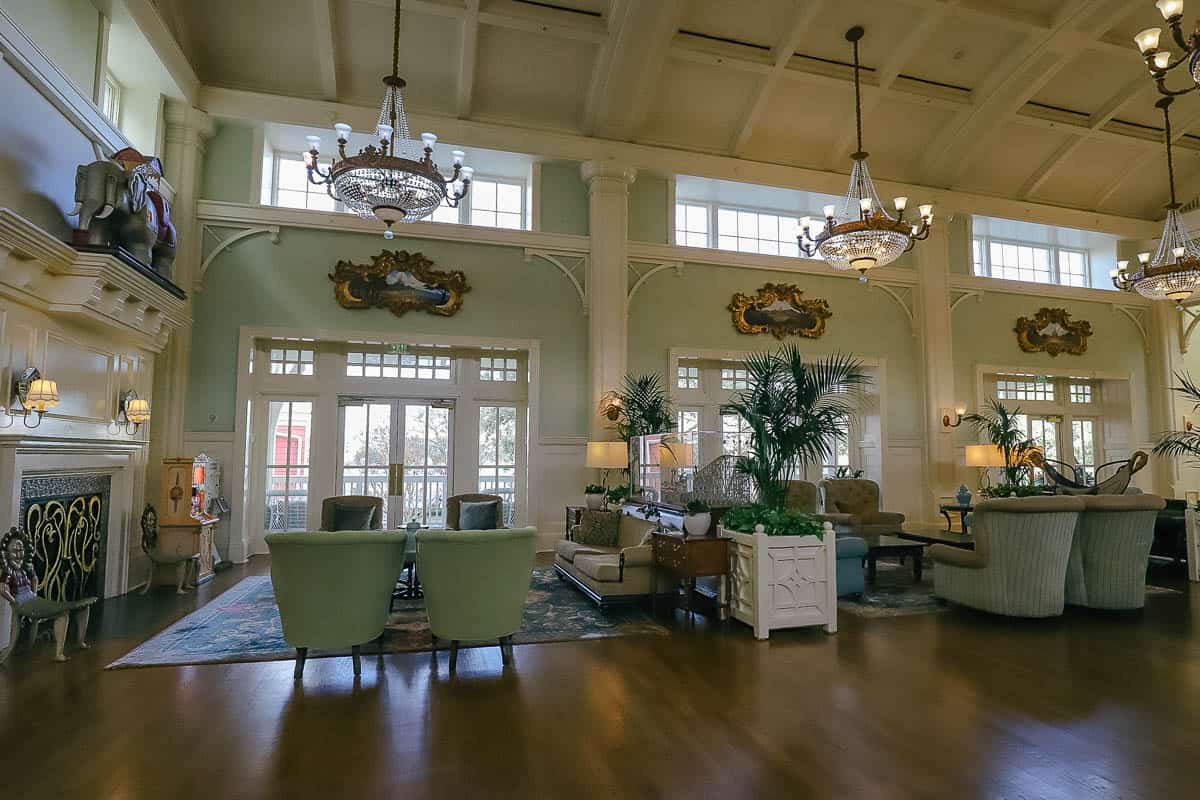 If you've visited the Boardwalk Inn, you likely remember this half-horse, half-mermaid chandelier that centers the main entrance. Will it stay, or will it go?
Time will tell. But an entire construction team in the lobby was taking notes and discussing things one afternoon when I was taking photos.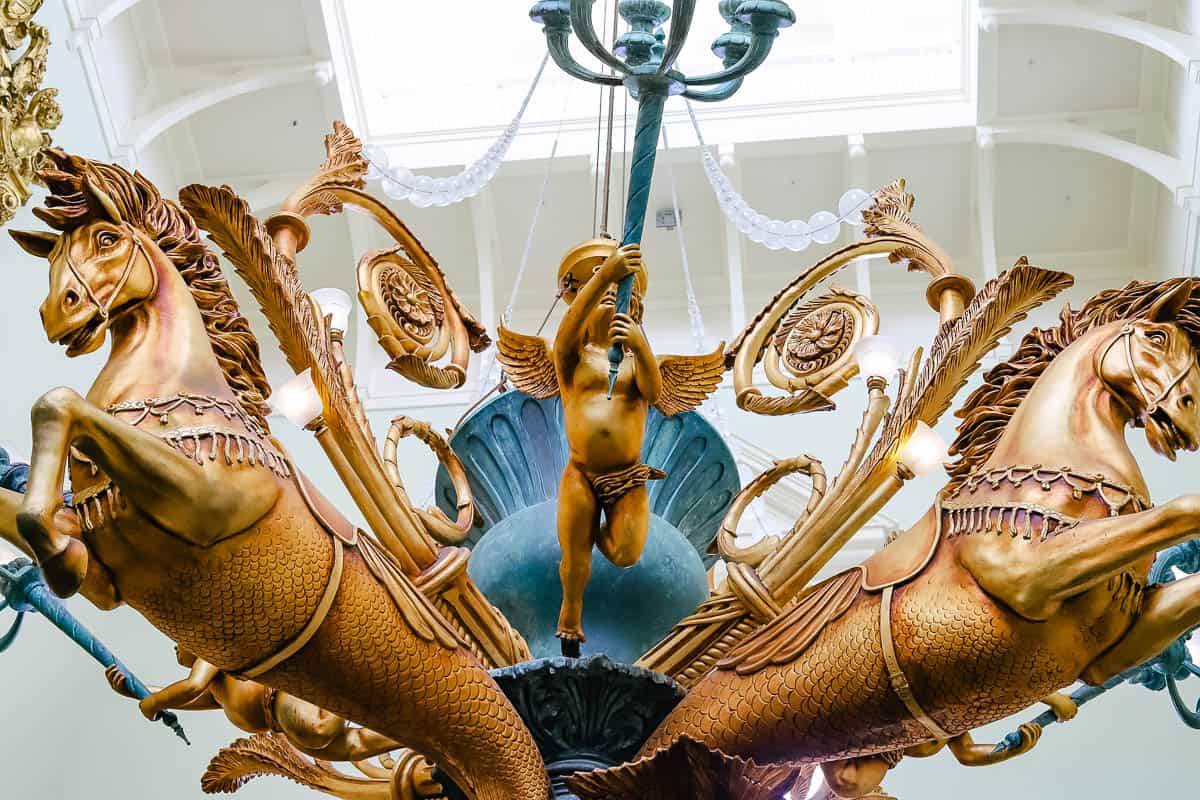 Carousel Coffee
Carousel Coffee opened in place of Dundy's Sundries around the first of the year. It received underwhelming reviews because of its simple and drab decor.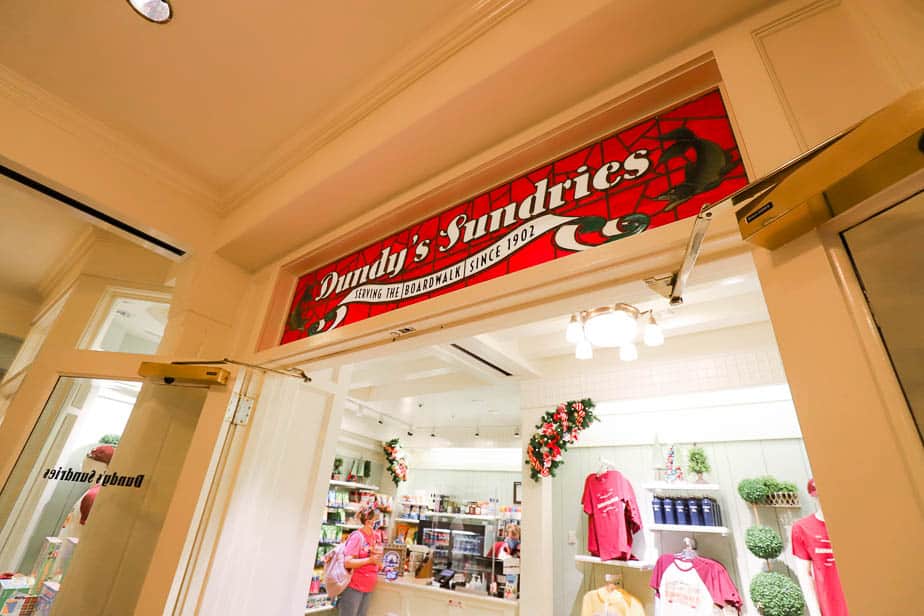 Since then, Disney has added a few things to spruce the place up.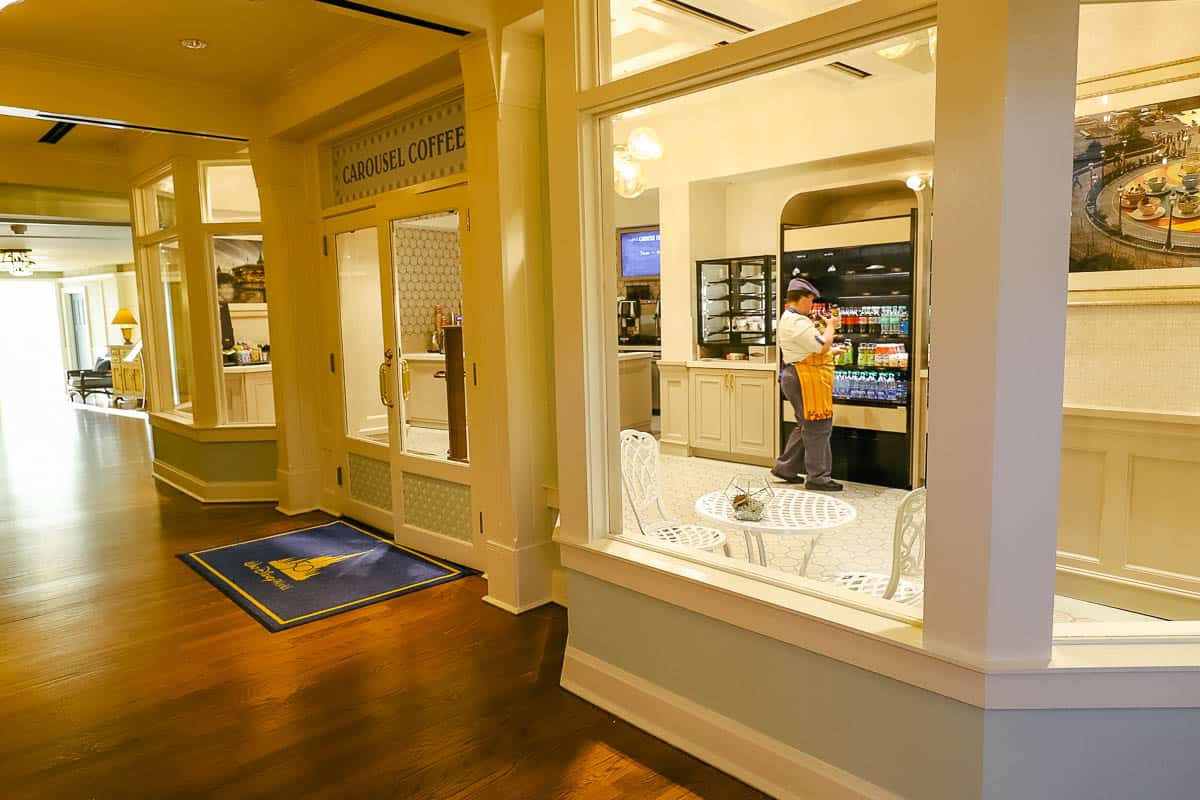 Those items include a few fun prints and a small iron table with two chairs in the front window.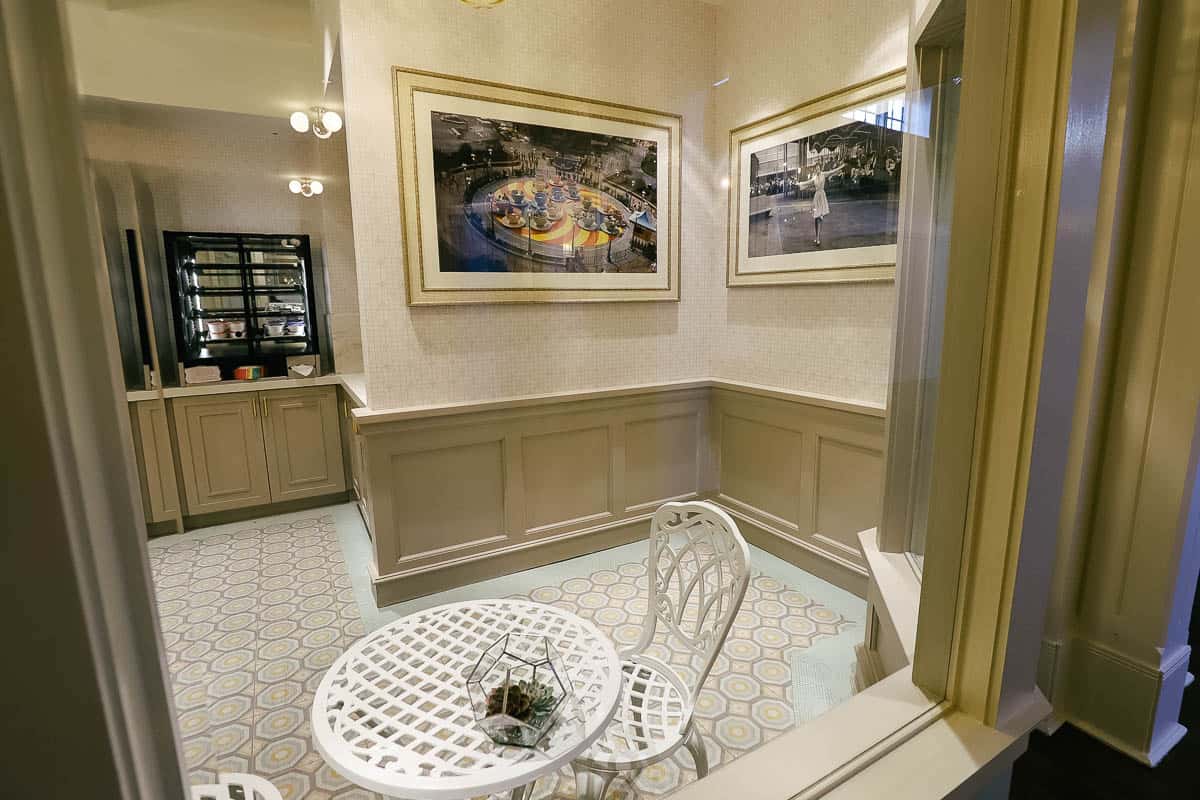 One end of the lobby has been converted to tables with chairs.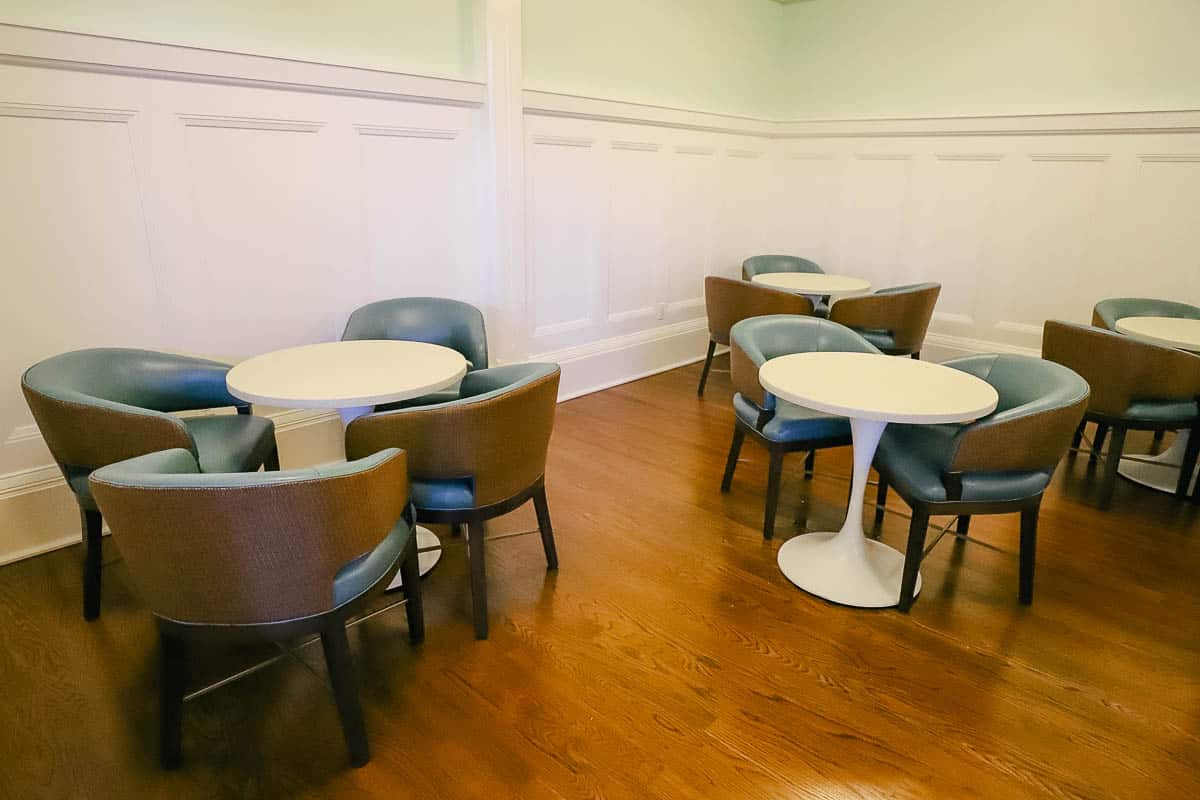 A few photos and terrariums were added since the original unveiling. So now we're comparing new to newer.
Related: Carousel Coffee at Disney's Boardwalk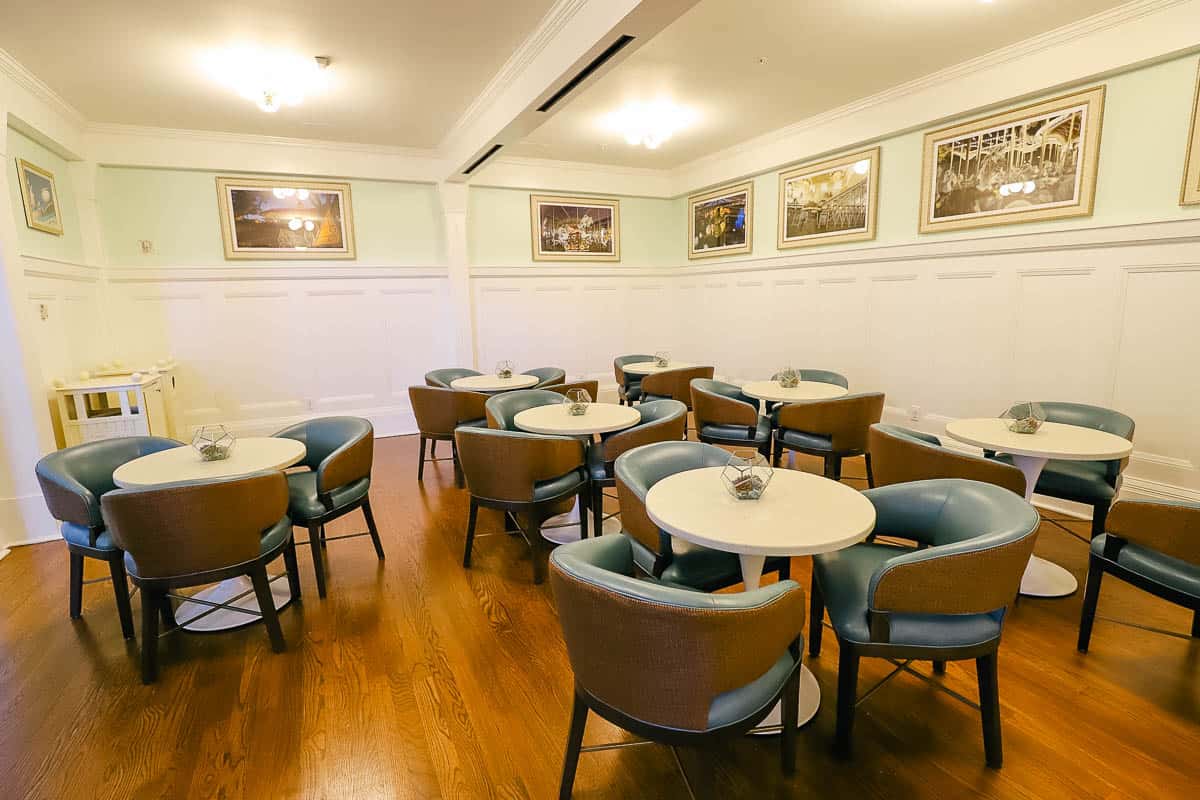 Rooms
We stayed in one of the new rooms at Disney's Boardwalk Inn on our recent visit. While our stay didn't go as smoothly as we would have liked–we loved the new rooms.
Thankfully, the former green carpet was removed and replaced by solid surface floors. Platform beds have been added, allowing more storage space.
Additionally, the new rooms have artwork featuring Mickey and Minnie Mouse, among other classic characters. The artwork shows them spending time doing their favorite things on the Boardwalk.
Additionally, the Innkeeper's Club at Disney's Boardwalk (club-level) has been completely refurbished. The entire floor has reopened with fresh updates to the rooms and lounge.
Here is a photo of our room. You can preview photos of the new Boardwalk rooms along with a video in a separate article.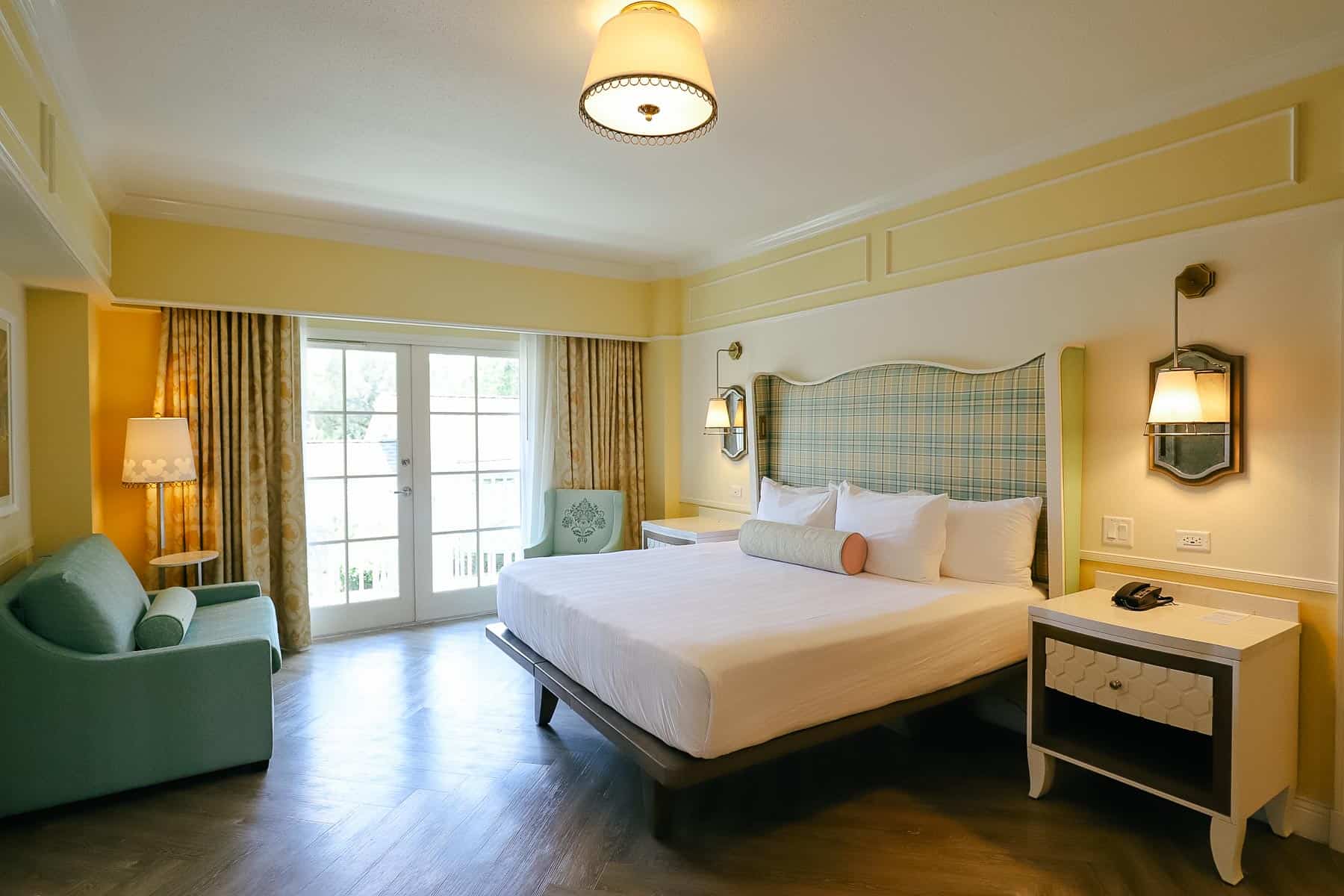 Other Updates You Might Have Missed
In addition to these updates, we've seen some new things at Disney's Boardwalk over the past few years. For instance, the former clown slide was removed. Now, the paneling features Mickey and Friends.
Related: The Pools at Disney's Boardwalk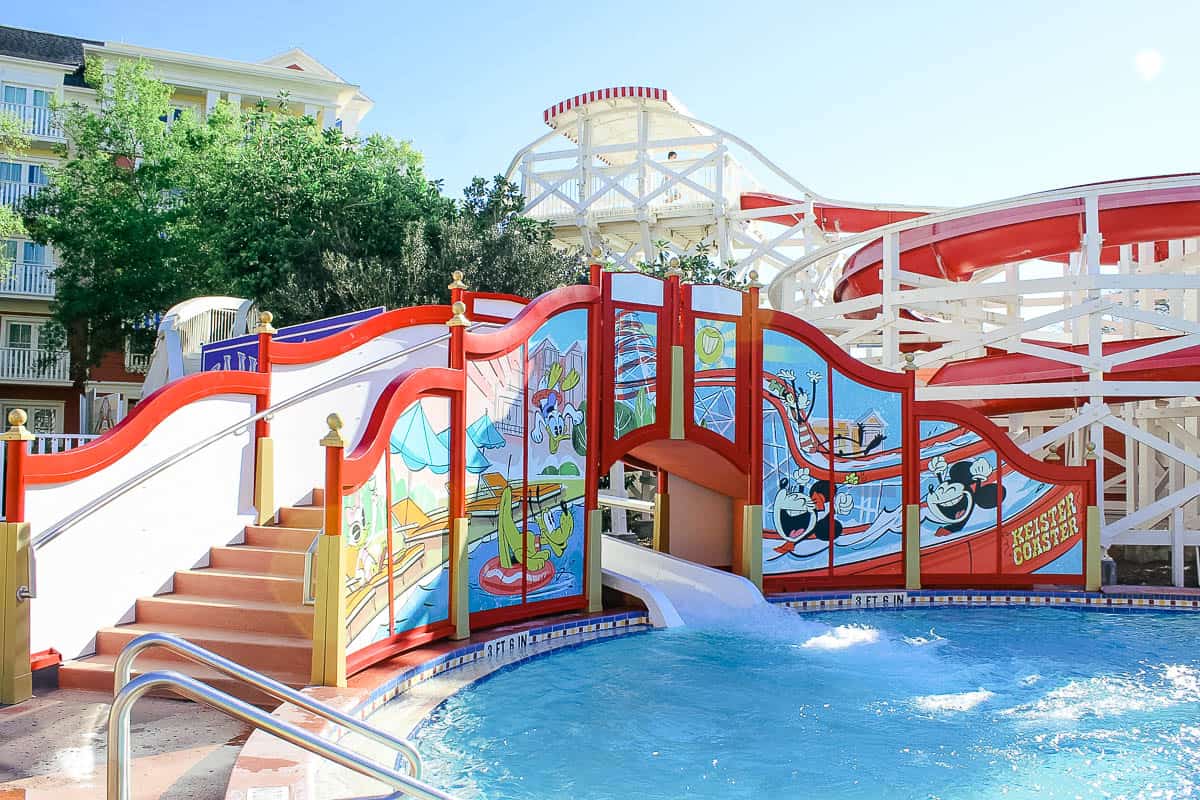 Boardwalk's pool slide also underwent an unexpected closure earlier this year. However, that work is complete, and the slide is again open.
Related: Disney Resort Refurbishment Schedule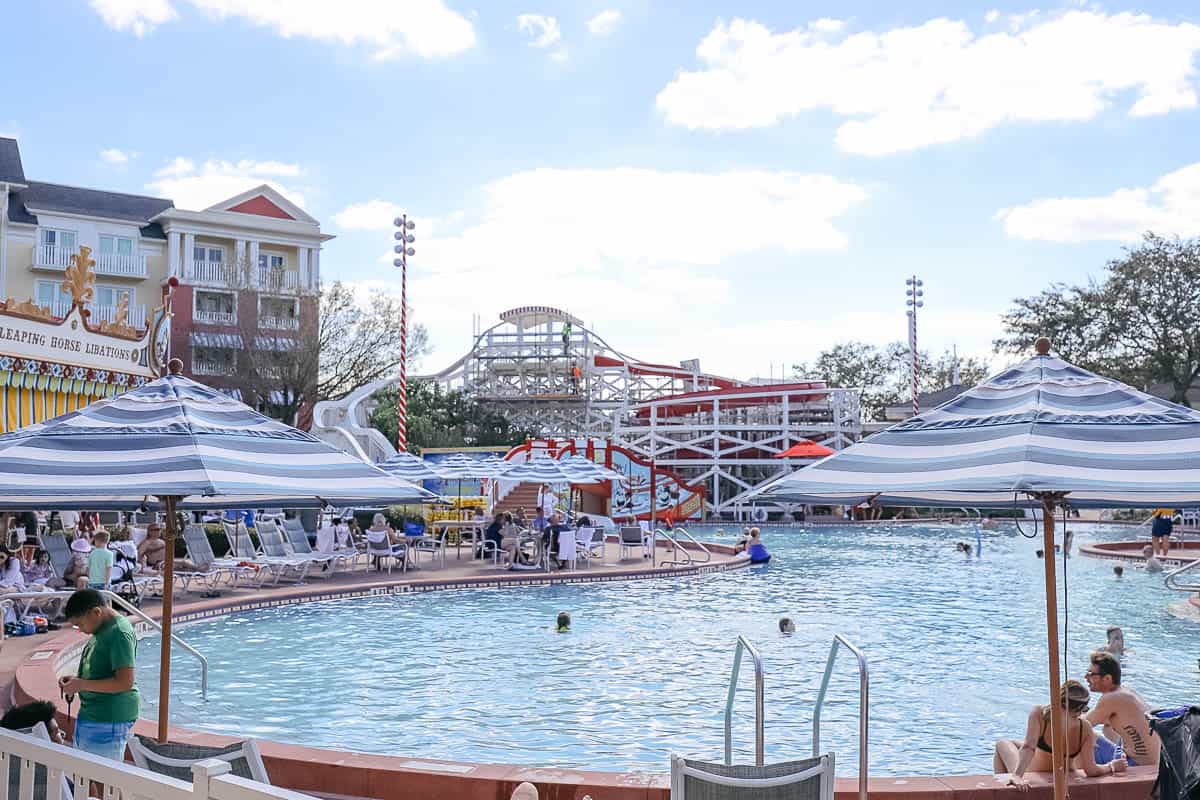 Last year, the Boardwalk Bakery closed to transition to the Boardwalk Deli.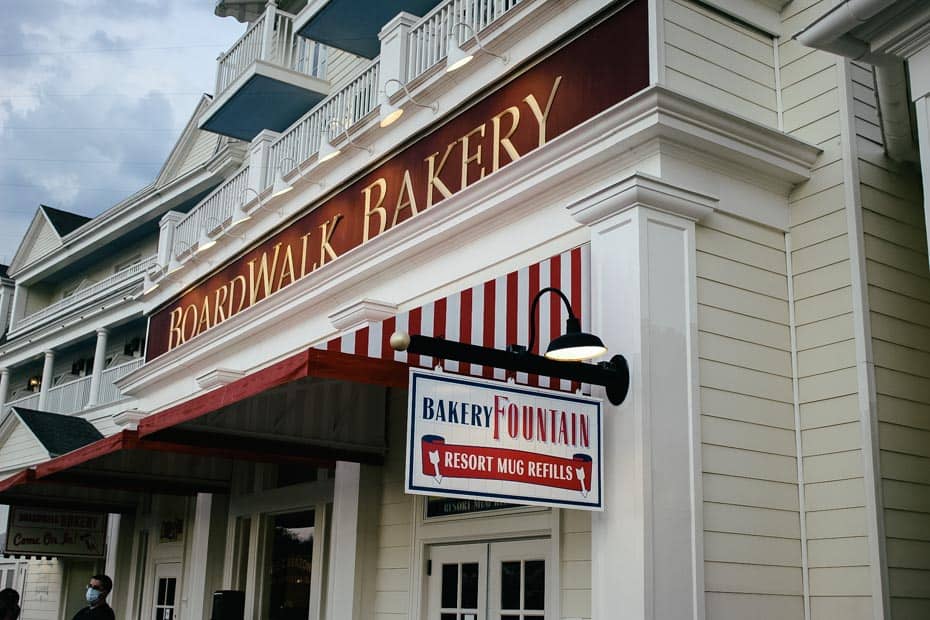 Not terribly much changed other than more sandwich options are now available. It's a reasonable counter-service restaurant for the resort. However, it would be nice if more options were available.
Related: Disney's Boardwalk Deli Review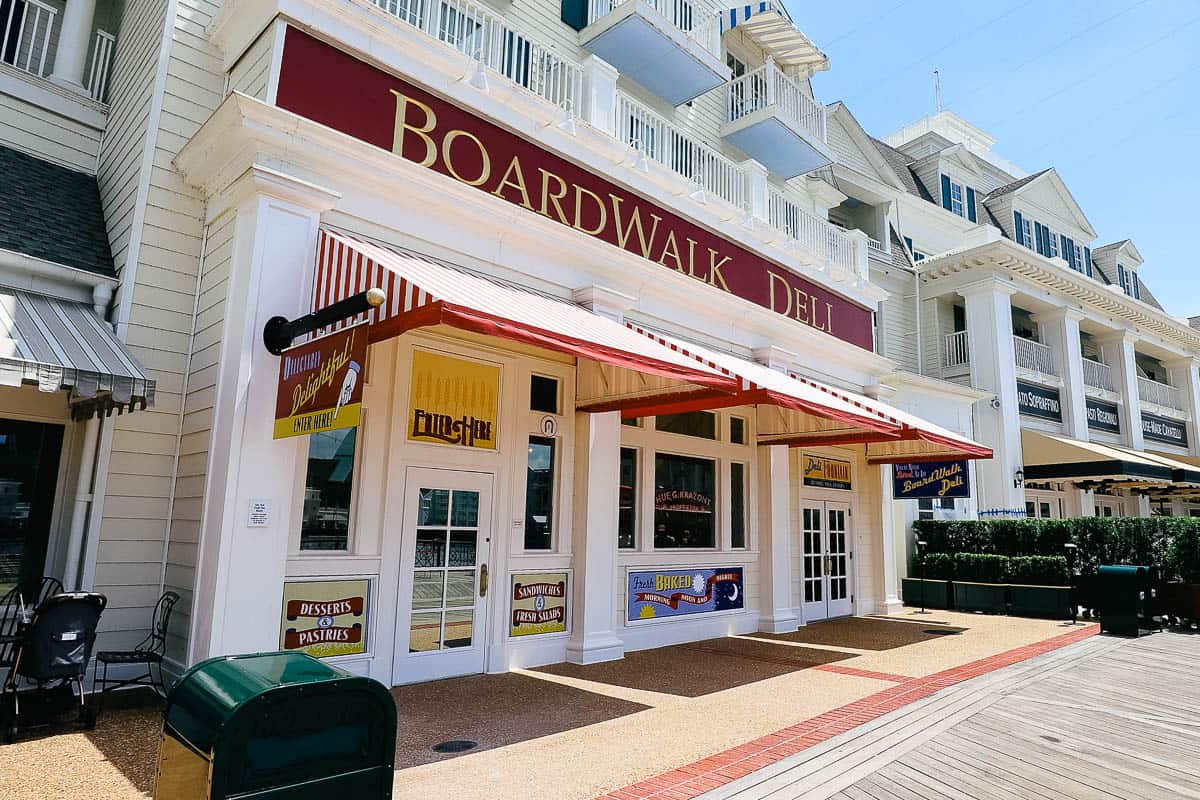 For now, we've covered the visual change at the resort. As things change, we'll revisit the resort for more updates.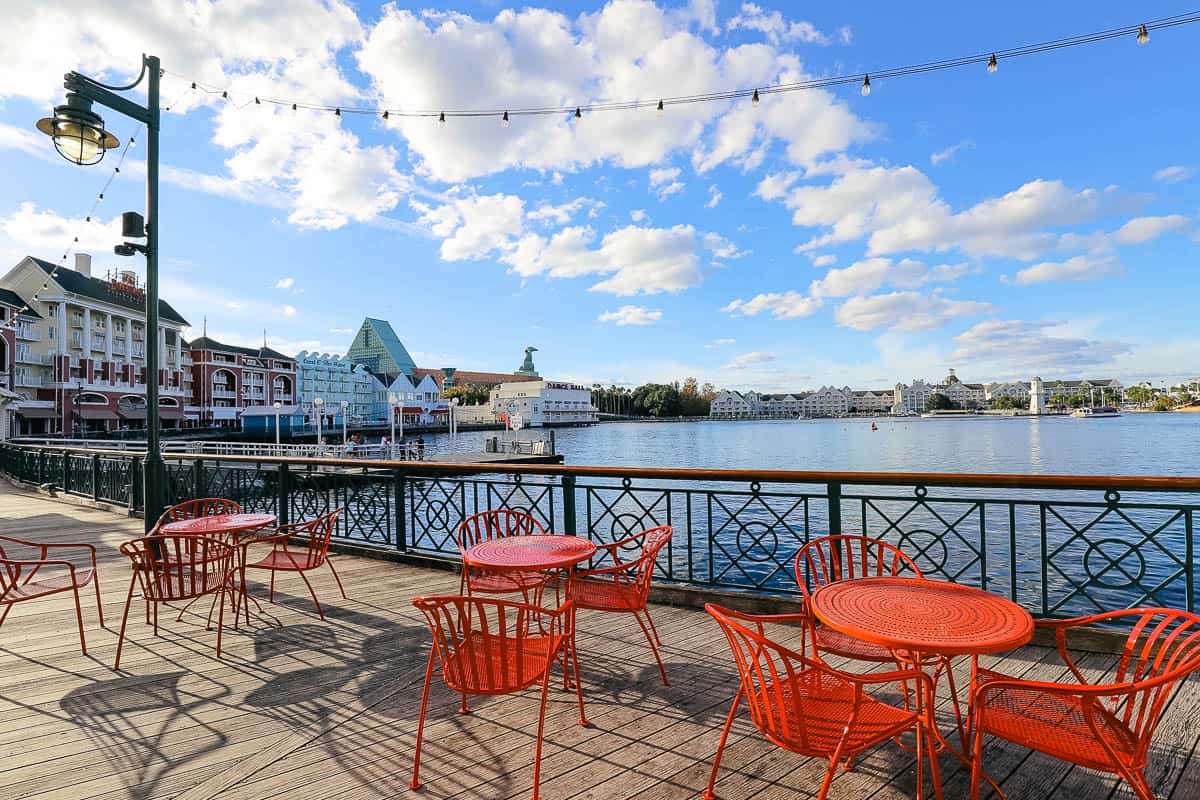 In the meantime, if you have any questions, please leave them below in the comments section. We'll happily answer anything based on what we know from our visits.
For all of our coverage of the resort, we have a guide:
Or you might enjoy these individual articles:
For other hotels under refurbishment, you might enjoy these:
In the Comments:
What do you think? Do you like the improvements at Disney's Boardwalk Inn? Are you hopeful the new rooms will turn out nicely? Have you ever stayed here?
Planning a Walt Disney World or other Disney Destination vacation?
Our friends and travel partner, Firefly Travels, excels at doing Disney differently. You can fill out a plan your trip form on their website, and someone will reach out shortly to discuss the specifics.