Signia by Hilton at Bonnet Creek Resort Review
As we continue our look at off-property resorts near Disney World, we'll stop in for a stay at the Hilton Signia at Bonnet Creek. If you're looking for something that's stylish while on a modest budget, this is a hotel you'll want to consider.
This review of the Signia by Hilton at Bonnet Creek will cover the resort in full detail. Those details will include the location, dining options, pools, lazy river, and other amenities. Additionally, we'll preview a standard guest room.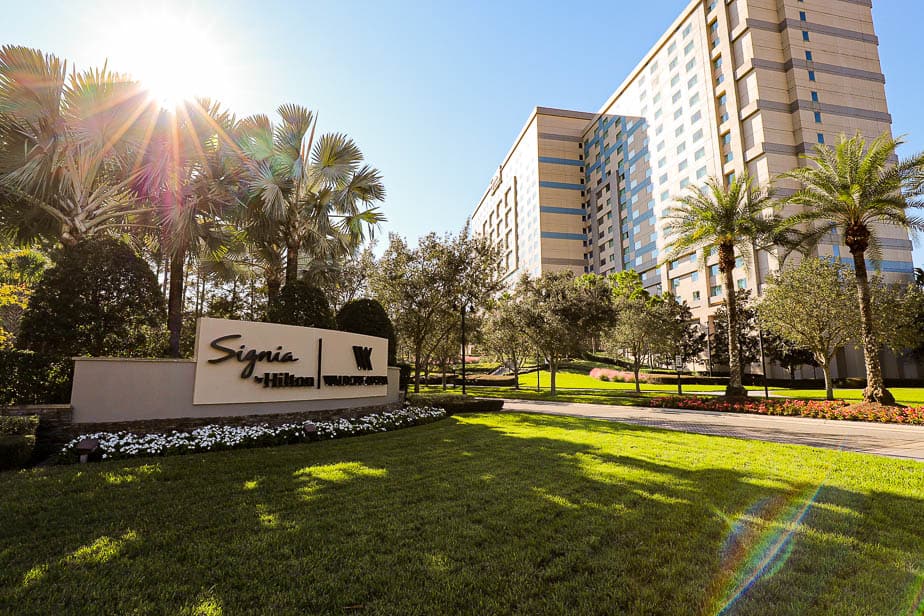 This Hilton opened in 2009 with around 1000 guest suites to give you a little history. It is attached to the neighboring Waldorf Astoria Orlando, which offers approximately 500 guest suites. We followed up this stay at the Hilton Signia with a stay at the Waldorf.
Related: Waldorf Astoria Orlando Review
This resort was formerly called the Hilton Orlando at Bonnet Creek. In the summer of 2021, the resort's name was formally changed to the Hilton Signia. This hotel is the first in the new Signia brand of hotels.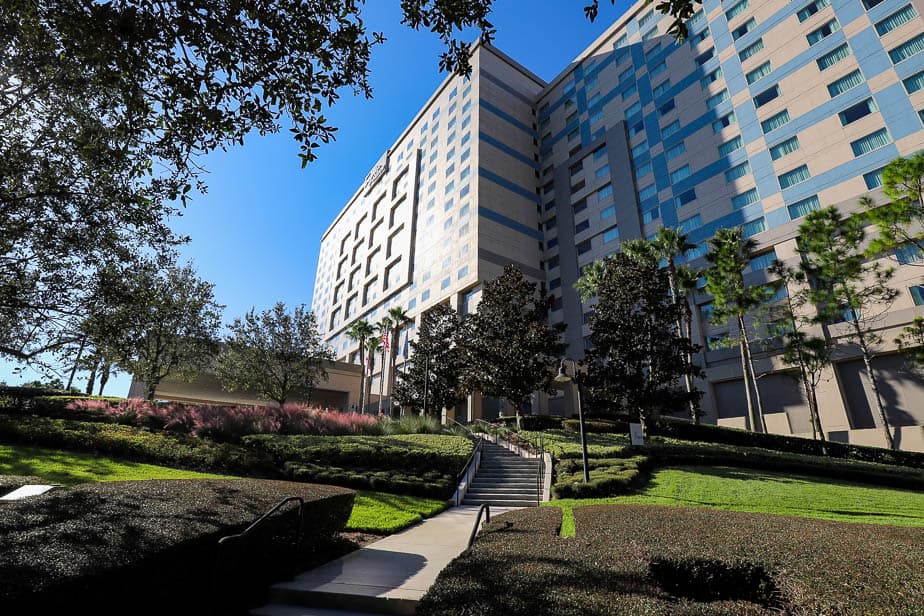 Per Hilton, the new Signia brand will offer premier hotels in popular locations. In addition, they hope to provide a mix of sophistication and exceptional amenities to those both traveling for business and leisure.
If you've ever spent time in Orlando, specifically the Walt Disney World area, you probably already know that it's a considerable location for conventions. You may have visited Orlando yourself at some point in time for a business-hosted event.
Even many of the resorts at Disney World offer convention centers attached to their hotels. So, if you're planning a vacation and notice the resort has a convention center, know that it's common.
Along with the Signia name change, the resort recently underwent a renovation. As a result, you can expect pristine guest rooms along with modern updates. We'll take a closer look below.
Location of the Hilton Signa in Orlando
We'll start this review of Bonnet Creek's Hilton with the location. The Hilton Signia is located on Bonnet Creek Lane, just off Chelonia Parkway.
Chelonia is a dead-end street that's home to all of the resorts at Bonnet Creek. Bonnet Creek is the name of a creek that runs across the property.
You won't find any other non-Disney hotels closer to Walt Disney World than the resorts at Bonnet Creek. Of course, we'll make an exception for the Swan and Dolphin. However, that hotel sits on Disney property.
Related: Swan and Dolphin Hotel Review
Anyway, the Bonnet Creek property meets Disney World property on three sides. If you're driving down Buena Vista Drive, Chelonia is the last street with resorts on the right-hand side. It's literally less than a block past Disney's Riviera Resort.
From various points within the hotel, you can see Epcot and fireworks from both Epcot and Magic Kingdom in the distance. That's how close all of these resorts are in relation to the Disney Parks.
Besides not having immediate access to Disney transportation at your hotel, you would never know you weren't staying at Disney World.
Transportation at the Hilton Signa Bonnet Creek
Since location correlates with transportation, we'll briefly discuss your options at the Hilton Signa. As you may know, Disney recently did away with their Magical Express transportation service from the airport to the hotel.
Therefore, the argument that Disney offers this great way of commuting to and from the airport is shot. Signia's website recommends using Mears shuttle service, which coincidentally is also now what is most recommended for guests staying on Disney property.
Related: Benefits of Staying at a Disney World Resort
So you're on your own getting back and forth from the airport, regardless of where you stay. If you choose to drive or rent a car, parking at the Signia Bonnet Creek runs $30.00 per day for self-parking. And $40 per day for valet parking.
The resort shares a large parking deck with the Waldorf Astoria. Here is a picture of the walkway between the resort's entrance and parking deck.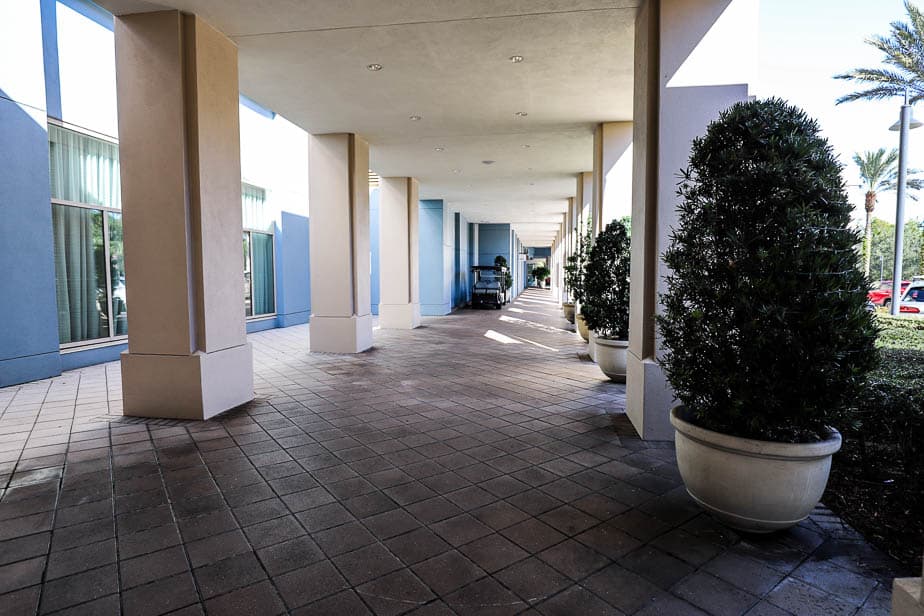 It's not that far of a distance. However, I felt like the parking was more convenient across the street at the Wyndham Grand Orlando.
Related: Wyndham Grand Orlando Resort Review
Additionally, both Hilton and the Waldorf share a shuttle service to and from the theme parks and Disney Springs. If you would like to get an idea of how often the shuttle runs between the resorts and parks, you can preview the schedule here.
Personally, I do not use the shuttle services at the off-property resorts. Since I nearly always have my car with me, it's more convenient to drive.
My other take when it comes to waiting on a bus is there are so many varying factors. Consistency is hard to determine.
Sometimes you'll have to wait a long time. Other times the bus is waiting at the gate upon your arrival.
My best advice is to try the shuttle service and see if it works for you. But have a backup plan to use a car service like Uber or Lyft if things don't work out.
Rooms at the Hilton Signia Bonnet Creek
This resort has a variety of standard rooms with different upgrades and various room views. At the time of this review, the standard rate for a room in mid-June of 2022 runs $259.00 per night.
Depending on upgrades, the room could run anywhere from $250 to $287 per night. Upgrades include a wellness room, pool view, Disney view, and a king-size bed. Additionally, these prices do not include items like taxes, resort fees, and parking charges.
For this review, I elected to reserve a king-size bed. Since I've stayed here several times, I knew the beds were comfortable. (They are Hilton Serenity beds made by Serta.)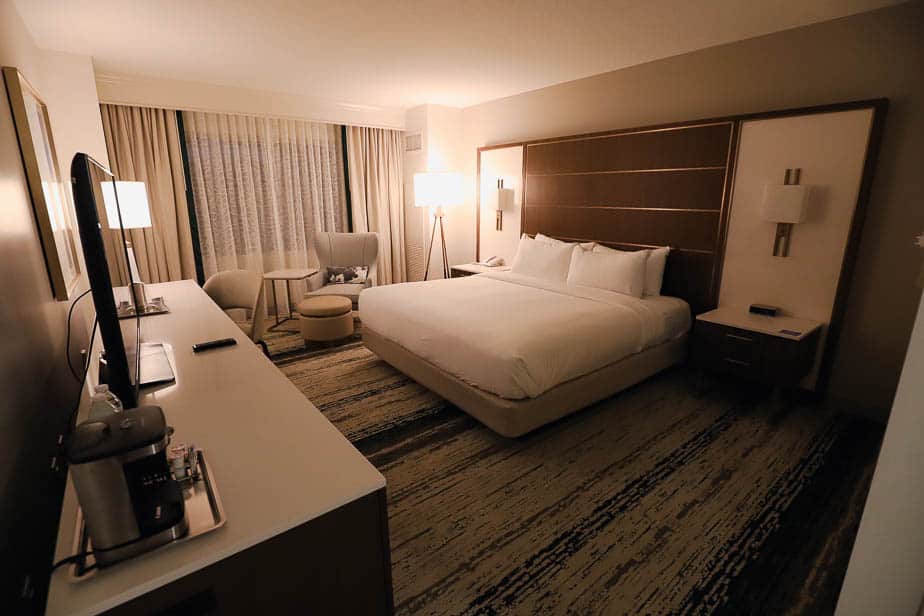 And I have to admit that I thoroughly enjoyed eating my gluten-free Flippers pizza in bed while watching the Braves play in the World Series. Can it get any better?
From the moment I entered the room, I was impressed. Since my last stay here, the rooms have been completely refurbished.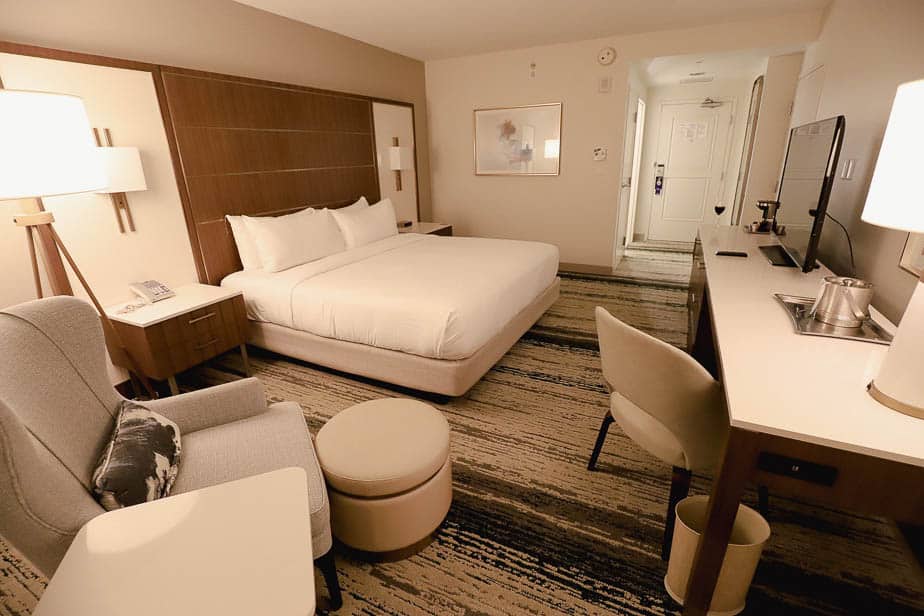 Along the wall, there was a dress with a few drawers for storage. Additionally, it had a desk on the end of it.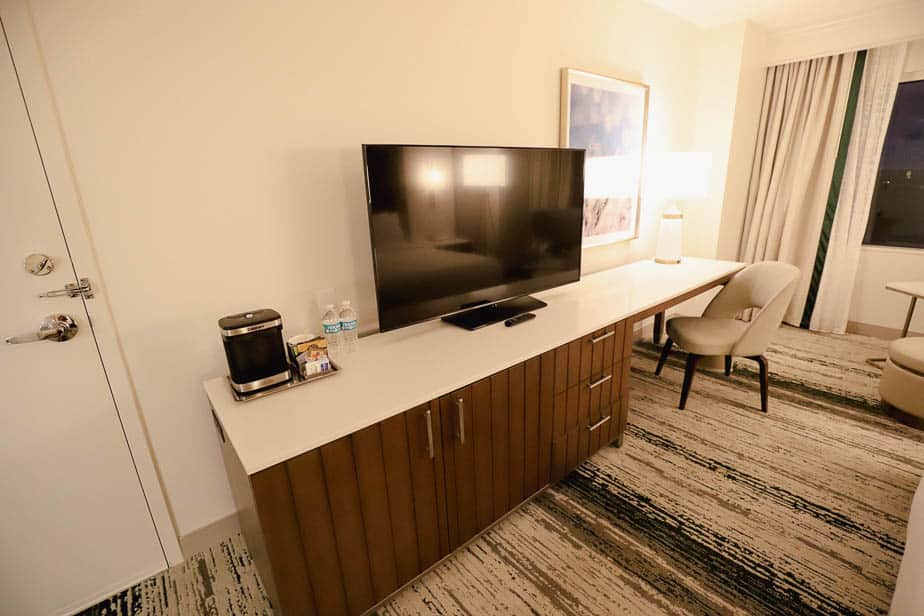 One end of the dresser contained a mini-fridge, a safe, and a tray with an ice bucket.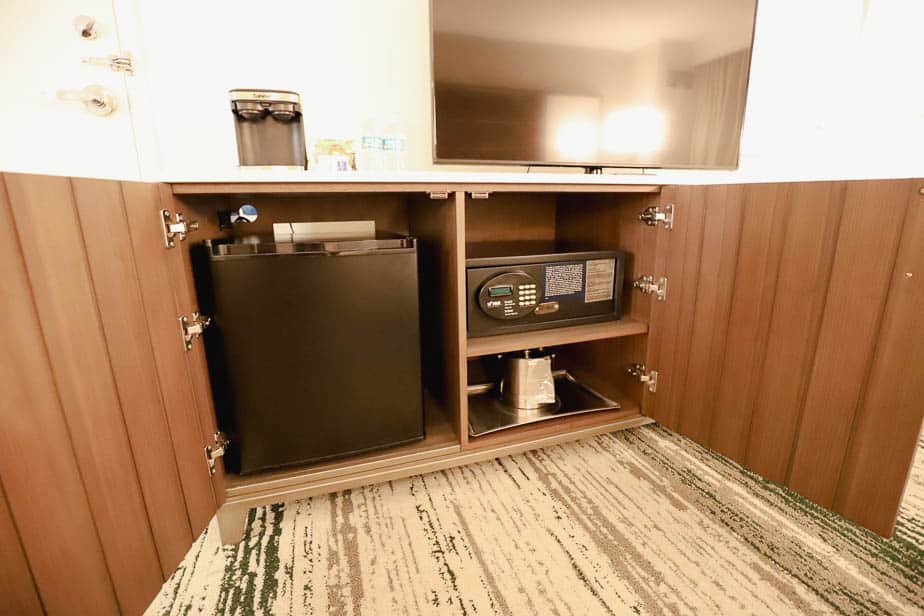 And a Cuisinart coffee maker (individual cups) sat on top of the dresser. Those two bottled waters are included in the daily resort charge.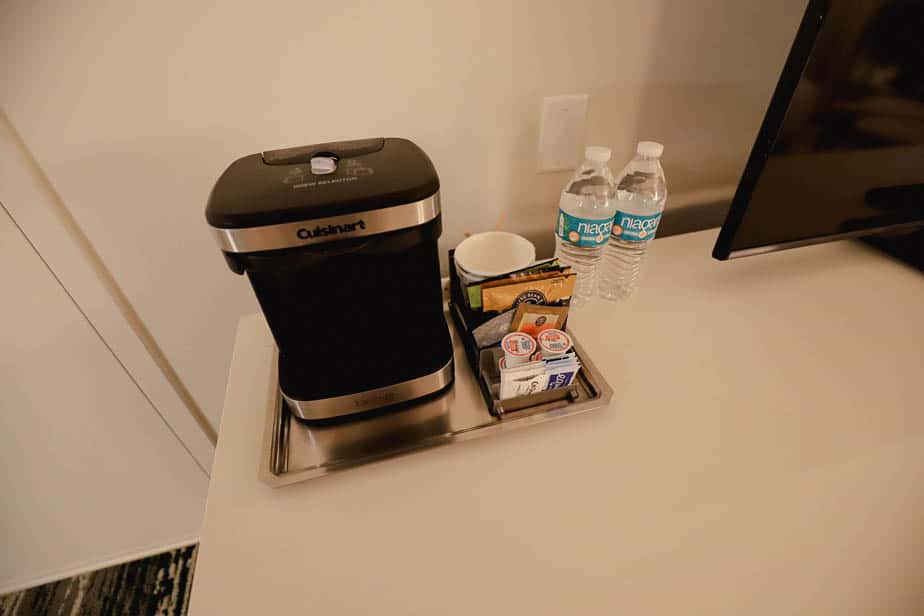 The closet in the room was standard. It had a luggage rack, iron, and ironing board.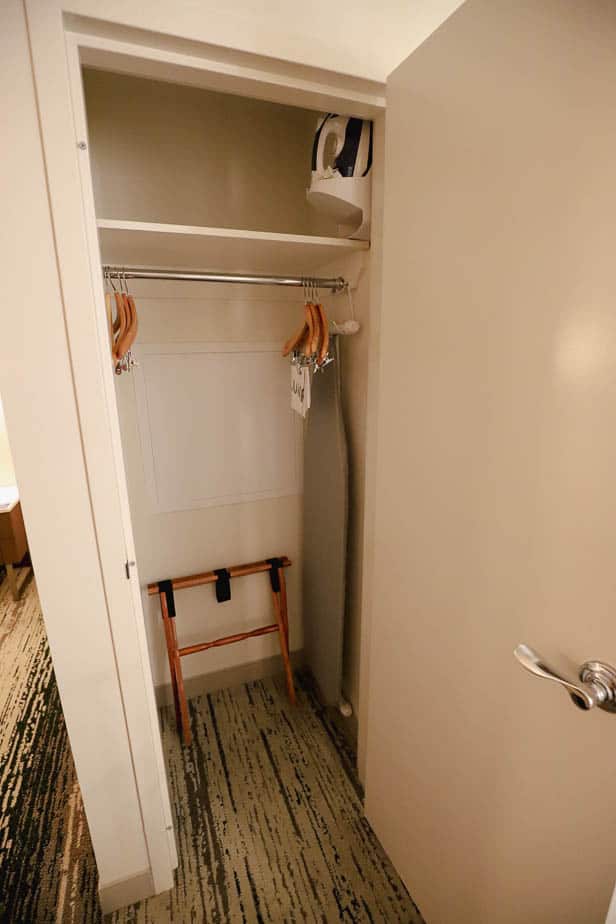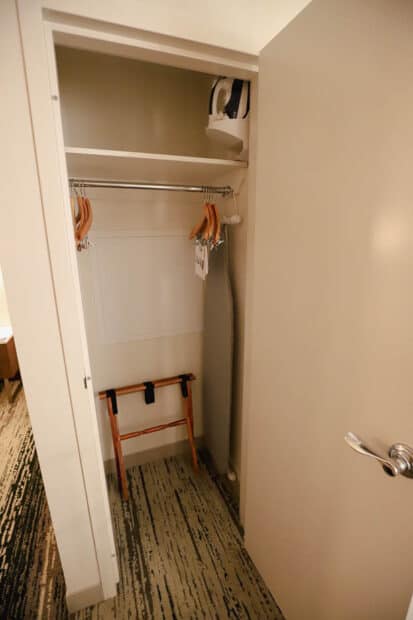 The guest bath had one sink and plenty of counter space. You might notice the storage underneath the vanity as well.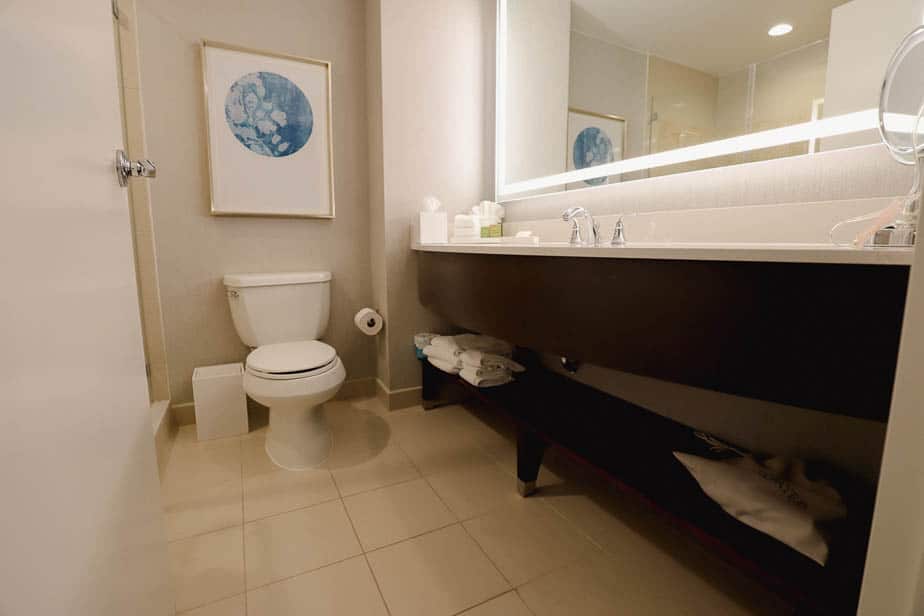 And this room had a walk-in shower.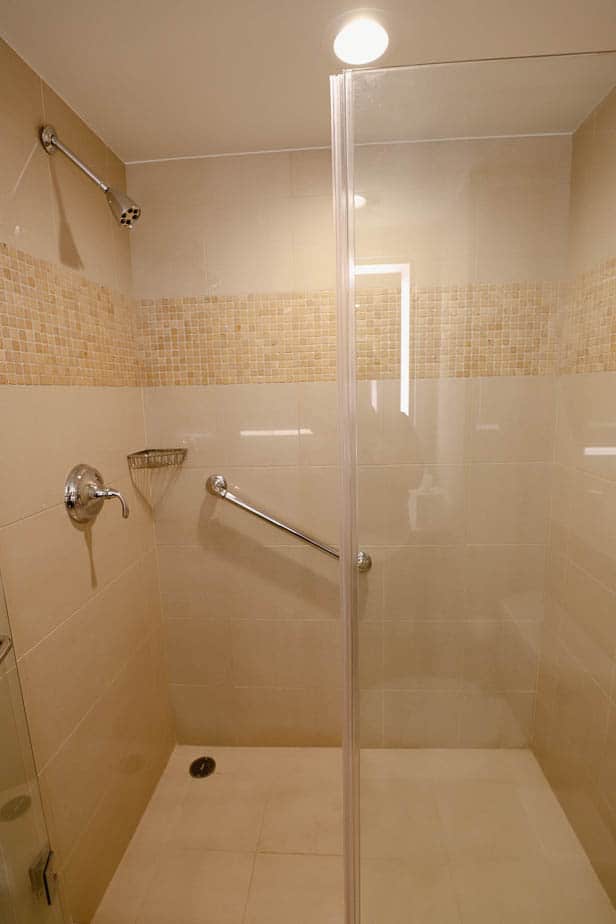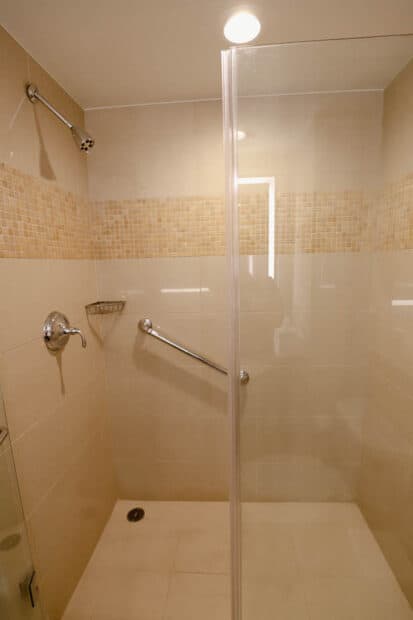 Here's a better look at the bath.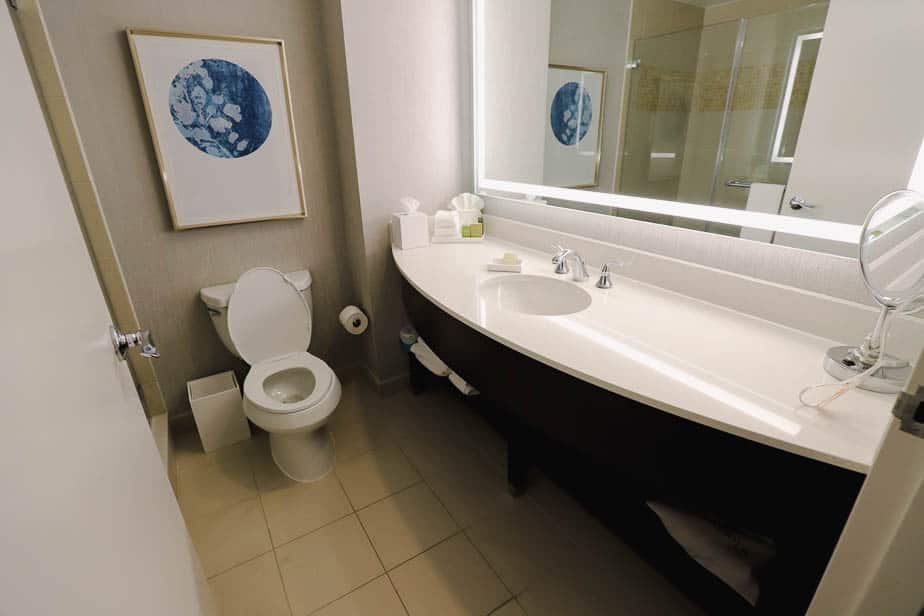 I enjoyed the room and felt like it was similar to the room I had a few months back at the Hyatt Regency Grand Cypress. However, the location of the Hilton Signa is slightly better than the Grand Cypress.
Related: Hyatt Regency Grand Cypress Review

For a different perspective, you might enjoy our video room tour.
Dining at the Hilton Signia Bonnet Creek
Since the Signia and Waldorf Astoria are connected, they share many amenities. One of those amenities is dining locations.
In this review, we'll go over the specific dining locations at the Hilton. Note that when you arrive at the hotel and receive a map or view the amenities online, the dining choices for both resorts are combined.
I felt this was a little confusing, especially for anyone wanting to grab something quick or nearby. It's not that the Waldorf is far away. But it's probably a 10-minute walk to travel in between the resorts.
And when you've spent the day in the parks, you aren't always willing to walk much further when you get back to the hotel.
We'll start with La Luce, the fine dining location at the Hilton Signia Bonnet Creek. The entrance is located on the far right side of the resort after passing the main reception desk.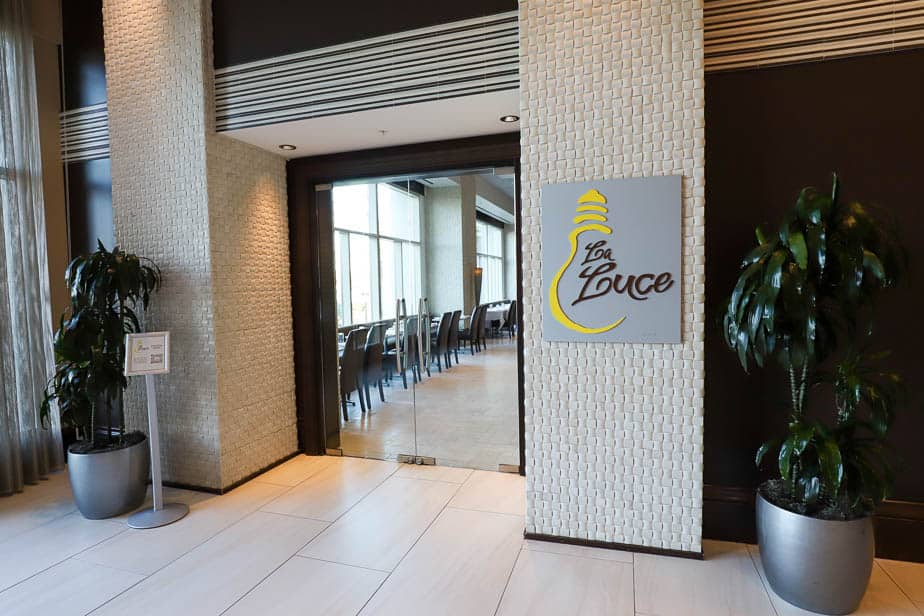 I haven't had the opportunity to dine here. With so many great restaurants at Disney, it's hard for me to fit options like these into my schedule.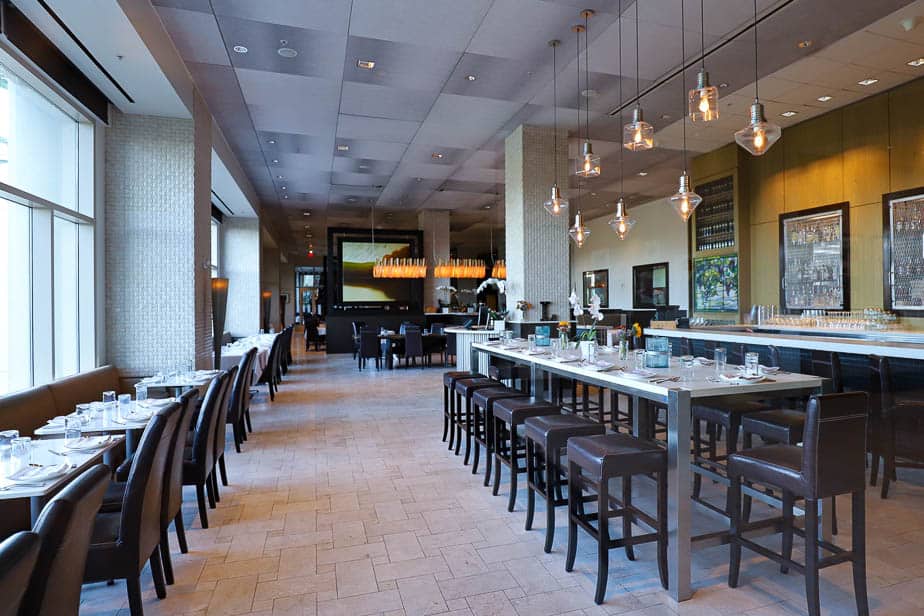 Additionally, the restaurant has a separate entrance outside of the hotel.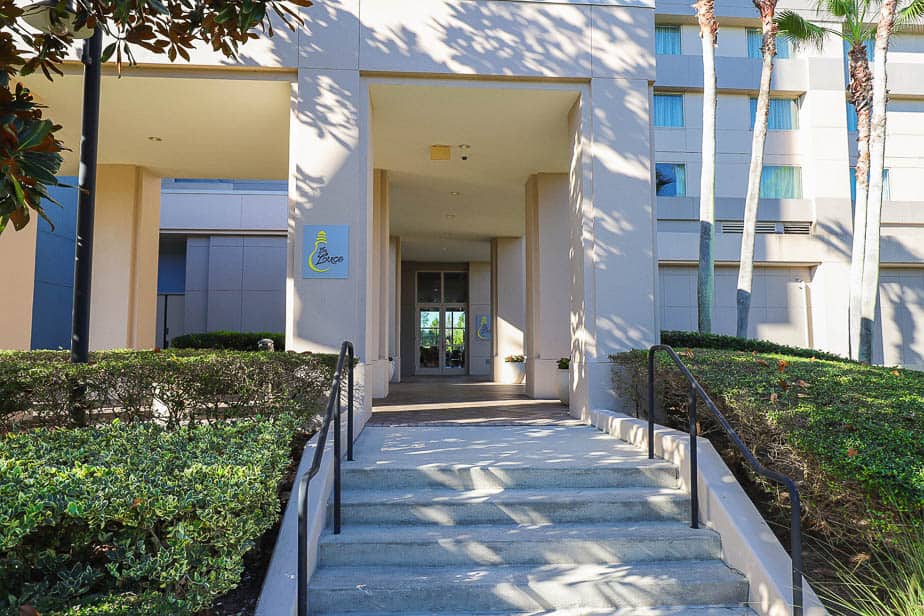 La Luce is an Italian restaurant offering handmade pasta and homemade thin-crust pizza, among other things. The restaurant opens every evening at 6:00 p.m. Preview the menu here.
I will mention that Bull and Bear is the fine dining restaurant next door at the Waldorf. If you are interested in fine dining, I would consider planning a meal there.
When you enter the Hilton, you'll immediately notice a tremendous bar that sits toward the back of the lobby, the Myth Bar.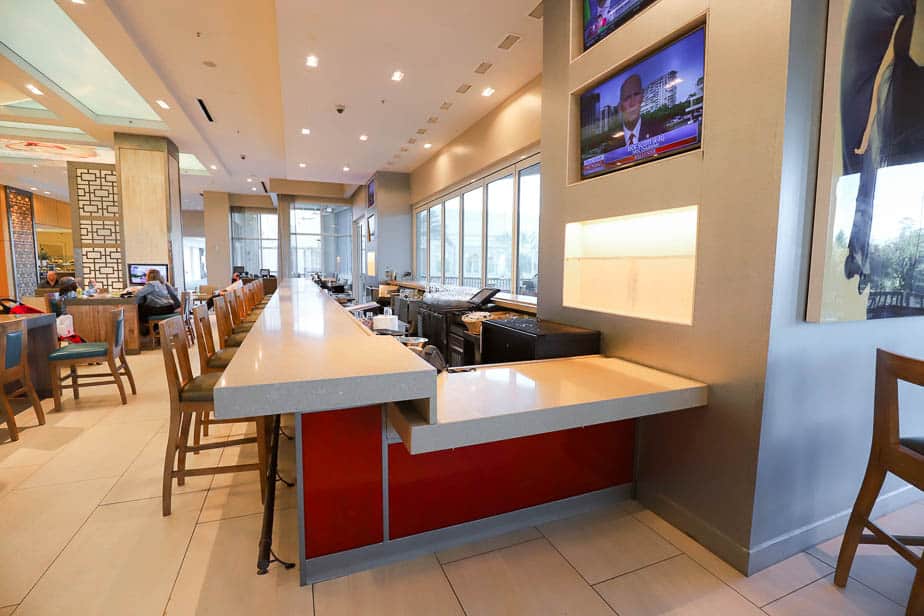 While Myth Bar is a cocktail lounge with a bar, they have a sizeable menu offering a variety of appetizers and entree items. Over the years, we've received excellent and prompt service. You can preview the menu here.
Downstairs on the ground level, you'll find Harvest Bistro. This is the resort's breakfast buffet location. And from my experience, it's always bustling in the mornings.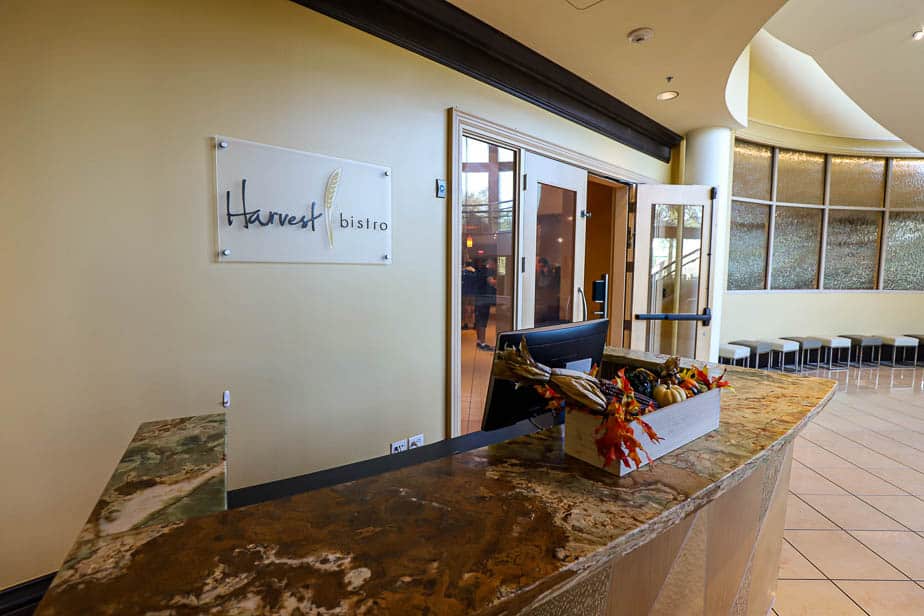 Additionally, Harvest Bistro serves as the resort's casual table service dining location. They usually have a menu available for both lunch and dinner. However, at this time, they are only open for breakfast hours between 7:00 a.m. and 11:00 p.m.
Outside at the pool, you'll have quick access to Beech, the resort's pool bar, and quick service location. Beech is open daily from 11:00 a.m. until 8:00 p.m. Hours fluctuate depending on the weather. Their menu is available here.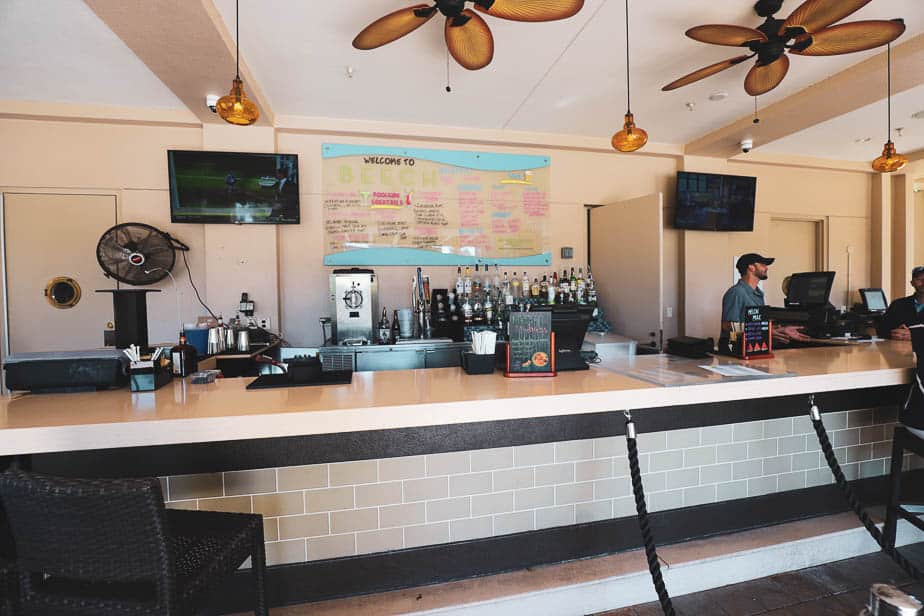 Back off the lobby, you'll find Zeta Asia. Zeta specializes in sushi, sashimi, and cocktails. They are open Thursday through Saturday from 5:00 p.m. until 10:00 p.m.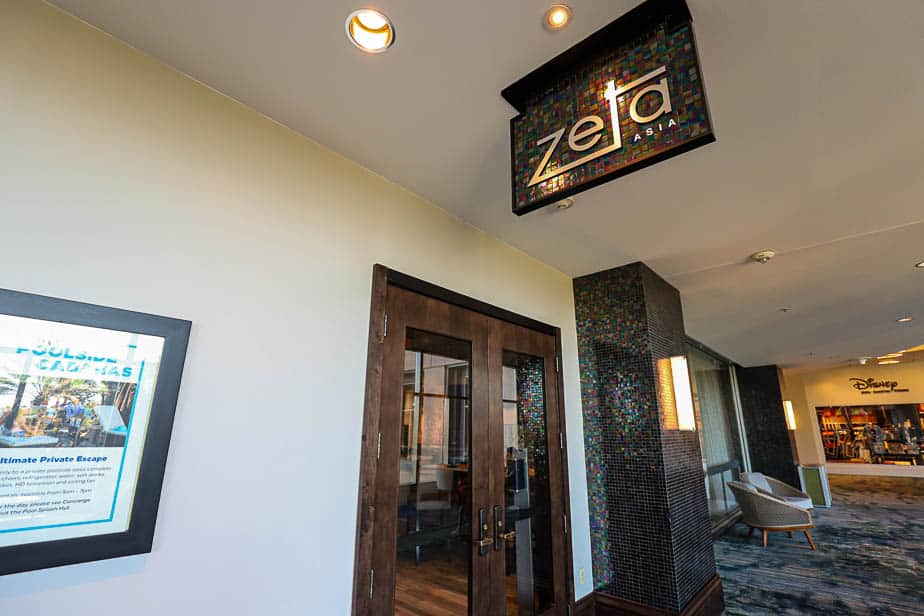 Additionally, Muse, a coffee bar and shop with convenience items is located off the lobby. During this stay, I walked through and took a few photos of what they had to offer.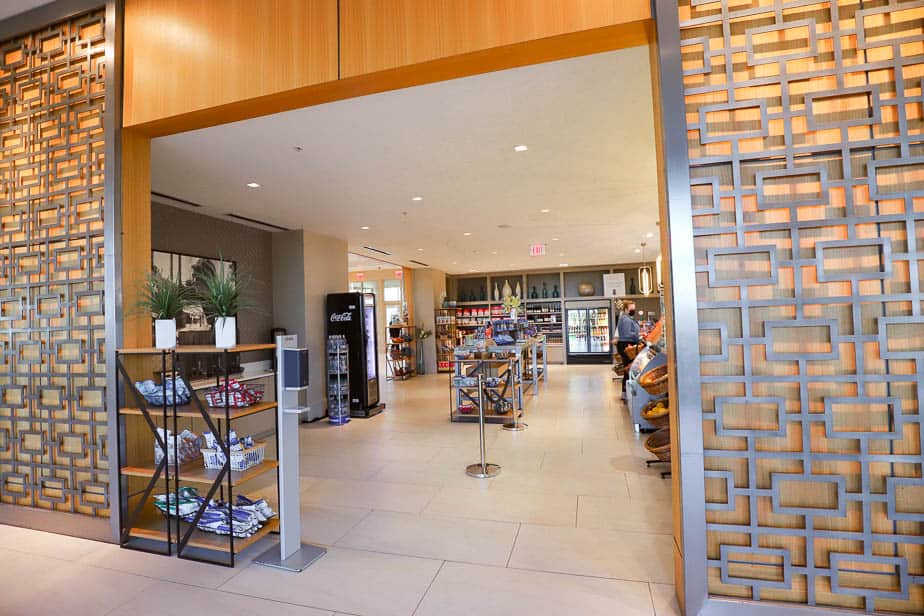 Muse had plenty of bagels and pastries.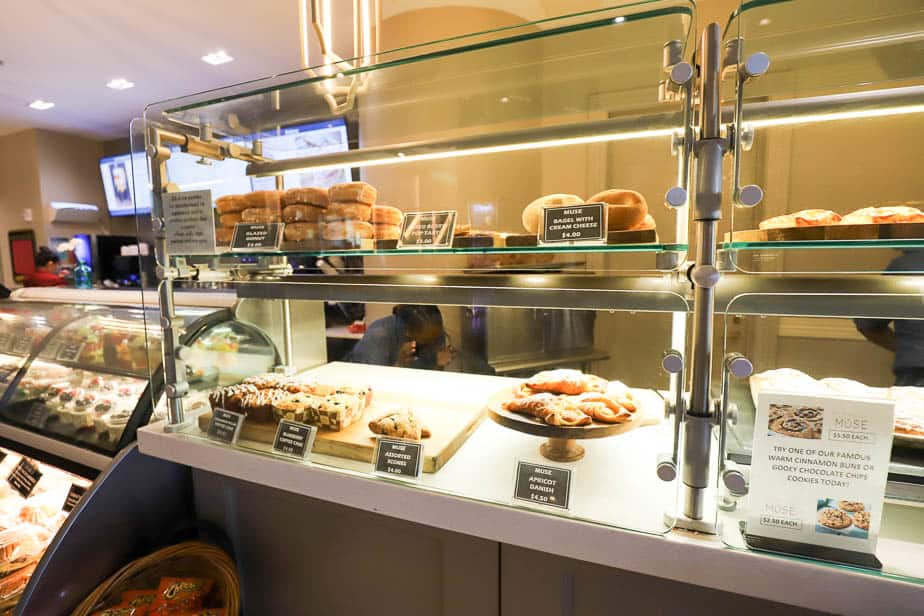 Their cinnamon rolls and chocolate chip cookies are popular. The cinnamon rolls looked delicious.
Additionally, they had a variety of pre-made salads, sandwiches, and mixed fruits.
There were plenty of selections. You could easily pick up a snack or a grab-and-go meal.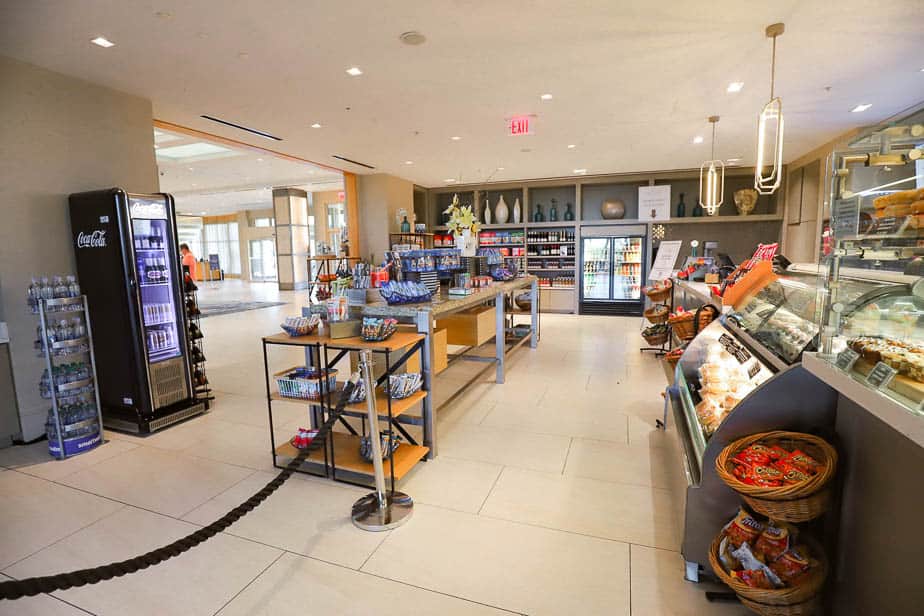 Here are a few of the convenience items.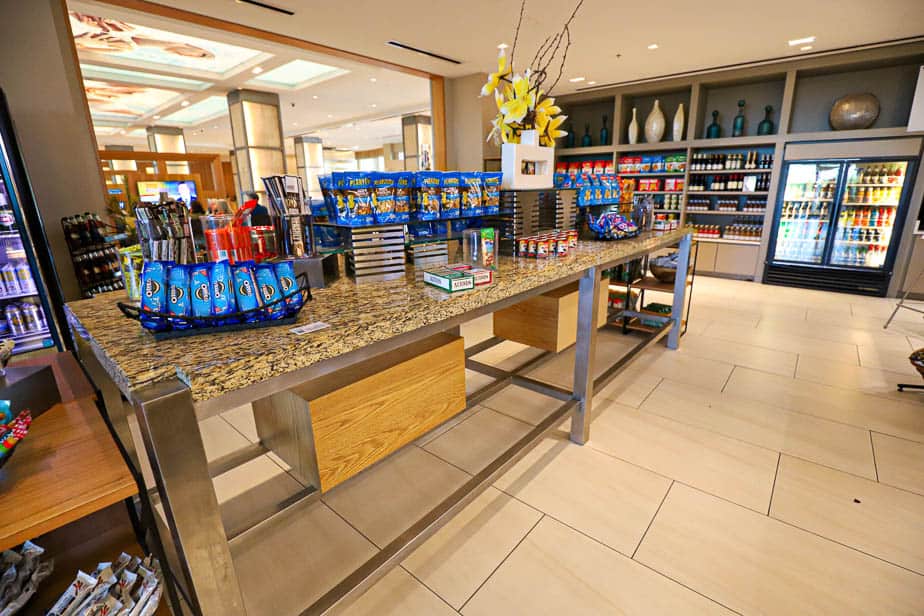 Candies, along with allergy-friendly options, were available.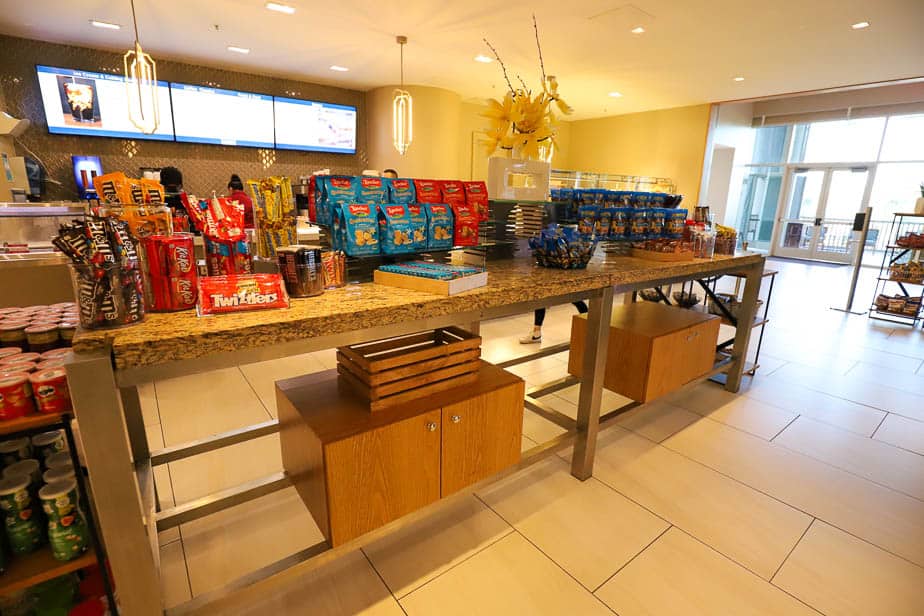 And there was an option to mobile order.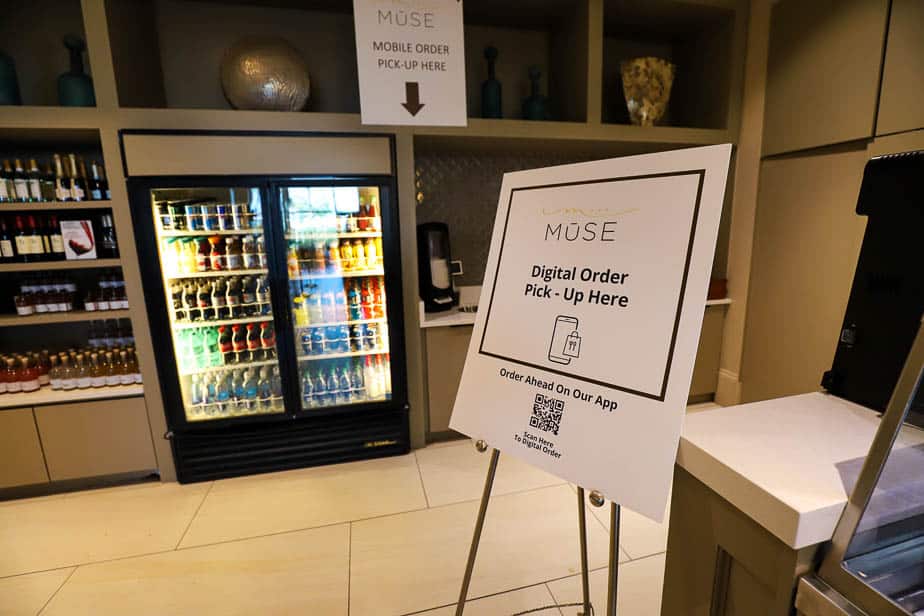 The back corner of the store was stocked with items.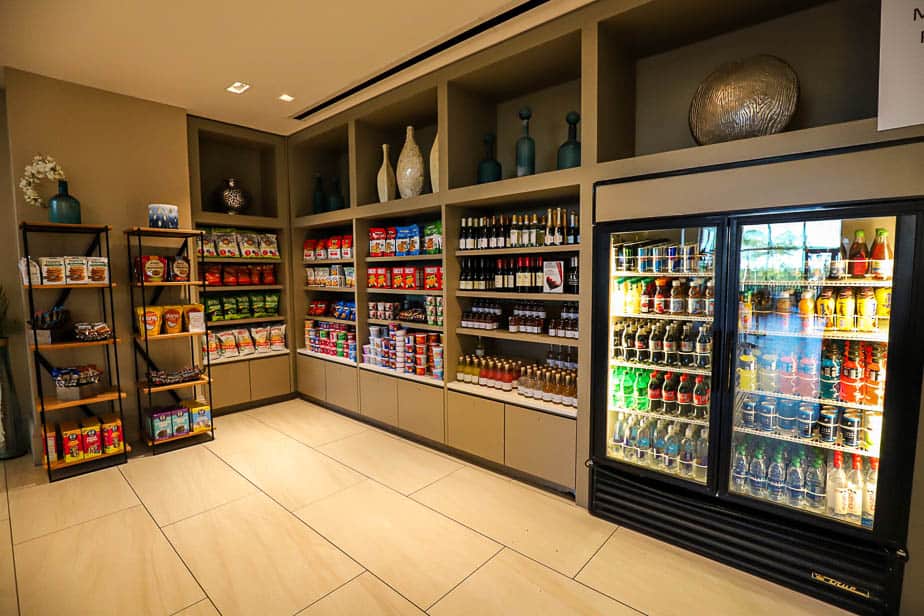 As you can see, the Hilton Signa has plenty of dining options. And we didn't even discuss all of the options next door at the Waldorf.
If you want to spend a day or two at the resort without having to leave, you'll be completely fine. And if you like, you can always order pizza.
Pools and Lazy River at the Hilton Signia
Our hotel review wouldn't be complete without a detailed look at the pools at Bonnet Creek's Hilton Signia. And the pool here doesn't disappoint. Well, I should say pool(s) and lazy river.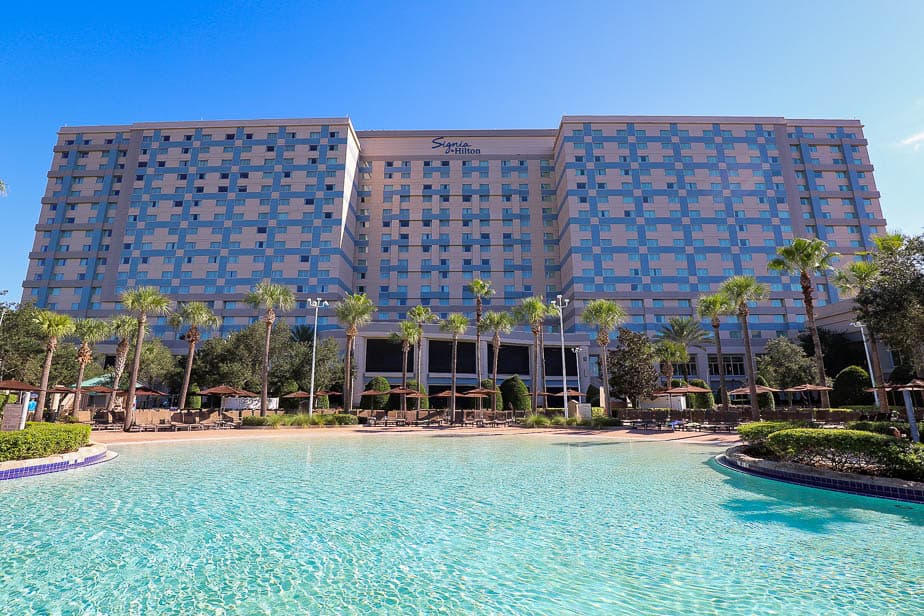 You see, on each side of the large outdoor recreation area, there's a large pool. A lazy river flows through the space between the pools connecting them.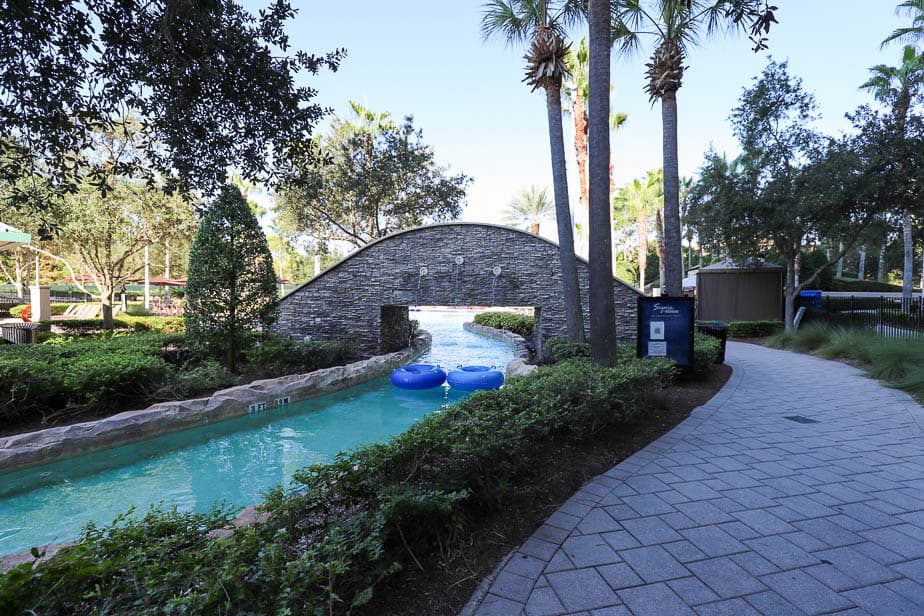 Here's a look at the pool nearest Beech, the resort's pool bar.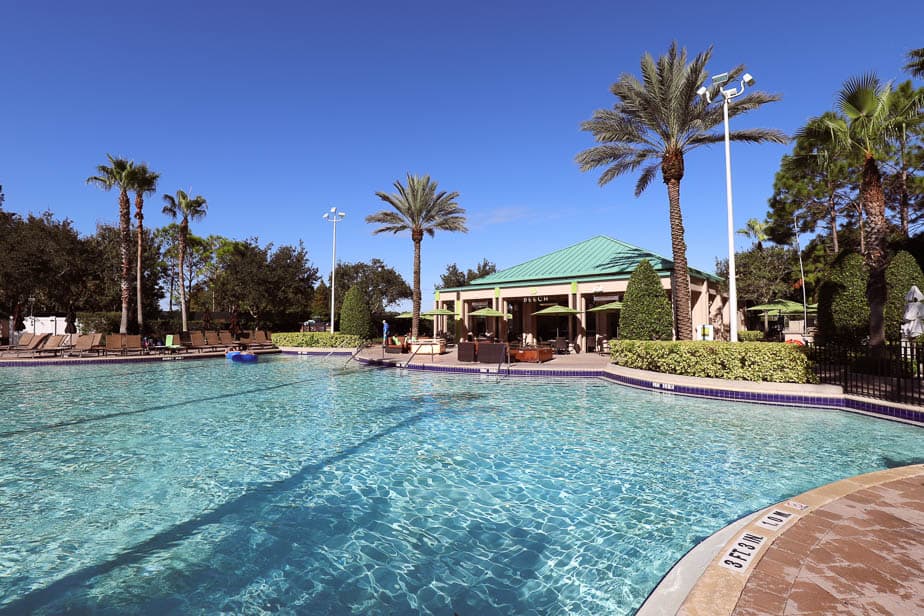 In a separate area, to the right of the pool, is the waterslide. I thought this was a unique concept. The waterslide is separately roped off and is only available when a lifeguard is on duty.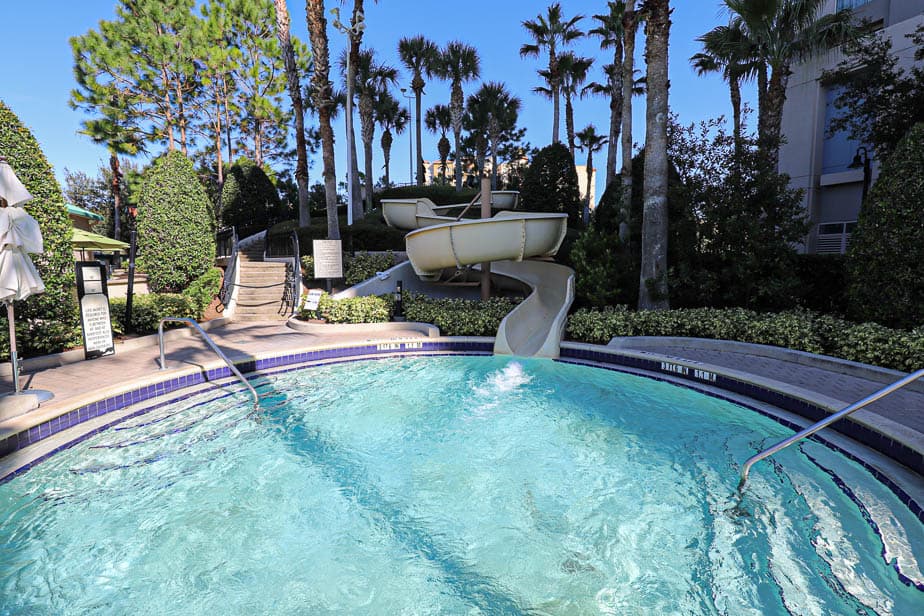 The picture below shows where the lazy river is coming into the pool on the left side and going back out on the right side.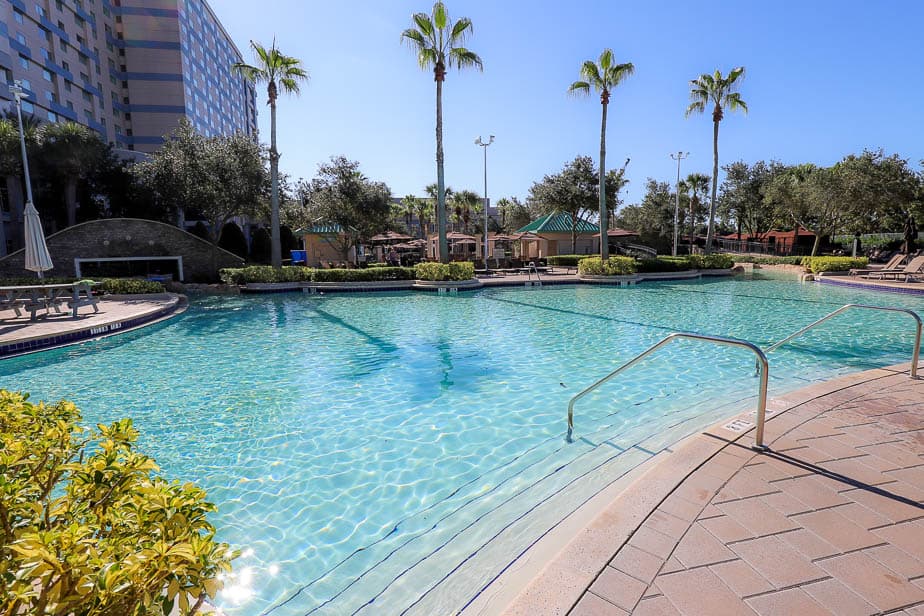 It was reasonably cool this Sunday morning, so there weren't many guests at the pool.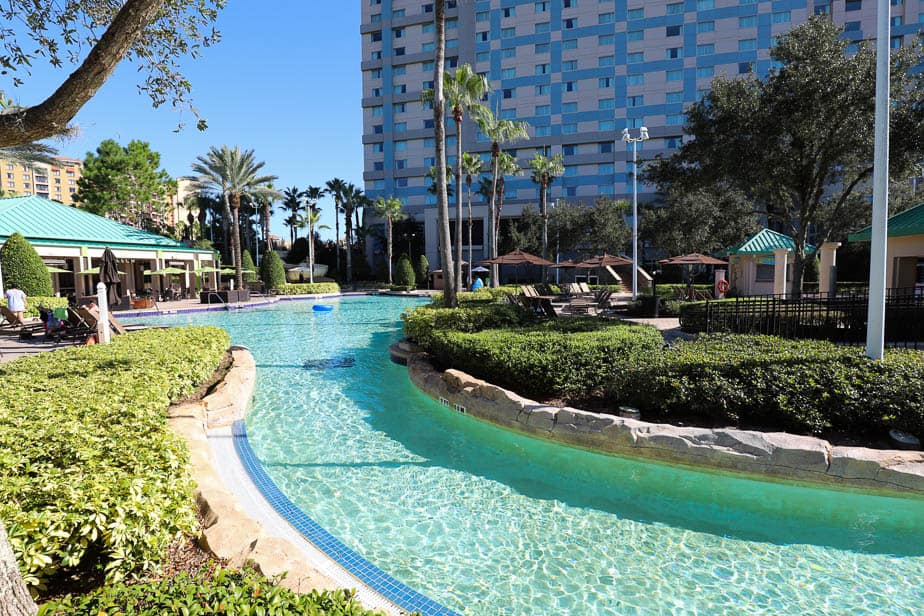 Speaking of cool, the pools are heated to around 85 degrees in the cooler months.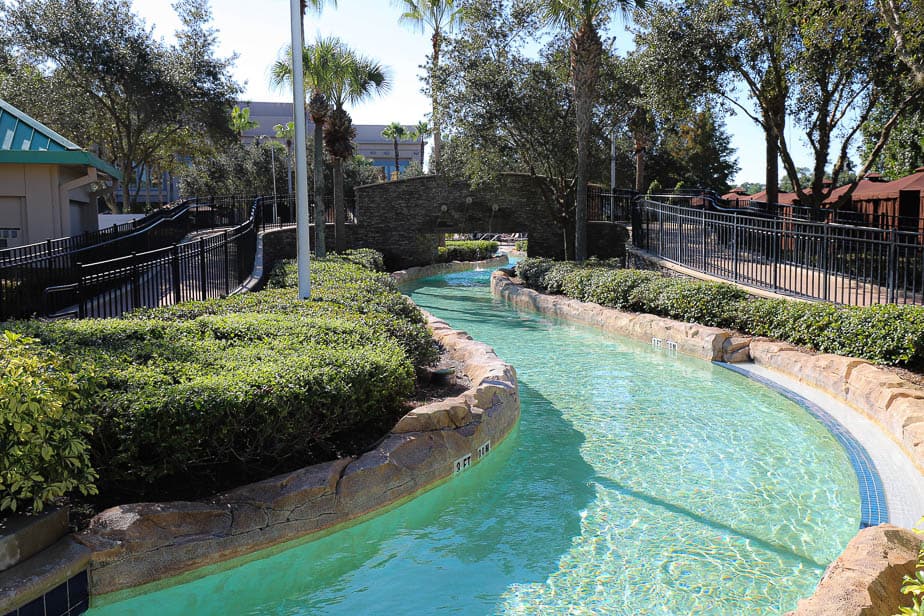 Cabana rentals are available for a separate charge. They might be worth considering on a busy day.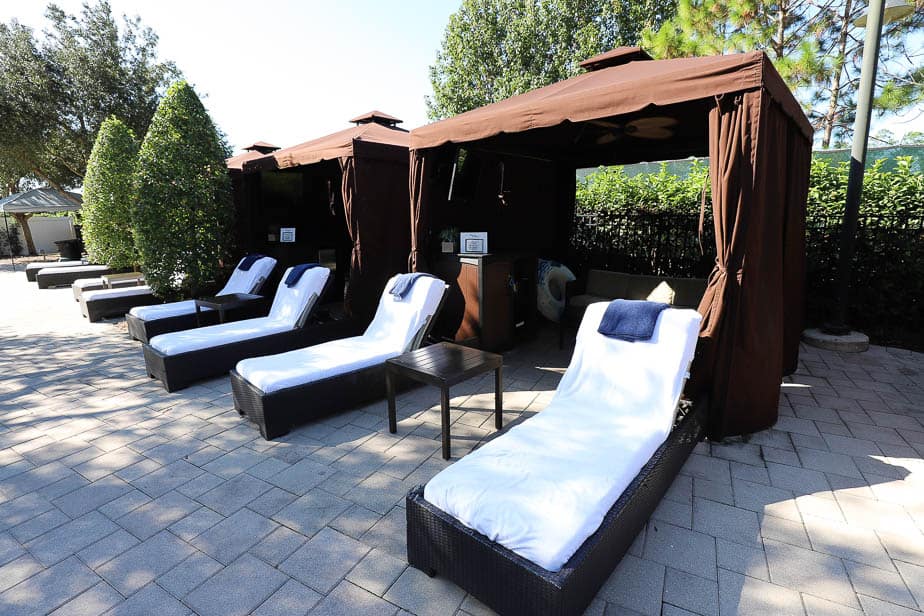 Several bridges cross the lazy river at various points throughout the area.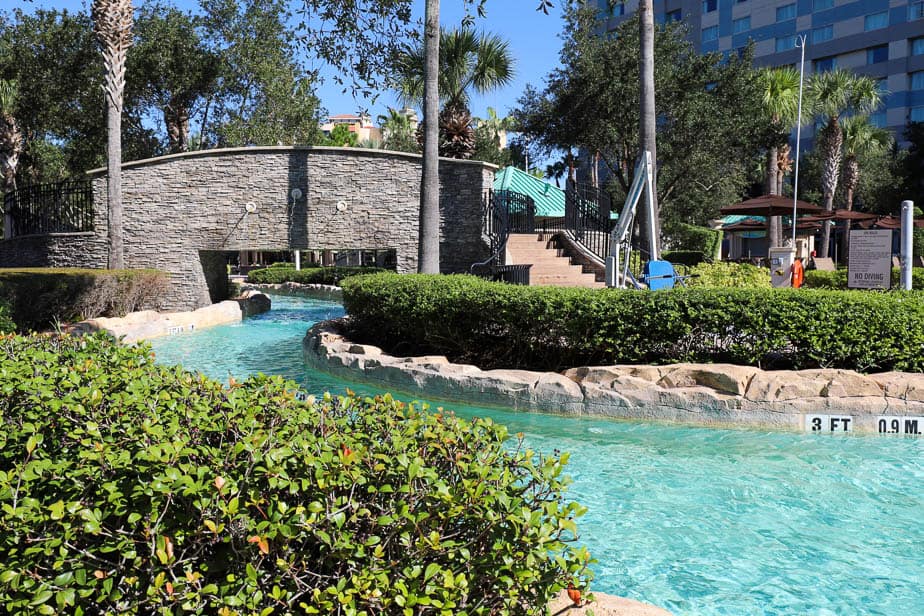 And eventually, the lazy river runs back out to the opposite end of the pool.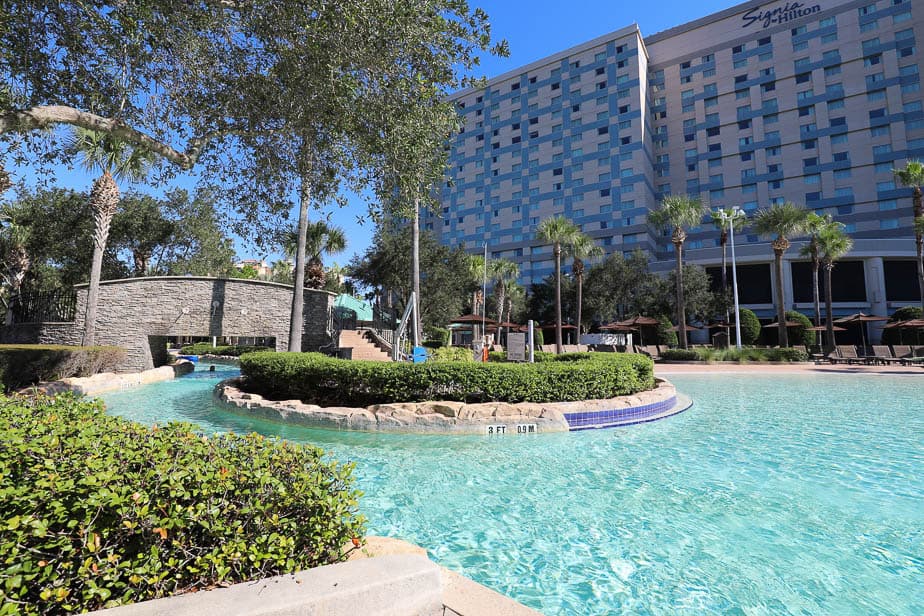 This end of the pool has a zero-depth entry.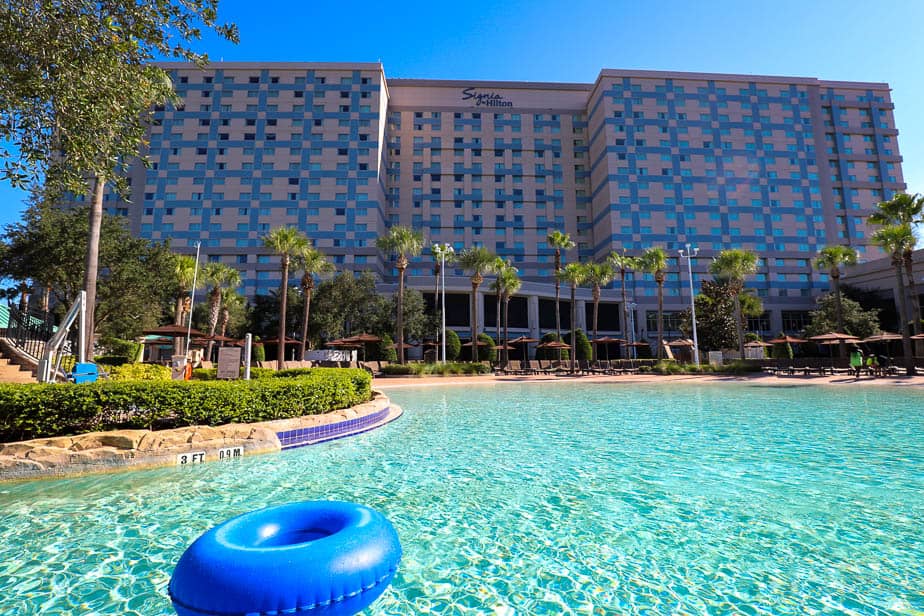 You can float into this pool, continue around the bend, and rejoin the lazy river on the opposite side.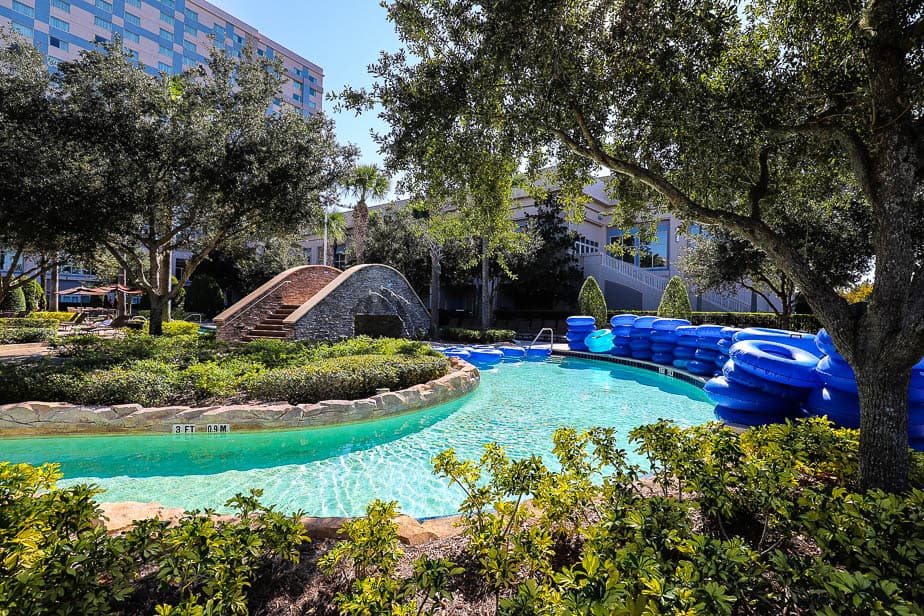 Obviously, on this day, there were plenty of inner tubes available. Inner tubes are first come, first serve, and considered part of the resort fee.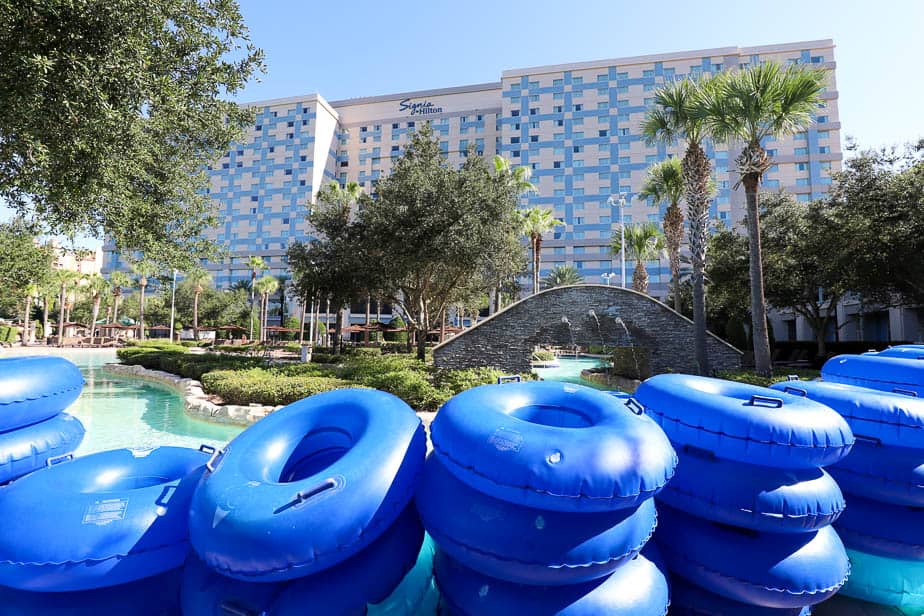 Below is a look at the walkway from the Signia over to the Waldorf. Guests of both resorts are welcome to use either pool.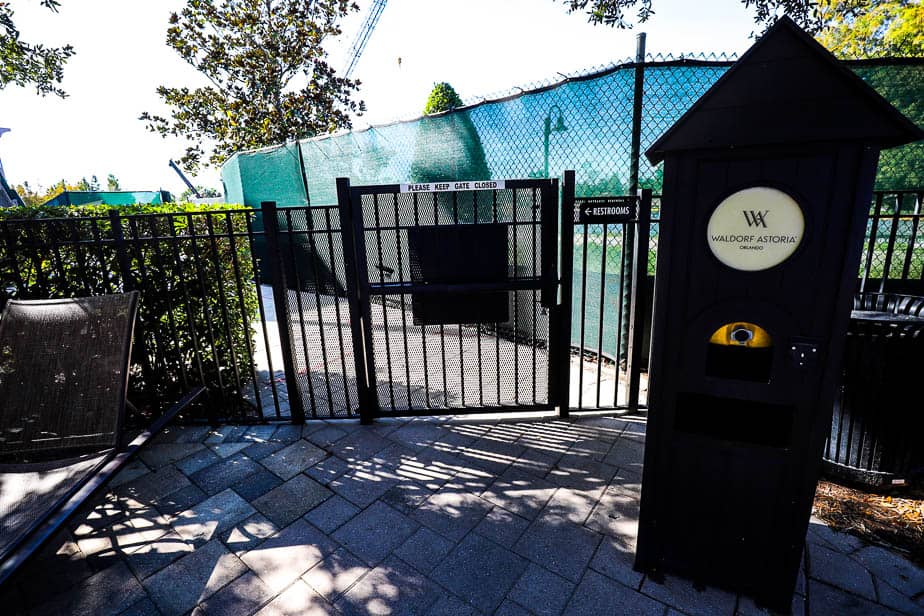 There are plenty of places to lounge around the pool and lazy river.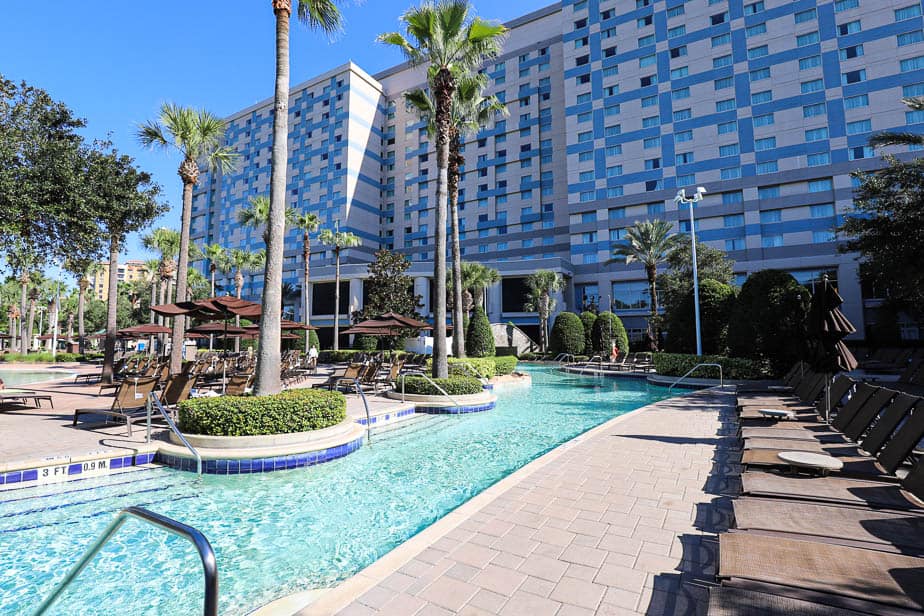 And there's a separate kiddie pool.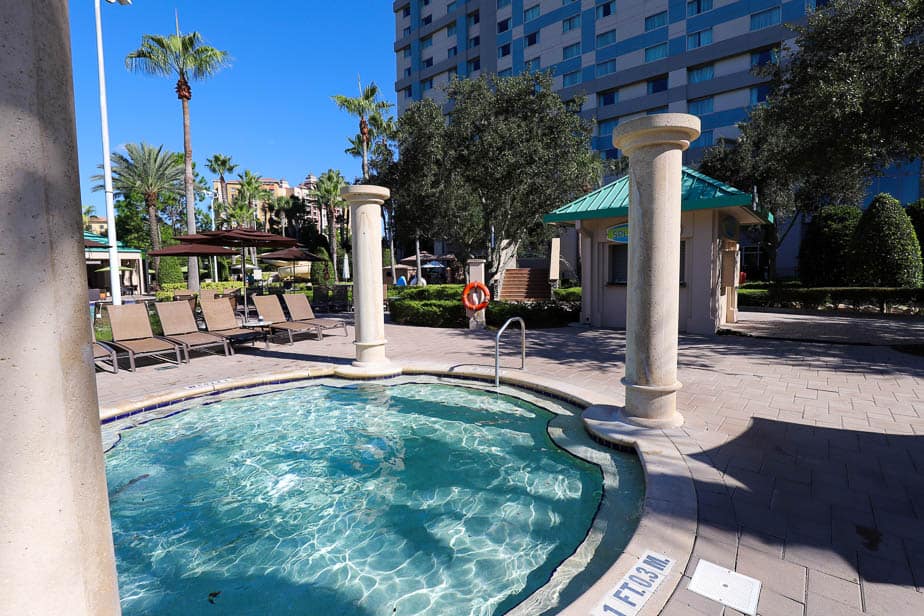 We have made our way back to where we started.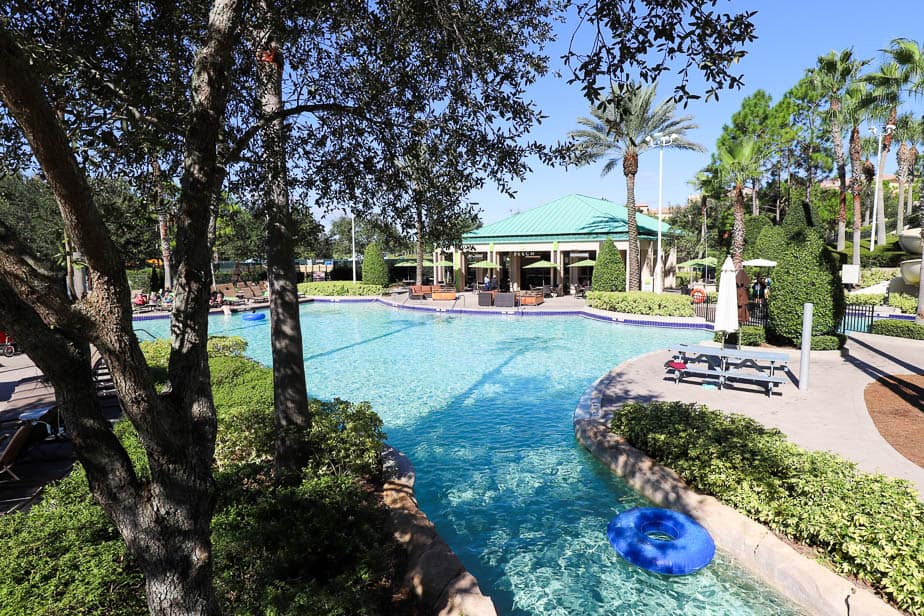 The Hilton Signia has an impressive outdoor pool area. These types of amenities are comparable to the deluxe resorts at Disney World. However, pricing at Bonnet Creek Hilton tends to be significantly lower than a deluxe.
Other Amenities
Before we wrap things up, we'll take a look at a few other amenities available at the resort. For starters, there's a tremendous gym located on the lower level. It looks out to the pool.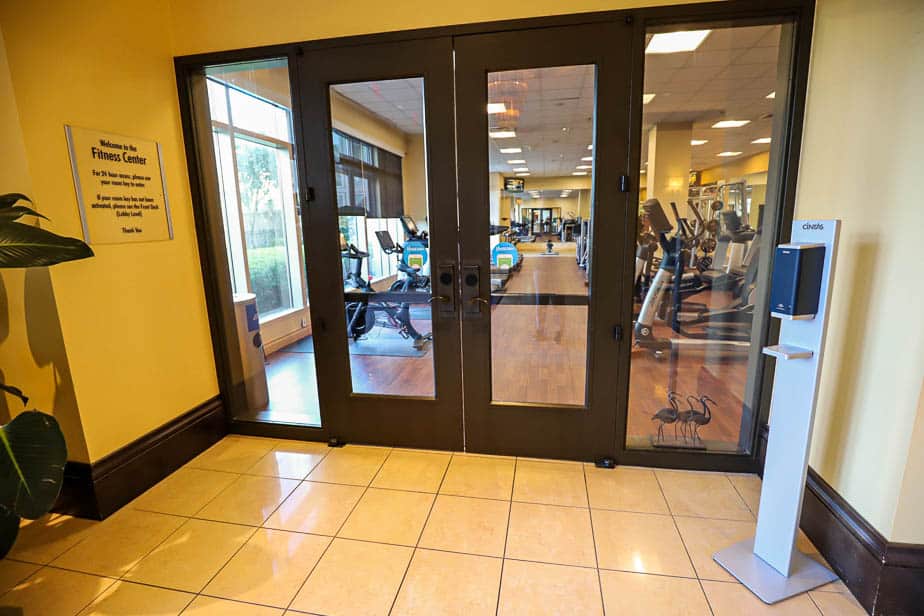 You'll find plenty of cardio equipment.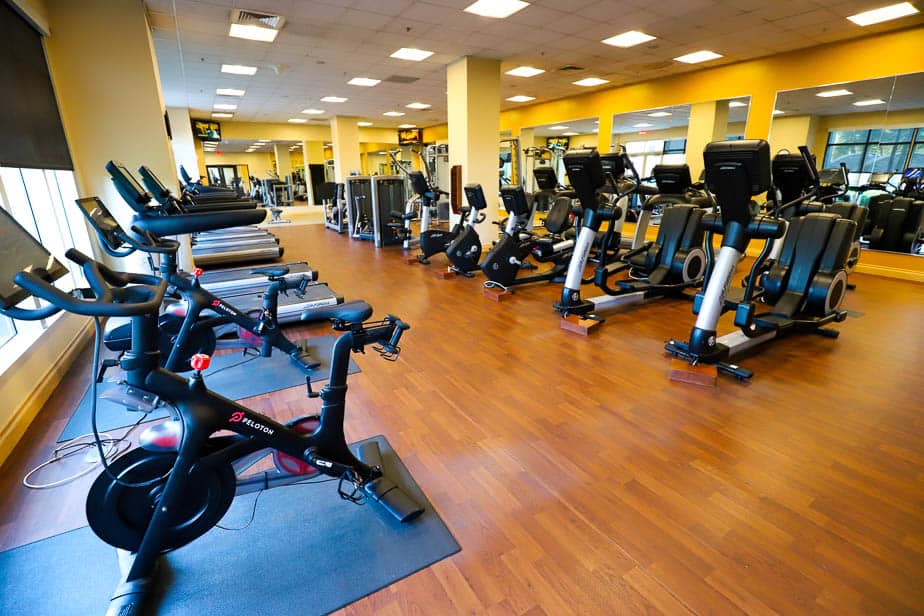 And there's a large selection of weight-training machines.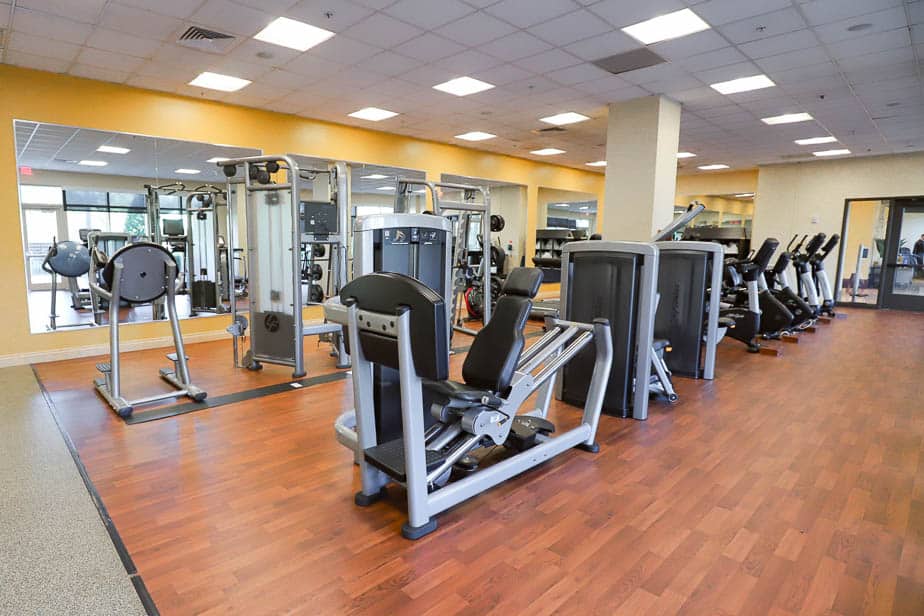 Or, if you prefer, there are free weights.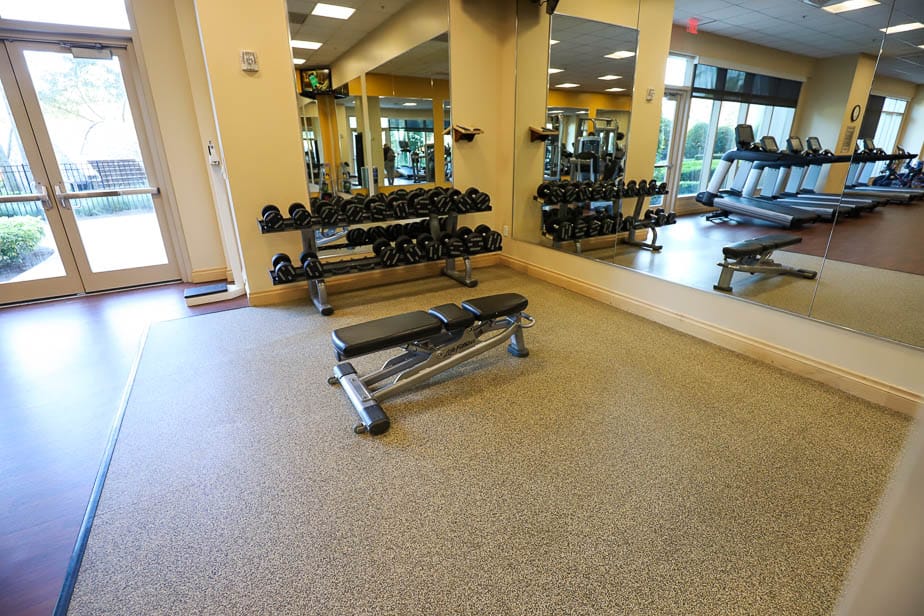 Back off the main lobby, the resort has an arcade.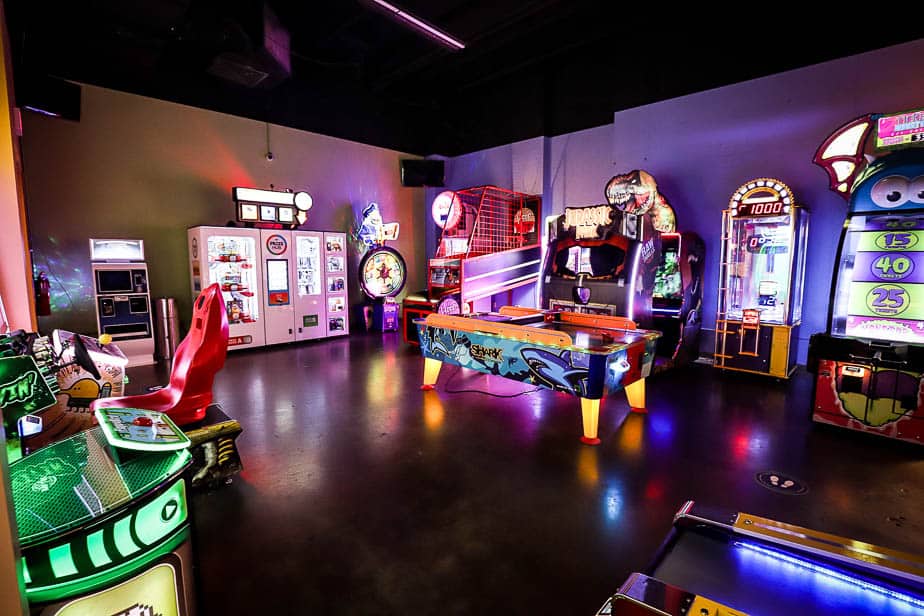 Next door to the arcade is a Disney gift shop.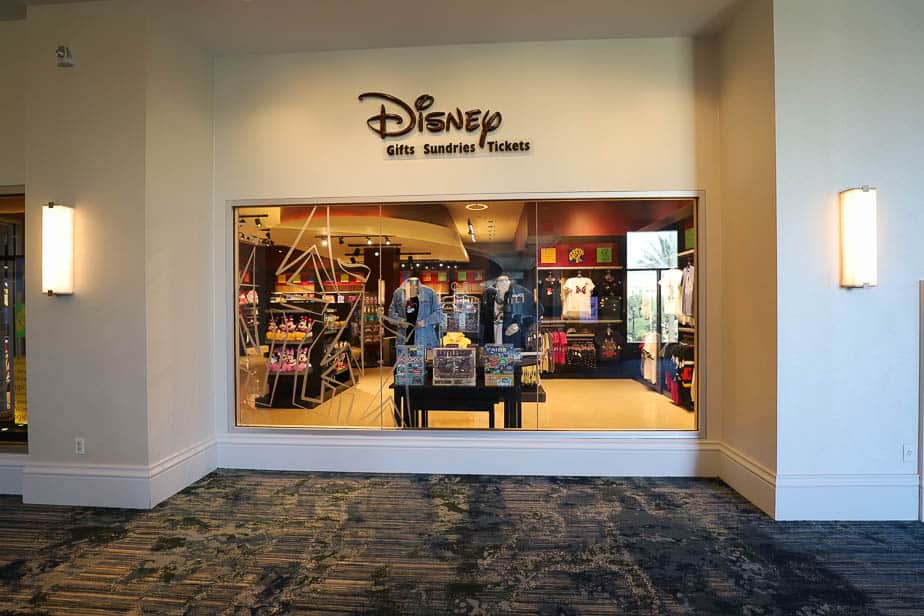 Inside, you'll find plenty of merchandise.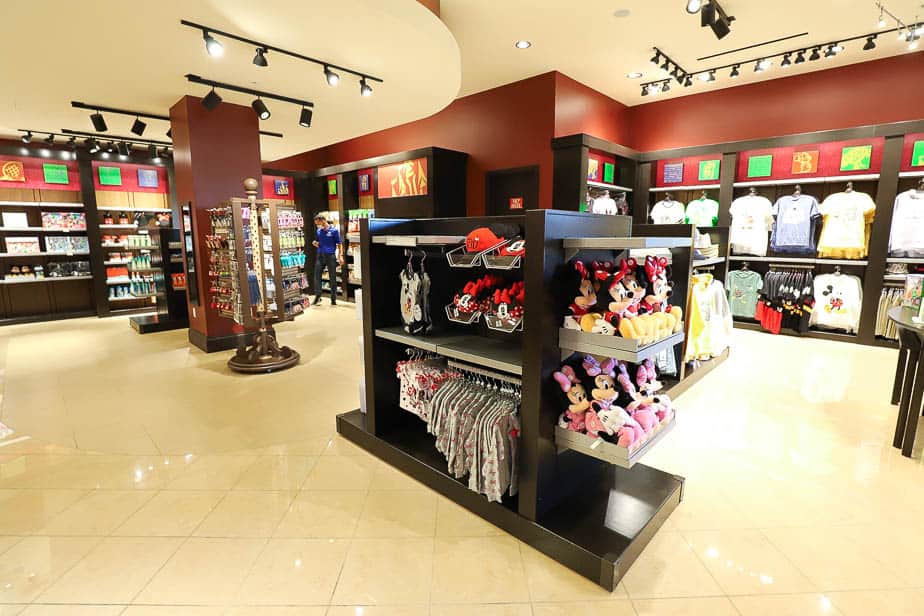 These shops are a good place for business travelers to pick up a souvenir to bring home to the kids. As a kid, I would have croaked if my dad had gone to Disney World or anywhere in the vicinity without me. Of course, that probably would have never happened without me finagling my way on the trip somehow.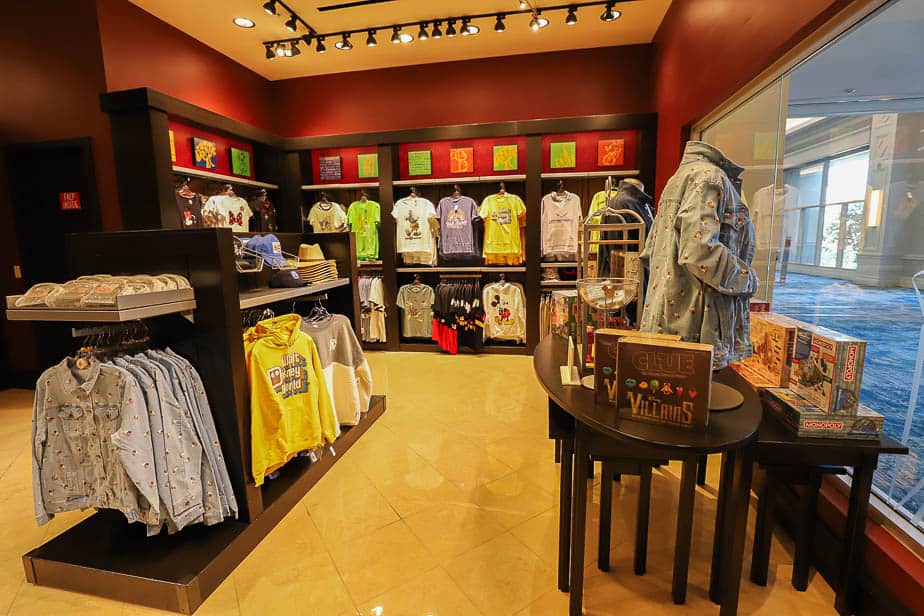 Anyway, there were several snacks and drinks available in the gift shop.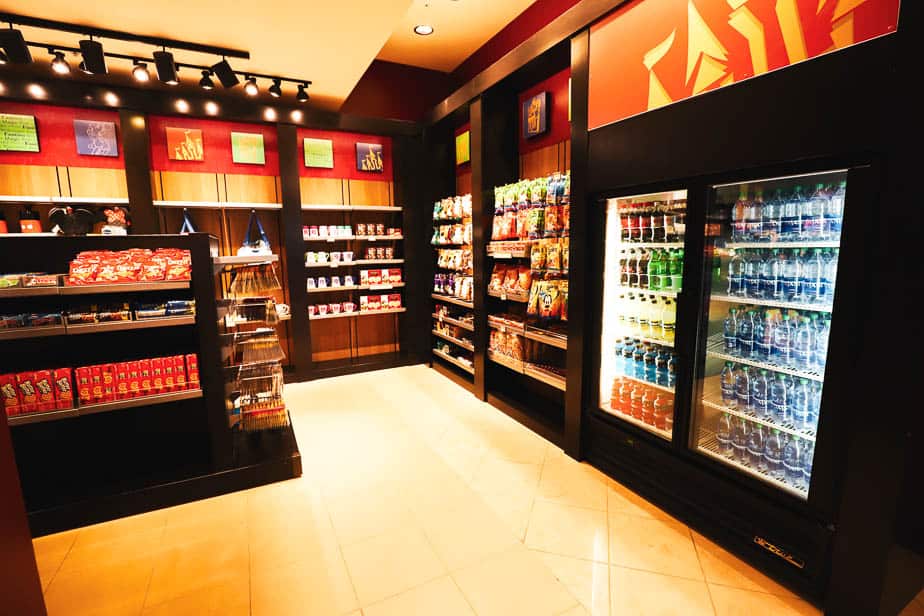 You could pick up a mug and a box of those delicious shortbreads for the coffee lover in your life. Warning, those shortbreads are addictive.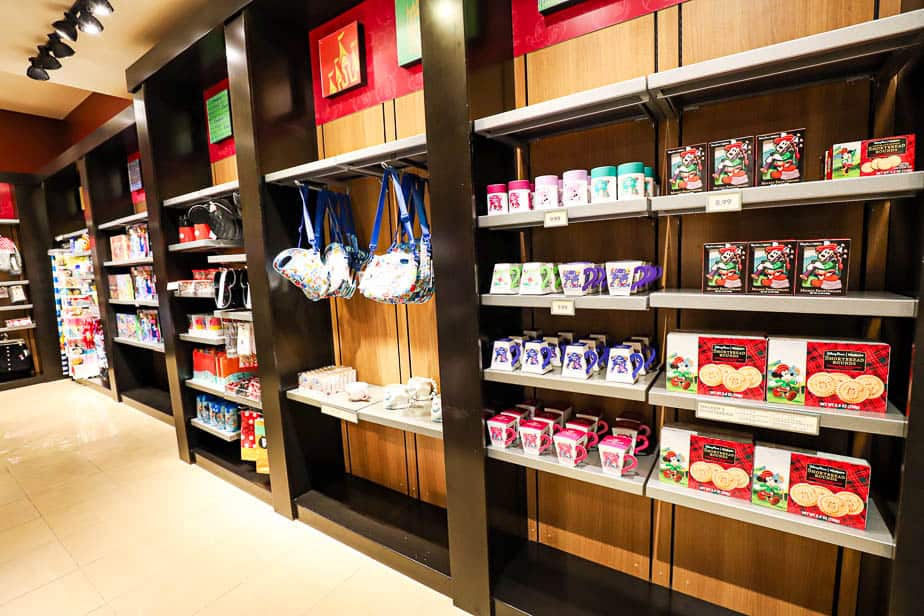 And there were a variety of sundries available.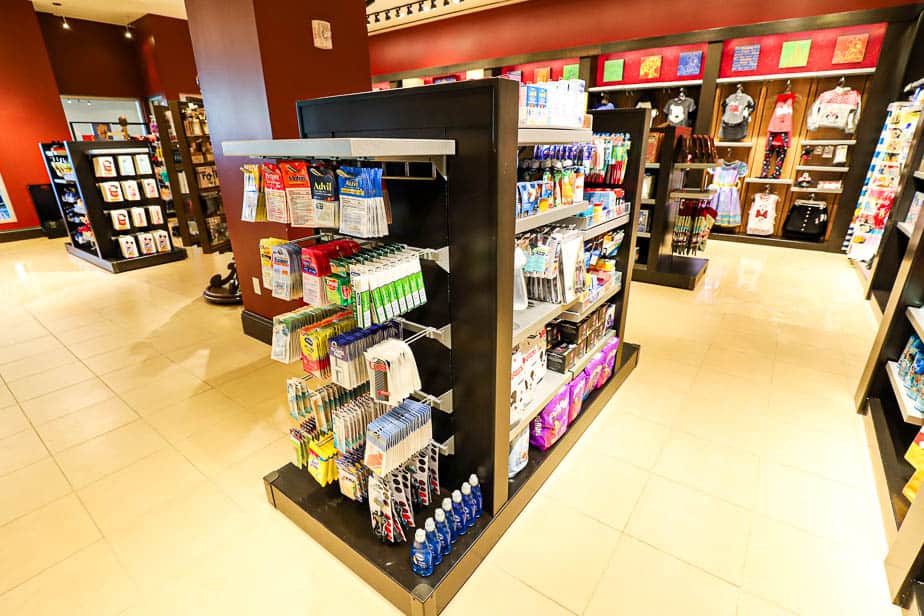 No one can argue that the lobby of the Hilton Signia is similar to any other.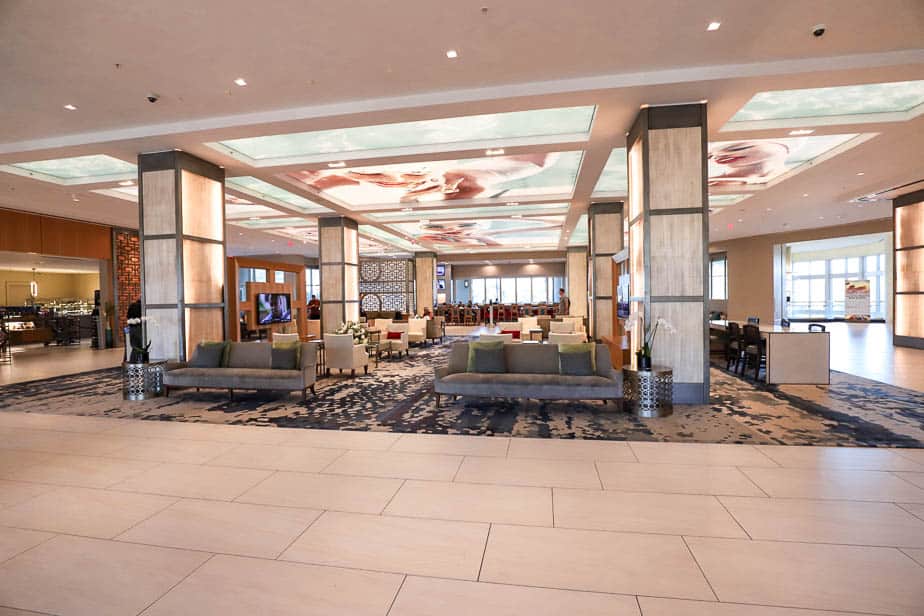 The ceiling features a modern mural of synchronized swimmers.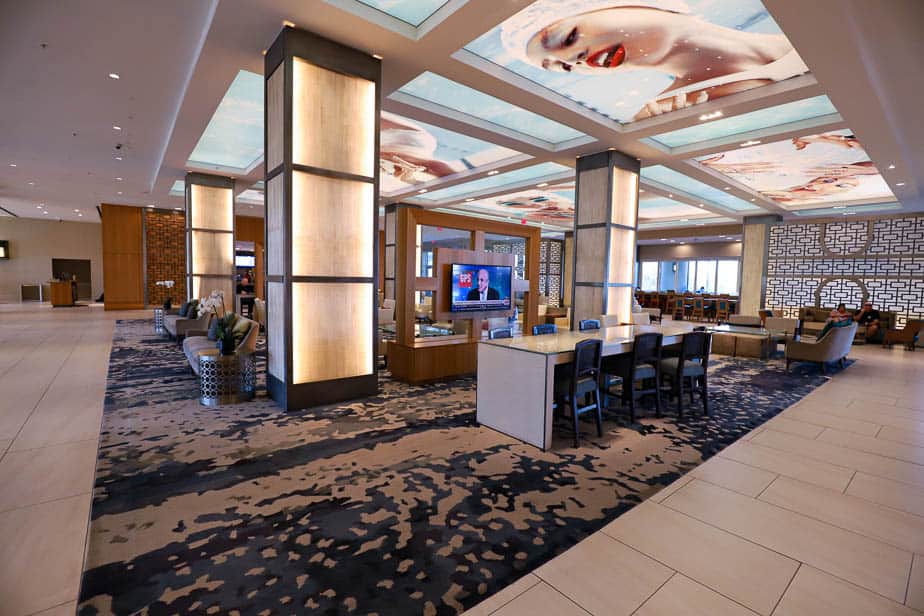 Believe it or not, the space is very inviting.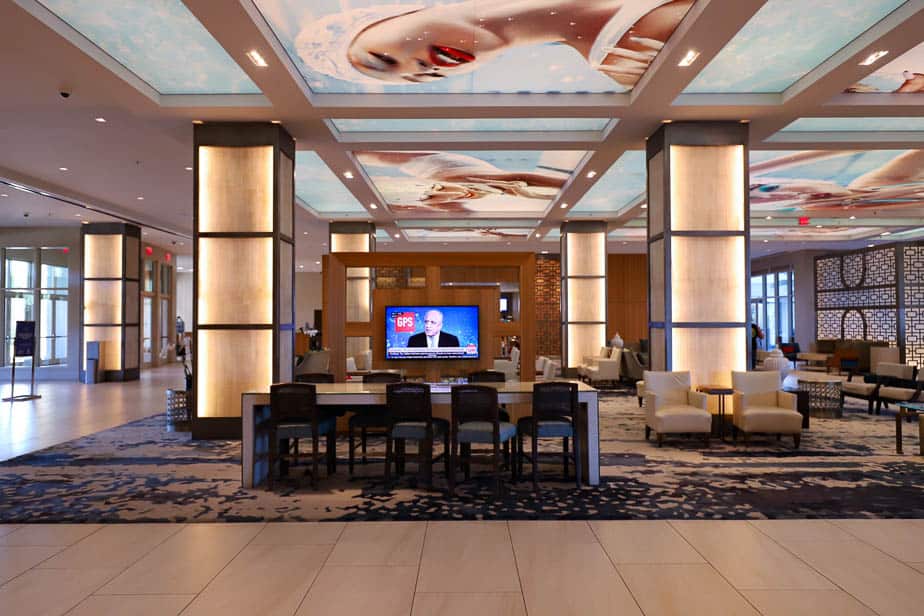 And the murals tie in nicely with the overall effect.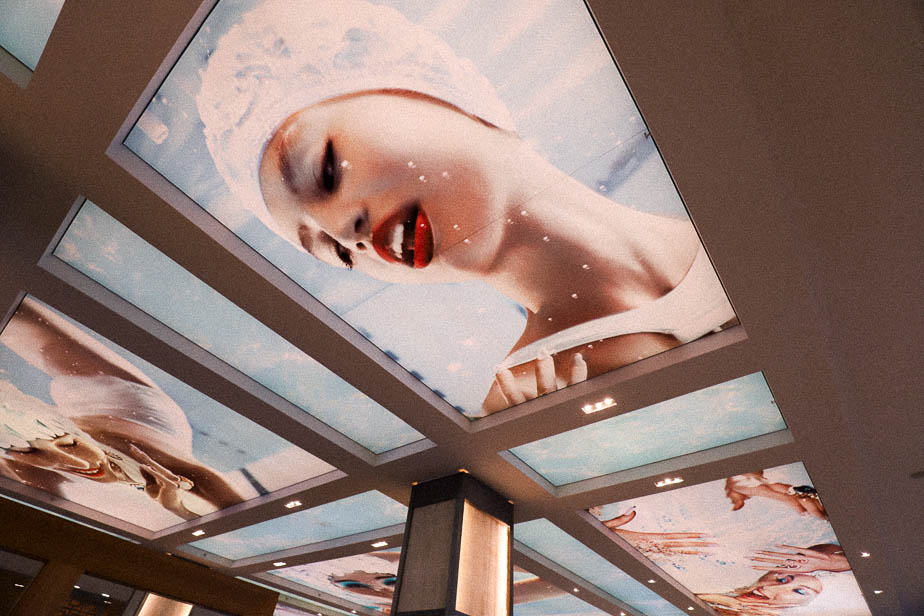 There are plenty of seating areas with several televisions.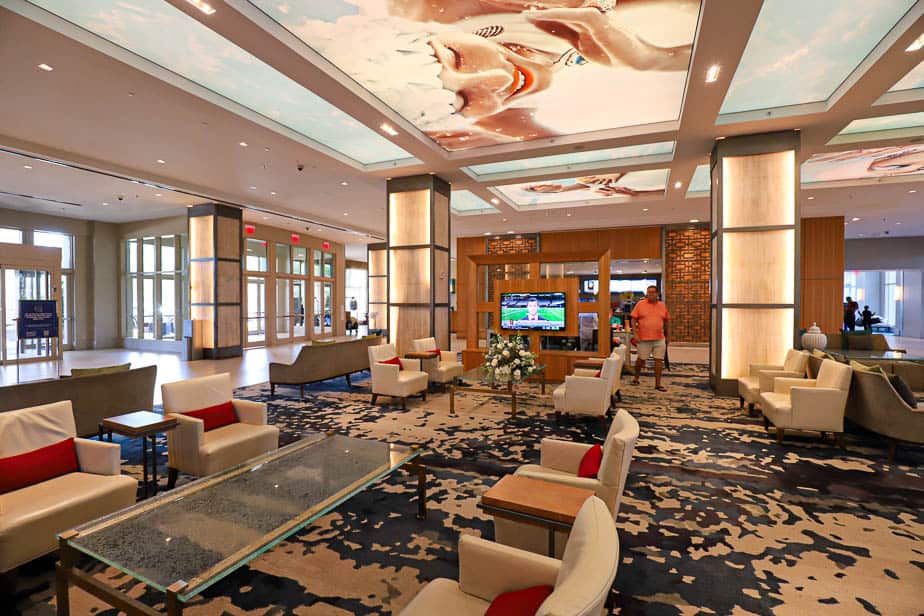 You could watch a game or catch up on the news. If you need a beverage or something to eat, Myth Bar sits right behind this space.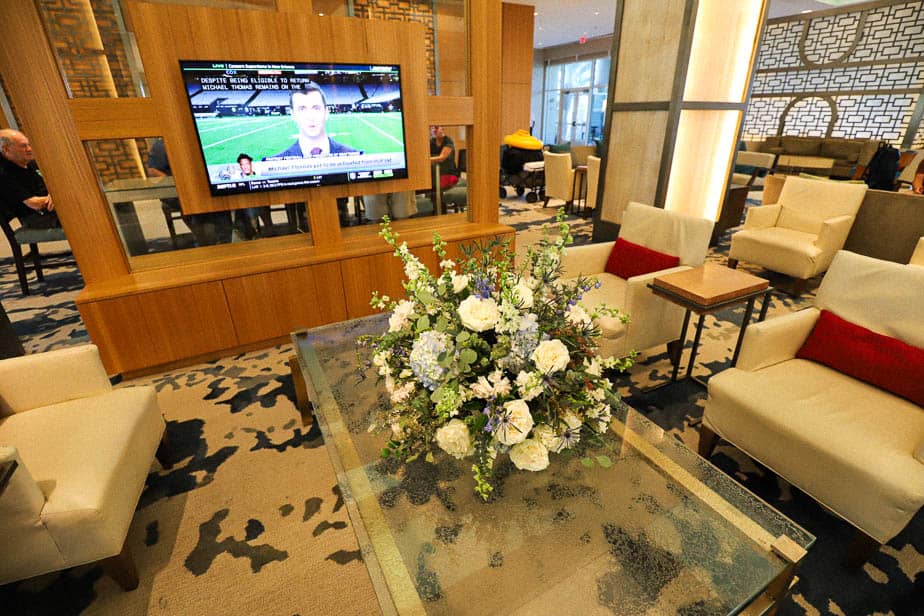 And the area around the bar extends to provide a variety of tables with chairs. So you could get some work done while waiting for time to head to the airport.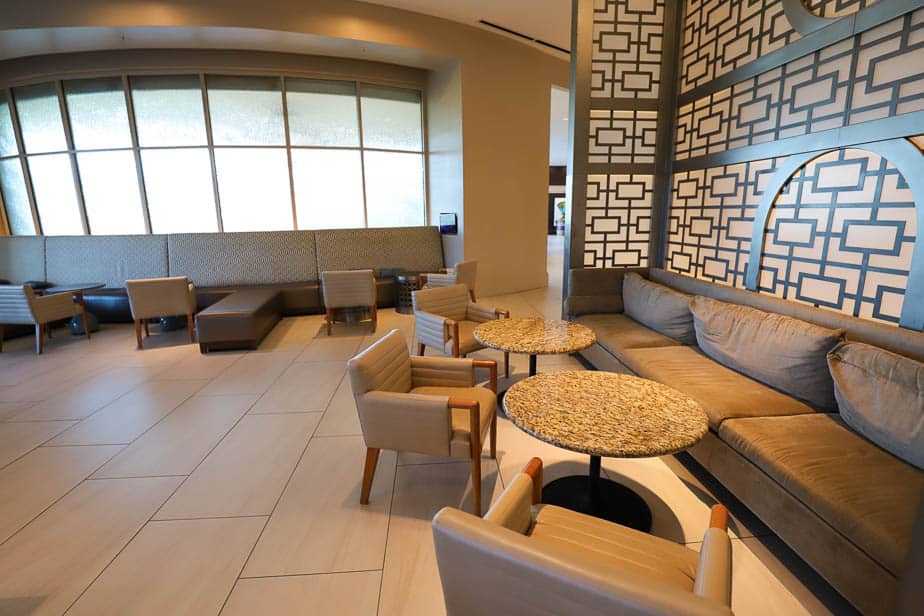 Or, if you prefer, the seating area extends to this screened patio that overlooks the pool area down below.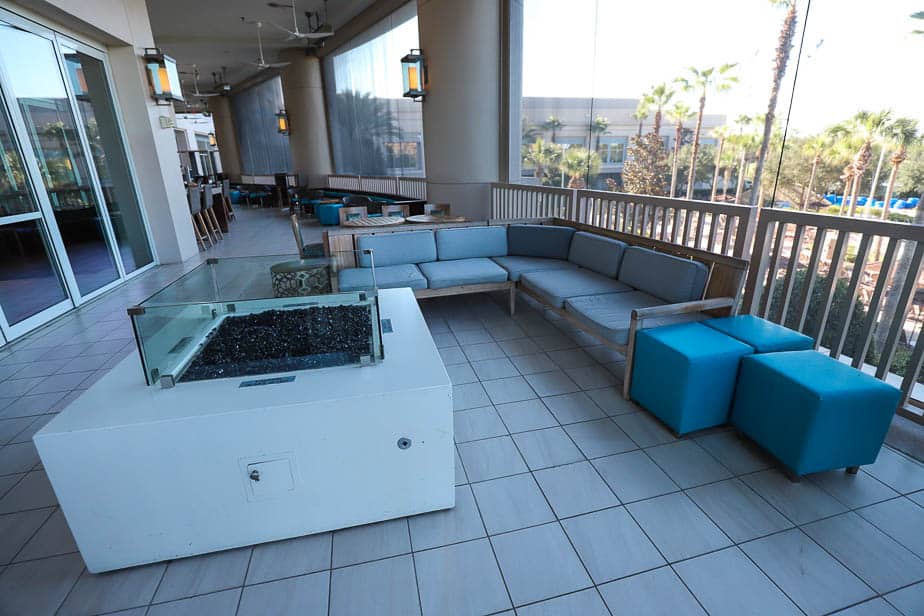 There's even a window that opens to Myth Bar.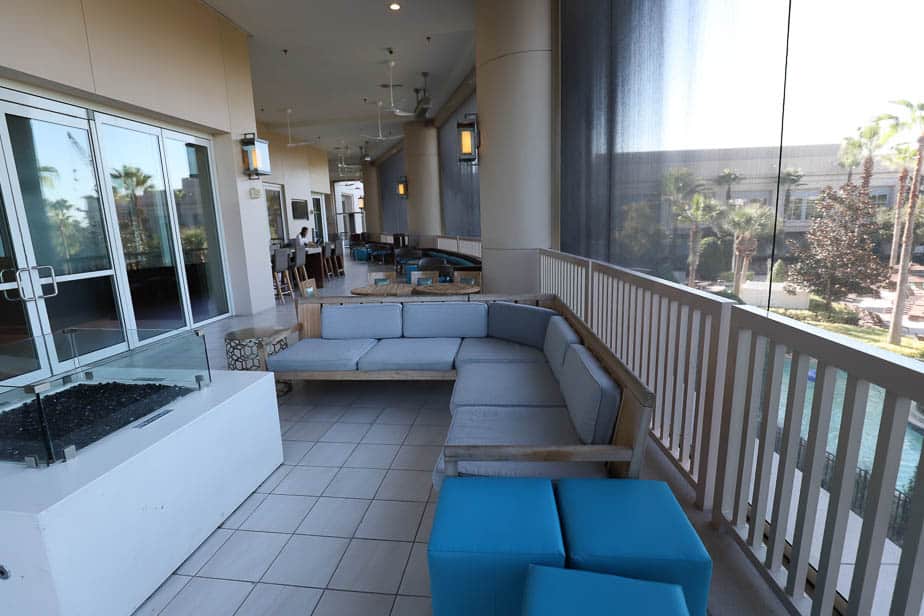 Inside the lobby, there is a display of vintage swimsuits.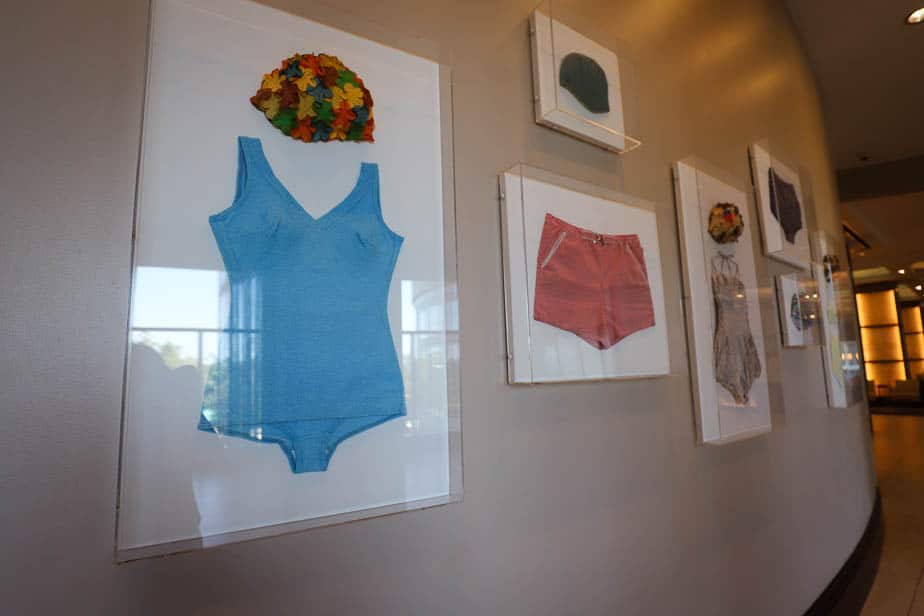 And there's an exquisite chandelier over a spiral staircase that leads down to the ground level.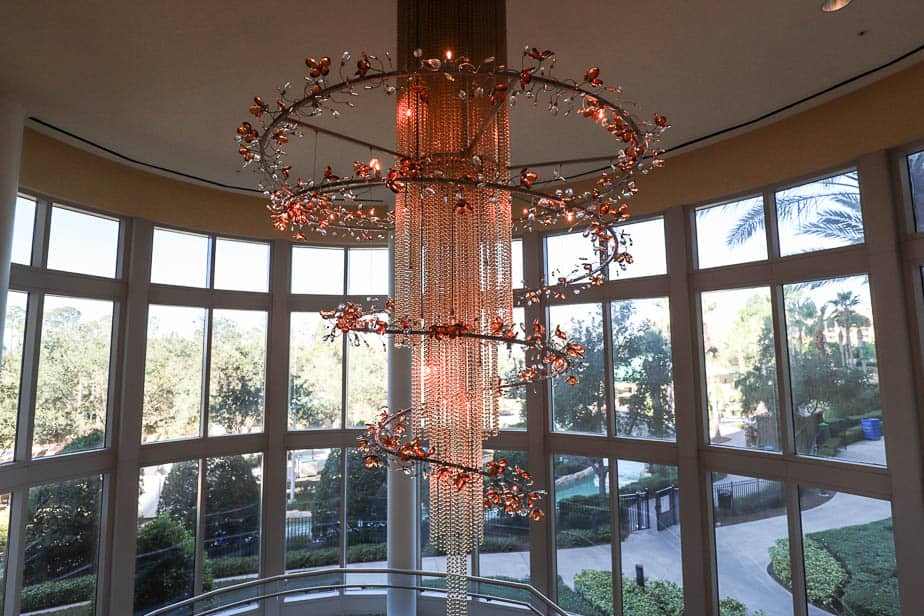 On the opposite side of the lobby, you'll find long carpeted halls that lead to the resort's convention center.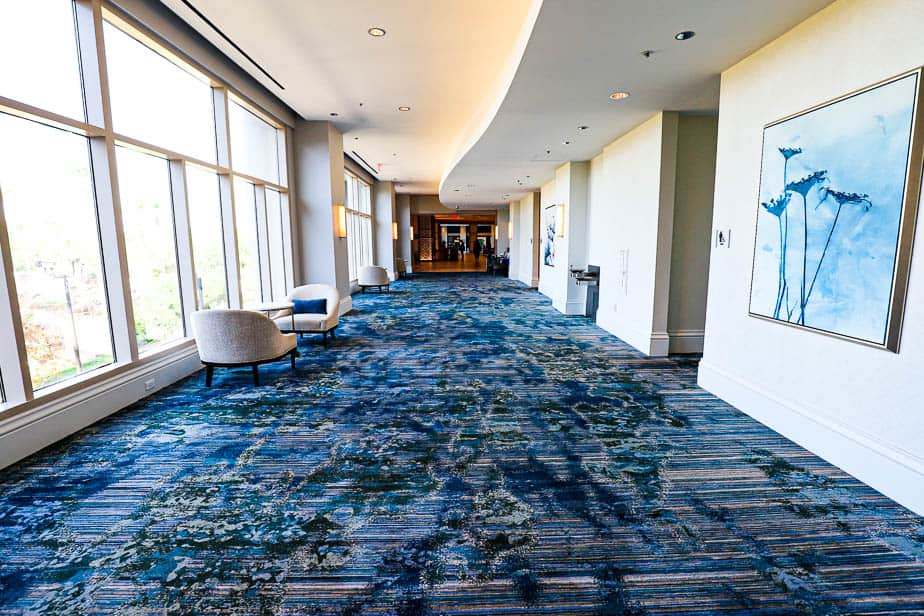 And it's a massive space. Over the weekend of my stay, there was a wedding, and they were setting up for the National Ballroom Dance competition. However, if I hadn't intentionally walked over to this area, I would have never known these separate events were being held.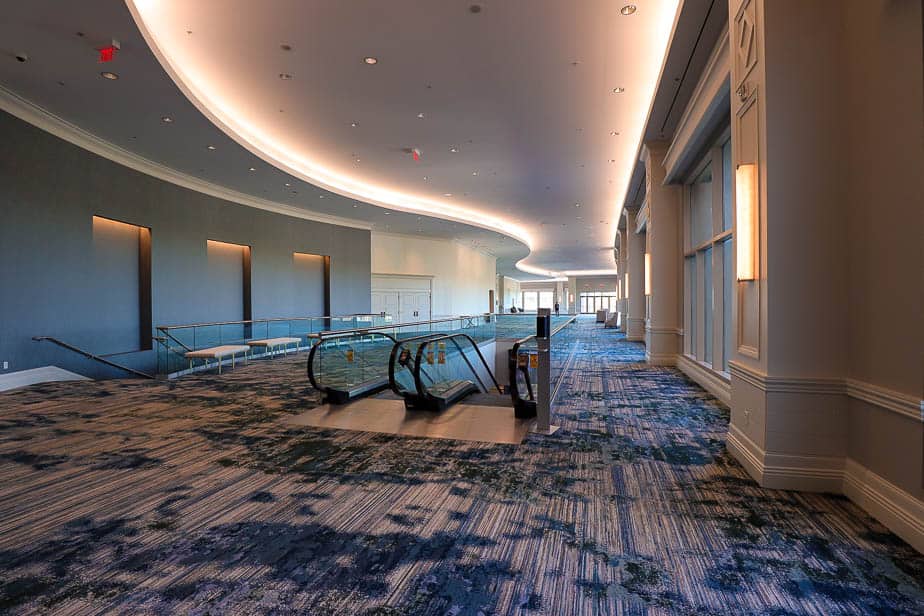 Throughout this review, I've mentioned a few things included in the daily resort fee at Hilton Signia Bonnet Creek. While I'm not a fan of these extra fees, you can rest assured nearly every resort in the Orlando area has them.
The daily resort charge at Orlando's Bonnet Creek Hilton is $45.00, and it includes the following:
High-speed internet access (2 devices)
Two bottles of water daily
Access to the practice facility at the Waldorf Astoria Golf Club
Fitness Center
20% discount at the Waldorf Astoria Spa
Free golf club rental after 2:00 p.m.
Use of the inner tubes at the lazy river
Shuttle service to all four Disney theme parks and Disney Springs
Complimentary dinner for children 12 and under at Harvest Bistro (must be accompanied by an adult entree) They have provisions for when Harvest Bistro isn't open.
Children five and under eat free at Harvest Bistro (for breakfast)
Final Thoughts on Review of Signia Hilton at Bonnet Creek
Overall, I enjoyed my time at the Bonnet Creek Hilton. This is the only hotel at Bonnet Creek that I had previously stayed at until this past year.
I hadn't ventured out to any of the other hotels in the past because I knew this was a great option. Until I started Resorts Gal, I was leery of trying off-property resorts.
So, this particular Hilton was already one of my few go-to resorts. And there are many reasons that the hotel is worth your consideration for a stay.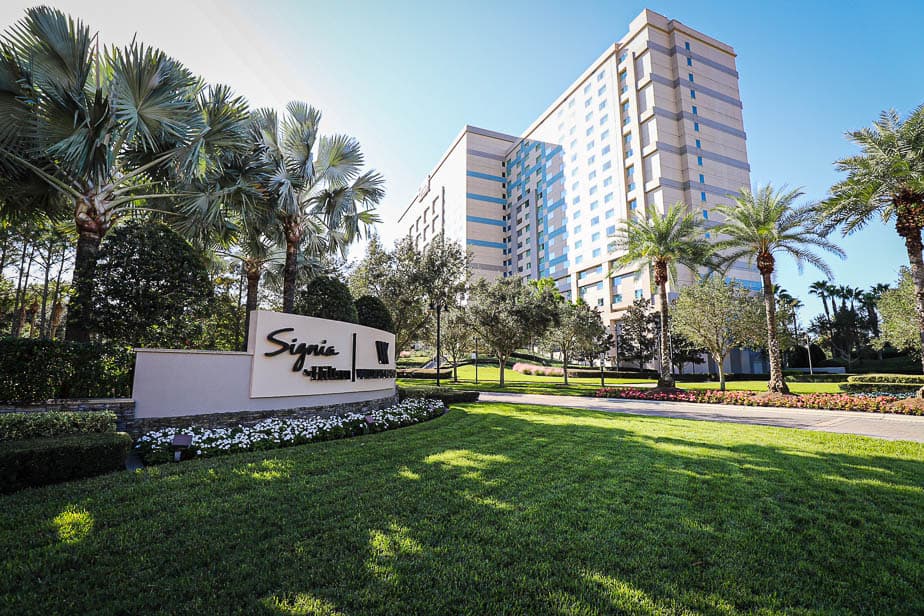 Perhaps the most significant factors are the location and the price. Obviously, this is a higher-end hotel, so the price won't be cheap. And you will have to factor in that daily resort fee and the parking fee if applicable.
However, this hotel will come out considerably less than a resort on property. Sure, you can't walk to the theme parks from Bonnet Creek. But I'm not sure that one aspect equates to the prices Disney is charging these days. Does it to you?
If not, then you can't go wrong with spending a week here at the Hilton Signia. There's a reason we include it on our list of the best off-site hotels near Disney World.
For other Disney vacation planning, you might enjoy these articles:
Now, for your thoughts. What questions do you have about the Hilton Signia at Bonnet Creek? Have you stayed here before? Leave a comment below and share any of your questions or experiences.