Review: California Grill's 50th-Anniversary Celebration Dinner
California Grill's 50th-anniversary celebration dinner is well underway, and we recently stopped in for a chance to review it. This iconic restaurant, originally called Top of the World, has been a part of Disney World's history since the Contemporary Resort opened in 1971.
In this review of the 50th-anniversary dinner at California Grill, we'll preview the menu, appetizers, entrees, and dessert. For those planning a reservation, you'll want to know that only a prix fixe menu is offered at this time.
On this evening, our dinner reservation happened to be right at sunset. Of all the times I've enjoyed dinner here, that has never happened. So, upon arrival, we were quickly sent up to the restaurant. When the elevator doors opened, I was blown away.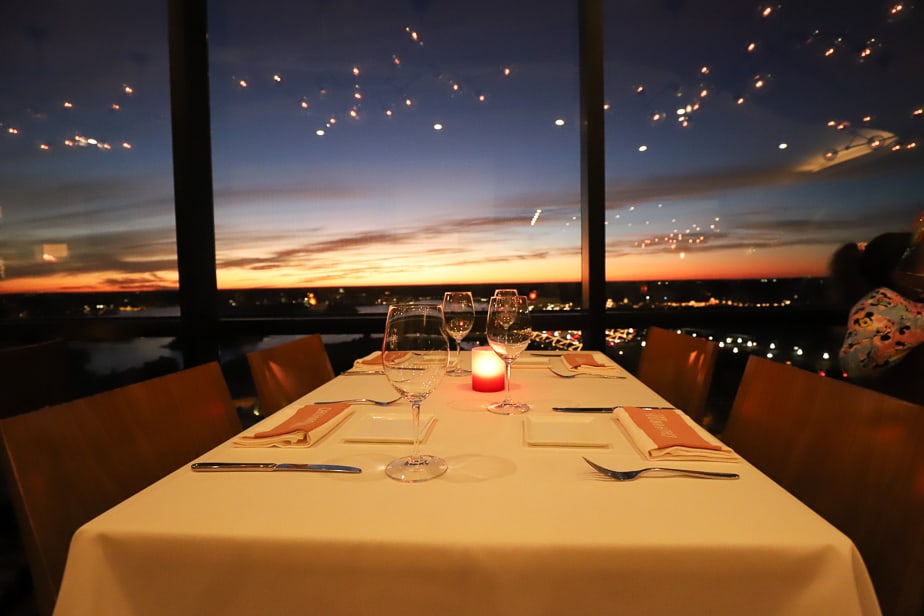 One entire side of the restaurant is a wall of windows that looks out to the Magic Kingdom Resorts area.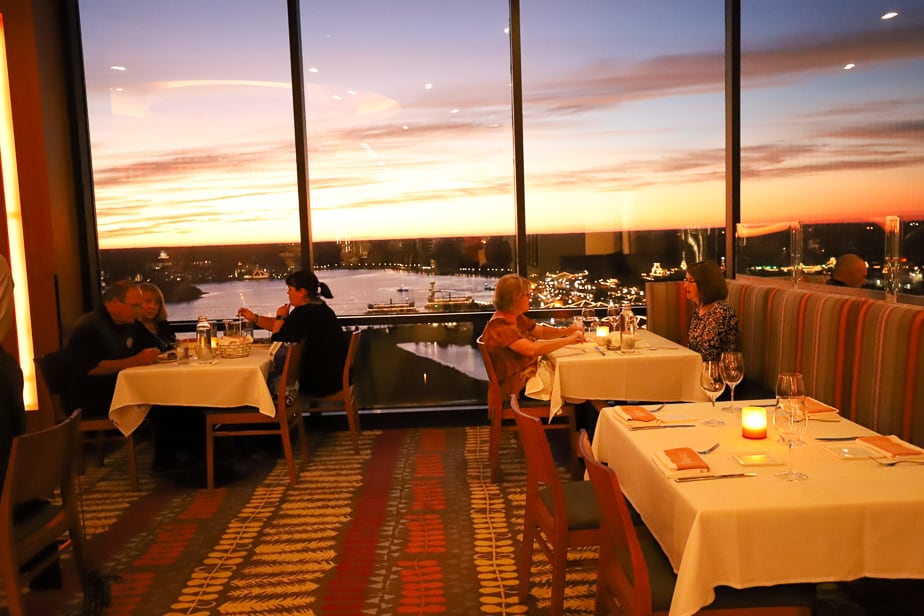 In the distance, you can see from the Grand Floridian across Seven Seas Lagoon to the Magic Kingdom.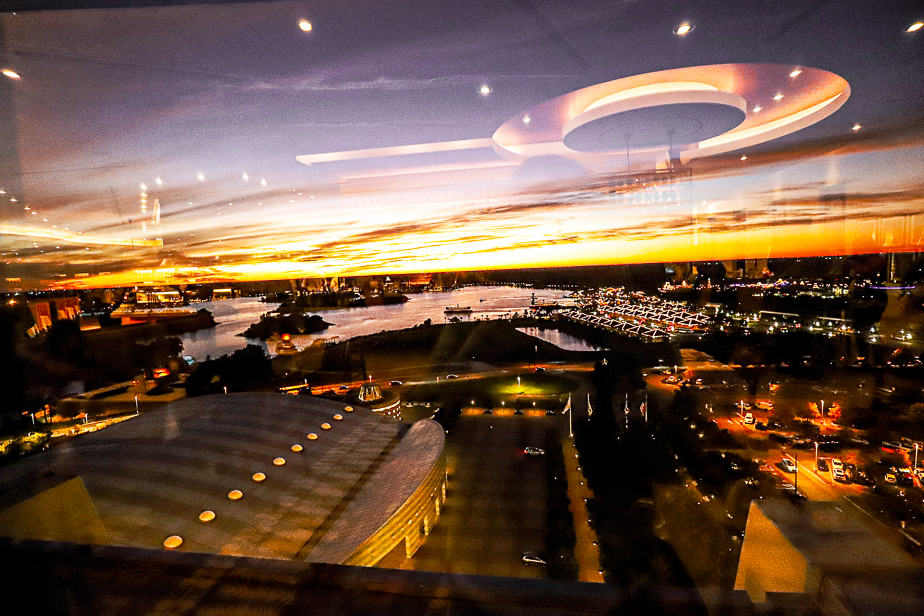 If you're lucky enough to get a window seat, you'll have stunning views to occupy you the entire evening. But, I'll warn you now, the majority of window seats are tables for four. So if you're a party of two or larger, you won't have as great of a chance of being seated by the window.
However, you can always request a window seat when you check in for your reservation. The check-in for California Grill is located on the second floor. A cast member will take your information and text you when your table is ready.
After that, the cast member sends you up in a dedicated elevator to the 15th floor, where the restaurant is located.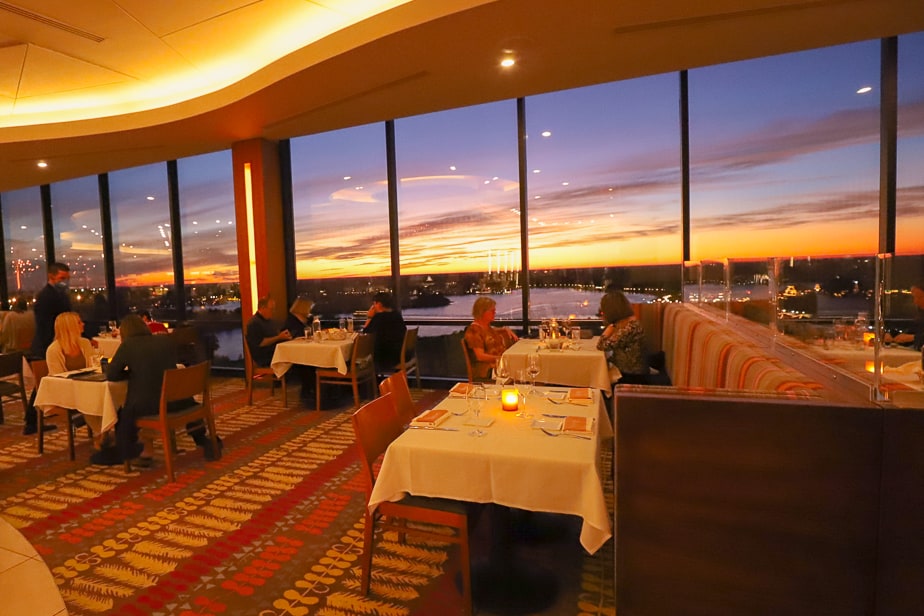 Since we were a party of five, we ended up at a circular table behind this window seat.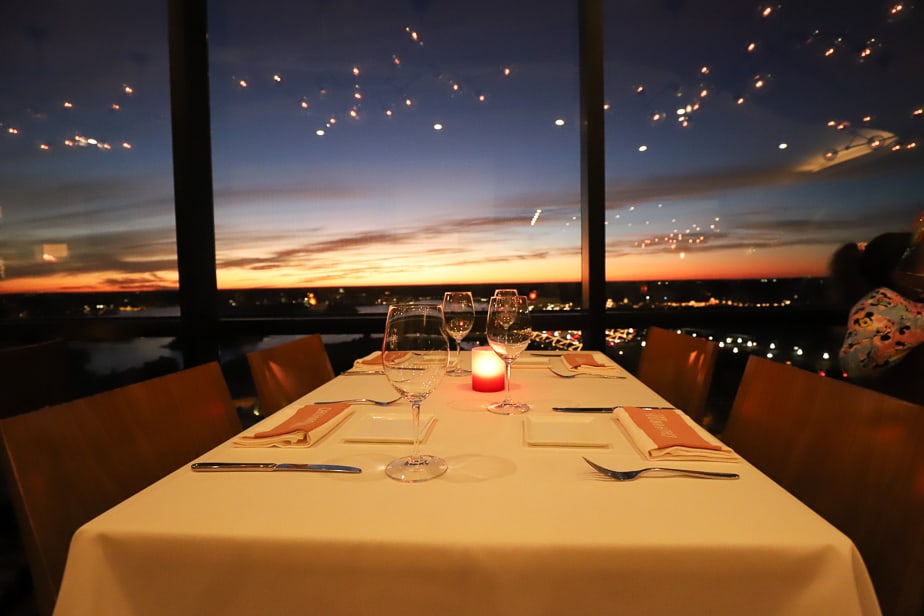 However, the above seat was open during our entire meal. I couldn't help but notice that while the restaurant was busy, many tables were available around us throughout the meal.
It could have been due to capacity limits. But the empty tables left me wondering why this reservation had been so hard to secure. Dinner reservations are relatively hard to come by these days at Walt Disney World.
So, when we sat down, we each received a folded menu and were told it was ours to keep. Now I love the California Grill and have received several "souvenirs" from the restaurant over the years.
What, you might ask? Oh, maybe a snowman made of sugar that came on a dessert platter that I couldn't bear to eat. (I still have him, in case you were wondering.) And I might have a few paper napkins embellished with the California Grill logo. After all, it is my favorite restaurant.
Then, a few paper coasters bring back memories of meals enjoyed at the bar or in the lounge when no seating was available. Unfortunately, the lounge area is now dedicated to guests with reservations.
But you can still find a seat at the bar when there's availability. In addition, the bar is the only place you can get an a la carte menu at this time. However, that menu is very limited.
Anyway, I thought the flimsy menu offered as a souvenir was a bit, how do you say it? Cheap. And cheap is by no means what I expect when it comes to the California Grill.
Nonetheless, California Grill's 50th-anniversary menu has found a home in my growing collection of Disney souvenirs.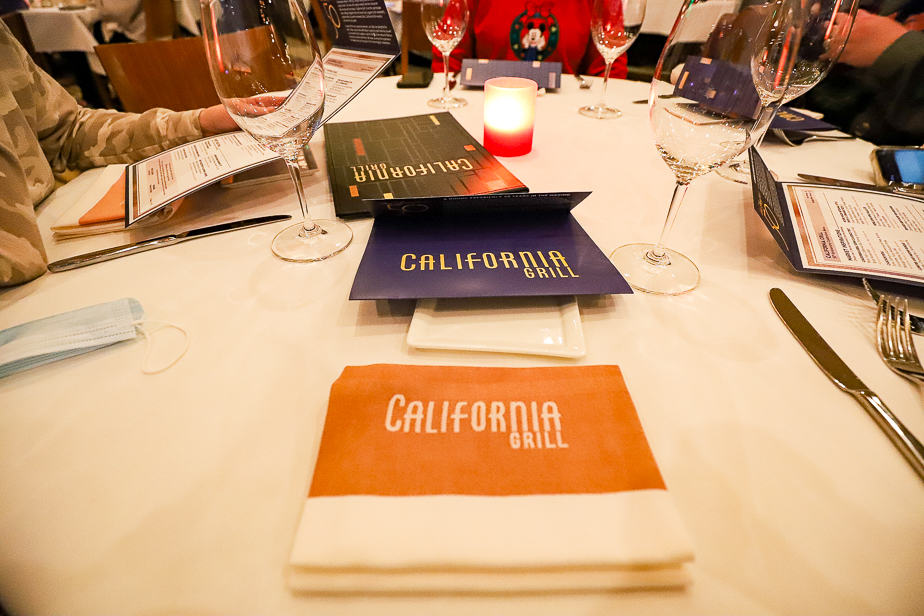 Now about the menu, the cost for this 50th-anniversary prix fixe meal is $89 per adult plus tax and $39 per child plus tax. Children are considered ages nine and under. Everyone else is an adult.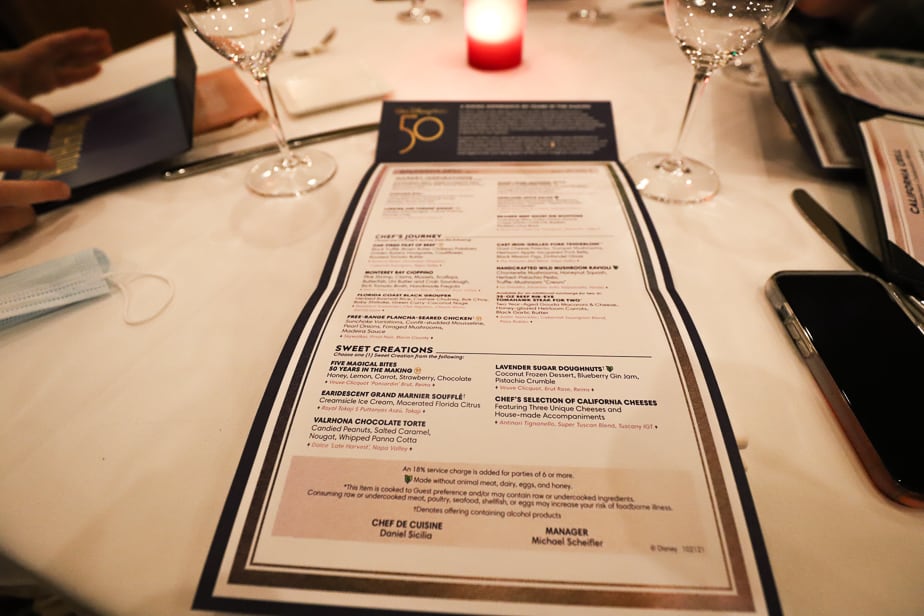 For the meal, you get a selection of an appetizer, entree, and dessert. Standard beverages like water, tea, or soda are included. Anything else is an extra charge.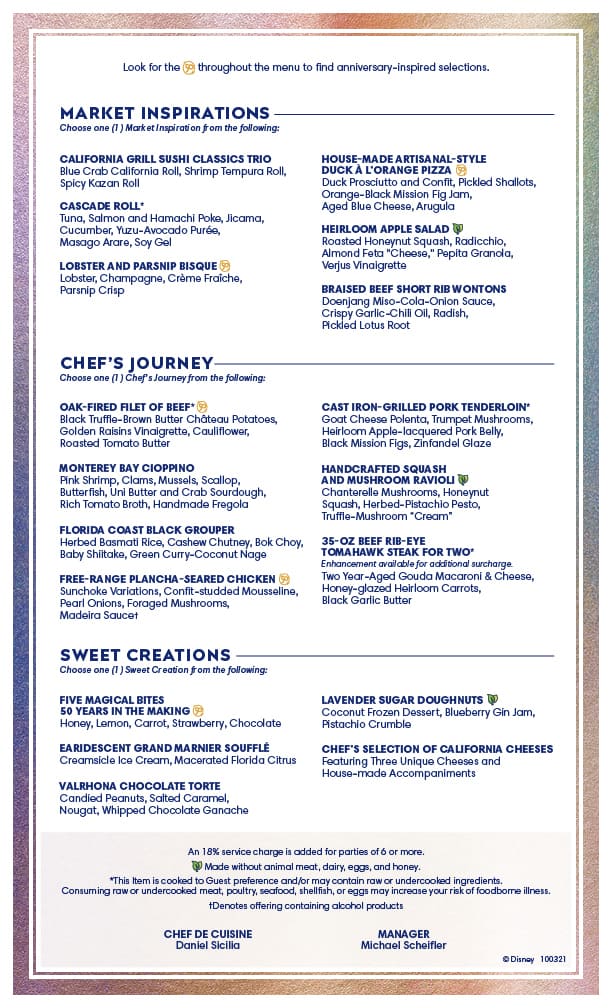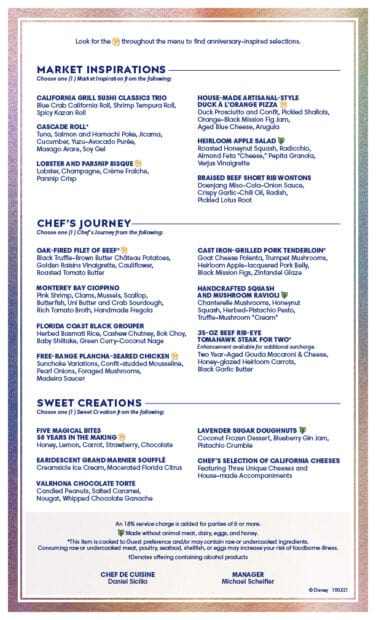 You can preview the menu online here on Disney's site.
In addition, one entree selection, the 35-oz Beef Rib-eye Tomahawk steak for two, is available at an additional $80 surcharge.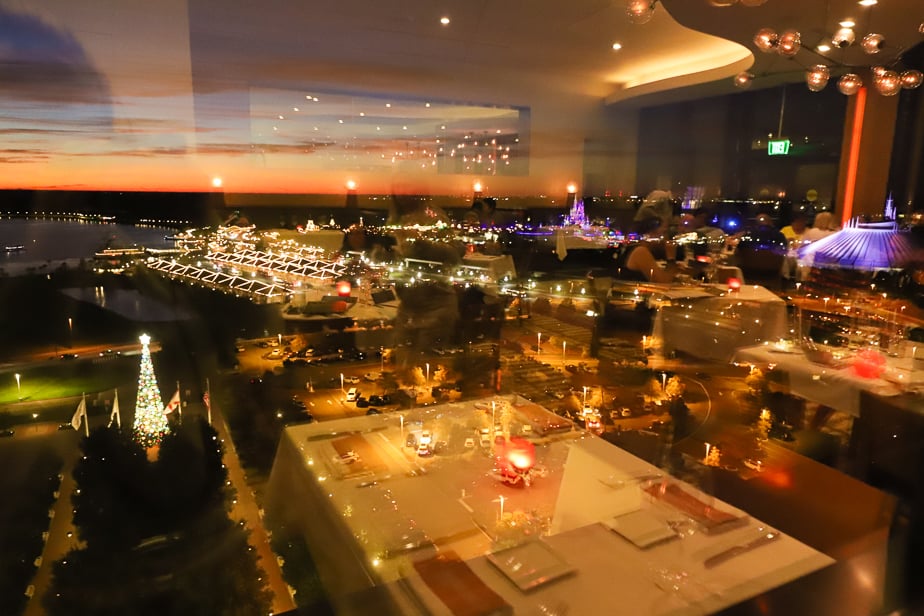 Jessica starts us off here with the California Grill Cascade sushi roll. Per the menu, Tuna, Salmon and Hamachi Poke, Jicama, Cucumber, Yuzu-Avocado Purée, Masago Arare, Soy Gel.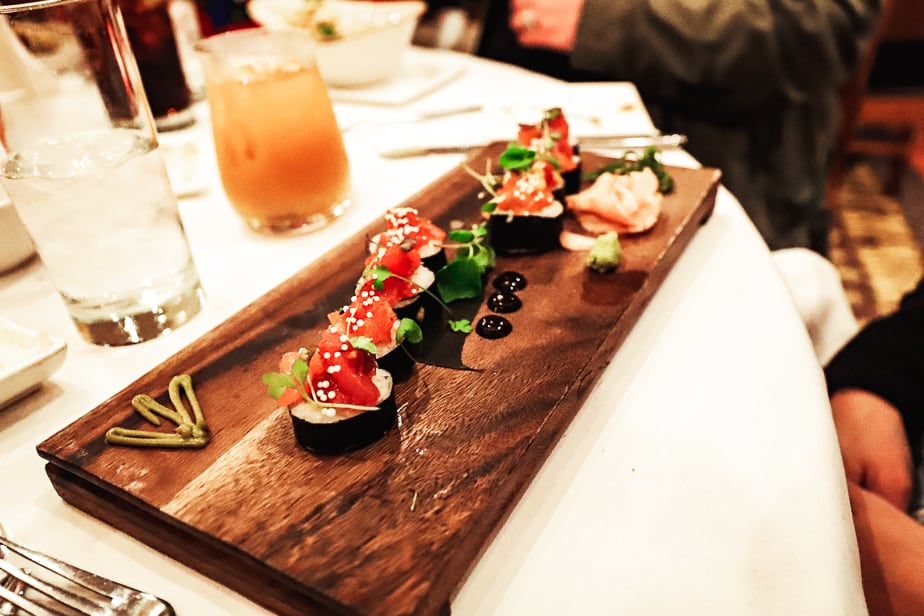 California Grill is known for its unique sushi preparations, and this roll didn't disappoint. It was an excellent appetizer selection and received raved reviews all around at our table.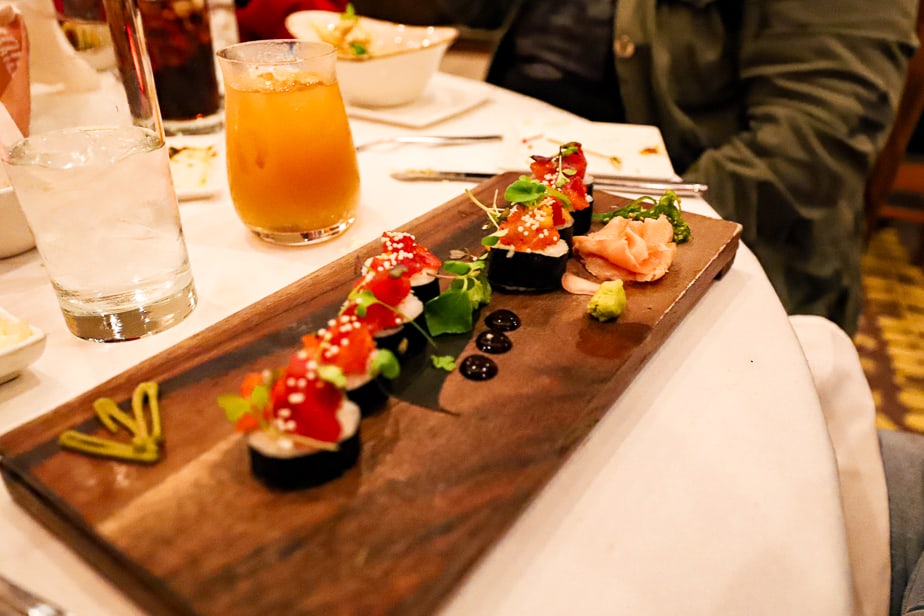 Sam ordered the Lobster and Parsnips Bisque described as Lobster, Champagne, Crème Fraîche, Parsnip Crisp. Wow! The bite I got of this was superb. Between the sushi and bisque, I'd have difficulty deciding what to order if I returned.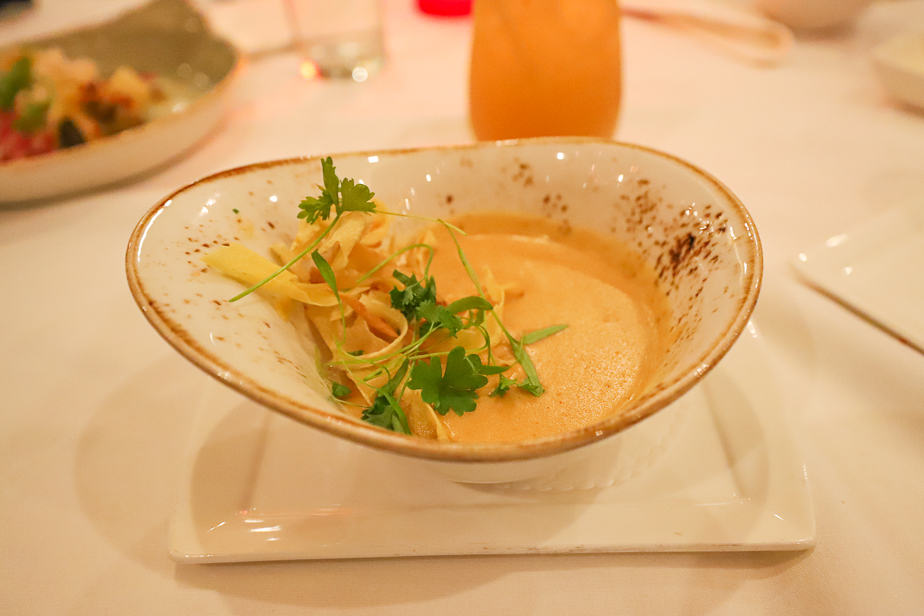 I went with the Braised Beef Short Wontons described as Doenjang Miso-Cola-Onion Sauce, Crispy Garlic-Chili Oil, Radish, Pickled Lotus Root for my appetizer. This dish is a long-time favorite for many at California Grill. Since I had never tried the wonton, I knew that this would be a good opportunity going into the meal.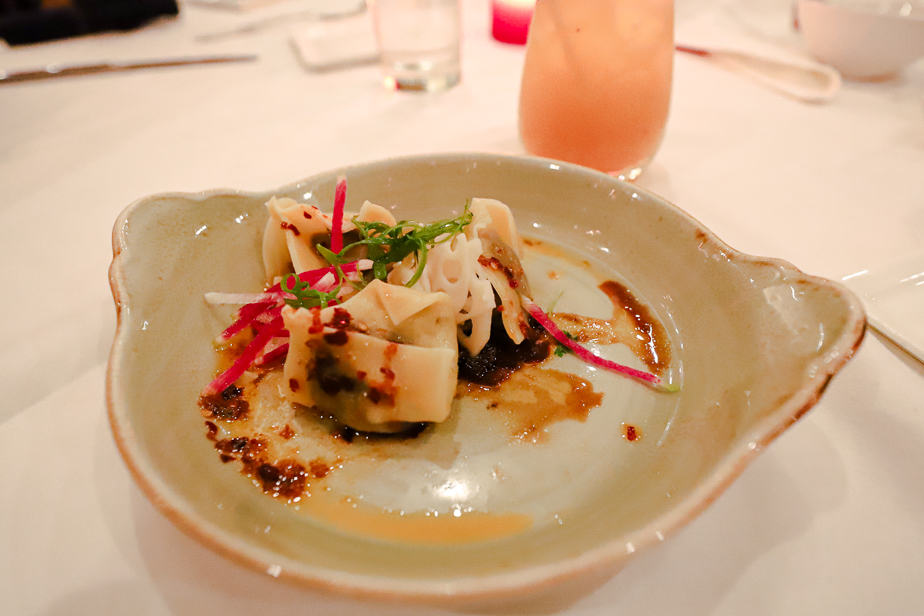 Unfortunately, the plate I received was entirely too spicy to eat. Kristen and Jess tried a bite, and we all agreed it could be great had it not been overseasoned. JoAnne also ordered this. She ate every bite of hers and commented that it wasn't so spicy. So mine must have been a fluke.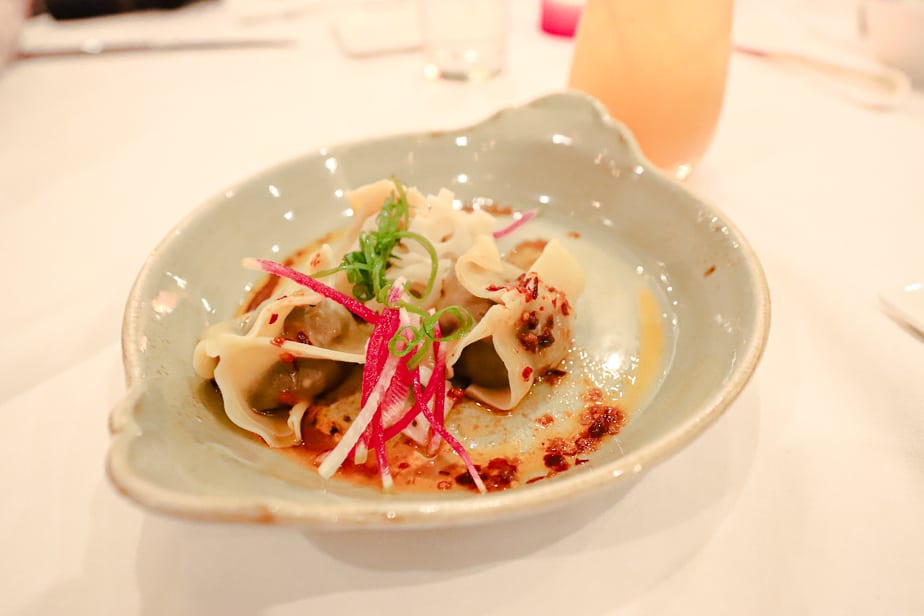 Among the five of us, we all ended up going with two entree items. Several chose the Oak-fired Filet of Beef, described as Black Truffle-Brown Butter Château Potatoes, Golden Raisins Vinaigrette, Cauliflower, Roasted Tomato Butter.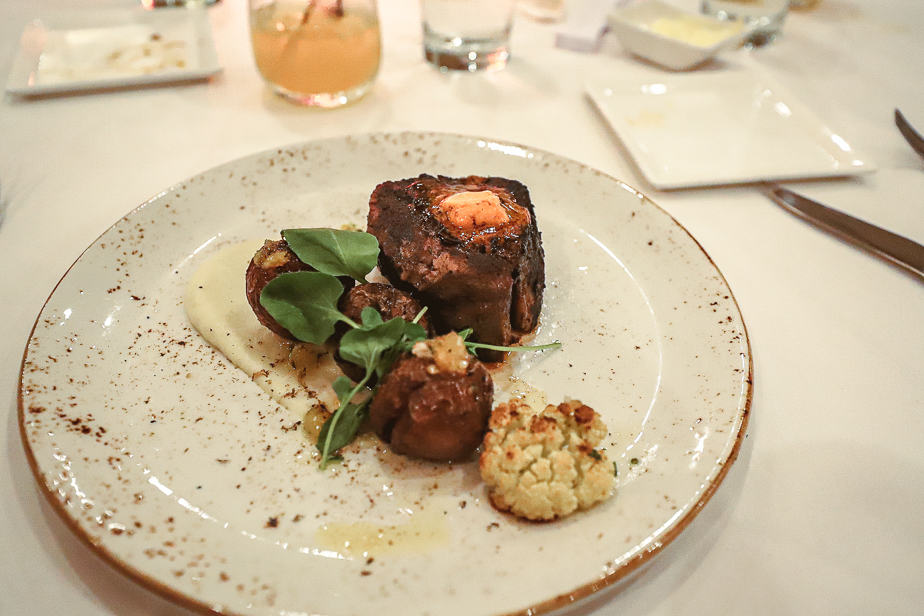 There were no complaints here. The filets were tender and expertly prepared. And those truffle potatoes were the tastiest bites. A few golden raisins added a nice edge to the dish.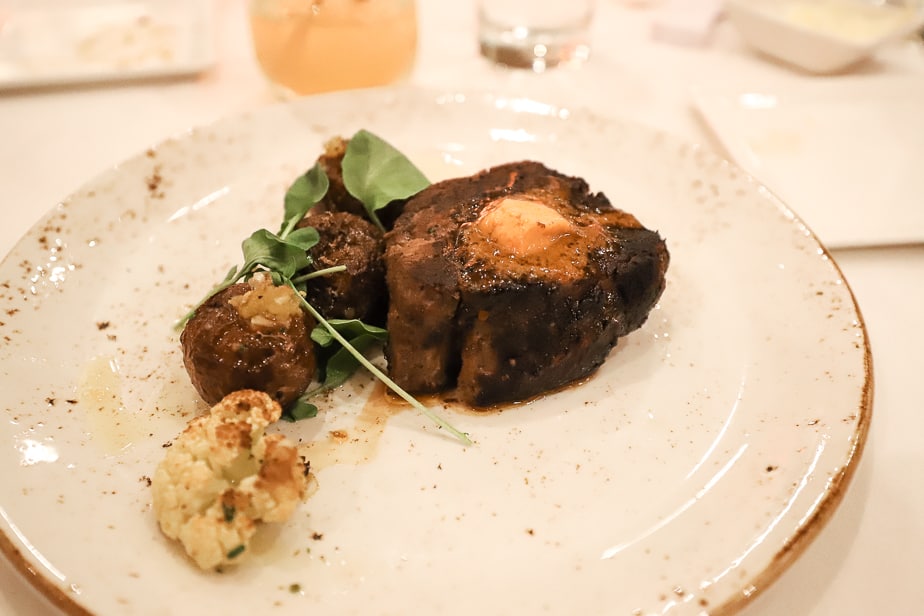 JoAnne and I both ordered the Cast Iron Grilled Pork Tenderloin. Per the menu, Goat Cheese Polenta, Trumpet Mushrooms, Heirloom Apple-lacquered Pork Belly, Black Mission Figs, Zinfandel Glaze.
When I perused the entree selection, I had a hard time deciding. Unfortunately, none of the items stood out to me. And I think when this happens, most guests will end up ordering steak because it's the safest choice.
Since most everyone I was with ordered the steak, I decided to change things up and try the pork. It was a memorable dish that I'll probably attempt to make at home in the future.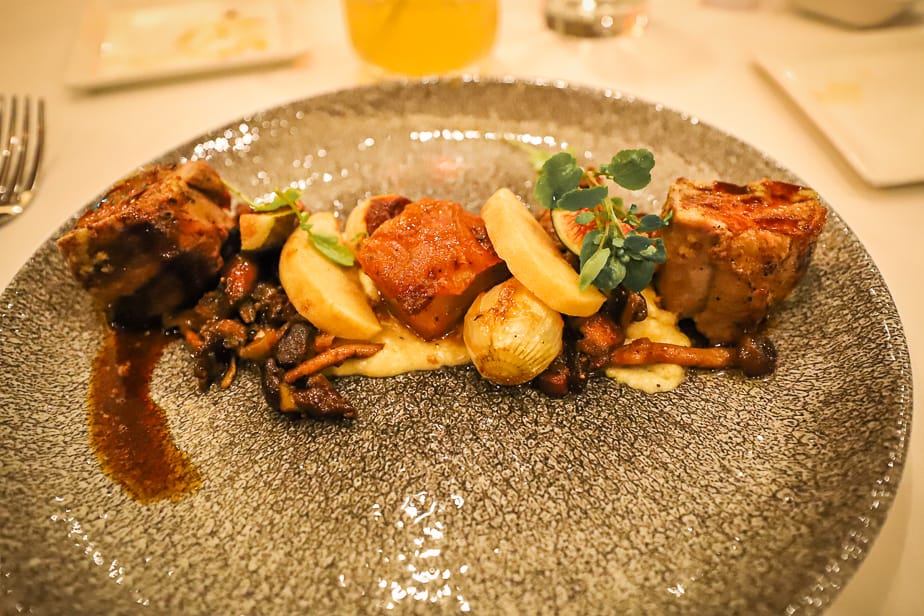 Our server said the chef recommended a medium preparation of the pork, so I went with that. It was served on a bed of creamy polenta with the most delicious figs and Trumpet mushrooms.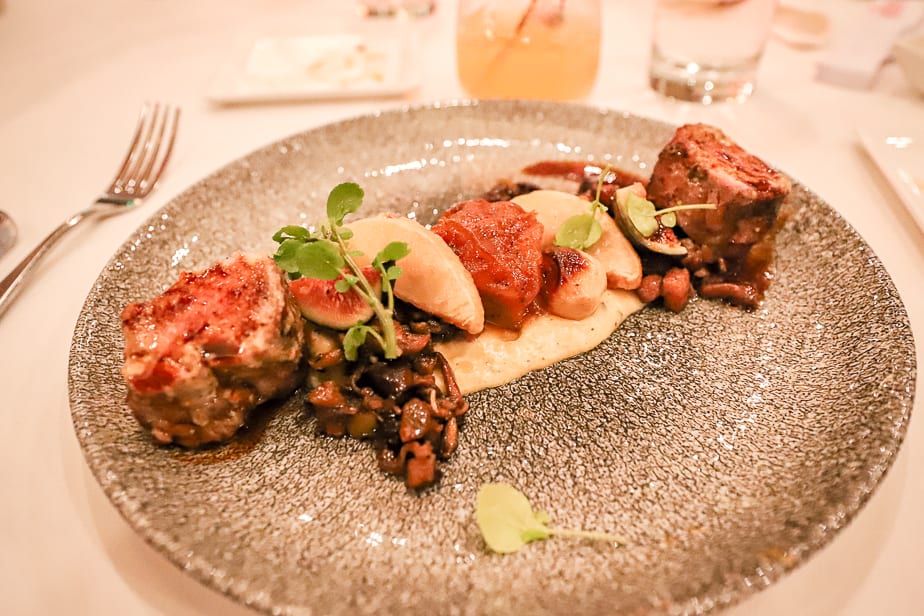 If you end up dining at California Grill for the 50th anniversary, I can't help but recommend trying the pork. For me, the pork sounded kind of meh on the menu.
However, since nearly everyone else went with the steak, I knew I had to branch out and try something different for the sake of this review. And while the steak was good, it wasn't anything out of the box like the tenderloin.
Now for dessert.
I went with the EARidescent Grand Marnier Soufflé, described as Creamsicle Ice Cream, Macerated Florida Citrus. This dish came out piping hot to the point I had to let it cool down before indulging.
The tiny bite of ice cream was luscious. But, unfortunately, it wasn't even the size of a small ice cream scoop. I felt like maybe whoever prepared it had used a tablespoon to scoop it into the dish.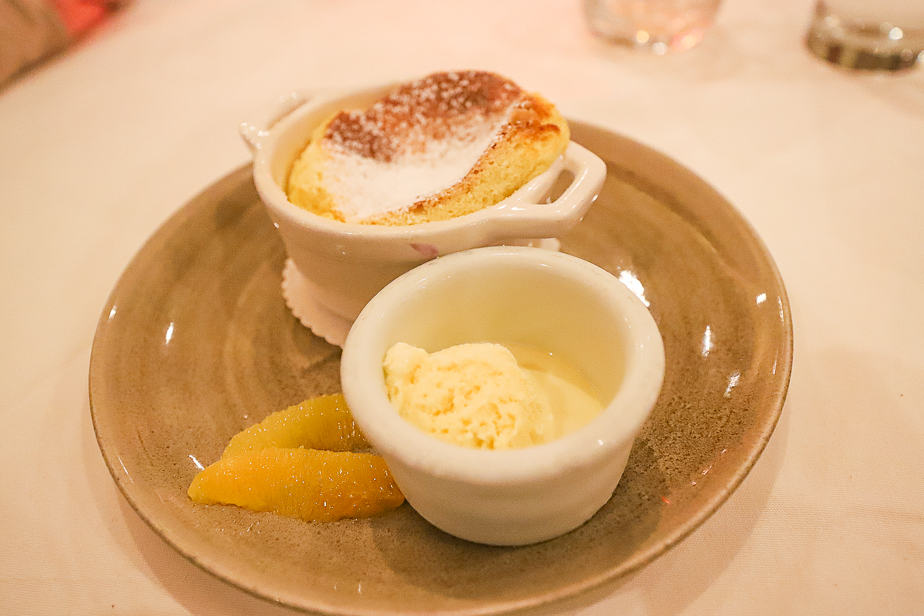 Additionally, the souffle was delicate. Had there been a bit more ice cream presented on the side, it would have fared better.
Several of the girls ordered the Five Magical Bites 50 Years in the Making. Per the menu, each bite is one of these flavors honey, lemon, carrot, strawberry, chocolate.
This was a nice selection. It reminded me of what you would expect to receive in a club-level lounge for desserts and cordials.
Personally, I'm not a fan of this "bites" type offering at this caliber of restaurant. But there were no complaints at the table.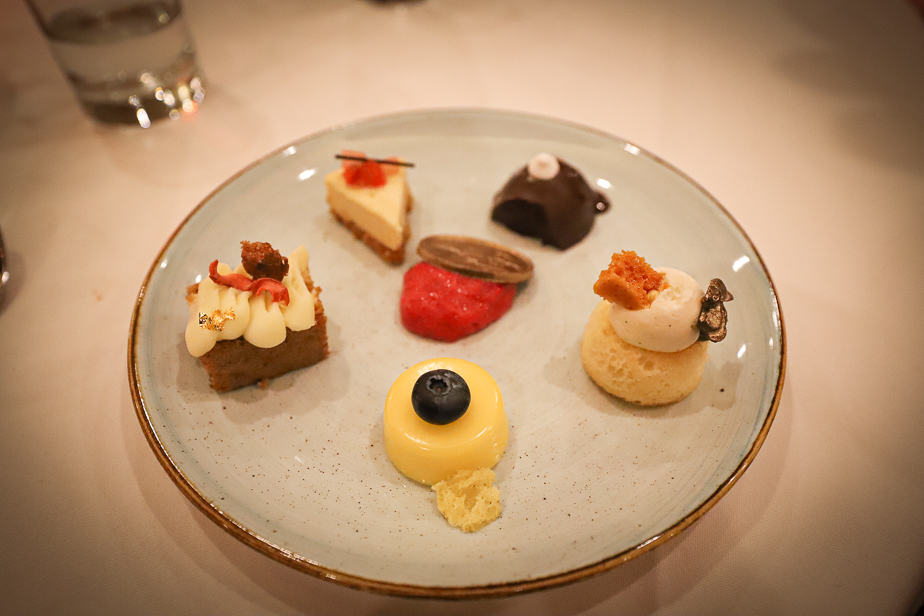 Lastly, JoAnne ordered the Valrhona Chocolate Torte described as Candied Peanuts, Salted Caramel, Nougat, Whipped Panna Cotta. California Grill nearly always has a Valrhona chocolate dessert on its menu. The torte is their most recent rendition, and it didn't disappoint.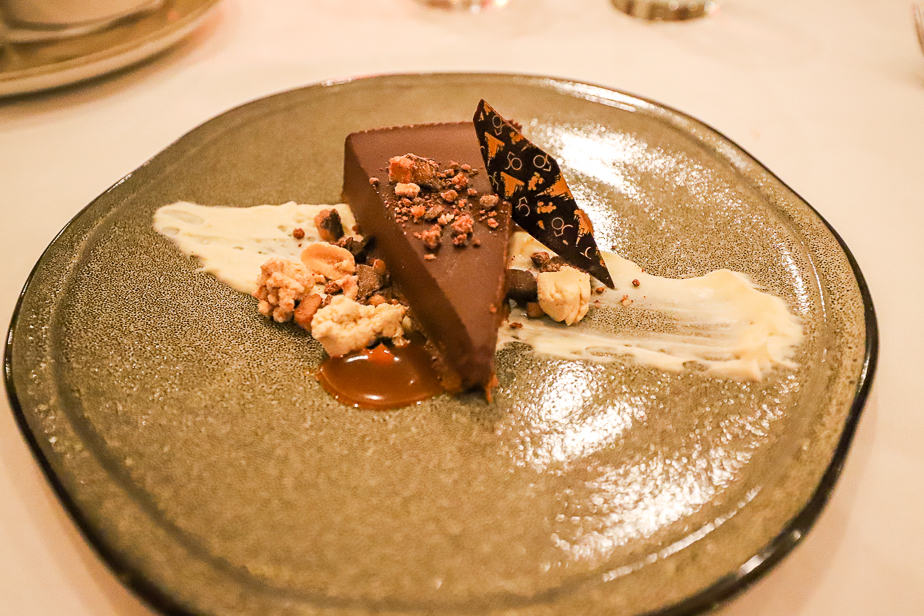 I would order this on a return visit in a heartbeat. If you love chocolate, you can't go wrong here.
This evening, we finished our meal about 15 minutes shy of Disney Enchantment, Magic Kingdom's fireworks spectacular. Usually, we would have stayed to watch the fireworks from the rooftop deck of California Grill.
However, we had tickets to attend the Very Merriest After Hours and felt it was best to check in to the event before the massive expedite of crowds after the fireworks. So, if you plan to attend California Grill's 50th-anniversary dinner, I recommend planning this evening to itself.
And if you get an early reservation, you can still bring your receipt back to enjoy the fireworks on that same evening. We usually try to plan our meal during fireworks. But if that doesn't work out, we'll tour the monorail resorts until it's time to return.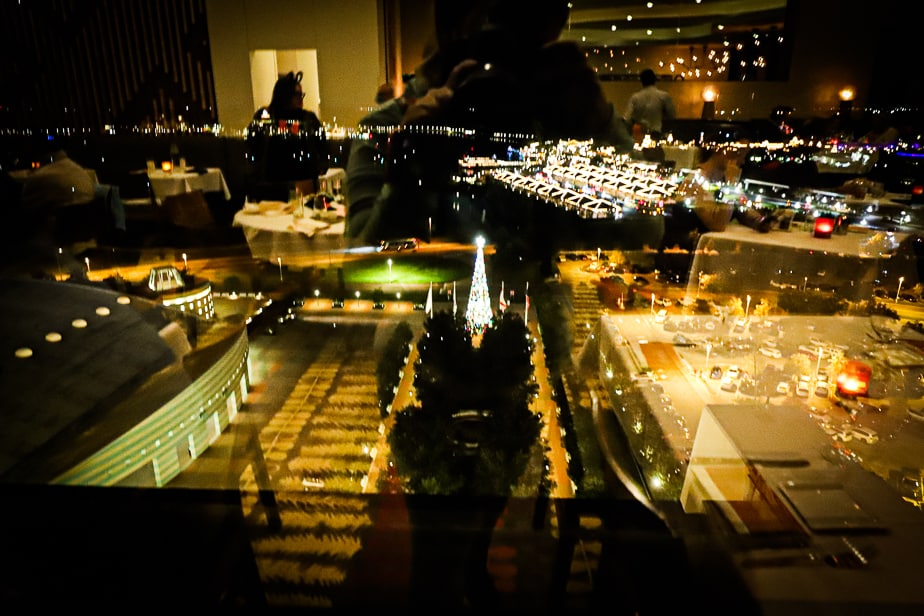 California Grill has a large observation deck with audio surround sound so you can hear the music around you. While you won't get to see the actual projection show on the castle, the view from the deck offers a unique perspective. It's not something you'll want to miss.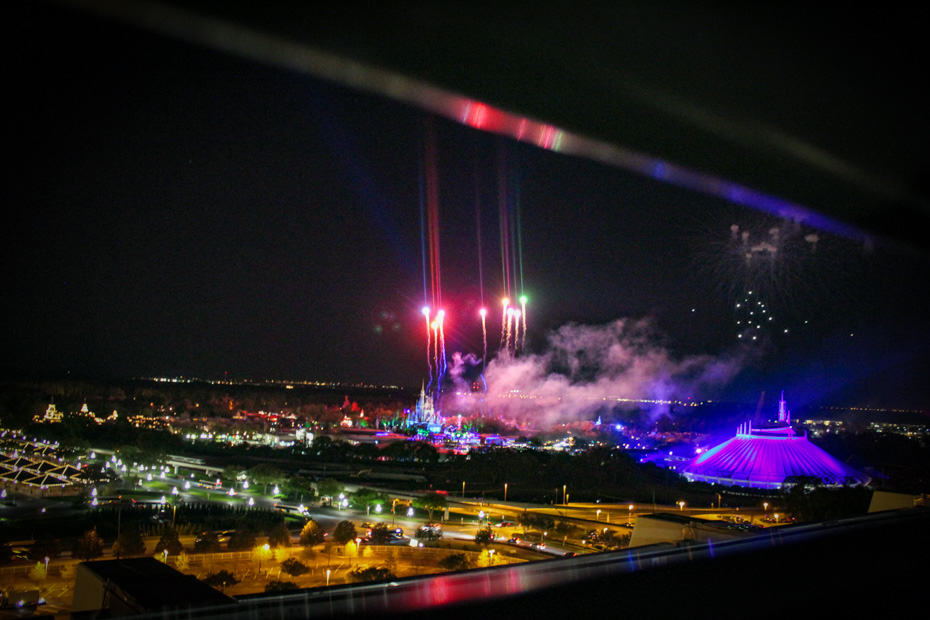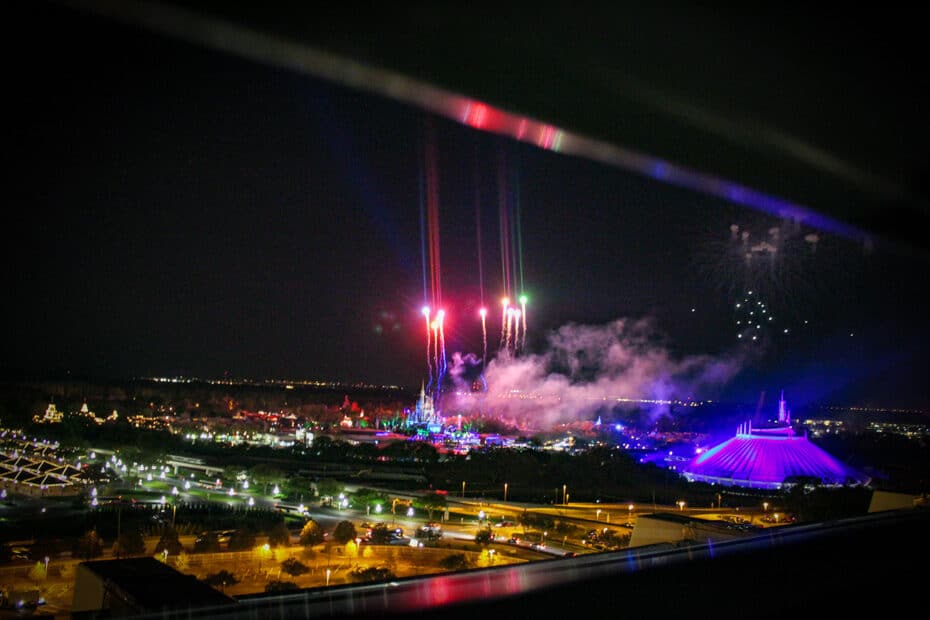 Overall, we enjoyed our evening at Disney's California Grill. However, I don't anticipate returning until the restaurant incorporates a regular menu or brunch returns.
I am not a fan of a majority of the selections on the prix fixe menu. Additionally, I didn't care for the confinements of having to order a meal that costs over $100.00 per person with tax and tips.
Granted, I've spent much more than that many times at California Grill's Brunch. That meal has always been my favorite splurge at Disney. Let's hope it eventually returns to its former glory.
For this meal, I missed having the opportunity to order classics like the Sonoma Goat Cheese Ravioli (here). And I've always enjoyed ordering the chef's seasonal salads and select sushi items.
It was disappointing not to have a more comprehensive selection of menu items. So disappointing, that I canceled our upcoming reservation for dinner the week before Christmas. For now, we're leaning more toward Yachtsman Steakhouse or maybe Topolino's Terrace.
Related: Yachtsman Steakhouse Review
Now, I don't say this to discourage you from planning a meal here. It's just that there's not a laundry list of items on the menu currently that I'm looking to try.
And I do look forward to returning in the future.
For more dining information, you might enjoy browsing our entire list of Disney Restaurant Reviews. Additionally, we have a guide to signature dining at Disney World.
Or you may enjoy these recommendations:
You may also like to learn more about Disney's Contemporary, all of our articles related to the resort are available here.
So, now that you've read my take on California Grill's 50th-anniversary dinner, what are your thoughts? Do you have plans to dine here in the upcoming months?
Planning a Walt Disney World or other Disney Destination vacation?
Our friends and travel partner, Firefly Travels, excels at doing Disney differently. You can fill out a plan your trip form on their website, and someone will reach out shortly to discuss the specifics.