Review: California Grill at Disney World
Disney's California Grill has become a favorite pastime for my family in more recent years. A meal here provides the opportunity to experience Disney dining at its best.
Additionally, a meal at California Grill offers the ability to take in a unique view of the nightly fireworks at Magic Kingdom.
In this review of California Grill, we'll look at several dining experiences we've had to date at the Contemporary Resort's signature restaurant.
However, at this time the California Grill is offering a special prix fixe menu in honor of Walt Disney World's 50th anniversary. Therefore I've created a separate review exclusive to that meal. If you would like to learn more about it try this article.
Related: 50th Anniversary Dinner Review at California Grill
Additionally, the California Grill formerly offered brunch on Sundays. However, at this time in early 2022, that experience has not returned. If you would like to learn more about the former brunch at California Grill, try this article.
Related: California Grill Brunch Review
I'll be the first to admit I am a bit biased when going on and on about this particular restaurant. That's because it's my absolute favorite signature restaurant at Walt Disney World.
California Grill offers stunning views of the Magic Kingdom and the surrounding resort area. Not only that, but the food is definitely worthy of making a dining reservation here. Additionally, the ever-changing seasonal menu keeps us coming back for fresh and exciting new dishes.
Since I wrote this initial review, I have returned often. And there have been no complaints. This is a dining experience that keeps me longing to return for more. And I doubt that will change. It's just that good.
I hope this dinner review will provide you with the information you need to try a meal there! From the window seat views of Seven Seas Lagoon to the high-quality cuisine, the entire experience is always something that leaves most looking forward to a return visit.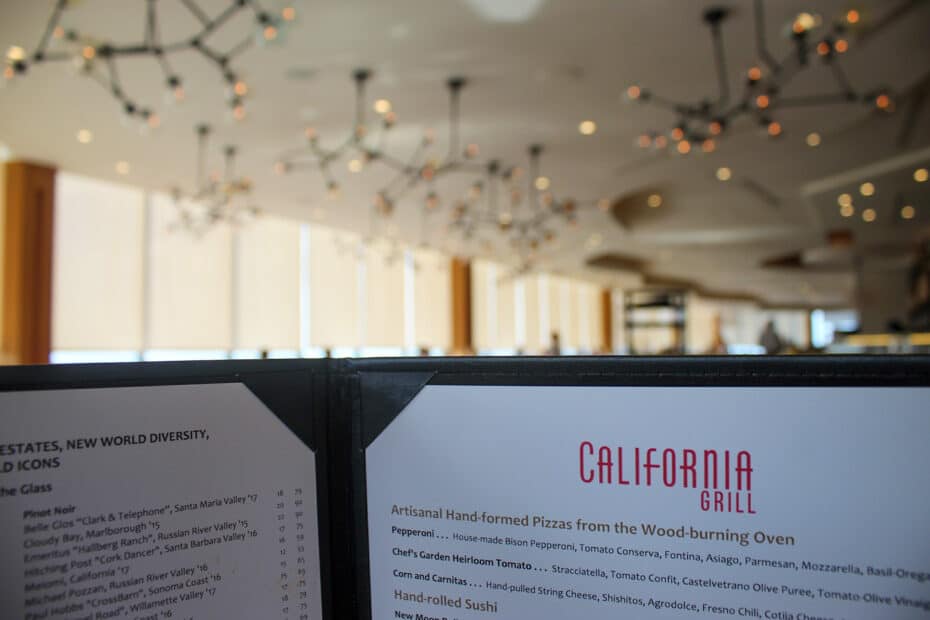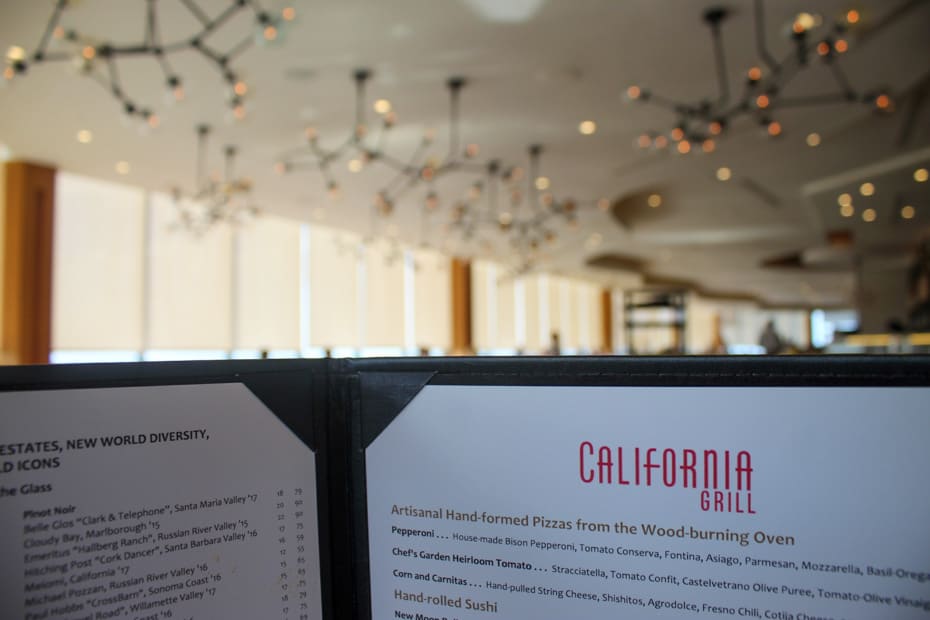 Disney's California Grill Review
This original review of California Grill covered a dining experience from the springtime. That meal was so good that I found myself returning in the Fall to see if I would have the same experience.
It was completely for the sake of this website. That's what I keep telling myself anyway.
So now this review reflects several updates and covers multiple meals at the restaurant. Doing this offers the chance to take a better look at California Grill's ever-changing menu. I never want to miss an angle.
If I were to give a rating for California Grill, it would have to come in as a full 10 out of 10. And that's taking into account over five to six dining experiences here within the last few years. The restaurant is considered a signature dining location, or you might call it fine dining.
The food is high quality and prepared in an open-style kitchen. California Grill's menu offers many fresh and unique ingredients. The service we have received at every meal has been exceptional. And the fact that the restaurant has nightly fireworks viewing for anyone who has dined there that evening is also a special perk.
Let me explain a bit more in detail.
Disney's California Grill has a muted color palette with bright pops of color. The idea and design of the restaurant are to keep you looking out toward the breathtaking views.
In the picture below, you can see that the shades are dropped at the beginning of the dinner service. As the sun begins to set, or in the event of rain, the shades will automatically start to rise.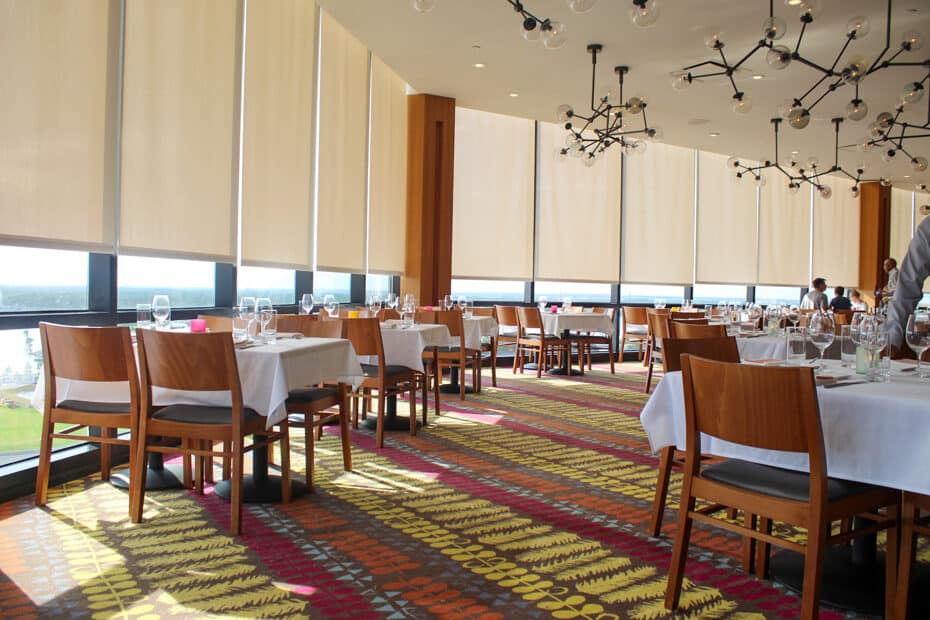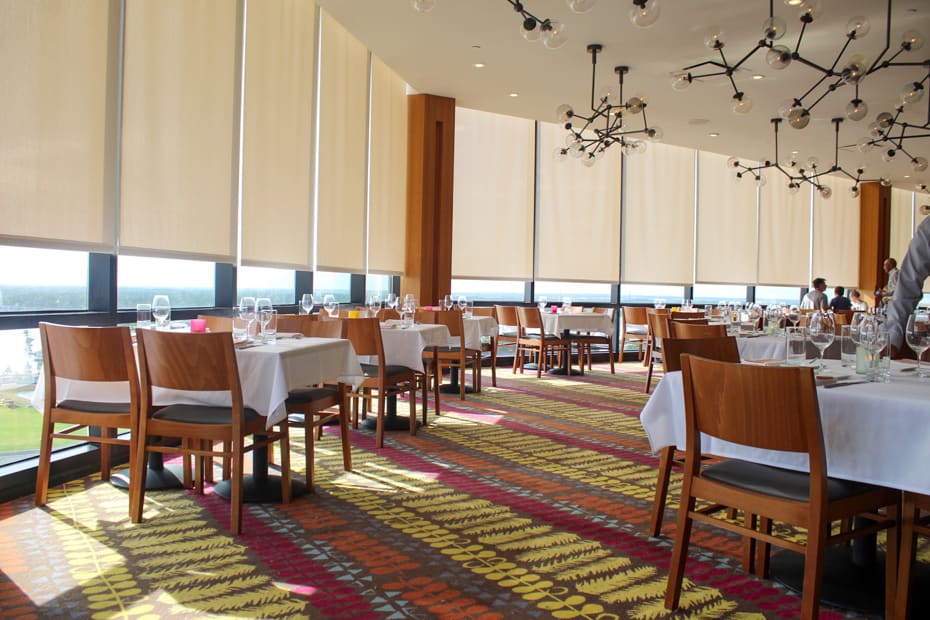 The vibe at California Grill is also very modern and airy, keeping in line with the overall feel of Disney's Contemporary Resort. You'll notice a lot of golden tone-woods and white accents like counters and table clothes. The restaurant has many clean lines to help support the overall design.
As far as service goes, we know several of the servers by name. That's just how good of an experience we have had and a testament to the restaurant. One of our last servers was very knowledgeable of the menu, and I asked him his opinion on some of the items I had in mind.
Asking for direction with menu selections is a huge tip I want to share with you. In fact, probably the best tip I think I can ever give anyone when it comes to dining at Disney World.
If you are eating somewhere, especially fine dining, your server should have had good training. They will be able to educate you properly on what you might be interested in ordering. There have been many fabulous meals I would never have tried if it hadn't been for the direction of a server.
Disney's California Grill Menu Items
I've gone back and forth about adding the menu to this California Grill review. Ultimately, I've decided to leave a link here to the menu on Disney's site.
However, the online menu is rarely accurate. You might preview the most up-to-date menu online an hour before your experience, then arrive and find a completely different menu.
I mention it because it's been the case nearly every time I've dined here. Sure, some of the classics listed will always be there. But I wouldn't decide what I wanted before reviewing the actual menu at the restaurant.
As we begin our look at the actual menu items we'll start with the cocktail list. Disney's California Grill has a signature cocktail list with a number of fun drink offerings.
Here is a look at a few recent items. If you end up not caring for a drink, just let your server know. They will let you reorder a new drink. The restaurant also has an extensive wine list. The list will be delivered to your table when you are seated.
First, we have the Blackberry Sour. This drink is made up of Ketel One Citroen vodka, house-made lemonade, and fresh blackberries. It tastes like pink lemonade, and I don't think anyone could consider this a strong drink by any means. I enjoyed the drink, but I don't think it would be something I would return to again, given the variety of options on the menu.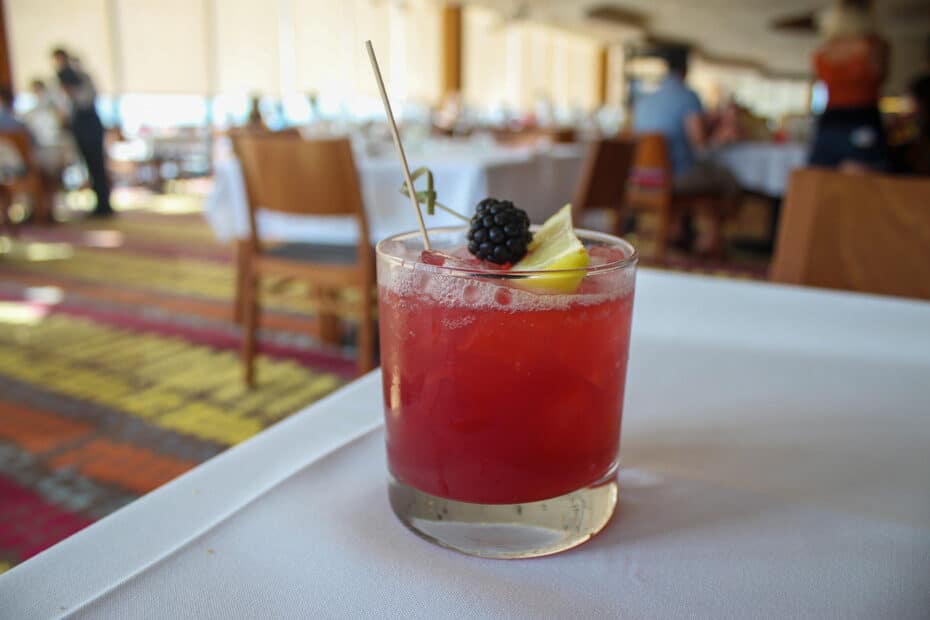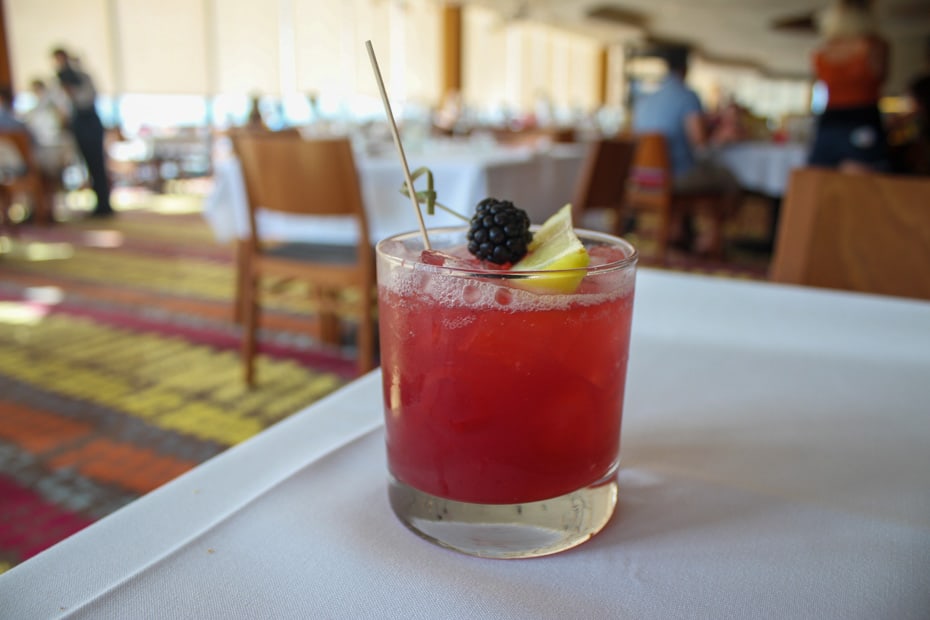 On a different evening, I ordered the Ancho Rancho Spicy Margarita at the recommendation of my server.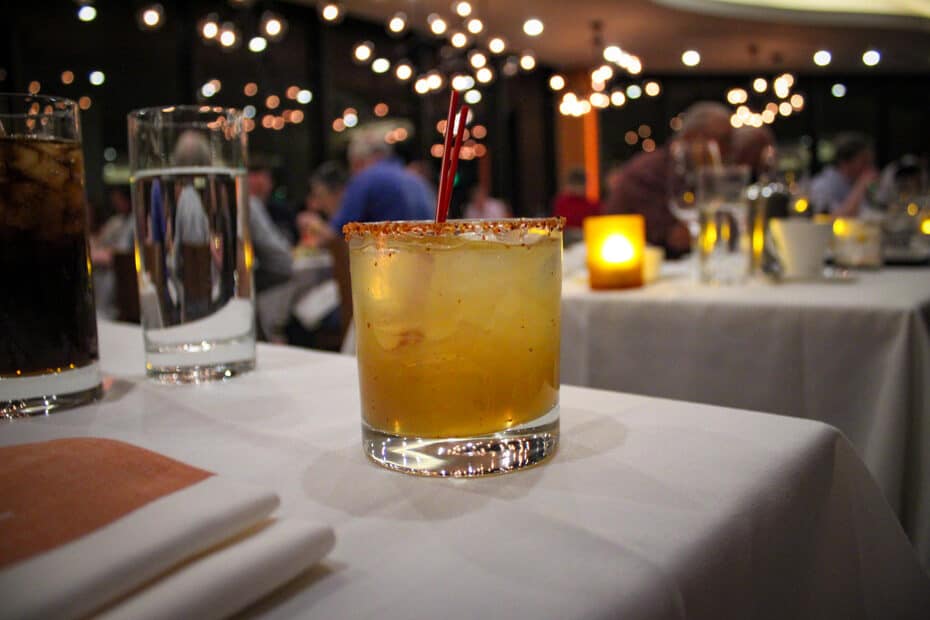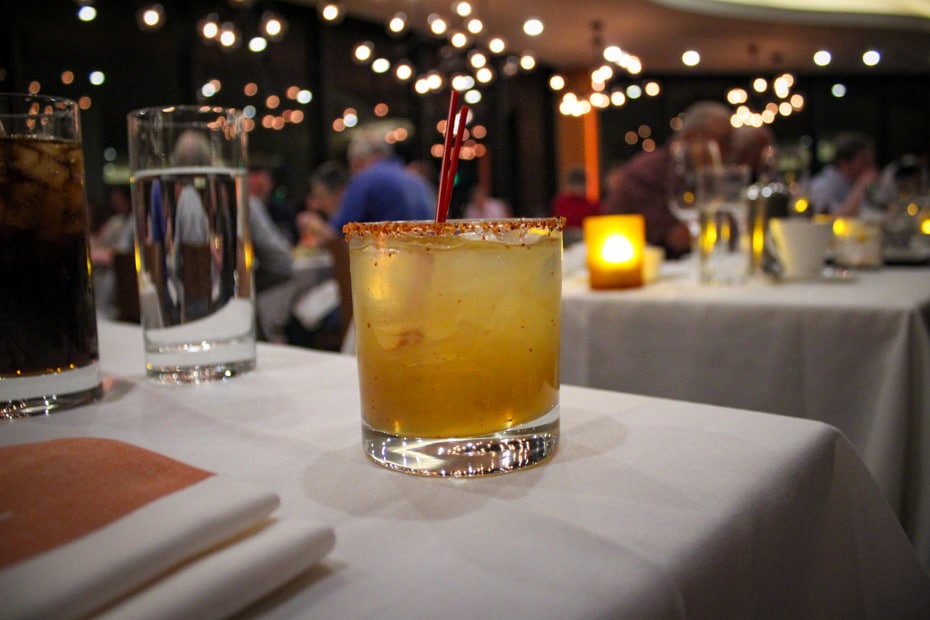 This drink is made up of Patron Anejo, Ancho Reyes Chili Liqueur, lime juice, and agave nectar. The margarita is something I have had on multiple occasions at the California Grill. I would also order it again. It's a fun play on a classic margarita with a hint of spice.
Disney's California Grill has a long list of appetizers and sushi items. When I dine here, I like to order an appetizer and pair it with an additional sushi roll or flatbread. This makes for a wonderful meal and sometimes allows you to try more than one item, especially if you are on a budget.
The Market Strawberry Salad below is something I've had in the Spring of the year. Per the menu, the dish was described as–Plant City Strawberries, Pomegranate-Tarragon Vinaigrette, La Tur Cheese, and Pistachio Meringue.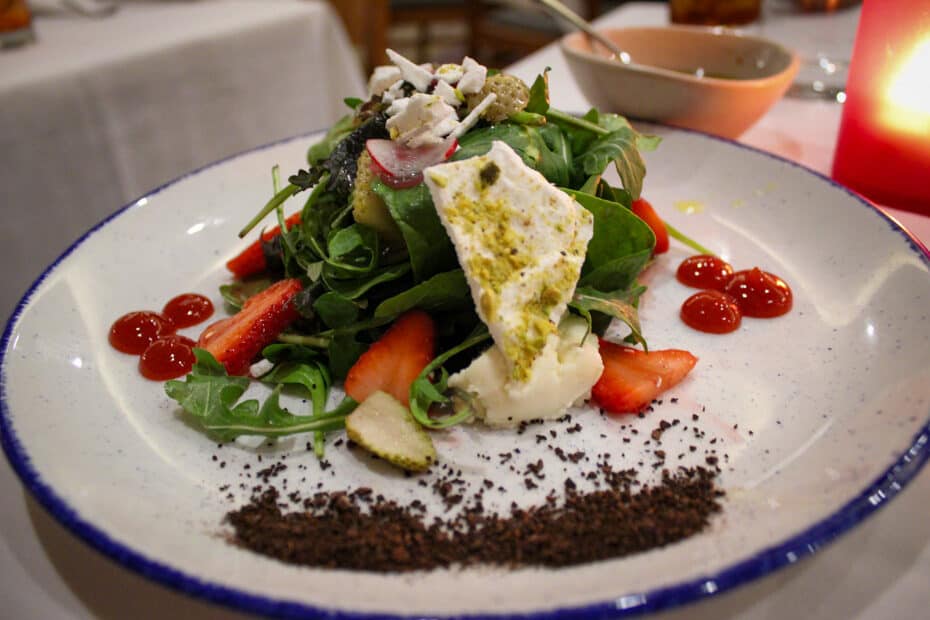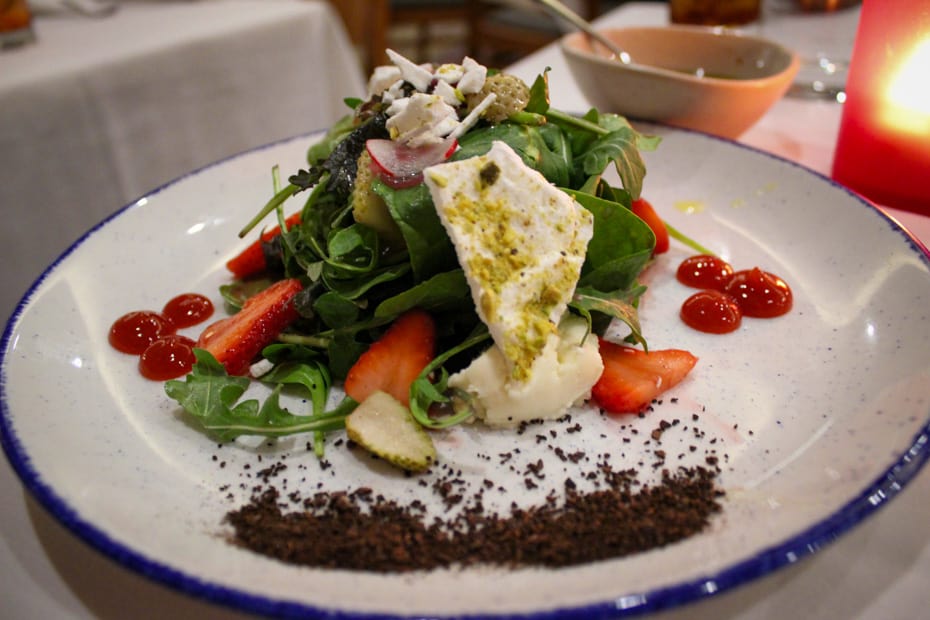 I ordered this dish to come out appetizer style prior to my main course.
This salad is a contender for one of the best salads I've ever had! It was visually appealing. The strawberries were fresh and had a sweet tang.
The cheese was just AHHHHHH! Dissolve in your mouth, goodness. The coffee grinds gave the dish a sharpness and texture that was completely unexpected. The entire salad was a divine creation and a perfect fit for California Grill's lengthy list of appealing appetizers.
Late summer brings peaches, and with that in mind, I ordered this peach salad on a return visit. The chef had rotated this wonderful new salad onto the seasonal menu. This is fried goat cheese, candied pecans, summer greens, and a roasted cherry vinaigrette.
This salad was another extremely well-composed dish. It's simple, fresh and the goat cheese adds the perfect texture to the dish.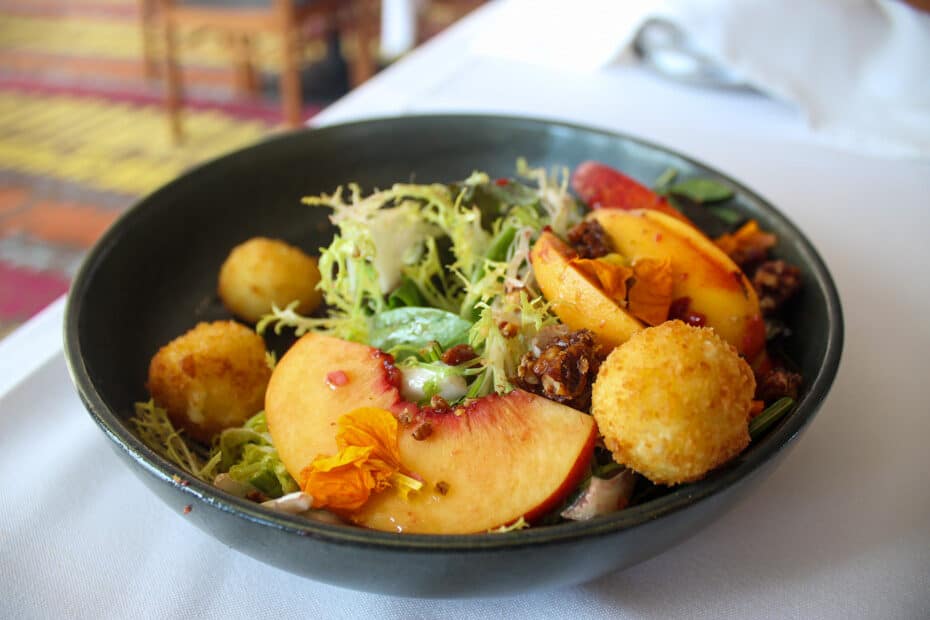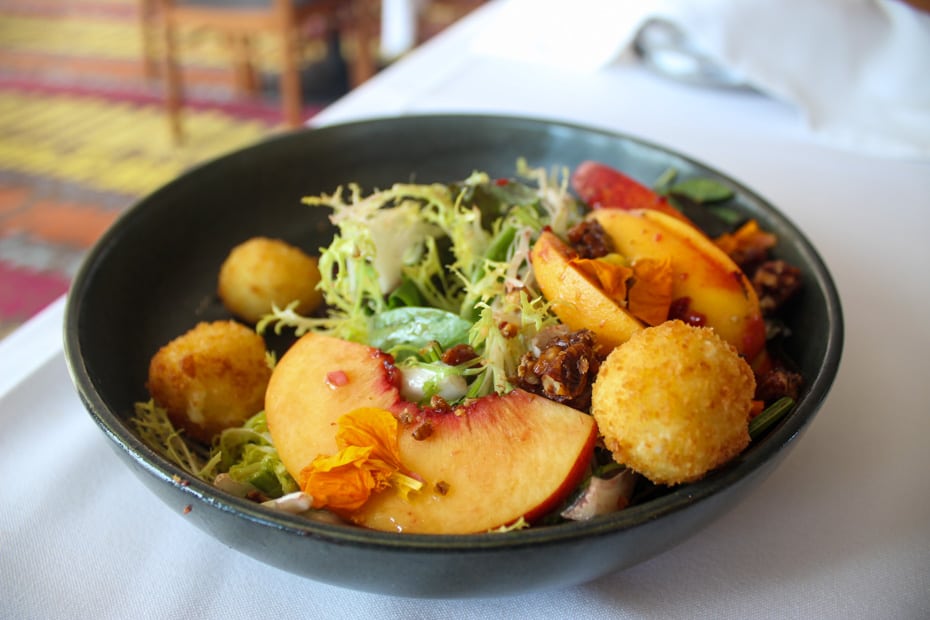 When I visit, one of the first things I look at is the seasonal salad offering. I pretty much know it will be a win from past experiences.
California Grill's Sonoma goat cheese ravioli is a signature item on the menu. This dish is something you'll want to save room for if you are trying several things. On my last visit, I tried the ravioli dish for the first time. It won't be the last.
The menu describes this item as tomato-fennel broth, crispy mushrooms, tiny basil, Arbequina organic olive oil.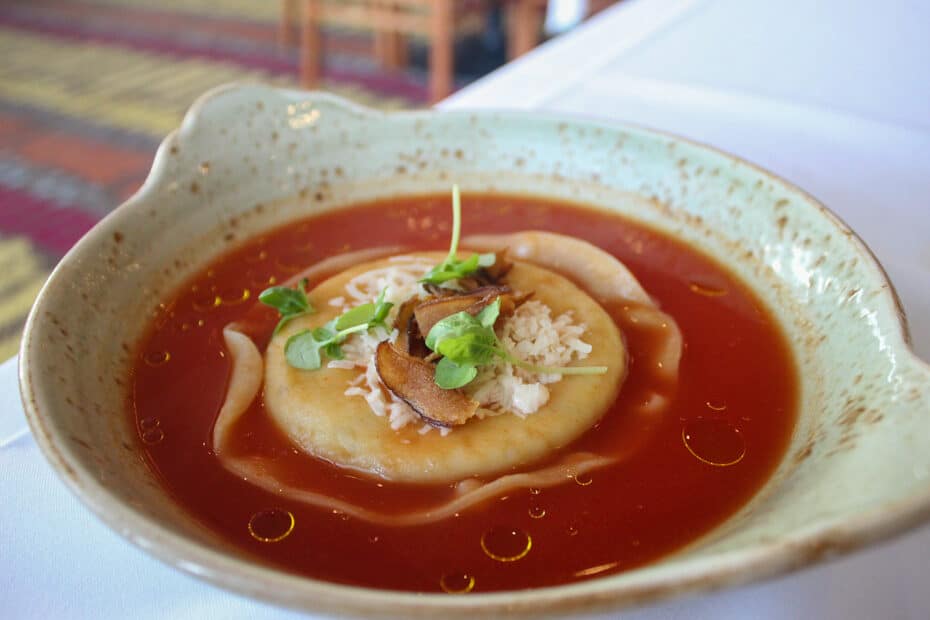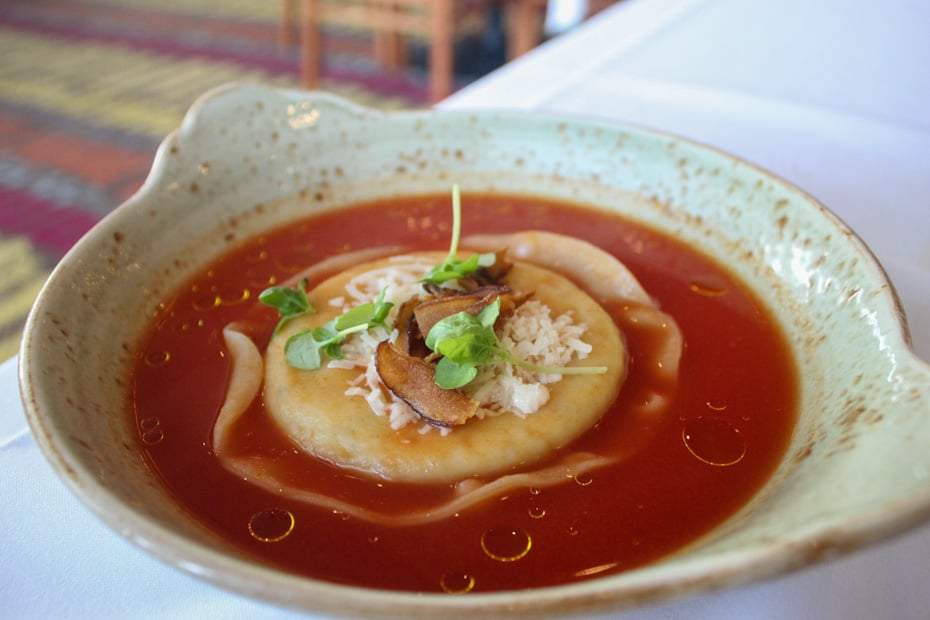 It's just one large ravioli with the daintiest, crispy mushrooms adorning it. The mushrooms actually reminded me of my Tiffins Restaurant review over at Animal Kingdom.
When you break the pasta, the goat cheese starts to flow from the dish and populates the soupy broth. It's really an experience within itself. My server this evening suggested saturating some of the bread service in the broth, so I didn't miss a bite. He was right. It made a perfect combination.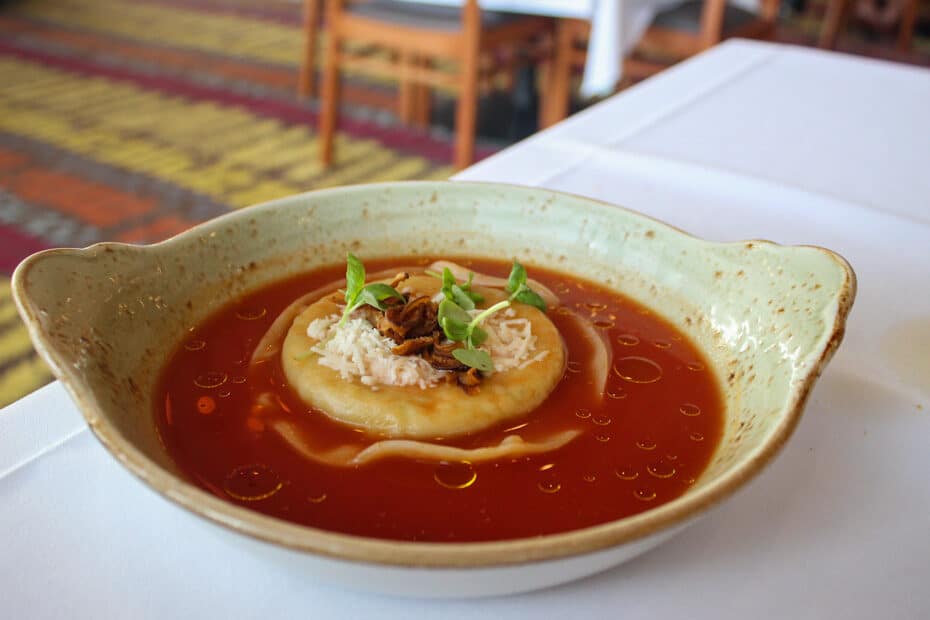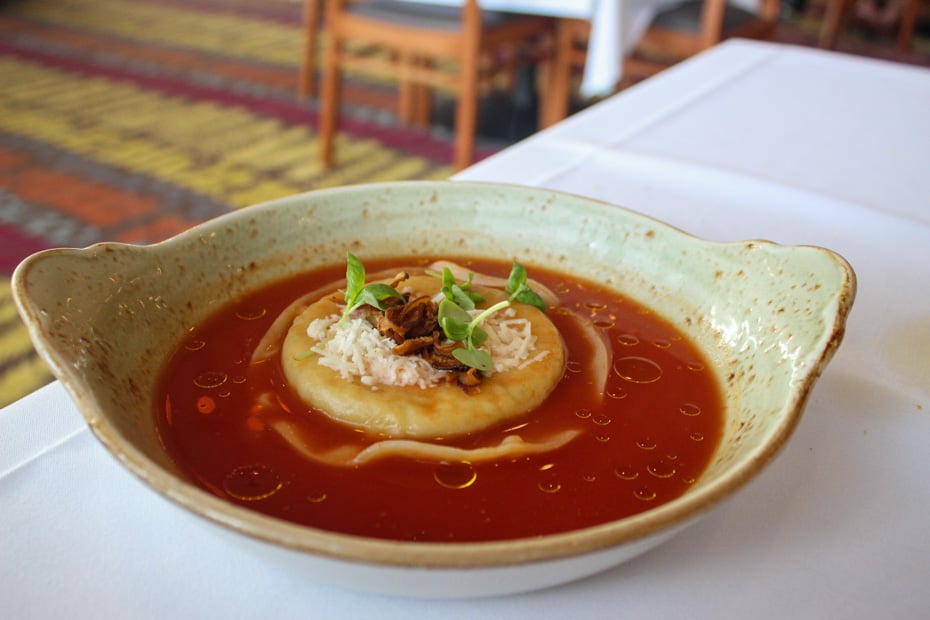 I was so excited to share these items with you that I almost forgot to mention you will receive bread service. A nice loaf of bread is brought out to the table alongside a wonderful olive oil dipping sauce.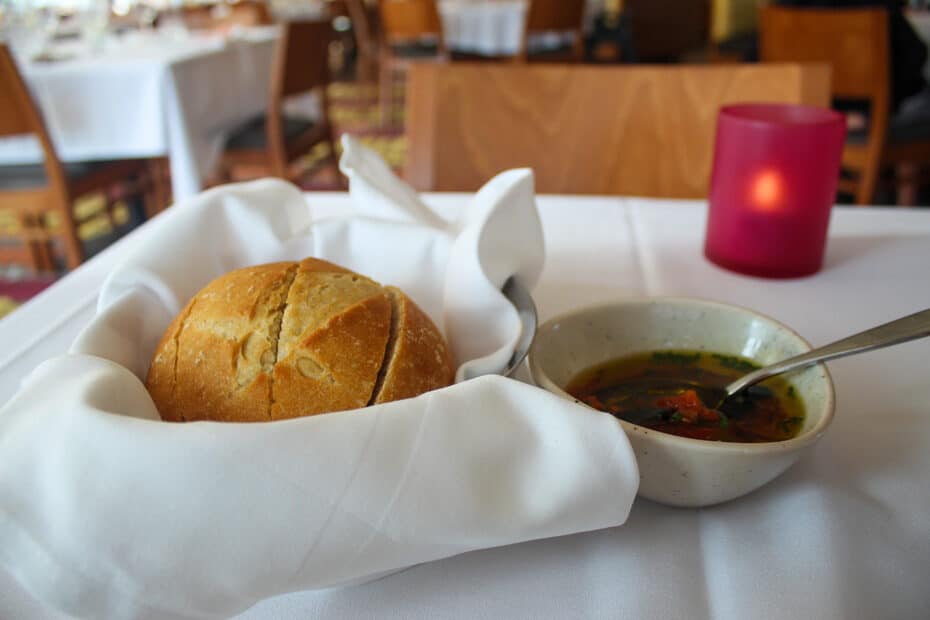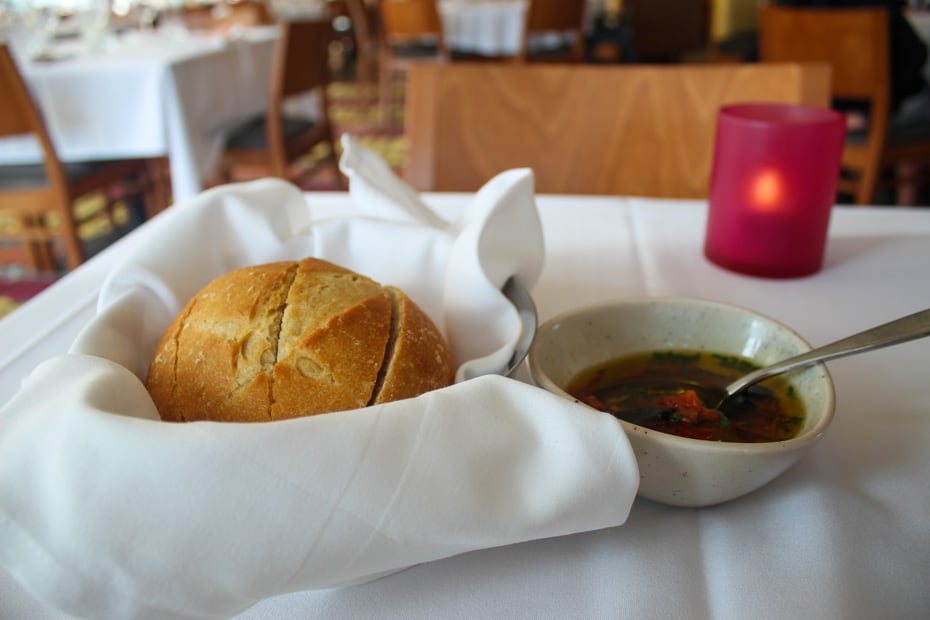 Another specialty item at California Grill is their flatbreads. While I hesitate to add this item, I want to show you what their flatbreads typically look like.
This particular flatbread is another seasonal menu item, the Corn and Carnitas. The restaurant is also known for making several different kinds of hand-formed pizzas cooked in a wood-burning oven.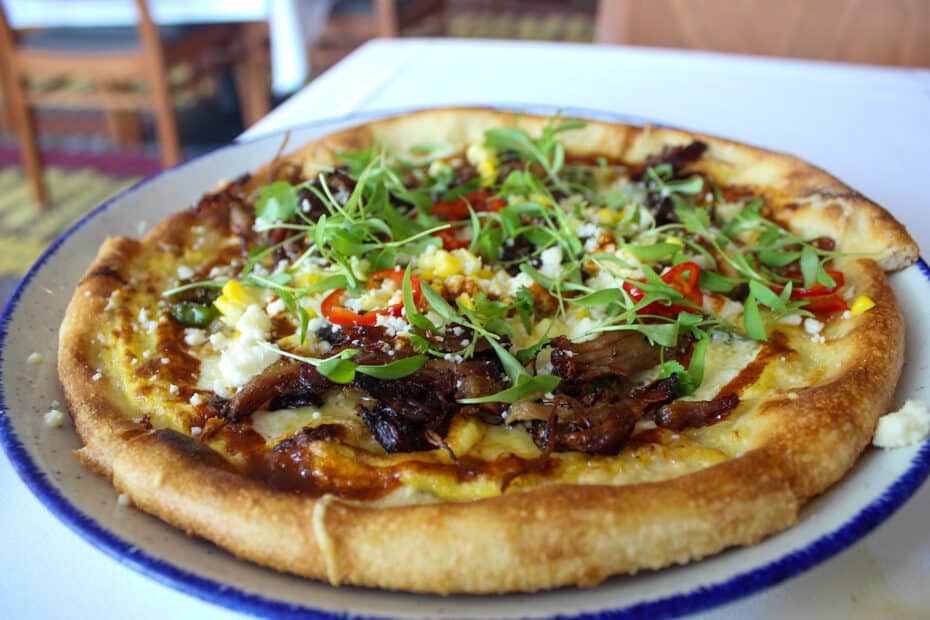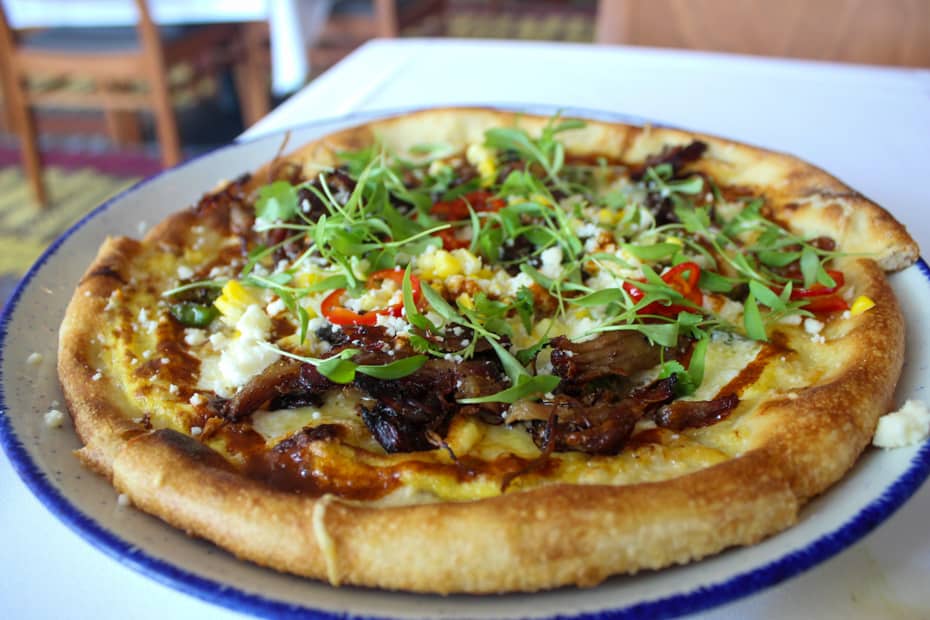 The corn and carnitas pizza had a ton of flavor. Unfortunately, on this visit, the meat that topped my pie was a little overcooked. No worries, they immediately corrected the issue and let me change my order.
Personally, this is the only time I've ever had any issue at the California Grill. I was very pleased with the prompt handling of the situation.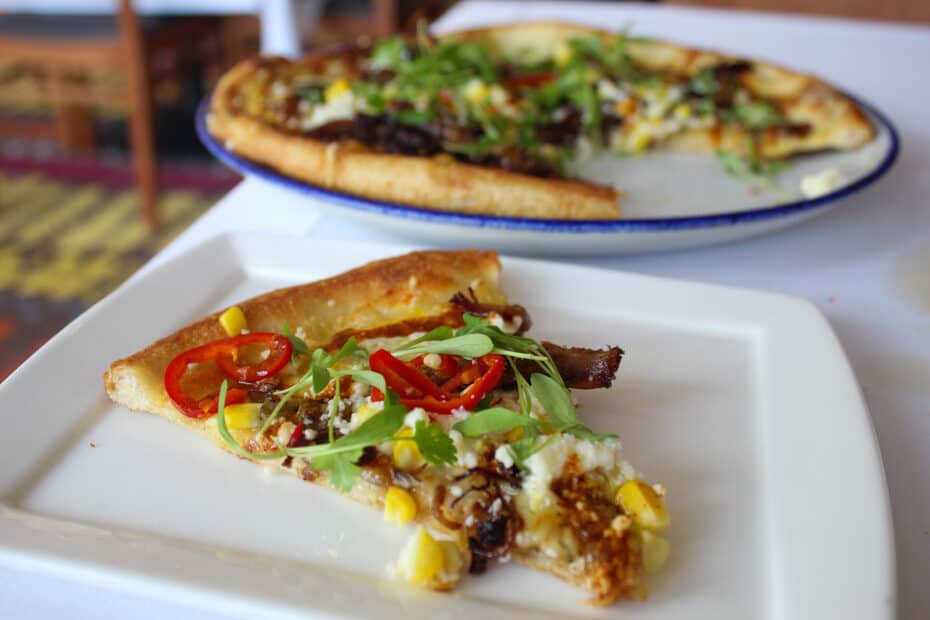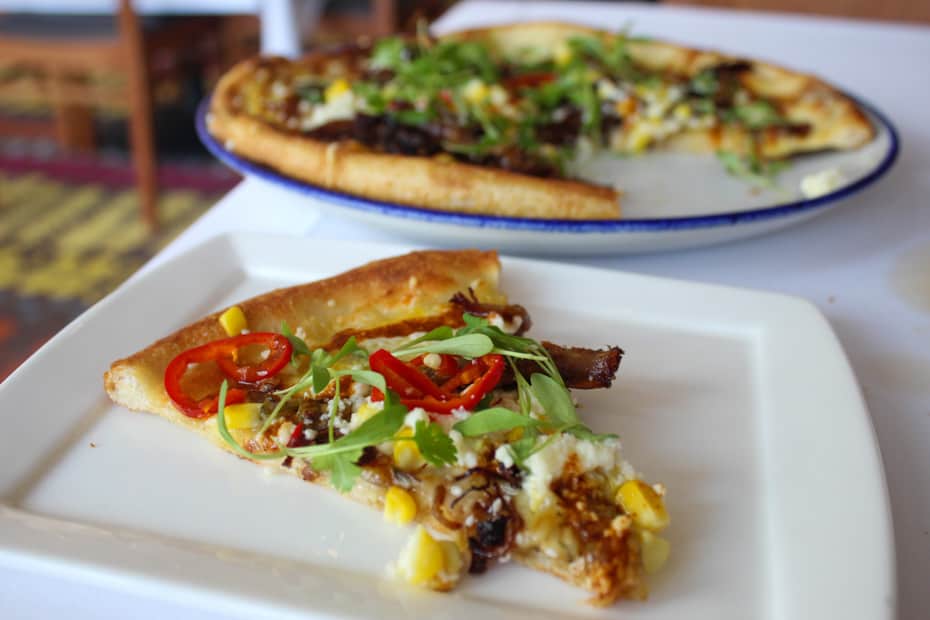 As you can see, the pizza has a lot of fresh ingredients. It was confirmed during my visit that they were having a bit of an issue with the way it had been prepared that evening.
Whether it's an order of Halibut or a fresh take on a vegan or plant-based food meal, Disney's California Grill has you covered on entree selections. I've had the pleasure of having many wonderfully executed entrees at the restaurant.
On his last visit, my son had the Oak Fired Filet of Beef. This dish is another staple on the California Grill menu.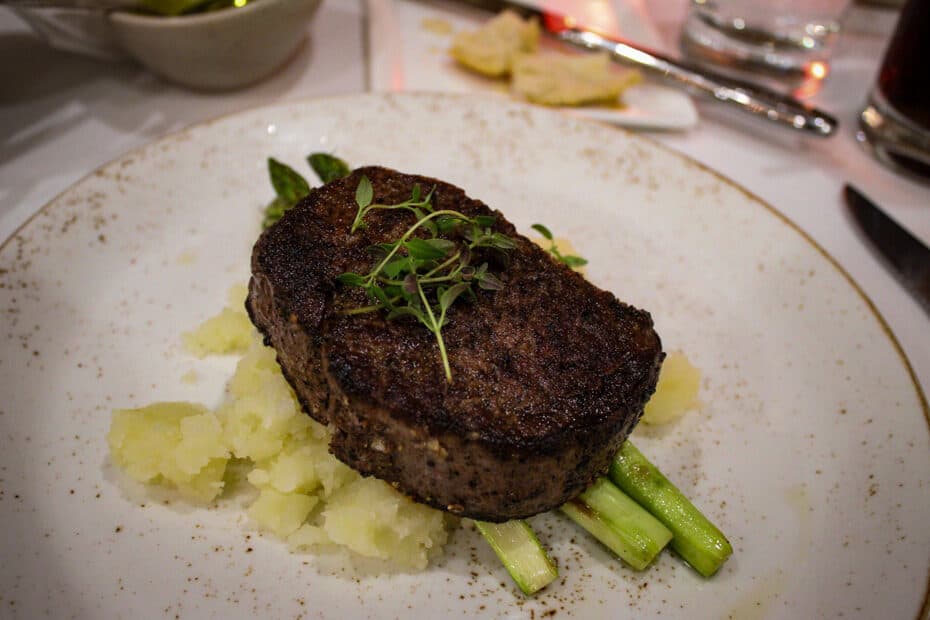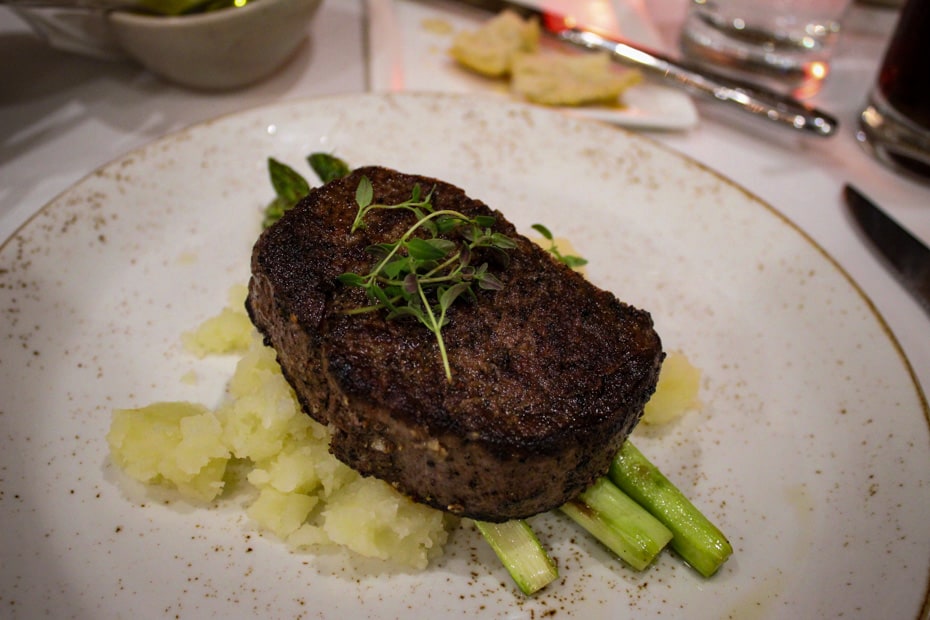 Per the menu, this dish is described as Creme Fraiche Mashed Potatoes, Jumbo Asparagus, Meyer Lemon Vinaigrette, Triple Garlic Butter. As for the above preparation, it was for food allergies. So your dish might not come out in the same appearance.
The chef always comes tableside and discusses the allergies when we visit. Then they ask my son what he's interested in having. After some discussion, they decided on a special order of potatoes made with olive oil and spices. That was accompanied by asparagus, and the filet was prepared in separate pans to avoid cross-contamination.
The filet was cooked to a nice medium. He thoroughly enjoyed it, and we were pleased with the accommodation.
Disney's California Grill is also known for its hand-rolled sushi preparations. I had my eye on the Sashimi and was also thinking about trying the Tuna Three Way.
Sometimes the choices are overwhelming. I don't have the opportunity to eat sushi often and was having a hard time choosing. Again, I asked our server, and he suggested the New Moon Roll.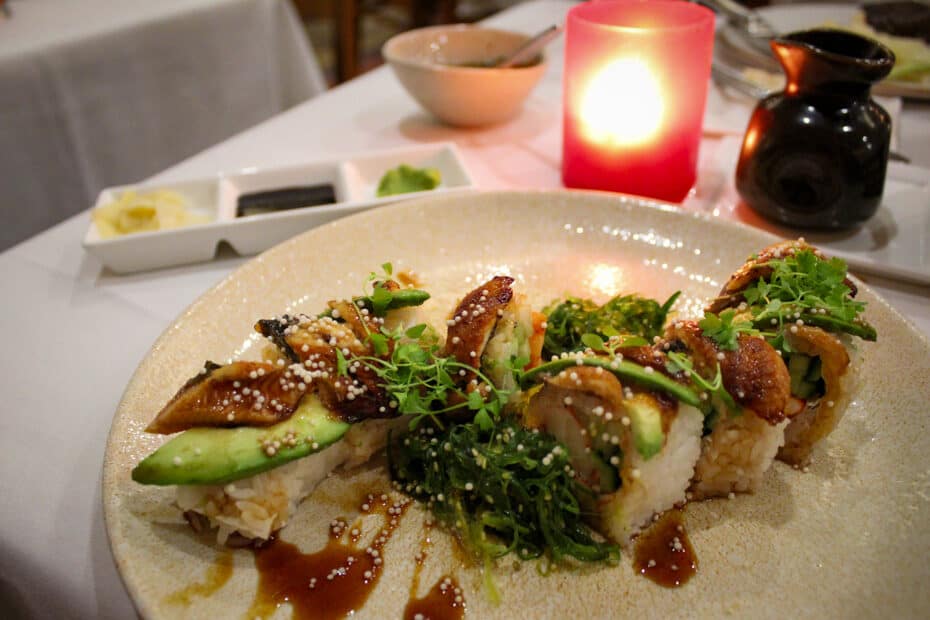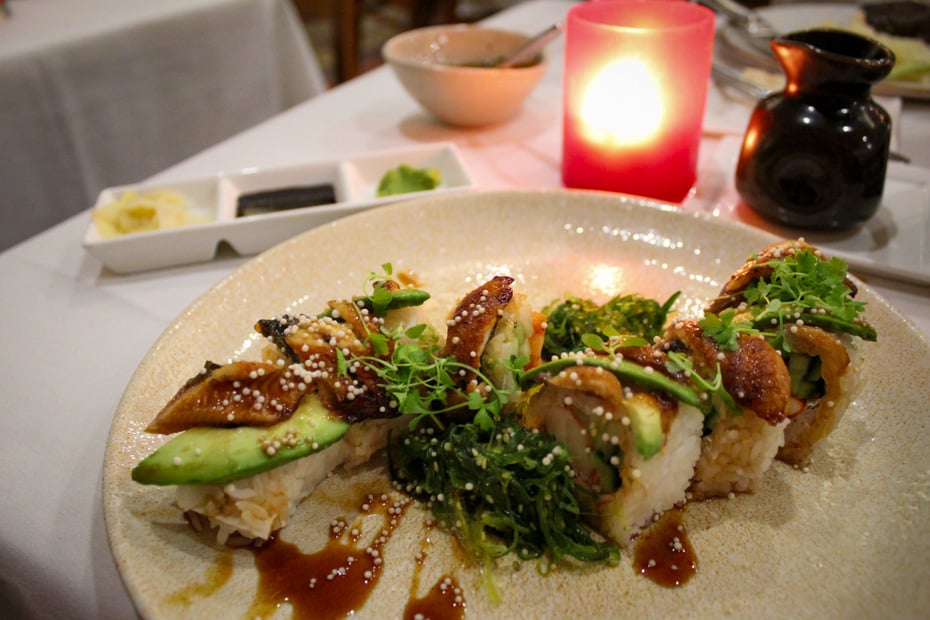 The New Moon Roll: Maine Lobster, Avocado, Barbecued Eel, Rice Pearls, Gochujang Dragon Sauce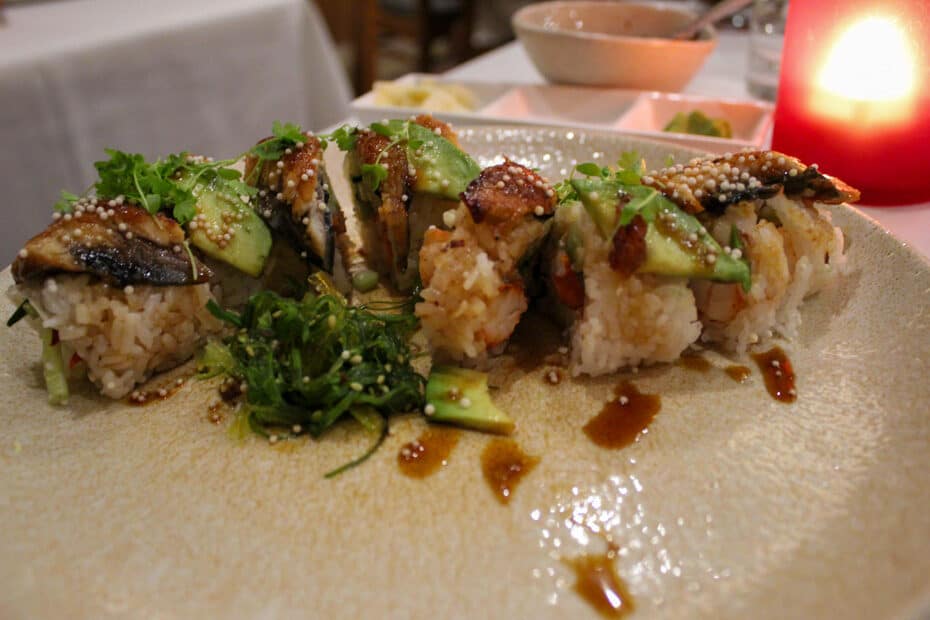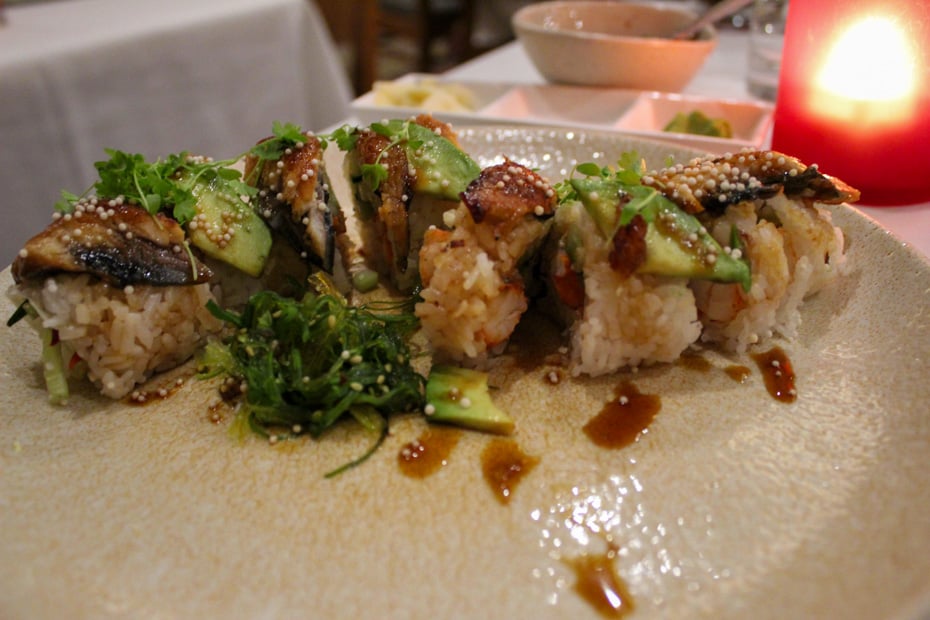 It was scrumptious! I am ashamed to admit (not really) that I ate every single bite of this yummy dish. In fact, I would have received a smiley face sticker for cleaning my entire plate this evening.
The barbecued eel is the seafood you see laying over the top of the sushi with the avocado and garnish. It had a sweet-and-sour-style barbecue sauce, and there was a thin, delicate texture to the meat.
The sushi roll was well-composed, and I have a feeling it might be hard to beat flavorwise moving forward. This is highly recommended.
This California Grill dinner review would not be complete without a look at dessert. For us, dessert is a treat that we usually don't order while dining out. But if we were going to order something sweet, this is one of the few places we would do it.
This is the Warm Valrhona Chocolate Cake-Vanilla Bean Ice Cream, Milk Chocolate-whipped Panna Cotta, Cashew Clusters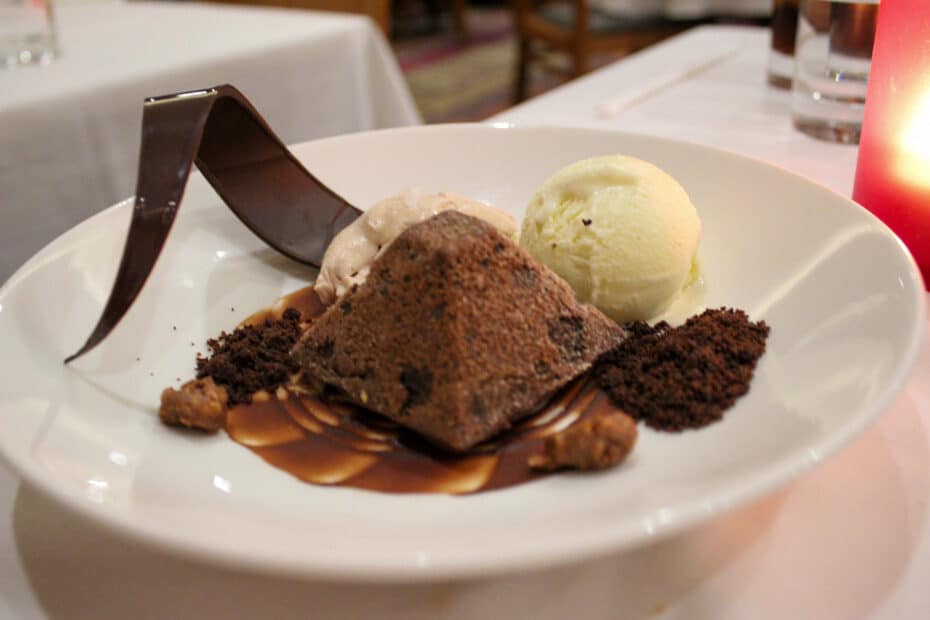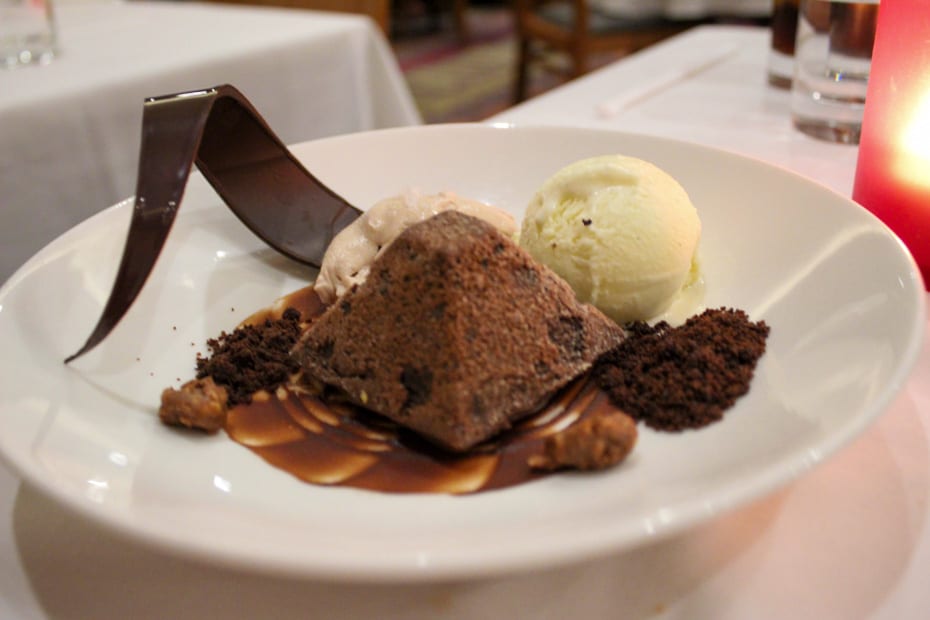 When the server asked if we wanted dessert, I was at that "Why not?" point on this visit. I was taking a look at the Strawberry Crème Brulee on the menu because it sounds so good. But I was more in the mood for something chocolate.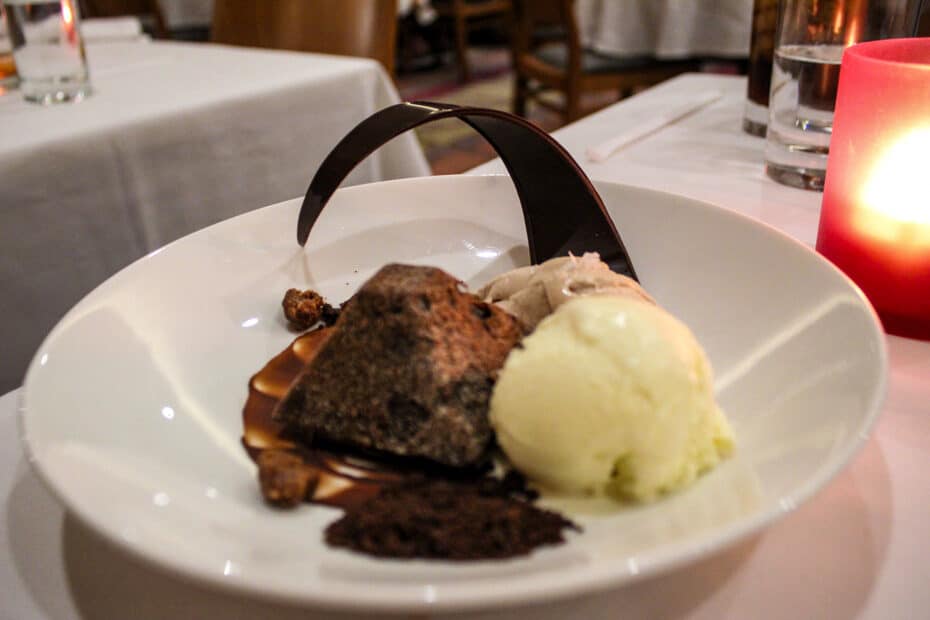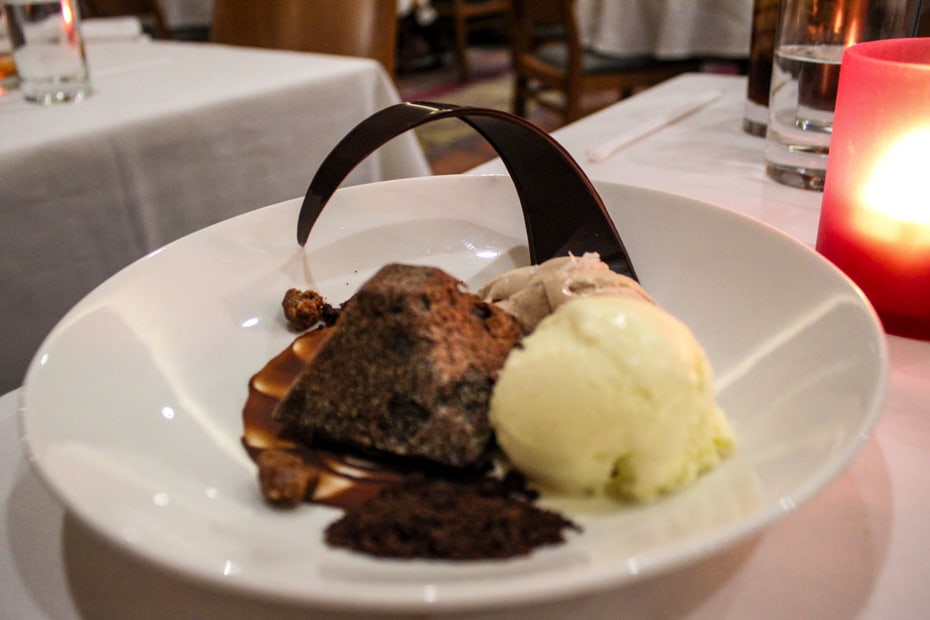 The cake came out in the form of a pyramid, while the warm chocolate sauce was perfectly fanned on the plate. Another dish complemented by texture and spark with the coffee grinds. The accompanying Panna Cotta was smooth and whipped to fluffy perfection. Dessert was another resonating course that will not be long forgotten.
California Grill Dress Code
All of the signature dining restaurants operate with a formal dress code. The dress code at Disney's California Grill is no exception.
Here's an excerpt from Disney covering dress code:
"For men: Khakis, Slacks, Jeans, or Dress Shorts with Collared Shirts. Sports Coats are optional.
For women: Capris, Pants, Skirts, Dresses, Jeans, or Dress Shorts
Not Allowed: Tank Tops, Swim Suites, Swim Suit Cover Ups, Hats for Gentlemen, Cut-offs, Torn Clothes, and no Tshirts with offensive language or graphics"
Magic Kingdom Fireworks from California Grill
I'm probably not great at making it to the nightly fireworks all the time. But I do enjoy them even though they aren't a dealbreaker for me. Perhaps, it's because I've been fortunate enough to attend so many fireworks viewings in my lifetime.
With all that said, I have to recommend returning for the evening fireworks at Disney's California Grill. Or schedule a late meal so the fireworks can be part of your dining experience.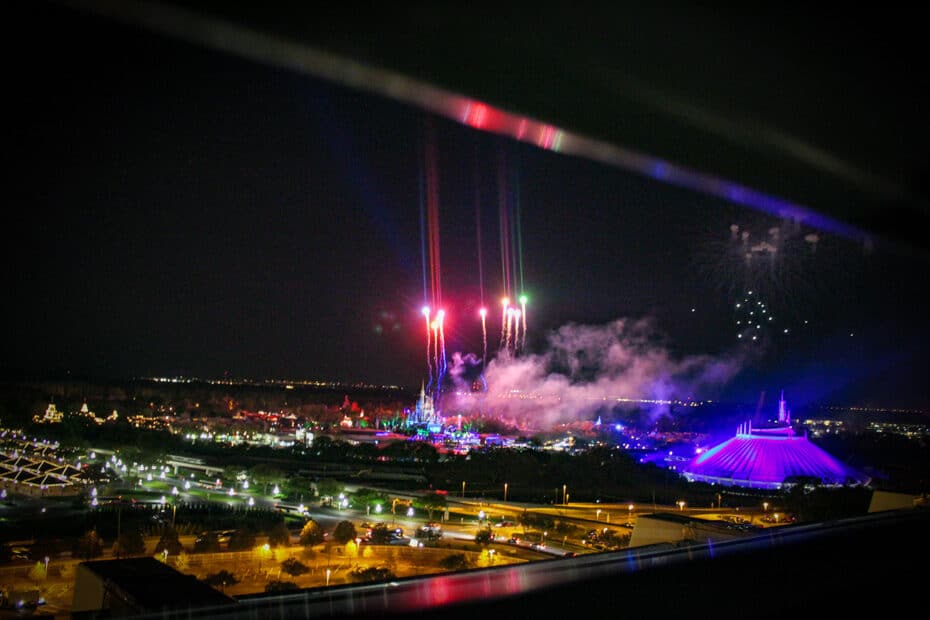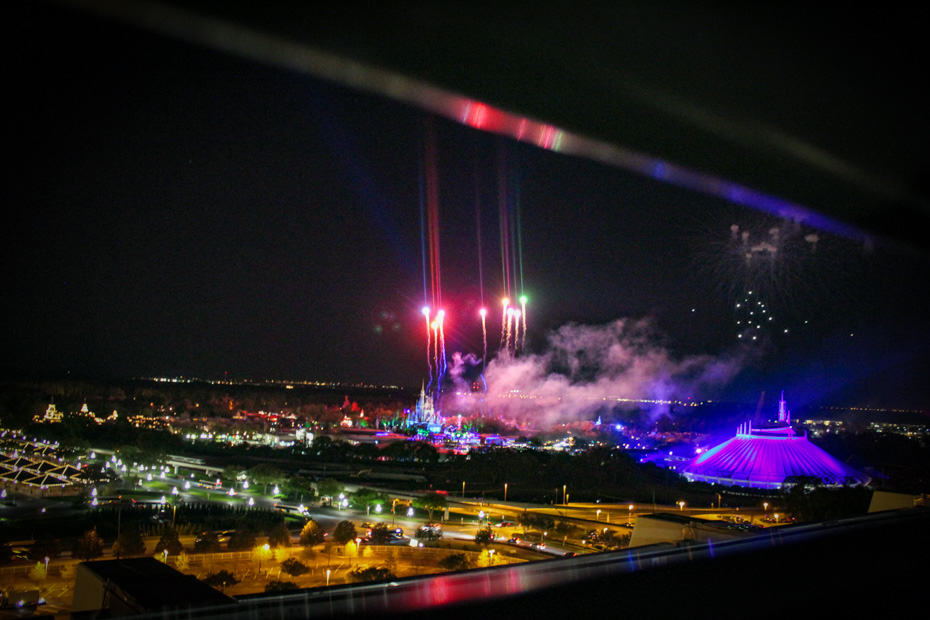 All you have to do is return about fifteen minutes before the time for the fireworks. Show your receipt, and you'll be escorted by elevator back up to the restaurant's observation deck.
There's a large deck on each side of the California Grill. The audio for the fireworks is streamed to the area through a speaker system. So you do get a bit of a different viewpoint, but the audio feels like you are standing inside Magic Kingdom park.
You can also watch the fireworks from your table if the timing falls during your meal. The entire experience makes you feel special. It's like you are a part of something distinct and rare.
Disney's evening fireworks spectacular is exquisite in its own right, there are so many touching moments, and it can be quite emotional. It can also be very difficult to see from inside the Magic Kingdom front and center due to its popularity. Being able to casually sit at your table and take it in is almost a surreal feeling.
Final Thoughts
To summarize this California Grill review, I would have to say it's a must-do reservation. Eating here on this evening reminded me of the last time I had an evening reservation and how much my life has changed since then.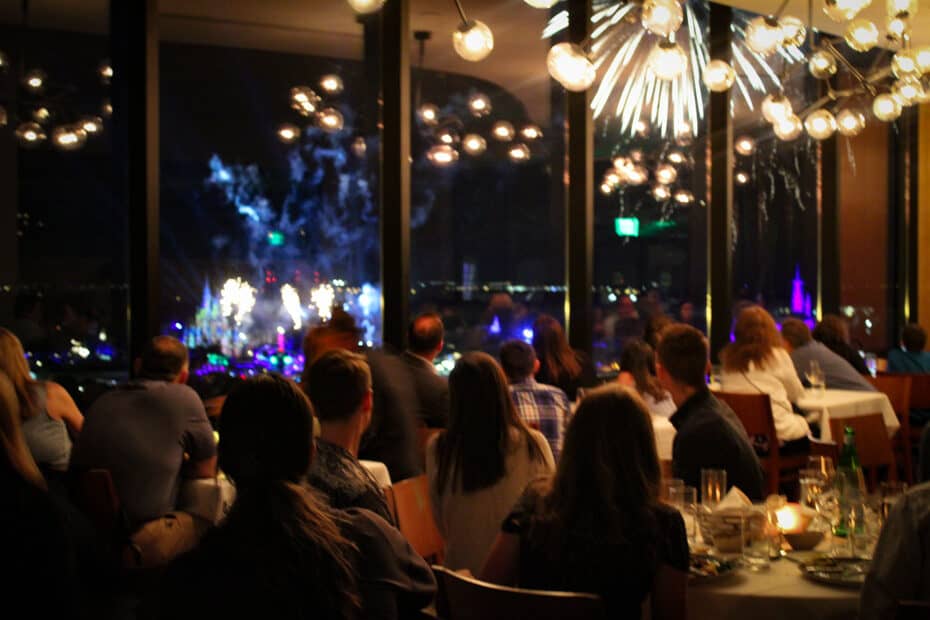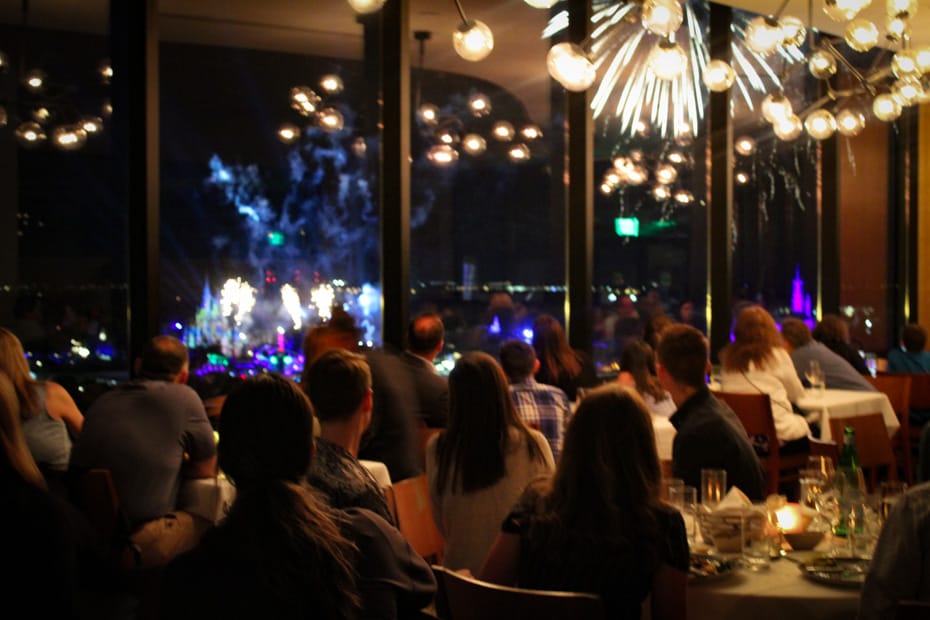 I was also reminded of a time around Christmas (a year prior) when we walked up to the host stand and asked if we could eat in the California Grill Lounge area during fireworks without a reservation. We were very fortunate that night to find a seat.
That particular evening included oysters, pizza, and dessert with another indoor fireworks viewing. A memory so bittersweet of Jiminy Cricket saying, "Home is where the heart is," during the special Holiday Wishes fireworks.
Surely many of you reading this might understand that sentiment. California Grill is a classic favorite and a part of my Disney home. Maybe you can try it out sometime if you haven't and see what I mean.
For more information about staying at Disney's Contemporary, we have a full list of articles related to the resort here. Or you might try these:
Or you can view our complete list of Disney World Resort Reviews.
Make sure to visit the entire collection of Disney Restaurant Reviews here on the site! And check out that brunch at California Grill if you haven't had a chance to try it yet.
You might also be interested in these other popular dining reviews:
or these resort specific dining guides:
I hope you have enjoyed this California Grill review and the updates! If you are looking for that one special dining reservation on your next vacation, give it a try. Let me know your thoughts on dining here in the comments below.