Socially Distanced Characters at Walt Disney World
2022 Update: The majority of character meets at Disney World have returned to more normal settings. This article is here for past reference only.
For the most updated information about characters, try these articles:
Anyone planning a Disney vacation will want to learn how to find socially distanced characters in the different parks within the next year. Since last year, Disney has incorporated new ways to meet characters from afar.
These new forms of interactions naturally promote social distancing while brightening most guests' visits.
You might be thinking that with no proper schedule, these characters could be hard to find. Fortunately, that is not the case.
Since I've been in the parks often, I have found each character meet incredibly easy to run into while touring. Of course, you have to know where to look.
This review will go over how to find all the socially distanced character's meets at Disney World. I'll discuss where to find these characters and how often they appear in the parks.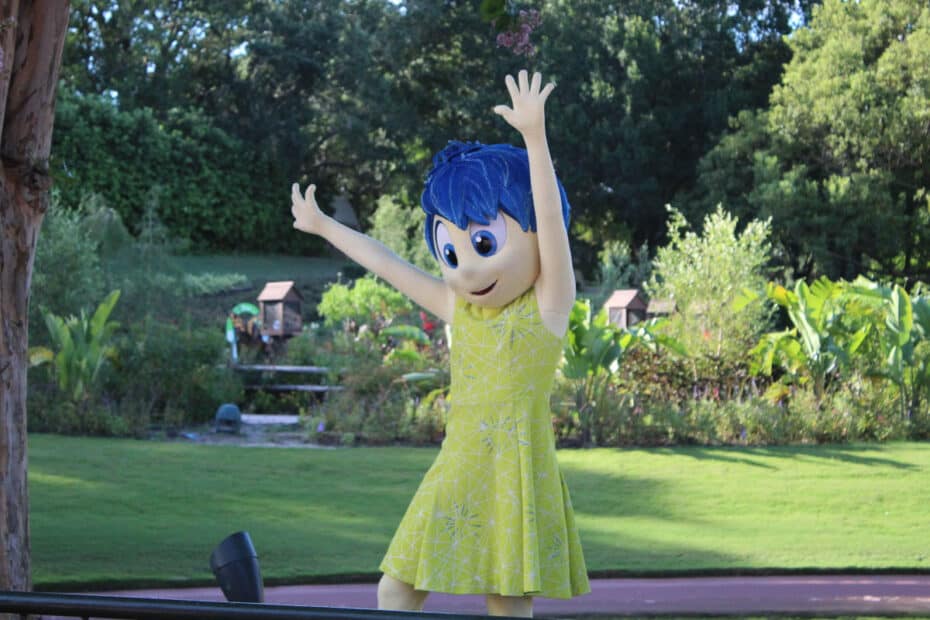 Where to Find Socially Distanced Characters at Disney World
Recently, I went over the new styles of pop-up parades for each theme park. The reviews below go into detail on how to see these different parades. They include the following:
Magic Kingdom Cavalcades offer the opportunity to see Merida and Gaston riding a horse down Main Street. To date, there are five different cavalcades at Magic Kingdom.
Epcot Promenades provide the opportunity for guests to see horses in the World Showcase. The different interactions here include the Frozen sisters, Disney princesses, and Mickey with friends.
At Hollywood Studios, the character motorcades provide the possibility of running into the Incredibles, Mickey and Friends, or Disney Junior pals.
Lastly, at Animal Kingdom, there are character cruises along the Discovery River. These include drummers, Pocahontas with Meeko, Safari Mickey and Minnie Mouse, and more.
In addition to these pop-up characters, there are a few more options for meeting and greeting socially distanced characters at Disney World. Below is an overview of said characters, and I'll go into more detail on each of these a little further down.
To date, we have found the following characters at Magic Kingdom:
Anastasia with Drizella
Stitch
Country Bears
Mickey and Friends
Disney Princesses
Chip and Dale
Buzz Lightyear
And at Epcot you have the opportunity to see these characters:
Joy from Inside Out
Winnie the Pooh
Mary Poppins at Epcot
Alice
Meet Anna and Elsa at Disney World
Additionally, you might run into a few roaming characters in Galaxy's Edge at Hollywood Studios.
The Animal Kingdom appears to only have the character cruises at this time. If you are visiting, make sure to keep a lookout because you never can tell when a new character might rotate into the schedule.
If you have visited Magic Kingdom before, you will be in for a big surprise. Cinderella Castle has received a new, pinkish paint job. And along with the paint job, you'll more than likely encounter the queens of tackiness, Anastasia and Drizella Tremaine, Cinderella's evil stepsisters.
Apparently, Cinderella lets them stay in the castle these days, so you might find them hanging out on the back balcony. Here's a photo of the two of them.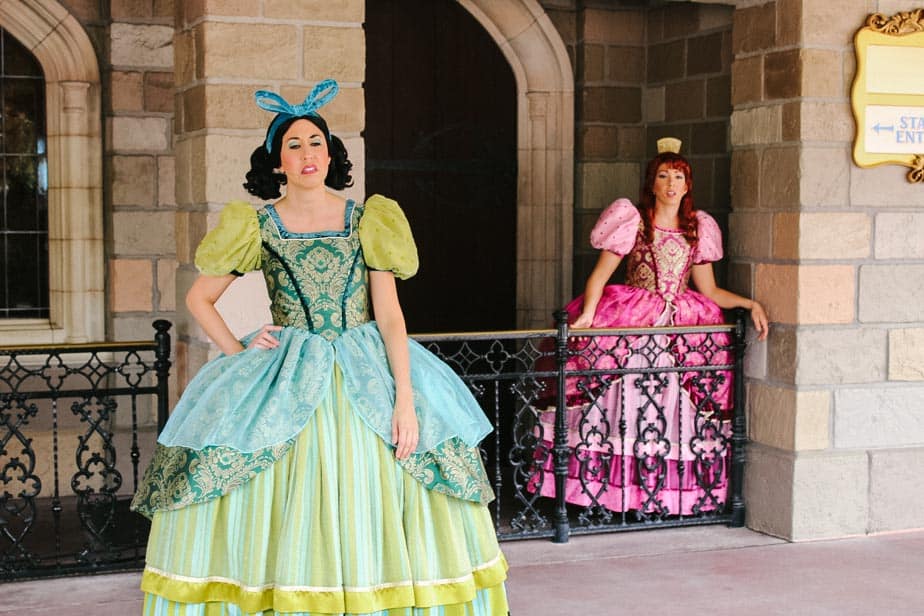 They are typically groveling with each other, as you might expect. However, they do make for an interesting conversation from afar.
These two have been quite popular, and I find them out usually in the morning and afternoon at the Magic Kingdom. So anytime you pass by the castle, look up to see if they are out and about.
Related: Meet Anastasia and Drizella at Disney World
In Tomorrowland, you might run into Stitch dancing on the Tomorrowland Dance Party stage. The stage is located between the Peoplemover and Space Mountain.
It's a pretty large area, so I don't think you'll miss it when you are in Tomorrowland. So far, I've seen Stitch out around lunchtime. Most of these characters are in the area for 10-15 minutes before taking a break.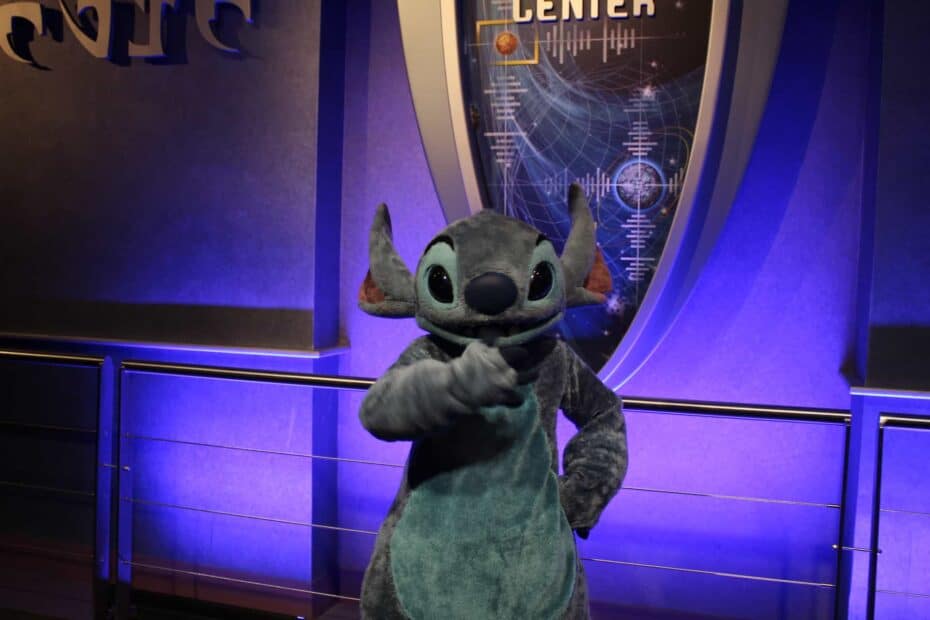 Remember that temperatures are extremely hot in addition to the costumes most of them are wearing. So breaks are needed quite often.
As of the Spring of 2021, I've also run into Buzz Lightyear greeting guests from the stage in the afternoons.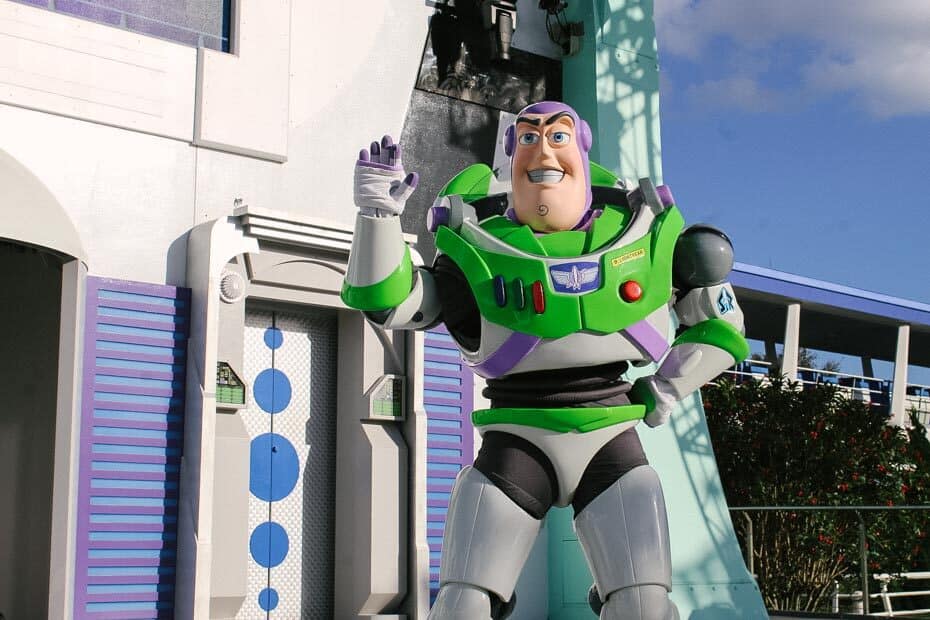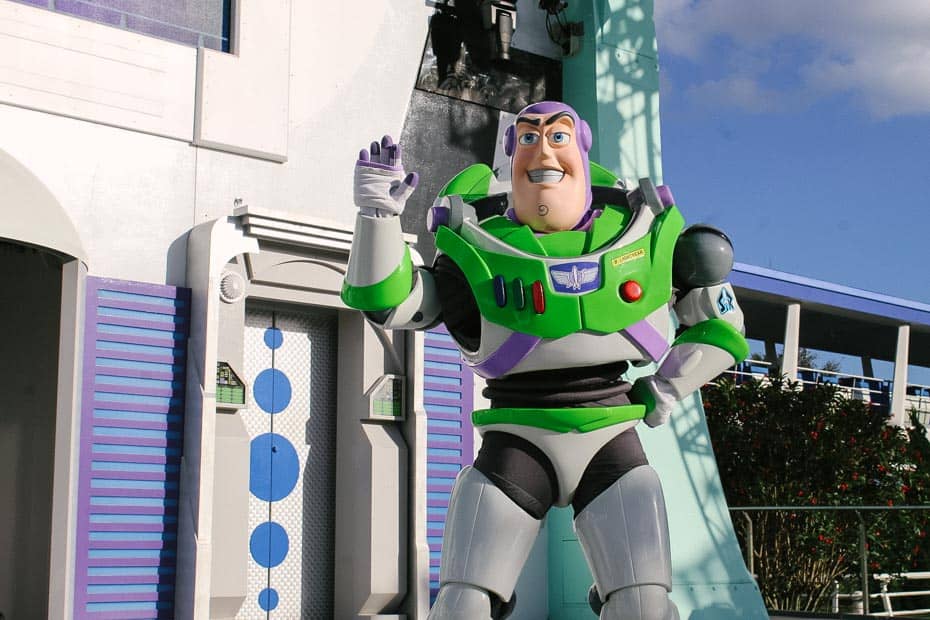 While these characters are easy to run into while touring, I wouldn't recommend having your heart set on seeing one in particular. Just go with the flow and when you see a character out, take a few moments to enjoy the special opportunity before heading on to your next attraction.
The Country Bears seem to come out a good bit over the balcony of Grizzly Hall, where the Country Bear Jamboree is held. You'll often see them dancing along with the different pop-up cavalcades coming through the area.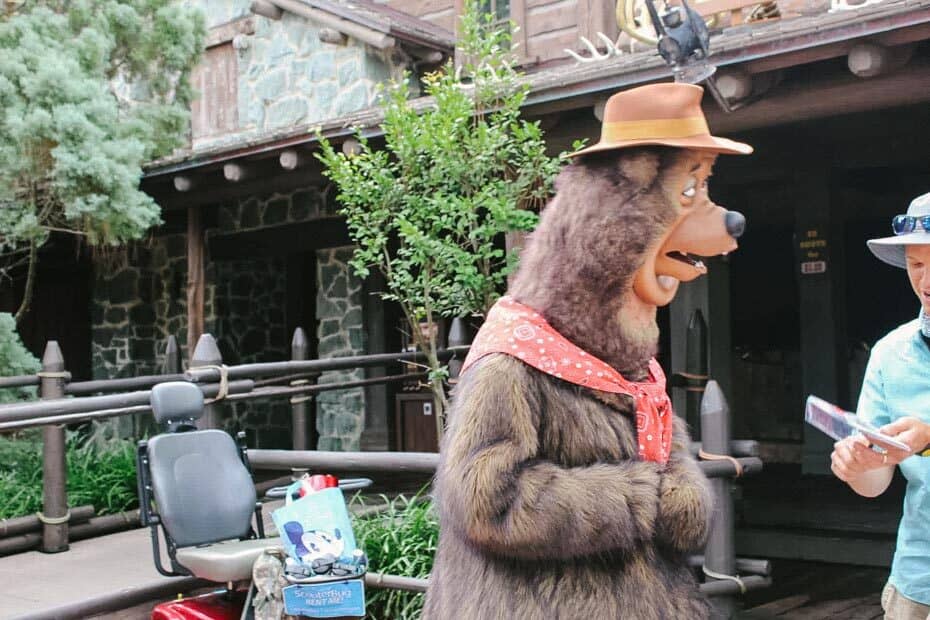 They always bring a bit of laughter to Frontierland.
During the day, I have run into Mickey and friends greeting guests from the Main Street Train Station. They are usually out for around 10 minutes at a time, waving to guests. Also, I have found them out at park closing time saying farewell as guests depart the Magic Kingdom.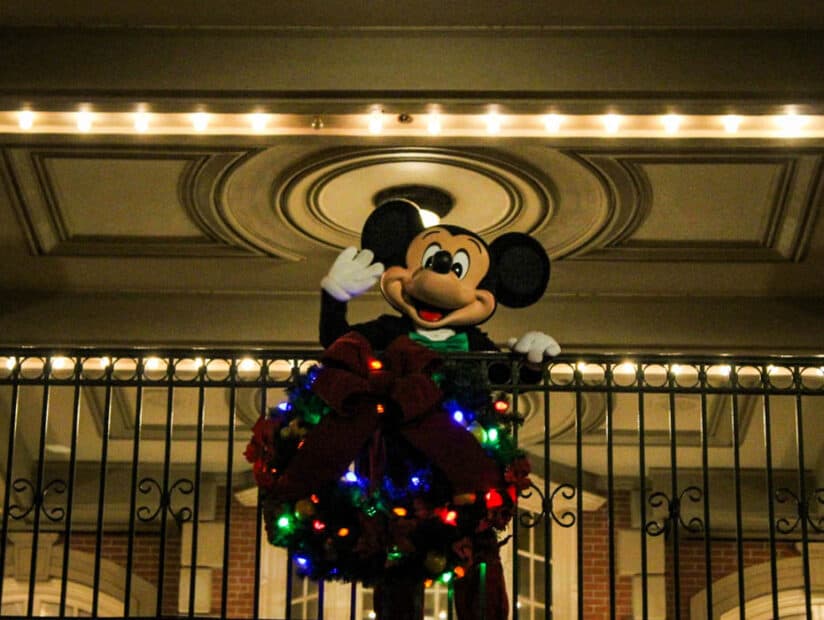 Here's a close up of the group. You might see Donald, Daisy, Pluto, and Minnie along with Mickey Mouse.
Related: Meet Mickey Mouse at Magic Kingdom
In the mornings, I have found the Disney princesses greeting guests on arrival. Unfortunately, I rarely arrive at park opening, so by "in the mornings," I mean in the first few park opening hours.
If you arrive early, I would recommend at least thirty minutes to an hour before park opening. I have found that when you arrive right on time, it is the most crowded and lines tend to form quickly at the most popular attractions.
As for me, I am a latecomer, and often that works in my favor.
Anyways, there are two sets of princesses that rotate here. The first socially distanced group includes Rapunzel, Elena, Snow White, Belle, and Merida.
Next up is Jasmine, Ariel, the Fairy Godmother, Cinderella, Tiana, and Aurora.
The socially distanced characters enjoy making guests feel special by directly acknowledging them. For example, you can see here that Cinderella is playing peek-a-boo with someone.
Lastly, over in Frontierland, you might run into Chip and Dale floating down the Rivers of America. A good way to run into these characters is to take the outer walkway beside the water while touring Frontierland. If the characters are out, you'll surely see them.
If you would like to know more about how normal meets work here, you might like to read the Magic Kingdom characters guide.
Over at Epcot, there are a few other socially distanced character meets available. In Future World, two different characters rotate out on the far right side of the Imagination Pavilion.
The first of those characters is Joy from Inside Out. She is full of, well, joy. You'll also find her extremely energetic, and you never can tell what to expect when she's greeting guests.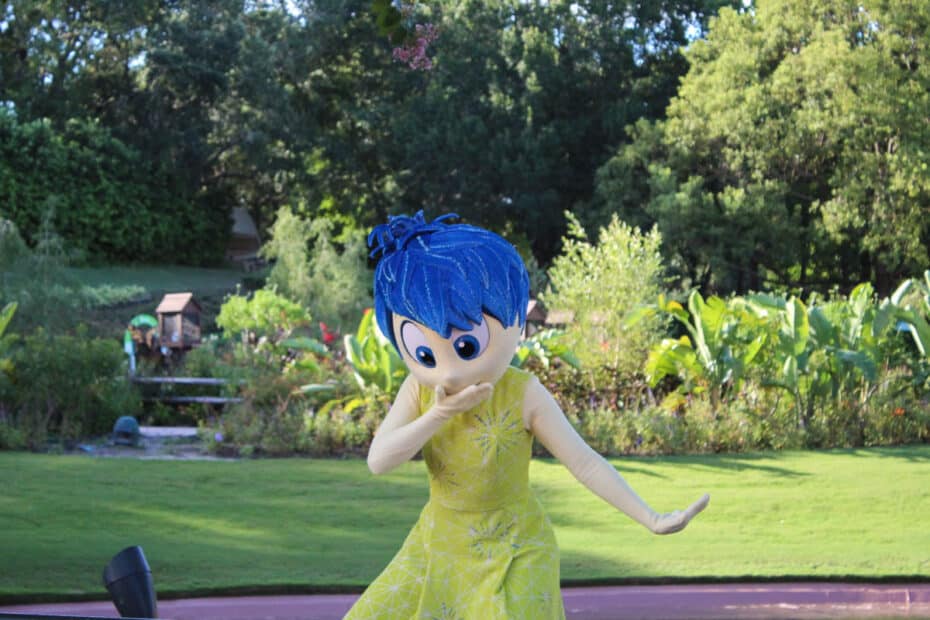 For instance, one day this past week, she pretended to drive a lawnmower and mow the grass in her location. Make sure to stop by and say hi if you see her out.
When Joy isn't meeting out by the butterfly garden, you'll run into Winnie the Pooh. Pooh Bear has his butterfly net with him, and he's trying to figure things out.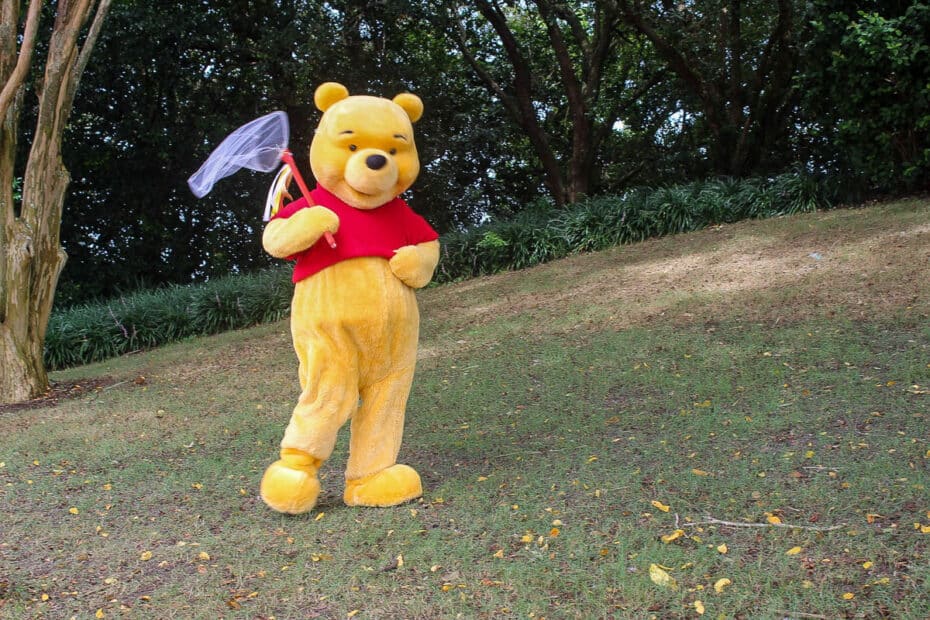 He usually goes out to the garden and then comes closer to the fence to say hi to everyone. He does an excellent job of translating when he's hungry for honey.
One other thing to mention is that these characters are out pretty often up until early evening. But you do have to really look for them in this area because they might be a little harder to see in the distance.
I would recommend checking to see if they are out when visiting the Land Pavilion or the Imagination Pavilion. If you don't see either of them, check again when you exit the pavilions.
The other place to meet a few socially distanced characters at Epcot is in the back of the United Kingdom portion of the World Showcase. Below is the garden where two other fun favorites rotate throughout the day.
Alice was out one afternoon when I was visiting.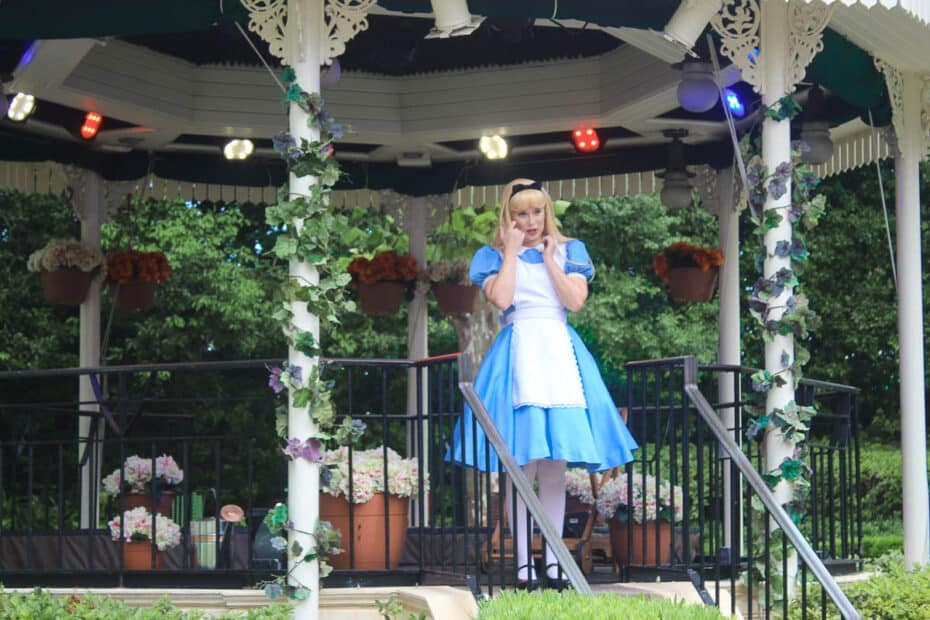 And on a different day, I ran into Mary Poppins. Both characters would love to have a socially distanced conversation with you while visiting.
Also, this is a great place to take a selfie from a distance. Each guest can come into the little area in front of the steps for their own turn.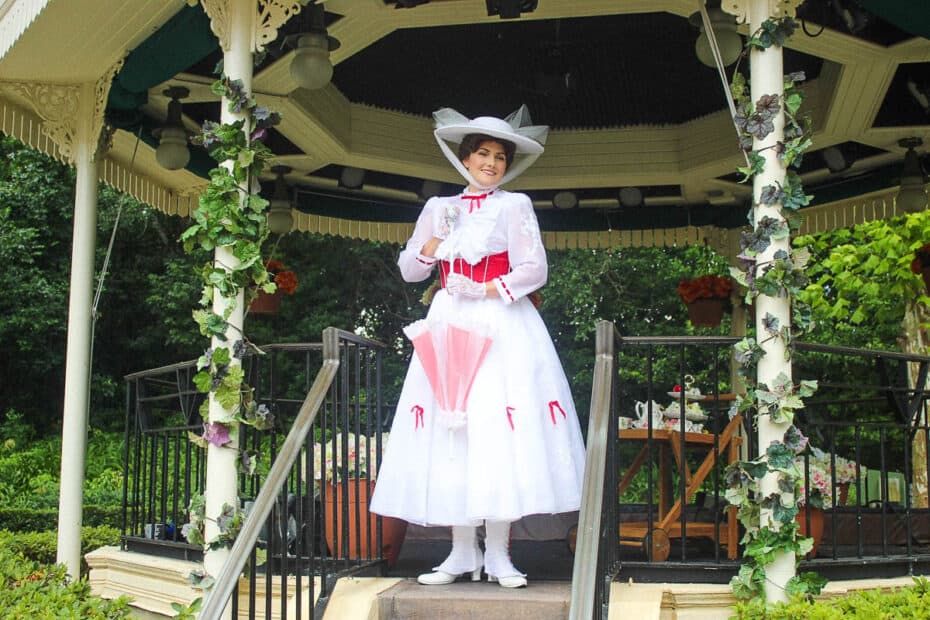 Related: Meet Mary Poppins at Disney World
At Hollywood Studios, the typical character meets are not available. However, guests can still run into characters like Kylo Ren, Rey, Chewbacca, and more while you are touring. These meets haven't changed so much except that all characters are on a stage of some sort instead of roaming in the crowds.
Normally, meeting characters at Hollywood Studios is quite a treat. That guide shares all the character meets that were available before last year.
Hopefully, this will help you find a few socially distanced character meets at Disney World on your next visit. As time goes by, the availability of these characters will likely depend largely on guest demand and overall park attendance.
If these character meets make your day, please be sure to let a manager know or tell Disney in one of the surveys they send out.
As you can probably imagine, the local economy in Orlando is severely strained right now. And many cast members are still out of employment. And with low attendance, it's often that this kind of entertainment is the first to go when budget cuts are made.
So if you have the time, I'm sure the cast members will appreciate your support. Often, a few kind words go a long way.
Make sure to check out the full list of Disney World characters.
Additionally, you might like to learn more about dining with characters at Disney World. My top recommendation during this time is the Topolino's Terrace Character Breakfast.
Have fun finding socially distanced characters!