A Visit to the Gorilla Falls Exploration Trail
Gorilla Falls Exploration Trail is a walk-through attraction located in Orlando, Florida, at Disney's Animal Kingdom park. The experience is located at the end of Kilimanjaro Safaris and offers guests the opportunity to see gorillas in a unique habitat.
The trail is a unique encounter, unlike anywhere I've ever visited. Anyone who enjoys these animal habitats will be blown away by the Gorilla Falls Exploration Trail. It's a peaceful trail that you can experience at your leisure.
Gorillas tend to be beautiful creatures that are known to provoke many different emotions and curiosity. Gorilla Falls Exploration Trail allows for a unique observation window into the life of these land mammals.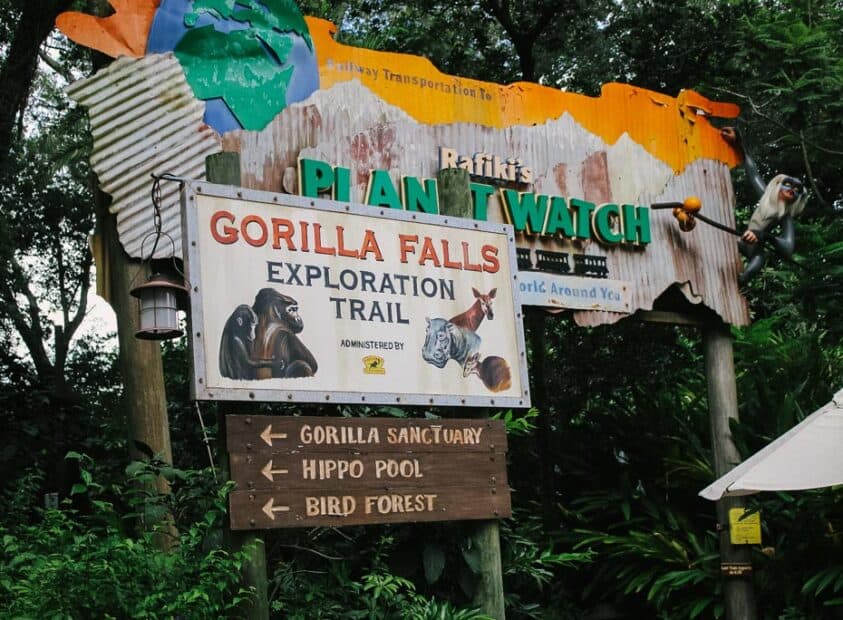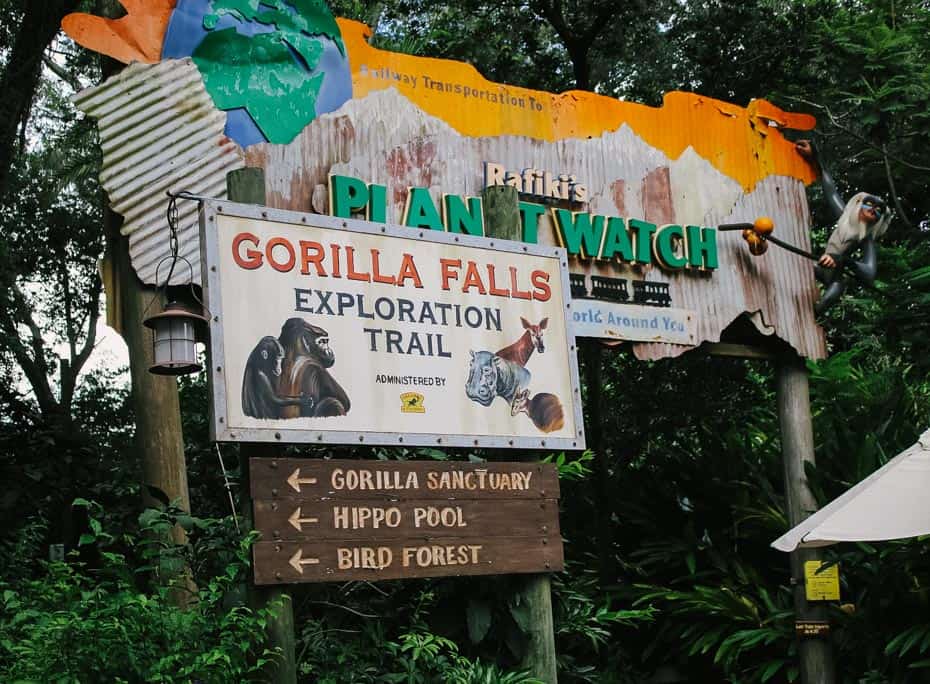 The trail entrance is tucked in neatly next to Kilimanjaro Safaris in the Africa section of the park. As the current name of the trail states, you can expect to see gorillas and waterfalls. I mention the current name because it was formerly known as the Pangani Forest Trail.
But there's so much more this trail offers in the way of animal encounters besides gorillas. In this review, we will look at what you can expect to experience on the Gorilla Falls Exploration Trail.
Gorilla Falls Exploration Trail
Animal Kingdom

Location:

Asia

Disney Height Requirement:

None

Ride Type:

Walking Trail

Seats Per Vehicle:

None

Rider Switch at Disney World:

None

Good For:

Everyone

Scare Factor:

None

Must-Do List:

Medium to High

Perfect For:

All Ages

Special Mention:

Sometimes the younger gorillas are
out playing and are very entertaining.
Gorilla Falls Exploration Trail Review
Gorilla Falls Exploration Trail is self-paced. Therefore, you can walk through as fast or as slow as you would like. On average, it will take a minimum of 30 minutes to experience the trail if you take the time to view all of the different animal encounters.
Additionally, the trail closes earlier than the rest of the park. On most days, depending on the season, you can expect a 5:00 p.m. to 7:0 p.m. close.
Gorilla Falls is home to the following animal encounters: Gorillas, Okapis, a Hippopotamus, MeerKats, Grey's Zebra, Bird Sanctuary, and Colobus Monkeys.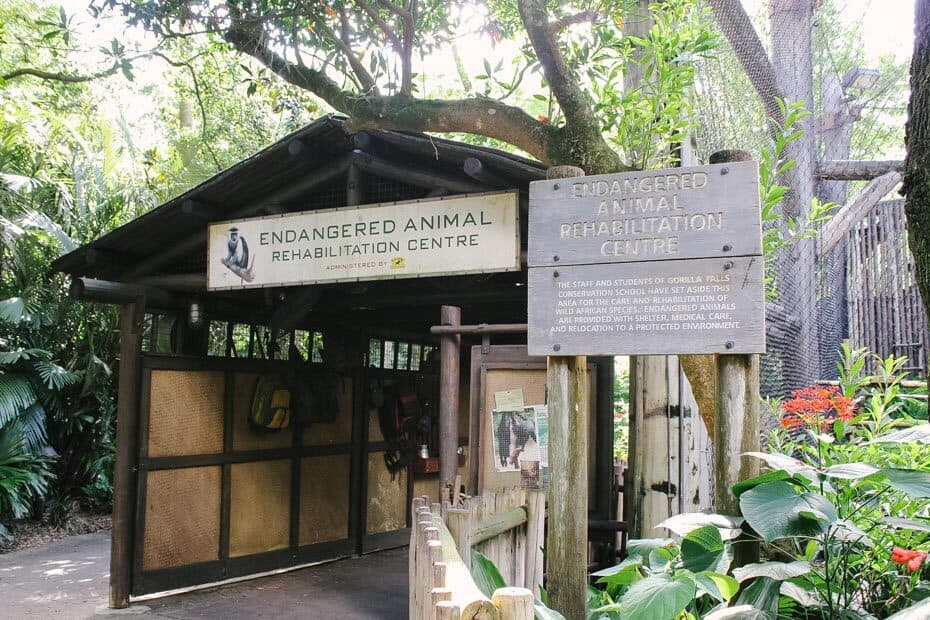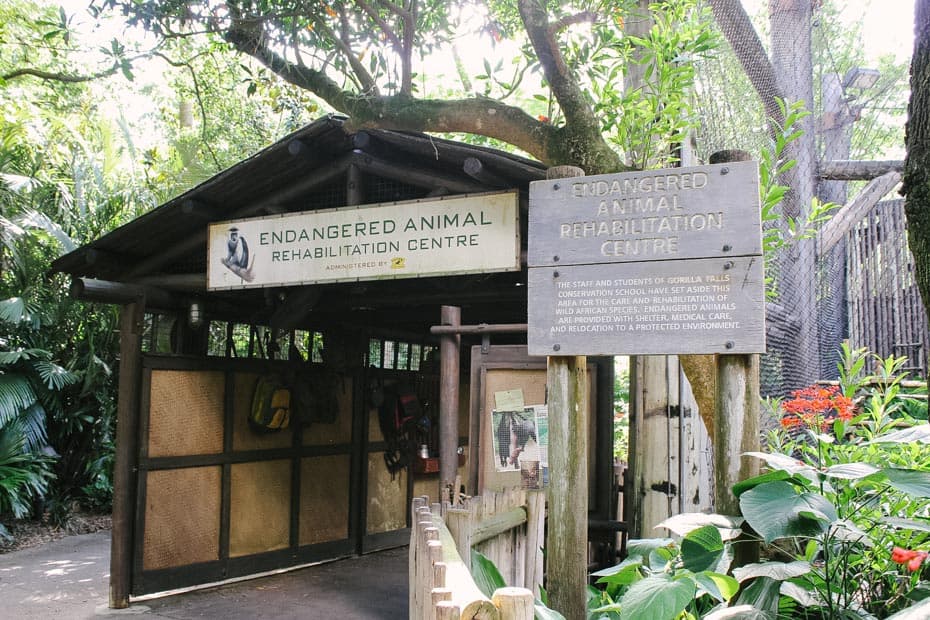 One of the first things you'll encounter on the Gorilla Falls Exploration Trail is the Angolan Black and White Colobus Monkey.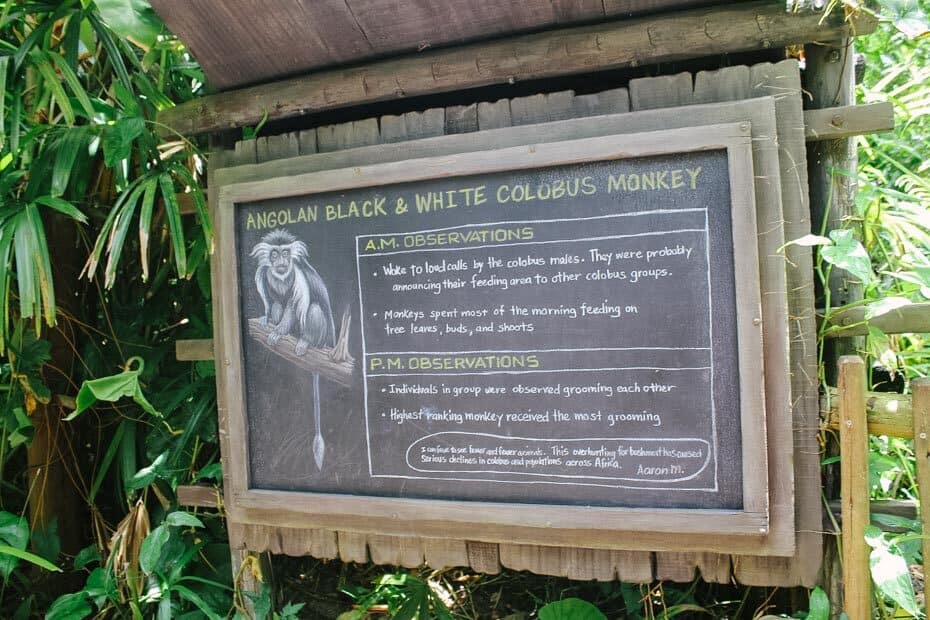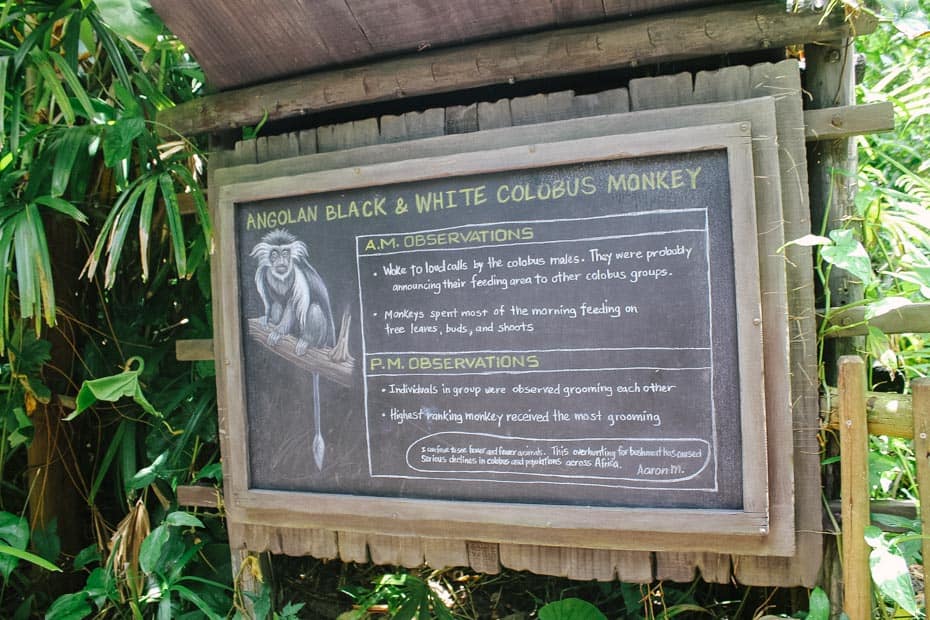 The Colobus Monkeys are from Angola, the Congo, Tanzania, and Kenya. There are several signs with facts about the species and often a cast member in the area to answer any questions you might have.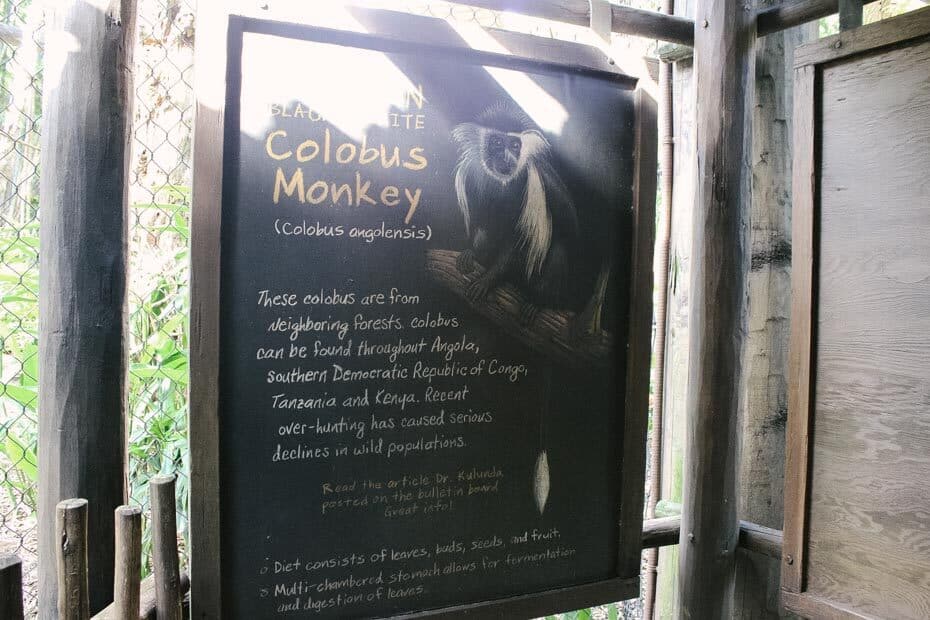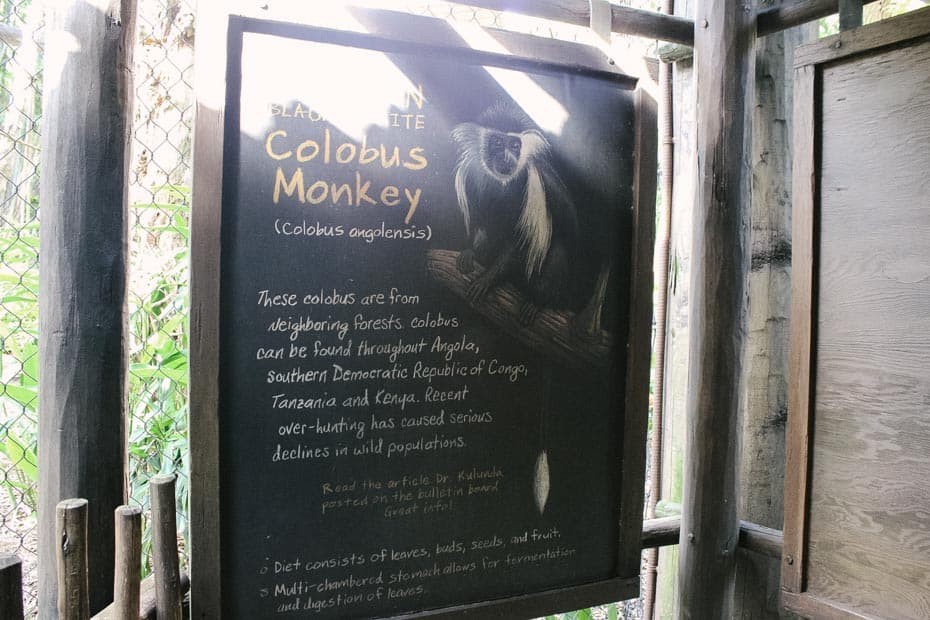 Here is a look at their habitat. These guys can be pretty active during the day. I enjoy catching them out during their feeding time. Make sure to stop if they are out and about. The Colobus are incredibly entertaining.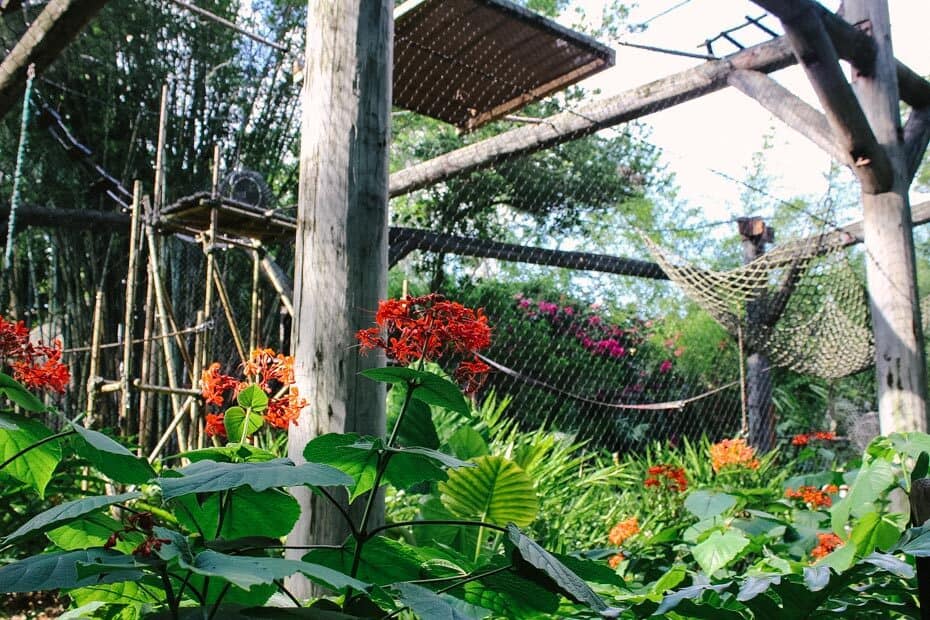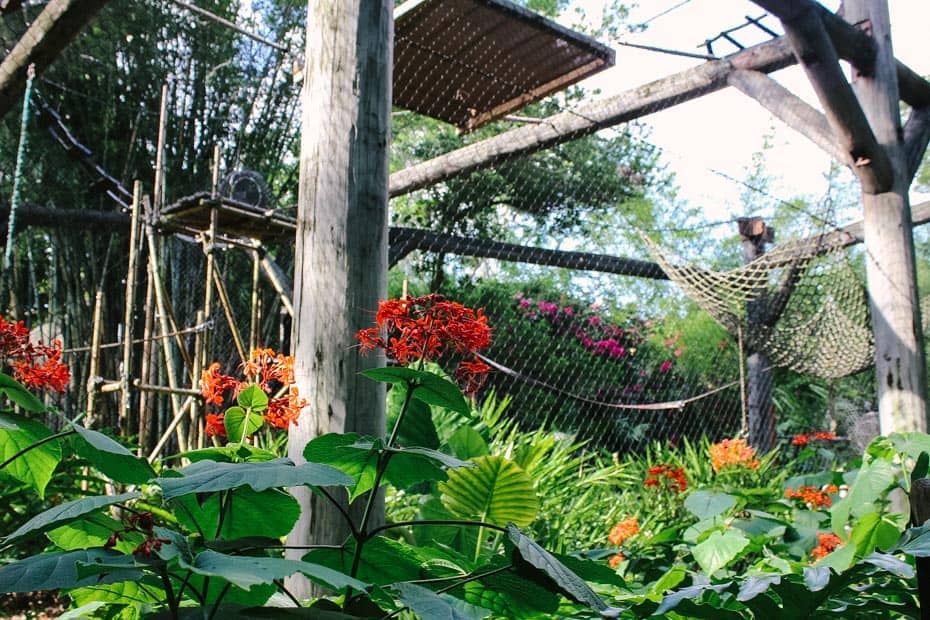 If you enjoy monkeys, the Maharajah Jungle Trek offers the opportunity to see Lion Tail Macaque monkeys. Additionally, there is a large Gibbons monkey encounter in the heart of Asia at the Animal Kingdom. The Gibbons are located near the entrance to Kali River Rapids.
Your next encounter on the trail is one of those termite mounds like the ones they point out while riding Kilimanjaro Safaris. Below is a look at the dissected mound. I'm sure anyone with any real estate experience knows what havoc and expense these tiny pests can cause.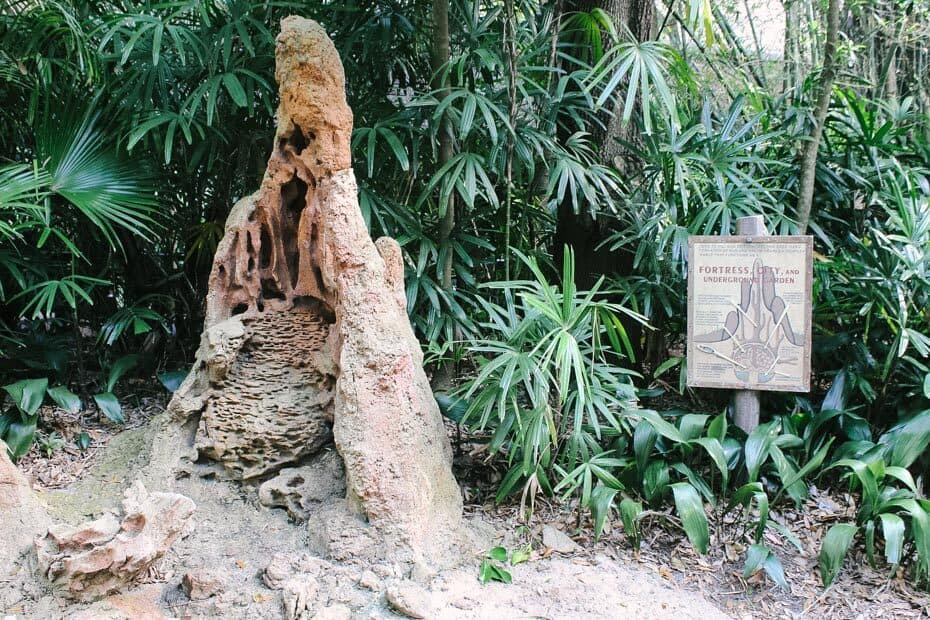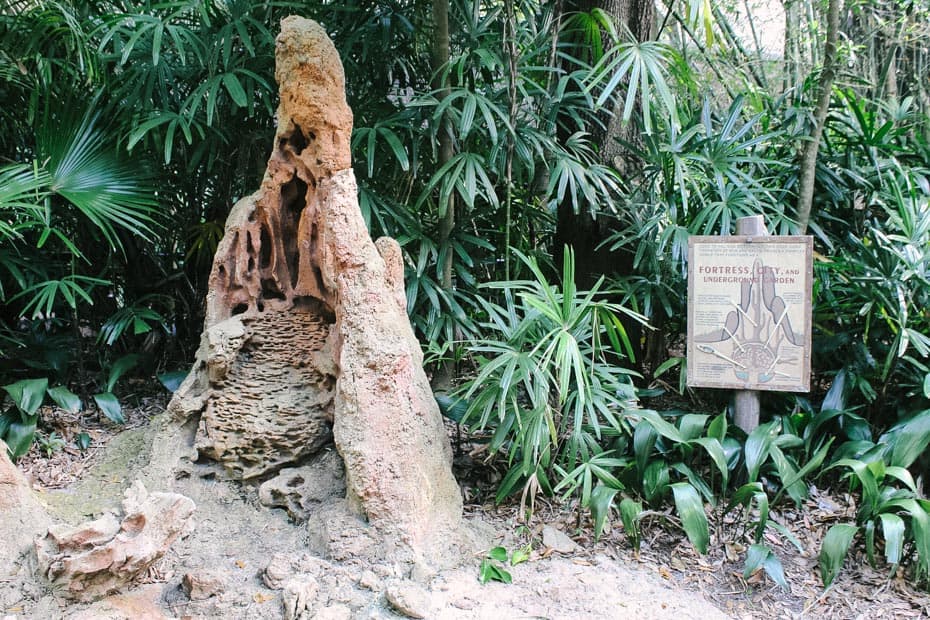 Okapis on Gorilla Falls Exploration Trail
Next, on the trail is an Okapi viewing area. These will be on your left-hand side after passing by the termite mound.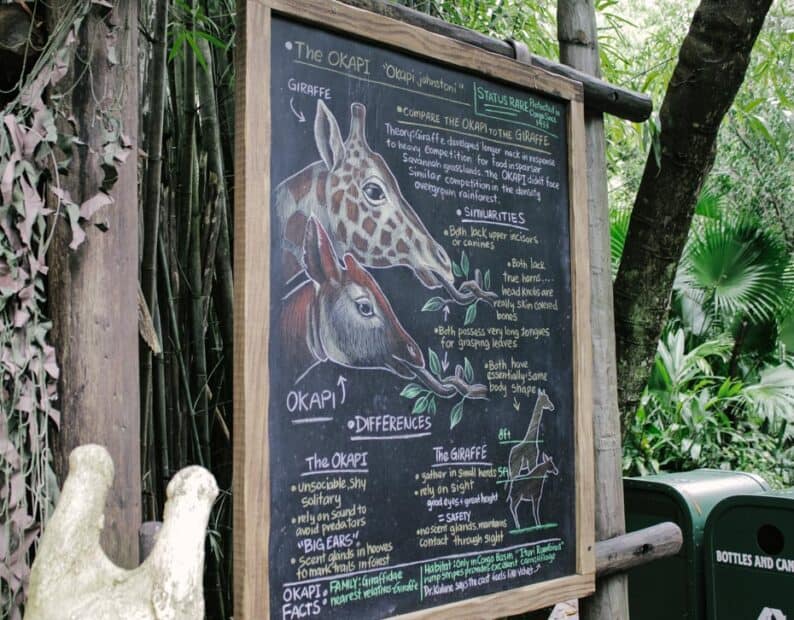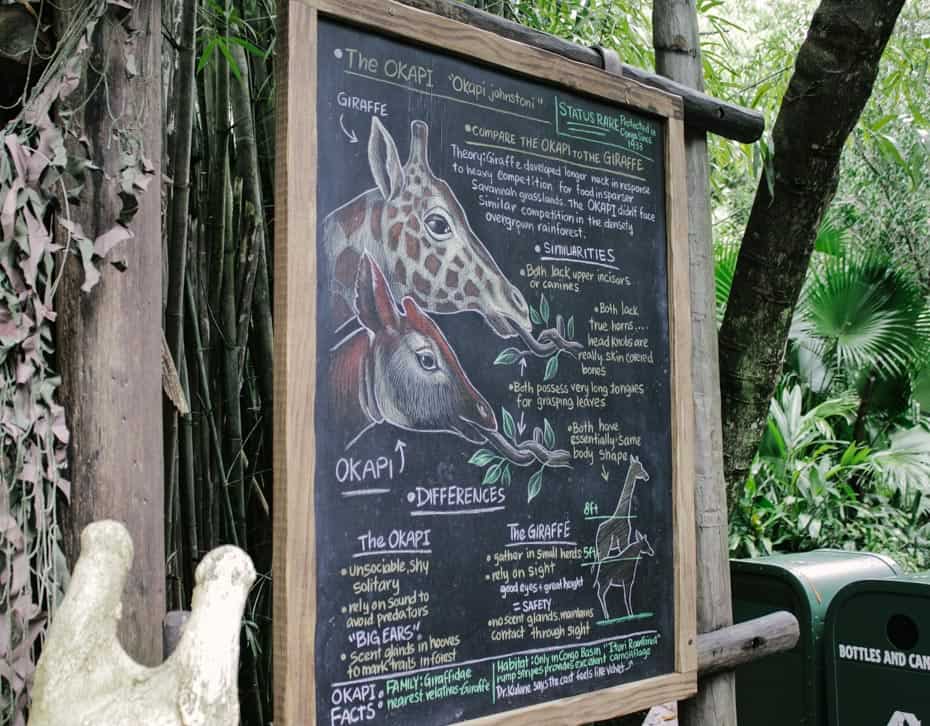 A fun fact about the Okapi is that they belong to the giraffe family even though they sport zebra-style leggings. This view of the Okapi below is from Kilimanjaro Safaris.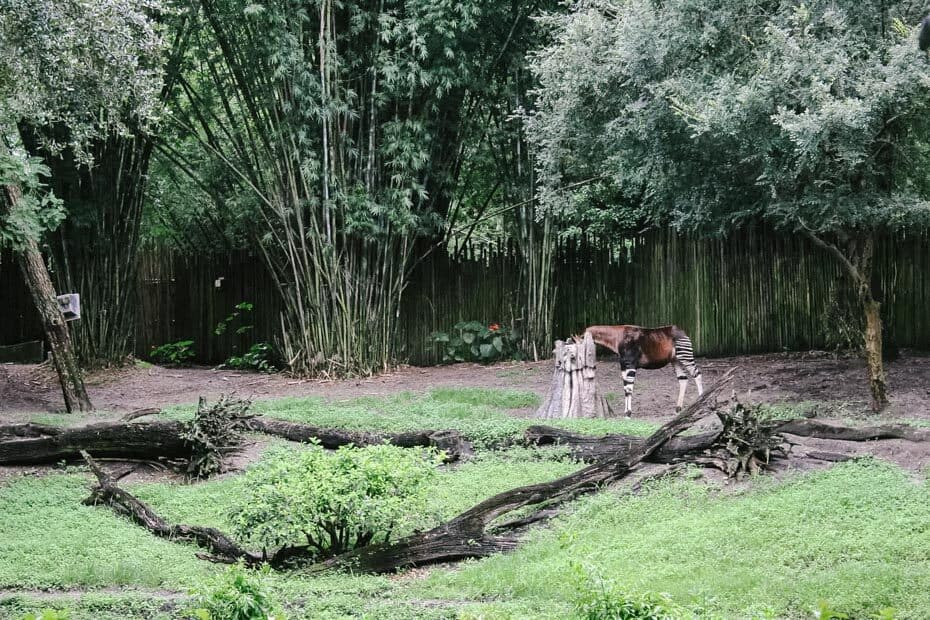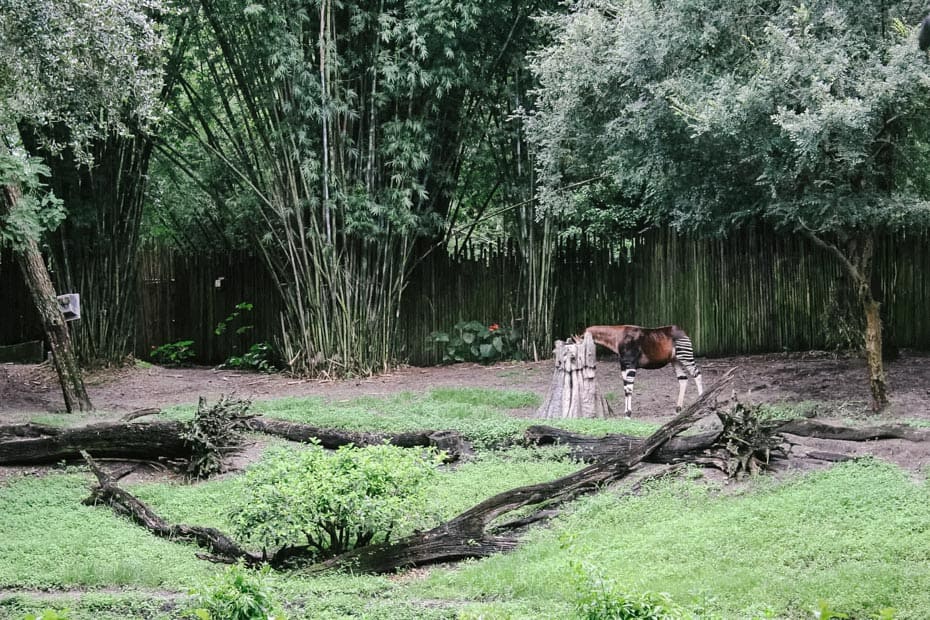 Bird Sanctuary
Moving on, you will enter an enclosure yourself and become part of a bird sanctuary. The sanctuary here is entirely different than the one over at the tiger trail. This viewing area offers a beautiful waterfall, and thousands of bright blue and yellow fish fill the stream below,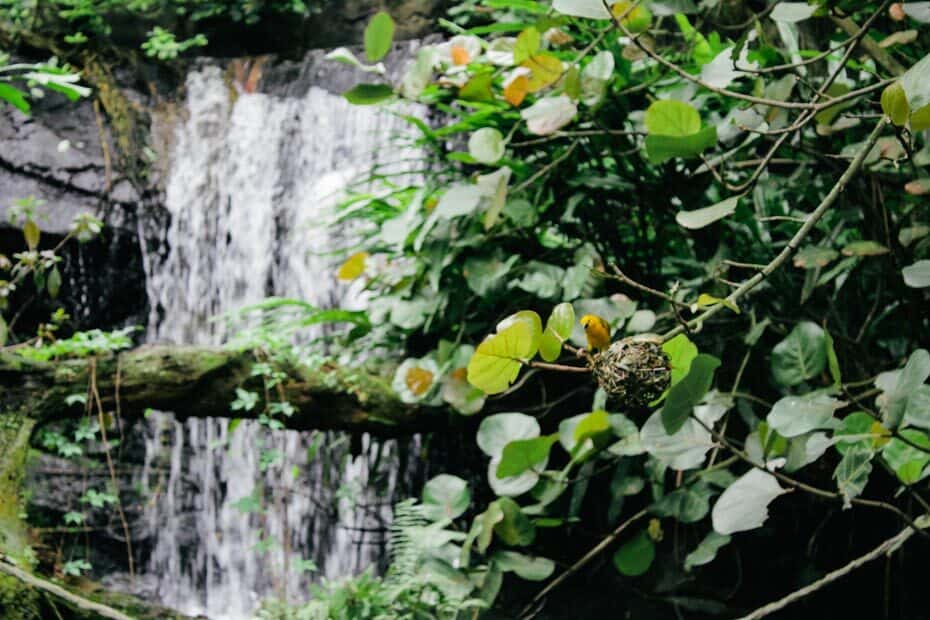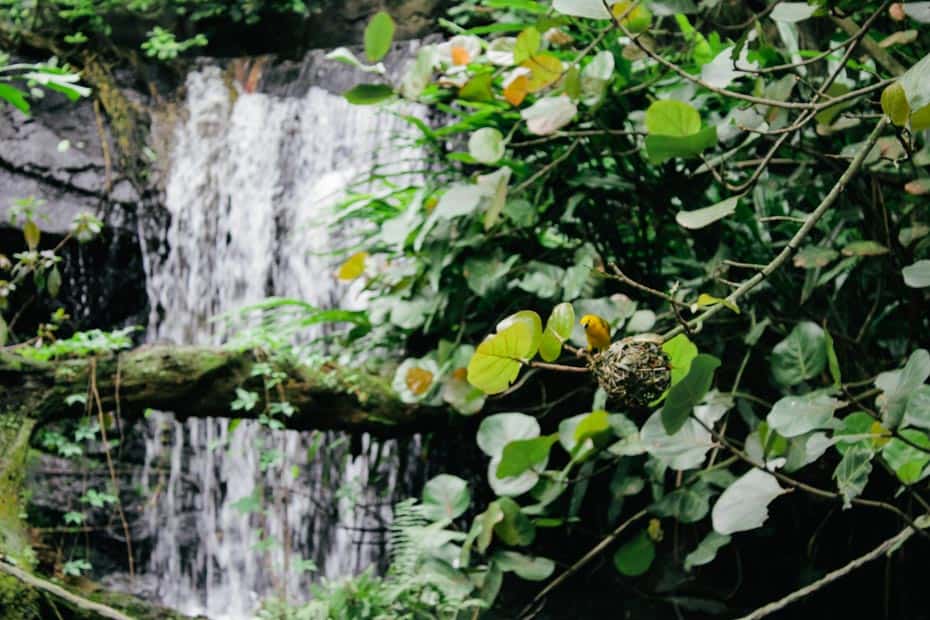 Look close all around, and you'll find many interesting birds.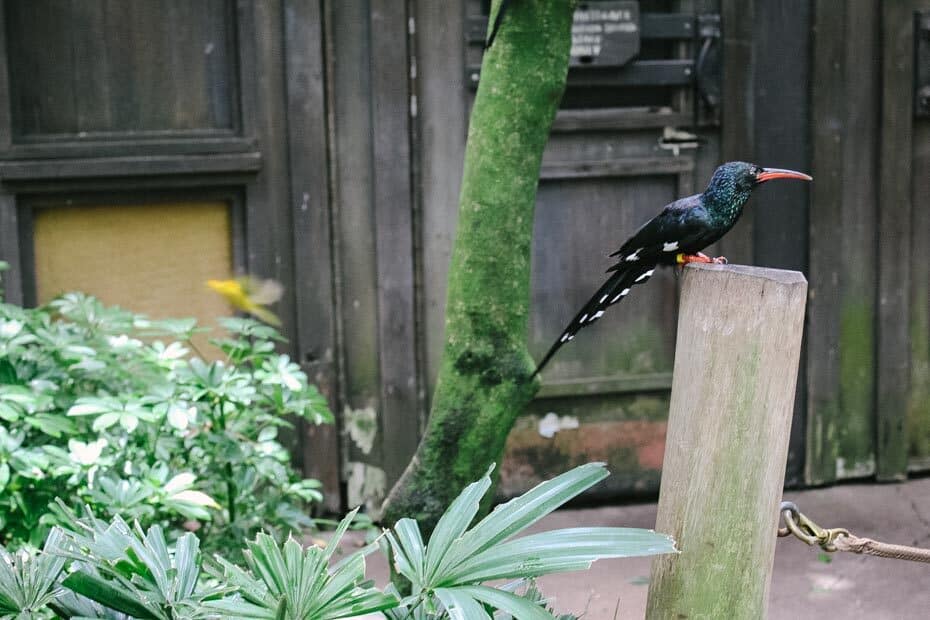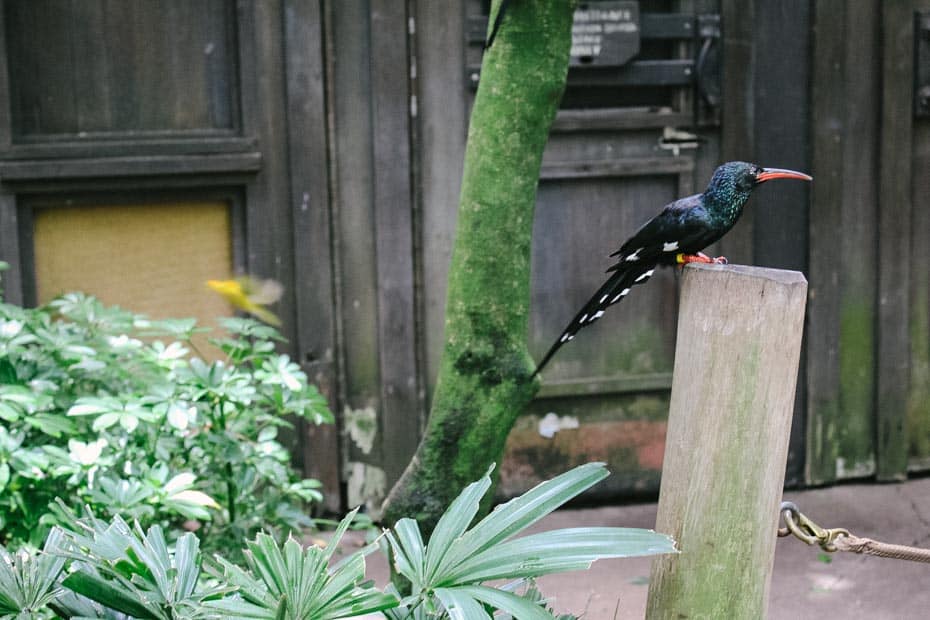 But look fast. These appear to be posing for a picture. In reality, many of these birds are constantly moving and challenging to photograph.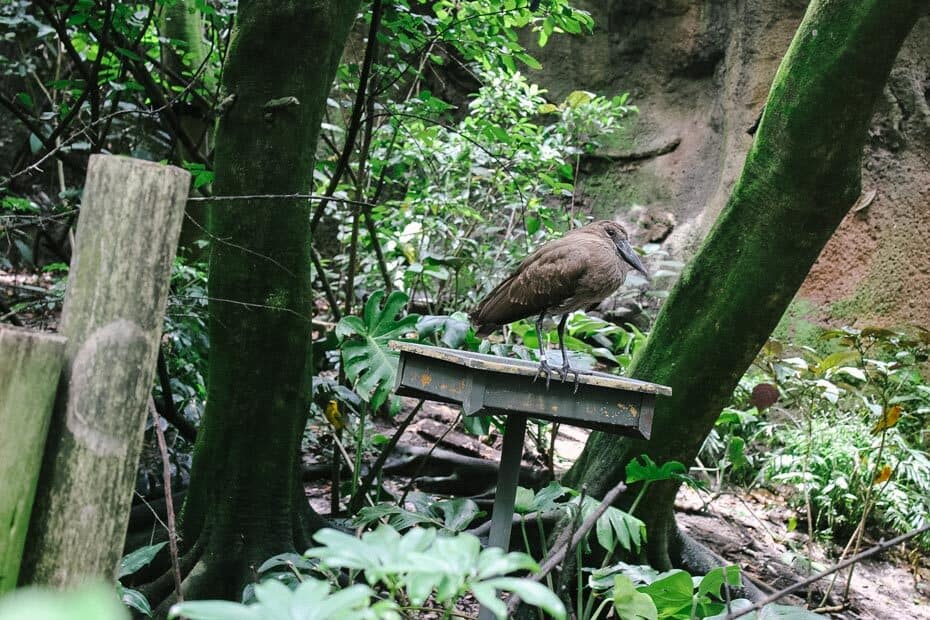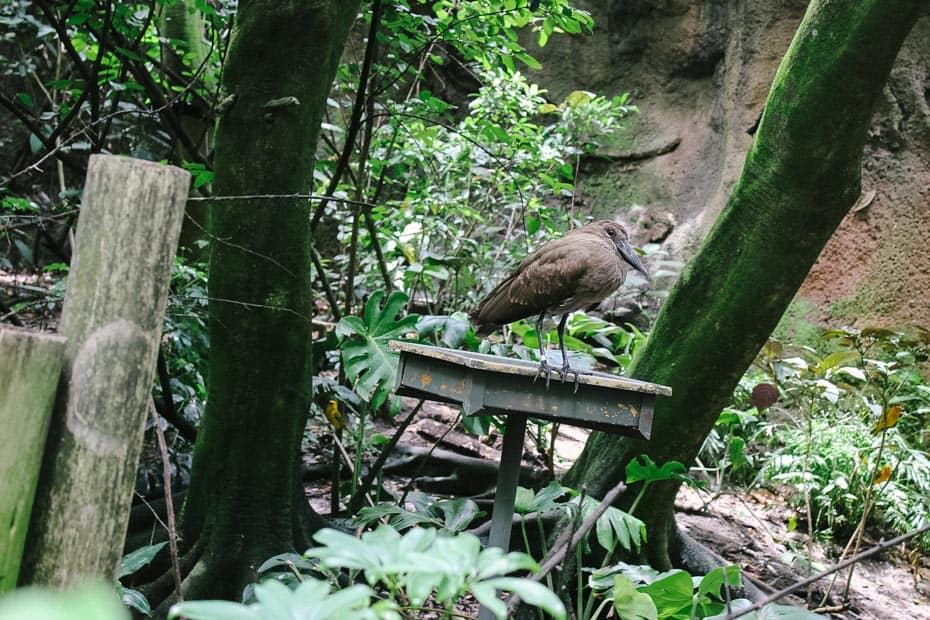 Here's that pool of fish.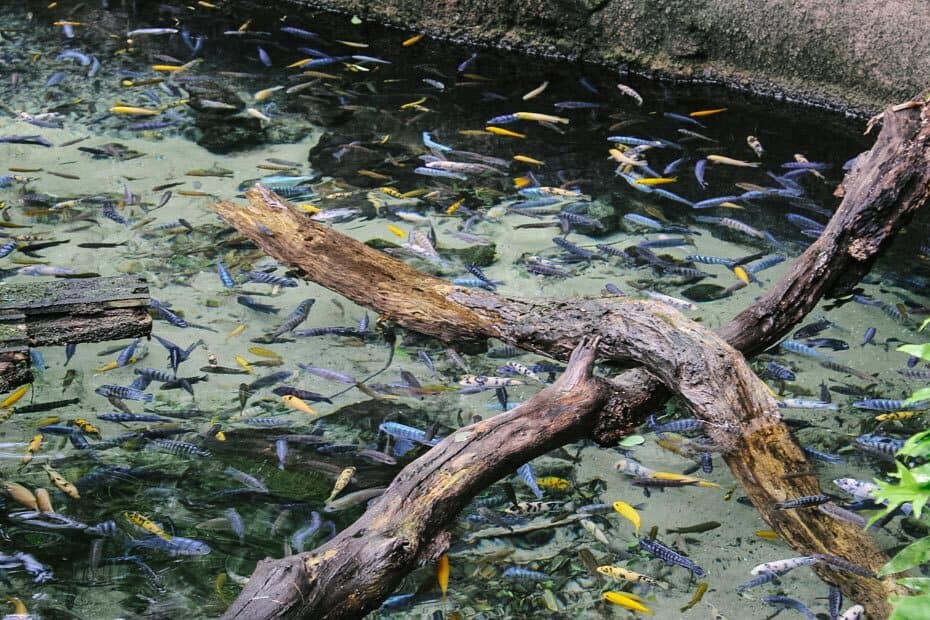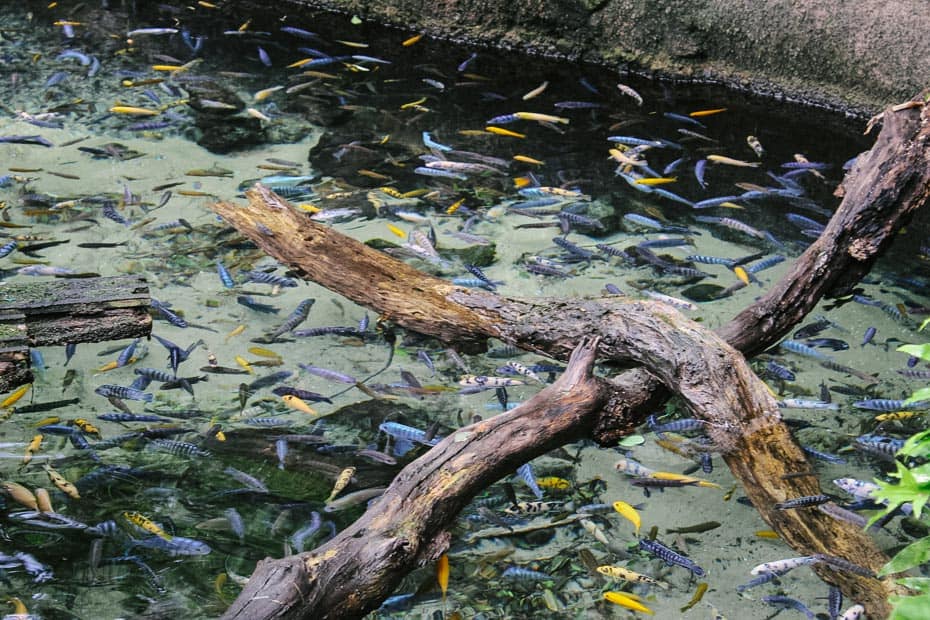 These birds below like to pop in and out of their nests.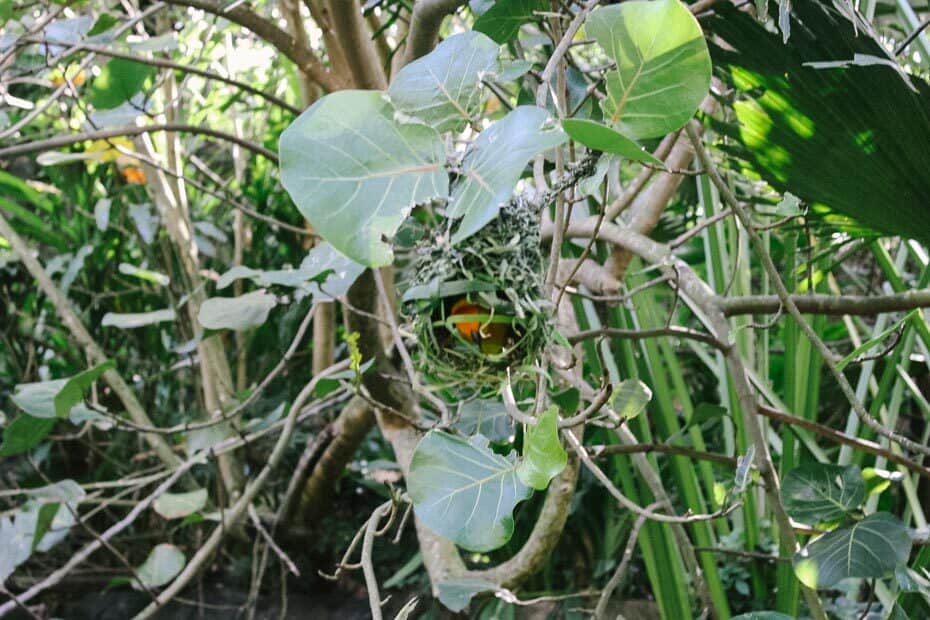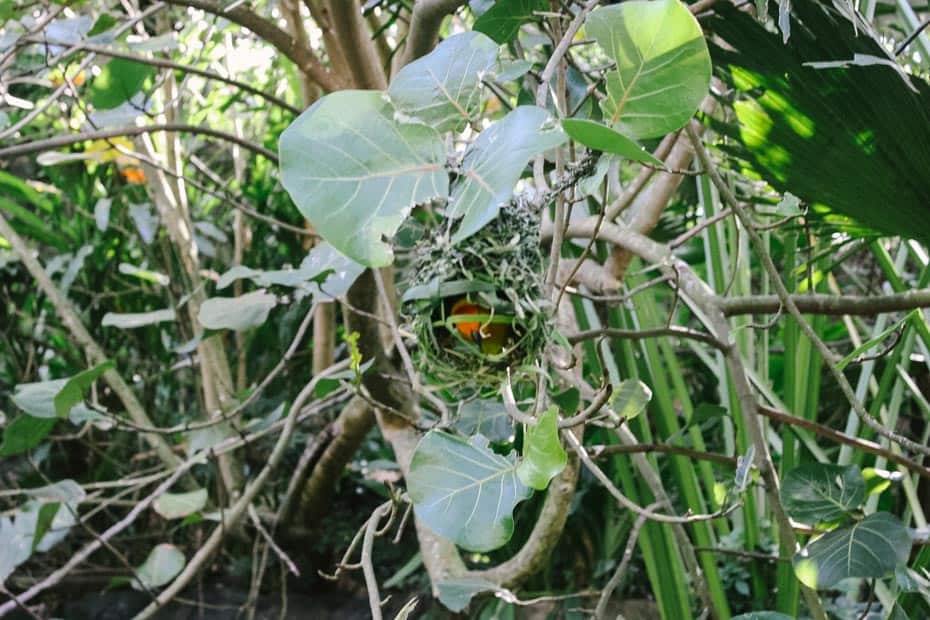 Hippopotamus Viewing Area on Gorilla Falls Exploration Trail
After exiting the bird sanctuary, the trail takes you into a building that looks out into an underwater hippo exhibit. This area can be pretty crowded with sometimes cloudy water. But if the hippo comes up to the window for a swim, its fun to see up close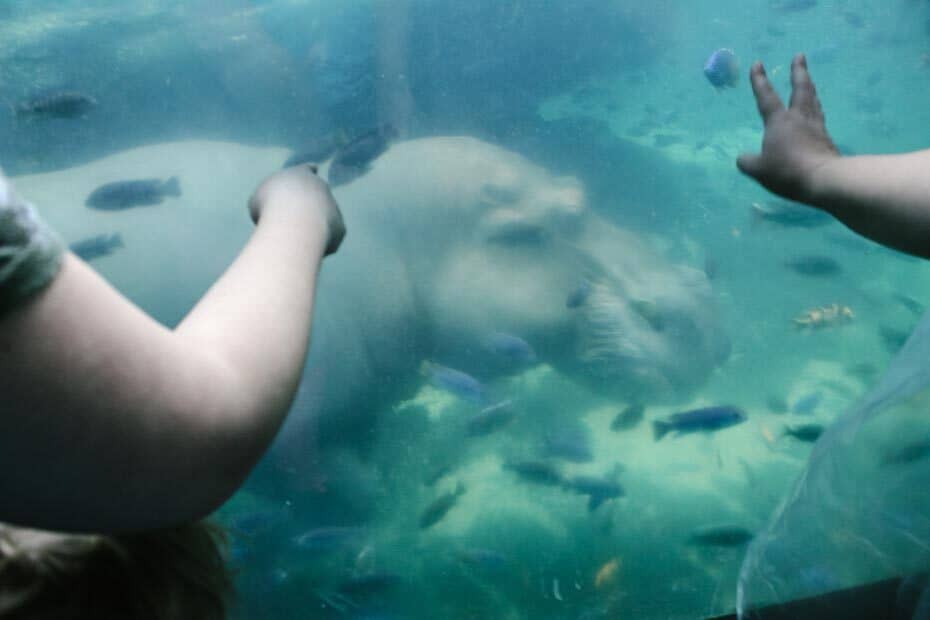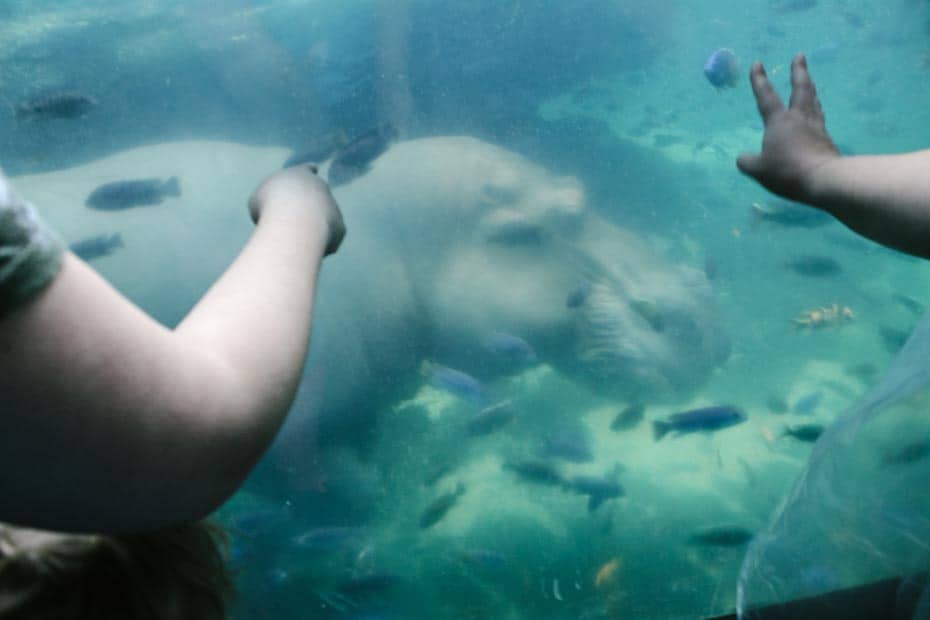 You might even have an opportunity to see it out in the distance if it's not swimming.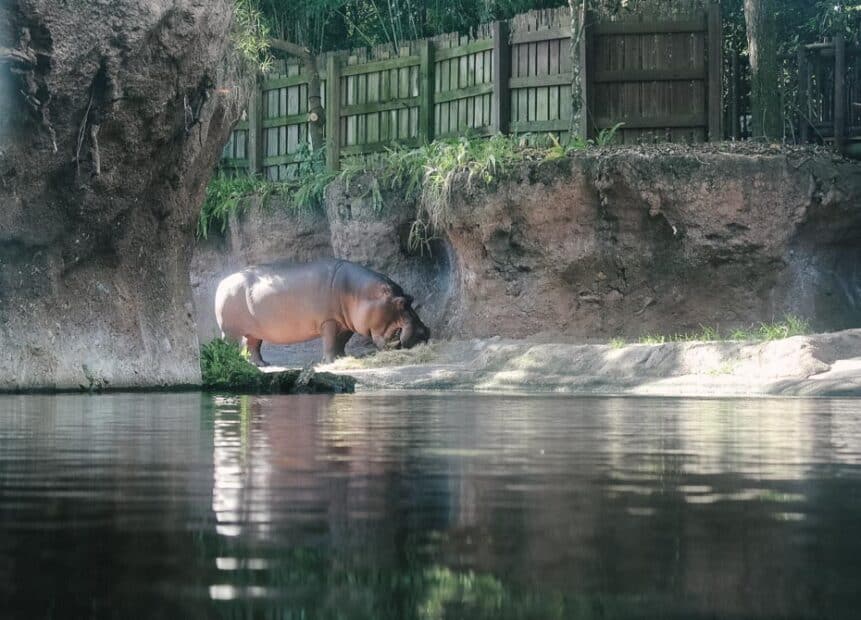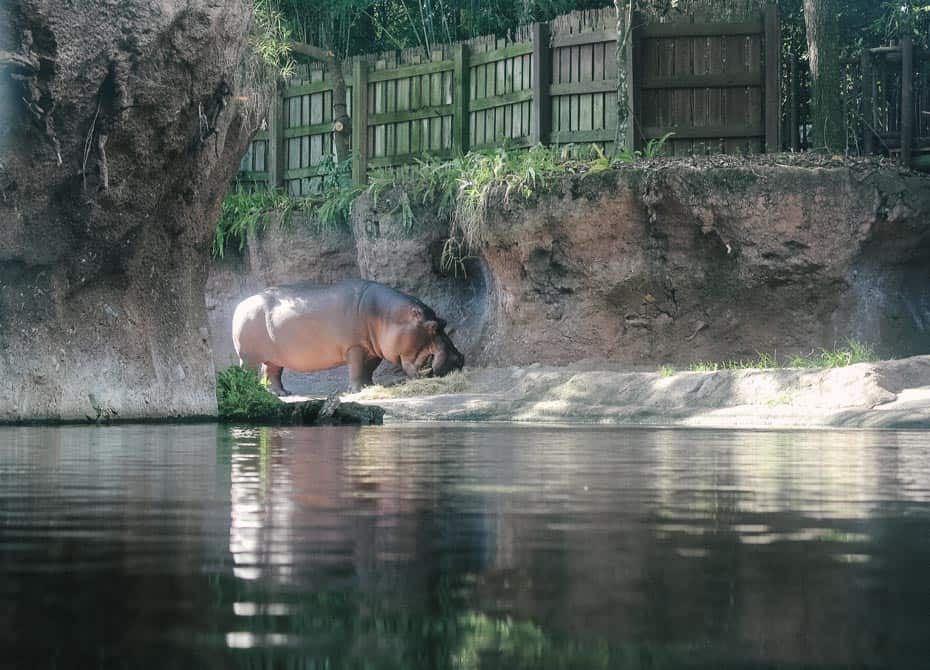 Moving on around, you'll come to this covered area with a view of the Savanah.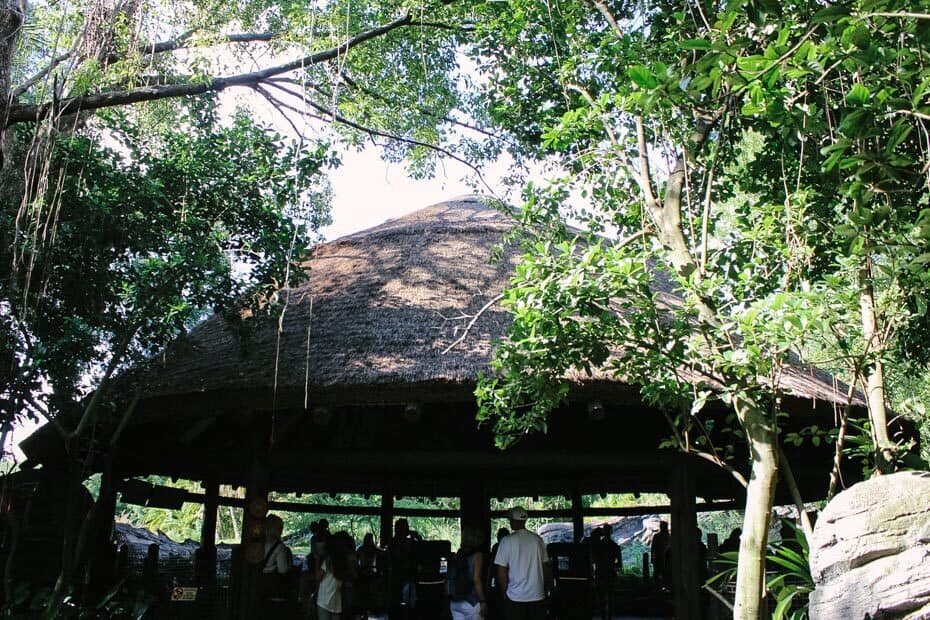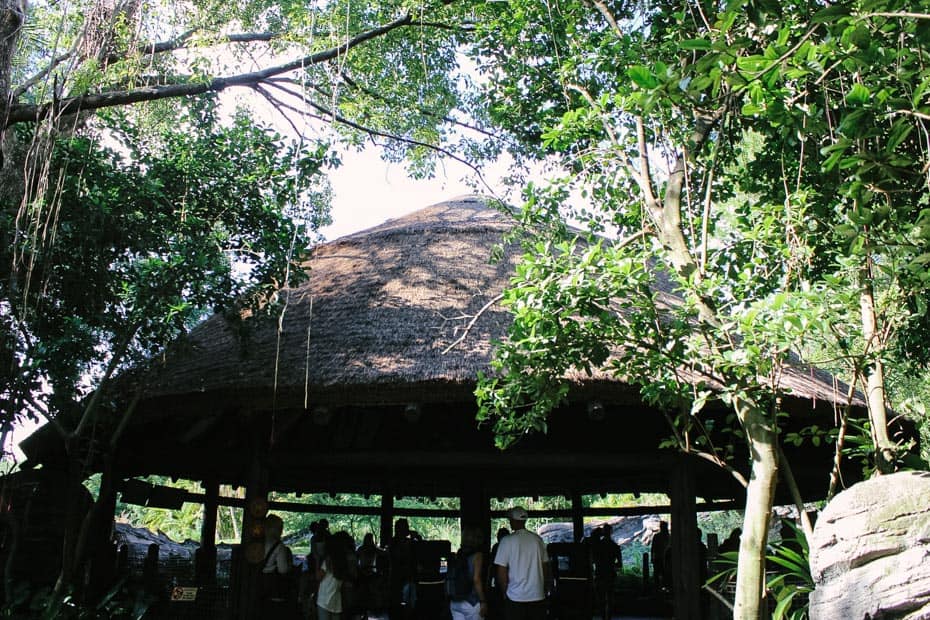 Grey's Zebra and Meerkat on Gorilla Falls
There might be an opportunity to see Grey's zebra on the left-hand side. Then, over to the right-hand side, you'll see the cutest little creatures ever, meerkats!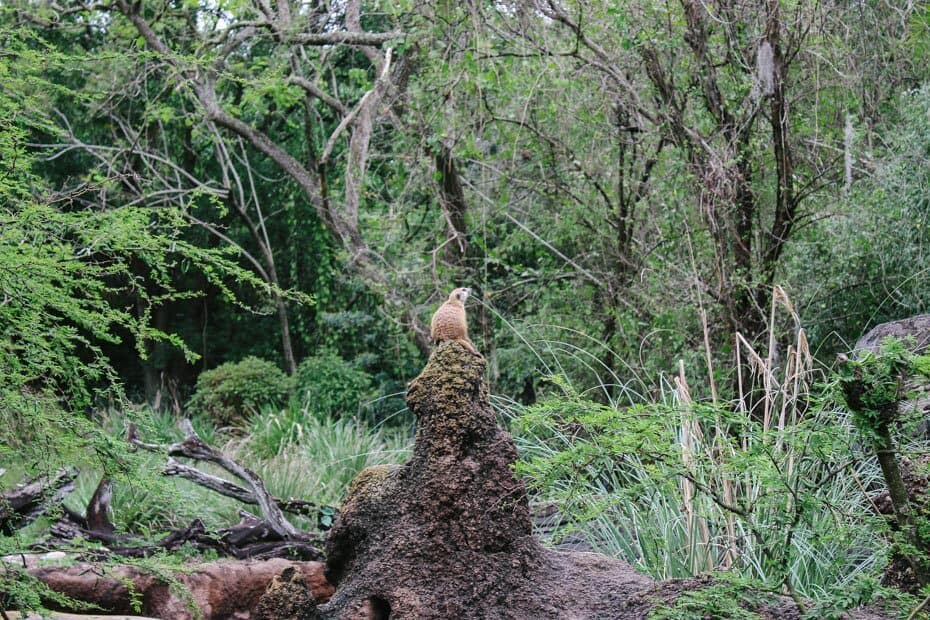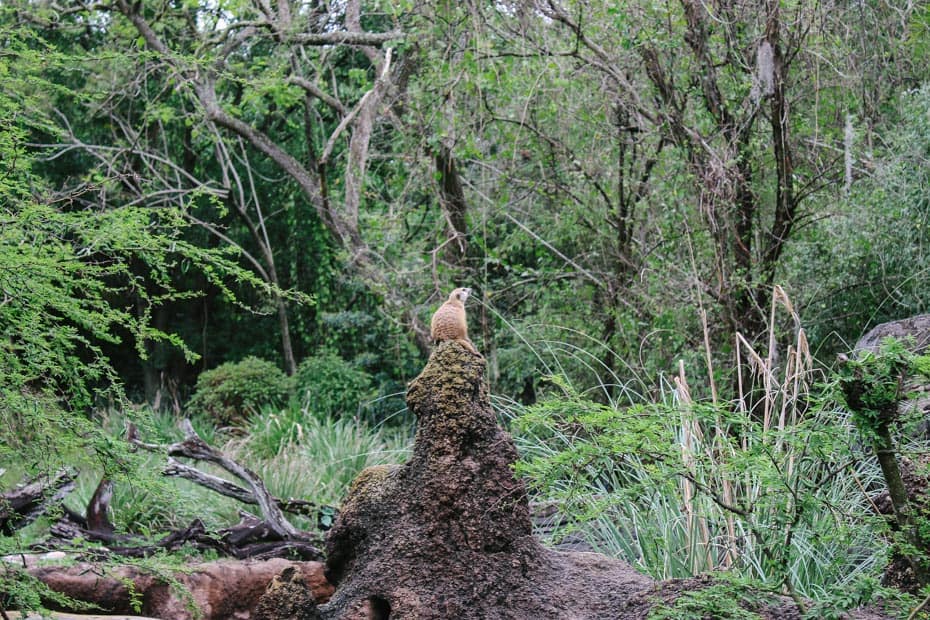 One brave meerkat takes on the lookout role to protect the rest of the group. This one above looks to the sky for predators that might attack his little family. The rest are very busy at work in the picture below.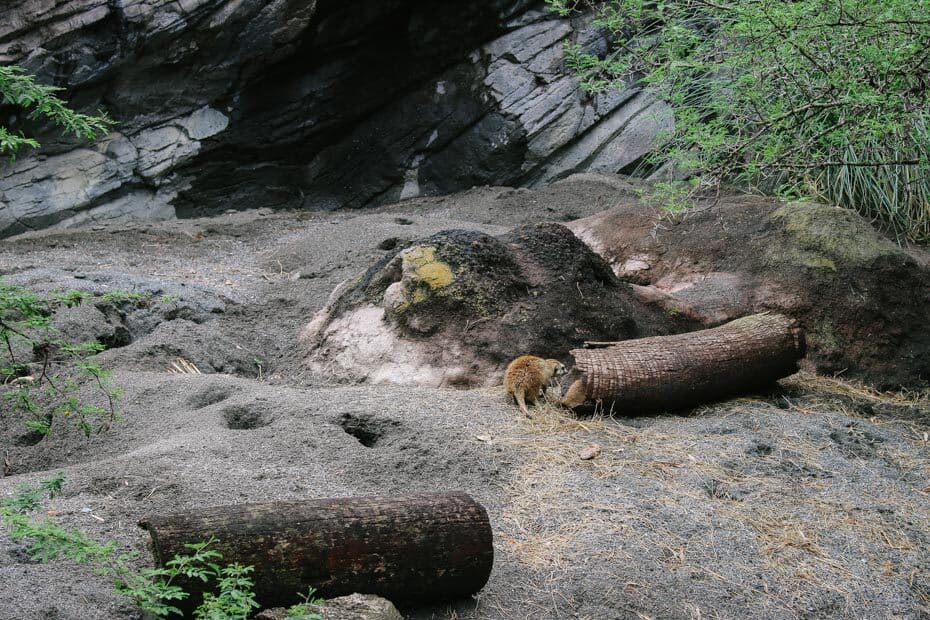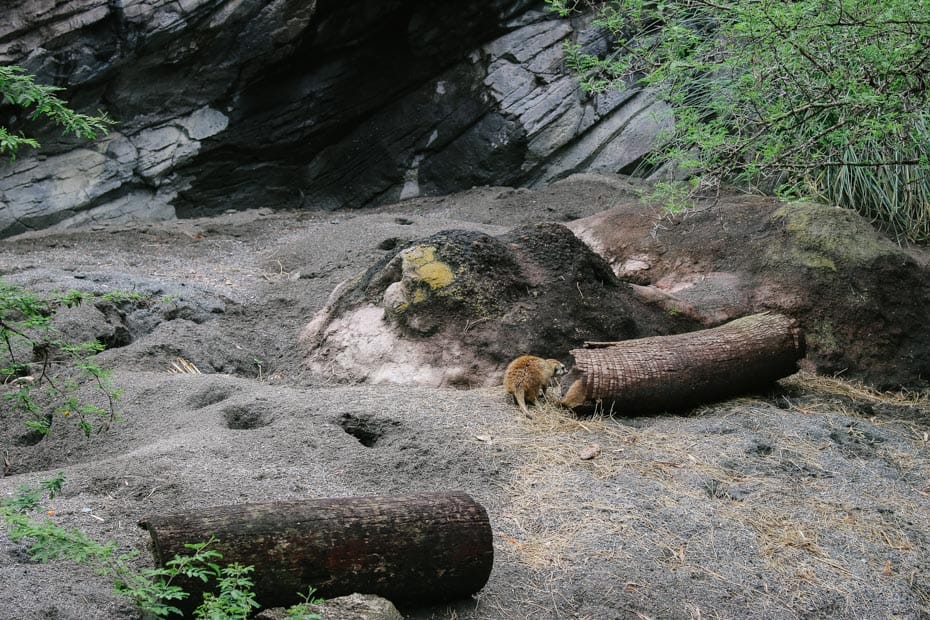 There is also a Wilderness Explorer's activity and chance to pick up a badge in this same area. This is a fun way for children to get involved. Additionally, it's a pleasant educational experience. As you can probably tell, there are quite a few things to do on the trail.
Gorillas at Disney's Animal Kingdom
Finally, we have made it around to the first opportunity to see the gorillas on the trail. This portion of the Gorilla Falls Exploration Trail can be pretty congested depending on how many gorillas are out at any given time. The viewing area in the picture below is usually where the moms hang out with their little ones.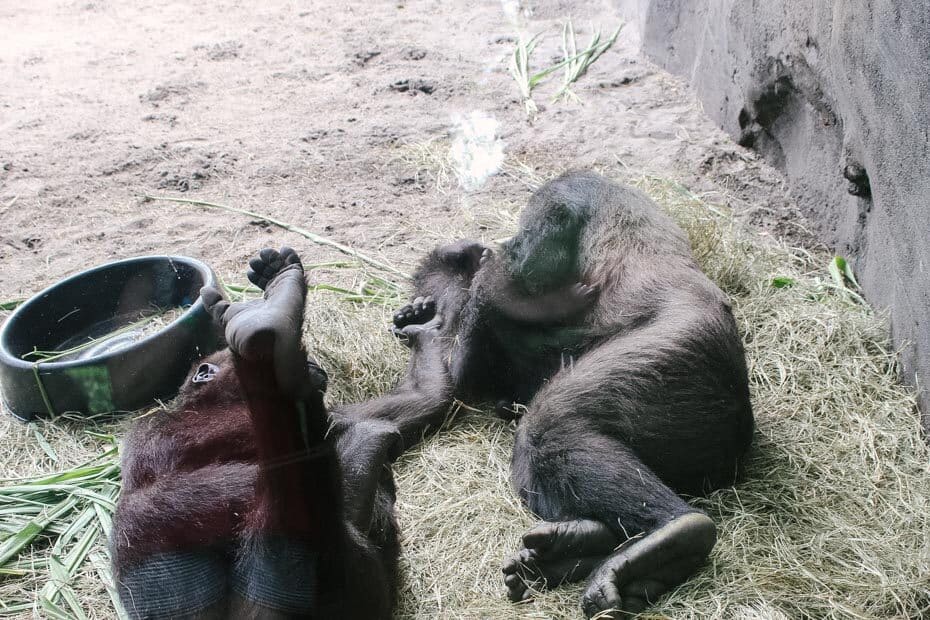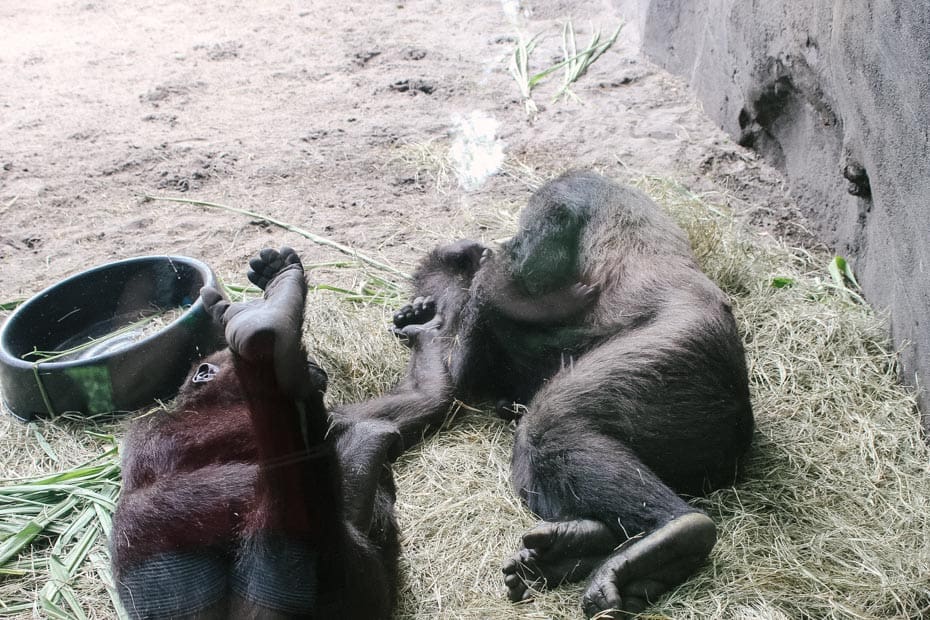 A few years back, a new baby was born. Grace, below, is being cradled by her mom while her brother sits close. Baby Grace is over two years old now. She is quite a bit larger than what's shown in the picture below.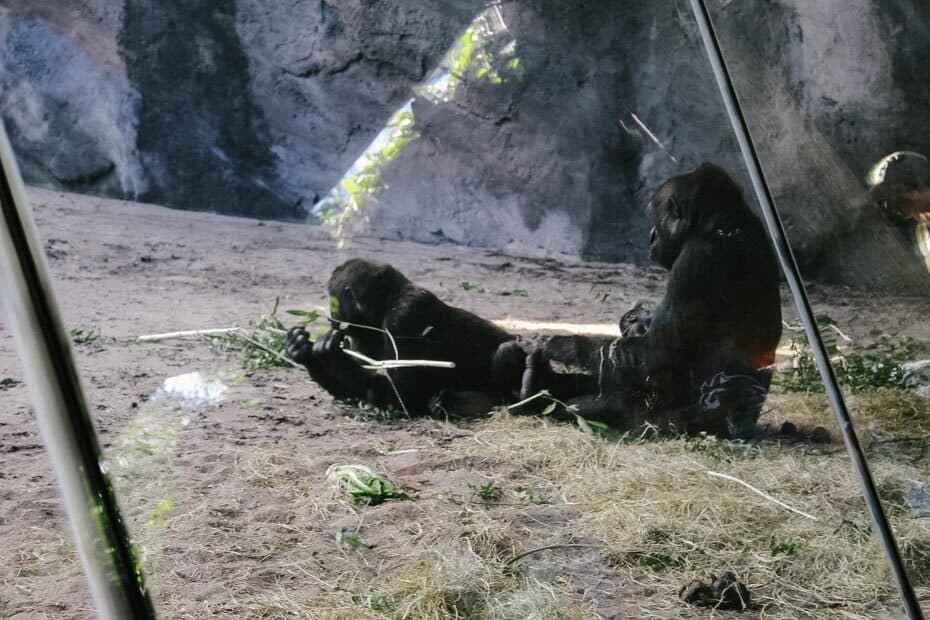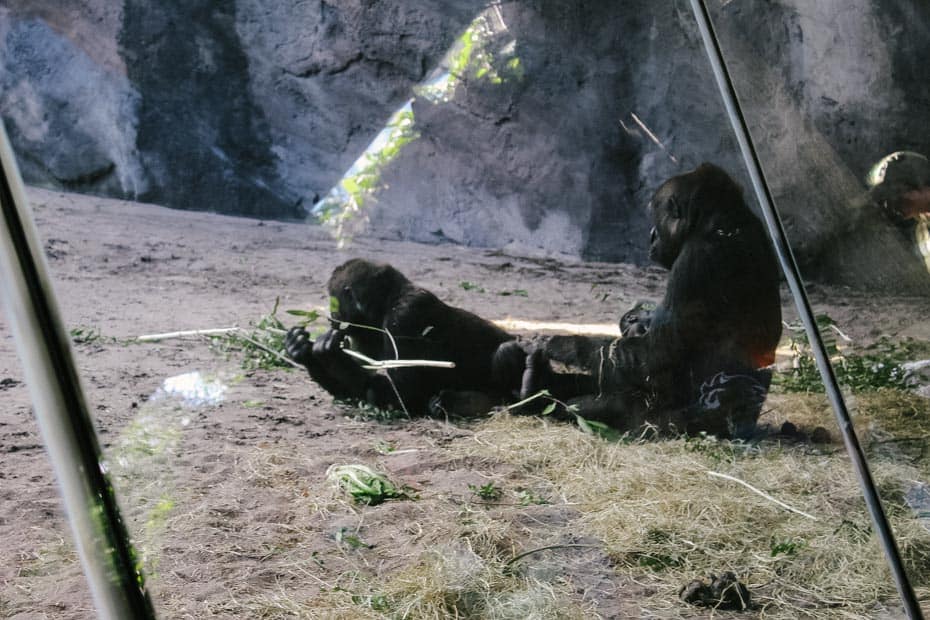 As you move past the glass enclosure, you'll walk across this large suspension bridge. This area looks out into the gorilla habitat on both sides. There is a bit of a ravine between you and the actual enclosure on both sides.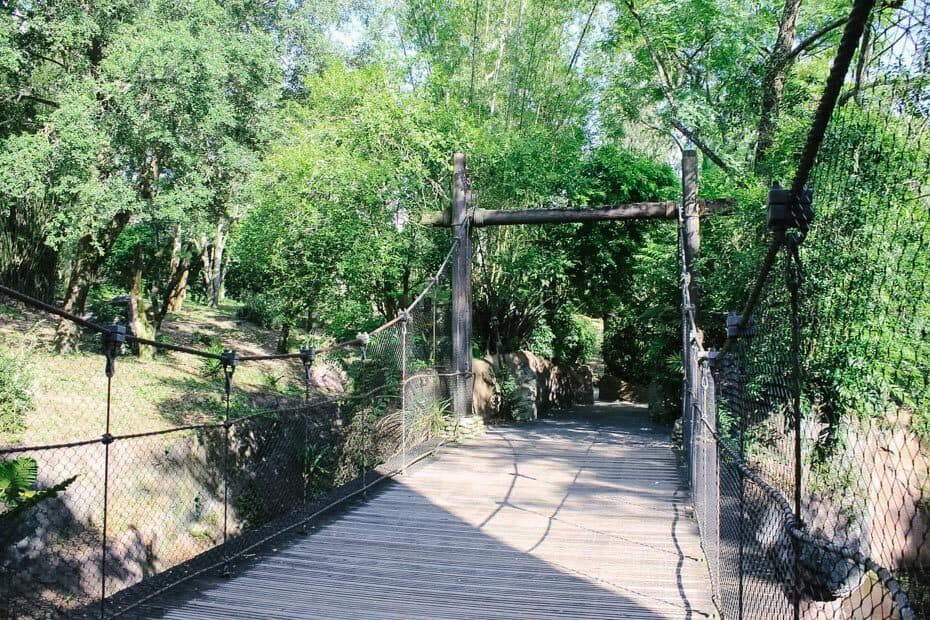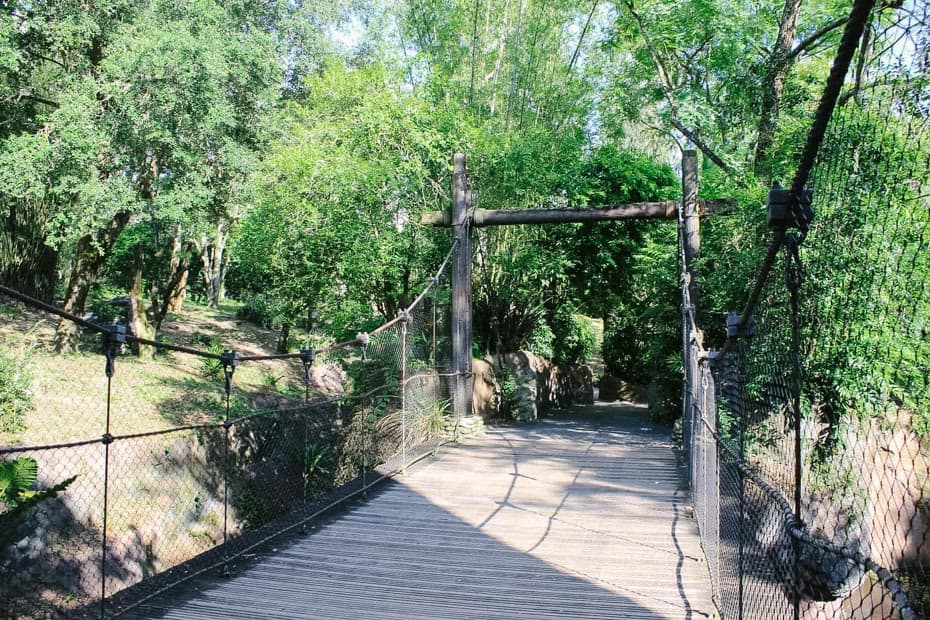 To the left side is where you'll usually find some of the silver-back male gorillas hanging out during the day. It's a vast area. Therefore, it might take you a few moments to locate the gorillas. There will be a cast member in the area most of the time pointing them out.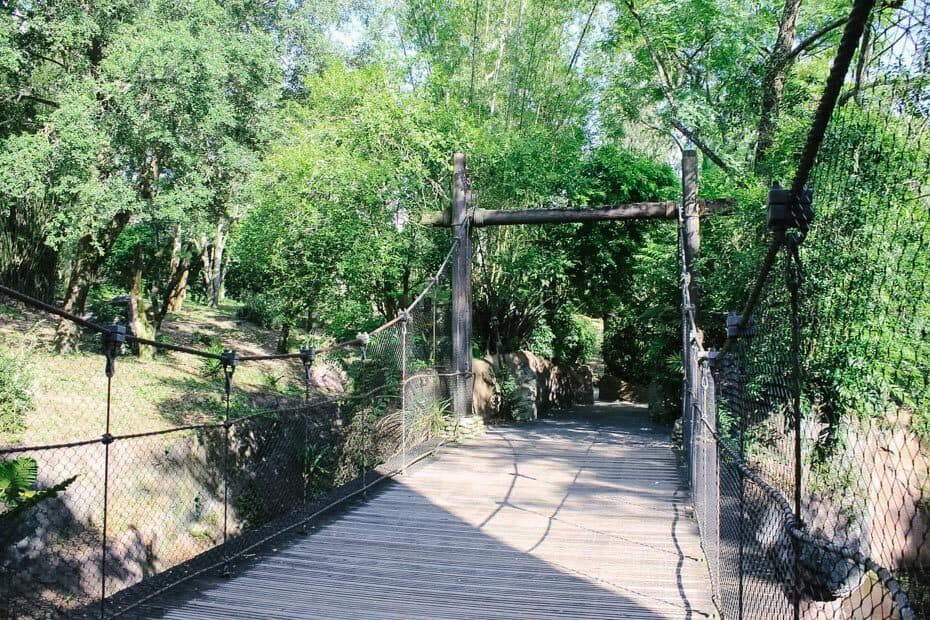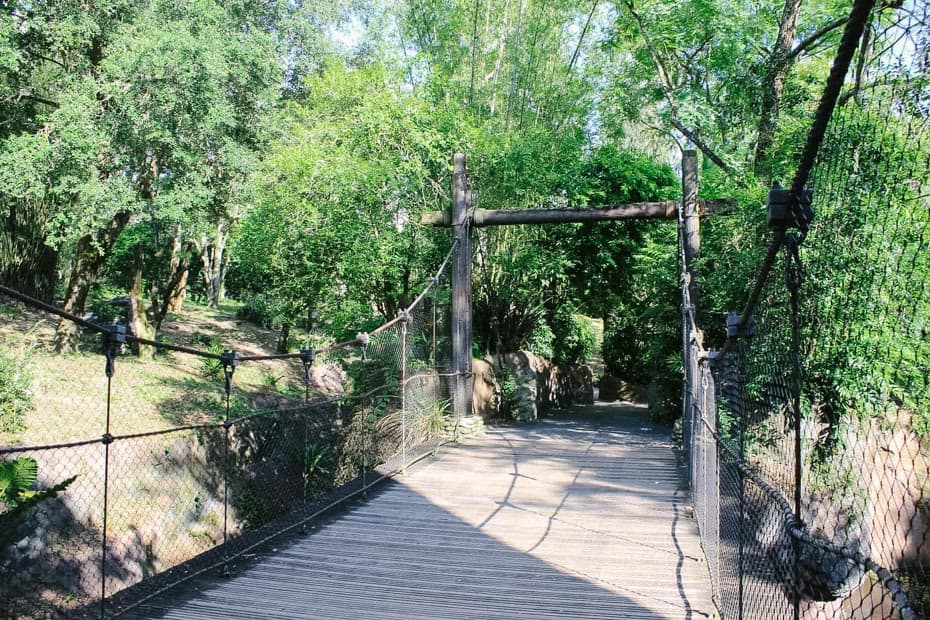 This portion of the trail is scenic, and even though I have mixed feelings about animals living in captivity, I don't get that feeling here. I'm sure that's a controversial opinion, but I'm thankful they have a large gorilla family here with a massive habitat providing plenty of space for them to roam.
There is also a good bit of information on the trail about gorillas. This one below states that the stream beyond the fence marks a rough boundary between the home range of a family troop of Lowland gorillas and territory used by a "bachelor" or all-male group.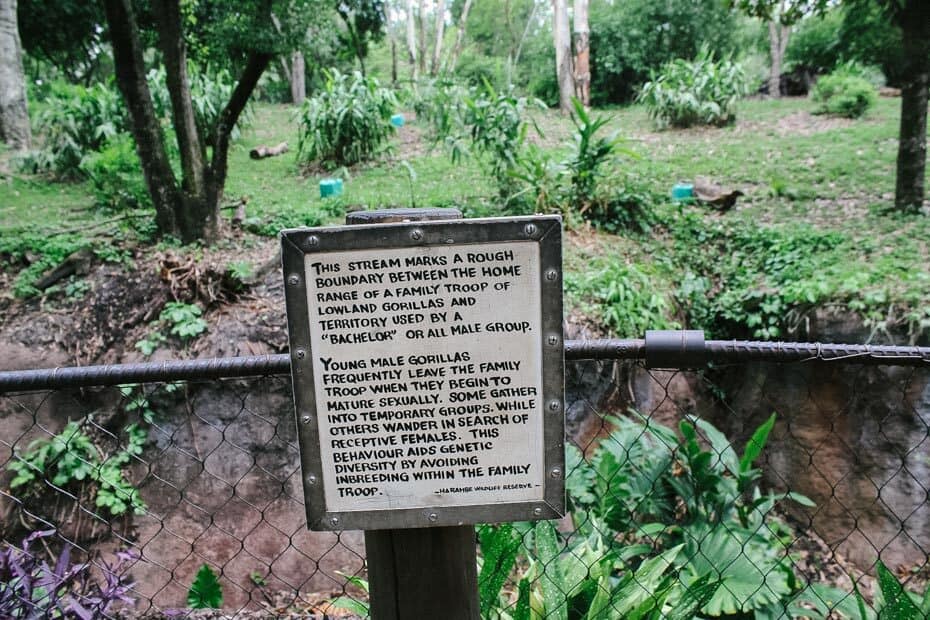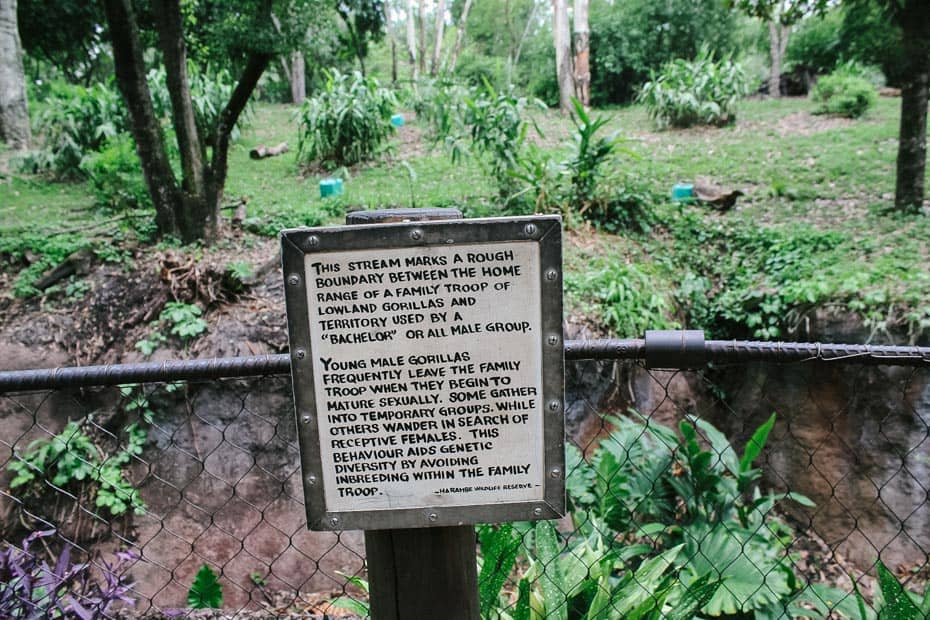 Here's one of those bachelors below, apparently playing the role quite well. Maybe there's a hidden built-in TV screen above him? Or he could just be wondering when that cute blogger is coming back to photograph him? Completely unaware that I'm already there. Or maybe he knows I'm there, and this is his latest stance.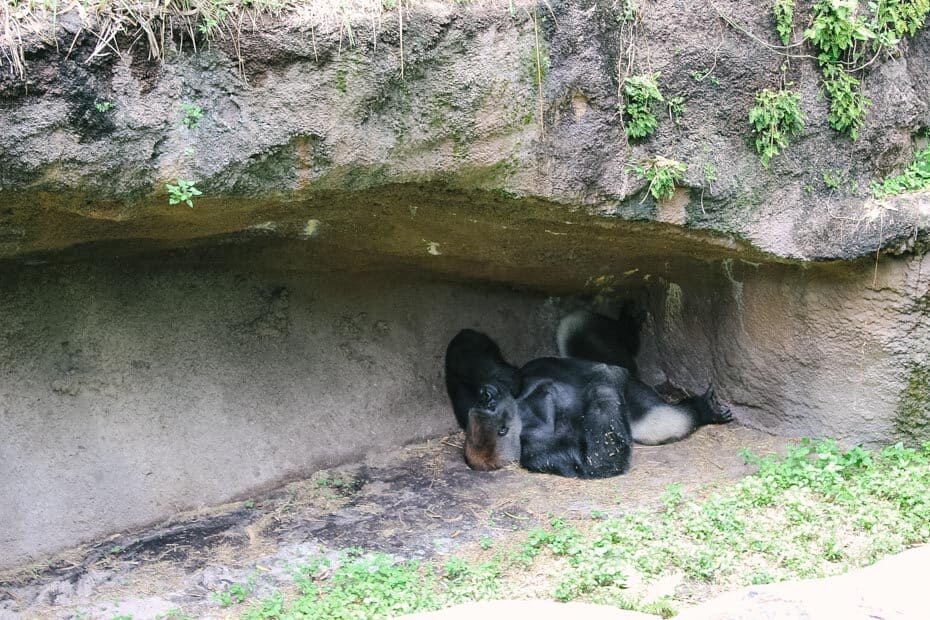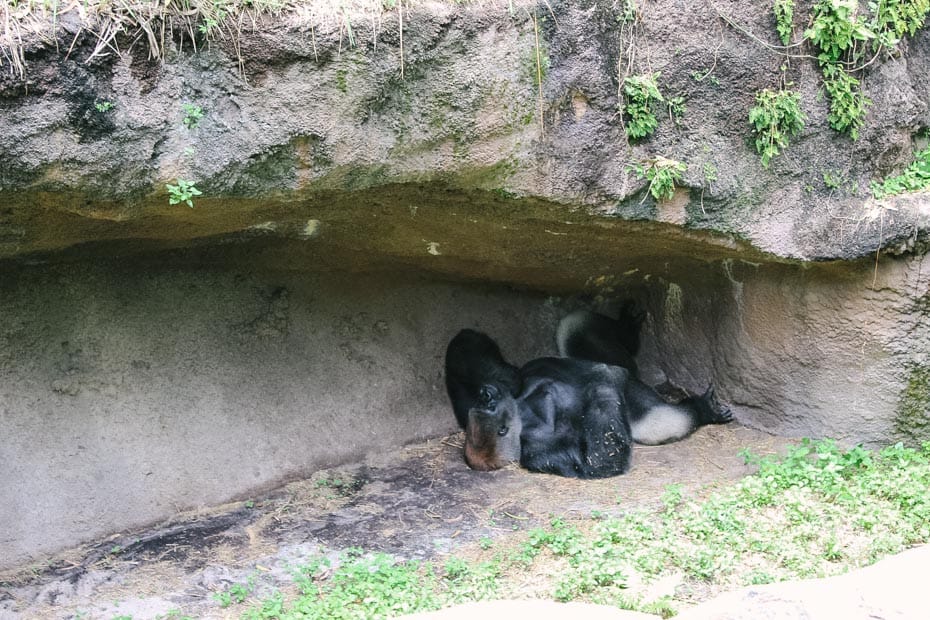 Whatever the case, make sure to look closely. There might be more than meets the eye, like this hidden gorilla in the picture below. It was a complete delight to see him lean in for the picture when I had no idea he was even there in the first place.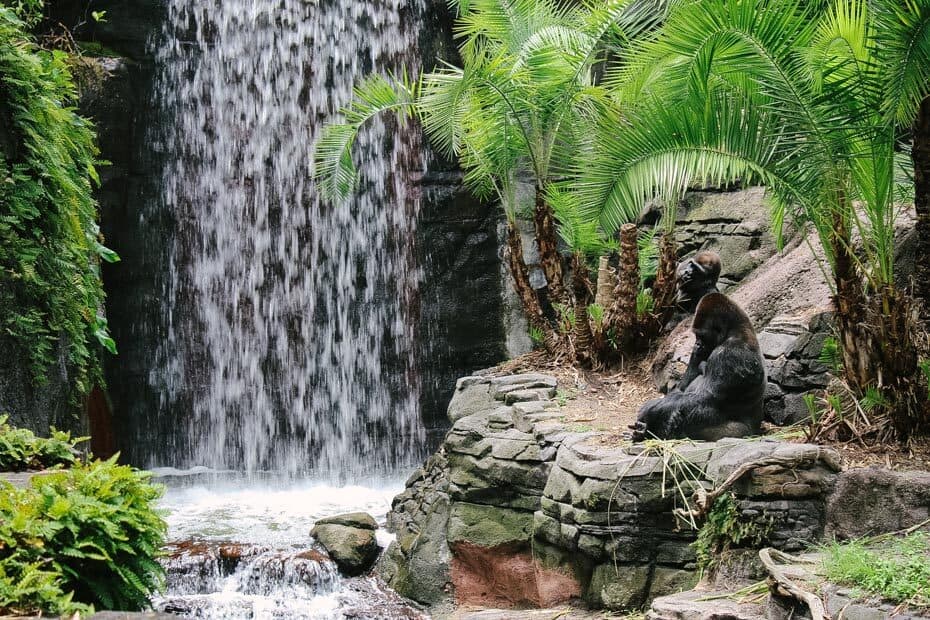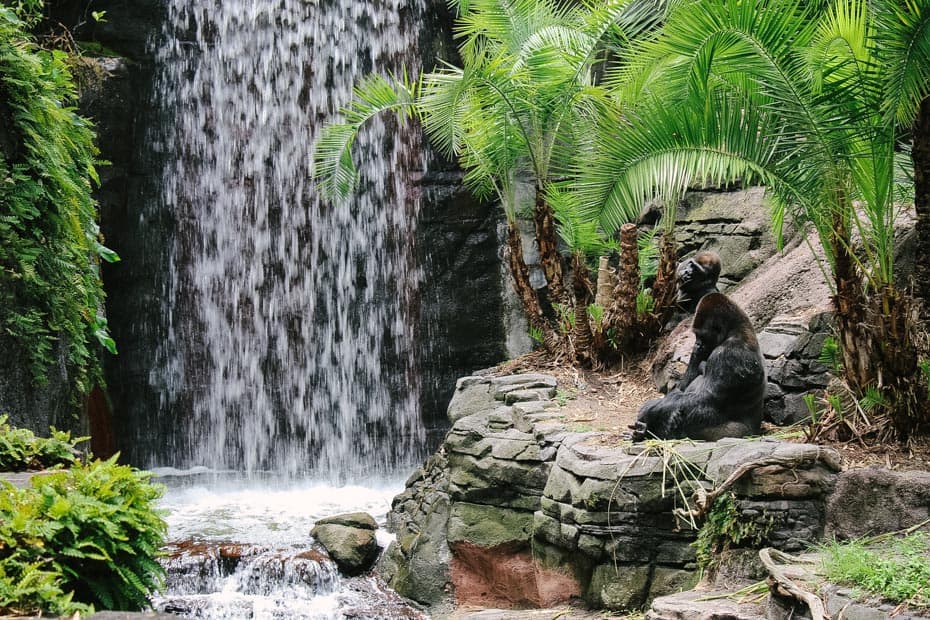 In fact, this is my favorite picture I've ever taken at Walt Disney World. There's a considerable amount of emotion behind this one.
As you wind yourself around to the end of the trail, you'll encounter a tropical-like setting.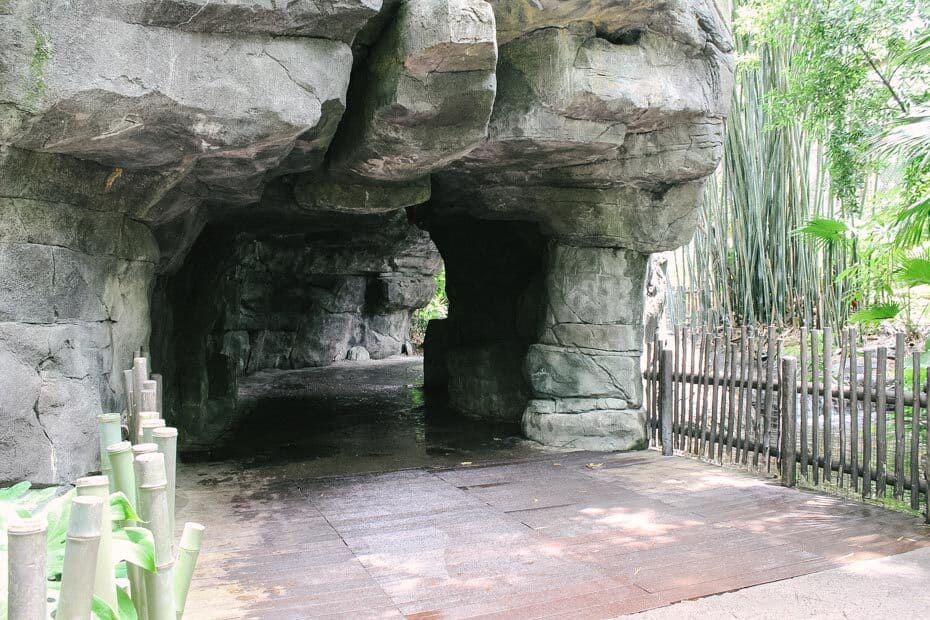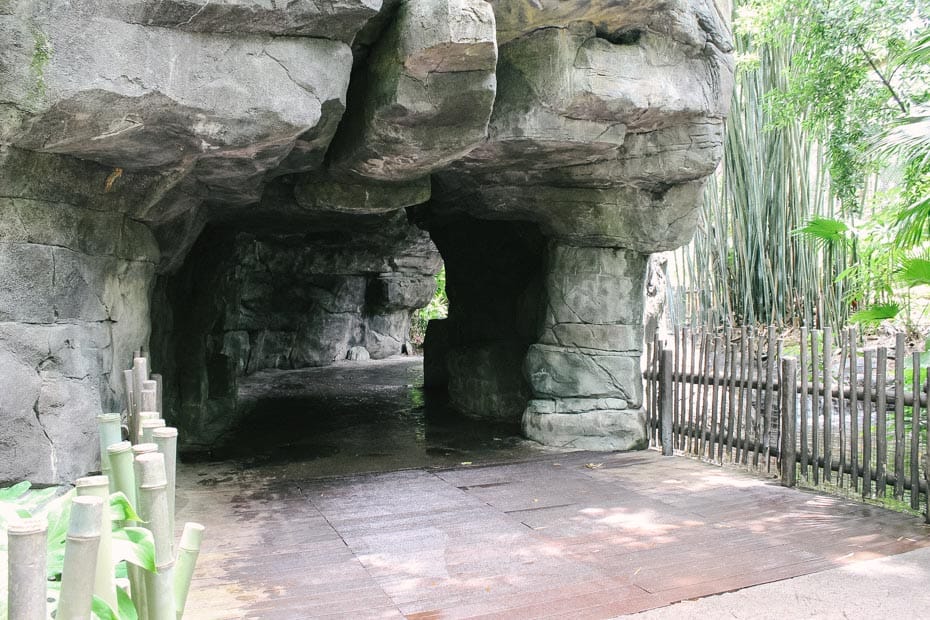 And a little Bougainvillea to round things out.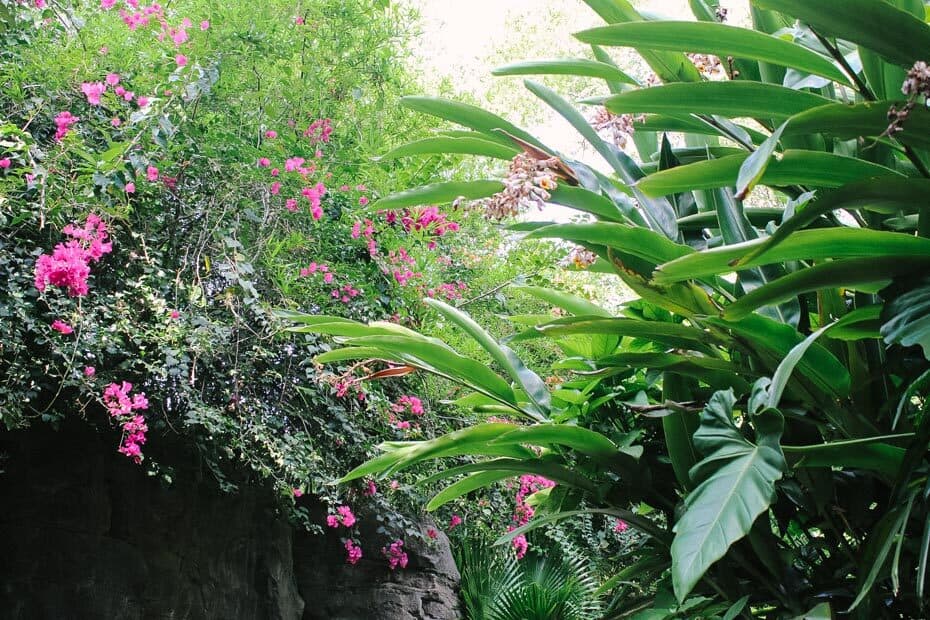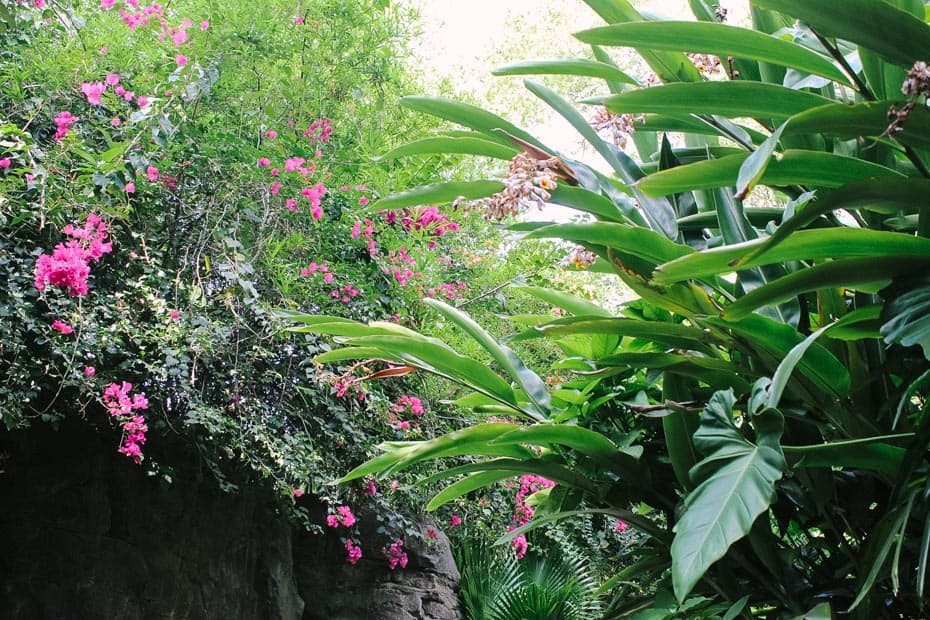 There's one last waterfall and viewing area as you exit the trail and head to your left. Unfortunately, it is probably missed because most guests tend to exit toward the right and don't realize there's another opportunity to see the gorillas.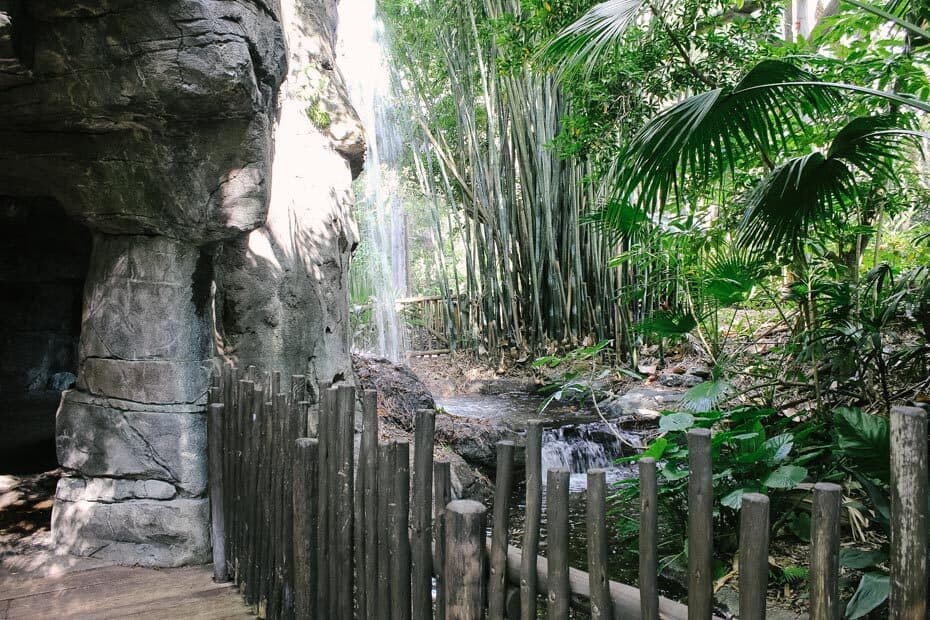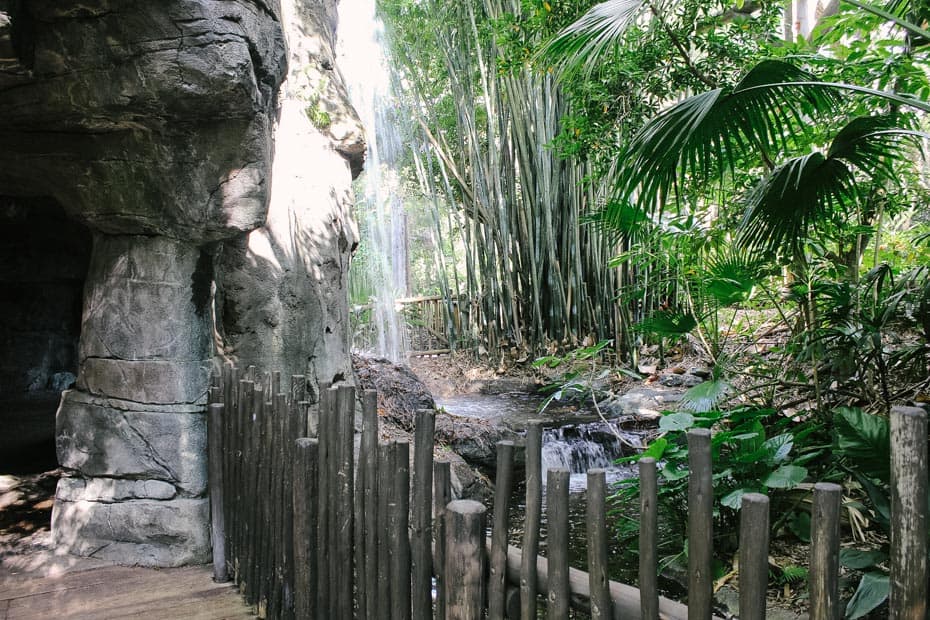 Final Thoughts on the Gorilla Falls Exploration Trail
Gorilla Falls Exploration Trail is something you should add to your list of things to do at Disney's Animal Kingdom. The park covers a lot of ground, but a day spent right at the Animal Kingdom enhances your life in a way that some of the other parks can't.
Not only that, but conservation has become an integral part of today's world to protect species from going extinct. Here at Gorilla Falls, we can all learn a lot about how we can help further the safety of our wildlife. I hope you will take the opportunity to walk the trail on your next visit.
For more of these types of experiences at Disney's Animal Kingdom, try these reviews:
If you enjoy animals and want to experience something a little different, you might consider a stay at Disney's Animal Kingdom Lodge. It's our top recommendation for resorts at Disney World.
Additionally, you might enjoy staying at a nearby moderate resort. If so, check these reviews. They are both great options:
Or you can view every Disney World Hotel Review we have available.
I hope you'll enjoy your visit to Gorilla Falls Exploration Trail! Let me know in the comments what you are most looking forward to seeing.