Touring the Seas Pavilion at Epcot
In this article, we tour the Seas Pavilion at Epcot. We'll discuss popular attractions like The Seas with Nemo and Friends, Turtle Talk with Crush, and Bruce's Sub House.
Additionally, we'll explore the massive saltwater aquarium and see dolphins, manatees, and other forms of sea life. When we're finished, you'll know everything to do at the Seas Pavilion during your Walt Disney World vacation.
Anyone interested in marine life will also want to spend considerable time at the Seas Pavilion. Inside, you'll find an aquarium with 5.7 million gallons of water.
For reference, Epcot's aquarium was the largest of its kind from when it opened in 1986 and remained the largest until the Georgia Aquarium opened in 2005. When the attraction opened, guests could board seacabs that took them on a tour of the Living Seas Pavilion before dropping them off at Sea Base Alpha.
However, in 2007 the pavilion's feature attraction changed to The Seas with Nemo and Friends. This ride allows guests to hop aboard clamobiles and deposits them in the aquarium at the end of the ride.
This article was updated on February 11, 2023.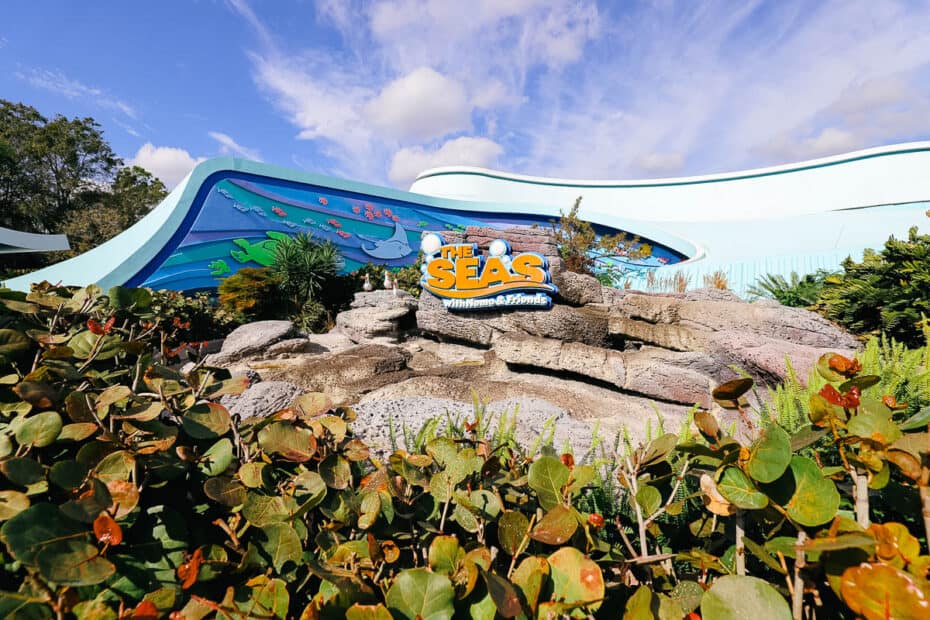 The Seas Pavilion
Below is a list of the attractions, entertainment, dining, and shopping options in the Seas Pavilion at Epcot.
Attractions and Entertainment
The Seas with Nemo and Friends
Turtle Talk with Crush
Bruce's Sub House
Manatees
Coral Reef Ecosystems
Dolphins
Sharks, Rays, and Sea Turtles
Nursery
Scavenger Hunt
Dining
Shopping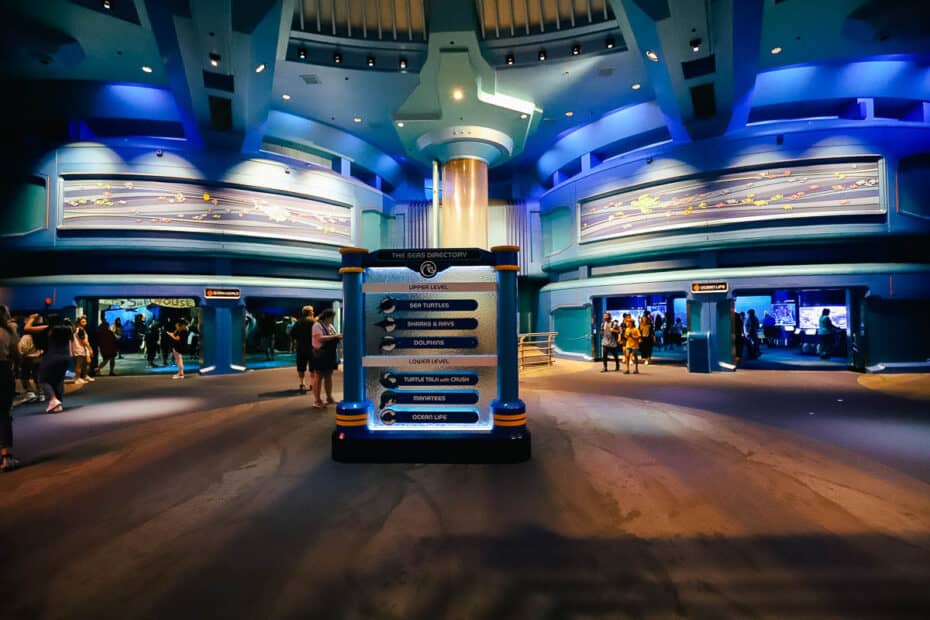 The Seas with Nemo and Friends attraction serves as the main entrance to the pavilion. If you do not want to experience the attraction, you can enter through the pavilion's exit.
*Details for those with mobility issues (i.e., wheelchair, ECVs) can be found here on Disney's site.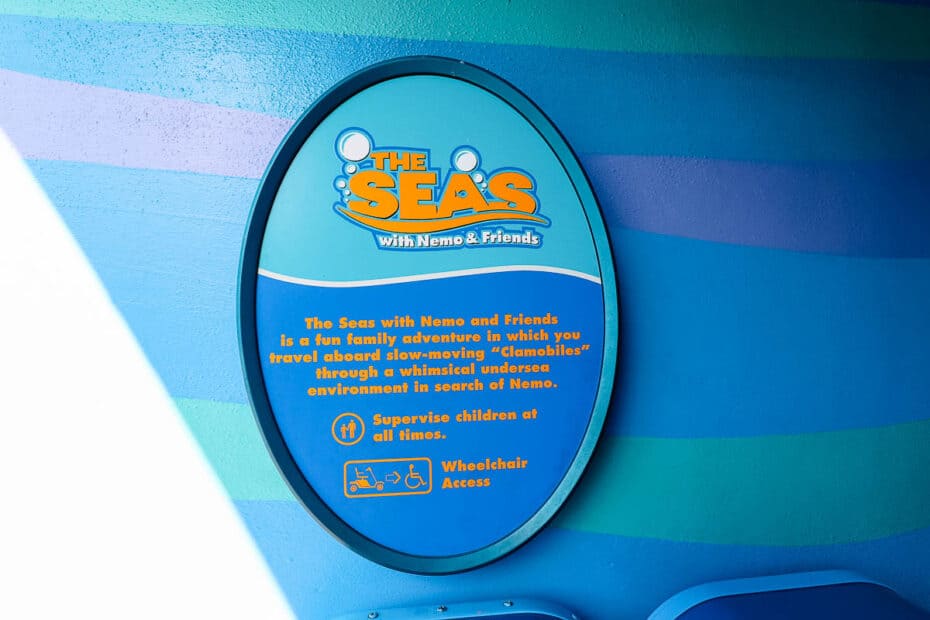 At the end of the ride, you'll find a two-story aquarium to explore.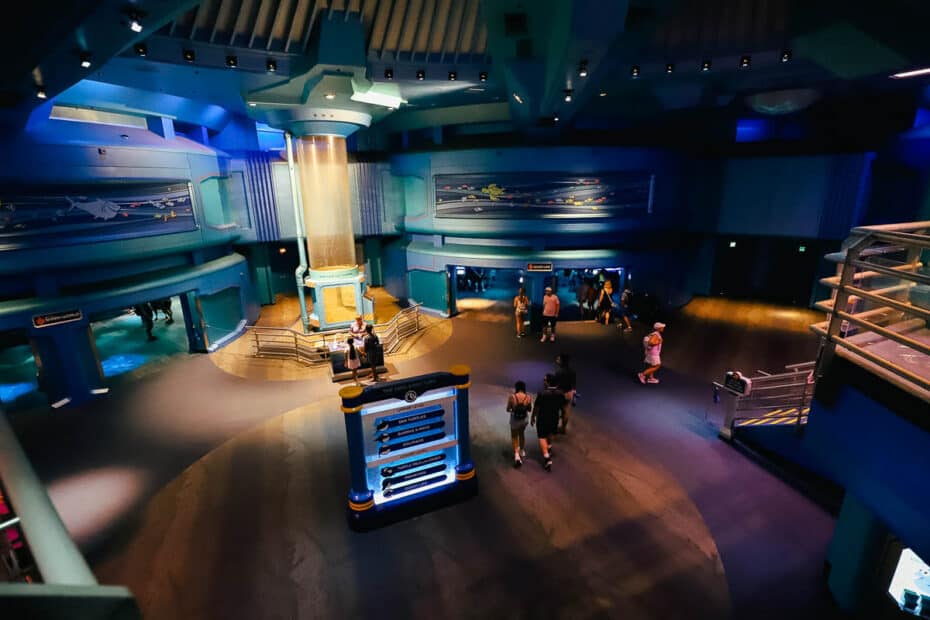 Restrooms are located to the immediate right when you exit the ride. Elevators are located near the restrooms. Additionally, there are escalators and stairs in the center of the aquarium.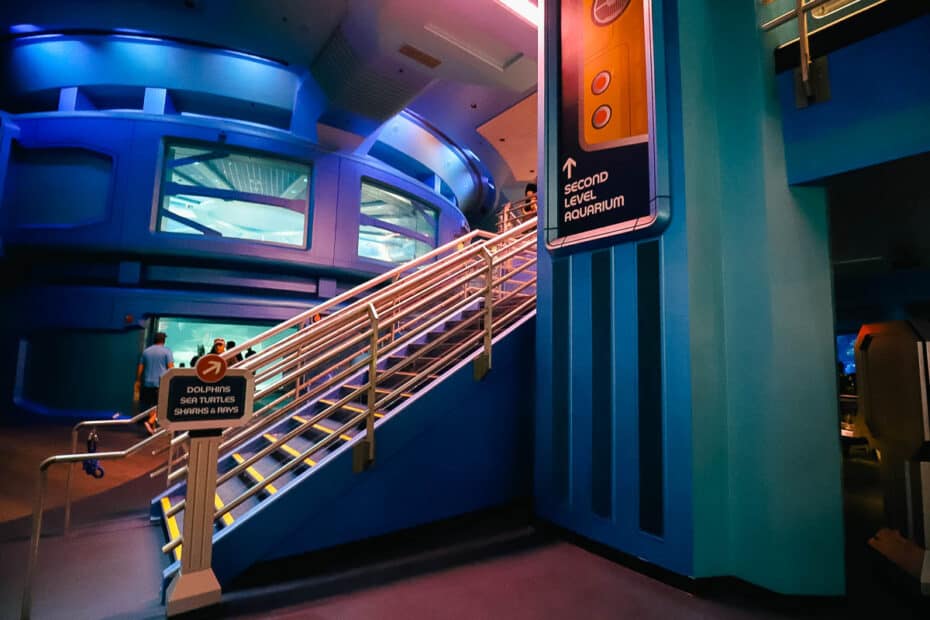 Everything in the pavilion is well-labeled. So you shouldn't have any trouble finding the elevators and restrooms.
While this seems somewhat insignificant, it's good to know that restrooms are nearby when you exit the ride.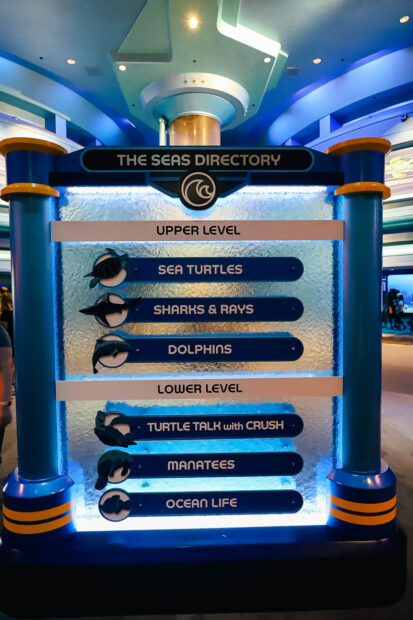 The Seas with Nemo and Friends
When you visit The Seas Pavilion, you'll more than likely enter through the queue for The Seas with Nemo & Friends. Here you will board a slow-moving clamshell as you go through the story of Nemo.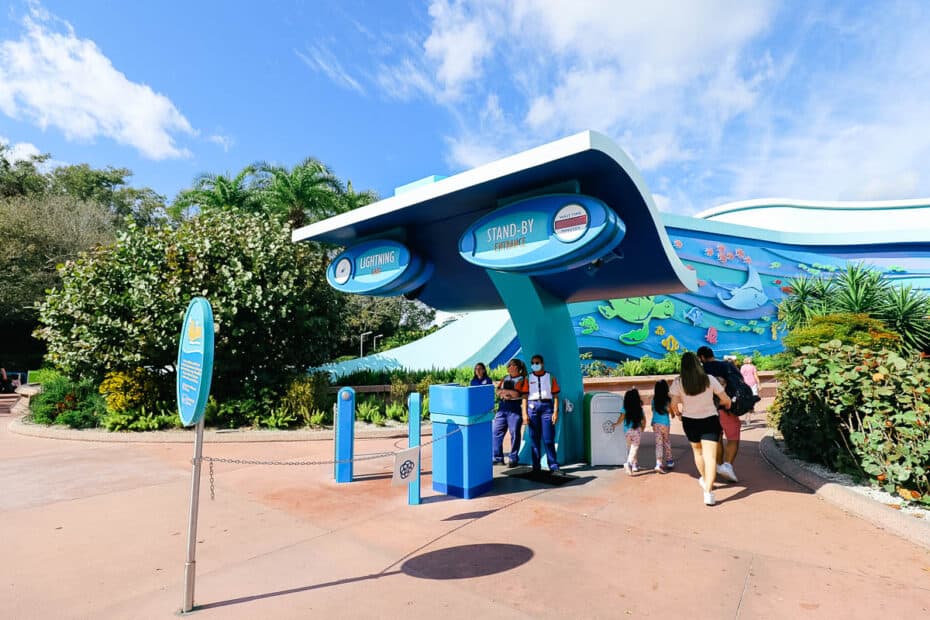 While the Nemo ride is somewhat dated, it's a fun attraction for its target audience, children. They tend to love it. Most adults will likely find riding in a clamshell through a cool, dark corridor relaxing.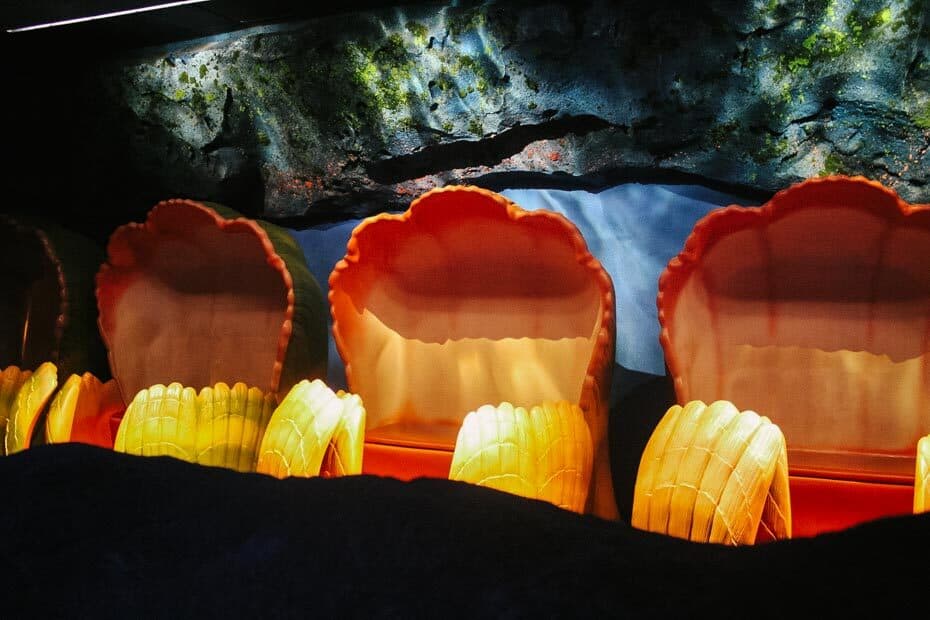 The Seas with Nemo and Friends is an Omnimover, where you'll step on a moving walkway to enter the shell and exit. Throughout the ride, various scenes are projected on screens featuring Nemo, Marlin, Dory, Bruce, and Crush.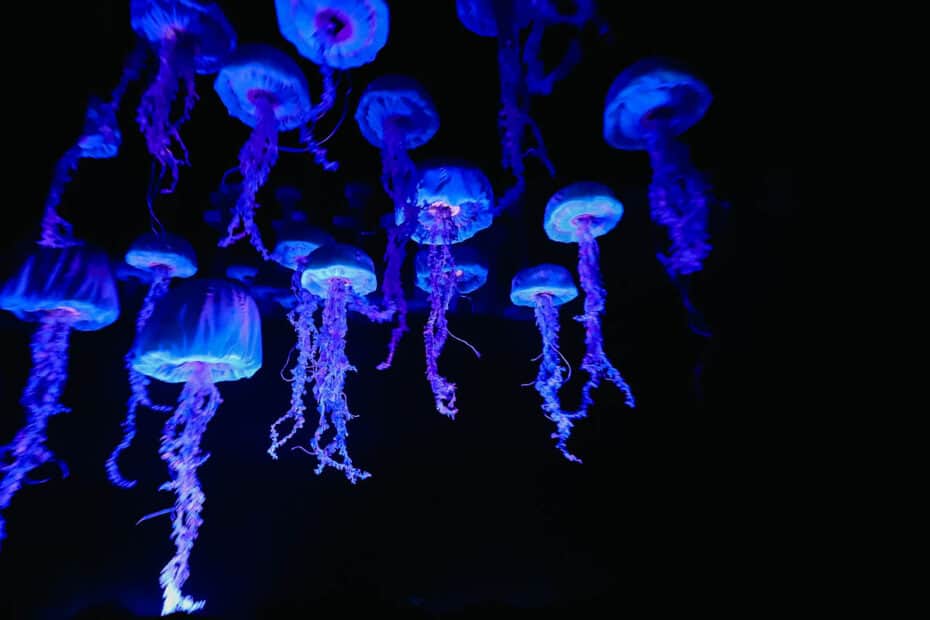 Toward the end, those characters are projected onto the aquarium. It feels like you're at the bottom of the ocean floor.
Related: The Seas with Nemo and Friends Attraction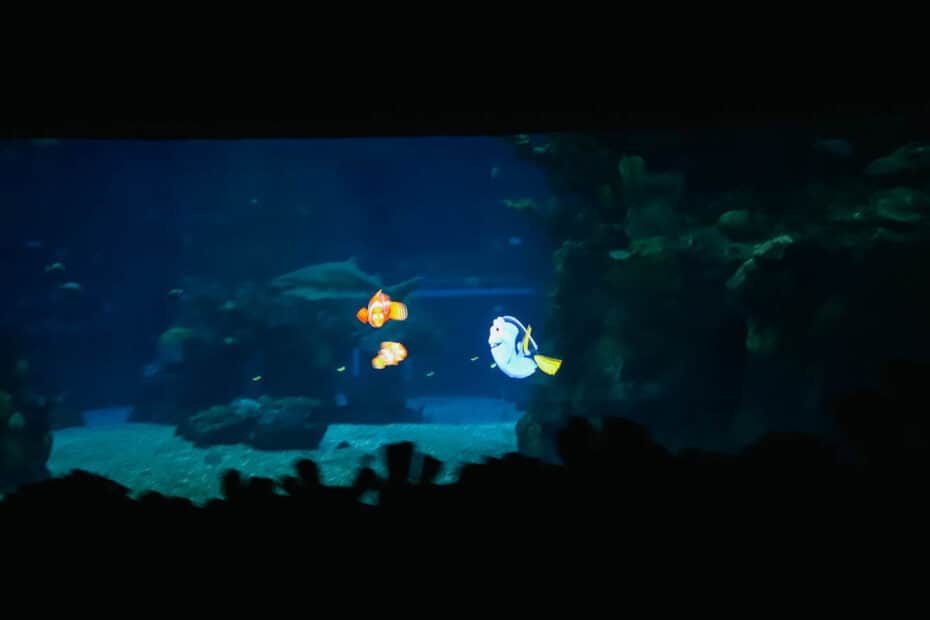 Turtle Talk with Crush
Turtle Talk with Crush is the second dedicated attraction in The Seas Pavilion. This is an interactive experience that children adore.
Turtle Talk with Crush is approximately fifteen minutes long and runs throughout most of Epcot's regular park hours. Check the My Disney Experience App on the day of your visit for exact times.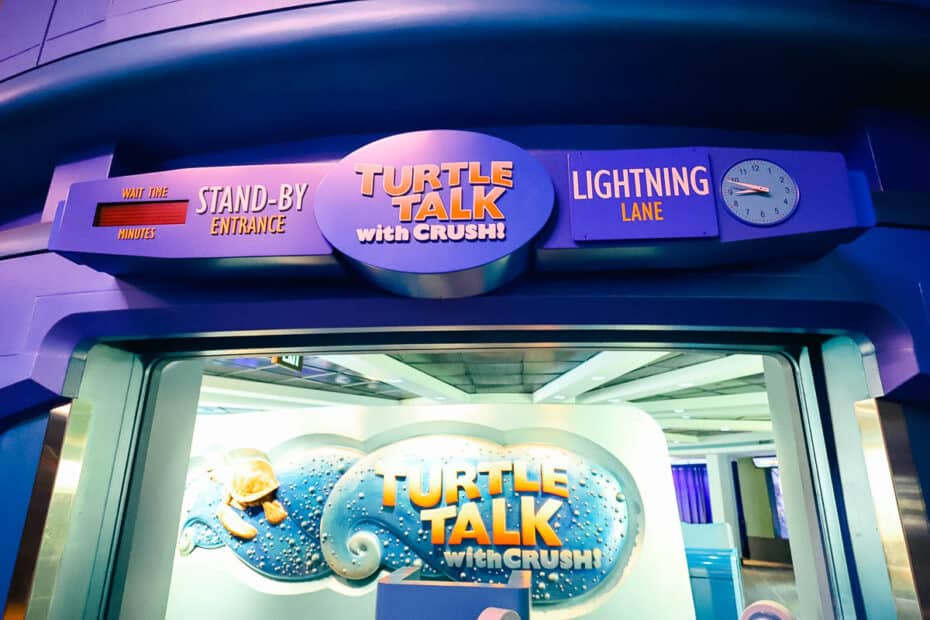 Typically, the longest wait time will be for the next show to begin. So while this attraction does offer Lightning Lane, you shouldn't need it.
After entering the theater lobby, several pre-show elements help keep guests entertained. For instance, there's Mr. Ray's Lagoon, which has baby sting rays and sharks!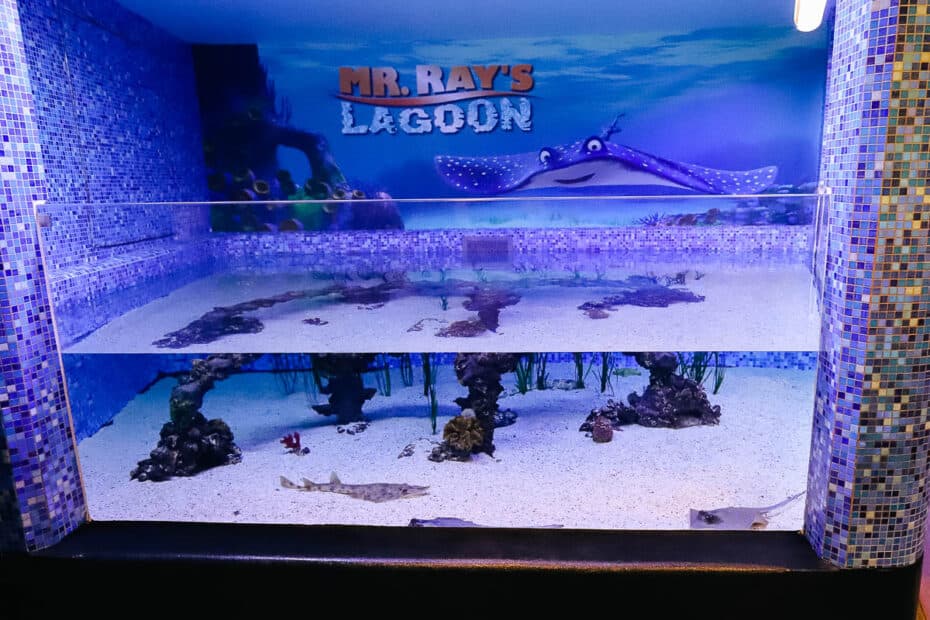 When it's time to enter the theater, children are encouraged to sit on the floor in front of the screen. Parents can sit on benches directly behind them.
Soon, Crush appears on the screen. He's the sea turtle from Disney and Pixar's Finding Nemo and Finding Dory.
As he engages the audience, he will select members and ask them questions. Then he allows children to ask him questions. For example, you might ask him what turtles eat or if he is afraid of other sea creatures.
From my experience, children seem exceptionally engaged with the interaction, even when they aren't selected to ask a question. It's also a fun way to learn about sea turtles.
Throughout the interaction, some of Dory's Friends stop by, like Bailey the Beluga whale and Destiny the whale shark.
Related: Turtle Talk with Crush at Epcot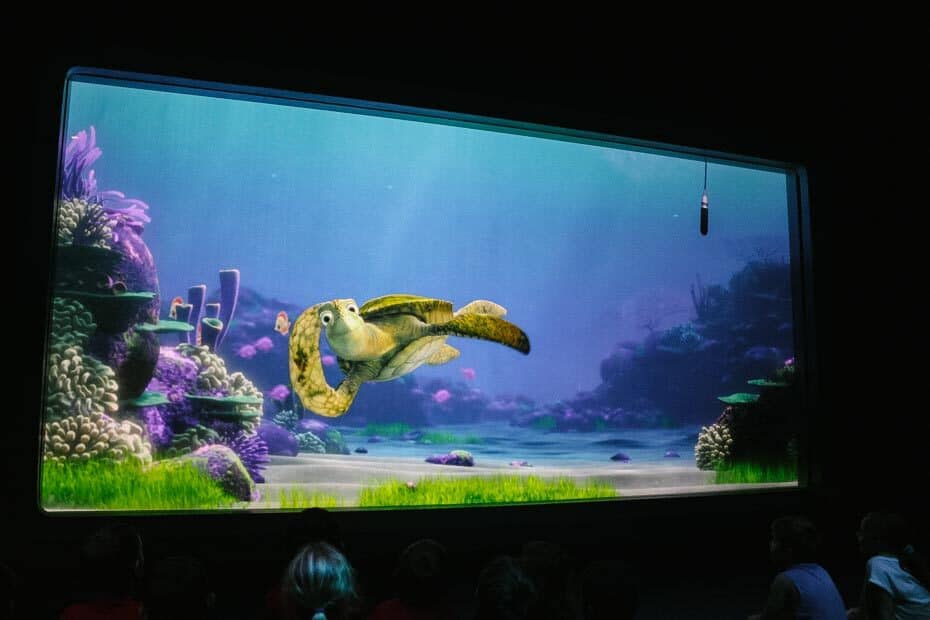 Bruce's Sub House
Another fun attraction for children is Bruce's Sub House, also known as Bruce's Shark World. This interactive walk-through is basically a play area for children.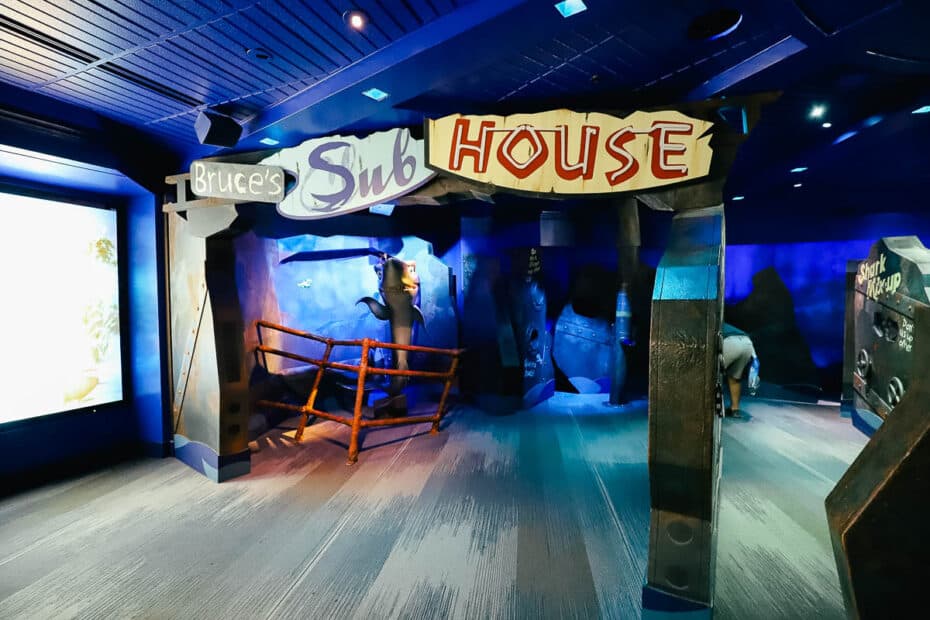 You can walk inside Bruce's mouth and pretend to be shark bait. This is an excellent area for kids to run off some energy, let loose and stretch out a bit, especially when it's raining outside.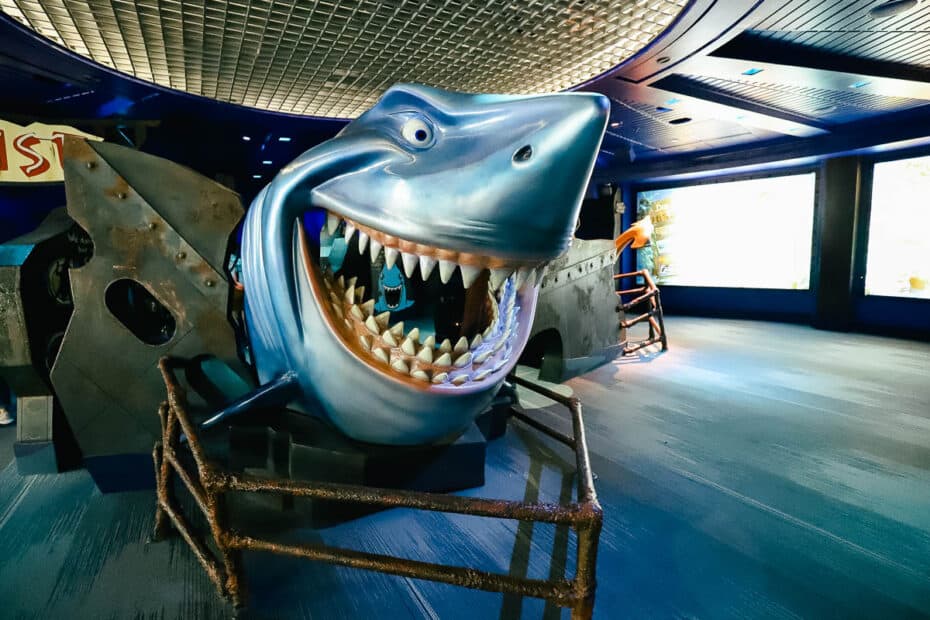 It's a pretty decent-sized space with several edutainment offerings.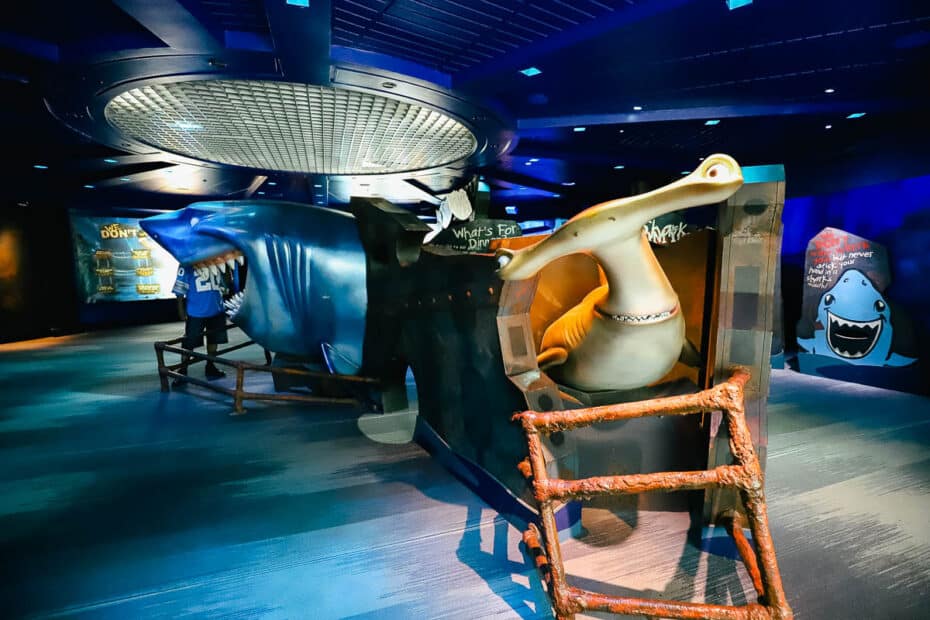 Manatees at Epcot
The Manatees Up-Close exhibit is located on the first and second floors of the pavilion. The picture below is from the second level.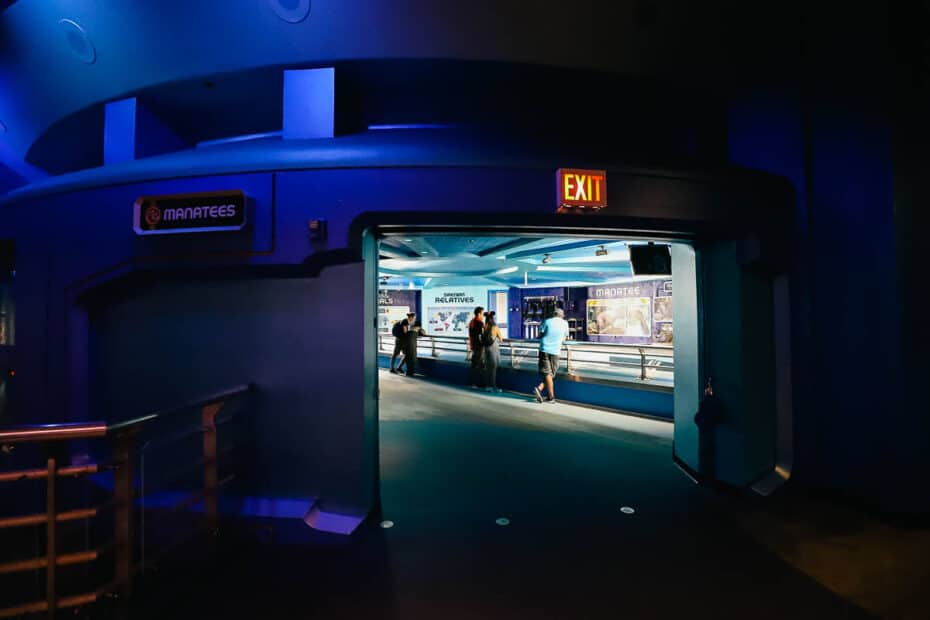 From the first floor, you can see the manatees in the tank through a glass viewing area.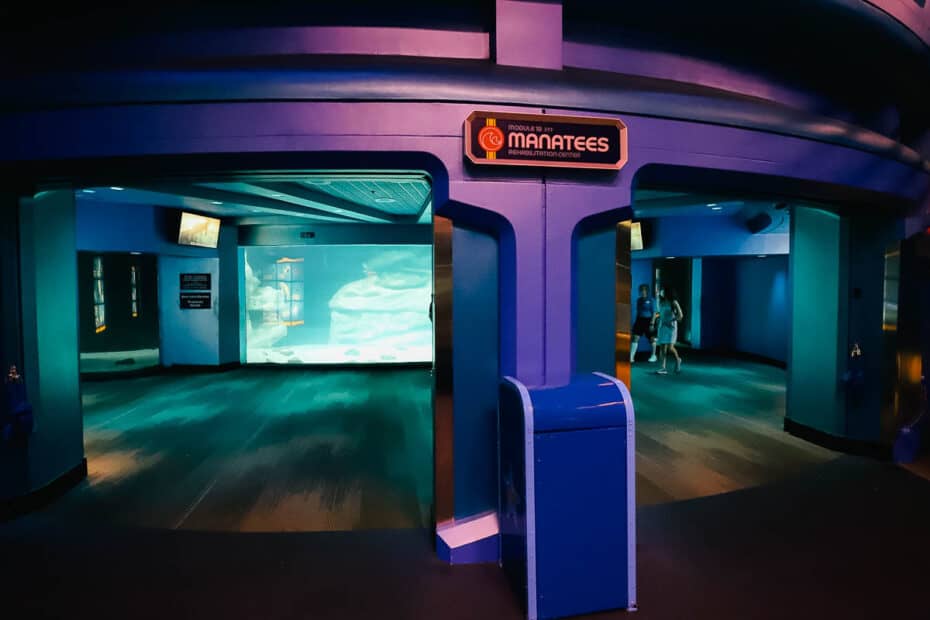 However, there's a better opportunity to learn more about them on the second floor.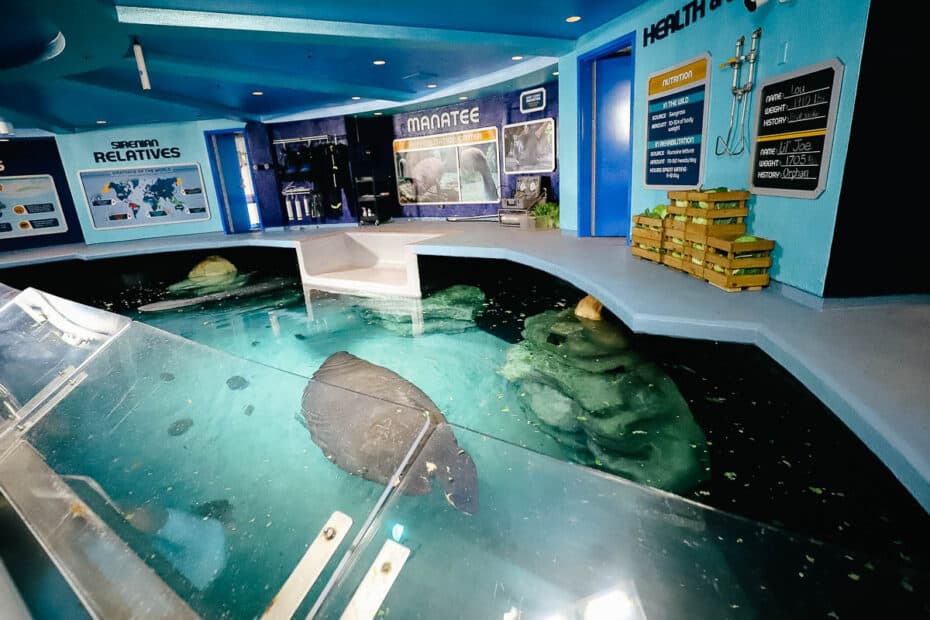 Both manatees at the Seas Pavilion are rescue animals. One is named Lou, and he weighs 1910 lbs. He was rescued after being in a boat accident.
Lil' Joe is the other manatee who weighs 1705 lbs and was found as an orphan.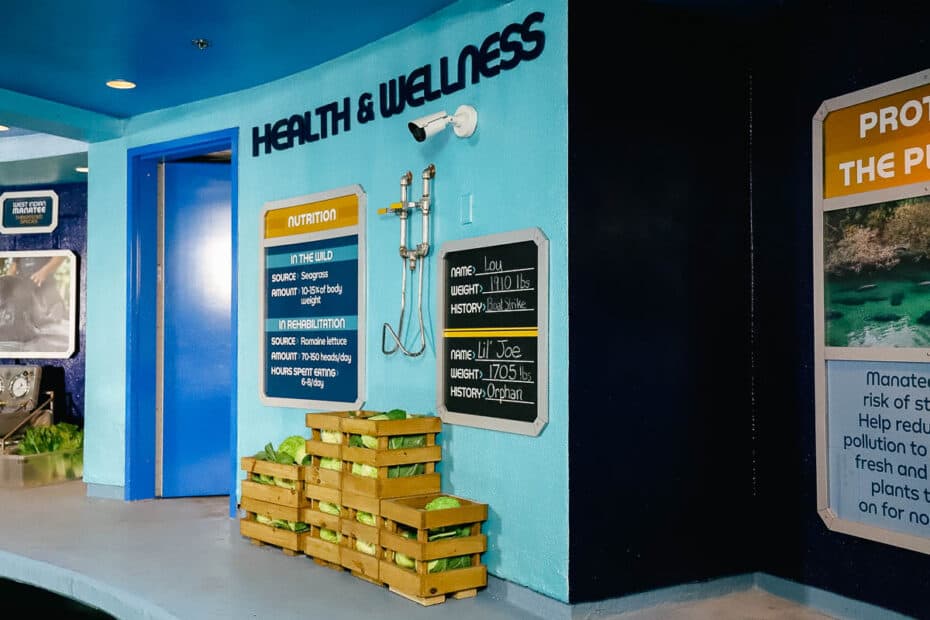 Unfortunately, many manatees are killed in boating accidents. They are considered gentle giants of the sea.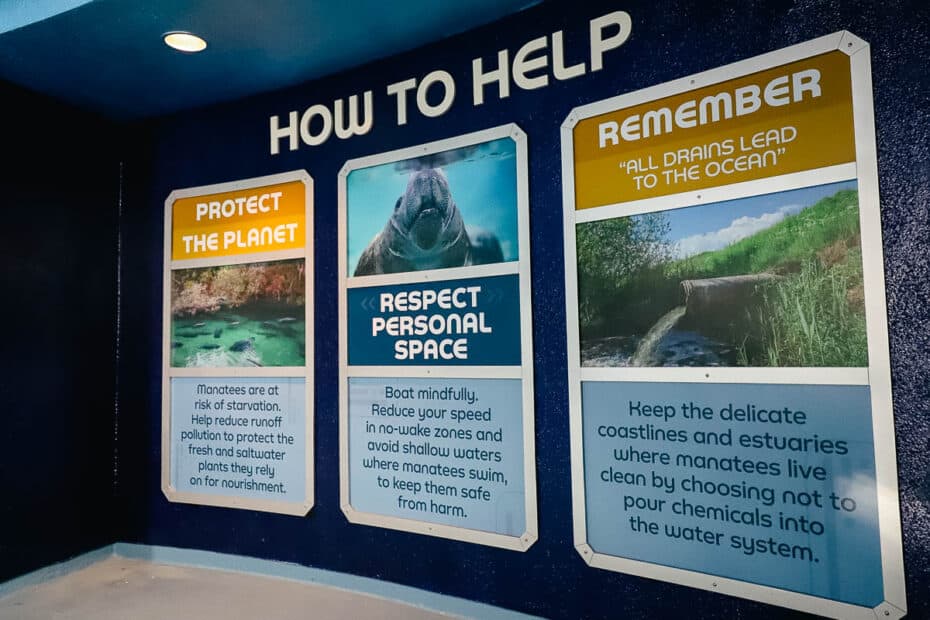 You might encounter a manatee feeding during your visit. If so, it's fun to watch them munch on lettuce. They eat 70-150 heads of Romaine lettuce daily, spending 6-8 hours of the day eating.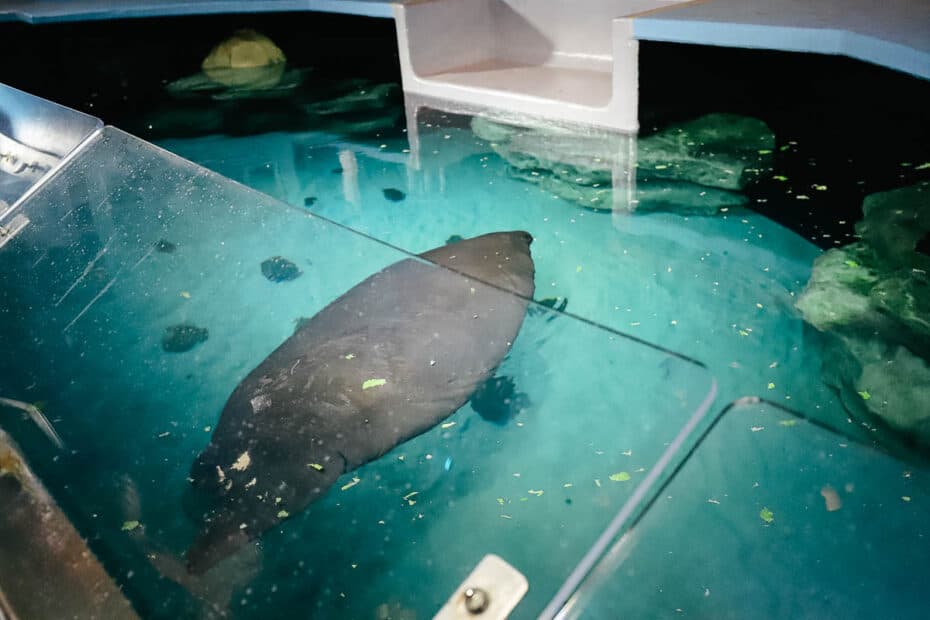 Coral Reef Ecosystems
Next to the manatee viewing area on the first floor, there's a large room with several aquariums containing tropical fish, seahorses, starfish, eel, and other species.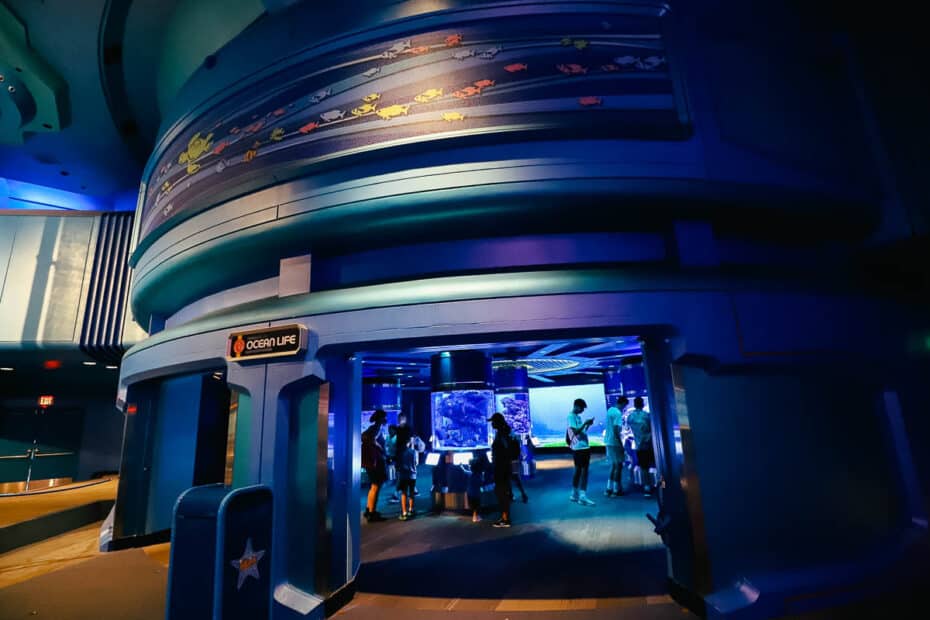 These aquariums are pristine. While they are small, you can find a number of creatures hiding in them if you take the time to look.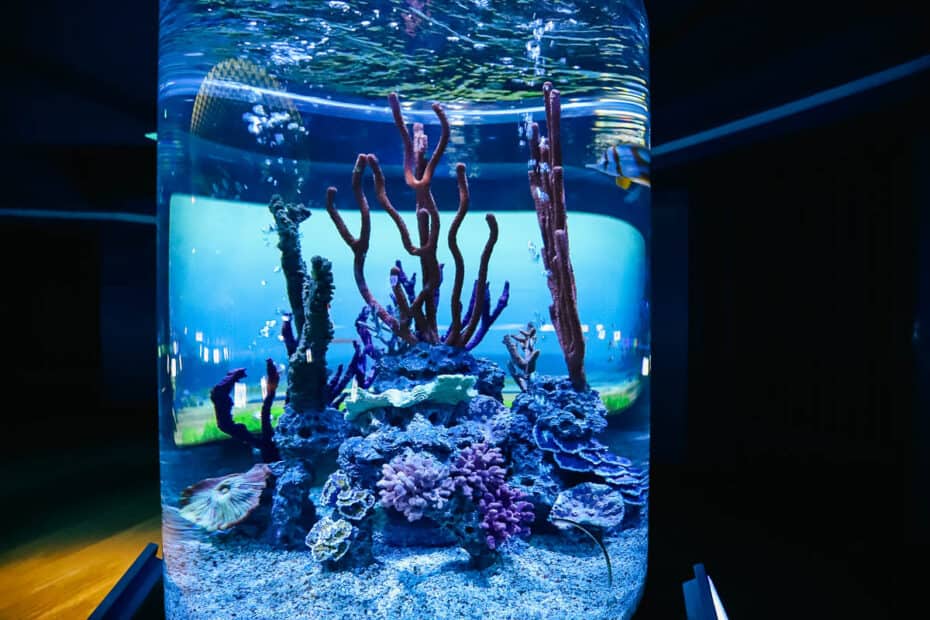 They are stunning and calming at the same time.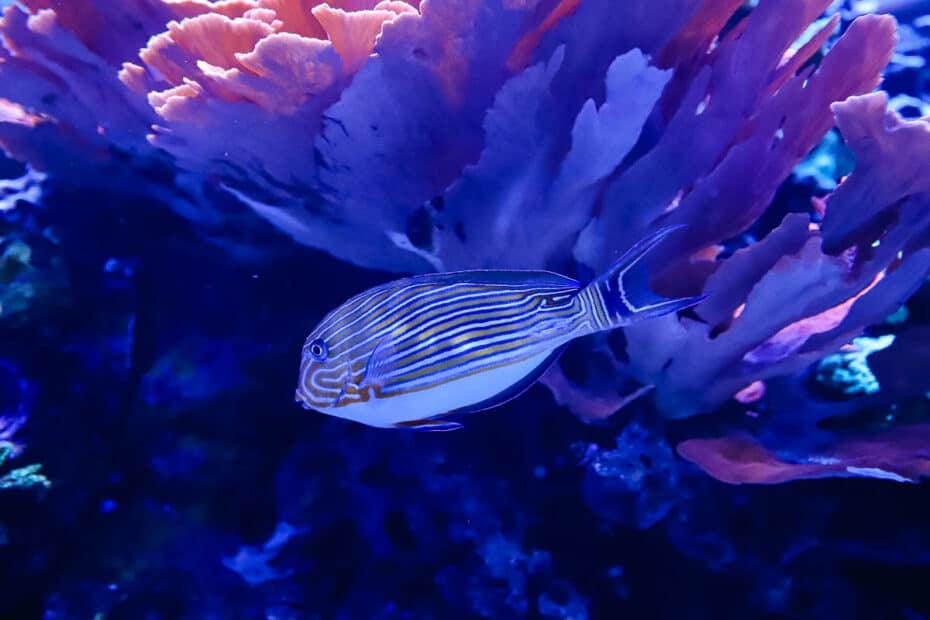 Additionally, there's a good deal of information about coral, which provides a shelter for many fish and other aquatic wildlife.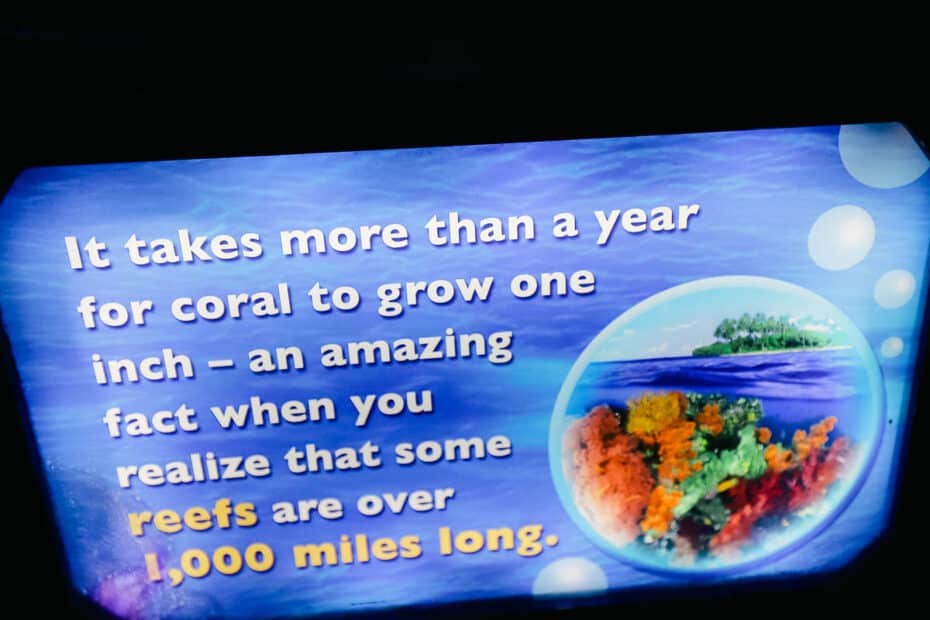 You'll probably see some things you've never seen before.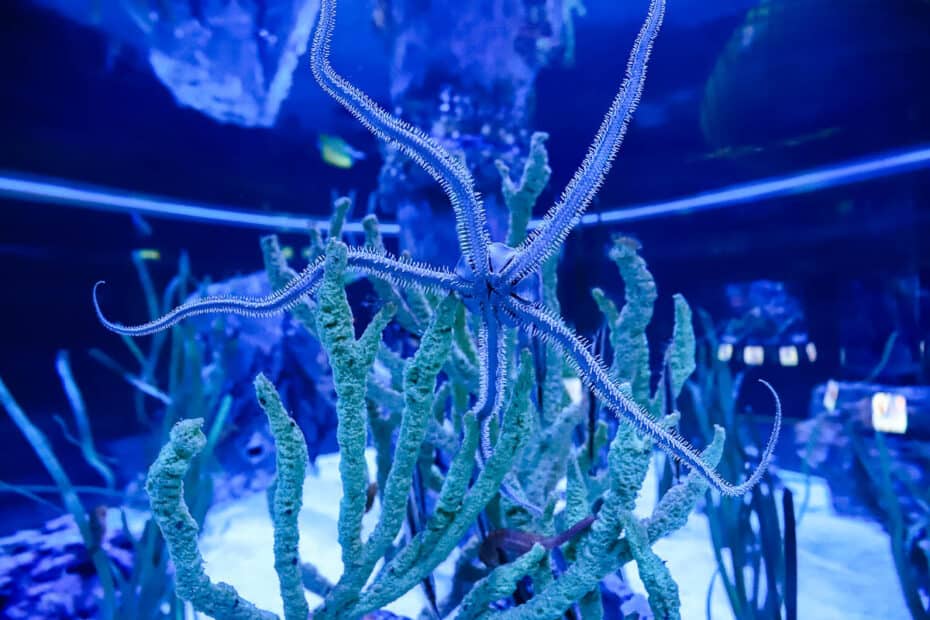 Here we have a chocolate-ship starfish with a seahorse floating nearby.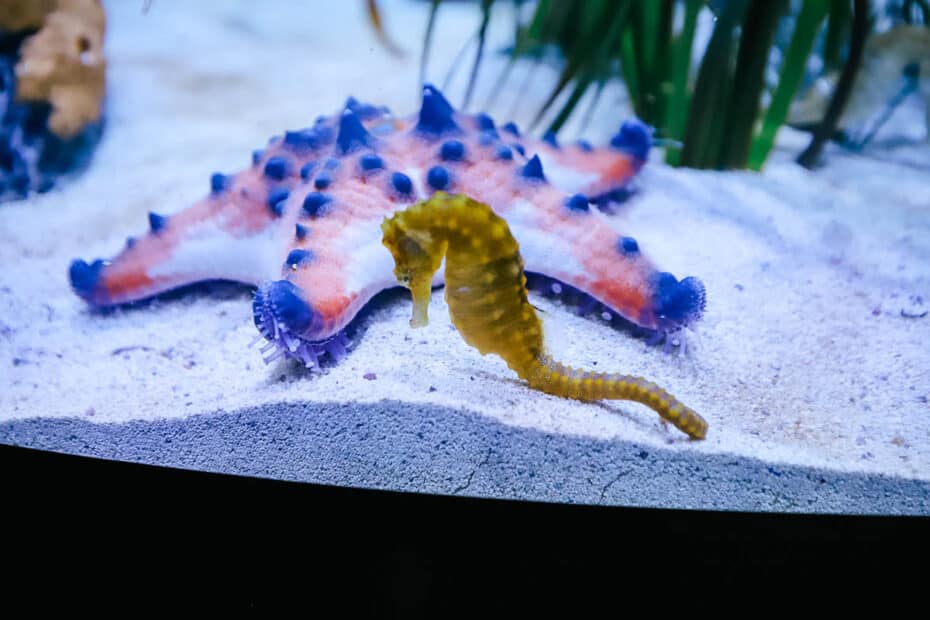 It's worth taking a few moments to explore the reef exhibits.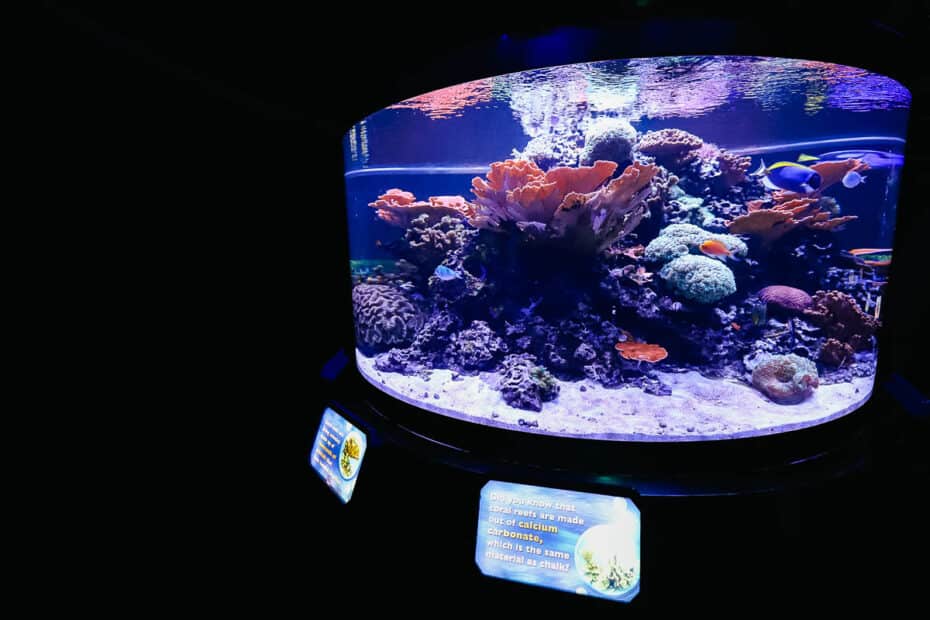 Dolphins at Epcot
Dolphins are located on the second floor of the Seas Pavilion. They are adjacent to the large observation deck.
Usually, you'll find dolphins swimming around the tank. However, they are most active during their feeding time.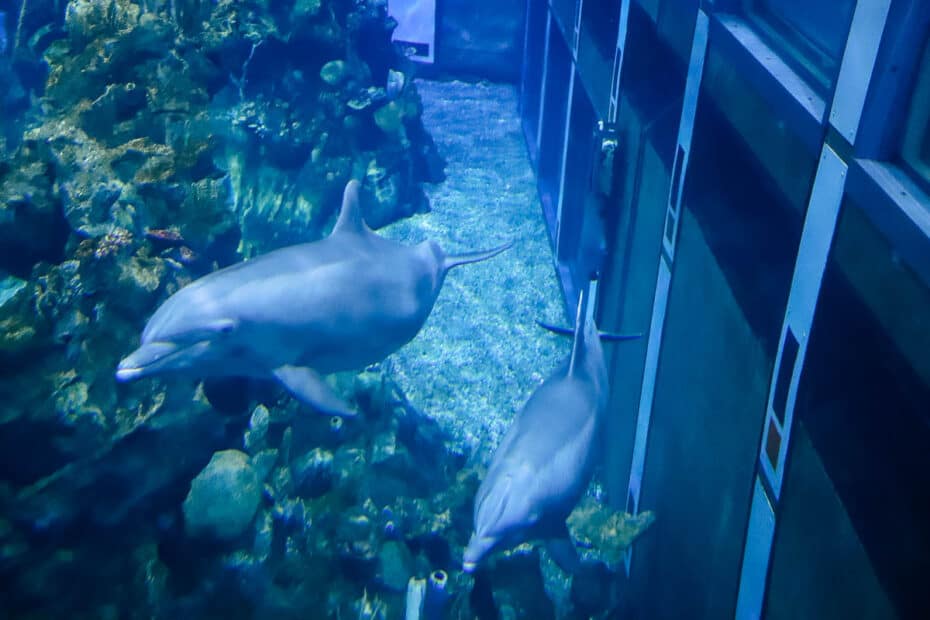 A sign will be posted indicating the time of the daily fish feeding. So if you end up in the area around this time, stay a few minutes to watch. You'll get to see a lot of activity in the aquarium.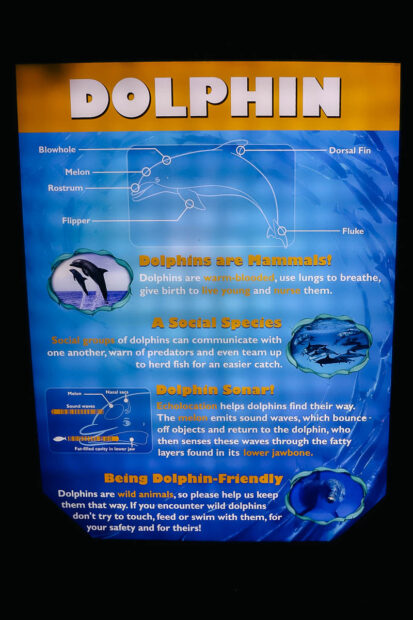 Sharks, Rays, and Sea Turtles (Main Aquarium Viewing Area)
Next door to the dolphins is the largest aquarium, where the rest of the sea life is housed. This is where you'll find the observation deck that extends into the aquarium.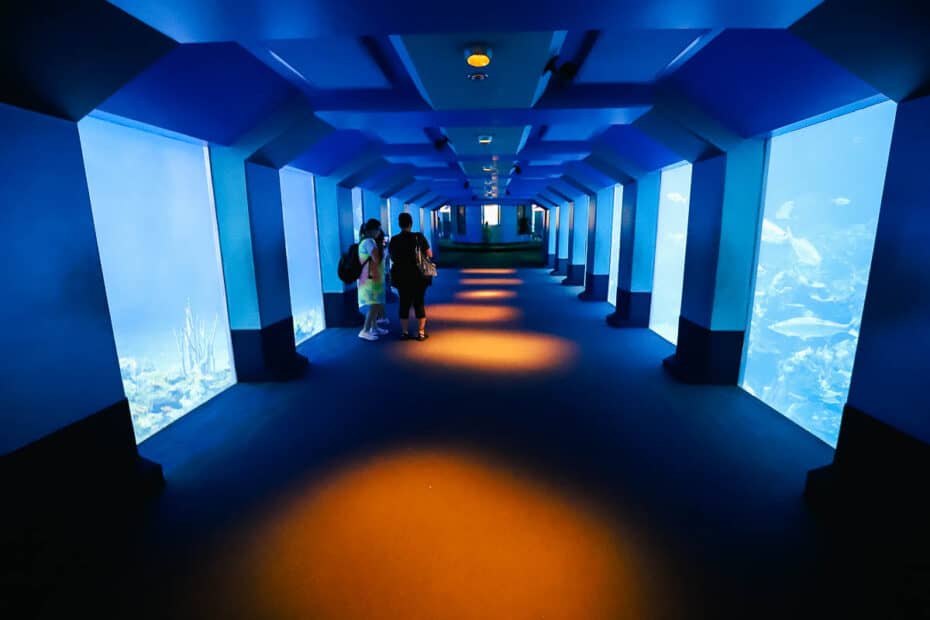 Walking down the hallway, you can see the dolphins on the left-hand side.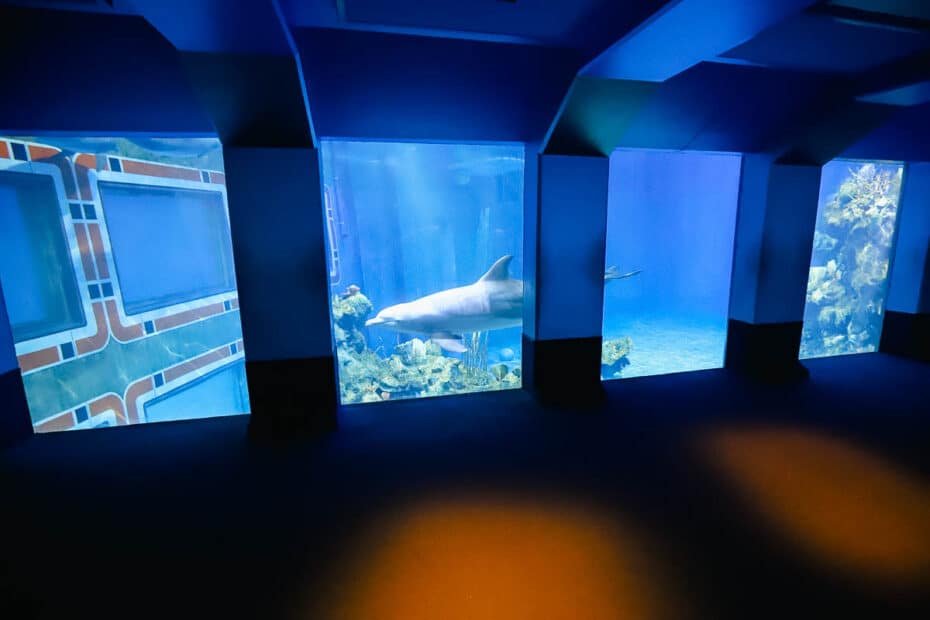 You'll find yourself surrounded by the aquarium at the end of the hall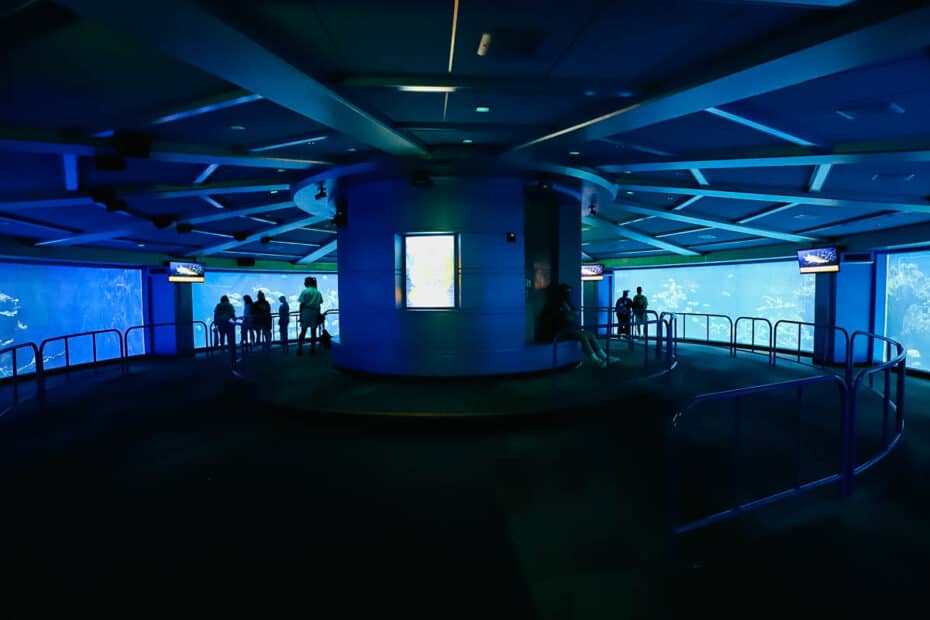 You might even find a hidden Mickey or two in the area.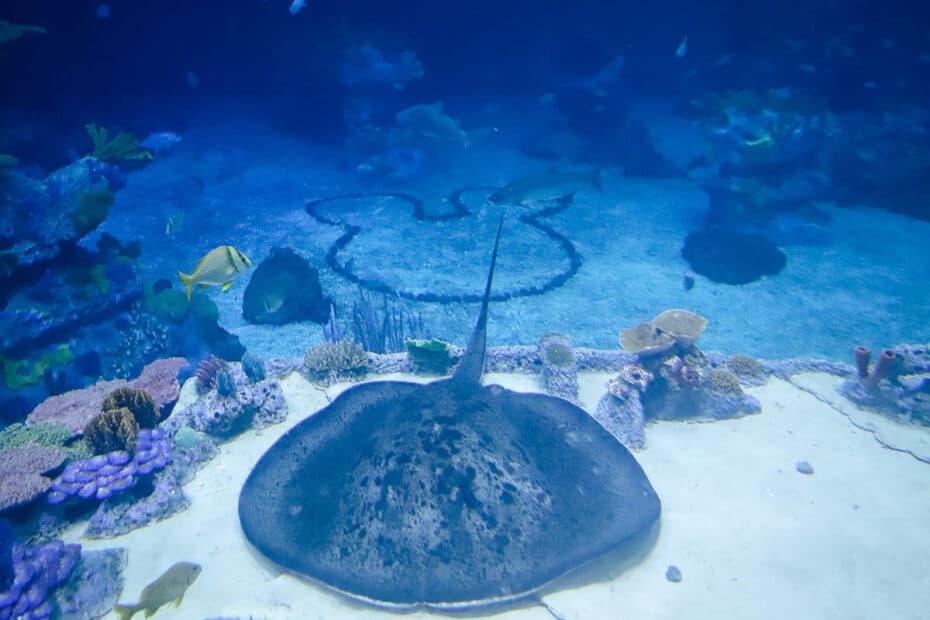 Occasionally, a scuba diver cleans the tanks during viewing hours. Once in a blue moon, Mickey appears in the tank wearing his scuba suit. However, that is a rare occasion.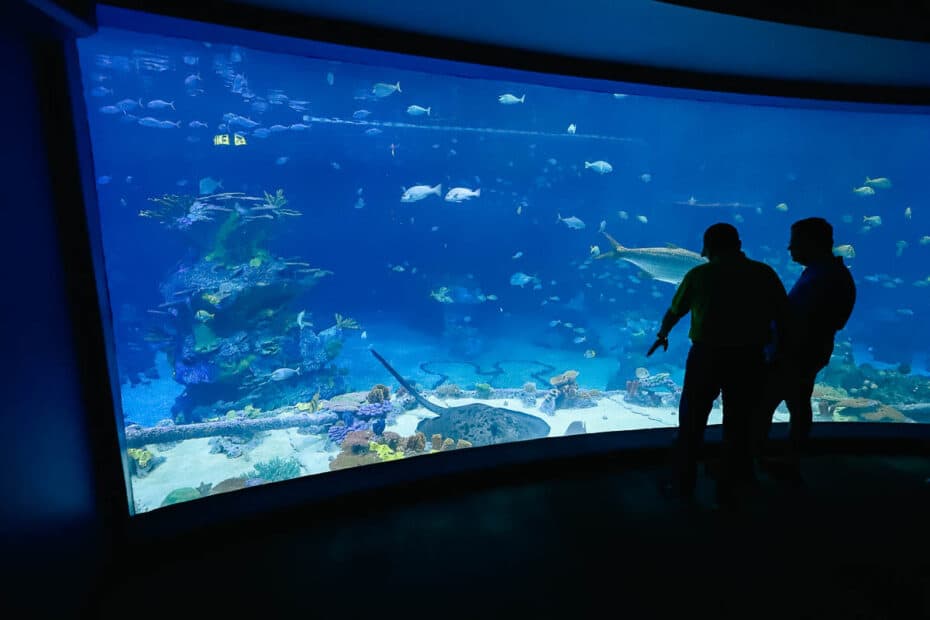 It's a beautiful aquarium.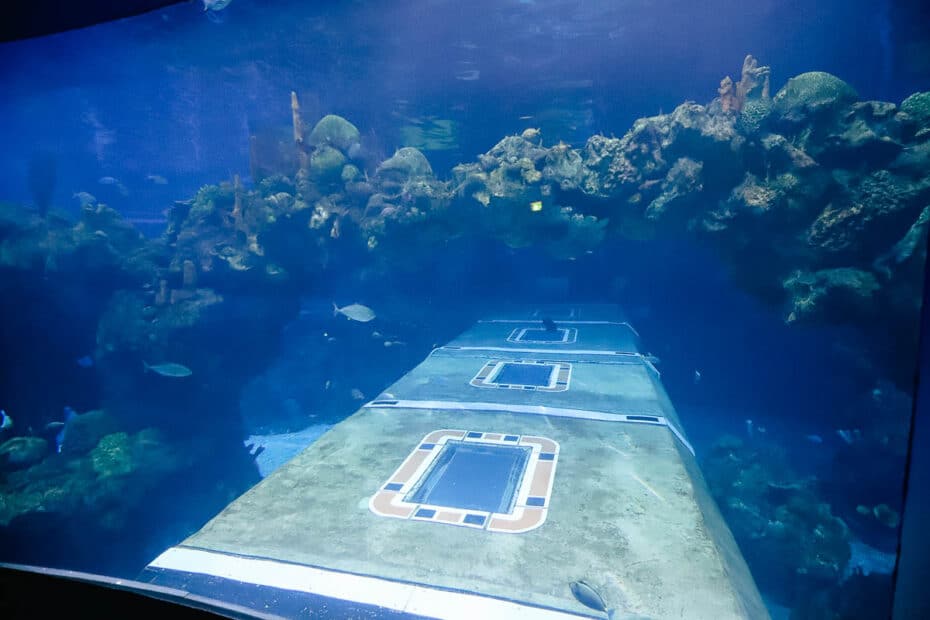 You'll see fish ranging from tiny to giant sizes.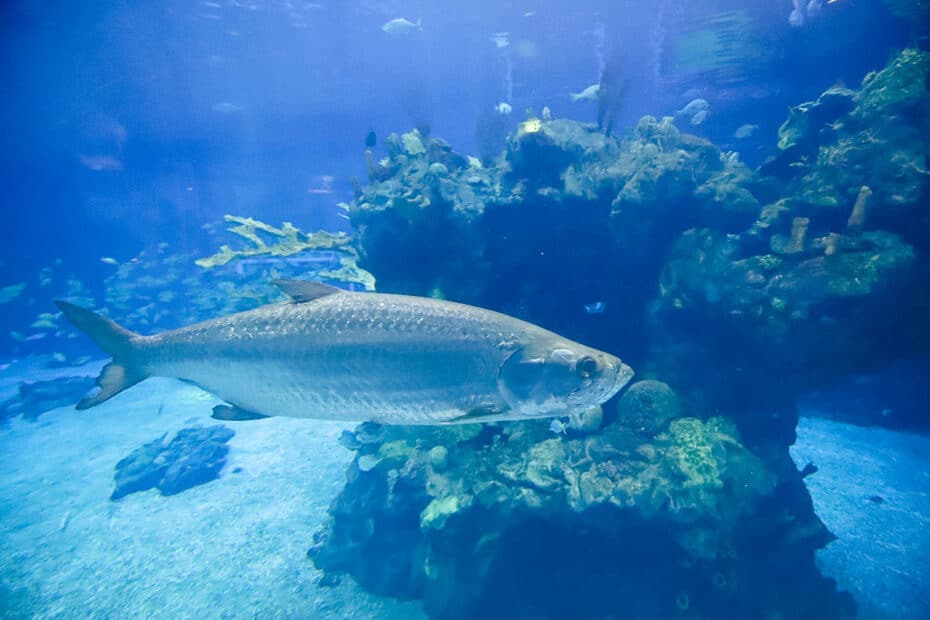 There are several kinds of sharks, including hammerheads.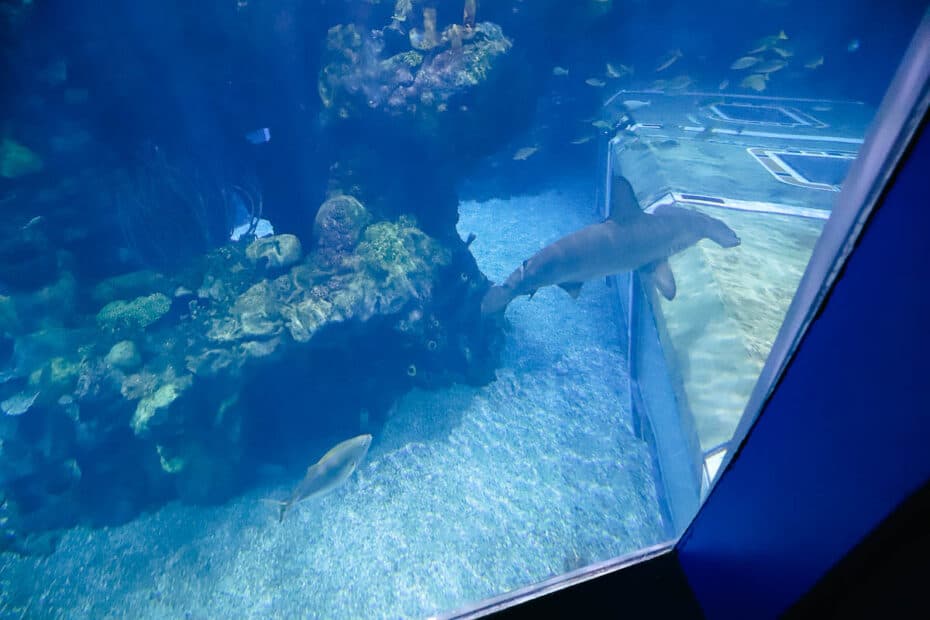 Additionally, you'll see various sting rays and sea turtles. If you are interested in swimming with sting rays and dolphins, our sister site has a Discovery Cove Review. That park is located in Orlando, near Sea World.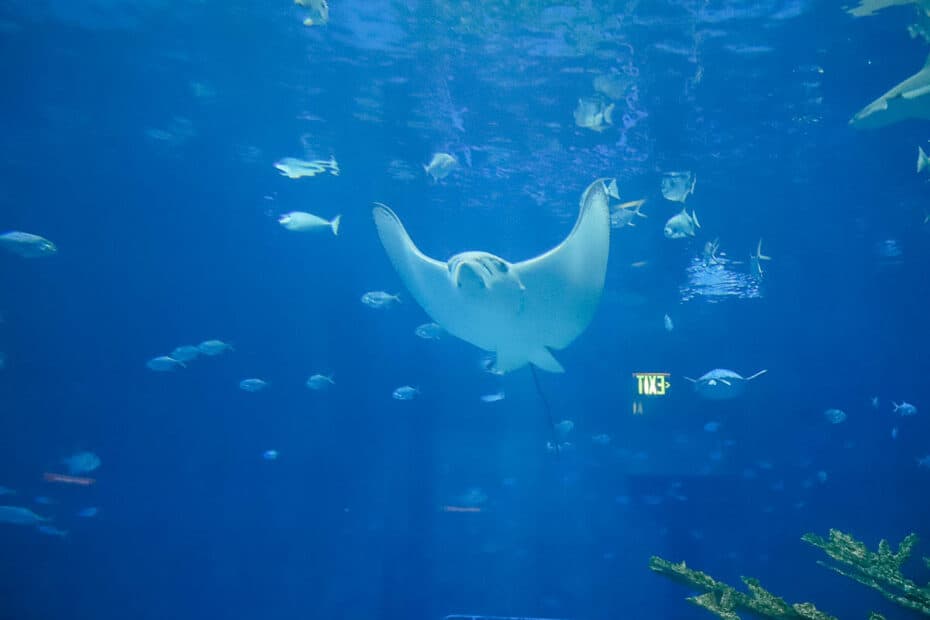 Nursery
A nursery is located on the far end of the second level. It provides an excellent opportunity to see some unique fish on a much smaller scale. This area used to have some Explorer's Club signage.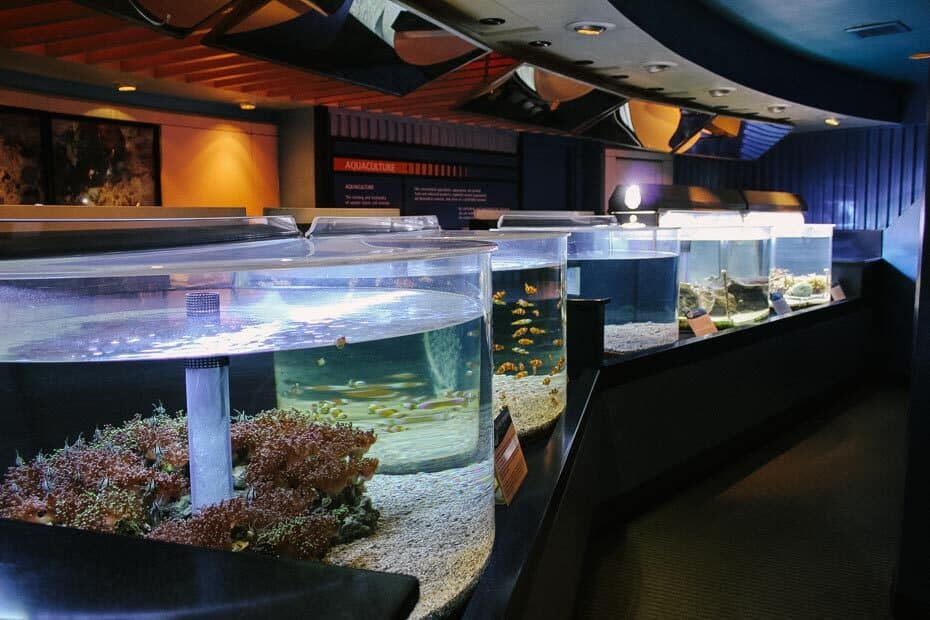 Below is a photo of Common Clownfish, most commonly known to Disney fans as Nemo! From time to time, you might see these in one of the nursery aquariums.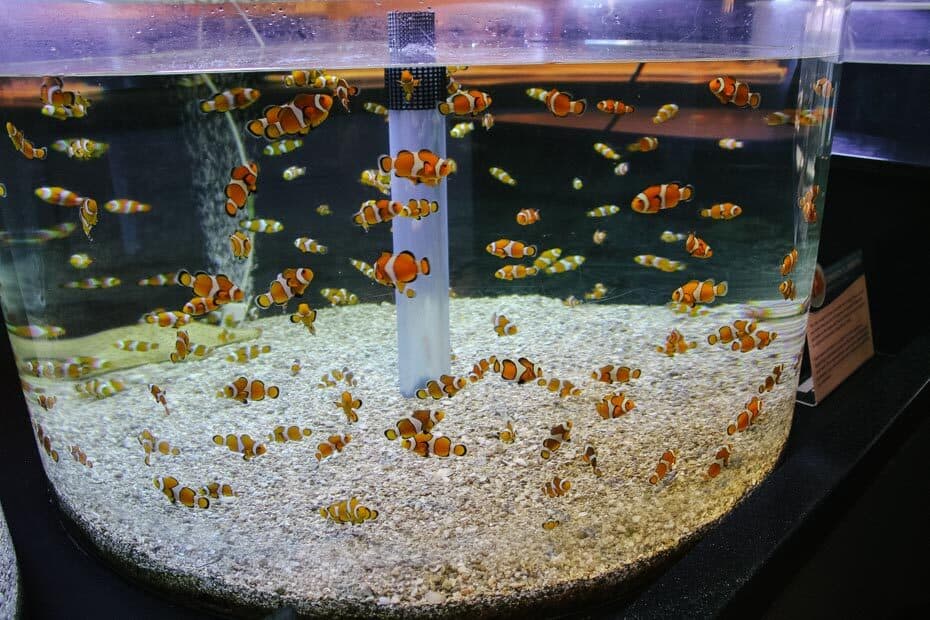 The ones in this photo are called Banggai Cardinalfish. They are beautiful black-striped and silver-colored fish. They appear to be suspended in the water.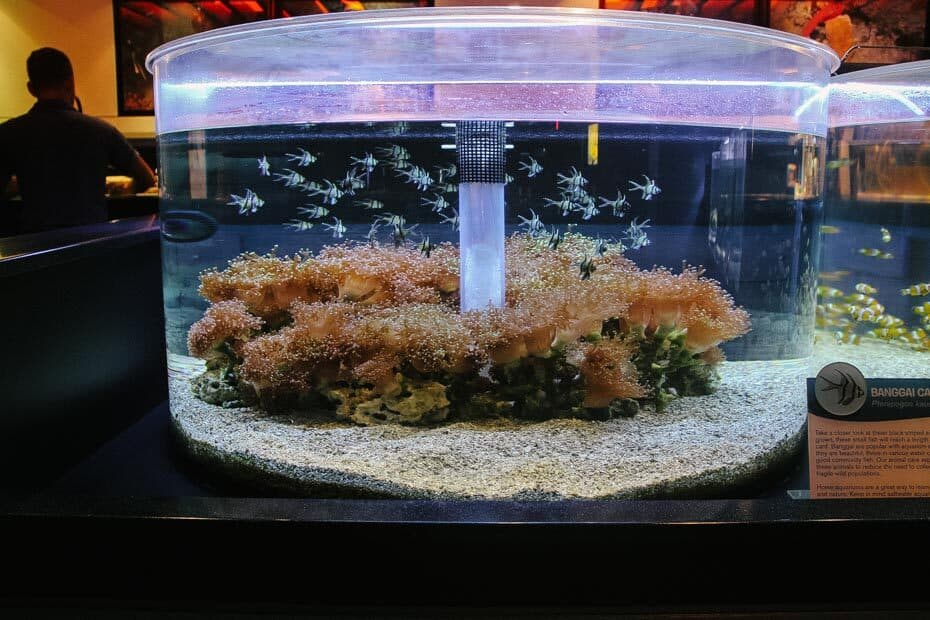 On our last visit, we saw several updated aquariums dedicated to rehabilitating reefs which is a necessary conservation effort.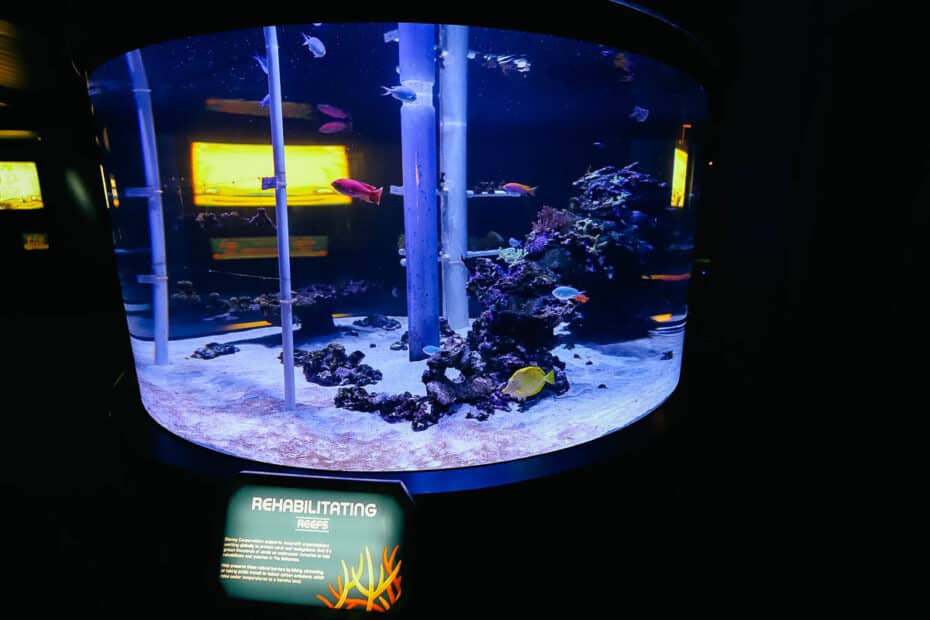 There's a good deal of information about coral.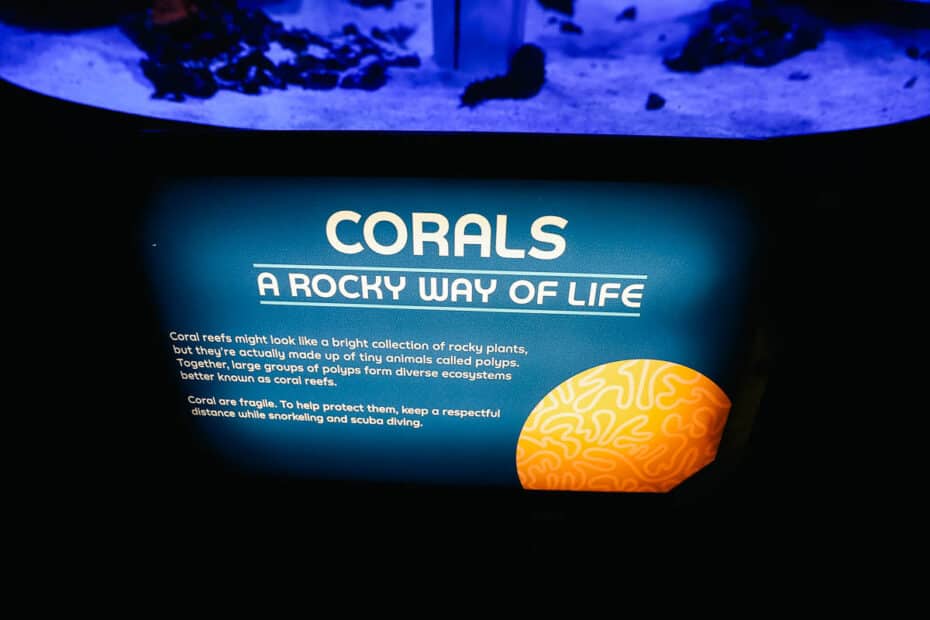 You can see where they are growing coral in this reef tank.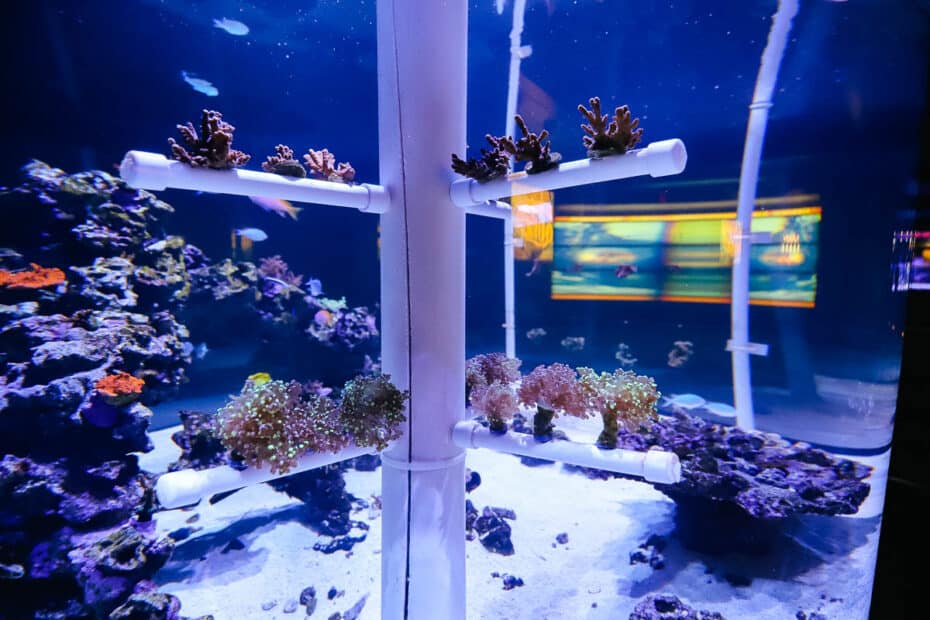 Additionally, there's a tank with Mangroves. If you've ever visited the Florida Keys, you've likely seen a few mangrove forests.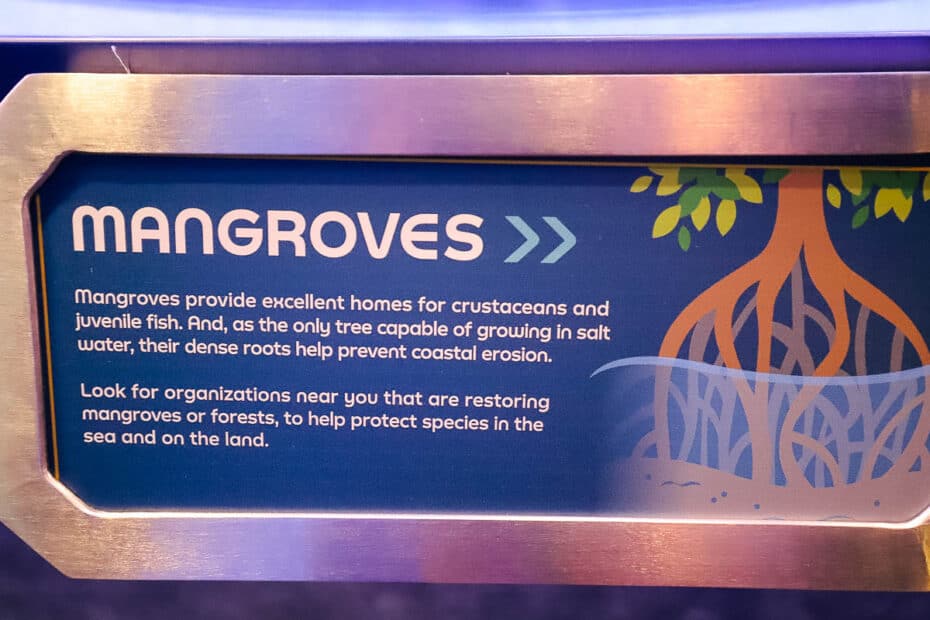 Similar to coral, mangroves provide shelter for various crustaceans and fish.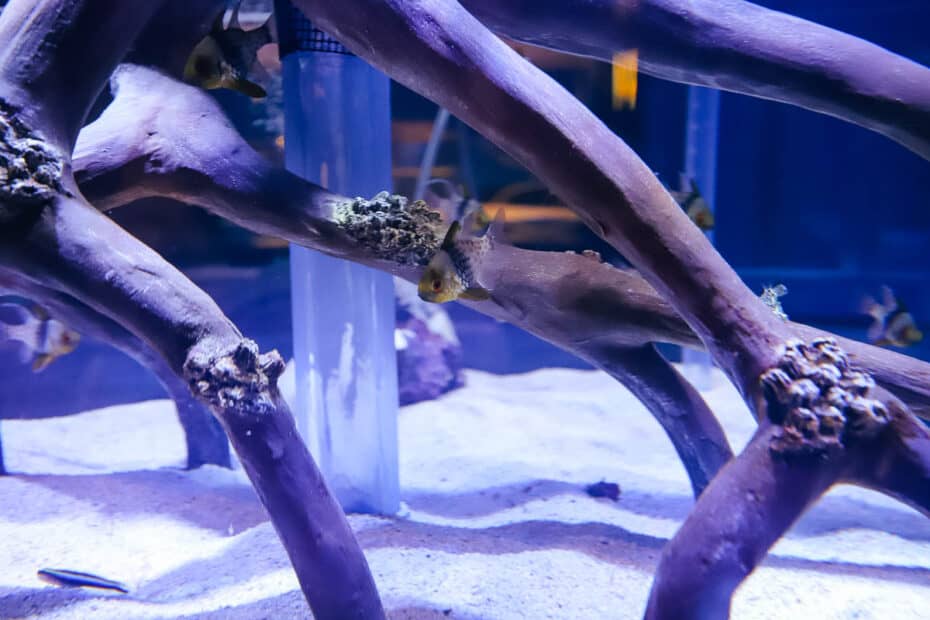 We also saw a few giant clams, which are essential to coral reef systems.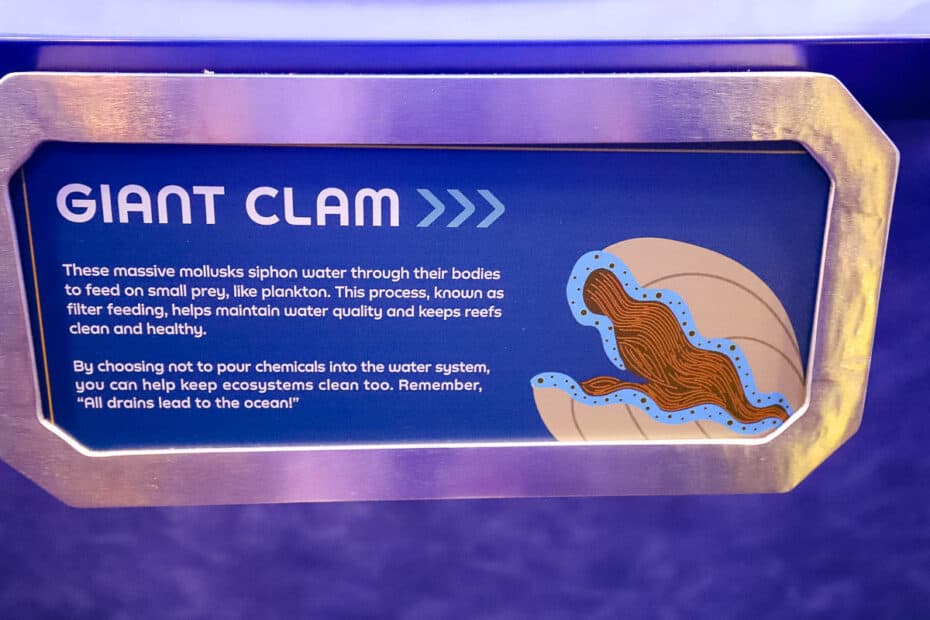 They help maintain the water quality, which in turn helps keep reefs clean and healthy.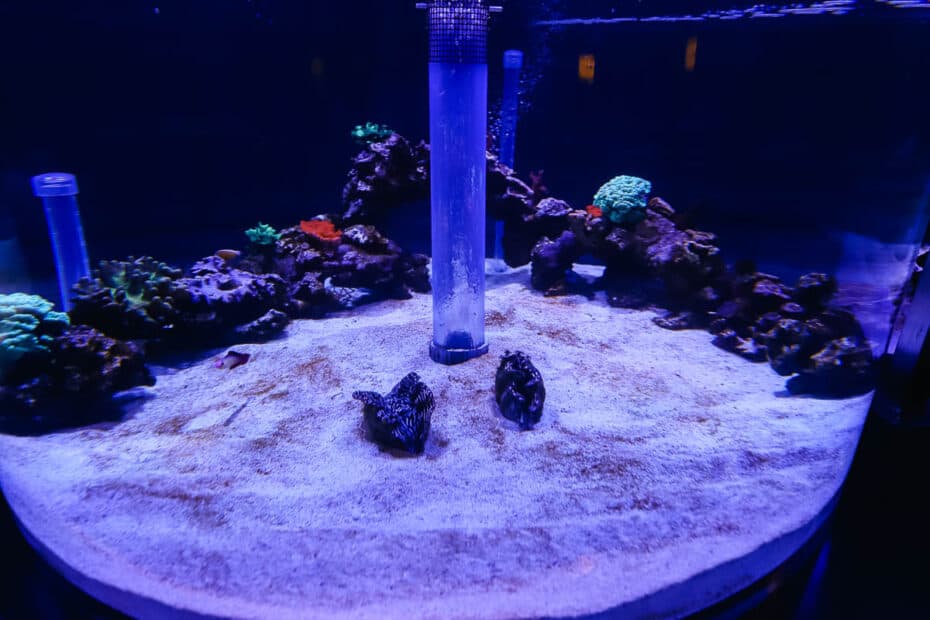 Finding Dory's Friends Scavenger Hunt
While in the Seas Pavilion, you might pick up a scavenger hunt booklet. They are on display in the center of the first floor. Children can use the scavenger hunt to explore the pavilion.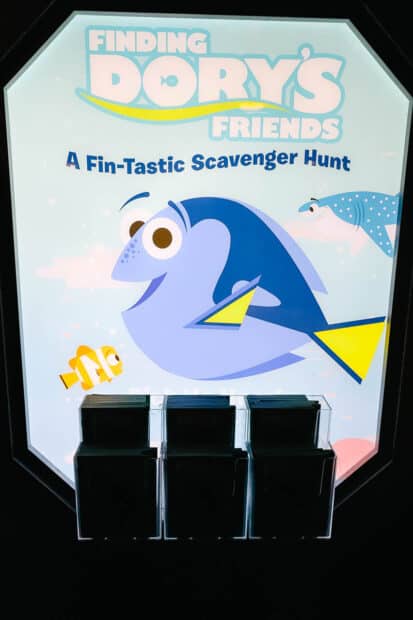 Coral Reef Restuarant
There is one table service restaurant located at the Seas Pavilion. It has a separate entrance toward the back of the pavilion. Guests dining at Coral Reef Restaurant can enjoy views of the aquarium while they eat.
You can preview the entire menu for the restaurant here on Disney's site.
The Seas Pavilion Gift Shop
Before you exit the pavilion there is a retail store with a few merchandise items. This is a great place to grab a soda or water if you get caught during a storm. Most of the merchandise is Nemo and Dory-specific.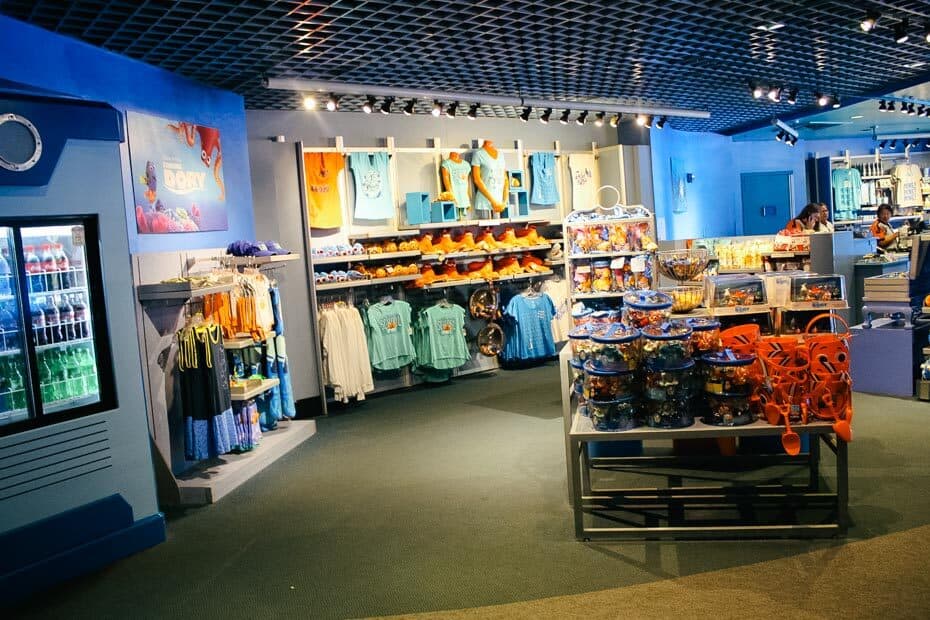 Here are a few of the items that were available on this visit.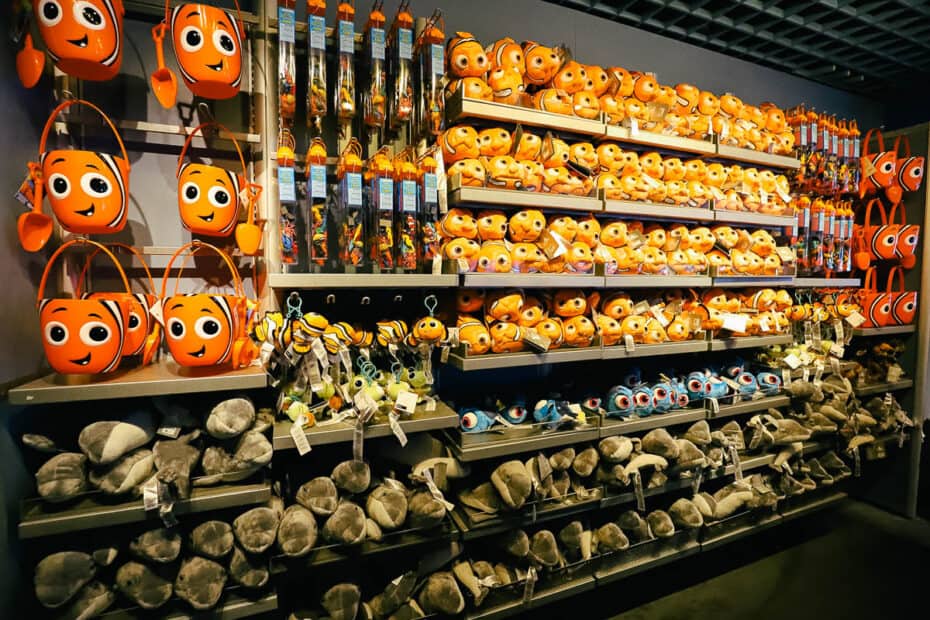 Toward the front of the store, there's a wall with pins. You may remember that Epcot had a huge pin area before the construction near the former Fountain of Nations. Visitors came specifically for pin trading.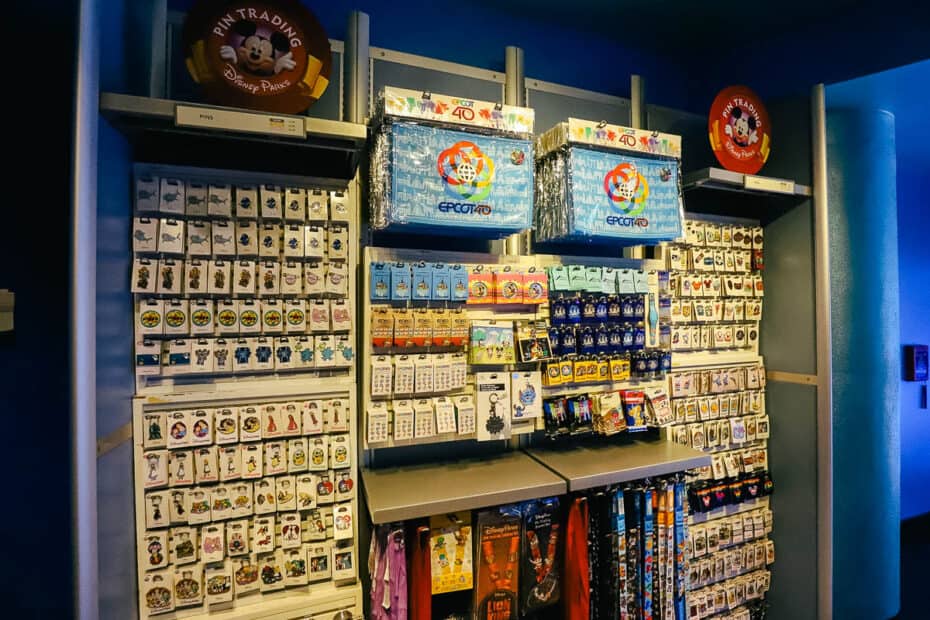 There were several other machines, including an old-fashioned pressed penny machine with a crank.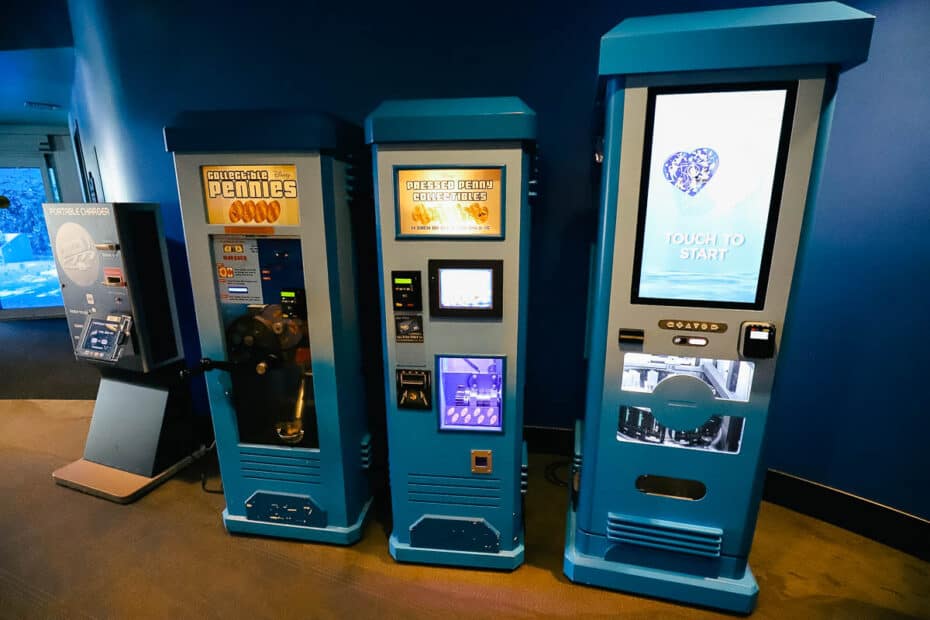 Here are the pressed penny options.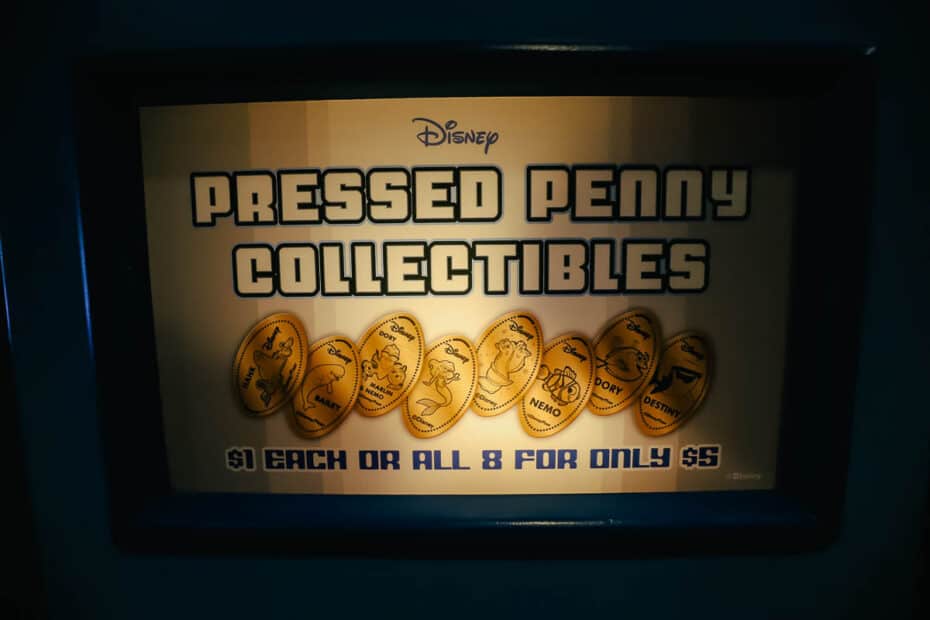 This machine had Flounder, Nemo, Marlin, and Sebastian.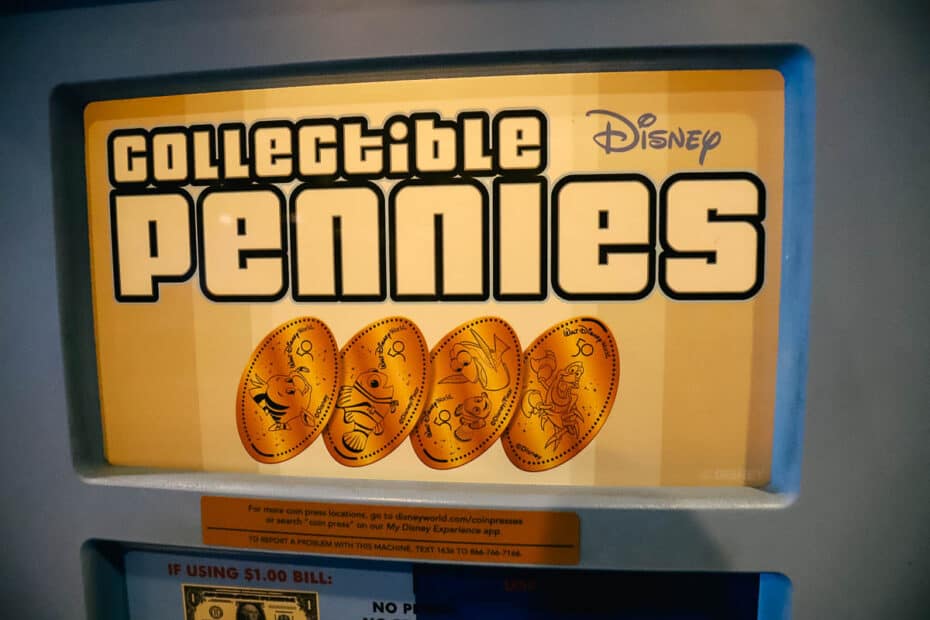 Additionally, there was a portable charger station for Fuel Rod.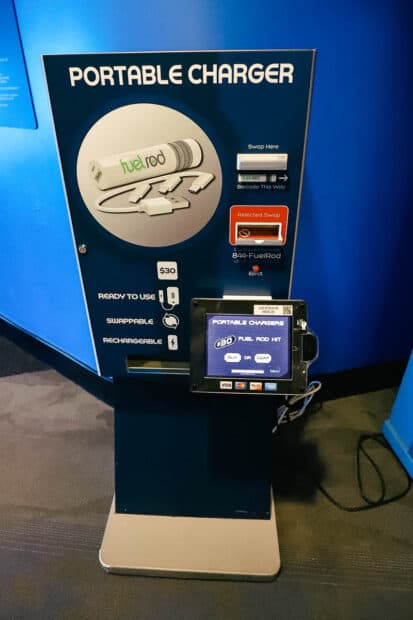 The Seas Pavilion Video
Here is a video with clips from several visits to the Seas Pavilion. It includes manatees, dolphins, and views of the aquarium from the observation deck.
Final Thoughts on The Seas Pavilion
Overall, the Seas Pavilion is a lot of fun. You could easily spend well over an hour exploring everything. However, I think that guests often feel rushed and miss out on many of these things.
Additionally, Epcot is an excellent park to explore on a rainy day. With so much to do inside the pavilion, you'll probably forget it's raining.
When you're finished, it's a relatively short walk to The Land Pavilion and Imagination Pavilion. You could easily enjoy spending several hours between the three of these areas.
For more attractions at Epcot, you might enjoy the following:
Additionally, Resorts Gal provides coverage of the Walt Disney World Resort Hotels. You might enjoy these resort reviews in the Epcot Resort Area:
You might also enjoy browsing our entire list of Disney World Restaurant Reviews. These reviews will help you plan the perfect dining reservations for your next Disney vacation.
In the Comments
What are your thoughts on the Seas Pavilion at Epcot? Do you enjoy exploring this area of the park?