A Walk Around Crescent Lake at Disney World
Crescent Lake is one of the most scenic areas to enjoy at Walt Disney World. This stunning lake sits between Epcot and Disney's Hollywood Studios.
In this article, we'll take a virtual walk around Disney's Crescent Lake. Additionally, this continues our series of articles on getting to know the resorts at Disney World more in-depth.
We recently started this series of articles with a walk around Barefoot Bay at Caribbean Beach. When time allows, we'll take another walk around Hourglass Lake at Art of Animation.
As we make our way around Crescent Lake, I'll point out a few things like resorts, dining options, recreation, and shopping. Additionally, I'll add a few tips for restaurants in the area that don't require a reservation.
During your visit, you might enjoy having a meal in the area or picking up a treat like an ice cream cone! You could even enjoy an evening stroll around the lake right around sunset.
Whatever you decide, I assure you you'll enjoy your visit to Crescent Lake. It's one of the most scenic areas at Walt Disney World.
This article was updated on January 19, 2023.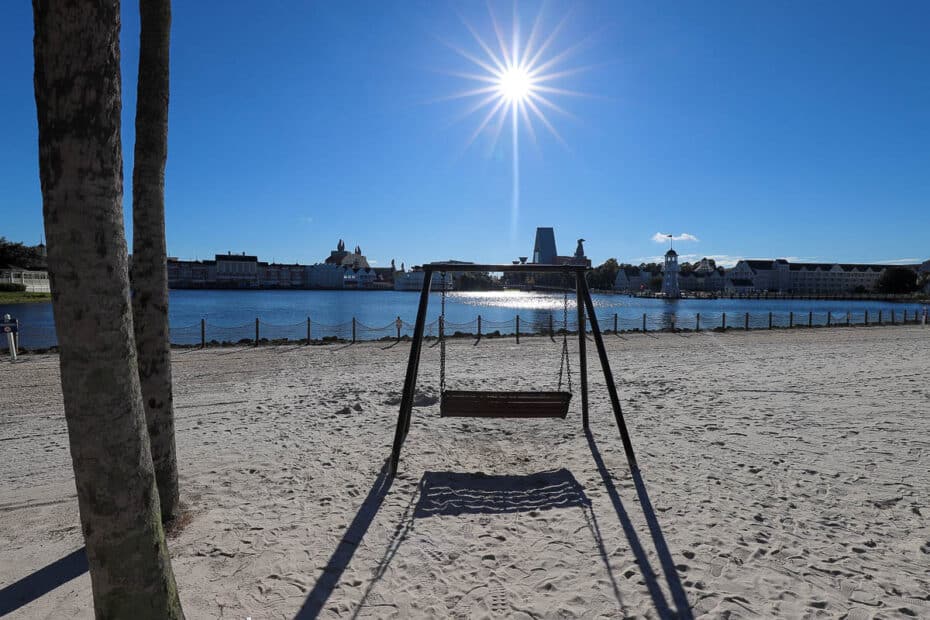 For starters, the Epcot Resort Area is centered around Crescent Lake. Those resorts can be seen from any point around the lake. They are:
Additionally, the path around the lake is what you would take to access Epcot and Disney's Hollywood Studios. For reference, Epcot's International Gateway is closest to Disney's Beach Club.
In comparison, Disney's Boardwalk Inn is the nearest resort to Hollywood Studios. However, all of the resorts in the area are within 5-10 minutes' walking distance of each other.
We'll begin our leisurely walk at the Beach Club. This is where you'll find Crescent Lake's large white sand beach. There are a variety of lounge chairs and a few swings available for anyone to use.
Related: Disney's Beach Club Review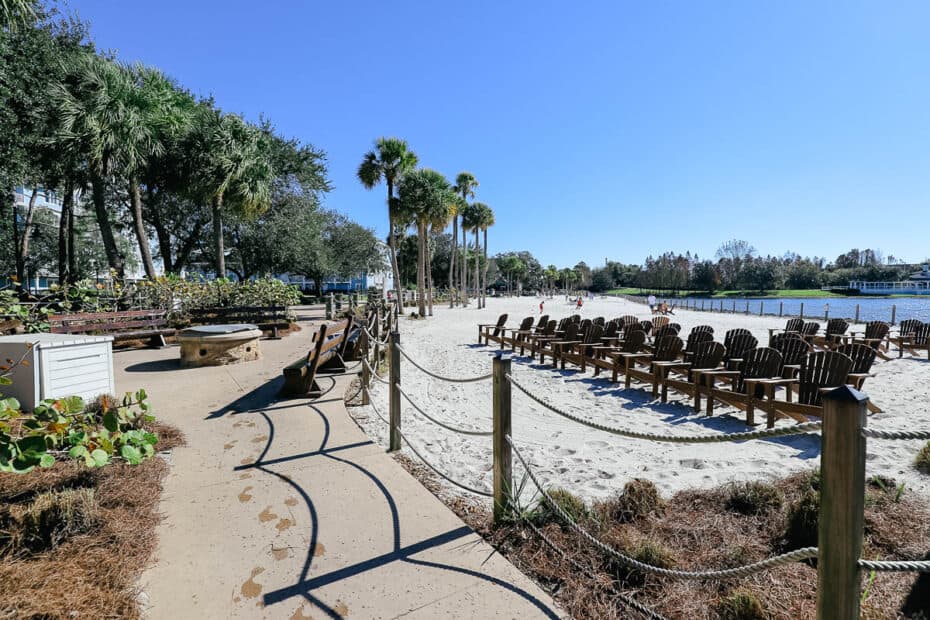 Several swing sets on the beach make for the perfect place to cool off in the evening. This is also one of the best spots at Walt Disney World to take in the sunset.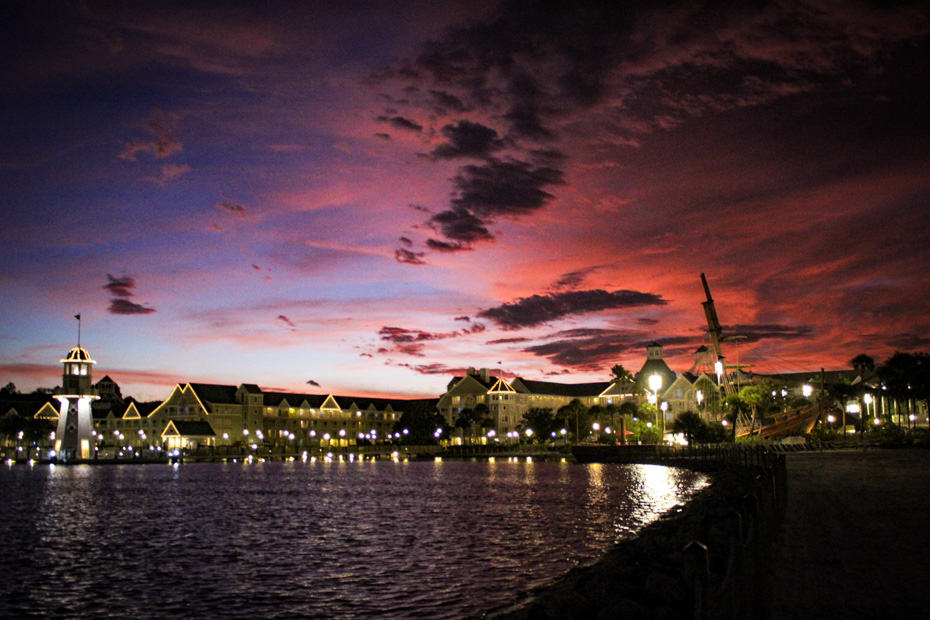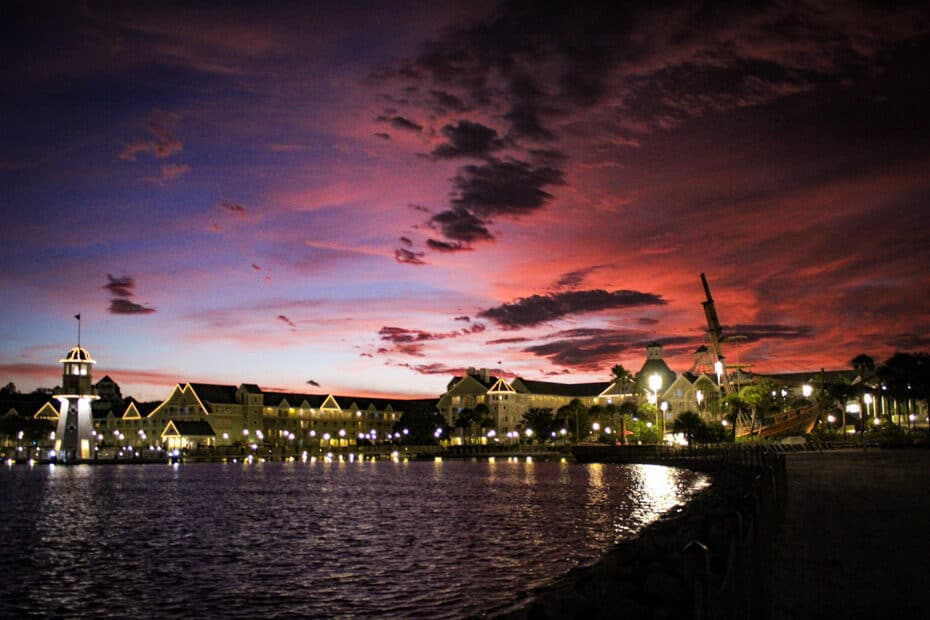 If you're in the Beach Club area, there are several great dining options. Martha's Vineyard is on the Beach Club side. It's a lounge that takes walk-ups. This location usually has a variety of appetizers along with several entrees.
Over the years, it's been my experience that the different lounges at Disney World offer excellent food options. So don't be afraid to try one because the word "lounge" makes you think more bar than a restaurant.
If you're looking for something more formal, there's Cape May Cafe, a seafood buffet in the evening. Additionally, it's a character meal at breakfast.
Related: Cape May Cafe Review (Minnie's Beachside Breakfast Bash)
While at the Beach Club, you might enjoy browsing the Beach Club Marketplace. This resort gift shop doubles as a counter-service dining location, making it an alternative for a meal.
Related: Beach Club's Gift Shop
In addition, the Beach Club is one of the most popular resorts to tour during the Christmas holidays. You'll want to check out their lobby. Disney chefs build a tremendous gingerbread carousel for guests to enjoy.
Here is one from a few years back.
Related: Little Mermaid Gingerbread Carousel at Beach Club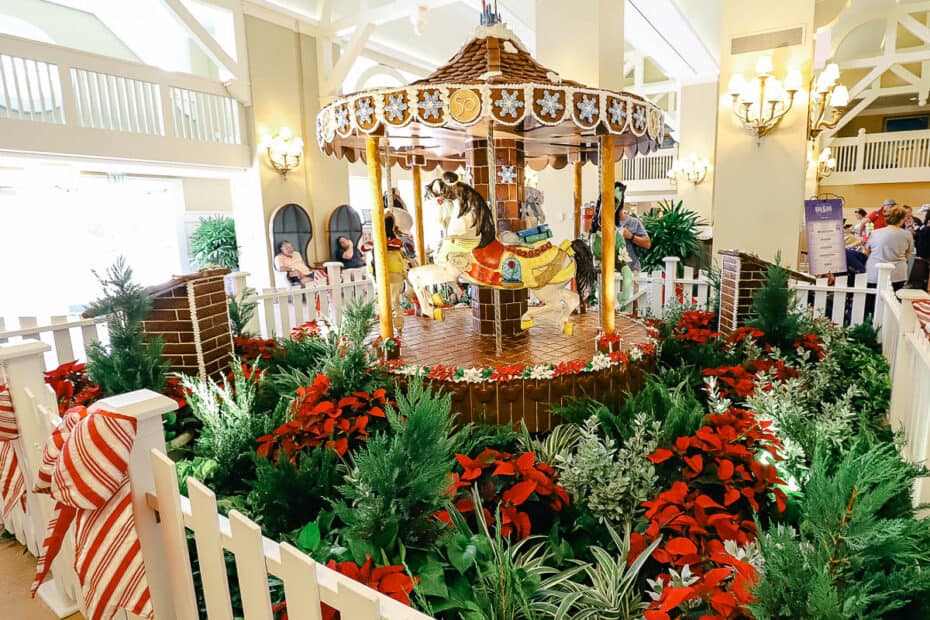 We have a full guide to touring Disney World Resorts at Christmas. So that review comes in handy if you are visiting during Christmas. It provides a few tips on how to go about seeing everything.
As we continue our journey around Crescent Lake, we'll make our way over to Disney's Yacht Club. This resort is connected to the Beach Club by an indoor/outdoor walkway.
Therefore, technically, you don't have to walk out to the path along the lake to access the resort.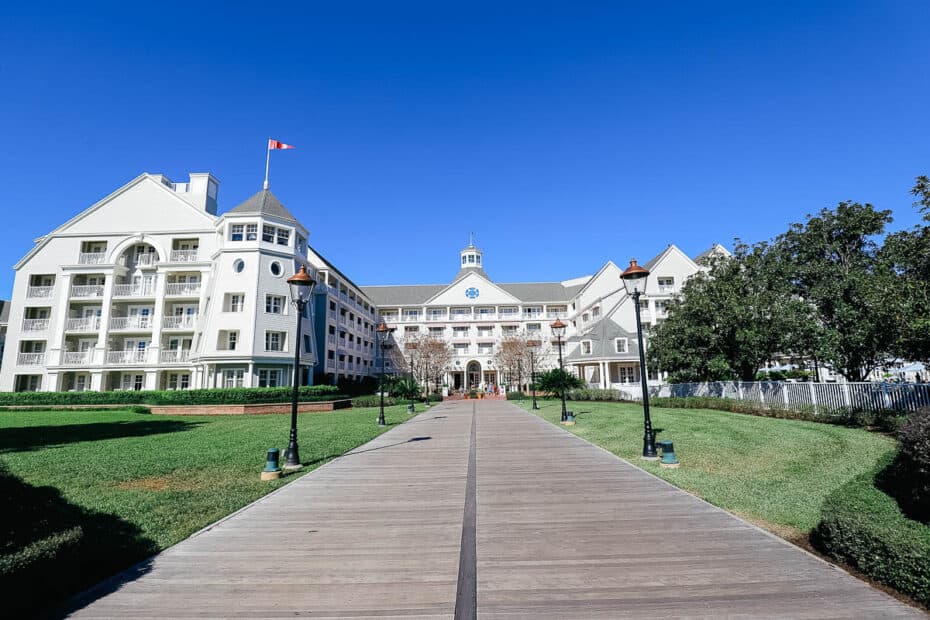 However, if you remain on the outer path, you'll run into Hurricane Hanna's. This dining option is the pool bar and a counter-service restaurant for both Beach and Yacht Club.
We recently rented a cabana at the Beach Club and had lunch at Hurricane Hanna's. The quick service is an excellent place to grab a burger or sandwich. I ordered the grilled chicken sandwich to enjoy out by the pool.
Related: Renting a Cabana at Disney's Beach Club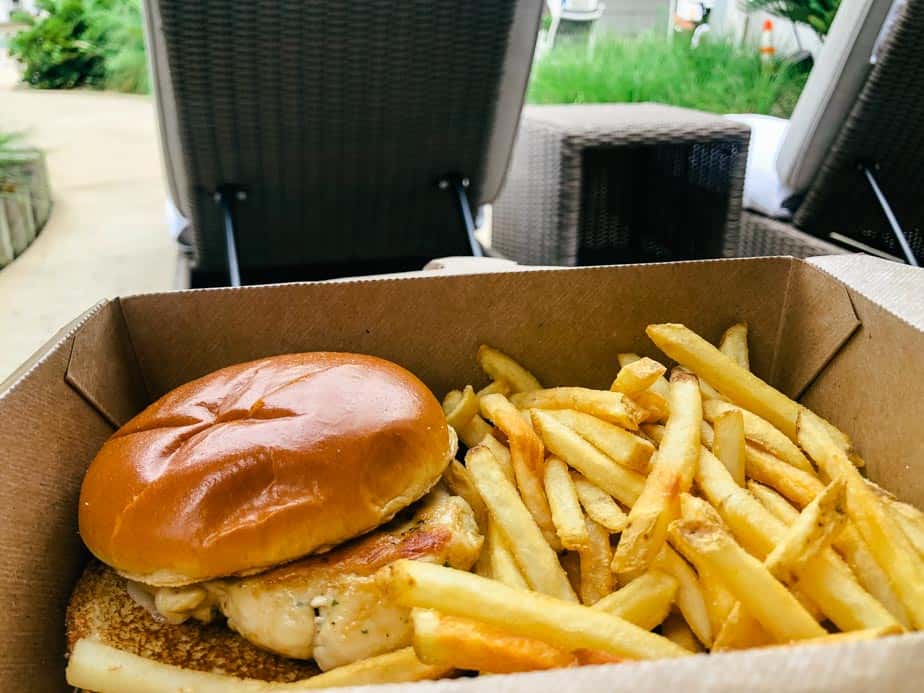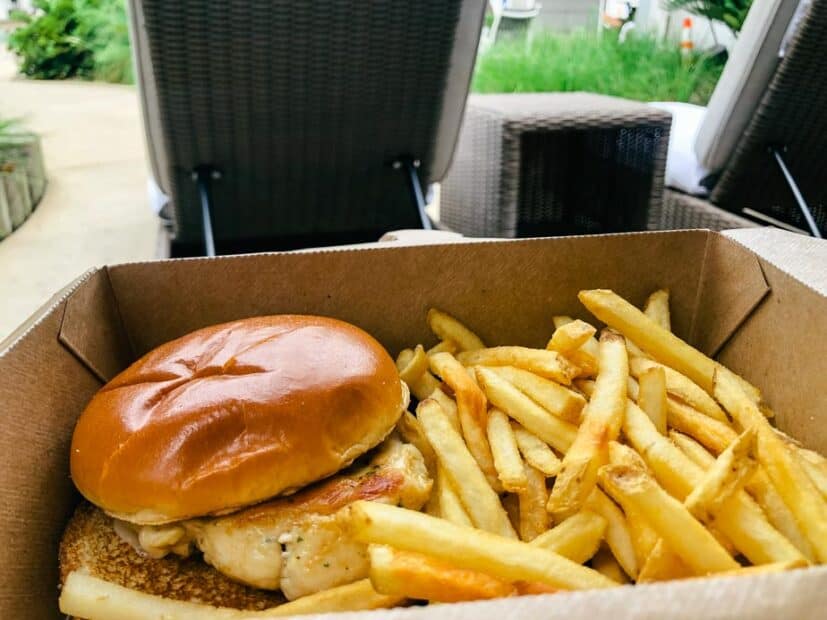 If you're not a guest of the resort, you can still enjoy a meal here. Below is a picture of the outdoor dining area that sits outside the enclosed pool.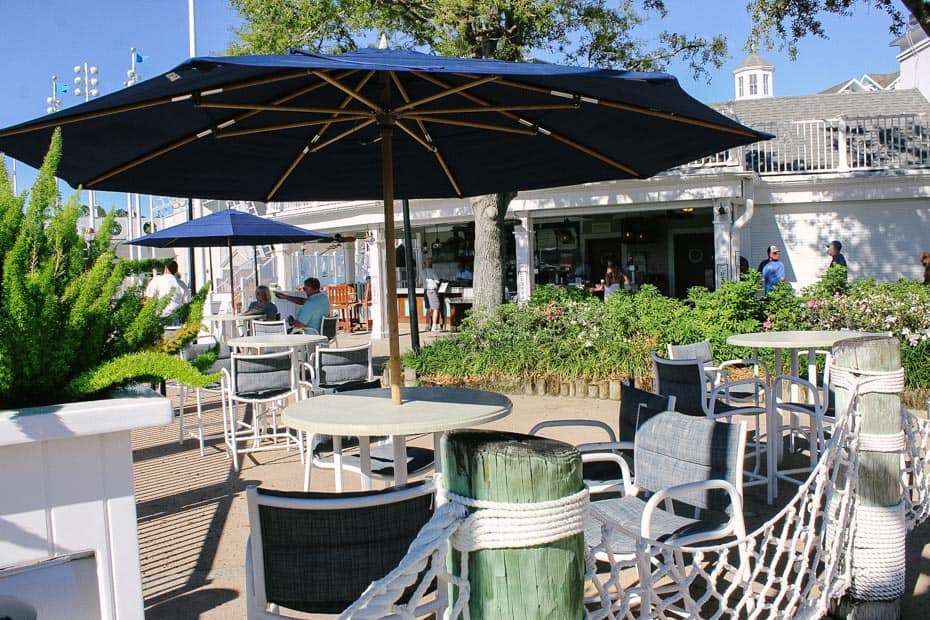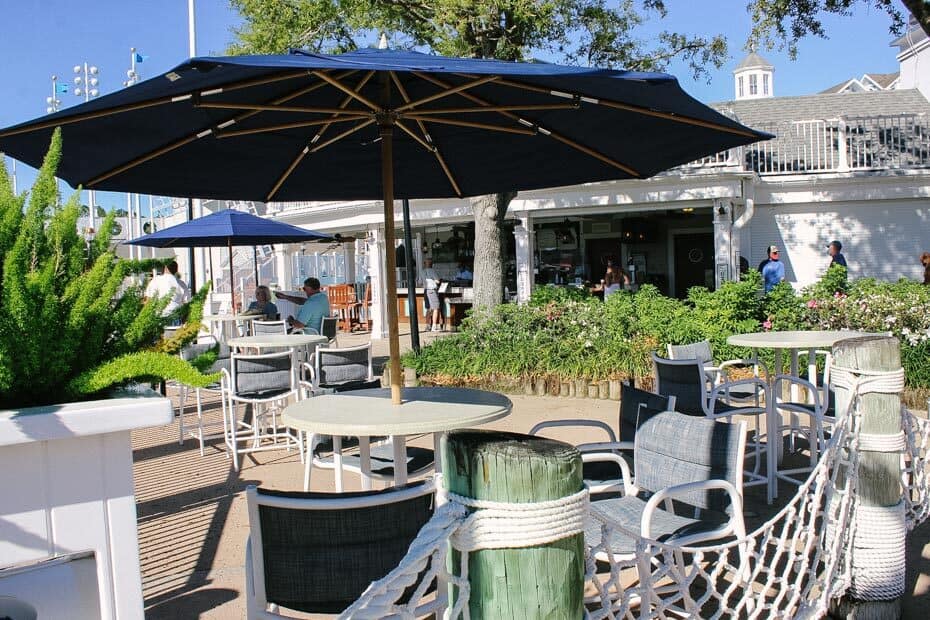 Another option between the two resorts is Beaches and Cream Restaurant. This is a burger joint of sorts that has an exterior walk-up ice cream window.
If you love ice cream treats, you'll want to check out the offerings here. Make sure to have someone to share that Mickey's Kitchen Sink with! The sundaes are huge!
Related: Disney's Beaches and Cream Review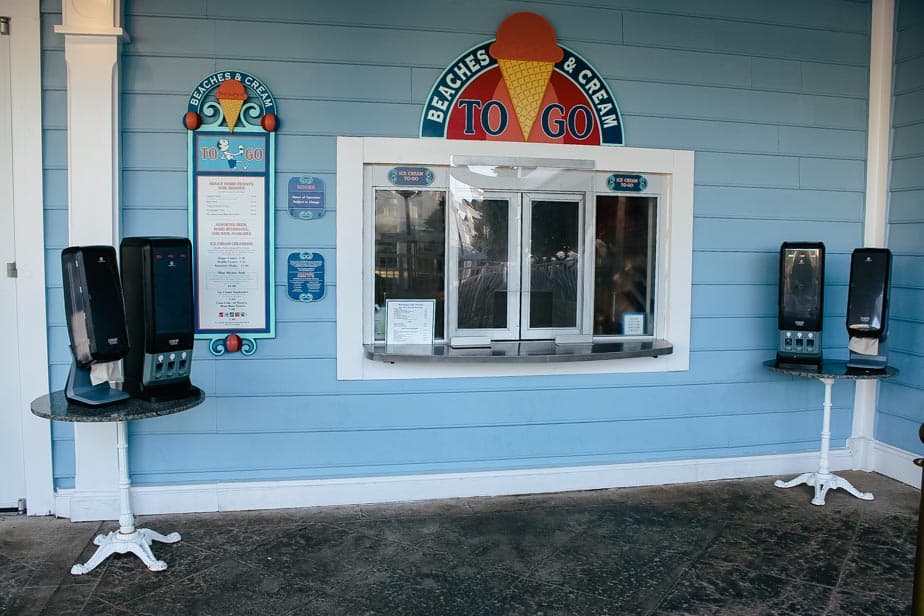 Disney's Yacht Club has two lounges. So if you're enjoying a little resort-hopping around Crescent Lake, these are excellent stops.
First, there's Ale and Compass Lounge, which sits next door to Ale and Compass restaurant. The restaurant serves breakfast, lunch, and dinner.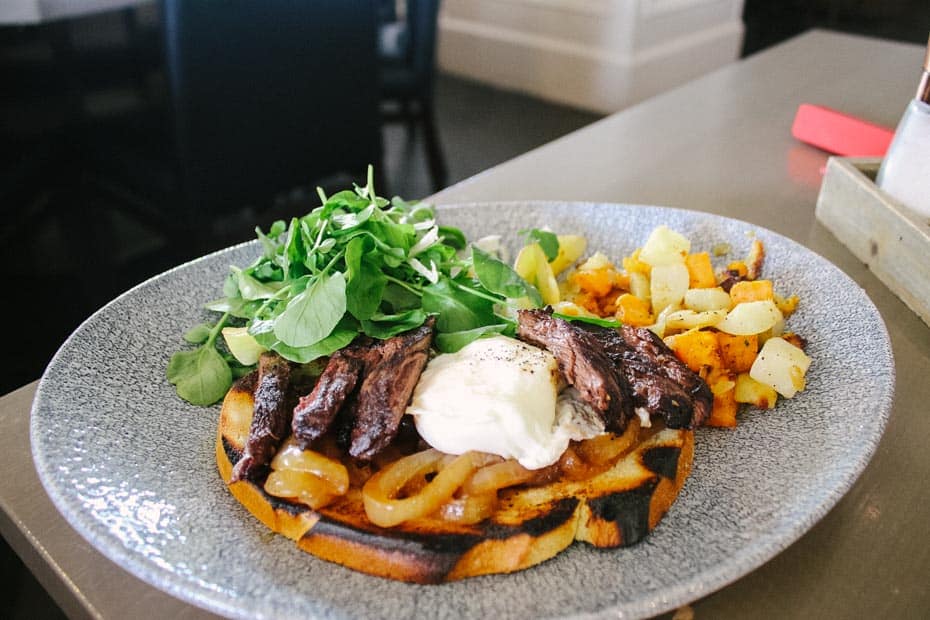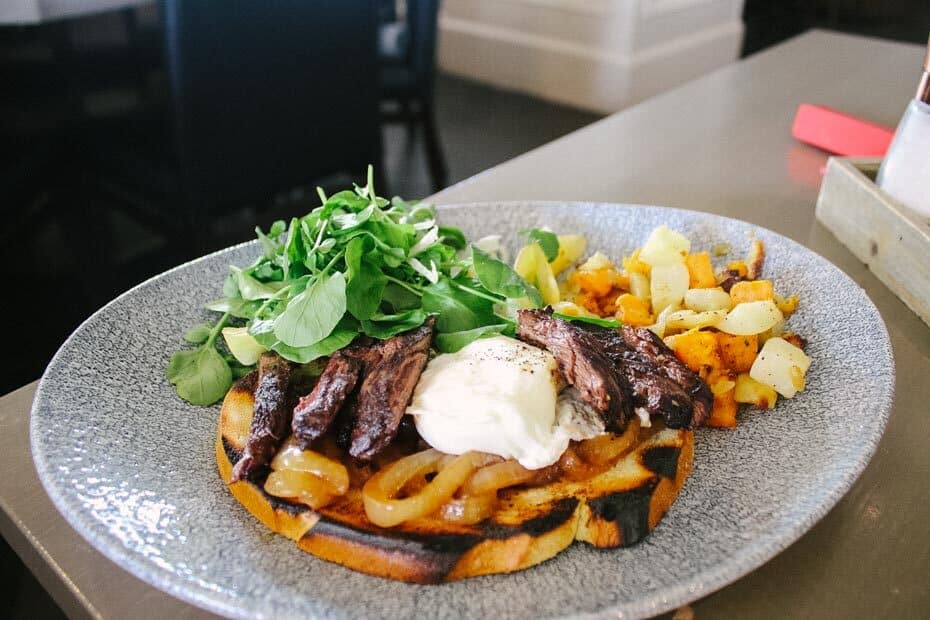 Since to-go ordering has become a thing at several Disney restaurants, we like to place to-go orders from time to time.
As you walk along the lake, place a to-go order for Ale and Compass from the My Disney Experience app. When it's time to pick up your food, take it next door to the lounge and enjoy it.
Or you might find a nice patio table with chairs at one of the quiet pools. Yacht Club's Admiral pool is not far away.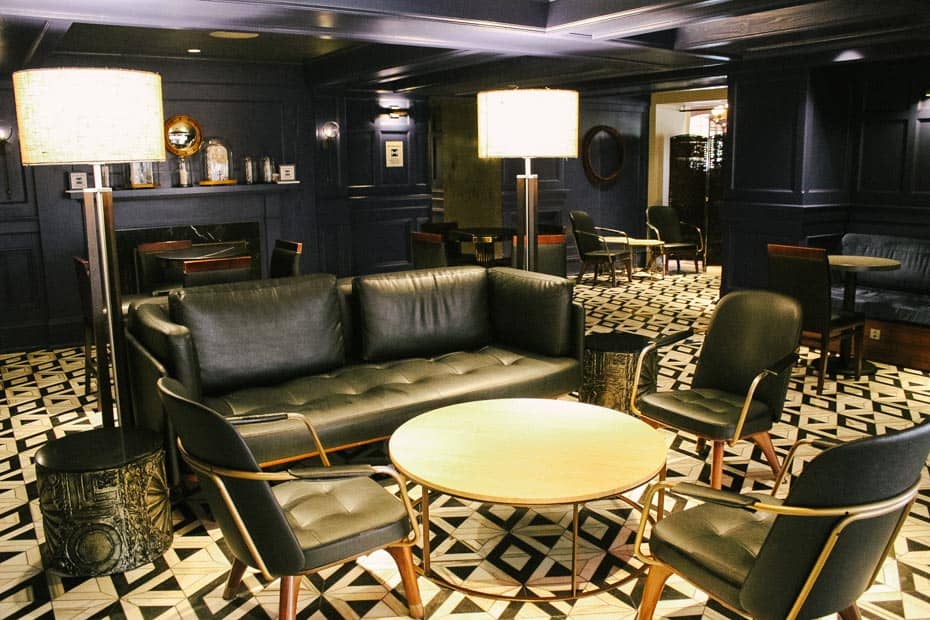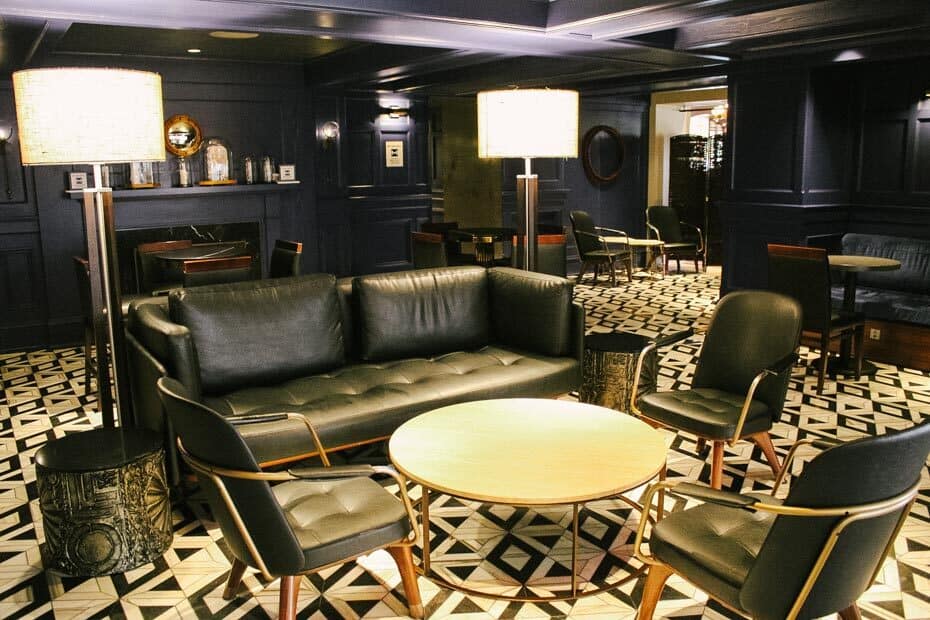 Another good option is Crew's Cup Lounge which is the lounge that adjoins Yachtsman Steakhouse. Yachtsman is signature dining and requires reservations.
If you enjoy a good steak dinner, you might consider adding it to your list. Of course, you'll need reservations for this restaurant.
Related: Yachtsman Steakhouse Review
Additionally, you can browse The Market at Ale and Compass while you are there. They have a few grab-and-go items, but I don't really recommend picking up pre-made food items.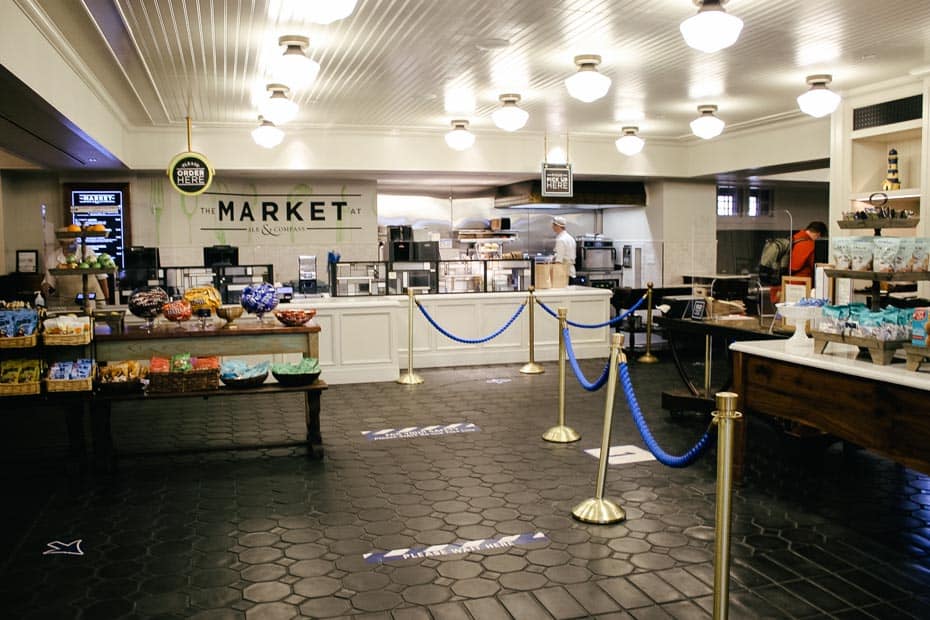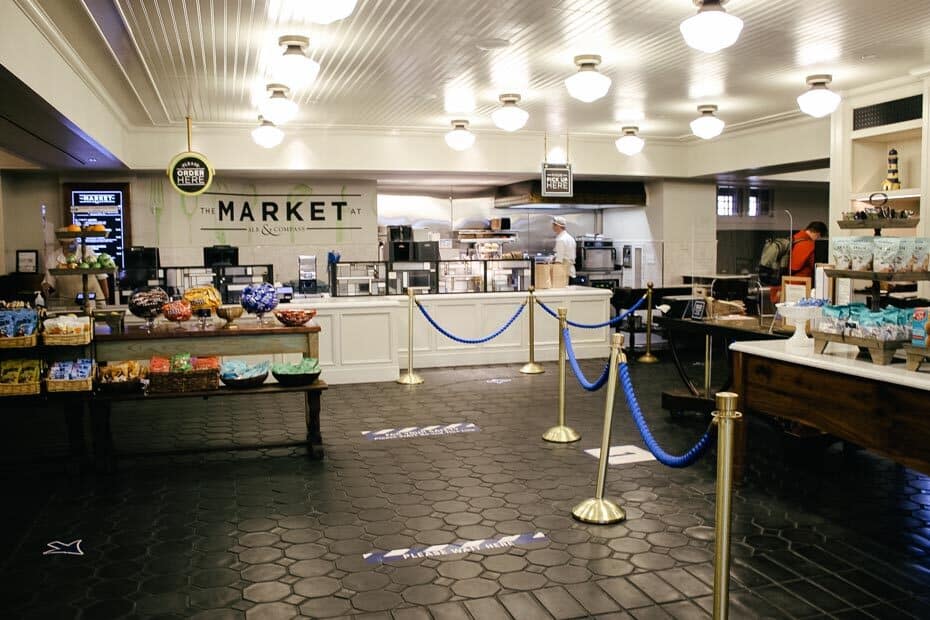 However, I do enjoy browsing the gift shop here. It's a decent size, and they always have everything pleasantly displayed.
Related: Yacht Club Gift Shop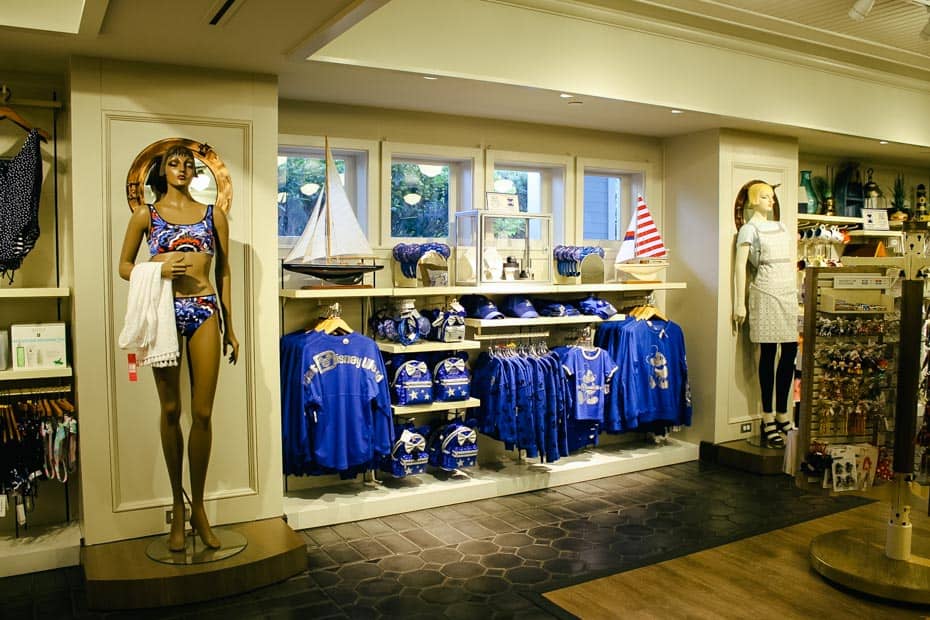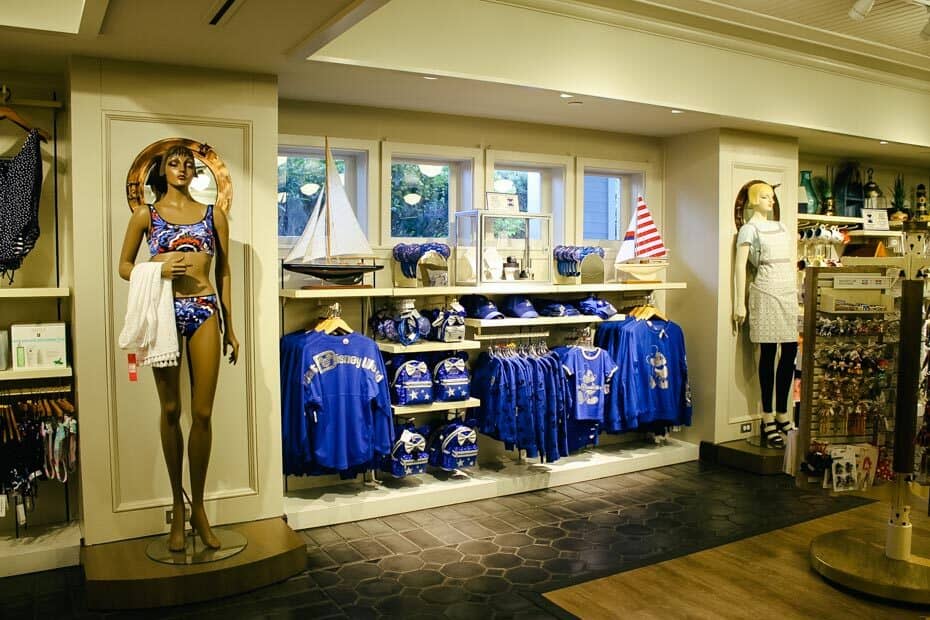 Overall, Disney's Yacht Club is an excellent location to stop and browse or enjoy a meal as you make your way along Crescent Lake.
Related: Disney's Yacht Club Review
Before leaving the Yacht Club, we'll walk out to the Friendship Boat dock where the large lighthouse sits. Instead of walking, you can take a boat across the lake if you prefer.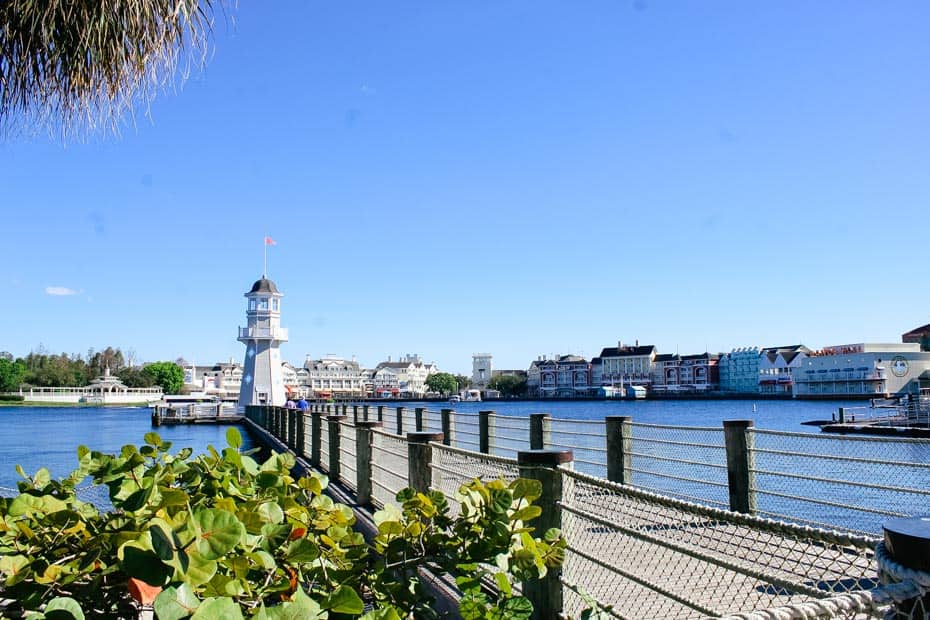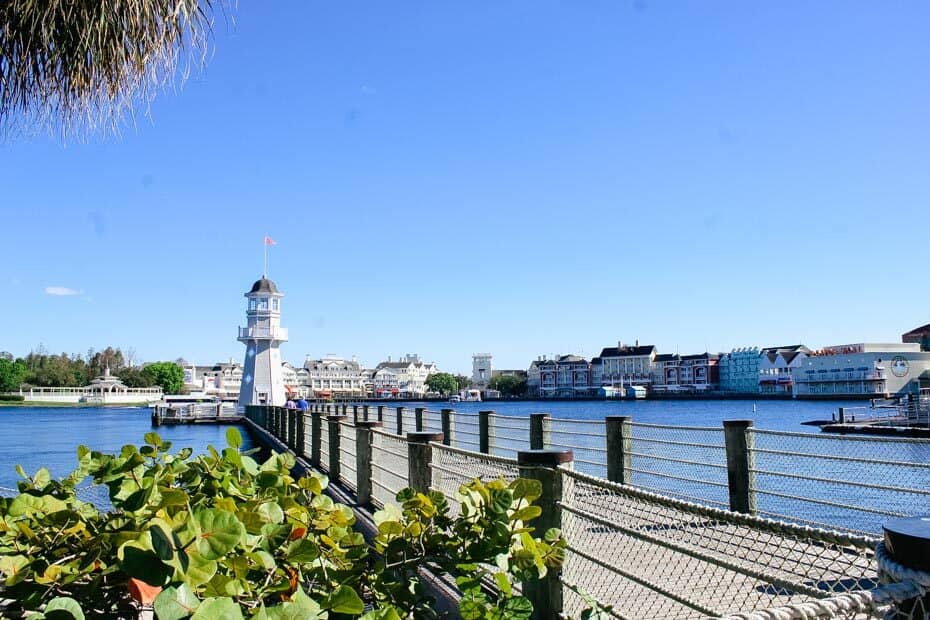 Our next stop along Crescent Lake is Disney's Swan and Dolphin Resort. These are the two large resorts with unique architecture resembling a swan and a large fish (it's supposed to be a dolphin).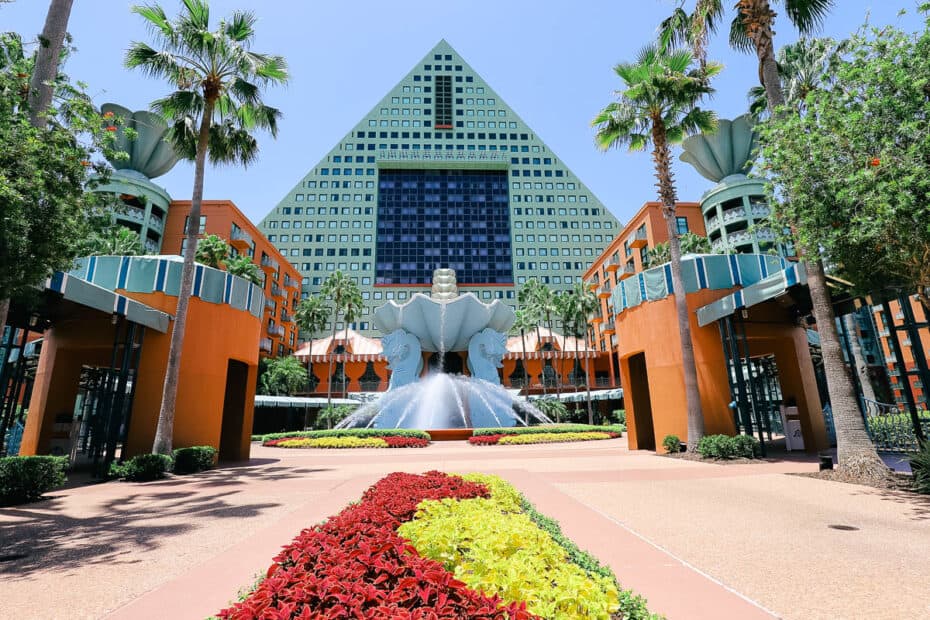 If you decide to stop in at one of the hotels, I'd recommend the Dolphin. You'll have to cross the bridge over to the Dolphin. There are several scenic photo spots in the area.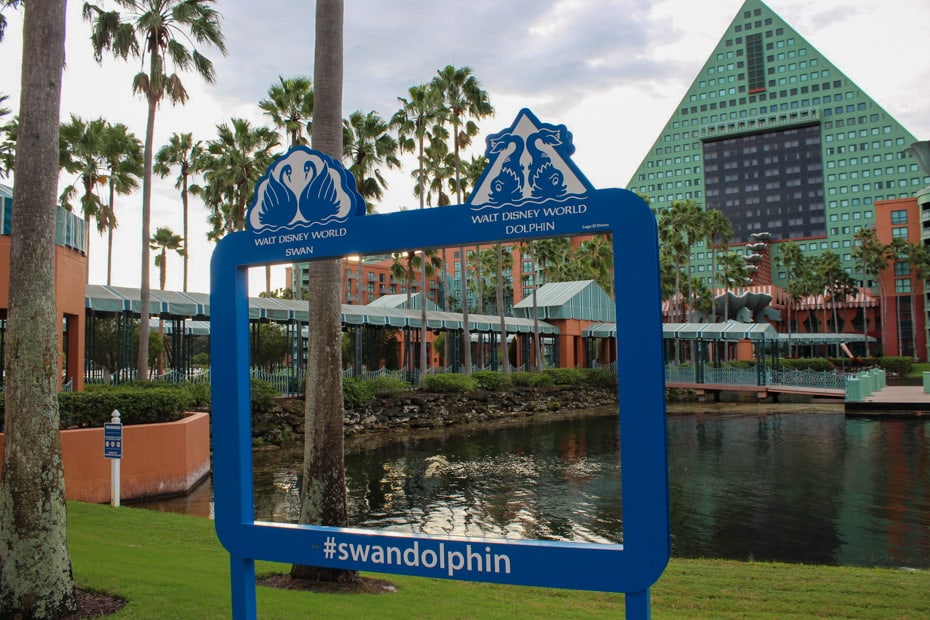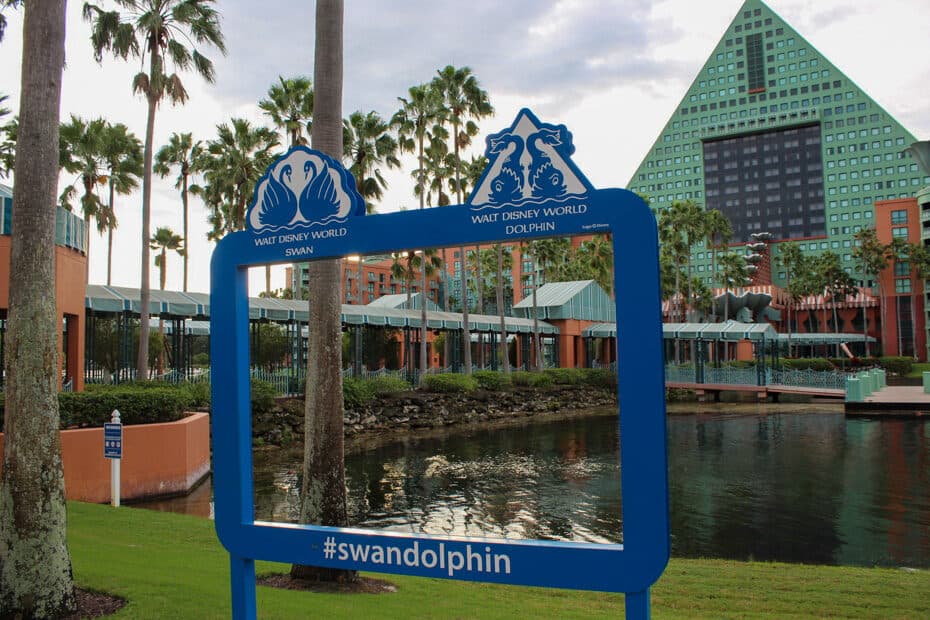 The Dolphin is the larger of the two hotels on the right-hand side.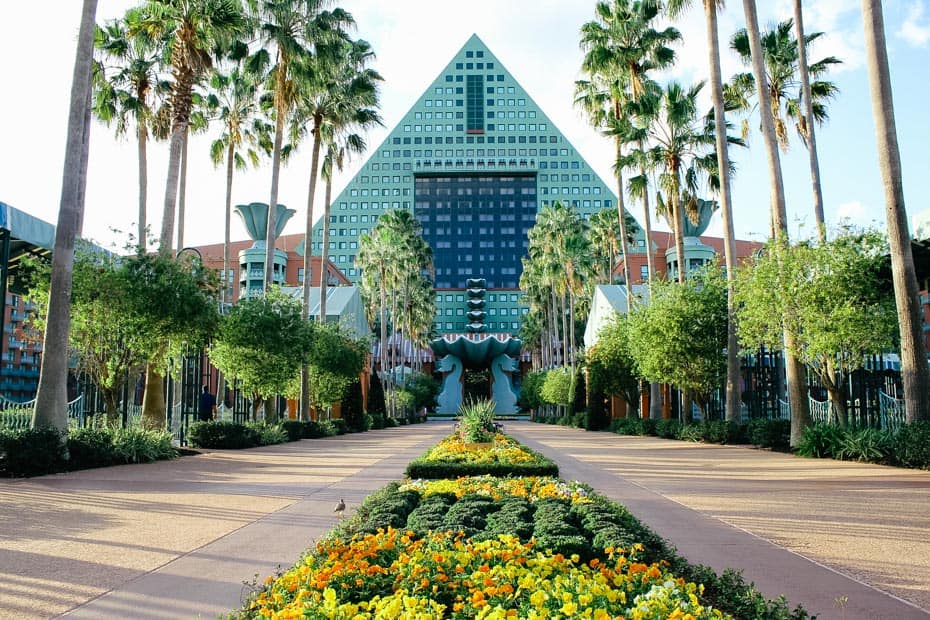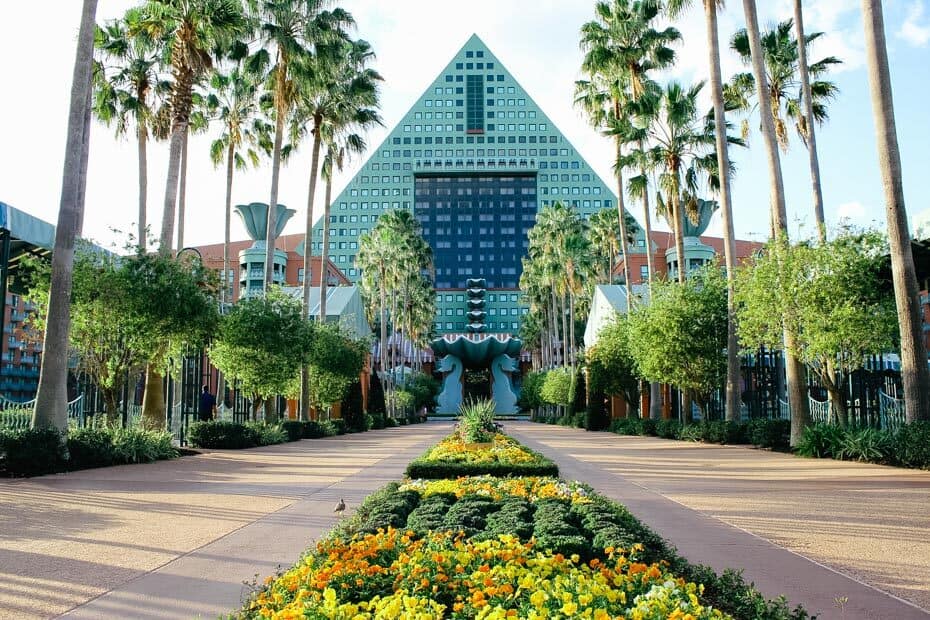 The hotel's entrance is underneath the large clamshell fountain. After that, you'll head straight up the escalator to the resort's lobby.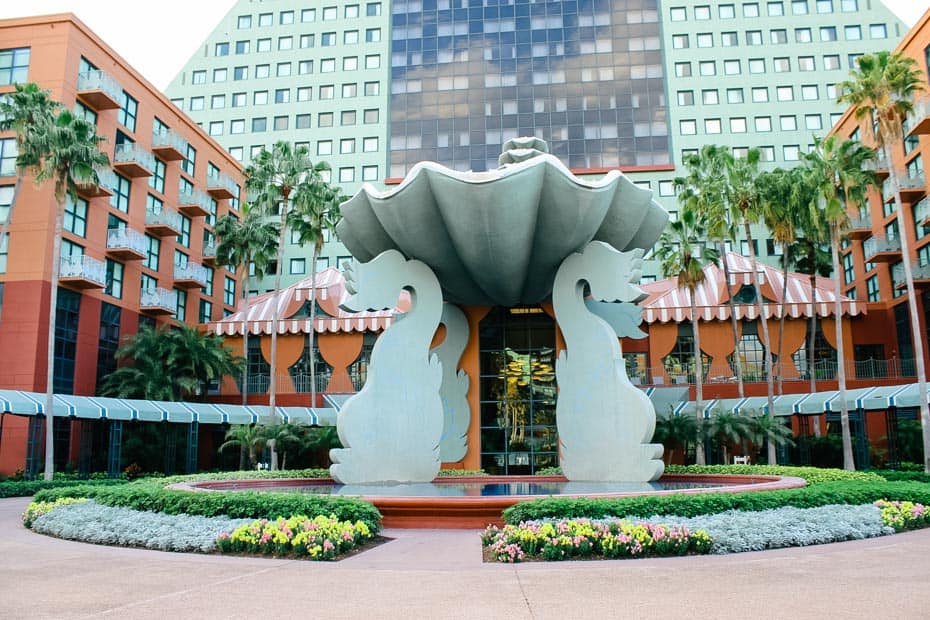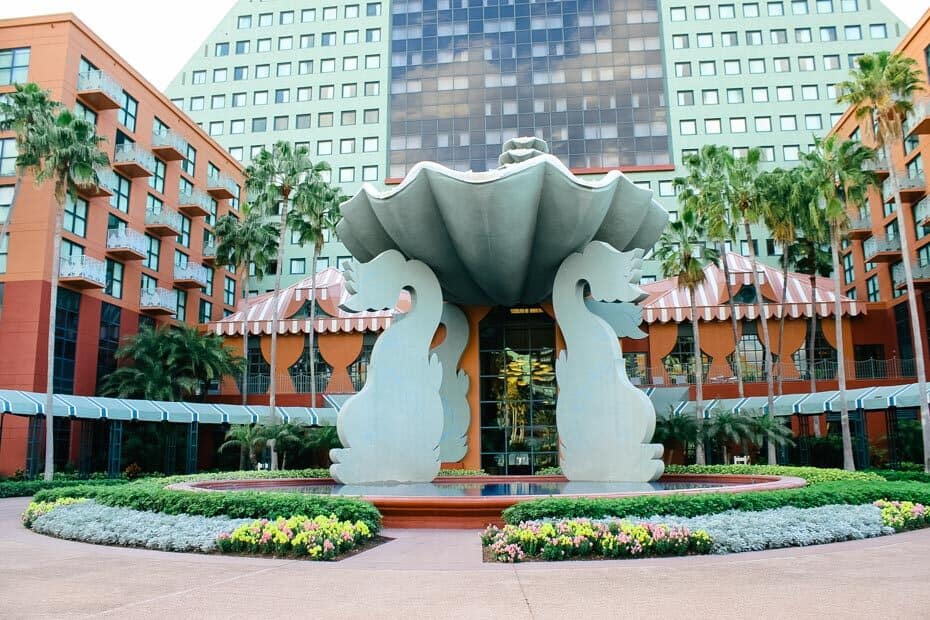 There are plenty of options for dining here and several stores to browse. If you prefer to have a meal inside, I would go with The Fountain. It's a great spot to enjoy a table service meal, and they take walk-ups.
However, if the weather is nice enough, I would head out to the Cabana Bar and Beach Club by the pool. It is an excellent place to enjoy a casual, outdoor meal. And in case you're not familiar, the pools at the Swan and Dolphin are fabulous.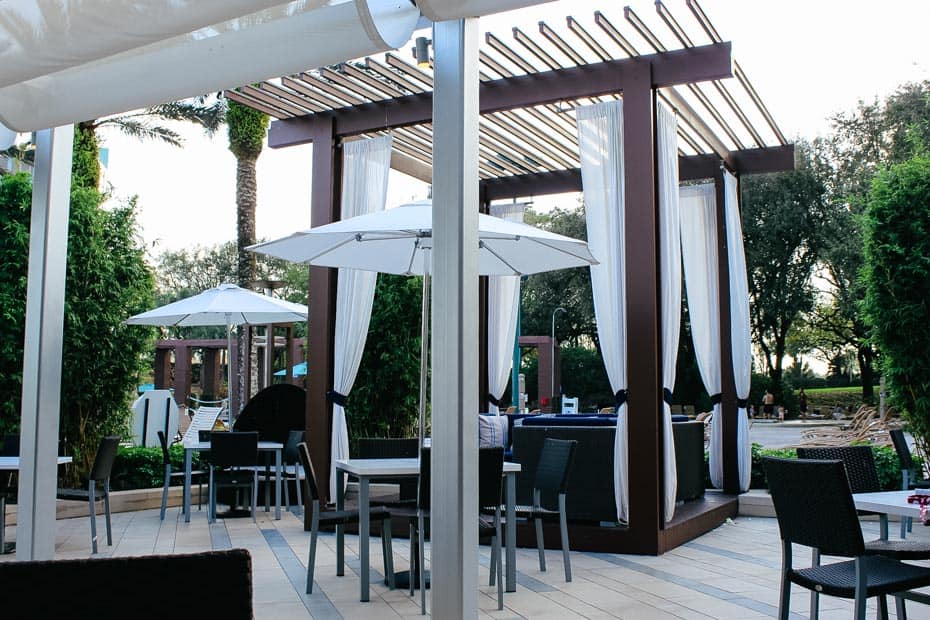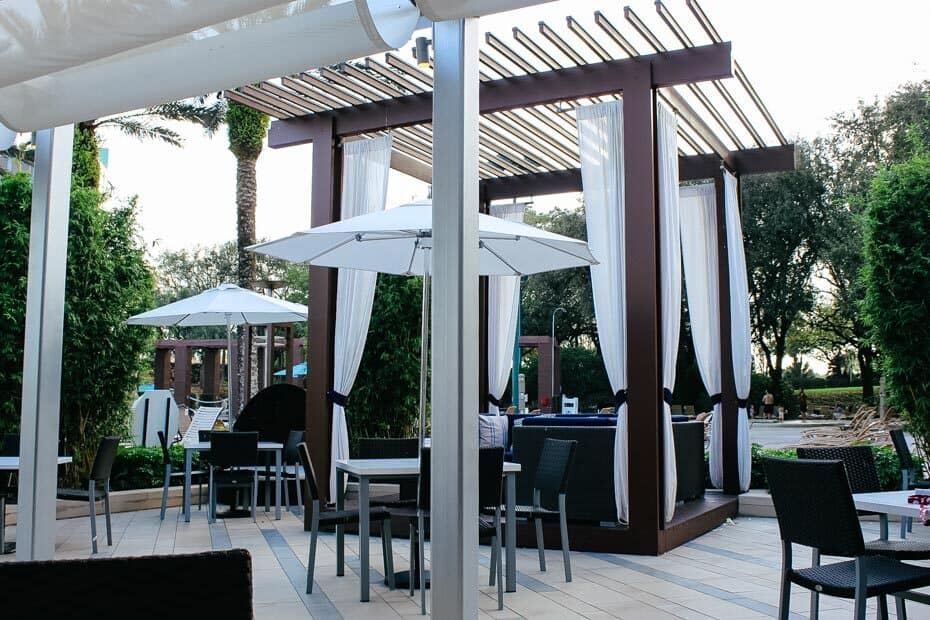 This entire area is pretty impressive, and it's nice to explore the grounds of the resort. And if you are really in the mood to do an activity, you're right across the street from the entrance to Fantasia Gardens mini-golf course.
You'll take the paved walkway between the two resorts, and there's a place to cross the street. Additionally, this is where the new Swan Reserve hotel is located.
Related: Disney's Swan and Dolphin Hotel Review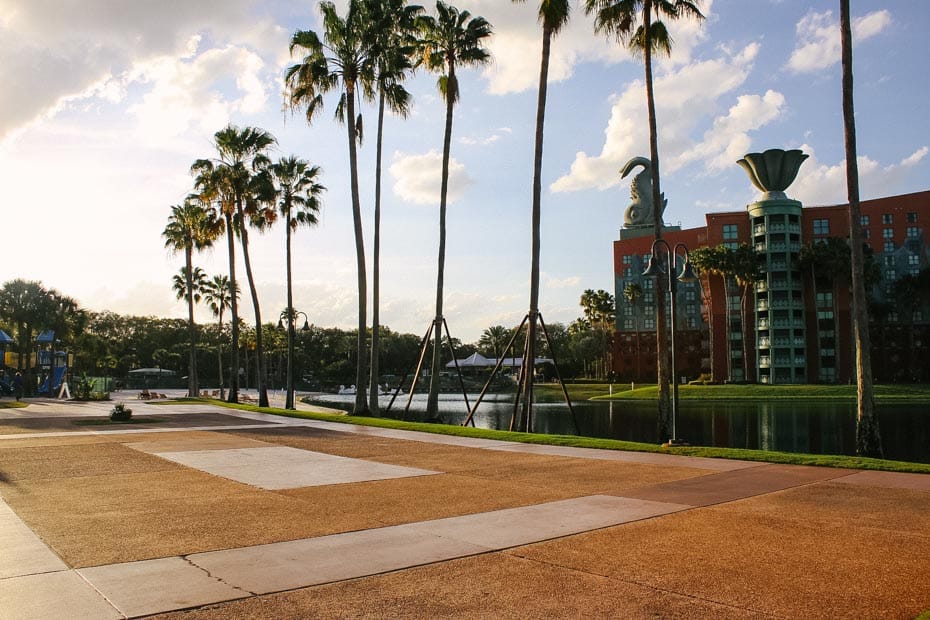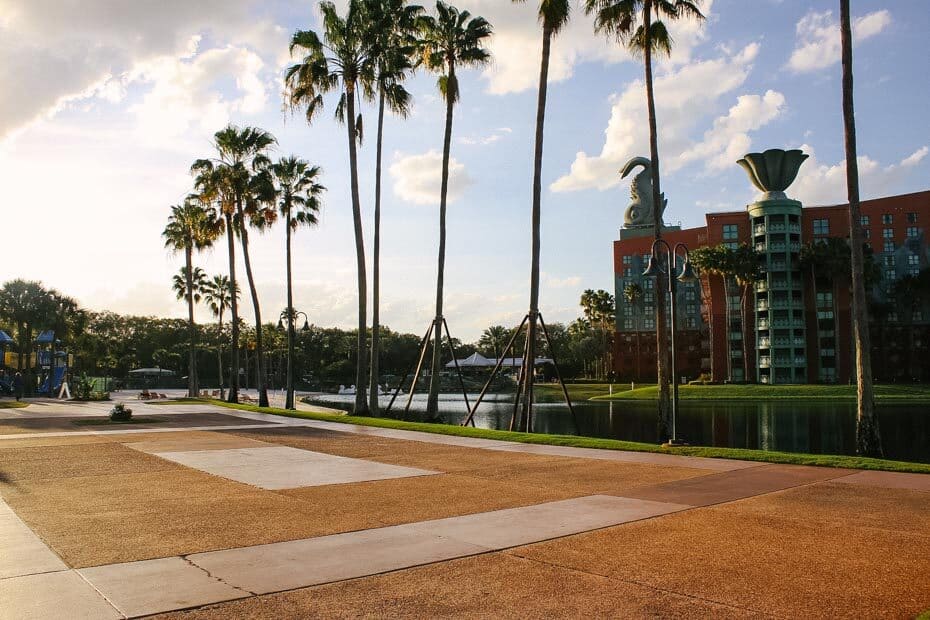 As we continue our walk along Crescent Lake, we'll head back across the bridge and over to Disney's Boardwalk Inn. Disney's Boardwalk is not only a destination but a resort.
It's broken down into two sections. First is Disney's Boardwalk Inn, and the other part is the Boardwalk Villas, which is a Disney Vacation Club Resort.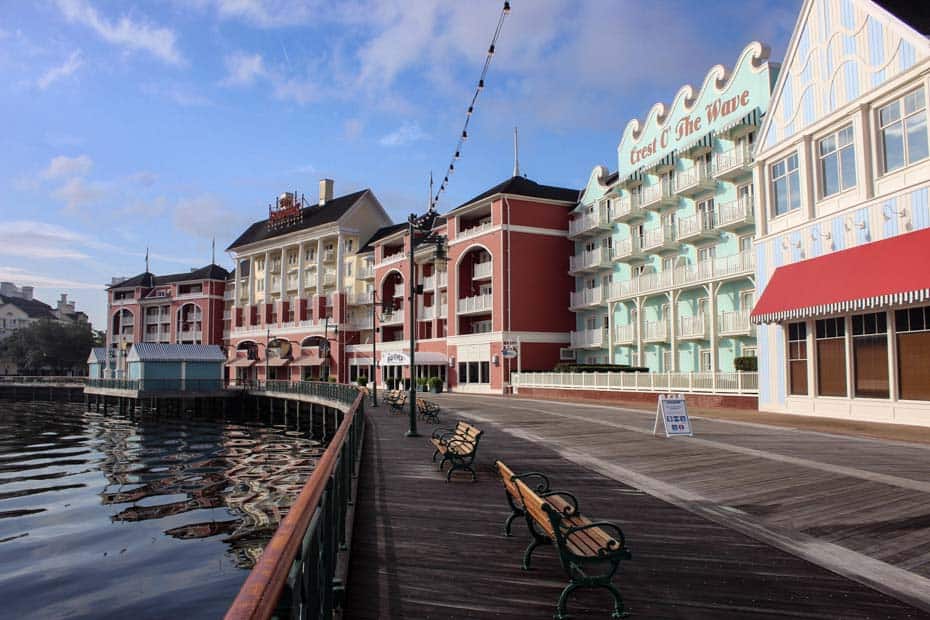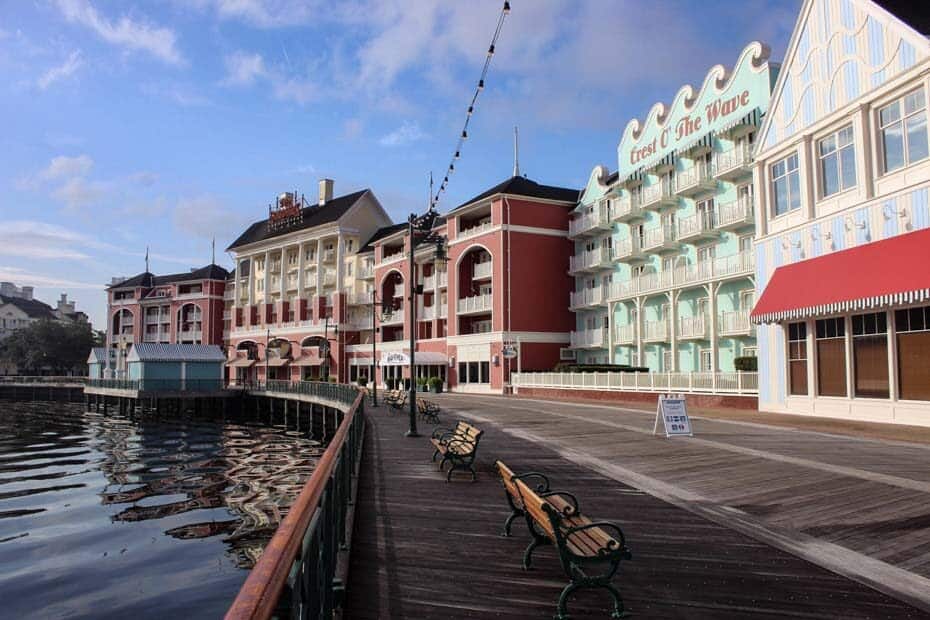 While at the Boardwalk, you might enjoy participating in a few carnival-style games. Or you could rent a Surrey bike and take it for a spin around Crescent Lake.
Make sure you get a good run-and-go before you reach the bridge that returns to the Boardwalk. It's a pretty tough hill for a bike.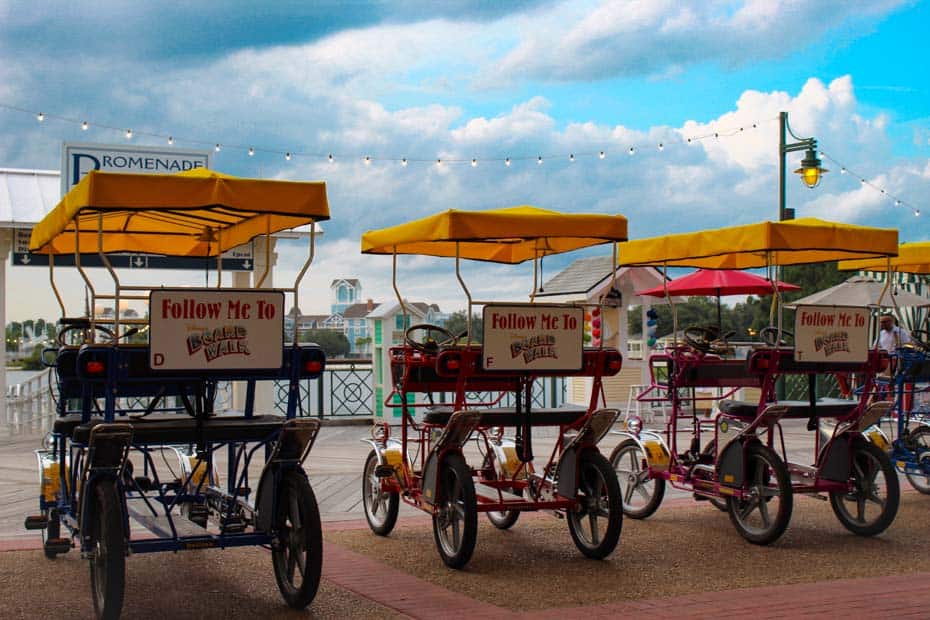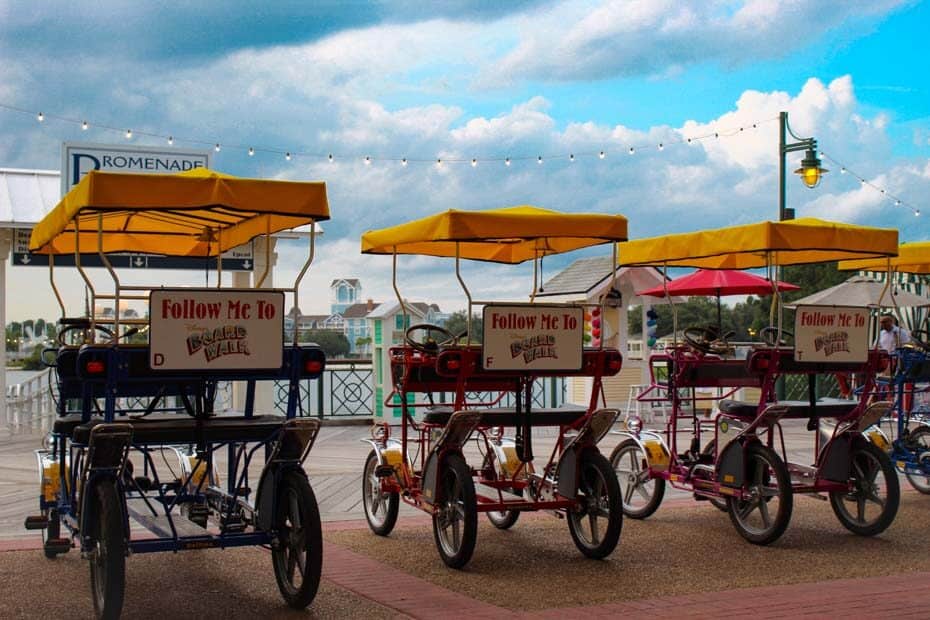 There are plenty of dining options on the Boardwalk. One of our favorites is Big River Grille. You can pick up a decent sandwich or salad here. And when the weather is nice, we enjoy eating outside.
Related: Restaurants at Disney's Boardwalk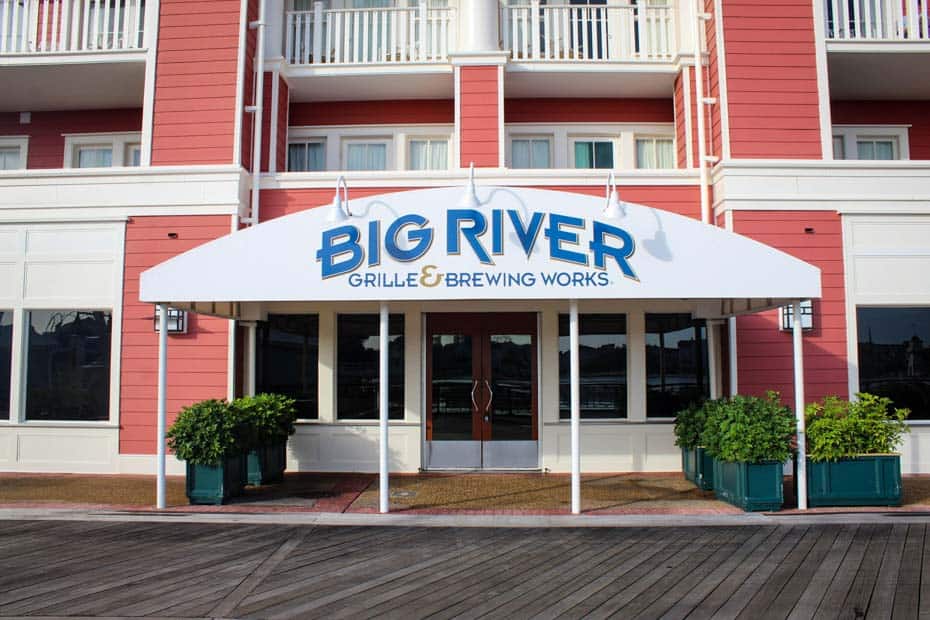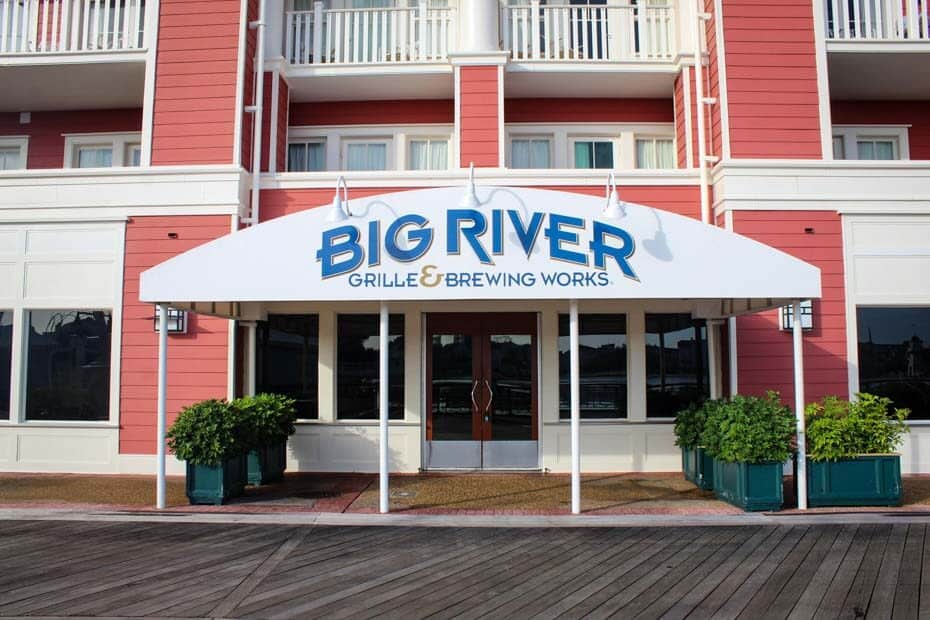 While you're in the area, you might like to browse a few shops. Anyone interested in art will love a walk through The Promenade Art Gallery. Additionally, the Screen Door store that sits on the Boardwalk is a sizable store with a variety of Disney merchandise.
Related: Boardwalk Inn's Gift Shops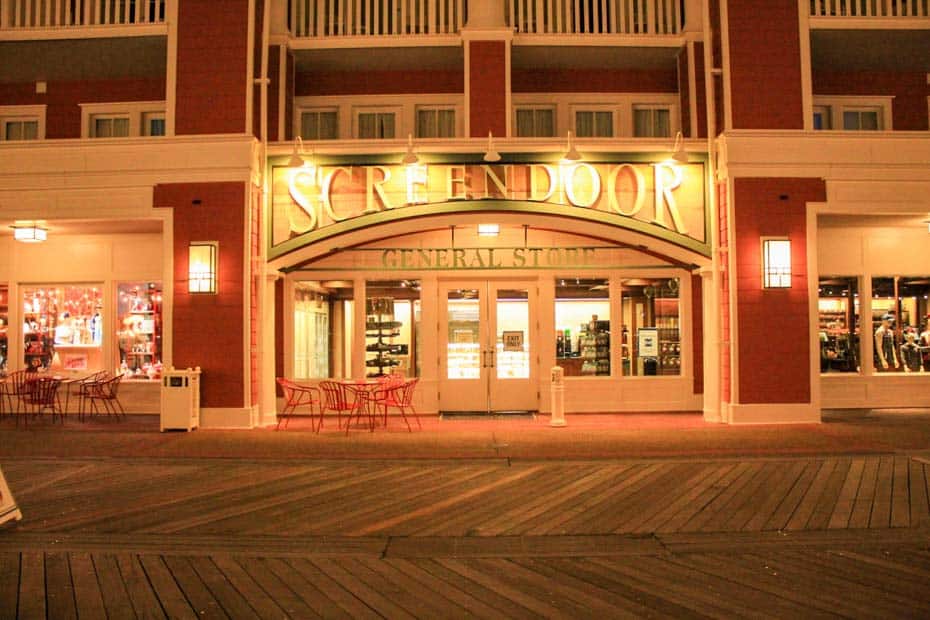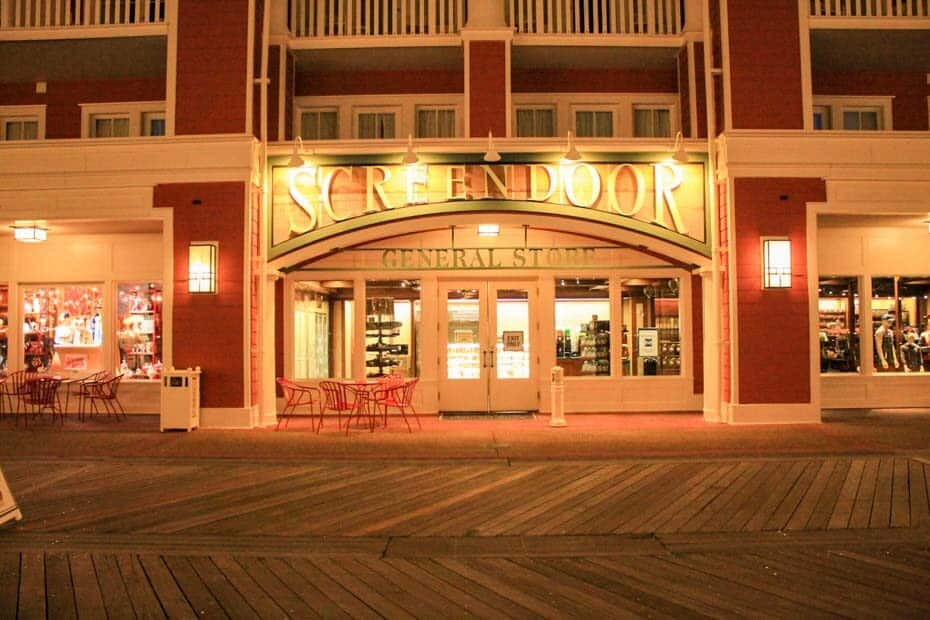 In addition, The Screen Door has a candy display filled with bakery items, or you can stop in the Boardwalk Deli for a treat.
Speaking of treats, Boardwalk Ice Cream is available. They are offering a variety of different concoctions, from cones to extreme sundaes. If you were to get a cone, make sure to gobble it up quickly before it melts!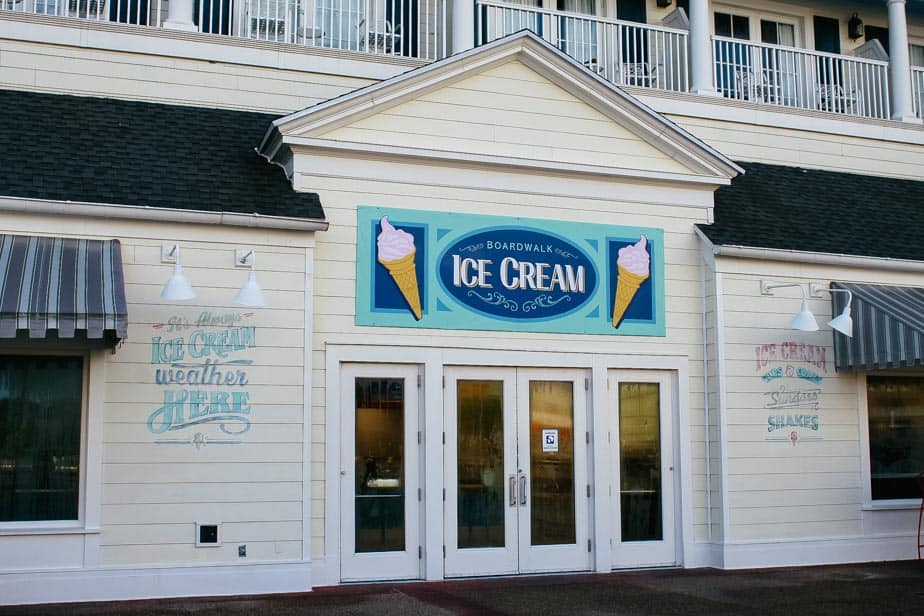 A few other options along the lines of nightlife at Disney's Boardwalk include Atlantic Dance Hall, Abracadabar, Boardwalk Joe's Marvelous Margaritas, and Jellyrolls.
For more things to do, we have a review comparing the Boardwalk vs. Disney Springs. And if you would like to know more about staying here, make sure to check out our full resort review.
Related: Disney's Boardwalk Inn Review
This wraps up our tour of the area surrounding Disney's Crescent Lake. Hopefully, this was able to give you a few ideas for planning some leisure time during your next visit.
As someone who visits Disney World often, I find that the times spent in areas like this are the ones that solidify my decision to return.
My memories of spending time at Crescent Lake are abundant, and it is a place I tend to be homesick for when I'm away. Even when I'm visiting Epcot, I'll often wander out at the International Gateway for a glimpse of this serene area.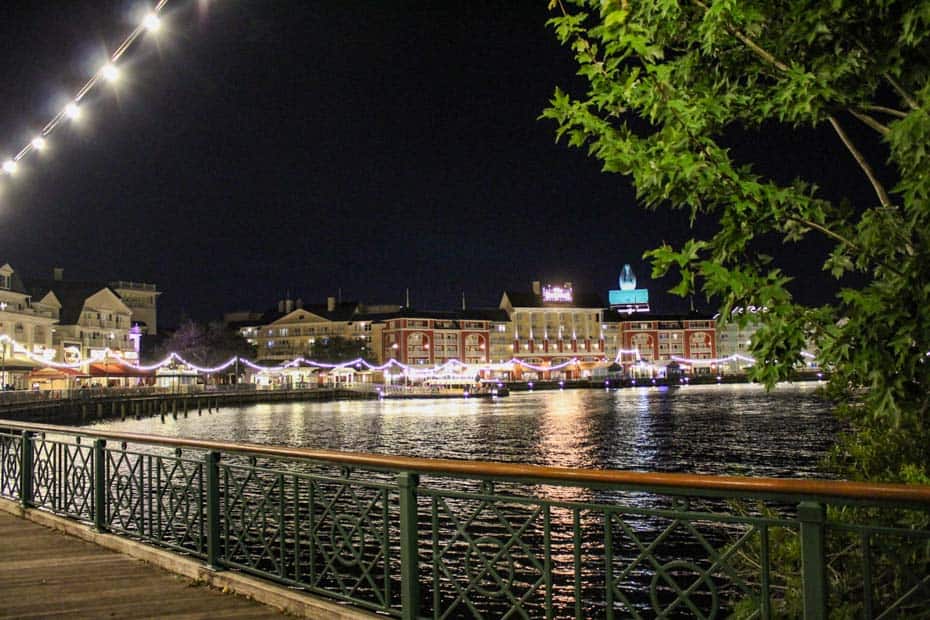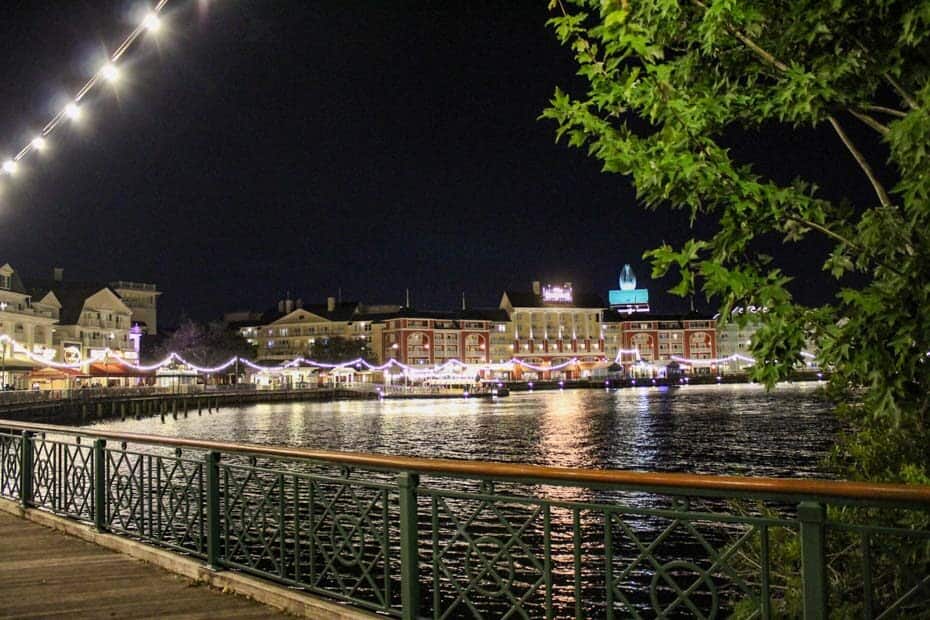 For more information, you can preview all of our Disney World Resort Reviews.
Some of our other favorite articles for the Crescent Lake area include:
In the Comments
Do you have a place at Disney that makes you feel this way? Have you ever spent any time on Crescent Lake? Please share your thoughts or experiences in the comments below.
Planning a Walt Disney World or other Disney Destination vacation?
Our friends and travel partner, Firefly Travels, excels at doing Disney differently. You can fill out a plan your trip form on their website, and someone will reach out shortly to discuss the specifics.