Orange Lake's River Island (With the Lazy River and Cabanas)
Orange Lake Resort's River Island is the perfect place to cool off and have leisurely fun on vacation. With a lazy river, cabanas, and plenty of other activities, you'll never run out of things to do.
This article will look at River Island at Orange Lake Resort in detail. We stayed at Orange Lake this past year and spent a good deal of time touring the resort.
Unfortunately, I never got around to providing an in-depth look at River Island, which is the big draw for the resort. So with those thoughts in mind, we return to Orange Lake for a refresher.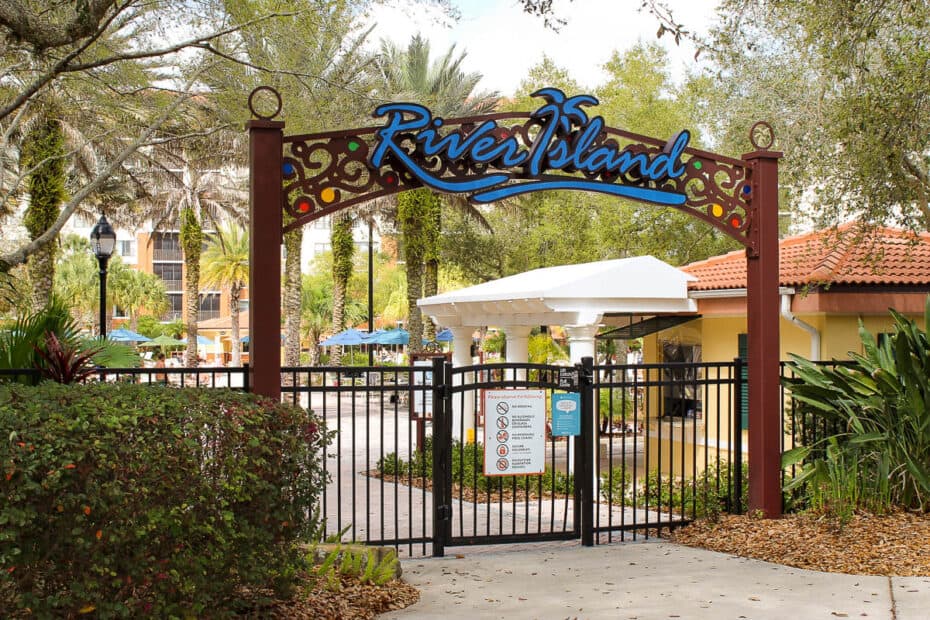 River Island at Orange Lake Resort
Orange Lake Resort is located off Highway 192 in Kissimmee, Florida. The resort is enormous, spanning over 1450 acres.
Since the resort is so vast, it's broken down into multiple villages. We discussed each village in our full resort review.
Related: Orange Lake Resort Review
For this article, we'll specifically look at the River Island complex. River Island is considered a village and a water park of sorts.
Each village at Orange Lake offers feature pool areas. However, River Island has a 1,200 foot long lazy river with a pool at each end.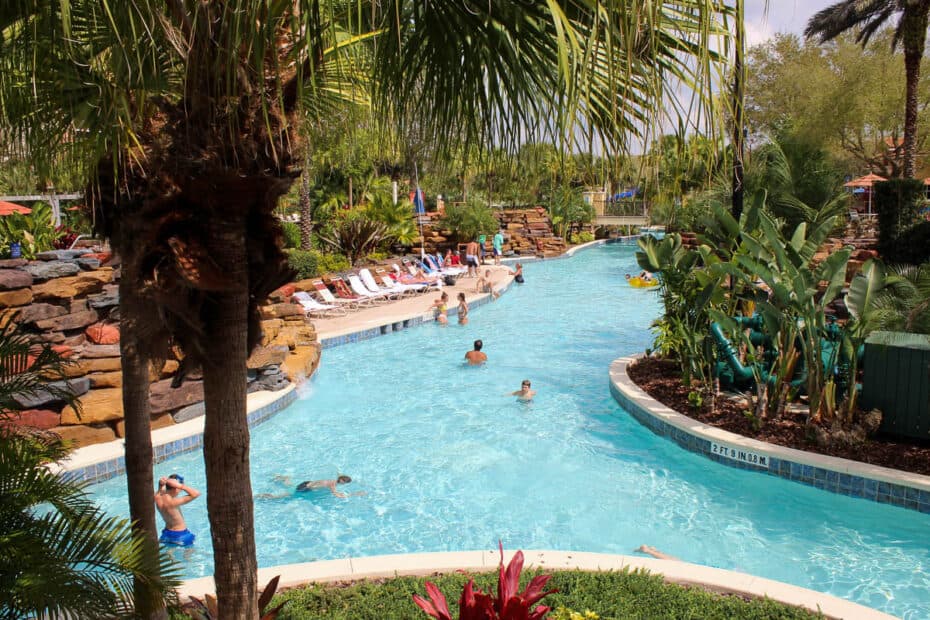 The River Island pool complex is open daily from 7:00 a.m. until 10:00 p.m.
In addition to the lazy river, the area offers two hot tubs, a zero-depth entry pool, and multiple waterslides.
Here is a look at the River Island map.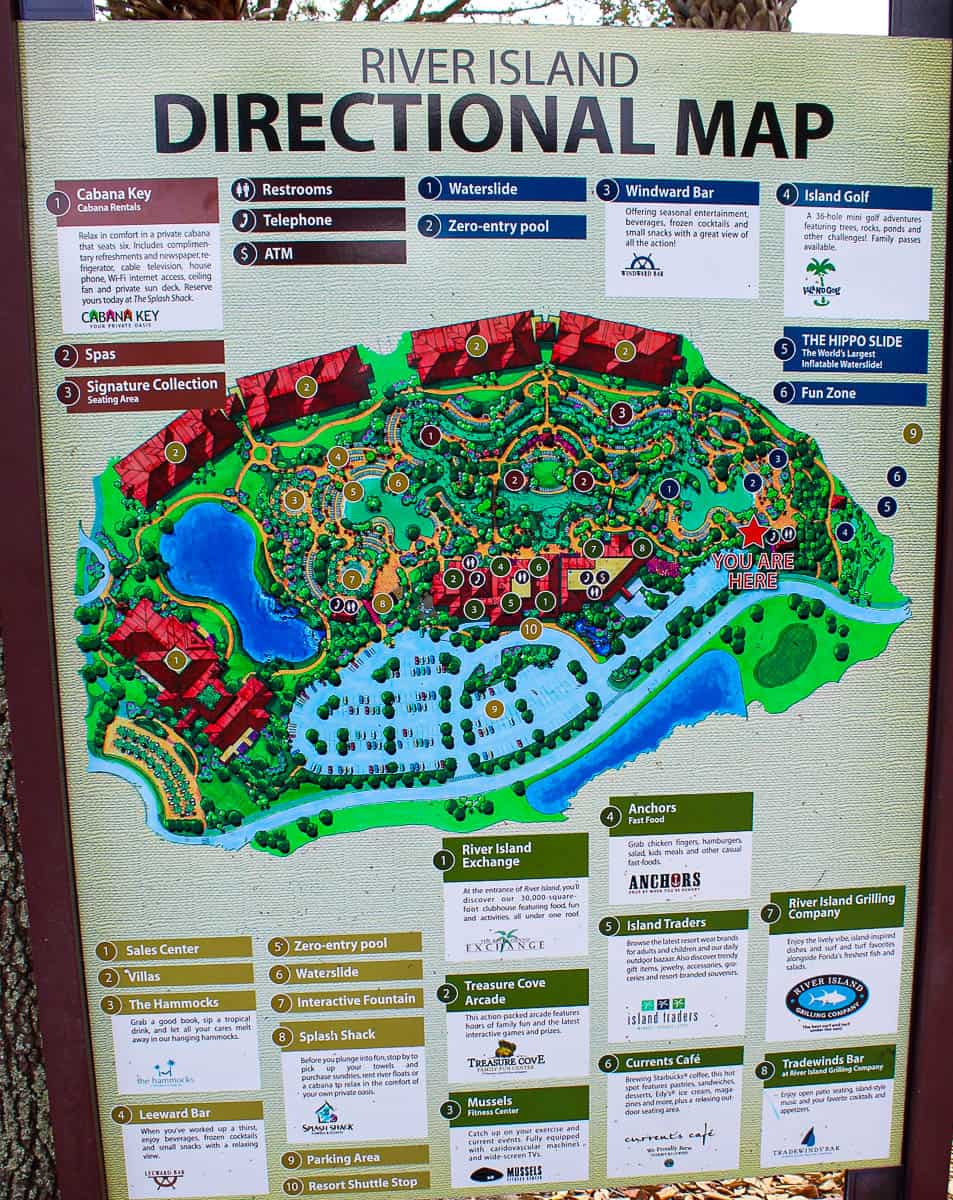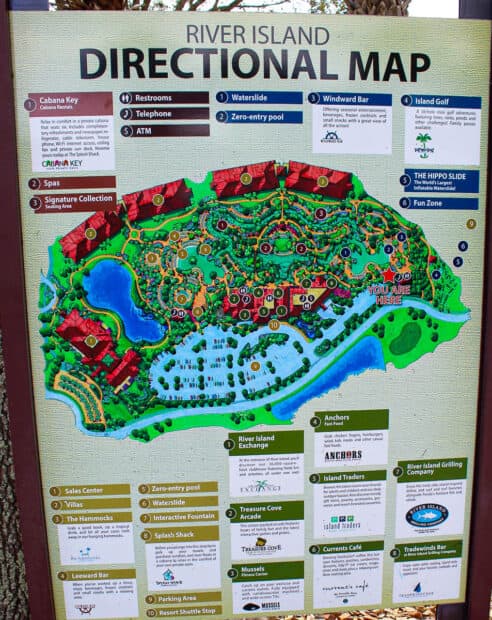 Several large towers sit directly behind River Island. Those planning to spend a significant amount of time at River Island will want to consider booking a stay in this village. This area of the resort offers the following villas:
One-Bedroom Villa
Two-Bedroom Villa
Three-Bedroom Villa
Four-Bedroom Villa
Some of these units fall under the Signature Collection category, and a few are lock-offs. Lock-offs are where two units are combined to make one larger unit. This is the same system Disney uses in their villa resorts.
Related: Disney World Villa Resorts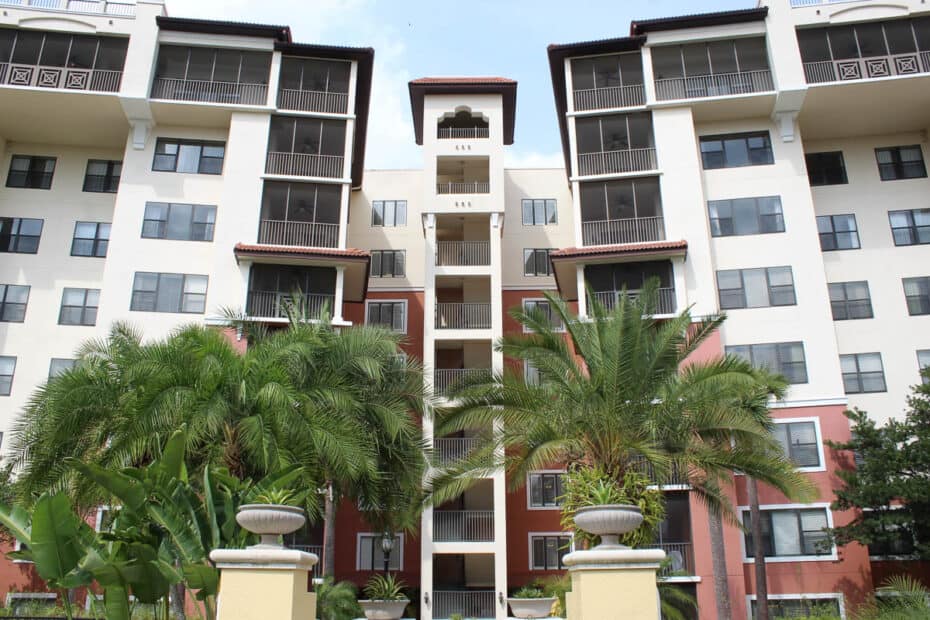 You'll have to travel back and forth from your village if you're not staying at River Island. Unfortunately, the distance between each village is pretty far from everything else.
Therefore, you'll want to drive your car or take the shuttle between each village. You may remember in our initial review, I discussed how the main drawback of the resort is the size and that it's not walkable.
There's a large parking lot for River Island. You'll see the Splash Shack on your immediate right when you enter through the gate.
This sundries shop offers sunscreen, goggles, and pool toys, among other things. Additionally, you can rent towels, inner tubes, and cabanas from this location.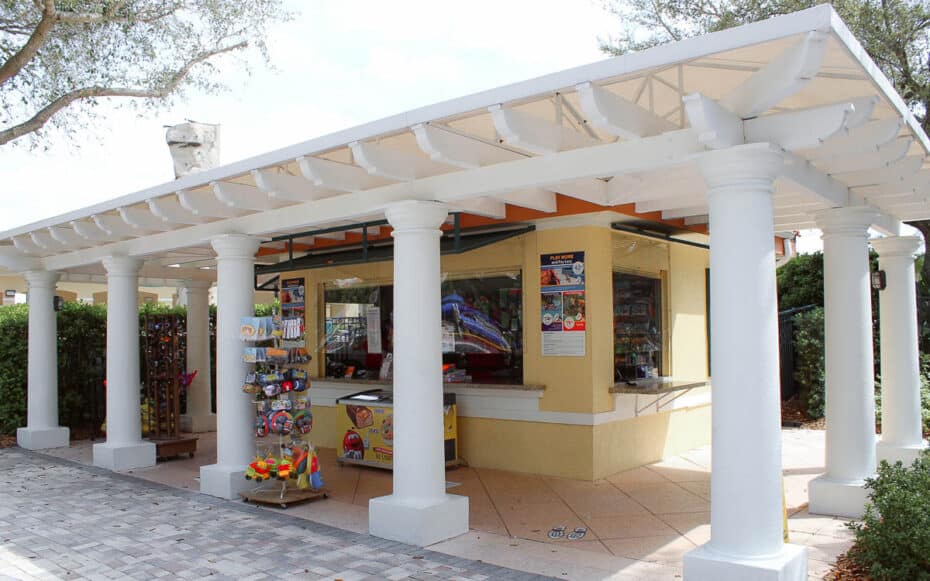 Unfortunately, if you want an inner tube for the lazy river, you will have to rent one. At the time of this visit, an inner tube cost $9.00 per day.
Additionally, several packages were available where you could purchase access to tube rentals, putt-putt golf, rock climbing, and the water slide for $42.95.
Cabana rentals at Orange Lake run up to $249.00 and include a mini-fridge, television, seating for six guests, six mini-golf tickets, snacks, and six bottles of water.
In addition, the cabanas at River Island come with six wristbands for tube rentals.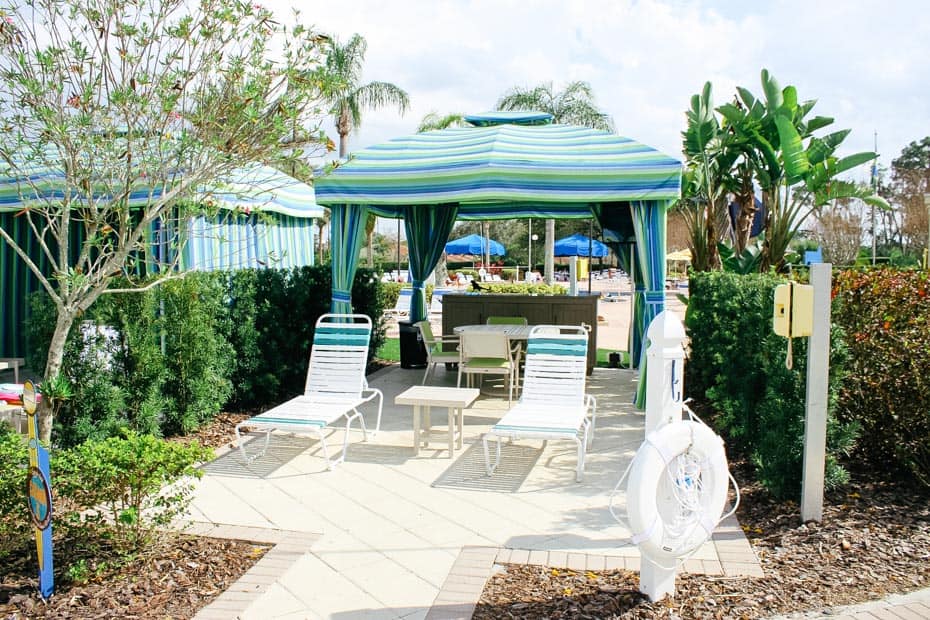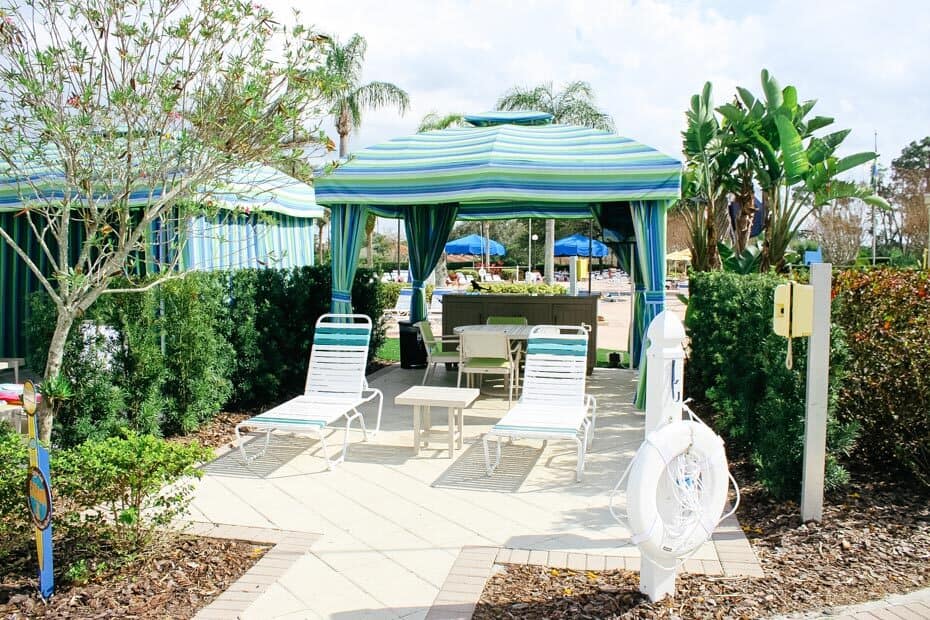 In comparison, we rented a cabana at Disney's Beach Club this last year. While it cost more, we received a platter of fruit, a tray of desserts, unlimited soda, bottled water, and a private server.
That experience had a rocky start, but overall we enjoyed our time. And I'm entirely sold on cabana rentals now.
Related: Cabana Rentals at Disney World
So this might be something worth considering if you plan to spend an entire day at River Island. However, there are plenty of regular seats around the pool.
You can check availability for cabanas here on Orange Lake's site.
Those staying at River Island benefit from a private seating area for guests of the towers. Below you can see some of the dedicated areas.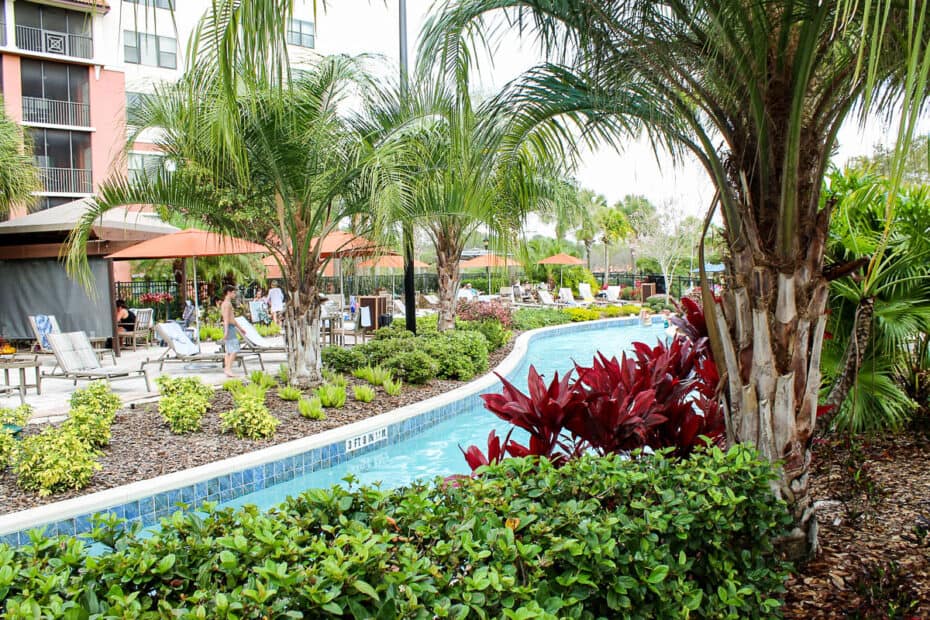 As a guest of the West Village at Orange Lake, I was unable to access the seating area on the tower side.
Related: Studio Rooms at West Village
Before we wrap things up, we'll take a photo walk from one end of the lazy river to the other. Then we'll return on the opposite side.
Below, you see the pool area at the main entrance to River Island. I recommend exploring the area before deciding where to find a seat.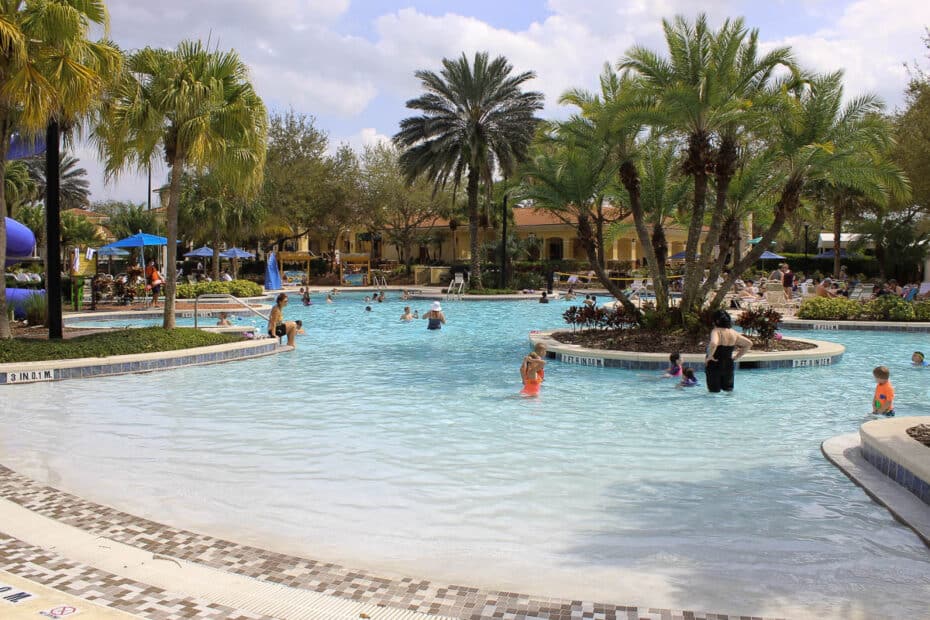 There are several slides available throughout the different areas of the pool.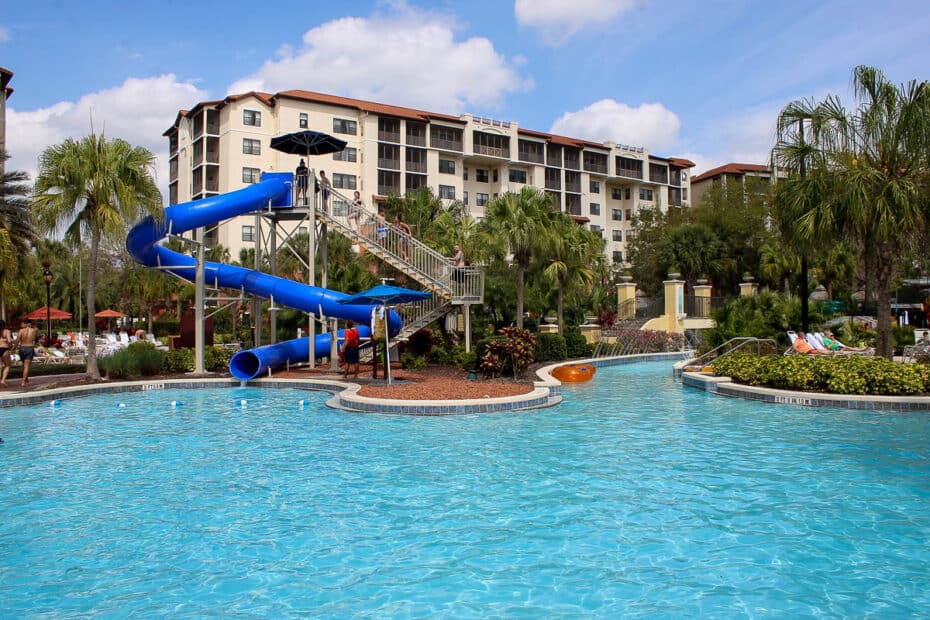 As we start our journey, I wanted to point out that there are sidewalks along the entirety of the river. Here and there, you'll find steps to enter or exit the lazy river.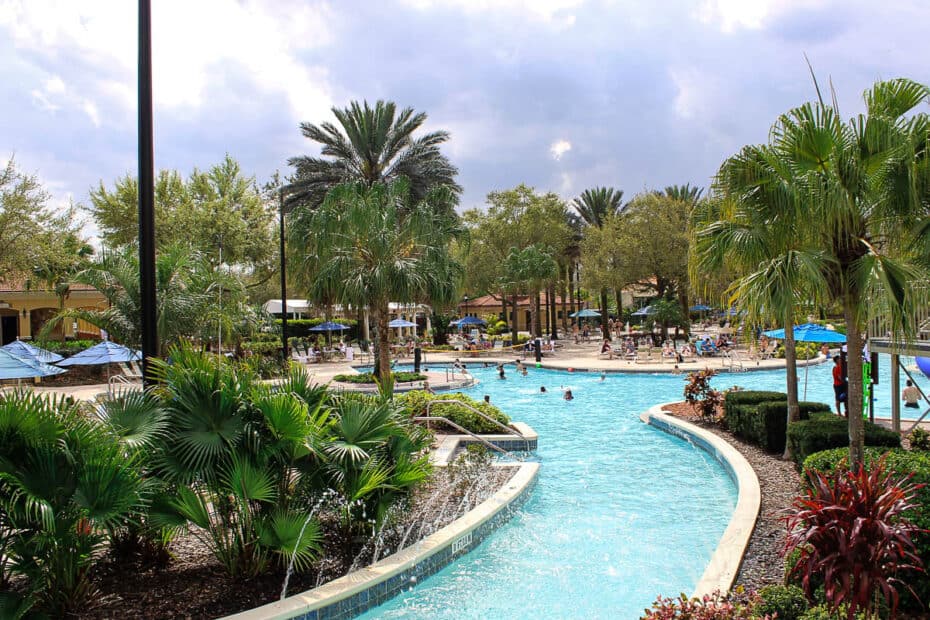 Water spray elements will help cool you off as you float through.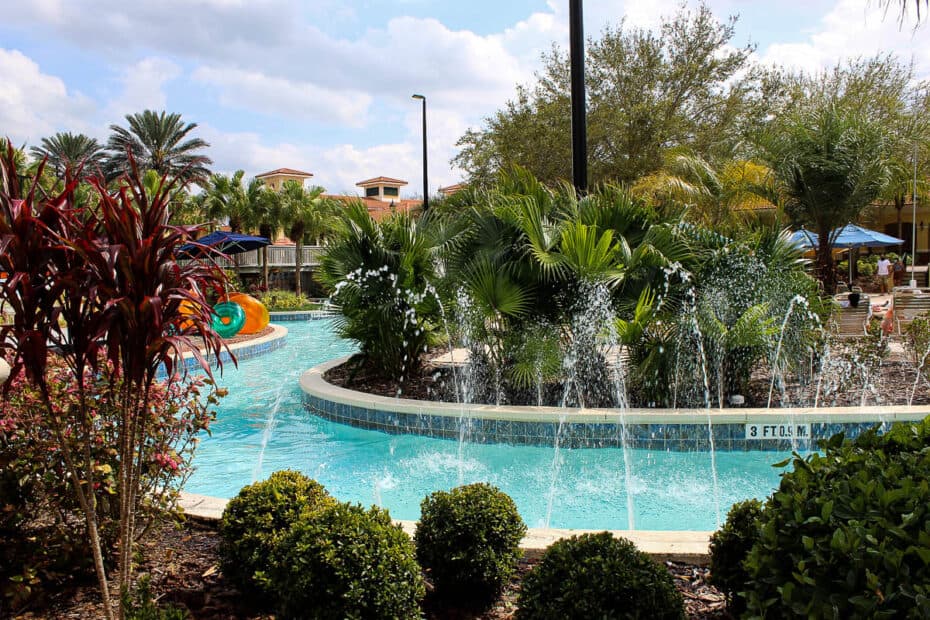 Around the initial bend, you'll run into the inner tube section. Those who rent an innertube will receive a special wristband that shows they are entitled to one.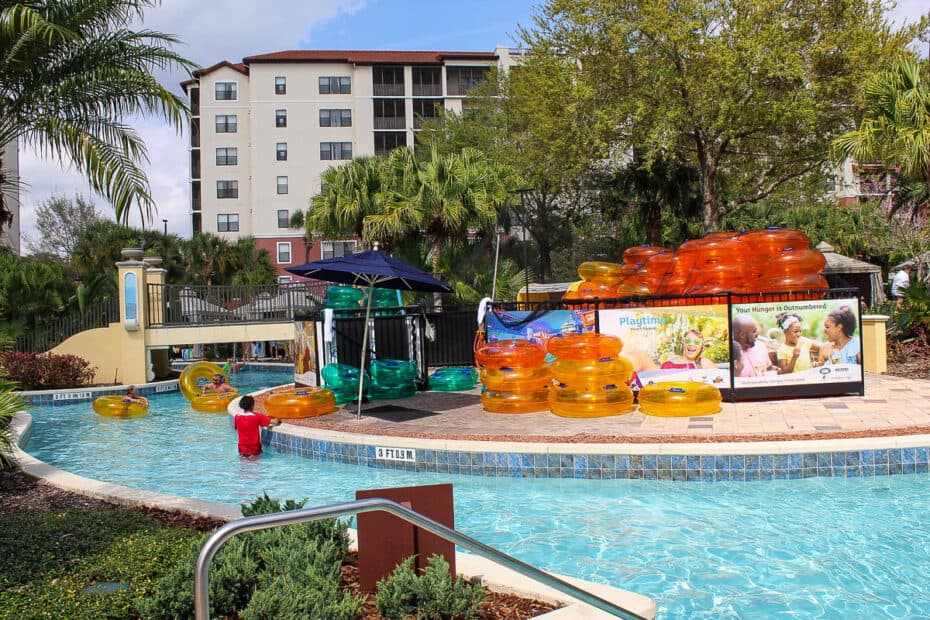 There's a dedicated area to enter the lazy river here.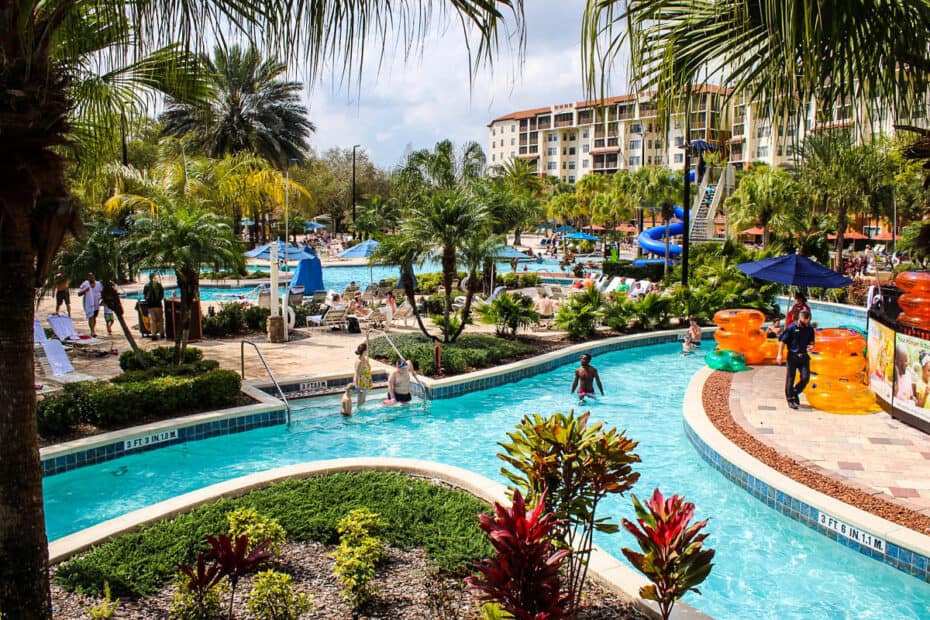 If you walk the length of the lazy river, you'll have to cross a few bridges.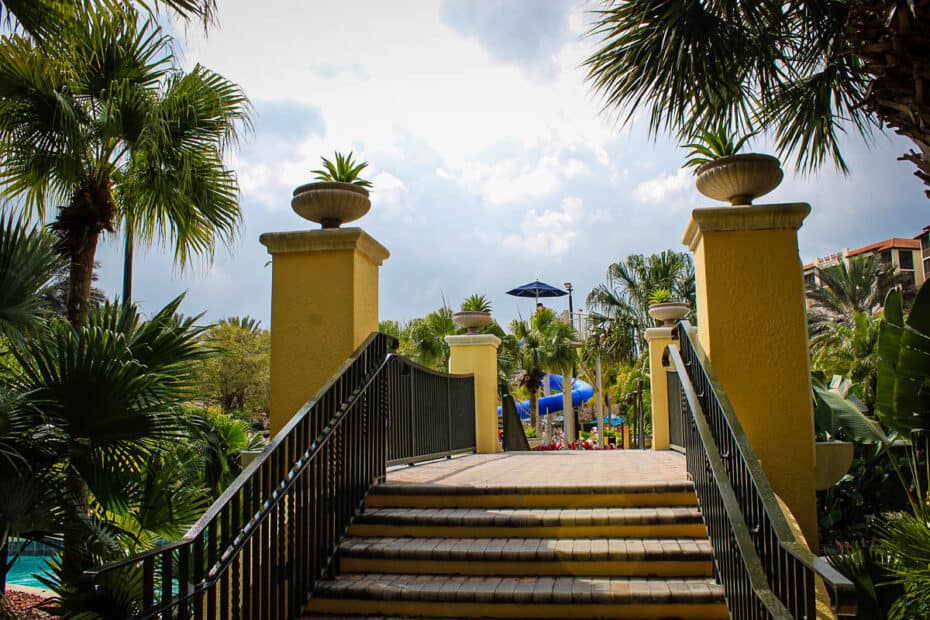 The bridge in the photo below has a waterfall running underneath each side.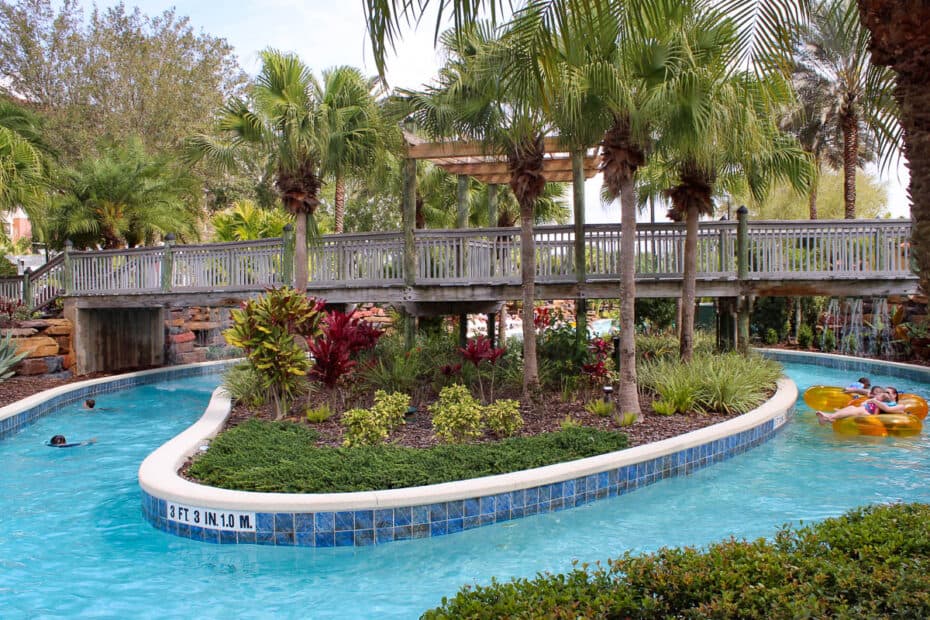 I was impressed with how far the river continued. All of the landscaping and tropical vegetation added to the experience.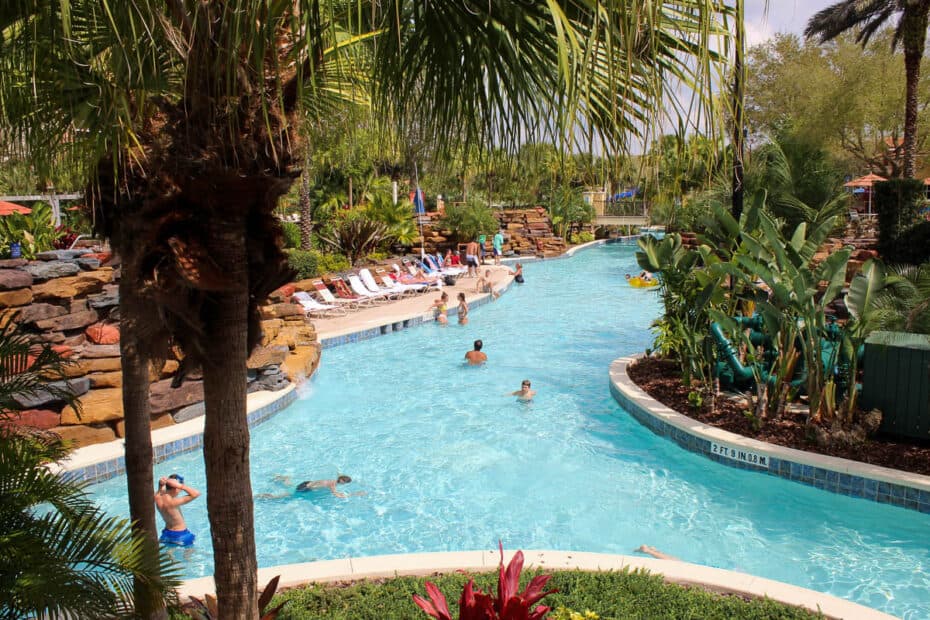 It's a beautiful place.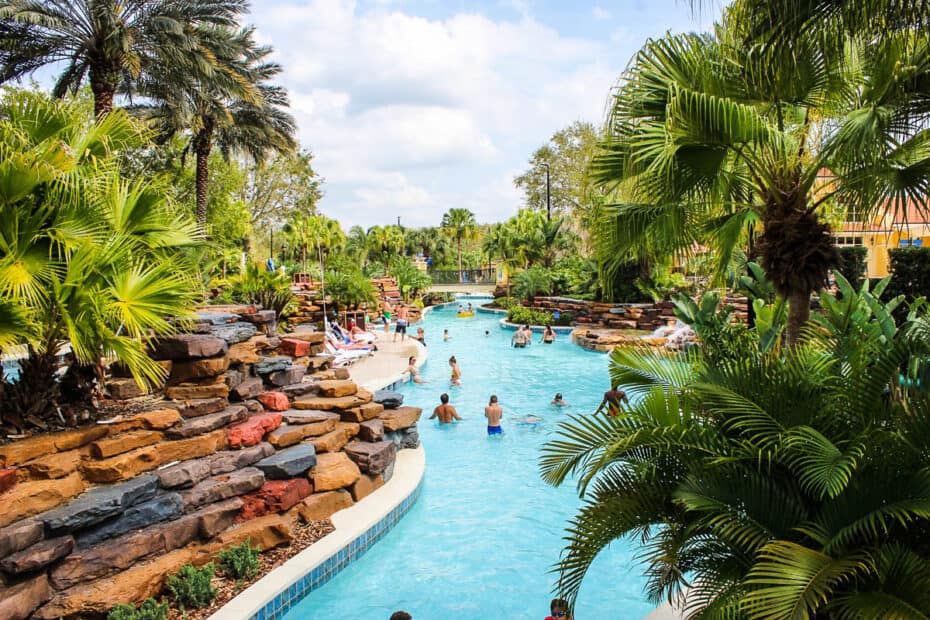 As I continued my walk, I came across this raised area with luscious green grass and several seating areas. Unfortunately, I didn't get a great photo because there were several guests taking advantage of the space. But I felt like this was a place I might have enjoyed.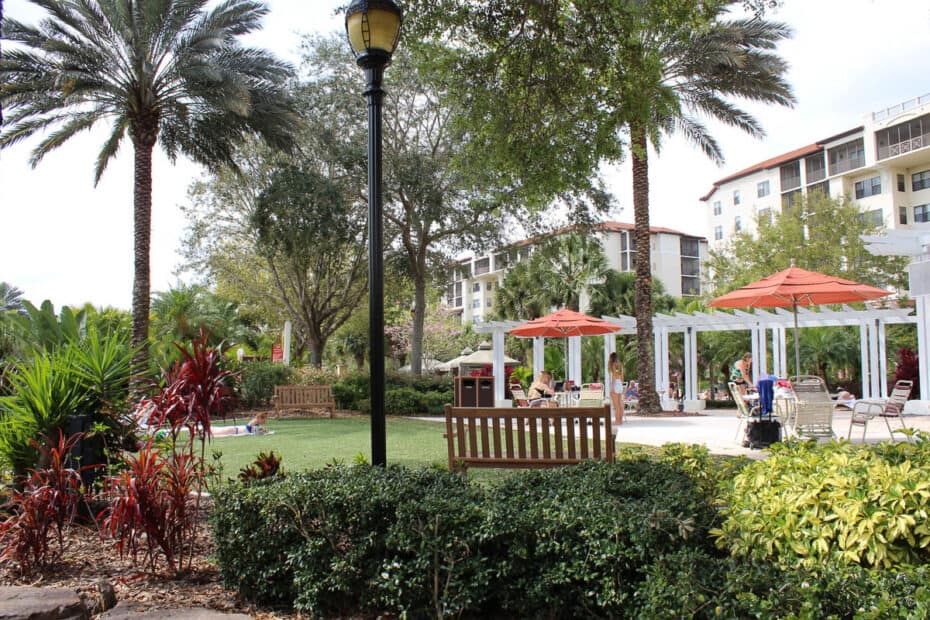 Toward the center of the lazy river, there's a scenic waterfall area. The large building behind this area has a restaurant, golf shop, a gym, an arcade, and several other recreational activities.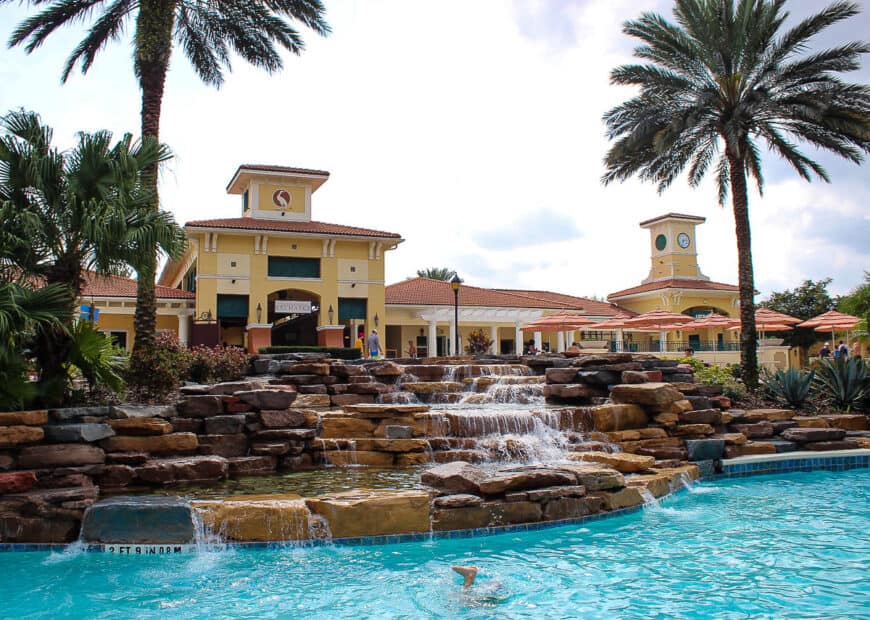 Two hot tubs are almost hidden along the outer banks of the lazy river.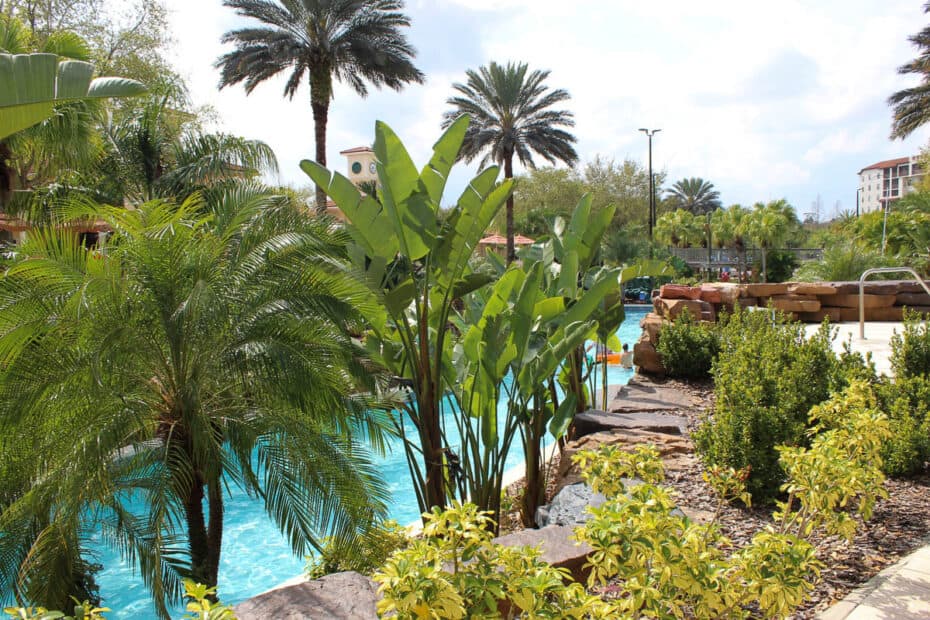 You have to look for them. However, the hot tubs were in use every time I tried to get a decent photo.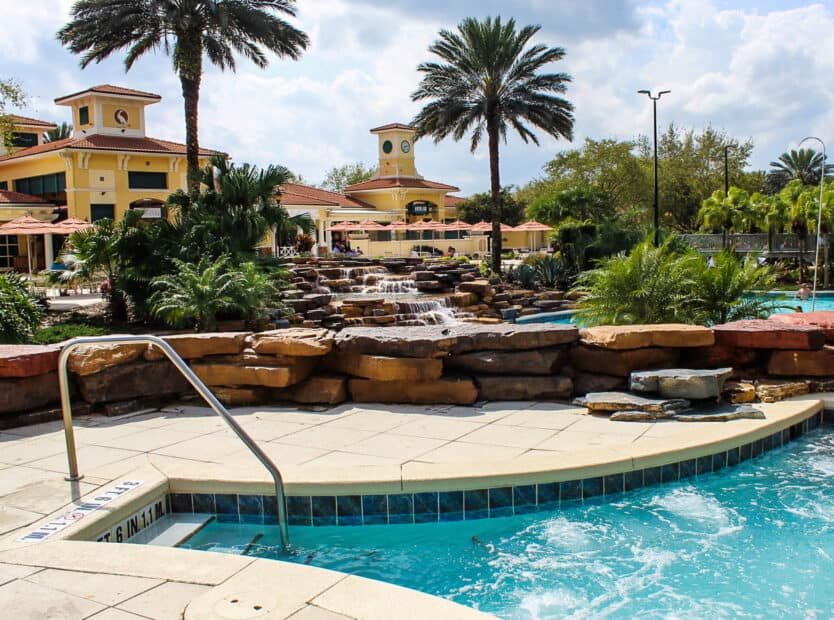 Another positive aspect was the amount of shade available at River Island.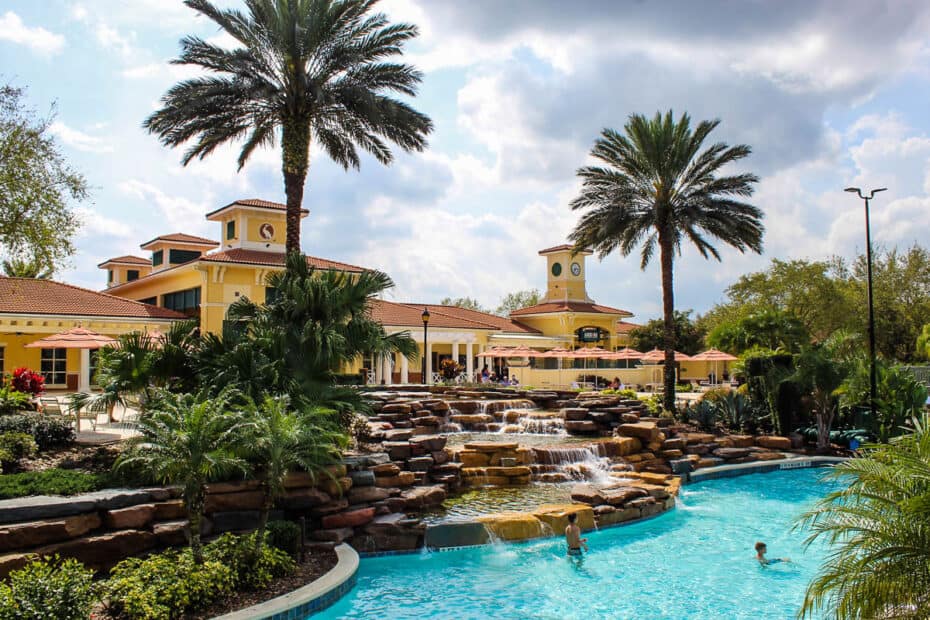 Eventually, the lazy river ends in a pool on the opposite side of the complex.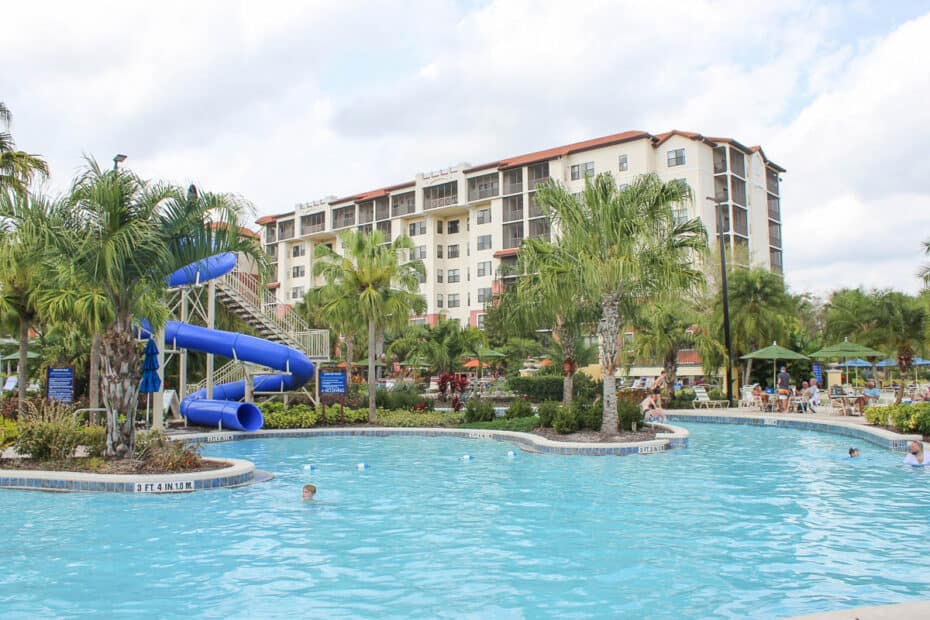 On this end, there are a few other recreational activities available.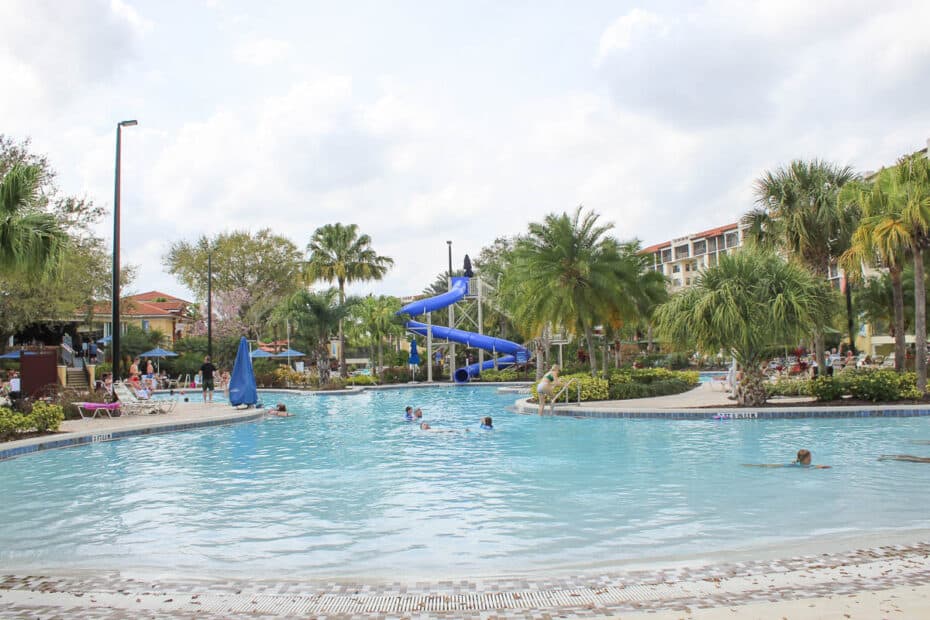 There's a giant sandpit with a playground.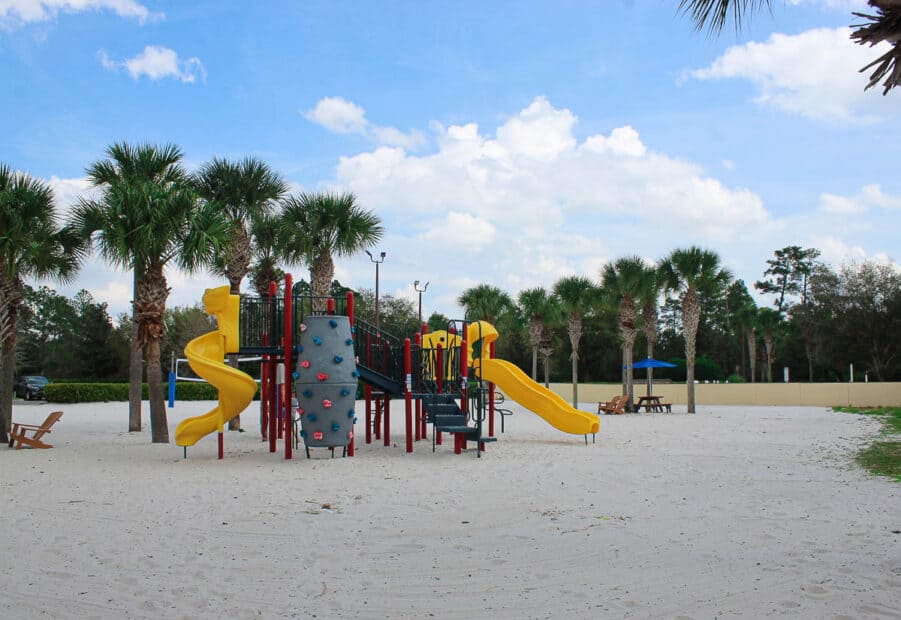 And this is where you'll find one of the resort's mini-golf courses. Extra fees apply for mini-golf.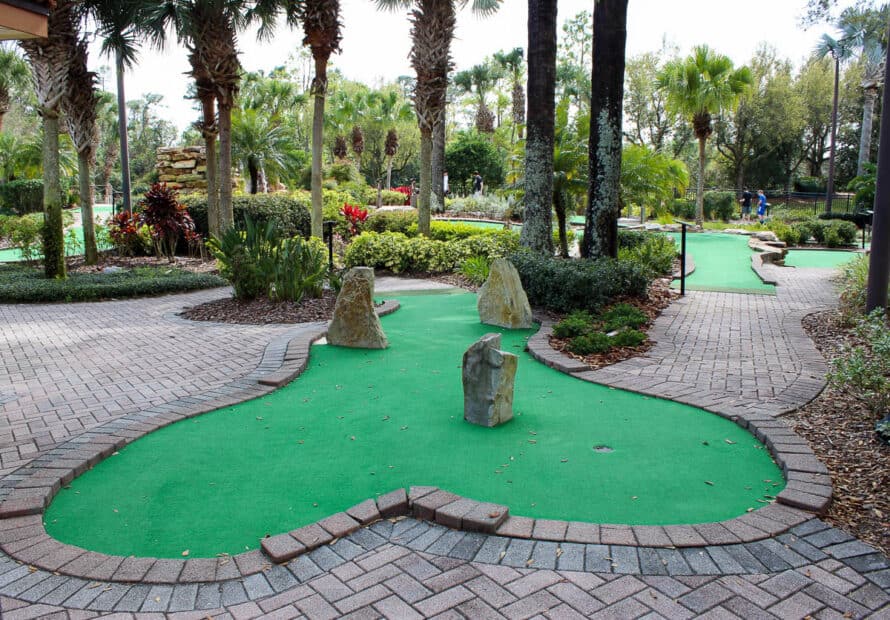 Unfortunately, there are several extra fees at Orange Lake.
For comparison, when I stayed at Hyatt Regency Grand Cypress, I noticed that the resort included many similar activities in their daily resort fee.
Related: Hyatt Regency Grand Cypress Review
Don't get me wrong. Orange Lake is a beautiful resort with wonderful amenities.
And I don't know of any other resort that offers such an extensive lazy river. But those extra costs can add up quickly.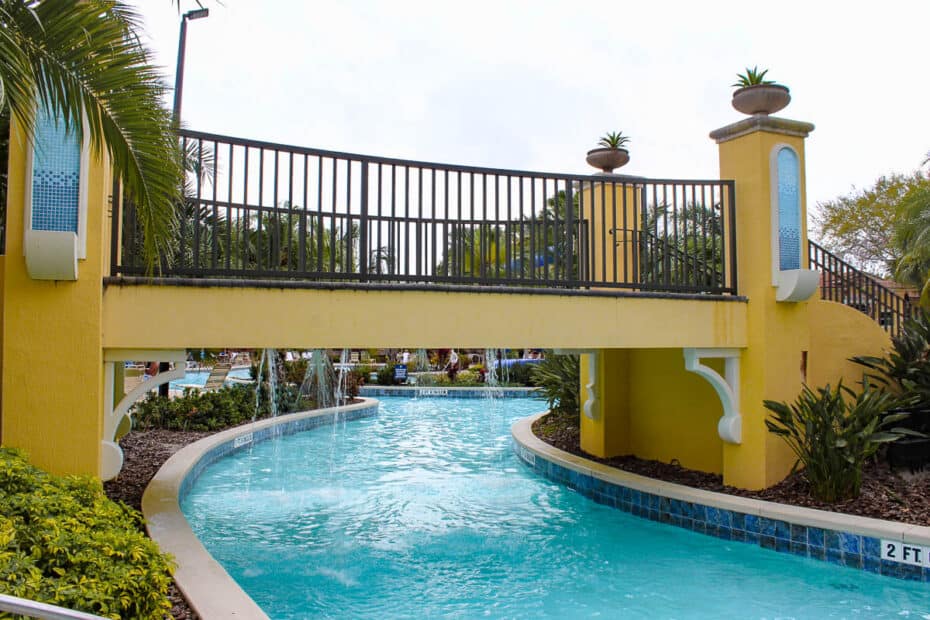 You'll likely want to set expectations with your children on whether or not you will do any extras. Most guests visiting Orange Lake are there primarily to visit Disney World.
A trip to Disney World is expensive in itself. Your budget might not allow for any more add-ons. So I try to mention these things in advance so you'll have an idea of what to expect.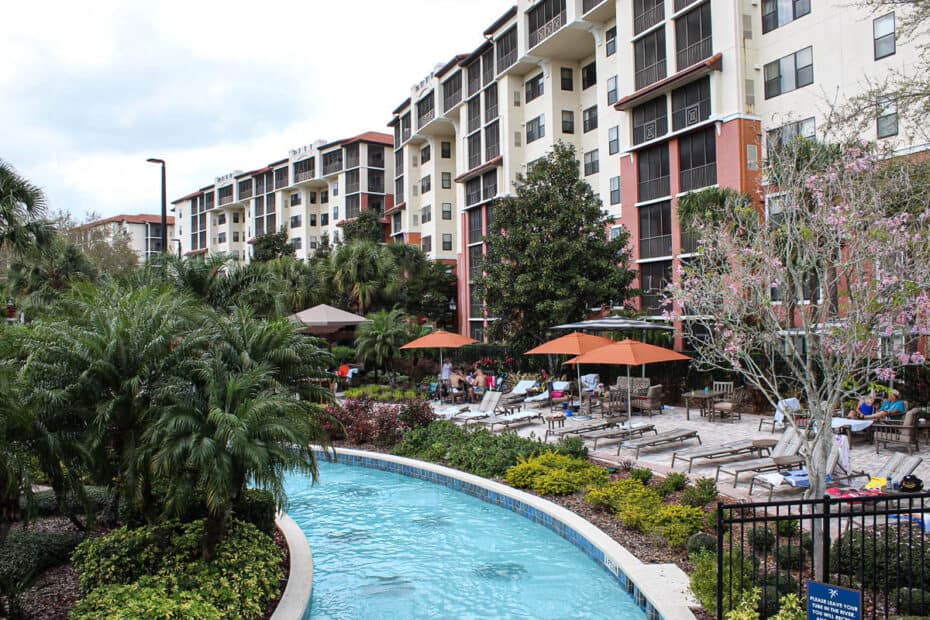 We'll head back toward the start. The backside of the lazy river is peaceful.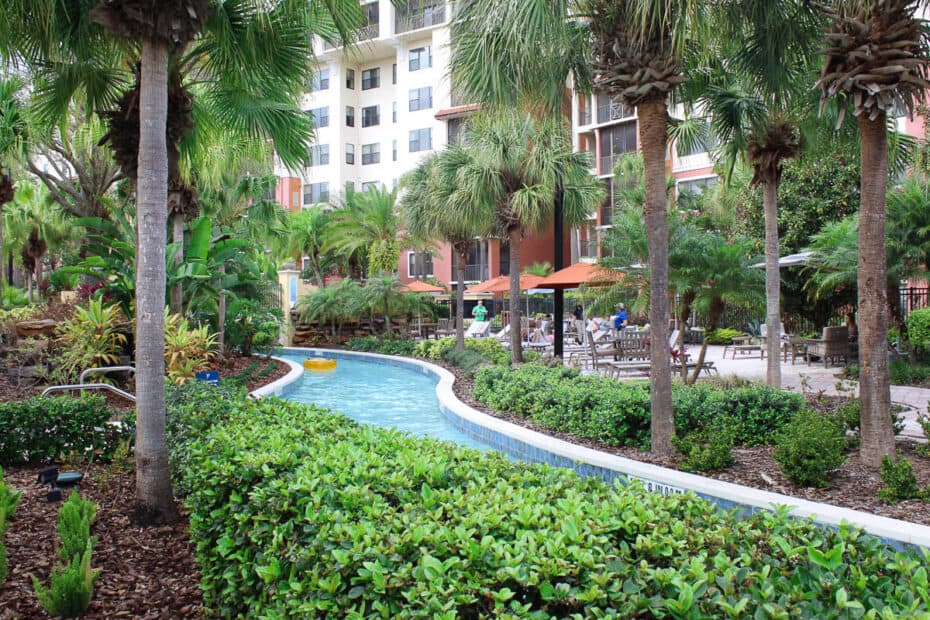 I never took the complete ride around, but I would imagine it would take close to 20 minutes to float the entire length. It took me longer than that to walk it. However, I was stopping for photos every few feet.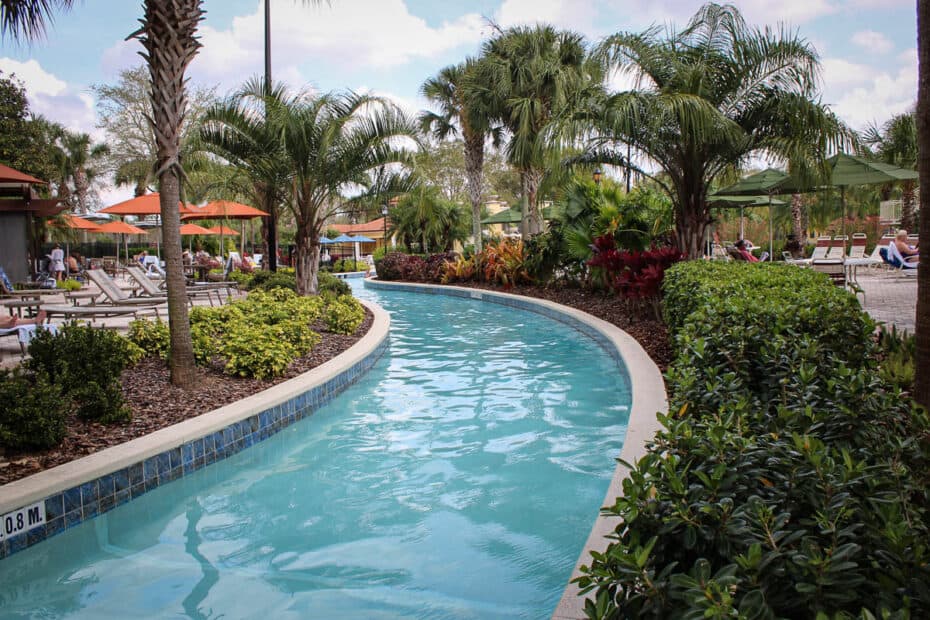 When it comes to River Island, the area is a tremendous asset. You could easily visit the resort for a week and spend most of your time here.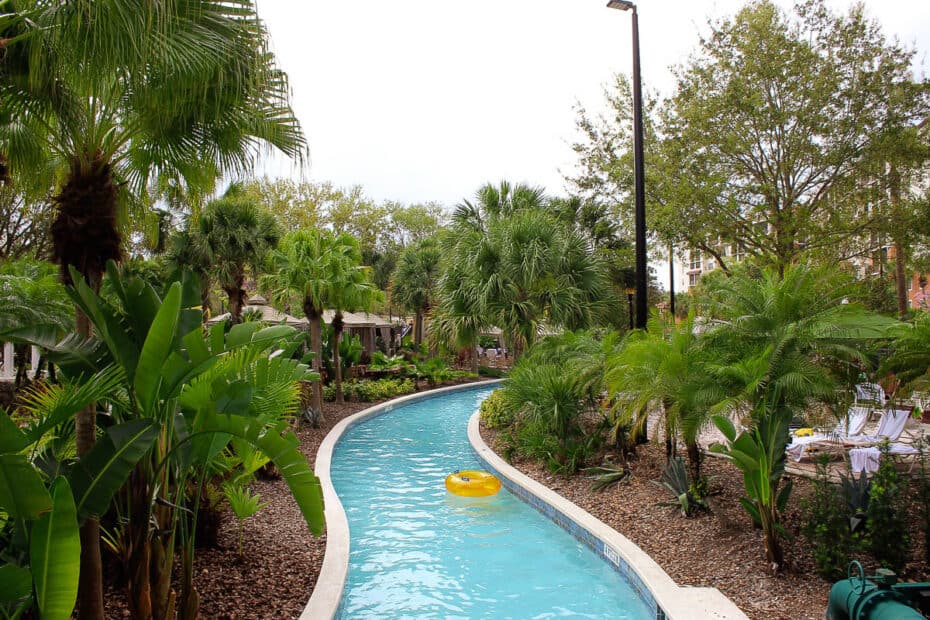 For more resort information, try our guide to the best off-property resorts near Disney World.
Or you might enjoy these individual reviews:
Browse our entire list of Disney World Resort Reviews.
Hopefully, this article was able to provide you with an idea of what to expect out of River Island at Orange Lake. The complex is so large, I felt it warranted a separate article.
In the comments: Have you visited River Island before? Are you considering planning a stay at Orange Lake? What are your thoughts?