Magic Kingdom Character Cavalcades: Times & Routes
Magic Kingdom's character cavalcades are an excellent way for guests to see some of their favorite characters without a lot of fuss. And thankfully, Disney has announced that cavalcades are here to stay!
Cavalcades take place daily between Frontierland and Main Street U.S.A. at specific times. These special pop-up parades feature multiple characters riding through the park on unique floats. It's an experience unlike any other!
In this review, I'll cover everything you need to know to see these cavalcades on your next visit to Magic Kingdom Park. We'll discuss timing, schedule, and what characters you can expect to see throughout the day.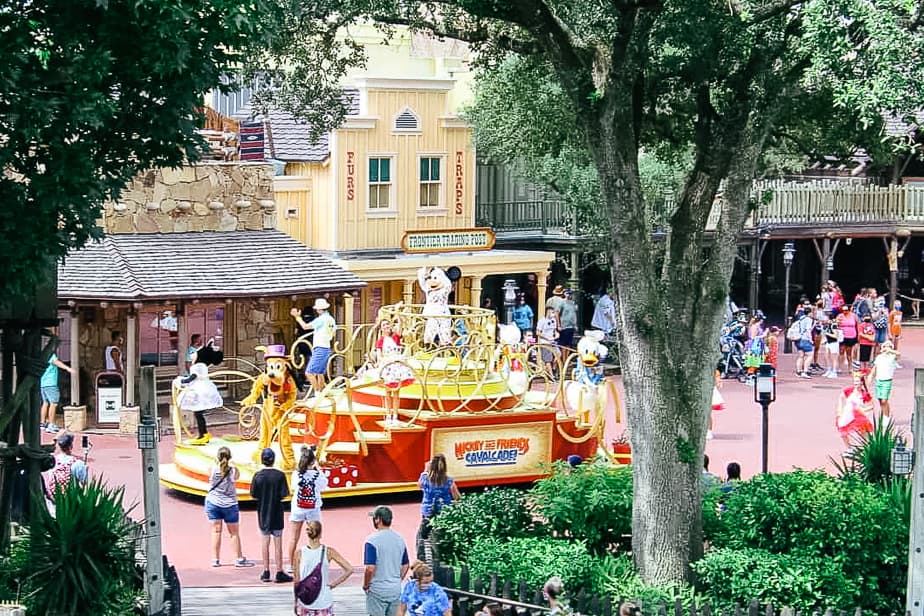 This article was updated on February 12, 2022.
Character Cavalcades at Magic Kingdom
Here are the different Character Cavalcades at Magic Kingdom that you might see during the day.
A Royal Princess Processional
Mickey's Celebration Cavalcade (New for the 50th Anniversary)
Disney Friends Cavalcade (Formerly Fantasyland Friends)
Magic Kingdom Cavalcade
Tinker Bell and the Lost Treasure
Disney Adventure Friends Cavalcade (New in 2022!)
At the time of this update, Fantasyland Friends and A Goofy Cavalcade is not listed on the schedule.
Character Cavalcades Times
Thankfully, Disney has now added the exact timing for these cavalcades to the My Disney Experience App. Since the times are listed, it's easier to see each one during your visit.
For example, on a Sunday, here is the following schedule for Mickey's Celebration Cavalcade:
10:55 a.m.
12:10 p.m.
2:20 p.m
3:50 p.m
5:15 p.m.
And on this same day, A Royal Princess Processional is scheduled for these times:
Tinker Bell & the Lost Treasure has this schedule:
11:05 a.m
1:35 p.m.
2:45 p.m.
4:00 p.m.
And the Disney Friends Cavalcade will come through at:
11:25 a.m.
1:55 p.m.
3:05 p.m.
4:20 p.m.
*On this particular day, there are no showtimes for the cavalcade referred to as the Magic Kingdom Cavalcade.
If you were hoping to see all of these during your day, I would probably plan to spend an hour or so on Main Street U.S.A. between 2:45 p.m. and 4:00 p.m.
For example, on this day, you could grab a snack and find a spot to watch each one come through in the following order:
Tinker Bell at 2:45 p.m.
Disney Friends at 3:05 p.m.
A Royal Princess Processional at 3:15 p.m.
Mickey's Celebration at 3:50 p.m.
Now, this is only an example. You will have to pull these up on the My Disney Experience App on the day of your visit to get the exact cavalcades and times for the day.
As far as finding the listed times for each cavalcade in the My Disney Experience app, follow these instructions.
Open the app and select the location button at the bottom of the screen. (It's the second one from the left.)
At the top where it says Wait Times, select Entertainment in the drop-down menu.
On the top left-hand side select Filters and choose Magic Kingdom Park.
On the top right-hand side, select show list.
A list will display all of the entertainment offerings for that day. Each offering will list the times for the specific cavalcades.
Or you can preview them here on Disney's site.
Magic Kingdom Character Cavalcades Route
Character cavalcades begin in Frontierland and end on Main Street, U.S.A. Disney uses the same route as the regular parades held at Magic Kingdom if you are familiar.
The cavalcades step off near Splash Mountain, where Frontierland meets Adventureland. A large gate opens, and a cavalcade will appear shortly after.
From there, the cavalcade will stay straight until it reaches Liberty Square. There it will turn in front of the Hall of Presidents and begin making its way toward Cinderella Castle.
After circling the hub in front of Cinderella Castle, the cavalcades will continue up Main Street U.S.A. Once the mini-parade reaches the Walt Disney World Railroad, it will retreat into an offstage area.
Therefore, if you want to see the cavalcade at the start, you'll want to be in the Frontierland area. However, I do enjoy the charm of Main Street U.S.A and find that area to offer better photo opportunities. Just know it will take a few minutes for the cavalcade to arrive versus the time it's listed to begin.
Now, if you don't necessarily want to take the time to see the cavalcades, you can still enjoy them if you randomly run into one. My best tip is to listen for changes in the background music in the area you are touring.
As a cavalcade approaches an area, the background music in the vicinity will suddenly change. The closer it gets to your location, the louder the music will get until it reaches you.
Since these are smaller entertainment offerings, it will only take a few minutes of your time to enjoy. And it's undoubtedly worth taking a moment for you or your children to wave hi the characters.
Below is a look at all of the character cavalcades and a few pictures of what to expect.
Disney Adventure Friends Cavalcade
The Disney Adventure Friends Cavalcade debuted on February 11, 2022. This cavalcade features up to 30 different characters!
Here are a few of the characters you might see: Miguel, Jesse and Woody, Mr. and Mrs. Incredible, Elena of Avalor, Moana, Merida, Pocahontas, Mulan, Meeko, Terk, Timon, King Louie, Baloo, Aladdin, Jasmine, Genie, Clarabelle Cow, Nick Fox, Judy Hopps, Panchito, Jose, Marie, Stitch, Max, Bert, and Mary Poppins.
You'll want to check the listed showtimes for the day of your visit. Right now, this cavalcade appears to come through four times per day:
11:25 a.m.
2:25 p.m.
4:00 p.m.
5:50 p.m.
A Royal Princess Processional Cavalcade
Probably the most popular character cavalcade is the Royal Princess Processional. When these cavalcades first began, Merida rode her horse out in front of the procession.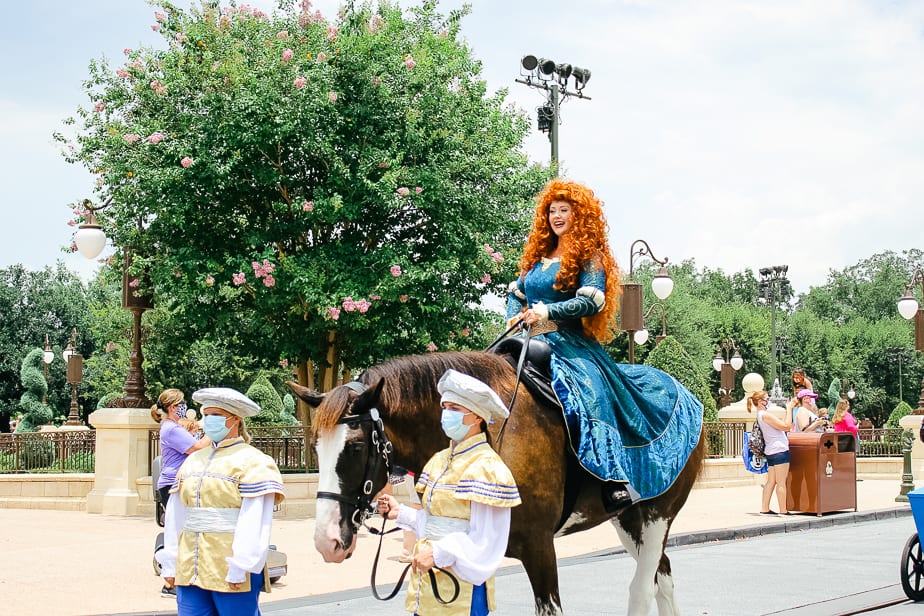 As of late, I haven't seen as many horses incorporated into the cavalcades. So you may or may not have the opportunity to see a cavalcade that has a horse.
The princesses ride on the ever-popular mirror float that's been around for quite some time. If you've visited Walt Disney World within the last ten years or so and watched a parade, you've likely seen the float.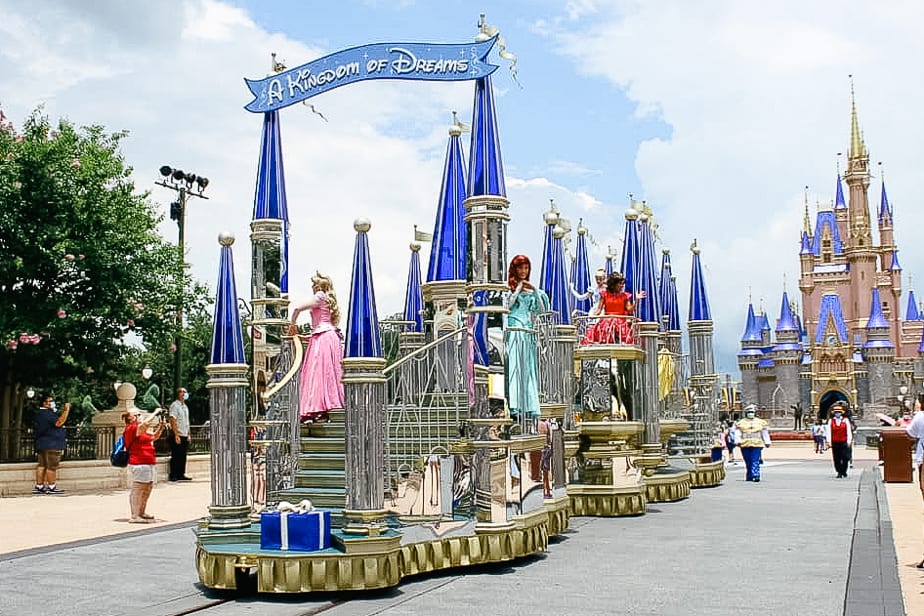 Several princesses are usually present on the float. For starters, we typically see Ariel in land form waving to the crowd.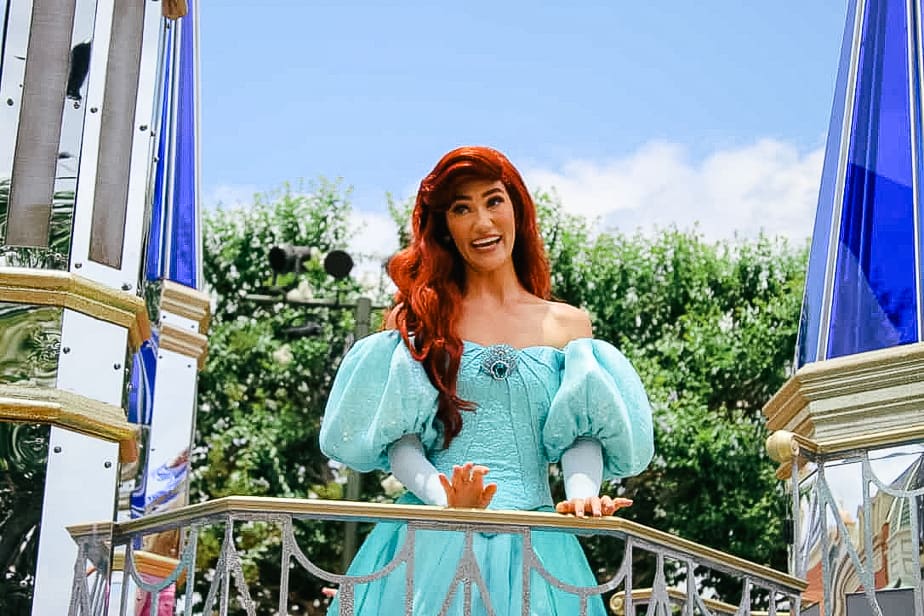 Belle is usually somewhat bubbly in her yellow ball gown. If you're lucky, you might catch her in her red velveteen dress during the holidays.
Related: Meeting Belle at Disney World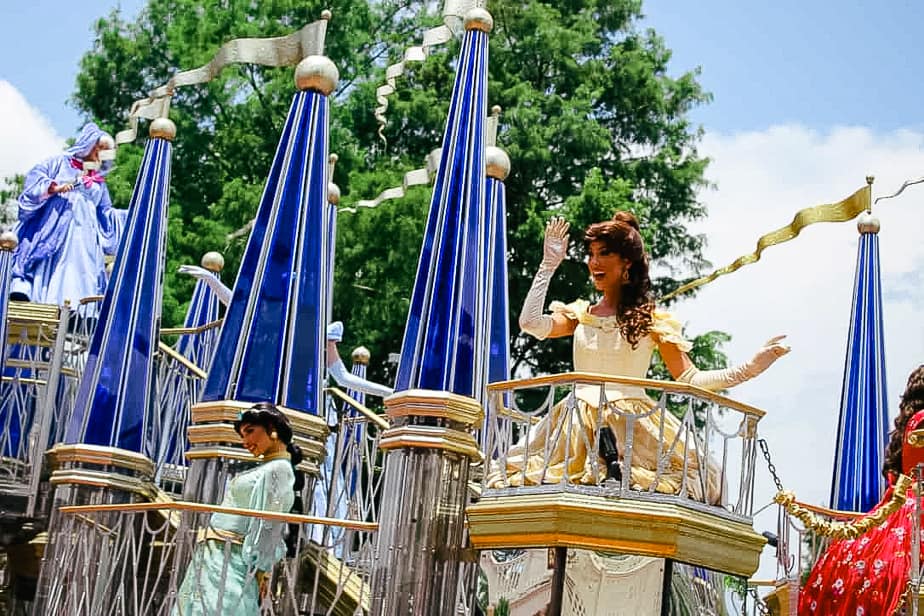 Cinderella sits atop her area of the float. She has the best wave. You can also meet her in the Magic Kingdom at Princess Fairytale Hall.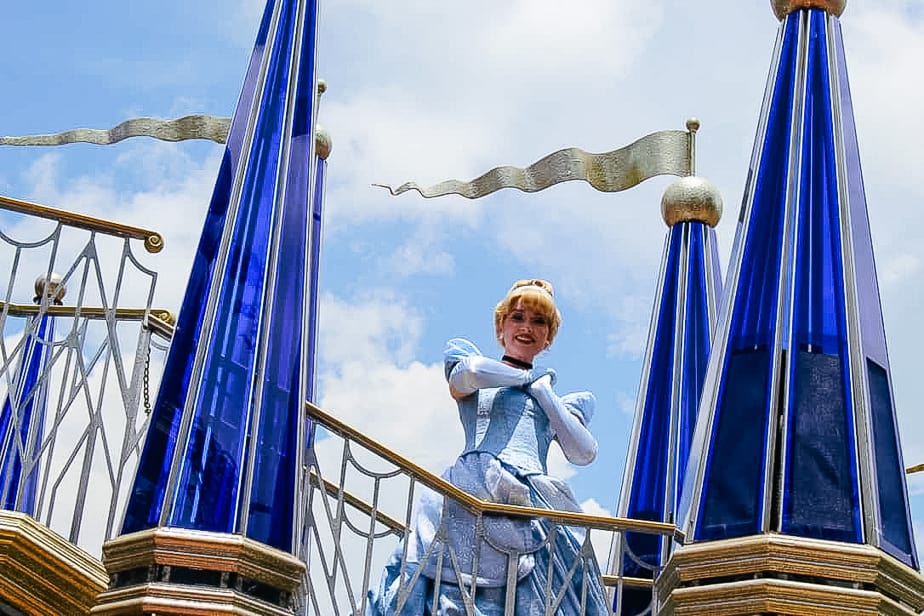 Additionally, Elena of Avalor holds a spot in the processional.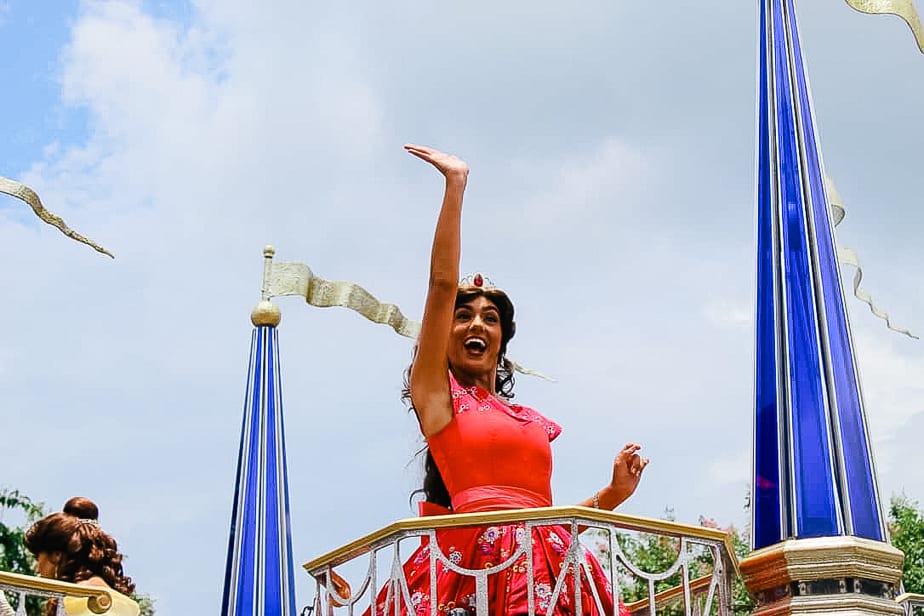 Snow White always makes her presence known with her quirky expressions. I can relate.
Related: Snow White Meet at Disney World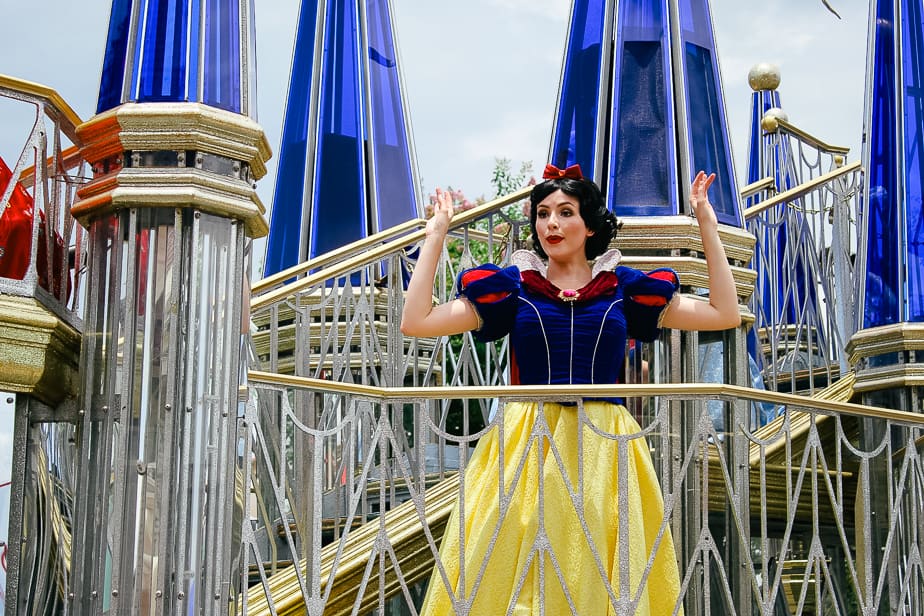 You'll also see Princess Aurora and Princess Jasmine from Aladdin.
Related: Meet Princess Jasmine at Disney World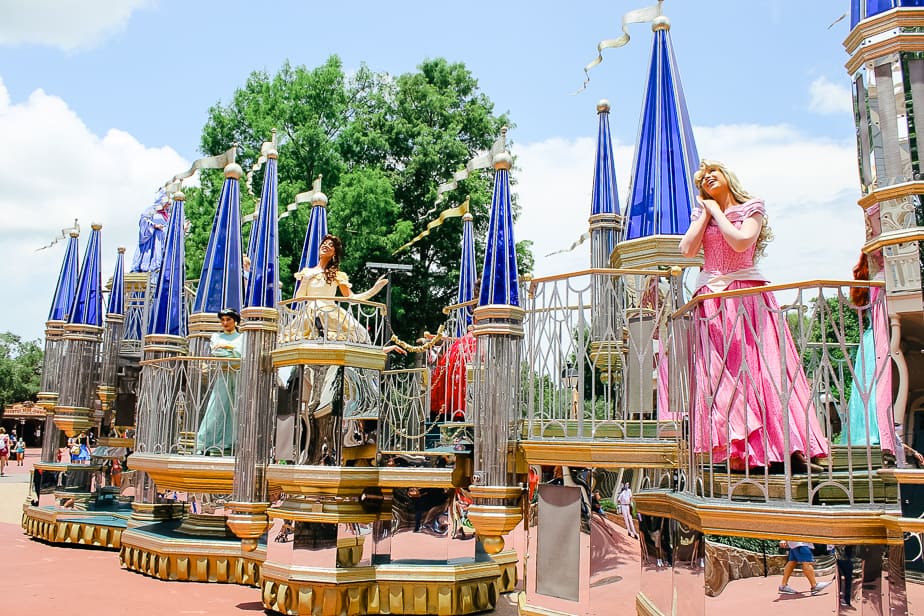 And the Fairy Godmother from Cinderella is perched on top of the float. She is a sight to see coming down Main Street U.S.A.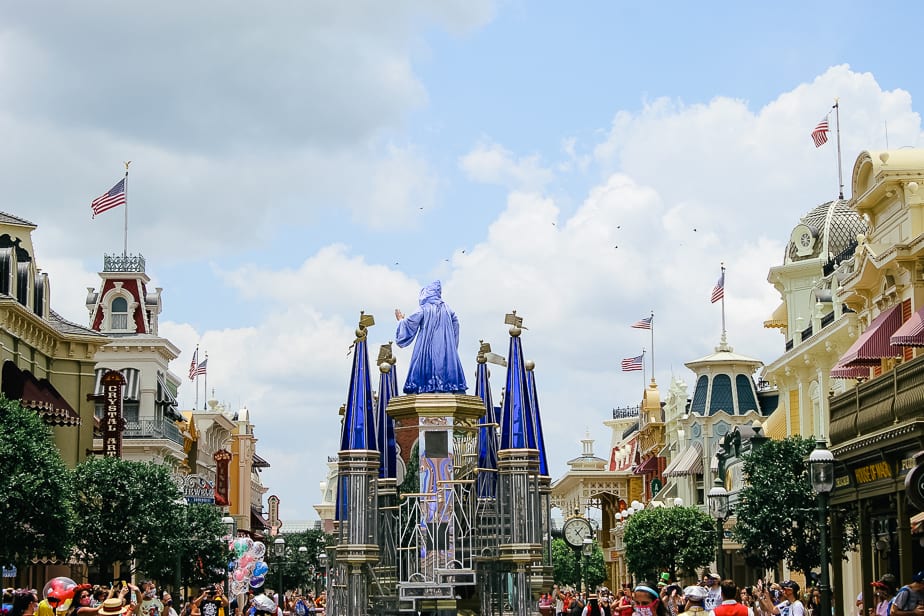 This cavalcade provides a wonderful opportunity to see a good number of Disney Princesses. You might also want to find out about their individual character meets at Epcot.
Related: Meet the Disney Princesses at Epcot
Mickey's Celebration Cavalcade began on October 1st to celebrate the 50th anniversary of Walt Disney World. You can expect to see classic characters in their celebration outfits.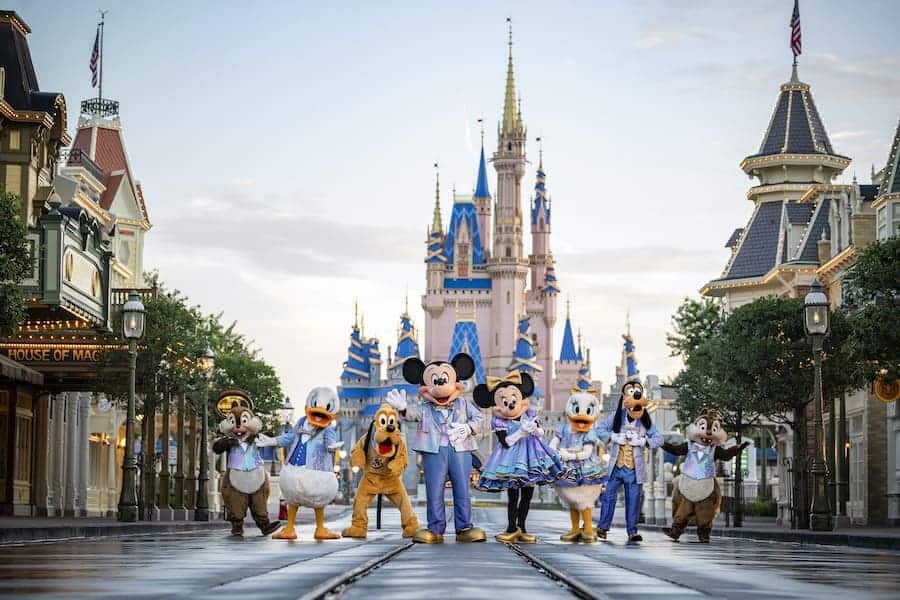 The cavalcade is adorable and plays the new tune The Magic is Calling. Two floats make up this new cavalcade. One has Minnie Mouse riding on the top, while the other features Mickey Mouse. Make sure to see this limited-time offering during the 18-month long celebration.
Disney Friends Character Cavalcade
Another cavalcade you might run into is the new Disney Friends Character Cavalcade. This was formerly the Mickey and Friends Cavalcade.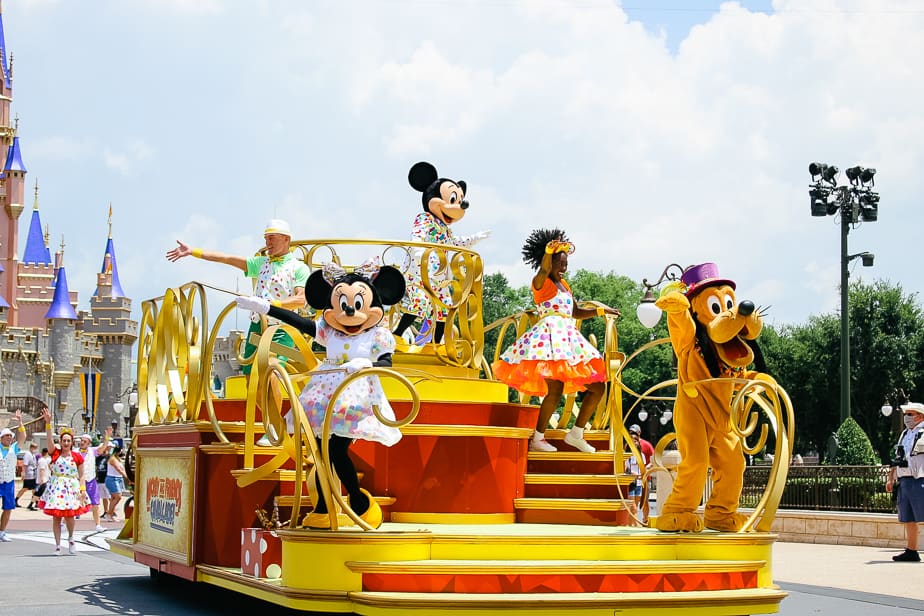 Since Mickey and Minnie Mouse are now appearing in the celebration cavalcade, you can expect to see different characters on this float.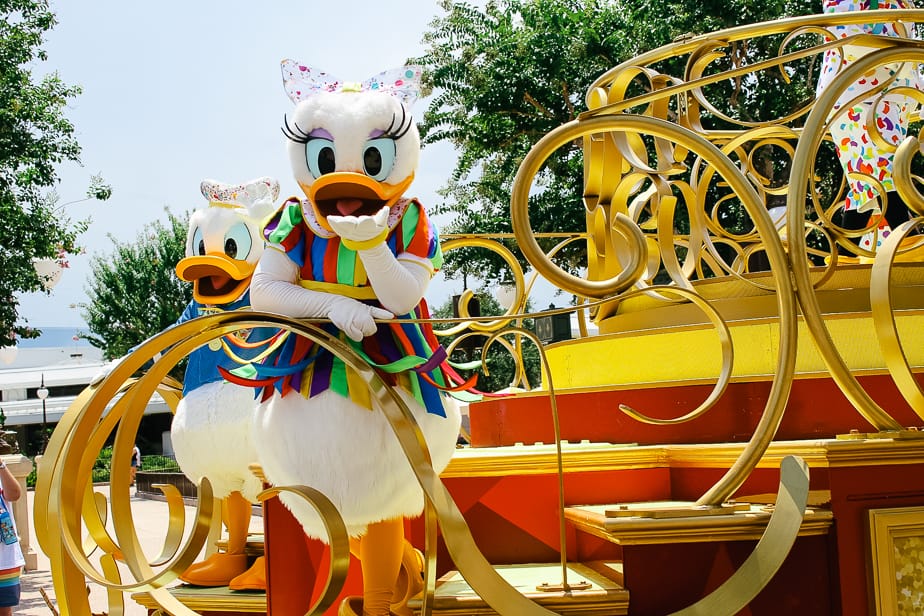 I'll try to get over that way in the next few weeks to update the pictures.
Tinker Bell and the Lost Treasure
Lastly, we take a look at the Tinker Bell and the Lost Treasure cavalcade. Like the other cavalcades, she steps off in Frontierland as she makes her journey to Main Street U.S.A.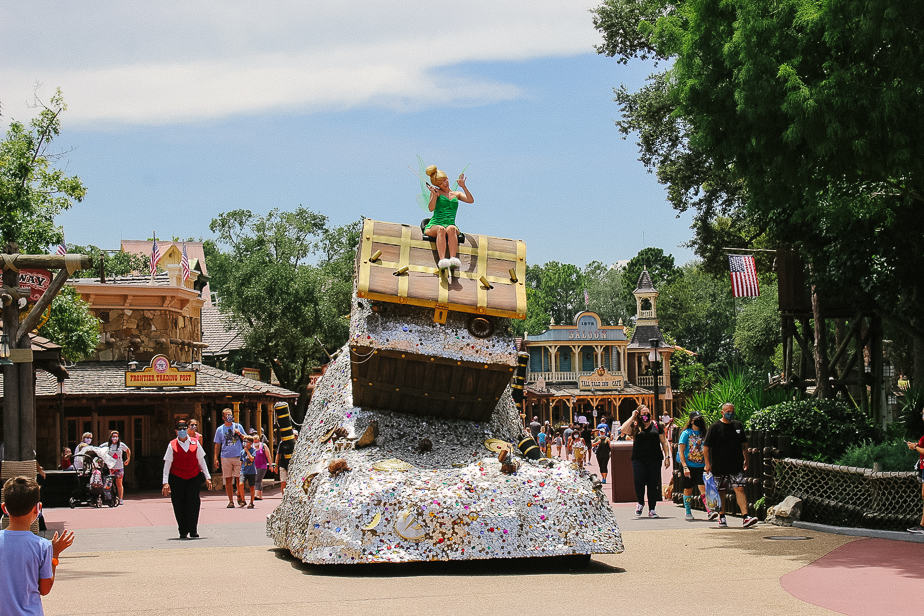 For this one, if you blink, you will miss it. She literally rides through perched on top of the lost treasure. There are no other characters that make up this cavalcade.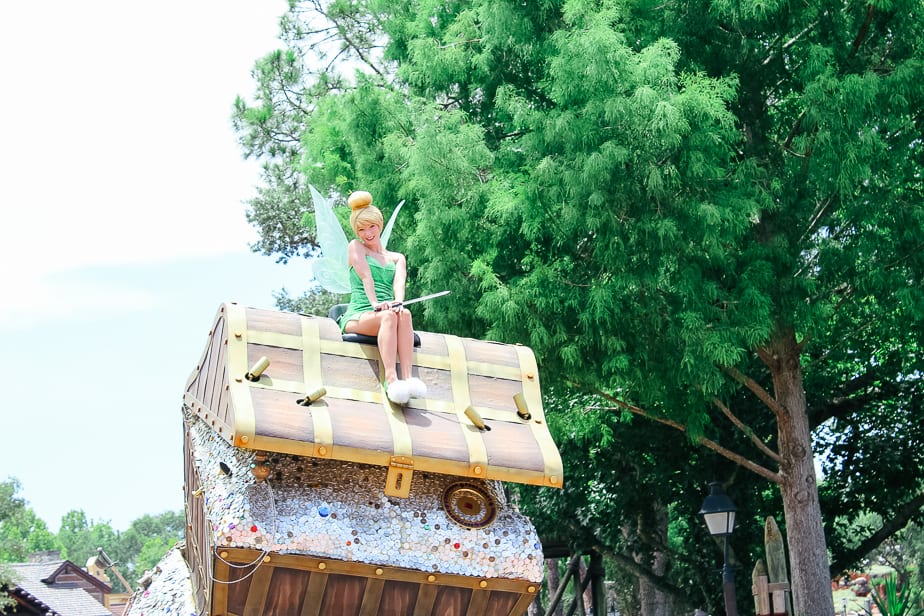 But given it's Tinker Bell, I guess she enjoys not having to compete for anyone else's attention.
Updates for Cavalcades
At the time of this update, the Fantasyland Friends Cavalcade is not listed on the schedule.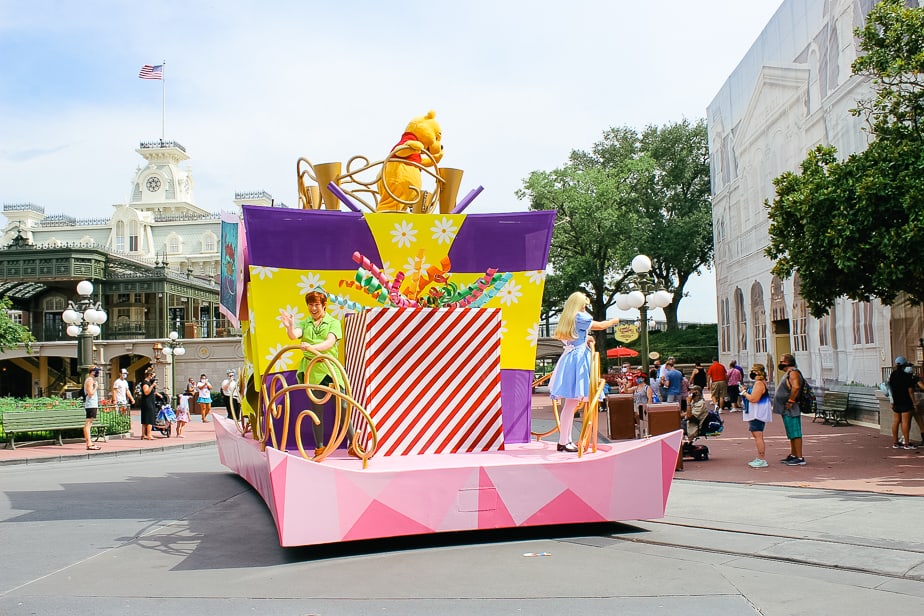 This cavalcade usually has Gaston, Alice, Peter Pan, Winnie the Pooh, Mary Poppins, and Aladdin. Additionally, A Goofy Cavalcade is not listed either.
Final Thoughts on the Magic Kingdom Character Cavalcades
Most of us were happy to hear the news that character cavalcades are here to stay in the different parks. Cavalcades have been a great addition to the park.
I know if it weren't for these fun character interactions, I wouldn't enjoy my time in the parks as near as much as I do. Plus it's nice to have an offering that doesn't take a lot of effort to see.
In addition to these cavalcades, there are a few similar experiences you can expect to see in the other parks. The following articles will bring you up to speed on a few. Or I have every updated meet available here in our list of Disney World Character Meets
You might also like to learn more about character dining at Disney World. My top recommendation for this type of experience is the character breakfast at the Riviera's Topolino's Terrace.
For more information pertaining to planning a stay at Walt Disney World, browse our list of Disney World Resort Reviews. We offer an extensive look at many on-property resorts as well as a list of the best off-property hotels near Disney.
Are you planning to enjoy any of the Magic Kingdom character cavalcades on your next vacation? Feel free to leave a comment below with your thoughts or any questions you might have.