Disney's Beach Club Villas Review
Disney's Beach Club Villas is a separate resort that makes up part of Disney's Beach Club Resort. The addition of the word villas to the name signifies that it's part of the Disney Vacation Club Resort.
In this review of Disney's Beach Club Villas, we'll look at what it's like to stay at the villa portion of the resort. Additionally, we'll discuss what circumstances might warrant considering these room types.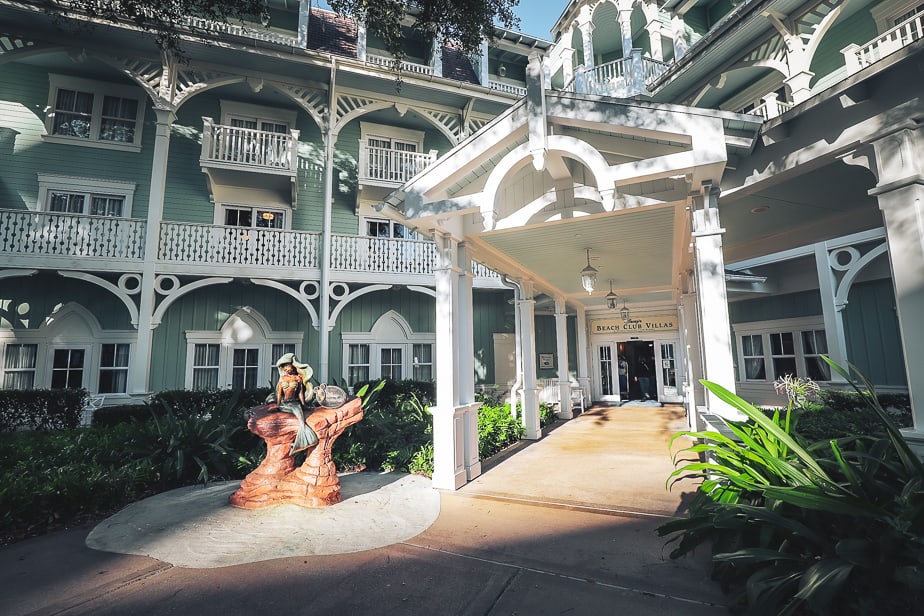 To give you a little history, Disney's Beach Club is a deluxe resort connected to Disney's Yacht Club. Both resorts sit on Crescent Lake in the Epcot Resorts area.
Additionally, Disney's Boardwalk Inn, home to the Boardwalk Villas, sits across the lake. And Disney's Swan and Dolphin, a Marriott hotel, is located next door.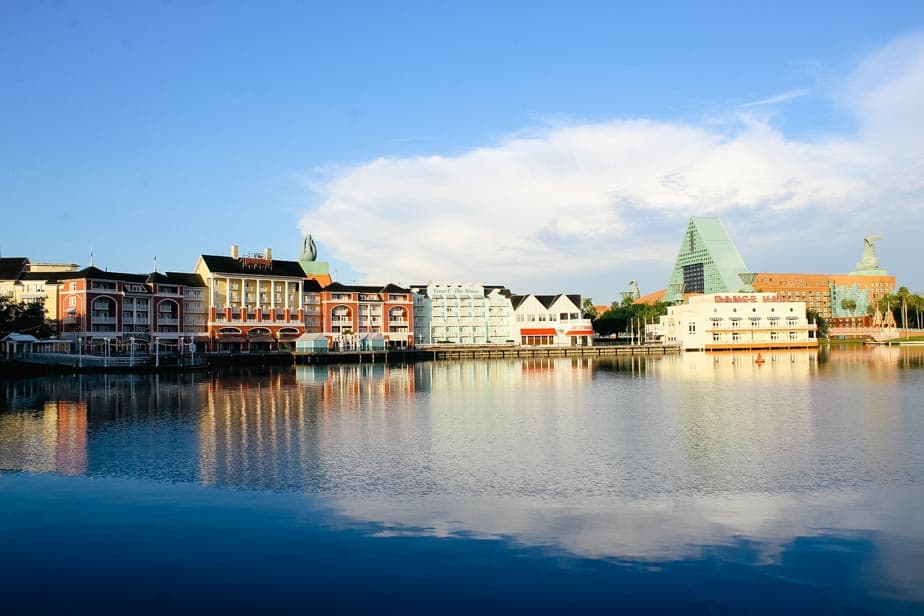 Most guests consider these resorts for their prominent location within proximity to two theme parks. Those parks are Epcot and Hollywood Studios.
As far as the Disney Vacation Club Resorts go, they offer a few upgrades that aren't available in standard rooms. Depending on which type of villa you choose, these upgrades include anything from a small kitchenette to a room with all of the conveniences of home.
The Beach Club Villas have various room options to consider when renting. They are as follows:
Deluxe Studio
One Bedroom Villa
Two Bedroom Villa
Two Bedroom Lock-Off Villa
The deluxe studio will be your closest in comparison to a standard room. This room sleeps up to five adults. The setup is a queen-size bed, sleeper sofa, and a single pull-down bed.
The studio room is similar to a standard guest room. However, a few extra amenities include a small sink, a microwave, a mini-refrigerator, dinnerware, and utensils.
Related: Deluxe Studio at Beach Club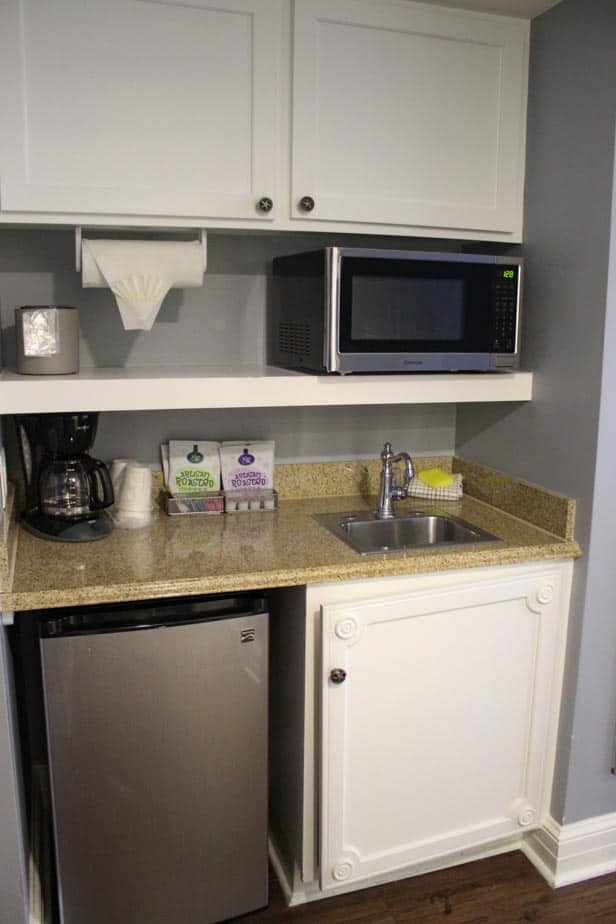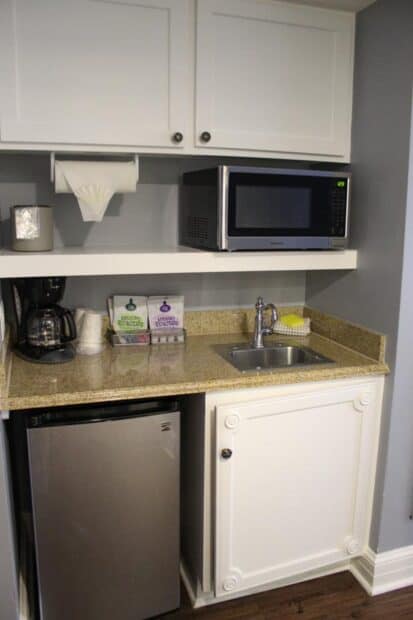 A one-bedroom villa sleeps up to four guests. The one-bedroom has a sleeper sofa for two in the living room, a full kitchen, and a bedroom with a king-size bed.
Meanwhile, the two-bedroom can accommodate eight guests. We have a full review with photos of it listed below if you'd like to learn more. The two-bedroom sleeps up to eight guests.
Related: Two-Bedroom Villa at Beach Club
In addition, there's a two-bedroom lock-off, which is a combination of a one-bedroom villa and a deluxe studio. The lock-off villa sleeps up to nine guests.
The most considerable advantage of the villas, after extra sleeping quarters and baths, is the kitchen. The one-bedroom and larger villas all offer a full kitchen.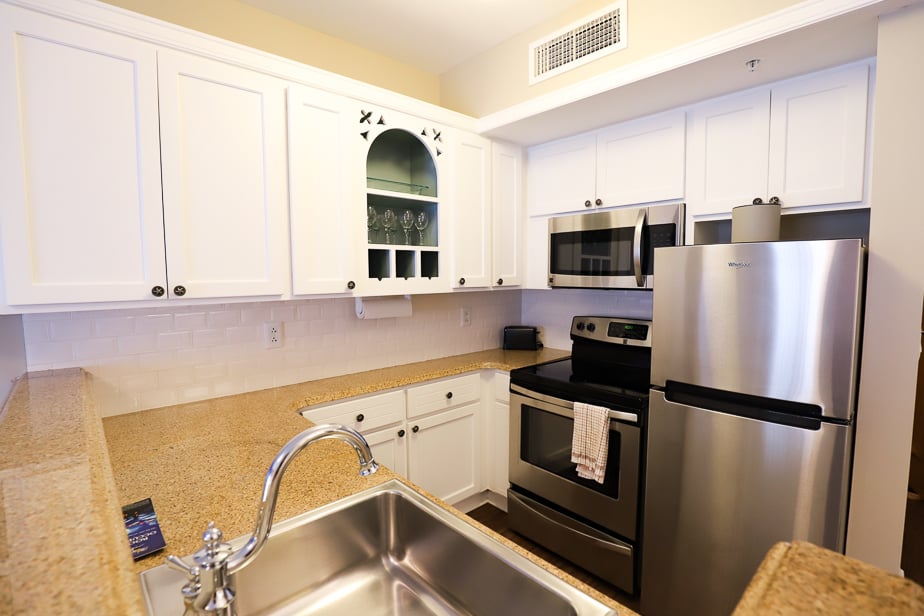 Disney's Beach Club Villas sit toward the front left of the resort's entrance. A soft, mint green color defines the villa's exterior.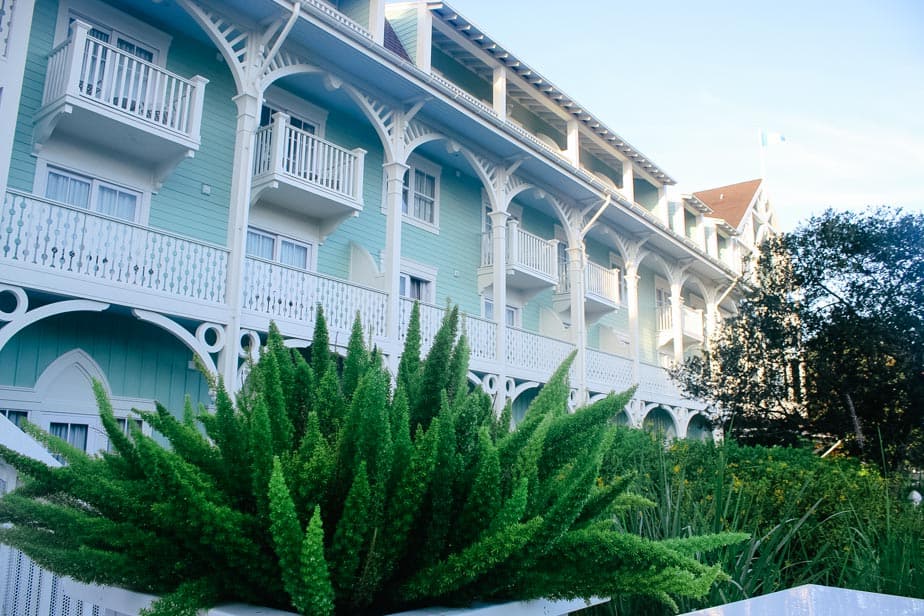 For comparison, here is the blue color of Disney's Beach Club Resort.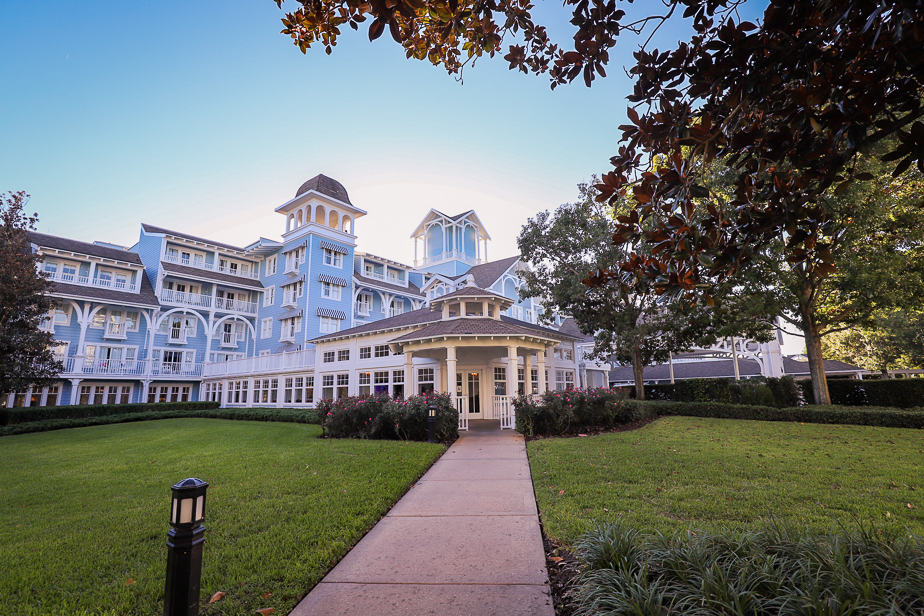 As a guest of the Beach Club Villas, you'll have access to all of the amenities at the resort. Additionally, you'll have a few extra amenities available in the villa's wing.
A statue of Ariel sits outside the entrance of the Beach Club Villas.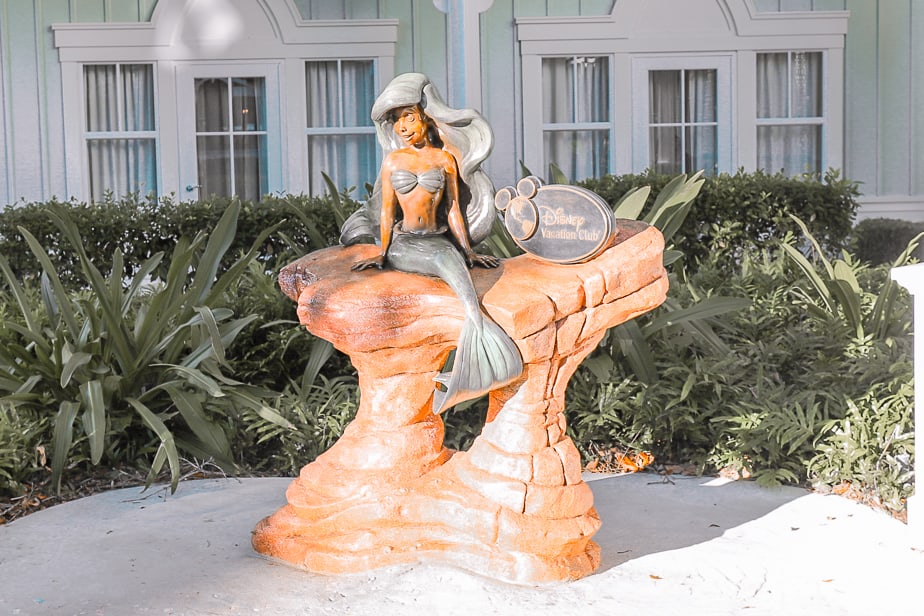 A sign hangs overhead the main entrance.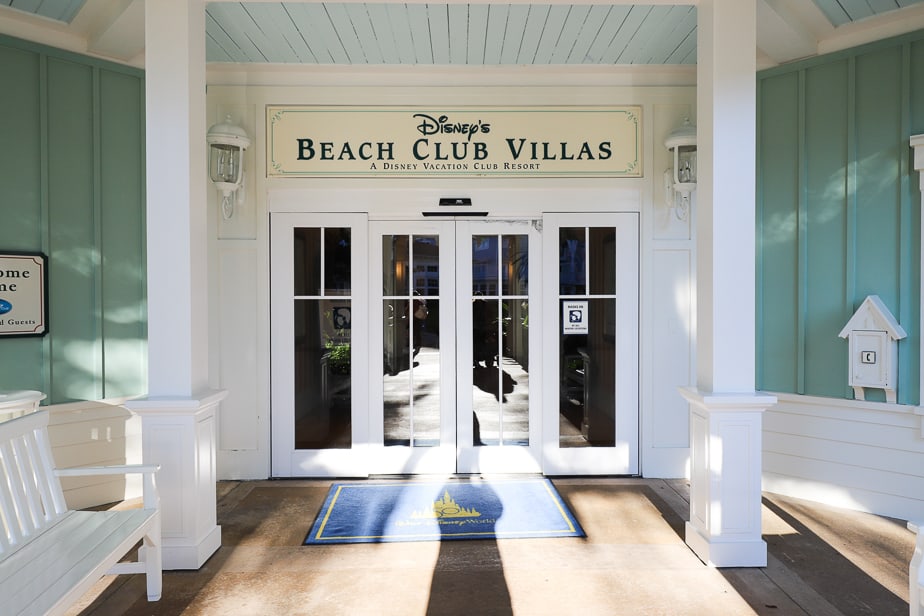 Inside, there's a rotunda of sorts with several rooms set aside for guests of the Disney Vacation Club Resort.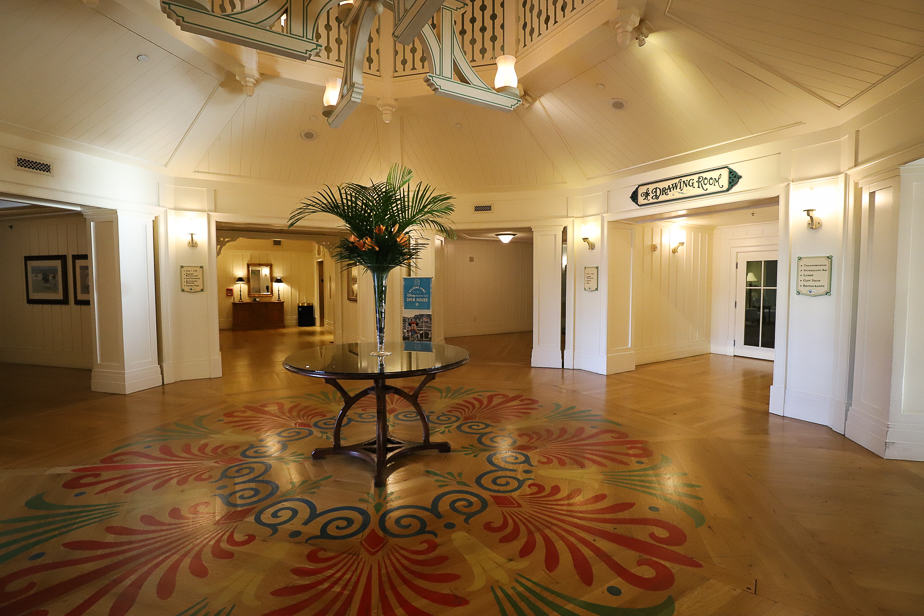 On the right-hand, there is a drawing-room. This space has a television, several seating areas, and a pool table.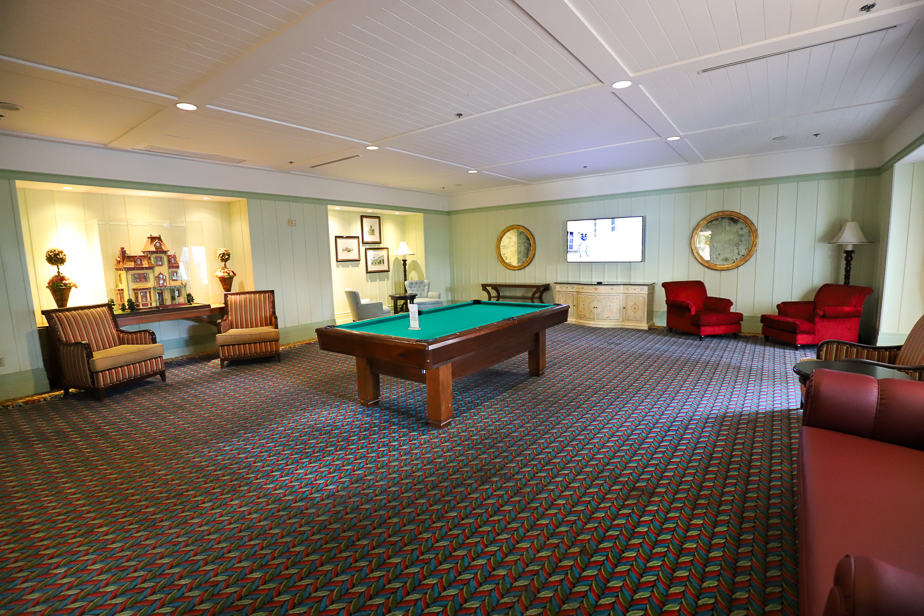 Rarely do I find anyone taking advantage of this gathering room.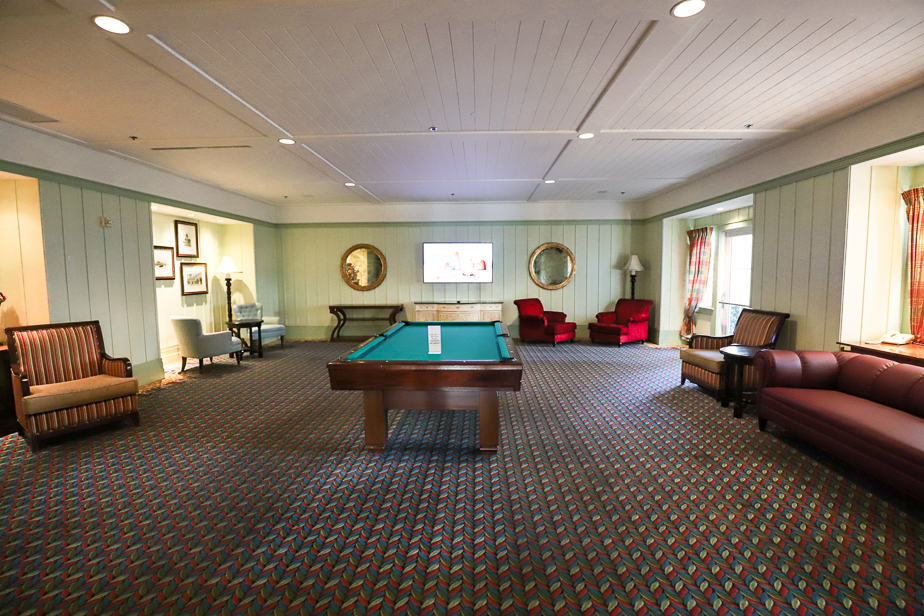 On the left-hand side of the foyer, there's a room called the Breezeway.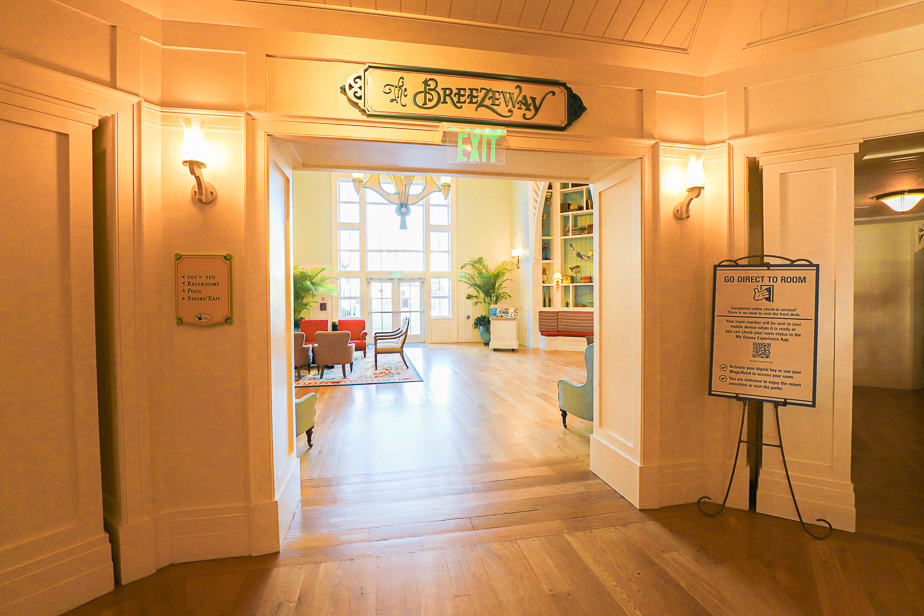 The Breezeway is almost like a formal living room with several different sitting areas.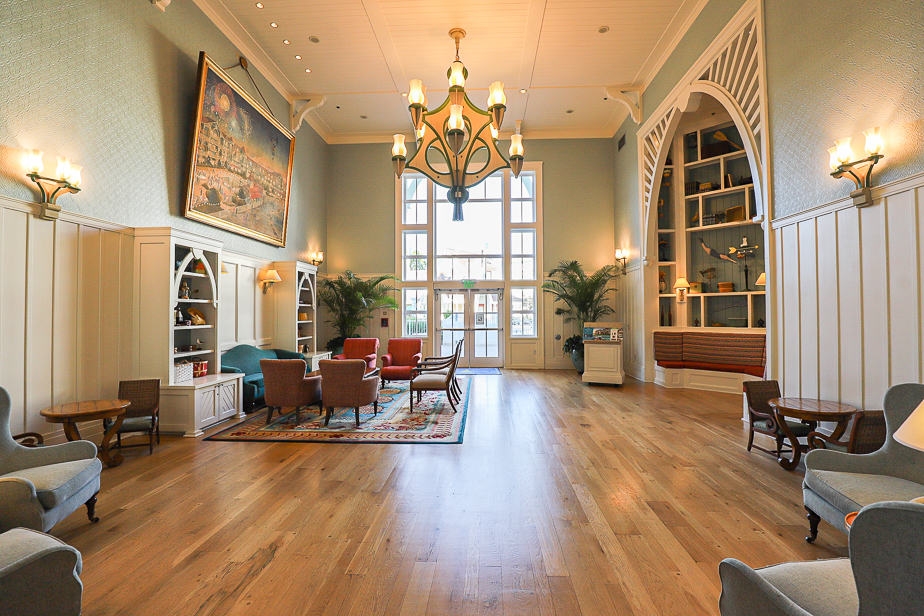 It's a great place to take a break or meet up with friends and family.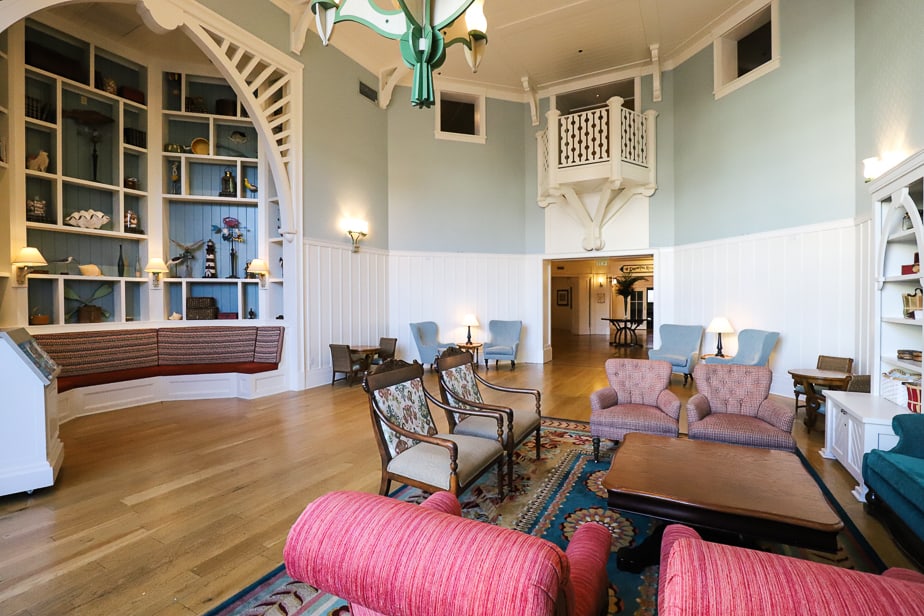 Before we look at some of the outdoor amenities at the Beach Club Villas, I wanted to share one other important aspect. Laundry.
If you're staying in a one-bedroom or larger villa, you'll have a stackable washer and dryer in your room. However, if you're staying in a deluxe studio villa, there is no laundry in your room.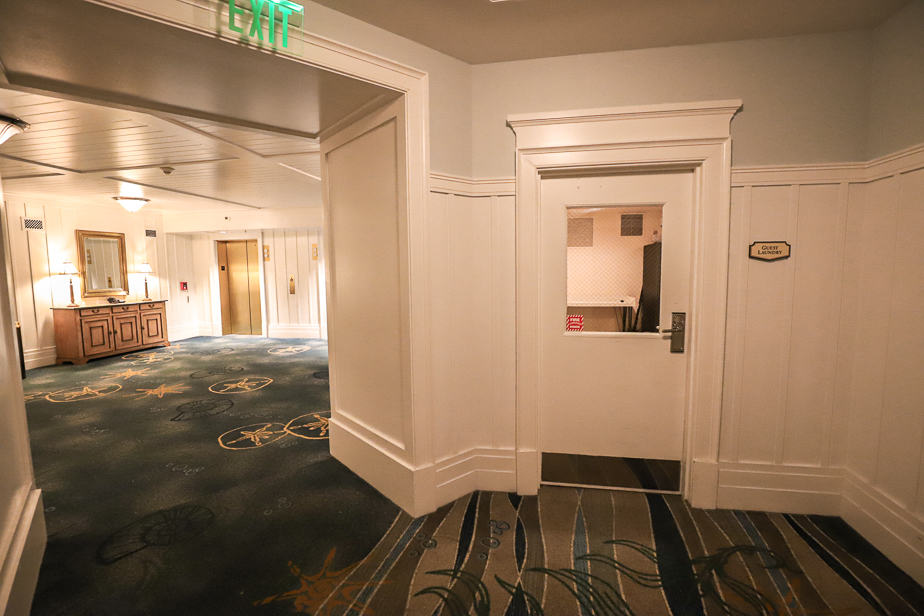 Thankfully, the villas have a laundry room located on the fourth floor. Guests staying in the villa will have to pay for detergent, but laundry cycles are usually complimentary in the villas.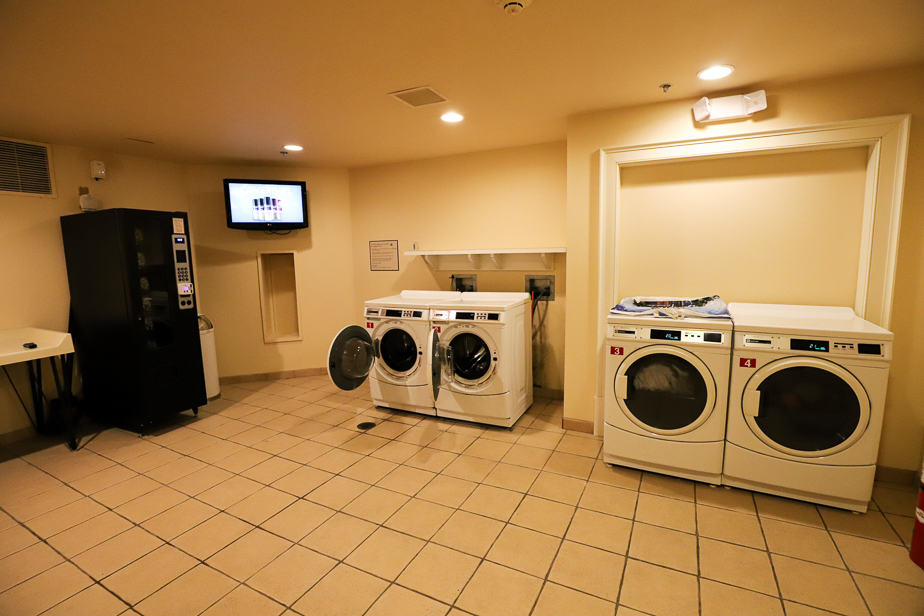 For those who want to do laundry, this is a huge plus. If you stay in the regular resort, you'll pay $3.00 a load to wash and then another $3.00 to dry.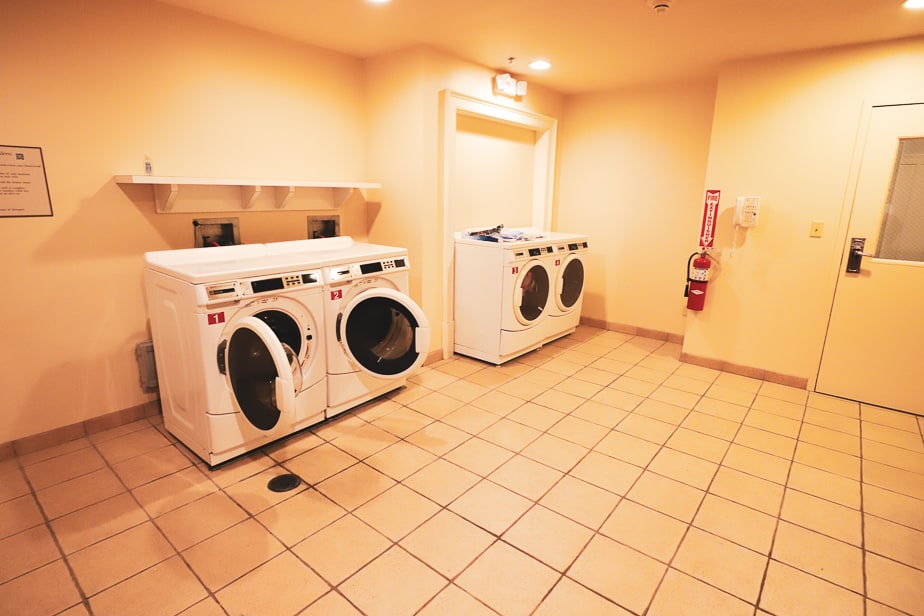 When I stay in the villas, I usually bring detergent and take advantage of the laundry machines. One of the perks of doing laundry is not having to pack so many items. And no matter how hard you hit Walt Disney World during your vacation, there's always time for a break at the resort.
By break, I mean throw a load of laundry on, set the alarm on your phone, and hit the pool. Then, you can go back and move your items to the dryer when the alarm goes off. Then head back out to the pool for a little more vacation time.
You might enjoy the pool time so much that you'll find another excuse to do laundry later in the week. Or at least the kids will hope so.
When it comes to pool time, you can't beat Disney's Beach Club. It wins as the resort with the best swimming pool in all of Disney World.
Stormalong Bay is actually more of a small water park than an actual hotel swimming pool. There's a waterslide, kiddie pool, sand bottom pool, lazy river, and cabanas!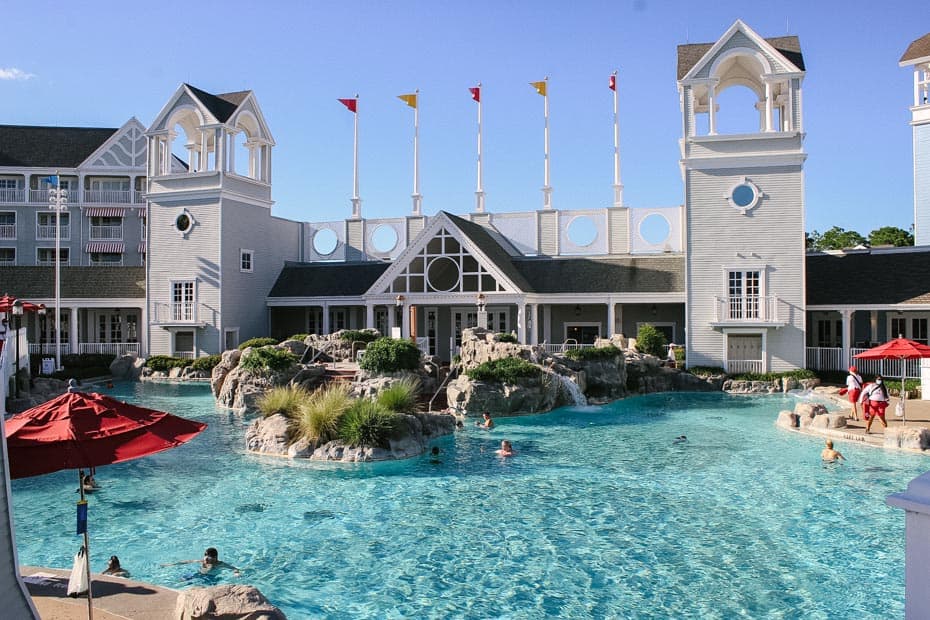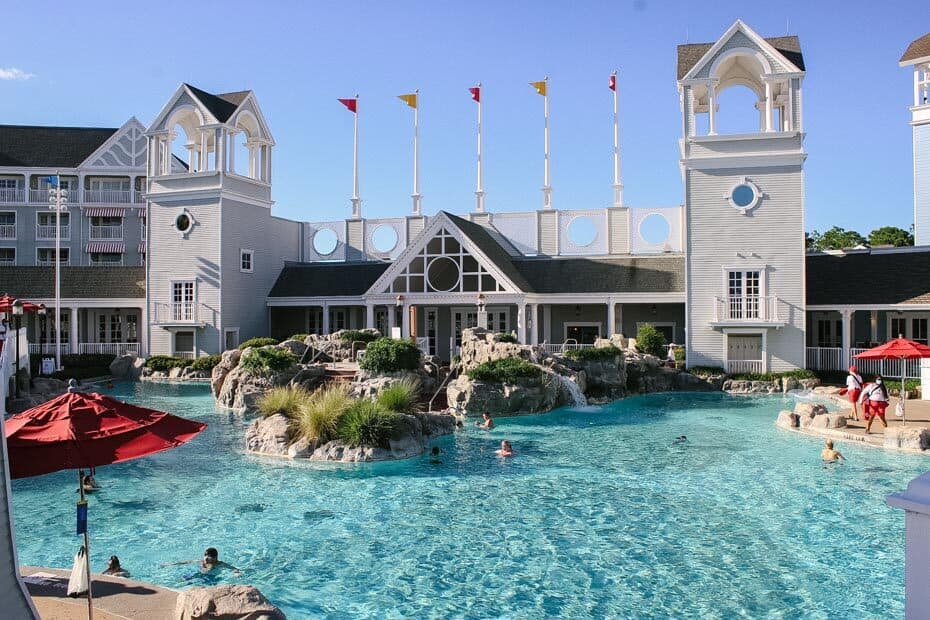 The cabanas are an extra charge, but one of those splurges that are well-worth it!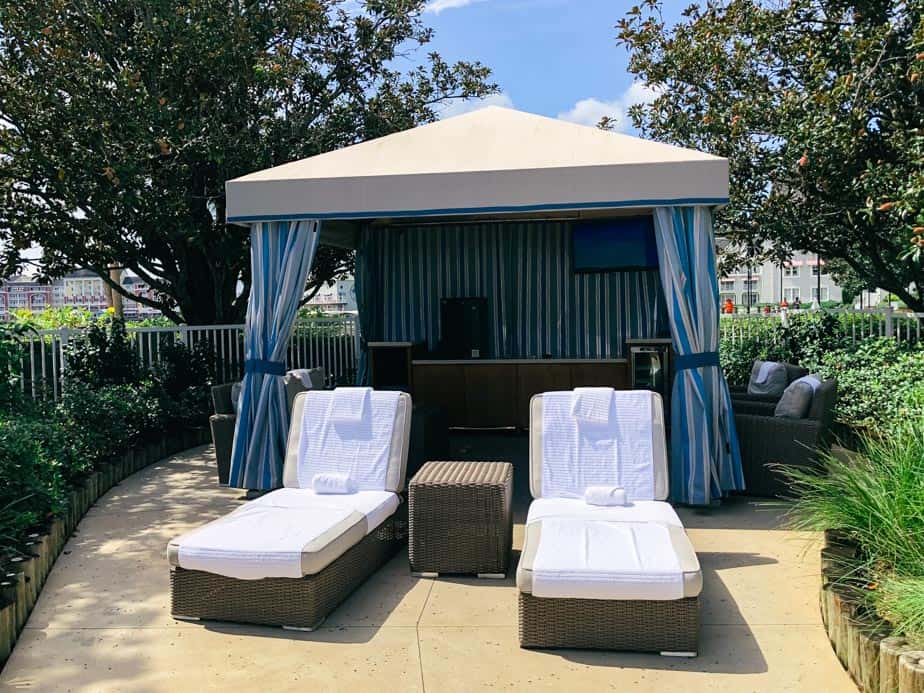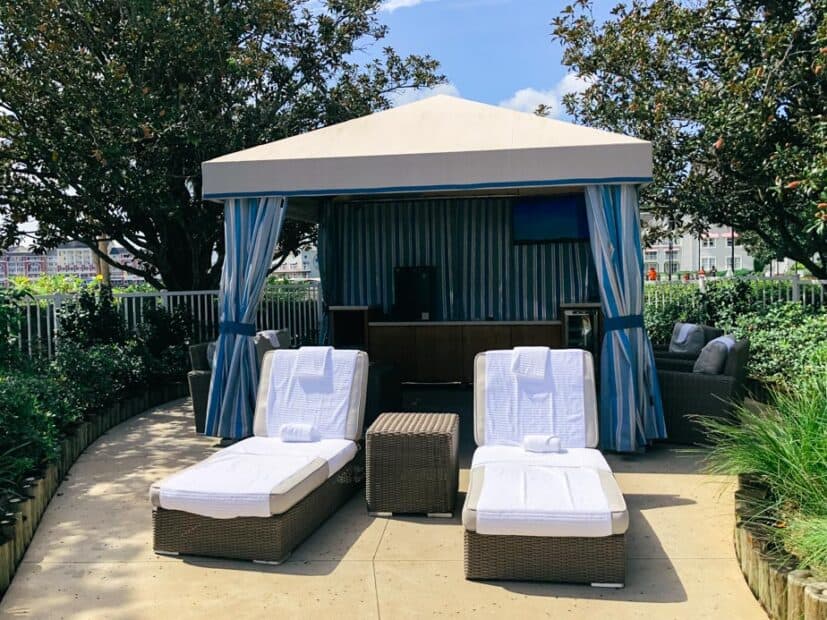 Related: Renting a Cabana at Disney World
In addition to the Stormalong Bay pool, the resort offers two quiet pools. One of those quiet pools is located at the Beach Club Villas.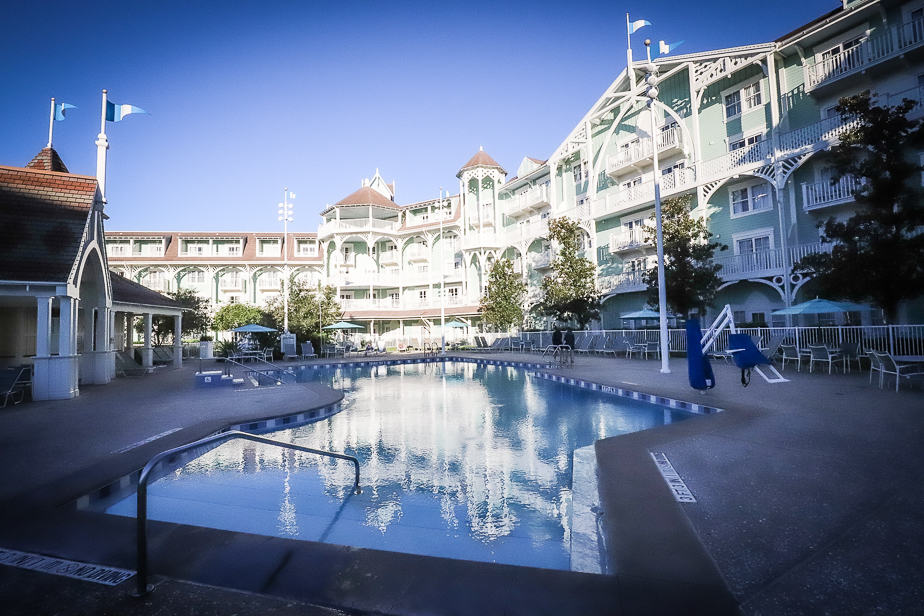 The Dunes Cove pool sits in the center of the villa's wing of the resort. It's located along the walkway that extends to the DVC parking lot.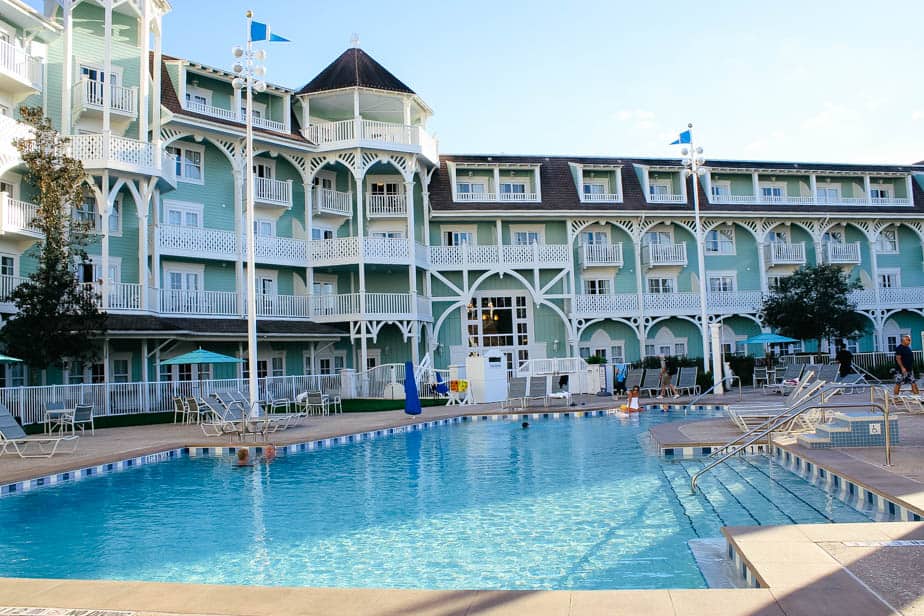 The Dunes Cove pool holds over 55,350 gallons of water. Surrounding the pool, there's plenty of lounge chairs, tables with chairs, and a whirlpool spa.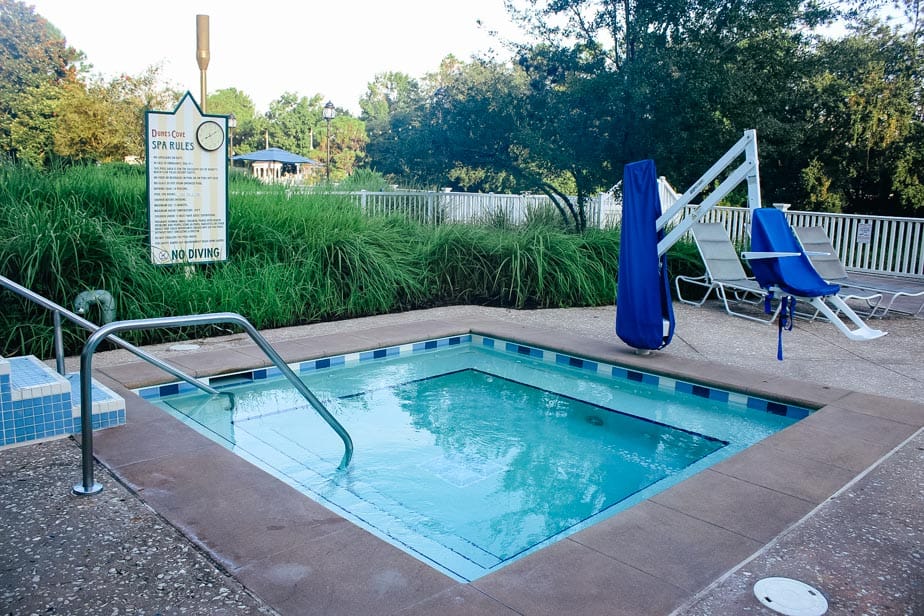 Outside the Dunes Cove pool area, there's a charcoal grill with a picnic bench.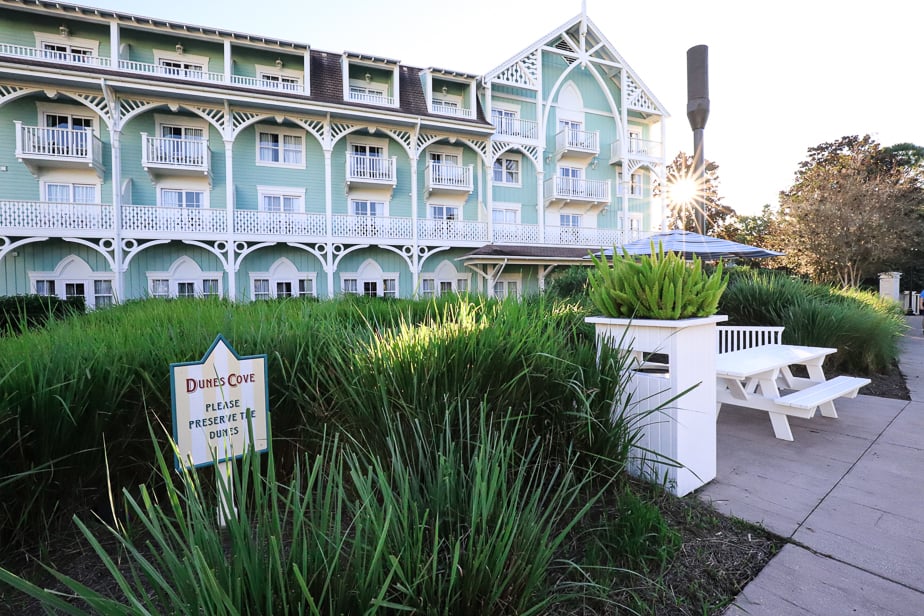 All of the amenities we've discussed so far are relatively specific to the Beach Club Villas, except for Stormalong Bay.
Since you're considering staying at Beach Club Villas, I wanted to briefly add a few of the other amenities you can expect to find at the resort as a whole.
If you've visited Resorts Gal before, you might already know that Beach Club is my favorite choice of all the Disney World Resorts. While I rank Animal Kingdom Lodge higher for the overall experience and uniqueness, Beach Club is my home.
Additionally, I understand that your favorite resort might be the Polynesian or the Riviera Resort. All of the resorts at Disney World are exceptional for many different reasons.
But the Beach Club fits my mood. And if you love the calm of the seaside, it will likely exceed your expectations as well.
I mention this because I enjoy gushing about this resort in particular. However, if this is one of those once-in-a-lifetime trips, I encourage you to research your options.
You could take my advice and go with Beach Club. Then you could see the Grand Floridian across the water from Magic Kingdom and think, wow, I wish we stayed there.
Do your research, preferably here on this site, where we cover all of our experiences at the resorts. That's one of the reasons I rank Animal Kingdom Lodge so highly. Nearly every time I'm there, I overhear someone in the lobby saying, "we're staying here next time."
Next time. Those are two words I love to hear when I'm at Disney World. It indicates you have a reason to return. I think most of us do. Of course, some of us return more often than others.
Anyway, Disney's Beach Club Resort has a lot going for it. But, perhaps, the most important factor to consider is the resort's location. You can literally walk right out of the back door and arrive at Epcot's International Gateway entrance within 5-7 minutes, depending on your pace.
For those who plan to spend a good deal of time at Epcot, this is a huge plus. It means if you get tired or want to take a break, you can walk right back to your room at any given point during the day.
Additionally, one of the most significant advantages comes in the evening. You can stay and watch the fireworks and then walk back to the room at your leisure. The same goes for guests of Disney's Yacht Club Resort. However, they don't offer villa rooms.
And while Epcot is the closest park to the resort, Hollywood Studios is also within walking distance. The walk is a little further at 15-20 minutes. But walking sure beats not sitting at another resort waiting in a crowd for the next bus.
If you don't care to walk, you can always take a Friendship Boat to either Epcot or Hollywood Studios.
Another aspect you'll want to consider is dining. Unfortunately, none of the Epcot Resorts are winning when it comes to counter-service dining options.
Beach Club is home to Beach Club Marketplace, which offers pretty standard quick-service items for breakfast, lunch, and dinner. While I tend to complain about the options here, I can usually find something.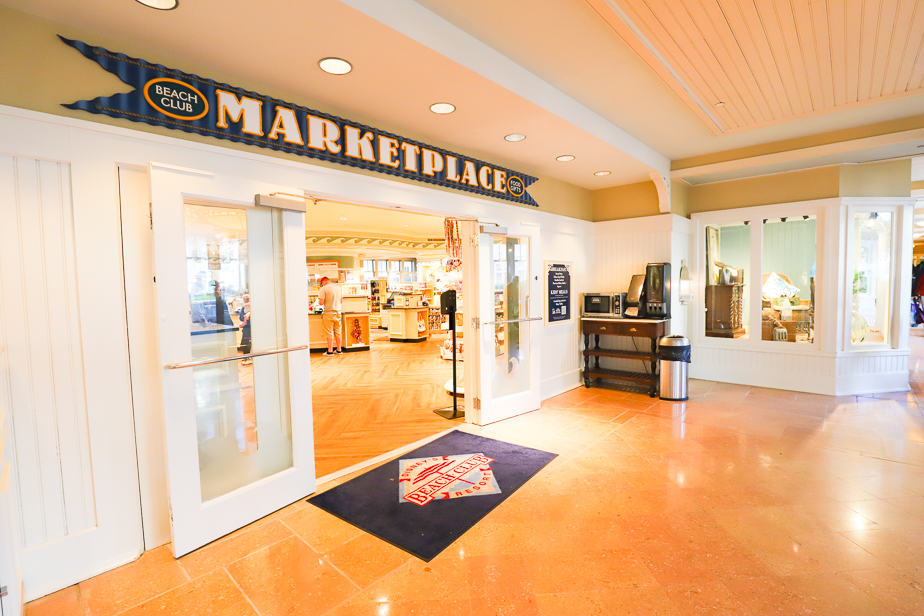 Cape May Cafe is the resort's table service dining option. Cape May offers character dining for breakfast and a seafood buffet in the evening.
Related: Disney World Character Dining Guide
Since the Yacht Club is attached to the resort, you'll have easy access to their dining options. Unfortunately, their counter service is comparable to Beach Club's.
But the Yacht Club is home to one of the best hidden dining gems on property, Ale and Compass. We eat here for breakfast all the time. Literally, I think I ate here five times this last year alone.
Related: Breakfast at Ale and Compass
Additionally, the Yacht Club is home to Yachtsman Steakhouse. The signature dining location is shared between the resorts. If you love steak, you won't want to miss enjoying a meal here during your stay.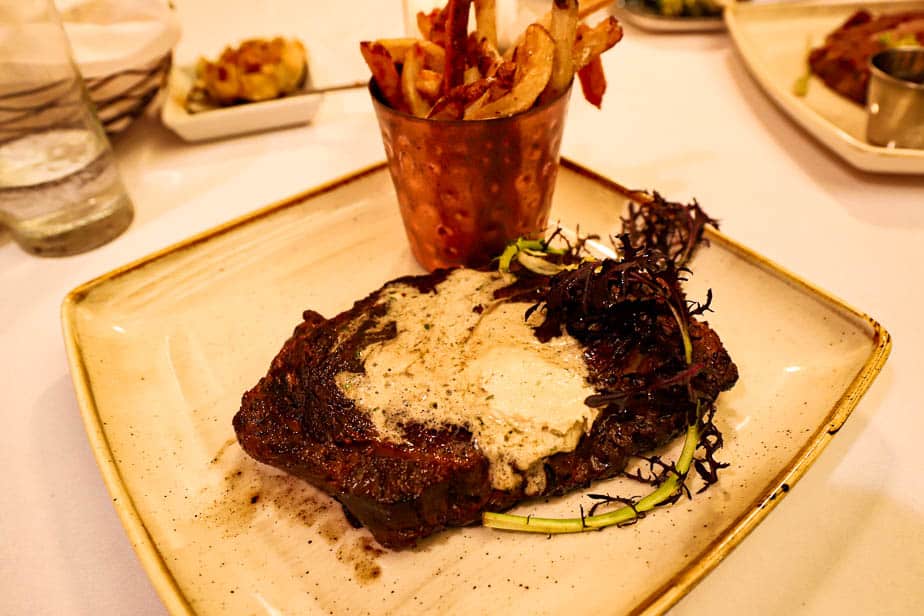 Related: Yachtsman Steakhouse Review
With Disney's Boardwalk located within walking distance (or you can take a boat over), you have access to their dining options as well. We have them all listed in our Boardwalk Dining Guide.
Spoiler, the quick service at Boardwalk is not any better than at Beach or Yacht. But they have a decent grilled cheese sandwich that's made to order.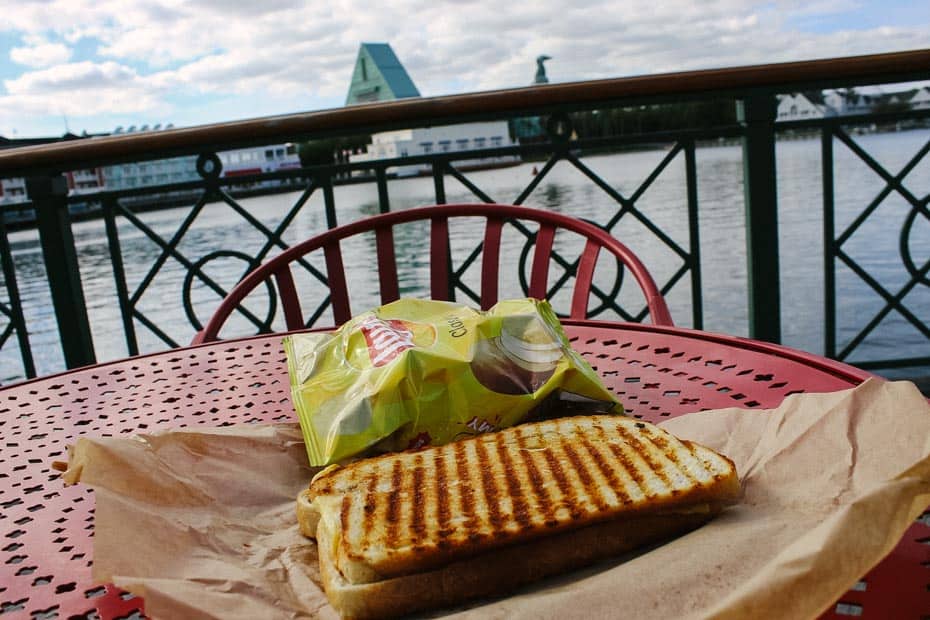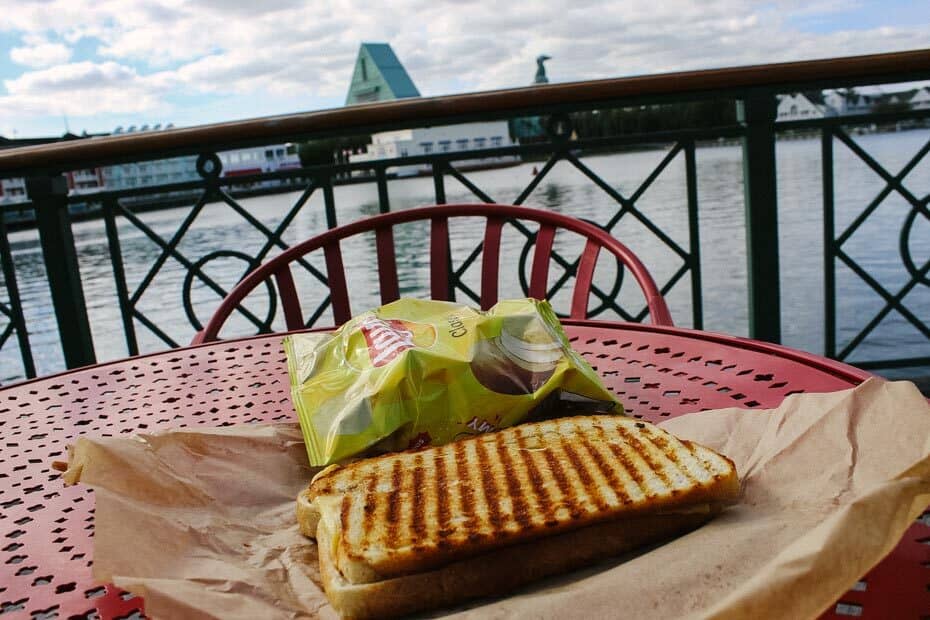 Additionally, neighboring Swan and Dolphin has a plethora of restaurants available. And the new Swan Reserve adds even more options.
Related: Swan and Dolphin Restaurants
Lastly, on the dining front, you can walk into Epcot's World Showcase (with valid admission) and enjoy their restaurants.
Thankfully, there are several good quick-service restaurants available at Epcot. And there's nearly always a festival going on with a variety of food booths. However, you are limited to the park's operating hours.
Additionally, the lack of decent quick-service items in the area does make a stay at the Beach Club Villas more appealing. You can at least make a microwave meal of macaroni and cheese at midnight when you find yourself back in the room, and nothing else is open.
Or you might use a grocery delivery service and prepare entire meals at various times throughout the week. I know it's your vacation but eating out every day for 7-8 days straight isn't for everyone.
Before wrapping this up, I wanted to discuss pricing briefly. At this time, a standard view room and a deluxe studio for the first week in June cost approximately $553.00 per night. That pricing doesn't include any discounts.
Why would you choose a standard room over a deluxe studio? The main differences are the standard room offers two queen beds instead of the sleeper sofa.
From experience, I can attest the sleeper sofa is not comfortable. But you won't get the kitchenette in a standard room.
When comparing other villas with upgraded rooms at the resort, it will largely be based on availability. The Beach Club Villas are popular and often have a waitlist. You'll want to reserve these rooms as far out in advance as possible.
You can request a quote with our preferred travel agent if you desire. The form is down below this article.
If you would like to learn more about the Beach Club, we have a full resort review available here. Or you might enjoy the following villa resort reviews:
Or all of our information for the villa resorts is available here.
Have you ever stayed in the Beach Club Villas? Or do you have any questions regarding this review? Feel free to leave a comment down below with your thoughts.
Planning a Walt Disney World or other Disney Destination vacation?
Our friends and travel partner, Firefly Travels, excels at doing Disney differently. You can fill out a plan your trip form on their website, and someone will reach out shortly to discuss the specifics.