The Ultimate List of Disney Pajamas
Disney pajamas are all the rage! Especially, given that the last year. It has truly been a year of wearing sleepwear around the house a little more than usual. Therefore, I decided to put together a list of Disney pajamas. And if your pajamas are anything like mine, it might be time for a refresh.
If you have visited the site before, you know that I only share product feeds of items that I love. And while some items are more tempting to purchase than others, this Disney pajamas list is always the hardest!
So in this review, we are going to take a look at a few fun pairs of women's Disney PJs. I'll also include shirts, lounge pants, nightgowns, and anything else related to sleepwear and Disney.
I don't know about you, but these comfort items that include my favorite characters are the kind of things that make my days at home just a little bit extra. In fact, I might be guilty of wearing a favorite robe (with a hoodie) and slippers as I write this.
And I imagine that you are probably curled up in your favorite Disney pajamas as you read along.
Disclosure: There are affiliate links on this page meaning Resorts Gal may be compensated if you make a purchase. These come at absolutely no cost to you and help support our business.
Disney Pajamas (Women's)
The latest styles of Disney pajamas include several pant sets with matching short sleeve shirts. These are perfect for lounging around the house. Personally, I like to keep a couple of these sets on hand to take on vacation.
Minnie Mouse PJ Set for Women
For starters, this fun set features polka dot bottoms and a white t-shirt covered in Minnie Mouse.
Find these here on shopDisney.
Stitch Pajama Set for Women
If you lean more Stitch than Minnie Mouse, you'll love this #2 Stitch pajamas. The bottoms are a nice navy strip with tiny Stitch's all over them!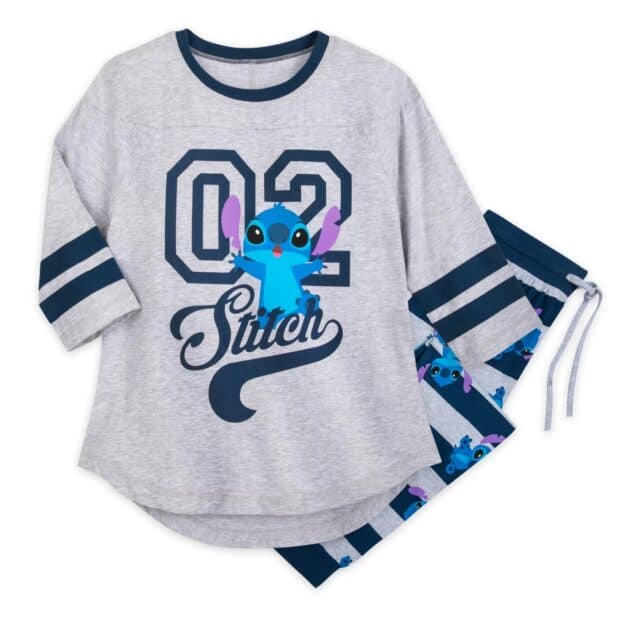 These Stitch pajamas are available here or you might like the short set below.
Stitch Sleep Set for Women
Fans of the little blue alien that resembles a puppy, might also enjoy this option that comes with shorts for bottoms.
Try here on shopDisney to check availability.
Winnie the Pooh and Piglet Pajama Set for Women
And with cooler months right around the corner, you can't go wrong with this darling set of Winnie the Pooh and Piglet women's pajamas. I love the red trim on these.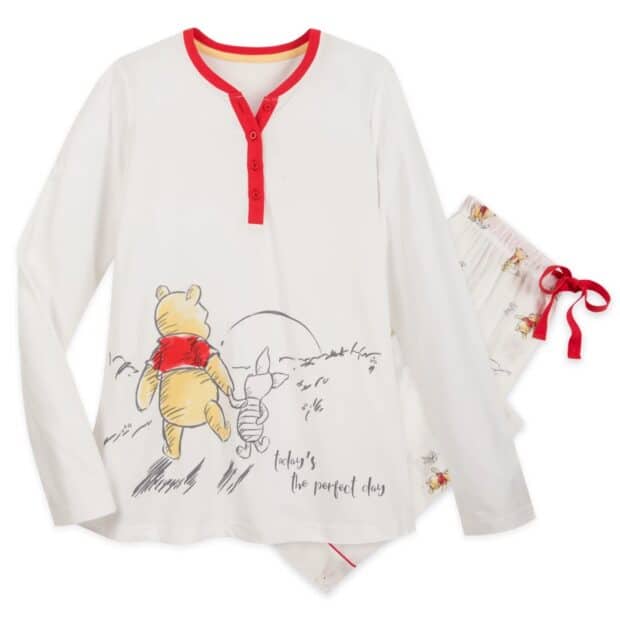 Aren't they adorable? Find these here on shopDisney.
Eeyore PJ Set for Women
Feeling blue? The t-shirt on this set says, "I'm like 104% tired." I feel you Eeyore. Notice the pretty gray bottoms.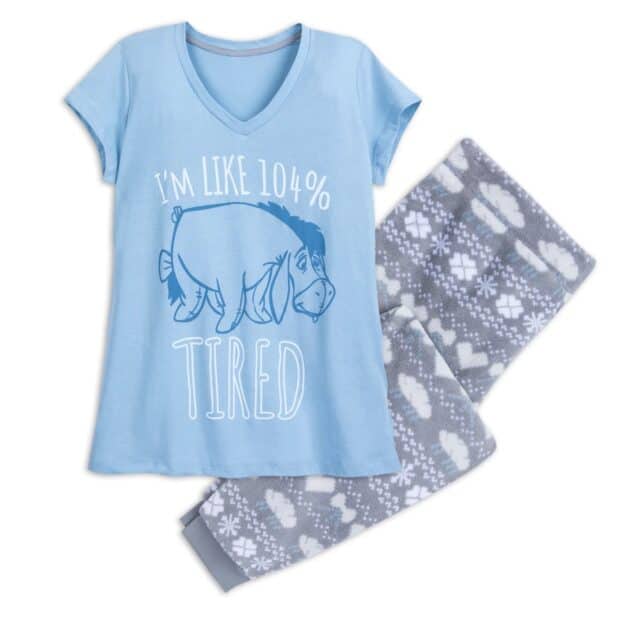 Find these fun Eeyore Disney pajamas here on shopDisney.
Walt Disney Pictures Pajama Set for Women
This next pair of Disney pajamas is bringing the 90s vibe. Curl up at the end of a long day with these pink PJs and watch your favorite animated film. I'm choosing The Little Mermaid, what about you?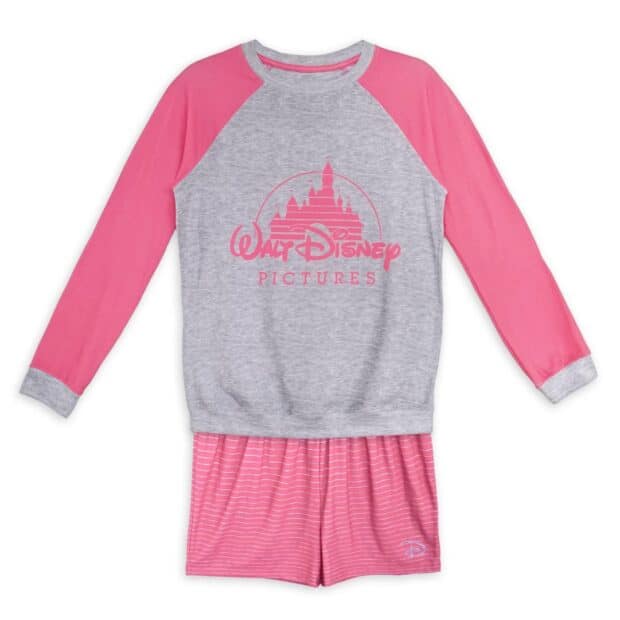 Available here on shopDisney.
Mickey and Minnie Mouse Pajama Set for Women
This iconic duo has a nice set that says, "Happiness, served up every day!" I like the long sleeve option with shorts. It' s nice to have a variety of options.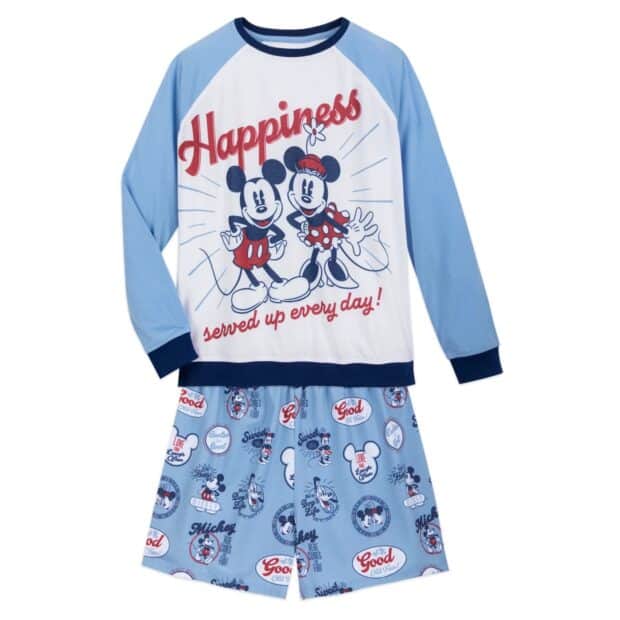 Find this pair here on shopDisney.
Minnie Mouse Long Sleeve Nightshirt for Women
For those who prefer a nightshirt, check out this one in bright red with white polka dots. Minnie is peeking out of the pocket that features a contrasting pattern.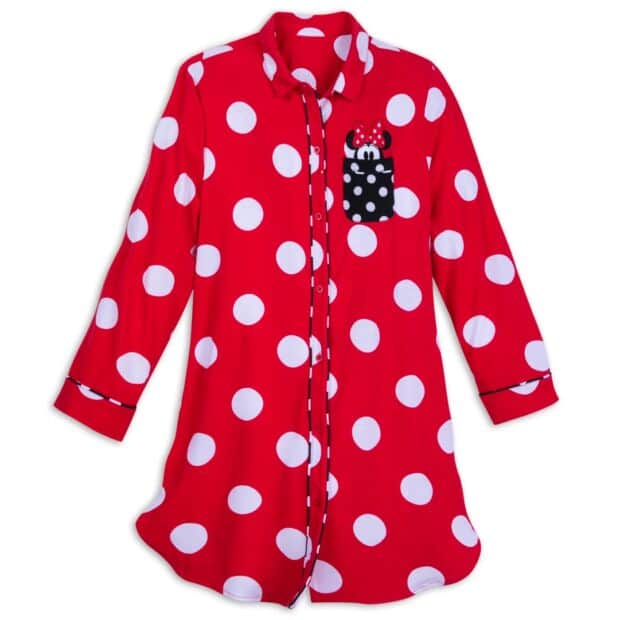 Find this polka dot nightshirt featuring Minnie Mouse here on shopDisney.
Mickey Mouse Night Gown
In a similar style as the Disney pajamas, you'll also find this Mickey Mouse nightshirt for women. This one has a cute, classic print.
Find it here while available on shopDisney.
Mickey Mouse Lounge Pants for Women
When I saw these Mickey lounge pants, I knew I had to add them to our Disney pajamas list! (Make sure to check out the matching shorts.)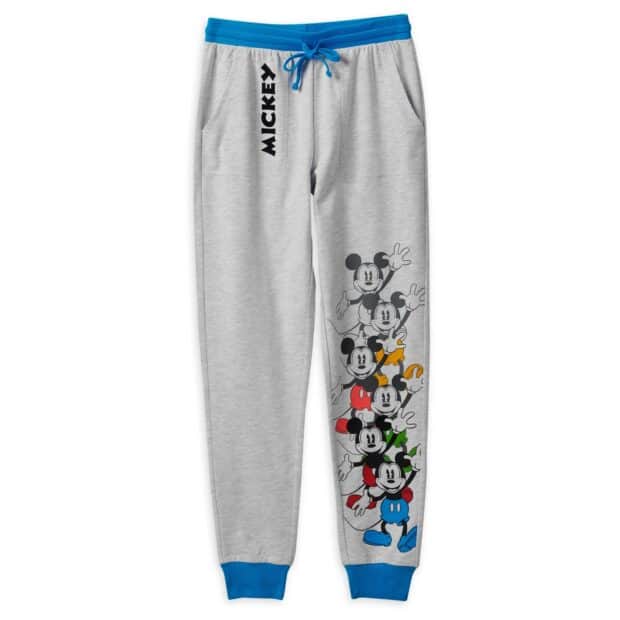 These lounge pants are available here on shopDisney. And don't miss this adorable pair of shorts with the same print here.
Eeyore Robe for Adults
Can you see yourself snuggled up in this Eeyore robe? What's not to love? Even the tie serves as Eeyore's tail!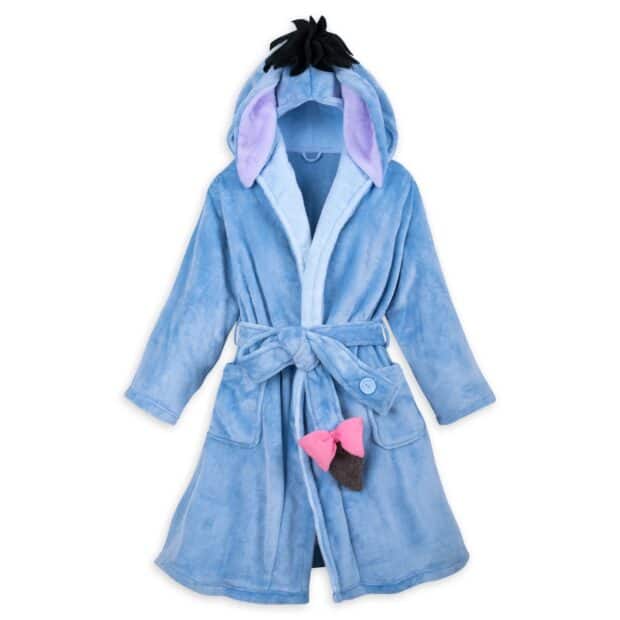 This looks like the comfiest robe ever! Find it here on shopDisney.
Minnie Mouse Robe for Women
If I only had to order one of these, I'd have a hard time deciding. On one hand, Eeyore is playful and fun. But on the other hand, this Minnie Mouse robe is nice.
This bright red robe looks warm and cozy, doesn't it? Read more details here on shopDisney.
Didn't find what you were looking for? Preview all of the Disney Women's Pajamas that are currently available here on shopDisney.
Below are a few of the most popular articles:
While we share quite a few fun Disney merchandise reviews on the site, our specialty is our Disney World Resort Reviews. We spend a lot of time at the Disney Resorts and love to share it with you. You might enjoy one of our favorites, Disney's Animal Kingdom Lodge Review.
Additionally, anyone headed to Disney Springs during their vacation might love our list of the best restaurants at Disney Springs. They include favorites like Morimoto Asia and Frontera Cocina.
Lastly, I hope you were able to find a new favorite pair of Disney pajamas!