Volcano Bay View Room at Cabana Bay Beach Resort
As we look at a few new hotels over the next month or so, I decided to throw in a bit of a curveball. I went to Universal Studio's Volcano Bay for the first time. To celebrate, I stayed in a water park view room at Universal's Cabana Bay Beach Resort.
So for this article, we'll look specifically at a volcano-view room at Cabana Bay. Eventually, we'll take a deep dive look at the hotel in a full review. But since I'm traveling over the next few weeks, I want to keep things simple while still bringing you valuable content.
If you're considering doing something different, a mini-vacation, or a budget-friendly option, this article is probably for you. It was something different for me.
Last week, on a whim, I called my travel agent at Firefly Travels and had her reserve two nights in a volcano view room at Cabana Bay. Initially, I planned to drive to the water park while in Orlando.
But after thinking it over, I knew that meant driving to Universal's parking deck, parking, and then taking transportation to the water park. So while that wasn't a big deal, I thought about the convenience of walking from a hotel room to the park.
Overall, convenience won out. And I think you'll agree. The room view was definitely worth it.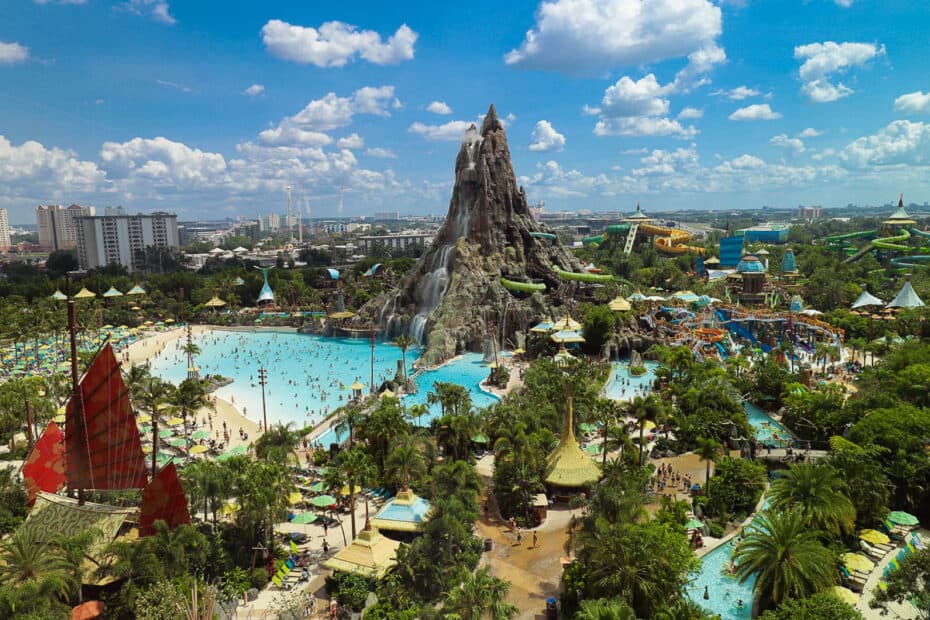 And the room wasn't too shabby either, especially since this is considered a value category resort.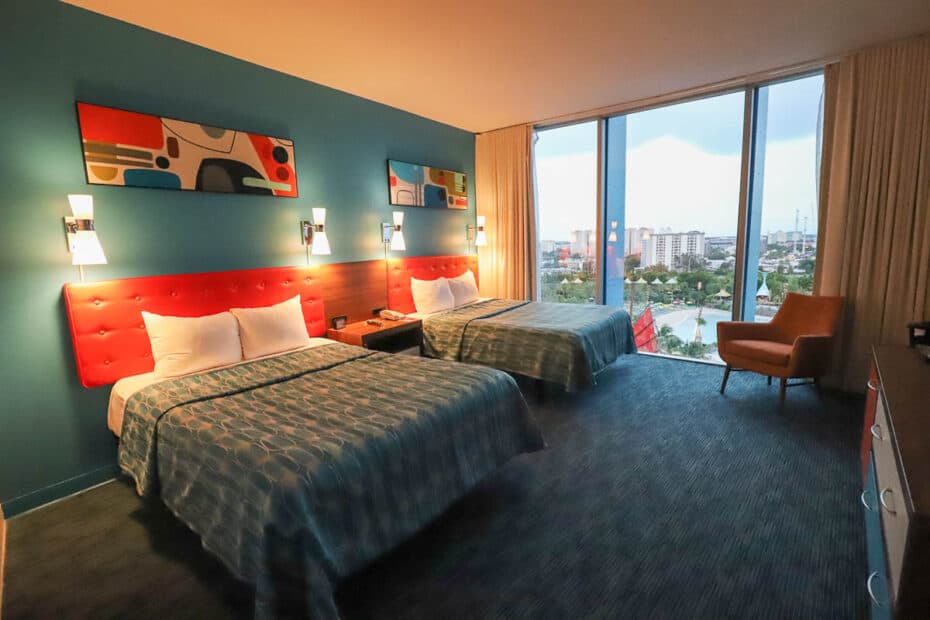 However, I found the towers, which are home to the volcano view rooms, more comparable to a moderate resort.
The standard Cabana Bay Beach room features two queen size beds. The accent wall is painted a bright blue, and the rest of the walls are all white.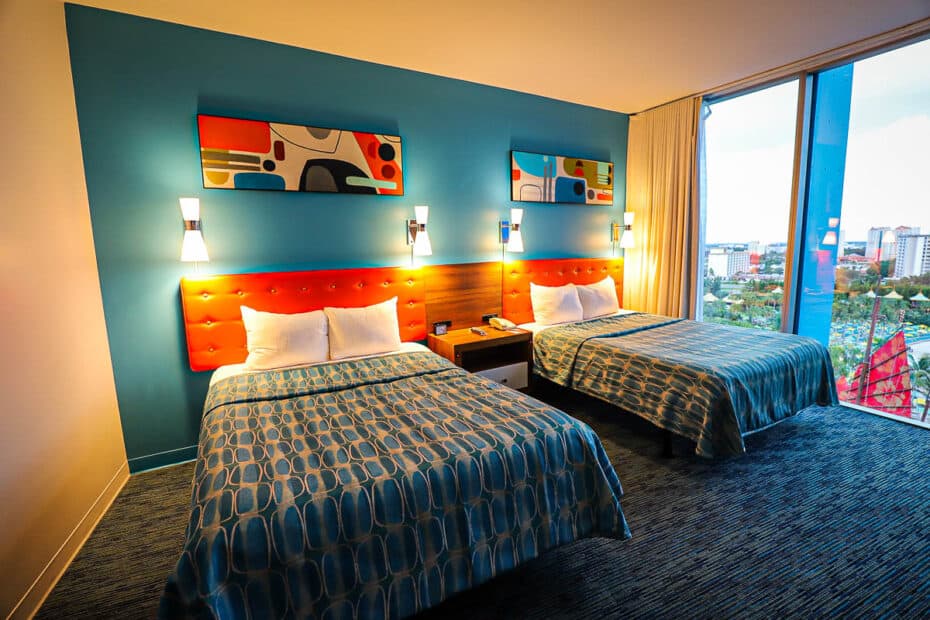 A large wall of floor-to-ceiling windows looks directly out to the water park. The long windows enhance the space making it feel larger.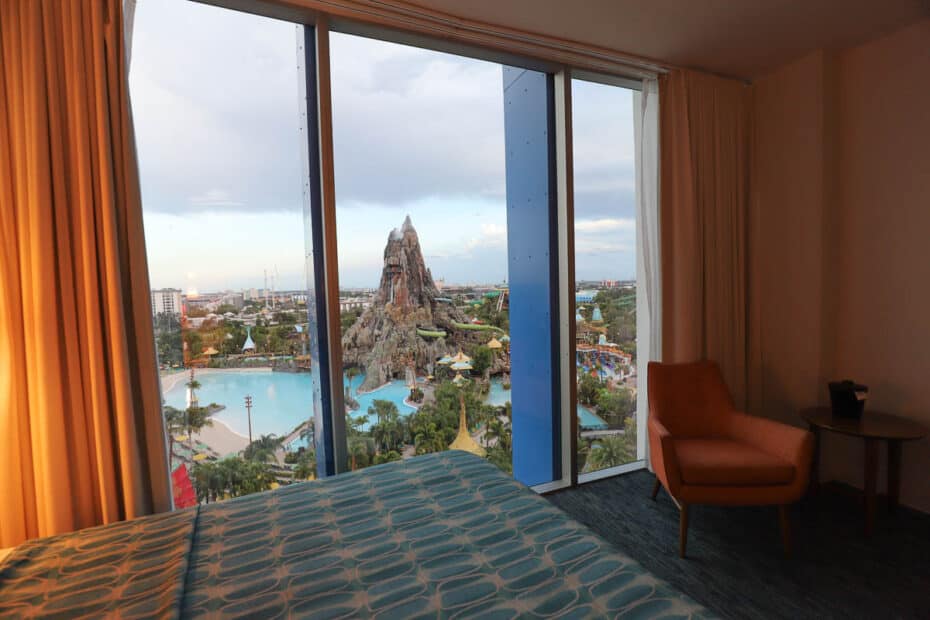 There was an orange-cushioned headboard with reading lights on both sides. I found this a comfortable set-up for blogging from bed because that's what I do when I travel.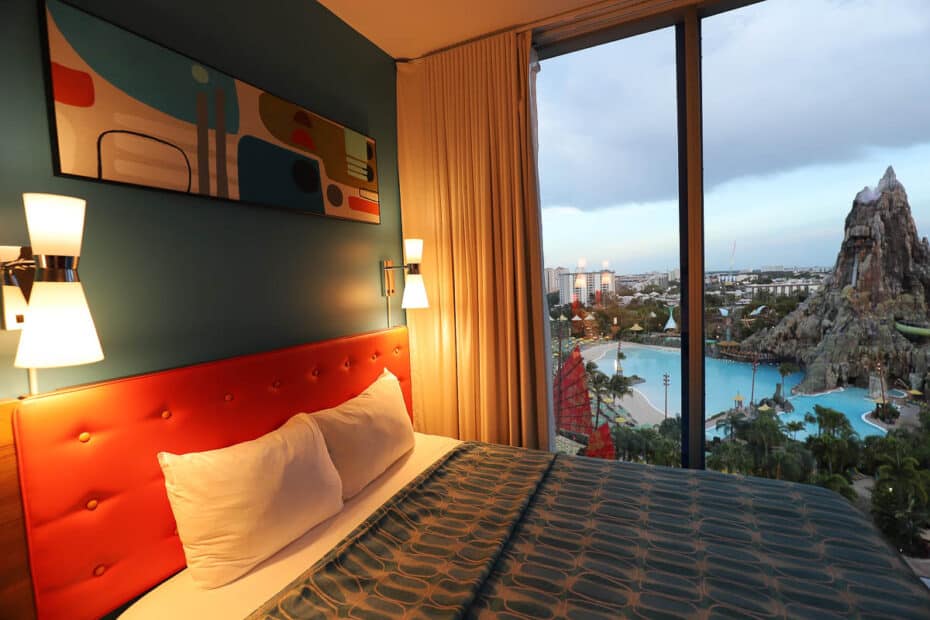 Here's another angle.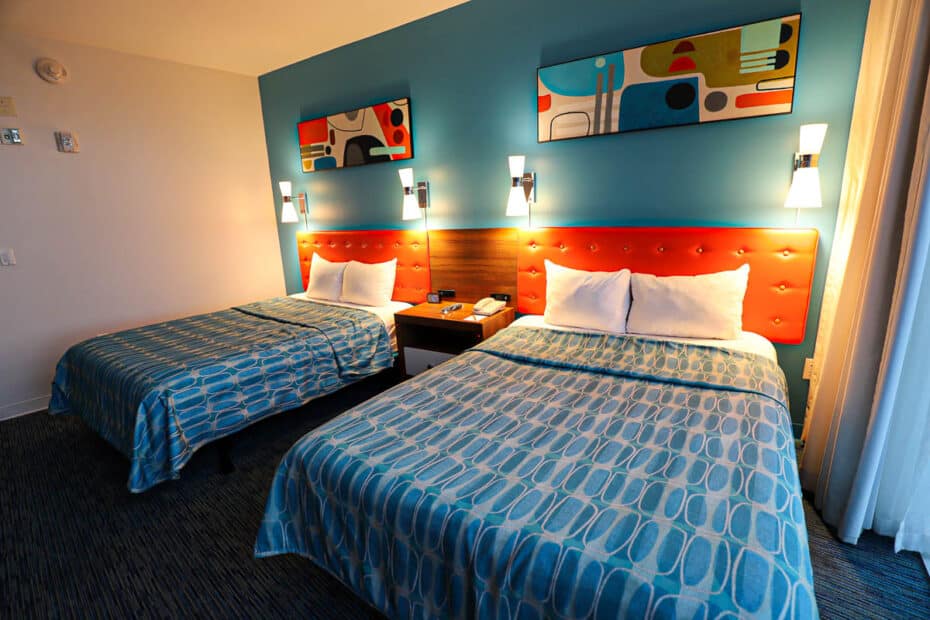 I enjoyed the minimalist look and feel of the room. Less is more.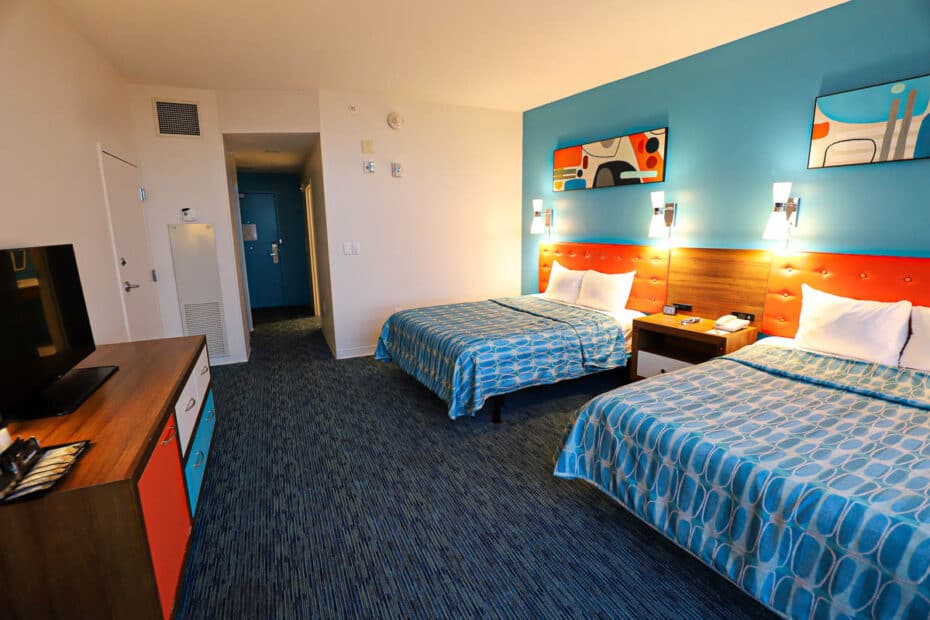 A retro chair sits in the corner by the window. There was a small table beside it.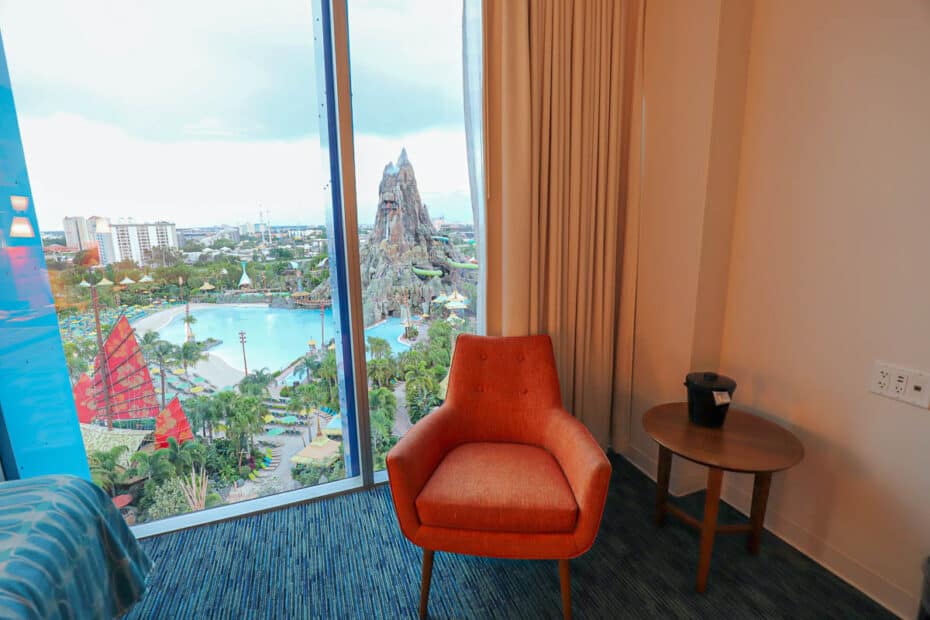 You'd probably prefer to turn the chair around and face the stunning view.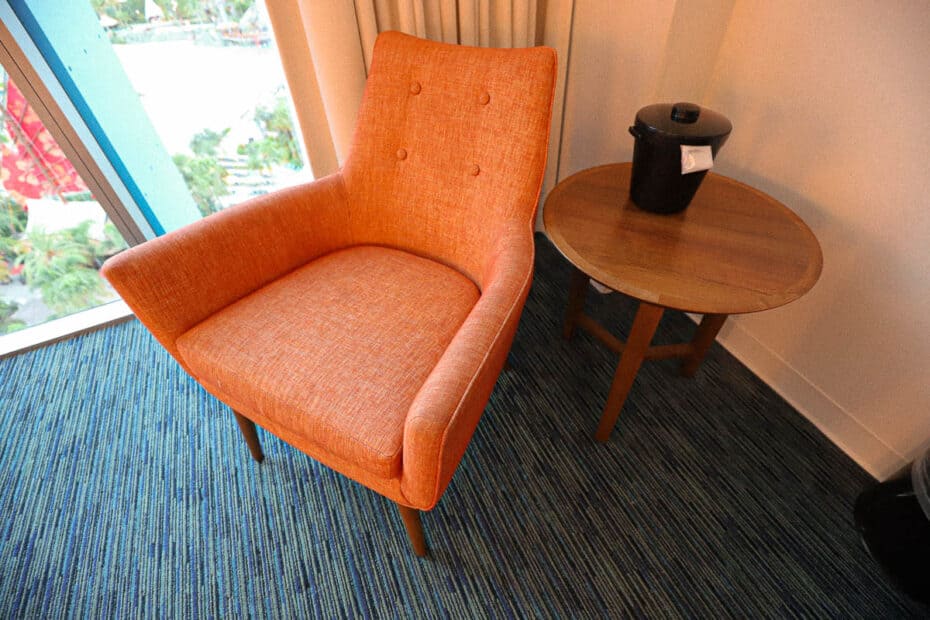 The dresser provided a couple of draws for storage and other amenities.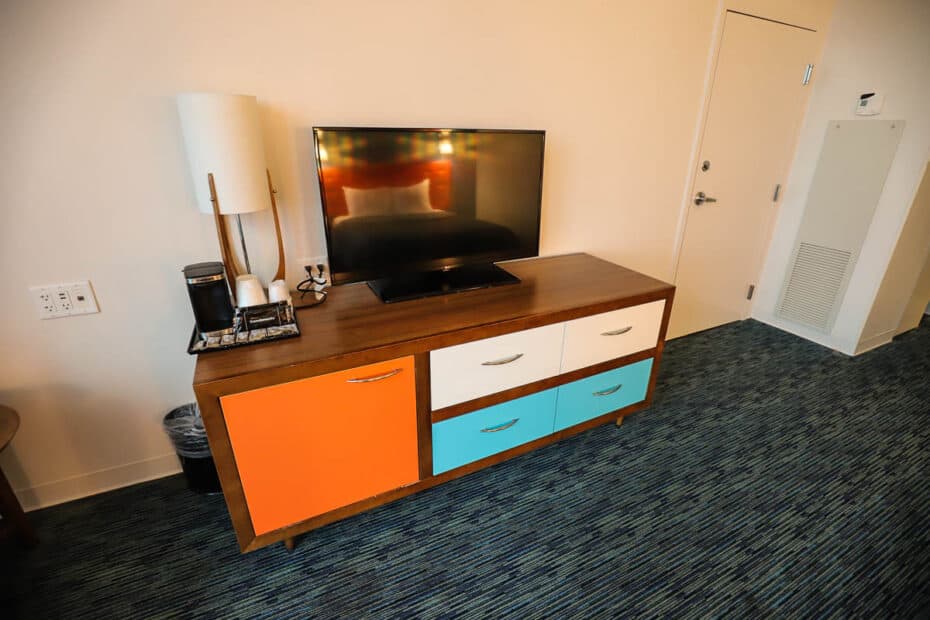 There was a single-cup coffee maker by Cuisinart.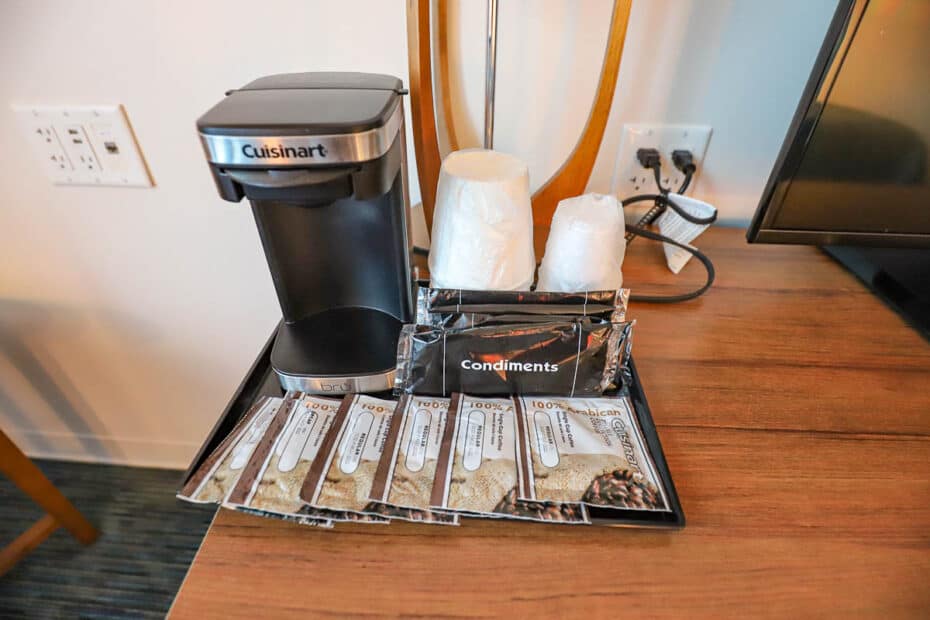 In the dresser cabinet, there was a small mini beverage cooler.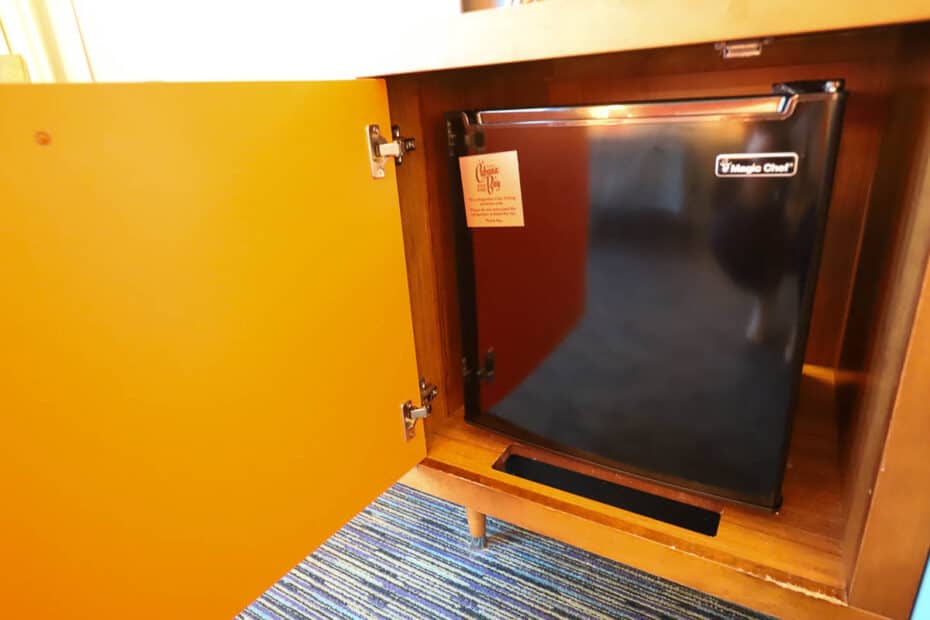 Here's a look at the inside. It did get pretty cold, but I hesitate to call these newer amenities mini-fridges nowadays. The trendy word is beverage coolers, which indicates they might not get as cold as either you or I would like.
Sorry, I forgot to bring my thermometer.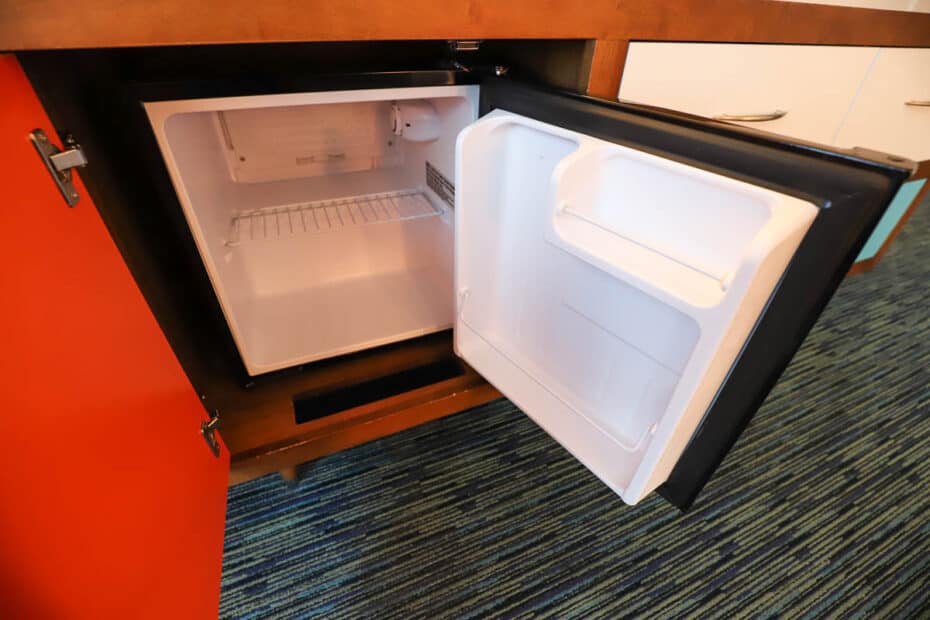 There was a remote, telephone, alarm clock, and a notepad on the shared nightstand. In addition, the television had the option to sync to your phone.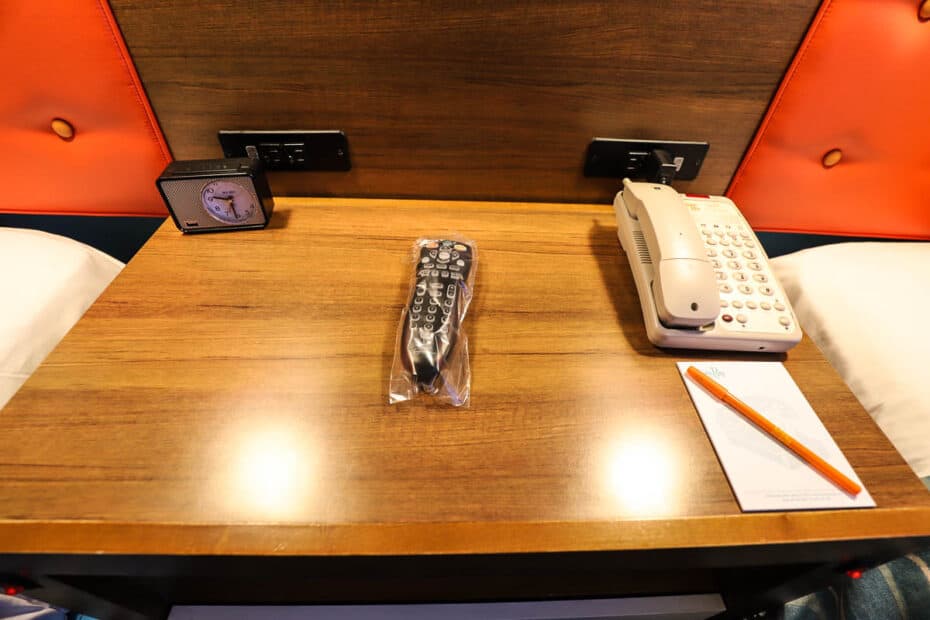 A closet holds the usual items like an extra blanket, pillow, iron, and ironing board.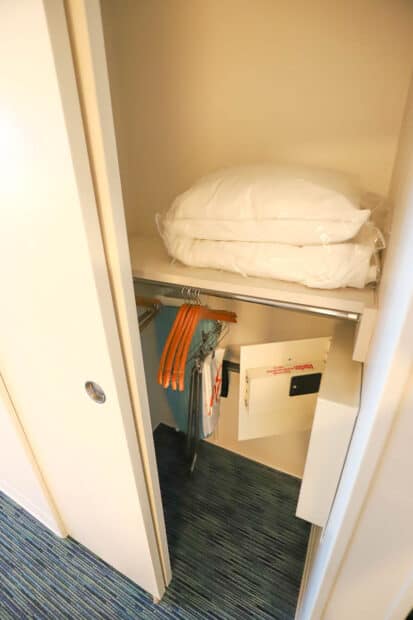 In addition, there was a safe and a luggage rack.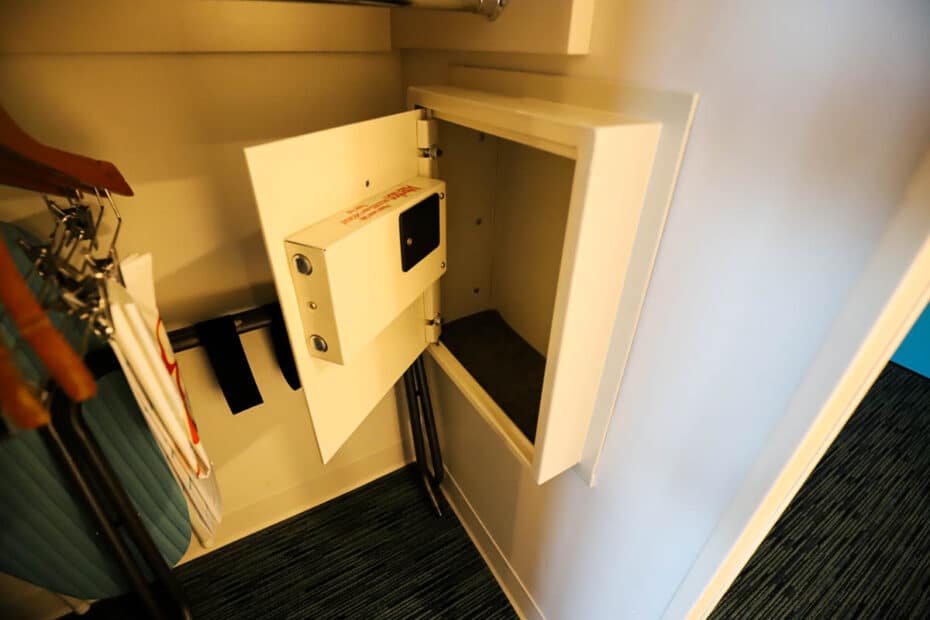 This was a handicap-accessible room. So the guest bath might have a little bit of a different layout.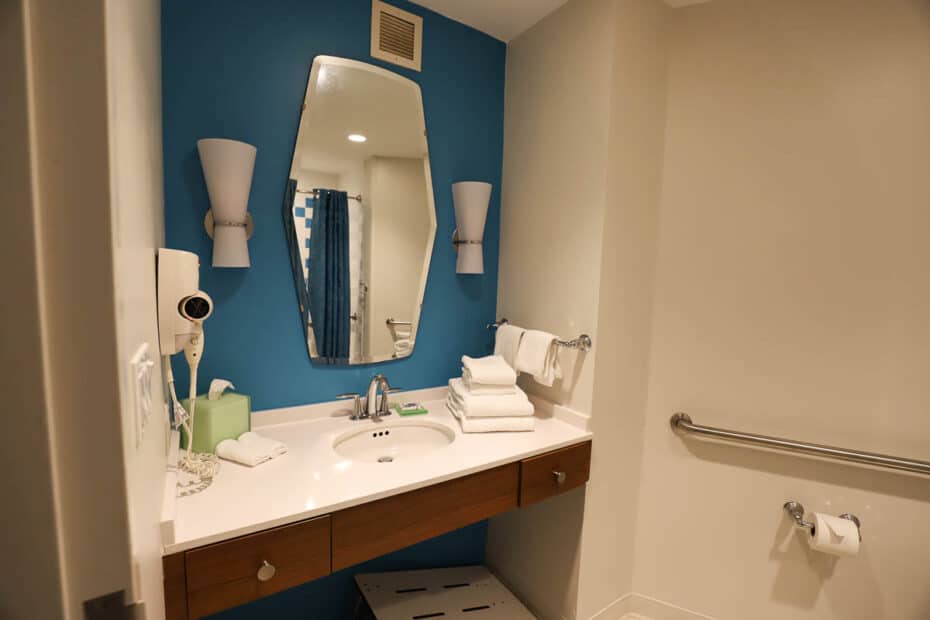 The bath had plenty of counter space, a hairdryer on the wall, and a few small drawers for storage.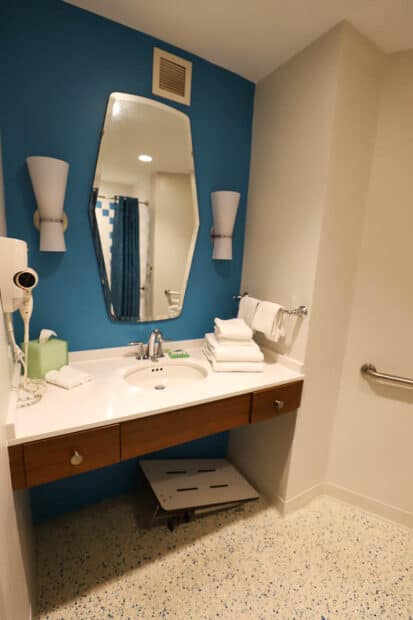 Here is that hairdryer.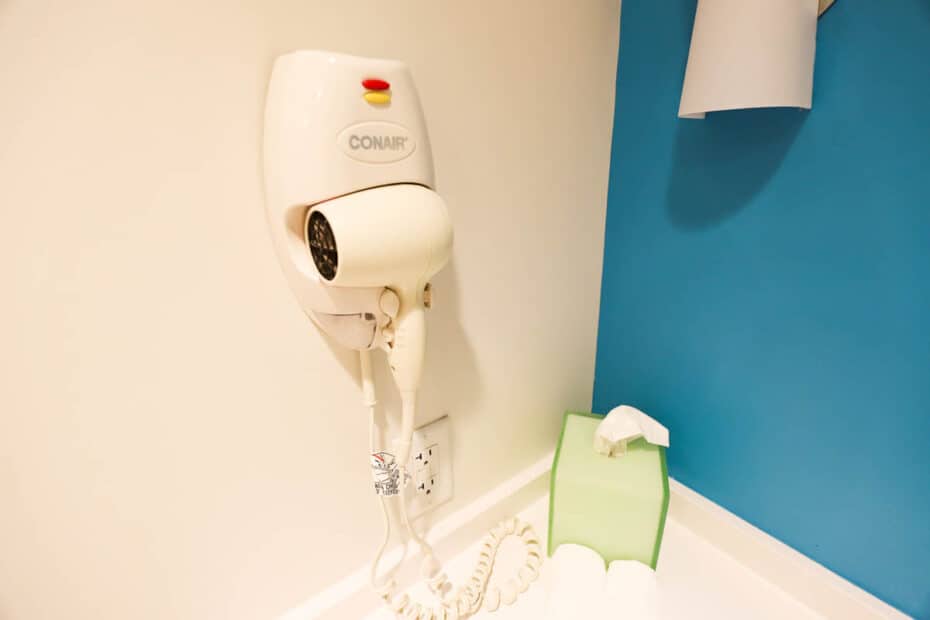 The bath had a standard tub with a shower combination.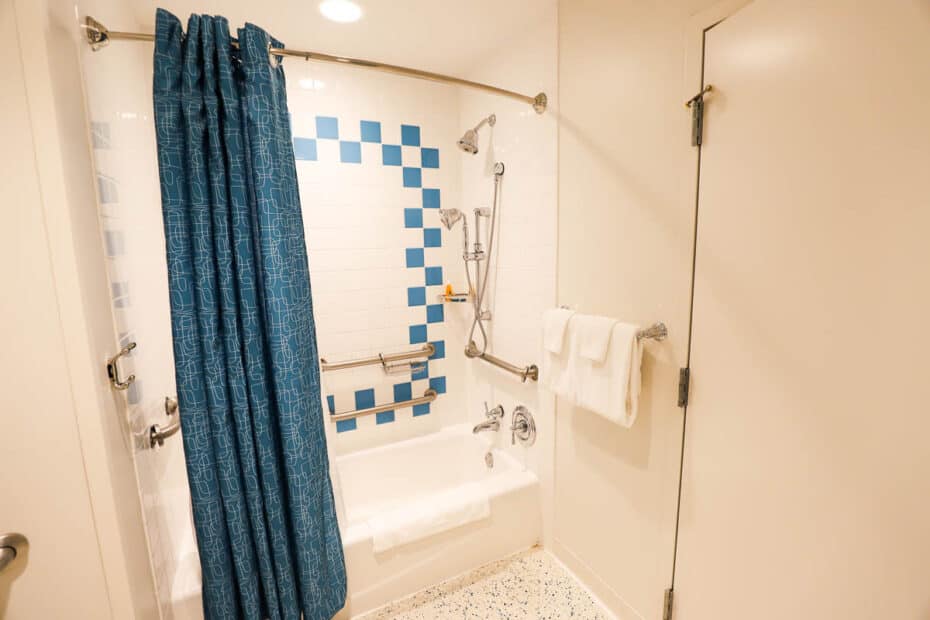 There was a standard and a detachable showerhead.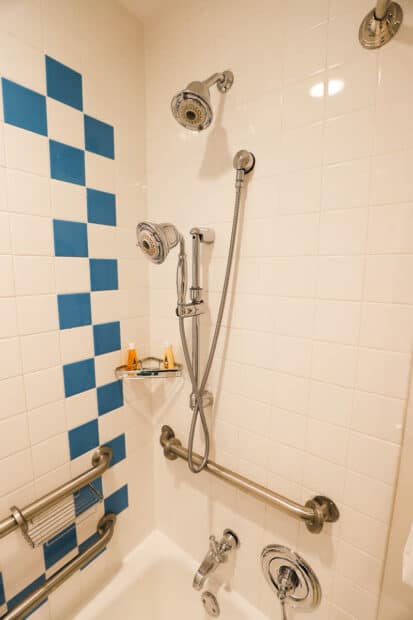 Toiletries included V05 shampoo and conditioner along with Zest soap. My initial thought was that it would smell like my grandmother's old house. And then I realized it was supposed to since the resort has a vintage vibe.
Additionally, it took two minutes to walk from the front of my building to the security entrance for Volcano Bay. Being so close to the park was a huge advantage.
After lunch, I took my camera back to the room to store it. Of course, I could have rented a locker at the park. But there wasn't much need given the proximity of my hotel room.
While I don't always recommend a room view upgrade, I'll make an exception for Cabana Bay Beach Resort. If you're considering a water park view room, there are a few other things you'll want to note.
There are two towers at Cabana Bay Beach Resort that offer water park view rooms.
Each tower has interior hotel room access. (The other buildings all have exterior room access and exterior elevators.)
The tower rooms and water park rooms are an upgrade.
Tower rooms have parking decks on each side. I was instructed to use the parking deck since I was a guest of the tower. Other buildings all have regular parking lots.
It doesn't matter which tower you are assigned. The towers sit almost immediately next to each other.
You will hear music and other noises from the water park during operating hours. If you prefer to sleep late, this could be a slight nuisance.
No luggage assistance was available, so you'll need to handle your own luggage. (Luggage carts are available, but you have to find one.)
Request a higher floor for premium views.
Overall, I enjoyed my stay in the water park view room at Cabana Bay Beach Resort. My trip to the water park went smoothly, and I was pleased that I opted to spend a few nights here instead of driving over as a day guest.
Several times during my stay, I caught myself thinking it would be nice to come for a 4-day, 3-night trip and only enjoy the hotel and water park.
If you wanted to do something extra, you could walk to neighboring City Walk and the other Universal Hotels. Additionally, the Mall of Millenia and International Drive Premium Outlets are approximately 10-15 minutes away.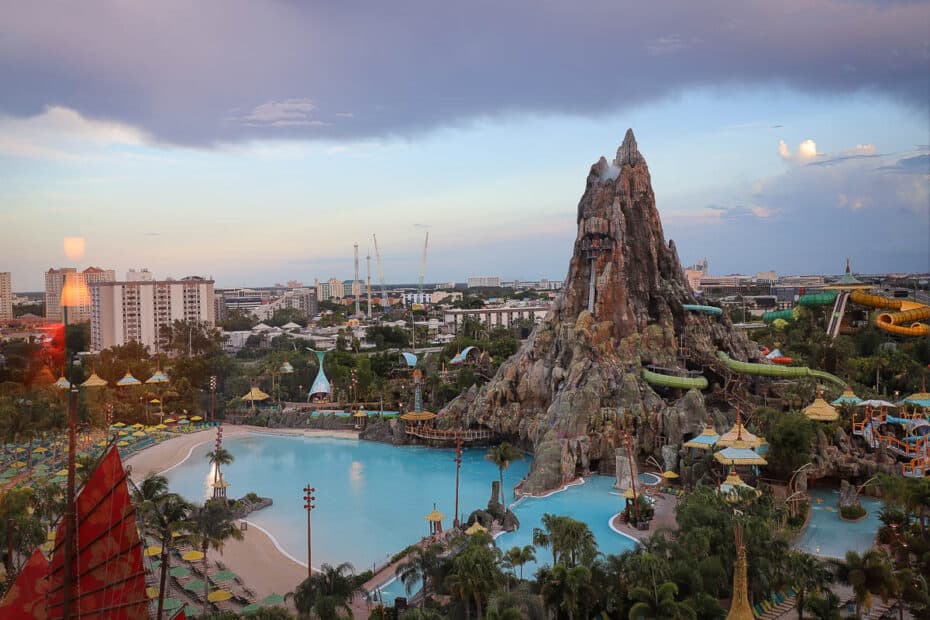 And you really can't beat that view!
For an alternative view, here's the video tour of the room.
For other Orlando area resort reviews, you might enjoy the following:
So, what are your thoughts on this Volcano Bay view room at Cabana Bay Beach Resort? Does the view look like something you might enjoy? Have you ever visited?