Laundry at Walt Disney World (List of Every Facility and FAQS)
Who wants to do laundry on vacation? Probably not many of us. But, unfortunately, there are plenty of reasons we end up at our resort's laundry room during a week-long trip to Walt Disney World.
Those reasons range from acquiring a random stain at that character dining restaurant to recycling your wardrobe because you packed light to avoid luggage fees. Rest assured, I have never fallen into the latter category.
But I do fall into one specific category of laundry-doers on vacation. My category is the one that can't deal with having dirty laundry pile up in the room after two days.
Oddly, doing laundry on vacation can be a bit of a stress reliever. After standing in line all day in the parks and then getting packed into a Disney bus like a can of sardines at the end of the day, you might also feel the need to complete a domestic task.
Sometimes normalcy is comforting, right? And since most of the resort's laundry rooms are near pools, why not turn that household chore into a calm, relaxing resort day?
You can sleep late, enjoy a casual breakfast, get your laundry started, and hit the pool. It won't be long before you realize that you're on vacation.
The saying goes, "when life gives you lemons, make lemonade." That lemonade might be a tropical drink with a tiny umbrella enjoyed poolside while you're doing laundry.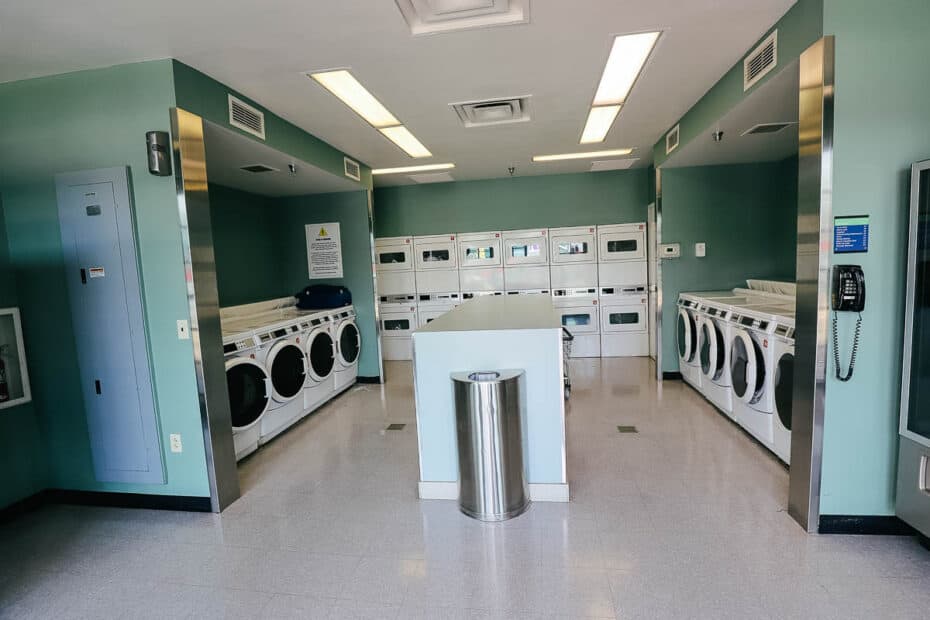 List of Resorts with Laundry Rooms at Disney World
Every resort at Walt Disney World offers laundry facilities. The highlighted links below offer photos and individual details for each resort's laundry room(s).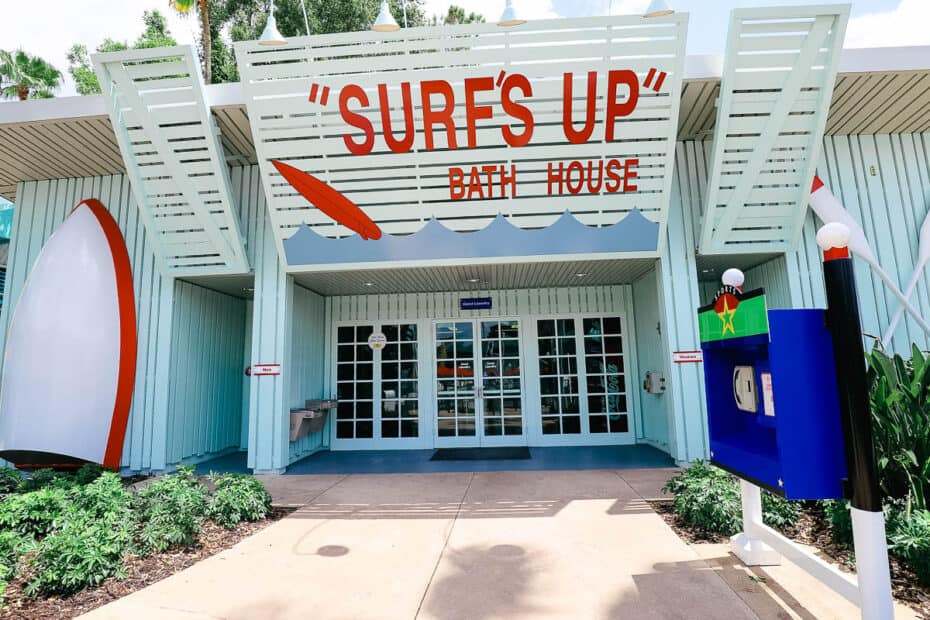 FAQs For Doing Laundry at Walt Disney World
Laundry, in general, works the same way at each Walt Disney World Resort. So below, we'll look at a few frequently asked questions.
Can you do laundry at Walt Disney World?
Yes, every hotel at Walt Disney World offers laundry facilities. In addition, some hotels have multiple laundry rooms.
How much does it cost to do laundry at the Disney World Hotels?
Laundry costs $3.00 per cycle at this time. So it costs $3.00 to run one cycle in the washing machine and another $3.00 to use the dryer.
Additionally, each laundry facility has vending machines that sell laundry detergent for $1.00 per packet.
How does laundry work?
Disney uses a laundry system called Laundry View. You can view all of the laundry rooms and the availability of their machines here on Laundry View.
You can check Laundry View's site to see if there are any washing machines or dryers available before taking your laundry down to start it. Additionally, you can use the site to check the status of your laundry.
However, we usually set an alarm on our phones that alerts us when the cycle ends. After the alarm goes off, we walk over and process our laundry.
Each laundry room has a machine on the wall that takes credit or debit cards. Unfortunately, no laundry rooms at Disney World take cash or coins.
How long does it take to do laundry?
Most of the wash cycles at Walt Disney World are approximately 35 minutes long. Dryer cycles tend to average 50 minutes per load.
What kind of laundry detergent is available?
Typically, there are packets of Tide laundry detergent and another free-and-clear allergy-friendly option. We usually use allergy-friendly detergent, and there's a disclaimer on the package that it's suitable for multiple loads.
Do any hotel rooms have private laundry rooms?
Yes, a few upgraded suites at select Disney World Hotels have washers and dryers in the rooms. Additionally, guests staying in a one-bedroom, two-bedroom, or three-bedroom grand villa at a DVC Resort (Disney Vacation Club) will have a washer and dryer in their unit.
Those staying in a deluxe studio at a Disney Vacation Club Resort will have access to a public laundry room at their resort. There is no charge for deluxe studio guests to use these laundry rooms.
Additionally, DVC guests usually get one complimentary package of detergent. However, there's a $1.00 charge if extra detergent is required. (We've often been given an extra pack when requested at the front desk.)
How do I access the laundry room?
Most of the laundry rooms require a room key or magic band access. They will have a touchpoint near the door. Once you scan your card or band, the light flashes green, and you'll have a few seconds to open the door.
Unfortunately, you cannot use your magic band to pay for laundry.
Other Laundry Services at Walt Disney World
In addition to laundry facilities, guests of a Walt Disney World-owned and operated hotel can take advantage of dry cleaning and valet laundry service. You can select "housekeeping" from the phone menu in your room to schedule a pick-up.
If you're staying at Saratoga Springs, Old Key West, or Disney's Caribbean Beach, you'll need to drop off your laundry or dry cleaning with bell services before 9:00 a.m.
Usually, these specialty services come with a high price tag. For example, you might pay $3.00 to have one pair of underwear laundered. There should be a price list available in your hotel room. More details for this service are available here on Disney's site.
*All of the hotel rooms have an iron and ironing board available.
Laundry at Disney World
Thankfully, Disney has you covered when it comes to laundry facilities. Somehow they always seem to think of everything.
For more resort-related information, you might enjoy the following articles:
Gift Shops at the Disney World Resorts
Disney Resort Transportation FAQs
In the Comments
Do you have any questions about doing laundry at Walt Disney World? Have you ever had to do laundry on vacation? What are your thoughts?