Main Street Horses at Magic Kingdom
When visiting the Magic Kingdom at Walt Disney World you will more than likely encounter a few horses. Disney actually lists the Main Street Horses as an attraction on their website.
These horses can usually be found on Main Street USA pulling the Main Street Trolley. Guests are allowed to ride the Main Street Trolley at certain times of the day.
At other times the horses are pulling the trolley while it's full of performers or you might even see a horse riding in one of the daily parades. This review will go over a few details about the Main Street Horses at the Magic Kingdom.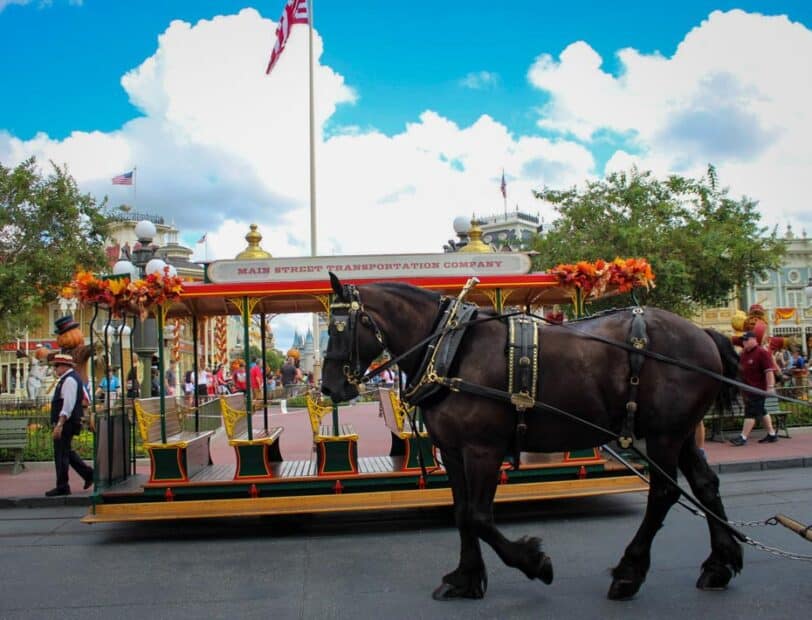 Here are a few specifics regarding the horses on Main Street.
| | |
| --- | --- |
| Main Street Horses | Magic Kingdom |
| Location: | Main Street U.S.A |
| Height Requirement: | None |
| Ride Type: | Horse and Carriage |
| Seats Per Vehicle: | Four per row on average |
| Rider Switch: | None |
| Good For: | Taking a ride down Main Street |
| Scare Factor: | None |
| Must-Do List: | Low |
| Perfect For: | All Ages |
| Special Mention: | The carriage ride goes down to the castle hub and lets guests out before returning back to Town Square. |
Main Street Horses
The Main Street Horse provides horse-drawn experiences down Main Street USA. The horses are out more often in the morning hours than in the afternoon depending on the weather.
As of late, the Main Street horses are being used in the pop-up parades that encourage social distancing. You might see Gaston riding one of the horses.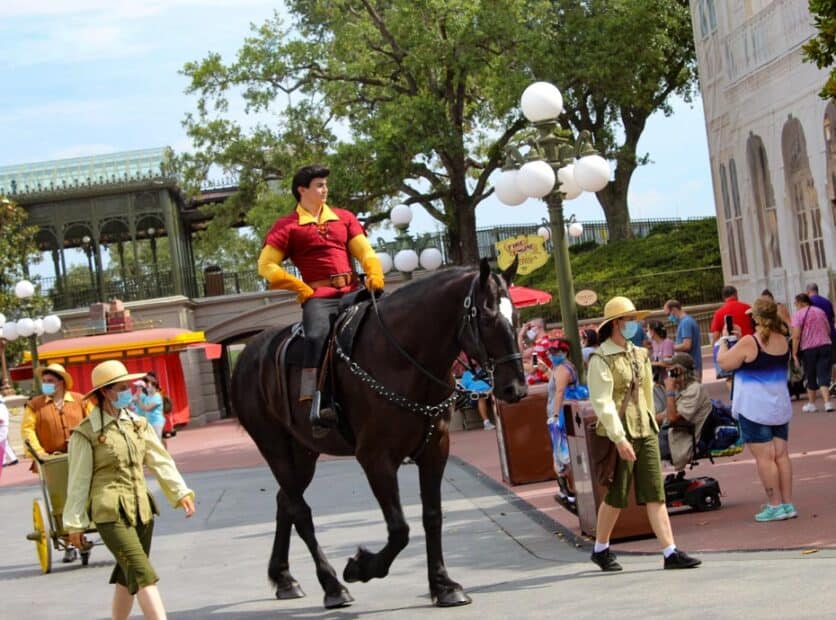 And sometimes Merida is part of the experience.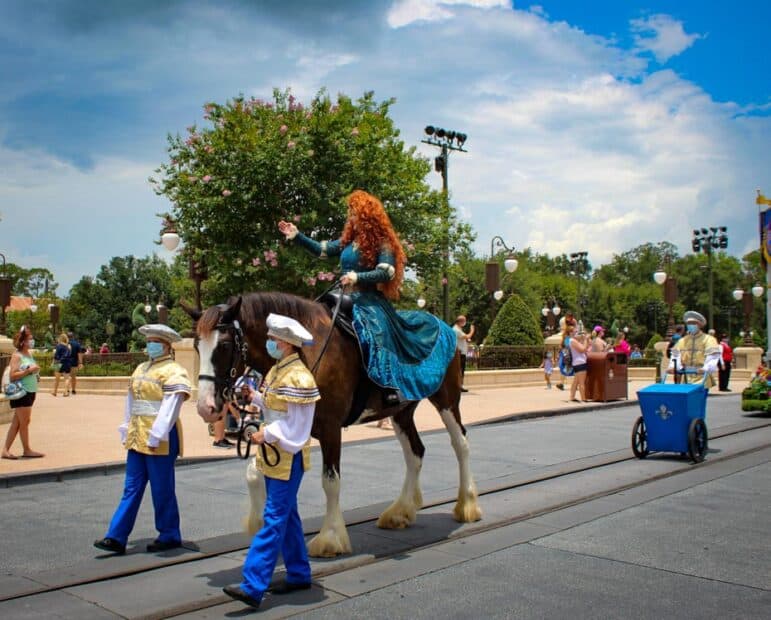 During this current time, the Main Street horses are not being used to pull guests in vehicles down the street. But below are my thoughts on when they are available.
While we don't make a special effort to experience this type of attraction, we do always stop if we happen upon them. I highly doubt that anyone will regret taking a few minutes to ride up Main Street in a horse-drawn trolley. It's such a unique experience to be able to ride down the street toward the castle with a horse pulling the way.
More Horses at Disney: If you have a horse enthusiast in your family, I recommend taking them on a visit to Fort Wilderness Campground on your next visit. There are two different stables at Fort Wilderness, and a new stable is currently under construction. The horses used on Main Street and at Disney, in general, reside here.
Tri Circle D Ranch offers the following breeds of horses:
Quarter Horses
Percheron
Pain
Gypsy Vanner
Clydesdale
Belgian
Appaloosa
Arabian
Shetland
There is also the option to go on a trail ride. This is something my son enjoyed a few years back. At that time he was an avid horseback rider, and he felt like the trail was more for beginners but offered pretty scenery. If you have more interest in reserving a trail ride you can do that here on Disney's site.
There are also opportunities to take horse-drawn carriage rides at Fort Wilderness and Port Orleans Resorts. You can find more information about those events here.
Make sure to check out all of the attractions and rides at Magic Kingdom. You might also enjoy a few specific attraction reviews in the same area:
Resorts Gal specializes in Disney World Resorts, Characters, and Dining. Make sure to check out some of our resources like the list Walt Disney World Resorts with reviews. That article gives a brief overview of every resort at Disney.
Additionally, transportation at Disney is a really big deal. If you haven't visited before or it's been a while, you might want to check out the Disney World Monorail guide and the Disney Skyliner with travel times review.
For planning dining reservations, we have a full list of our Disney restaurant reviews available. Normally, we recommend planning at least one Disney World character dining meal and a Disney signature restaurant reservation.
If you are planning to meet characters in the parks, I keep an updated list of Disney World Characters here. That review will link to every meet available in each of the four parks.
Lastly, our most popular reviews include the best restaurants at Disney Springs and I keep a timeline going of Disney Loungefly mini-backpacks.
Hopefully, you'll get to see some horses out and about at Magic Kingdom on your next visit! Leave a comment and share your thoughts below.