A Visit to Amorette's Patisserie at Disney Springs
Amorette's Patisserie is a quick-service dining location at Disney Springs in the Town Center area. It's located in the last building on the right at the end of Town Center. This location is just ahead of the large World of Disney store where The Marketplace begins.
Amorette's Patisserie is the perfect place to pick up a decadent treat at Disney Springs. Or you could stop in for a few savory items like sandwiches and crepes.
The restaurant has several popular drink offerings, including champagne and sparkling wine selections.
Perhaps, Amorette's Patisserie's most popular treats are the Mickey Dome cakes. These are the larger cakes shaped like a Mickey Mouse head.
Dome cakes start at around $59 and are mainly special orders. Although, there are usually some for purchase on display.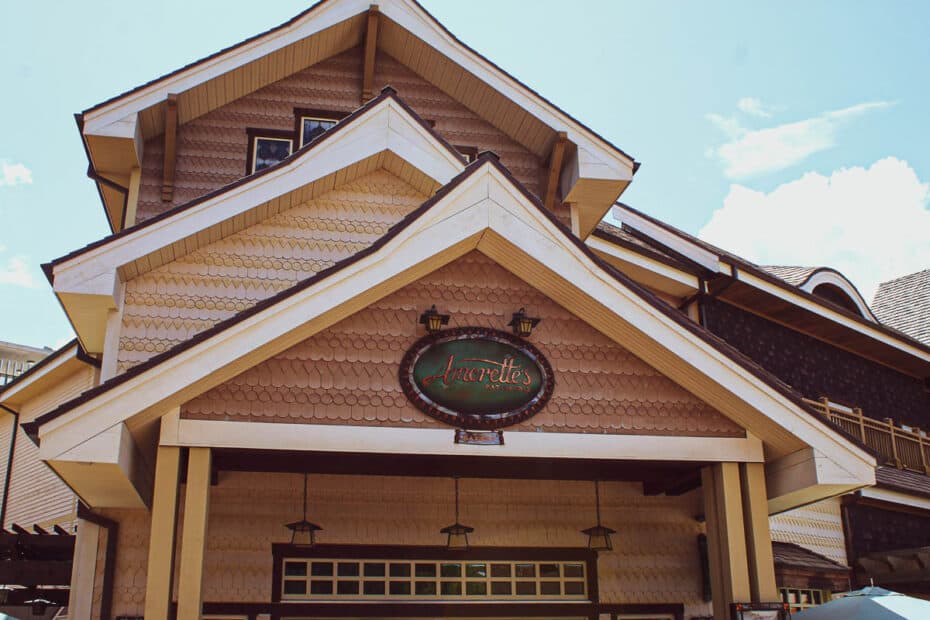 Here's a look at what you can expect at Amorette's Patisserie.
| | |
| --- | --- |
| Disney Springs Restaurant | Amorette's Patisserie |
| Location: | Town Center |
| Type of Service: | Quick Service |
| Type of Food: | Bakery |
| Price Range | Averages 14.99 and Under |
| Disney Dining Plan | Unavailable |
| Tables in Wonderland | N/A |
| Annual Passholder Discount | No |
| Menu | View Here |
Amorette's Patisserie
If you are looking to try something at Amorette's Patisserie, you probably can't go wrong. I've had multiple items from the bakery over the years, and everything has always been delicious.
Here's a look at a few things in the case, like chocolate-covered strawberries, custard, and a rose-inspired dish.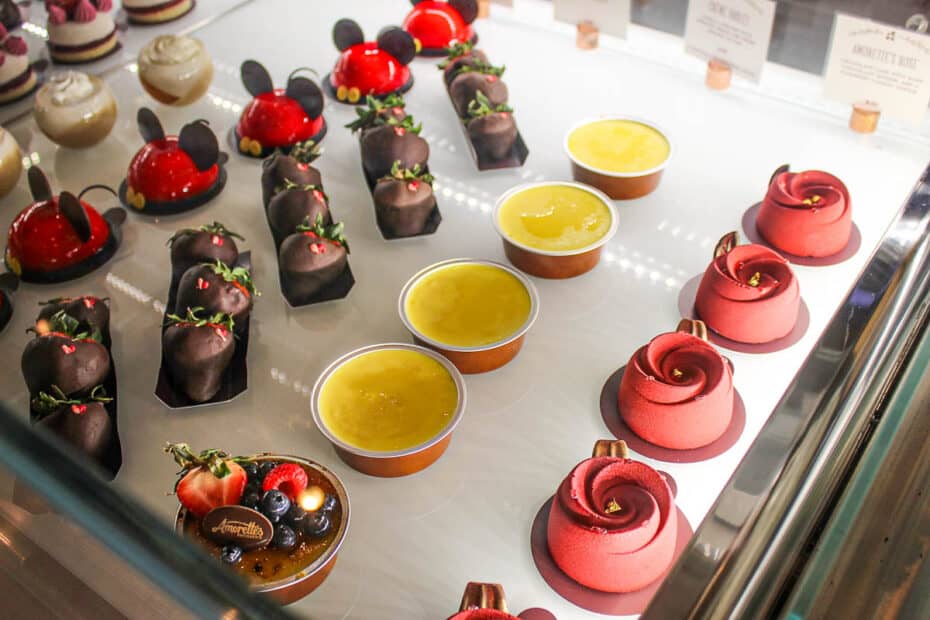 But my favorite item is one that I've ordered many times. It's the Petit Coffee Time Cake, as shown in the bottom left-hand corner. You might notice the Aladdin cake next to it a well.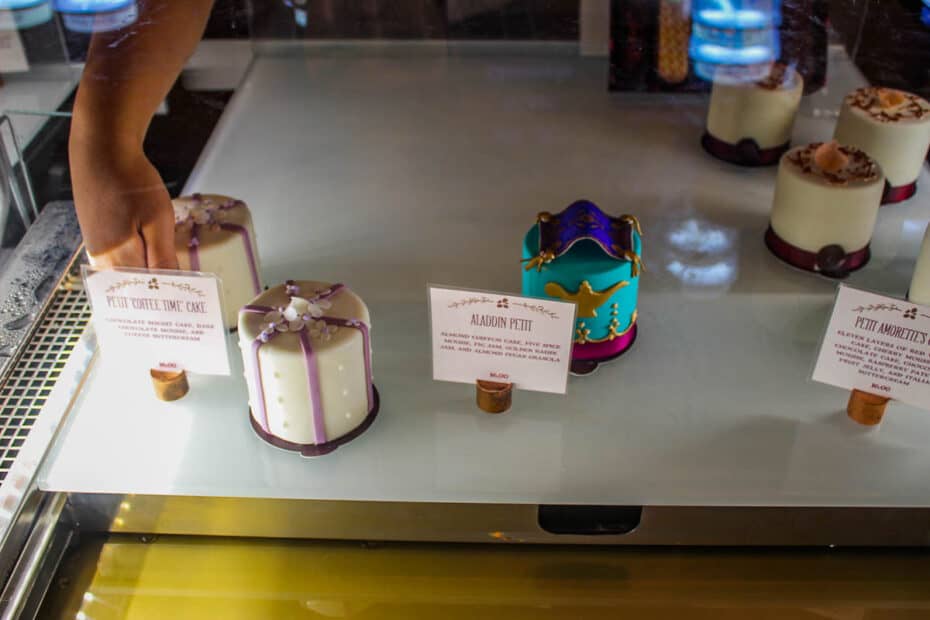 Amorette's typically has multiple seasonal cake offerings and unique items to represent popular Disney trends.
The coffee time cake is chocolate with buttercream icing and a splash of coffee. If you like chocolate, then you'll want to add this one to your list!
A few other favorites are a seasonal verrine, and the cookies have always been super delicious.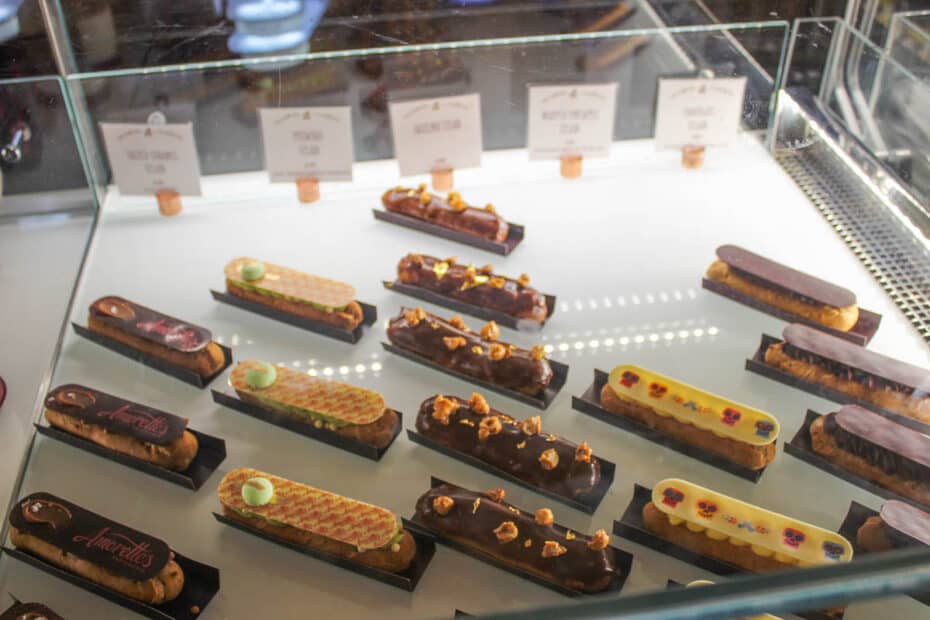 I've also had my eye on the strawberries and cream crepe but haven't had a chance to try it yet.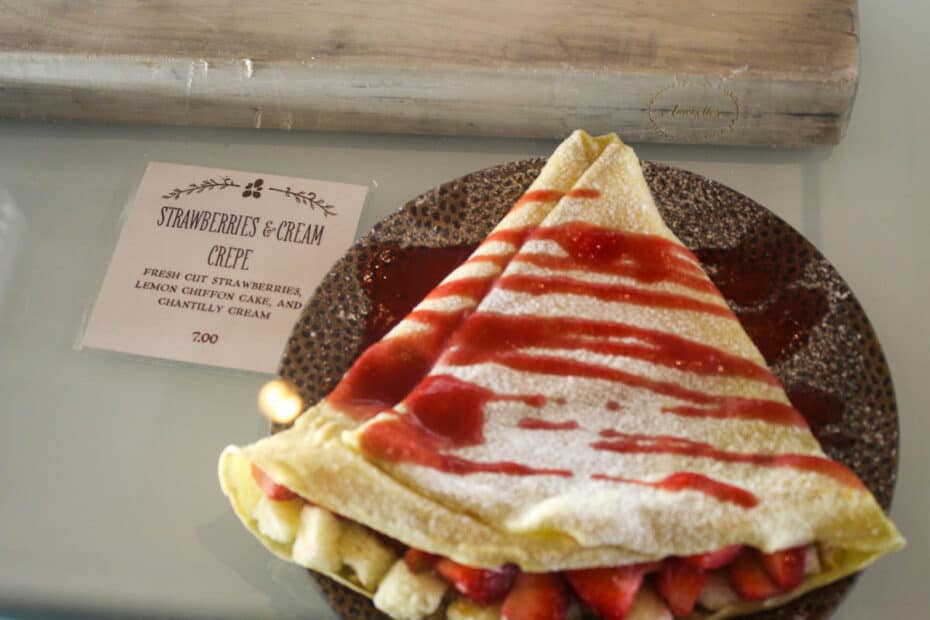 Below are a few crepes that were out on another day. They always look delicious.
Another popular item is this frozen wine slush. I wasn't crazy about this one, mainly because it was just too sweet and cold at the same time.
But that's coming from someone that doesn't care for frozen drinks. So I'm not quite for sure why I even ordered it.
A few holidays ago, I enjoyed a seasonal offering called a verrine. Something about the whole dessert interested me in the case, and it didn't disappoint. I would order it again.
As you can see, there are many options to choose from, no matter when you find yourself at Amorette's. So whatever you end up trying, enjoy!
If you're planning a trip to Disney Springs, try these other related articles:
Or you can view the entire list of Disney World Restaurant Reviews.
Resorts Gal specializes in resorts and hotels at Walt Disney World. You might enjoy browsing our resort guides if you are planning a trip.
So, what did you think about Amorette's Patisserie? Will you stop in for a treat? What would you pick?