Erin McKenna's Bakery at Disney Springs
Erin McKenna's Bakery is located at The Landing at Disney Springs. If you are looking for an easy marker to find this location, it's only a few steps away from The Boathouse restaurant.
For reference, in the picture below, you can see the flag flying in front of The Boathouse. Erin McKenna's Bakery sits only a few stores toward the front.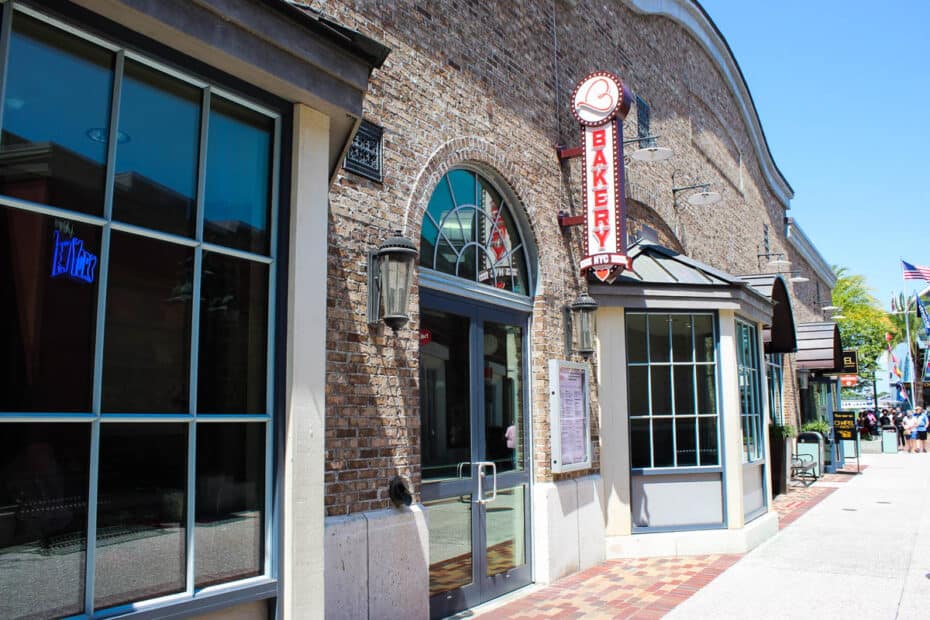 Unfortunately, I don't have a recent picture, but we have picked up a few items at Erin McKenna's Bakery in the past. It's a great place to grab a treat if you suffer from food allergies or a restrictive diet.
Per their website, the company doesn't use any gluten, dairy, egg, and/or soy in their products. However, they do use coconut in their products. From my understanding, that's why they can't advertise being a nut-free facility.
Additionally, they operate from a certified Kosher kitchen. If you would like to read more, check out the Erin McKenna website here.
We have tried a few faux ice cream products and cinnamon sugar donuts from Erin McKenna's. These are nice options for someone when dealing with diet issues and allergens.
Additionally, the staff has always been excellent. They are knowledgeable about the products they offer and can help you with any concerns.
Here are the other need-to-know details about Erin McKenna's Bakery:
| Disney Springs Restaurants: | Erin McKenna's Bakery |
| --- | --- |
| Location: | The Landing |
| Type of Service: | Quick Service |
| Type of Food: | Bakery |
| Price Range | $14.99 and Under |
| Disney Dining Plan | Unavailable |
| Tables in Wonderland | No |
| Annual Passholder Discount | 10% |
| Menu | View Here |
Erin McKenna's Bakery Menu
Here's a look at a menu posted outside the bakery location at Disney Springs on the day of this visit.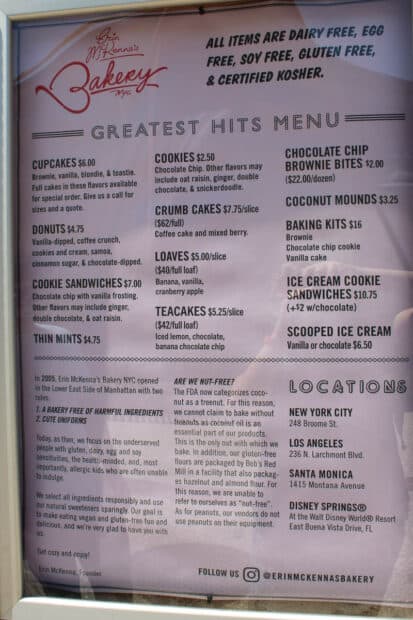 Hopefully, you can find something that suits your fancy and any diet restrictions!
For more dining at Disney Springs, make sure to check our dining guide and transportation guide.
Related Articles:
Or try these individual reviews:
Or browse our entire list of Disney dining reviews.
Please feel free to share any of your favorite items from Erin McKenna's Bakery in the comments below.