The Full List of Disney Mugs
Disney Mugs are quite the collector's item. If you have found yourself skimming over this review, you might even be sipping a cup of coffee from a favorite Disney mug.
Or you could indulge in a cup of hot tea now and then. You might even get creative and make muffins or cakes with your Disney mugs in the microwave these days. What will they think of next?
However, you could be reading this, in horror, staring at your mug collection on the wall, never dreaming of letting any harm come their way. If that description fits you, you probably don't want to know about my faded Pinocchio mug. Or worse, the cracks in my Disney Cruise Line mug. Yeah, it's the one with an anchor handle.
Regardless of what you use your Disney mug for, it's fun to have a cheerful cup to help add a little pizazz to your morning!
Maybe even a favorite Disney Mug!
Thankfully, Disney knows just how much our favorite mugs are in demand. They are always releasing new ones, making it difficult to keep up with all the different designs.
And If you were to click on a product and find that it's no longer available, don't be too discouraged. Often these mugs appear to sell out but then pop back up as available again. The other option is to pick one up on your next Disney vacation for those with plans to visit soon.
Lastly, have fun whether you are just browsing or looking for something special. Remember, there will always be a new Disney mug release right around the corner.
Disclosure: There are affiliate links on this page meaning Resorts Gal may be compensated if you make a purchase. These come at absolutely no cost to you and help support our business. All product images courtesy of shopDisney.
Disney Mugs List
Below are the most current Disney mugs available as of the last update in August of 2021. We haven't updated the mug list as often as we'd like this past year. That's mostly due to the shortage of new releases on shopDisney.
Since things appear to be picking up and several new designs were recently released, we thought we'd try it again. Personally, I hope you'll find availability for any new Disney mug you hope to get.
Let's get started!
The Nightmare Before Christmas Mug with Spoon
First up with have Jack Skellington with a shovel spoon to stir your coffee. The neutral color tones of this mug are really nice.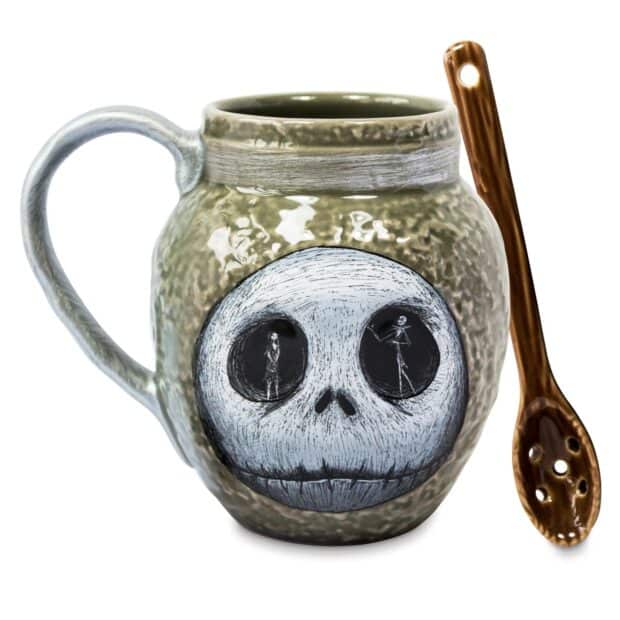 Find this Jack Skellington Disney mug here while it's available.
Alice in Wonderland Color-Changing Mug
As always, my personal favorite of the bunch features Alice in Wonderland. The Cheshire Cat changes colors when warm liquid is added. Make sure to remember the color change mugs are not dishwasher friendly.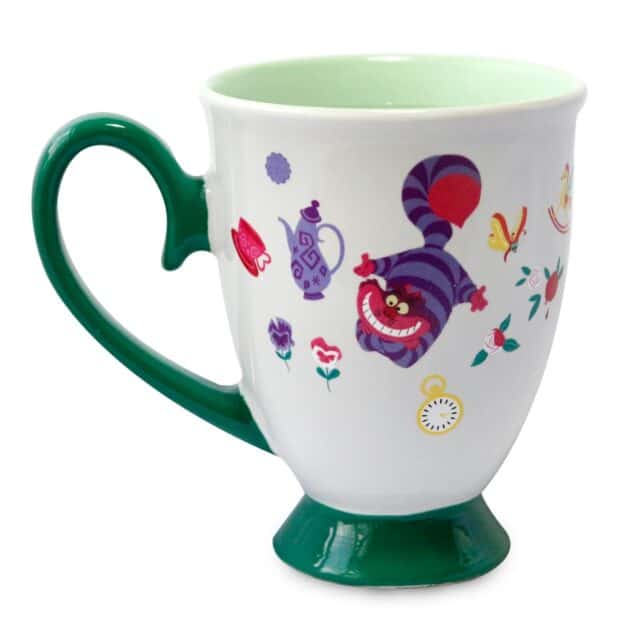 Pick this one up here on shopDisney, before the Cheshire Cat pulls his next vanishing act. Speaking of the cat, we keep a full list of Cheshire Cat merchandise here if you're interested.
"I Need a FastPass to Friday" Mug
We could all use a FastPass to Friday right? Especially, come early Monday morning after a long week of vacation in the Disney Parks!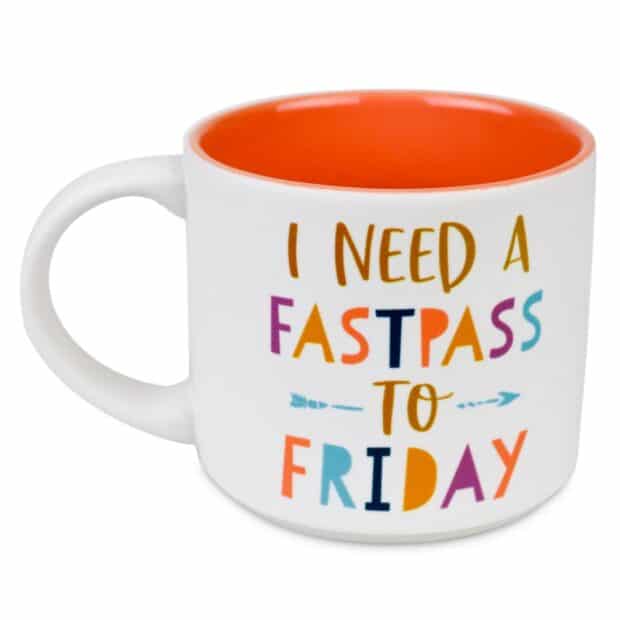 Hopefully, you can find this one here while it's available.
Eeyore "Monday Morning" Mug
While we are on the subject of Mondays, our next Disney mug features a Winnie the Pooh classic character, Eeyore!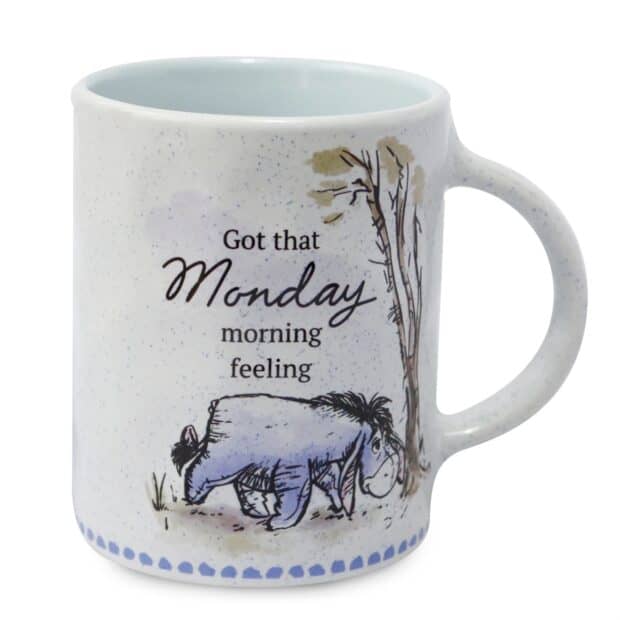 Got that Monday morning feeling? Share it with Eeyore here on shopDisney.
Mary Poppins Latte Mug
I thought this latte mug featuring Mary Poppin's silhouette was a nice touch.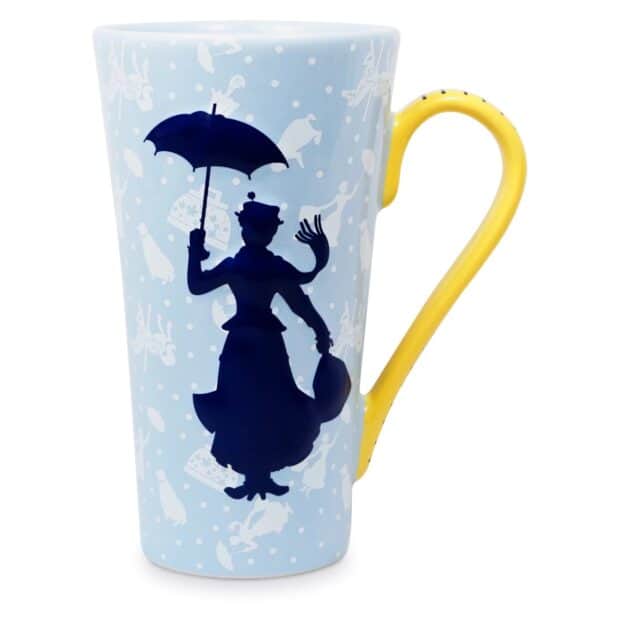 Make sure to add just the right spoonful of sugar as you stir your morning coffee!
Find it here on shopDisney.
Imagination Key Mug and Spoon Set
Unlock your imagination with this new Disney mug that comes with a spoon in the shape of a key.
Find it here on shopDisney.
Donald Duck "Best Personality" Mug
Does your best personality shine through after that first cup of coffee? I thought so. I know mine does.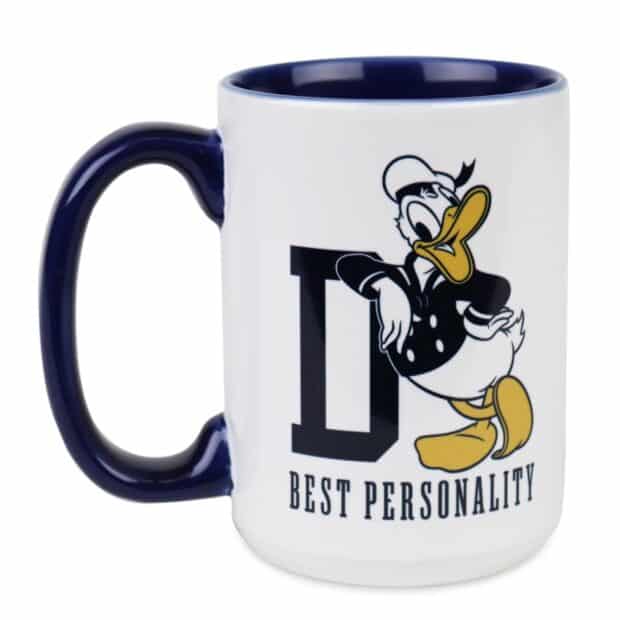 Available here while supplies last.
Minnie Mouse "Good Morning Sunshine" Mug
What better way to start your day than with a little, "Good Morning Sunshine," mug featuring Minnie Mouse herself?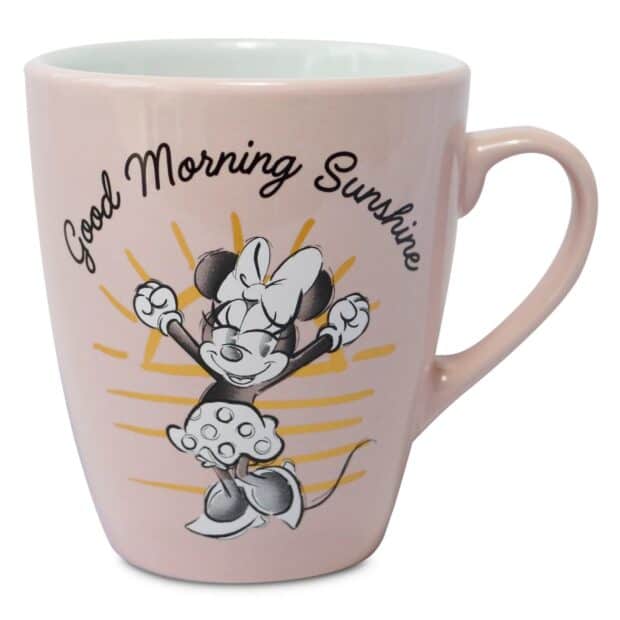 Good morning sunshine every morning with Minnie! Here on shopDisney.
Donald Duck Mug with Lid
Put a lid on it, Donald! Not really. You see this adorable new Donald Duck mug comes with a lid. It will help keep your coffee warm.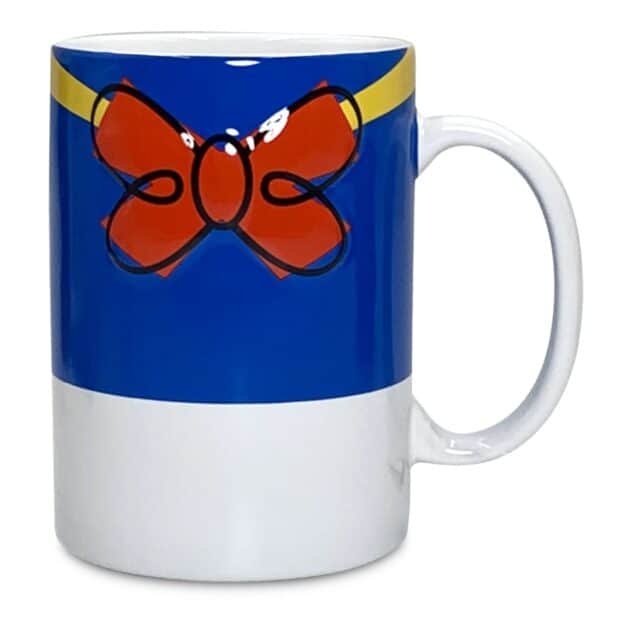 Find it here on shopDisney.
Mickey Mouse Mug with Lid
Here is an example of how the mugs with lids look. Only the Mickey one has cute ears!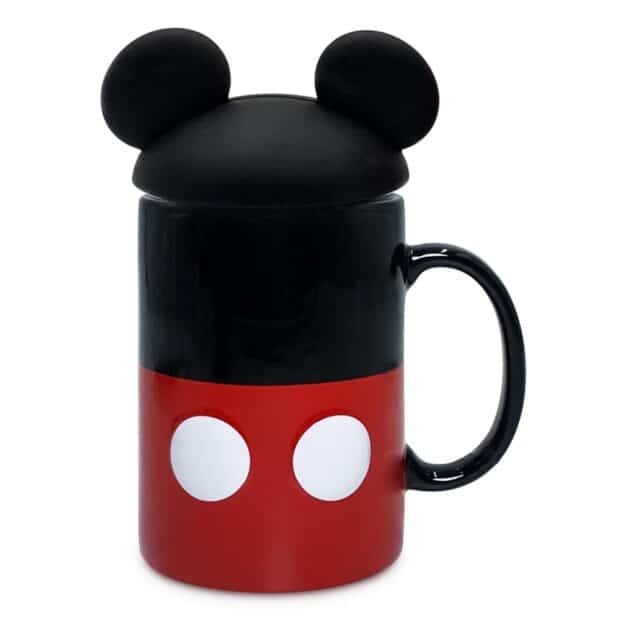 What's not to love? Enjoy your coffee with this Mickey mug every morning by purchasing it here on shopDisney.
Stitch Sculpted Mug
Talk about an unusual Disney mug. Naturally, it features Stitch. What do you think about the cutout? I'll be searching for this one in the parks to get a better look at it.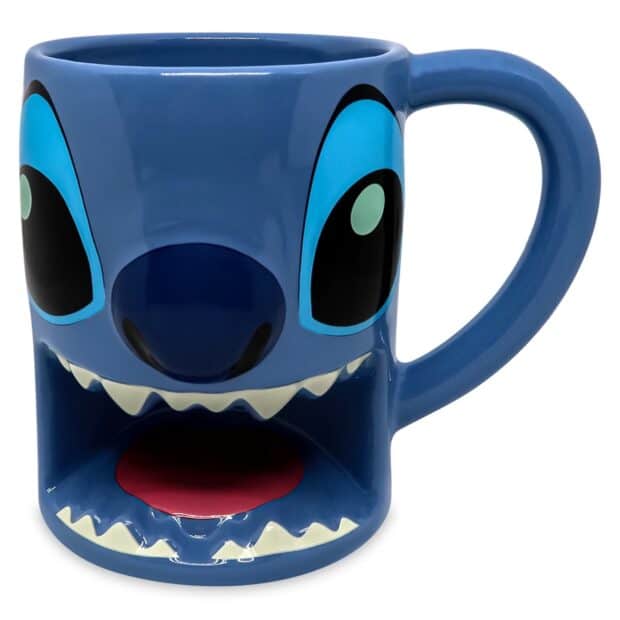 View more details about this Disney mug here on shopDisney.
Mickey Mouse Raised Icon Mug – Cobalt
Don't you wish there were more styles like this one available? The blue is a pretty color. But the raised Mickey and rounded shape really make the mug.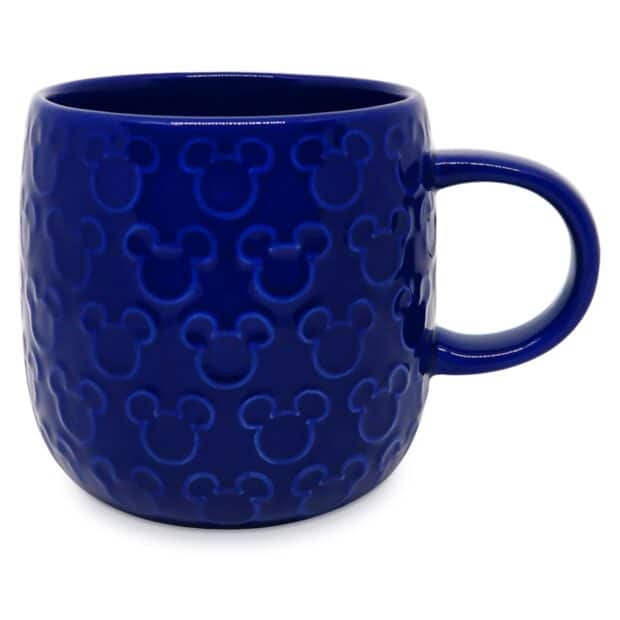 More details for the Cobalt Disney mug are available here.
Dumbo Mug
Fans of Dumbo will love this pretty new mug. It features a scene from the original movie. And the accents are nice. Look closely to notice the "Dumbo" written on the inside rim of the mug.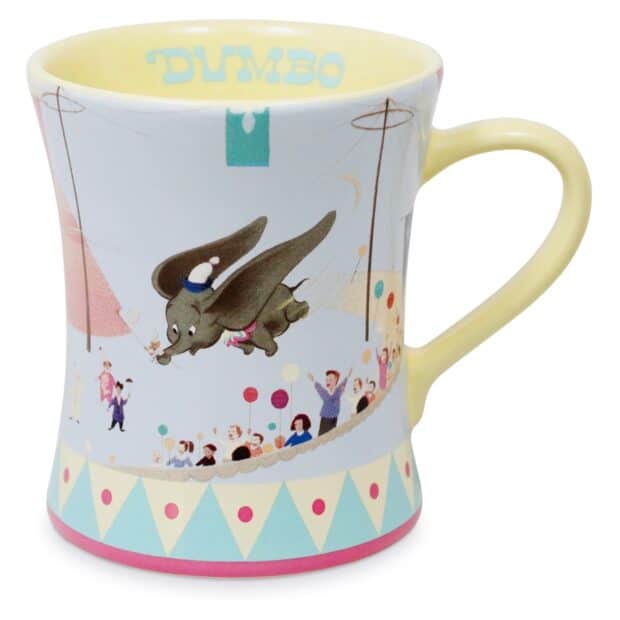 Available here on shopDisney while supplies last.
First Order Sculpted Stormtrooper Mug – Star Wars: Galaxy's Edge
Okay, this next mug is kind of sentimental to me. It was one of the items I considered purchasing on my very first trip to Galaxy's Edge at Hollywood Studios.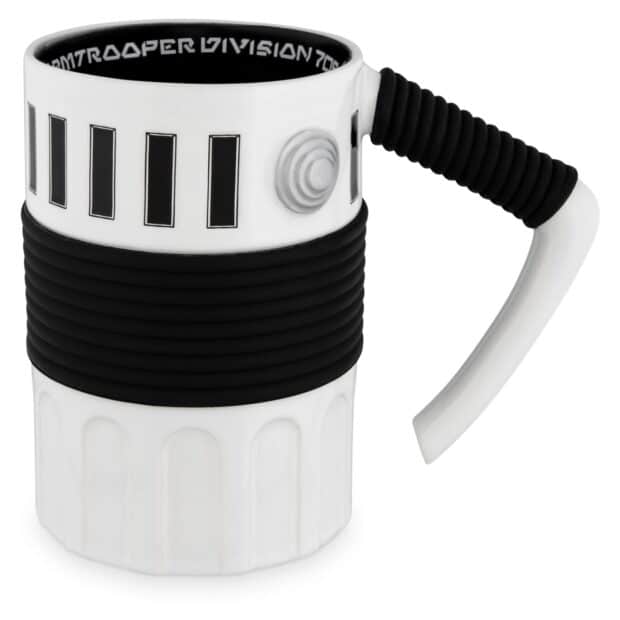 The moment I saw this Disney mug, it made me smile. I really like things to be black and white you see. It makes things simple. For a little simplicity with your coffee, pick up this mug here.
Star Wars: The Force Awakens Villains Mug
Star Wars fans, check out this new Disney mug inspired by The Force Awakens.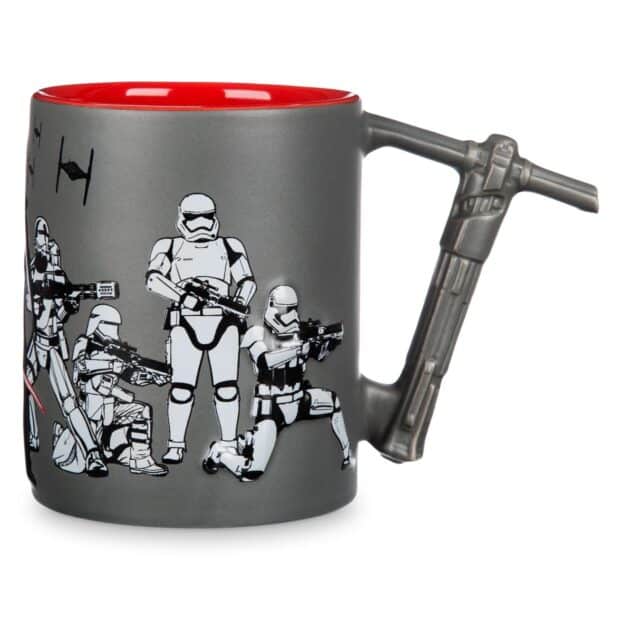 It's a good-looking coffee mug, isn't it? Find it here while available.
Star Wars: The Mandalorian Season 2 Mug
Or better yet you might enjoy this mug with the Mandalorian and baby Yoda. I mean, Grogu.
Check out the full details on the mug here on shopDisney.
The Child Travel Mug – Star Wars: The Mandalorian
And this mug has a vintage look with pops of color. Think avocado stove tops from the 60s, right?
Find this one here on shopDisney.
Disney Princess Mug – Fantasyland Castle
Fantasyland Castle will never be the same with all these princesses! I have seen this one in the parks and can tell you it's a pretty mug.
The first time I saw this mug, it really caught my eye. I remember thinking it was much prettier in person. Find this one here.
Pandora – The World of Avatar Mug
If anyone in your group is a fan of Avatar, or Flight of Passage, in general, you'll want to pick them up this cool Pandora mug. The mug features one of the Navi people riding on a banshee. And when you tip this Disney mug up for a drink, notice the "Sivako" written around the inner rim.
Find this one here on shopDisney.
Minnie Mouse Bow Mug
This Minnie Mouse Disney mug is a keeper! It even has a bow on the handle.
It's available here on shopDisney.
Coco Color Change Disney Mug
While not brand new, this Coco color change mug has recently returned to shopDisney.
I'm a big fan of these mugs that do just a little something extra! Do you like them? Find it here on shopDisney.
Mulan Watercolor Mug
Looking for a mug that features Mulan? This Disney mug is a beauty with a sketch and watercolor design. There are also options to customize the interior color, style, and different size options.
Make your own specifications here on shopDisney.
That's it for now, but I have a feeling there will be some fun new mugs toward the top of the list in the very near future.
If you are looking for other Disney merchandise, here are a couple of the most popular timelines:
Resorts Gal specializes in providing Disney World Resort Reviews. You might enjoy a few of our favorites like Disney's Beach Club Review or Disney's Yacht Club Review. These are our top choices for resorts because they both provide access to Stormalong Bay, which is our #1 ranked best Disney World pool.
Additionally, we love our review of Disney's Animal Kingdom Lodge. That's the hotel where you can see animals from the savanna view rooms! It's at the top of our list for a reason.
Now do tell, did you find the perfect Disney mug or are you holding out for a special design?