Epcot International Food and Wine Festival Guide (2022)
All of the food booths at this year's Epcot International Food and Wine Festival have finally debuted. Therefore, I've put together a guide that links to our coverage of the Festival.
Epcot's International Food and Wine Festival runs from July 14, 2022 through November 19, 2022. So there's still plenty of time to visit throughout the upcoming Fall months.
After that, we'll transition to the Festival of the Holidays. Then, we'll see the Festival of the Arts return in the New Year.
By Spring, the International Flower and Garden Festival will bloom into action. Lastly, Epcot's International Food and Wine Festival will return in 2023.
Historically, the Food and Wine Festival started later in the year, leaving Epcot festival-less during most of the summer. However, year after year, the dates for one of Epcot's most popular festivals have crept closer and closer to mid-summer.
For me, that means consuming a ton of food during the hottest time of the year. Hopefully, for you, it means waiting to travel in October. During that time of year, temperatures are still warm but not enough to make you melt like a puddle of a "happy snowman" the moment you step into direct sunlight.
With that said, the extended festival dates provide a larger window of opportunity for guests to visit the Festival. So there's that.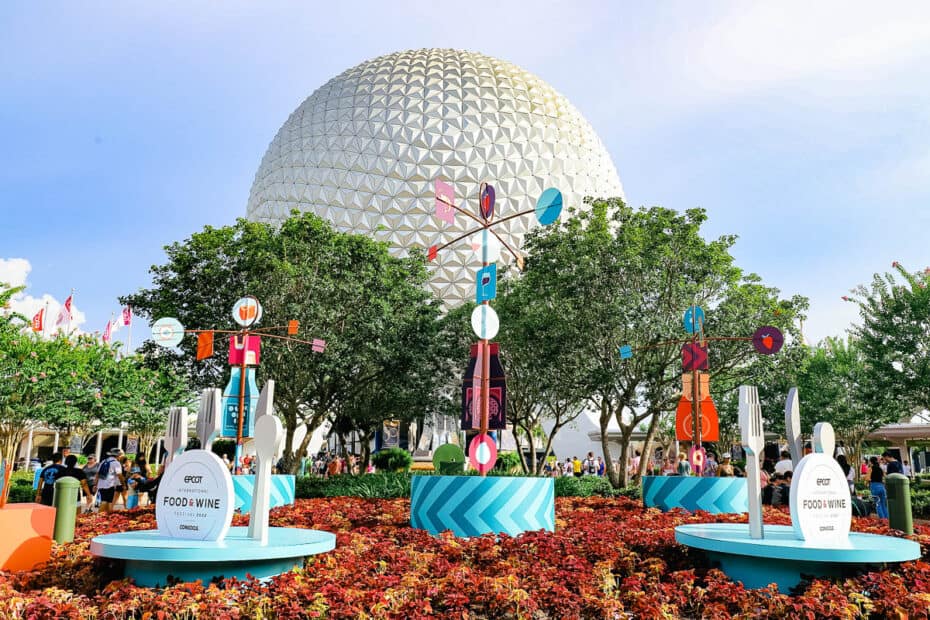 Booths with Menus at Epcot's Food and Wine Festival
Below is a list of every booth we reviewed at the 2022 Epcot International Food and Wine Festival.
In addition to the food booths, several locations at this year's Festival have separate offerings. Those include:
Refreshment Port (Hosted by Boursin)
Braised Beef Poutine: French Fries, Boursin Garlic and Fine Herbs Cheese Sauce, Cheese Curds, and Gherkin Relish
Maple Cheesecake with Whipped Maple Bourbon Cheese and Candied Pecans
Frozen Mango Martini: Boyd and Blair Vodka with Mango Nectar and Lemon
Refreshment Outpost
Spicy Githeri with White Beans, Pigeon Peas, Ben's Original Quinoa and Ancient Grains Medley, and Kachumbari Slaw (plant-based item)
Joffrey's near Mission: SPACE
Nitro Dreams: A creamy combination of Joffrey's Shakin' Jamaican™ Nitro Cold Brew, Irish Cream Syrup, and Half and Half topped with Cream (non-alcoholic)
Spirited version available with Angel's Envy Bourbon
Joffrey's near Canada Pavilion
Arctic Sunrise: A cool citrus treat featuring Passion Fruit over Ice and Coconut Syrup (non-alcoholic)
Spirited version available with Bacardí Tropical Rum
Joffrey's at American Adventure Pavilion
Mocha Madness: A sweet frozen Cappuccino blended with Chocolate Syrup (non-alcoholic)
Spirited version available with Godiva Chocolate Liqueur
Joffrey's near Disney Traders
Castaway Cold Brew: A creamy combination of Joffrey's Shakin' Jamaican Nitro and Sweet Cream (non-alcoholic)
Spirited version available with Grey Goose Vodka and Kahlúa Liqueur
Best of the Best Dishes at Epcot's 2022 Food and Wine Festival
We all know that with over 28 food booths and hundreds of items, it's almost impossible to try everything at Epcot's Food and Wine Festival.
So while I can't commit to trying every item, I have had most of the food items at this year's Festival. Unfortunately, I didn't make it to Brew-Wing, Refreshment Port, or Refreshment Outpost.
However, I did stop at all of the traditional booths. Some dishes I tried were delicious, while others went straight to the trash.
And I had to hold my breath whenever I got near The Alps booth. I'm sure some people enjoy the foul smell of burnt cheese. No thanks.
Below I've put together a list of what I consider the best dishes at Epcot's International Food and Wine Festival. While I can't mention every item I enjoyed, I would happily indulge in these selections again.
Australia
My lamb chop wasn't pretty, but it surprised me with its deliciousness. The mint pesto added an excellent flavor profile, and the lamb chop was perfectly executed.
Roasted Lamb Chop with Mint Pesto and Potato Crunchies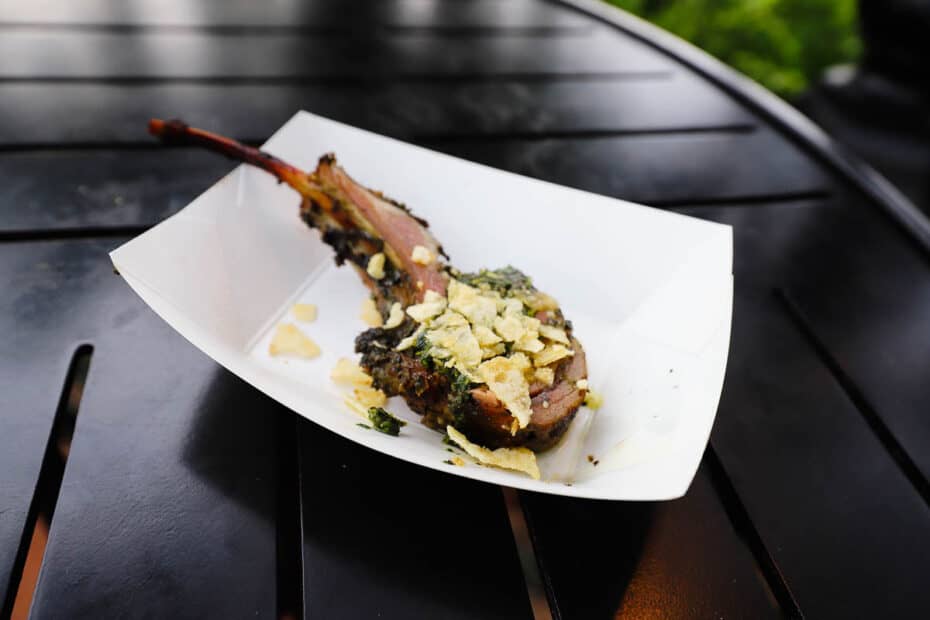 Belgium
Oh my goodness, please send out the recipe for this pot-roast look-alike. Seriously, I can see enjoying this dish from the comforts of my own home during football season. Indeed, this beer-braised beef is in my top five favorites. Don't miss it.
Beer-Braised Beef served with Smoked Gouda Mashed Potatoes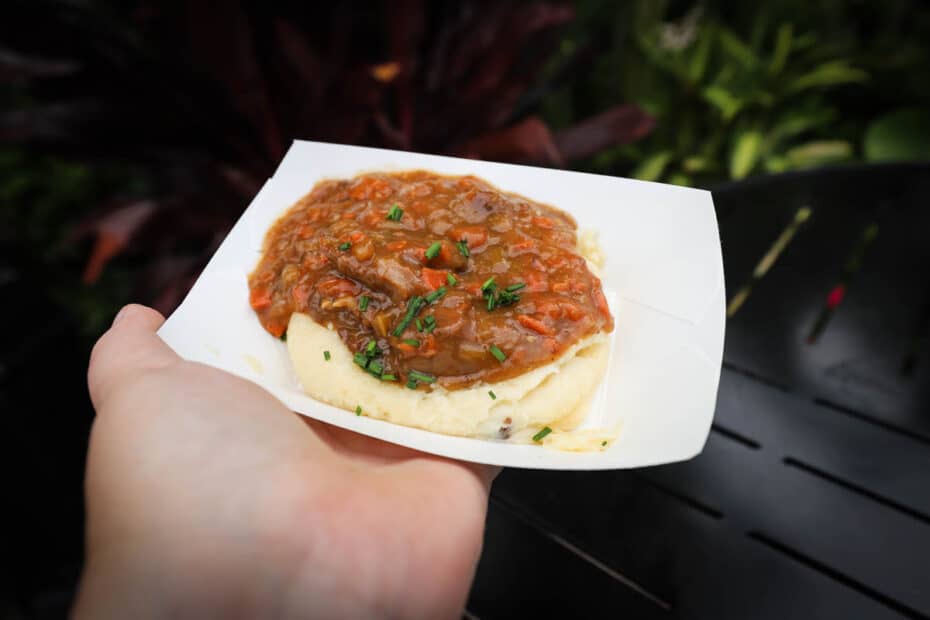 Canada
As I perused the list of items at this year's Food and Wine Festival, I went back and forth trying to decide whether or not to include the beef filet mignon from Canada.
Ultimately, this tried and true Festival favorite is a good value, and the quality has always been excellent. Therefore, I felt I had to add it to the best of the best list.
"Le Cellier" Wild Mushroom Beef Filet Mignon with Truffle-Butter Sauce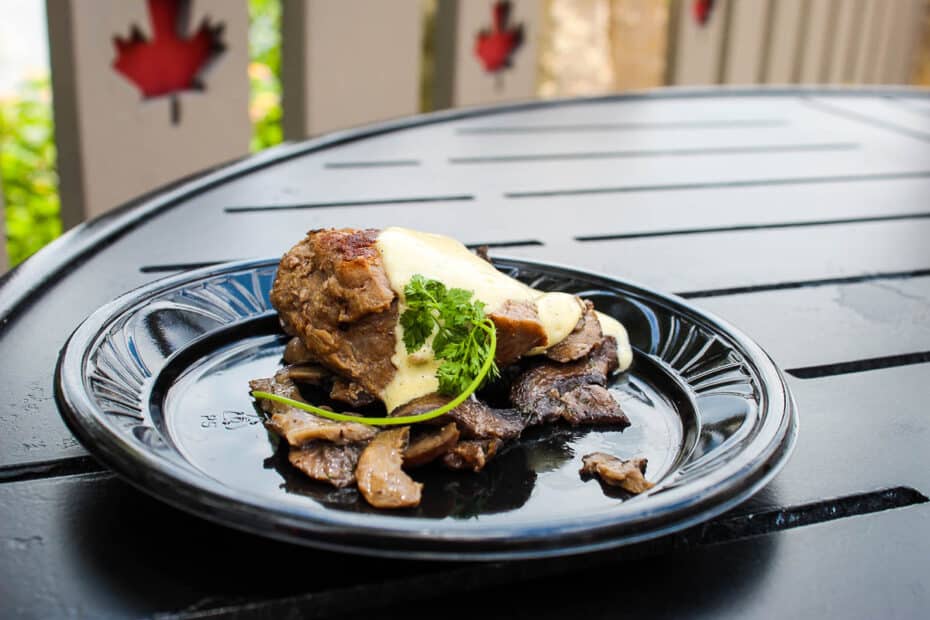 Coastal Eats
Both dishes from Coastal Eats easily make the cut. First, we have the baked scampi dish with seafood and a mini-baguette. Think bread and cheese-y goodness.
Baked Scampi Dip with Shrimp, Scallops, and Baguette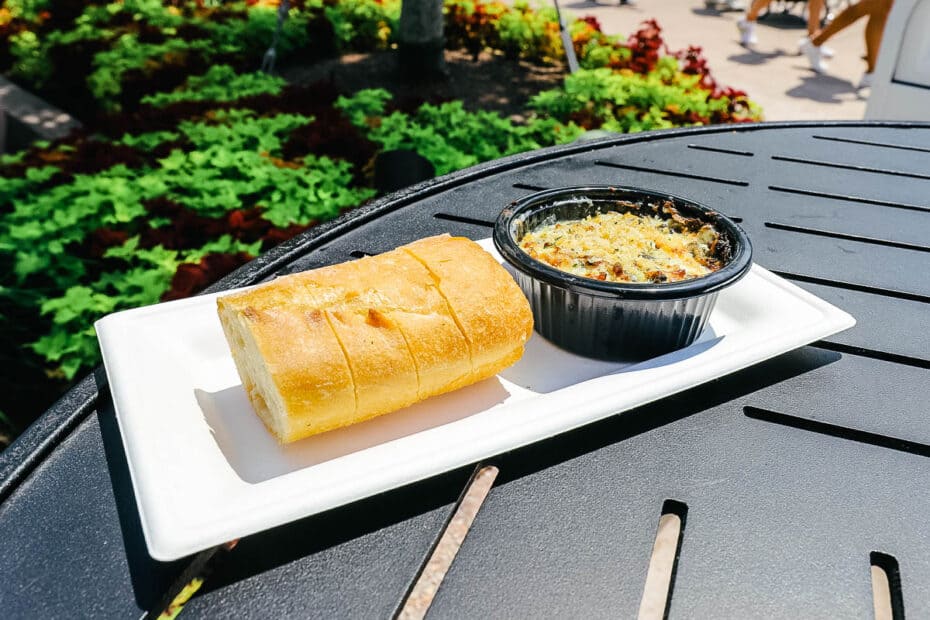 My number one top dish at this year's Festival is the Oysters Rockefeller from Coastal Eats. Somehow, it even beats out the bread pudding in Mexico. We'll get to that shortly.
This oyster dish represents everything I expect from a Food and Wine Festival. First, it's a unique item. Secondly, it's a quality (think higher-end) item. Finally, it's bursting with flavor.
Whether you've had oysters before or not, you'll probably want to try these. And don't forget to squeeze a bit of that charred lemon over them.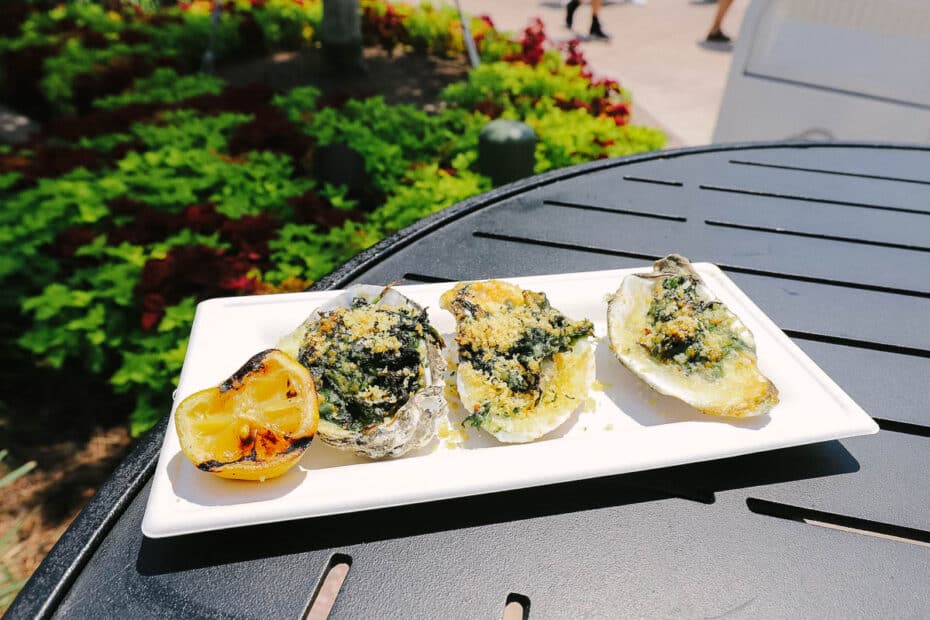 China
Similar to the filet in Canada, this Mongolian Beef dish has been on the menu in China for quite some time. You know what they say, though, if it isn't broken, don't fix it.
That's definitely the case here with the Bao Bun. It's so yummy that I pick one up at every Festival.
Mongolian Beef Bao Bun with Onion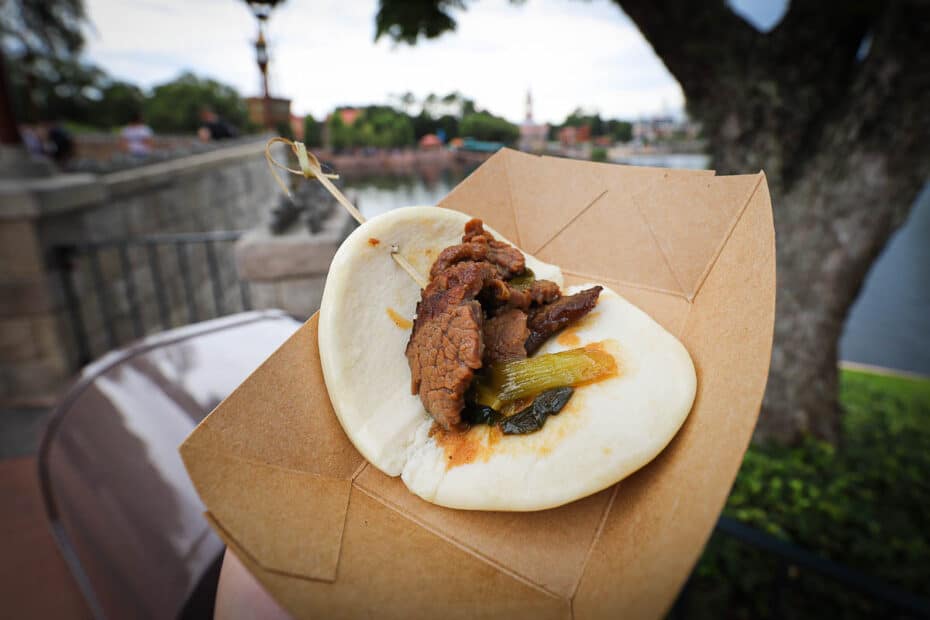 Earth Eats
Realistically, both dishes at Earth Eaths are delicious. But I chose the meatballs over the slider for the best of the best list. I felt like the polenta mixed with the pesto and Puttanesca gave it an edge.
Don't be surprised if you feel like you're eating meat with this dish. Impossible does an excellent job at disguising its plant-based products.
Impossible Meatball with Herbed Polenta, Rustic Puttanesca Sauce, and Basil Pesto (plant-based)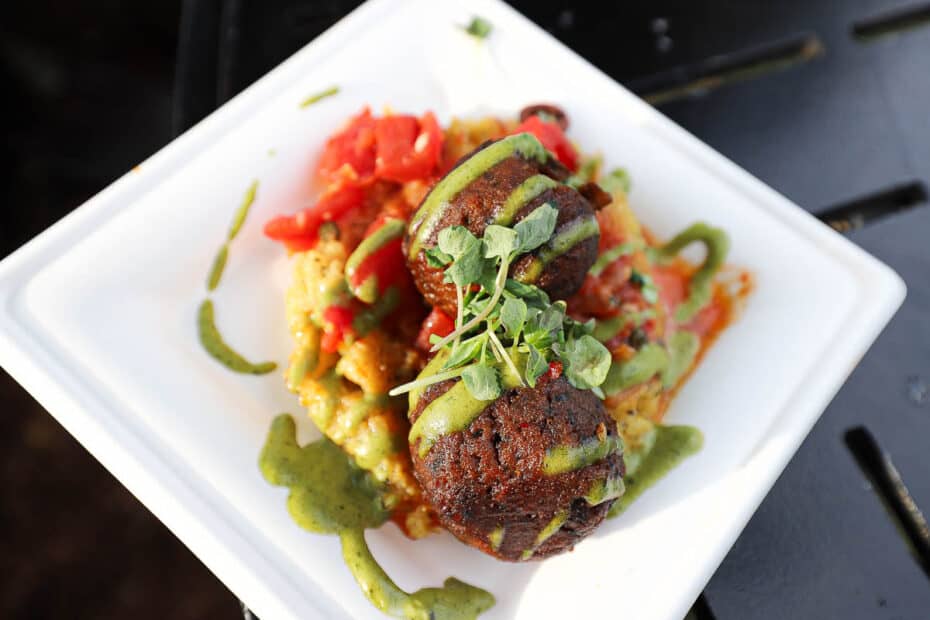 France
Before this Festival, I had never tried the Escargot dish in France. Yet here it is on the best festival foods list. Between the flaky layers of the roll and that garlic parsley sauce, I would have never dreamed I was eating such a delicacy.
Brioche aux Escargots, Sauce Crème à l'ail et Persil: Escargot Brioche with Creamy Garlic and Parsley Sauce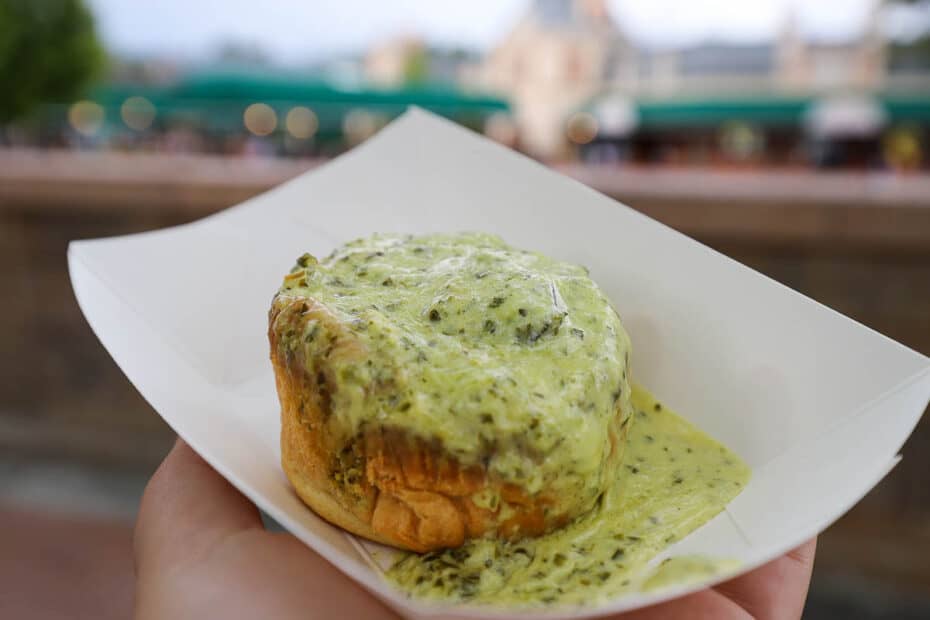 I couldn't leave France without mentioning the well-executed creme brulee. My dish had a perfect sugar glaze coat on top. A layer of vanilla custard was buried underneath, followed by a raspberry jam on the bottom.
Crème Brûlée Vanille à la Confiture de Framboises: Vanilla Crème Brûlée with House-Made Raspberry Jam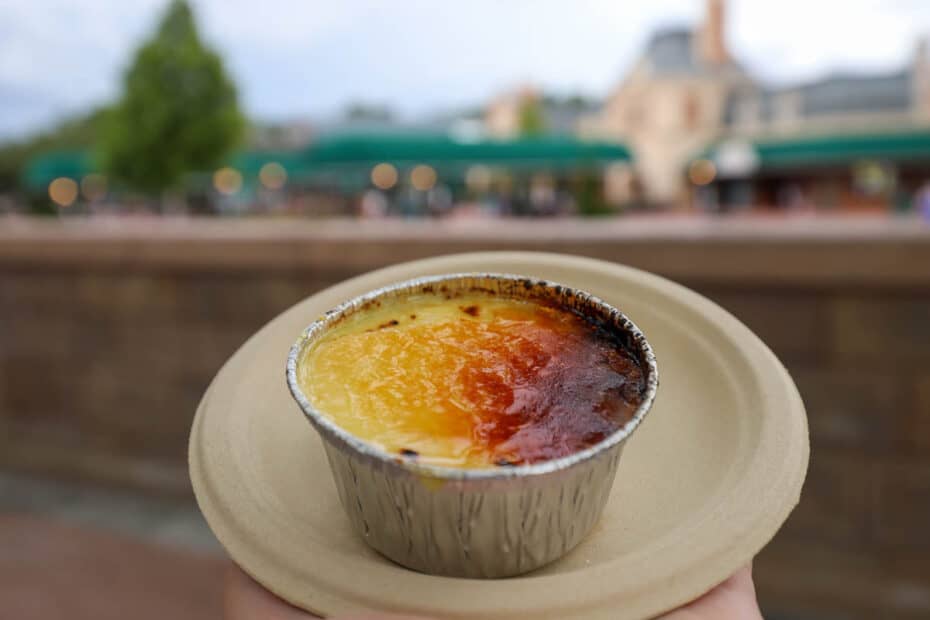 Germany
Germany was a surprise for me with the pasta gratin. While I was thinking along the lines of potatoes, this dish leans more toward macaroni and cheese. You can't beat this considerable portion for the low price point, and it's so tasty.
Schinkennudeln: Pasta Gratin with Ham, Onions, and Cheese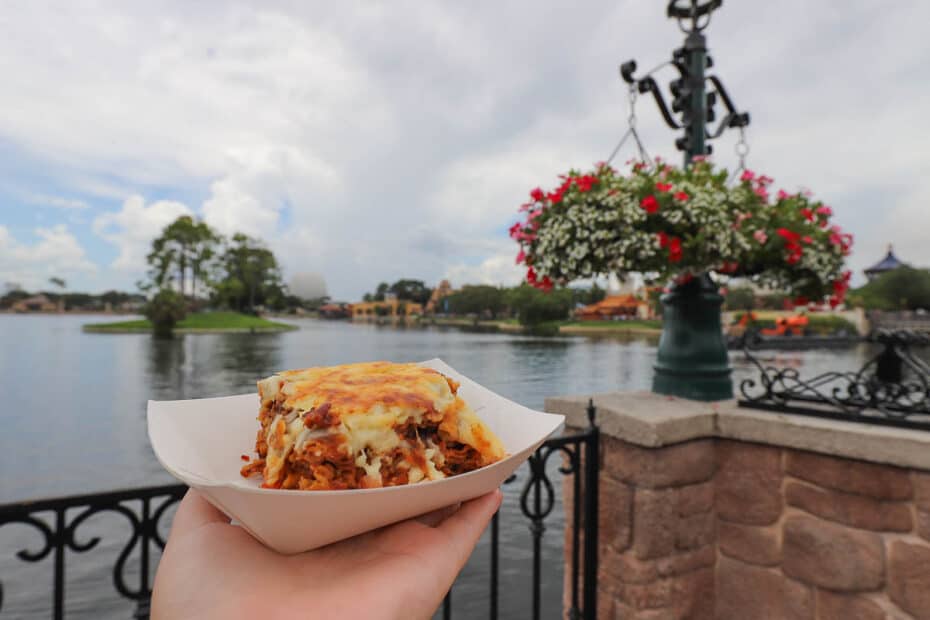 Everything in Germany was delicious, so I felt I had to mention the two other items on the menu.
Honorable Mentions:
Roasted Bratwurst in a Pretzel Roll
Apple Strudel with Vanilla Sauce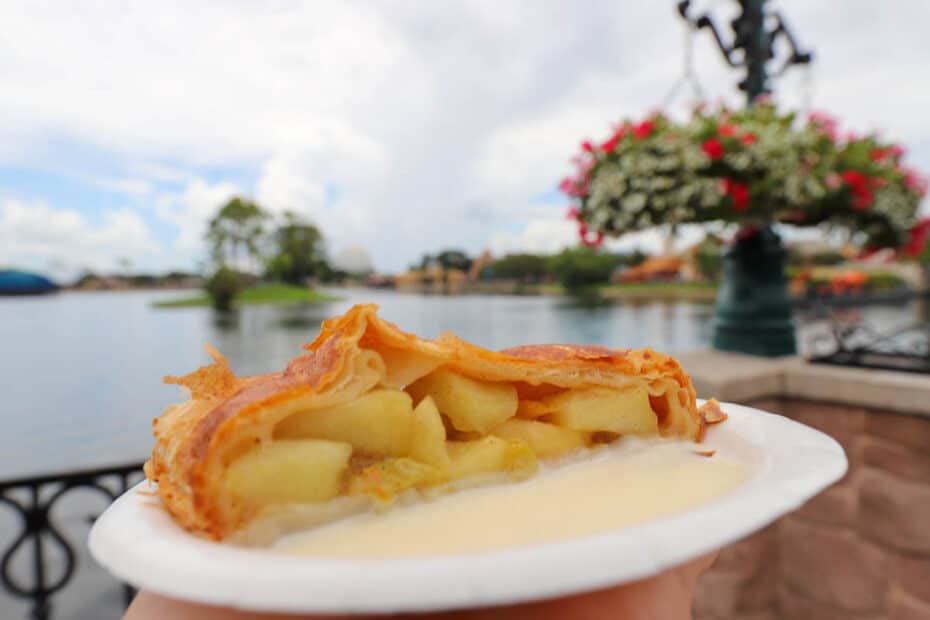 Hops and Barley
Hops and Barley is one of the last booths I attended. With so many options from various countries, the America Adventure booth just didn't excite me.
I was wrong. This booth comes in with two items for the best of the best list—first, the roast beef sandwich, which is served warm. I couldn't get over how much this dish surprised me.
Hot Beef Sandwich with Horseradish Cream and Pickled Vegetables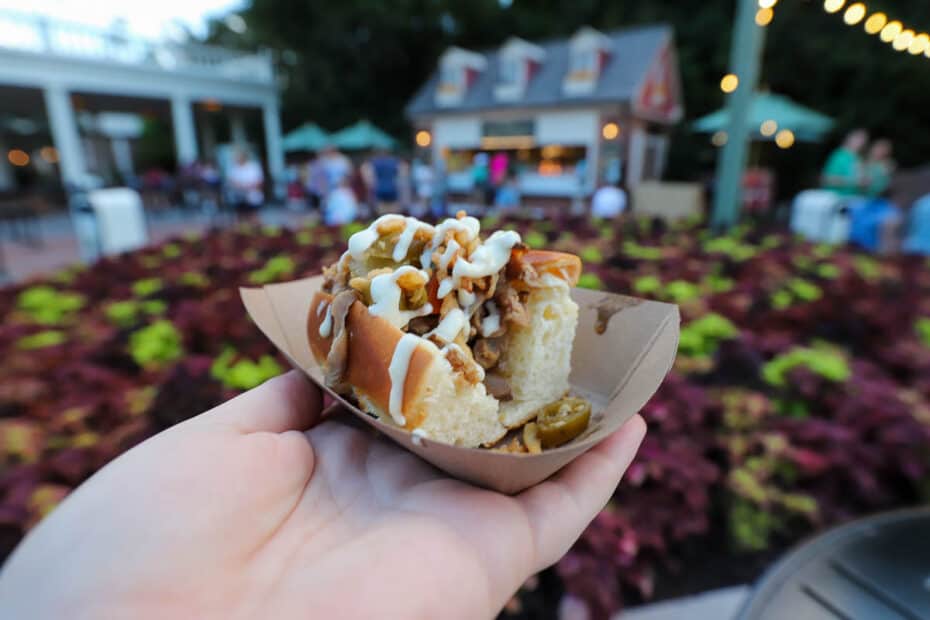 Next, we have the carrot cake, which feels freshly baked, just like the menu states. Who knew a warm cupcake smothered in a thin icing could be so scrumptious?
Freshly Baked Carrot Cake with Cream Cheese Icing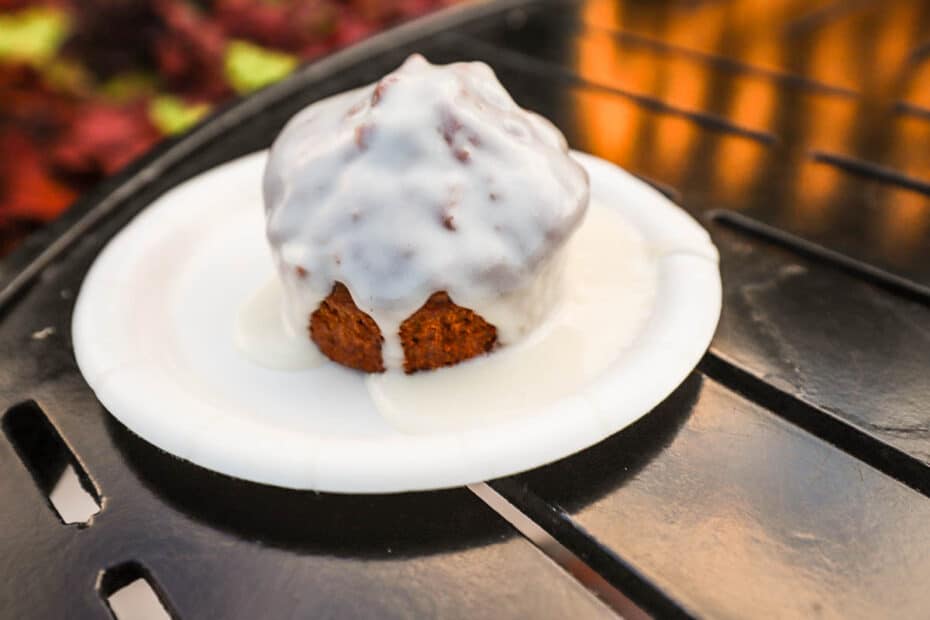 Ireland
Like Germany, everything in Ireland is a win. However, the one item that stood out, particularly, was the seafood pie.
Think of a lovely, rich seafood chowder smothered in whipped potatoes and then toasted under a broiler. That's what you have here with this dish served piping hot.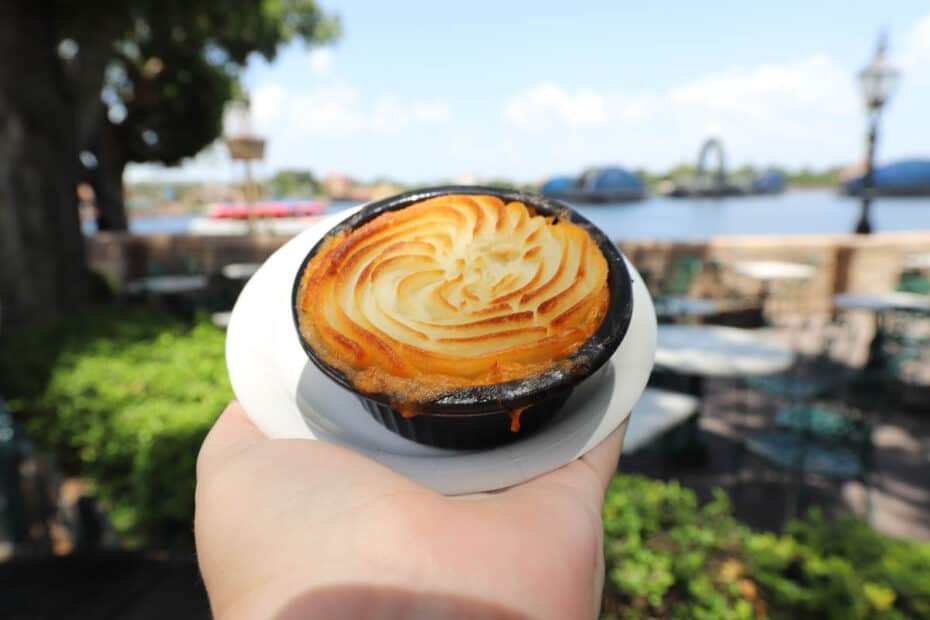 Honorable Mentions:
Roasted Irish Sausage with Colcannon Potatoes and Onion Gravy
Warm Chocolate Pudding Cake with Irish Cream Liqueur Custard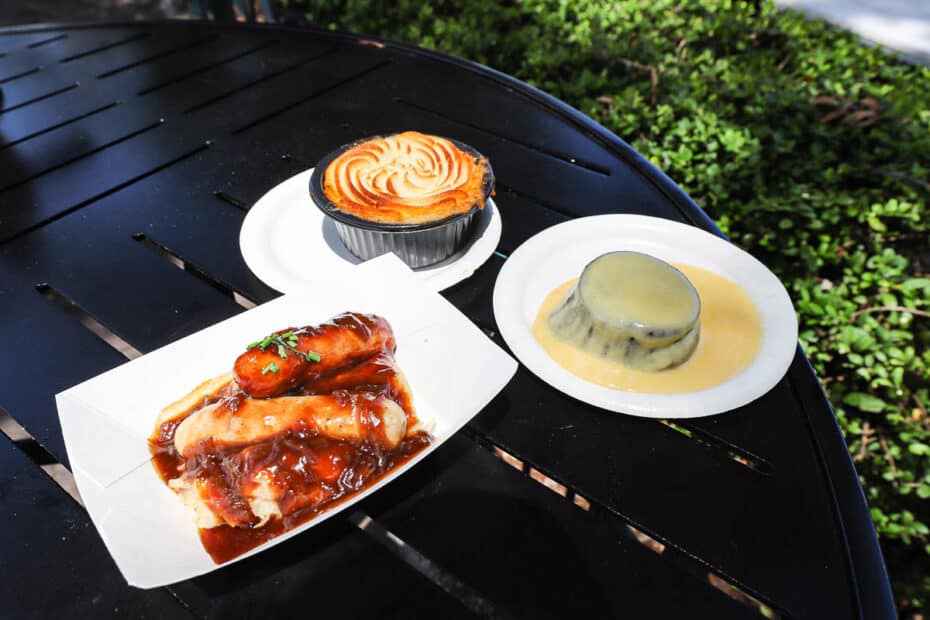 Mac and Eats
Since the Mac and Eats Booth was new to me this year, I knew I had to try at least two of the dishes. So I went with the traditional and the Cowboy mac and cheese.
Unfortunately, the traditional was pretty bland, but the Cowboy version turned out yummy. It was a dish I didn't anticipate caring for, yet it ended up on the best list.
Cowboy Macaroni and Cheese with Smoked Pork Belly, Brisket Burnt Ends, Pickled Peppers, Onion Straws, and Barbecue Aïoli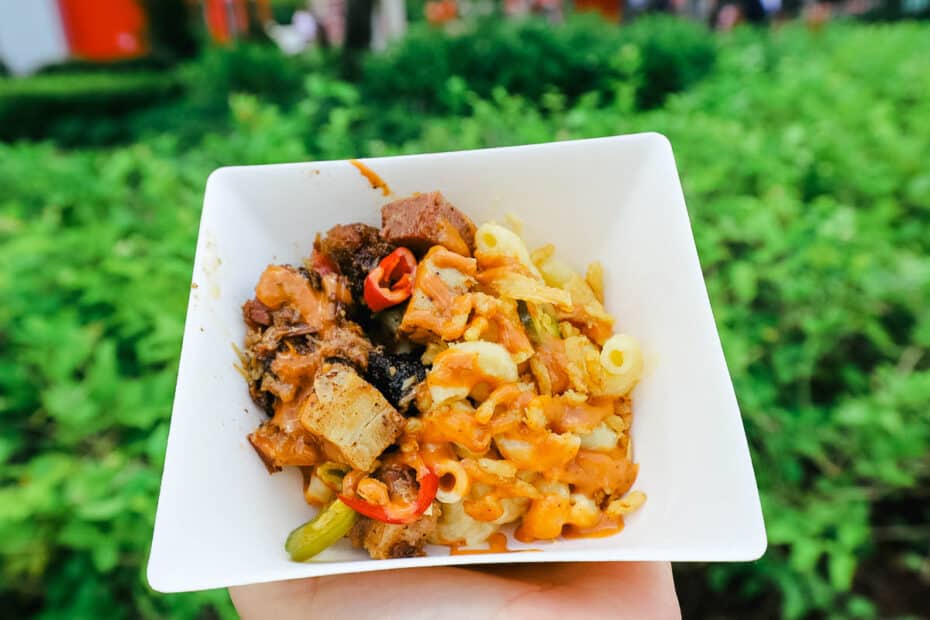 The Swanky Saucy Swine
Admittedly, I've seen complaints about the ribs at The Swanky Saucy Swine. But my ribs were tender. The meat fell off the bone, making them easy to enjoy.
Additionally, they were full of flavor and didn't make a mess. Don't skip these during your visit.
Soy-Glazed Sticky Ribs with Green Onions and Peanuts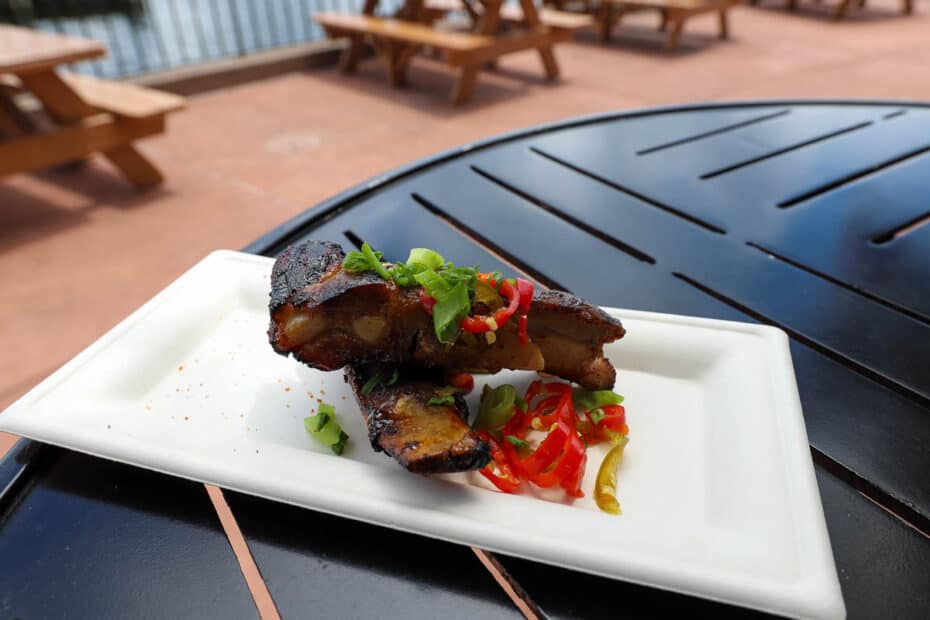 Here are the other items at the booth deemed worthy of mentioning.
Honorable Mentions:
Grilled Pork Shoulder Lettuce Wrap with Charred Corn Salsa, Pickled Red Onion, and Cilantro-Lime Crema
Crispy Barbecued Pork Rinds with Pimento Cheese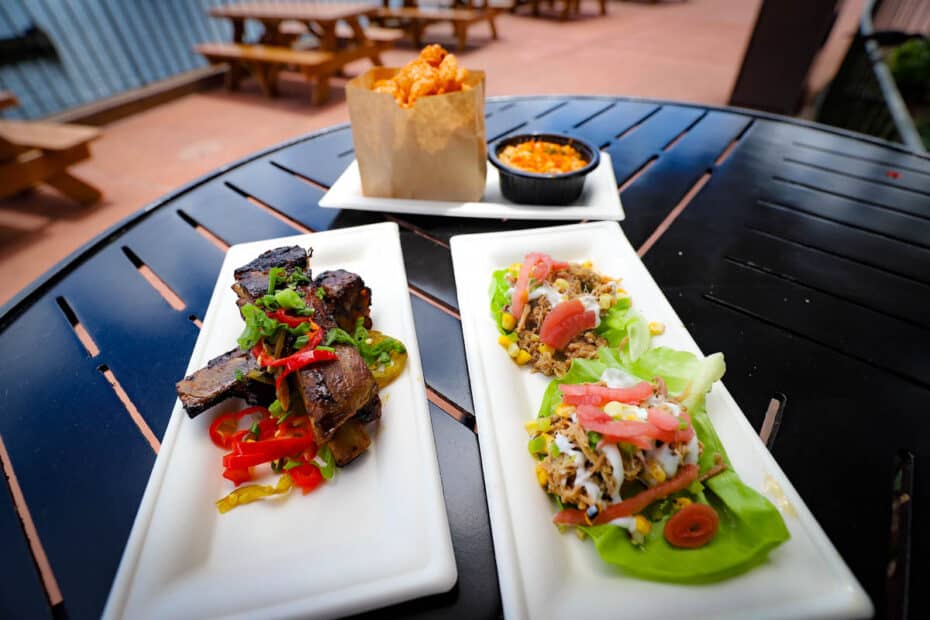 Mexico
Lastly, we have my #2 favorite dish of the Festival, only barely outranked by the Oysters Rockefeller. Mexico's bread pudding is luscious. It's covered in a sweet chocolate ganache worthy of licking its remnants off the plate.
Capirotada de Chocolate: Abuelita Chocolate Bread Pudding served with a Chocolate Crème Anglaise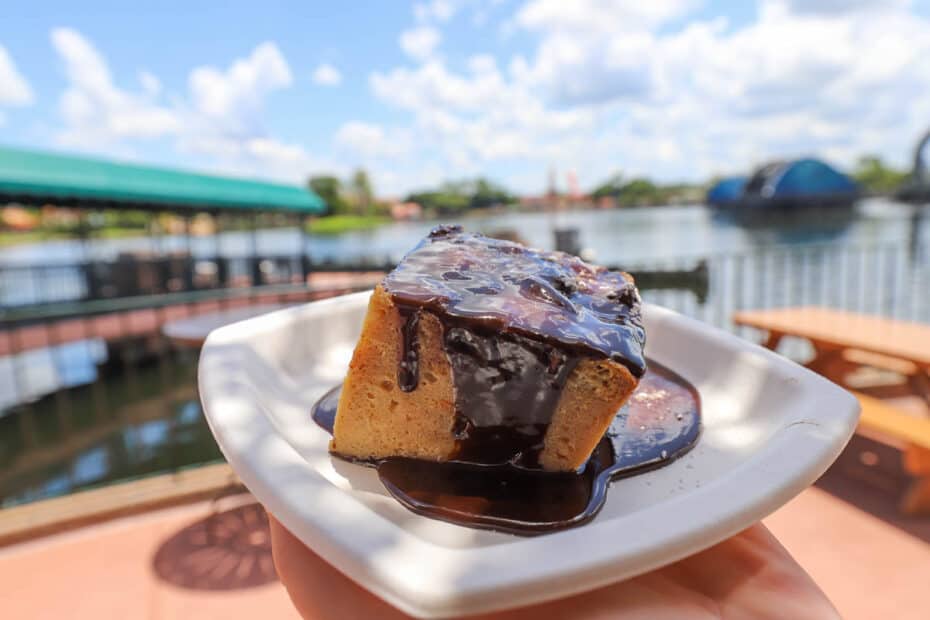 For those with a sweet tooth, I put together a separate list of the best desserts at Epcot's Food and Wine Festival. Unfortunately, it also includes the worst!
Eat to the Beat 2022 Concert Schedule
To keep things simple, I've listed the performances for this year's Food and Wine Festival below. Starting with the headliners and followed by local artists filling in the gaps.
Headliners
Baha Men
July 14 and 15
Big Bad Voodoo Daddy
July 16 to 18
Tonic – NEW!
July 22 and 23
Jeremy Camp
July 24 and 25
Taylor Dayne
July 29 and 30
Tiffany
July 31 and August 1
Joey Fatone and Friends
August 5 to 8
The Devon Allman Project
August 12 and 13
Christopher Cross
August 14 and 15
Journey Former Lead Vocalist Steve Augeri
August 19 and 20
Air Supply
August 21 and 22
Blanco Brown
August 26 and 27
98°
August 28 and 29
Southern Avenue
September 2 and 3
Kris Allen and David Cook
September 4 and 5
Hoobastank
September 9 and 10
Jimmie Allen
September 11 and 12
Los Amigos Invisibles
September 16 and 17
American Authors
September 18 and 19
BBMAK
September 23 and 24
Postmodern Jukebox
September 25 and 26
Stokley
September 30 and October 1
Shelia E.
October 2 and 3
Mark Wills
October 7 and 8
38 Special
October 9 and 10
Robert Randolph Band
October 14 and 15
Newsboys
October 16 and 17
Ray Parker Jr.
October 21 and 22
Billy Ocean
October 23 and 24
Hanson
October 28 to 31
Boyz II Men
November 4 to 7
Kenny G
November 11 and 12
Sugar Ray
November 13 and 14
Local Artists
C'Nergy
July 19 to 21
Country Airwaves
July 26 to 28
Element
August 2 to 4
Latin Ambition
August 9 to 11
Epic
August 16 to 18
Evolution: Motown
August 23 to 25
M-80s
August 30 to September 1
The Vybe
September 6 to 8
Foreigners Journey
September 13 to 15
SMB "The Female Collective"
September 20 to 22
Epic
September 27 to 29
Latin Ambition
October 4 to 6
The Vybe
October 11 to 13
506 Crew (Reggae)
October 18 to 20
M-80s
October 25 to 27
Country Airwaves
November 1 to 3
Foreigners Journey
November 8 to 10
Eat to the Beat Dining Package at Food and Wine
Epcot's Eat to the Beat Dining package offers the opportunity to enjoy a meal at select restaurants and guarantees seating at Eat to the Beat concerts.
Restaurant choices for the dining package are as follows:
Biergarten Restaurant
Coral Reef Restaurant
Garden Grill Restaurant
Le Cellier Steakhouse
Regal Eagle Smokehouse
Spice Road Table
Per Disney, here's what's included:
An appetizer, entrée, and dessert or one (1) full buffet (where applicable), along with a non-alcoholic beverage
One (1) guaranteed seat per person to an Eat to the Beat concert held on the same day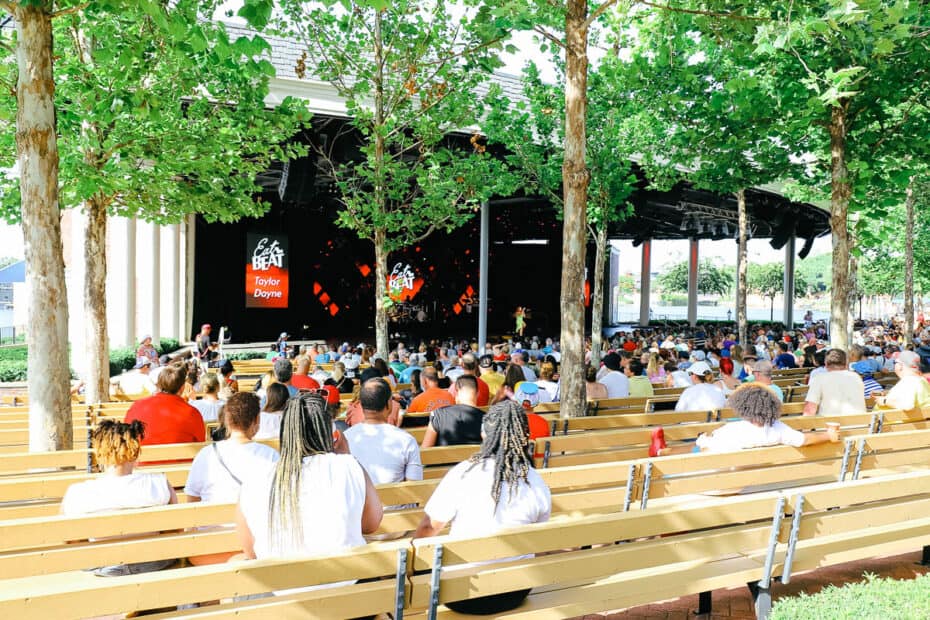 If you want to learn how the process works, we have an independent review from our experience a few years back.
Related: Eat to the Beat Dining Package Review
Epcot Food and Wine Festival Merchandise
If you're hoping to pick up a piece of merchandise from this year's Epcot Food and Wine Festival, there are plenty of options. Five collections were released.
They are as follows:
Festival Event Logo Collection
Chef Mickey Mouse and Chef Minnie Mouse Collection
Princess Tiana Collection
Chef Figment Collection
Chef Remy Annual Passholder Collection
Below we'll look at a piece from each collection, starting with the Festival Event Logo Collection.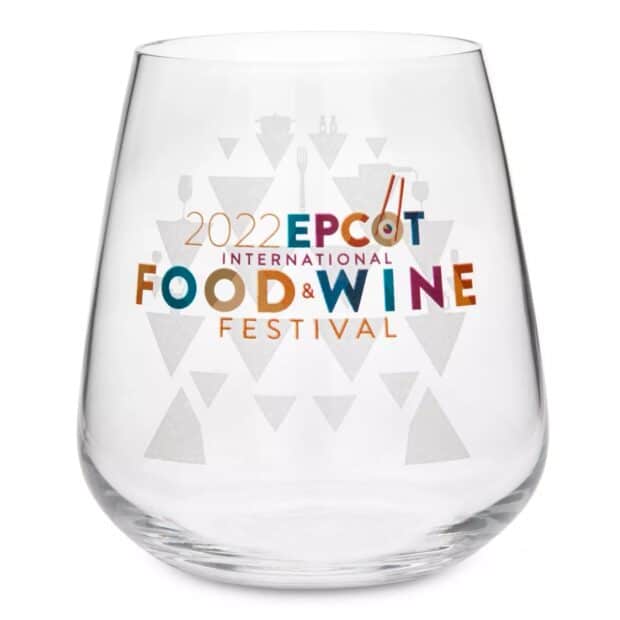 Next, we have the Chef Mickey and Minnie Mouse collection. Several items were released with this collection, including a line of Disney Dooney and Bourke bags.
Princess Tiana's Food and Wine Collection has been popular this year. Given that Tiana is an entrepreneur who dreamed of owning a restaurant, I thought this line fit perfectly.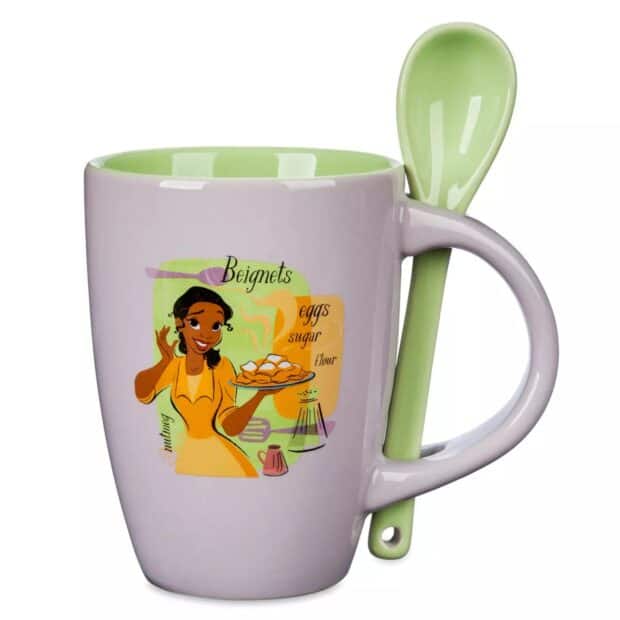 We couldn't have a Food and Wine Festival at Epcot without Figment, could we? Below is a preview of the Chef Figment merchandise released at this year's Festival.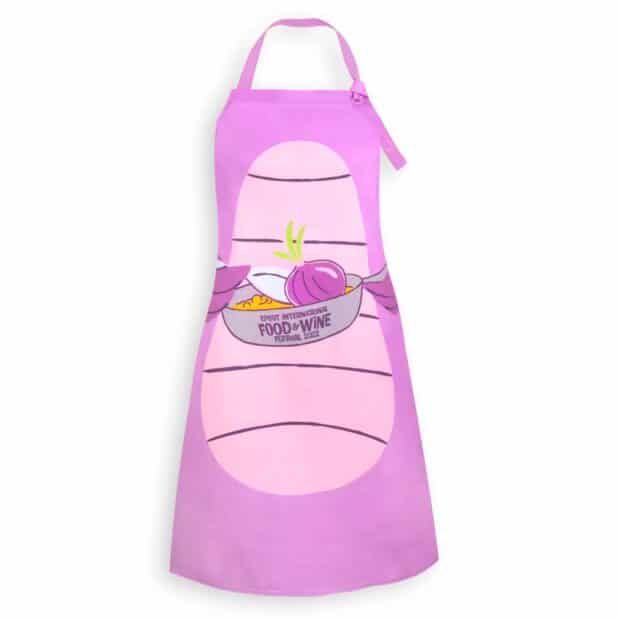 Additionally, a line of annual passholder merchandise featuring Chef Remy is available at the International Food and Wine Festival. Check for availability at the retail locations, Port of Entry, World Traveler, and Creations Shop.
Some of these items are here available on shopDisney.
Disclosure: This page has affiliate links meaning Resorts Gal may be compensated if you make a purchase. These come at absolutely no cost to you and help support our business.
Special Character Sightings at Food and Wine
Often, we've seen several characters dressed in their best Food and Wine outfits at the Festival. As of late, Daisy Duck has been meeting near the International Gateway in her chef costume.
Times for her meet-and-greet are listed daily in the My Disney Experience app.
Related: Meet Daisy at Epcot's International Gateway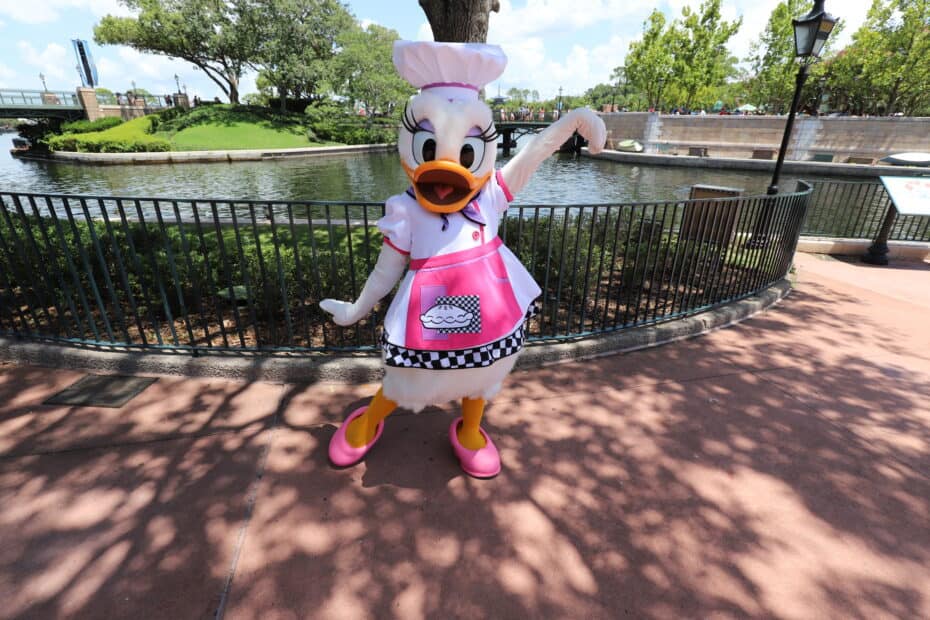 Epcot Food and Wine Extras
Before we wrap things up, there are a few other items worth mentioning at this year's Food and Wine Festival. For starters, there are two kid-friendly scavenger hunts. Here are the details.
Remy's Ratatouille Hide and Squeak
You can pick up a map at select festival merchandise locations. Then venture through the World Showcase in search for mini statues of Remy. After finding them, you can return to one of the merchandise locations to receive a prize.
*We usually get our prize at the time of purchase. That way if we don't finish or end up running late, we already have our prize and don't have to make another stop.
Pluto's Pumpkin Pursuit
This special Halloween-inspired scavenger hunt works the same way as the one we just discussed. However, it will only be available between September 29th through October 31st.
Emile's Fromage Montage
You'll want to pick up a Festival Passport to participate in Emile's Fromage Montage. The passports are available at most of the booths and near the park's entrances.
Inside you'll find a list of places that are participating in Emile's Fromage Montage. When you stop at these places and pick up one of the items, ensure that the cast member stamps your passport book.
After you collect five stamps, you can take your passport to Shimmering Sips Marketplace for a free dessert. It's usually a special-flavored Dole Whip served in a souvenir cup.
Final Thoughts on Epcot's Food and Wine Festival
Overall it was nice to see a fairly normal Food and Wine Festival return to Epcot in 2022. However, we still haven't seen near the number of extras that we have in the past.
A few years ago, there was a mile long list of celebrity chefs who made appearances at special-ticketed events during the Festival. In addition, there were special chocolate selections, wine tasting sessions, and other similar items.
Hopefully, things will continue to improve and we'll see a return to what we once considered normalcy. Well normal, for Epcot's Food and Fine Festival. I don't know about everything else.
Lastly, if you plan on spending a good deal of time at Food and Wine, consider staying within walking distance. It's so nice to be able to get to and from Epcot in a matter of minutes. Here are those resorts:
In the comments
Are you planning to attend the 2022 Epcot Food and Wine Festival? Do any of the booths look appealing? Share your thoughts and comments below.