2021 Epcot Characters & Promenades
Meeting Epcot characters in 2021 will be a little different from what we've seen in the past. Disney has implemented these special pop-up parades in the parks that make seeing characters in most instances much simpler.
We'll start with a look at the new character promenades and experiences you can find at Epcot in 2021. My initial thoughts on the character experiences in all of the Disney Parks is that I hope they are here to stay in some form or fashion. These special promenades at Epcot are something to behold.
For reference, they are called Magic Kingdom character cavalcades at that park. Hollywood Studios hosts similar experiences in the form of character motorcades. In addition, the Animal Kingdom is offering character cruises.
Lastly, Epcot provides promenades. The promenade part comes from the characters traveling around the World Showcase walkway, formally called the World Showcase Promenade.
Additionally, a few distanced characters have began to meet in 2021. I've added them toward the bottom of this review.
You can expect these special experiences to add a smile to your face. I think that most visiting, young and old alike, will enjoy them. They are spontaneous and require no time commitment.
The Epcot character promenades are also a simple way for your children to see their favorite Frozen princesses, live horses, and the one and only Mickey and Minnie Mouse.
This review will cover how to see them and hopefully ease any concerns you might have about adding them into your schedule.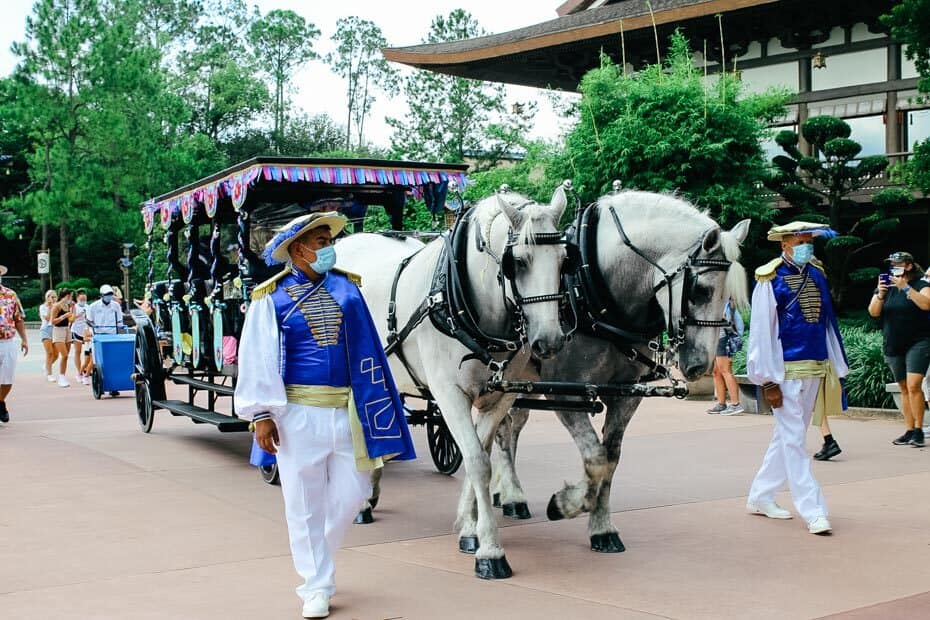 Character at Epcot in 2021
Here are the three character promenades that you might encounter during the day on your next Epcot visit.
Frozen Promenade
Mickey & Friends World Tour
Princess Promenade
Additionally, we've seen a few roaming at a distance characters like:
The most popular question is how to see the different types of character promenades at Epcot. Understandably, most will want to see these interactions while visiting. On the day of this visit, I spent most of my time in the World Showcase, and each promenade went through twice between park opening and sunset.
The timing for the character promenades is completely random to prevent crowds from forming. However, if you are in the World Showcase, my best tip is to pay attention to the music playing in your immediate area. When the music changes in the area ahead of or behind you, it typically means a character promenade is approaching.
In fact, the music gets really loud as the speaker system changes over to your immediate area. If you are outside, most will be able to note the change. For example, below is a video of the Princess Promenade as it comes through Canada.
So if you really want to see these special promenades, I recommend being patient and waiting for them to pass by while you are touring the World Showcase. It appears that they are coming through multiple times of the day. However, I don't recall seeing them after 6:00 p.m. on my visit, so they might not be available during the later hours.
Next, we'll take a closer look at the different promenades.
First up we have the very popular Frozen Promenade. There are members of the royal guard carrying flags representing Arendelle as the promenade approaches.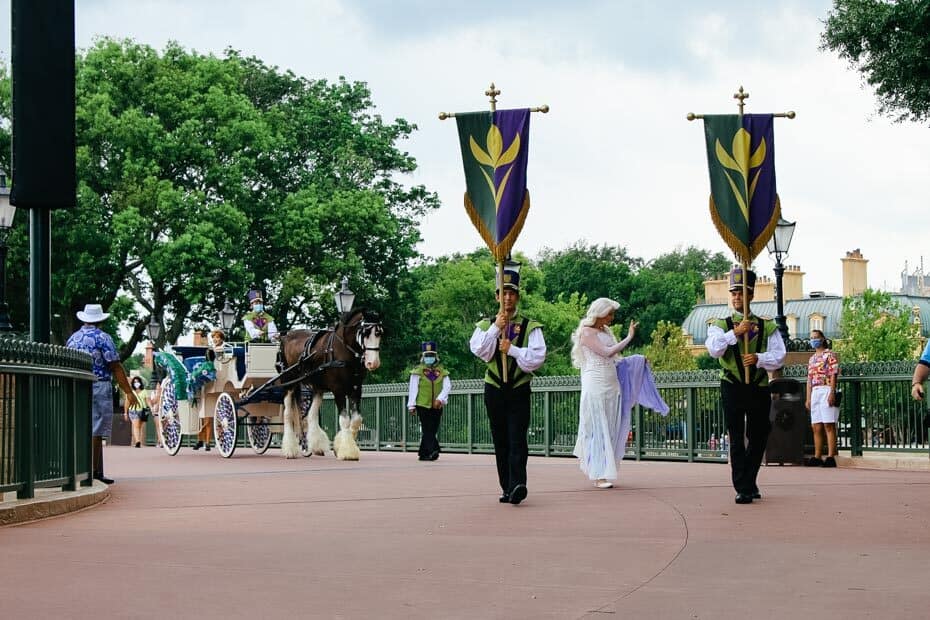 The promenade also includes Elsa and Anna being pulled in a horse and carriage.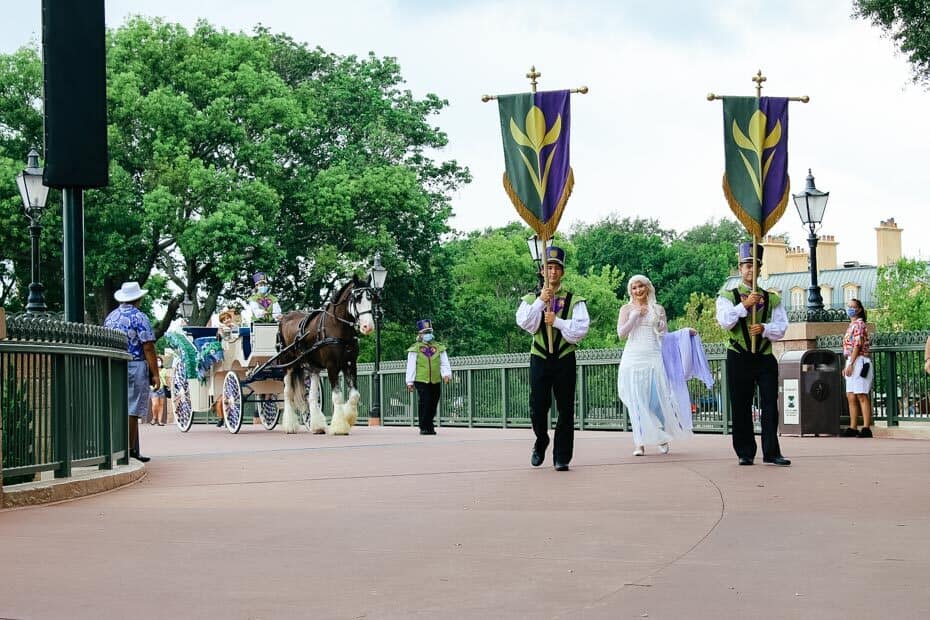 Elsa comes along waving to all the different travelers of the World Showcase.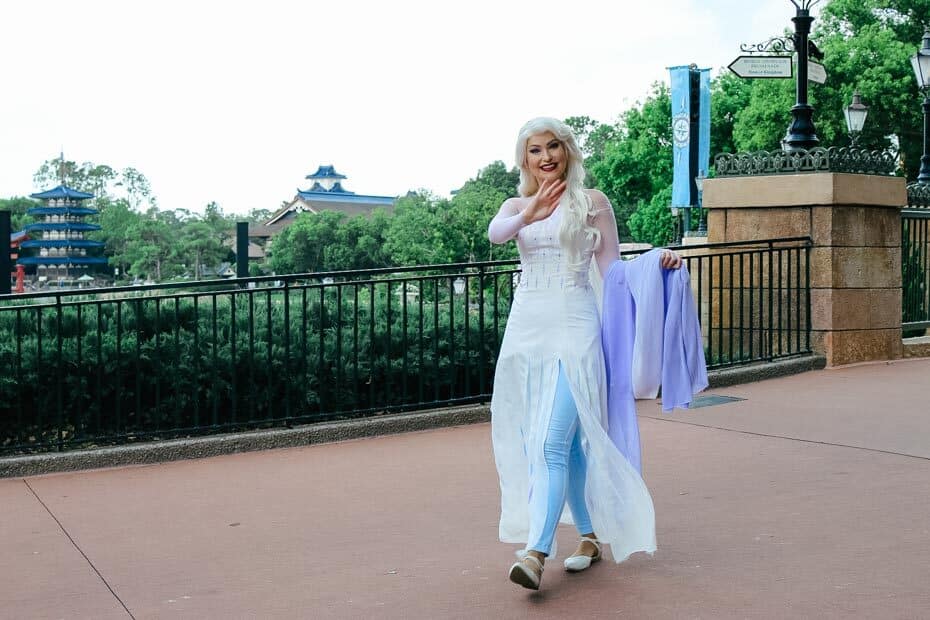 The horses are so wonderful to see in Epcot. I mentioned to my son that they should always have them, and his immediate response was there was no way that would be possible during festival time. And if you've ever been to Epcot during normal festival time, then you know he's right.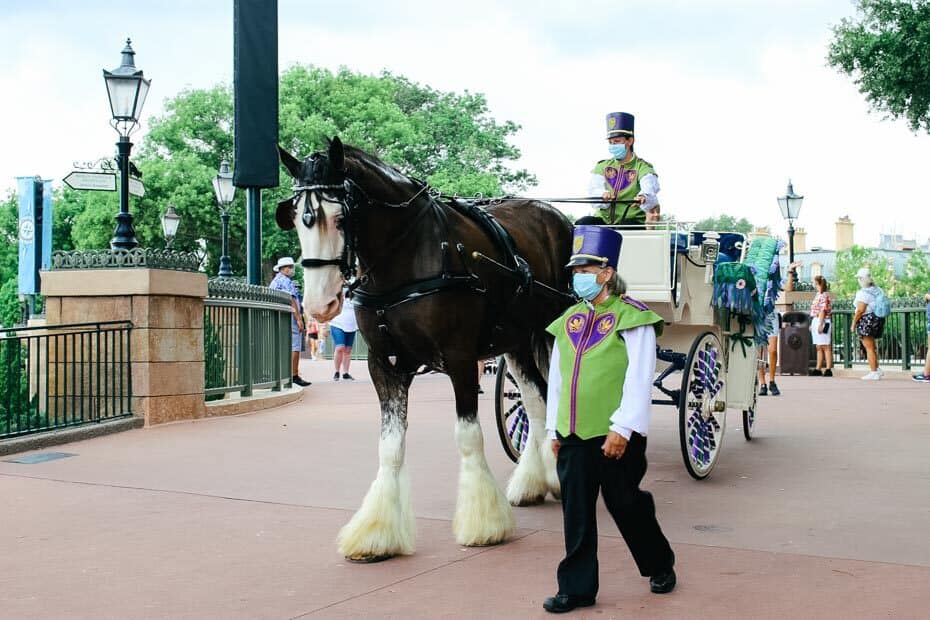 Anna rounds up the mini promenade in the most royal carriage. They did a really nice job with this grouping to get it ready for the reopening. I also feel like more guests have an opportunity to see the characters this way. Many guests are so busy trying to knock out attractions that character meets fall by the wayside.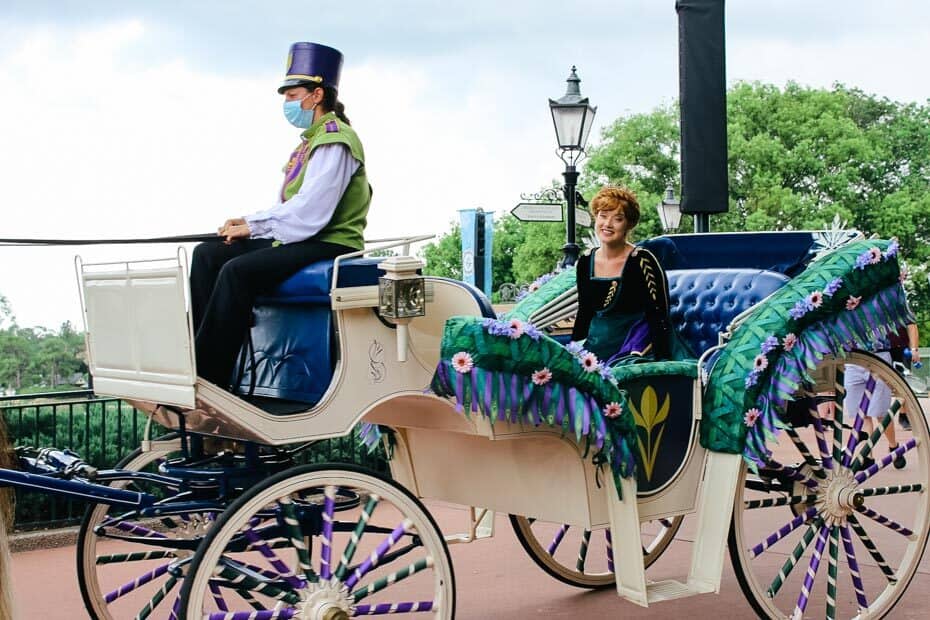 But when you see one of these promenades approaching, it only takes a brief pause from your day. They come and go in less than a few minutes. And seeing characters is really a big deal for children. Maybe even those kids who might like to think they have outgrown this kind of interaction.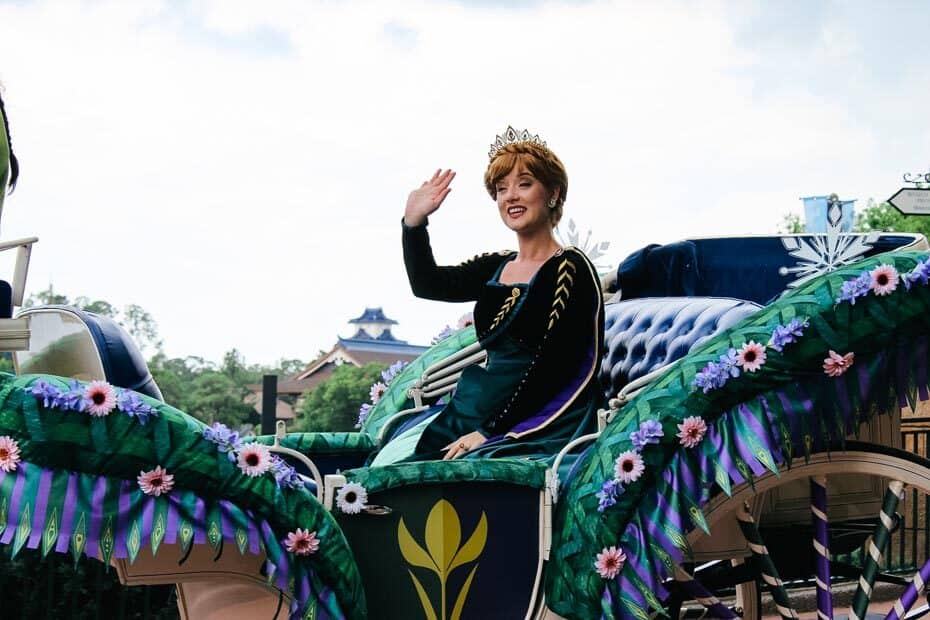 Fans of princesses will want to see the Princess Promenade as it passes through the World Showcase.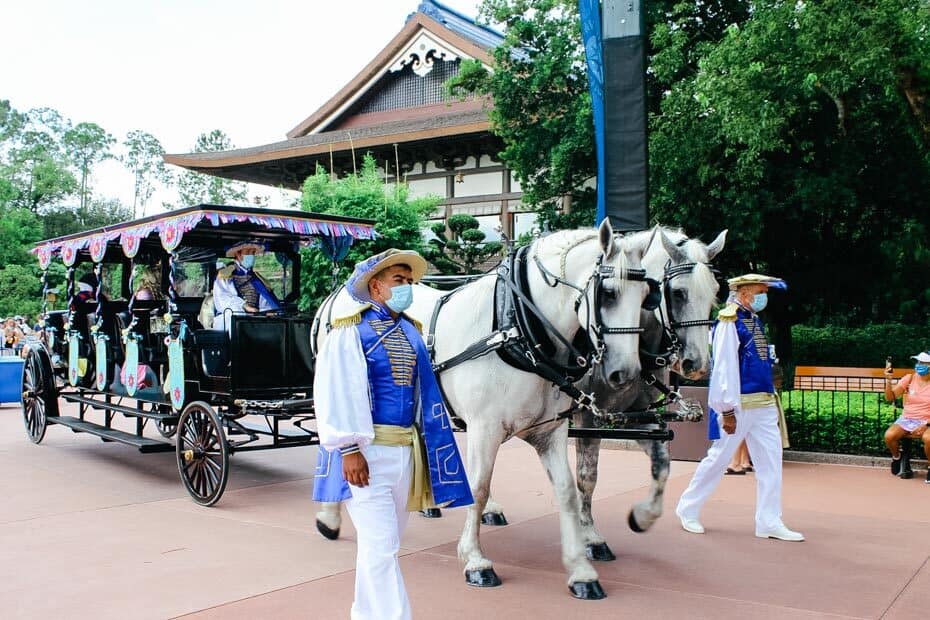 I caught this one coming through the Japan Pavilion not too long after the park opening. We had entered through the International Gateway and headed around this way toward the American Adventure. These photos were taken around 11:30 a.m. not long after the park opened.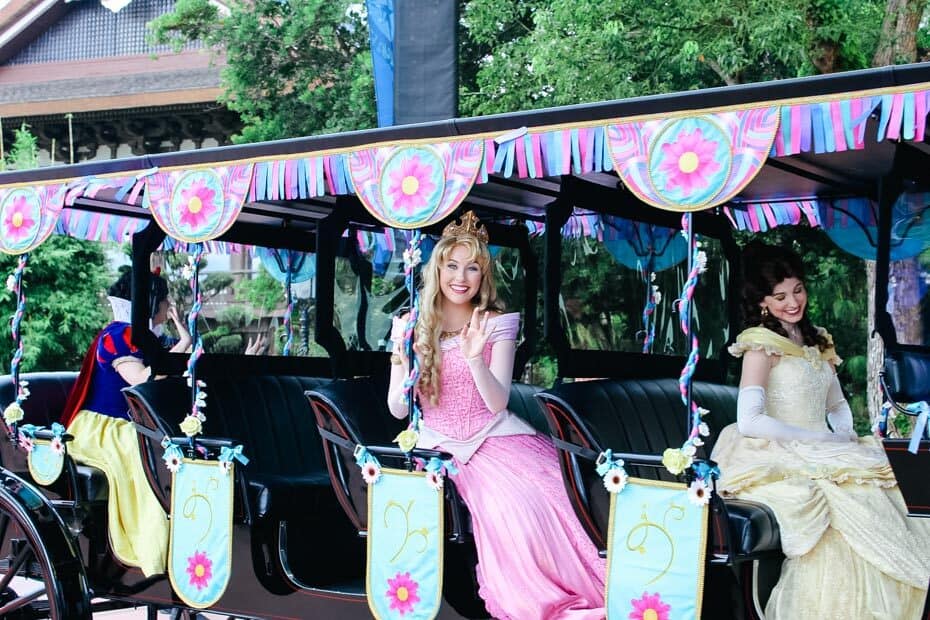 You'll have the opportunity to see several princesses. I saw Belle, Aurora, Jasmine, and Snow White on this promenade. Jasmine is sitting on the third row, waving out to the other side.
All the princesses make the effort to wave and greet guests as they come through.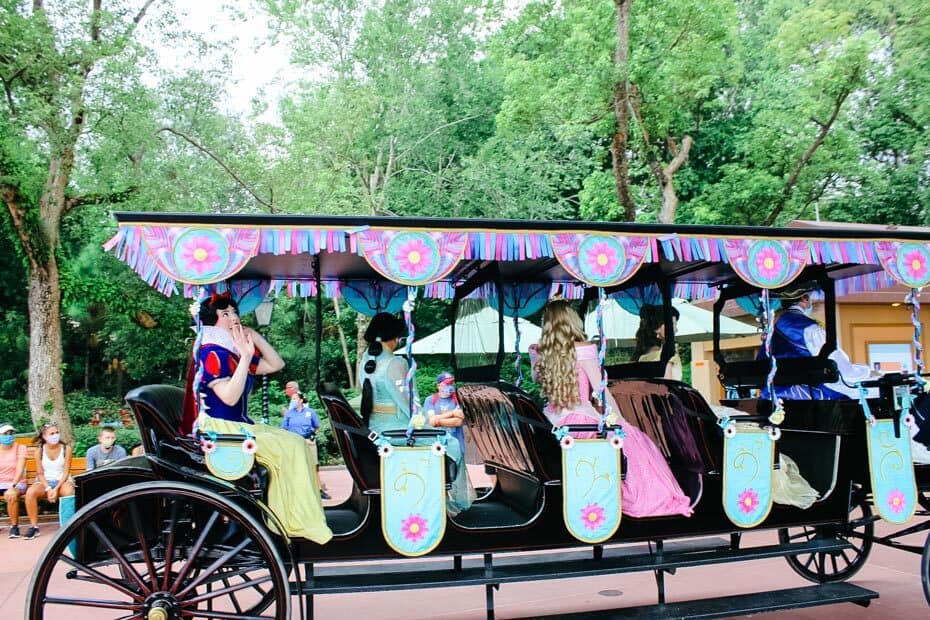 And Snow White, of course, is up to her usual expressions, which always make us laugh.
Lastly, we have a look at Mickey Mouse and Friends as they tour the World Showcase. As a fellow World Showcase traveler, I love the whole idea of this promenade.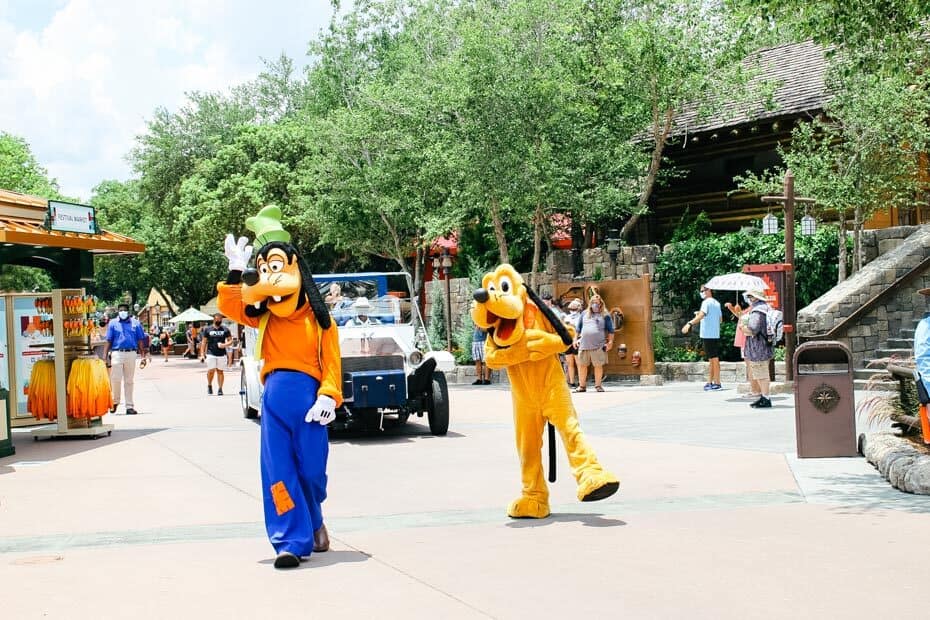 Goofy and Pluto were leading up the group of friends on foot.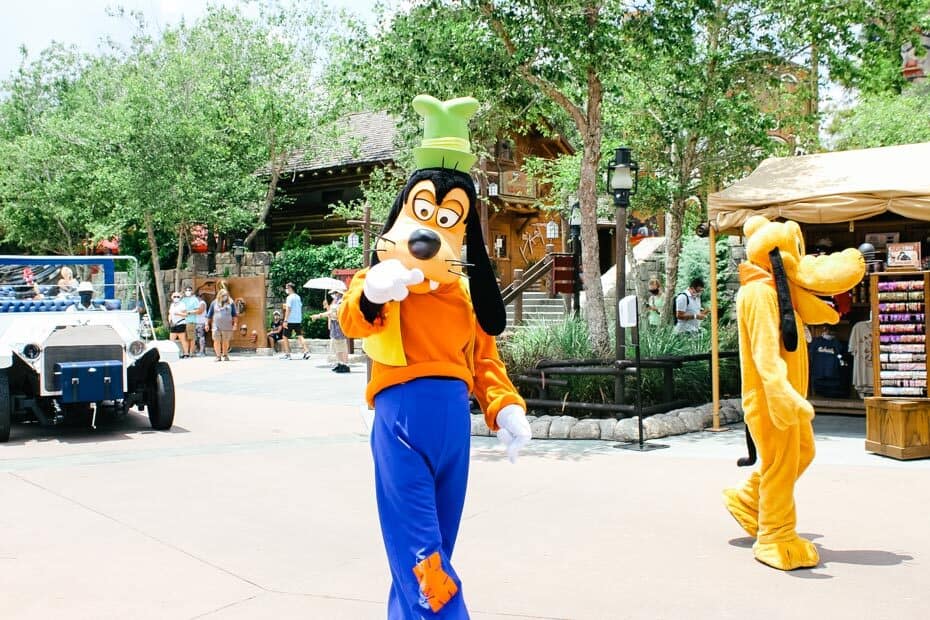 This group has already been displaced so often the past year with all of the construction going on at Epcot. Traveling the World Showcase seems like the best thing for them until more normal character interactions can resume.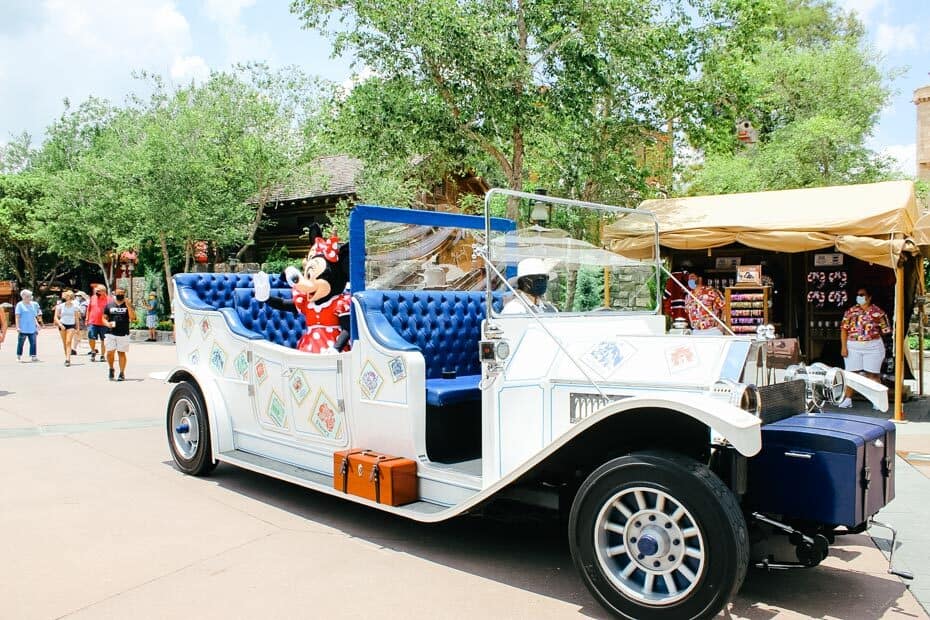 Mickey and Minnie Mouse come next with their own row and a divider between them and the driver.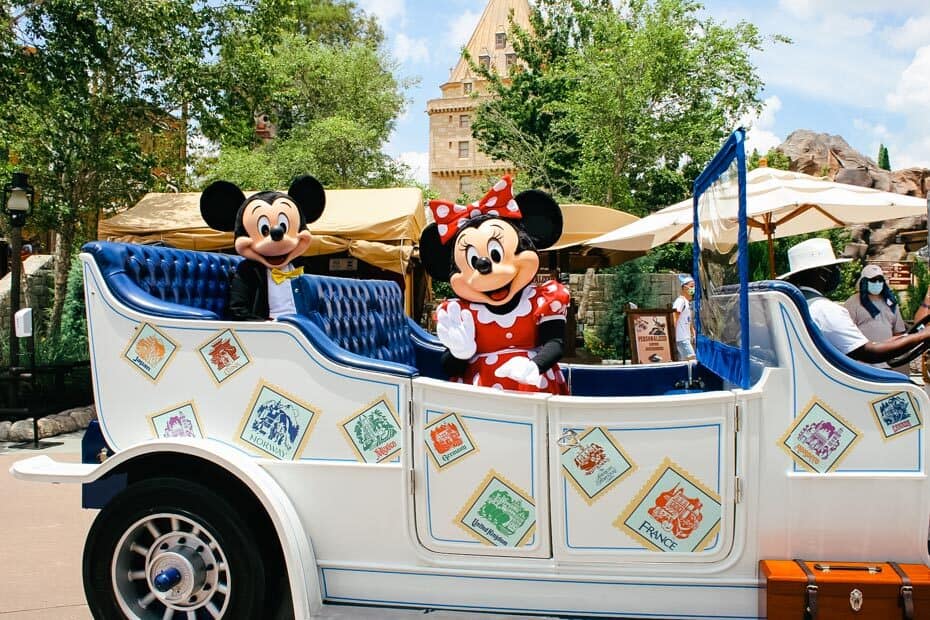 It was so good to see them in their classic outfits while touring. You can probably tell from the photos that guests can see all the characters really well from a safe social distance.
Epcot Character Appearances in 2021
There are a few other opportunities to see characters in action at Epcot. You might happen upon Mary Poppins or Alice in the United Kingdom Pavilion. Below is the picture of the gazebo inside the maze.
The first time I circled the World Showcase, I didn't see anyone out in the area. But when I passed by again later in the afternoon, I noticed a character handler out and felt someone must be visiting. Sure enough, Mary Poppins was out in the gazebo bidding good day to guests.
She's at just the right distance to take a photo or two. She'll gladly pose if you would like to stand outside her gate for a photo.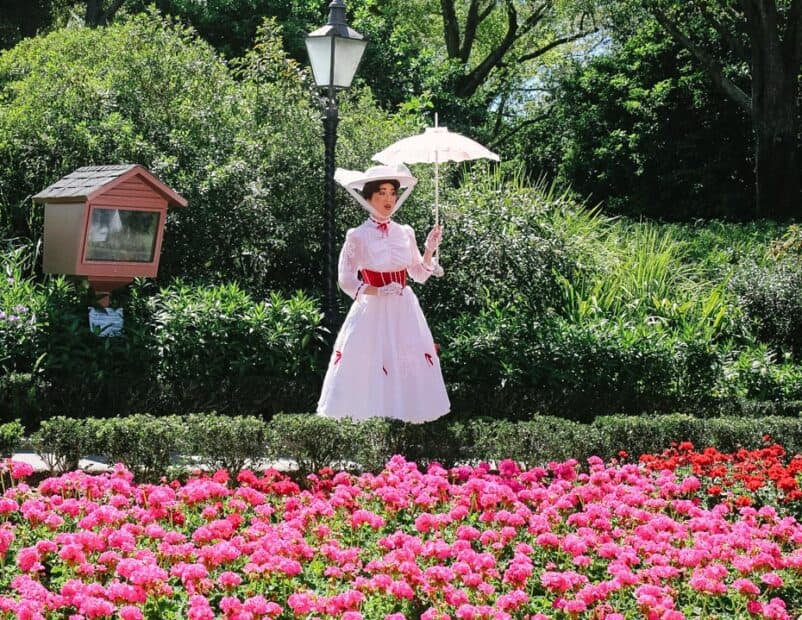 Winnie, the Pooh is meeting in the garden area next to the Imagination Pavilion.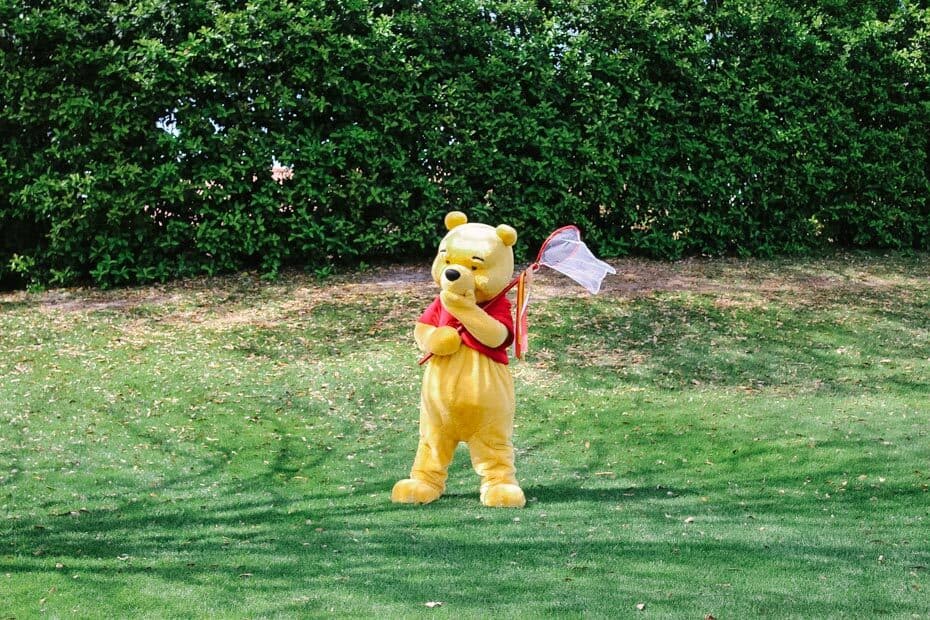 Joy from Inside Out rotates meets in the same area between the Imagination Pavilion and The Land Pavilion.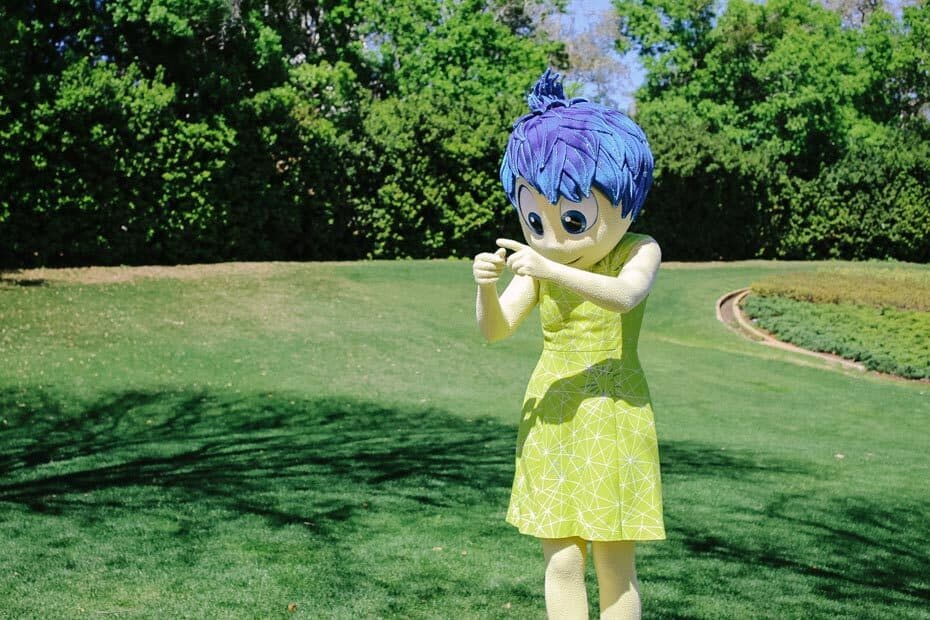 And as of the Spring of 2021, Elsa and Anna have been meeting in front of the Royal Sommerhus in Epcot's Norway Pavilion.
Normally Norway is home to a Disney World character dining location. However, it has yet to reopen at this time.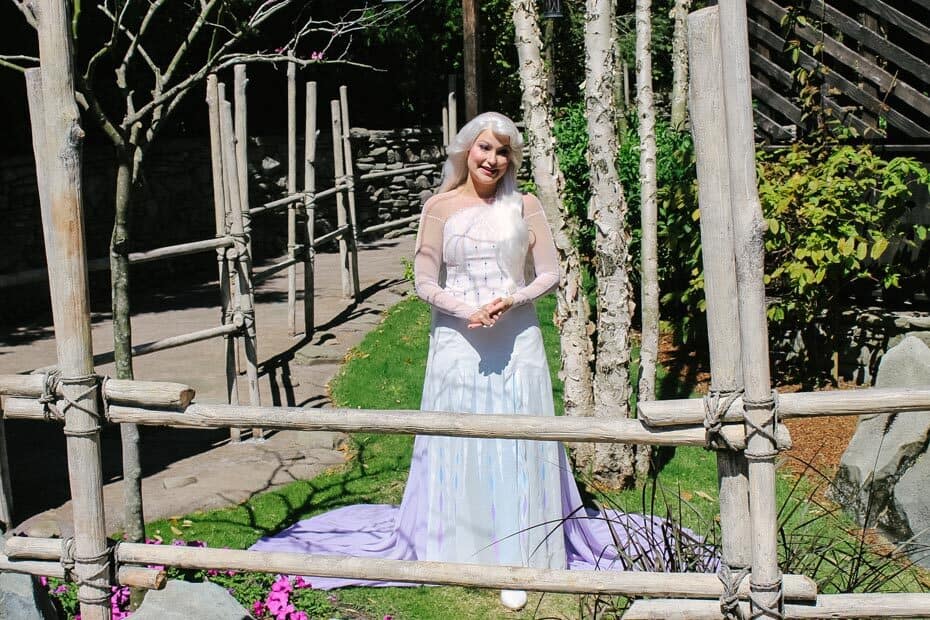 Make sure to check out the full Disney World Characters List for more details.
While we cover a good deal of information on the site, Resorts Gal specializes in providing detailed information about the Walt Disney World Resorts. Browse our Disney Resort Reviews to begin planning your next Disney vacation.
Good luck seeing your favorite characters at Epcot!
2021 Epcot Characters